Hey there, foodies! If you're on the hunt for the ultimate seasonal dish that screams "Thanksgiving and Fall," look no further. We've whipped up a Butternut Squash Casserole so creamy and versatile it can slide right into your dinner as a side dish or even steal the show as a dessert. You won't believe it is dairy-free while still decadent! 🍂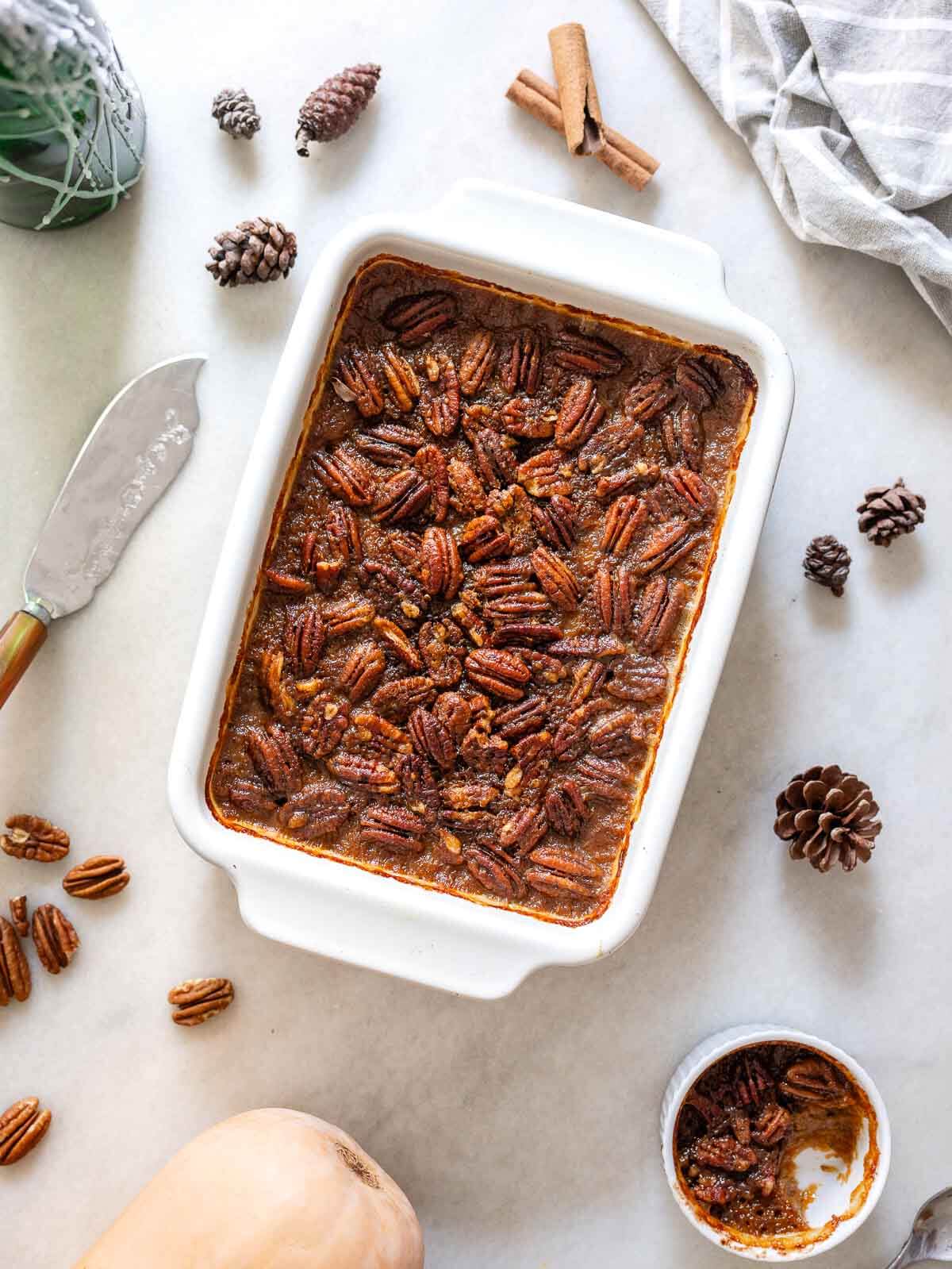 Why is this butternut squash casserole recipe a total game-changer? First off, let's talk nutrition. Butternut squash is a powerhouse packed with vitamins A and C, making it a versatile vegetable that's as good for you as it is delicious. The flax meal in the mixture is an excellent source of Omega-3s, and the plant milk adds a touch of healthy fats. So, you're not just indulging in an absolutely delicious meal; you're also nourishing your body.
Ease of preparation is another reason this dish is a winner. You don't need to be a culinary wizard to make this butternut squash casserole. A simple baking dish or casserole dish will do.
Most ingredients, like chopped butternut squash, brown sugar, and melted vegan butter, are pantry staples. Just preheat the oven, combine your squash mixture in a large bowl, and you're ready. If you're into meal prep, this dish is freezer-friendly, making it perfect for those busy days.
Last but not least, let's talk about versatility. This butternut squash casserole can easily slide into your meal plan as a sumptuous side dish or even morph into a dessert with a delicious topping; we love even having a warm portion for breakfast with a nice cup of golden milk. Our sweet potato crunch recipe inspired it, and we've given it a unique twist to make it even more irresistible.
Jump to:
🧾 Ingredients
This simple butternut squash recipe has only 8 staple Fall Season ingredients: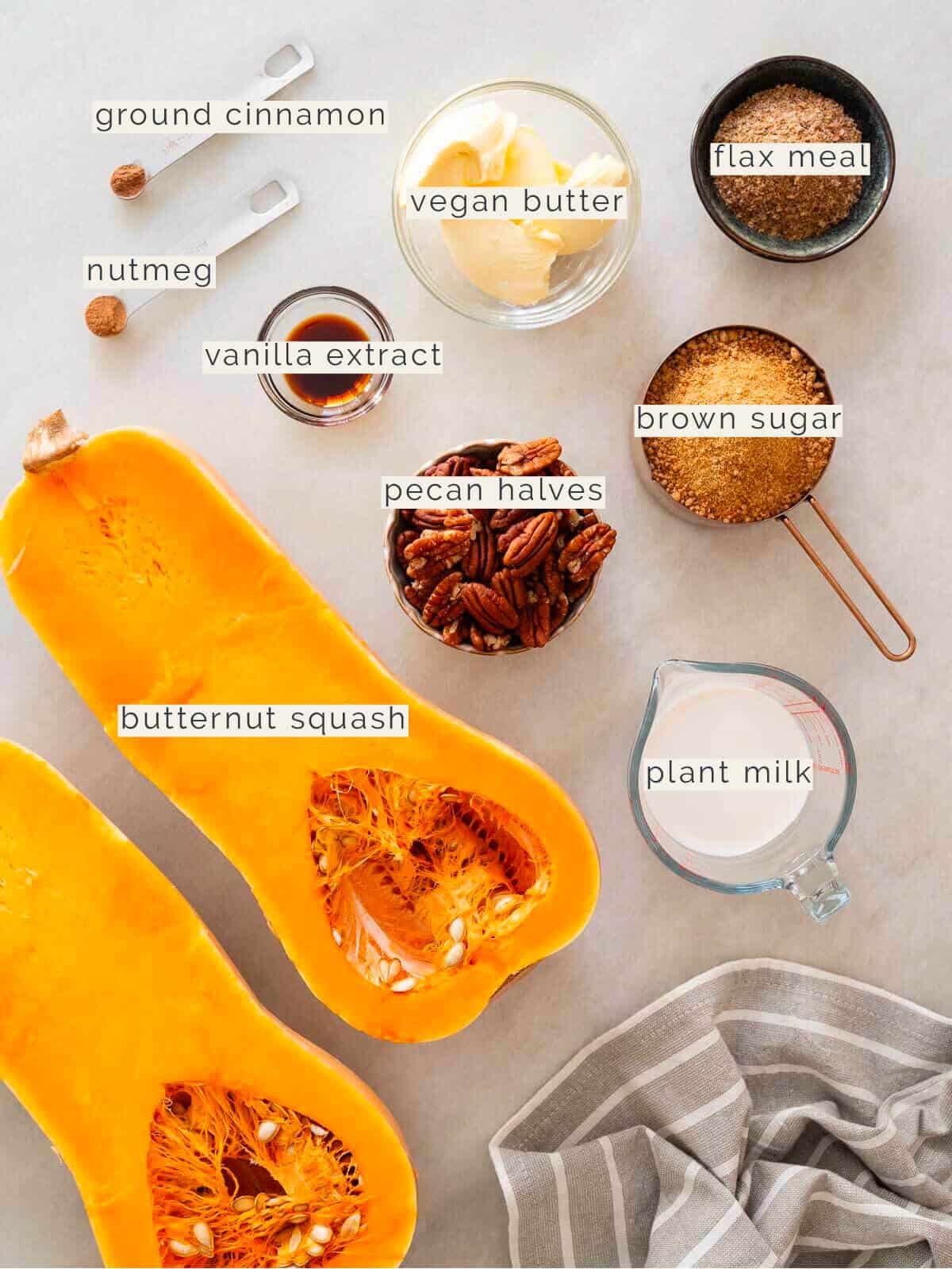 Butternut Squash: The star of the show, it brings a natural sweetness and creaminess that's perfect for a cozy casserole. Plus, it's packed with vitamins A and C!
Plant Milk: Adds a silky texture and helps blend the flavors together. We recommend soy, almond, or oat for the best results.
Flax Meal: Acts as a vegan egg substitute, providing structure and binding the casserole ingredients together.
Vanilla Extract: Elevates the dish with a subtle aroma and a hint of sweetness, making it irresistibly fragrant.
Brown Sugar: Offers a rich, molasses-like sweetness that complements the natural flavors of the squash.
Vegan Butter: Use unsalted butter, it gives the casserole a buttery richness without the dairy or saturated fat. It also helps in creating that golden-brown crust.
Ground Cinnamon: Adds a touch of warmth and spice, enhancing the fall vibes of the dish.
Pecan Halves: These provide a delightful crunch and nutty flavor, making the topping absolutely irresistible.
Nutmeg (Optional): A pinch can add an extra layer of complexity and warmth, but it's totally up to you!
Vegan Marshmallows (Optional): For those who want a little extra sweetness and a classic, gooey topping. Perfect for dessert mode!
See the recipe card for quantities.
🔪 Instructions
This is how to make butternut squash casserole in 5 simple steps:
Prep the Squash: Whether you're baking, steaming, or even boiling (though we don't recommend it), get that squash cooked and ready.
Whip Up the Topping: Choose between nuts or vegan marshmallows to crown your casserole.
Combine the Goodness: Mix all your squash ingredients until they're best friends.
Initial Bake: Pop it in the oven to let the batter set and get cozy.
Final Bake: Add your chosen topping and give it another round in the oven.
Pro Tip: Want to make life easier? Use canned pumpkin and opt for the marshmallow topping to skip two steps.
Preheat that Oven: Get your oven warmed to 350°F (190°C). It's showtime!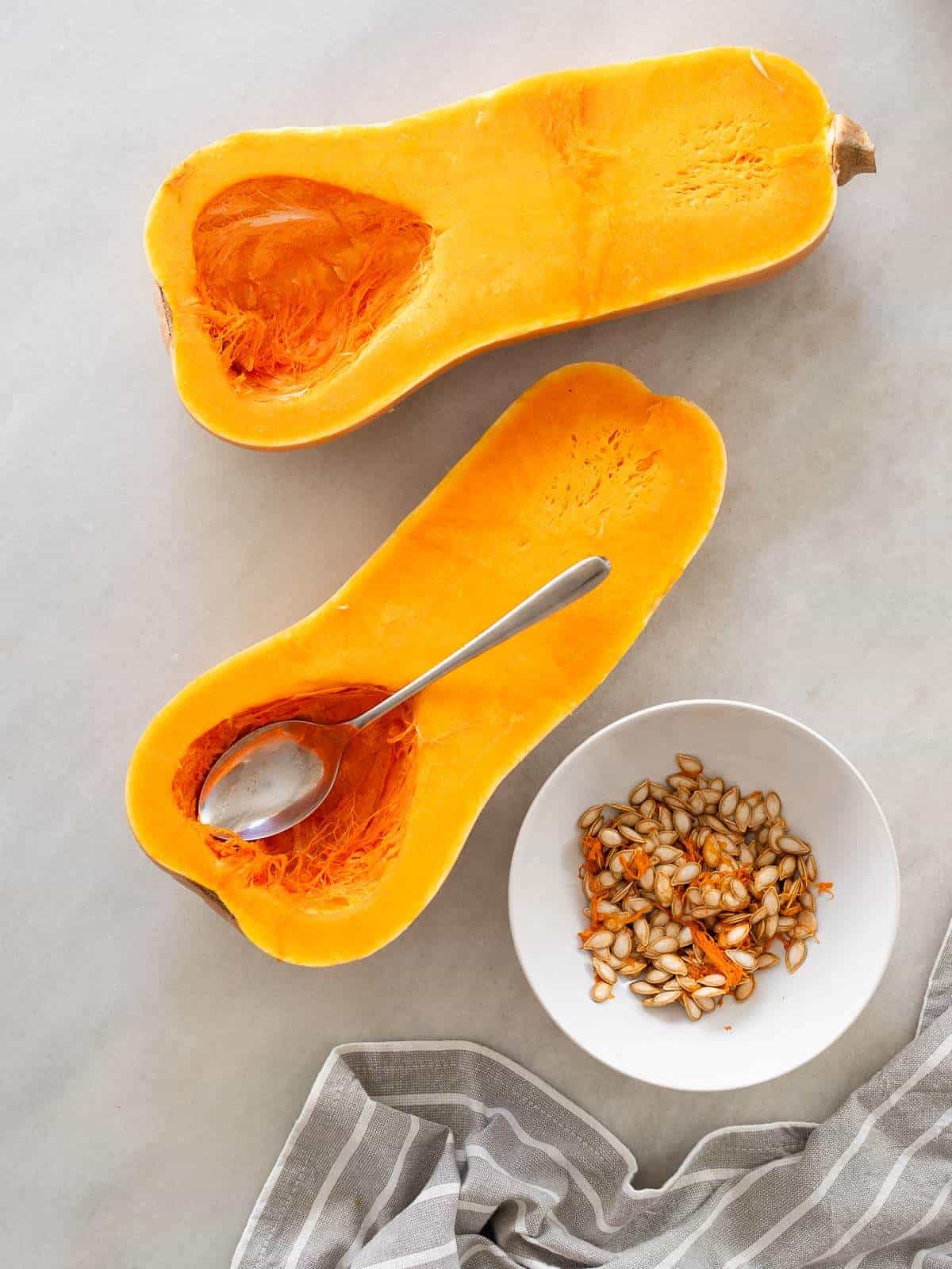 Halve that whole squash using a sharp knife and scoop out the seeds; save them for a crunchy snack later.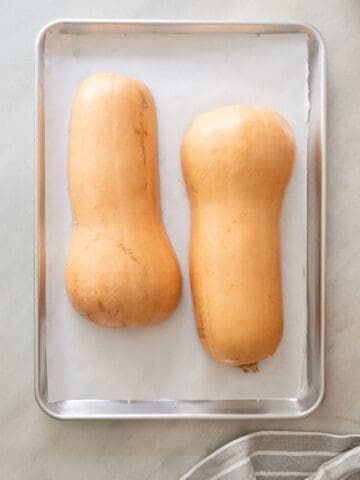 Pop the squash halves on a prepared baking sheet with parchment paper and bake 'em for 45 minutes.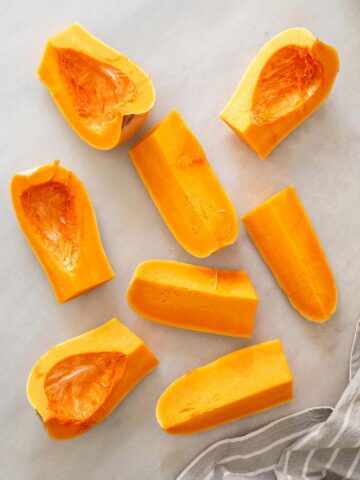 Or steam for 15-20 minutes if you're in a hurry, chop them further for faster results.
Hint: You'll need some cooked butternut squash for this dish. Roasting it whole in the oven is my go-to method; it's super easy and really amps up the flavor. But if you're short on time, feel free to use pre-cut squash cubes and either roast or boil them and reduce the time for more complex recipes like butternut squash lasagna.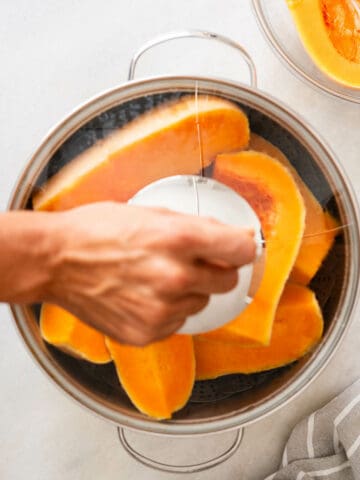 Use an electric steamer or steamer basket with one cup of water in a large saucepan. Place the steamer basket on top, then the butternut squash chunks, and let simmer with the lid on.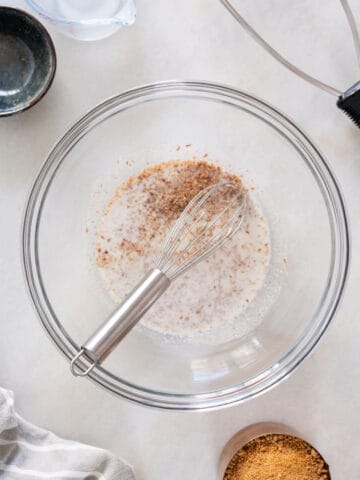 Whip up some flax eggs by blending warm plant milk with either flax meal or chia seeds.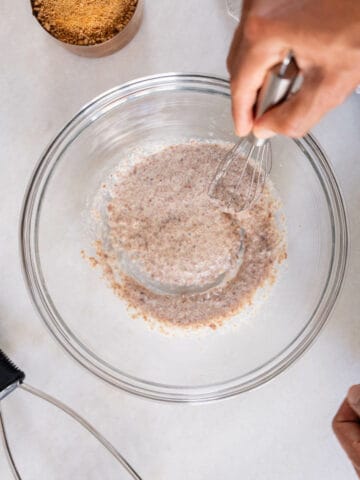 Let the flax meal and milk combo chill for about 5 minutes to get all gel-like. A quick whisk really helps to activate the flax completely.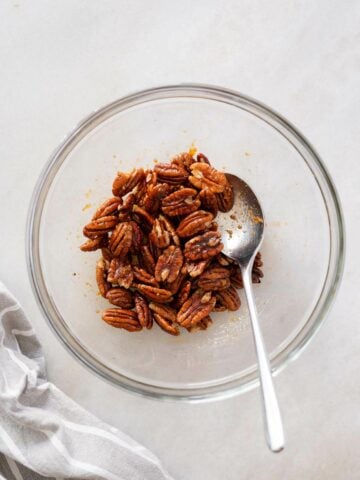 In a small bowl, combine the crunchy topping ingredients: halved or chopped pecans, melted vegan butter, a dash of either nutmeg or cinnamon, and some brown sugar.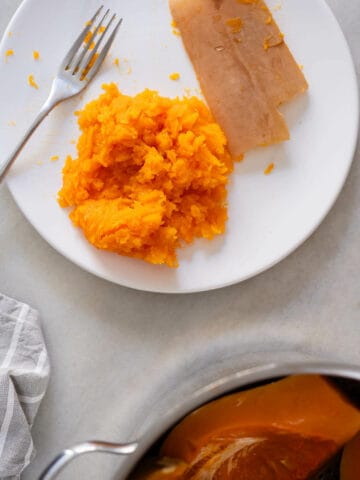 Smash that cooked butternut squash using either a fork or a potato masher.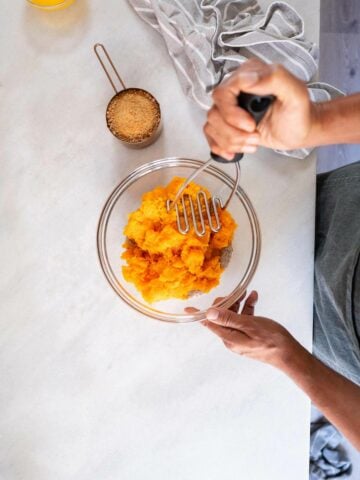 Toss the cooked squash into the flax meal blend.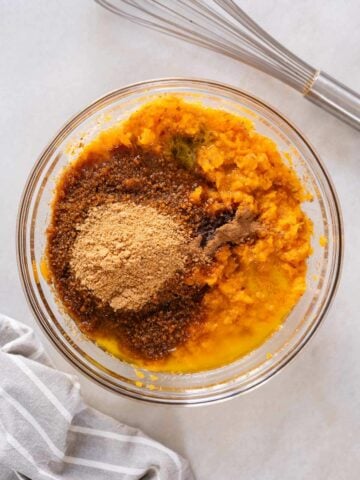 Throw in the rest of the batter goodies: melted vegan butter, brown sugar, cinnamon, and a splash of vanilla extract.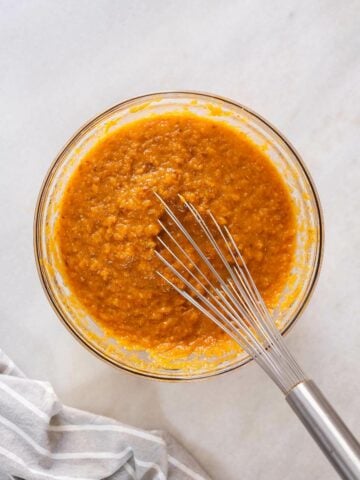 Mix it up until you've got a smooth, even batter. You can also use a food processor, but don't overmix the mixture; chunks are good!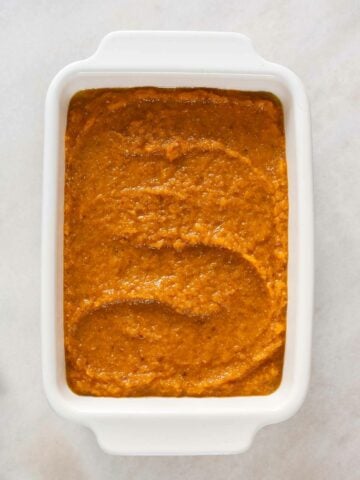 Pour the butternut squash mixture into an oiled baking dish. Use kitchen spray or rub it with your fingers and some butter.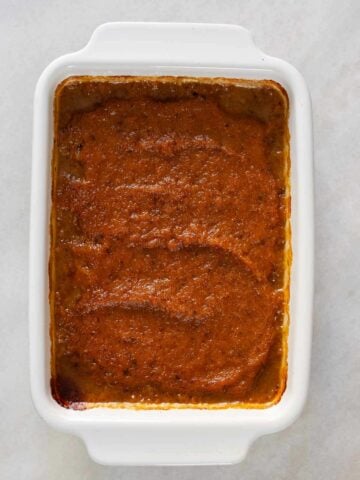 After 30 minutes in the oven, pull it out to sprinkle on that pecan magic.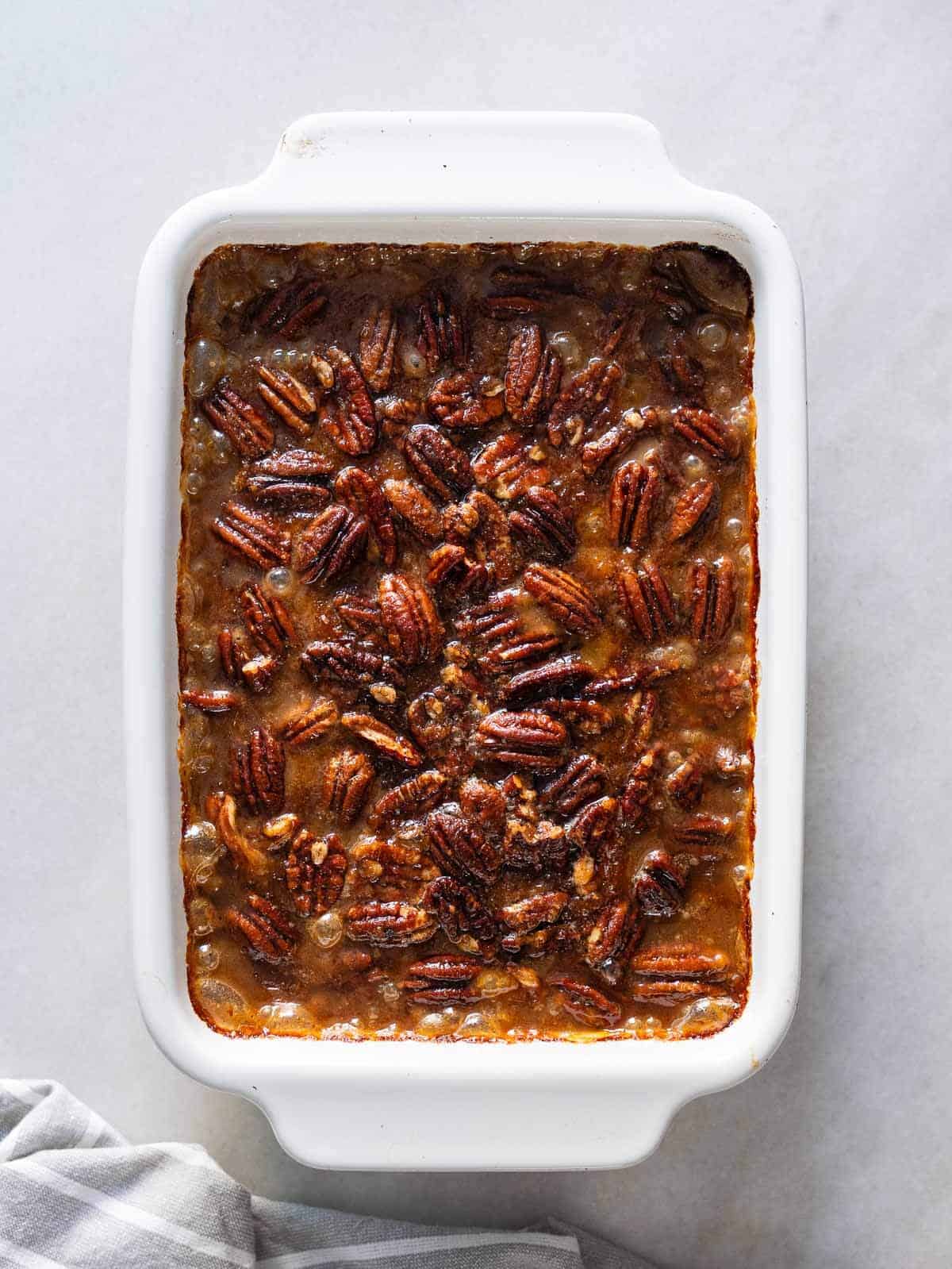 Slide the dish back into the oven for another 15-minute stint. Once it's out, give it a good 15 minutes to chill before diving in.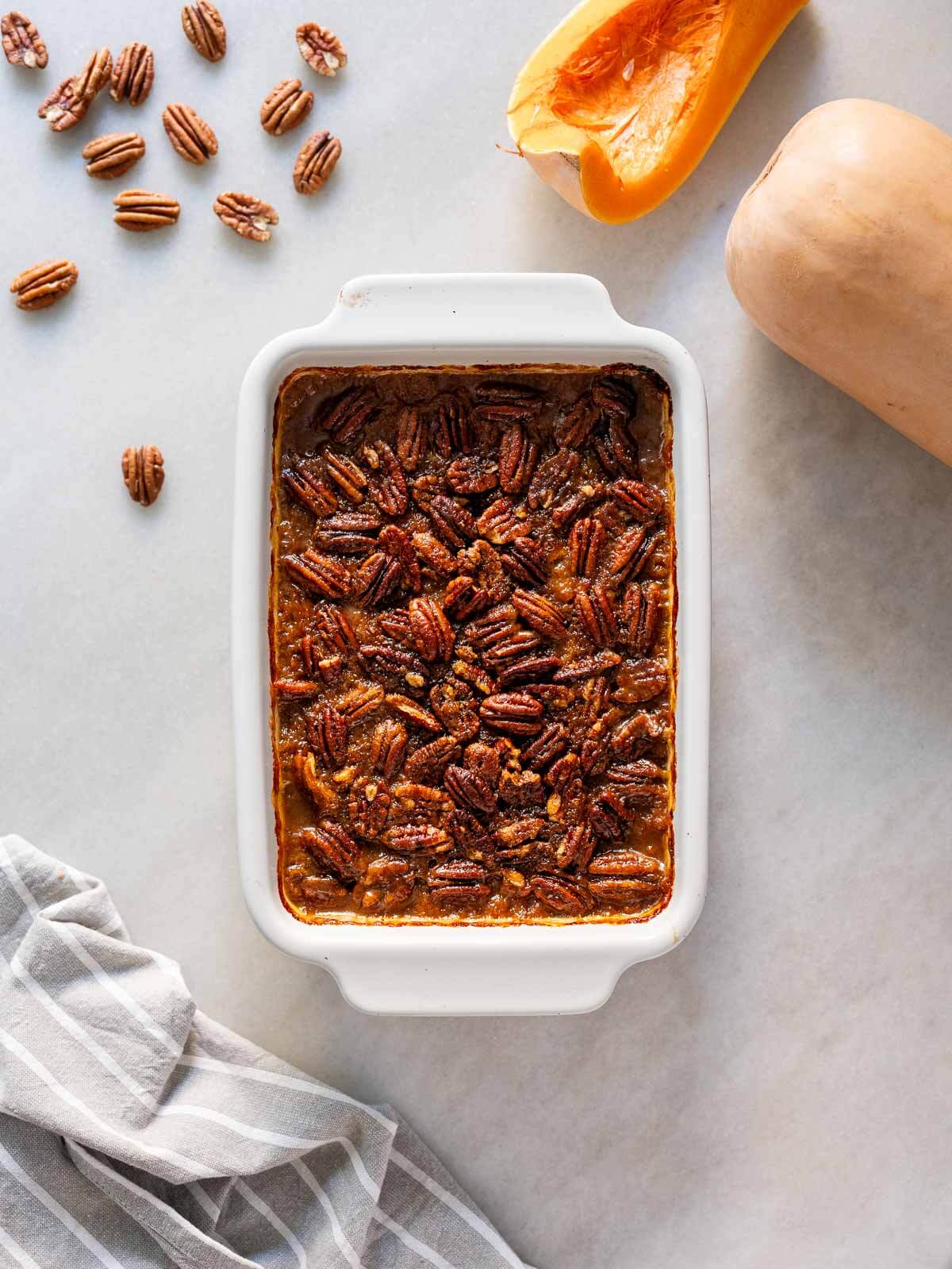 🥢 How to serve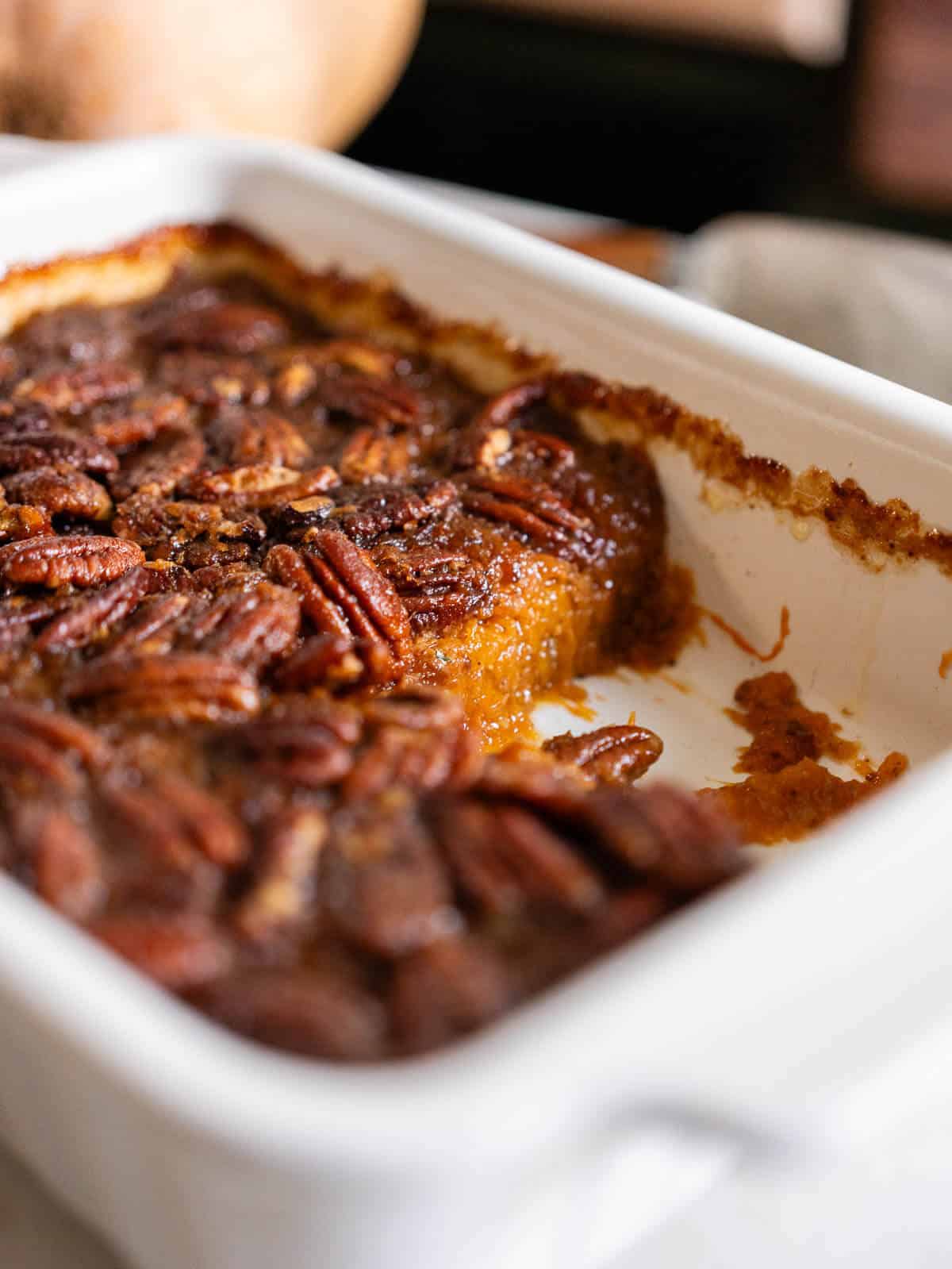 Thanksgiving Showstopper: Place this beauty at the center of your Thanksgiving table surrounded by other plant-based delights such as corn bread, vegan chili, and spiced cranberry sauce. Trust us, even your non-vegan Aunt Karen will be asking for seconds.
Ramekin Chic: Want to impress your guests or just feel fancy? Serve the casserole in individual ramekins. It's like giving everyone their own little pot of gold.
Dessert Twist: If you're in the mood for something sweet, serve this casserole as a dessert. A scoop of vegan vanilla ice cream on top takes it to a whole new level of yum.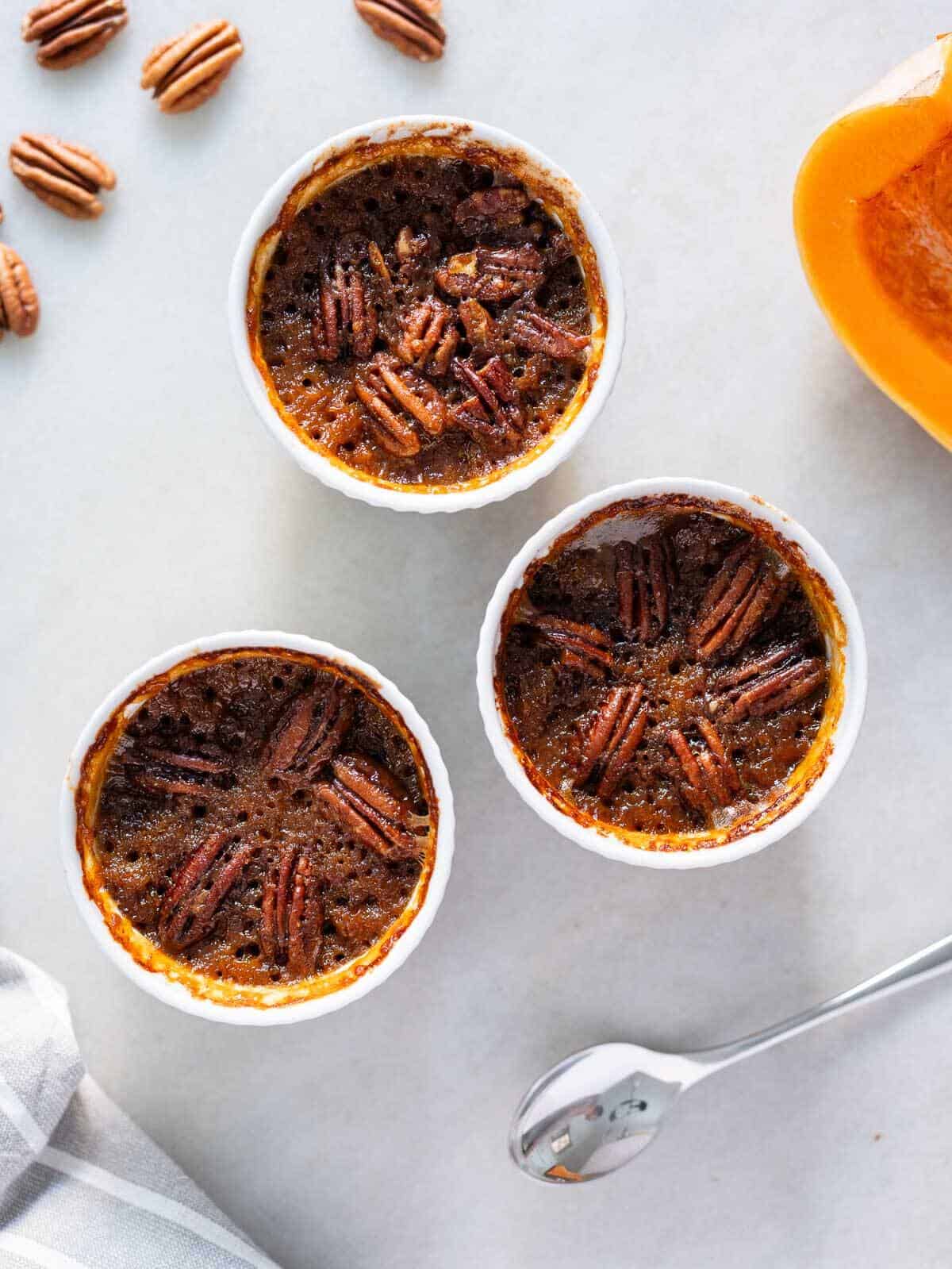 🍶 Substitutions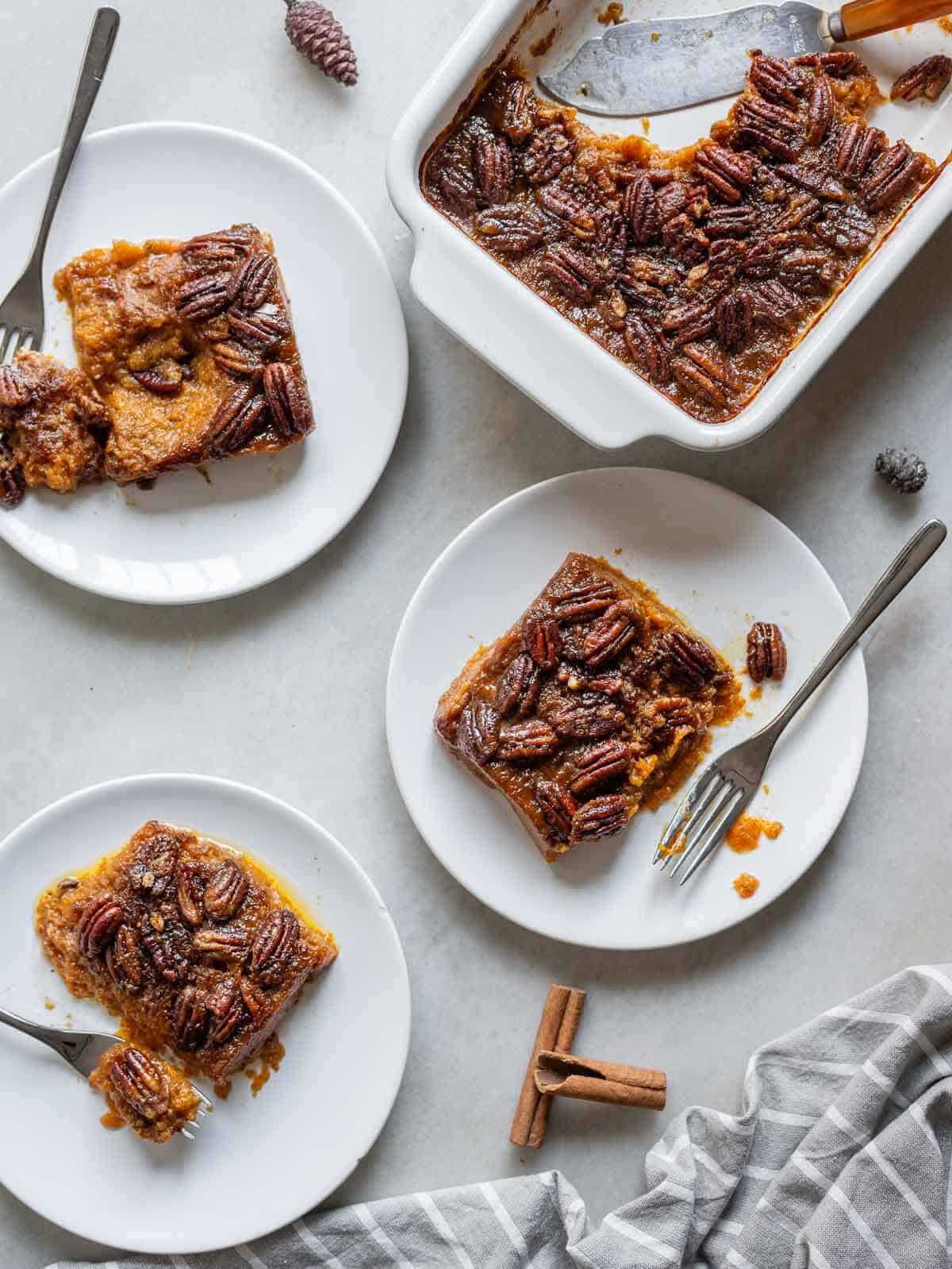 Butternut Squash: If you're out of butternut squash or just want to switch things up, feel free to use sweet potatoes, acorn squash, or even pumpkin. They all bring their own unique flair to the dish. Using frozen? See our FAQ's below.
Flax Meal: No flax meal? Chia seeds can also work as a binding agent when mixed with plant milk.
Plant Milk: Any dairy-free milk like almond, oat, or soy can be used. Choose your fave!
Brown Sugar: Maple syrup or coconut sugar are great alternatives if you want to keep it refined sugar-free.
Vegan Butter: Coconut oil can be a good substitute, but keep in mind it will add a coconutty flavor.
Ground Cinnamon: Allspice or nutmeg can be used for a different spice profile, but cinnamon is a classic for a reason. You can also use our 5-minute homemade pumpkin spice mix; the same we use for pumpkin pie and pumpkin latte, pumpkin pancakes, and granola.
Pecan Halves: Not a fan of pecans? Try candied walnuts or a marshmallow topping for a gooey, sweet alternative. Just make sure they're vegan marshmallows!
Nutmeg: A pinch of allspice or cinnamon can fill in for nutmeg if you're out.
📖 Variations
Sweet potato casserole: Follow the same procedure and change the butternut squash for sweet potatoes. You can leave all other variables untouched, change vegan butter for coconut oil (we love this mix from our mashed sweet potatoes recipe), or change pecan nuts for walnuts.
Tropical Vibes: Mix in some shredded coconut and a splash of coconut milk for a tropical take on this classic. Top with a sprinkle of toasted coconut flakes for that extra oomph. You can also add some lemon or orange zest to the batter for a citrus note.
Chocolatey Decadence: Add vegan chocolate chips to the mixture and top with a drizzle of vegan chocolate sauce for a dessert version. It's like a butternut squash brownie but better!
🍽 Equipment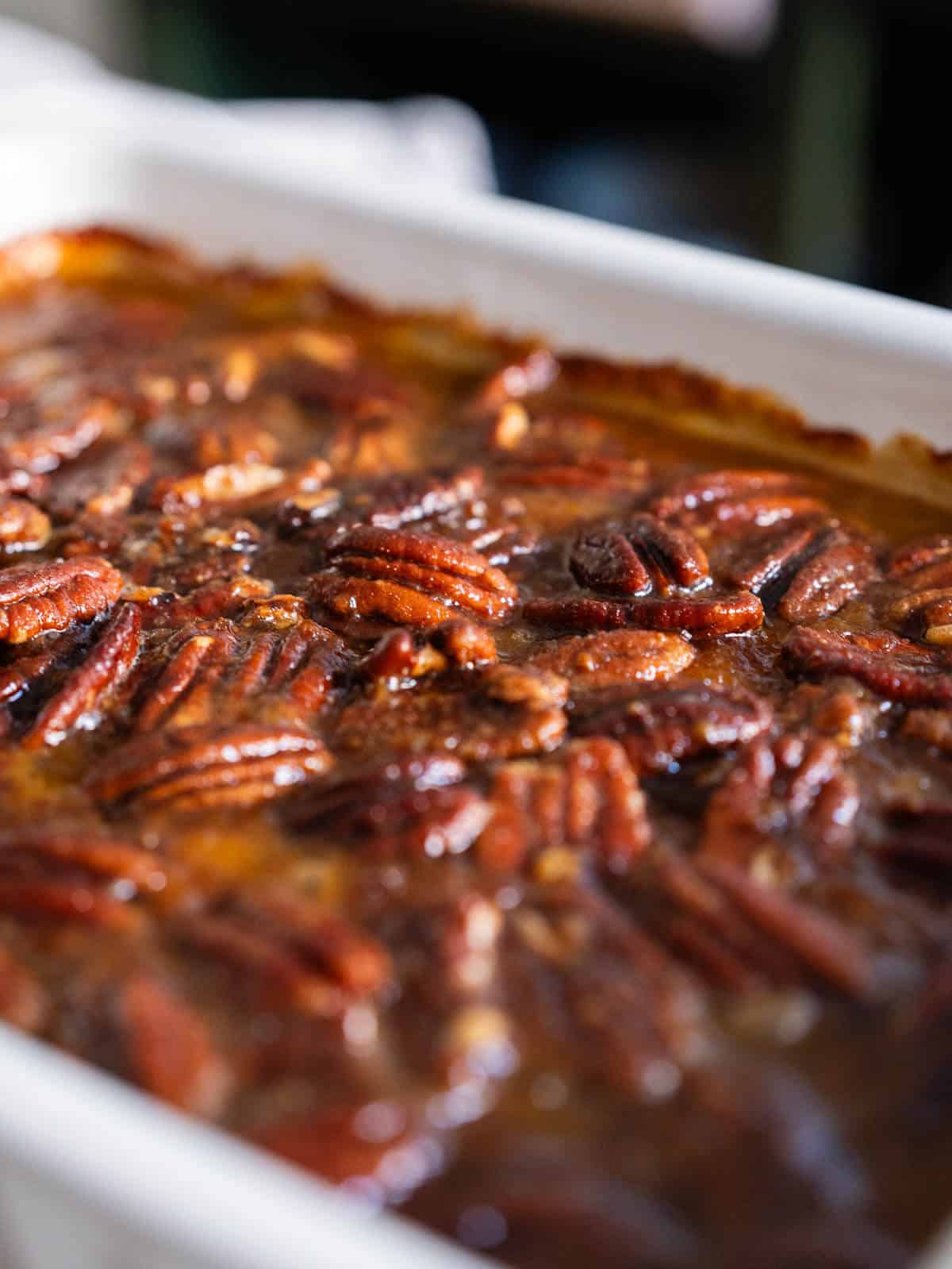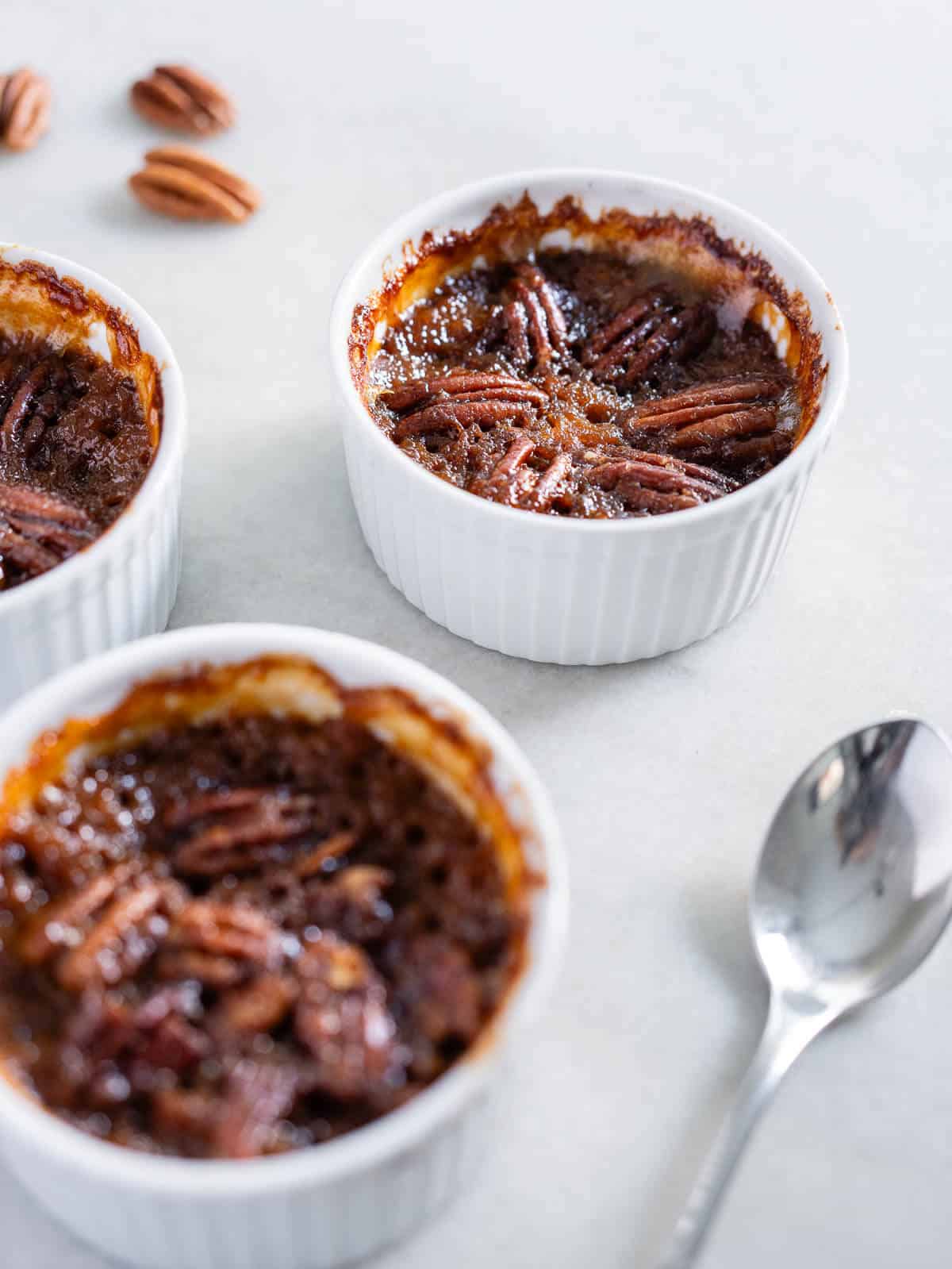 🥡 Storage
Fridge & Reheating: Got leftovers? No worries! Store your casserole in an airtight container in the fridge for up to 5 days. When you're ready to reheat, pop it in the oven at 350°F for about 15 minutes or until it's warmed through.

Also, you can make it even simpler: use the same baking dish you cooked the casserole in and cover it with cling paper. This helps prevent oxidation and keeps it fresh. When you're ready to dig in again, you can serve it at room temperature or give it a quick warm-up. Easy peasy!

Freezing & Reheating: If you want to make this dish in advance or save some for later, you can totally freeze casserole. Just wrap it tightly in plastic wrap and then in aluminum foil. When you're ready to enjoy it again, thaw it in the fridge overnight and reheat it in the oven at 350°F for about 20-25 minutes.
Meal Prep: If you're all about that meal prep life, you can make the squash mixture and pecan topping separately and store them in the fridge. When you're ready to assemble, layer them in your baking dish and bake as directed. It's a real time-saver!
💡 Top tip
The key to a perfect casserole every time is the consistency of your squash mixture. Make sure it's smooth but not too watery. If it seems too thick, add a splash of plant milk; if it's too runny, a tablespoon of flax meal will thicken it up. This ensures you'll get that creamy, dreamy texture we're all after.
❓ FAQ
How to cook frozen butternut squash?
Roasting: Preheat your oven to 400°F (200°C). Spread the frozen squash cubes on a baking sheet, drizzle with a little olive oil, and season with your fave spices. Roast for 25-30 minutes, giving them a good toss halfway through.
Steaming: Add the frozen cubes to a steamer basket over boiling water. Cover and steam for about 10-15 minutes, or until they're fork-tender.
Microwaving: Place the frozen squash in a microwave-safe bowl, add a splash of water, and cover. Microwave on high for about 5-7 minutes, stirring halfway through.
Sautéing: Heat some oil in a skillet over medium heat. Add the frozen squash and cook for about 10 minutes, stirring occasionally. Feel free to add herbs and spices to amp up the flavor.
Remember, frozen squash is already partially cooked, so it'll be ready to eat in no time!
📚 More butternut squash recipes
Give our butternut squash risotto, DIY ravioli, roasted sides, and squash-infused pasta sauce a whirl as a tasty alternative to your usual mac 'n' cheese.
🦃 💚 More Vegan Holiday Recipes
⭐ If you try this simple butternut squash casserole recipe, let us know! 💬 Leave a comment, rate it, and don't forget to tag us @ourplantbasedworld on Instagram. Cheers!
📋 Recipe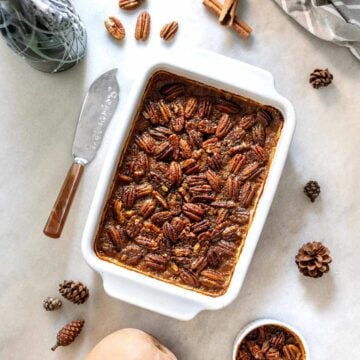 The Best Creamy Butternut Squash Casserole
Discover the ultimate seasonal dish with our creamy butternut squash casserole. Perfect for Thanksgiving and Fall, it's a versatile recipe that shines as a side dish or dessert.
Equipment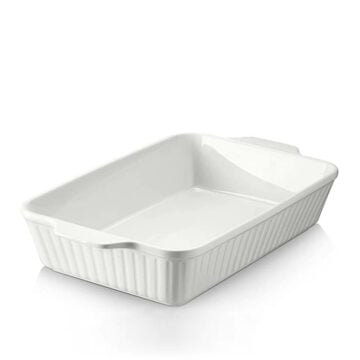 (affiliate link)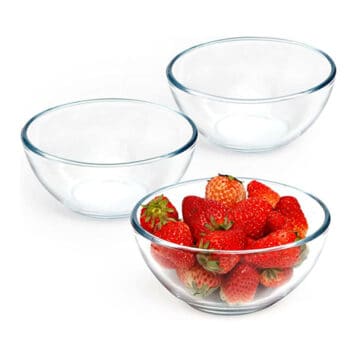 (affiliate link)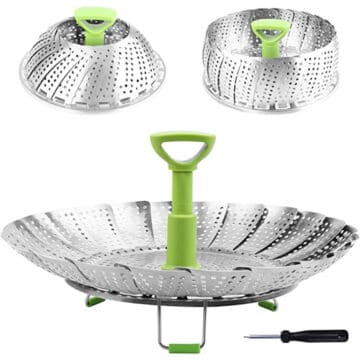 (affiliate link)
Ingredients
Optional marshmelow
vegan marshmallows

about 20, or 40 small ones
Directions
Preheat Oven: Fire up that oven to 350°F (190°C).

Flax Magic: In a bowl, mix plant milk and flax meal. Let it sit for 510 minutes to thicken up.

Squash Prep: Cut your butternut squash in half. Save the seeds for a snack—toss 'em with olive oil and a pinch of salt, then bake for 10 minutes. Place the squash halves cut-side down on a baking sheet and bake for 45 minutes. Or steam it for 25 if you're short on time.

Dish Ready: Give a casserole dish a quick spray with veggie cooking spray. VIP seat is ready!

Mash & Mix: Scoop out the squash into a big bowl. Mash it up and add the flaxmilk mix, vanilla, brown sugar, melted vegan butter, and cinnamon. Stir until it's all buddybuddy.

Bake It: Pour the mixture into your VIP casserole dish and bake for 30 minutes. If you're skipping the topping, let it rock for 45.
Pecan Topping:
Mix & Sprinkle: Combine pecans, melted vegan butter, brown sugar, and nutmeg. At the 30minute mark, pull out the casserole and sprinkle this awesomeness on top. Back in the oven for another 15!
Marshmallow Topping:
Marshmallow Magic: If you're going marshmallowstyle, bake for 45 minutes. Top with vegan marshmallows and broil until they're gooey and golden. Keep an eye on it; they brown in a flash!
Notes
Butternut cooking method: You'll require butternut squash that's been cooked. I'm a fan of oven-roasting it whole; it's a breeze and the flavor just pops. If you're in a hurry, pre-cut squash cubes work too—just roast, steam, or boil them.
Salt Alert: Skip the salt if you're using salted butter.
Go Nuts: Add marshmallows or pecans—or go wild and use both!
Sweet Swap: Use ¼ cup maple syrup instead of sugar for a flavor boost.
Cinnamon Love: Feelin' the cinnamon? Up it to 1 teaspoon. Or use a homemade pumpkin spice mix.
Make Ahead: Prep this 24 hours in advance, cover, and chill. Let it hang out at room temp for 45 to 60 minutes before baking.
Nutrition Facts
Calories:
278
kcal
Carbohydrates:
37
g
Protein:
3
g
Fat:
15
g
Saturated Fat:
2
g
Polyunsaturated Fat:
5
g
Monounsaturated Fat:
7
g
Trans Fat:
1
g
Sodium:
128
mg
Potassium:
551
mg
Fiber:
4
g
Sugar:
23
g
Vitamin A:
14082
IU
Vitamin C:
28
mg
Calcium:
100
mg
Iron:
1
mg
Nutrition Facts
The Best Creamy Butternut Squash Casserole
Amount per Serving
% Daily Value*
* Percent Daily Values are based on a 2000 calorie diet.
🌡️ Food safety
Cook to a minimum temperature of 165 °F (74 °C)
Do not use the same utensils on cooked food, that previously touched raw meat
Wash hands after touching raw meat
Don't leave food sitting out at room temperature for extended periods
Never leave cooking food unattended
Use oils with a high smoking point to avoid harmful compounds
Always have good ventilation when using a gas stove
See more guidelines at USDA.gov.
Nutritional Disclaimer
The information shown is an estimate provided by an online nutrition calculator. It should not be considered a substitute for a professional nutritionist's advice. See our full Nutritional Disclosure here.
Affiliate Disclaimer
Please note that some of the links here are affiliate links, and I will earn a commission if you purchase through those links. I recommend all of the products listed because they are companies I have found helpful and trustworthy.