Ready to level up your dinner game? Say hello to this Whole Roasted Butternut Squash! Not only is it a showstopper on any table, but it's also packed with nutrients and flavors that'll make your taste buds do a happy dance. Imagine the sweetness of the squash mingling with aromatic herbs, all wrapped up in a crispy, golden exterior. Plus, it's a breeze to make! So, why settle for basic when you can go for extraordinary? Let's dive in and get roasting!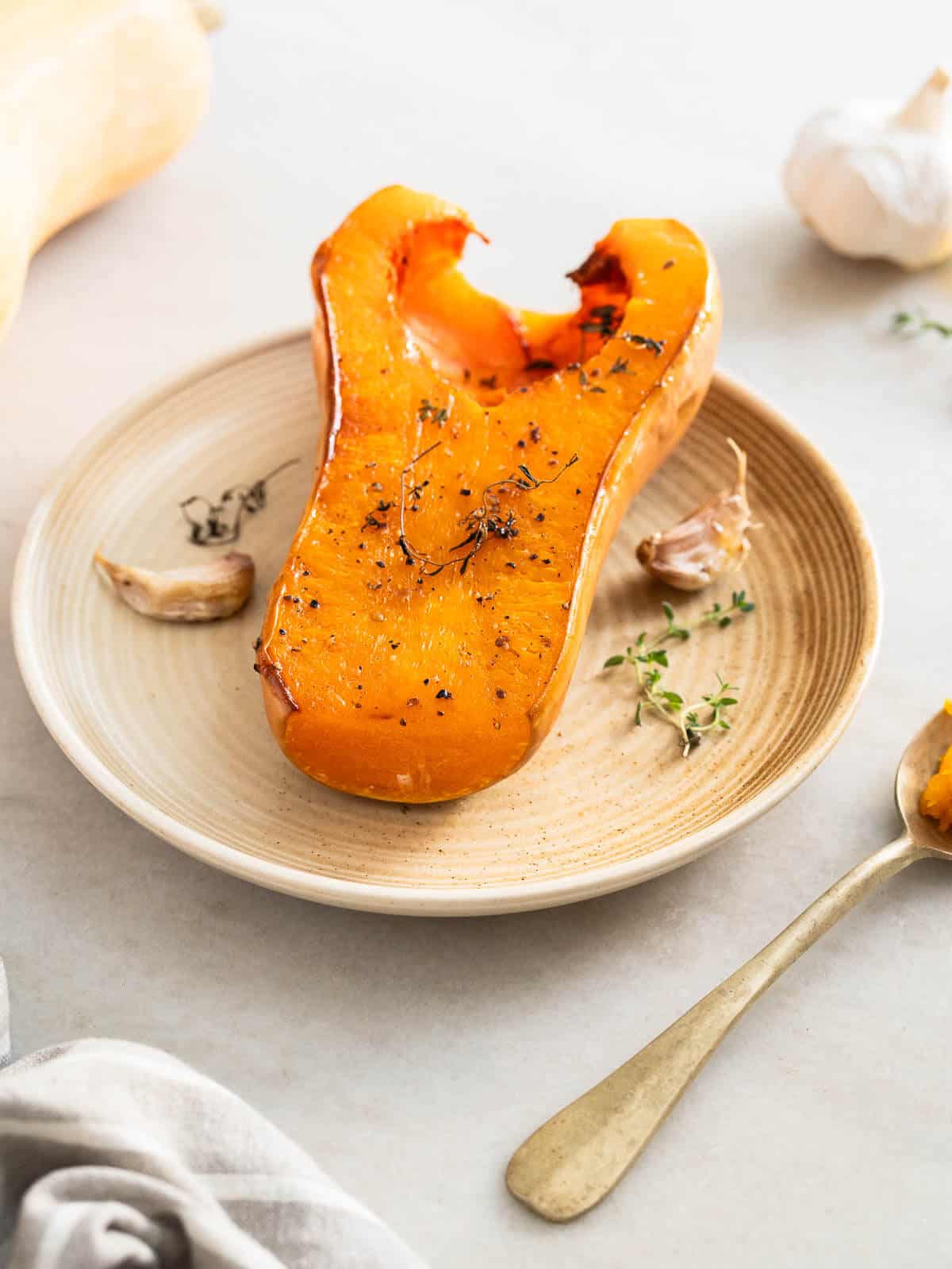 Ah, the joys of roasted veggies! From the crispy edges of roasted Brussels sprouts to the smoky goodness of Spanish Escalivada, we've got a soft spot for these easy, hassle-free delights. But let's talk about the MVP of the fall season—roasted butternut squash.
This dish is a nutritional powerhouse packed with Vitamin C, fiber, and monounsaturated fats (thanks to a drizzle of olive oil). It's not just about the nutrients; the natural sweetness of butternut squash caramelizes during roasting, making each bite a fork-tender celebration of autumn flavors.
Now, if you think roasting butternut squash is a culinary hurdle, think again. This recipe is as easy as it comes, rivaling the simplicity of our maple-glazed carrots. Seriously, it's a set-it-and-forget-it kind of meal prep. Just slice your squash, season it, and let your oven do the heavy lifting. You'll end up with a baking dish full of golden, delicious food that can be used in a variety of ways.
Speaking of versatility, this roasted butternut squash is the secret ingredient that elevates our butternut squash risotto to gourmet levels. Want to switch things up?
Mash it into a creamy butternut squash pasta that's to die for. Whether you're a seasoned chef or a cooking newbie, mastering the art of roasting butternut squash opens up a world of hearty, healthy recipes perfect for the season. Trust us, once you get the hang of it, you'll incorporate this gem into your cooking repertoire all autumn. 🍂
Learn how to cook with pumpkin and butternut squash.
Jump to:
🧾 Ingredients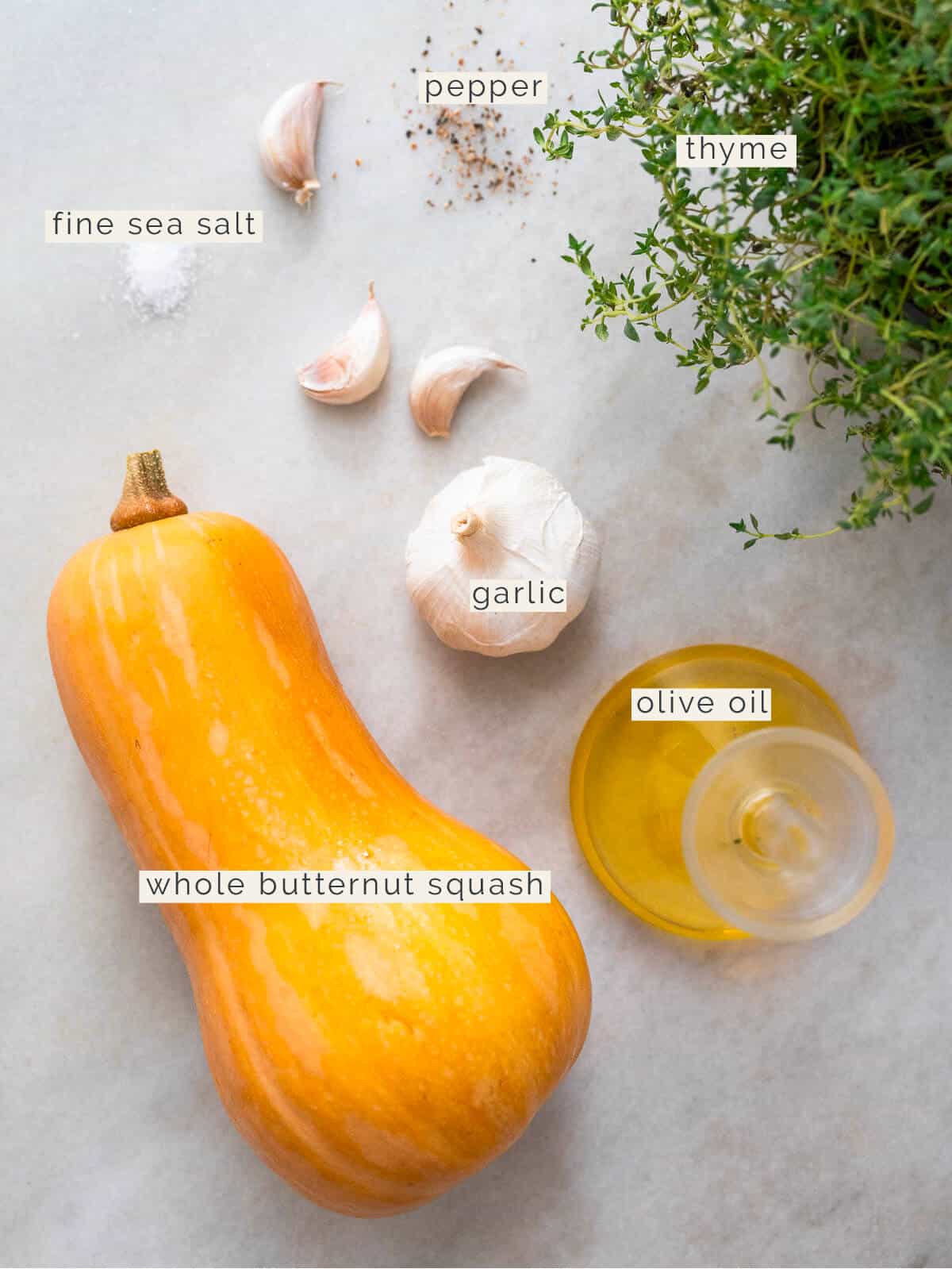 Whole Butternut Squash: The star of the show, it's rich in fiber and vitamins while offering a naturally sweet and nutty flavor. Plus, it roasts beautifully, giving you that tender, melt-in-your-mouth texture.
Herbs (like thyme, oregano, or rosemary): These aromatic greens elevate the dish, adding layers of complexity and fragrance. They also have antioxidant properties, so it's flavor meets function!
Garlic: This pungent gem infuses the squash with a depth of flavor that's both bold and aromatic. It's also a natural immune booster, so eat up!
Salt and Pepper: The classic duo for seasoning; salt enhances natural flavors while pepper adds a touch of heat. They're like the rhythm section in a band—understated but essential.
Extra Virgin Olive Oil: This liquid gold helps in achieving that perfect, crispy exterior. It's also packed with healthy fats and antioxidants, making it a win-win for taste and health.
🔪 Instructions
Want to know How to roast butternut squash like a pro? Let's dive in!
Whole Roasted Method
Preheat the oven. Preheat the oven to 400ºF (200ºC).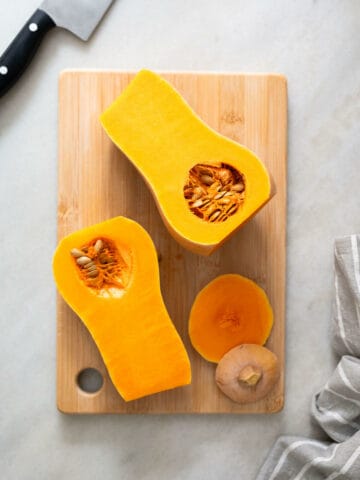 Remove the top and bottom of the whole butternut squash with a sharp knife and half lengthwise.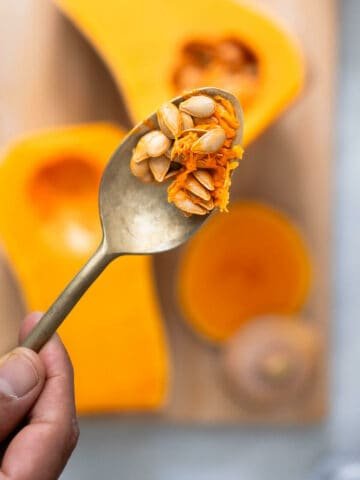 Scoop out the seeds.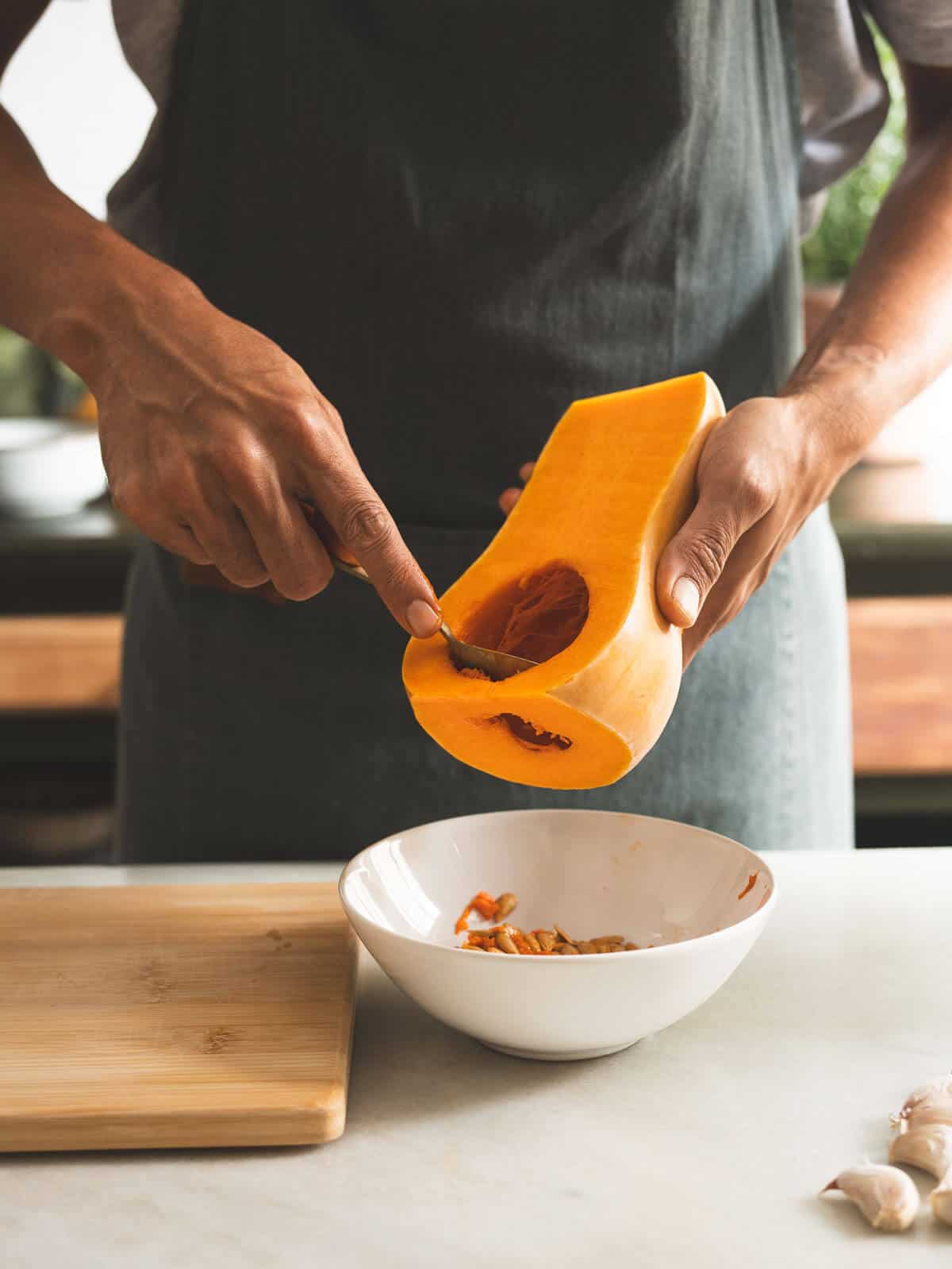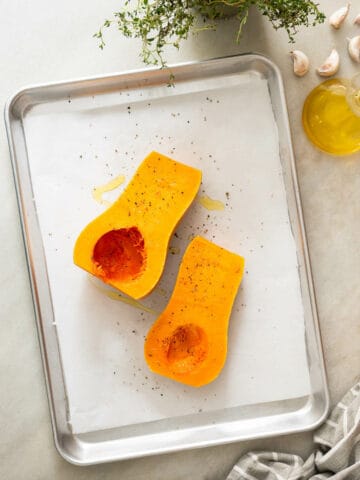 Sprinkle salt and pepper and drizzle olive oil. You can use a brush to season it evenly.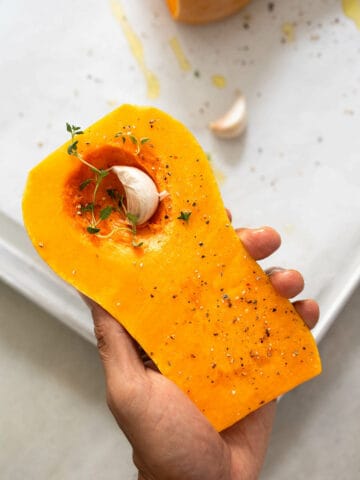 Lay the squash halves on a lined baking sheet, skin side up—slide in a couple of garlic cloves and your go-to herbs under each half.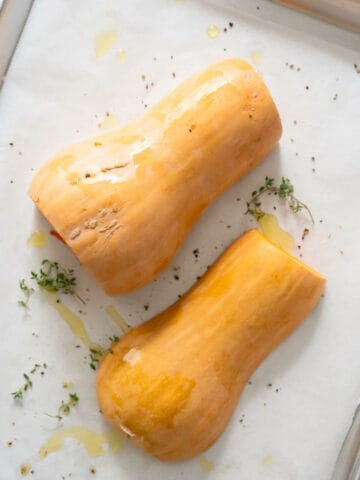 Drizzle additional olive oil and add more herbs.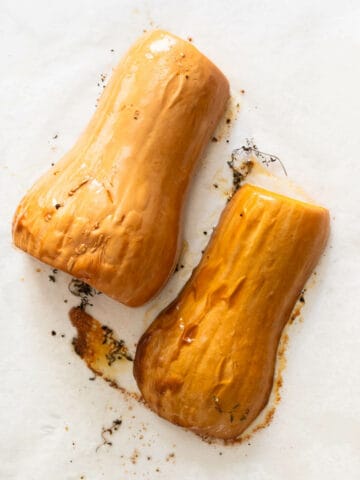 Roast butternut squash halves in the oven for 45–60 minutes.
Flavor Twist: Want to switch up the flavor profile? Use melted butter instead of olive oil for an extra layer of richness and a slightly nutty undertone. We like the vegan option Earth Balance. 🤤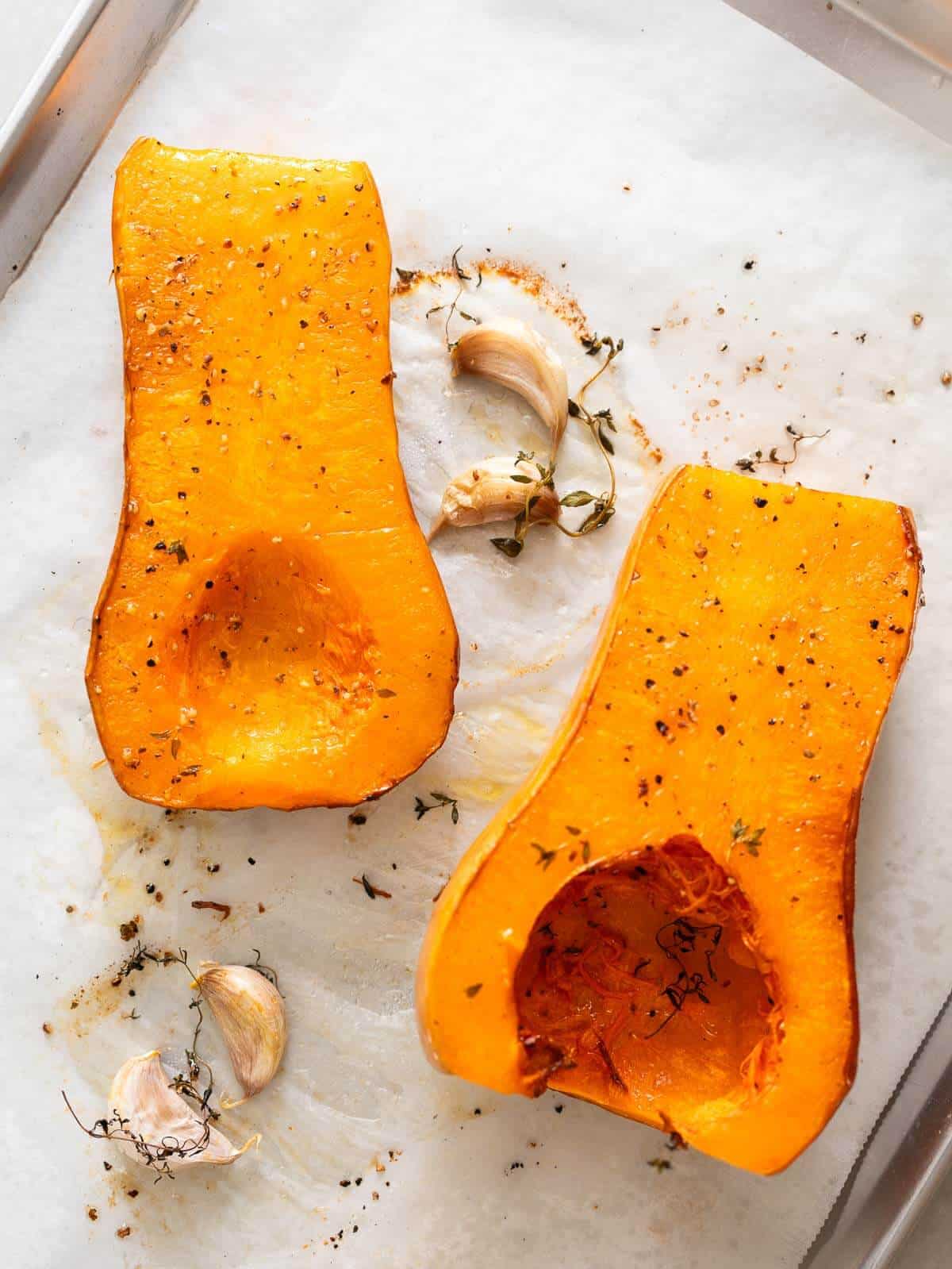 See? Cooking butternut squash is super easy!
Roasted Chunks Method
Heat It Up: First things first, let's get that oven roaring. Preheat it to 400ºF (200ºC). Trust me, a hot oven is the secret to getting those crispy edges we all crave.
Chunky Business: Grab your butternut squash and give it a good peel. Then, cut it into hearty chunks. Toss those bad boys in a bowl with your choice of herbs. Thyme, rosemary, or even a little oregano—go wild!
Tray Chic: Time to lay out your masterpiece. You've got options here. Drizzle some extra-virgin olive oil for a light coat, or go oil-free and line your tray with parchment paper. Oh, and don't forget to add some garlic for that extra kick. Just slice off the top of a garlic head and toss in a couple more cloves.
Bake It 'Til You Make It: Pop that tray into the oven and let it cook butternut squash for 40-50 minutes. You're looking for that fork-tender goodness.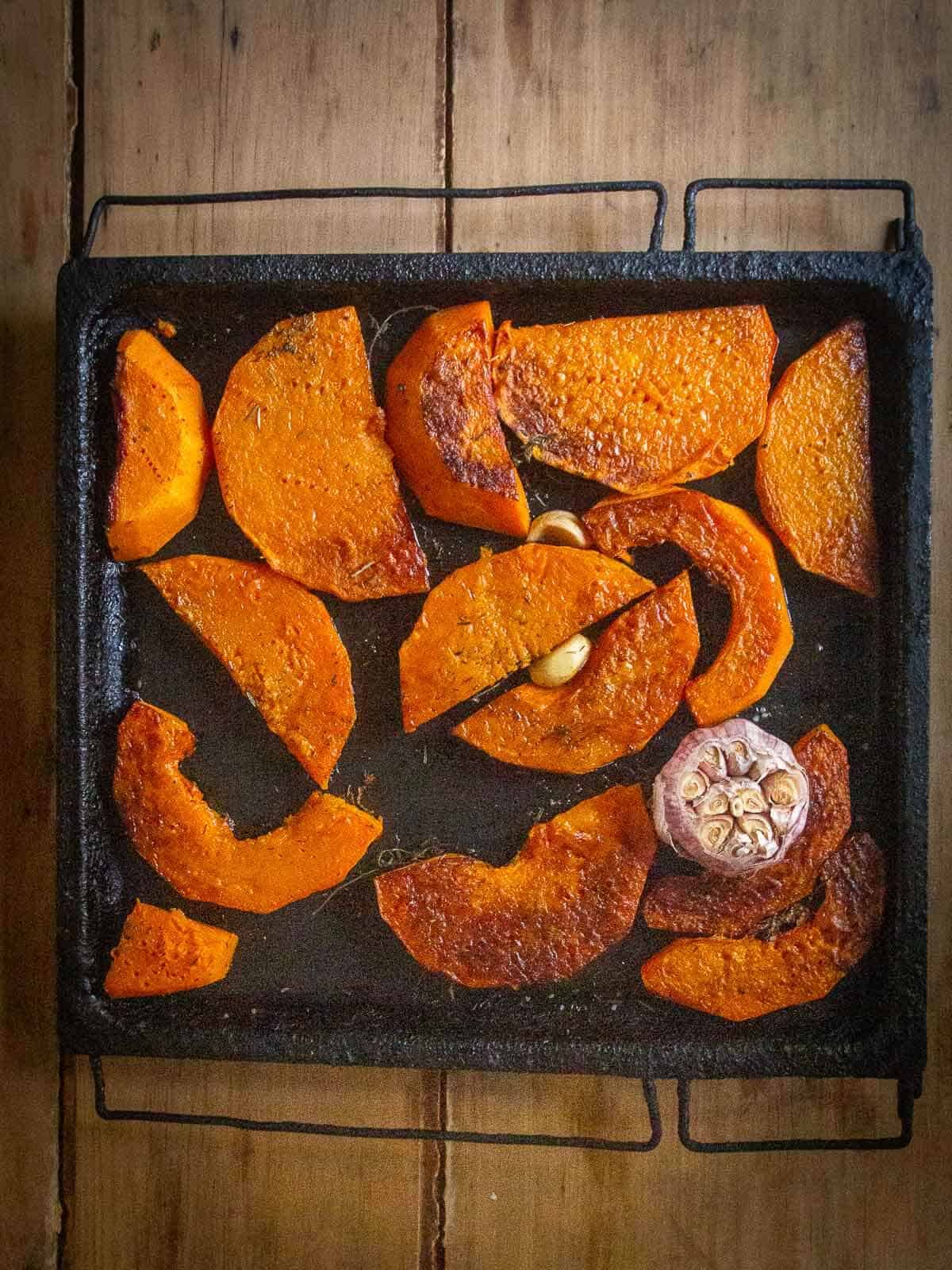 Quick Tip: If you're in a hurry, just cube the butternut squash instead of chunking it. You can shave off about ten minutes from the cooking time.
Mix It Up: Feel like getting creative? Cut the squash into discs or any shape that tickles your fancy. Add in other veggies if you like, and a tablespoon of olive oil plus a whole garlic head for that aromatic touch.
There you have it! A versatile, delicious, and oh-so-easy roasted butternut squash recipe that's perfect for any meal. 🍽️
🥢 How to serve
Let's get into some serving suggestions.
Serve roasted butternut squash halves on a serving dish.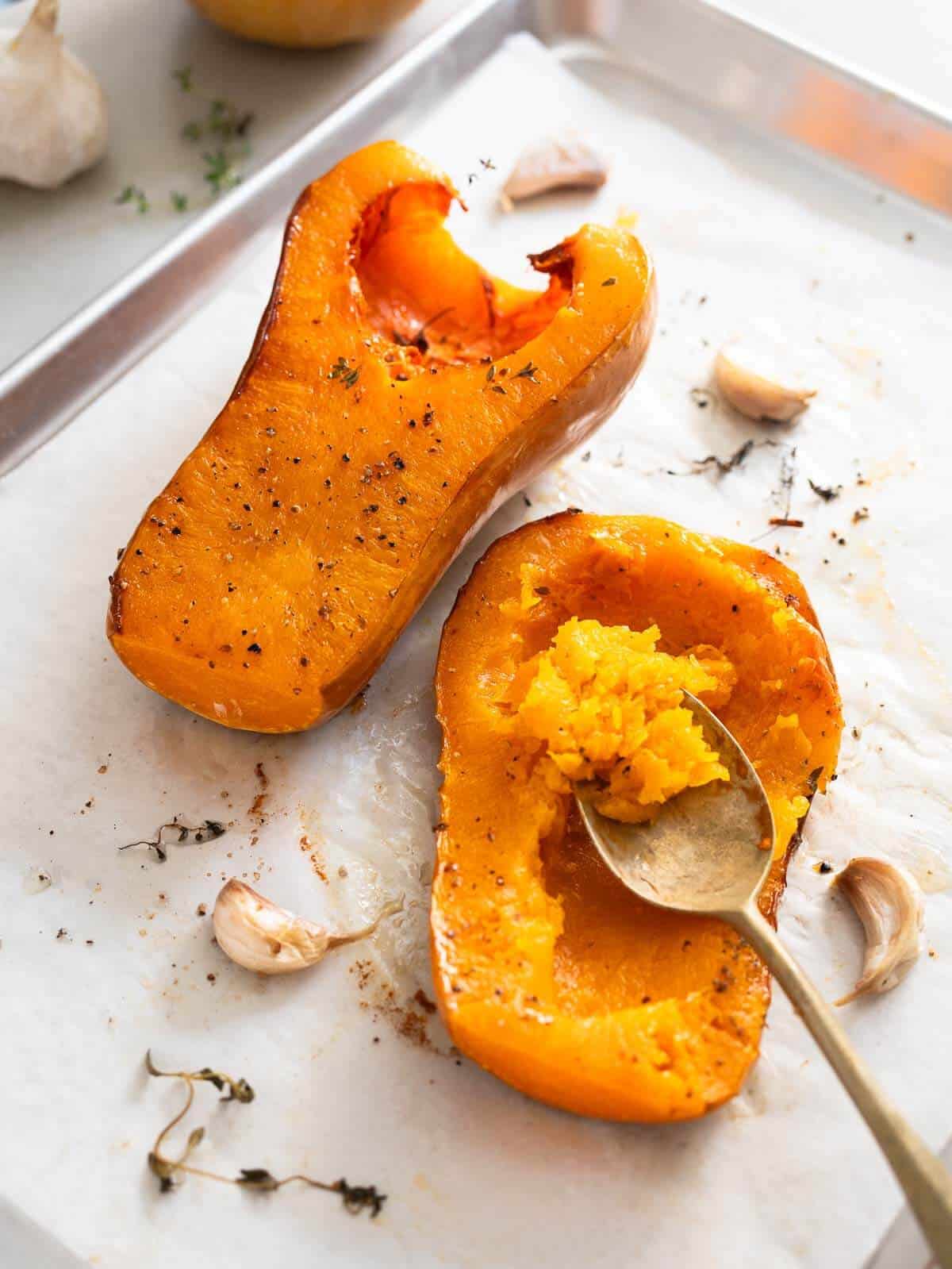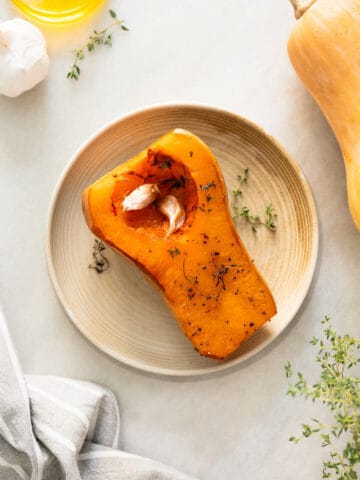 Serve the cooked butternut squash on its own on a serving plate with roasted garlic.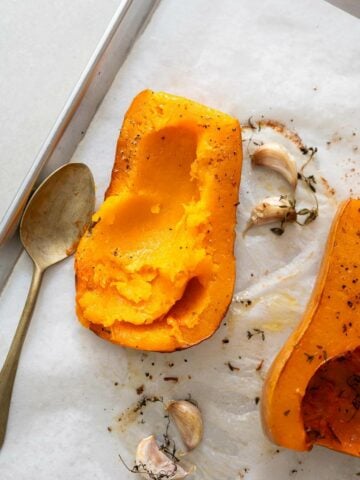 Serve as mashed butternut squash.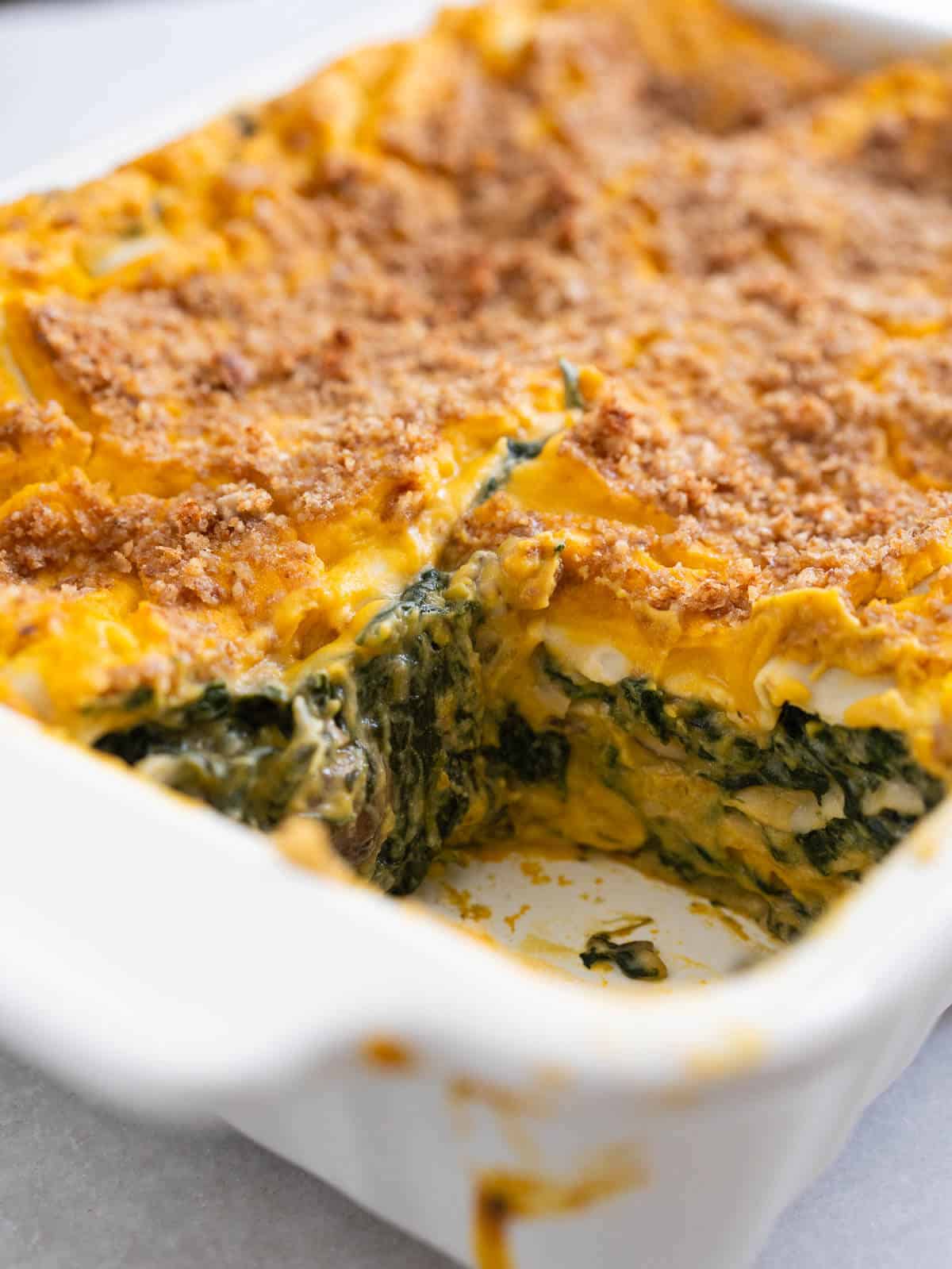 Use the pureed roasted squash to make a creamy lasagna.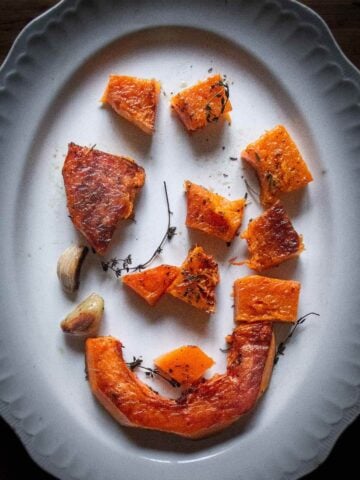 If you baked the butternut squash into chunks, you can serve cubed butternut squash as they are.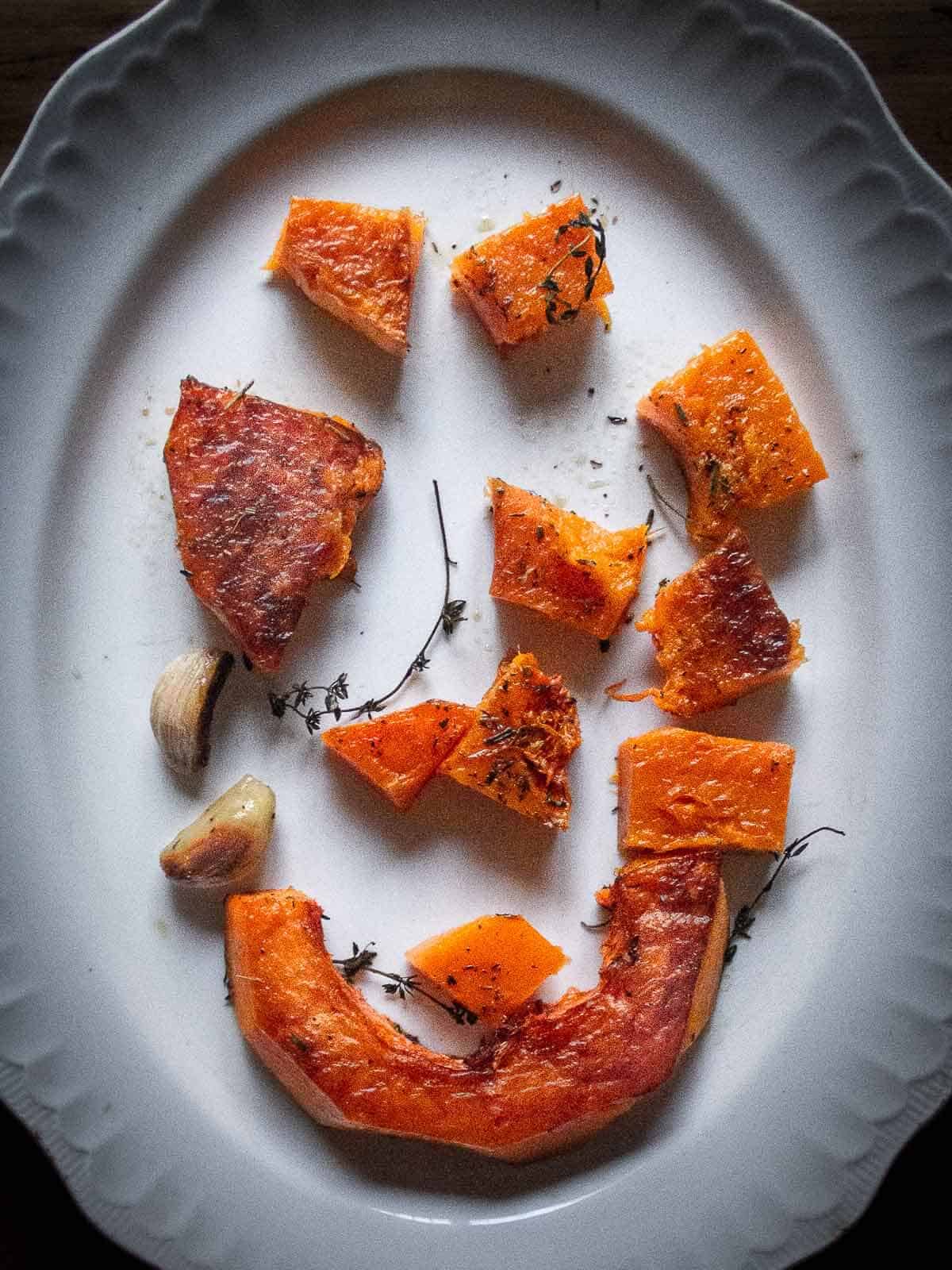 Although these can be eaten on their own, we like to top roasted veggies with carrot tops chimichurri for a change.
🧂 Seasoning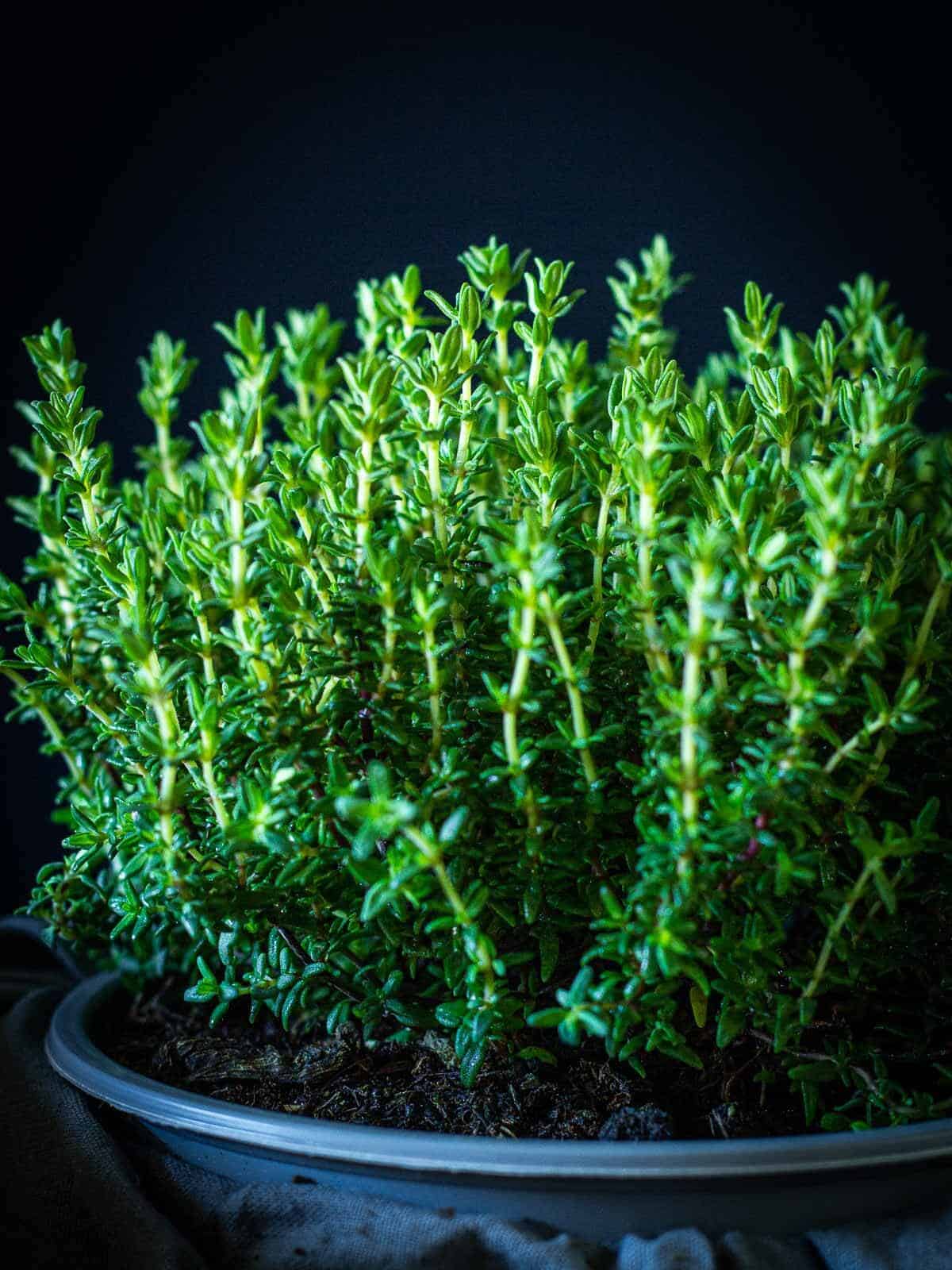 My favorite seasoning for roasted or baked butternut squash is dried or fresh thyme.
Also, Rosemary works beautifully. I think they combine very well with the sweetness of the butternut squash. A great addition to this roast would be Sweet potatoes.
Fresh sage is also a great option and is often used when making butternut squash risotto.
Also, for a more intense, delicious flavor, add a head of garlic to the baking tray, cut the head, and rub the butternut squash chunks with it. Alternatively, sprinkle onion or garlic powder on top of it.
Olive oil will help the butternut squash sugars caramelize.
For a sweeter take on butternut, we love seasoning it with ground cinnamon or nutmeg and even sprinkling some pumpkin pie spice mix on top. In this case, go for a neutral oil with a high smoking point, like avocado.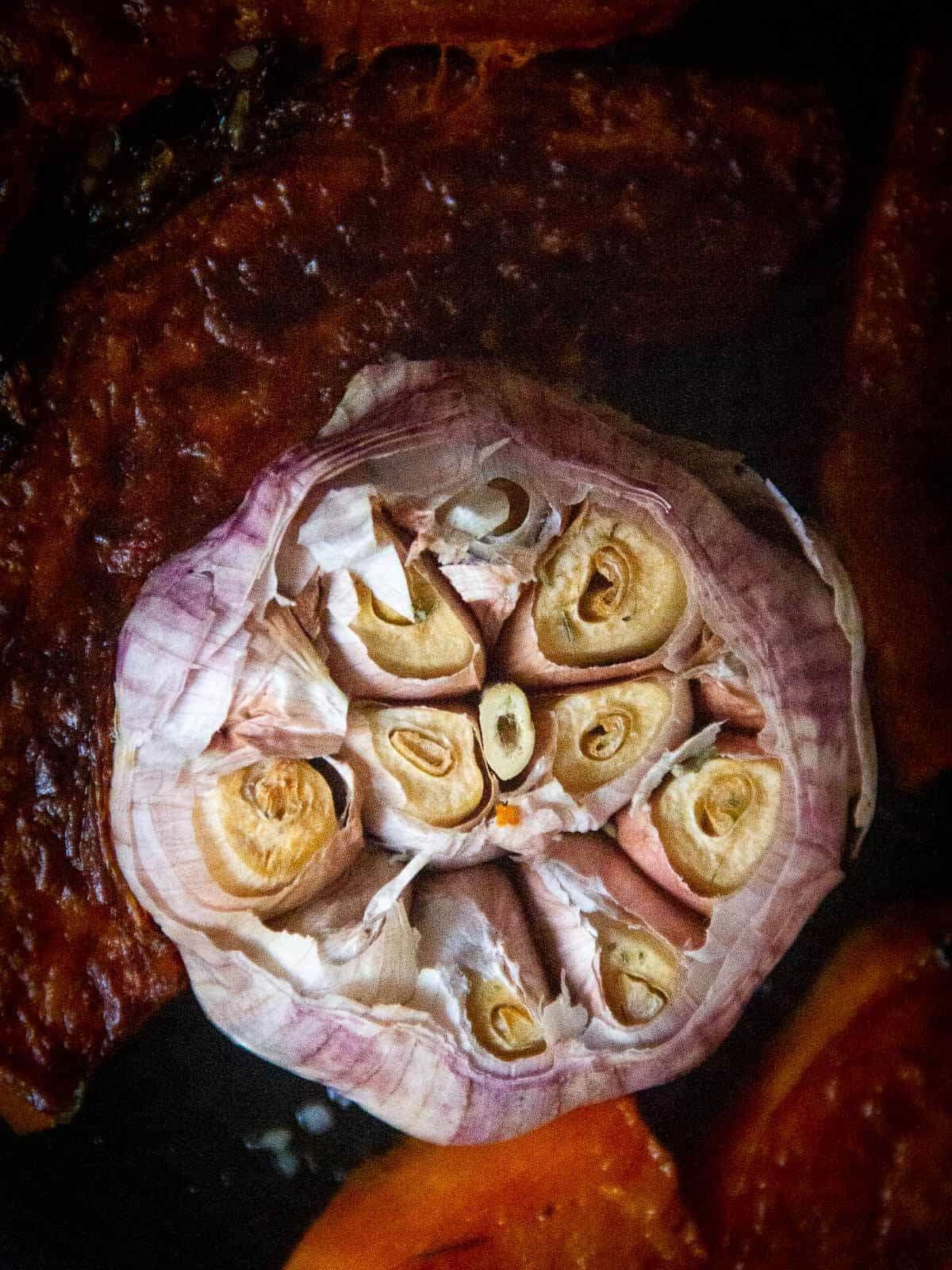 💡 Top tips
How long does butternut squash take to cook? Forty to fifty-five minutes at 400ºF (200ºC) will do it unless you use frozen butternut squash; see the below tips to make it right.
Roasted Butternut Squash is extremely versatile.
This whole roasted squash recipe is great as a starter, snack, side dish, or base for other recipes, such as a creamy soup.
You can also make a puree and use it as a filling for butternut squash ravioli.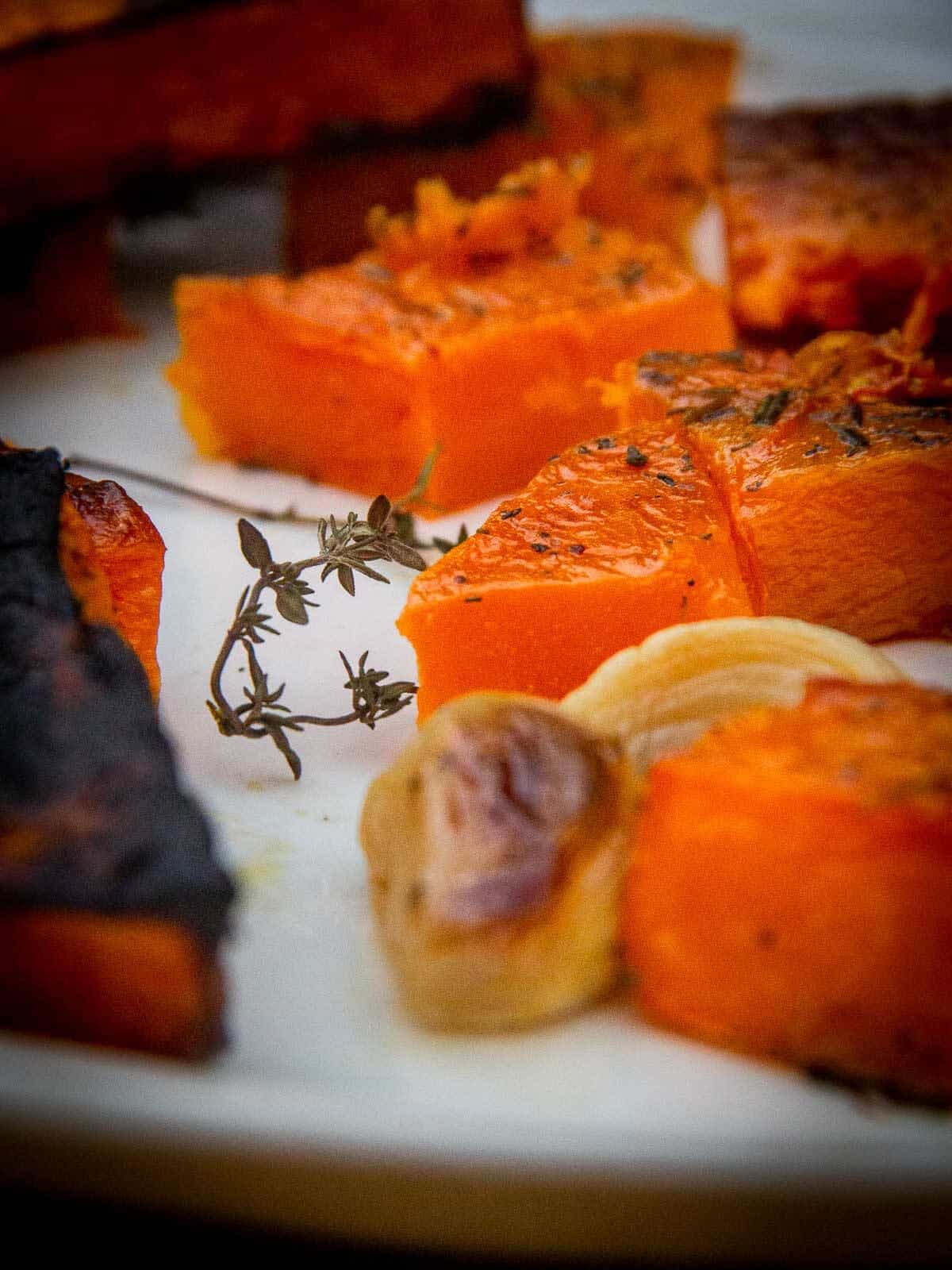 🤔 Butternut squash vitamins
Butternut squash is an excellent source of antioxidants, including vitamin E, vitamin C, and beta-carotene.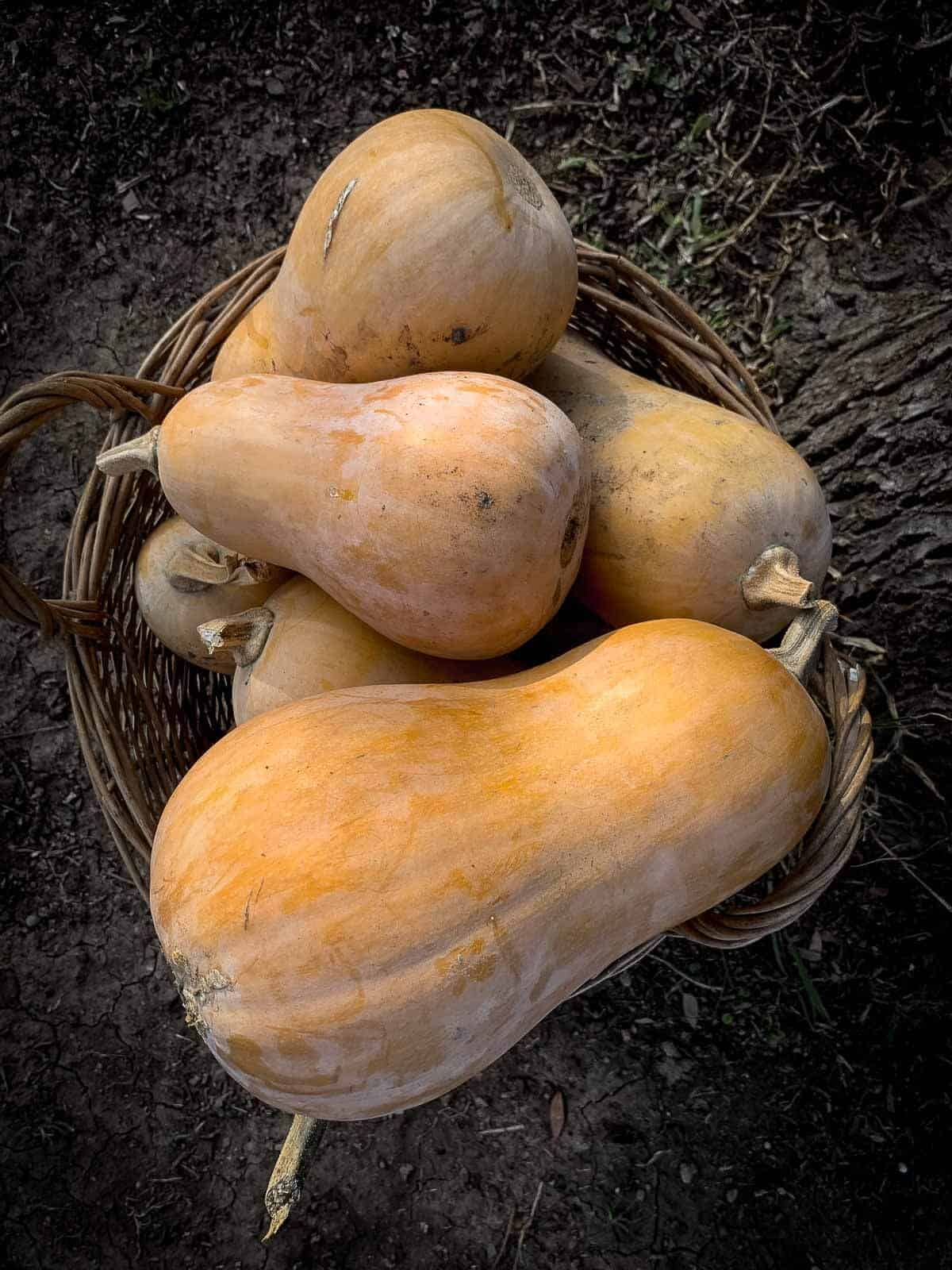 Antioxidants help prevent or slow cellular damage and help reduce inflammation, which may also reduce your risk of several chronic diseases. Butternut Squash has tons of great benefits for your health. Learn more here.
Remember to let us know how it turned out for you and what other vegetables you threw in the grilling tray.
Although it is more common to make pumpkin pie with pumpkins, we have successfully made it with butternut squash without noticing any difference, as their flavor profiles are very similar.
We love this simple and delicious Spiced Roasted Cauliflower Head Recipe
❓ FAQ
Is it better to roast or steam butternut squash?
Both roasting and steaming have their merits, but they serve different culinary purposes.
Roasting: When you roast butternut squash, you're allowing the natural sugars to caramelize, which brings out a sweeter, more complex flavor. The edges get a little crispy, and the inside becomes fork-tender. Roasting is ideal when you're looking for a richer flavor and texture, like in our roasted butternut squash recipe.
Steaming: On the other hand, steaming is quicker and retains more of the squash's natural moisture. It's a go-to method when you want a softer texture without the caramelized sweetness. Steaming is often preferred for recipes where the squash will be mashed or pureed, like in soups.
So, is one better than the other? Not really—it all depends on what you're aiming for in your dish. Want a deep, rich flavor? Go for roasting. Need something quick and versatile? Steaming is your friend. Either way, you're in for a tasty, nutritious treat! 🌱
📚 Butternut squash recipes
Read on: how to cook with pumpkin » and Stuffed Acorn Squash »
If you try this butternut vegan recipe, let us know! Leave a comment, rate it, and don't forget to tag a photo #ourplantbasedworld on Instagram. Cheers!
📋 Recipe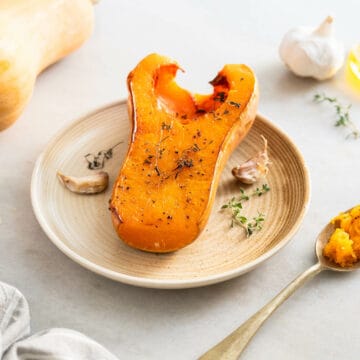 Whole Roasted Butternut Squash + How to Roast Frozen Squash
Get ready for a flavor-packed Whole Roasted Butternut Squash that's both nutritious and easy to make. It's the dinner showstopper you've been waiting for! 🍽️
Equipment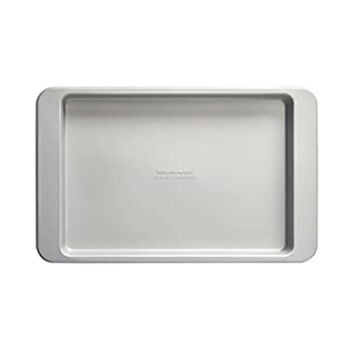 (affiliate link)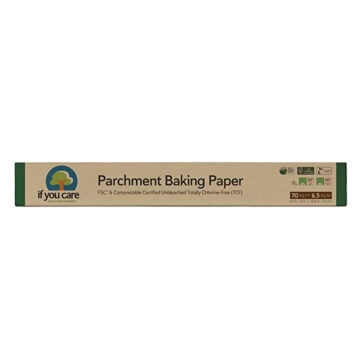 (affiliate link)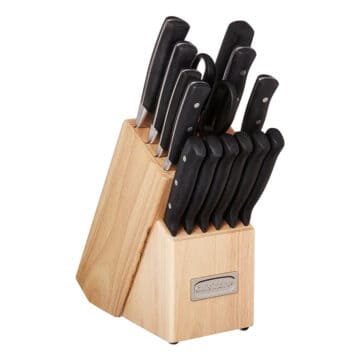 (affiliate link)
Ingredients
1

butternut squash

1

garlic head

1

teaspoon

thyme

or/and rosemary, preferable fresh
Optional:
1

teaspoon

coarse sea salt

omit if adhering to a WFPB diet

1

teaspoon

olive oil

extra-virgin, omit if adhering to a WFPB diet
Directions
Whole Roasted Butternut Squash Method
Preheat Oven: Crank up your oven to a sizzling 400℉ (200 ºC). Let's turn up the heat, shall we?

Slice Squash: Halve that butternut squash and get rid of the seeds. New to this? Our post pics got your back.

Season Squash: A little salt, a little pepper, and boom! You're on a one-way trip to Flavorville.

Arrange Herbs: Lay the squash halves on a lined baking sheet, skin side up. Slide in a couple of garlic cloves and your go-to herbs under each half.

Drizzle Oil: Drizzle that liquid gold, aka olive oil, all over the squash.

Bake Squash: Into the oven it goes for 45–60 minutes. Got a petite squash? Fork-test it at 40 minutes.

Serve: Fork-tender? You're golden. Serve it up and enjoy your culinary masterpiece!
Roasted Chunks Method
Preheat Oven: First things first, pre-heat your oven to 400ºF (200ºC). We're setting the stage for some roasting magic.

Cut Chunks: Peel that butternut squash and cut it into hearty chunks. Toss 'em with your fave herbs in a bowl for that extra oomph.

Choose Oil: Here's where you choose your own adventure. Either lightly drizzle some extra-virgin olive oil for a golden touch or go oil-free by placing the chunks on parchment paper. Oh, and don't forget to add a sliced garlic head and a couple of extra cloves to the mix.

Roast Chunks: Slide that tray into the oven and let it do its thing for 40-50 minutes. You're aiming for fork-tender perfection.
Roasted Frozen Butternut Squash Chunks
Preheat Oven: Get that oven roaring at 450ºF (230 ºC).

Season & Roast: Without thawing, toss the chunks in oil, salt, and your fave herbs, then roast in the preheated oven for 15-20 minutes.

Monitor Cooking: Place the squash on the lower rack and keep an eye on it from the 15-minute mark. Smaller chunks will cook faster, so stay alert!
Nutrition Facts
Calories:
95
kcal
Carbohydrates:
22
g
Protein:
2
g
Fat:
1
g
Saturated Fat:
1
g
Polyunsaturated Fat:
1
g
Monounsaturated Fat:
1
g
Sodium:
589
mg
Potassium:
666
mg
Fiber:
4
g
Sugar:
4
g
Vitamin A:
19955
IU
Vitamin C:
40
mg
Calcium:
94
mg
Iron:
1
mg
Nutrition Facts
Whole Roasted Butternut Squash + How to Roast Frozen Squash
Amount per Serving
% Daily Value*
* Percent Daily Values are based on a 2000 calorie diet.
🌡️ Food safety
Cook to a minimum temperature of 165 °F (74 °C)
Do not use the same utensils on cooked food, that previously touched raw meat
Wash hands after touching raw meat
Don't leave food sitting out at room temperature for extended periods
Never leave cooking food unattended
Use oils with a high smoking point to avoid harmful compounds
Always have good ventilation when using a gas stove
See more guidelines at USDA.gov.
Nutritional Disclaimer
The information shown is an estimate provided by an online nutrition calculator. It should not be considered a substitute for a professional nutritionist's advice. See our full Nutritional Disclosure here.
Affiliate Disclaimer
Please note that some of the links here are affiliate links, and I will earn a commission if you purchase through those links. I recommend all of the products listed because they are companies I have found helpful and trustworthy.