We love having unique, colorful, and seasonal veggies around. Look what I found today! This beautiful and Colorful Broccoli and Cauliflowers!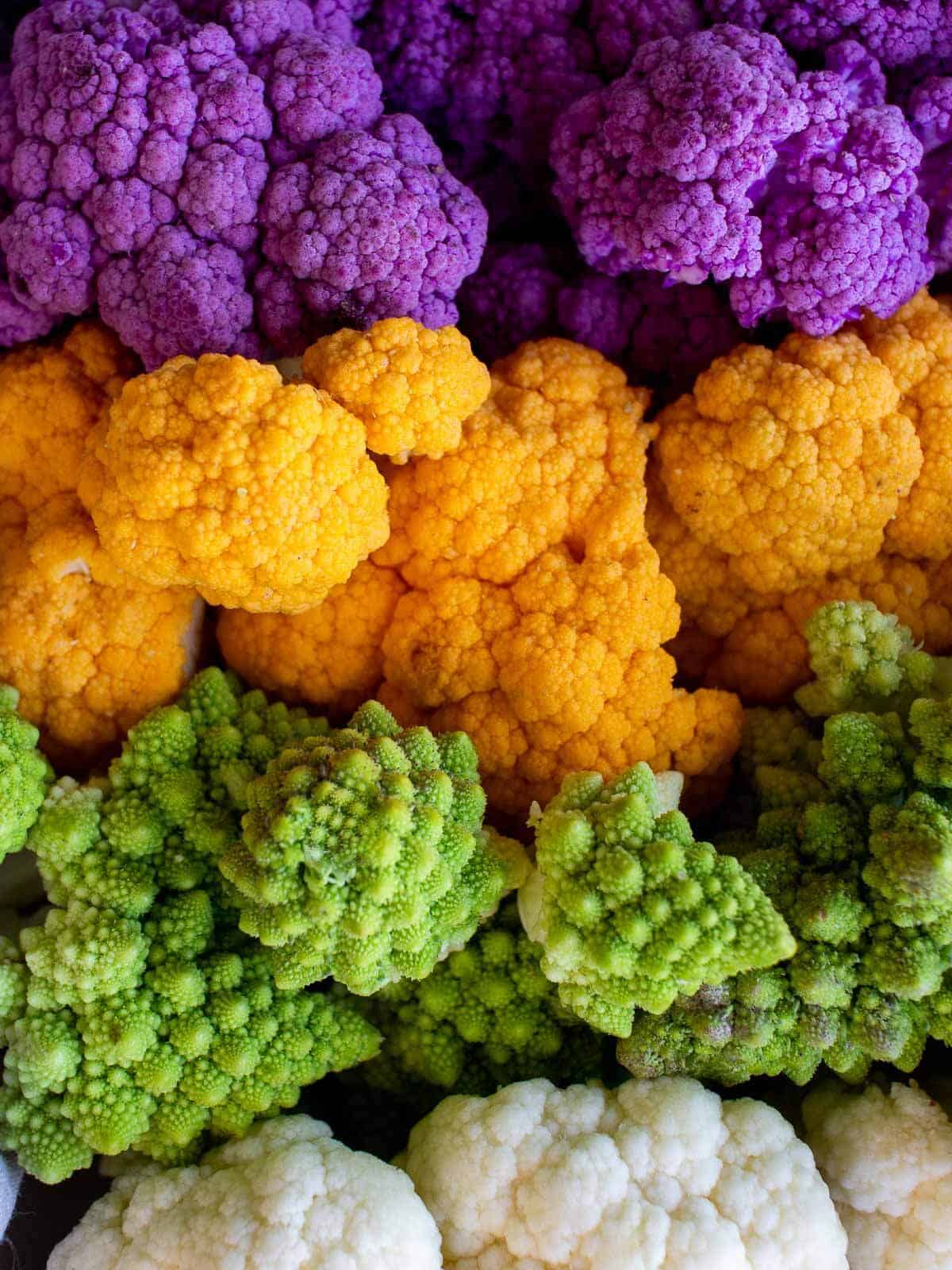 Remember, the more colors on your plate, the more nutritious your meal is.
We all eat with our eyes first, which is how to make it!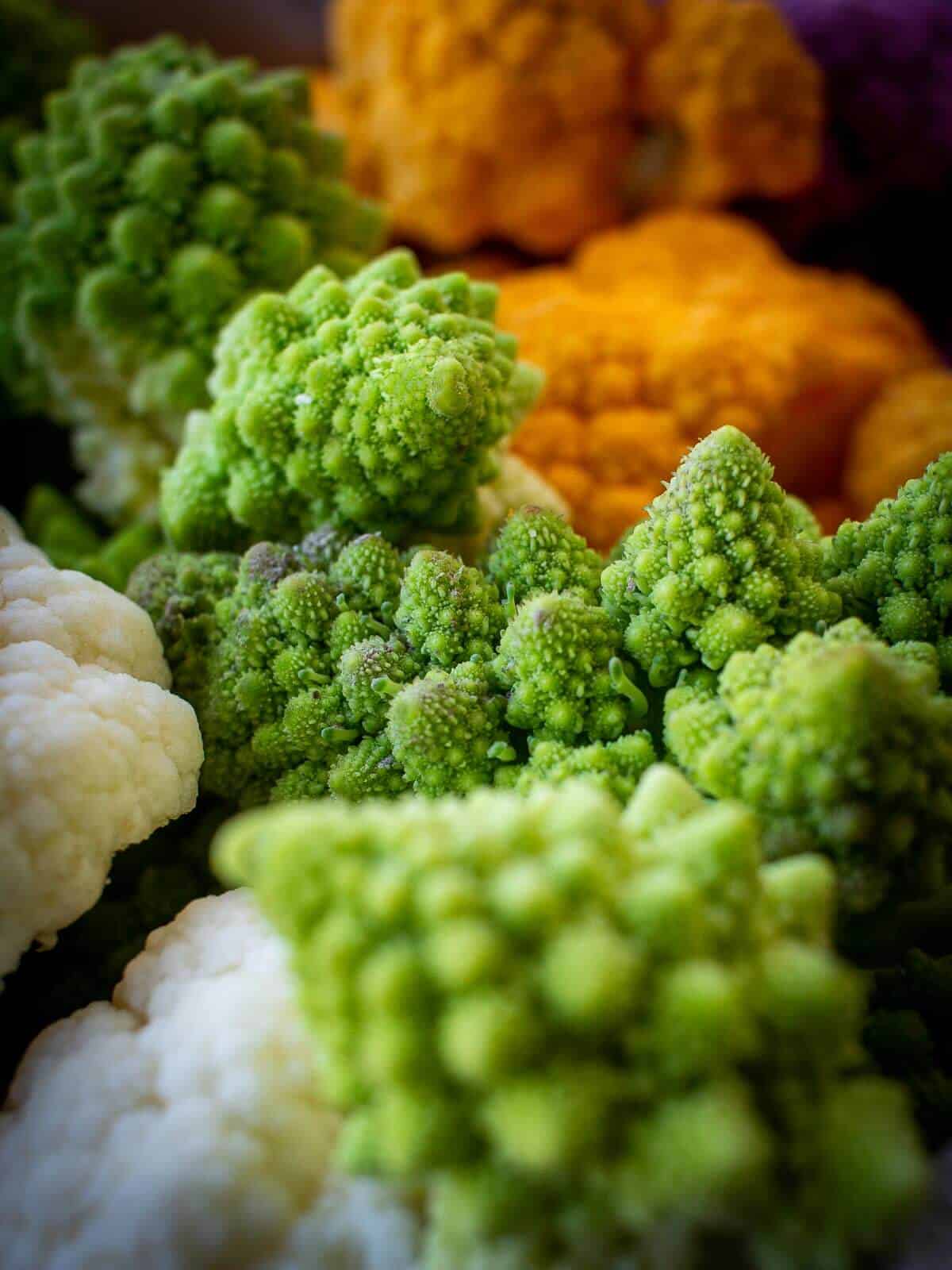 TIP
Steam your vegetables to keep their colors. Then, put them into cool running water to stop the cooking process.
Avoid boiling them; you will preserve the color and the nutrients because they will not be leached into the boiling water.
You can also simply roast cauliflower and cook it with spices as we do in our Indian Cauliflower Curry and our Whole Roasted Seasoned Cauliflower.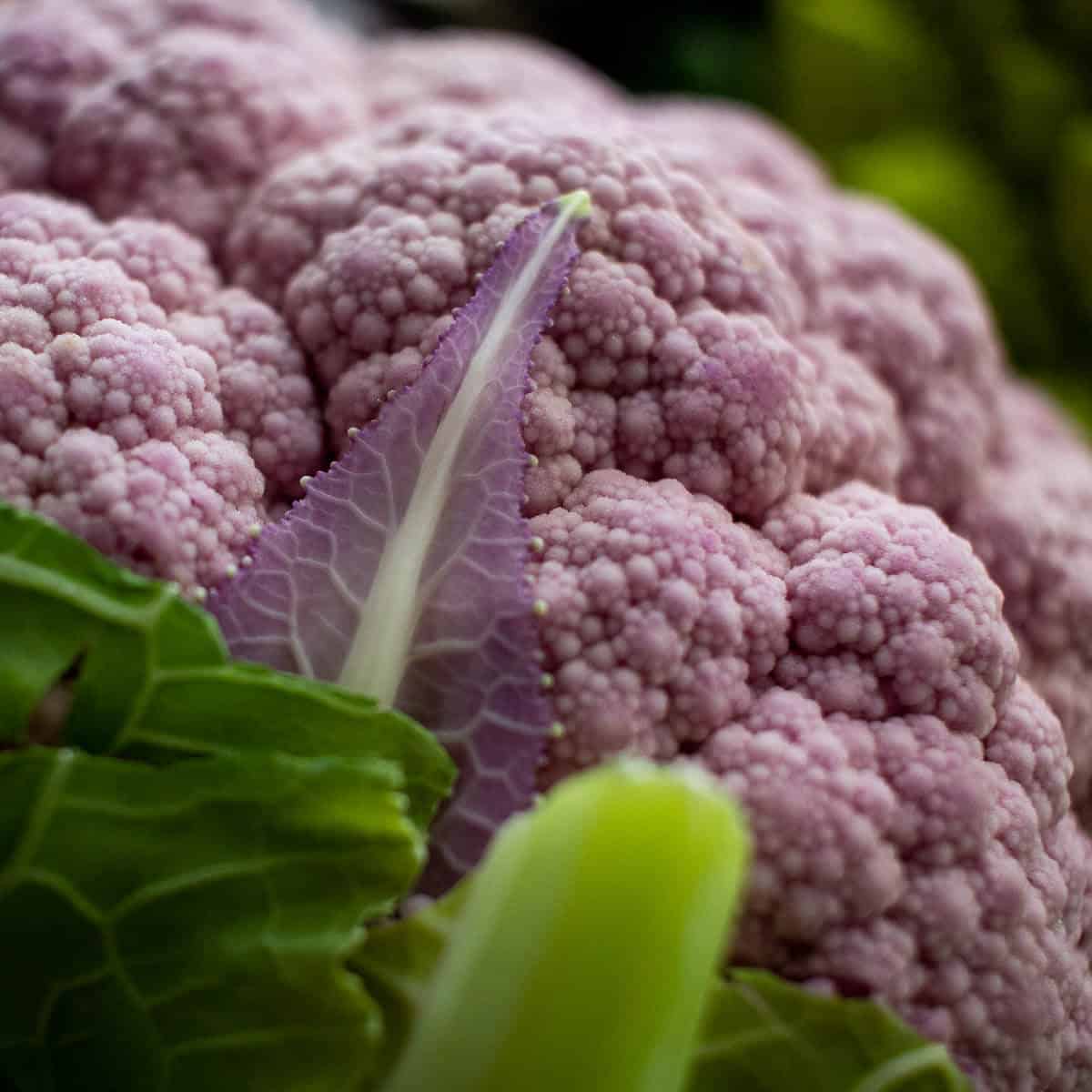 If you still boil them, cook them in boiling salted water for a few minutes, take them out, and cool them immediately in iced water.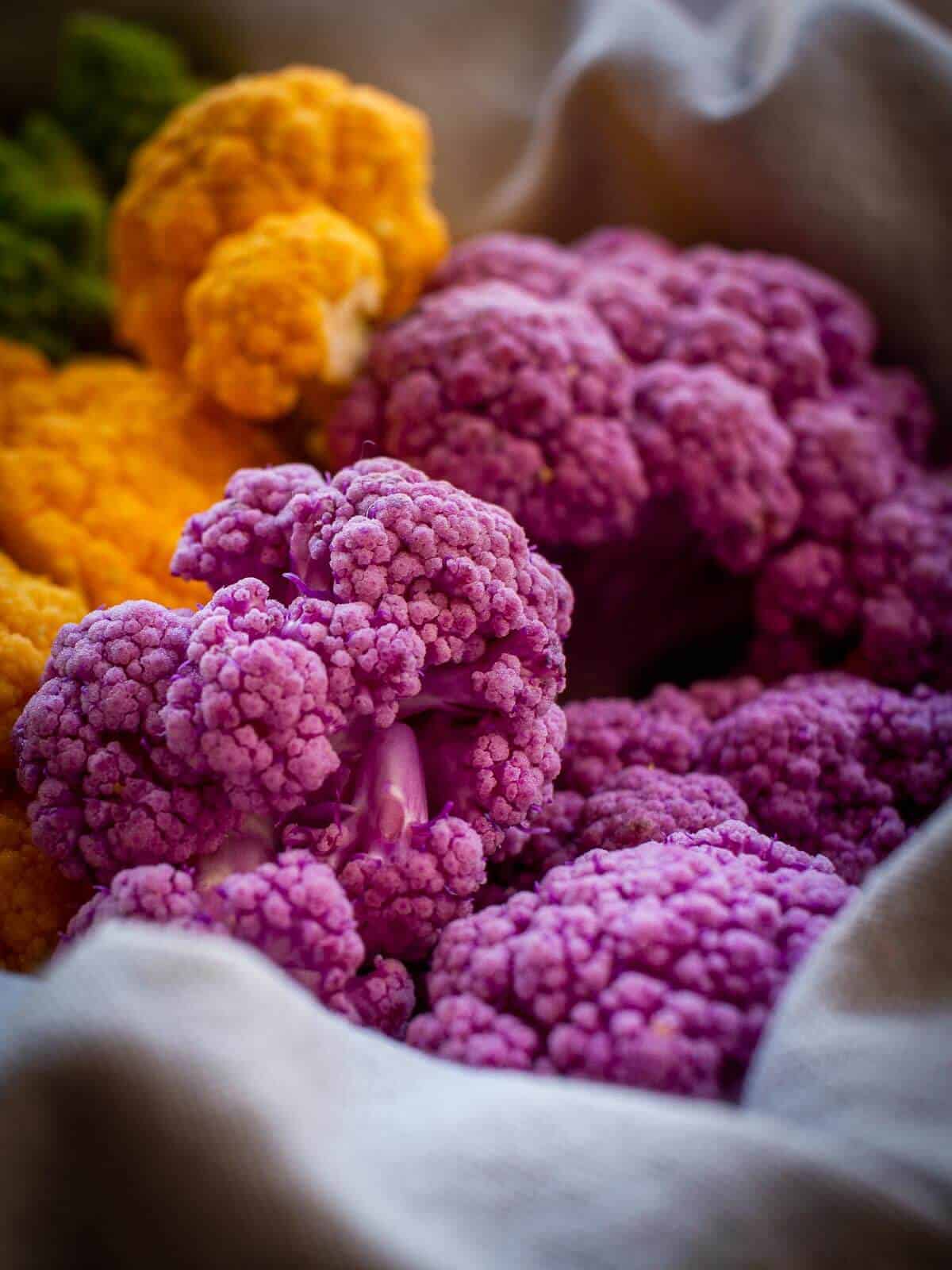 Where was broccoli first found?
Broccoli was first found in Italy during the Roman Empire. The broccoli plant grew wild along the coast of the Italian peninsula and was introduced to Sicily by way of Arab trade. It was known in mainland Europe by the 14th century when it began to be cultivated.
How broccoli was first used?
Broccoli was first used as medicine. People boiled broccoli and drank it for lung diseases, fevers, and lichen disease. Today broccoli is still used as medicine but not so frequently because broccoli has many calories and people want to avoid gaining weight.
How is broccoli cultivated?
how does broccoli grow? broccoli grows by planting the broccoli seed into the ground with enough sunlight and water for growth. broccoli plants are green because of the chlorophyll inside broccoli. broccoli is one of the healthiest veggies to eat because broccoli has lots of vitamins and nutrients.
Which is healthier – Steaming or Boiling Broccoli and Cauliflowers
As steaming doesn't rob the vegetables of their essential nutrients, it is advisable to steam the vegetables instead of boiling them. However, before you steam the vegetables, make sure you wash them in the right way to remove harmful chemicals from the surface.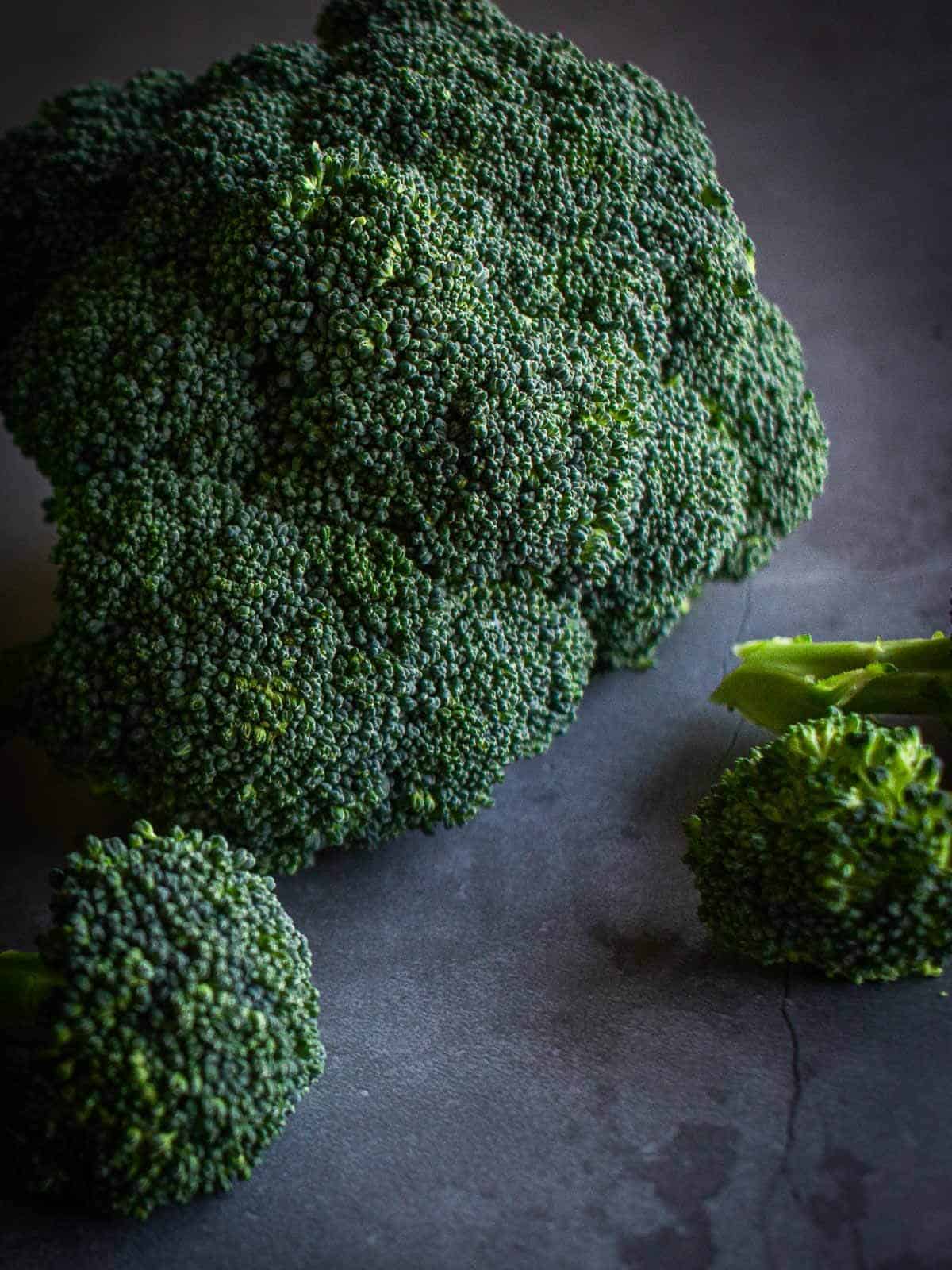 The shared benefits of Broccoli and Cauliflower
Both are filled with lots of essential minerals and vitamins that are extremely important for the body.
They contain potent antioxidants that offer health-protective effects
They may protect against certain types of cancer
These cruciferous vegetables are highly nutritious and, as Science Says, are amongst the 3 of the Healthiest Foods You Can Eat. They have a lot of beneficial, healthy properties and very few calories.
Additional benefits of Broccoli
Bioactive Compounds May Contribute to Reduced Inflammation
Antioxidants and Fiber May Aid Blood Sugar Control
May Support Heart Health in a Variety of Ways
Promotes Healthy Digestion and Reduced Constipation
May Slow Mental Decline and Support Healthy Brain Function
May Help Slow the Aging Process
Vitamin C Content Supports a Healthy Immune System
May Support Dental and Oral Health
May Promote Healthy Bones and Joints
Nutrient Content May Support a Healthy Pregnancy
May Protect Your Skin From Sun Damage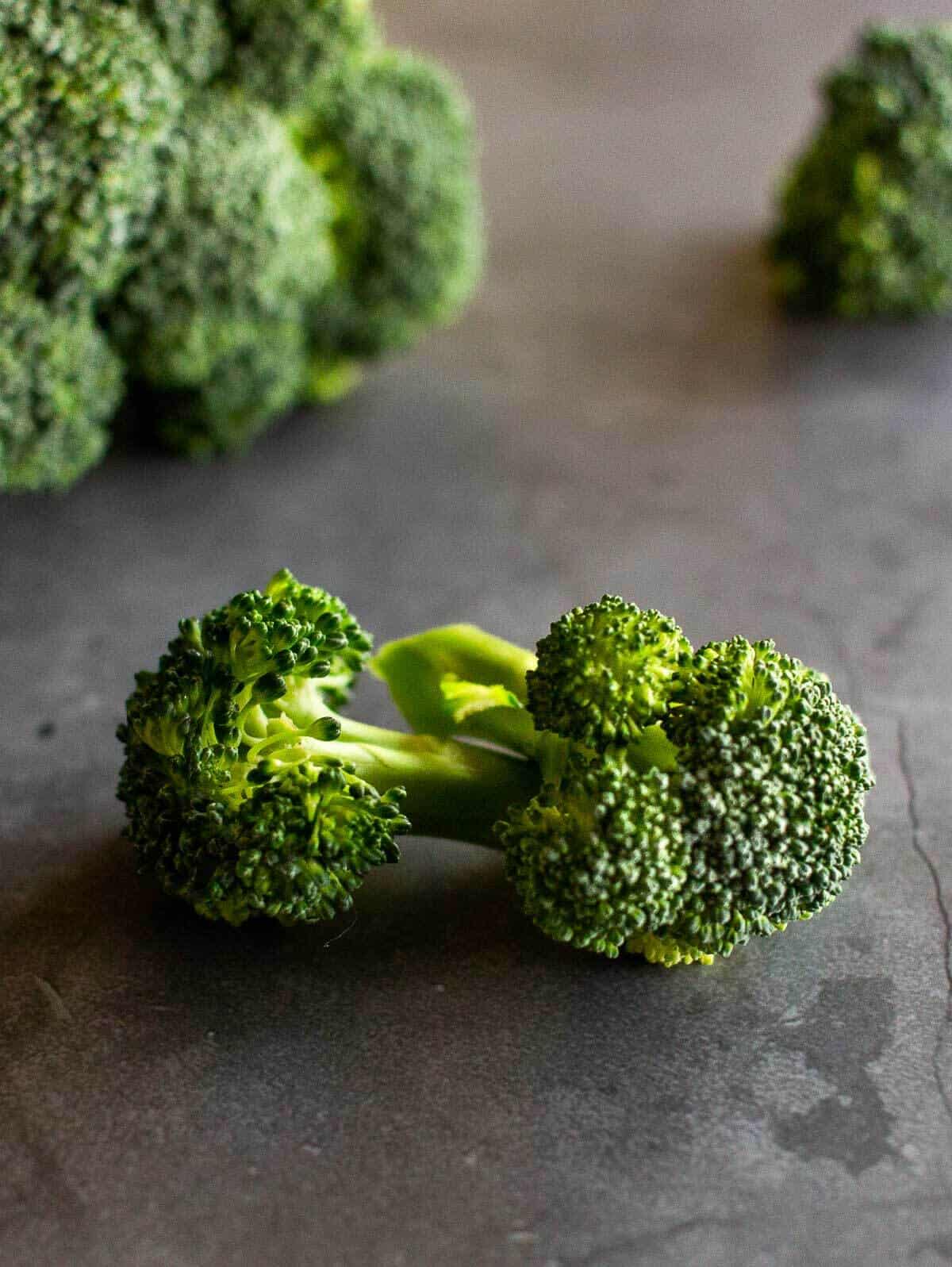 Additional Benefits of Cauliflower
Cauliflower is high in fiber, which is beneficial for overall health.
May Aid in Weight Loss
It is a Low-Carb Alternative to Grains and Legumes
Easy to Add to Your Diet can be eaten raw, steamed, roasted, or sauteed.
High in Choline plays a significant role in maintaining the integrity of cell membranes, synthesizing brain development, and promoting a healthy nervous system.
Read on: Chickpea Avocado and Raw Broccoli Salad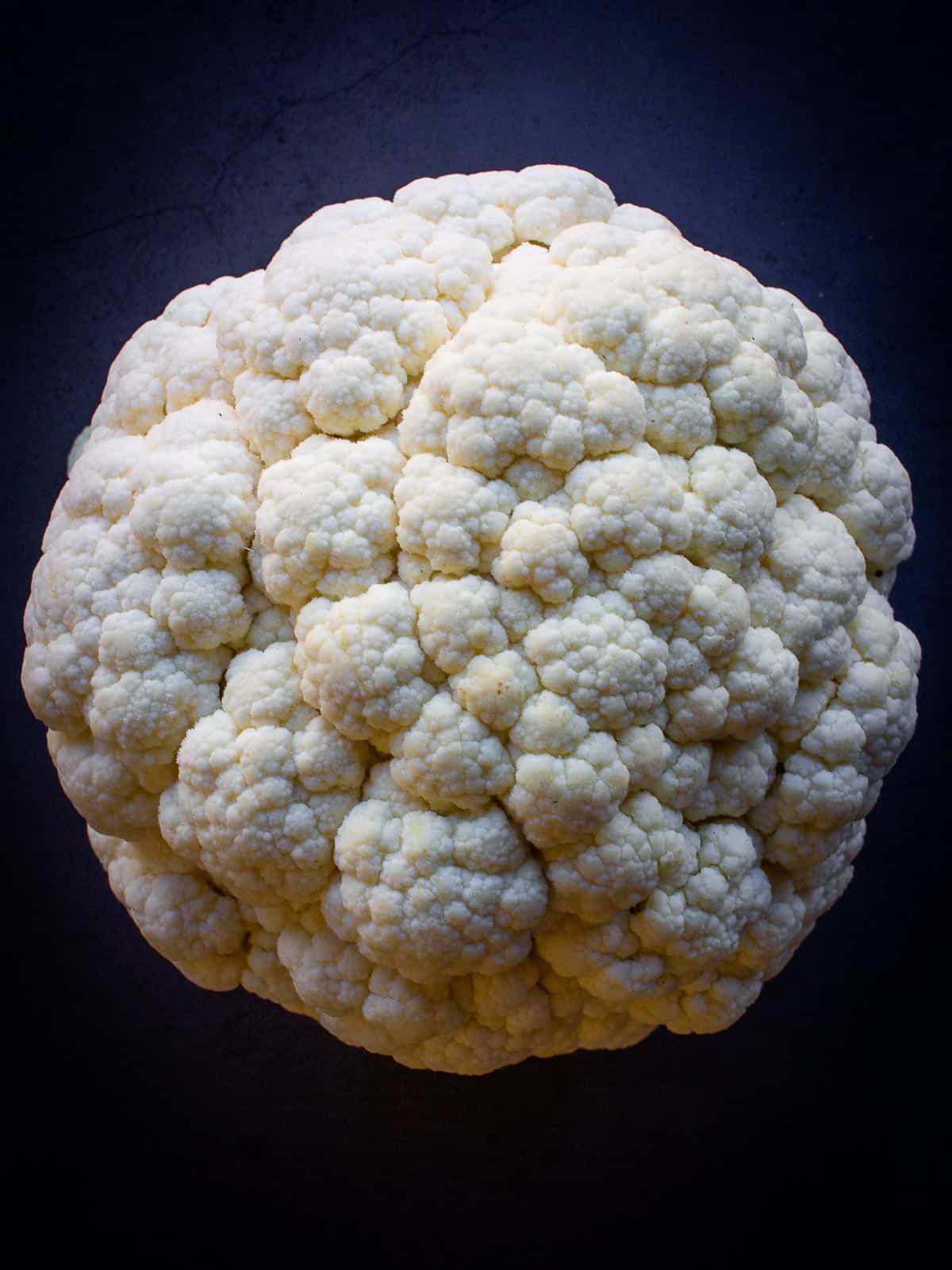 Want to know more about the benefits of these two great vegetables?
Learn how to roast a whole cauliflower head with only three ingredients! The perfect side dish to impress your guests!
Cauliflower recipes: