Welcome to our latest post, where we'll dive into the incredible benefits of broccoli juice and share a delicious juicer recipe that will become your new favorite. Broccoli, often dubbed as a superfood, is packed with a myriad of essential nutrients, and when consumed as a juice, it offers even more advantages for your health. In this post, we'll explore 11 fantastic broccoli benefits, illustrating just how powerful this nutrient-dense elixir can be. So, if you're ready to boost your body and incorporate more broccoli into your diet, look no further than our simple and tasty broccoli in juicer recipe. Cheers to a healthier you!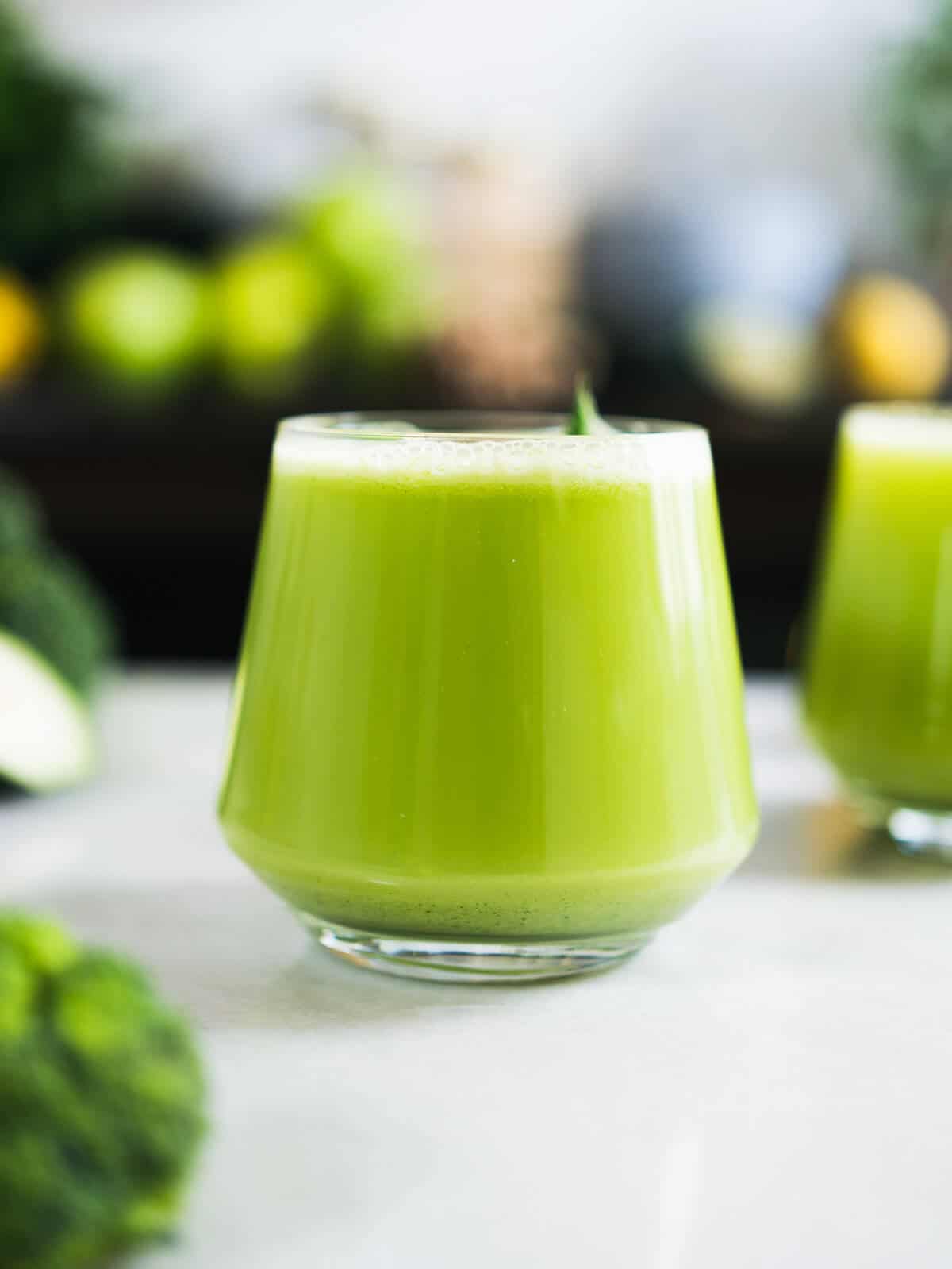 Incorporating this nutrient-dense fresh broccoli juice into your juicing routine is an excellent idea for numerous reasons. One significant advantage is the incredible array of vitamins and minerals in this potent concoction, such as vitamins A, C, and K, as well as minerals like potassium, calcium, and iron. These essential nutrients work together to support various aspects of your overall health, ranging from immunity and digestion to heart health and bone strength. Additionally, the antioxidants in broccoli juice help neutralize free radicals in the body, reducing oxidative stress and lowering the risk of chronic diseases.
Juicing broccoli makes consuming more nutritious vegetables in a single serving easier, allowing you to reap the benefits of broccoli and other nutrient-packed ingredients without consuming large portions of the whole produce.
This juice recipe is also adaptable, allowing you to modify the ingredient ratios or add other vegetables and fruits to cater to your taste preferences. By incorporating this healthful and delicious broccoli juice into your daily regimen, you'll be taking a proactive step towards enhancing your well-being and embracing a more vibrant, nourished lifestyle.
Jump to:
🧾 Ingredients
This broccoli juice recipe is made with just a few delicious ingredients: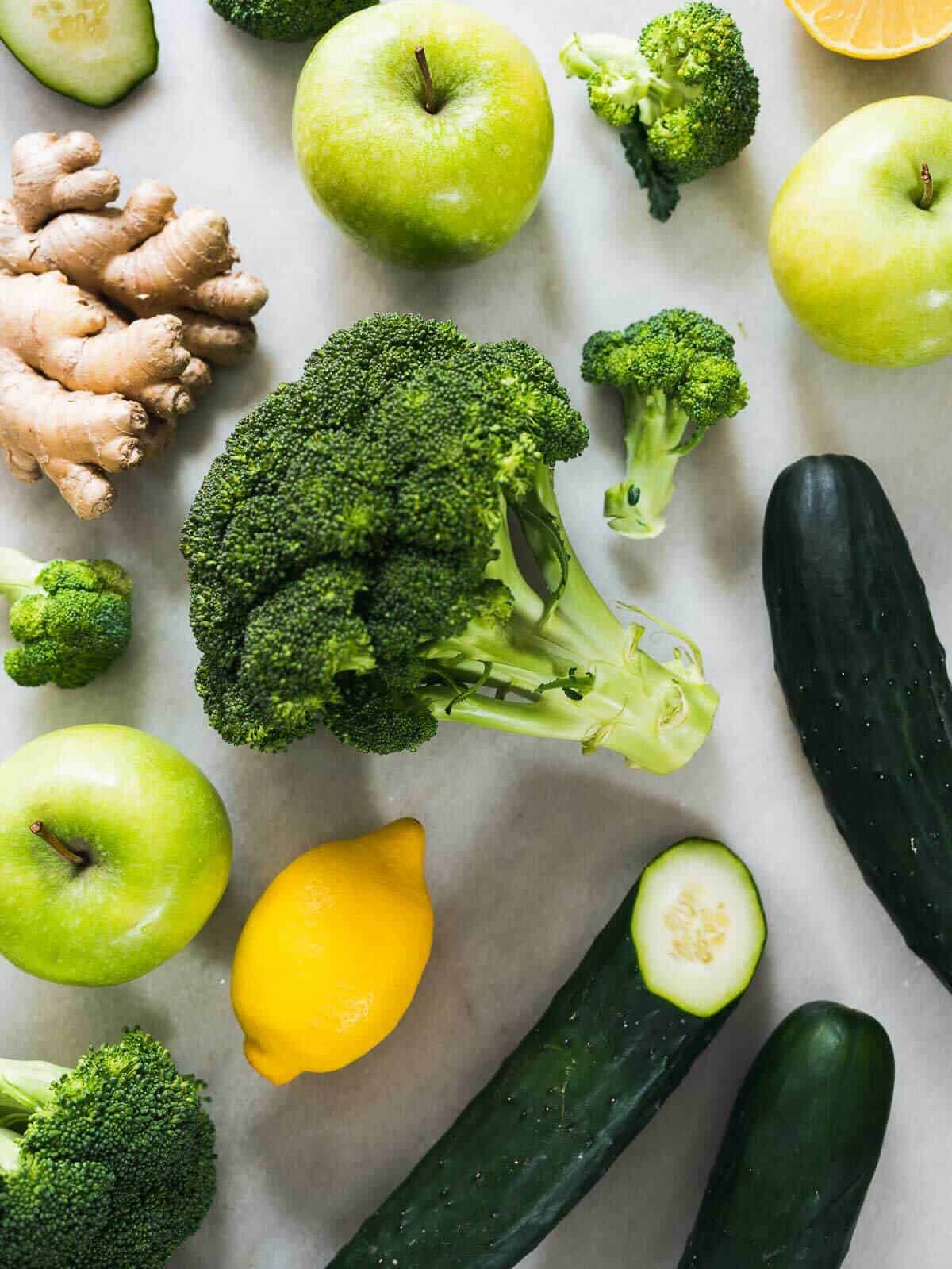 Raw broccoli: this green vegetable is rich in vitamins, minerals, and antioxidants; broccoli boosts overall health and supports a strong immune system, while its high fiber content aids digestion.
Cucumber: Cucumber adds hydration and essential nutrients like vitamin K and potassium while also providing a refreshing taste that balances the robust flavors of other ingredients.
Green Apple: Green apples offer a slightly tart and sweet flavor while being loaded with antioxidants and dietary fiber that promote heart health and regulate blood sugar levels.
Fresh Ginger: Ginger imparts a zesty flavor and is known for its anti-inflammatory and digestive properties, which can help alleviate nausea and support a healthy diet and gut.
Lemon Juice: Lemon juice adds a tangy, refreshing taste and is an excellent source of vitamin C, which helps to enhance immunity and improve skin health.
See the recipe card for quantities.
🔪 Instructions
This broccoli drink involves 3 simple steps.
Washing and preparing your ingredients. Peel the lemon. Removing the skin and white parts.
Chopping in sizable chunks.
Juicing your veggies, fruit, and ginger roots.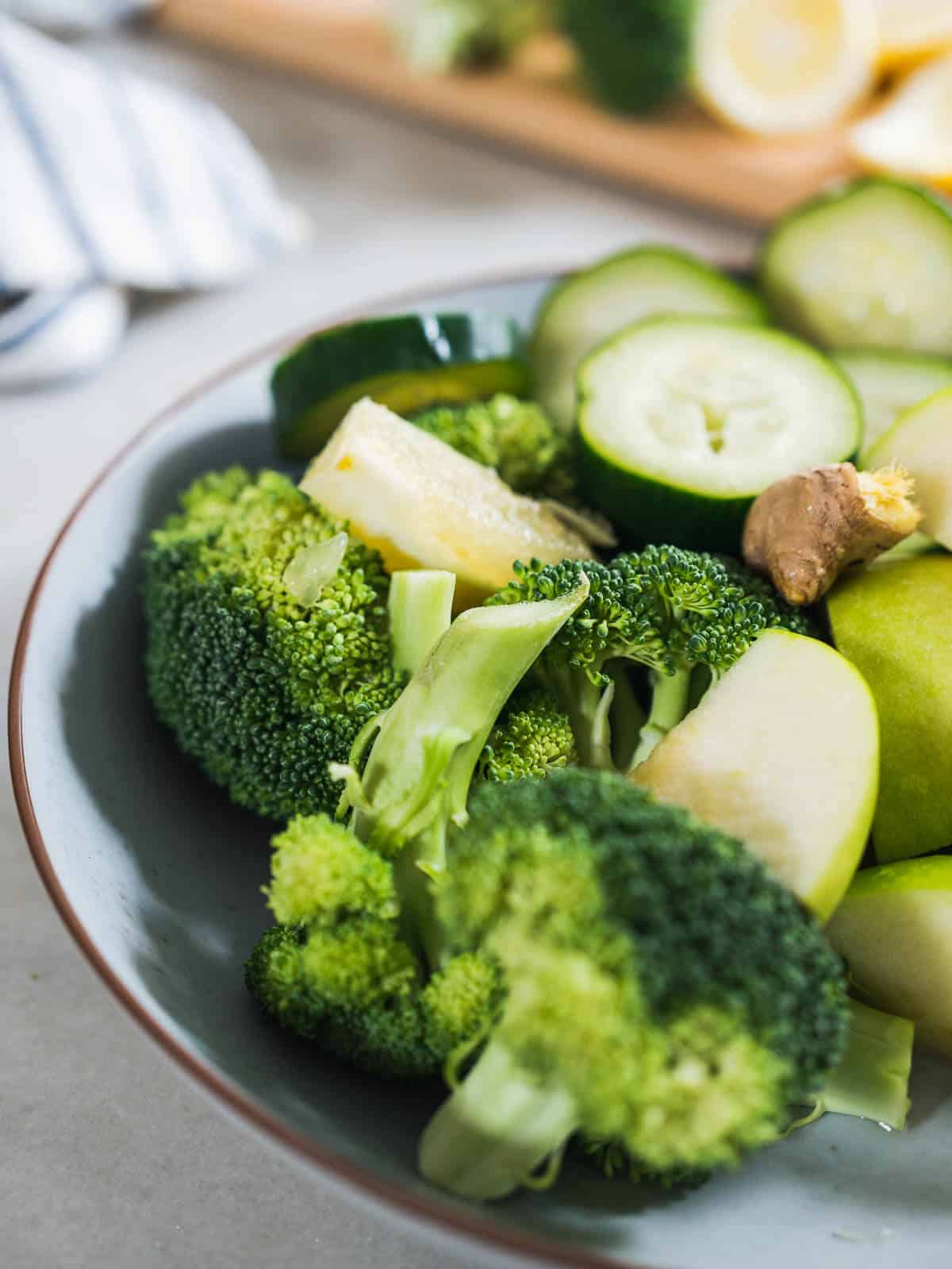 Cut the broccoli into smaller florets, chop the cucumber and green apple into pieces that will fit into your juicer, and add the ginger. Peel the lemon, leaving the peelings and white parts behind.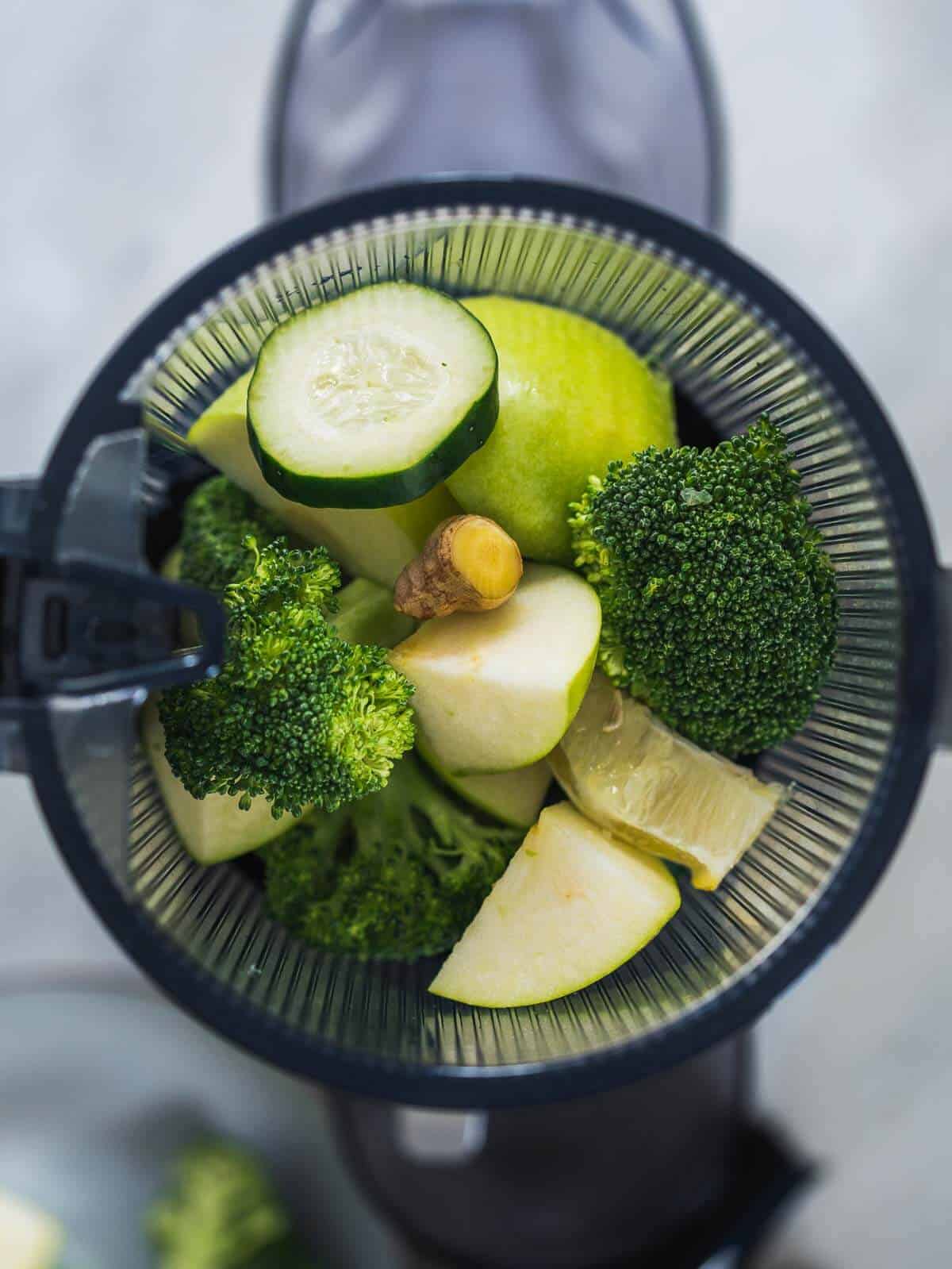 Turn on your cold-pressed juicer and start feeding the ingredients through the chute, beginning with the softer ingredients and the tougher ones.
Hint: don't throw away the stems; you can also juice them, which are equally nutritious.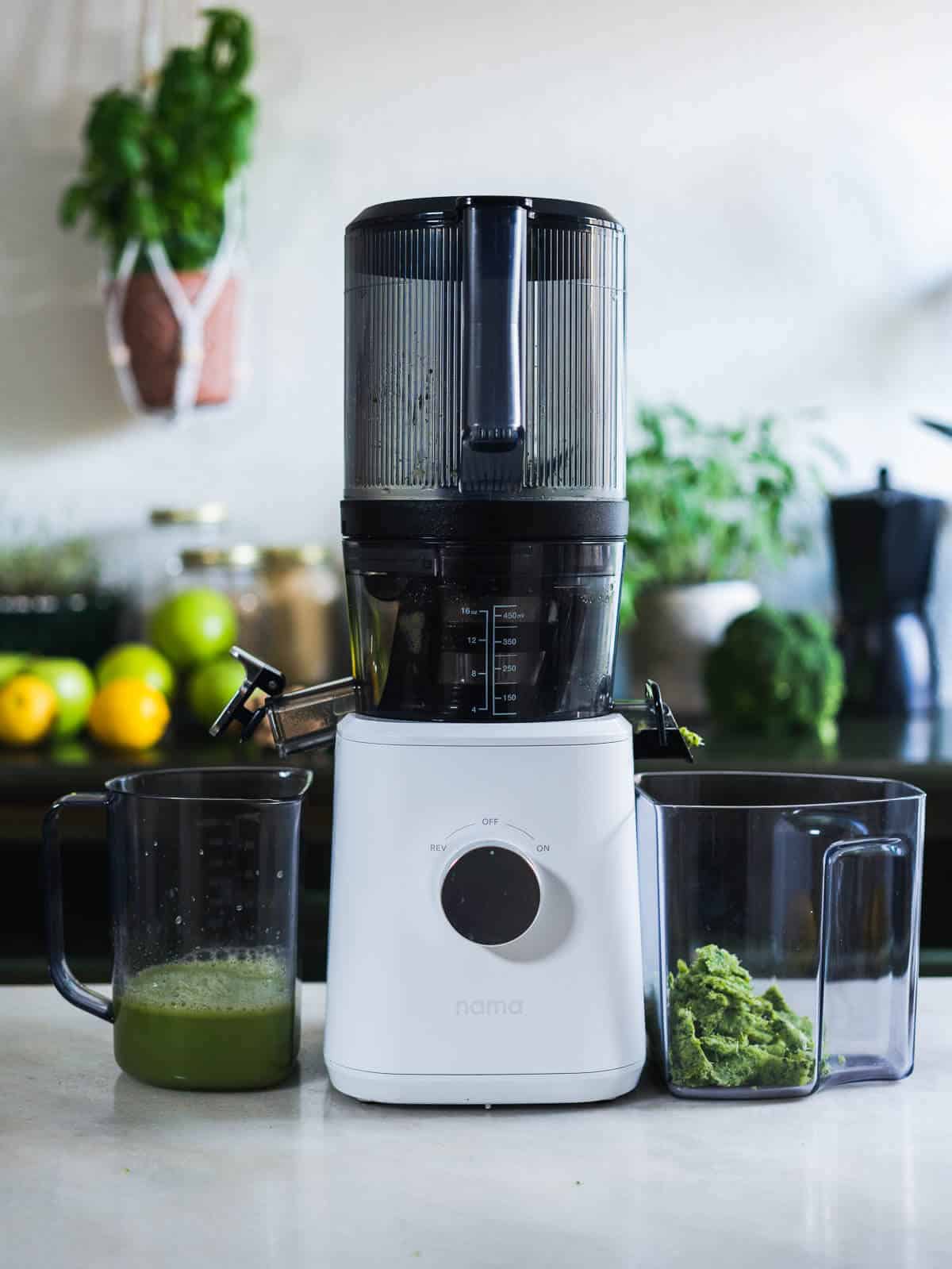 Hint: Don't let your juice pulp go to waste! You can easily repurpose it to create tasty crackers, quiches, or tarts.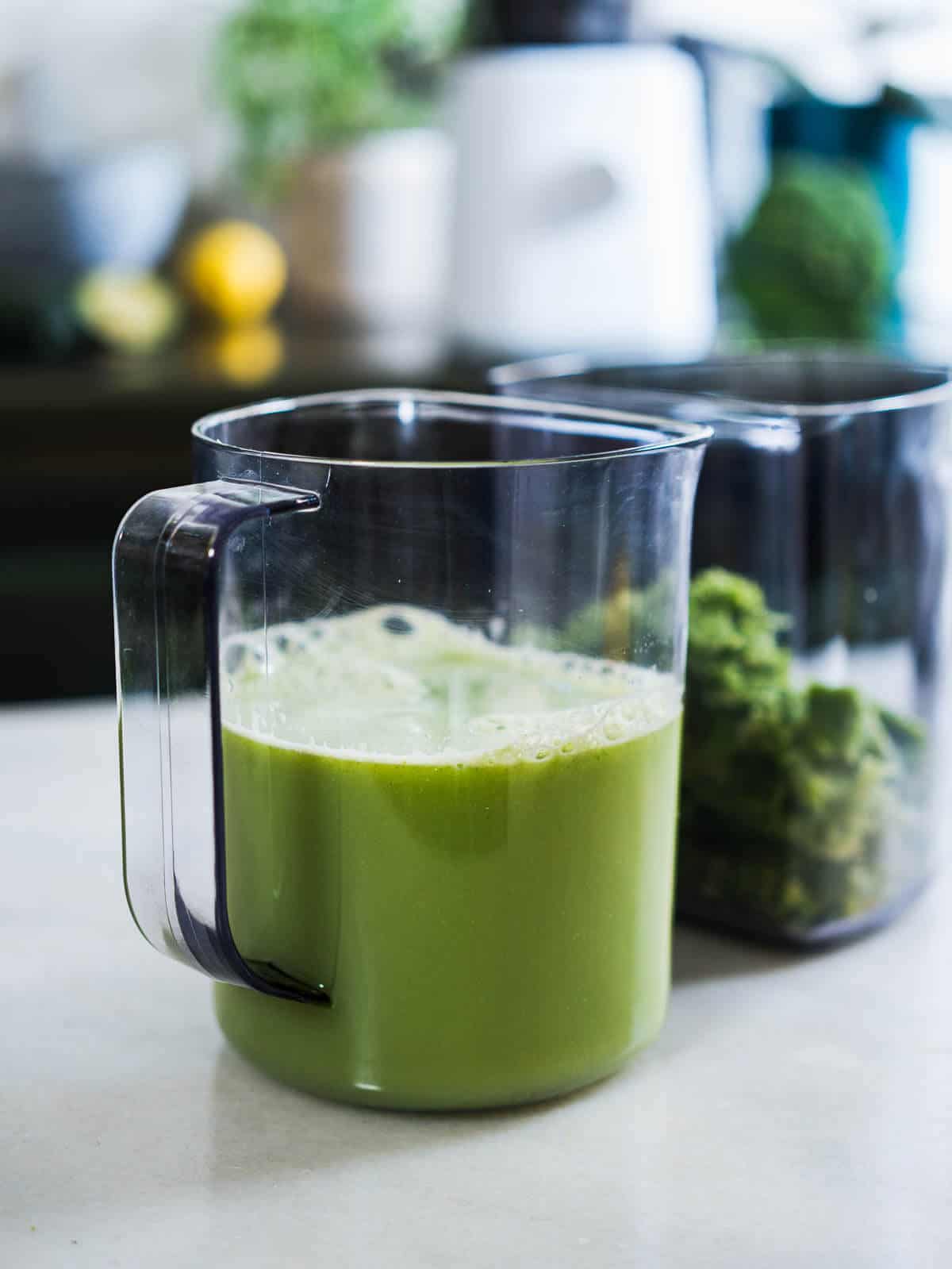 Serve and Enjoy: Pour your freshly made broccoli juice into a glass; add some ice if desired.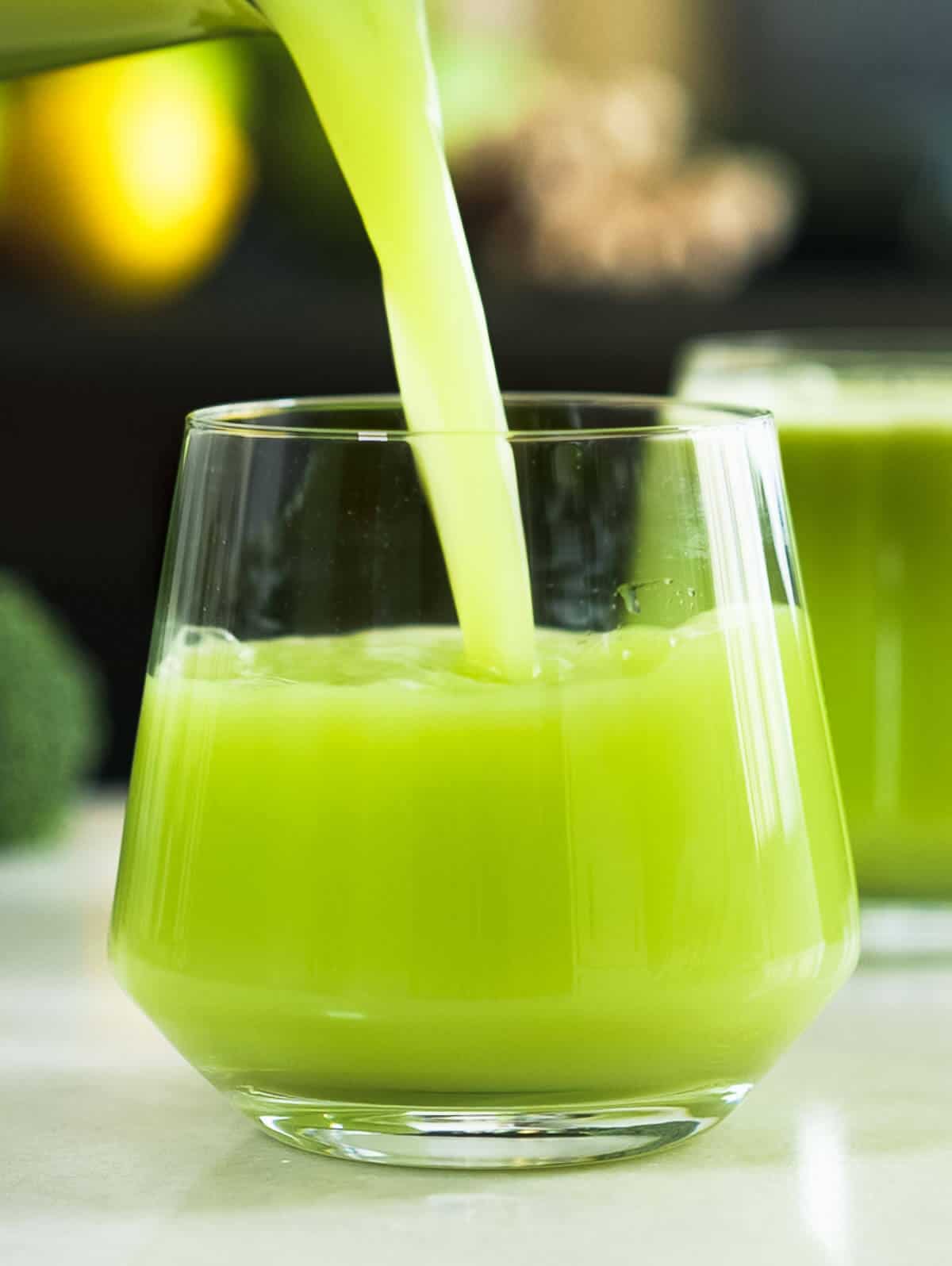 Hint: If you're eager to try this amazing broccoli juice but don't have a juicer at hand, don't worry! You can still make it using a blender and a nut milk bag to separate the pulp from the fresh juice. Just remember to add a cup of filtered water to help your blender work its magic more easily.
Read on: how to juice without a juicer (fully-explained technique) or see how to do it for this drink on the recipe card.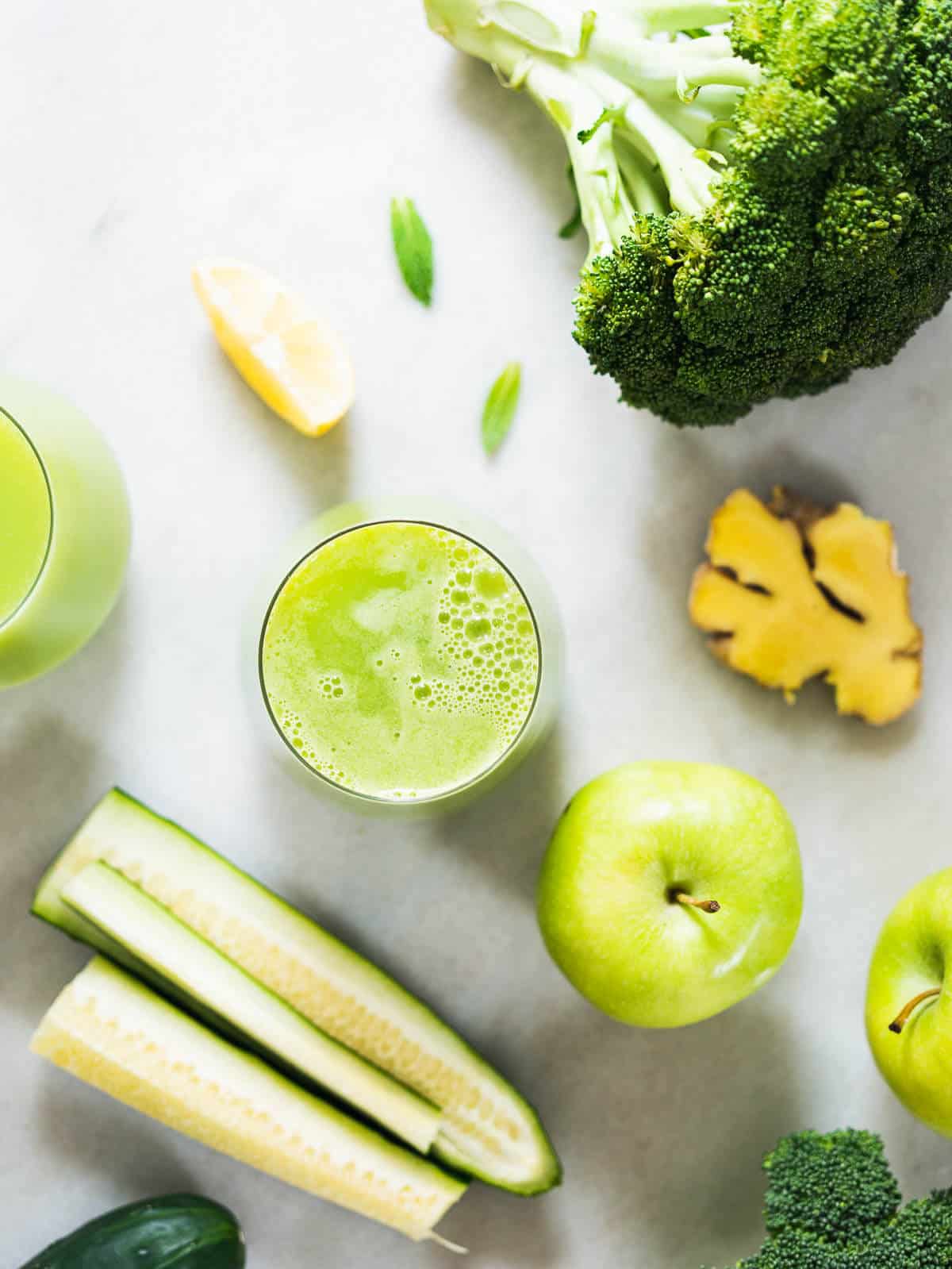 Check out our friendly juice storing tips to learn more about preserving your leftover juices and keeping as much of those valuable nutrients intact as possible. We're here to help you make the most of your delicious concoctions!
🍶 Substitutions
Ginger: If you're not a fan of ginger or don't have it on hand, try using a pinch of ground turmeric or a small piece of fresh turmeric root for a similar anti-inflammatory effect and a mild, earthy flavor. You can also replace it with 10 mint or spearmint leaves.
Cucumber: For a different taste or if cucumbers are unavailable, you can substitute them with celery, Swiss chard, or zucchini, which will still provide a refreshing flavor and contribute essential nutrients like vitamins and minerals.
Green Apple: consider using a ripe pear or a red apple for a slightly sweeter taste while still benefiting from the antioxidants and fiber present in these fruits. You can also add ⅓ cup of apple juice. Pineapple is also a great sub.
Broccoli: Swapping broccoli with Brussels sprouts is an excellent choice, as they are both cruciferous vegetables and share similar nutritional profiles, as it is part of the cabbage family, including high levels of vitamins, minerals, and antioxidants. Check out our juice with cauliflower.
Sweet potato is also a great pairing for the juice, but remember that the green color will be left behind. Try out our carrot, apple, and sweet potato juice.
📖 Preparation tips for juicing broccoli
When preparing broccoli for juicing, there are a few essential tips to keep in mind to ensure the best possible results:
Wash thoroughly: Start by washing the broccoli thoroughly under running water, removing any dirt or debris. You may also want to soak the broccoli in water for a few minutes to help loosen any dirt trapped in the crevices.
Cut into small pieces: To make the broccoli more manageable for juicing, cut it into smaller pieces, including the stem. This will help ensure the broccoli is evenly juiced and the juicer can efficiently process it.
Peel the stem (optional): While the broccoli stem can be juiced, some people prefer to peel off the tough outer layer for a smoother texture. Use a vegetable peeler or knife to remove the outer skin. We use the stem as it is!
Add to the juicer: Once the broccoli is prepared, add it to your juicer, alternating it with other ingredients as desired to ensure a well-mixed juice.
Read on: how to cook and keep the colors of broccoli and cauliflower
🍽 Equipment
Juicer: Opt for a cold-pressed juicer (affiliate link) over a centrifugal one. Although they might be a bit pricier, they're definitely worth it in the long run. Cold-pressed juicers yield more juice, and since there's no heat involved, like in centrifugal juicers, your juice retains more nutrients and oxidizes more slowly (stays fresh longer).
OR
Blender: If you don't have a juicer, a high-speed blender will do the trick, and,
Mesh Strainer: When making juice, use a traditional colander or nut milk bags. We recommend using the same ones we use for making almond milk.
Bowl: Use a large bowl to keep your kitchen mess-free during blending, especially in the mornings. It makes working with the blender method so much easier and more enjoyable!
🥡 Storage
Store this carrot juice in a BPA-free (affiliate link), tightly sealed container in the fridge for up to 3 days.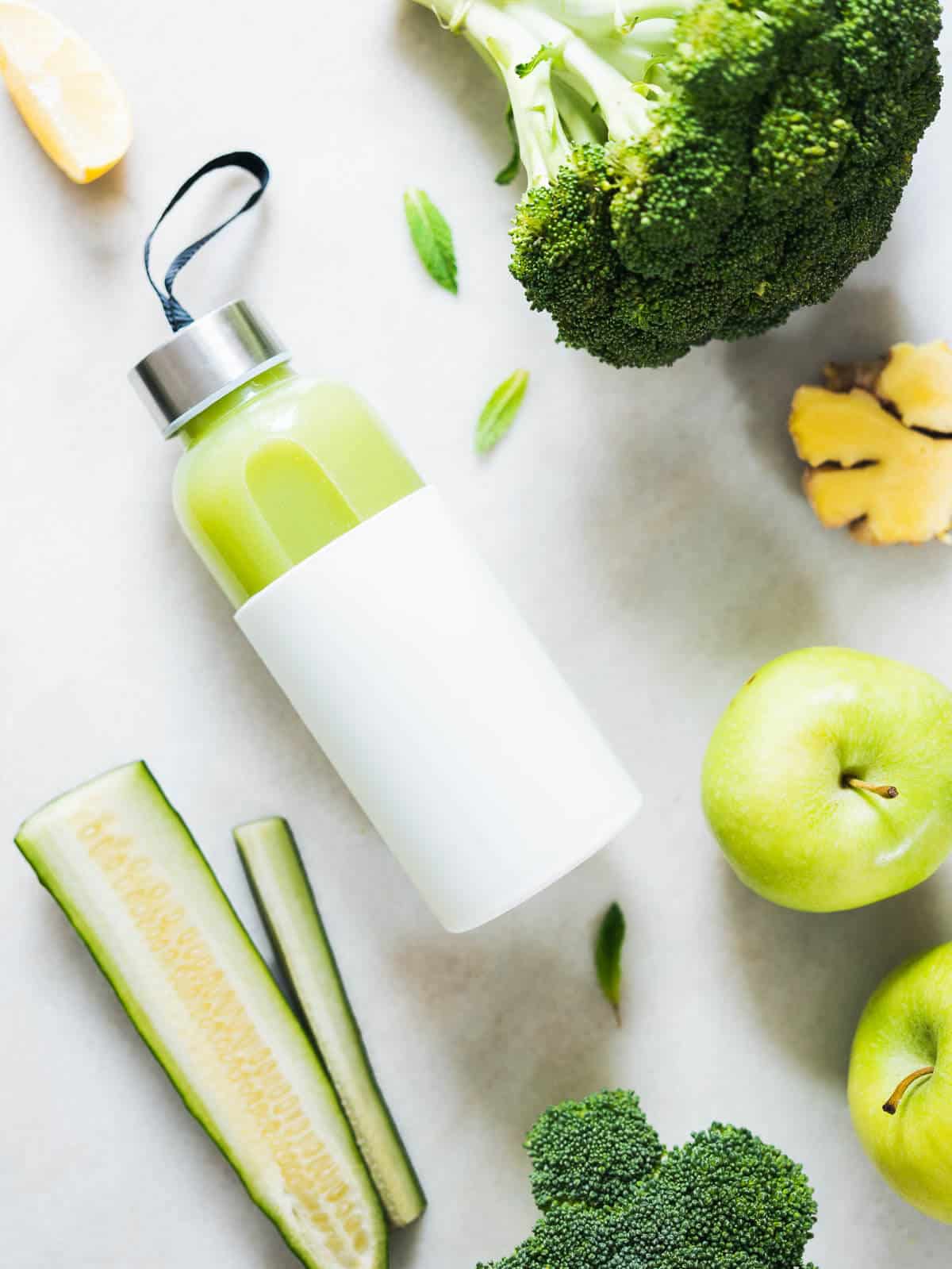 Feel free to freeze your fresh broccoli juice in an airtight container, but remember that it's best enjoyed within 3 months of freezing. Although it might not have the exact same nutrient density as fresh juice, you can still delight in its health benefits when you're ready to sip on this tasty treat.
💡 Top tip
When juicing fresh ginger for your green juice, start with a small piece and gradually increase the amount to suit your taste buds. Ginger adds a zesty kick to your green juice while enhancing its health benefits with anti-inflammatory and digestive properties.
✅ 11 Benefits of broccoli juice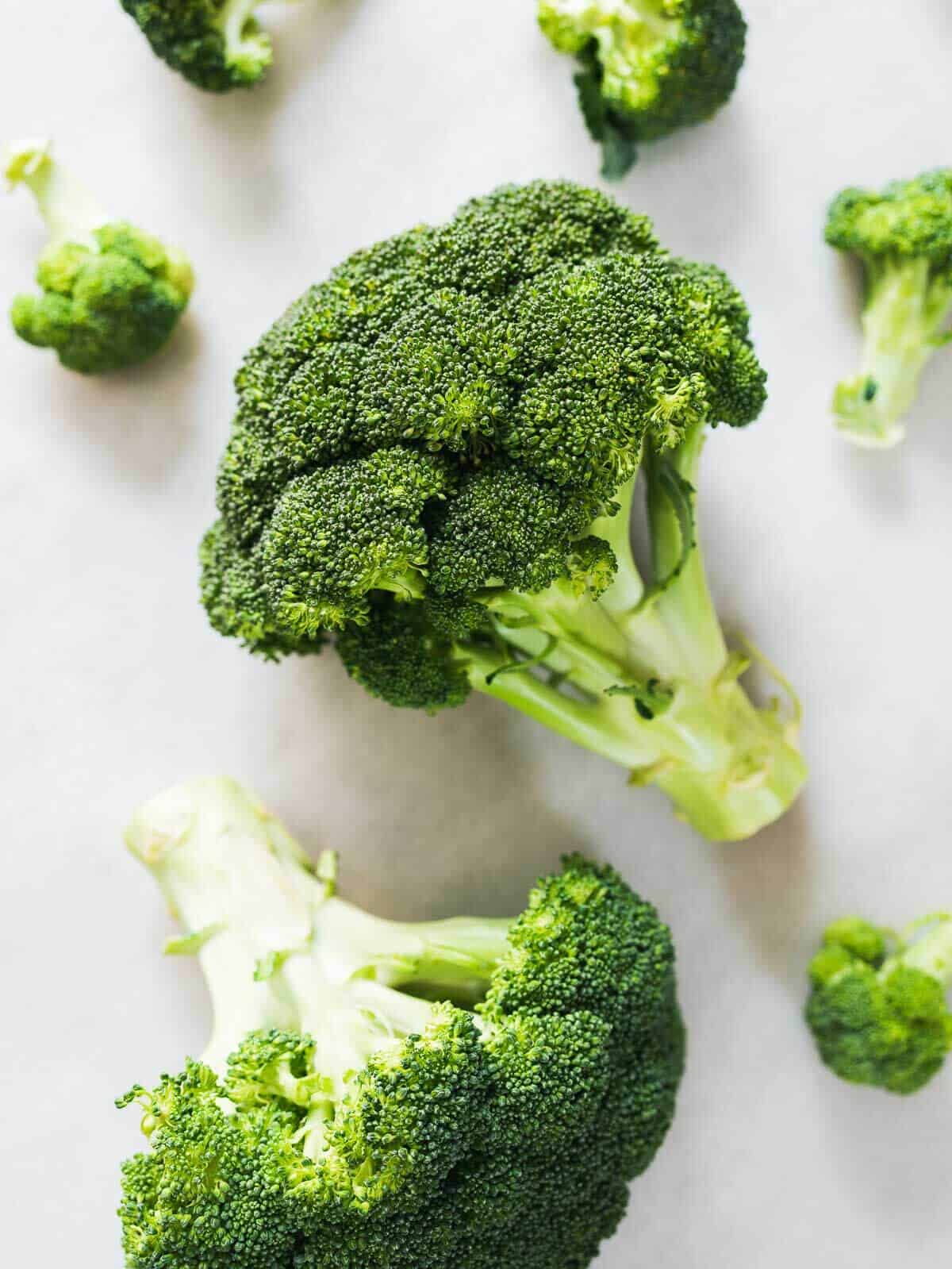 Let's explore the amazing world of drinking broccoli juice. As you savor this nourishing beverage, you'll be amazed by its numerous advantages for your overall health.
❓ FAQ
Is it safe to juice raw broccoli?
Yes, it is generally safe to juice raw broccoli, and in fact, it's an excellent way to obtain the many health benefits this cruciferous vegetable has to offer. Raw broccoli is packed with a variety of nutrients, including vitamins, minerals, fiber, and antioxidants, all of which can be easily accessed through juicing. However, it's important to make sure that you are using fresh, clean broccoli and washing it thoroughly before juicing.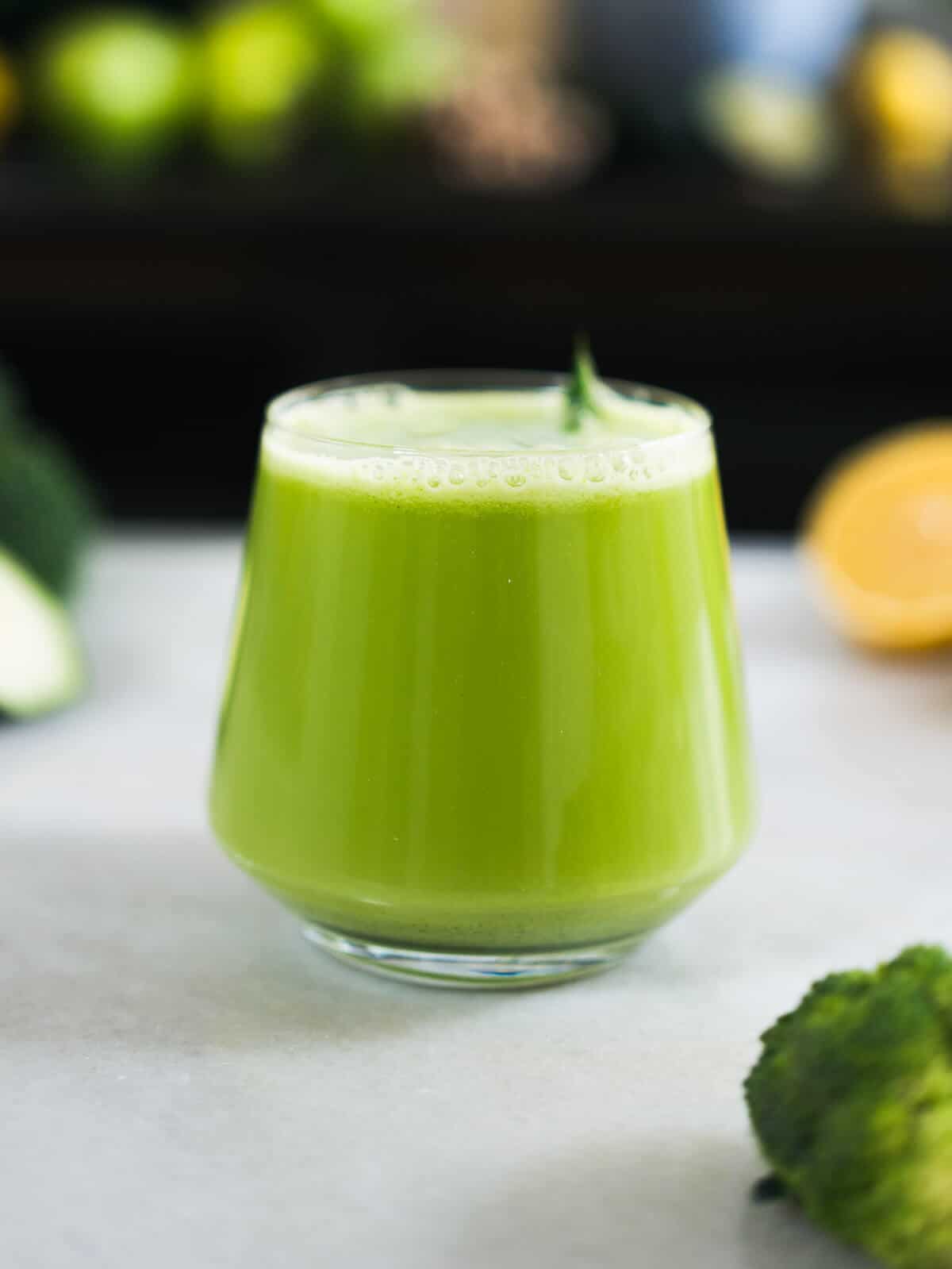 🥦 More broccoli recipes
Elevate your dinner game with this unique and flavorful Romanesco broccoli stir-fry recipe.
This hearty salad with chickpeas, avocado, and broccoli is a must-try for any health-conscious foodie.
⭐ If you try this broccoli juice recipe, let us know! 💬 Leave a comment, rate it, and don't forget to tag us @ourplantbasedworld on Instagram. Cheers!
📋 Recipe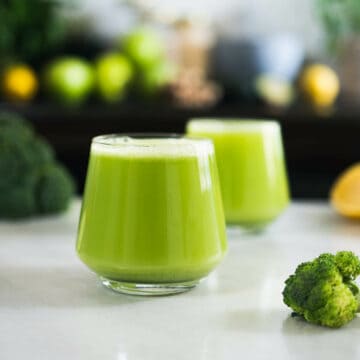 Benefits of Broccoli Juice + Juicer Recipe
Embrace the broccoli juice benefits with our delectable and nutritious juicer recipe, designed to make incorporating this superfood into your daily routine a breeze. This vibrant concoction combines the powerhouse broccoli, cucumber, green apple, fresh ginger, and lemon juice for a tasty beverage that offers a wealth of health advantages. Get ready to revitalize your body and experience the amazing benefits of broccoli juice with every refreshing sip of this delightful elixir.
Equipment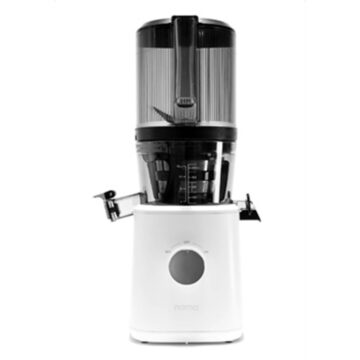 (affiliate link)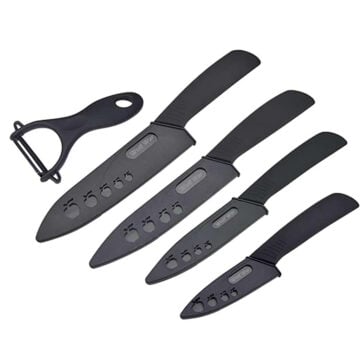 (affiliate link)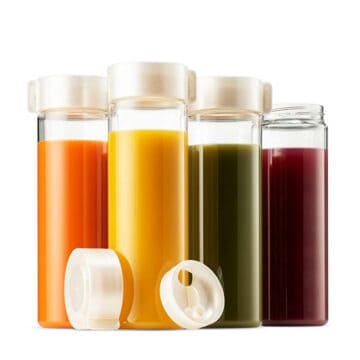 (affiliate link)
Directions
Preparation: Begin by thoroughly washing all the ingredients - the broccoli, cucumber, green apple, and fresh ginger. Cut the broccoli into smaller florets, chop the cucumber and green apple into pieces that will fit into your juicer, and peel the ginger.

Peeling: If juicing the lemon in the juicer, peel the lemon, OR After juicing the solid ingredients, take a fresh lemon, cut it in half, and manually squeeze the juice into the cold-pressed juice mixture. You can use a lemon squeezer or your hands to extract the juice.

Juicing: Turn on your cold-pressed juicer and start feeding the ingredients through the chute, beginning with the broccoli florets, followed by the cucumber, green apple, and ginger. Make sure to alternate between the different ingredients to ensure a well-mixed juice.

Stir: Give the juice a thorough stir to ensure that the lemon juice is well incorporated.

Serve and Enjoy: Pour your freshly made broccoli juice into a glass, add some ice if desired, and enjoy the revitalizing and nutritious benefits of this delightful beverage. For optimal freshness, consume the juice immediately or store it in an airtight container in the refrigerator for up to 24 hours.
Notes
It is unnecessary to peel the ginger; the Juicer will do it all.
Use our Coupon Code OPBW10 for 10% off, limited time only, at Nama Well Cold-Pressed Juicers

(affiliate link)

.
Nutrition Facts
Serving:
12
oz
Calories:
114
kcal
Carbohydrates:
29
g
Protein:
1
g
Fat:
1
g
Saturated Fat:
0.1
g
Polyunsaturated Fat:
0.1
g
Monounsaturated Fat:
0.01
g
Sodium:
5
mg
Potassium:
406
mg
Fiber:
5
g
Sugar:
21
g
Vitamin A:
206
IU
Vitamin C:
13
mg
Calcium:
32
mg
Iron:
1
mg
Nutrition Facts
Benefits of Broccoli Juice + Juicer Recipe
Amount per Serving
% Daily Value*
* Percent Daily Values are based on a 2000 calorie diet.
🌡️ Food safety
Cook to a minimum temperature of 165 °F (74 °C)
Do not use the same utensils on cooked food, that previously touched raw meat
Wash hands after touching raw meat
Don't leave food sitting out at room temperature for extended periods
Never leave cooking food unattended
Use oils with a high smoking point to avoid harmful compounds
Always have good ventilation when using a gas stove
See more guidelines at USDA.gov.
Nutritional Disclaimer
The information shown is an estimate provided by an online nutrition calculator. It should not be considered a substitute for a professional nutritionist's advice. See our full Nutritional Disclosure here.
Affiliate Disclaimer
Please note that some of the links here are affiliate links, and I will earn a commission if you purchase through those links. I recommend all of the products listed because they are companies I have found helpful and trustworthy.