Ever wondered, "Can you juice broccoli?" Well, we're here to dispel your doubts and take you on a tantalizing journey of flavors. Get ready to experience the unexpected union of pear, celery, lemon, and juicing broccoli for a vitamin-packed, refreshing concoction.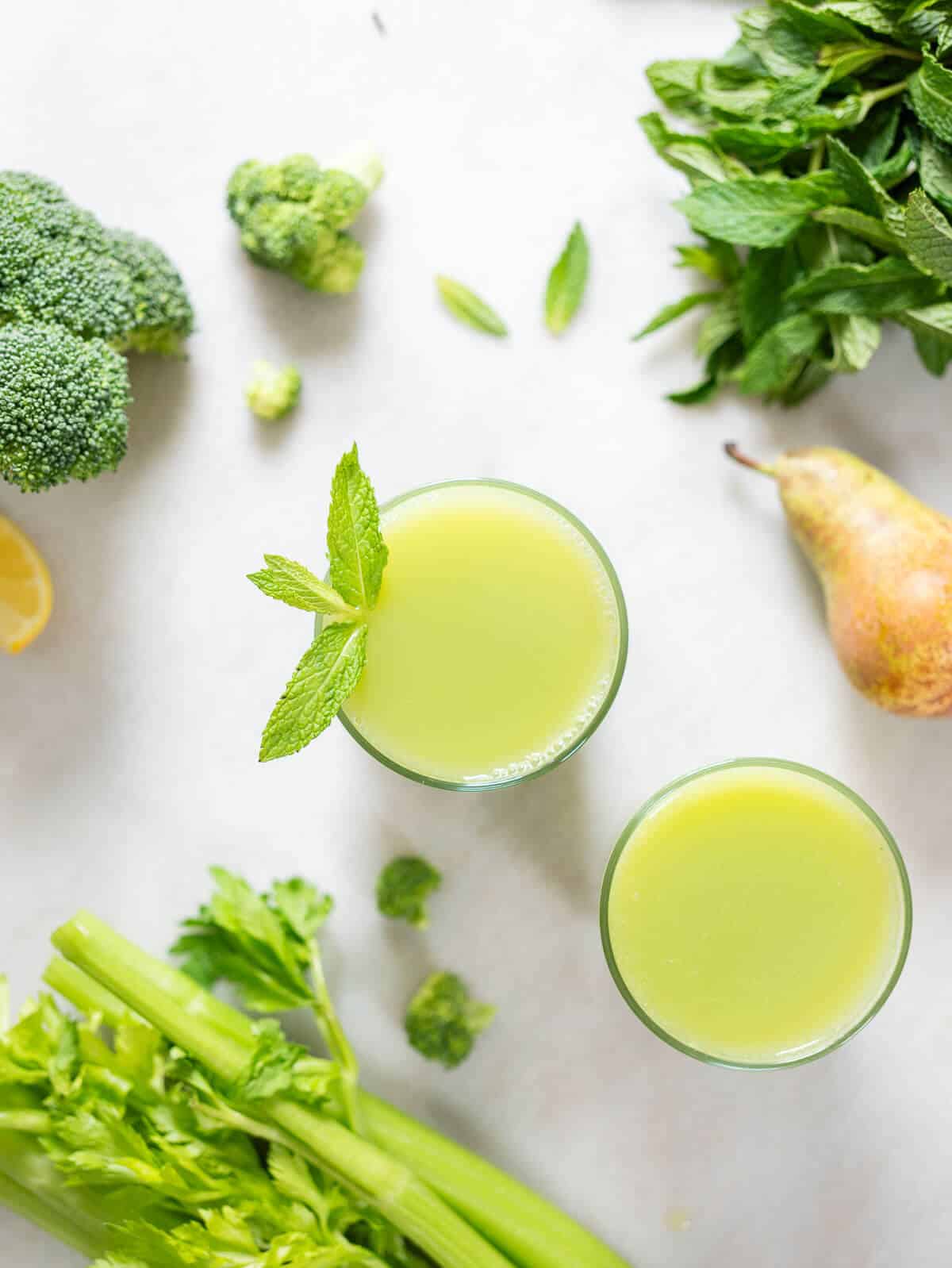 Introducing our winning exotic juice recipe – Broccoli Juice! This delightful concoction is packed with flavor and offers an array of nutritional benefits that make it a standout choice. With its vibrant green hue and refreshing taste, fresh broccoli juice is a delightful way to incorporate cruciferous vegetables into your daily routine.
One of this recipe's key highlights is its high vitamin C content, a powerful antioxidant that supports a healthy immune system. Broccoli itself is a fantastic source of this essential nutrient, and when transformed into juice, its vitamin C content becomes even more accessible to the body.
Additionally, the inclusion of lemon juice further enhances vitamin C potency and adds a zesty twist to the overall refreshing flavor profile. Not only will drinking this cold-pressed broccoli juice give you a boost of vitamin C, but it also aids in the absorption of calcium, promoting bone health and strength.
Another remarkable aspect of this recipe is its easy factor. You can effortlessly create a nutritious and delicious beverage with just a handful of ingredients, including pear or apple juice, carrot juice, sweet potato, or fresh lemon. This recipe caters to those seeking a healthy diet, as it provides an excellent way to incorporate raw broccoli and its many health benefits into your daily routine. The combination of ingredients in this green juice promotes healthy skin, supports heart health, and maintains healthy vision.
Moreover, using broccoli stems or Brussels sprouts, another member of the cabbage family known for its antioxidant enzymes, further enhances the nutritional value of your juices.
Jump to:
🧾 Ingredients
This juice with broccoli is made with just a few delicious ingredients:
Broccoli: Provides a nutritious and vibrant addition, adding texture and flavor to the dish.
Pear: Adds a subtle sweetness and juicy texture, complementing the other ingredients and balancing the overall taste.
Celery: Offers a refreshing crunch and mild flavor, enhancing the salad's texture and providing a hint of freshness.
Spearmint leaves: Infuses a delightful, aromatic taste, elevating the dish with its refreshing and cooling properties.
Lemon (peeled or juiced): Adds a tangy and citrusy element, brightening the flavors and adding a zesty touch to the salad.
See the recipe card for quantities.
🔪 Instructions
This morning detox drink involves 3 simple steps.
Washing and preparing your ingredients.
Chopping in sizable chunks.
Juicing your veggies, fruit, and ginger roots.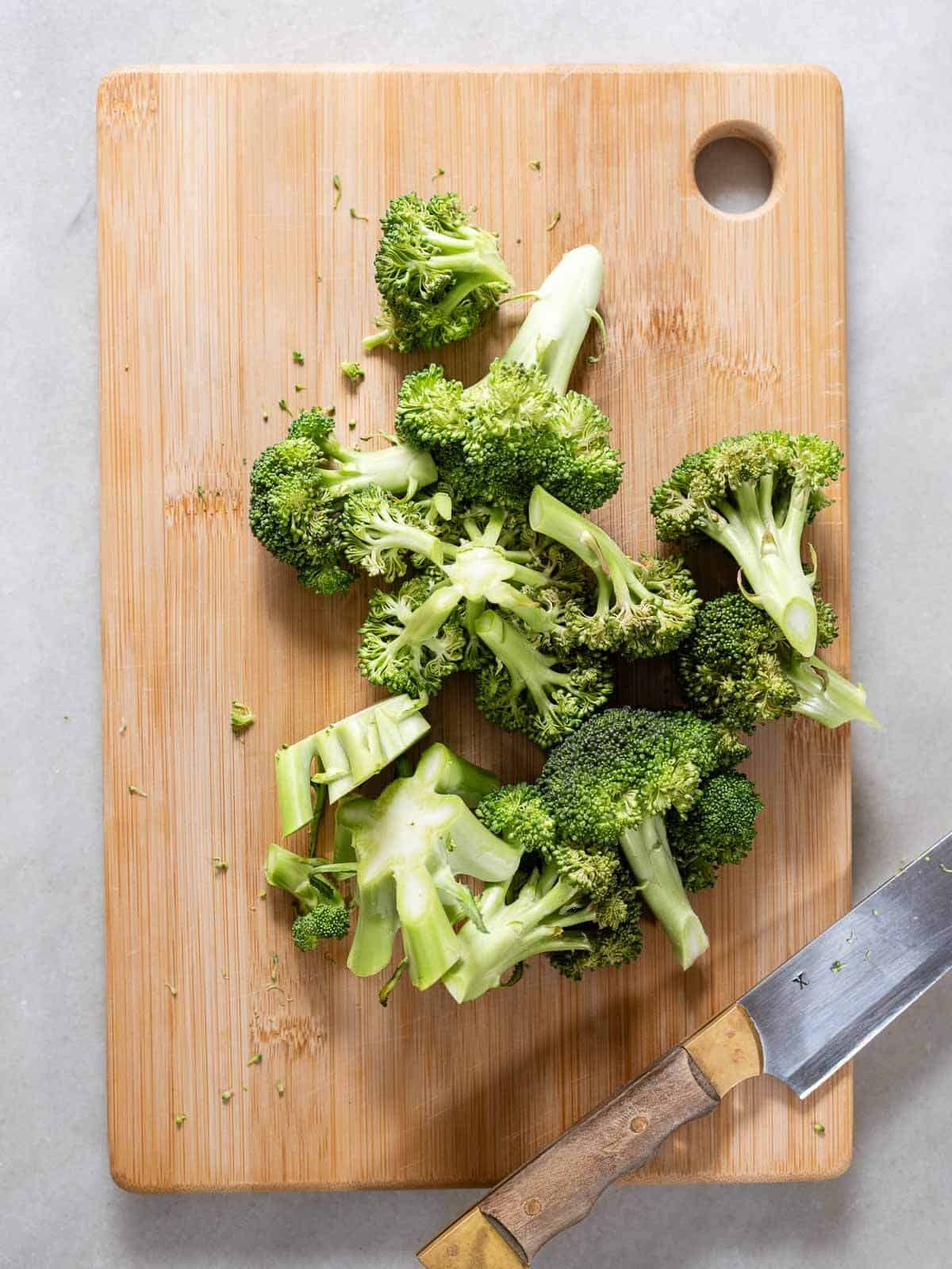 Wash and chop the broccoli and spearmint. You can use the broccoli stems as well.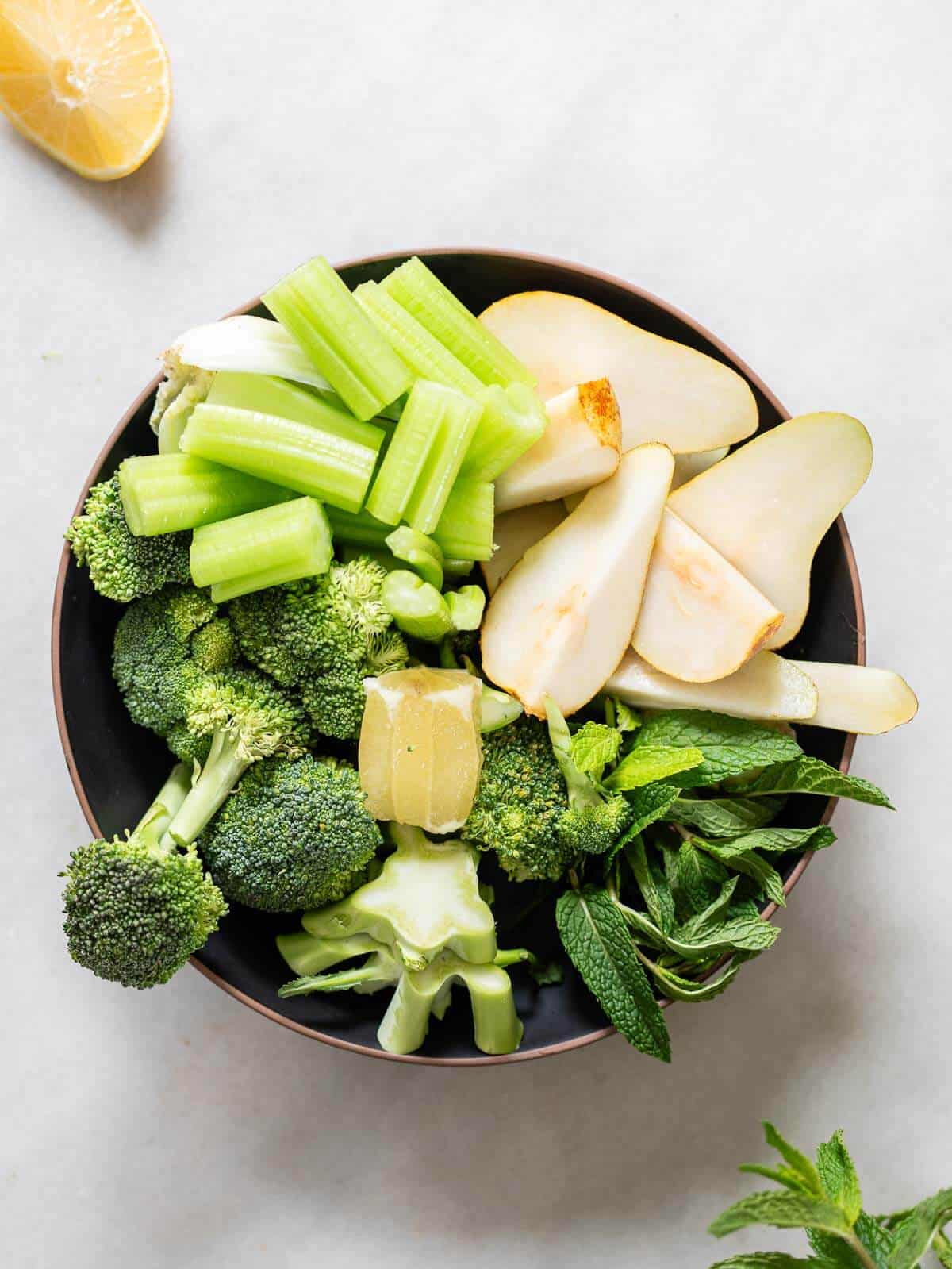 Core the pear and chop the remaining ingredients.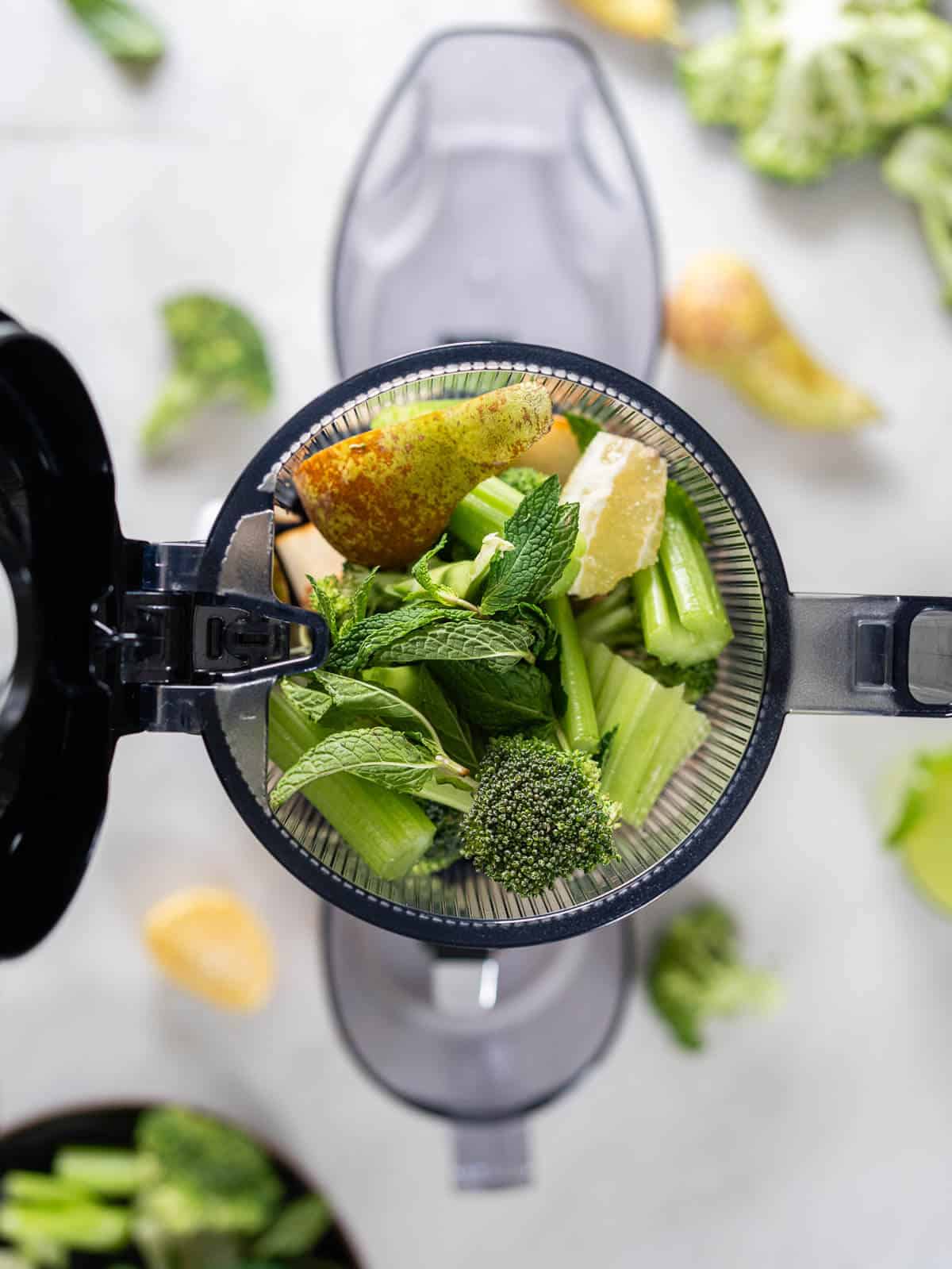 Place all the chopped ingredients on the juicer's vase.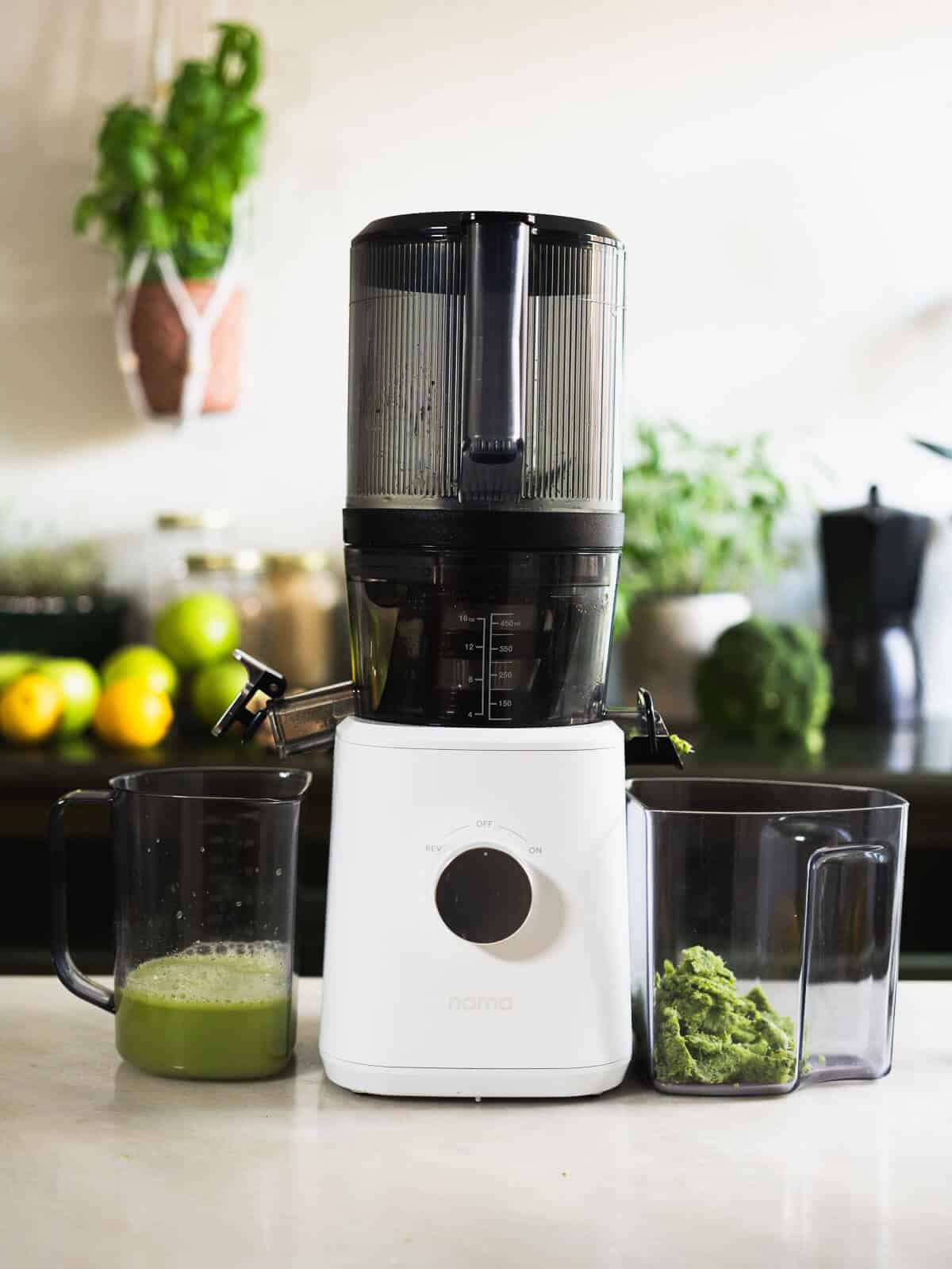 You will be left with the pulp but use it for compost or a smoothie.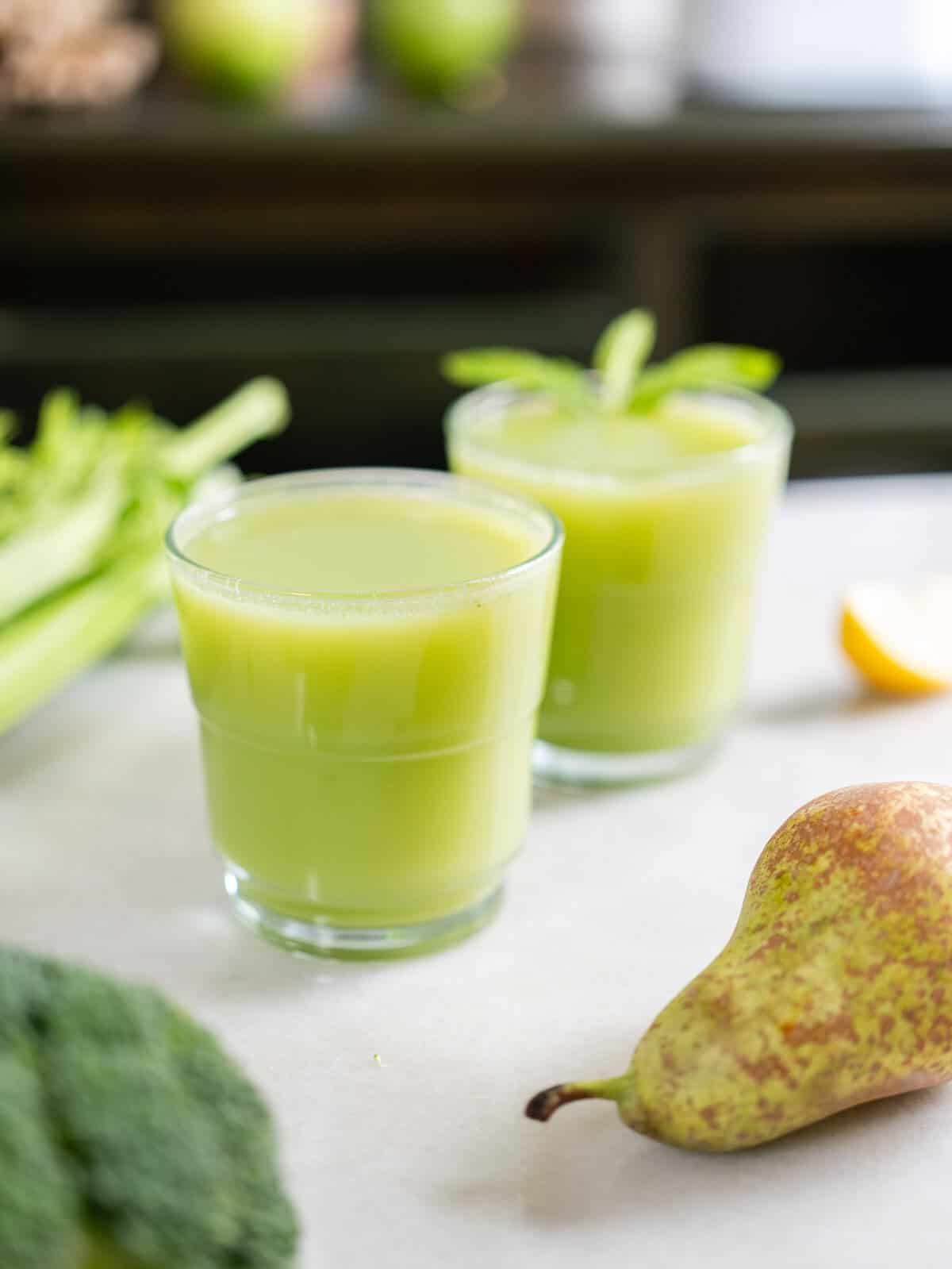 Hint: if you don't have time, you can freeze the pulp and use it for pulp muffins, crackers, or cake filler later.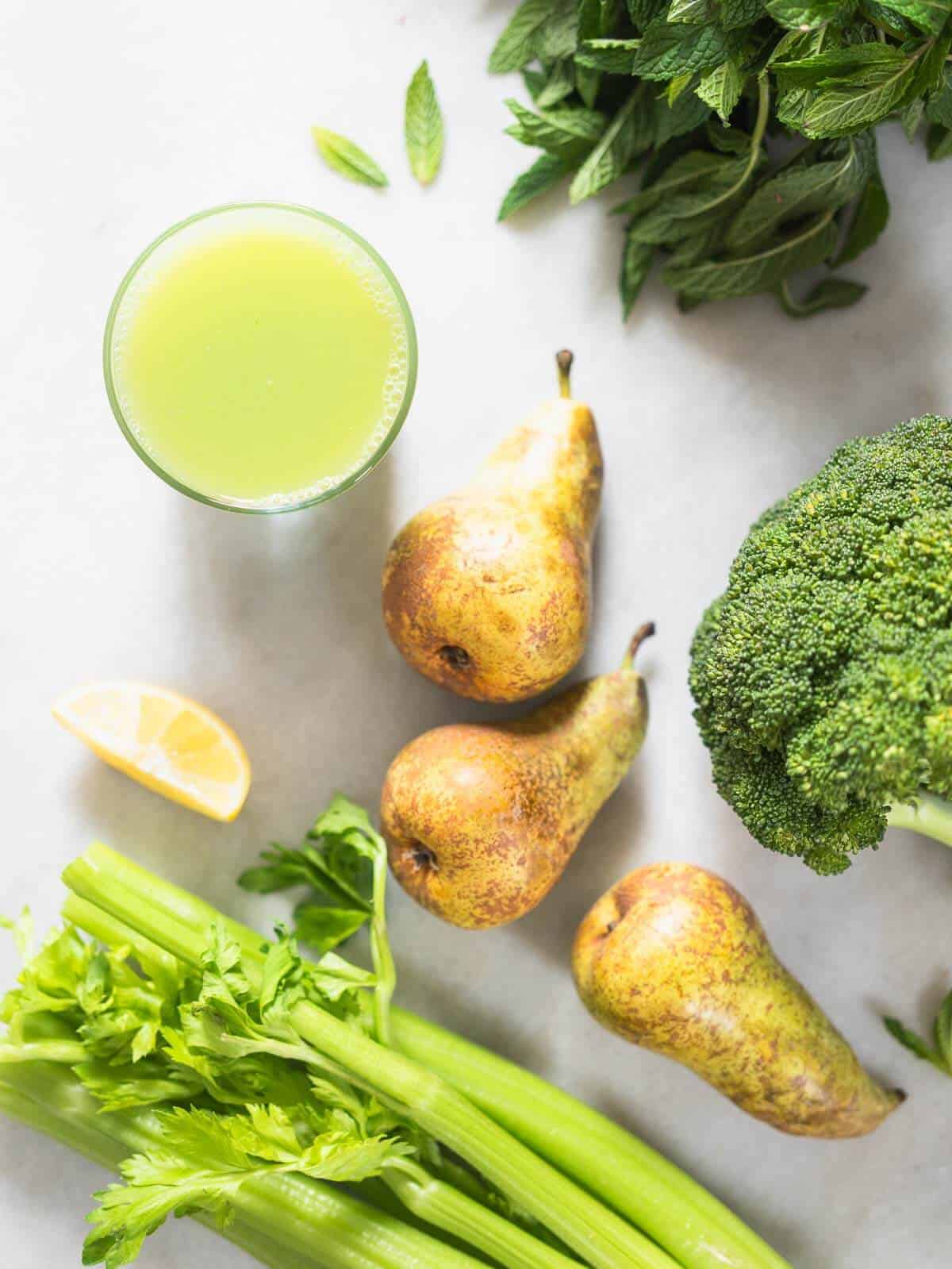 Hint: if you want to make this juice but don't have a juicer yet, you can use a blender with a nut milk bag to separate the remaining pulp from the fresh juice.
Read on: how to juice without a juicer (fully-explained technique) or see how to do it for this drink on the recipe card.
See our juice storing tips to understand better how to keep your leftover juices and retain as many of their ingredients' nutrients as possible.
🍶 Substitutions
Broccoli: Substitute with cauliflower florets for a similar texture and taste.
Pear: Replace with diced apple or ripe mango for a fruity and sweet element.
Celery: Swap with jicama or cucumber slices to maintain watery content and freshness.
Spearmint leaves: Use fresh basil or cilantro leaves to introduce a different herbaceous note to the dish.
Lemon (peeled or juiced): Substitute with lime (peeled or juiced) to achieve a tangy and citrusy flavor, albeit with a slightly different taste profile.
📖 Variations
Ginger: Add fresh ginger and reap the rewards it brings to your immune system and overall well-being. Prepare to savor the goodness of this Broccoli Juice recipe – a winner on all fronts!
🍽 Equipment
Juicer: Opt for a cold-pressed juicer (affiliate link) over a centrifugal one. Although they might be a bit pricier, they're definitely worth it in the long run. Cold-pressed juicers yield more juice, and since there's no heat involved, like in centrifugal juicers, your juice retains more nutrients and oxidizes more slowly (stays fresh longer).
OR
High-Speed Blender

(affiliate link)

: If you lack a juicer, a high-speed blender can serve as a suitable alternative.
Colander or Nut Milk Bags

(affiliate link)

: When preparing juice, employ traditional colander or nut milk bags. The same ones used for making almond milk are recommended.
Large Bowl

(affiliate link)

: Utilize a spacious bowl to ensure a tidy kitchen while blending, particularly in the mornings. This greatly simplifies and enhances the blender method experience.
🥡 Storage
Store this juice in a BPA-free (affiliate link), tightly sealed container in the fridge for up to 3 days.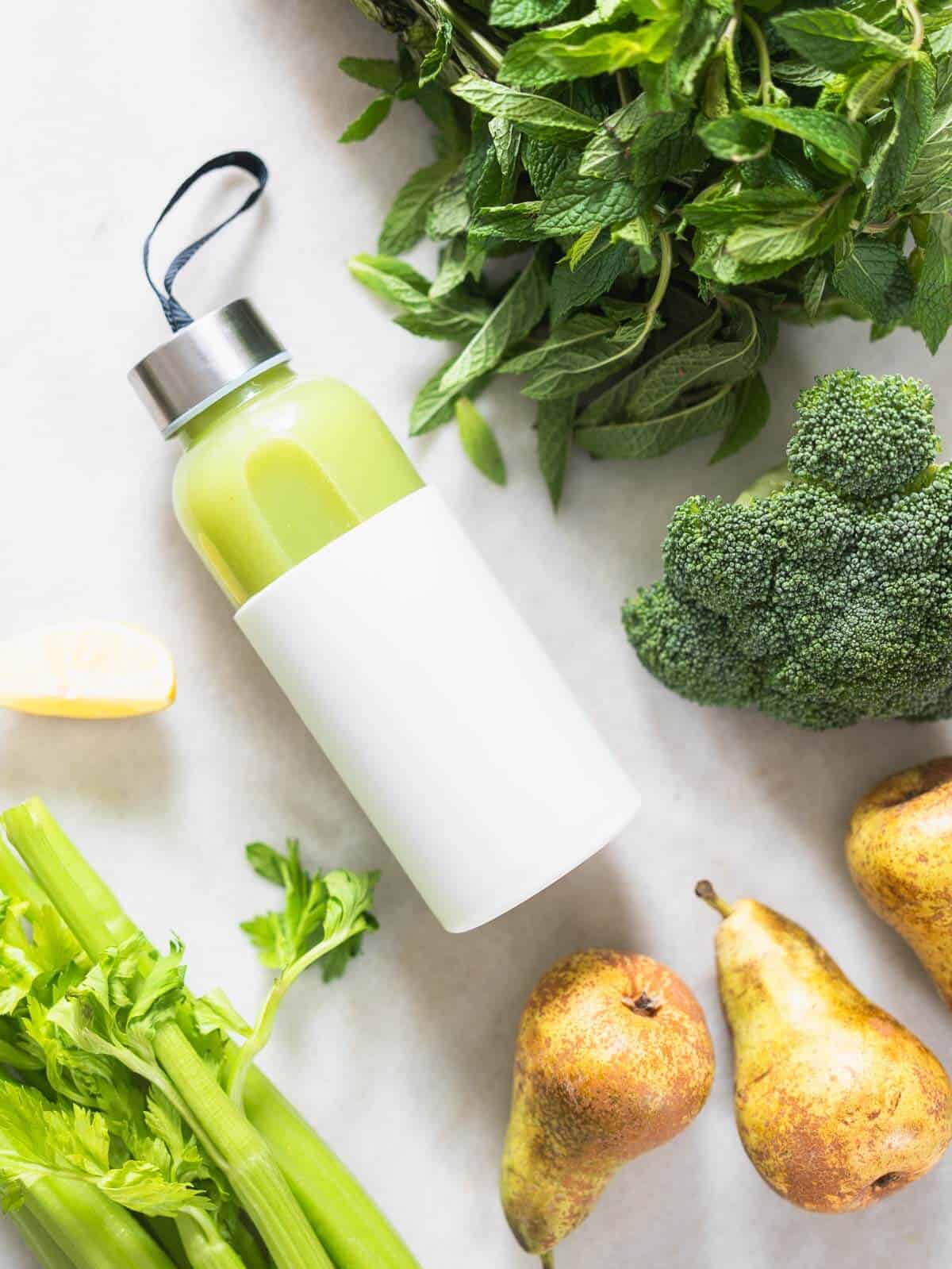 You can freeze your juice with broccoli in an airtight container, but it doesn't stand up well to freezing for more than 3 months. It will never reach the same nutrient density as fresh juice, but you will still enjoy its health benefits.
✅ Is raw broccoli juice good for you?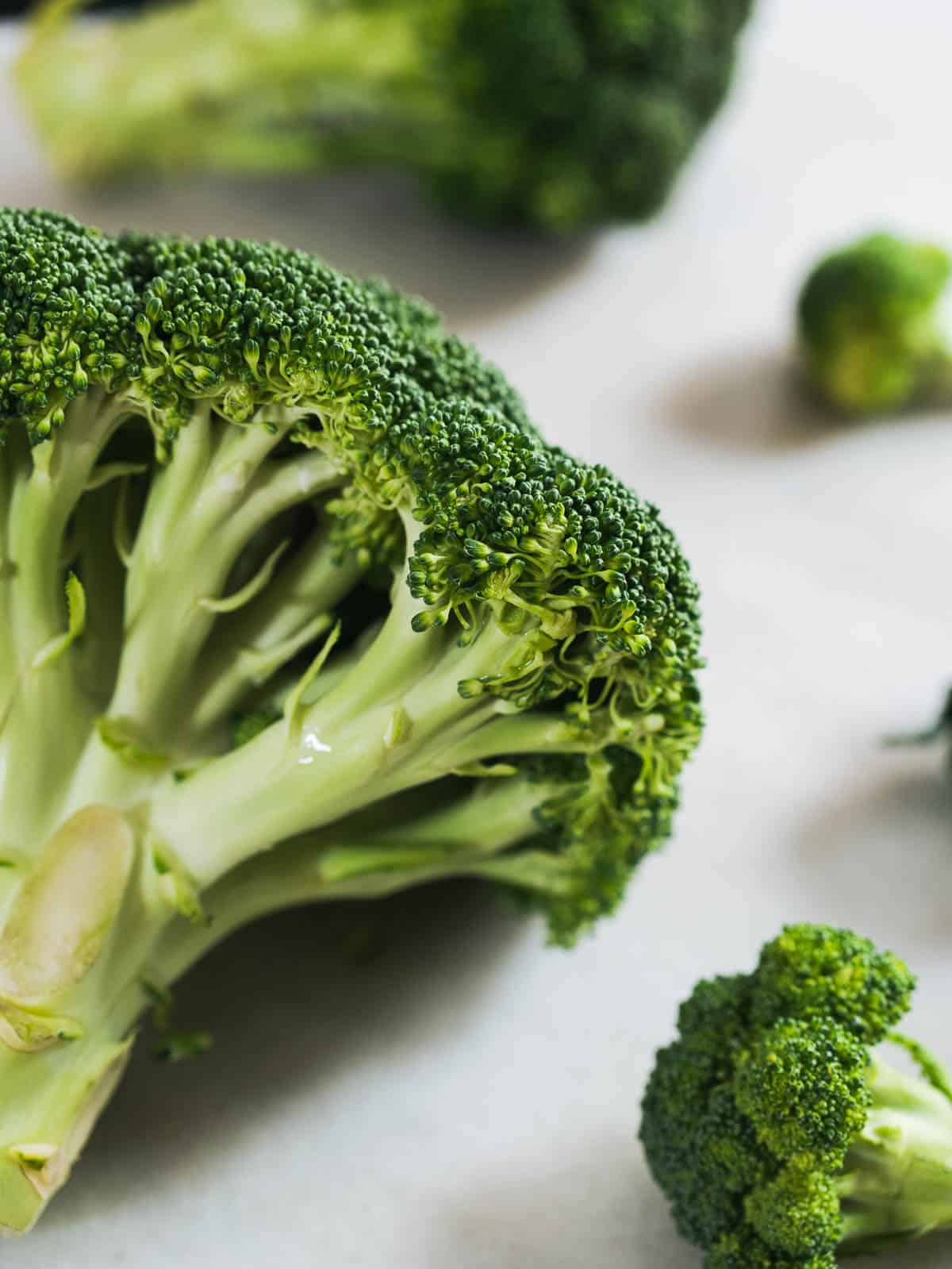 Raw broccoli juice is highly beneficial for your health due to its numerous health benefits.
Drinking broccoli juice provides a concentrated dose of essential nutrients, including vitamin C, vitamin K, and beta carotene, which promote a healthy immune system, support heart health, and maintain healthy vision.
Broccoli juice is a rich source of antioxidants, such as antioxidant enzymes found in Brussels sprouts, which help protect the body against free radicals and oxidative stress.
The juice of raw broccoli aids in maintaining healthy skin thanks to its high vitamin C content and other skin-nourishing compounds.
It is a great choice for individuals aiming to manage their blood sugar levels, as broccoli juice is low in sugar and has a low glycemic index.
Broccoli juice is a cruciferous vegetable juice belonging to the cabbage family, known for its potential to reduce the risk of certain types of cancer.
Consuming raw broccoli juice can support digestive health by providing fiber and aiding in maintaining a healthy digestive tract.
The juice also contributes to brain health due to its nutrient profile, including vitamins and minerals that support cognitive function.
Broccoli juice promotes heart health by assisting in absorbing calcium, an essential mineral for maintaining strong and healthy bones.
Find out more about the benefits of juicing broccoli, how to cook broccoli, and incorporating other varieties like romanesco broccoli into your diet.
❓ FAQ
What part of broccoli can be juiced?
The entire broccoli plant can be juiced, including the florets, stems, and leaves. All parts of the broccoli plant contain valuable nutrients and can be used to make nutritious and flavorful juice. Whether you choose to include just the florets or incorporate the stems and leaves as well, juicing broccoli allows you to maximize the nutritional benefits of this cruciferous vegetable.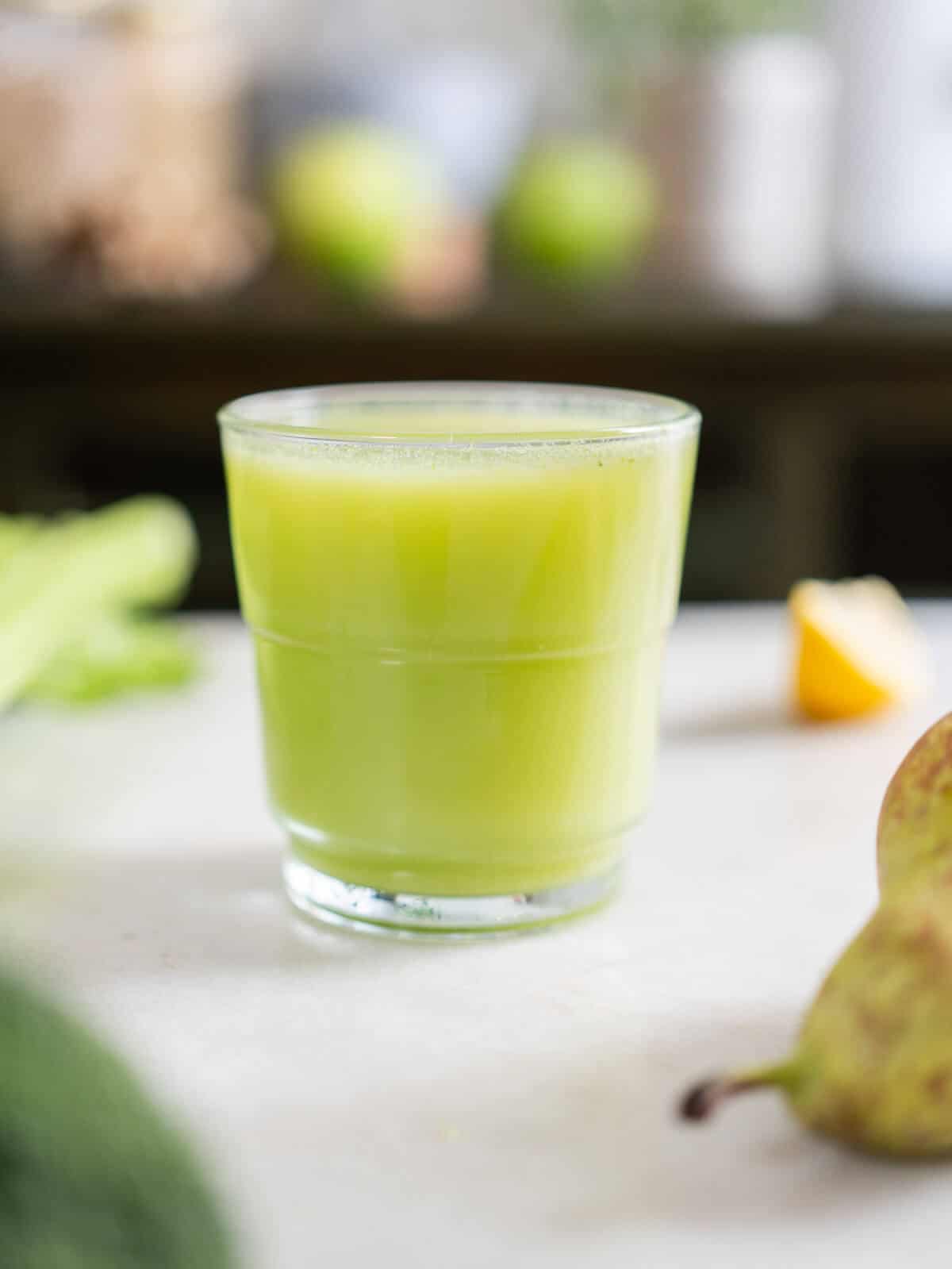 ⭐ If you try this recipe, let us know! 💬 Leave a comment, rate it, and don't forget to tag us @ourplantbasedworld on Instagram. Cheers!
📋 Recipe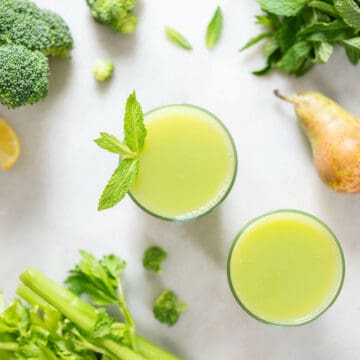 Can You Juice Broccoli? Meet the Healthy Pear-Celery-Lemon Blend
Enjoy this Juice with Broccoli! This refreshing juice recipe combines the sweetness of pears, the freshness of celery, and the tanginess of lemon with the added benefits of broccoli. Perfect for boosting your immune system and improving digestion, this Juice with Broccoli is a great way to add more fruits and veggies to your diet.
Equipment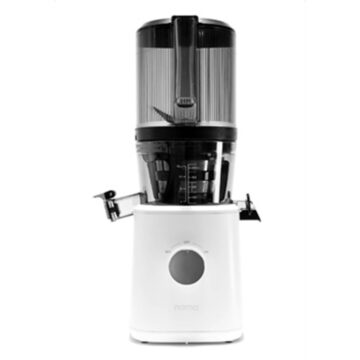 (affiliate link)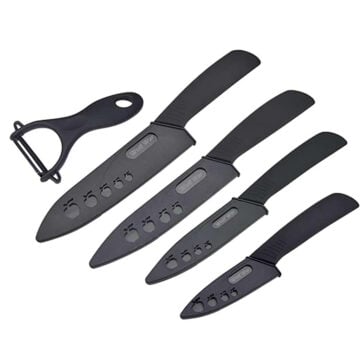 (affiliate link)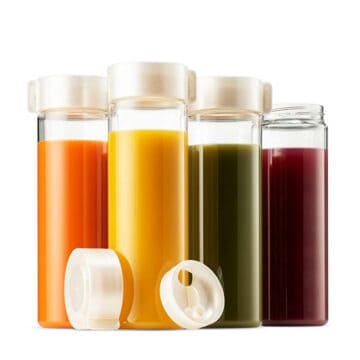 (affiliate link)
Ingredients
3

oz

broccoli

washed, stems can be used to

1

pear

ripe, cored and chopped

1

stalk

celery

chopped, about 6.5 oz

8

leaves

spearmint

¼

lemon

peeled, or juiced
Directions
Preparation: Begin by thoroughly washing all the ingredients - broccoli, celery, pear, and fresh spearmint. Cut the broccoli into smaller florets, chop the celery and pear into pieces that will fit into your juicer, and peel the ginger.

Peeling: If juicing the lemon in the juicer, peel the lemon, OR After juicing the solid ingredients, take a fresh lemon, cut it in half, and manually squeeze the juice into the cold-pressed juice mixture. You can use a lemon squeezer or your hands to extract the juice.

Juicing: Turn on your cold-pressed juicer and start feeding the ingredients through the chute, beginning with the broccoli florets, followed by the cucumber, green apple, and ginger. Make sure to alternate between the different ingredients to ensure a well-mixed juice.

Stir: Give the juice a thorough stir to ensure that the lemon juice is well incorporated.

Serve and Enjoy: Pour your freshly made broccoli juice into a glass, add some ice if desired, and enjoy the revitalizing and nutritious benefits of this delightful beverage. For optimal freshness, consume the juice immediately or store it in an airtight container in the refrigerator for up to 24 hours.
Notes
It is unnecessary to peel the ginger; the Juicer will do it all.
Use our Coupon Code OPBW10 for 10% off, limited time only, at Nama Well Cold-Pressed Juicers

(affiliate link)

.
Nutrition Facts
Serving:
12
oz
Calories:
136
kcal
Carbohydrates:
34
g
Protein:
3
g
Fat:
1
g
Saturated Fat:
0.2
g
Polyunsaturated Fat:
0.3
g
Monounsaturated Fat:
0.2
g
Sodium:
62
mg
Potassium:
582
mg
Fiber:
8
g
Sugar:
19
g
Vitamin A:
771
IU
Vitamin C:
85
mg
Calcium:
73
mg
Iron:
1
mg
Nutrition Facts
Can You Juice Broccoli? Meet the Healthy Pear-Celery-Lemon Blend
Amount per Serving
% Daily Value*
* Percent Daily Values are based on a 2000 calorie diet.
🌡️ Food safety
Cook to a minimum temperature of 165 °F (74 °C)
Do not use the same utensils on cooked food, that previously touched raw meat
Wash hands after touching raw meat
Don't leave food sitting out at room temperature for extended periods
Never leave cooking food unattended
Use oils with a high smoking point to avoid harmful compounds
Always have good ventilation when using a gas stove
See more guidelines at USDA.gov.
Nutritional Disclaimer
The information shown is an estimate provided by an online nutrition calculator. It should not be considered a substitute for a professional nutritionist's advice. See our full Nutritional Disclosure here.
Affiliate Disclaimer
Please note that some of the links here are affiliate links, and I will earn a commission if you purchase through those links. I recommend all of the products listed because they are companies I have found helpful and trustworthy.