Looking for a way to boost your immune system? Check out this delicious carrot ginger turmeric juice! This drink is packed with antioxidants and vitamins that can help keep you healthy during the winter months. Plus, it's easy to make and perfect for the on-the-go.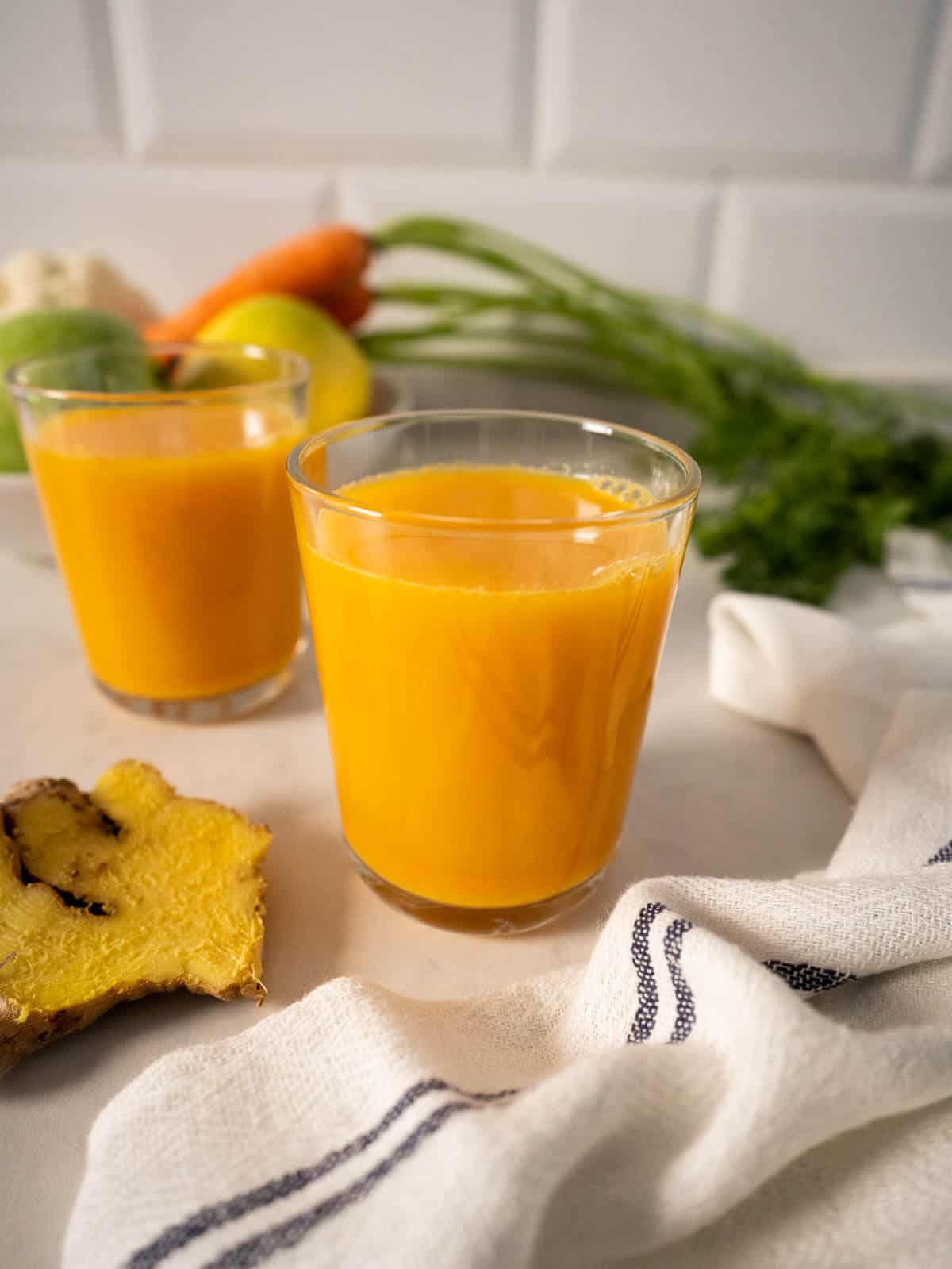 Consuming high-antioxidants and Vitamin C fruits and vegetables is an excellent idea during the year's colder months. Flu season knocks on the door, and sneezing and coughing become the new sound of public transport.
We like to prepare ourselves and up our game by giving our immune system a boost with healthy juicing; moreover, doubling up our consumption of juices with ginger, turmeric, and cruciferous vegetables, which mother Earth wisely provides during this season.
Starting our days with lemon, ginger, turmeric tea, and or juice for cold and flu, along with the version including the health benefits of consuming cauliflower, becomes our morning mantra.
Jump to:
🧾 Ingredients
Make this carrot and apple lemon juice with a couple of simple ingredients, including health powerhouses: ginger and turmeric roots!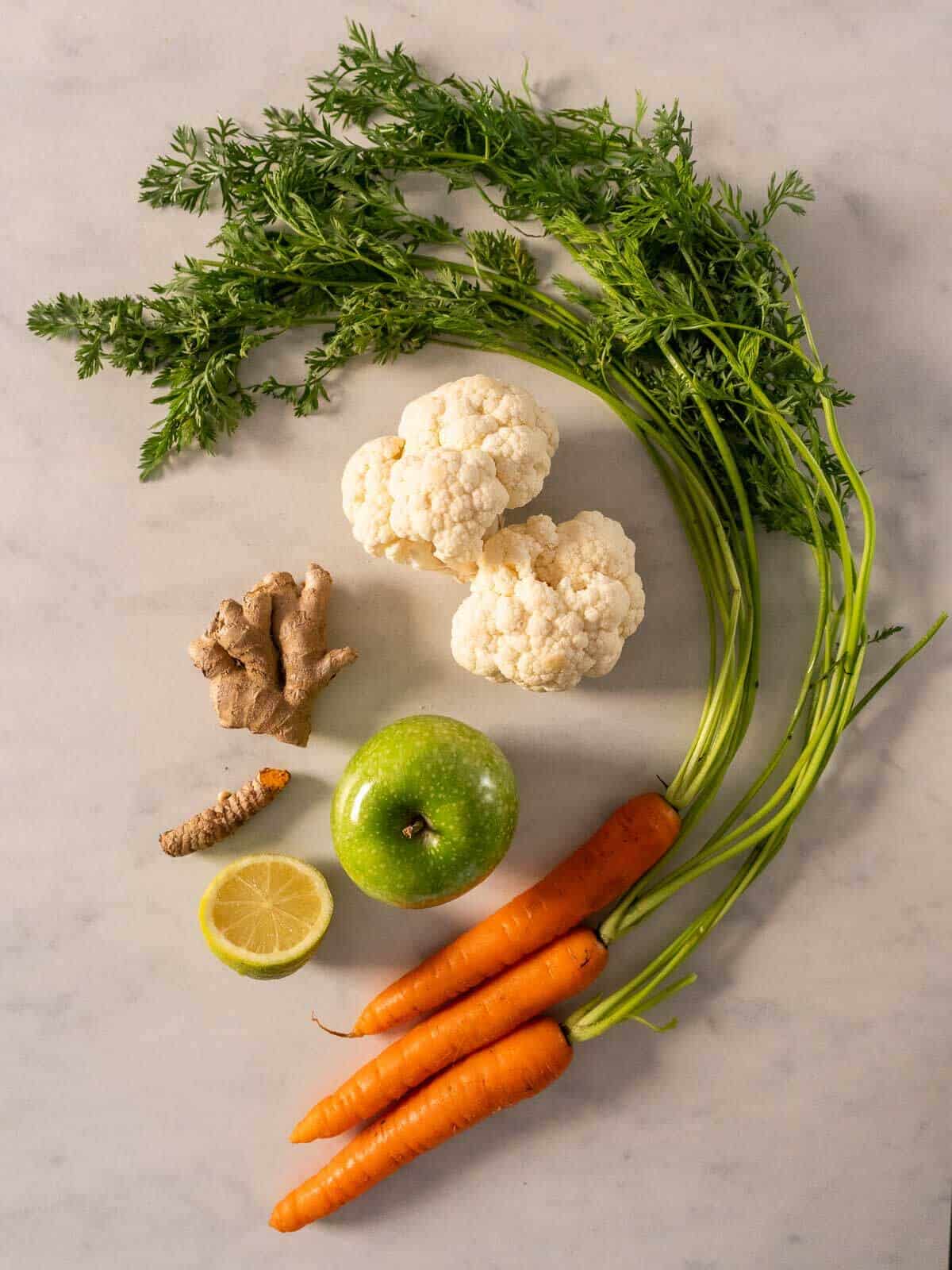 Fresh carrots
Apple
Fresh ginger root
Raw cauliflower
Fresh turmeric root
Lemon
See the recipe card for quantities.
🔪 Instructions
Begin by washing thoroughly your fresh produce and removing any dirt from ginger and turmeric roots.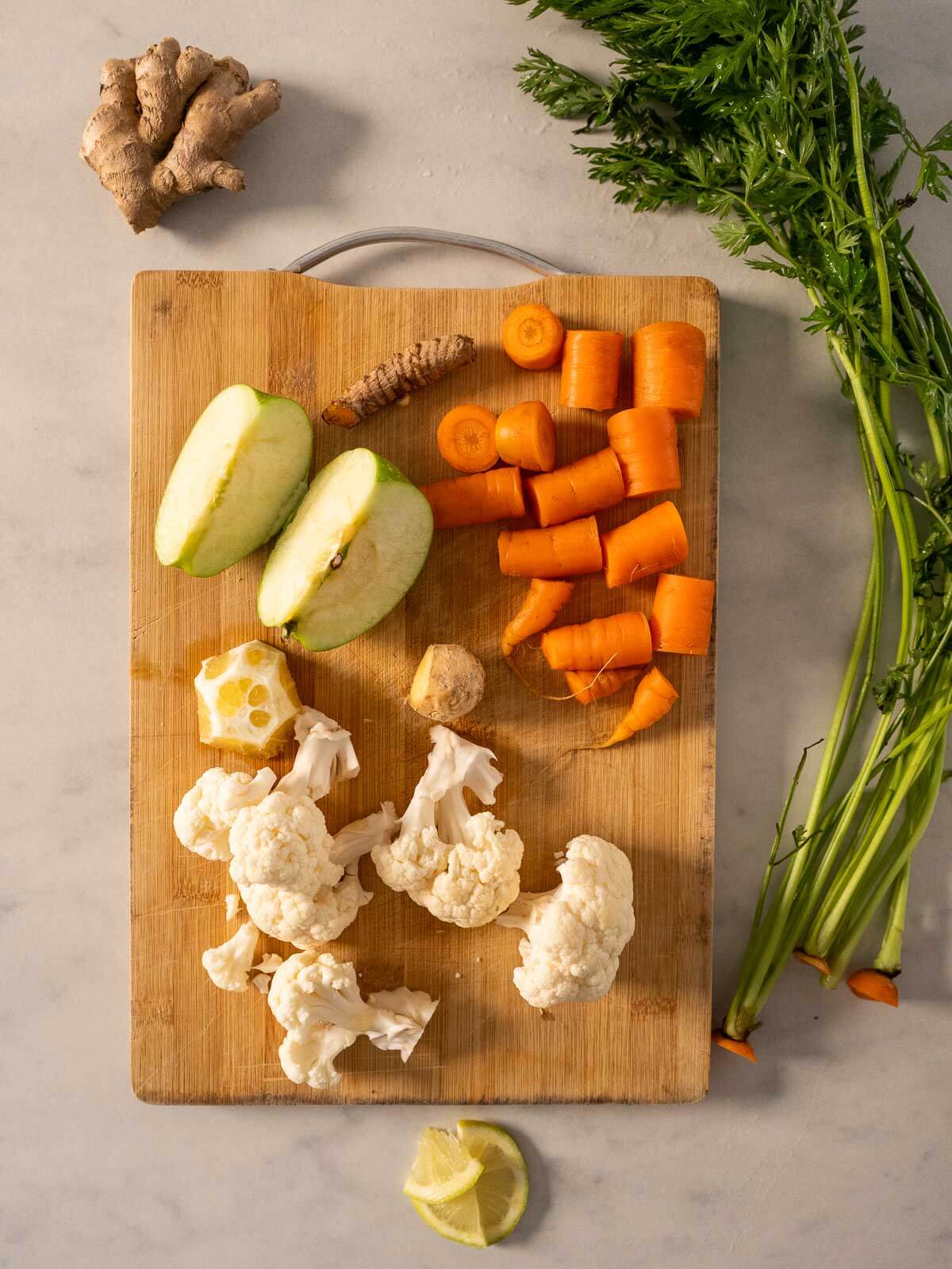 Chop all the ingredients into medium-sized chunks and core the apple.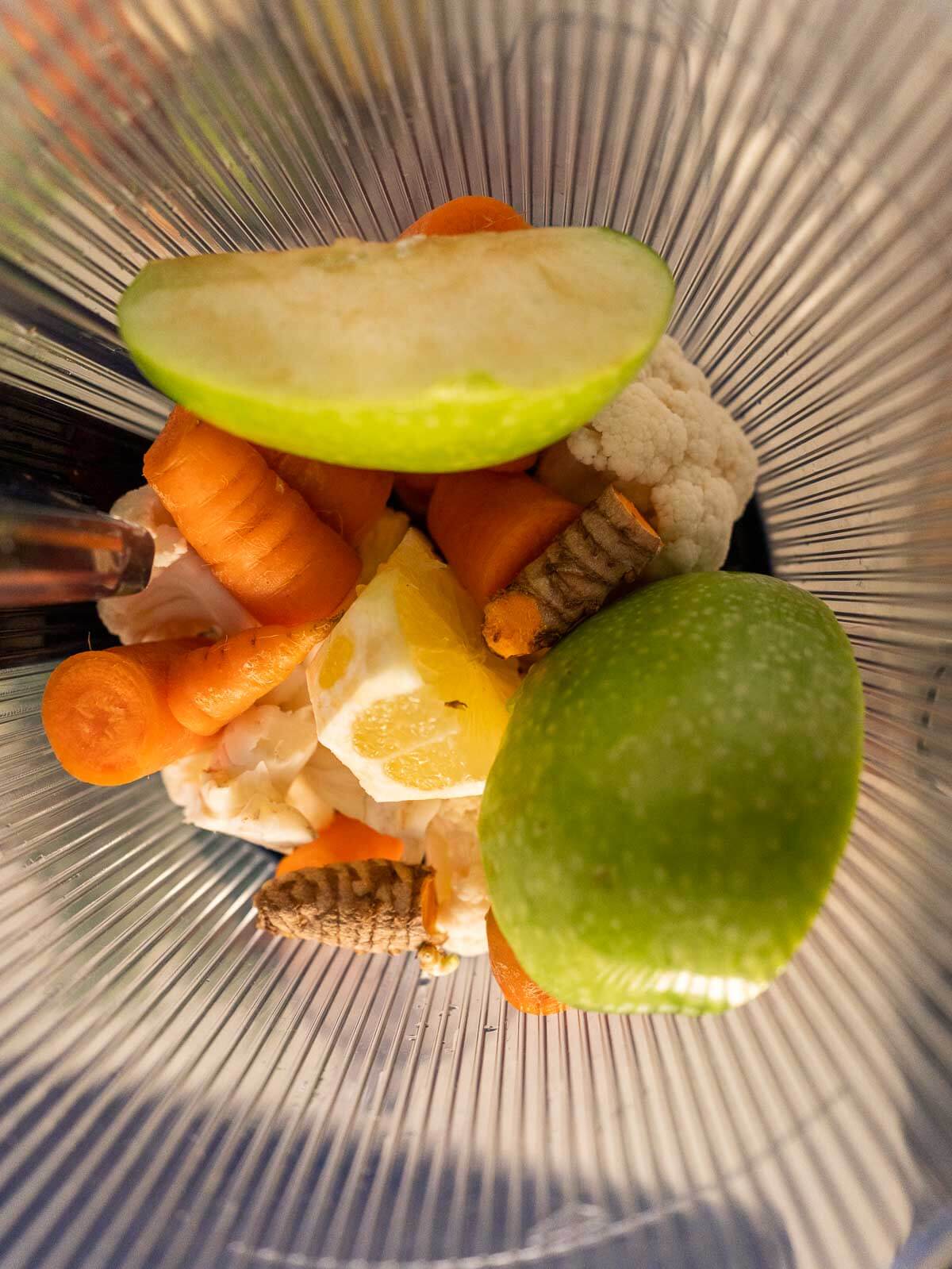 Add all the ingredients you your juicer beginning with the softer ones and ending with the tougher ones.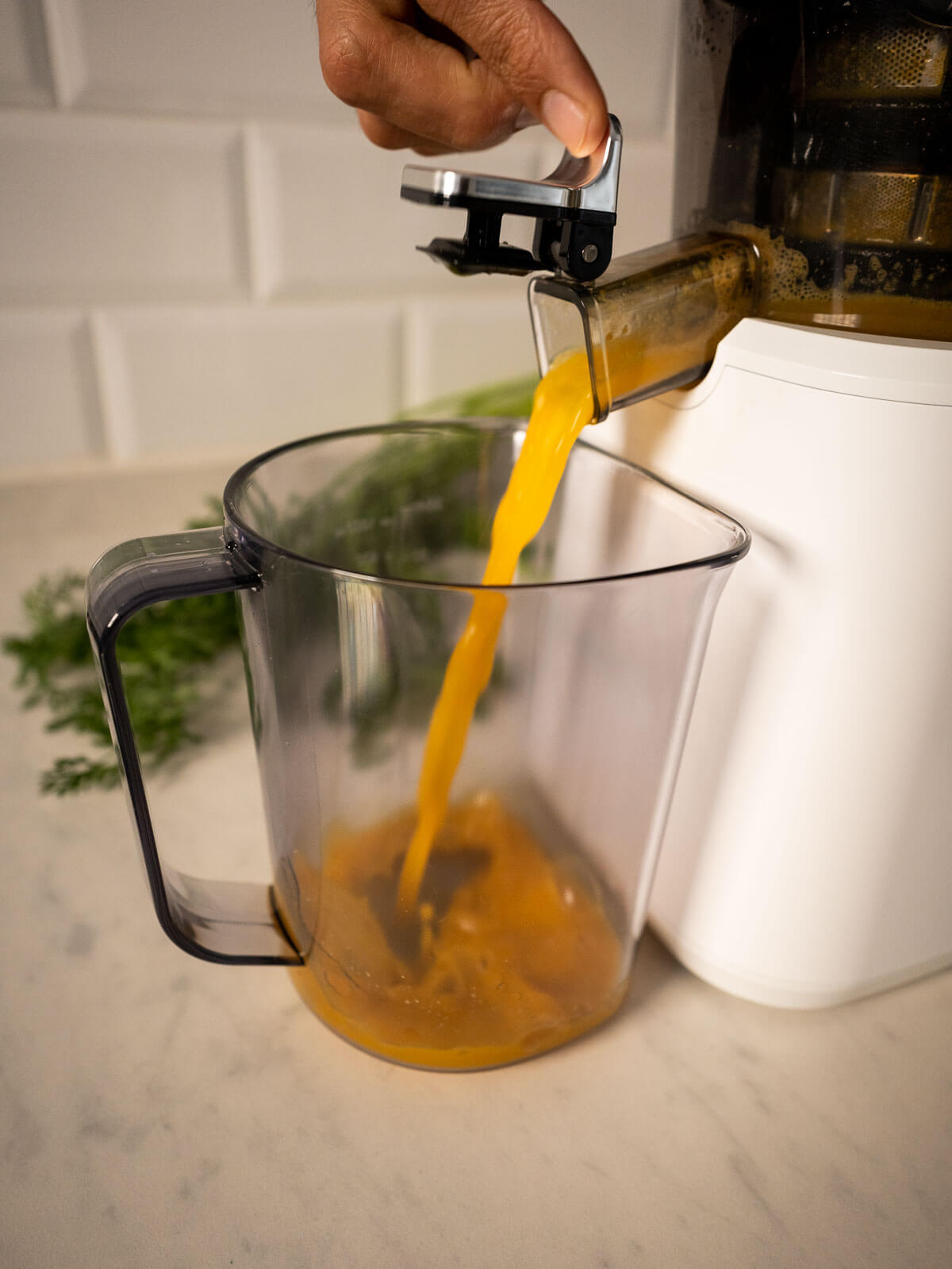 Pour the carrot and ginger juice.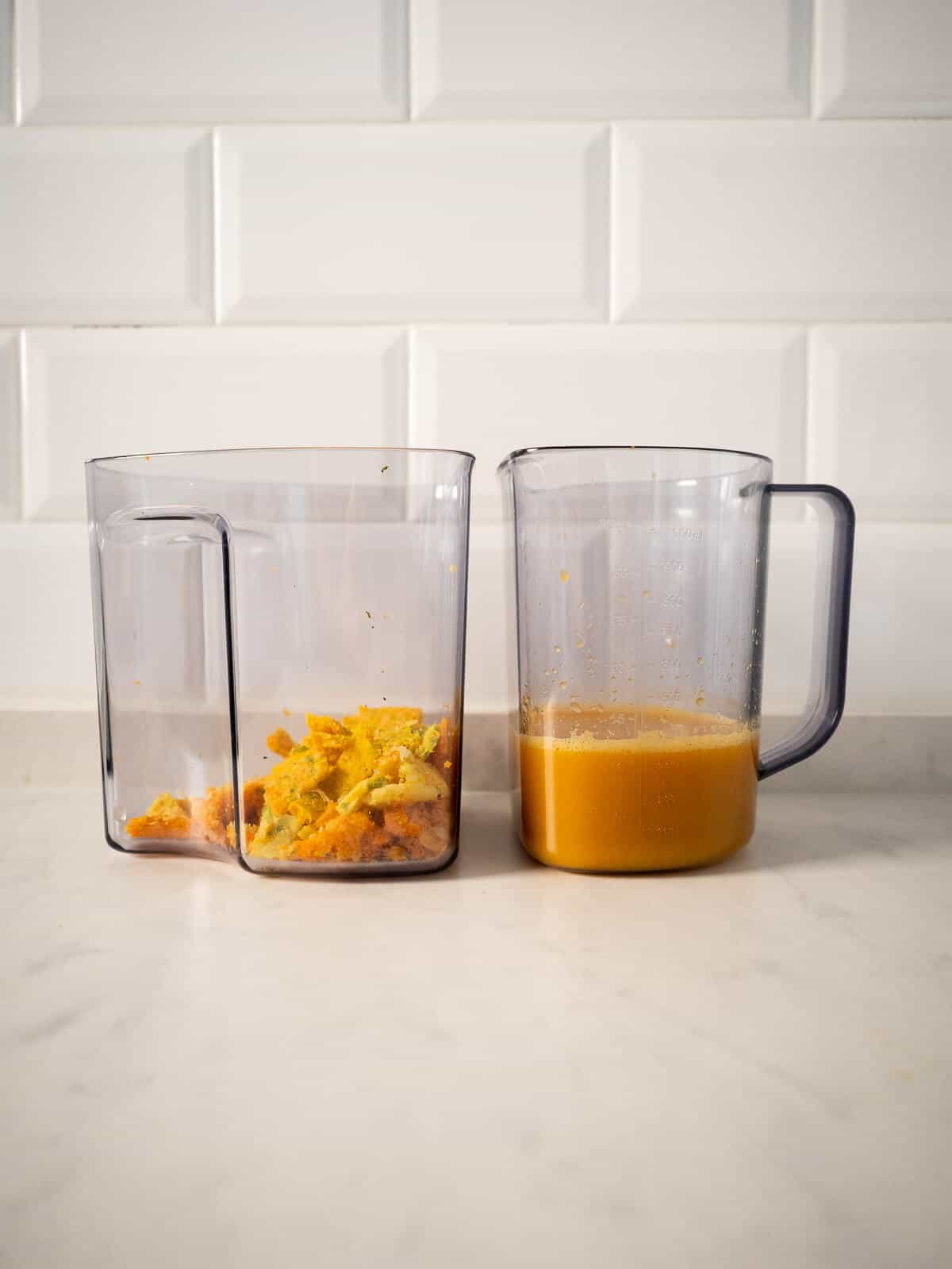 Discard the pulp into your compost container.
🍶 Substitutions
Apples - all types of apples work for this recipe. I prefer using green apples because their acidity works best with vegetables like cauliflower and broccoli when juicing.
Lemon - fell free to use lime juice.
Turmeric root - sometimes, I add turmeric powder directly into the juice and give it a good stir to avoid staining my hands or juicer.
🍽 Equipment
You need a juice extractor to make this cauliflower juice recipe since most of the ingredients are on the tougher spectrum.
Although many juice recipes allow you to make juice without a juicer, I wouldn't say this is one of them.
Make sure you use a slow masticating juicer because they perform better than centrifugal juicers, as they minimize the nutrient´s exposure to heat to the minimum.
🫙 Storage
Although you will get the most out of the benefits while consuming fresh juice, you can store this carrot, ginger, turmeric, apple, and lemon juice for up to 48 hours.
💡Top tips
Want to up your turmeric game? Adding freshly ground black pepper can help increase the absorption of turmeric by up to 2000%. Here's how to do it:
Simply add a pinch of freshly ground black pepper to your turmeric powder before consuming it.
Try adding turmeric powder to the juice to avoid staining your juicer.
❓FAQ
What are turmeric shot benefits?
There are many benefits to consuming turmeric shots. Some of the key benefits include:
Boosts immunity – Turmeric is a powerful antioxidant and anti-inflammatory agent that can help boost your immune system and protect you from infection.
Aids in weight loss – Curcumin, the active compound in turmeric, has been shown to help increase metabolism and burn fat cells.
Reduces inflammation – Chronic inflammation is a leading cause of disease and illness, and turmeric is a natural anti-inflammatory agent that can help reduce inflammation throughout the body.
Detoxifies the liver – The liver is responsible for detoxifying the body, and turmeric can help improve liver function and
Can you juice cauliflower?
Yes, you can juice cauliflower. Cauliflower is a low-calorie vegetable that is high in fiber and vitamins C and K. It also contains some antioxidants and anti-inflammatory compounds. Juicing cauliflower is a great way to add these nutrients to your diet.
✅ Health benefits of juicing cauliflower
Cauliflower makes a great addition to juices because it has a mild flavor that goes well with other fruits and vegetables.
It also contains fiber, which helps to regulate digestion.
Additionally, it is packed with vitamin C is important for immune system health.
Vitamin K is necessary for blood clotting
Antioxidants may help protect against cell damage.
Low sugar. One such benefit is that the low glycemic index makes this vegetable recommended in any diabetes diet plan, meaning you can enjoy its outstanding taste without sacrificing anything else important (like blood sugar levels). See low-sugar juice.
Cauliflower juice works antibacterial and anti-inflammatory properties. It helps properly function the entire digestive tract and protects from gastrointestinal diseases, such as inflammation of the stomach lining or even stomach cancer. (source)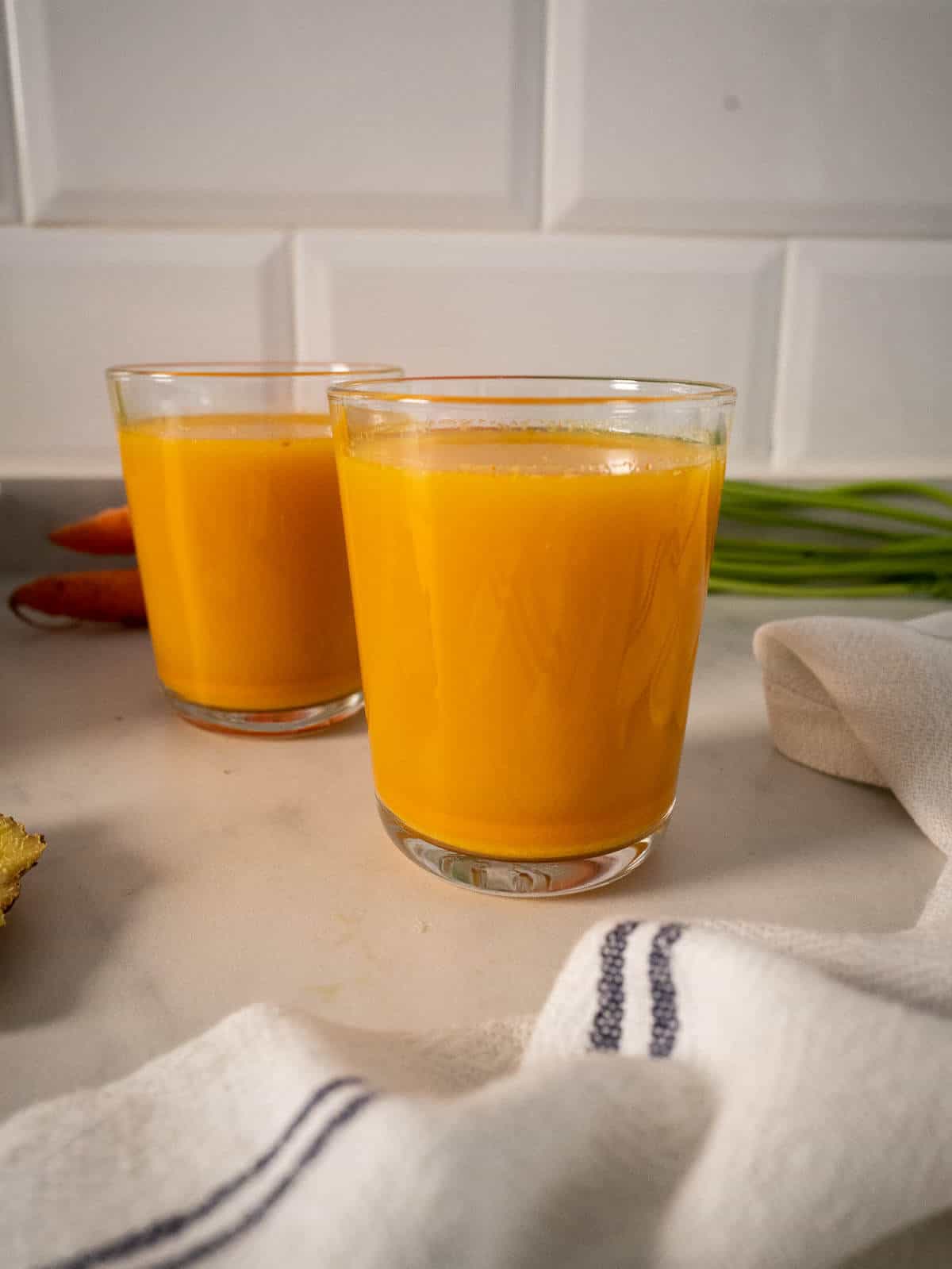 🧃 More juice recipes with carrots and vegetables
Try out the carrot and celery juice, carrot, apple, and sweet potato juice, apple carrot and spinach juice which are delicious juice recipes using apples that will quickly become a favorite.
These white cabbage and mandarine orange juice is great for gastritis problems, and red cabbage with apples and tomatoes juice is an excellent resource for ulcers.
Try out beet juice before working out to increase your stamina.
⭐ If you try this apple lemon juice, let us know! 💬 Leave a comment, rate it, and don't forget to tag us @ourplantbasedworld on Instagram. Cheers!
📋 Recipe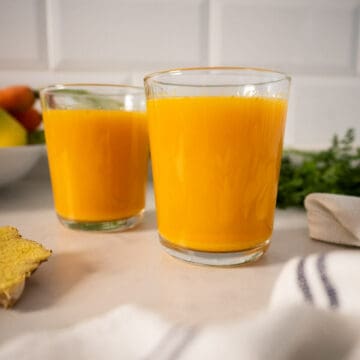 Carrot Ginger Turmeric Juice
This juice is packed with vitamins and minerals to support your immune system, and it has a delicious flavor. Plus, it's easy to make!
Equipment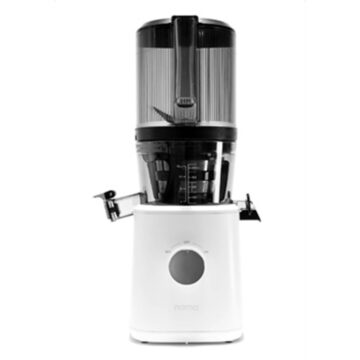 (affiliate link)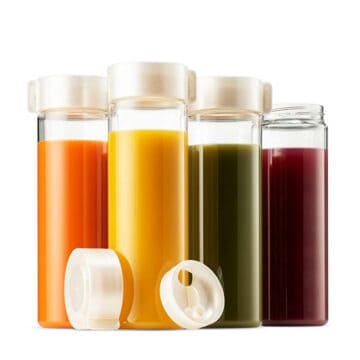 (affiliate link)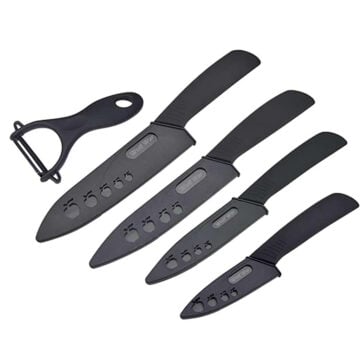 (affiliate link)
Directions
Wash carrots, apple, and cauliflower thoroughly.

Peel lemon and core apple.

Cut all the ingredients into the appropriate size to fit the juicer. You don't need to peel the ginger and turmeric. (be aware that turmeric can stain your fingers and utensils, treat with care).

Add ingredients into the juicer, starting with lemon and foillowing with the tougher ingredients.

Serve immediately, or store in an airtight BPA-free container for up to 2 days.
Notes
Try adding turmeric powder to the juice to avoid staining your juicer.
Nutrition Facts
Calories:
146
kcal
Carbohydrates:
36
g
Protein:
3
g
Fat:
1
g
Saturated Fat:
0.2
g
Polyunsaturated Fat:
0.3
g
Monounsaturated Fat:
0.1
g
Sodium:
143
mg
Potassium:
886
mg
Fiber:
9
g
Sugar:
20
g
Vitamin A:
30627
IU
Vitamin C:
54
mg
Calcium:
85
mg
Iron:
1
mg
Nutrition Facts
Carrot Ginger Turmeric Juice
Amount per Serving
% Daily Value*
* Percent Daily Values are based on a 2000 calorie diet.
🌡️ Food safety
Cook to a minimum temperature of 165 °F (74 °C)
Do not use the same utensils on cooked food, that previously touched raw meat
Wash hands after touching raw meat
Don't leave food sitting out at room temperature for extended periods
Never leave cooking food unattended
Use oils with a high smoking point to avoid harmful compounds
Always have good ventilation when using a gas stove
See more guidelines at USDA.gov.
Nutritional Disclaimer
The information shown is an estimate provided by an online nutrition calculator. It should not be considered a substitute for a professional nutritionist's advice. See our full Nutritional Disclosure here.
Affiliate Disclaimer
Please note that some of the links here are affiliate links, and I will earn a commission if you purchase through those links. I recommend all of the products listed because they are companies I have found helpful and trustworthy.