This Spiced Roasted Cauliflower is one of the easiest things to make for any given dinner or lunch. Roasting cauliflower is a great way to make this vegetable more appetizing for kids and adults.
Spiced roasted cauliflower with turmeric, cumin, salt, garlic powder, and paprika is the perfect side dish or vegetarian main course that can be served warm or at room temperature. Not only is it healthy, but also super easy to prepare!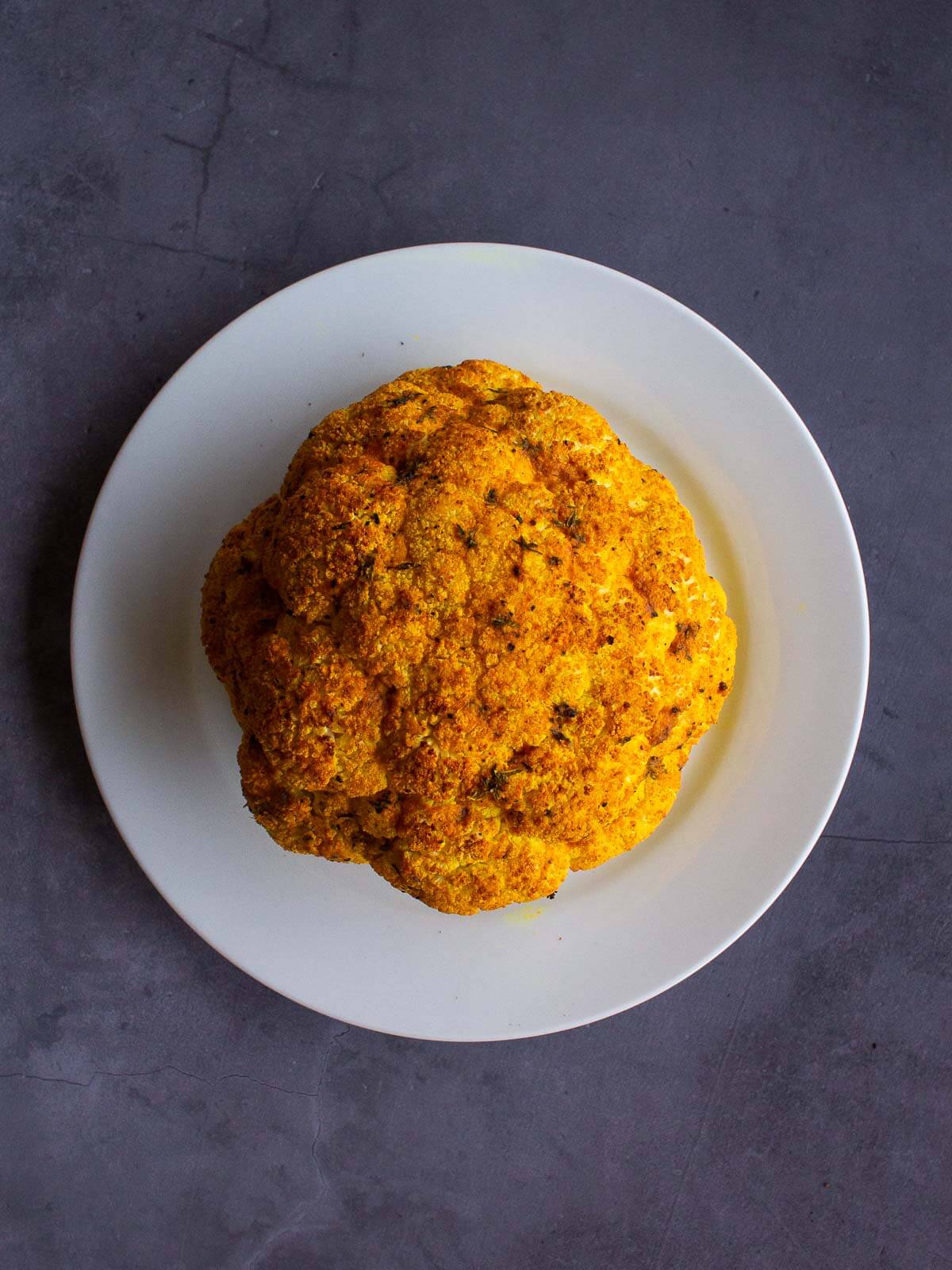 I also like to keep some for further preparations, such as cauliflower cream, or pair it with a bowl of nice basmati rice for a light meal.
When spicy meets cauliflower, a spicy roasted cauliflower is created. This spicy roasted cauliflower recipe has been around for a while, but it's still one of the easiest things to make for any given dinner or lunch.
I also like to keep some spicy roasted cauliflower for further preparations, such as cauliflower cream, or pair it with a bowl of nice basmati rice for a light meal.
The first time I tried was at a Jewish restaurant when we lived in Mexico City. I couldn't believe how much flavor I was getting in my mouth from roasted cauliflower.
Of course, we would not have asked for it, but the waiter recommended and insisted that we were not going to regret it, and he was right.
We love our easy and hassle-free roasted vegetables, such as roasted Brussels sprouts, butternut squash, and the famous Spanish Escalivada. Each veggie has its own trick, here is how to roast cauliflower like a pro!
If you love this fall season ingredient as much as we do, don't forget to check our Fall Season recipes, including more cauliflower recipes. Don't forget to check out our simple, delicious, and super healthy Cauliflower Steaks recipe.
Ingredients
The perfect seasoned roasted cauliflower includes these plant-based spices: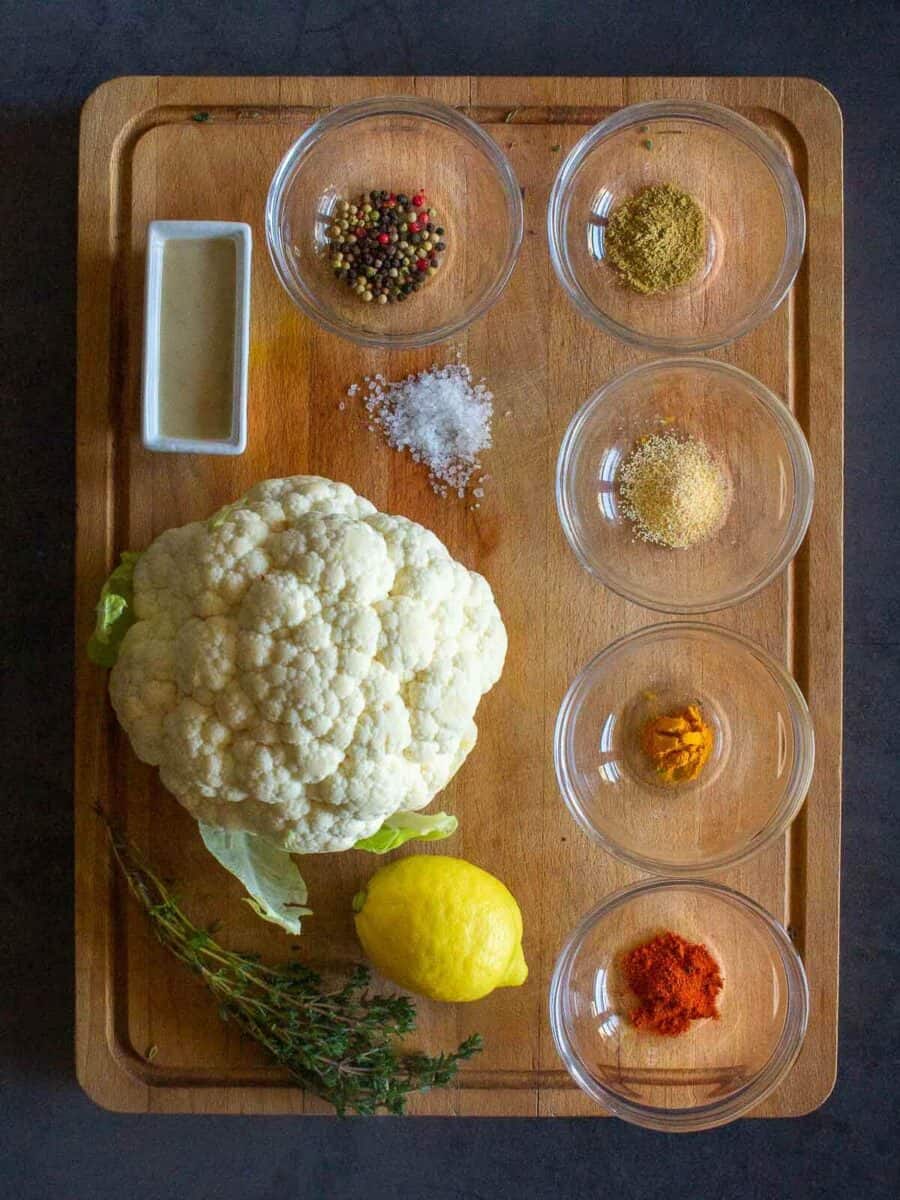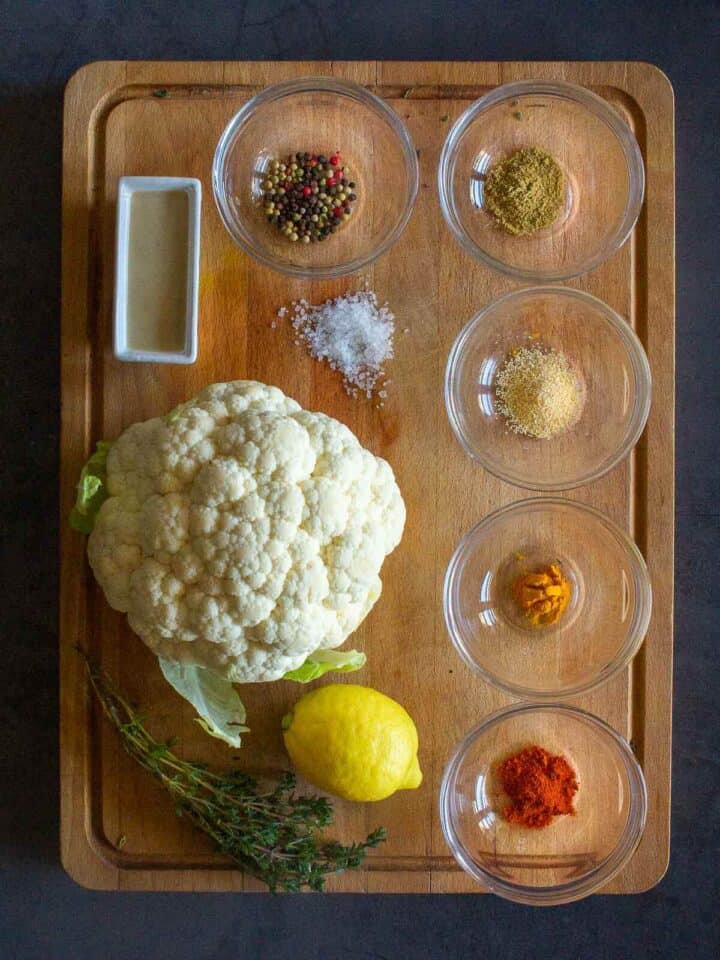 Turmeric
Paprika
Cumin
Black Pepper
Garlic.
Tahini paste (sesame paste)
Herbs
See quantities and full instructions in the recipe card.
Instructions
The Right Mix and Amount of Spices will do the trick!
Measure your spices.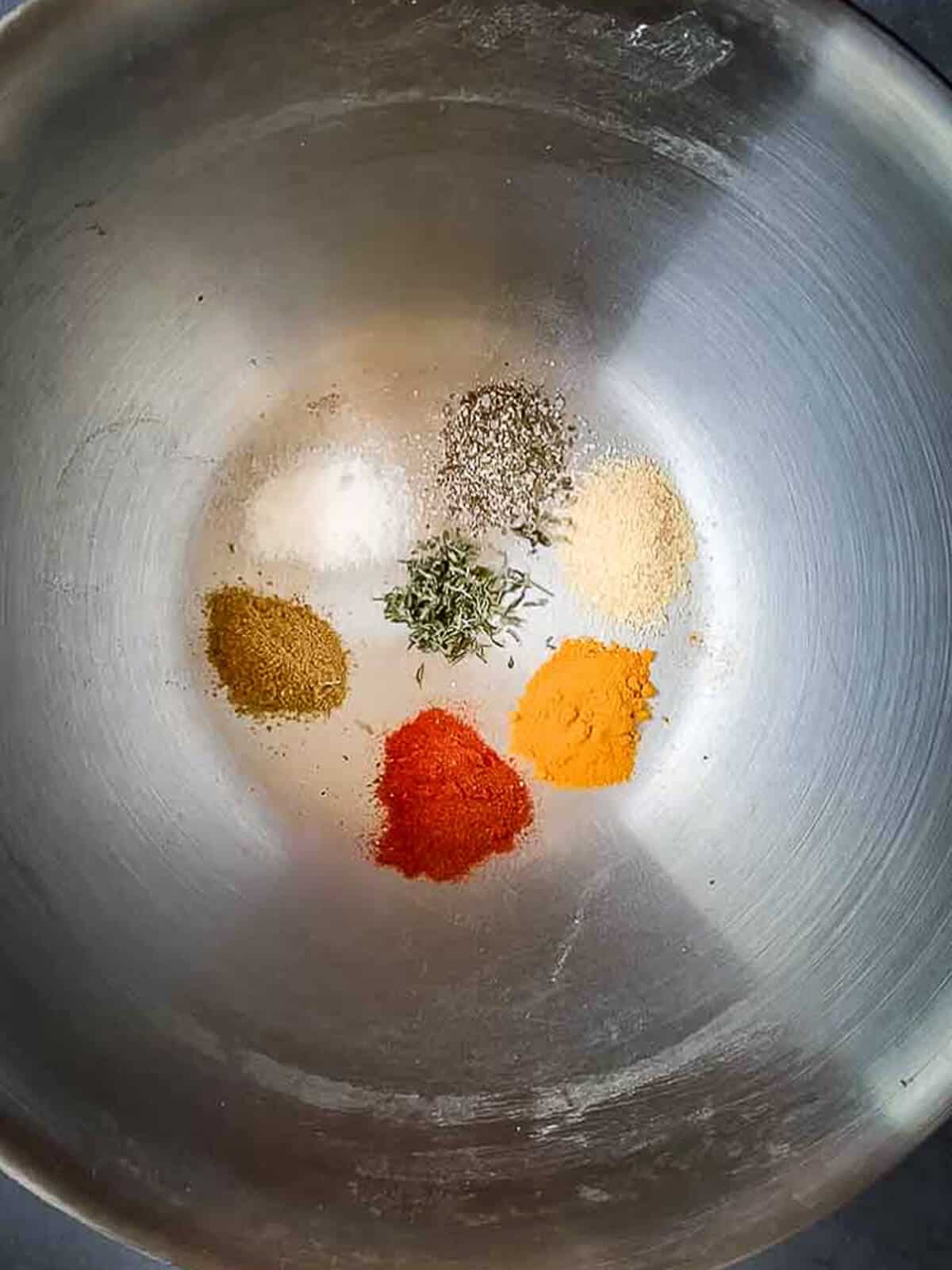 Mix the Spices along with Water and Tahini and you have you are half-way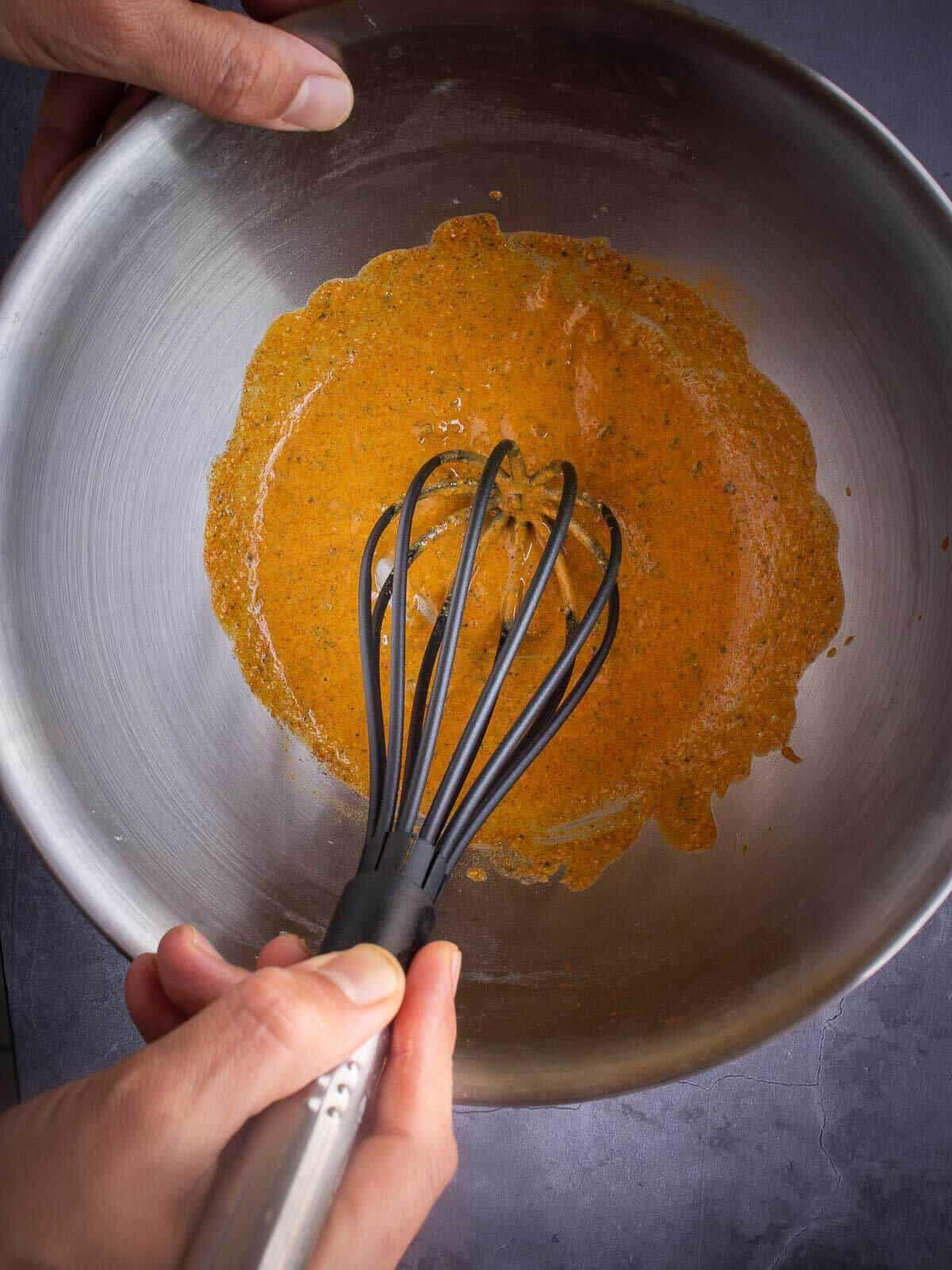 Place your Cauliflower head on an Aluminium Foil and Cover it with your Spiced Cauliflower Mix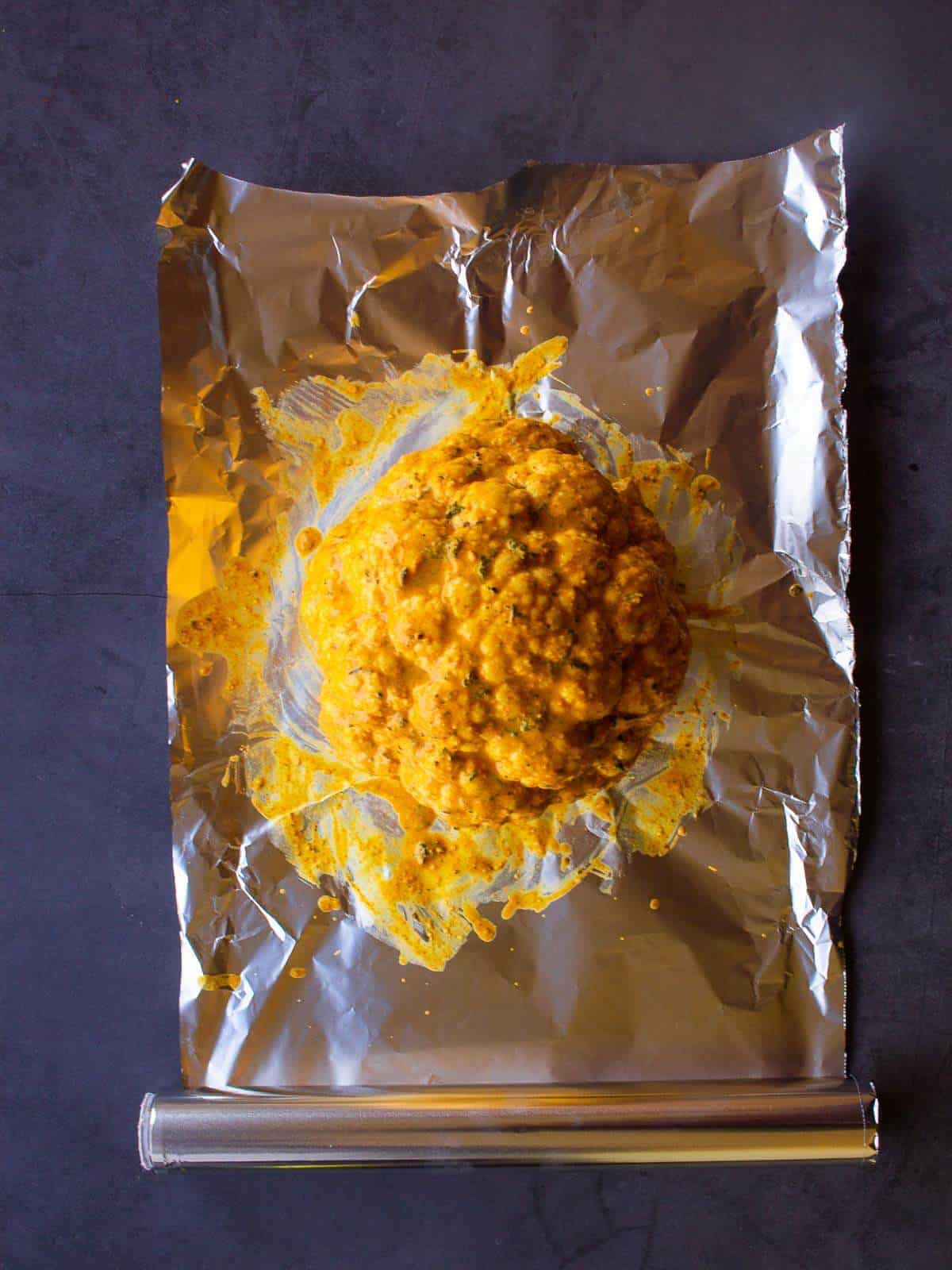 Wrap the cauliflower head, making sure it is tightly closed.
Tip: turmeric dyes stuff, even your hands, so handle it with care.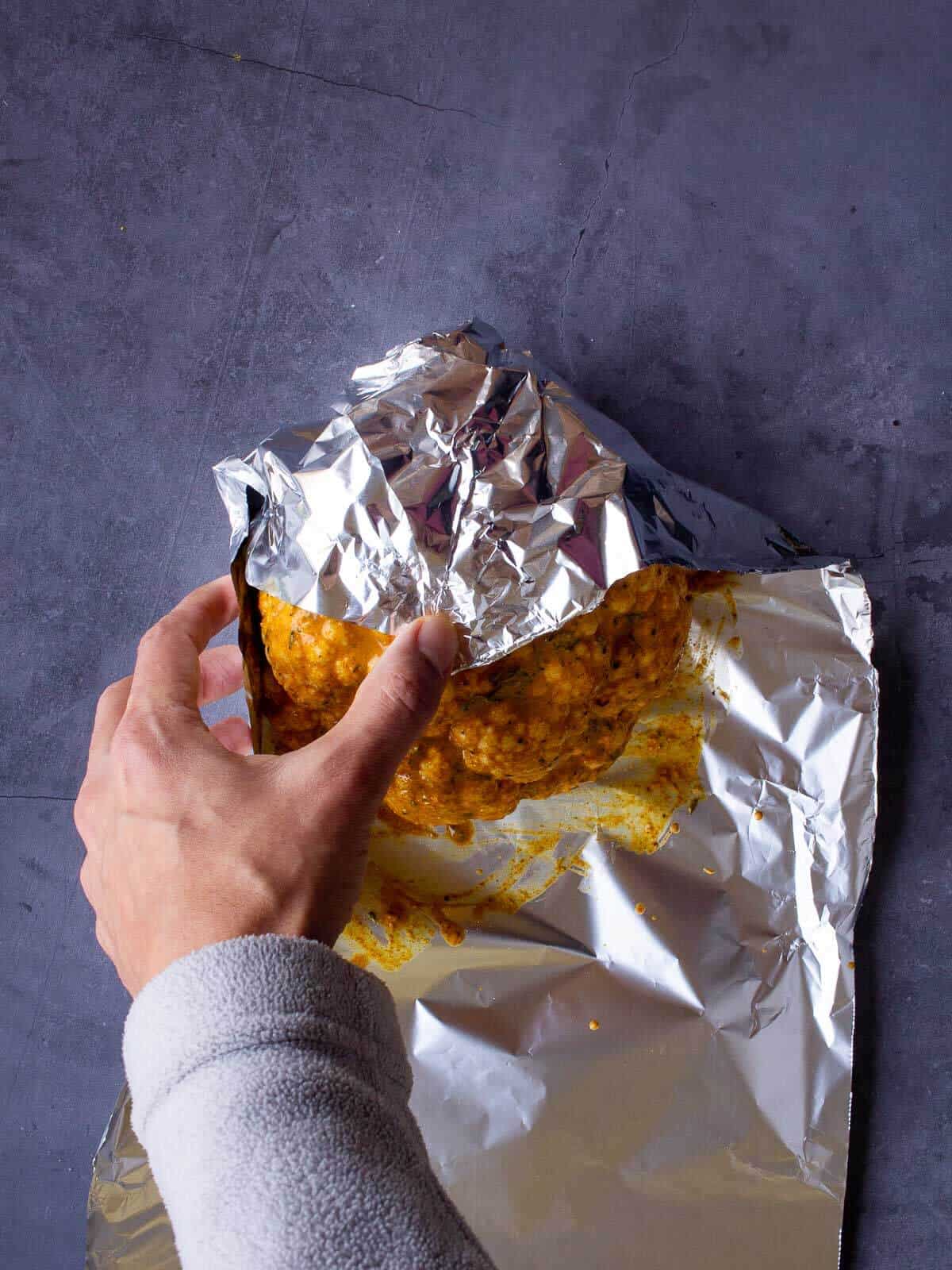 Bake the cauliflower head for an hour.
Convenience
This great recipe is perfect when you don't know what to do with that beautiful cauliflower head in your fridge. With this oven-roasted cauliflower recipe, you can use different herbs, fats, and seasonings to change slightly. The whole cauliflower cooking time in an aluminum foil at 400ºF (200ºC) is one hour.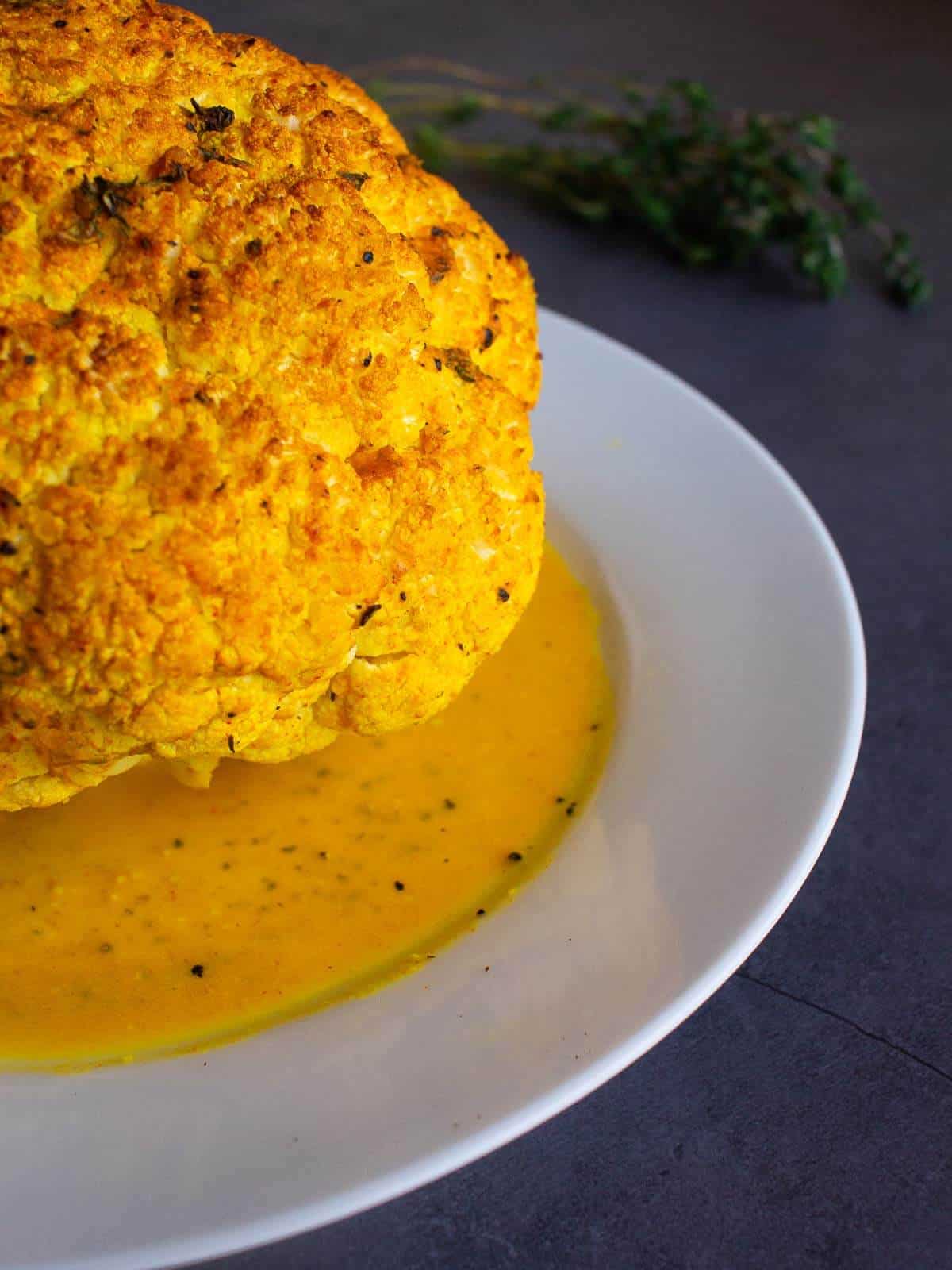 I recommend keeping the remainder of the liquid after baking your Cauliflower so you can add an extra punch while eating. It also adds an extra Gourmet Touch to the table!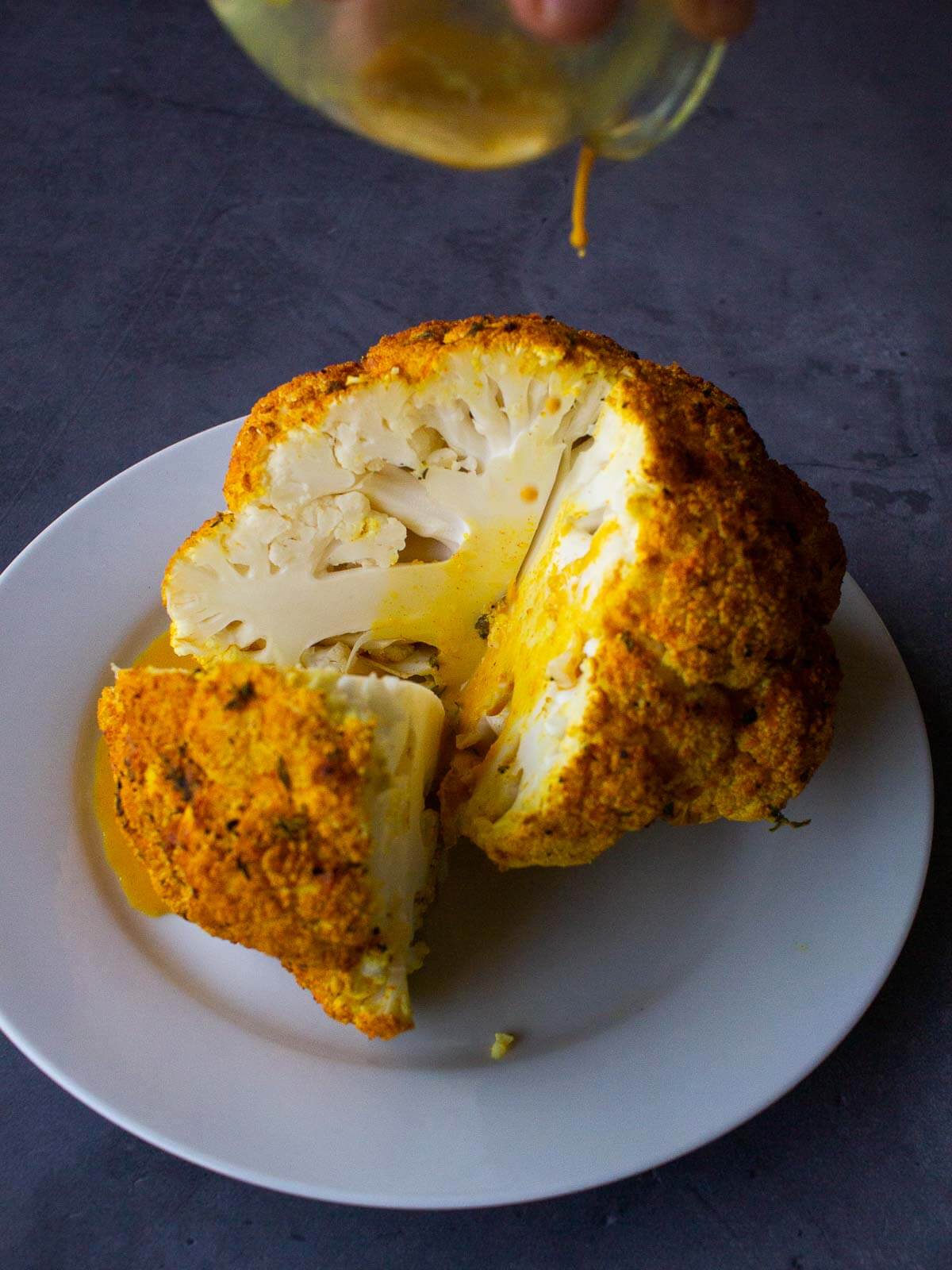 Storing
You can keep the leftovers covered in the fridge for up to 3 days.
Benefits of adding Cauliflowers to your diet
It is filled with many essential minerals and vitamins that are extremely important for the body.
It contains potent antioxidants that offer health-protective effects
It may protect against certain types of cancer.
Cauliflower is high in fiber, which is beneficial for overall health.
May Aid in Weight Loss
It is a Low-Carb Alternative to Grains and Legumes
Easy to Add to Your Diet can be eaten raw, steamed, roasted, or sauteed.
High in Choline plays a significant role in maintaining the integrity of cell membranes, synthesizing brain development, and promoting a healthy nervous system.
This cruciferous vegetable is highly nutritious and, as Science Says, is amongst the 3 of the Healthiest Foods You Can Eat. It has a lot of beneficial, healthy properties and very few calories.
Spice things up!
Spices contribute to our health and have no calories, so don't be shy!
Roast cauliflower spices ideas:
Turmeric - adds great color and earthy flavor.
Paprika - adds color and smoky flavor.
Cumin - adds depth and complexity.
Coriander - adds Asian flavors' complexity.
Garlic powder - adds intensity and our loved garlic flavor.
Onion powder - same as above but milder.
Black pepper - help to round up the flavors.
Thyme - adds herbal notes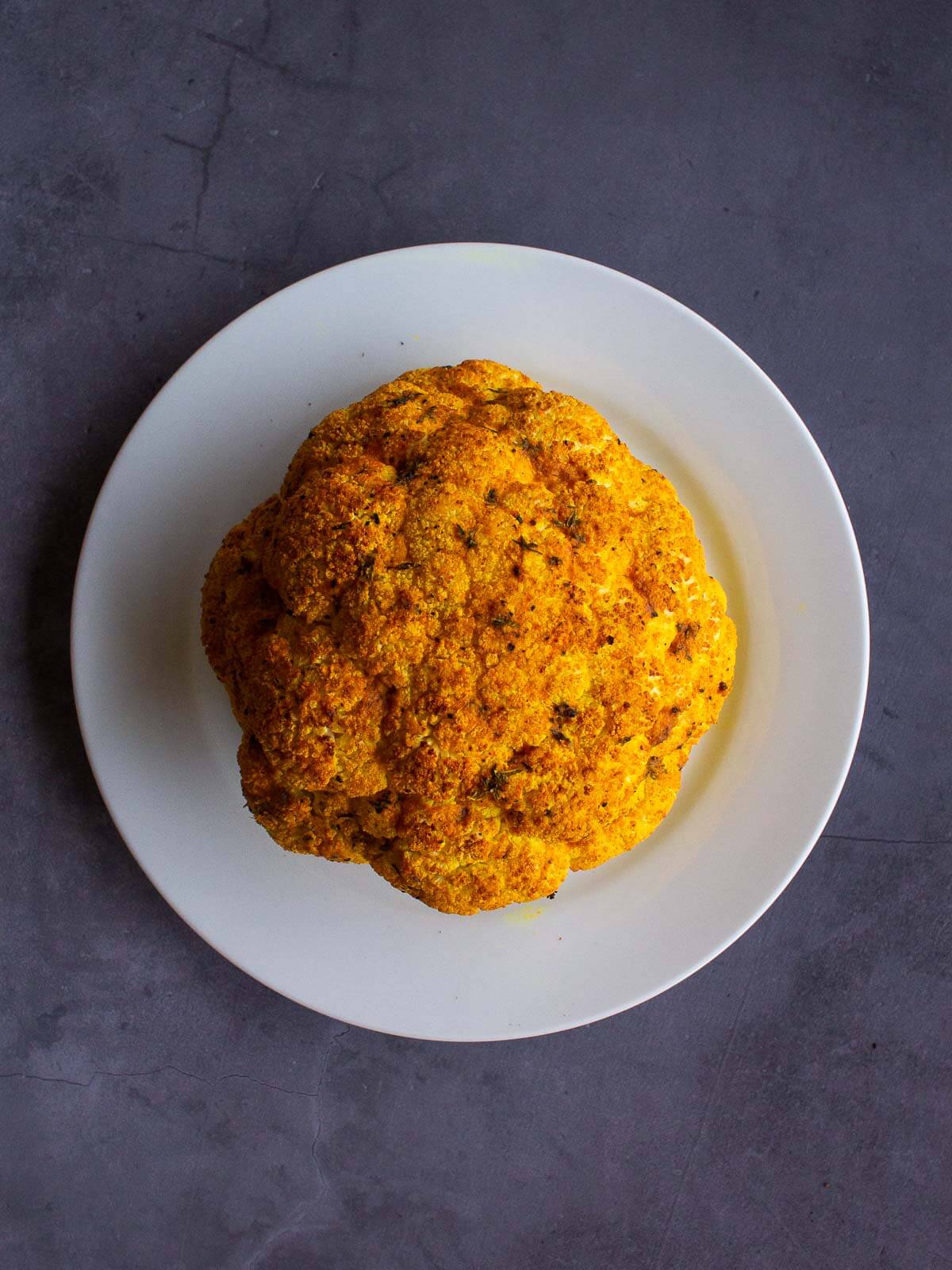 We use turmeric for our cauliflower seasoning because it contributes to its flavor, color, and excellent anti-inflammatory benefits.
This is the best way to roast cauliflower.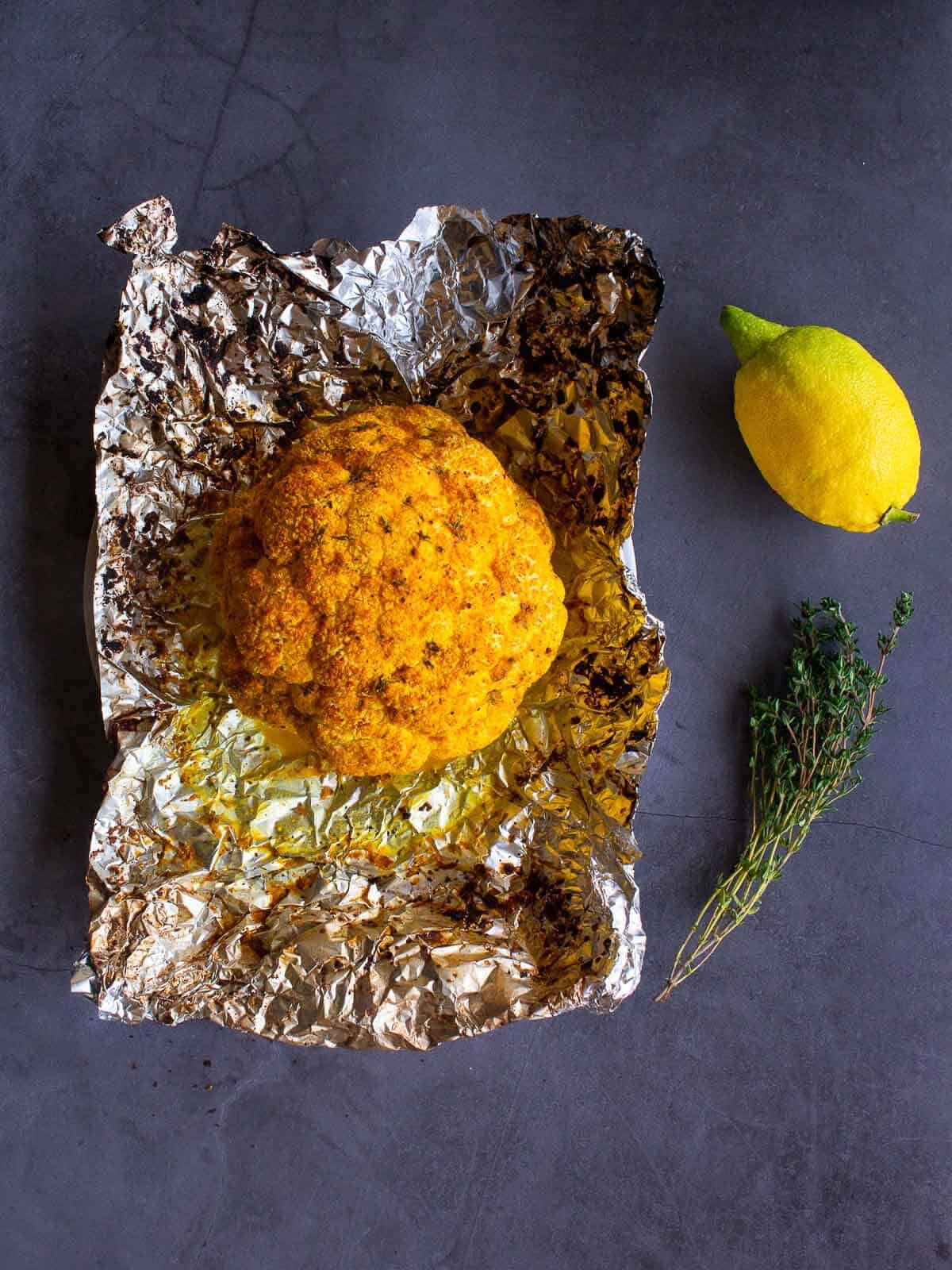 Looking for more Savory Side dishes and Snacks?
If you like Indian spices and cauliflower, you will love our curried cauliflower; you will love it!
If you try this recipe, let us know! Leave a comment, rate it, and don't forget to tag a photo #ourplantbasedworld on Instagram. Cheers!
Recipe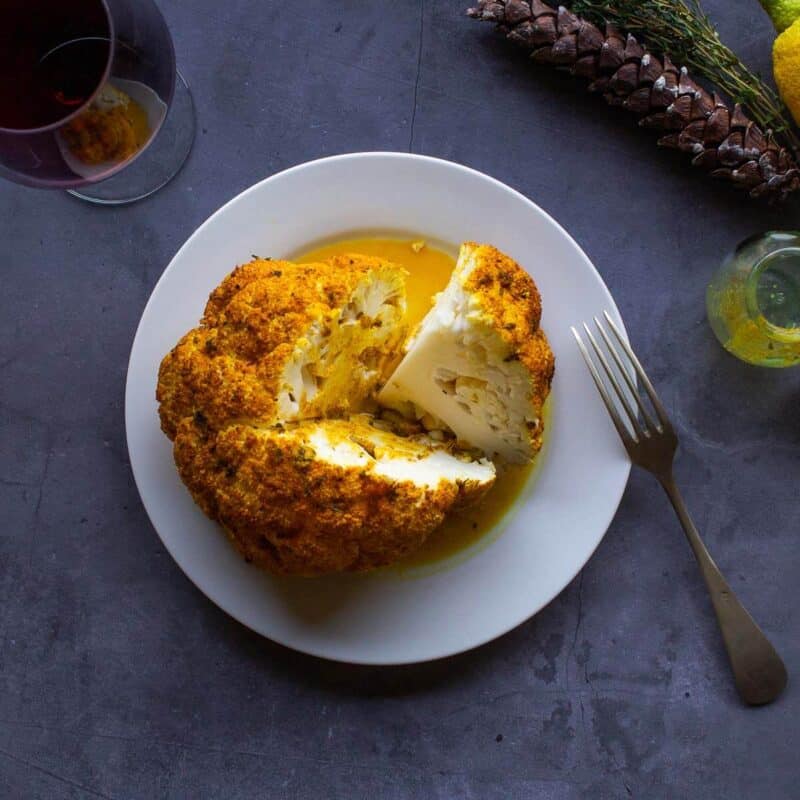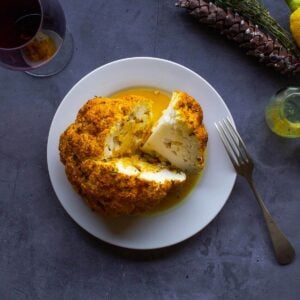 Spiced Roasted Cauliflower
This Cauliflower recipe is super easy to put together for any given dinner or lunch. Grab some spices, your favorite healthy oil and you've got it!
Equipment
Ingredients
1

medium cauliflower head
Directions
Preheat the oven to 400ºF or 200ºC.

Prepare the spices in a bowl.

Mix all the ingredients in a bowl, but the cauliflower, until well combined.

Trim the base of the cauliflower to remove any green leaves and the stem.

Make cuts in the cauliflower head and then rub the marinade all over the cauliflower, allowing some of it to come inside of it.

Place onto an aluminum foil and bake for 1 hour.

Remove from the oven and open the aluminum foil and place back in the tray uncovered to allow the top side to become golden brown.

I like to add the remaining juices in the aluminum foil on top of it once I have cut it in quarters.
Notes
You can keep the leftovers covered in the fridge for up to 3 days.
Use any herbs or spices you want or have on hand, have fun!
I use a brush to rub the marinade all over the cauliflower because the turmeric stains a lot, but unnecessary. You can also use your hands or even a plastic bag.
Baking time may vary depending on your oven, the size of your cauliflower, or how soft you want it.
You can keep it in an airtight container in the freezer for 1-2 months.
Nutrition Facts
Calories:
118
kcal
Carbohydrates:
14
g
Protein:
5
g
Fat:
7
g
Saturated Fat:
1
g
Sodium:
632
mg
Potassium:
556
mg
Fiber:
5
g
Sugar:
3
g
Vitamin A:
155
IU
Vitamin C:
84
mg
Calcium:
69
mg
Iron:
2
mg
Nutrition Facts
Spiced Roasted Cauliflower
Amount per Serving
% Daily Value*
* Percent Daily Values are based on a 2000 calorie diet.
Food safety
We sometimes take for granted that we have years (or decades) of cooking experience that the average visitor may not. Add to, or remove from, the list below with health and safety tips.
Cook to a minimum temperature of 165 °F (74 °C)
Do not use the same utensils on cooked food that previously touched raw meat
Wash hands after touching raw meat
Don't leave food sitting out at room temperature for extended periods
Never leave cooking food unattended
Use oils with high smoking points to avoid harmful compounds
Always have good ventilation when using a gas stove
See more guidelines at USDA.gov.
The information shown is an estimate provided by an online nutrition calculator. It should not be considered a substitute for a professional nutritionist's advice. See our full Nutritional Disclosure here.
Please note that some of the links here are affiliate links, and I will earn a commission if you purchase through those links. I use all of the products listed and recommend them because they are companies that I have found helpful and trustworthy.