There's nothing quite like a spiced lentil soup when it comes to heartwarming soups. This recipe is packed with hearty and healthy ingredients, including sprouted lentils, veggies, and a touch of curry. The end result is a delicious and spicy sprouted lentil soup that's perfect for warming up on a cold day. Enjoy!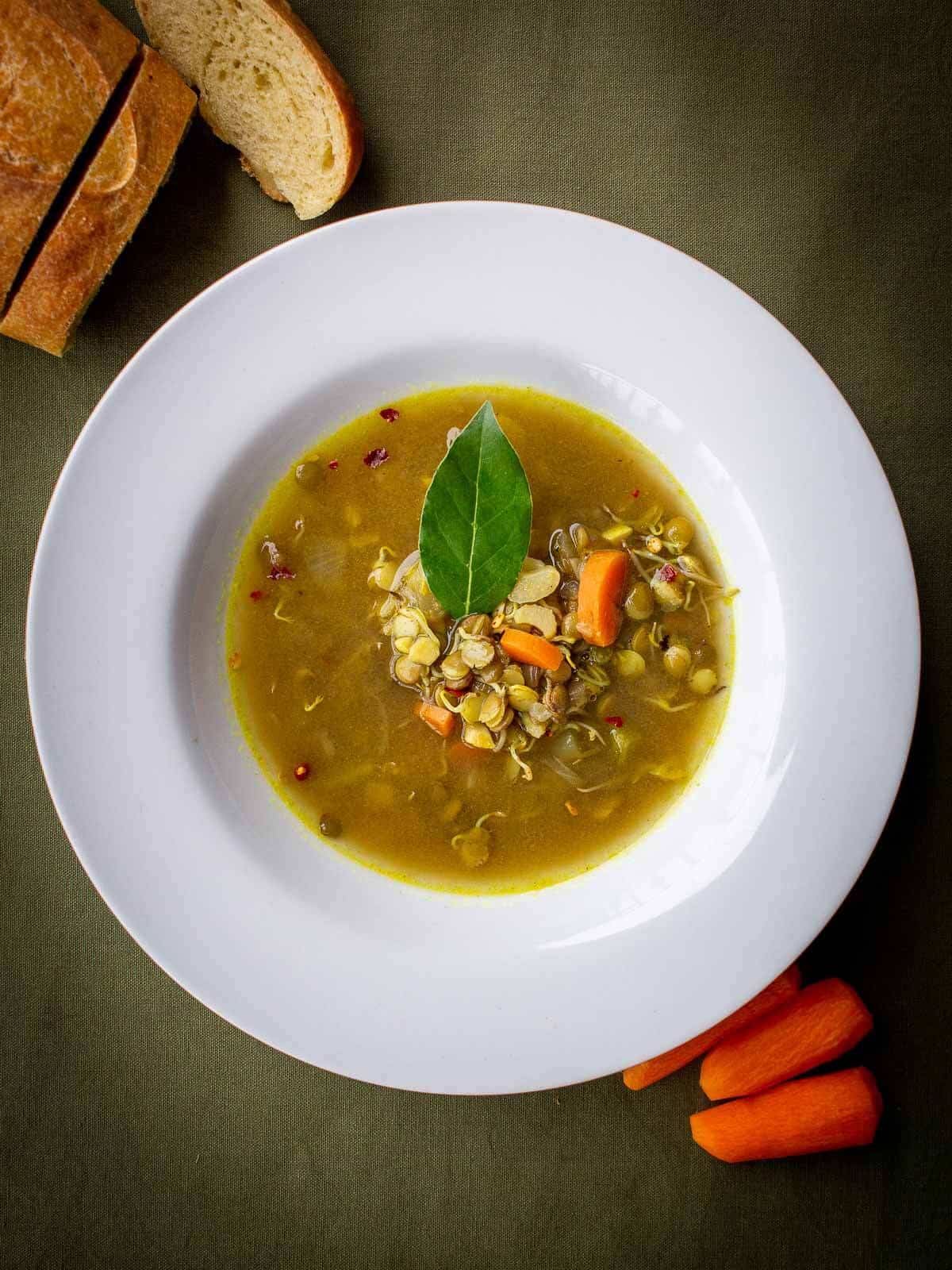 This week we made a big batch of Sprouted Lentils, which can be eaten raw, so it was a call to get creative on using this fabulous and nutritious resource. What do you do with lentil sprouts other than having sprouted lentil salad?
Jump to: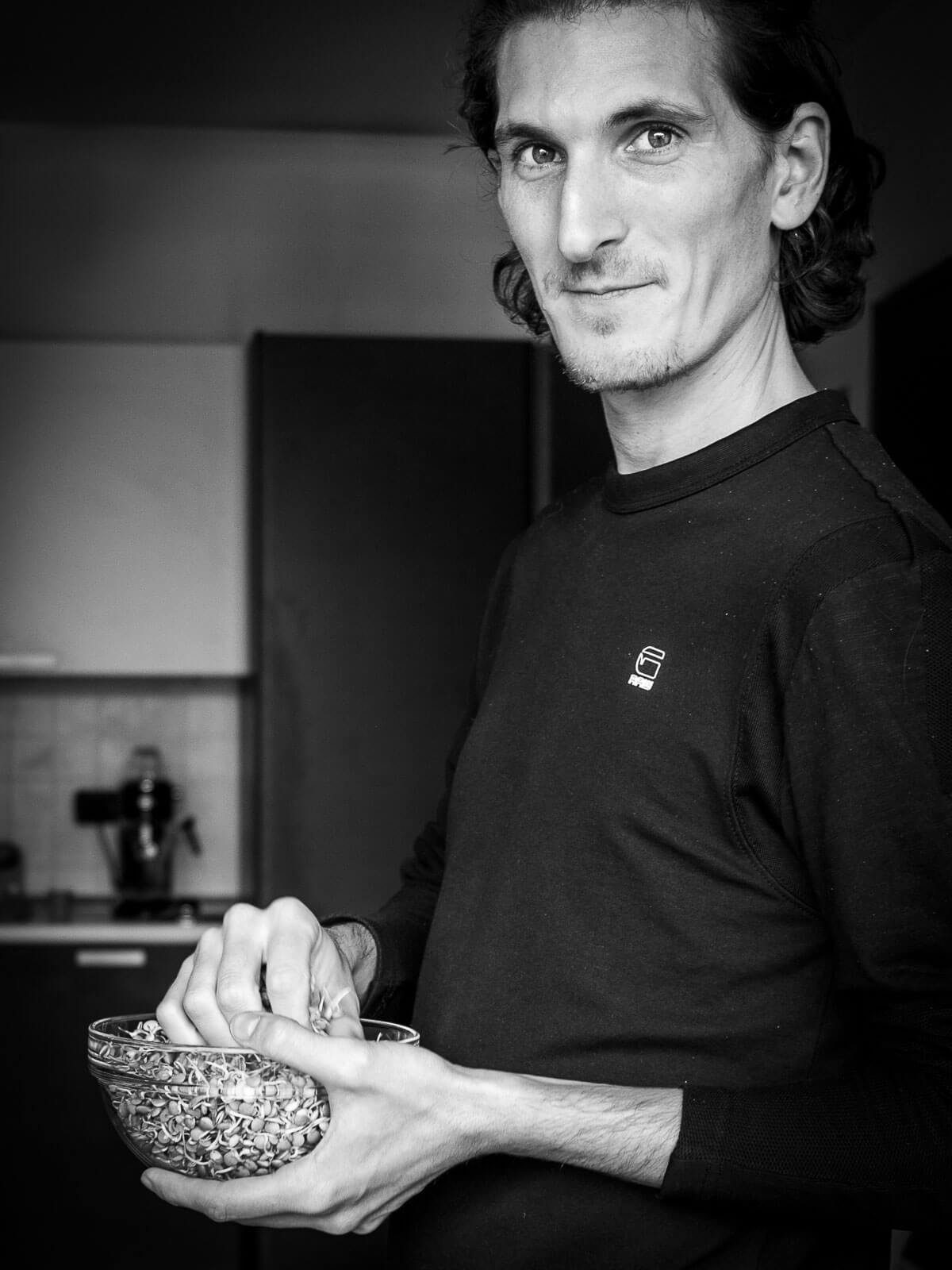 It's a rainy and gray fall season week in Milano, and we just felt like having something warm, flavorful, and spicy. Soups start showing up on our tables almost every day, especially when they are easy to make like this recipe and the fantastic Fasolada, a Greek tomato and white bean soup.
We are fans of developing new fall season recipes because there are so many beautiful seasonal products that make for wonderful cozy dishes that keep us busy. If it's cold outside, we cook more than we usually do!
If you love your Indian curries, our curried cauliflower and the meltingly soft curried eggplants will do it for you, don't forget to check them out.
🧾 Ingredients
Soups are also a great way to understand the spices profile because you can instantly experience how they affect your dish, avoiding a major disaster.
Sprouting lentils is super effortless and is a great way to add more protein to your diet, so let's dig into these delicious recipe ingredients!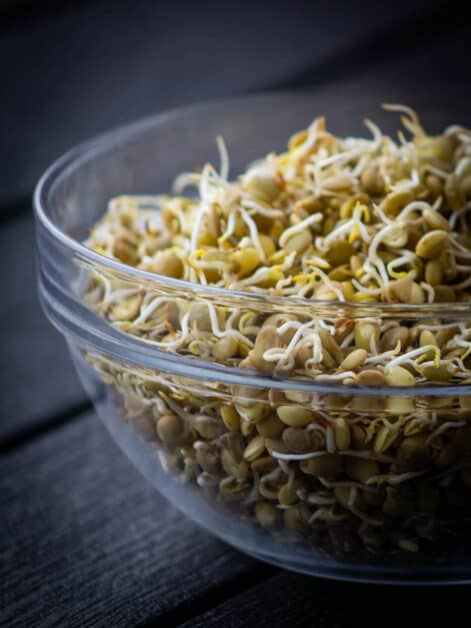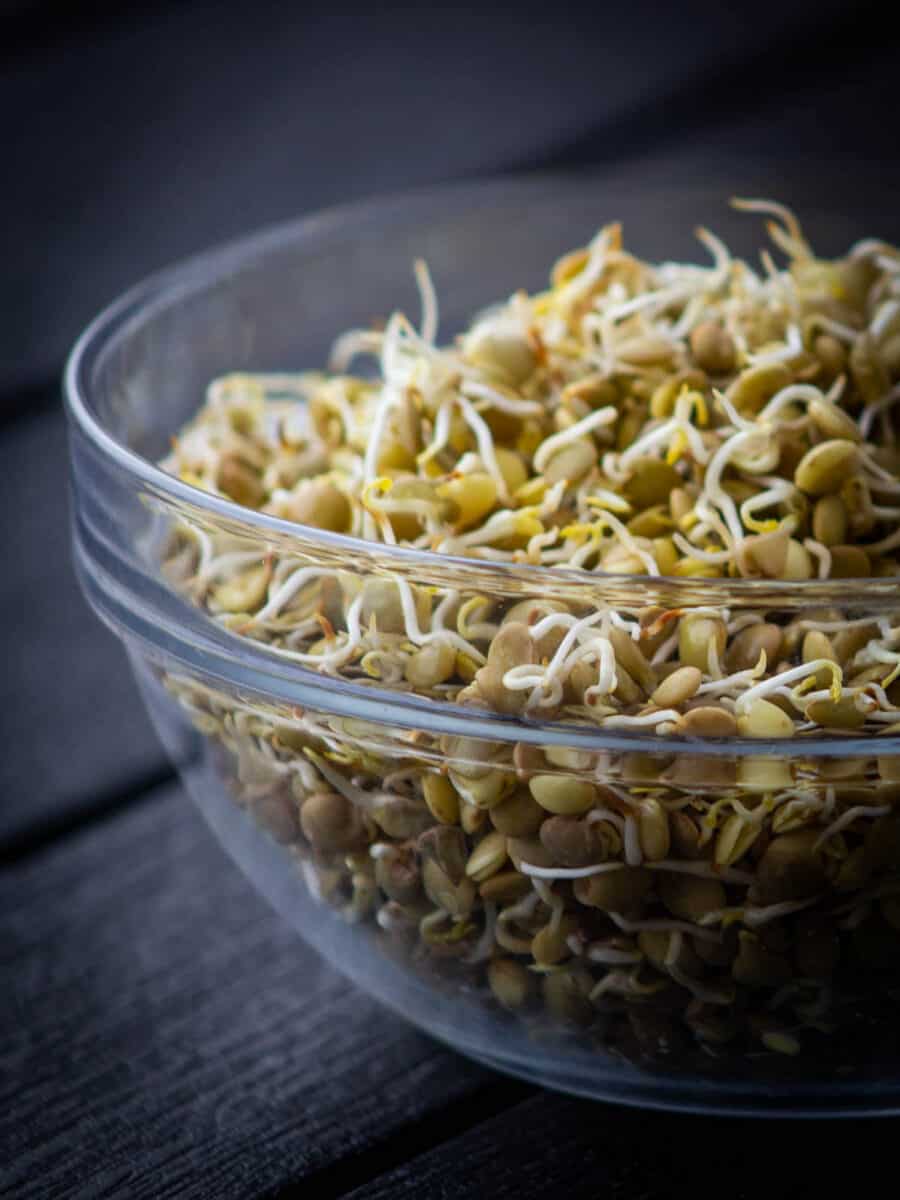 Raw Sprouted Lentils: These little powerhouses are not only rich in protein but also easier to digest due to the sprouting process. Plus, sprouting amps up the nutrient content, making them a superfood in your soup.
Ginger: This root adds a zesty kick and is known for its anti-inflammatory properties. It's like a warm hug for your digestive system.
Garlic: A flavor bomb that's also an immunity booster. It brings depth to the dish while keeping you in tip-top shape.
Carrots: These add natural sweetness and a pop of color. Plus, they're loaded with beta-carotene, which is excellent for your eyesight.
Celery: It's not just for crunch; celery is high in antioxidants and can help lower inflammation. A stalk a day keeps the doctor away!
Shallots: These bring a subtle sweetness and complexity to the dish. They're like onions but with a gourmet twist.
Curry Powder: This spice blend is the soul of the soup, offering a medley of flavors and some anti-inflammatory benefits. It's the spice of life, literally!
Vegetable Broth: It serves as the flavorful base of the soup, and it's a low-calorie way to pack in more veggies. Think of it as the canvas where all the other ingredients can shine.
Optional: black pepper and fresh herbs such as fresh cilantro or fresh basil. If you like acidity in your soups, add some lemon juice.
Tip: You don't need cooked sprouted lentils, as they are already very soft, and they will become softer as soon as you add them to your soup.
If you are starting to get acquainted with spices, this is how you do it: play!
We felt like having something hearty and spicy this time, so I just went with Curry and Ginger, a classic Indian Food combination that hardly goes wrong.
🔪 Instructions
This naturally gluten-free recipe is easy to make:
Make the vegetable broth. If you don't have ready-made vegetable stock, boil water and add your cubed vegetable stock of choice.
Chop your onion, shallot, celery, and carrots. Mince the ginger and garlic.
Stir fry the veggies in a large pot set at medium-high heat, stirring occasionally.
Add the vegetable stock as soon as the onions are translucent. Also, add the spices.
Simmer for 5 minutes and add lentils.
Cook for no more than 3 mins.
Adjust seasoning, add salt if needed, and serve. You can top it with a swirl of olive oil or some lemon juice on top.
This Spicy Sprouted Lentil Soup came out wonderfully, and it was love at first slurp! But, of course, you have to try this one, so whenever you make a batch of Sprouted Lentils, make sure you save some to make this soup.
Read on: How to cook with sprouts » and more sprout recipes ideas
🥢 How to serve
Pair this delicious soup with cauliflower rice or perfectly fluffy basmati rice.
Elevated Rustic: Serve the soup in a hollowed-out rustic bread bowl. The crusty bread soaks up the flavors, making every bite a delight.
🥡 Storage
You can store leftover lentil soup in the fridge in an airtight container for up to three days, or you can freeze it and then either thaw it overnight or in the microwave.
💡 Tips for using lentil sprouts
Give your lentil sprouts a final rinse before consuming them.
I usually use sprouted lentils for cold or warm salads, which didn't match today's cravings, so I went online to get some inspiration and realized that sprouted lentils go very well with soups!
So I got in the kitchen and started creating something aligned with our cravings.
As with every soup, it gets better with time, so make enough to try more later. Soups are also great for freezing, a great way to save you some time and eat deliciously consistently.
Learn about 10 Benefits of Carrot
🍲 More delicious soups to enjoy
If you want a summery soup, try out the Andalusian Gazpacho recipe or the Watermelon Rinds Gazpacho recipe on this site. Both are delicious and made in minutes!
Indian-inspired creamy red lentil dal, or Japanese-inspired mushroom miso soup.
If you are looking for a soup that makes a complete meal, try this traditional Italian Bean Soup, which has all the necessary ingredients to make a flavor-packed, healthy, and delicious soup.
🥕 More carrot recipes
For more Protein-Packed meal ideas and lentil sprout recipes, check these out:
Learn more about Sprouting Lentils and its benefits.
⭐ If you try this recipe, let us know! 💬 Leave a comment, rate it, and don't forget to tag us @ourplantbasedworld on Instagram. Cheers!
📋 Recipe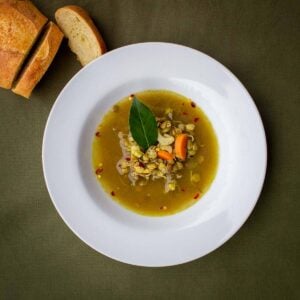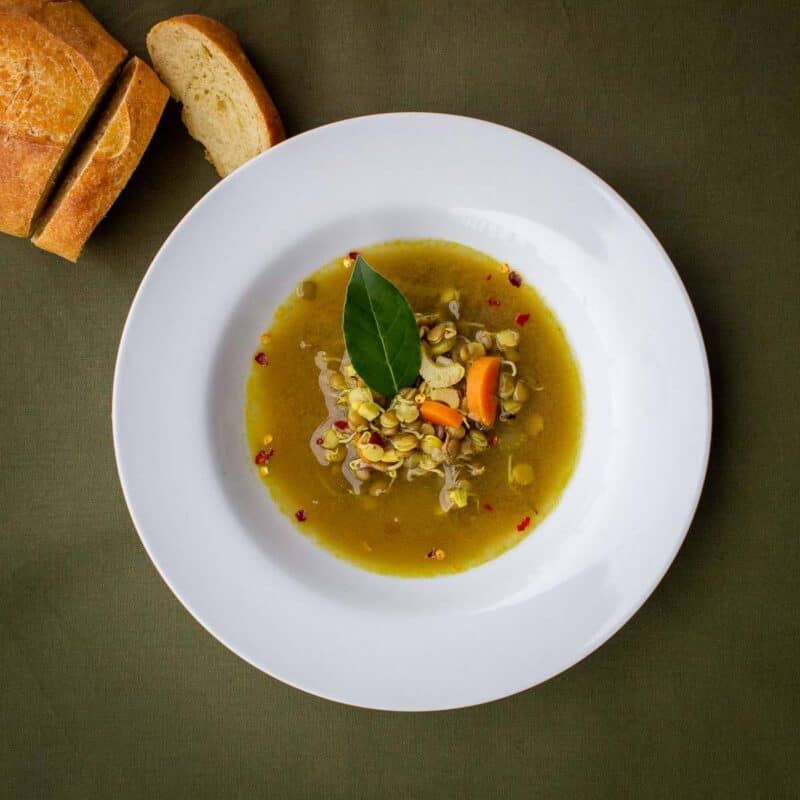 Curried Hearty and Spicy Sprouted Lentil Soup
A perfect and flavorful delicious soup. Perfect for Autumn and Winter Seasons. It is also full of protein and flavor.
Equipment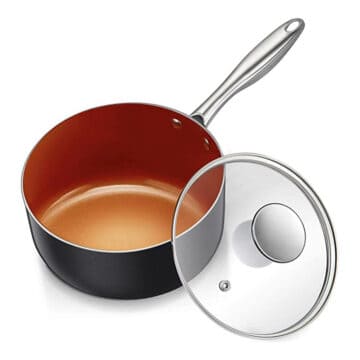 (affiliate link)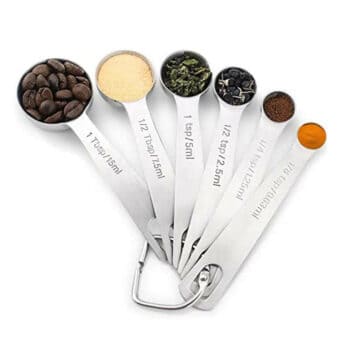 (affiliate link)
Directions
Make the vegetable stock. If you don't have ready-made vegetable stock, you can make your own by using one vegetable stock cube per 2 cups (500 ml) and bringing it to a boil.

Chop your onion, shallot, celery, and carrots. Mince the ginger and garlic.

Stir fry the veggies in a large pot set at medium heat. You don't need oil, the vegetable stock will lift any sticking veggies on the next step while creating flavor.

Add the vegetable stock as soon as the onions are translucent. Also, add the spices.

Simmer for 5 mins and add the lentil sprouts.

Cook for no more than 3 mins.

Serve. Top and/or pair with nutritional yeast and sourdough bread.
Nutrition Facts
Calories:
71
kcal
Carbohydrates:
16
g
Protein:
3
g
Fat:
1
g
Saturated Fat:
1
g
Polyunsaturated Fat:
1
g
Monounsaturated Fat:
1
g
Sodium:
1509
mg
Potassium:
288
mg
Fiber:
3
g
Sugar:
9
g
Vitamin A:
5917
IU
Vitamin C:
14
mg
Calcium:
32
mg
Iron:
1
mg
Nutrition Facts
Curried Hearty and Spicy Sprouted Lentil Soup
Amount per Serving
% Daily Value*
* Percent Daily Values are based on a 2000 calorie diet.
🌡️ Food safety
Cook to a minimum temperature of 165 °F (74 °C)
Do not use the same utensils on cooked food, that previously touched raw meat
Wash hands after touching raw meat
Don't leave food sitting out at room temperature for extended periods
Never leave cooking food unattended
Use oils with a high smoking point to avoid harmful compounds
Always have good ventilation when using a gas stove
See more guidelines at USDA.gov.
Nutritional Disclaimer
The information shown is an estimate provided by an online nutrition calculator. It should not be considered a substitute for a professional nutritionist's advice. See our full Nutritional Disclosure here.
Affiliate Disclaimer
Please note that some of the links here are affiliate links, and I will earn a commission if you purchase through those links. I recommend all of the products listed because they are companies I have found helpful and trustworthy.