Looking for a delicious and healthy way to prepare Brussels sprouts? Look no further than these easy roasted balsamic lemon marinated Brussels sprouts! The combination of tangy balsamic vinegar and bright lemon juice adds a burst of flavor to the tender and crispy sprouts, making this dish a perfect gluten-free healthy side dish or even a light main course. And the best part? This recipe is incredibly easy to make, so you can enjoy marinated Brussels sprouts any night of the week!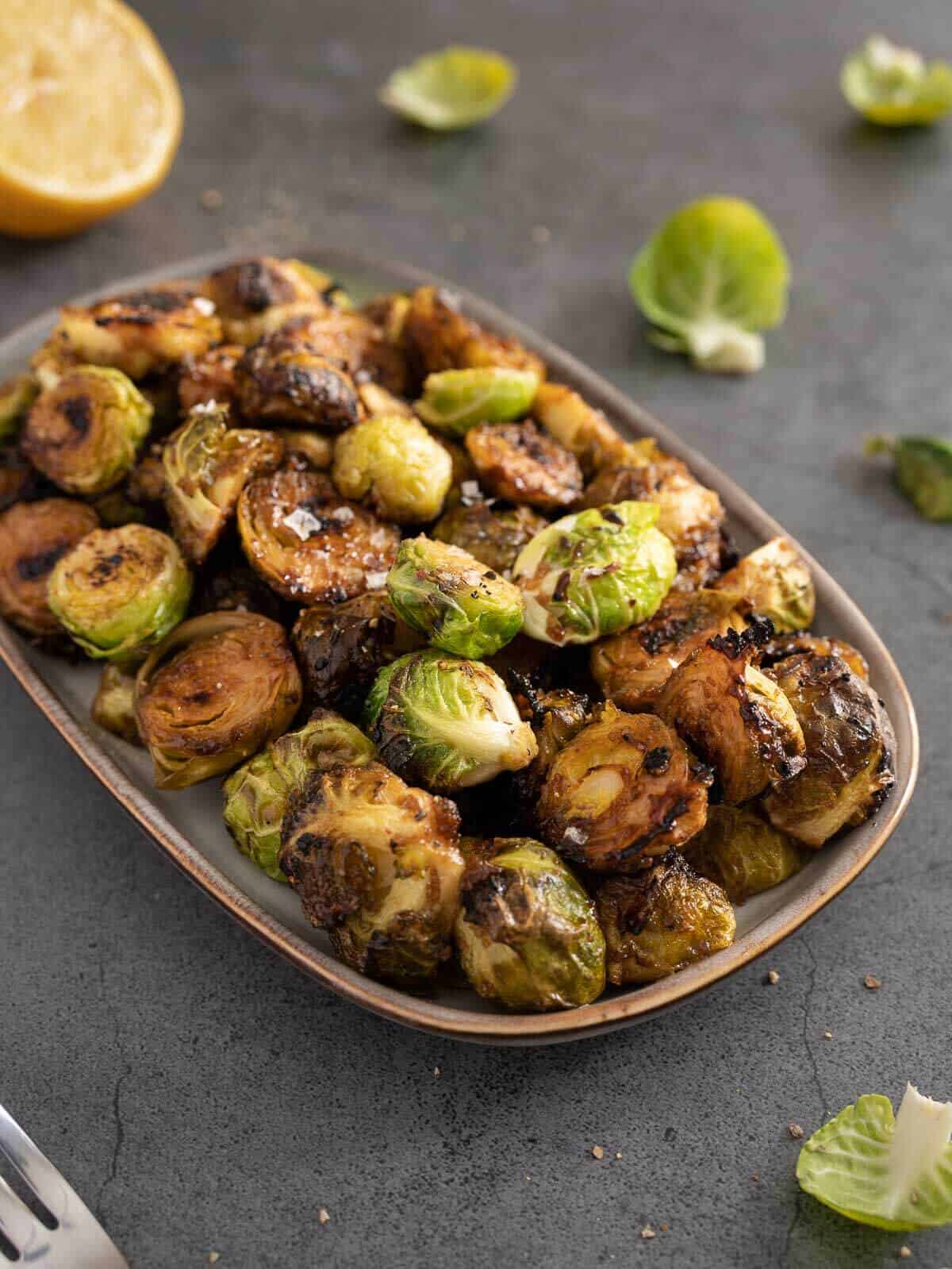 If you're looking for a way to add some variety to your weekly meal plan, these easy roasted balsamic lemon marinated Brussels sprouts are the perfect place to start. Not only are they incredibly flavorful and delicious, but they're also loaded with nutrients and health benefits.
Our super simple healthy Brussel Sprouts recipe inspired this side dish recipe.
Jump to:
💚 Why you will love them
Nutrient-Packed: Vitamins, fiber, antioxidants.
Tangy Flavor: Balsamic and lemon.
Effortlessly Easy: Simple ingredients.
Crispy Texture: Oven-roasted perfection.
Versatile Side: Complements any meal.
So, whether you're a Brussels sprouts lover or just looking for a new and tasty way to incorporate more veggies into your diet, try this nutrient-rich side dish recipe and see why it's a favorite.
🧾 Ingredients
The ingredients that make these Brussels sprouts SO good are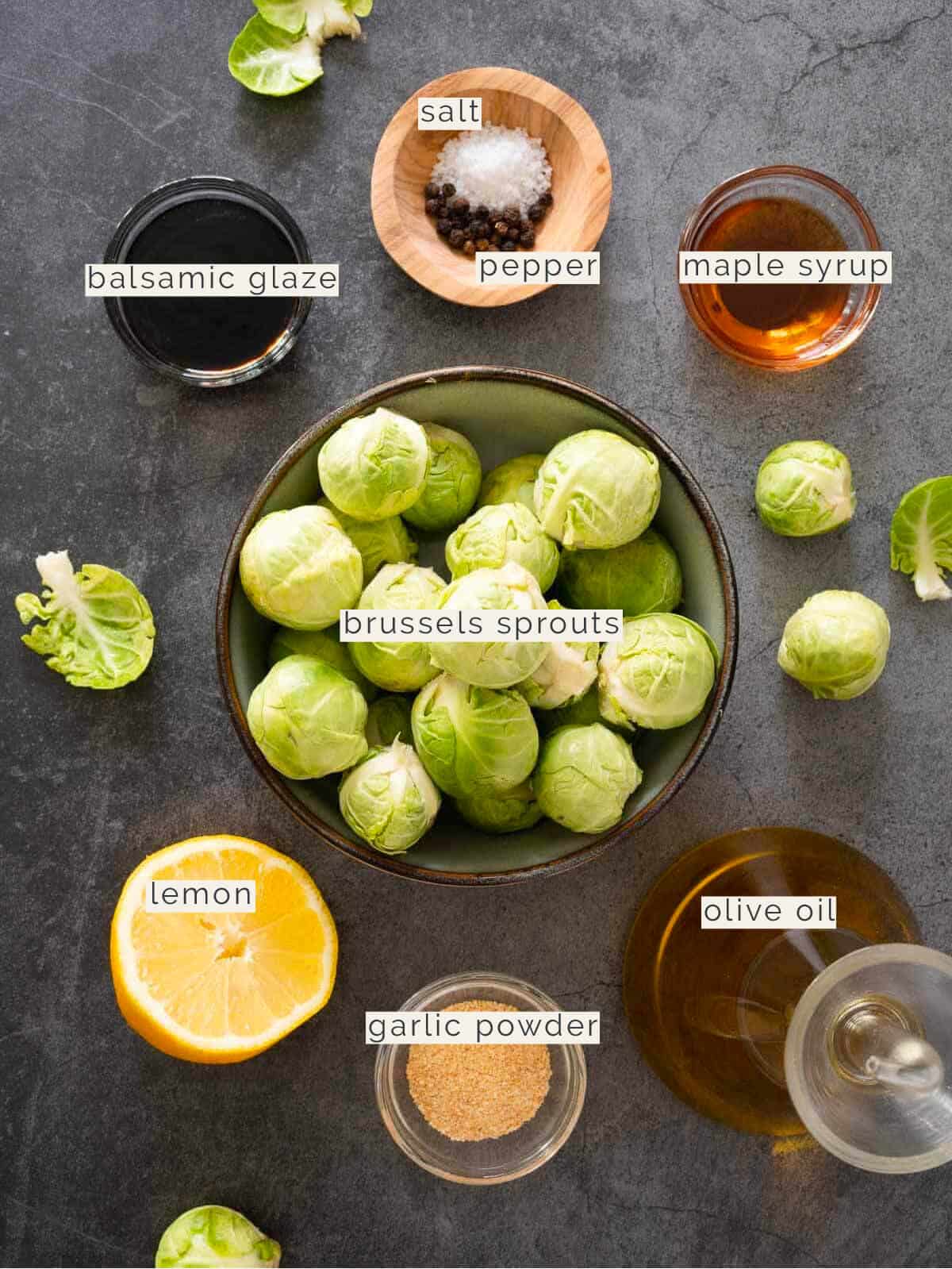 Fresh Brussels sprouts are the main ingredient and provide a slightly bitter, nutty flavor and a crunchy texture.
Garlic powder adds an intense, savory flavor and enhances the other spices and ingredients.
Lemon juice adds a bright, tangy flavor to the dish and balances the richness of the balsamic glaze and maple syrup.
The balsamic glaze adds a sweet, tangy flavor, creating a caramelized coating on the Brussels sprouts.
Maple syrup balances the acidity of the balsamic glaze and adds a subtle sweetness to the dish.
Extra virgin olive oil coats the Brussels sprouts, creating a crispy, golden-brown exterior.
Salt and pepper are used to season the dish and bring out the natural flavors of the Brussels sprouts.
Substitutions
Maple syrup - use brown sugar, molasses, or agave syrup instead.
Olive oil - any other vegetable oil will work.
Garlic powder - use onion powder or minced garlic instead.
Balsamic glaze - use balsamic vinegar instead and add extra maple syrup.
🍽 Equipment
Large bowl.
Chopping board and knife.
Zip-lock-like bag.
Parchment paper and a Sheet pan
Optional air fryer
🔪 Instructions
Let's see how to marinate and roast these beauties to perfection.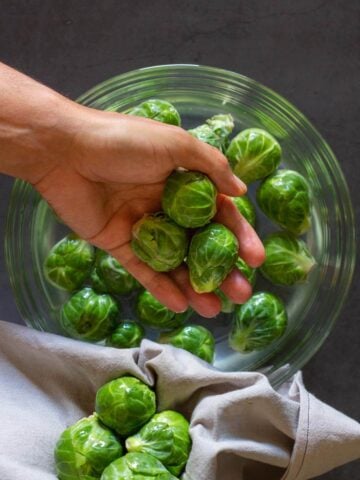 Step 1: Add Brussels sprouts to a bowl with cold water and remove the outer brown leaves. Then, pat dry with a tablecloth.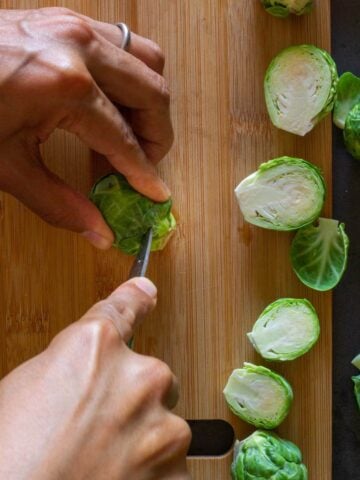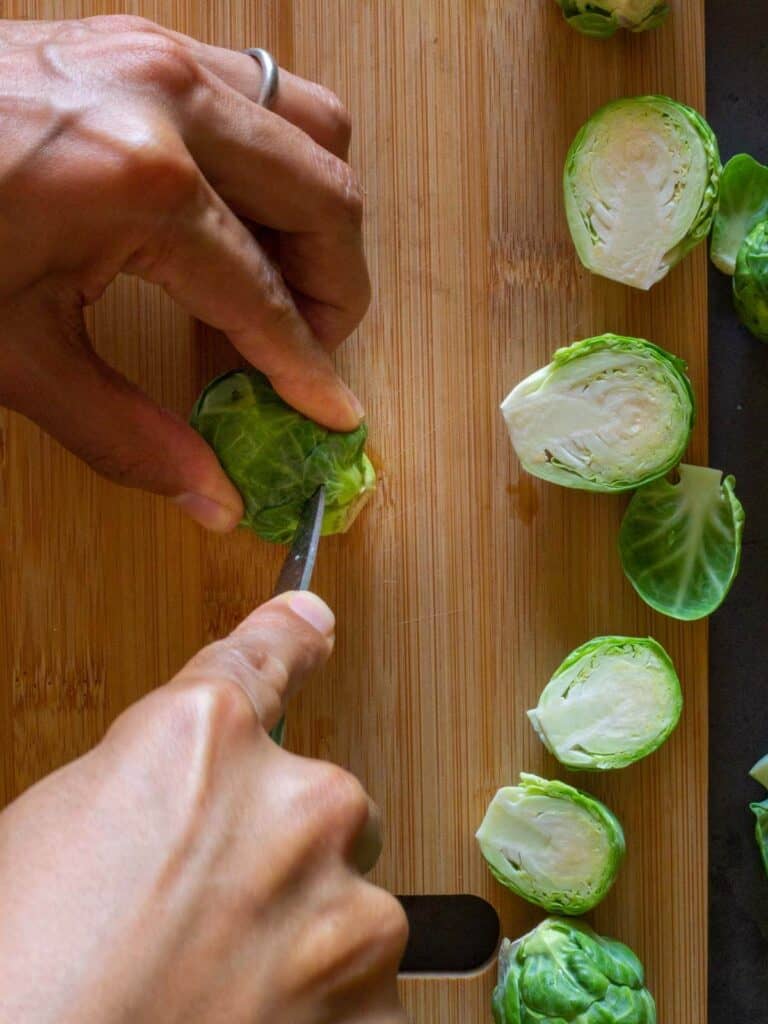 Step 2: Trim the stem of the sprouts using the tip of the knife.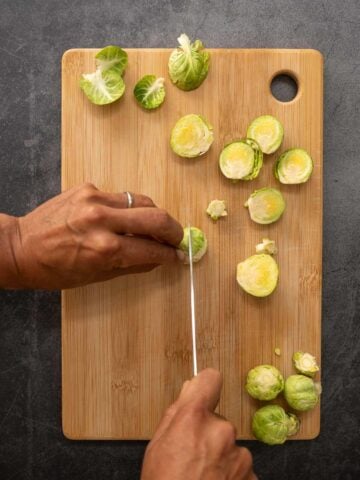 Step 3: Half the sprouts evenly.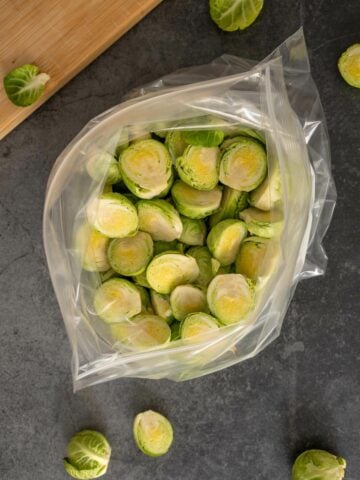 Step 4: Add Brussels sprouts to a bag.
Hint: you can also make this recipe with whole Brussels sprouts, in that case, please refer to our experts' tips to ensure the cook uniformly.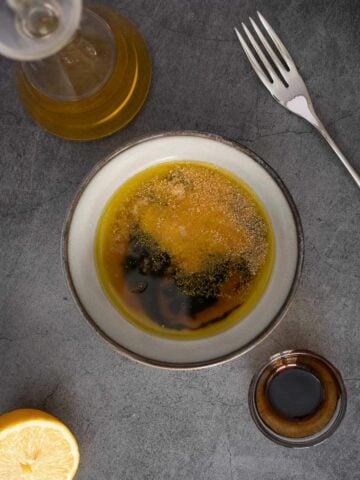 Step 5: Add all the marinade ingredients to a small bowl.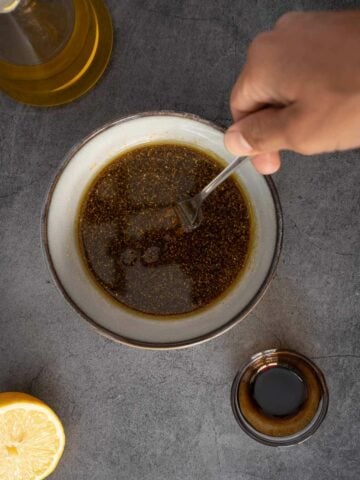 Step 6: Mix all the ingredients of the marinade until thoroughly combined.
Hint: don't discard the outer leaves. You can toss them into a salad or quickly blanch them in boiling water and add them to a pasta dish.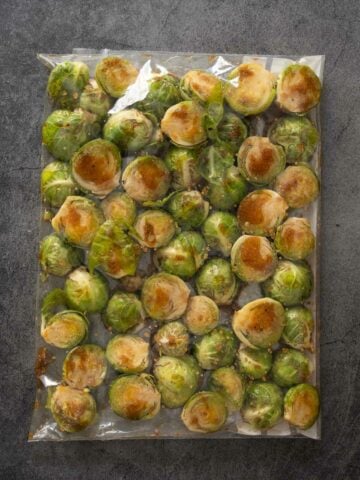 Step 7: With your hands, massage the bag to ensure all the sprouts are fully covered with the marinade. Let marinade overnight.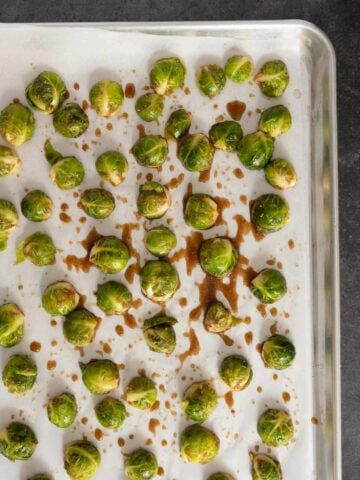 Step 8: Preheat the oven and transfer the marinated Brussels sprouts to a lined baking sheet. Season with salt and pepper.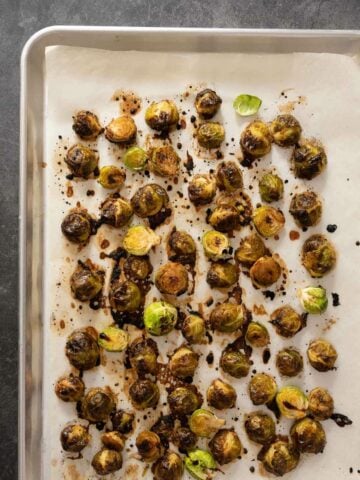 Step 9: Flip them halfway and cook for the remaining time.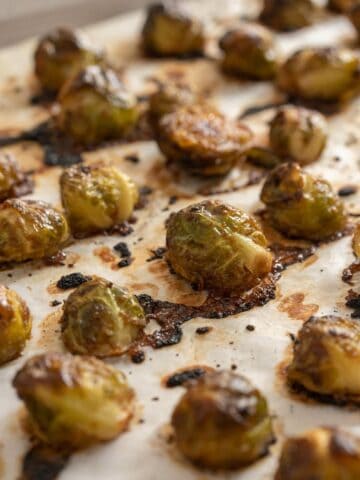 Step 10: Remove from the oven as soon as the sprouts look perfectly roasted.
💡 Serve the cooked Brussels sprouts in a serving dish with lemon zest, a drizzle of extra glaze, or a splash of balsamic vinegar.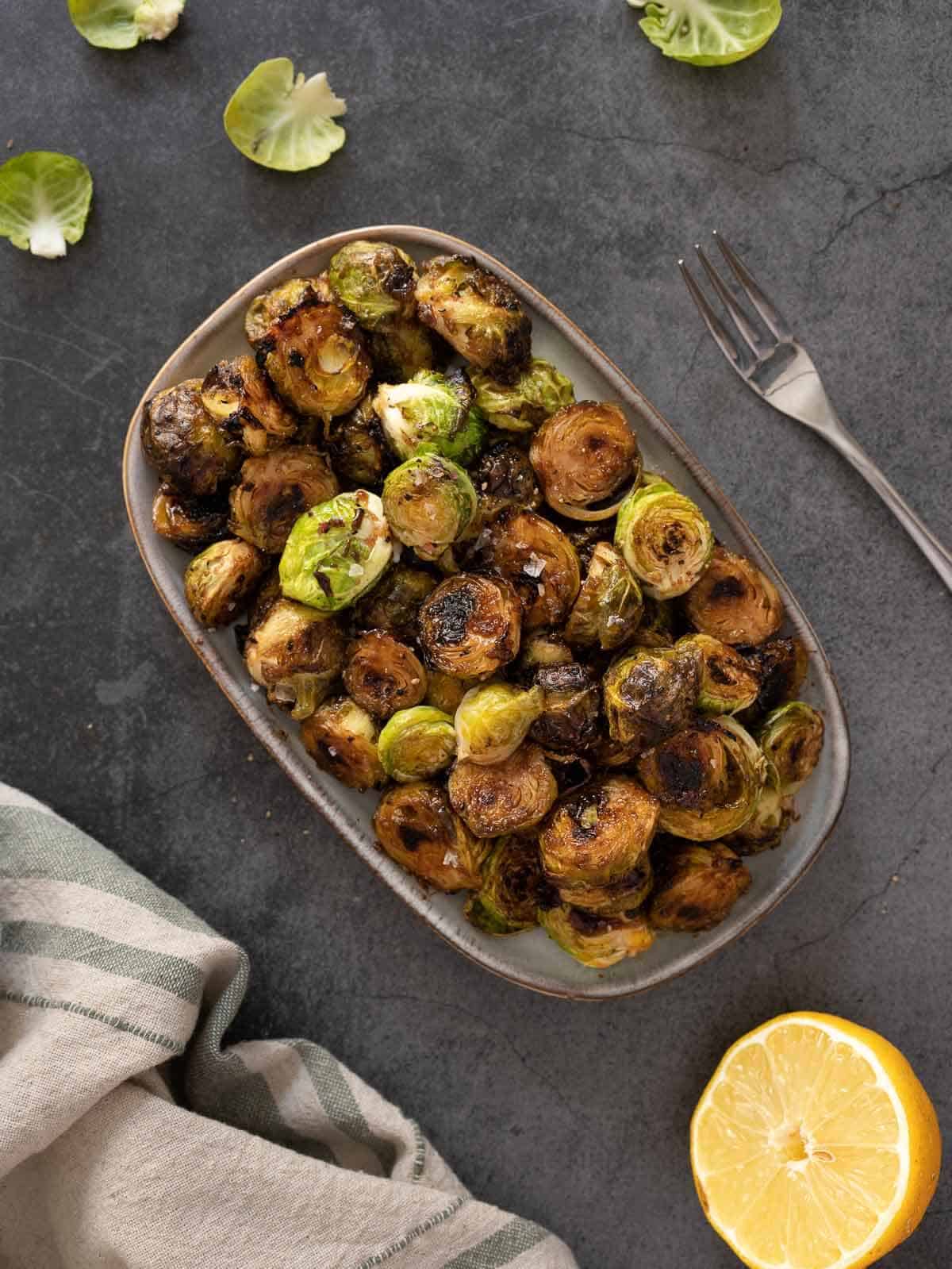 💡 Expert tips
You can make this recipe using a good quality store-bought Italian salad dressing as a marinade.
Uniform Size: For consistently perfect roasted sprouts, focus on size uniformity. When preparing, try to select sprouts of similar size or cut larger ones in half to match the smaller ones. This ensures they all cook at the same rate, preventing some from overcooking while others are still underdone.
Roasting them whole: To ensure your Brussels sprouts are perfectly cooked every time, give them a little extra prep before marinating. After trimming off the stem ends, score the base of each sprout with a shallow X-cut.
This tiny step allows the heat to penetrate more evenly, ensuring the sprouts cook thoroughly without becoming too soft on the outside. It's a simple trick that makes a big difference, especially for denser, larger sprouts. This way, they'll roast evenly, absorbing all the flavorful goodness of your lemon balsamic marinade!
📖 Variations
You can also marinate Brussels sprouts, putting together two tablespoons of each of the following ingredients: dijon mustard, soy sauce, olive oil, minced garlic, plus salt and pepper to taste.
If you enjoy the visual appeal of whole Brussels sprouts, feel free to roast them intact, but be sure to follow the recommendations provided in the expert tips section for the best results.
🥢 How to serve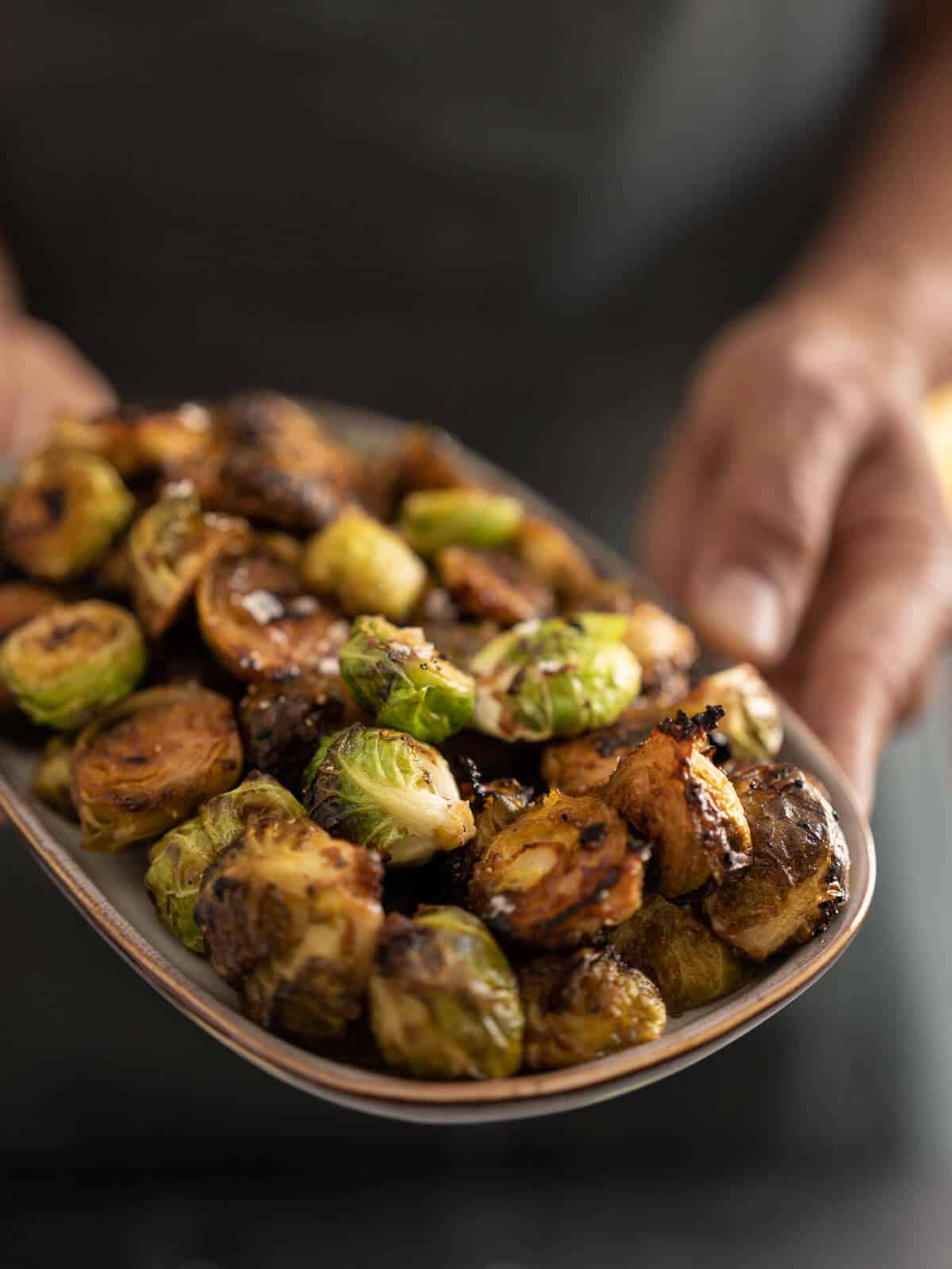 Garnish topping ideas for this tossed salad include fresh herbs such as basil, drizzled thick balsamic glaze, vegan parmesan cheese, and lightly toasted pine nuts.
Add red pepper flakes to add some heat.
You can serve this dish next to other side dishes for a complete meal or as part of a Thanksgiving menu. We like serving it next to our vegan kale salad with maple balsamic dressing and air fryer tofu nuggets seasoned with a Mediterranean marinade.
❓ FAQ
Should Brussels sprouts be soaked before cooking?
Brussels sprouts do not need to be soaked before cooking. However, washing them thoroughly with cold water is recommended to remove any dirt or debris before cooking.
Why are my roasted Brussels sprouts not crispy?
Not enough oil: Brussels sprouts must be coated in enough oil to create a crisp exterior. If there is insufficient oil, they may turn out dry and not crispy.
Overcrowding the pan: If the Brussels sprouts are too close together on the pan, they will steam instead of roast, resulting in a softer texture.
Not using high heat: Roasting Brussels sprouts at a high temperature (around 375-400°F or 190-205 ºC) helps to create a crispy exterior. If the oven temperature is too low, the Brussels sprouts may not crisp up
Not drying them properly: If the Brussels sprouts are not dried properly before roasting, they may release moisture and steam instead of roast, resulting in a softer texture.
To ensure crispy roasted Brussels sprouts, make sure to coat them in enough oil, spread them out in a single layer on the pan, use high heat, and dry them properly before roasting.
🥡 Storage
Store leftover Brussels sprouts in a BPA-free, tightly sealed, airtight container in the fridge for up to 3 days.
Re-roast slightly for 3-5 minutes in the oven or air-fryer before serving.
📚 More Brussels sprouts recipes
If you liked our marinated Brussels sprouts recipe and love Brussels sprouts as much as we do, you will also enjoy our Honey roasted vegetables with Brussels sprouts with pecan nuts, and this veggie chorizo sweet potatoes breakfast hash with sprouts.
If you like Indian food, check out our super easy-to-make Indian Brussels sprouts recipe.
Also, check out more recipes with sprouts of different types, including our spicy sprouted lentil soup.
⭐ If you try this Recipe, let us know! 💬 Leave a comment, rate it, and don't forget to tag us @ourplantbasedworld on Instagram. Cheers!
🎥 Video
📋 Recipe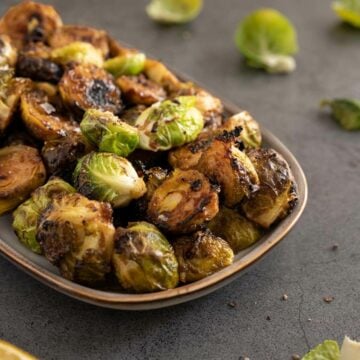 Marinated Brussels Sprouts with Lemon
Looking for a flavorful and healthy side dish? Try these easy roasted balsamic lemon marinated Brussels sprouts. Perfectly marinated for maximum flavor!
Equipment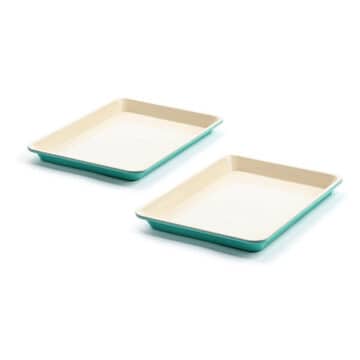 (affiliate link)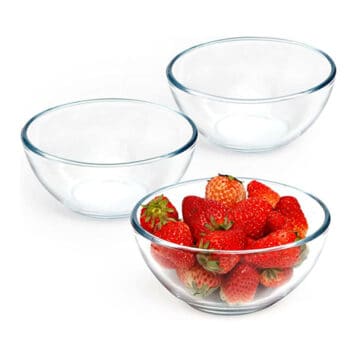 (affiliate link)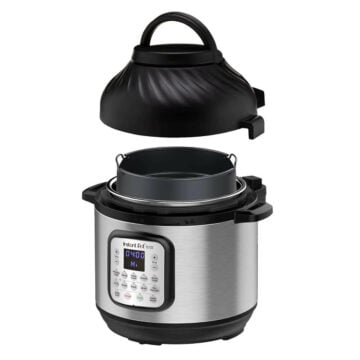 (affiliate link)
Directions
Wash Brussels sprouts under running water.

Remove the outer dirty outer leaves, then Slice off the bottoms of each brussel sprout, then cut lengthwise.

Combine the balsamic vinegar, lemon juice, olive oil, maple syrup, garlic, salt, and pepper.

Put the Brussels sprouts in a ziplock-like bag and pour marinade.

With your hands, massage the bag to ensure all the sprouts are fully covered with the marinade.

Refrigerate and let marinate for at least 4 hours or overnight.
Oven
Preheat oven to 425 ºF (218 ºC) for 10 minutes.

Transfer the marinated Brussels sprouts to a lined baking sheet, season with salt and pepper, and roast for 15 minutes flipping halfway after 8 minutes to make sure the heat disperses evenly to all the Brussels sprouts.
Air fryer
Preheat the air fryer to 375 ºF (190 ºC), according to the manufacturer's instructions (for my air fryer, that's 3 minutes of preheating).

Line the basket with parchment paper.

Place the Brussels sprouts face down and turn the air fryer on

Cook for 5 minutes; remove the basket and toss them to ensure even cooking. Cook for another 5 minutes and check to see if the Brussels sprouts are crispy and almost done.

If needed, continue cooking for another 2- 4 minutes while frequently checking and shaking the basket to ensure a crispy texture.
Notes
Garnish topping ideas include fresh basil, drizzled thick balsamic glaze, and lightly toasted pine nuts.
The cooked sprouts are best consumed within three days.
Nutrition Facts
Calories:
166
kcal
Carbohydrates:
25
g
Protein:
4
g
Fat:
7
g
Saturated Fat:
1
g
Polyunsaturated Fat:
1
g
Monounsaturated Fat:
5
g
Sodium:
321
mg
Potassium:
502
mg
Fiber:
5
g
Sugar:
11
g
Vitamin A:
859
IU
Vitamin C:
104
mg
Calcium:
64
mg
Iron:
2
mg
Nutritional Disclaimer
The information shown is an estimate provided by an online nutrition calculator. It should not be considered a substitute for a professional nutritionist's advice. See our full Nutritional Disclosure here.
Affiliate Disclaimer
Please note that some of the links here are affiliate links, and I will earn a commission if you purchase through those links. I recommend all of the products listed because they are companies I have found helpful and trustworthy.