Welcome, food enthusiasts! Today, we're diving into a bowl of green goodness that will take your salad game to the next level. We're talking about a chickpeas and kale salad with tahini dressing - a delectable, crunchy delight bursting with flavor and nutritional benefits. This recipe integrates the earthy taste of kale, and the crispiness of chickpeas, all harmoniously tied together with a creamy, nutty tahini dressing. Let's embark on this culinary journey, shall we?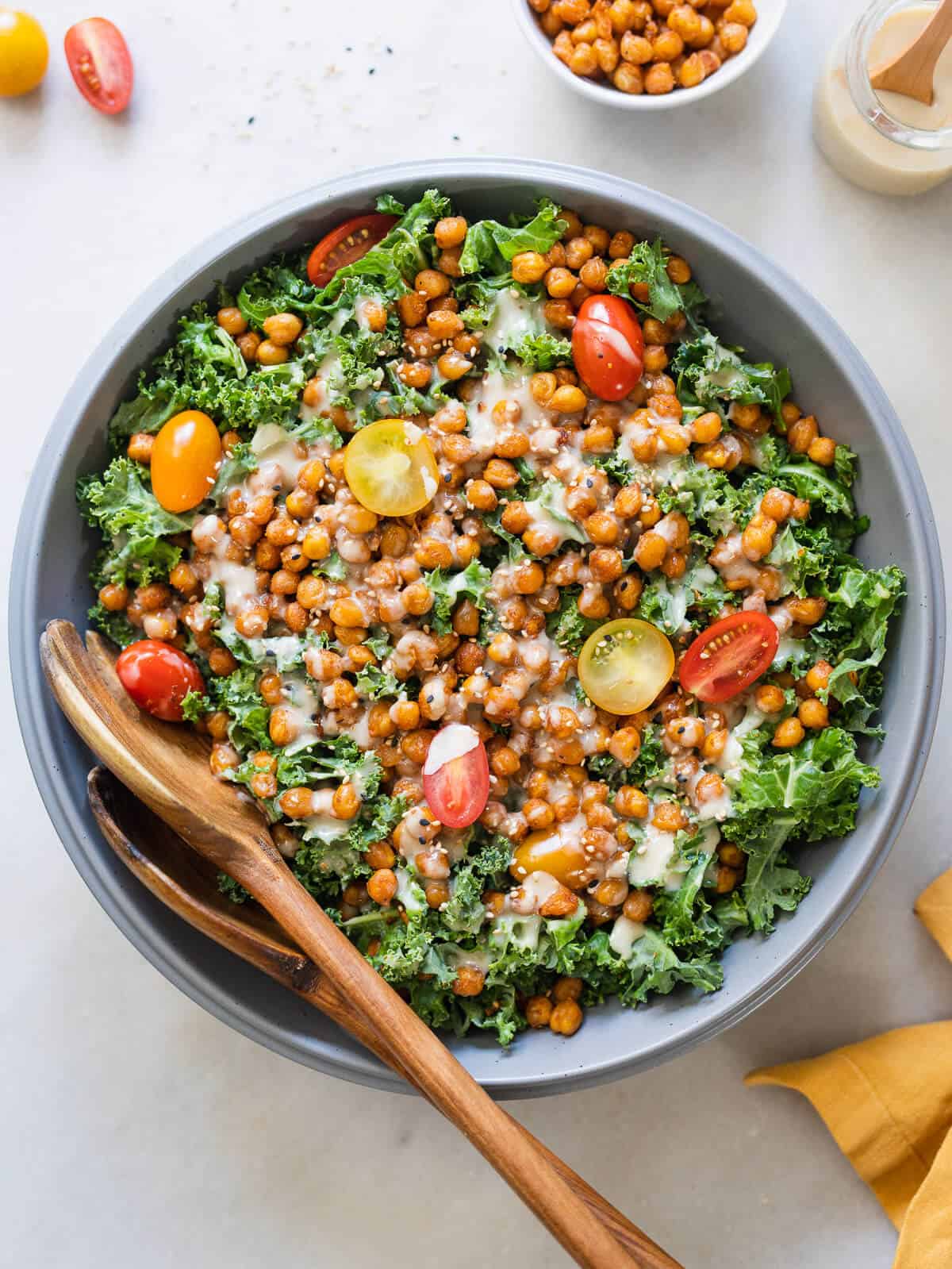 First things first: let's talk about our star ingredient - kale. This leafy green powerhouse is not only delicious but is also packed with essential nutrients like Vitamins A, C, and K. And guess what? It's in season now, which means it's at its nutritional peak and is more environmentally sustainable to consume.
Combine kale with the magic of chickpeas, and you've got yourself a protein-packed filling salad that will keep you satisfied for hours. Chickpeas are not just for hummus anymore. They play a key role here, adding a delightful crunch to our salad. We'll roast them until they're golden brown and crispy, making them the perfect textural contrast to the soft, leafy kale.
But wait, there's more! Our Kale Salad wouldn't be complete without a luscious tahini dressing. Originating from the Middle East, tahini is a paste made from toasted sesame seeds. It's a treasure trove of nutrients, including healthy fats, amino acids, and a bunch of minerals. This velvety dressing will lend a distinctive nutty flavor to the salad, making every bite an unforgettable experience.
We promise this will become your next favorite kale salad!
Jump to:
🧾 Ingredients
This chickpea tahini salad is made with just a few delicious ingredients: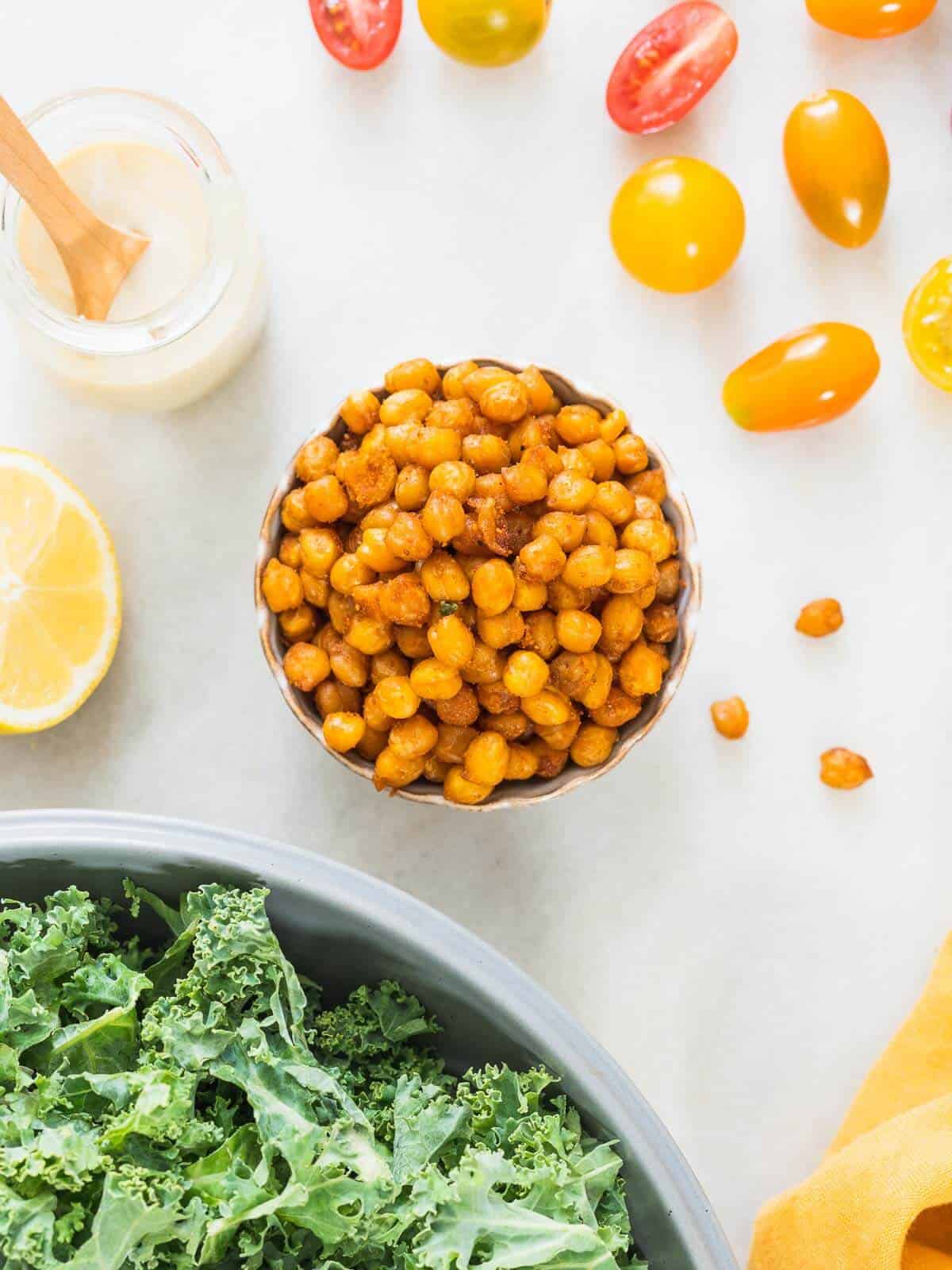 Kale: This leafy powerhouse is the star of the show, offering a wealth of essential vitamins and a satisfying, earthy flavor that stands strong in our salad.
Fresh lemon Juice: Adding a zesty kick, lemon juice brightens up the overall taste while also helping to soften the kale, enhancing its digestibility and nutrient absorption.
Grape Tomatoes: These vibrant bites of sunshine provide a sweet contrast to the earthy kale, while also being a great source of antioxidants and vitamin C.
Crispy Chickpeas: Our roasted chickpeas introduce a delightful crunch and a protein boost, creating a satisfying balance of textures in the salad.
Creamy Tahini Dressing: This creamy, nutty dressing ties all the ingredients together, enhancing their individual flavors and adding a good dose of healthy fats and minerals to the mix.
See the recipe card for quantities.
🔪 Instructions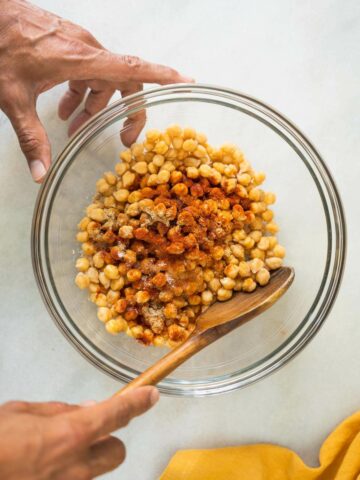 Step 1: Let's start off by whipping up those crispy chickpeas and baking them on a baking sheet.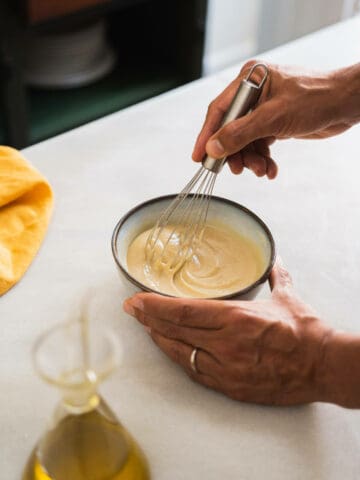 Step 2: Next, let's tackle the maple tahini dressing. Stir all the dressing ingredients in a small bowl.
Hint: Kale salads need some love. Massaging kale with lemon juice prior to assembling the salad is key to making the best kale salad. Otherwise, the leaves can be tough and a bit too chewy. A good massage breaks down the fibers, softening the kale and making it more palatable and easier to chew. Plus, it helps the kale absorb the dressing better, leading to a more flavorful and enjoyable salad.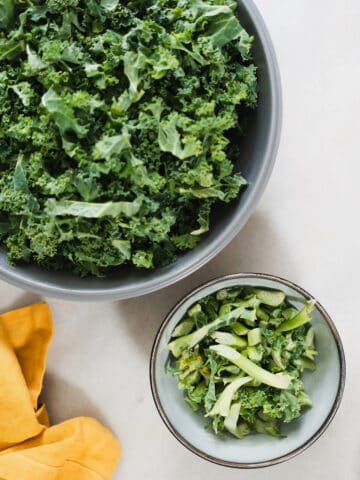 Step 3: Get your hands dirty – chop kale, place the kale in a large bowl and remove the tougher parts of kale.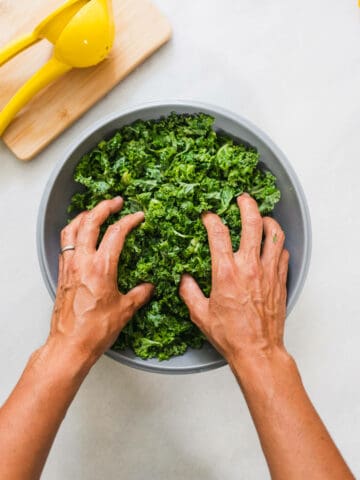 Step 4: Now squeeze half a lemon over your kale and give it a good massage to soften it up.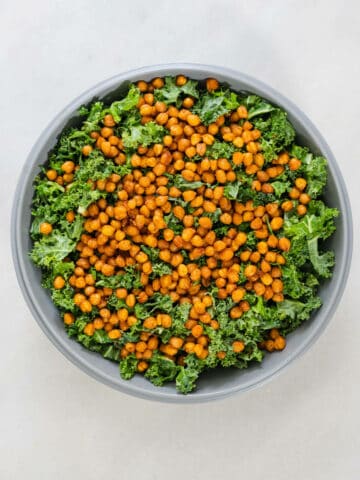 Step 5: Let's plate it in a large salad bowl! Lay out the massaged kale, and top it with those crispy chickpeas.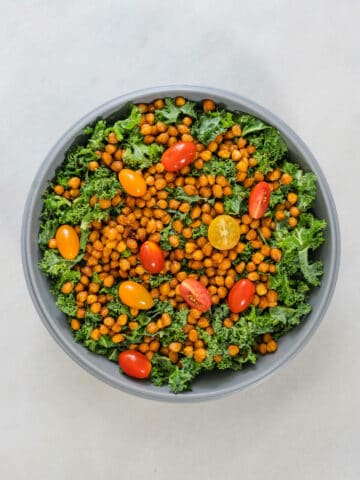 Step 6: Then add the grape tomatoes, whole or halved. We like some of both.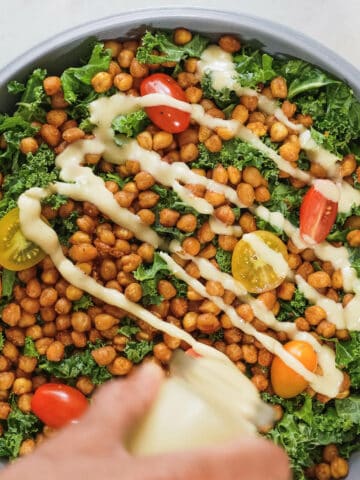 Step 7: Drizzle the creamy lemon tahini dressing with maple syrup.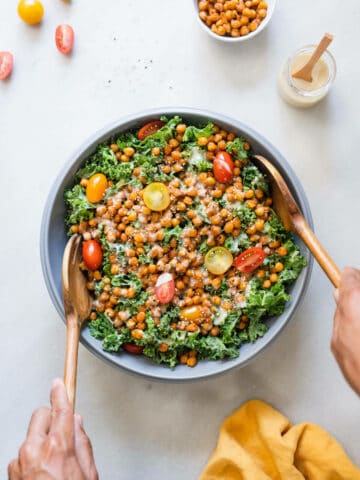 Step 8: Toss to mix it well and let stand for 5 minutes.
Hint: You can throw in some extra goodies like toasted almonds or sultanas if you like.
Dig in after 5 minutes for the best taste, and most importantly, enjoy your meal!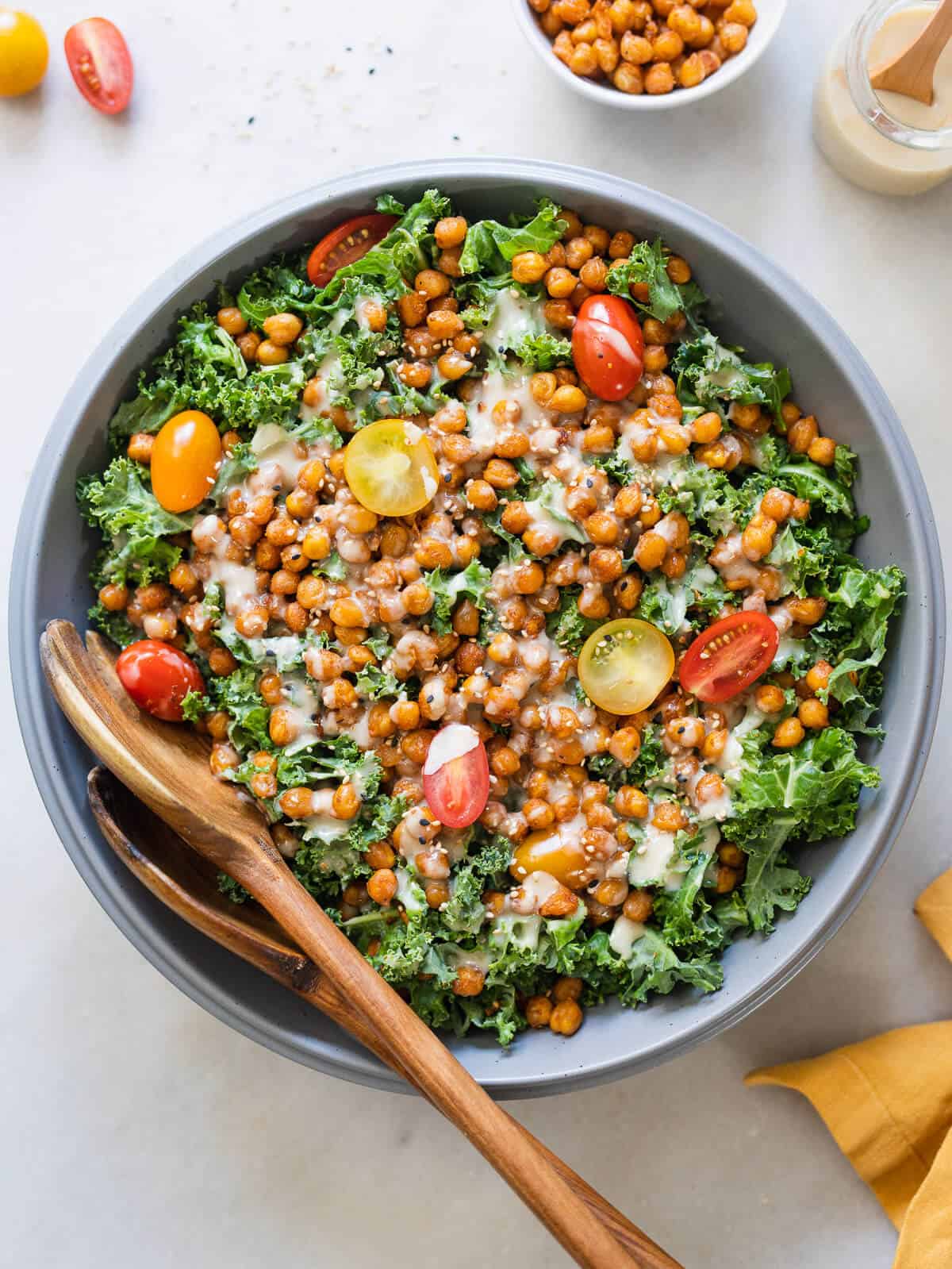 Optional Add-ins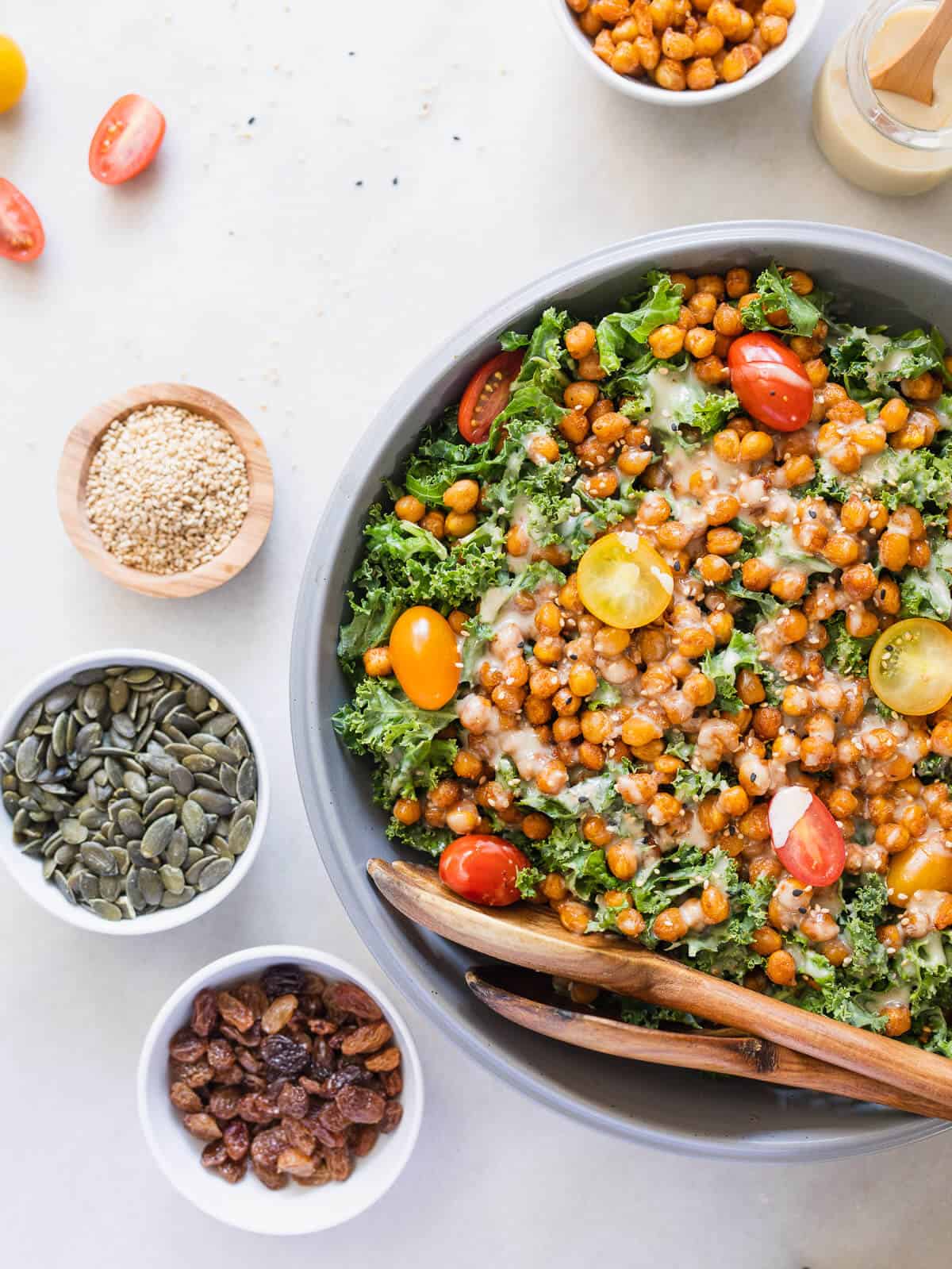 We like adding sultanas, toasted pepitas, and sesame seeds to make the salad look extra nice. You can drizzle extra olive oil if you like.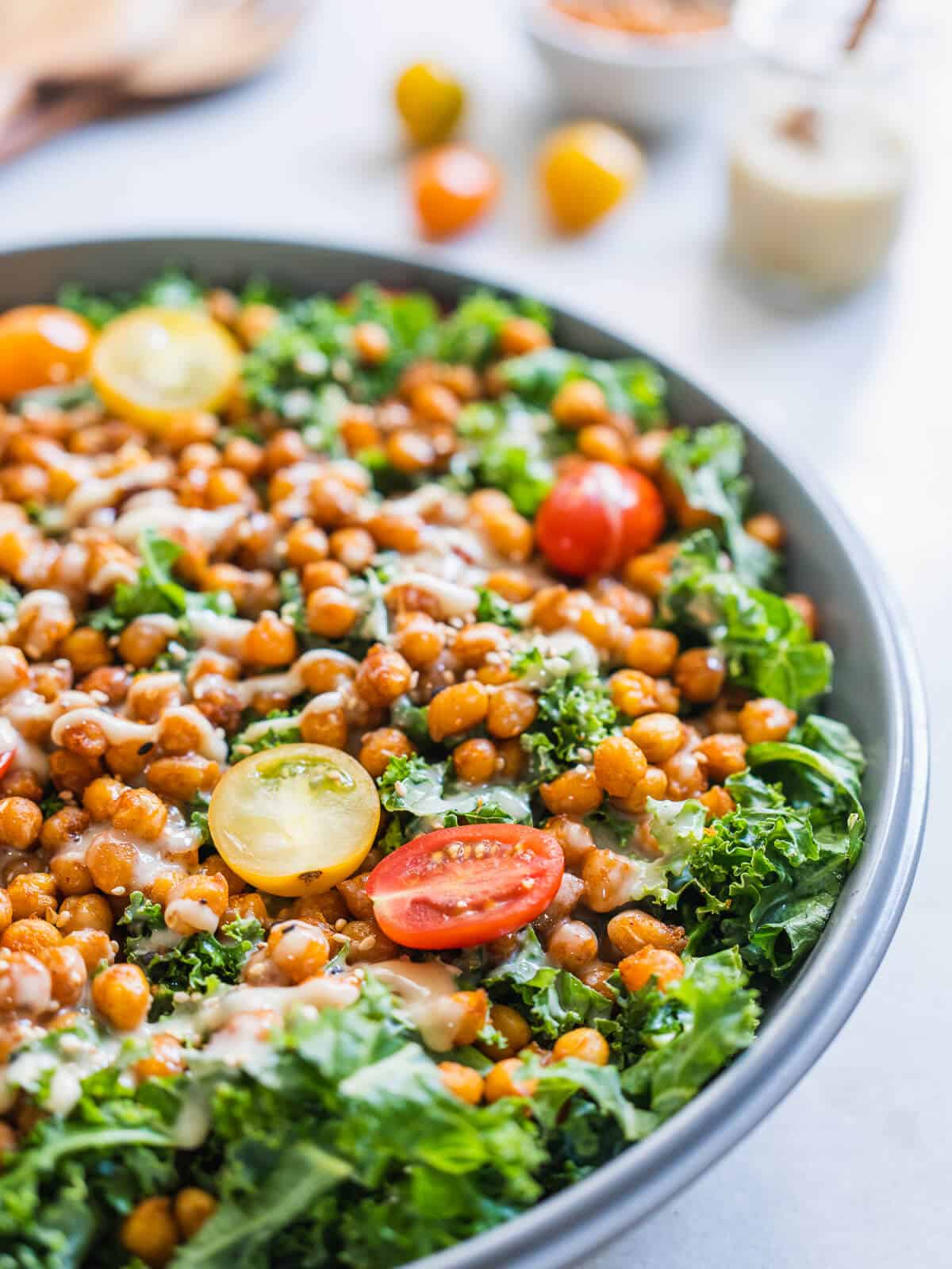 🍶 Substitutions
Sure, here are the vegan substitutions for the ingredients:
Lemon Juice: Substitute it with apple cider vinegar. It will bring a slightly different, more tangy, and robust flavor to the recipe, but it works as a great acidic alternative.
Grape Tomatoes: Cherry or regular tomatoes can be used in place of grape tomatoes. Just chop them up into small pieces to match the size of grape tomatoes. Their flavor is very similar, though regular tomatoes may have a bit more water content.
Sultanas: Dried cranberries can be an excellent replacement for sultanas. They will lend a tart flavor and slightly chewier texture, adding a new dimension to the dish.
📖 Variations
Autumn Delight: Replace crispy chickpeas (garbanzo beans) with roasted butternut squash, sliced roasted sweet potatoes, roasted beets, or your choice of roasted veggies in bite-sized pieces. This variation will give you a sweeter, earthy flavor and a hearty texture that's perfect for fall! You can even add sweet potato crunch leftovers on top!
Protein Boost: Swap out the chickpeas for tofu puffs or vegan chicken nuggets for a higher protein alternative. This variation provides an exciting texture contrast and amps up the protein content.
Sunflower Twist: Switch out pepitas for toasted sunflower seeds. Their nutty flavor and crunch make a great swap, adding a different layer of texture to your salad. You can also use toasted walnuts or pine nuts.
Dressing Swap: Use your favorite salad dressing instead of the maple tahini dressing for a personalized twist. Remember, the choice of dressing can significantly alter the salad's overall flavor, so choose something you love!
Cheesy Vegan: Opt for vegan parmesan cheese instead of the regular shaved parmesan cheese for a vegan-friendly, cheesy addition. This will give you a slightly different yet delicious, cheesy flavor while keeping the recipe vegan.
Spicy Kick: Top your salad with vegan cauliflower buffalo wings for an exciting, spicy twist. They bring a fantastic crunch and a zesty flavor that will add an unexpected but delicious punch to your salad. Don't forget to adjust the rest of your ingredients to balance the heat!
👨🏻‍🍳 Meal prep tips
When it comes to meal prepping this salad, it's all about organization and proper storage.
Chopped Kale Salad: Prep the kale by washing, drying, de-stemming, and tearing it into bite-size pieces. You can even massage it with the lemon juice ahead of time. Once prepared, store it in an airtight container in the fridge. It's sturdy enough to stay fresh for several days.
Maple Tahini Dressing: Whip up the dressing and store it separately in a jar or container with a tight-fitting lid. Keep it in the fridge and give it a good shake or stir before using. As dressings can thicken in the cold, you might need to loosen them with a bit of water or lemon juice.
Crispy Chickpeas: Cook these as per the recipe, and once cooled, store them in an airtight container at room temperature. It's important not to refrigerate them as they may lose their crunch.
When it's time to enjoy your salad, assemble all the components. Start with your prepped kale and grape tomatoes, add the crispy chickpeas, drizzle the dressing, and toss everything together. This way, you'll ensure that everything stays as fresh and crispy as possible until it's time to eat!
🥡 Storage
If you have leftover kale salad, here are the best ways to store it:
Without Dressing: If the salad is undressed, it should last a few days in the refrigerator. Place it in an airtight container, and when you're ready to eat it again, simply add the dressing and the chickpeas.
With Dressing: Kale holds up well to dressings thanks to its sturdy texture, but it may soften over time. Leftover dressed salad can still be stored in the fridge for 1-2 days in an airtight container. The chickpeas, however, may lose their crispness once dressed and refrigerated.
Crispy Chickpeas: If you have leftover chickpeas, store them separately in an airtight container at room temperature to keep them crispy. Do not refrigerate as they'll lose their crunch.
💡 Top tip
Which type of kale to choose to make the ultimate kale salad?
For the substitutions of kale, here are some options:
Curly Kale: It's the most common type of kale and can be used in place of any other kale variety. Its ruffled leaves hold onto the dressing well, providing every bite with flavor.
Baby Kale: This is a more tender and milder option. It doesn't require massaging like mature kale does, making it a quick and easy substitution. However, it may wilt more quickly under dressing, so it's best used if you plan to eat the salad right away.
Dinosaur Kale: Also known as Tuscan or Lacinato kale, dinosaur kale has a slightly sweeter and more delicate taste than curly kale. Its bumpy texture will grip onto the dressing nicely. Remember to remove the tough center stem before using.
❓ FAQ
Should you let kale sit in dressing?
Yes, you can let kale sit in the dressing, especially if it's a thicker leaf variety like curly or dinosaur kale. Unlike many other salad greens, kale is quite hardy and doesn't wilt as easily. Allowing the kale to sit in the dressing for about 5 -10 minutes can help soften its tough texture and allow the flavors to penetrate more deeply. This can make the kale more enjoyable to eat and enhance the overall flavor of the salad. However, if you're using baby kale, which is more tender, it's better to dress it just before serving to prevent it from becoming too wilted.
🥬 More kale salad and chickpeas recipes
Have a glimpse at our favorite salad recipes.
Vegan Kale Salad with Maple Balsamic Dressing: Elevate your salad game with this scrumptious vegan kale salad. The enticing blend of hearty kale and a delightful maple balsamic dressing makes for a mouthwatering combination you won't want to miss!
Creamy Strawberry Balsamic Dressing with Spinach Salad: Prepare to be enchanted by the perfect summer salad. A bed of fresh spinach paired with a lush, creamy strawberry balsamic dressing creates a symphony of flavors that's both refreshing and indulgent!
Couscous and Greens Salad: Experience a vibrant fusion of textures and flavors with this couscous and greens salad. The fluffy couscous, coupled with crisp greens offers a delectable treat that's both nourishing and delightfully satisfying!
Vegan Chickpea Salad with Avocado: Dive into a world of hearty, creamy goodness with this vegan chickpea salad. It's an irresistible combination of protein-rich chickpeas and buttery avocado that makes for a satisfying meal packed full of plant-based power!
⭐ If you try this tahini kale salad recipe, let us know! 💬 Leave a comment, rate it, and don't forget to tag us @ourplantbasedworld on Instagram. Cheers!
📋 Recipe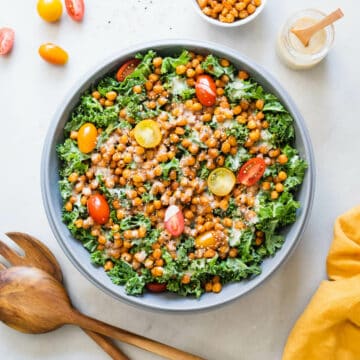 Vegan Kale Chickpea Salad with Tahini Maple Dressing
Discover the culinary magic of our chickpea kale salad with tahini dressing - a nutrition-packed, flavorful delight that's sure to impress. Embrace the crispy chickpeas, nutrient-rich kale, and creamy tahini dressing in a recipe that's as good for your health as it is for your taste buds.
Equipment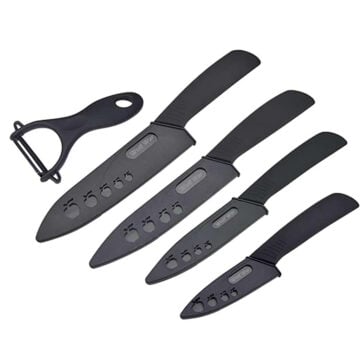 (affiliate link)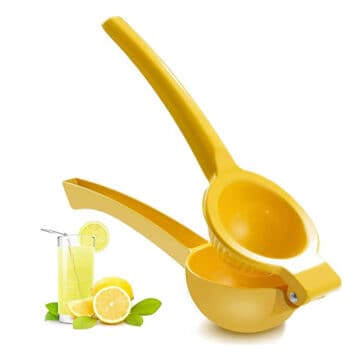 (affiliate link)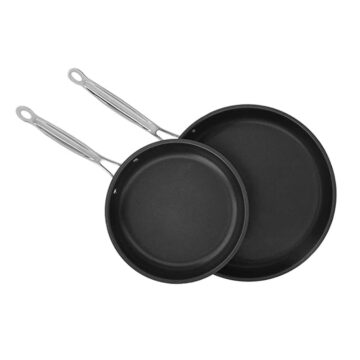 (affiliate link)
Ingredients
For the Kale Chickpea Salad
Optional
1

tablespoon

sesame seeds

toasted

⅓

cup

pepitas

toasted

¼

cup

sultanas

raisins, or cranberries
Directions
Let's start off by whipping up those crispy chickpeas!

Next, let's tackle the maple tahini dressing.

If you've got pepitas, toast 'em in a skillet over medium heat for a couple of minutes until they're lightly browned.

Remove tougher pieces. Before we begin with any other steps, make sure to remove the tougher stems from your kale. They can be a bit too chewy, so let's set them aside for a smoother salad experience.

Get your hands dirty – squeeze half a lemon over your kale and give it a good massage to soften it up.

Let's plate it! Lay out the massaged kale, top it with those crispy chickpeas, and drizzle the tahini dressing all over.

You can throw in some extra goodies like toasted almonds or sultanas if you like. Bon appétit!

Dig in right away for the best taste, and most importantly, enjoy your meal!
Notes
Massaging kale with lemon is an important step in preparing this kale and chickpea salad with maple tahini dressing for a few reasons:
Softening the kale: Massaging the kale with lemon helps to break down the tough fibers in the kale leaves, making them more tender and easier to chew. This is especially important if you're using curly kale, which can be quite tough and fibrous.

Enhancing flavor: Massaging the kale with lemon also helps to infuse it with flavor. The acid in the lemon juice helps to cut through the bitterness of the kale, making it taste fresher and more vibrant.
Nutrition Facts
Calories:
828
kcal
Carbohydrates:
89
g
Protein:
28
g
Fat:
44
g
Saturated Fat:
6
g
Polyunsaturated Fat:
12
g
Monounsaturated Fat:
23
g
Sodium:
963
mg
Potassium:
1298
mg
Fiber:
23
g
Sugar:
24
g
Vitamin A:
11691
IU
Vitamin C:
130
mg
Calcium:
473
mg
Iron:
10
mg
Nutrition Facts
Vegan Kale Chickpea Salad with Tahini Maple Dressing
Amount per Serving
% Daily Value*
* Percent Daily Values are based on a 2000 calorie diet.
Nutritional Disclaimer
The information shown is an estimate provided by an online nutrition calculator. It should not be considered a substitute for a professional nutritionist's advice. See our full Nutritional Disclosure here.
Affiliate Disclaimer
Please note that some of the links here are affiliate links, and I will earn a commission if you purchase through those links. I recommend all of the products listed because they are companies I have found helpful and trustworthy.