Hey, cookie monsters! Ready to kick off the fall season with a bang? Say hello to our 4-Ingredient gluten-free pumpkin cookies. You heard that right—just four simple ingredients, and you're on your way to cookie heaven. These babies are incredibly easy to whip up, healthy, and gluten-free. So, you can indulge without the guilt! These cookies are the epitome of fall in every bite, perfect for those cozy weather vibes.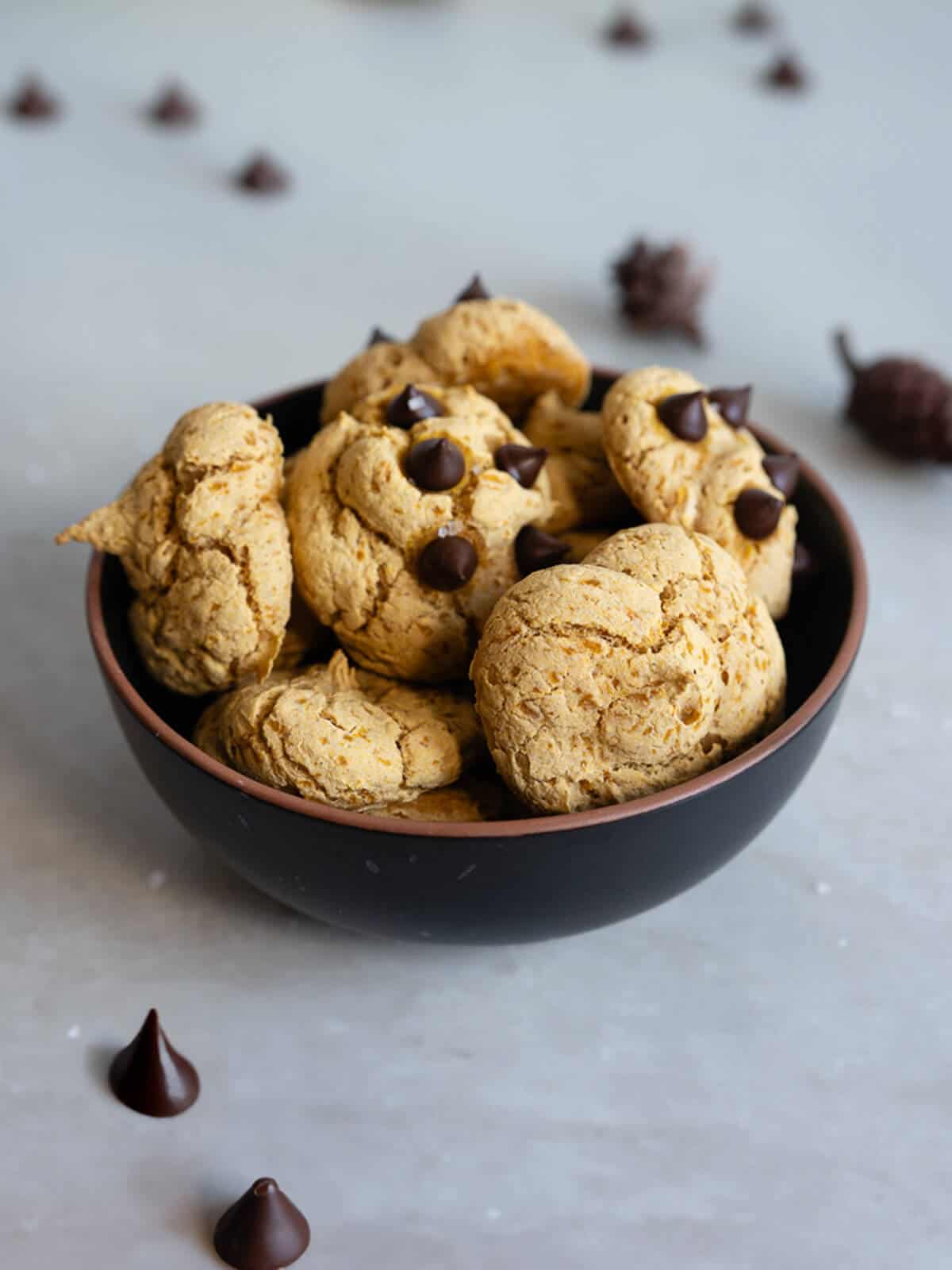 Imagine combining wholesome pumpkin puree with the all-time winner pumpkin pie spice and the goodness of pumpkin and chocolate chips. Yep, we're talking about the ultimate snack or breakfast cookies.
These cookies are not just a treat for your taste buds; they're also a win for your health. Pumpkin puree is a nutritional powerhouse packed with vitamins like A and C and fiber. Plus, it's low in calories!
Jump to:
🧡 Why You'll Love These Cookies
Super Easy: Just 4 ingredients. Yep, you read that right!
Gluten-Free: Perfect for those with gluten sensitivities or anyone looking to cut back.
Vegan-Friendly: No animal products here, folks!
Pumpkin Goodness: Packed with pumpkin puree and pumpkin pie spice for that authentic fall flavor.
Versatile: Want more pumpkin flavor? Add some pumpkin pie filling. Craving chocolate? Toss in some semi-sweet chocolate chips.
Drawing inspiration from our fan-favorite 3-ingredient vegan protein cookies and our vegan pumpkin pie recipe, we aimed to simplify things even further—without skimping on taste. 🍪 So go ahead, enjoy them as a morning pick-me-up, a mid-afternoon snack, or as a sweet ending to your day. Either way, you're in for a treat that's as nutritious as it is delicious.
🧾 Ingredients
The ingredients that make these cookies soo good are: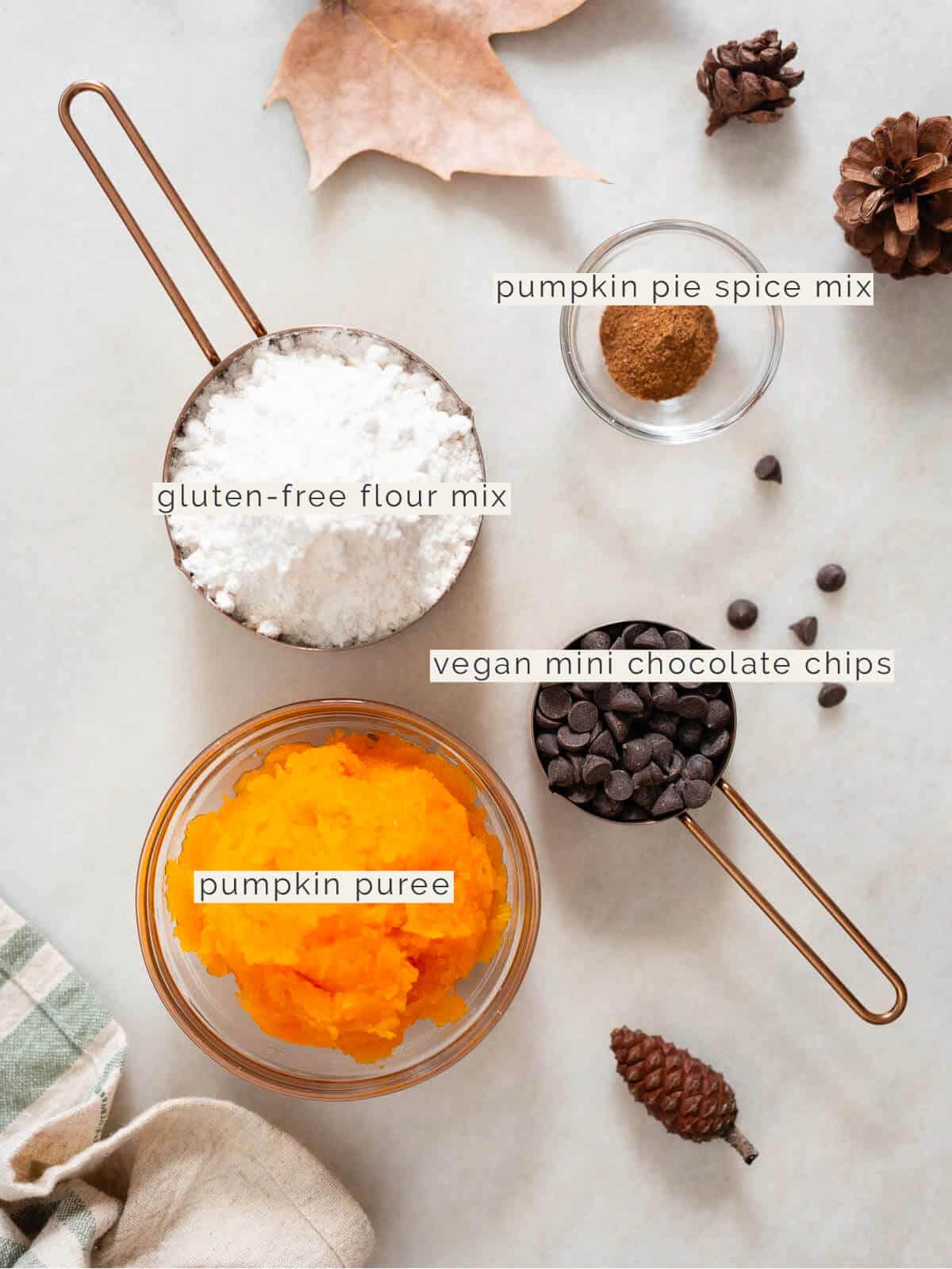 Pumpkin Puree: This is the star of the show, adding that rich, autumnal flavor we all crave. Plus, it's packed with fiber and vitamins, making your cookies tasty and a bit nutritious.
Gluten-Free Flour Mix: We're all about convenience and inclusivity, and this mix makes the recipe accessible for our gluten-free friends. It also adds a fluffy, cake-like texture to the cookies. Feel free to use a boxed cake mix or pumpkin cake mix instead.
Pumpkin Pie Spice Mix: Why measure out four different spices when this mix has it all? It's the shortcut to achieving that signature fall flavor in every bite.
Vegan Mini Chocolate Chips (optional): These little gems add a sweet contrast to the pumpkin's spiciness; being vegan, they keep the recipe 100% plant-based.
Optional (if not using chocolate chips or for extra sweetness)
Pure Maple Syrup: A drizzle of this will do the trick if you're in the mood for extra sweetness.
Vanilla extract
Substitutions
Gluten-Free Flour: If you're out of gluten-free flour, you can use almond flour or a purpose gluten-free flour blend. Just note that the texture may vary slightly.
Pumpkin Pie Spice: No pumpkin pie spice? No worries! You can make your own blend using cinnamon, nutmeg, and cloves.
Dark Chocolate Chips: If dark chocolate isn't your thing, try using dairy-free white chocolate chips or even some chopped nuts for crunch.
Vanilla Extract: If you're out of vanilla extract, almond extract can add a unique twist to the flavor profile.
Maple syrup: use brown sugar instead.
🍽 Equipment
Blender or Food Processor: You'll need one to blend all your ingredients into a smooth batter. A food processor with a dough blade is ideal for achieving the perfect cookie dough consistency.
Piping Bag: A piping bag gives you the control to form perfectly shaped cookies. A tablespoon will do the trick if you don't have one, but a piping bag is a game-changer for cookie aesthetics.
Baking Sheets: A good-quality sheet pan ensures even baking and easy cleanup. Make sure it's lined with parchment paper to prevent sticking.
Cooling Rack: Once your cookies are out of the oven, a wire rack helps them cool down evenly. This prevents the bottoms from getting soggy and maintains that delightful cookie texture.
🔪 Instructions
Whipping up these pumpkin cookies is a total breeze.
Preheat that oven of yours to 350°F (175°C). Line a baking sheet with parchment paper.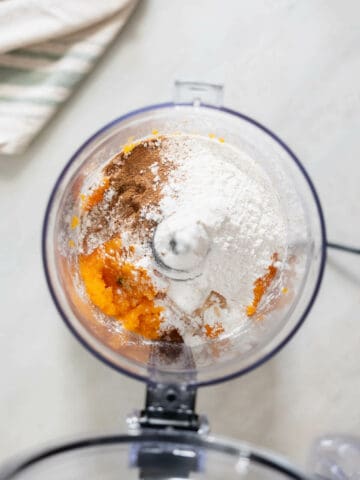 Step 1: Whip it up in a food processor fitted with a dough blade. Toss in the pumpkin puree, gluten-free flour, pumpkin spice mix, a pinch of salt, and a splash of vanilla extract if you're feeling fancy.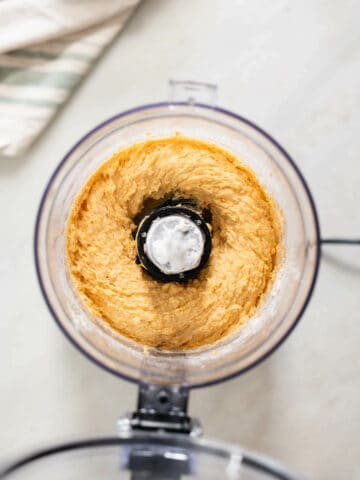 Step 2: Blend until the cookie batter has no white spots.
Hint: if you want the cookies to be extra orange, add ½ teaspoon of turmeric to the batter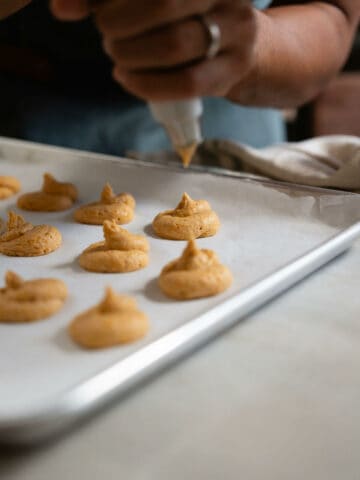 Step 3: Get piping with a piping bag, or go old-school with a tablespoon. For those cookie dollops, right onto a parchment-lined baking sheet.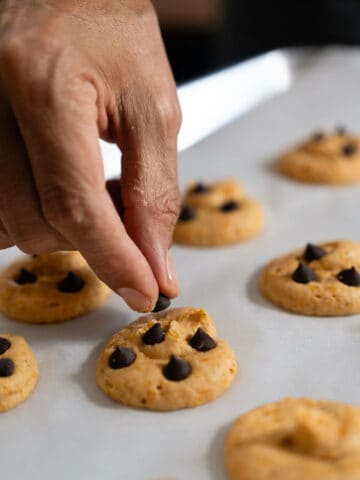 Step 4: Sprinkle some dark chocolate chips on top if you're in the mood for extra indulgence.
Pumpkin Spice Overload: If you're all about that pumpkin spice flavor, don't hesitate to add an extra dash of pumpkin spice mix to the batter or even to your vegan cream cheese frosting. It'll make your cookies extra aromatic and spice-tastic!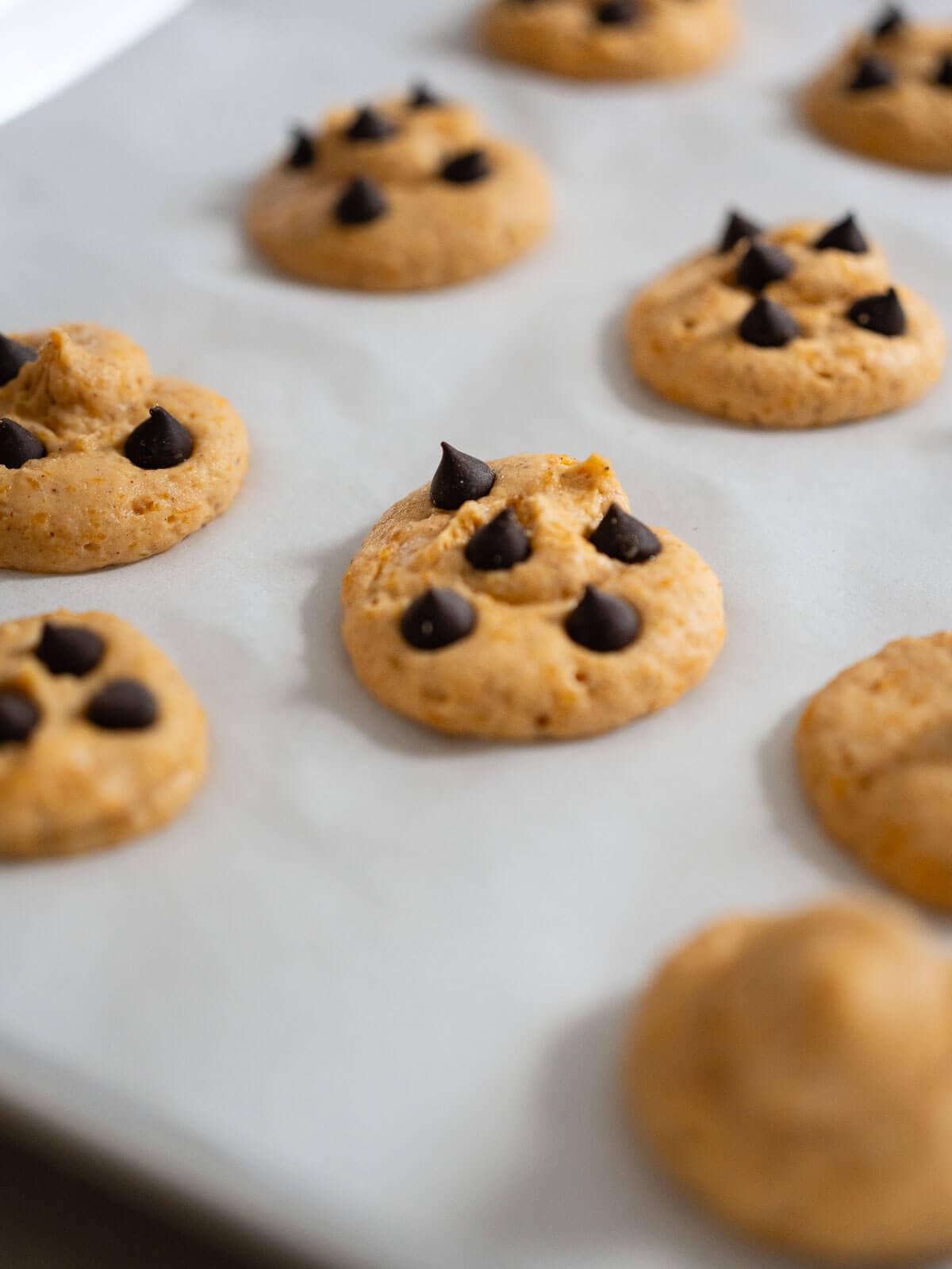 Step 5: Slide them into a preheated oven and let them bake for 15 minutes.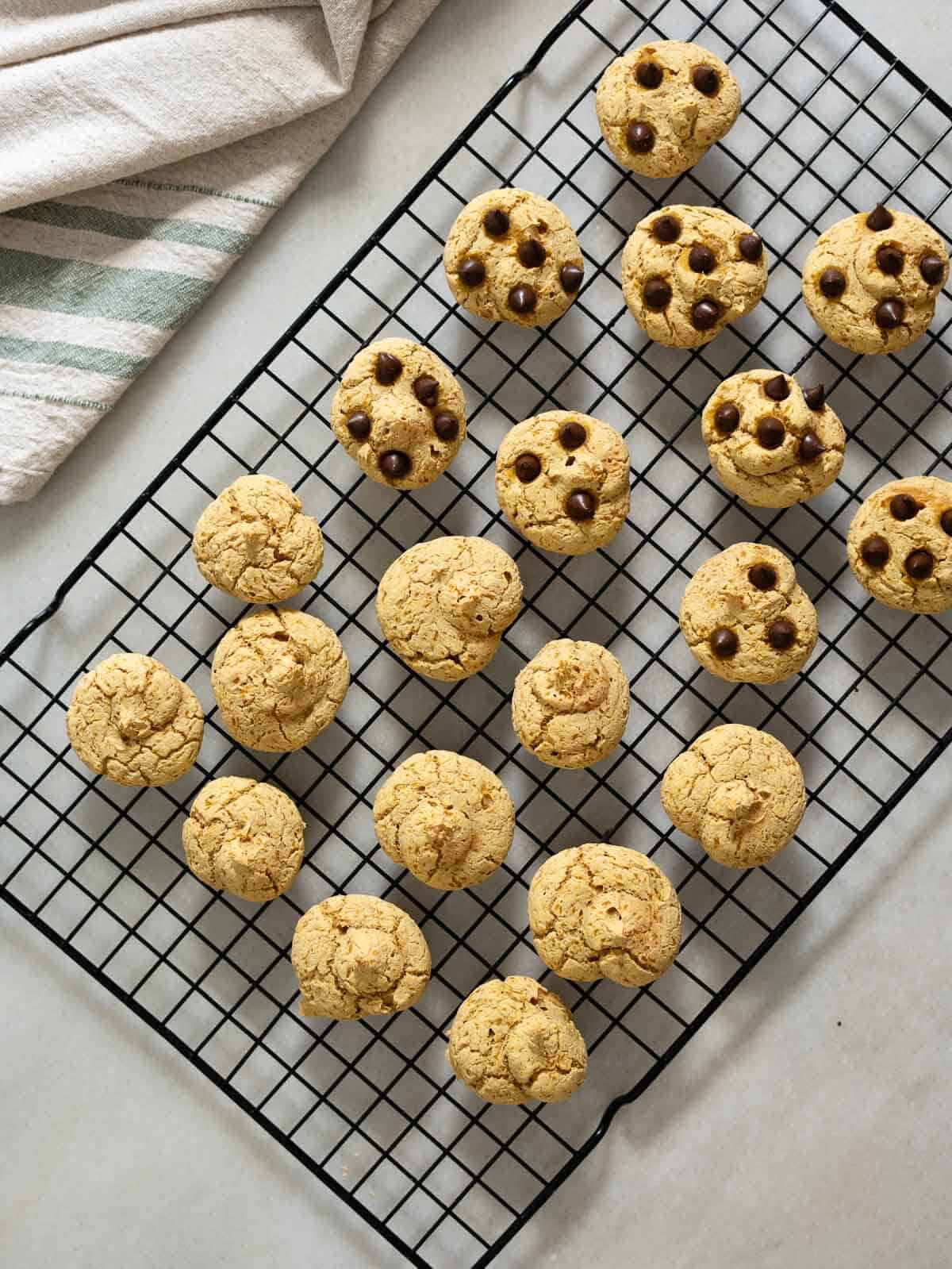 Step 6: Let the cookies cool completely before diving in. Trust us; it's worth the wait!
Pro Tip: I'm a fan of cookies both with and without chocolate chips, so I often make half the batch plain.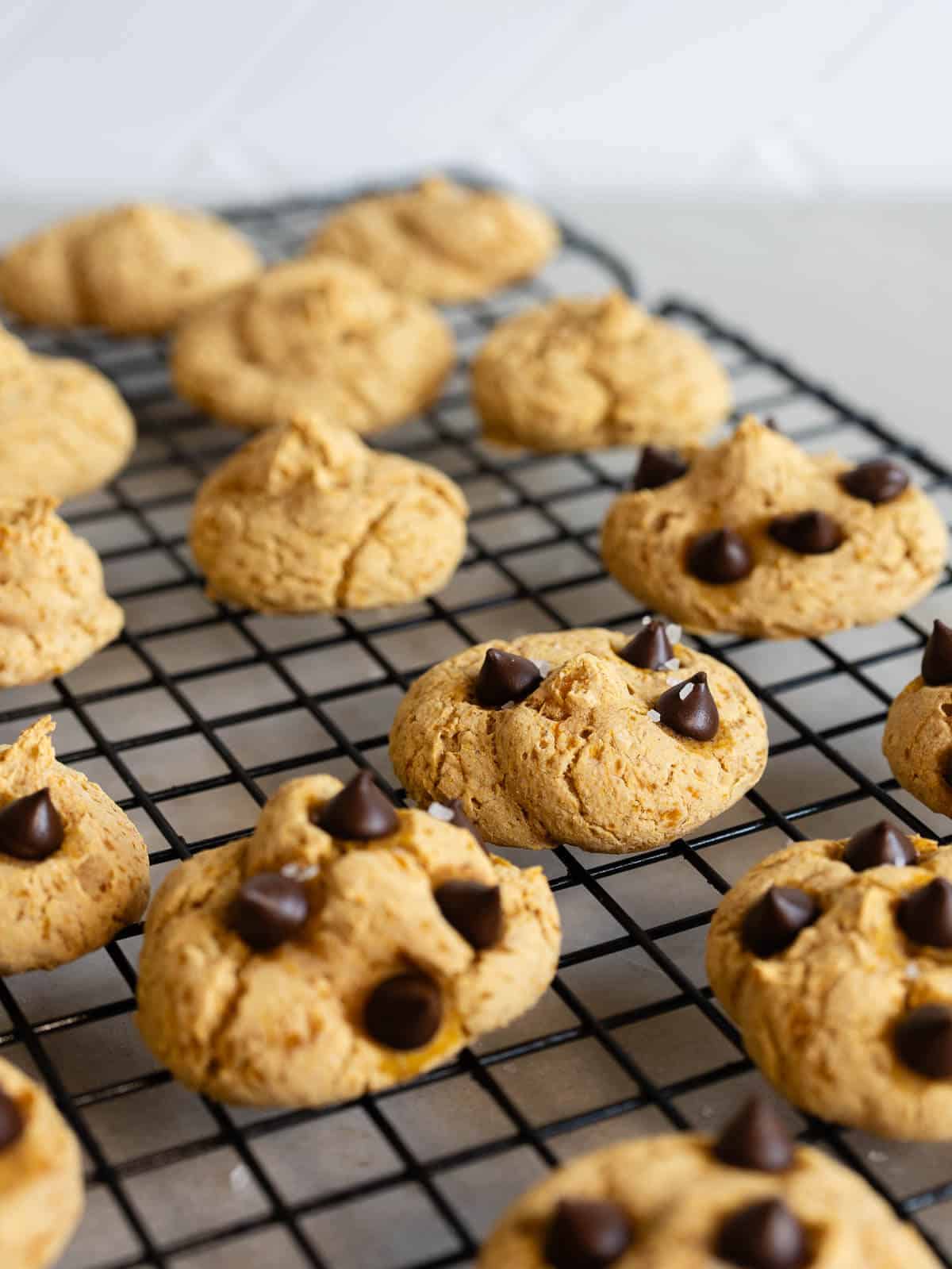 💡 Expert tip
Spice Up Your Cake Mix: If you've got gluten-free flour mix or regular yellow cake mix on hand, you can easily turn it into a spice cake mix. Just add 2 tablespoons of your own pumpkin spice mix to every box of cake mix. It's a simple way to infuse that fall flavor into your cookies!
📖 Variations
Sweet Potato Twist: Swap out the canned pumpkin puree for sweet potato puree. This will give your cookies a slightly sweeter and earthier flavor, perfect for sweet potato enthusiasts.
Butternut Squash Delight: Replace the pumpkin puree with butternut squash puree for a nuttier, almost buttery flavor profile. It's a unique take that's equally delicious.
🥢 How to serve
Straight-Up Classic: Enjoy these pumpkin cookies as they are, fresh out of the oven. The warm, gooey chocolate chips and soft pumpkin texture make for a heavenly bite.
Cookie Sandwich: Take it up a notch by slathering some vegan cream cheese frosting between two cookies. It's like a mini pumpkin pie in cookie form!
Cookie Crumble Parfait: Layer crumbled cookies, dairy-free yogurt, and a drizzle of maple syrup in a glass. Top with a sprinkle of pumpkin spice for a deconstructed cookie experience that's perfect for brunch or dessert.
❓ FAQ
Why are my vegan chocolate chip cookies flat?
If your cookies turned out flatter than you'd like, there could be a few reasons:
Too Much Liquid: Excess moisture from ingredients like pumpkin puree can make your cookies spread too much. Make sure you're measuring accurately.
Warm Dough: If your cookie dough is too warm when it goes into the oven, it can spread out and result in flat cookies. Try chilling the dough for about 30 minutes before baking.
Old Baking Soda: Baking soda that's past its prime won't give you the lift you're looking for. Make sure your baking soda is fresh for optimal rise.
Oven Temperature: Make sure your oven is properly preheated. An oven that's too cool can cause cookies to spread before they have a chance to rise.
🥡 Storage
Airtight Container: Once completely cooled, store pumpkin cookies in an airtight container to keep them fresh. They'll stay good for up to a week at room temperature.
Freezer-Friendly: If you want to enjoy them later, these cookies are freezer-friendly. Just place them in a ziplock bag, squeeze out the air, and freeze. They'll keep for up to 3 months.
Reheating: To bring back that fresh-baked goodness, you can reheat them in a preheated oven at 350°F for about 5 minutes. If they're coming from the freezer, let them thaw for a bit before reheating.
📚 More gluten-free pumpkin recipes
⭐ If you try this cookies, let us know! 💬 Leave a comment, rate it, and don't forget to tag us @ourplantbasedworld on Instagram. Cheers!
🎥 Video
📋 Recipe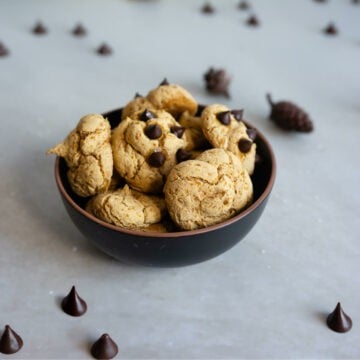 Gluten-Free Pumpkin Cookies
Indulge in the flavors of fall with our 4-Ingredient Spice Pumpkin Cookies! Easy to make, healthy, and gluten-free, these cookies are a guilt-free treat perfect for sweater weather. Get baking today!
Equipment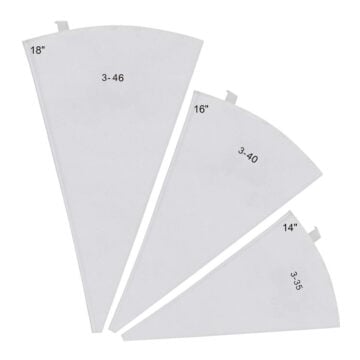 (affiliate link)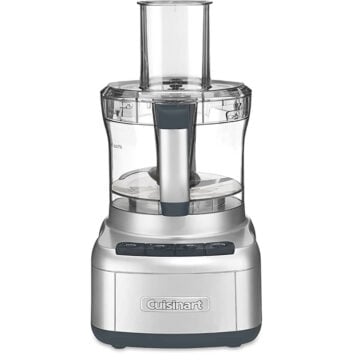 (affiliate link)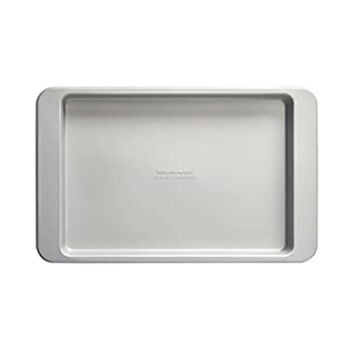 (affiliate link)
Ingredients
1

cup

pumpkin puree

creamy ~ 2 ¼ oz

1

cup

gluten-free flour mix

cake mix, or regular all-purpose flour + ¼ teaspoon baking powder

1

teaspoon

pumpkin spice mix

36 g

⅛

teaspoon

salt
Directions
Preheat the oven to 350 ºF (175 ºC). Stir all ingredients in a mixing bowl to form a cookie dough texture.

Combine all the ingredients except for the chocolate chips and blend in a food processor using the dough blade. You can also use a hand mixer.

Make cookies. Add about one tablespoon of cookie batter to a prepared baking sheet with parchment paper using a piping bag or a spoon.

Add chocolate chips on top of the cookies.

Bake the cookies on a cookie sheet lined with parchment or a silicone mat for 15 minutes.

Cool down before handling, as the firm up while cooling.
Notes
If you don't have a piping bag, you can simply use a plastic bag, and cut the corner, then fill it with the cookie batter.
Nutrition Facts
Calories:
55
kcal
Carbohydrates:
11
g
Protein:
1
g
Fat:
1
g
Saturated Fat:
1
g
Polyunsaturated Fat:
0.05
g
Monounsaturated Fat:
0.05
g
Sodium:
19
mg
Potassium:
41
mg
Fiber:
1
g
Sugar:
4
g
Vitamin A:
2383
IU
Vitamin C:
1
mg
Calcium:
18
mg
Iron:
1
mg
Nutritional Disclaimer
The information shown is an estimate provided by an online nutrition calculator. It should not be considered a substitute for a professional nutritionist's advice. See our full Nutritional Disclosure here.
Affiliate Disclaimer
Please note that some of the links here are affiliate links, and I will earn a commission if you purchase through those links. I recommend all of the products listed because they are companies I have found helpful and trustworthy.