This is the best vegan pumpkin pie recipe you will find. It's made with a healthy, vegan crust, and it's completely dairy-free. If you're looking for a wholesome pumpkin pie version with a creamy and rich filling, this Thanksgiving dessert is your answer!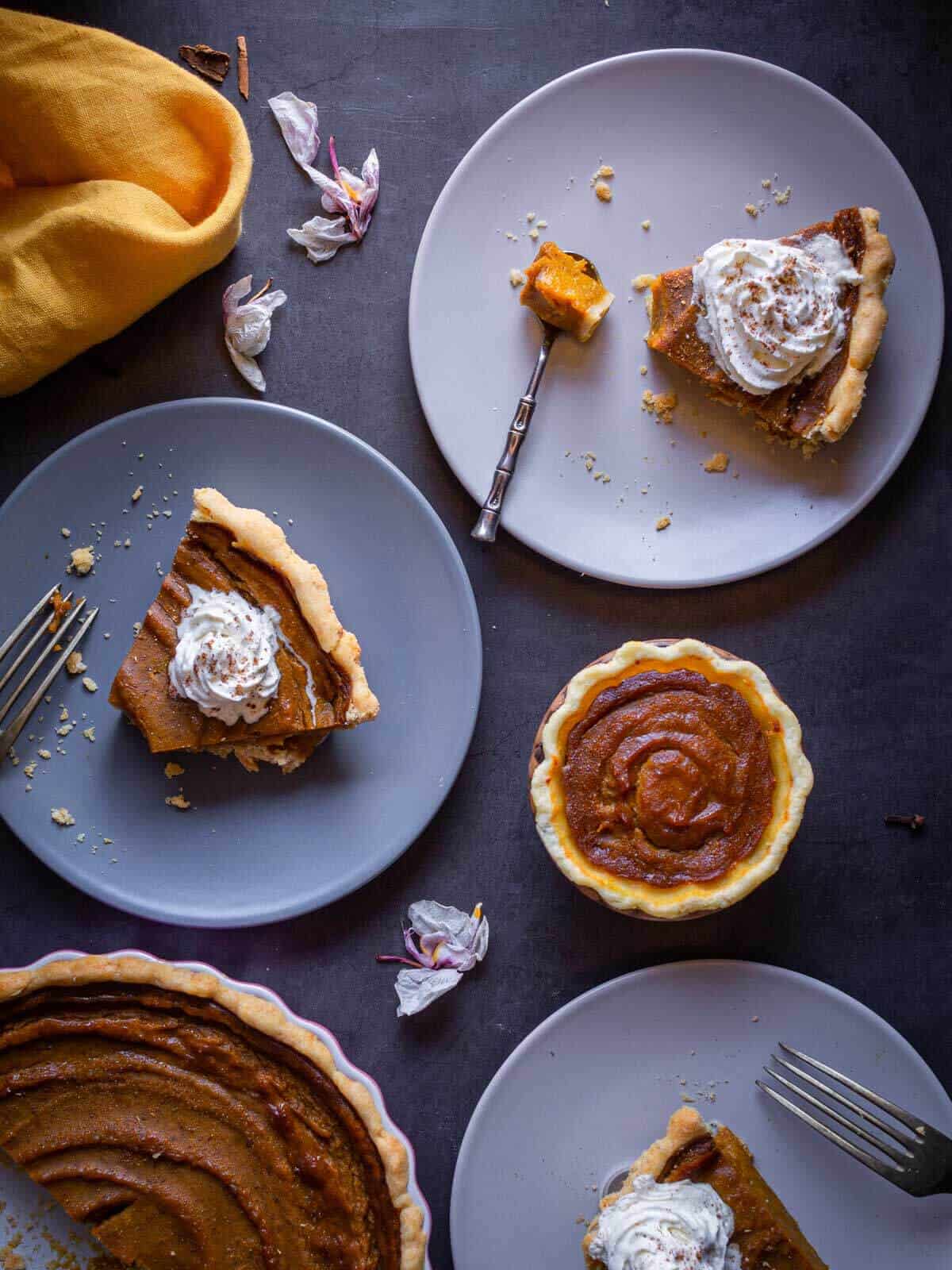 It's Fall, and that means pumpkin spice everything. We all know what that means: pumpkin pie and a ton of other recipes that go super well with this aromatic mix! This recipe is a delicious option for your Thanksgiving dinner, without a doubt!
It is always next to our vegan buttermilk cornbread, banana bread, cornbread dressing, vegan chili, and naturally sweet applesauce.
You will love it because it tastes just like classic pumpkin pie but vegan!
Since my childhood, it has always been one of my favorite pie dishes, but they used to make it with butter, eggs, and condensed milk at home. It was delicious, but I needed to come up with a vegan version.
In our post, you can check how to make your own homemade pie crust recipe, a plant-based recipe with a gluten-free option, but you can use a store-bought pie crust. It is made with just a few ingredients and vegan butter to keep it dairy-free.
Regarding the pumpkin pie spice mix, you can also use store-bought, but nothing beats homemade pumpkin pie spice mix, so we keep a whole mason jar as fall has landed, and we use it in lots of different dishes, such as pumpkin overnight oats and pumpkin maple granola.
Jump to:
🧾 Ingredients
To make this dairy-free pumpkin pie, you need a couple of staple Fall season ingredients: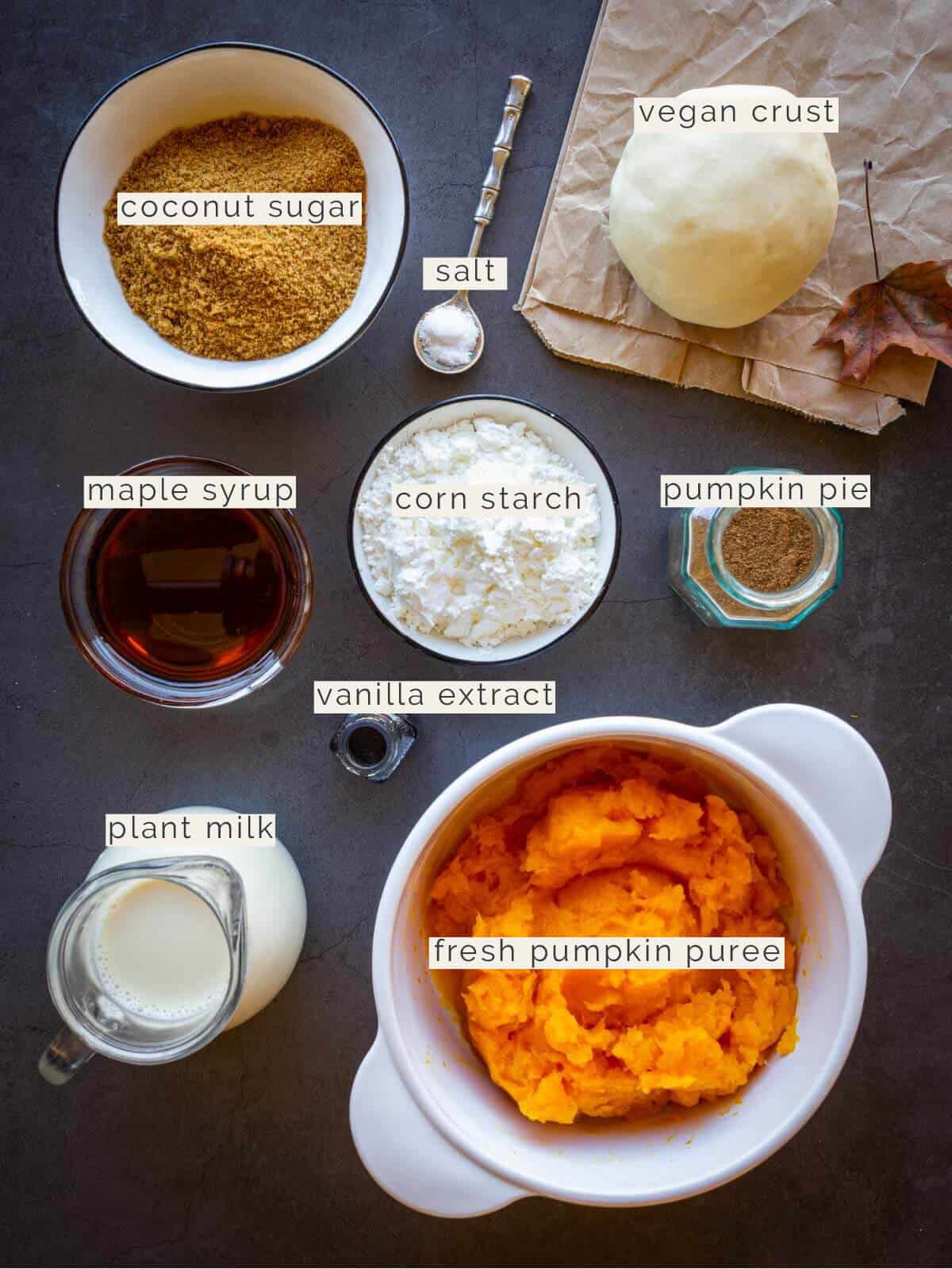 Fresh Pumpkin Puree: The heart of the pie, it provides natural sweetness and a velvety texture. Plus, it's packed with fiber and vitamin A! You can buy canned ones; we are using fresh pumpkins; see directions.
Coconut Sugar (or brown sugar): Adds a caramel-like sweetness without spiking your blood sugar levels. It's a low-glycemic alternative that keeps things plant-based.
Maple Syrup: Offers a touch of earthy sweetness and enhances the pie's moisture. Bonus: it's rich in antioxidants!
Plant Milk: Creates a creamy consistency and balances the flavors. Choose your fave—almond, soy, or coconut—they all work!
Pumpkin Pie Spice is a magical blend of cinnamon, nutmeg, and cloves that brings autumn into your pie. It's the essence of fall in a jar. It only takes 5 minutes to put together in a single mason jar, with the right proportions of 4 ground spices; this is our recipe. You can also buy it in the store or on Amazon.
Corn Starch: Acts as a thickening agent to give your pie that perfect custard-like texture. Tapioca starch is a great alternative if you're corn-sensitive.
Salt: A pinch elevates all the other flavors and cuts through the sweetness. It's the unsung hero that makes everything pop!
Vegan Crust - we are using our own vegan pumpkin pie crust, which is neither savory nor sweet, just right in between. You can also buy it at the closest grocery store, which is widely available, and you can switch the all-purpose flour to gluten-free flour.
Optional Coconut whipped cream to garnish - we bought it as, even if you make it and make it delicious, we will never be able to compete with the mechanism that maintains the bottle's pressure.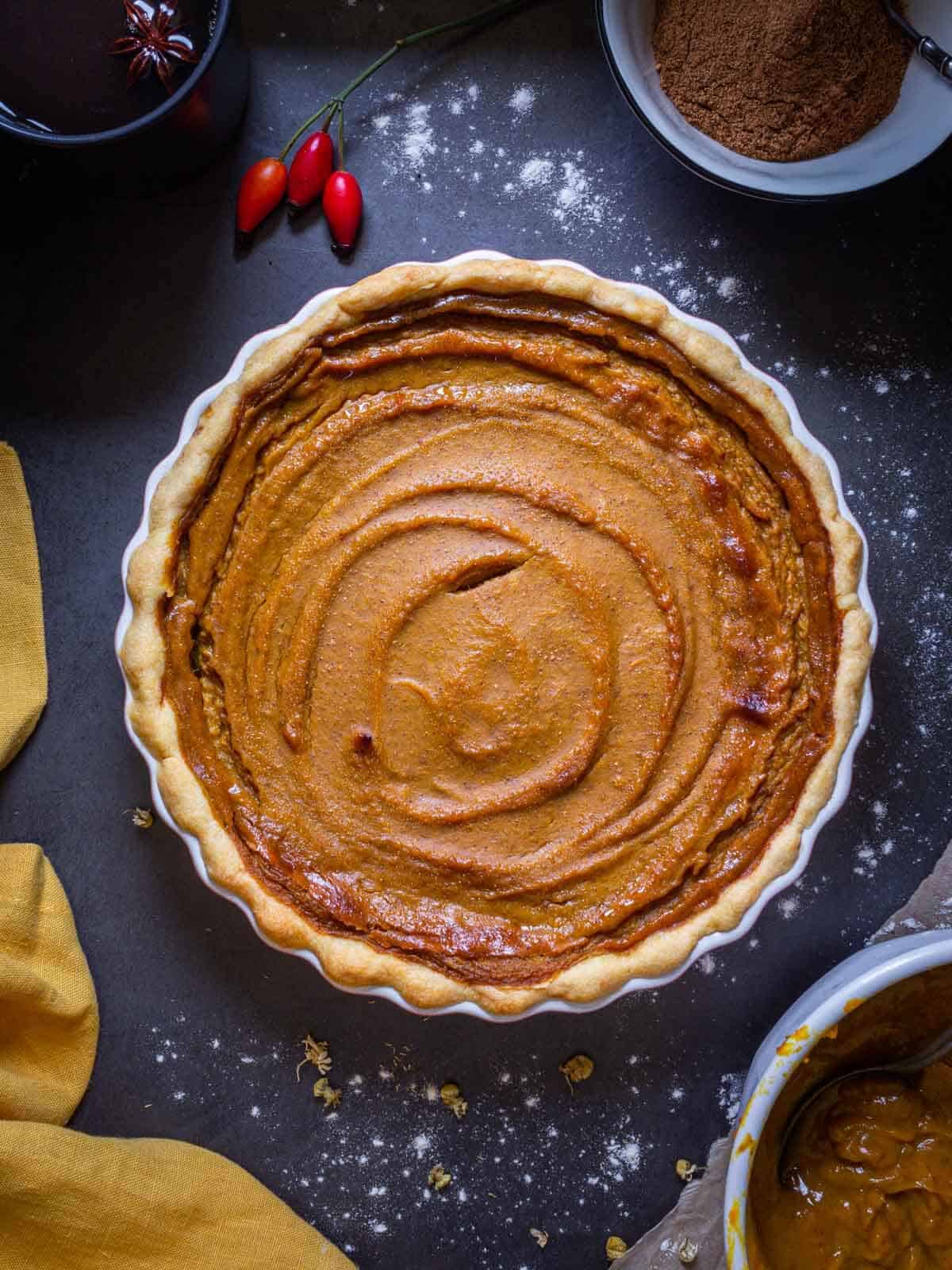 🔪 How to make vegan pumpkin pie
In short, there are many shortcuts you can take to make your pumpkin pie; here, we are going to make most of it from scratch, but you can mix and match store-bought ingredients with the ones you decide to make.
Make the crust
Prepare the crust following our vegan crust recipe. Let it refrigerate before using it for your pie.
Make the pumpkin puree
We prefer making our homemade pumpkin puree, but you can use store-bought canned pumpkin puree.
Make your pumpkin spice mix
Making your own mix is simply getting the four ground spices: nutmeg, cinnamon, cloves, and ginger, then measuring the pumpkin mix spices quantities and mixing them in a bowl.
Pumpkin Pie Filling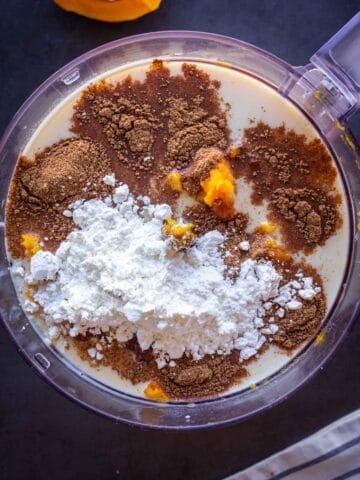 Step 1: To make the pumpkin filling mixture, simply add all the ingredients to a food processor.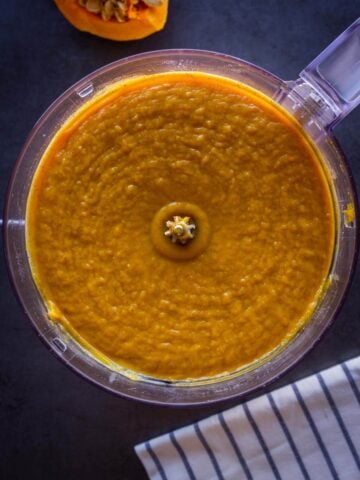 Step 2: Blend until the pumpkin mixture is smooth.
Preheat the oven to 350 °F (177 °C). On a pie plate, make a pie crust.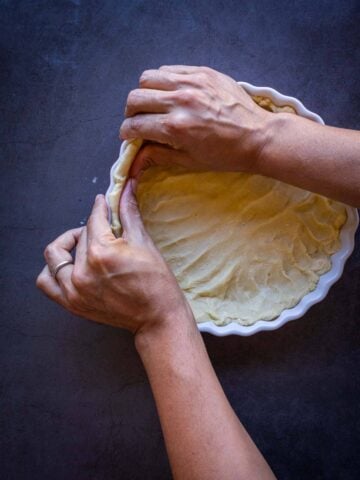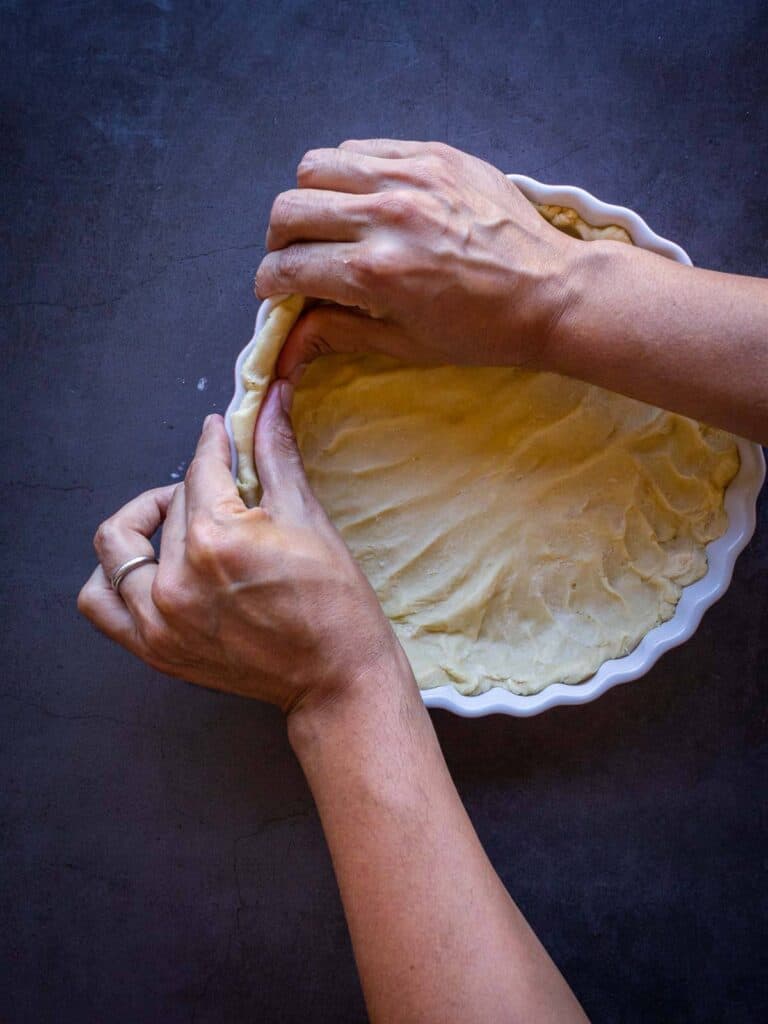 Step 3: Stretch vegan pie crust. Press the filling firmly into a 9-inch pie crust-lined pan with your hands. We do not pre-cook the pie crust.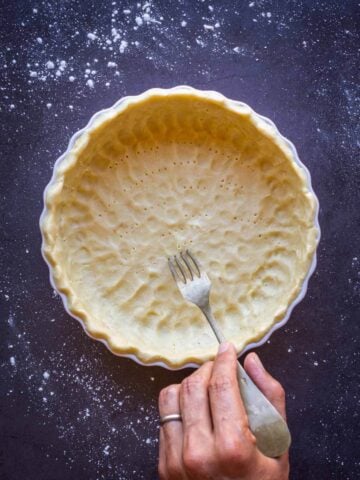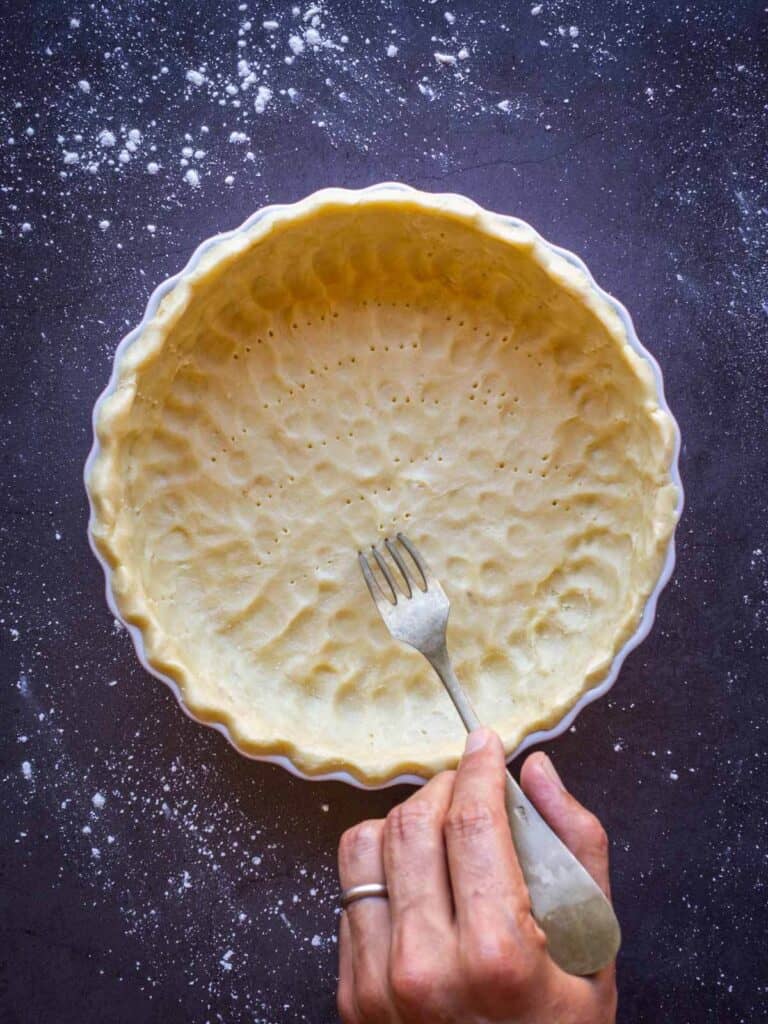 Step 4: Pinch dough in the bottom and sides with a fork. I pinch it with a fork all over before I pour the pie filling. That way, I ensure that all the crust will receive heat and will be uniformly baked.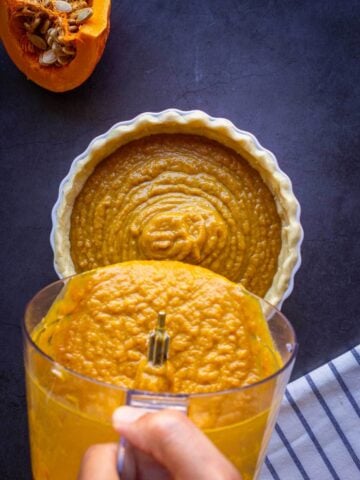 Step 5: Pour the pumpkin pie filling into the pie pan.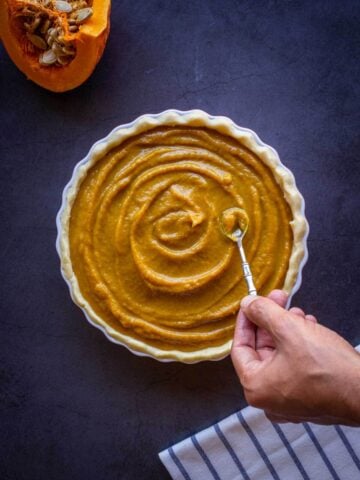 Step 6: Swirl the pumpkin mixture. I like making some swirls on the top. I think it makes it look extra pretty.
Hint: Cover the edges of the crust with aluminum foil or a pie shield if it begins to blacken after about 30 minutes of baking.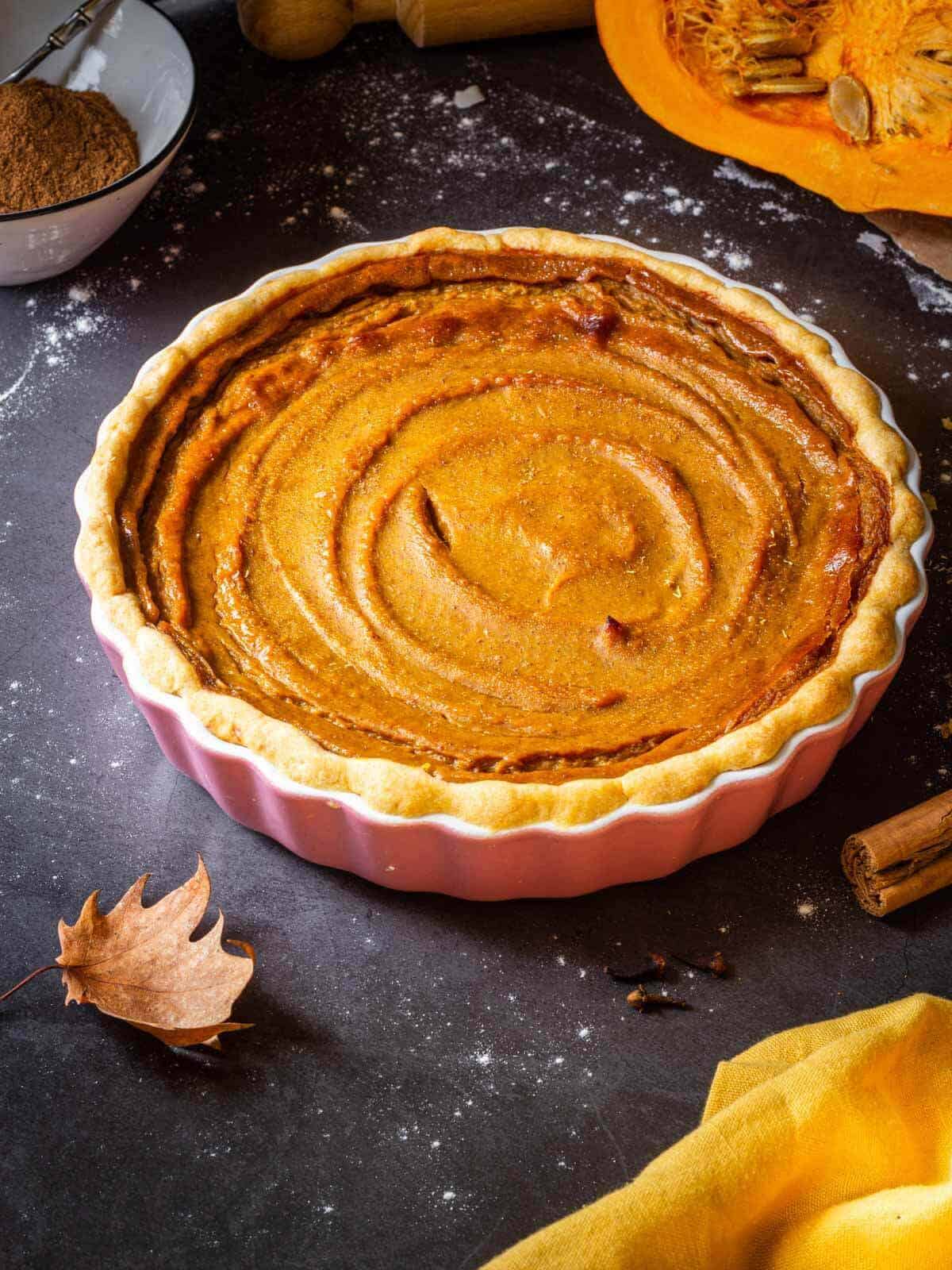 Step 7: Bake for 55-60 minutes. Cool at room temperature, and then place the pie in the fridge for at least 5 hours. Preferably, overnight and covered, it doesn't absorb any unwanted odor or smell from the fridge.
The middle will still look soft; that's normal. Let the pie cool down at room temperature for 45 minutes, then cover it with a BPA-free pie cover, and transfer to the refrigerator to chill for at least 5 hours or overnight.
🥢 How to serve your dairy-free pumpkin pie
When this healthy pie has baked and chilled enough, we top it off with whipped coconut cream for a lovely festive touch!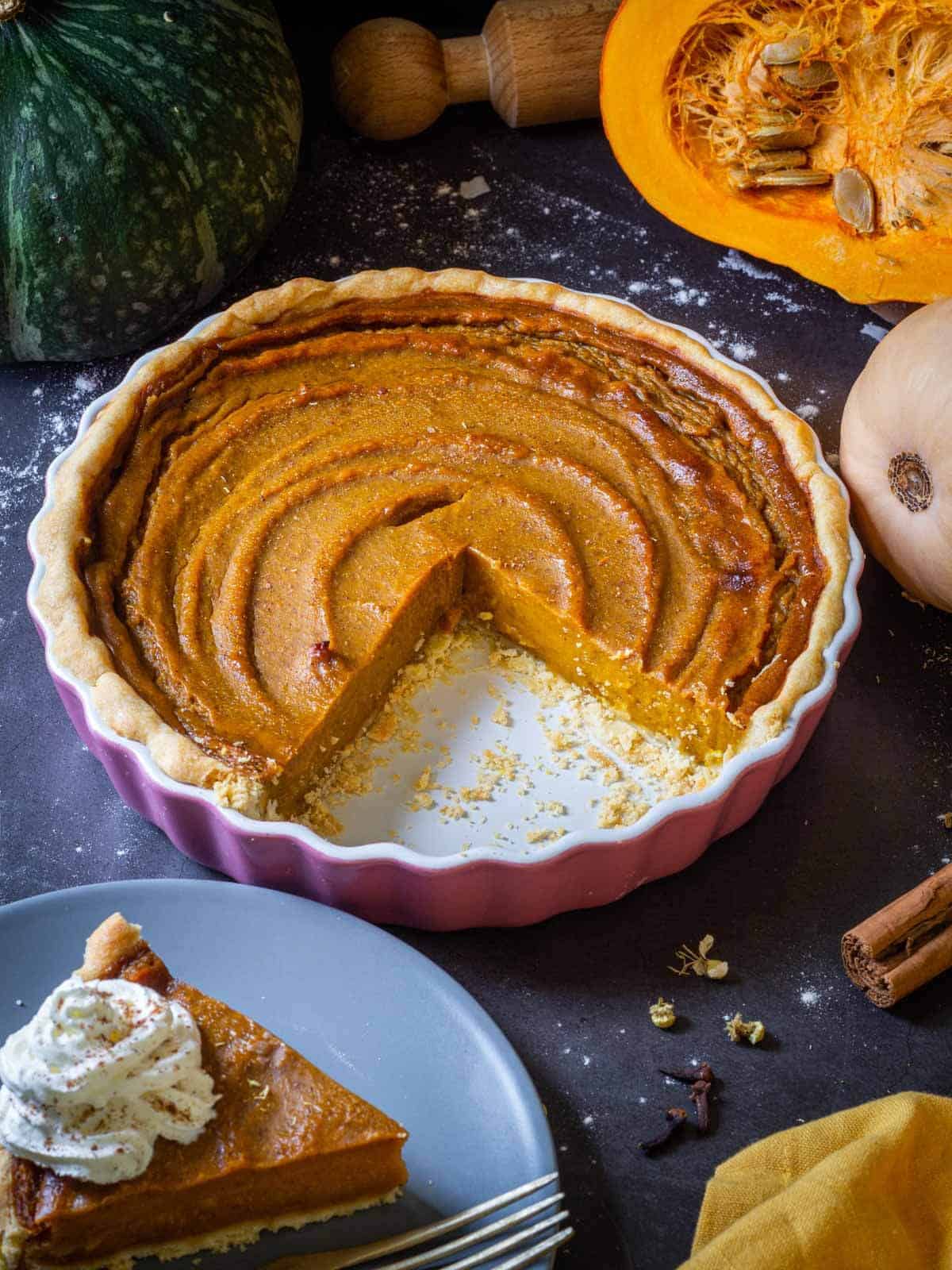 Classic A La Mode: Serve a warm slice of pumpkin pie topped with a scoop of vegan vanilla ice cream. The cold, creamy ice cream complements the spiced, warm pie, creating a heavenly duo.
Traditional with Whipped Cream: Add vegan coconut whipped cream on top or any other non-dairy whipped topping and dust it with a little extra of your spice mix. A dollop of coconut whipped cream on top of your pie slice adds a fluffy, light contrast to the dense and rich pumpkin filling.
Pumpkin Pie Smoothie Bowl: Get creative by blending a slice of your pumpkin pie with some plant milk and ice. Pour it into a bowl and top with granola, chia seeds, and a drizzle of maple syrup for a unique pumpkin pie experience!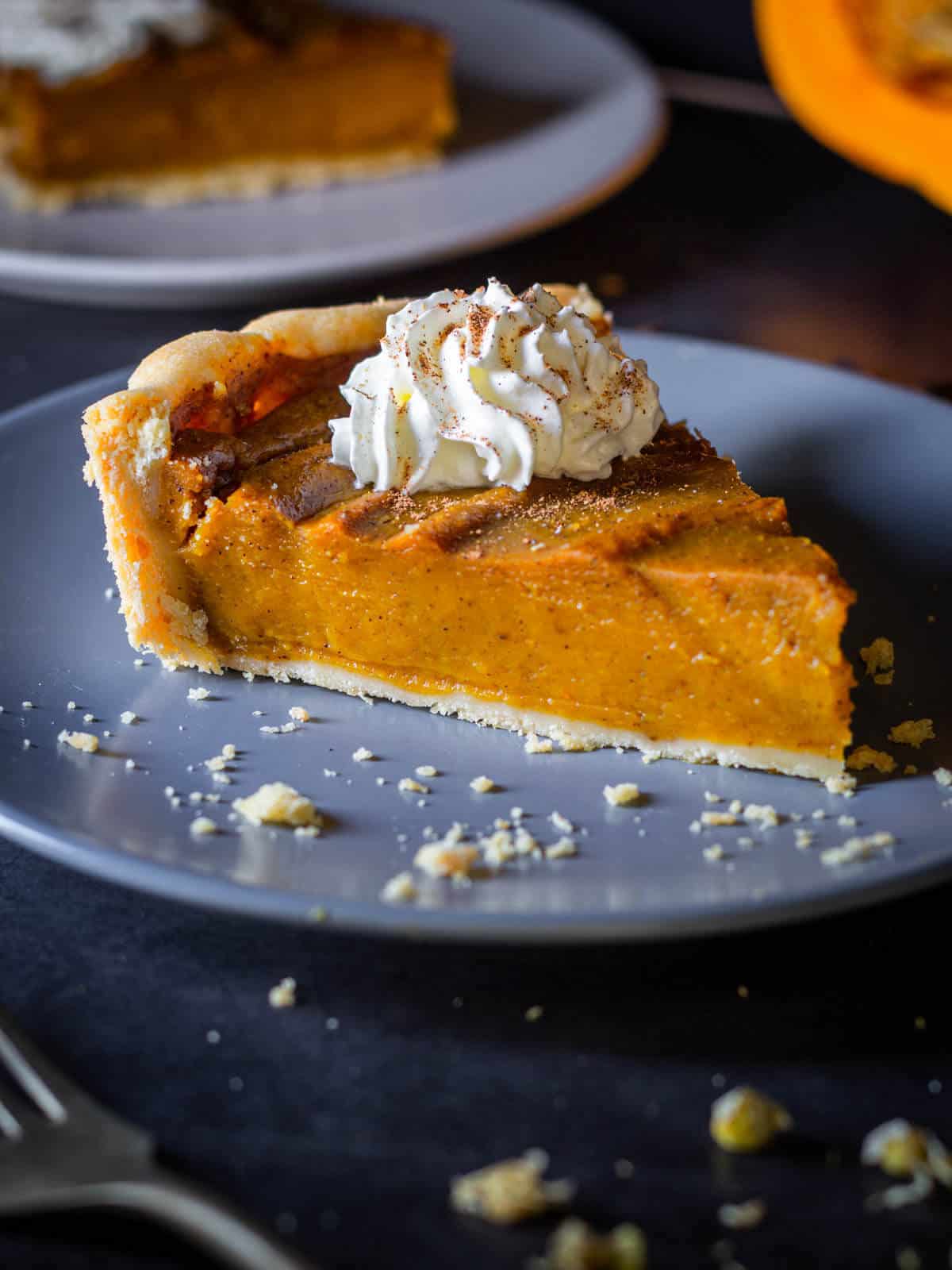 We love having our dessert either with a nice vegan pumpkin spice latte, or Earl Gray tea.
We hope you enjoy this delicious vegan pumpkin pie recipe as much as we do.
💡 Top tips
Ensure you allow the pie to settle covered in the fridge for a minimum of 5 hours, preferably overnight, before slicing it.
You can use the dough and filling to make small portions of individual pies.
If you happen to have extra filling, use them to make overnight pumpkin pie oats.
🍶 Substitutions
Sweetener - If you don't have pure maple syrup, add the same amount in cups of brown or coconut sugar and maybe ⅓ cup more, as coconut sugar is less sweet than maple syrup. Also, add ⅓ cup of plant milk to keep the same pumpkin pie filling moisture. Note that the resulting mixture will be darker.
Try using agave syrup instead of maple syrup to give the filling an extra sweet kick—note that you may need fewer spices because agave has its unique flavor profile.
I prefer maple syrup, but agave nectar is a good option for people with diabetes, as it has a lower glycemic index.
You may also use pumpkin syrup, or date paste. If you choose to do so, reduce the amount of pumpkin spice to 1 teaspoon.
Dairy-free milk - We have tried this recipe with almond, cashew milk, soy, and coconut milk; they all work.
📖 Variations
Coconut milk pumpkin pie
To customize this pumpkin pie recipe, try using full-fat coconut milk to make it even more creamy! We like keeping things healthy in the house while still delivering lots of flavors, so we use heavy coconut cream selectively as it is very high in saturated fats. We prefer using almond milk to keep our pumpkin pie healthy.
Crustless pumpkin pie
If you don't feel like making homemade pie crust or just want a healthier take on the traditional pumpkin pie, you must follow the instructions to make this extra-healthy pumpkin pie recipe.
Whisk all ingredients well in a large mixing bowl to make their vegan pumpkin pie filling. Pour into the pan, and bake for the same time as the recipe is written. It'll still be gooey after baking. Allow cooling completely before transferring uncovered to the fridge to "set" for at least 4 hours before slicing or overnight. It will look like pumpkin pudding.
Another option, if you are just trying to avoid gluten, is making a gluten-free pie crust with the same recipe but using almond flour or even coconut flour.
Butternut Squash Twist
Swap out the pumpkin puree for butternut squash puree. It offers a slightly nuttier flavor and is just as rich in nutrients. Perfect for when you want to shake things up a bit!
Sweet Potato Sensation
Replace the pumpkin puree with sweet potato puree for a southern take on this classic. Sweet potatoes bring a different kind of sweetness and a vibrant orange hue that's visually stunning!
🥡 Storage and Reheating
Let's make sure that pie stays as scrumptious as the day it was made. 🥧
In the Fridge:
Wrap & Store: Tightly wrap your pumpkin pie in eco-friendly cling wrap or place it in an airtight container.
Chill Out: Store it in the fridge for up to 5 days. The flavors even meld better over time!
Reheating:
Preheat Oven: Crank that oven up to 350°F (175°C).
Warm It Up: Place the slice on a baking sheet and heat for about 10 minutes. Voila, it's like freshly baked!
Freezing and Reheating:
Freeze: Cut the pie into individual slices and wrap each securely in aluminum foil or freezer-safe wrap.
Thaw: When you're ready to indulge, let it thaw in the fridge overnight.
Reheat: Follow the same reheating steps as above, but give it an extra 5 minutes in the oven.
Meal Prep Option:
Pre-Mix: Prepare your pumpkin filling and store it in an airtight container in the fridge.
Ready, Set, Bake: When you're ready to serve, pour the filling into a pre-made vegan pie crust and bake as usual. Meal prep for the win!
Hope this helps keep your pie game strong! 🍴 Anything else you'd like to know?
🤔 Types of Pumpkin that work
Regular pumpkins work. I love using Hokkaido pumpkin because it is so creamy and sweet. They are entirely orange both on the inside and outside. They are so tender that even their rind is edible and delicious. After cooking your Hokkaido pumpkin, don't trash the rinds.
I use the remaining water after boiling, plus the soft rinds, to blend them with fresh ginger, coconut, or almond milk. I like adding thyme, garlic, or onion powder; you have a filling and delicious pumpkin soup. Check also our pumpkin tahini soup.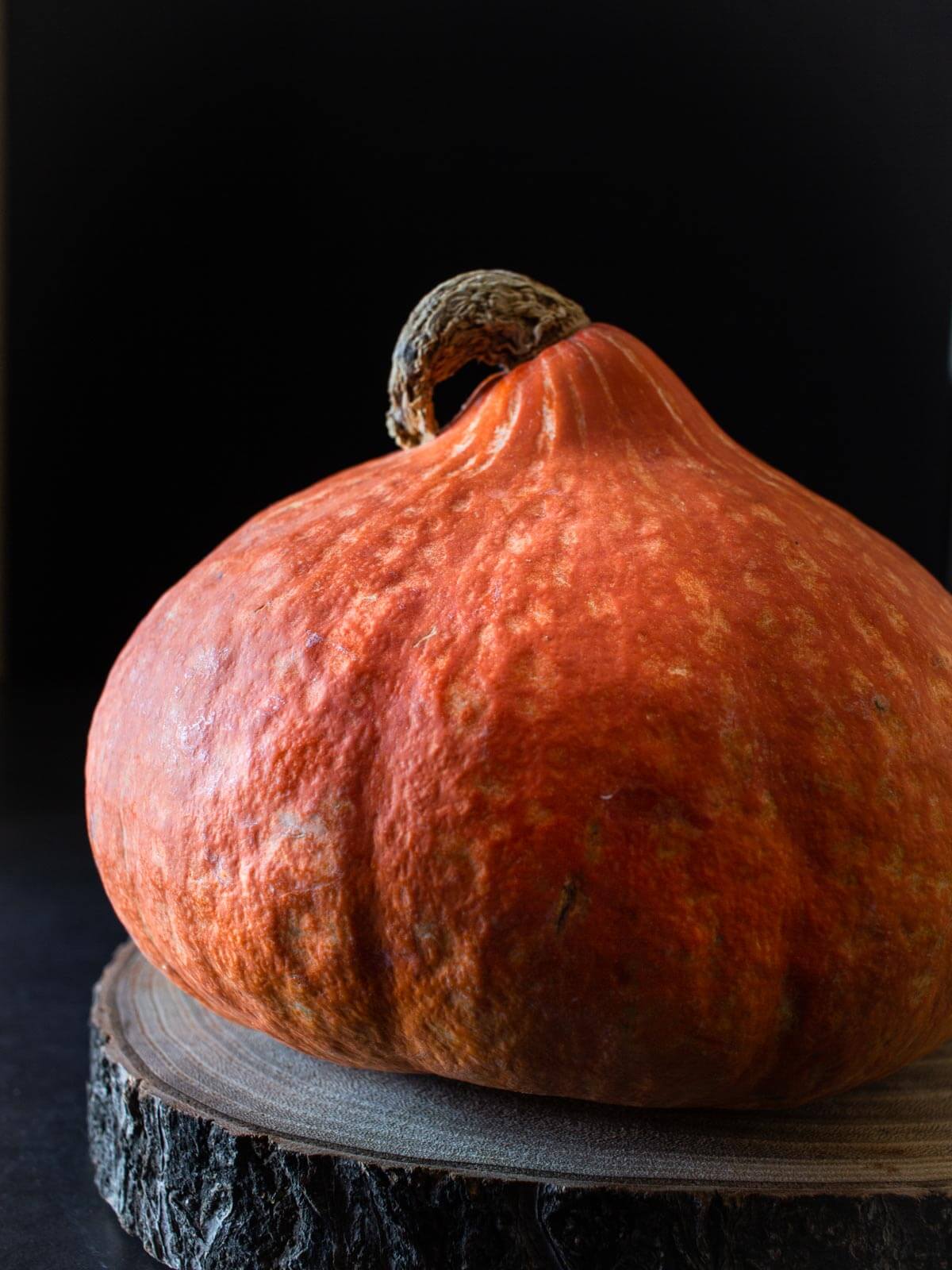 However, you can make this vegan pumpkin pie recipe with acorns; just remember that it will taste a little different because of its unique flavor profile. But hey, if you love acorns, why not try?
I have also tried making the pie with butternut squash, and it works well. Butternut squashes are also delicious to roast and make a delicious vegan side dish.
📚 More Thanksgiving dinner inspiration
Look at our vegan gravy, mashed potatoes, maple-glazed carrots, and Vegan nut roast.
Try out these fantastic crispy 4-ingredient baked sweet potatoes!
Check out this fantastic collection of Vegan Thanksgiving Menu Recipes to try!
Thank You so much, and Happy Thanksgiving!
⭐ If you try the best pumpkin pie recipe here, let us know! 💬 Leave a comment, rate it, and don't forget to tag us @ourplantbasedworld on Instagram. Cheers!
📋 Recipe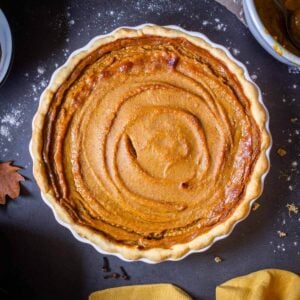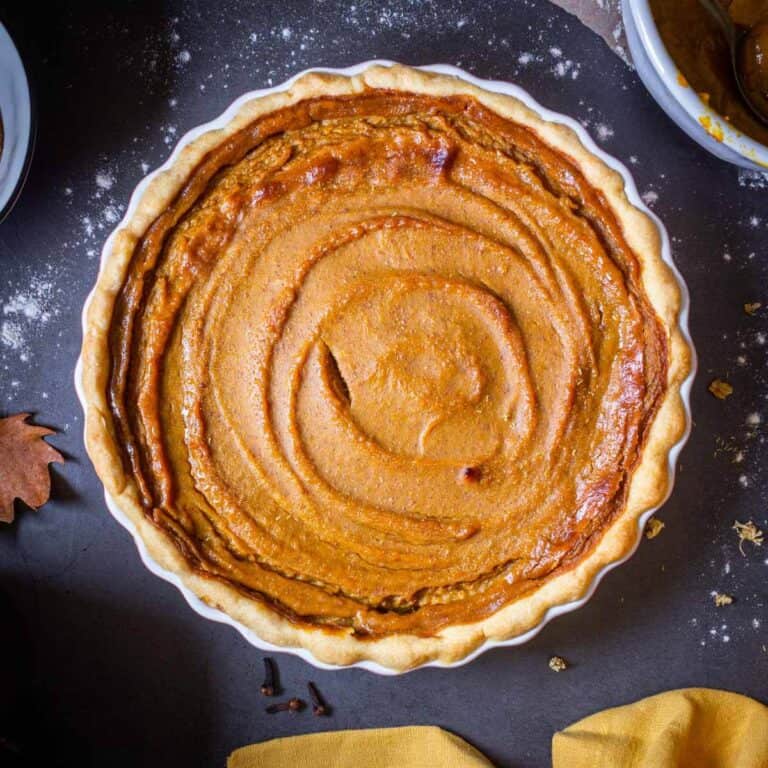 The Best Vegan Pumpkin Pie Recipe
This is the Best Vegan Pumpkin Pie recipe you will find. It's made with a healthy, vegan crust and it's completely dairy-free. If you're looking for the perfect Thanksgiving dessert without all of the guilt, this is your answer!
Equipment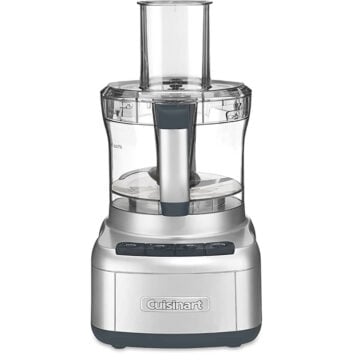 (affiliate link)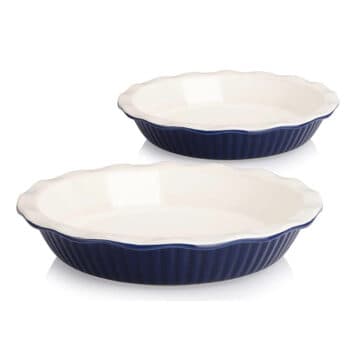 (affiliate link)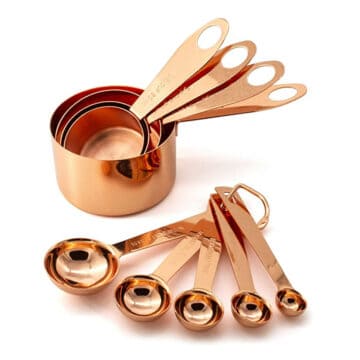 (affiliate link)
Directions
Preheat the oven to 350 °F (177 °C). Prepare a pie crust on a pie plate.

Add all ingredients. Including the drained pumpkin puree, plant milk, brown sugar, cinnamon, ginger, nutmeg, cloves, salt, and cornstarch to a blender and blend until very smooth. You may also simply whisk it together in a bowl until smooth.

Pour the mixture into a 9-inch pan lined with a pie crust. May use a vegan store-bought vegan pie crust, my Vegan Pie Crust. We don't pre-cook the pie crust. Spread the mixture evenly with a spatula.

Bake for 55-60 minutes. The middle will still look jiggly; that's normal. Let cool at room temperature for 30 minutes, then cover and transfer to the refrigerator to chill for at least 4 hours or overnight.

Slice and serve with Vegan Whipped Cream or store-bought non-dairy whipped topping, if desired. Enjoy!

Store pumpkin pie leftovers in an airtight container for up to 3 days in the fridge.
Notes
If the crust starts to burn, cover the edges of the crust with aluminum foil or a pie shield after about 30 minutes of baking.
Optionally, you can blind-bake the homemade crust for 10 minutes- before pouring the pumping pie filling. This works best when the crust is thick.
Nutrition Facts
Calories:
300
kcal
Carbohydrates:
53
g
Protein:
3
g
Fat:
8
g
Saturated Fat:
2
g
Polyunsaturated Fat:
2
g
Monounsaturated Fat:
3
g
Trans Fat:
1
g
Sodium:
359
mg
Potassium:
289
mg
Fiber:
2
g
Sugar:
28
g
Vitamin A:
5414
IU
Vitamin C:
5
mg
Calcium:
80
mg
Iron:
2
mg
Nutrition Facts
The Best Vegan Pumpkin Pie Recipe
Amount per Serving
% Daily Value*
* Percent Daily Values are based on a 2000 calorie diet.
Nutritional Disclaimer
The information shown is an estimate provided by an online nutrition calculator. It should not be considered a substitute for a professional nutritionist's advice. See our full Nutritional Disclosure here.
Affiliate Disclaimer
Please note that some of the links here are affiliate links, and I will earn a commission if you purchase through those links. I recommend all of the products listed because they are companies I have found helpful and trustworthy.