Hey snack enthusiasts, excited about the pumpkin season? Ever find yourself in a snack rut and craving something that's not just tasty but also packs a nutritional punch? Drumroll, please... Introducing our Healthy Pumpkin Protein Balls—a no-bake snack that's about to become your new best friend. These bite-sized powerhouses are loaded with protein and the cozy flavors of fall, making them the perfect pick-me-up for busy days or post-gym refueling. And the best part? No oven, no fuss, just pure deliciousness. Ready to shake up your snack game? Let's roll!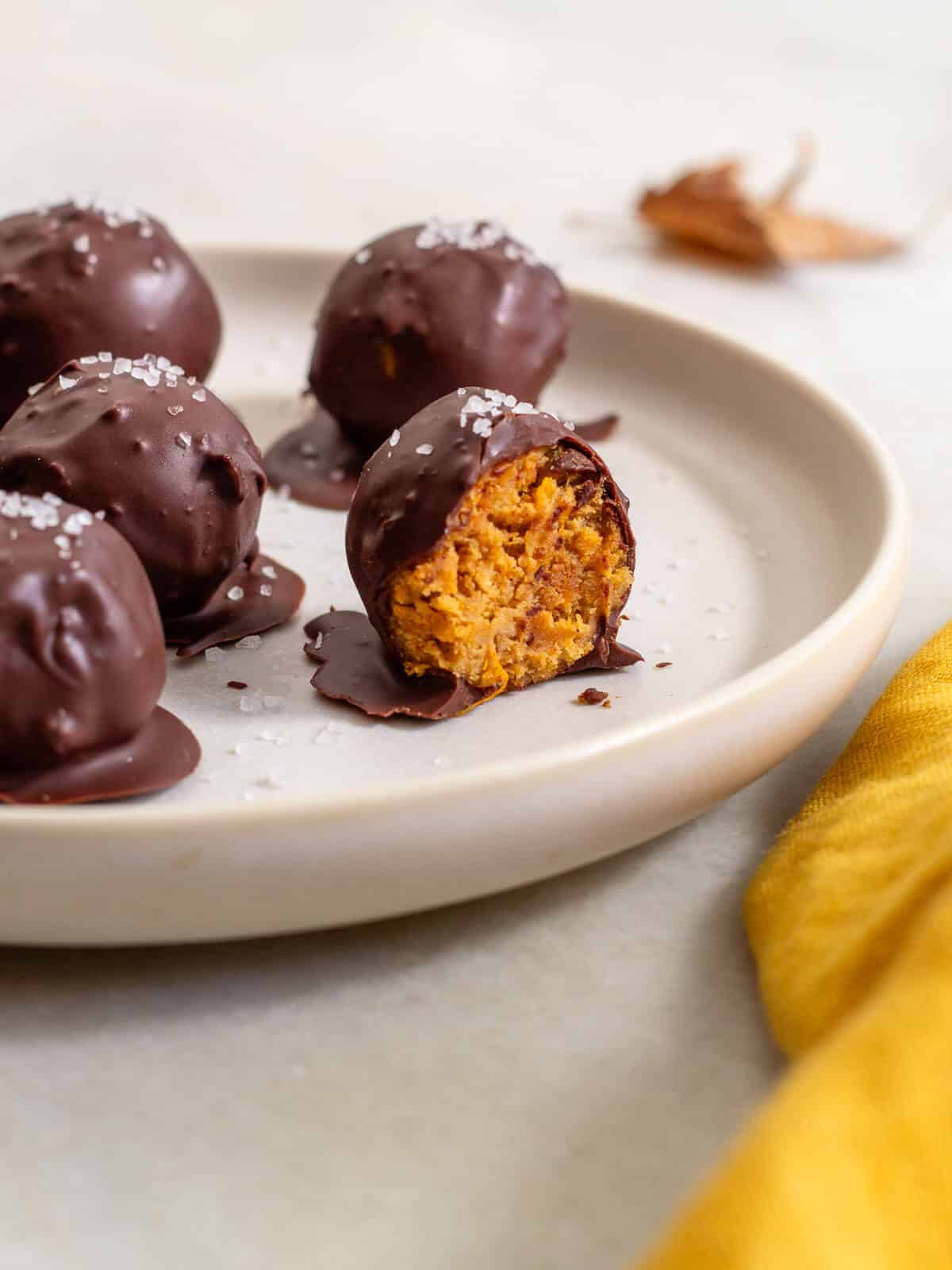 Alright, let's dive into why these pumpkin-packed protein balls are the real deal of the Fall Season!
Jump to:
🧡 Why you will love these pumpkin cake balls
First off, let's talk nutrition. These aren't your average sugary, empty-calorie snacks. Nah, these are like the superheroes of the snack world. Packed with real pumpkin puree, they're a great source of fiber, vitamins, and minerals. Add in some creamy peanut butter and you've got yourself a dose of protein and healthy fats. And let's not forget the pure maple syrup, a natural sweetener that won't send your blood sugar on a rollercoaster ride.
Secondly, can we talk about how easy these are to make? You don't need to be a culinary wizard to whip these up. All you need is a large mixing bowl, and you're good to go. No baking required—just mix, roll, and chill. Seriously, it takes just a few minutes. And the best part? You can make a big batch and store them in an airtight container for up to a week. Meal prep, anyone?
Lastly, the versatility of these little bites is off the charts. Want to switch things up? You can easily substitute almond butter for peanut butter or use oat flour instead of almond meal. And if you're feeling extra, you can even dip them in some vegan meltable chocolate mixed with a bit of coconut oil for that glossy finish. Plus, they're gluten-free and dairy-free, making them the perfect snack for almost anyone.
So, are you ready to elevate your snack game and give these pumpkin protein balls a whirl? Trust us; your taste buds (and your waistline) will thank you! 🎉
🧾 Ingredients
These gluten-free energy balls are made with just a few delicious ingredients: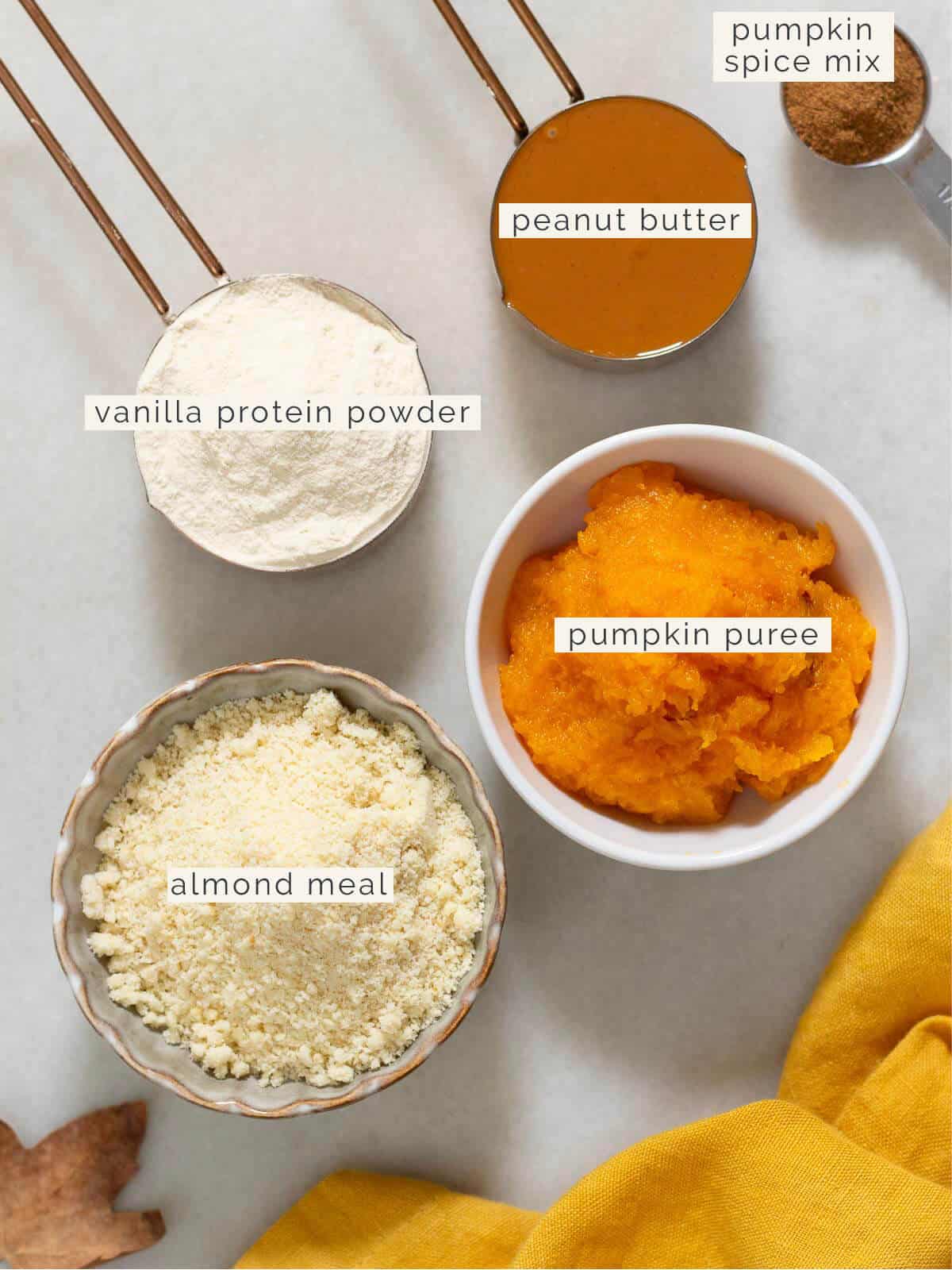 Pure Pumpkin puree: The star of the show it adds moisture and that quintessential fall flavor. Plus, it's rich in fiber and vitamins. You can use canned pumpkin.
Creamy Peanut butter: It's not just for the creamy texture; it also adds a protein kick and healthy fats to keep you full longer.
Pure maple syrup: A natural sweetener that brings a touch of earthy sweetness without refined sugars. It also pairs beautifully with pumpkin.
Almond pulp or almond meal Adds a nutty flavor and helps bind the balls together. It's also a great source of vitamin E and magnesium.
Pumpkin pie spice mix: This blend of cinnamon, nutmeg, and ground cloves elevates the fall flavors and adds a warming touch to each bite. We like using homemade pumpkin pie spice (see our recipe).
Vanilla protein powder or cookie dough protein, rice flour, almond flour: Your choice of protein or flour adds structure and ups the protein content. Plus, it makes these balls a legit post-workout snack.
Fine sea salt: A pinch enhances all the flavors and balances out the sweetness. It's the unsung hero in most recipes.
Optional coverings
Vegan Meltable Chocolate or Mini Chocolate Chips, Combined with Meltable Chocolate: The ultimate indulgence that makes these protein balls irresistible. And hey, it's vegan, so no guilt attached!
Coconut Oil: Helps the chocolate coating achieve a smooth, glossy finish. Plus, it's a healthier fat option.
Vanilla Extract: Adds another layer of cozy flavor that complements the pumpkin and spices beautifully.
Shredded Coconut: Sprinkle some on top or mix it into the dough for a tropical twist and added texture. It's like a mini-vacation in every bite!
Chopped Nuts like Almond Granite: These add a delightful crunch and a boost of healthy fats and protein. Think of it as a crunchier, nuttier experience.
Cocoa Powder: Roll the balls in cocoa powder to give them a semi-sweet chocolate profile. It's like wrapping your pumpkin protein balls in a chocolatey hug, adding depth and richness to each bite.
Optional mix-ins
Chopped nuts, mini chocolate chips, raisins, sultanas, or dried cranberries to turn your protein balls into energy powerhouses.
See the recipe card for quantities.
🔪 Instructions
These pumpkin balls require very few steps.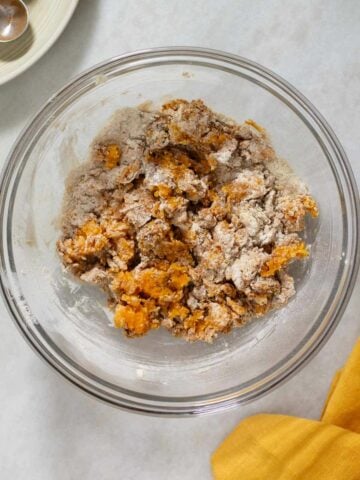 Step 1: Add all the cookie dough ingredients in a large bowl and combine thoroughly.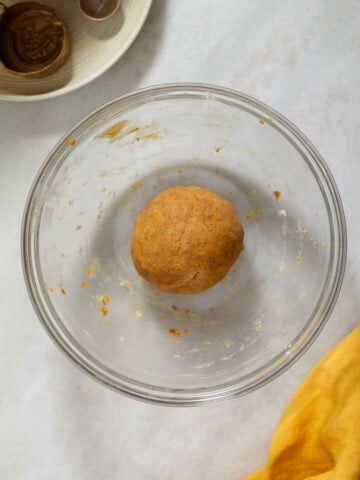 Step 2: Make a homogenous ball; then shape small balls with your hands or using an ice cream scoop.
Hint: at this point, if you have the luxury of time, you can let the ball chill in the fridge for 20-30 mins for the to be easier to handle and avoid getting your hands too sticky.
Set your covering of choice in small balls you can manage easily with the help of a teaspoon.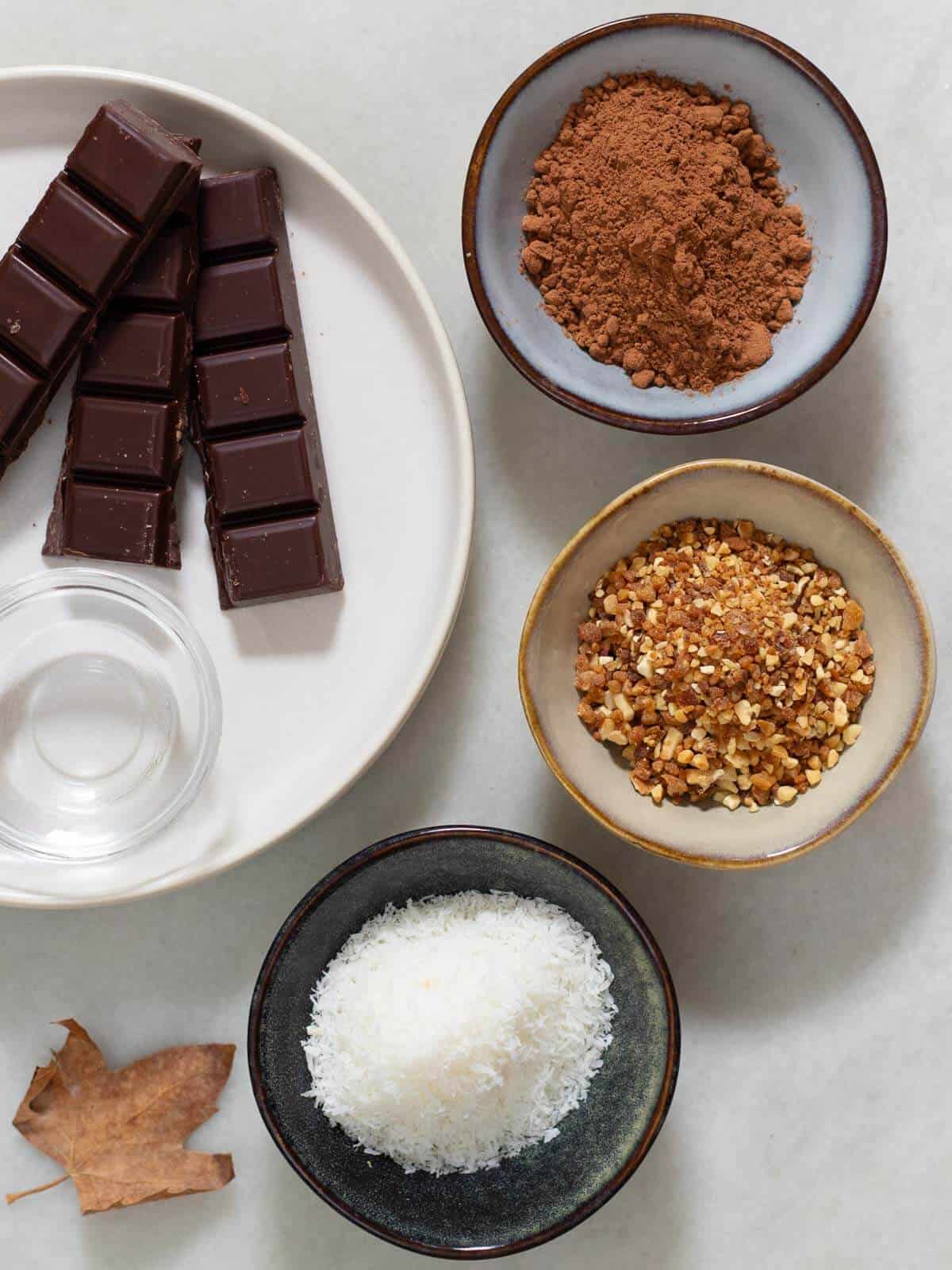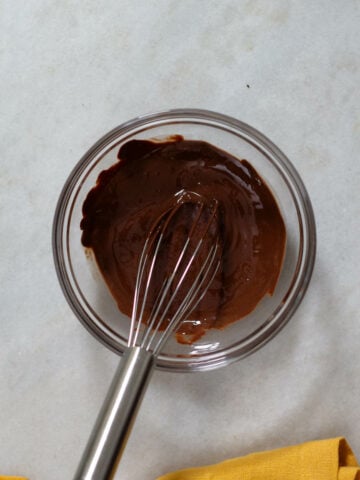 Step 3: Melt the dark chocolate in a microwave-safe dish and combine it with coconut oil.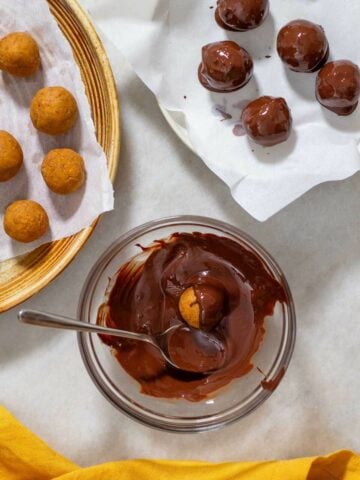 Step 4: Cover the pumpkin snacks with the melted chocolate mixture.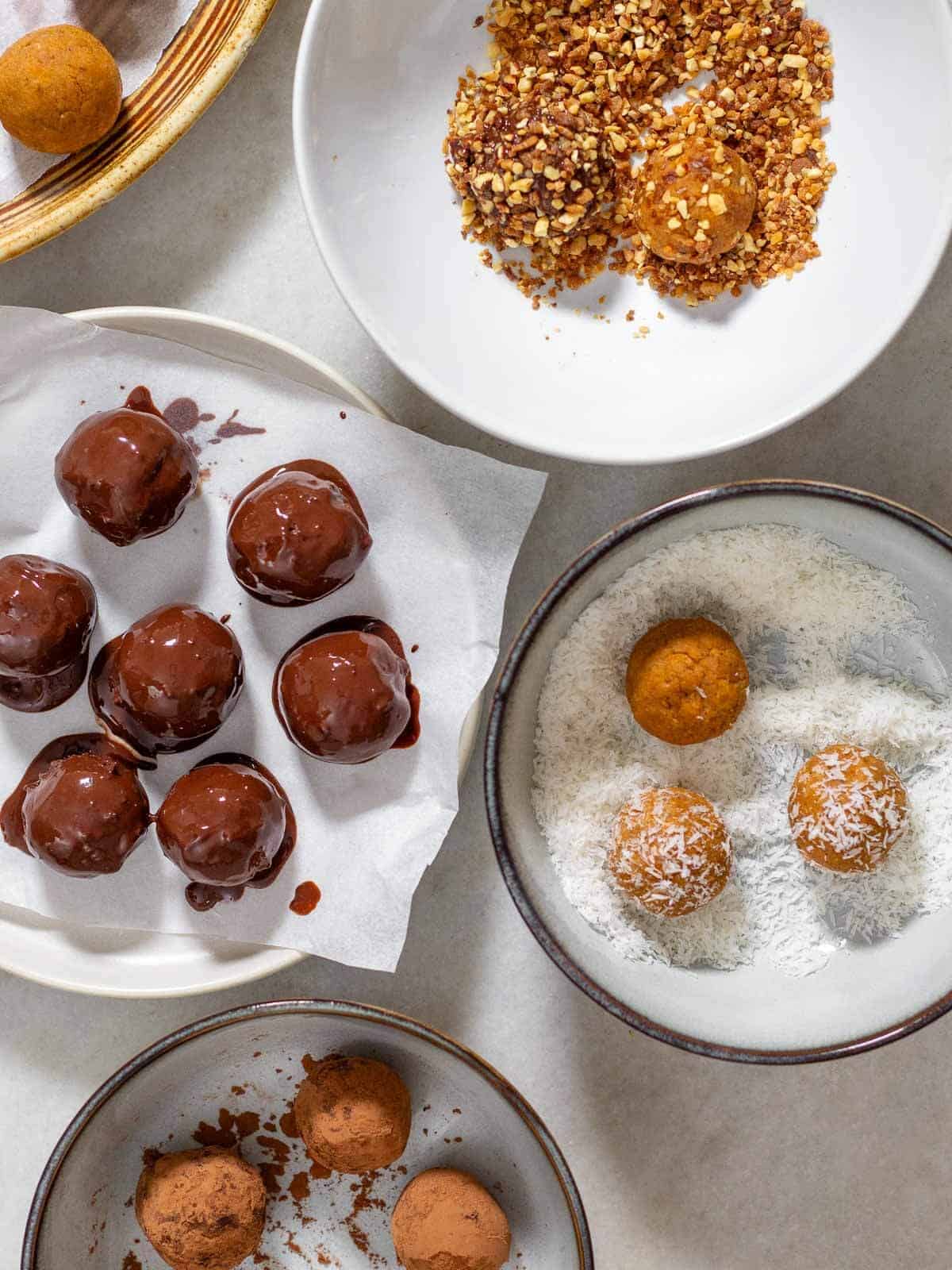 Hint: If you're looking to cut back on calories, you can totally enjoy these as "naked-pumpkin balls." Simply skip the optional toppings and freeze them as is. You'll still get all the pumpkin goodness and protein benefits, just with fewer calories.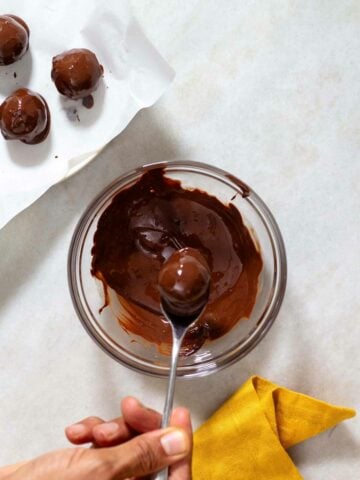 Step 5: Line a parchment paper on top of a plate and deposit the chocolate-covered balls on it.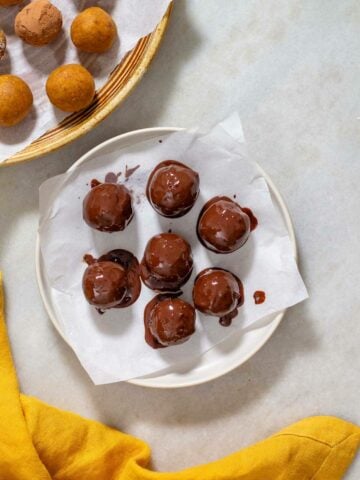 Step 6: Take the plate to the freezer for 10-15minutes, or in the fridge for 30 minutes.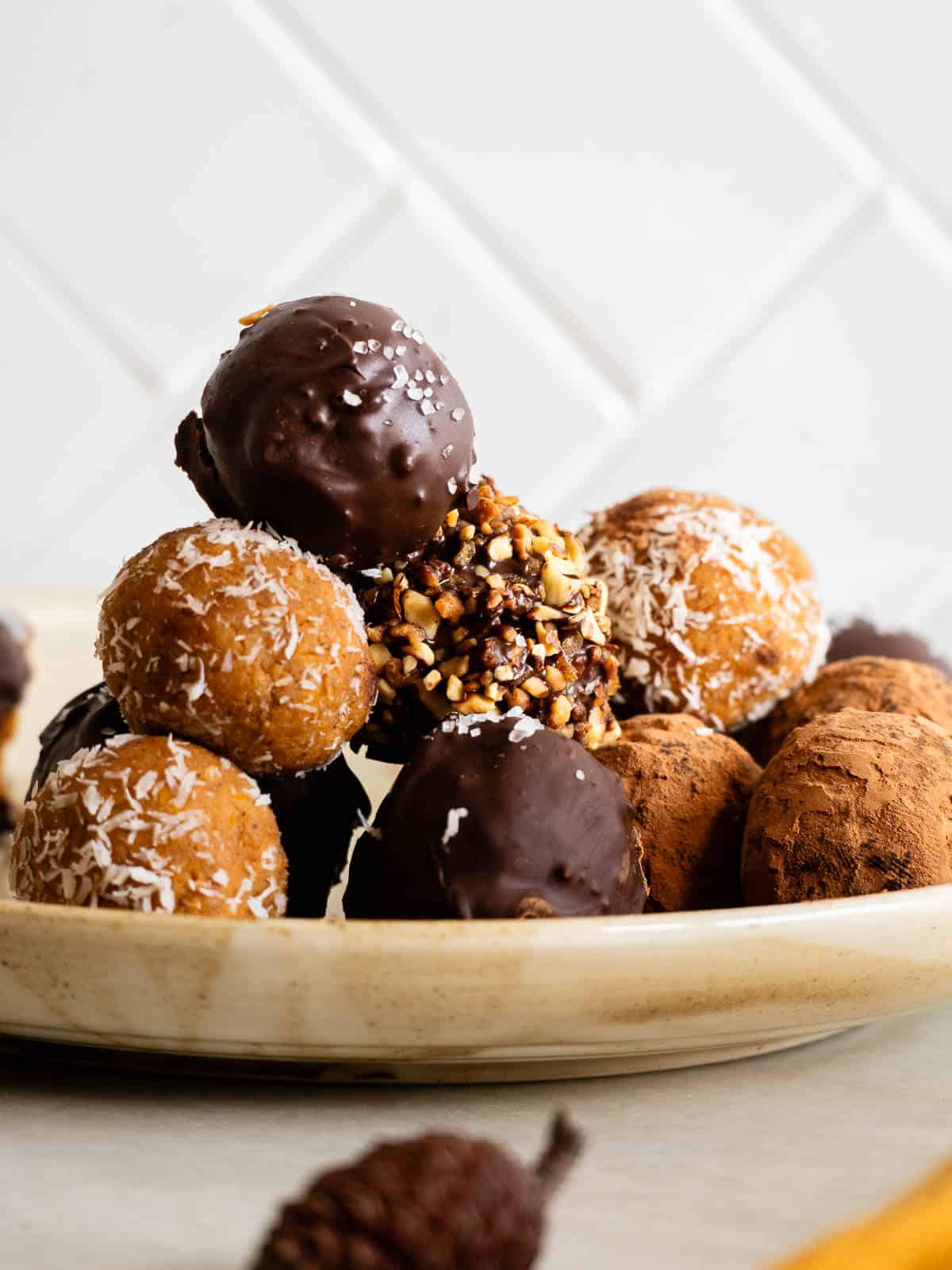 🥢 How to serve
Straight-Up Snacking: Remove these beauties from the freezer 5-10 minutes before you dig in. This allows the flavors to meld and shine, making each bite a cozy, pumpkin-spiced dream. Have them for breakfast with a pumpkin spice latte, for the ultimate treat (see our pumpkin spice latte recipe).
Pumpkin Parfait: Layer these protein balls with vegan yogurt, granola, and a drizzle of maple syrup for a decadent yet healthy dessert. Again, remember to remove them from the freezer 5-10 minutes before assembling your parfait to fully enjoy the flavors.
🍶 Substitutions and Variations
Pumpkin Puree: The star ingredient— you can make your own or sub for sweet potato puree or even butternut squash! You can also use pumpkin pie filling (recipe), in which case you can skip the pumpkin spice mix.
Creamy Peanut Butter: Swap it out for almond butter, sunflower seed butter, or cashew butter for a different nutty vibe.
Pure Maple Syrup: Agave nectar or coconut sugar can step in for a different kind of sweetness.
Almond Pulp or Almond Meal: Oat flour, coconut flour, ground oats, or chickpea flour can also do the trick.
Pumpkin Pie Spice Mix: Make your own blend with cinnamon, nutmeg, and cloves, or use allspice for a quick fix.
Vanilla Protein Powder: Opt for cookie dough flavored protein, hemp protein, or pea protein if you're looking for an alternative.
Optional Ingredients:
Vegan Meltable Chocolate: Cacao nibs or carob chips can offer a different kind of chocolatey goodness. You can also use white chocolate chips.
Coconut Oil: Cacao butter or vegan butter can help you achieve that smooth, glossy chocolate coating.
🍽 Equipment
Large Mixing Bowl

(affiliate link)

: This is where the magic happens, folks. You'll be mixing all your ingredients here, so make sure it's big enough to give you room to stir without making a mess. Plus, it's easier to get a uniform mix in a spacious bowl.
Whisk

(affiliate link)

: When it comes to integrating that luscious melted chocolate and coconut oil, a whisk is your best friend. It ensures a smooth, lump-free mixture that'll coat your pumpkin balls like a dream.
Parchment Paper

(affiliate link)

: Don't skip this! Lining your tray with parchment paper before popping your pumpkin balls into the freezer ensures they won't stick. Plus, it makes for super easy cleanup. Win-win!
🥡 Storage
Fridge Fresh: Store these protein-packed delights in an airtight container in the fridge. They'll stay good for up to a week, making them a convenient grab-and-go option for those hectic mornings or post-workout munchies.
Freezer Friendly: If you're looking to stock up, these balls are freezer-friendly too! Place them on a baking sheet lined with parchment paper and freeze until solid. Once they're frozen, transfer them to an airtight container and store them in the freezer. When you're ready to enjoy, remember to take them out 5-10 minutes before eating to let those flavors really pop.
💡 Top tip
Chill the Dough: Before rolling your mixture into balls, let the dough chill in the fridge for about 20-30 minutes (only if you have the time).
This makes it easier to handle and helps the balls hold their shape better. Trust us, this simple step is a game-changer for achieving that perfect round shape every single time.
❓ FAQ
Why Eat Protein After a Workout?
Ah, the age-old question! Consuming protein post-workout is like giving your muscles a high-five. When you exercise, you're essentially creating tiny tears in your muscle fibers. Protein helps repair these tears, allowing your muscles to grow stronger and more resilient. Plus, it aids in quicker recovery, so you're not waddling around like a penguin the next day. So, popping a couple of these pumpkin protein balls after hitting the gym? Totally a win-win for both your taste buds and your muscles.
📚 More protein snacks recipes
Love snacking? Try out our homemade granola bars, low-calorie protein balls, delicious date granola bars, and fig bars.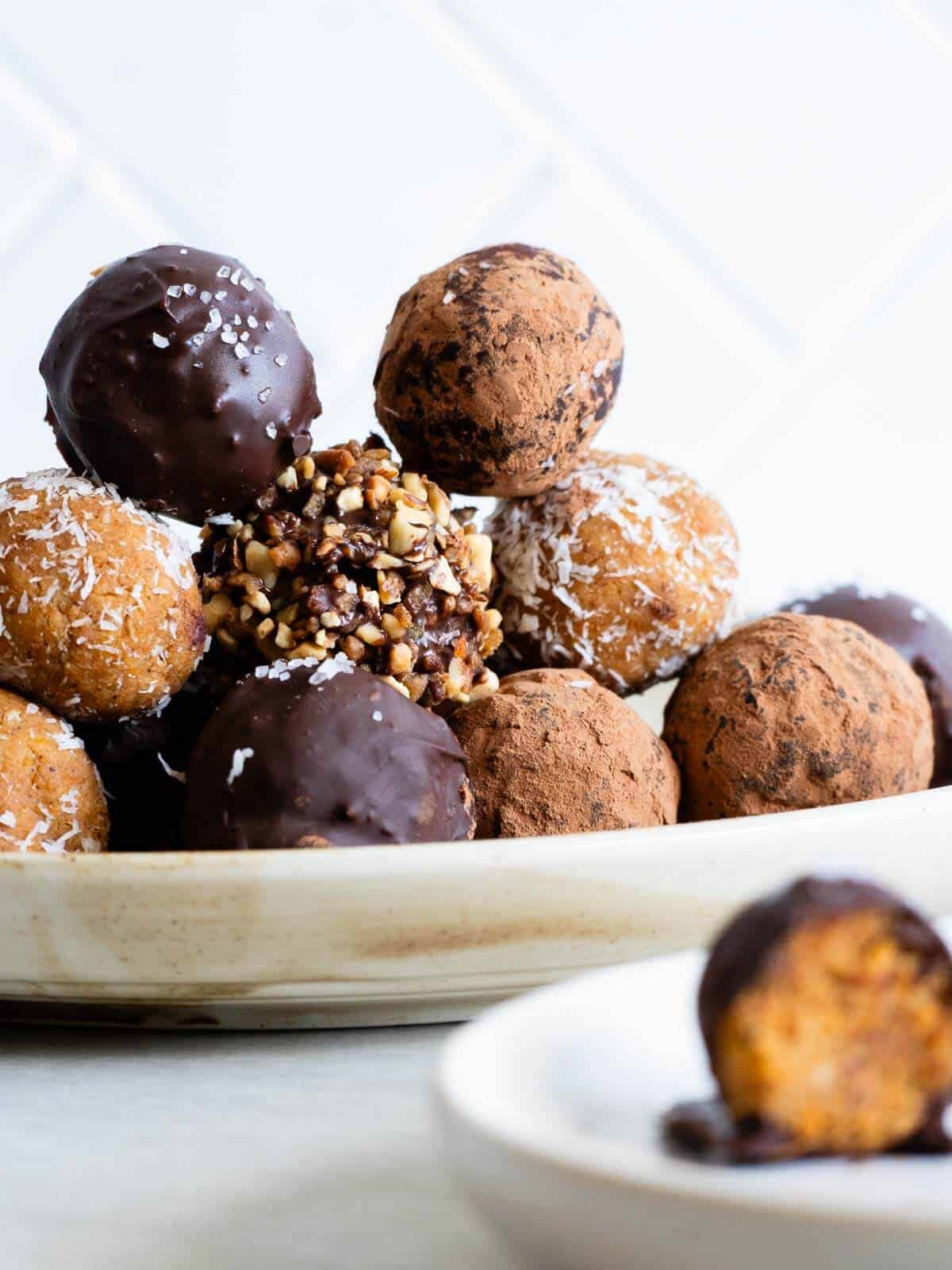 ⭐ If you try this energy protein balls recipe, let us know! 💬 Leave a comment, rate it, and don't forget to tag us @ourplantbasedworld on Instagram. Cheers!
📋 Recipe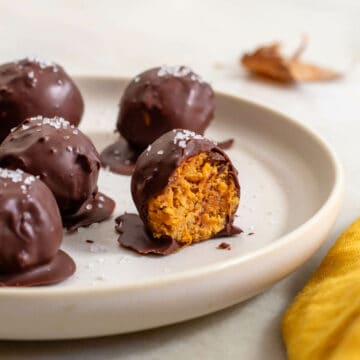 Healthy Pumpkin Protein Balls (No-Bake Snack)
Indulge in our No-bake Pumpkin Protein Balls for a guilt-free treat! These gluten-free energy balls are your perfect on-the-go snack.
Equipment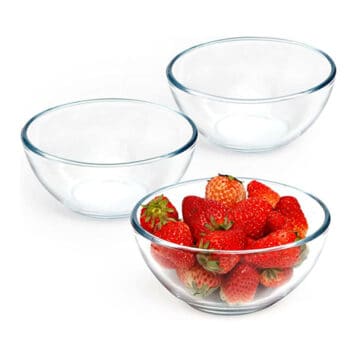 (affiliate link)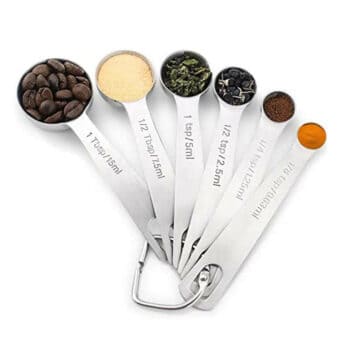 (affiliate link)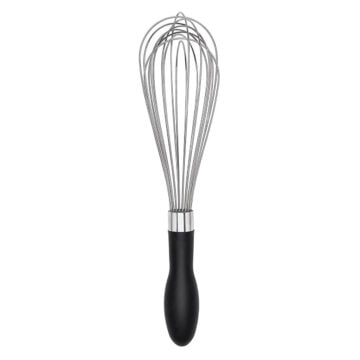 (affiliate link)
Ingredients
⅓

cup

pumpkin puree

¼

cup

peanut butter

or nut butter

1 ½

tablespoons

pure maple syrup

½

tablespoon

pumpkin spice mix

or a mix of ground ginger, cinnamon, nutmeg, and cloves.

¼

cup

vanilla protein powder

or cookie dough protein, or rice flour, almond flour

⅓

cup

almond meal

or extra protein powder
Optional covering
⅛

teaspoon

coarse sea salt

or flaky salt (optional)

1

teaspoon

coconut oil

1

cup

vegan meltable chocolate

(8 oz) or chocolate chips, combined with meltable chocolate

¾

teaspoon

vanilla extract

if using unflavored protein powder, or almond, or rice flour
Directions
Mix Ingredients: Combine the pumpkin puree, peanut butter, almond meal, pumpkin pie spice, and protein powder. Stir until you get a sticky dough that's well-mixed.Optional Chill: If you've got some extra minutes, let the dough chill in the fridge for 20-30 minutes. It's not a must, but it does make the next steps a bit easier.

Prep for Rolling: Get your hands, a cookie dough scoop, or a spoon ready for action.

Roll 'Em Up: Take equal portions of the mixture and roll them into 10 bite-sized balls, each weighing around 20 grams. Pro tip: If things get too sticky, dampen your hands a bit for smoother rolling. Make sure the balls are tightly packed to hold everything together.

Line 'Em Up: Place your freshly rolled balls on a plate or baking sheet lined with parchment paper. If you want naked protein balls, pop the balls in the fridge for a minimum of 30 minutes to let them firm up. In a hurry? You can also fast-track the process by freezing them for 10-15 minutes. Enjoy!
Optional chocolate coating
Melt Chocolate: Pop the dark chocolate into the microwave and heat in 30-second intervals, stirring in the coconut oil after the first 30 seconds and continuing until completely melted. You may need to mix it up with a fork or a small whisk- to make sure it combines well.

Chocolate Dip: One by one, dunk each ball into the melted chocolate, ensuring an even coat. Place them back on the baking sheet.

Salt Sprinkle: Add a dash of flakey sea salt on top of each ball. Then, send them off to the fridge or freezer to harden and set.

Chill & Enjoy: Once they're chilled, your bliss balls are ready to rock your taste buds! Store any extras in an airtight container in the fridge.
Notes
Please take a look at the substitutions section for flavor variations. 
The nutrition facts are based on the naked protein balls version.
If you add the chocolate coating- per balls you have:
Kcal: 104
Protein: 2 g
Fat: 6 g
Carbs: 11 g
Nutrition Facts
Calories:
41
kcal
Carbohydrates:
3
g
Protein:
2
g
Fat:
2
g
Saturated Fat:
1
g
Polyunsaturated Fat:
1
g
Monounsaturated Fat:
1
g
Cholesterol:
4
mg
Sodium:
24
mg
Potassium:
49
mg
Fiber:
0.4
g
Sugar:
2
g
Vitamin A:
848
IU
Vitamin C:
0.3
mg
Calcium:
17
mg
Iron:
0.2
mg
Nutrition Facts
Healthy Pumpkin Protein Balls (No-Bake Snack)
Amount per Serving
% Daily Value*
* Percent Daily Values are based on a 2000 calorie diet.
Nutritional Disclaimer
The information shown is an estimate provided by an online nutrition calculator. It should not be considered a substitute for a professional nutritionist's advice. See our full Nutritional Disclosure here.
Affiliate Disclaimer
Please note that some of the links here are affiliate links, and I will earn a commission if you purchase through those links. I recommend all of the products listed because they are companies I have found helpful and trustworthy.