Ever get tired of the same old chickpea hummus and crave something a bit more adventurous? Well, buckle up, because we're diving into the world of lentil hummus. This lentil dip recipe is not just a game-changer; it's a whole new league of deliciousness. So grab your tahini, and let's get blending!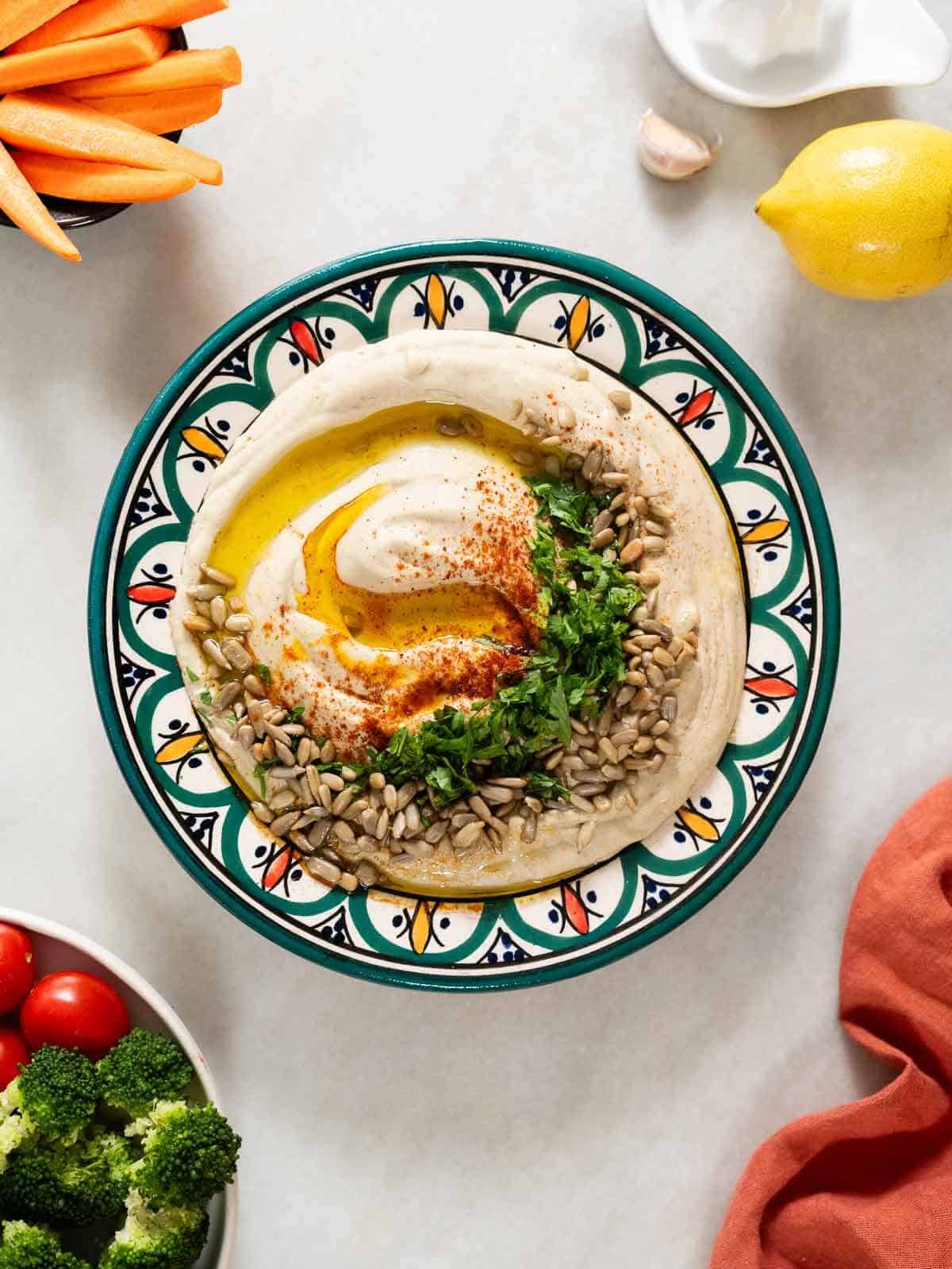 💚 Why you will love this recipe
Nutrient-Packed: This isn't just a bowl of deliciousness; it's a bowl of health too! Lentils are a great source of protein and fiber, making this a guilt-free snack you can indulge in.
Versatile: Whether you're spreading it on a sandwich, dipping veggies, or just eating it by the spoonful, this hummus fits into any meal plan. It's the Swiss Army knife of the culinary world!
Quick and Easy: No need to soak lentils overnight or spend hours in the kitchen. This recipe comes together in a snap, giving you more time to enjoy it.
Flavor Explosion: With ingredients like tahini, garlic, and smoked paprika, each bite is a journey of flavors. It's like a party in your mouth, and everyone's invited!
Customizable: Like it spicier? Add more smoked paprika. Want it creamier? Toss in some extra tahini. This recipe is your canvas, and you're the artist. Go ahead, make it your own!
Jump to:
🧾 Ingredients
The ingredients that make this hummus SO good are: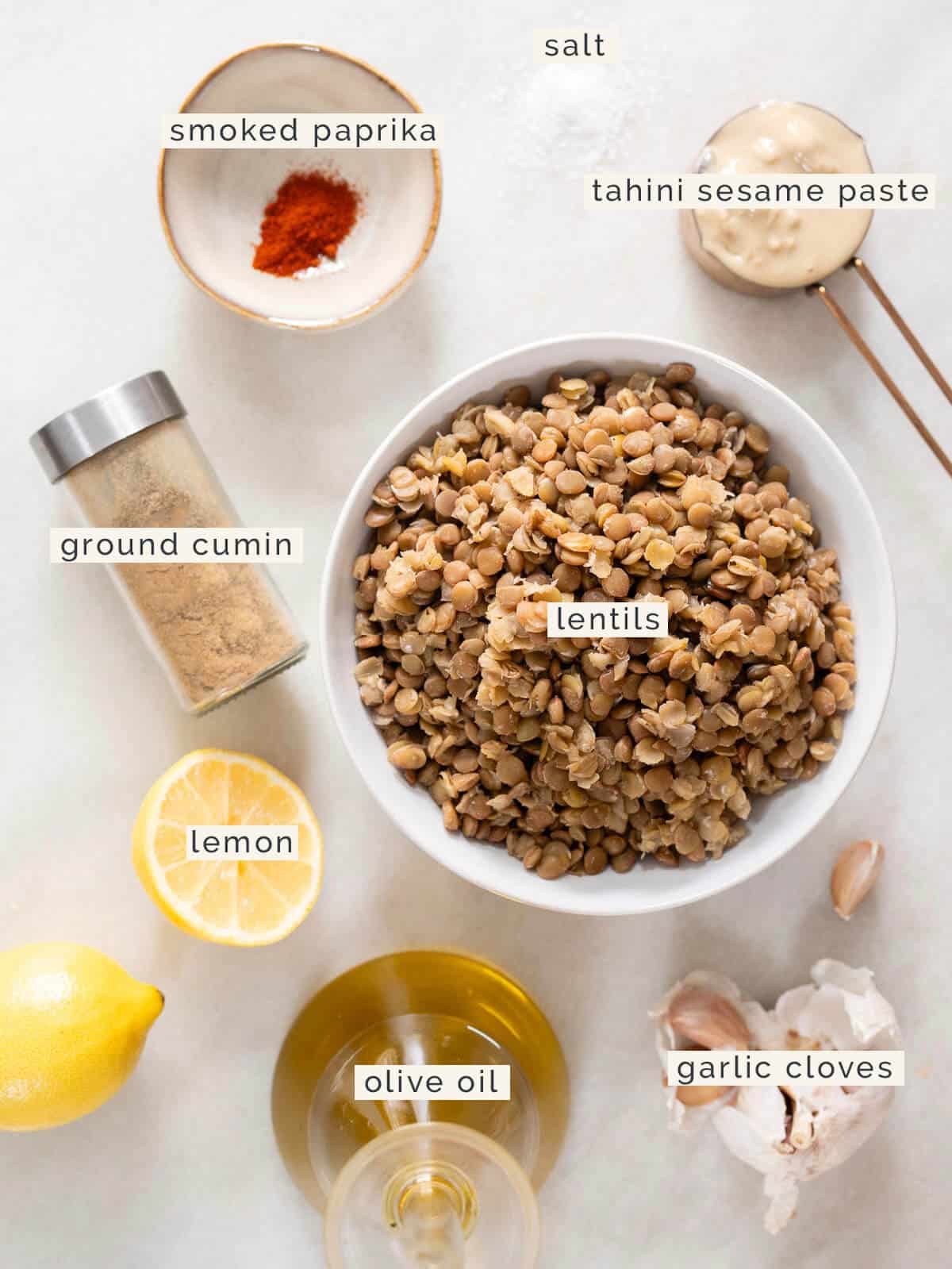 Green Lentils: (AKA brown lentils) The star of the show, lentils bring in protein and fiber, making this hummus not just tasty but also nutritious.
Tahini sesame paste: This adds a rich, nutty flavor and creaminess while also contributing calcium and healthy fats.
Olive oil: Used for its fruity undertones, it also helps blend the ingredients to a smooth consistency.
Lemon juice: Adds a zesty kick and brightness, balancing out the earthiness of the lentils.
Garlic cloves: Garlic infuses the hummus with a pungent kick essential for depth of flavor.
Ground Cumin: This spice adds a warm, aromatic layer that complements the lentils beautifully.
Smoked Paprika: Brings a smoky touch, elevating the hummus to a gourmet level.
Iced cup water as needed, have more handy to adjust: Helps in achieving your desired consistency, making the hummus as thick or as runny as you like.
Fine sea salt: Enhances all the flavors, making each ingredient pop without overpowering.
Optional ingredients
Ground Cinnamon: Adds a subtle sweetness and warmth, making the hummus multidimensional.
Fresh parsley: Provides a pop of color and a fresh, herby note.
Toasted seeds like pepitas: Add a crunchy texture and nutty flavor, making each bite interesting.
See the recipe card for quantities.
🔪 Instructions
The ingredients that make this lentil hummus SO good are: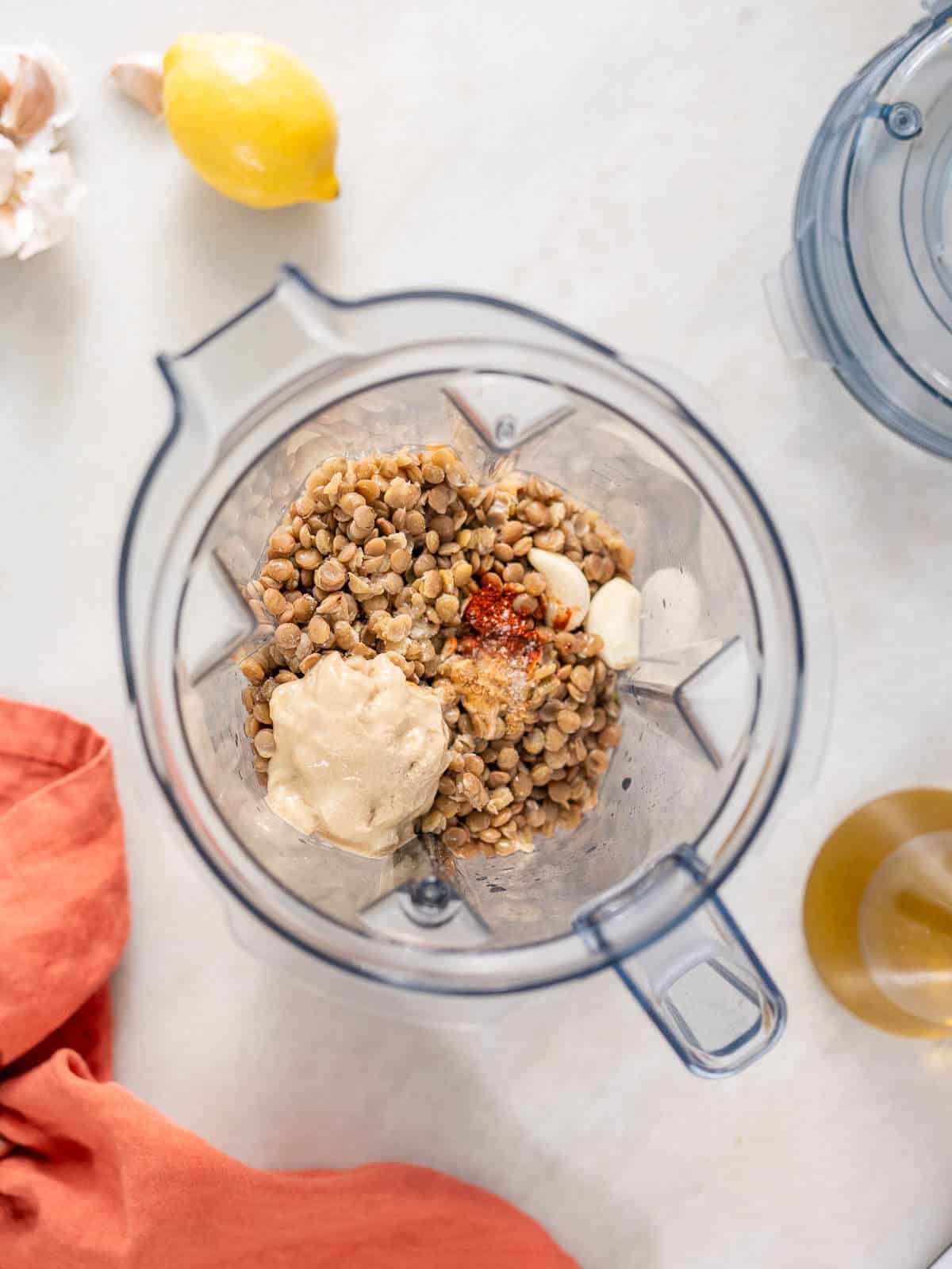 Step 1: Place all the chopped ingredients on the blender's vase.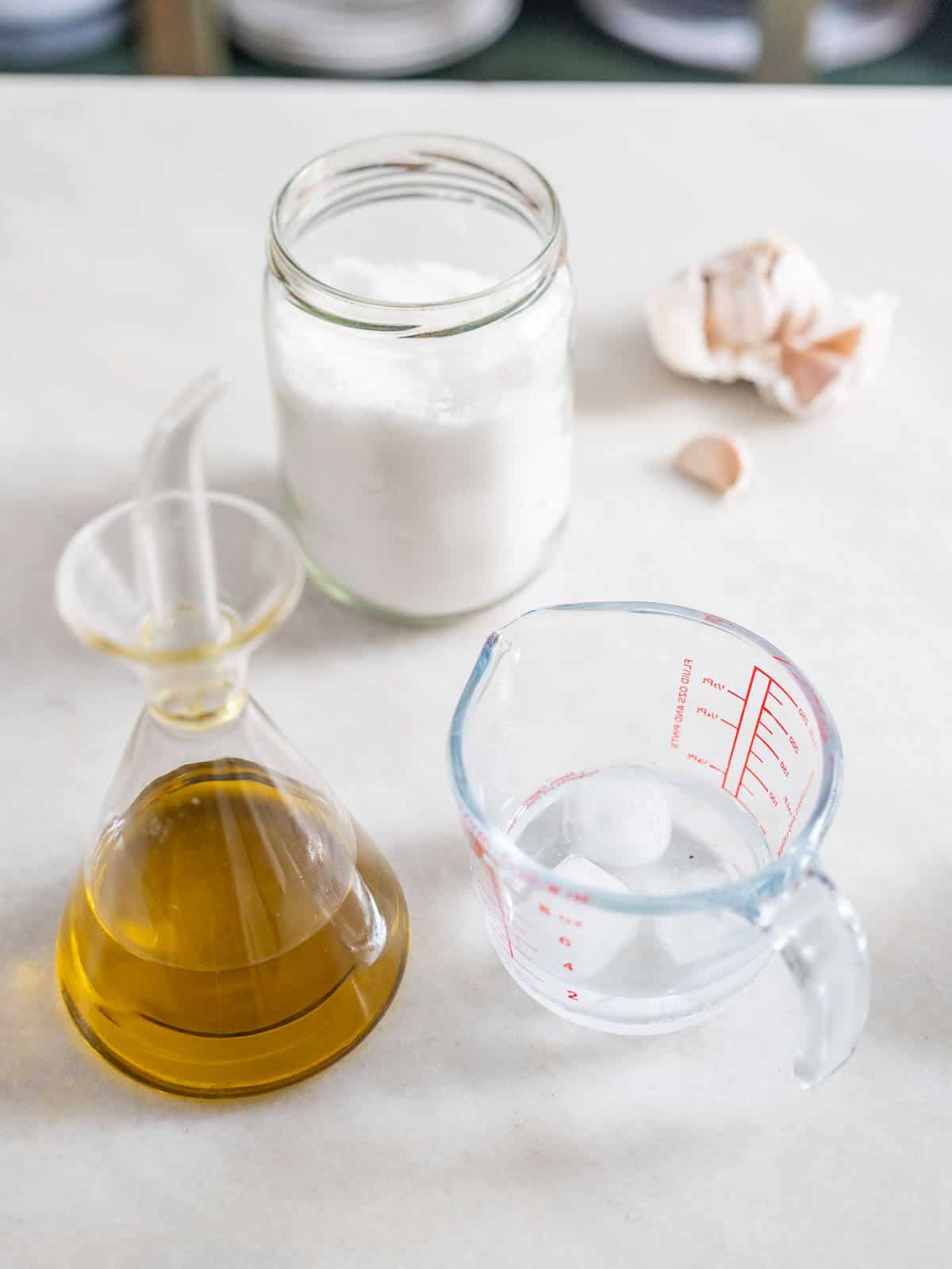 Step 2: Keep salt, cold water, garlic, and salt close to adjust the flavor to your liking.
Hint: always use cold water to ensure your hummus texture is super silky.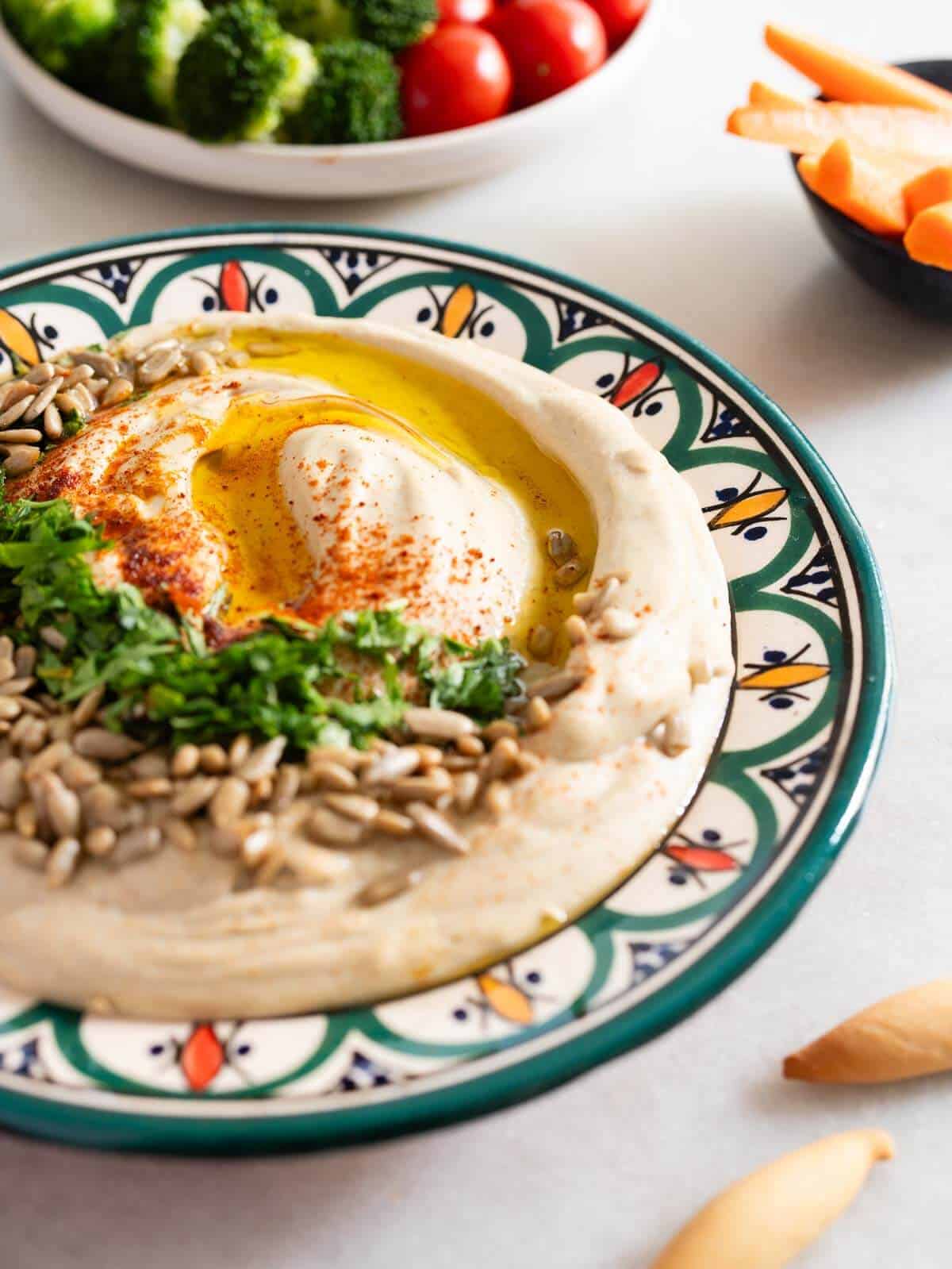 Hint: If you're opting for dried lentils over canned, make sure to soak them for at least 30 minutes or overnight for better digestibility and quicker cooking. After soaking, rinse them well and cook in a medium saucepan with plenty of water until tender. This will not only make your lentils easier to blend but also enhance the overall texture and flavor of your hummus. Plus, using dried lentils is a great way to control the sodium content in your recipe. Just remember to adjust the cooking time and keep an eye on them to prevent overcooking.
Read on: black-eyed peas hummus and traditional Lebanese Hummus.
🥢 How to serve
Pita Chips and Veggies: The quintessential way to enjoy this lentil hummus is with a side of crispy pita chips and fresh veggies like carrots and cucumbers. It's a classic combo that never fails to satisfy.
Spread on Sandwich: Elevate your regular hummus sandwich by swapping in this lentil dip. Layer it with fresh veggies and perhaps some smoked paprika for an extra kick.
Stuffed Sweet Potato: For a creative twist, use the lentil hummus as a filling for baked sweet potato fries. Top it off with some chopped parsley and a drizzle of extra virgin olive oil for a meal that's as nutritious as it is delicious.
For more creative ideas, check out our post about what to eat with hummus.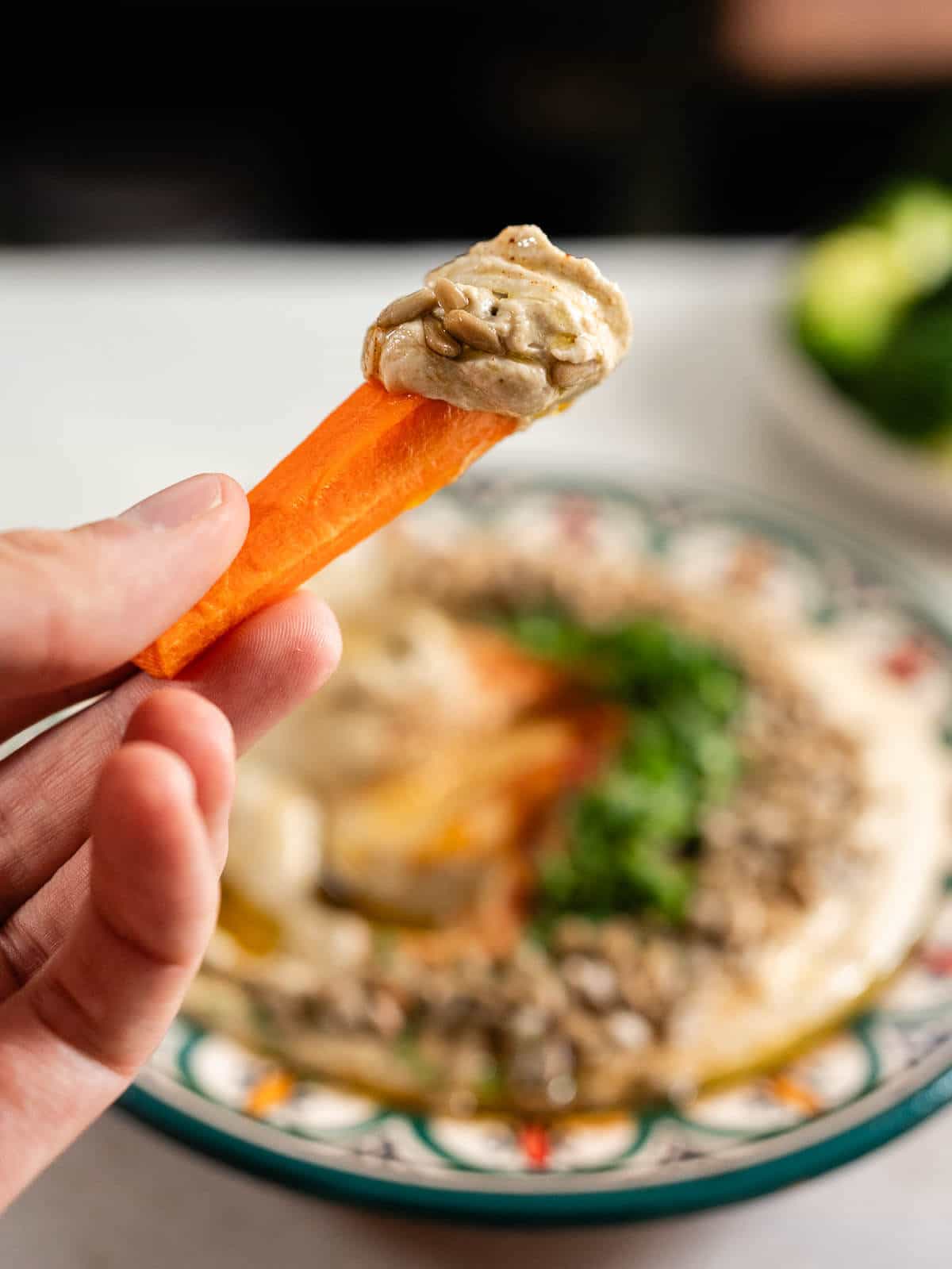 💡 Top Tip
To get that creamy, dreamy texture every time, make sure your food processor or blender is up to the task. If you're using a less powerful appliance, consider mincing the garlic and using cooked lentils that are well-drained to make the blending process smoother. A high-speed food processor is your best friend for achieving the desired consistency in this lentil hummus recipe.
🍶 Substitutions
Tahini Sesame Paste: If you're out of tahini, you can use cashew butter or even your own tahini made from toasted sesame seeds.
Olive Oil: For a lower saturated fat option, you can use avocado oil or even a thin layer of vegetable broth for oil-free versions.
Lemon Juice: Lime juice or apple cider vinegar can work as a good substitute for fresh lemon juice, especially if you're looking to create a vegan buttermilk effect with plant milk.
Garlic Cloves: onion powder, garlic powder, or roasted garlic can be used if fresh garlic isn't available. Just adjust to taste.
Cumin Ground: Ground coriander or a mix of black pepper and lemon zest can serve as a substitute for ground cumin.
Smoked Paprika: Regular paprika or a dash of cayenne pepper can be used if you don't have smoked paprika on hand.
📖 Variations
Spicy Red Lentil Hummus: Add a kick to your dip by incorporating a teaspoon of cayenne pepper or a dollop of your favorite hot sauce. Use red lentils instead of brown for a vibrant color and slightly sweeter taste.
Sun-Dried Tomato and Roasted Garlic: Elevate the flavors by adding a handful of sun-dried tomatoes and some roasted garlic to the food processor. This variation pairs exceptionally well with tortilla chips.
Lime and Cilantro: For a zesty, herby twist, use lime juice instead of lemon and add a handful of fresh cilantro to the mix. This version goes great as a spread on gluten-free wraps or as a dip for sweet potato fries.
🍽 Equipment
Blender or Food Processor: This is the cornerstone of making your lentil hummus smooth and creamy. A high-speed blender or food processor ensures that all ingredients are well-incorporated, achieving that desired consistency. If you're using a less powerful machine, make sure to mince the garlic and ensure the lentils are well-drained.
Silicon Spatula: This handy tool is essential for scraping down the sides of the blender or food processor. It ensures that all ingredients are evenly blended and nothing goes to waste. Plus, its flexibility allows you to easily transfer the hummus into an airtight container for storage.
🥡 Storage
Store your lentil hummus in an airtight container in the fridge for up to 5-7 days. Make sure the container is sealed well to keep the hummus fresh and prevent it from drying out.
Freezing
If you've made a large batch, you can freeze the hummus in an airtight container for up to 3 months. It's a good idea to portion it out into smaller containers so you can thaw only what you need.
Batch Cooking: This lentil hummus recipe is perfect for meal prep. Make a double or triple batch and store it in individual containers. Pair it with pre-cut veggies, pita chips, or as a spread for sandwiches to make your meal prep for the week both delicious and nutritious.
❓ FAQ
Why is homemade hummus not creamy?
If your homemade hummus isn't turning out as creamy as you'd like, there are a few possible reasons. One common issue is the power of your blender or food processor. A high-speed appliance will yield a smoother texture. Another factor could be the type of tahini you're using; some are thicker than others.
Also, the moisture content in your cooked lentils or canned lentils can affect the texture. Make sure they are well-drained but not dry. Lastly, the amount and temperature of the liquid you add (like iced water or vegetable broth) can also make a difference. For the creamiest results, add the liquid gradually while blending until you reach your desired consistency.
📚 More hummus recipes
If you love lentils, don't forget to check out our spicy sprouted lentil soup, lentil tabbouleh, lentil salad with blue cheese, and lentil curry.
⭐ If you try this lentil dip recipe, let us know! 💬 Leave a comment, rate it, and don't forget to tag us @ourplantbasedworld on Instagram. Cheers!
📋 Recipe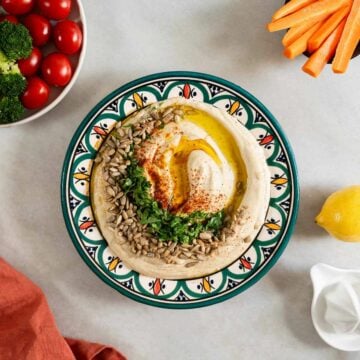 Green Lentil Hummus Recipe
Ready to switch up your dip game? This lentil hummus is creamy, flavorful, and oh-so-easy to make. Perfect for snacking or spreading!
Equipment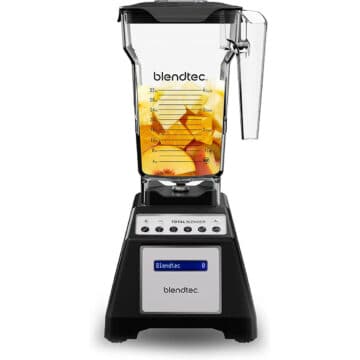 (affiliate link)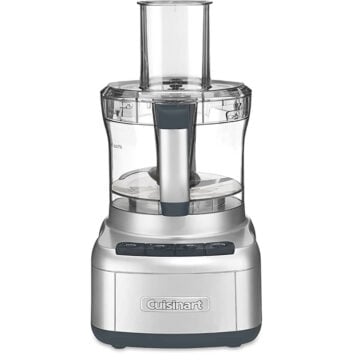 (affiliate link)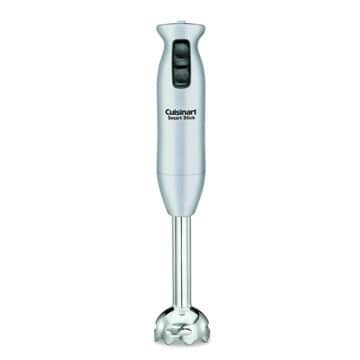 (affiliate link)
Ingredients
2 ½

cups

lentils

cooked, rinsed, and drained (¾ cup dry)

¼

cup

tahini

sesame paste

4

tablespoons

olive oil

3

tablespoons

lemon

juiced, about one medium lemon

3

garlic cloves

medium, minced if not using a powerful

¼

teaspoon

cumin

ground

1 ½

cup

iced cup water

as needed, have more handy to adjust

½

teaspoons

fine sea salt

adjust to your liking
Optional
⅛

teaspoon

cinnamon

ground

fresh parsley

to garnish

seeds

toasted, such as pepitas
Directions
Blend: Add your lentils, minced garlic clove, tahini paste, lemon juice, extra-virgin olive oil, fine sea salt, and ground cumin to a food processor. You may need to scrape down the sides of the food processor to ensure everything is well combined.

Adjust Consistency: Gradually add iced water, a little at a time, until you reach your preferred consistency.

Serve: Transfer the hummus to a serving bowl. Drizzle with a bit more extra-virgin olive oil, if desired, and garnish with sweet ground paprika and fresh parsley.

Check the post for more serving and garnishing suggestions.
Notes
Store your lentil hummus in an airtight container in the fridge for up to 5-7 days. Make sure the container is sealed well to keep the hummus fresh and prevent it from drying out.
*Nutrition information is a rough estimate calculated without optional ingredients.
Nutrition Facts
Calories:
238
kcal
Carbohydrates:
22
g
Protein:
10
g
Fat:
13
g
Saturated Fat:
2
g
Polyunsaturated Fat:
3
g
Monounsaturated Fat:
7
g
Sodium:
200
mg
Potassium:
368
mg
Fiber:
10
g
Sugar:
1
g
Vitamin A:
32
IU
Vitamin C:
6
mg
Calcium:
37
mg
Iron:
3
mg
Nutrition Facts
Green Lentil Hummus Recipe
Amount per Serving
% Daily Value*
* Percent Daily Values are based on a 2000 calorie diet.
Nutritional Disclaimer
The information shown is an estimate provided by an online nutrition calculator. It should not be considered a substitute for a professional nutritionist's advice. See our full Nutritional Disclosure here.
Affiliate Disclaimer
Please note that some of the links here are affiliate links, and I will earn a commission if you purchase through those links. I recommend all of the products listed because they are companies I have found helpful and trustworthy.