These vegan pumpkin pancakes are the perfect way to start off your morning during the fall season when cozy breakfasts are a must! They're healthy, easy to make, and they taste delicious too.
If you're looking for a healthier breakfast option that tastes just as good as its high-calorie counterparts, then these vegan pumpkin pancakes are for you.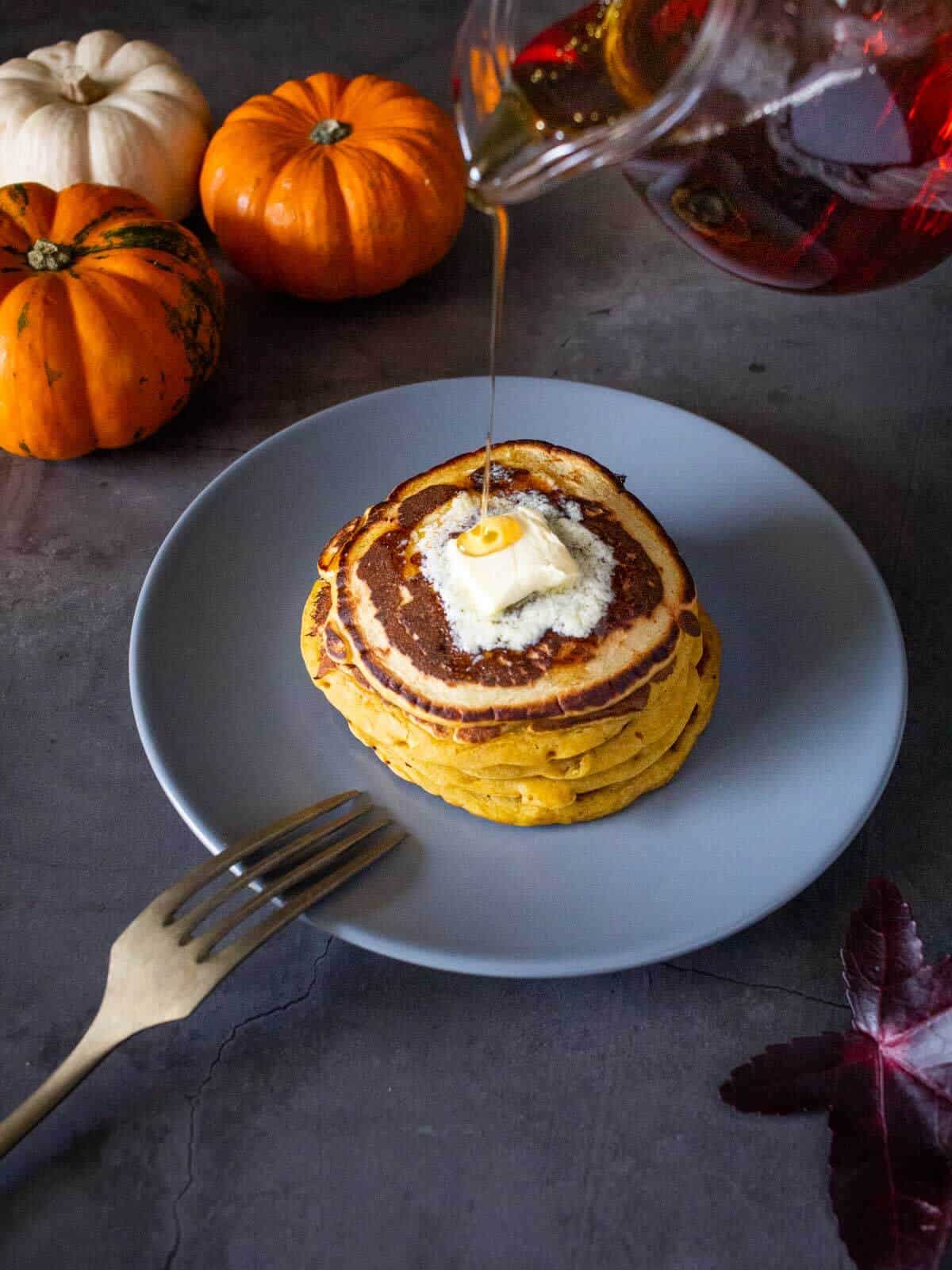 We love that making these easy pumpkin pancakes are hassle-free and don't require much planning. You can even make everything in one bowl if you don't want to follow all the steps, where we mix wet and dry ingredients separated and then mix them together.
Since we are pumpkin fans, we love pairing it with our Vegan Pumpkin Spice Latte!
Why you'll love these easy vegan pumpkin pancakes
Pumpkin spice pancakes are the perfect healthy morning breakfast recipe for your cozy autumn morning. Soft, fluffy, lightly sweet, and filled with pumpkin pie spice mix.
These Pumpkin pie-inspired Healthy Vegan Pumpkin Pancakes are made just in one bowl with pumpkin puree, non-dairy milk, and Autumn flavors. They have become a fall season favorite in the house along with the Pumpkin Maple Granola.
Serve with vegan butter and a drizzle of maple syrup and you have your perfect fall morning breakfast.
Ingredients
These fluffy pancakes require minimal and easy-to-get ingredients. To make pumpkin pancakes vegan, we remove the eggs and replace them with a mix of almond milk and lemon, to make vegan buttermilk, that will hold things together.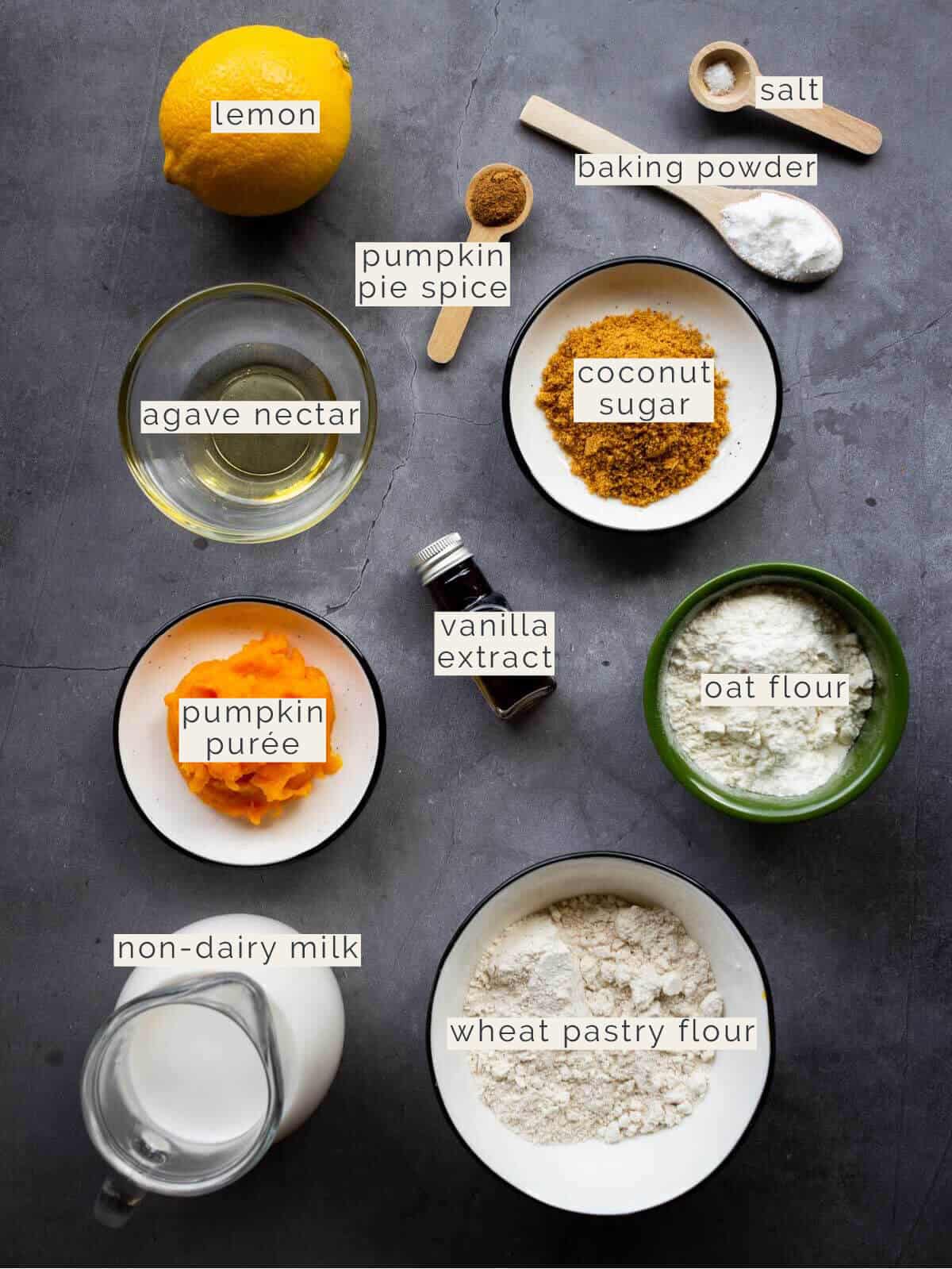 wheat pastry flour (or whole wheat flour)
oat flour
non-dairy milk (almond milk or soy milk)
lemon juice (or apple cider vinegar)
pumpkin purée (natural or canned)
pure vanilla extract
coconut sugar (or organic, brown sugar, or granulated sugar)
agave nectar (or maple syrup)
baking powder
pumpkin pie spice (or ground cinnamon, nutmeg, and ginger)
salt
Directions
How to make fluffy vegan pumpkin pancakes
First. Make the vegan buttermilk.
Add one tablespoon of lemon juice (or apple cider vinegar) to the non-dairy milk. Let it sit until it curdles.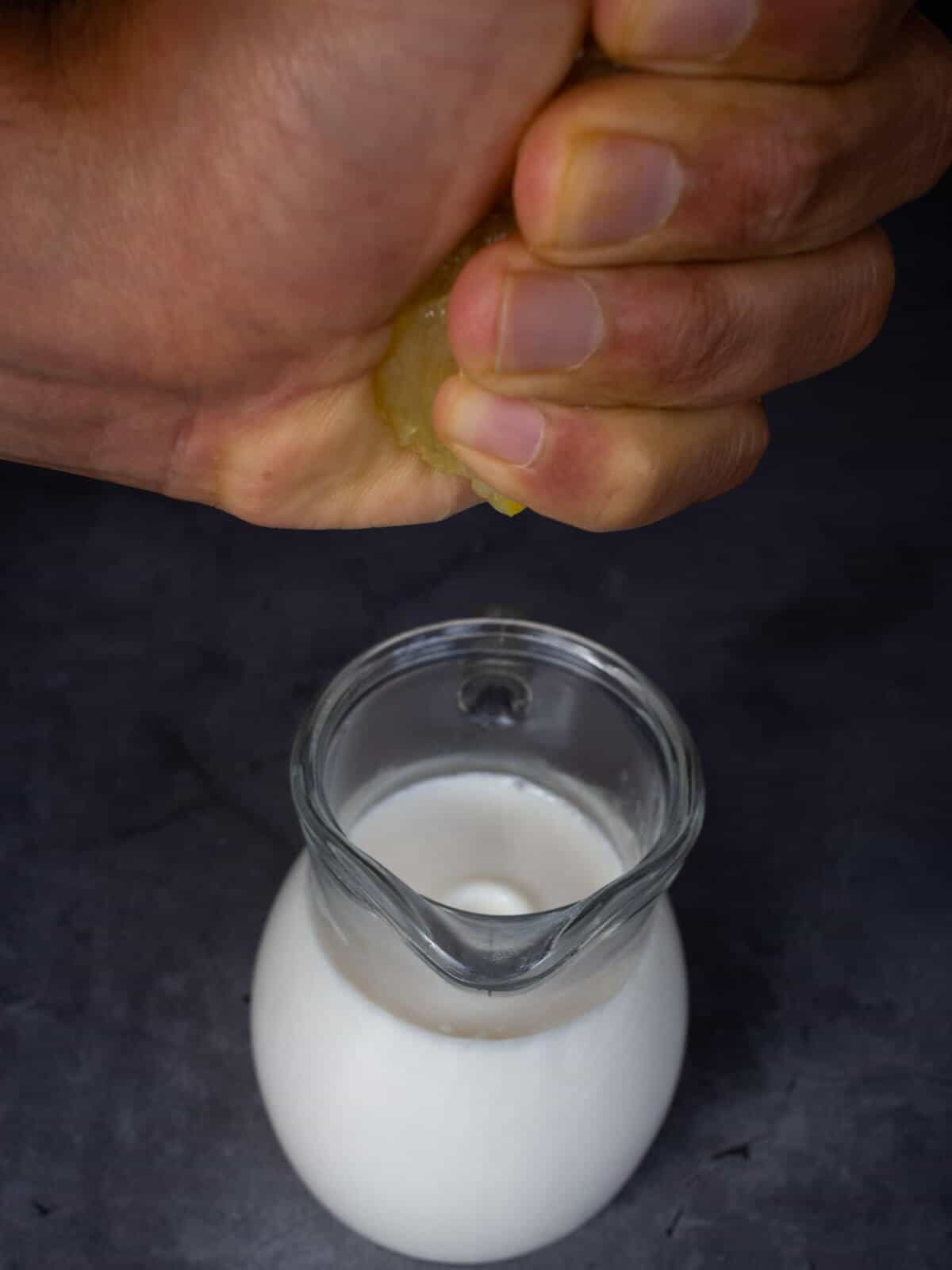 Second. Sift and mix dry ingredients.
Sift all the dry ingredients together, including the flour, sugar, baking powder, salt, and pumpkin spice mix. Discard the remainders.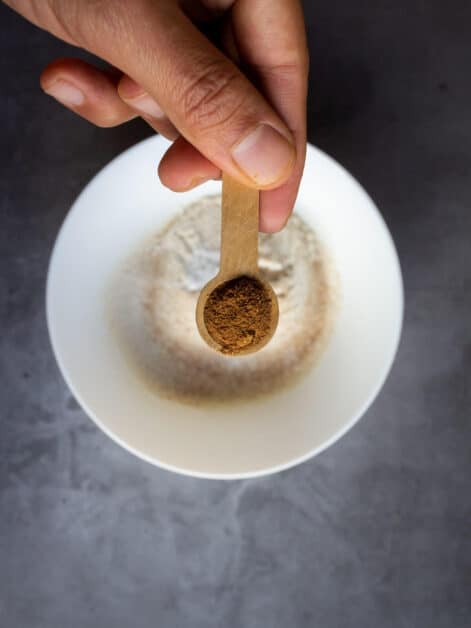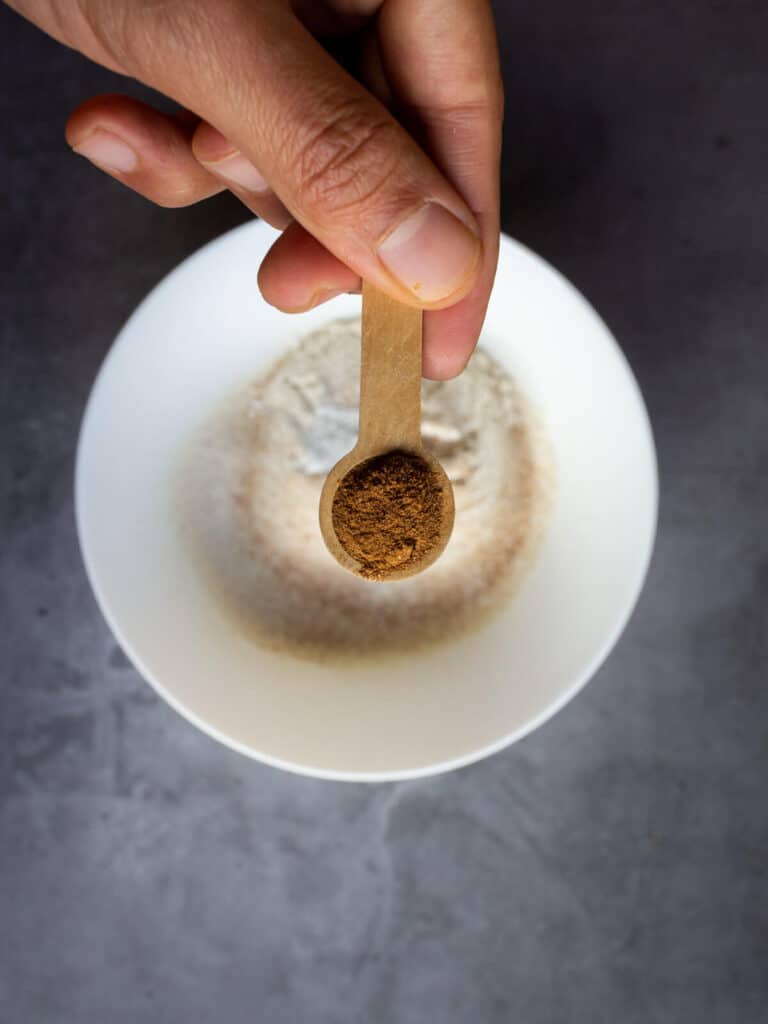 Third. Mix Wet ingredients.
Add the rest of the wet ingredients to the buttermilk.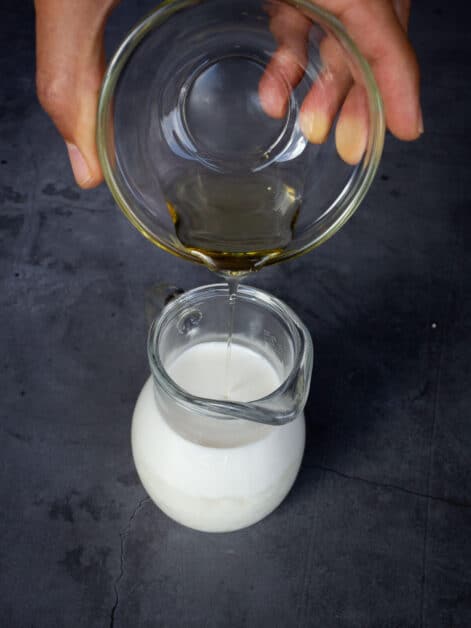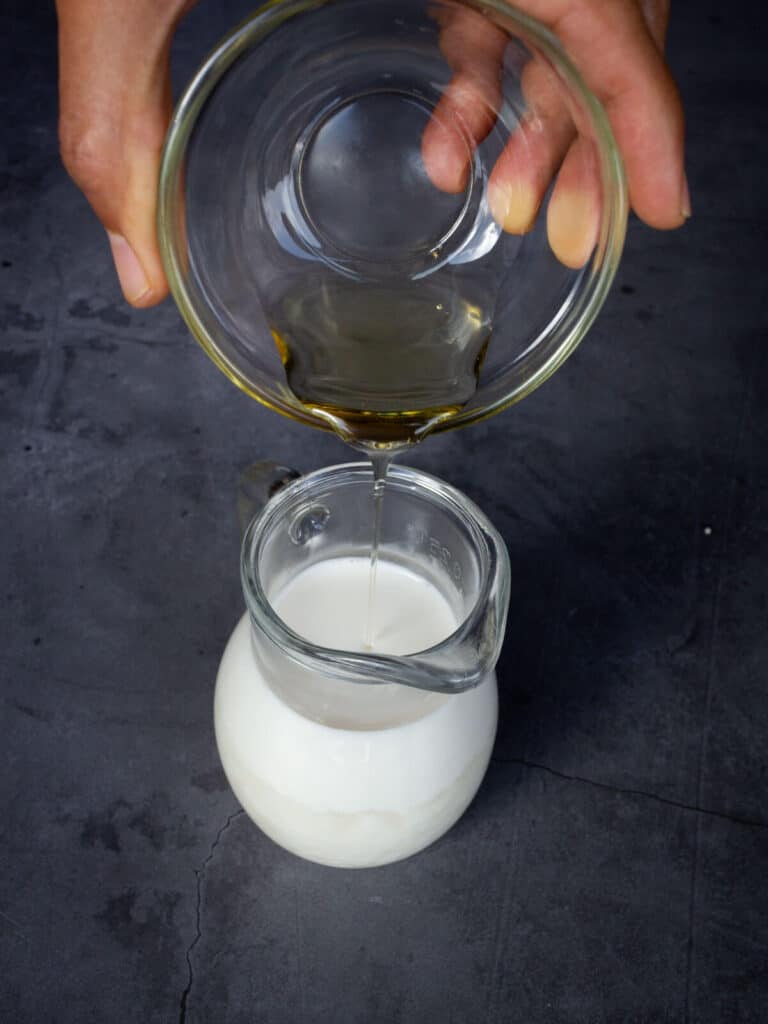 Fourth. Mix everything.
Mix the wet and dry ingredients in a large bowl, and let it sit for 10 minutes. Mix thoroughly until the vegan pumpkin pancakes batter looks fully mixed and silky.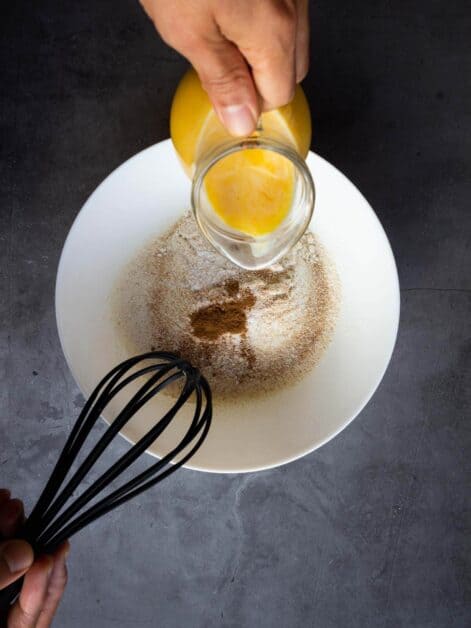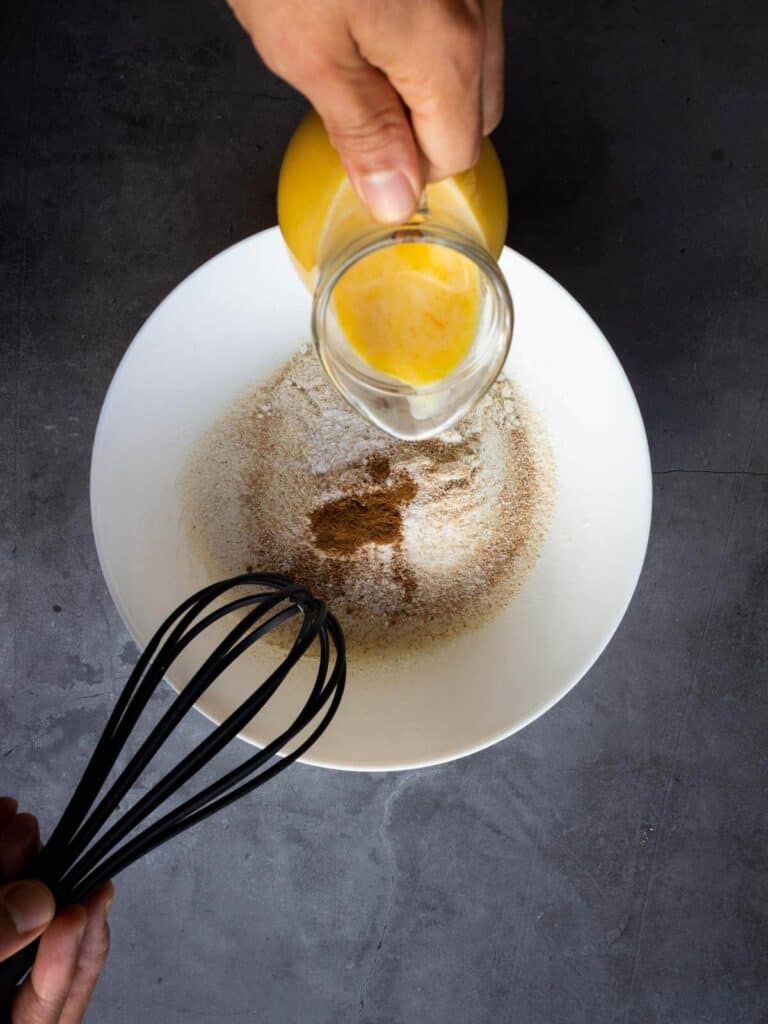 Fifth. Cook on a flat pan.
Heat the nonstick pan on medium heat for a minute and lower to the minimum. Cook for 30-60 seconds on the first side and about 20-30 seconds on the other side.
Some people like using a spray, vegan butter, or melted coconut oil, in the frying pan, but I find that my non-stick pan, does a perfect job, without the need to add extra oil.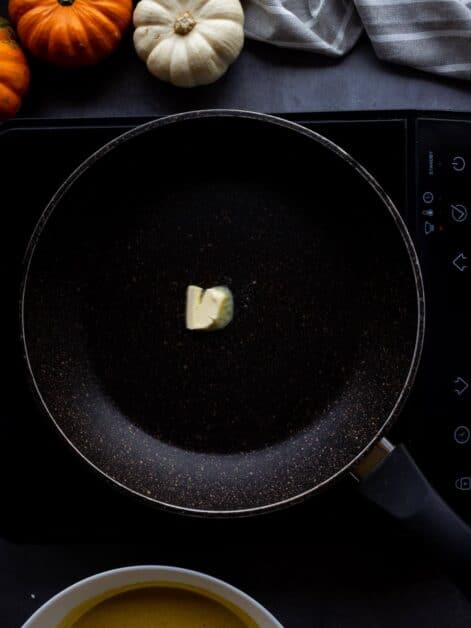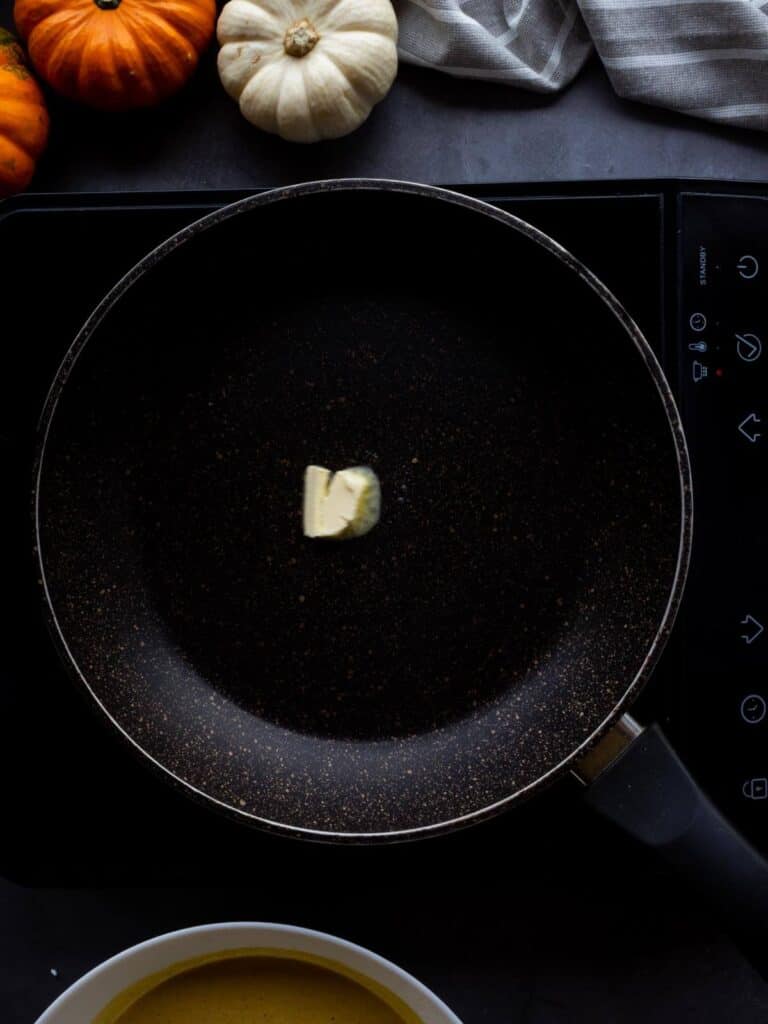 Serve.
Optionally add vegan butter when the pancakes are still hot, so it melts well. Add maple syrup on top. Remember that the batter has some sweet ingredients, so, you don't need to go crazy on the maple syrup.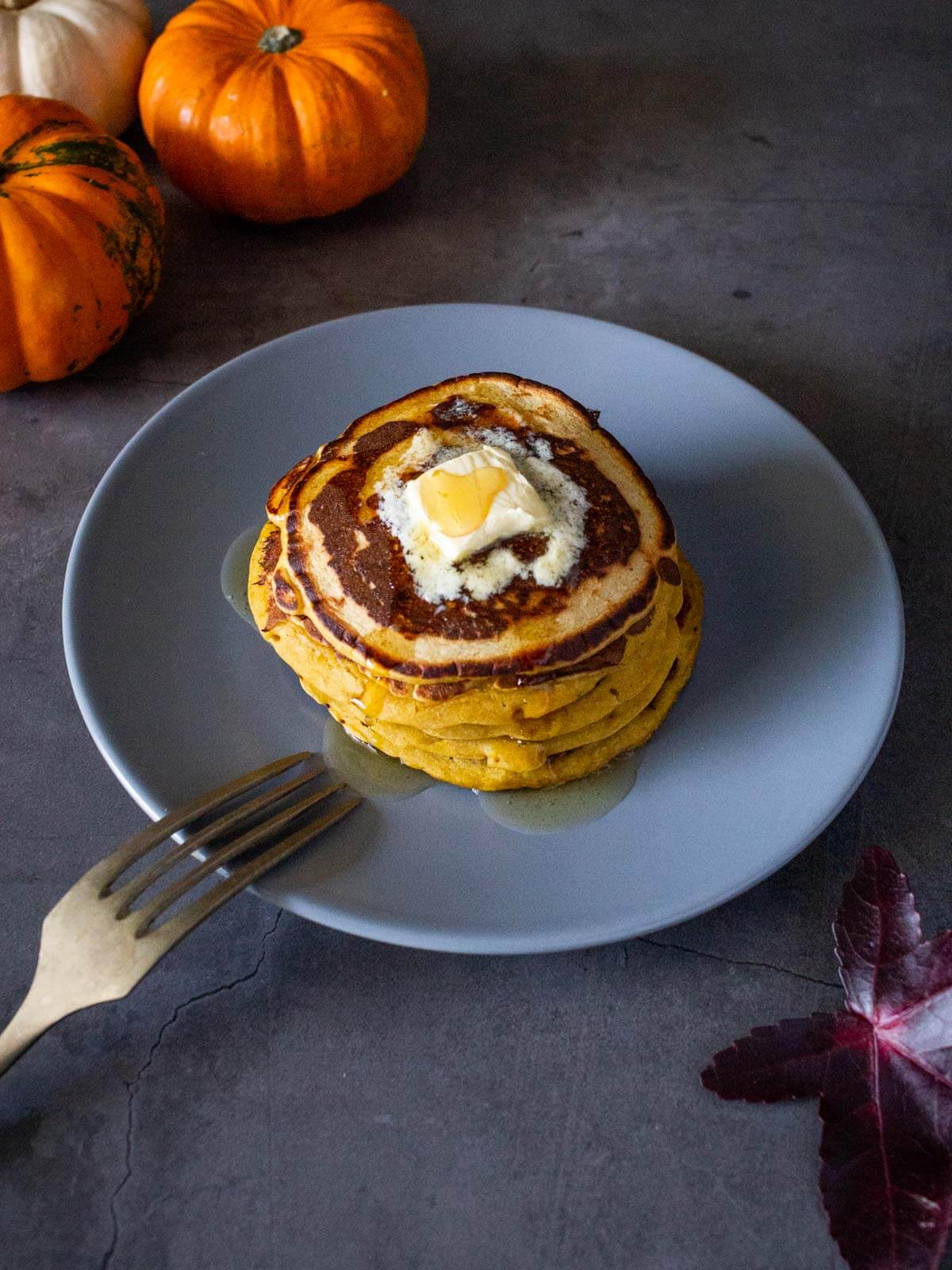 Pro Tips for the best vegan pumpkin pancakes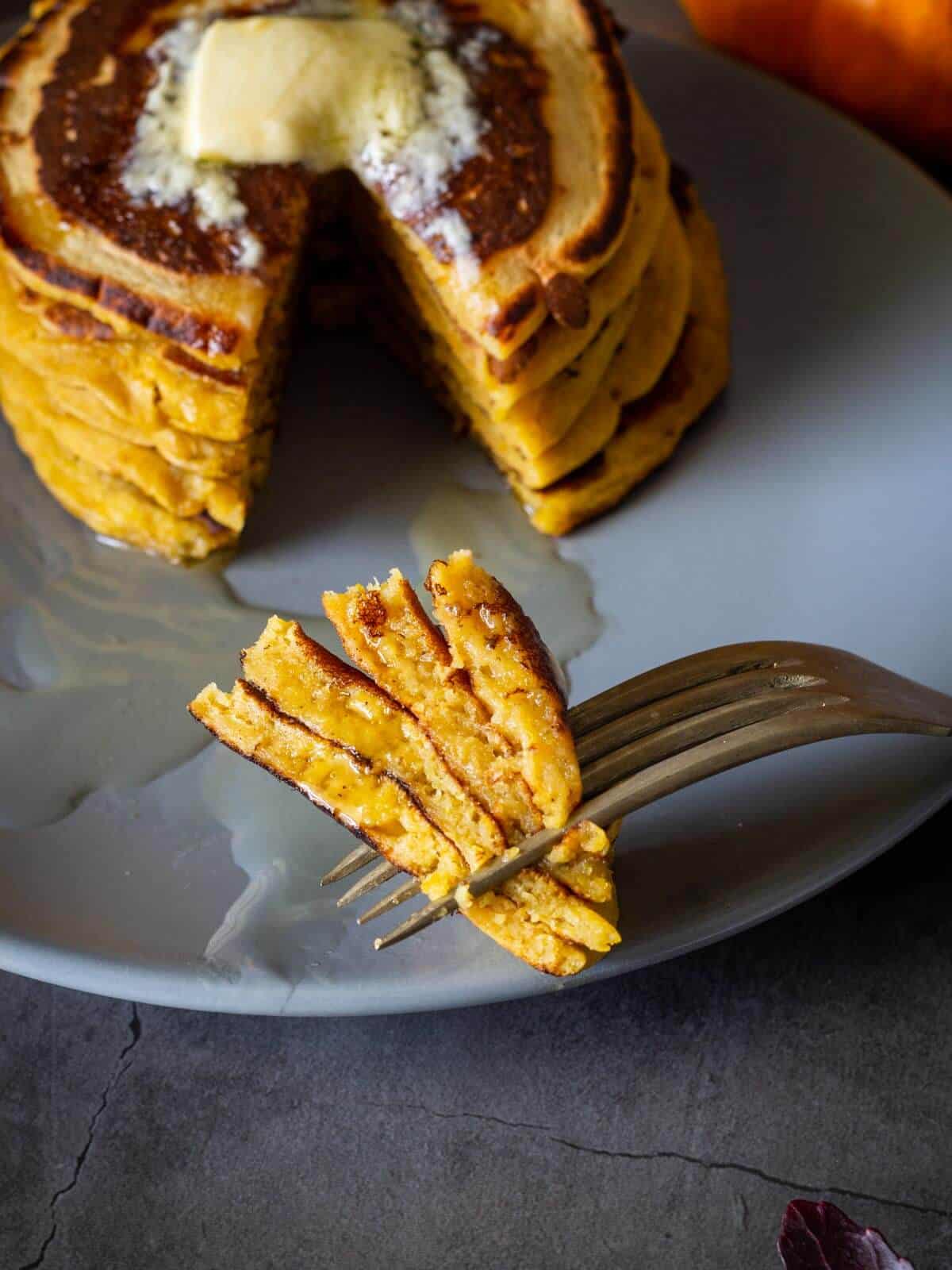 Pumpkin Spice Mix
Pumpkin Pie Spice is a simple mix of cinnamon, ginger, nutmeg, and clove. You can use store-bought, but if you are a fan of the fall season flavor, I encourage you to make your own, if five minutes.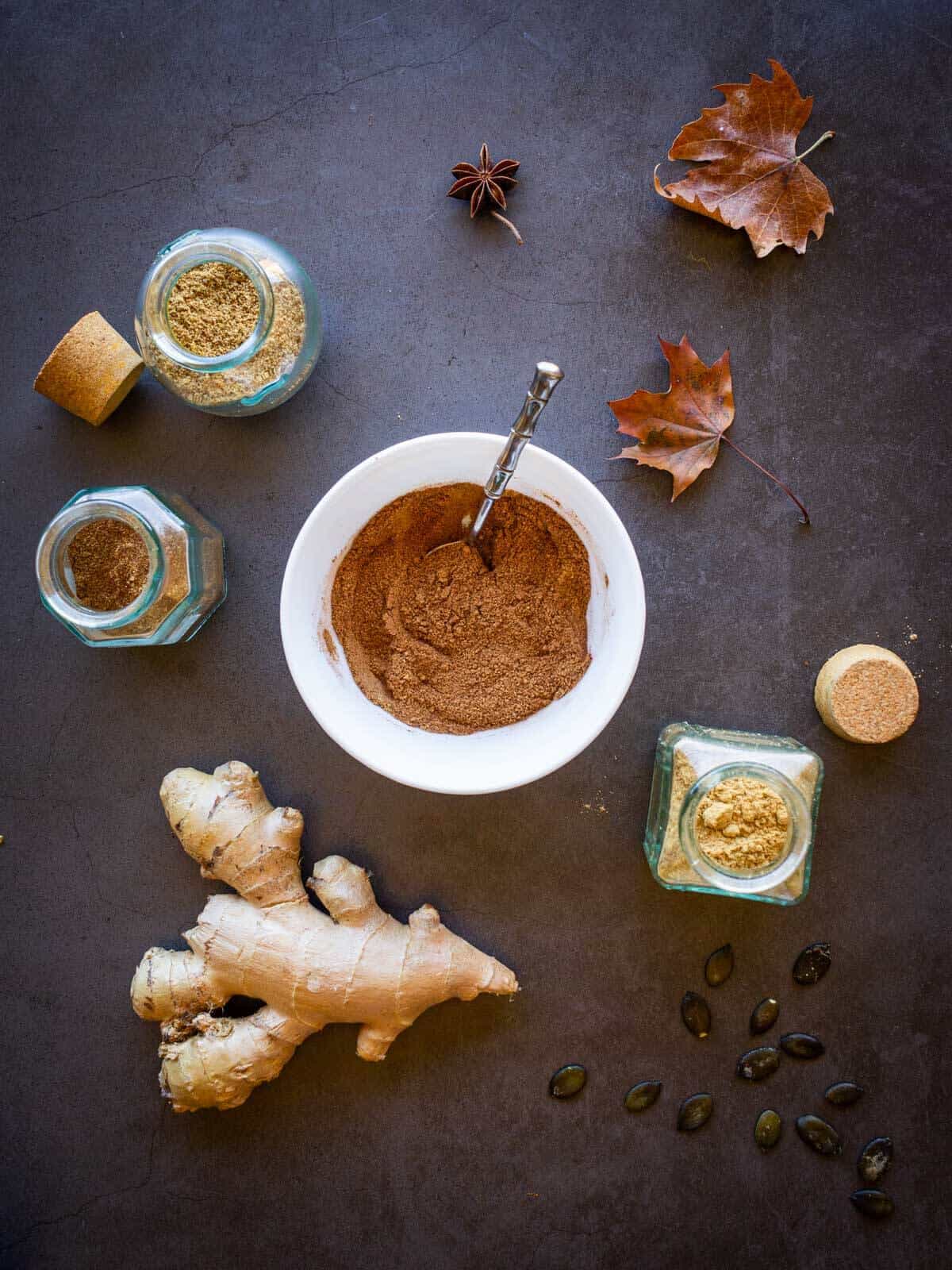 Pumpkin Puree
You can use canned pumpkin or homemade pumpkin puree or even leftover pumpkin puree.
I like making our vegan pumpkin pancakes as healthy as possible, so I make my own pumpkin purée simply by steaming and mashing it. It is not only easy and timeless, but the pumpkin flavor is more prominent in my opinion.
Don't forget to check our comprehensive guide on cooking with pumpkin. This fantastic fruit (yes... it is a fruit!), has fantastic health benefits.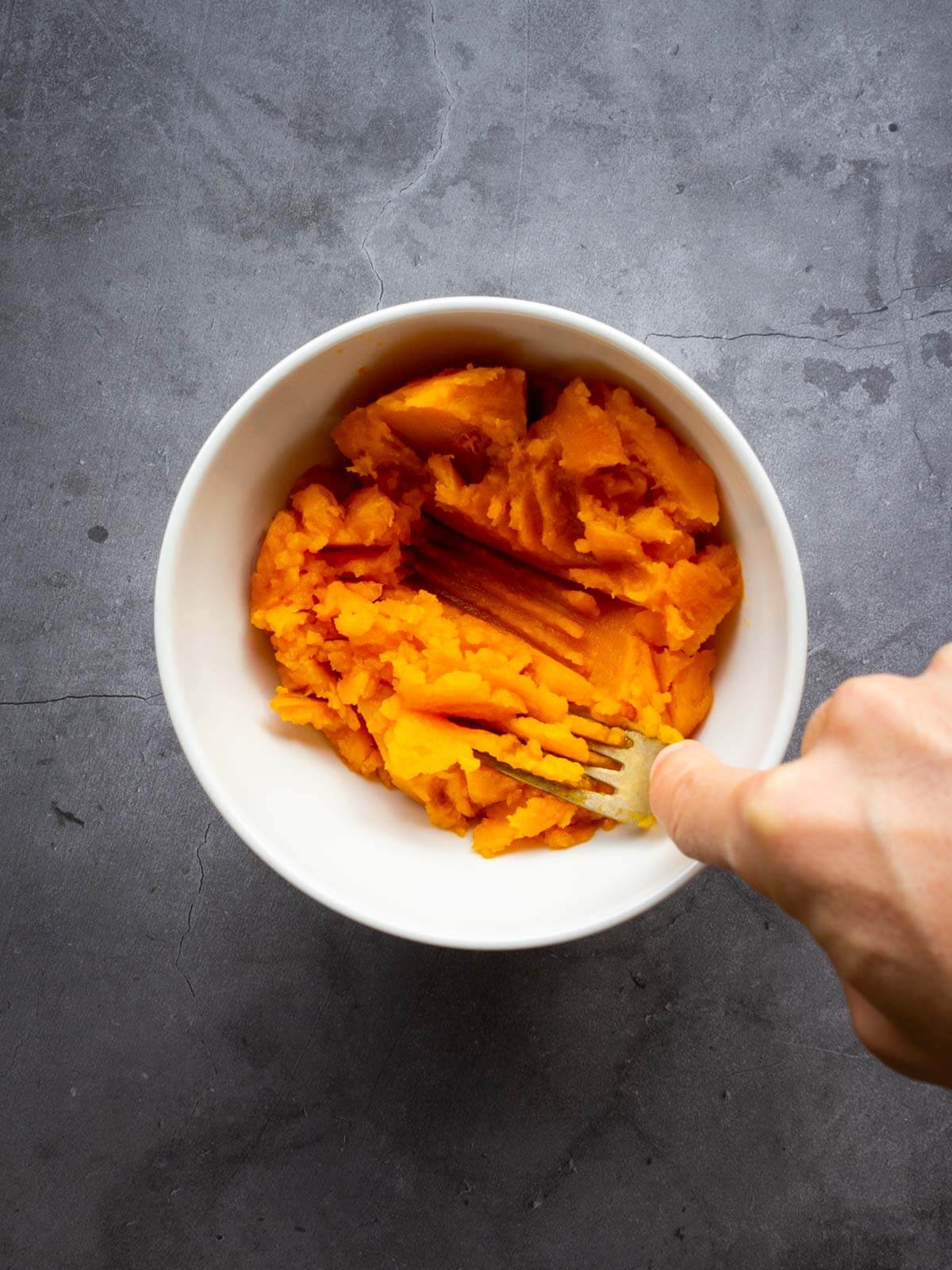 If you make it fresh, then steam, or boil your pumpkin beforehand. Let it cool before mashing it and putting it in the bowl.
Then use it as usual in all your pumpkin recipes. If you chose to boil it and the pumpkin puree is watery, don't add all the non-dairy milk at once as the batter may end up extra soggy.
Measure the flour with a food weight or measuring cups to get more accurate results. If you do not have a food scale use the spoon and level method of measuring flour which is the most accurate way to measure flour.
Can I freeze leftover pumpkin pancakes?
In order to freeze the vegan Pumpkin Vegan Pancakes, you simply need to let the already made pancakes it chill thoroughly and store leftovers in an airtight plastic bag. For the desired reheat just put the pancakes on a plate and heat them in a microwave for a minute. Store the remaining pancakes in the refrigerator then freeze for 3 months.
Storing and freezing pumpkin pancakes
Leftover pancakes can be stored in the refrigerator in an air-tight container, and then reheated on the stovetop or microwave. Reheat in a microwave oven or toaster until heated through. And they're frozen safe as well as delicious! Let them cool up thoroughly before they are frozen and then heat them in the microwave.
You can also save leftover vegan pumpkin pancakes batter in a mason jar in the fridge. I have kept it for 3 days, and they were fine. I haven't tried leaving them for longer, as they always fly!
If you have a thick batter after a couple of days in the fridge, simply add some oat milk or almond milk, to thin the pancake batter up, and give it a quick stir.
Don't be scared to make a batch, leftover pancakes are great partners for busy mornings, busy husbands, and hungry sweet-toothed kids. You are sure to give them a healthy and fiber-full breakfast.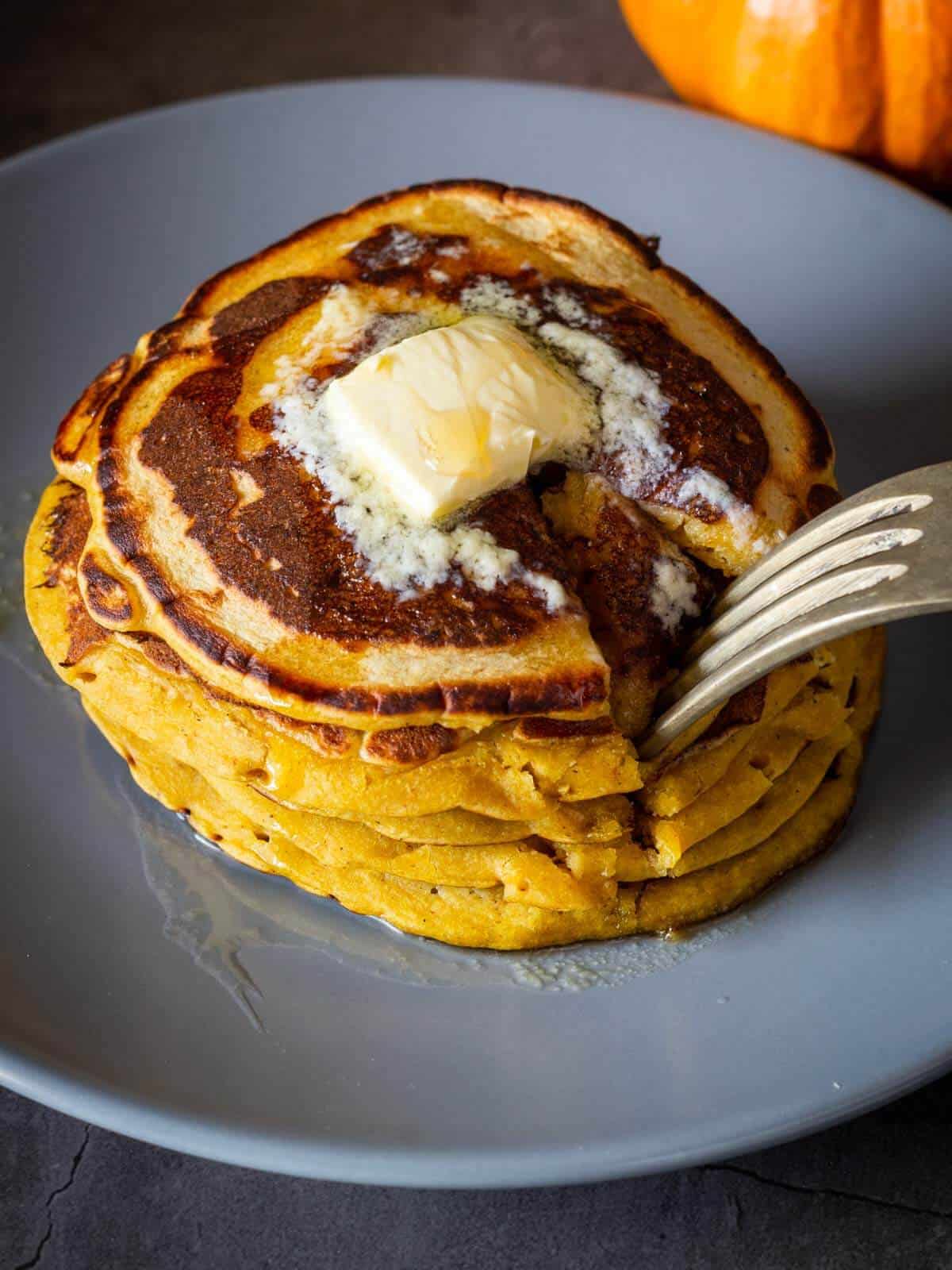 Gluten-free pumpkin pancakes option
To make this recipe gluten-free, the only ingredient that you'll be needing to change is wheat flour. These pumpkin spice pancakes work perfectly with oat flour or gluten-free 1:1 baking flour. You can swap in any of these options at a similar rate to conventional flour. What are the best parts? This recipe for pumpkin pancakes is not only gluten-free. It doesn't even have to be eaten! This healthy pumpkin pancakes recipe makes them gluten-free too.
Variations
Antioxidants: add two teaspoons of flax meal.
Sweetener
Maple syrup is the staple sweetener for pumpkin pancakes, but I have also had them with pumpkin syrup, homemade date paste, and agave nectar and both work well.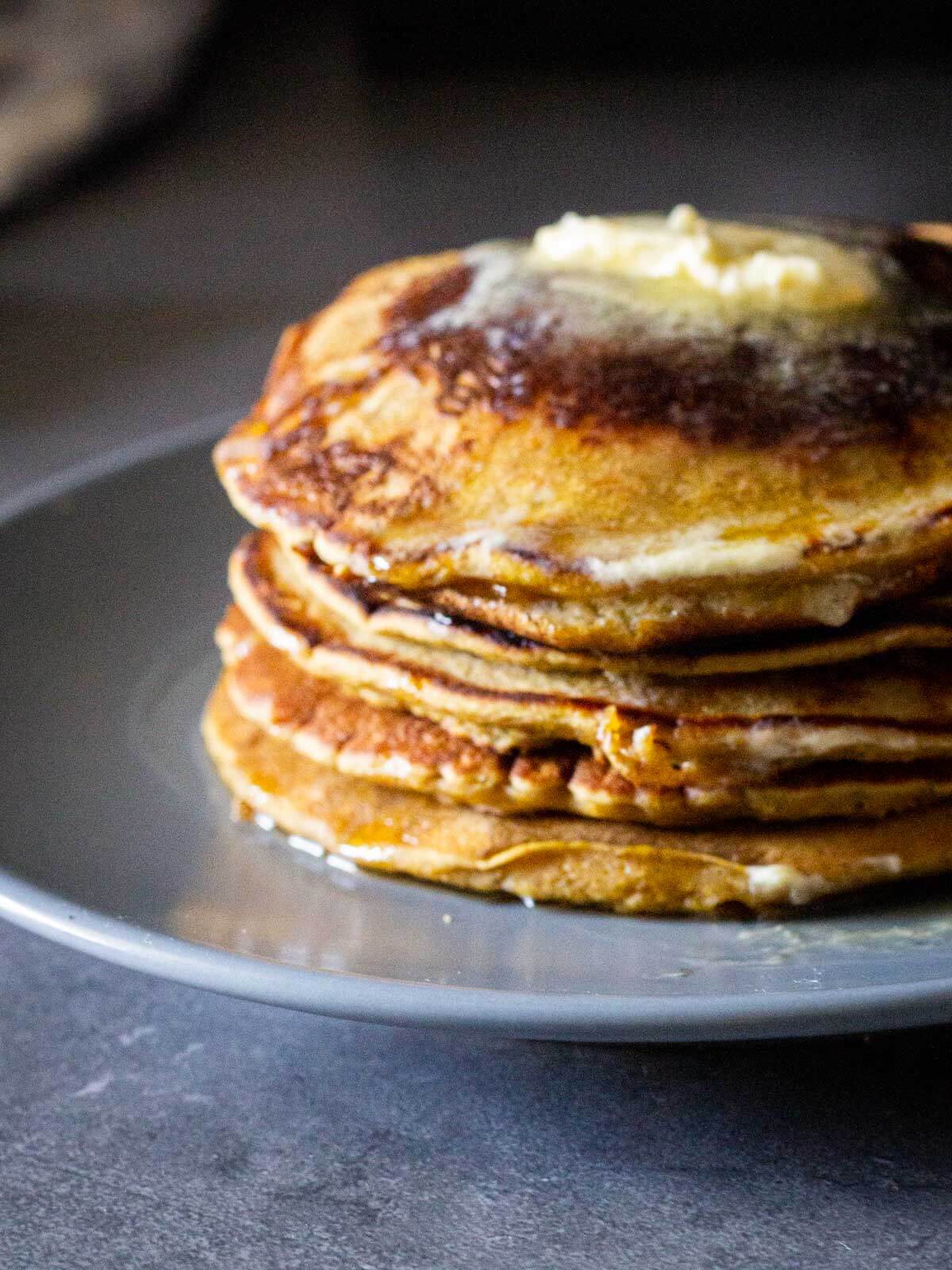 Flour
we use a combination of wheat flour and oats flour, to make it healthy but still make fluffy pumpkin pancakes.
We have experimented with success with whole wheat pastry flour, all-purpose flour, gluten-free flour blend, buckwheat flour, almond, flour, spelt flour, and even coconut flour.
Our suggestion is to keep a base of wheat on half of the flour mix and play with the other half with the healthy flour of choice.
If you want to make it gluten-free, go for a blend, such a Bob-mills.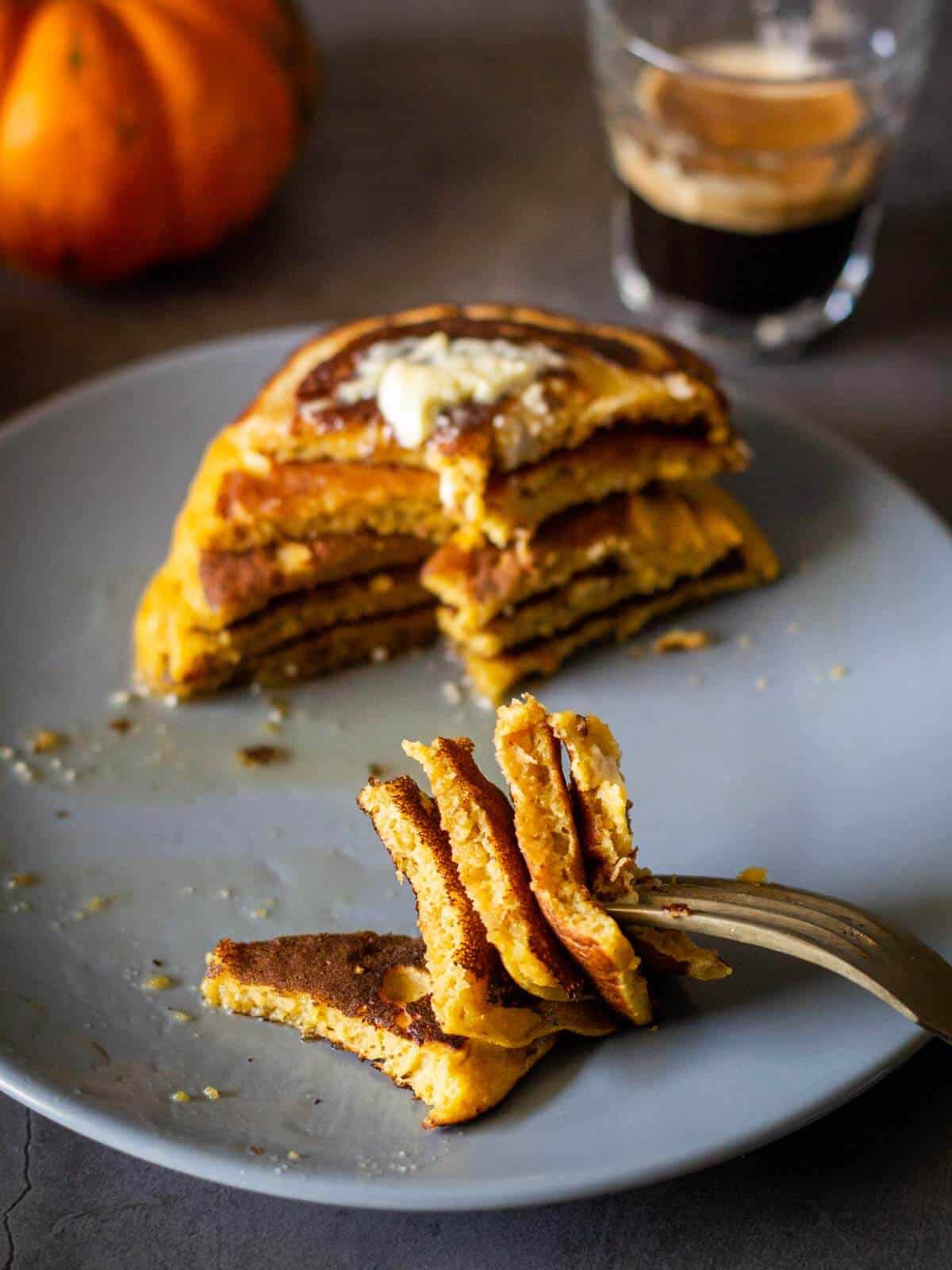 Non-dairy milk
Any non-dairy, plant-based milk works here, so feel free to use the one you have handy.
Baking powder vs baking soda
To make extra fluffy vegan pumpkin pancakes, add ¼ teaspoon of baking soda. I think the baking powder makes a great job on its own, and I always feel a little bit of the baking soda after taste, even though nobody around me does! So I decided to go for pure baking powder and it worked wonderfully.
Fluffy vegan pancakes rely on baking powder. If you leave in a country where the baking powder is hard to get, remember you can always make your own homemade baking powder mix super quickly.
Pumpkin flavor
If you want to tune up the pumpkin, go ahead and add an extra tablespoon for these measures, don't go over that, otherwise, the pancakes may not turn as fluffy.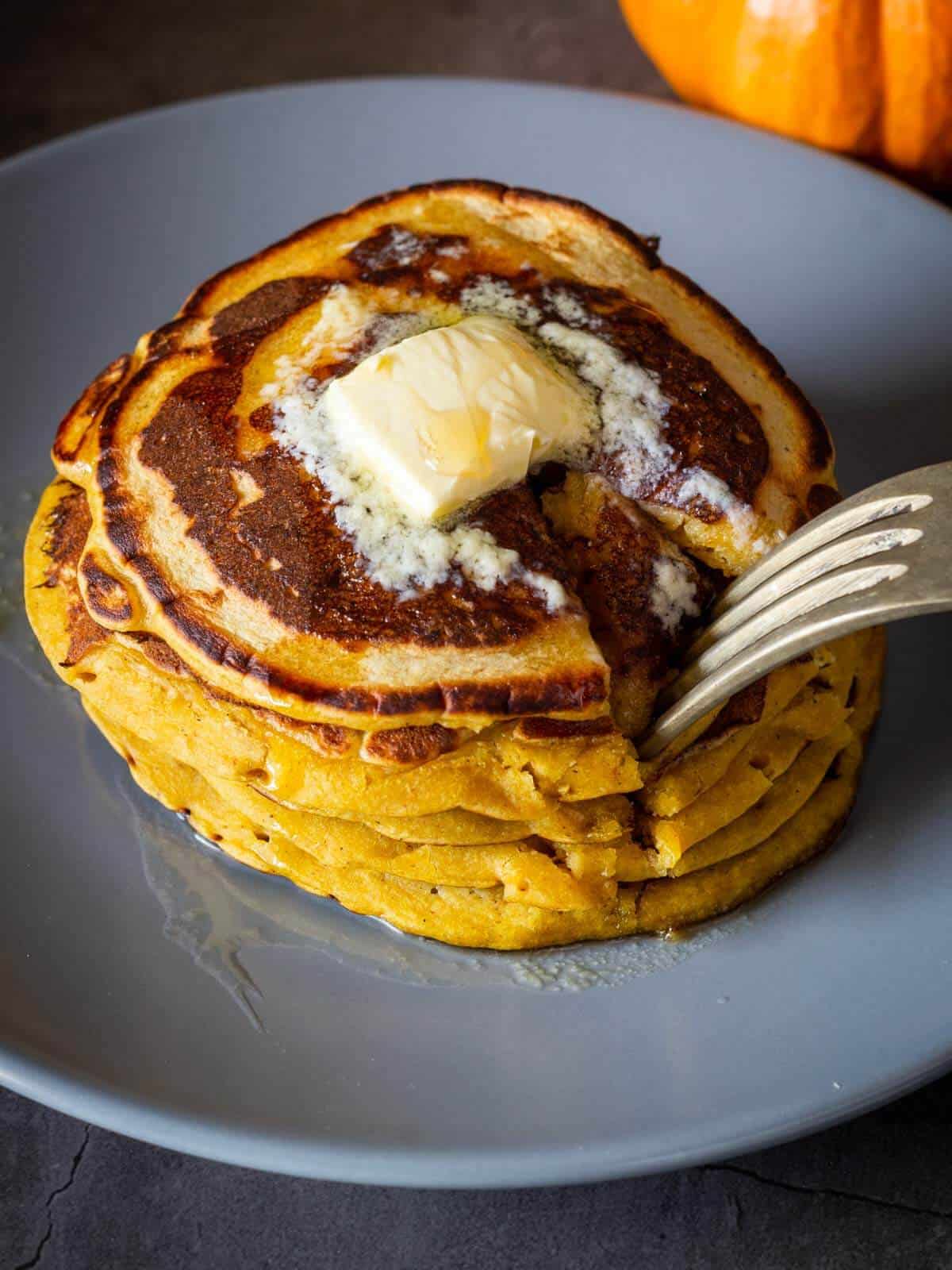 Additions
Our favorite additions to make give the pumpkin pancake recipe a twist; are blueberries and vegan chocolate chips. In both cases, only add them to the pancake batter right before pouring it into the nonstick pan.
You can top your healthy vegan pumpkin pancakes with chopped pecans or caramelized walnuts, like the ones we use on our pumpkin spice overnight oats. Remember, not to overdo the nuts, if you are counting calories, or watching your weight.
These vegan pumpkin pancakes are incredibly good. You'll adore them for your cozy winter mornings and for your fall nights too! These are ideal for breakfasts, brunch, or any holiday dish!
If you make them, please leave a comment below and give this recipe a rating so everyone will see it as well.
As always I love looking at your gorgeous creations on Instagram and Pinterest so be sure to tag us! Happy pumpkin pancake cooking!
More pumpkin recipes!
⭐ If you try this recipe, let us know! 💬 Leave a comment, rate it, and don't forget to tag us @ourplantbasedworld on Instagram. Cheers!
📋 Recipe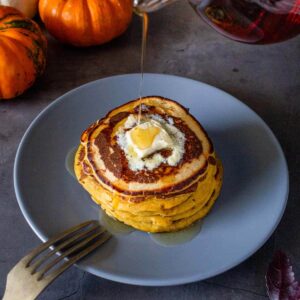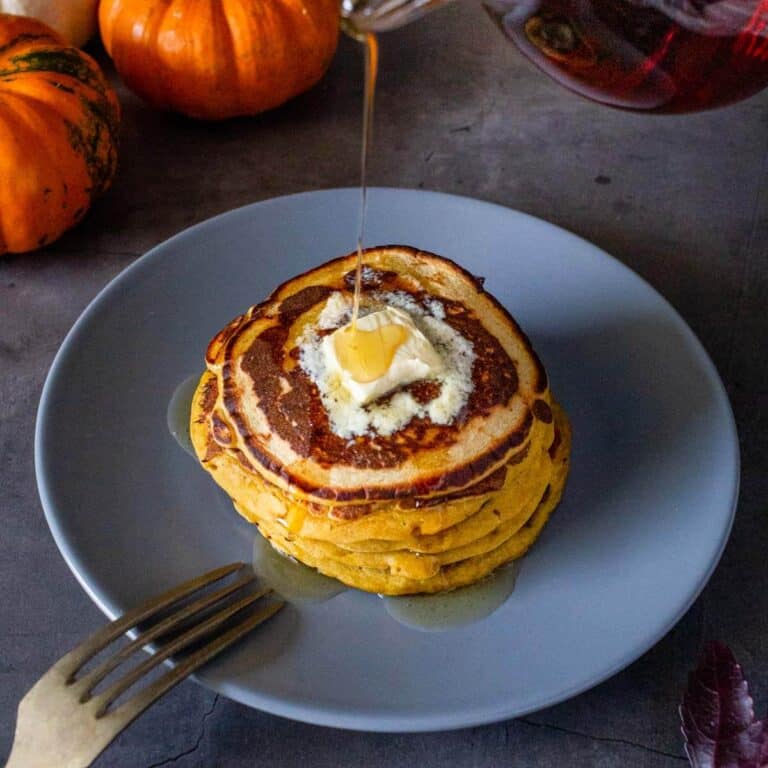 Healthy Vegan Pumpkin Pancakes
This vegan pumpkin pancake recipe is a delicious, fluffy and healthy alternative to the classic recipe. It's also much easier and quicker!
Equipment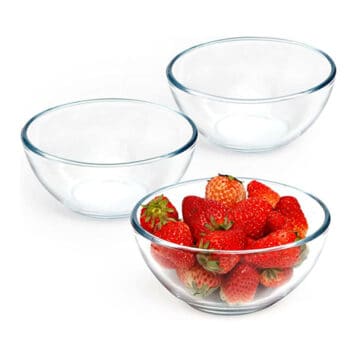 (affiliate link)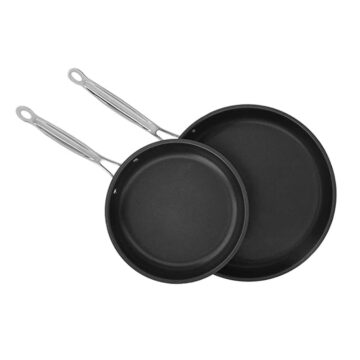 (affiliate link)
Ingredients
Optional for more protein
Optional to serve:
Directions
Make buttermilk. Add one tablespoon of lemon juice (or apple cider vinegar) to the non-dairy milk. Let it sit until it curdles, making plant-based buttermilk (5-10 minutes).

Sift (on a dry colander) all the dry ingredients together, including the flour, sugar, baking powder, salt, and pumpkin spice mix. Discard whatever remains in the colander.

Mix wet ingredients. Add the rest of the wet ingredients to the buttermilk, including the pumpkin purée, vanilla extract, and agave nectar (or maple syrup). Mix well with a fork until it is thoroughly blended.

Mix everything, the wet and dry ingredients, in a bowl, and let it sit for 10 minutes.

Heat. Set a flat pan to low heat and start pouring about ¼ cup measurements of the batter each time into the pan. Flip when it starts bubbling over the pancake, and the edges turn minimally dry. For thinner pancakes, just pour less batter; they will take less to cook.

Cook for 30-60 sec on the first side and about 20-30 secs on the other side. Your test should be bubbling, as all stovetops are different.

The best way to know when to flip them is when the pancake is fully covered with bubbles. Optionally add vegan butter or spray to the pan. If your pan is non-stick, it shouldn't be necessary.

Serve with a piece of vegan butter while it is hot and some maple syrup on top.
Notes
After mixing, add some extra non-dairy milk in tablespoons increments if the batter appears too thick. The thickness varies depending on the pumpkin puree you used and whether you used maple syrup or agave.
Nutrition Facts
Calories:
104
kcal
Carbohydrates:
17
g
Protein:
6
g
Fat:
2
g
Polyunsaturated Fat:
1
g
Monounsaturated Fat:
1
g
Trans Fat:
1
g
Sodium:
226
mg
Potassium:
103
mg
Fiber:
2
g
Vitamin A:
310
IU
Vitamin C:
2
mg
Calcium:
145
mg
Iron:
2
mg
Nutrition Facts
Healthy Vegan Pumpkin Pancakes
Amount per Serving
% Daily Value*
* Percent Daily Values are based on a 2000 calorie diet.
🌡️ Food safety
Cook to a minimum temperature of 165 °F (74 °C)
Do not use the same utensils on cooked food that previously touched raw meat
Wash hands after touching raw meat
Don't leave food sitting out at room temperature for extended periods
Never leave cooking food unattended
Use oils with high smoking points to avoid harmful compounds
Always have good ventilation when using a gas stove
See more guidelines at USDA.gov.
The information shown is an estimate provided by an online nutrition calculator. It should not be considered a substitute for a professional nutritionist's advice. See our full Nutritional Disclosure here.
Please note that some of the links here are affiliate links, and I will earn a commission if you purchase through those links. I recommend all of the products listed because they are companies I have found helpful and trustworthy.