Have you ever made a roasted pumpkin risotto? If not, you're in for a real treat! This vegan, creamy, and healthy roasted pumpkin risotto is the perfect Winter or Fall dish. It's easy to make, and it tastes delicious. You're going to love it!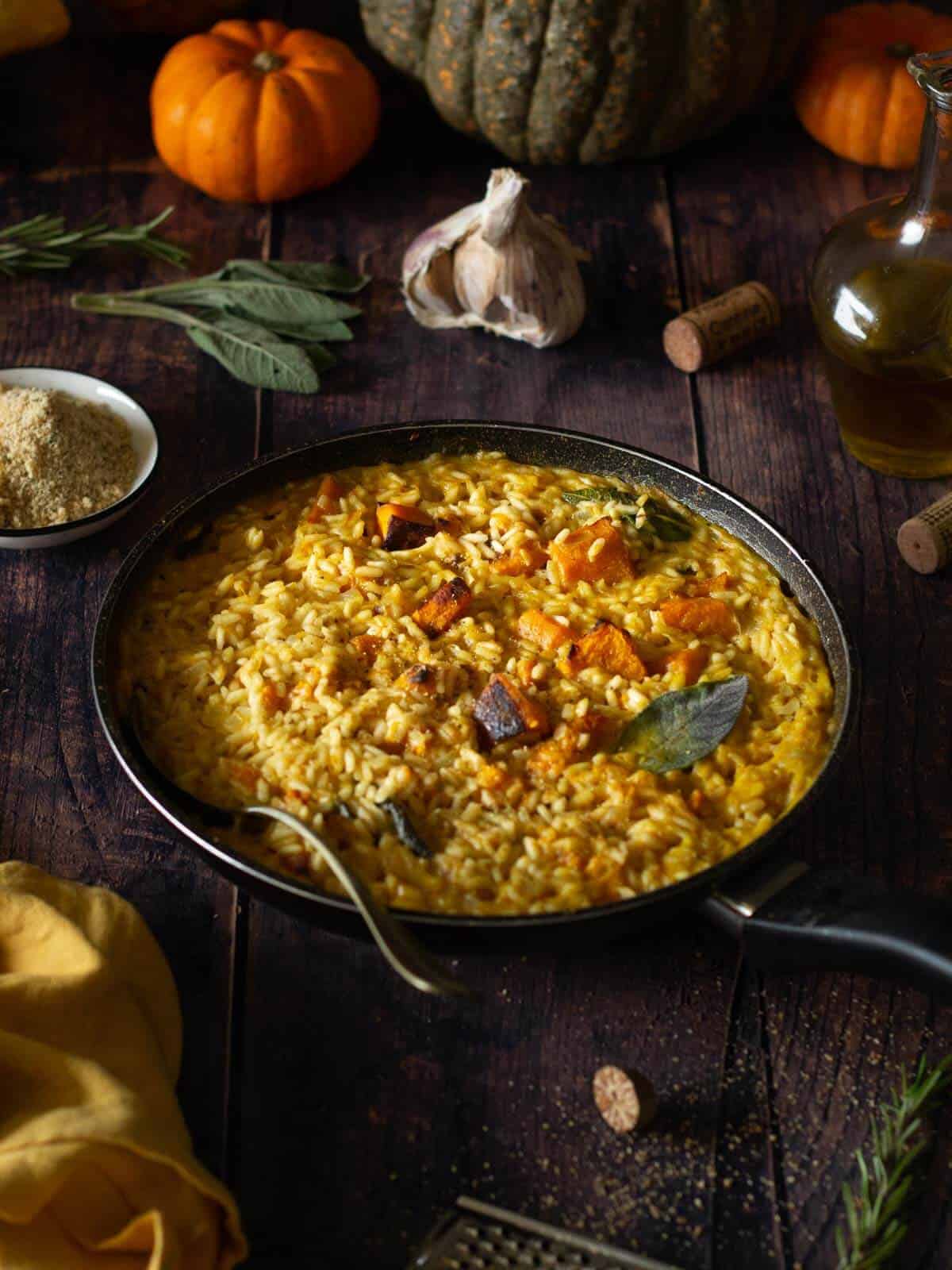 We love eating risotto and pumpkins are amongst our favorite veggies to use in the kitchen. Head to head with eggplants. They make the perfect fall season companion, luckily we are also able to get them in wintertime.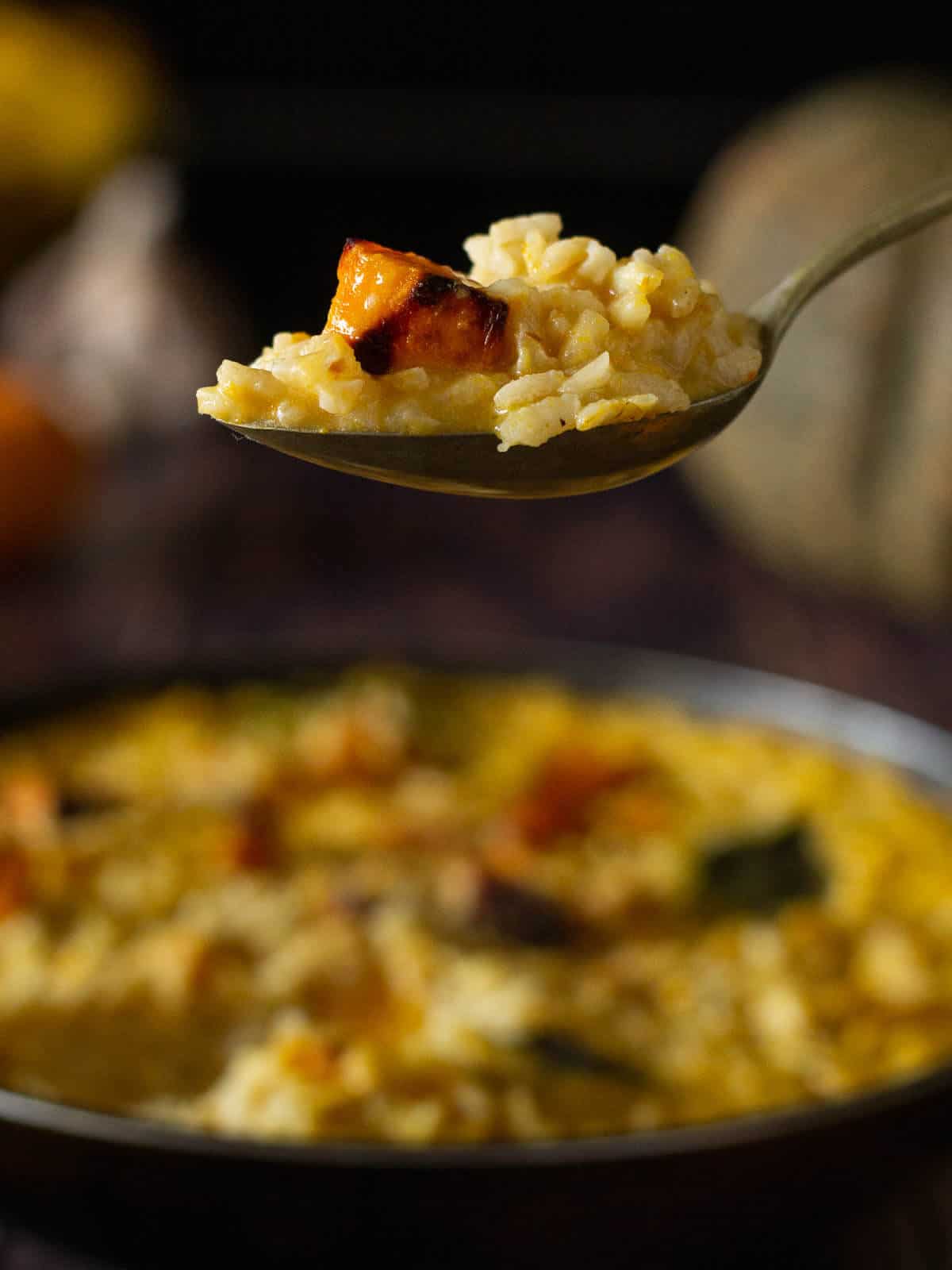 Making roasted pumpkin is one of our go-to side dishes, as it is as simple as tossing the right-sized pumpkin cubes, with your choice of herbs. Roasted pumpkin as a side dish quickly can become a fantastic ingredient for other dishes like the one we present today.
You can also use the puréed squash to make a creamy vegan butternut squash pasta.
If you love autumn flavors, you are up for a treat, our butternut squash risotto, which will surely gain your heart!
Springtime? Our lemon asparagus risotto is always a favorite at our Easter celebrations table!
We took the inspiration to make this dish during our travels in the Piedmont Region in Italy, where we tasted fantastic pumpkin risotto and stuffed plins (which look like a local small version of ravioli).
Jump to:
🧾 Ingredients
Surprisingly, just a few ingredients are needed for a Vegan Pumpkin risotto recipe. The essential ingredient is rice – for further info on the rice check below.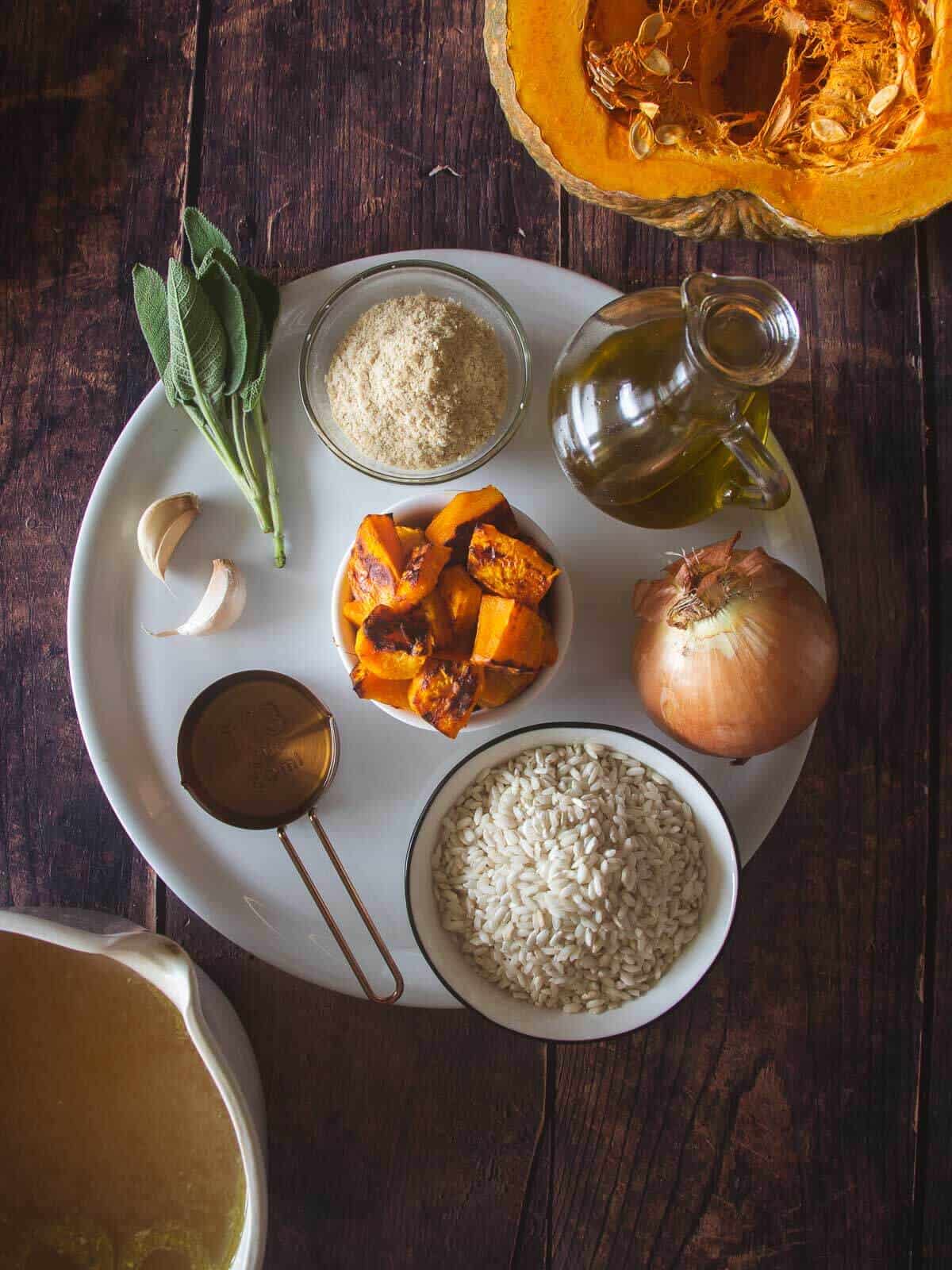 Pumpkin or butternut squash
Carnaroli rice or arborio rice
Dry white wine
Onion or shallot
Garlic cloves
Nutritional yeast
Olive oil or unsalted butter (vegan)
Vegetable stock
Fresh sage
See quantities and complete instructions in the recipe card.
🔪 Instructions
How to make roasted pumpkin risotto?
You'll be amazed that risotto can be made easily. The steps are outlined below. The recipe needs constant stirring, so be present! 🙂
Roast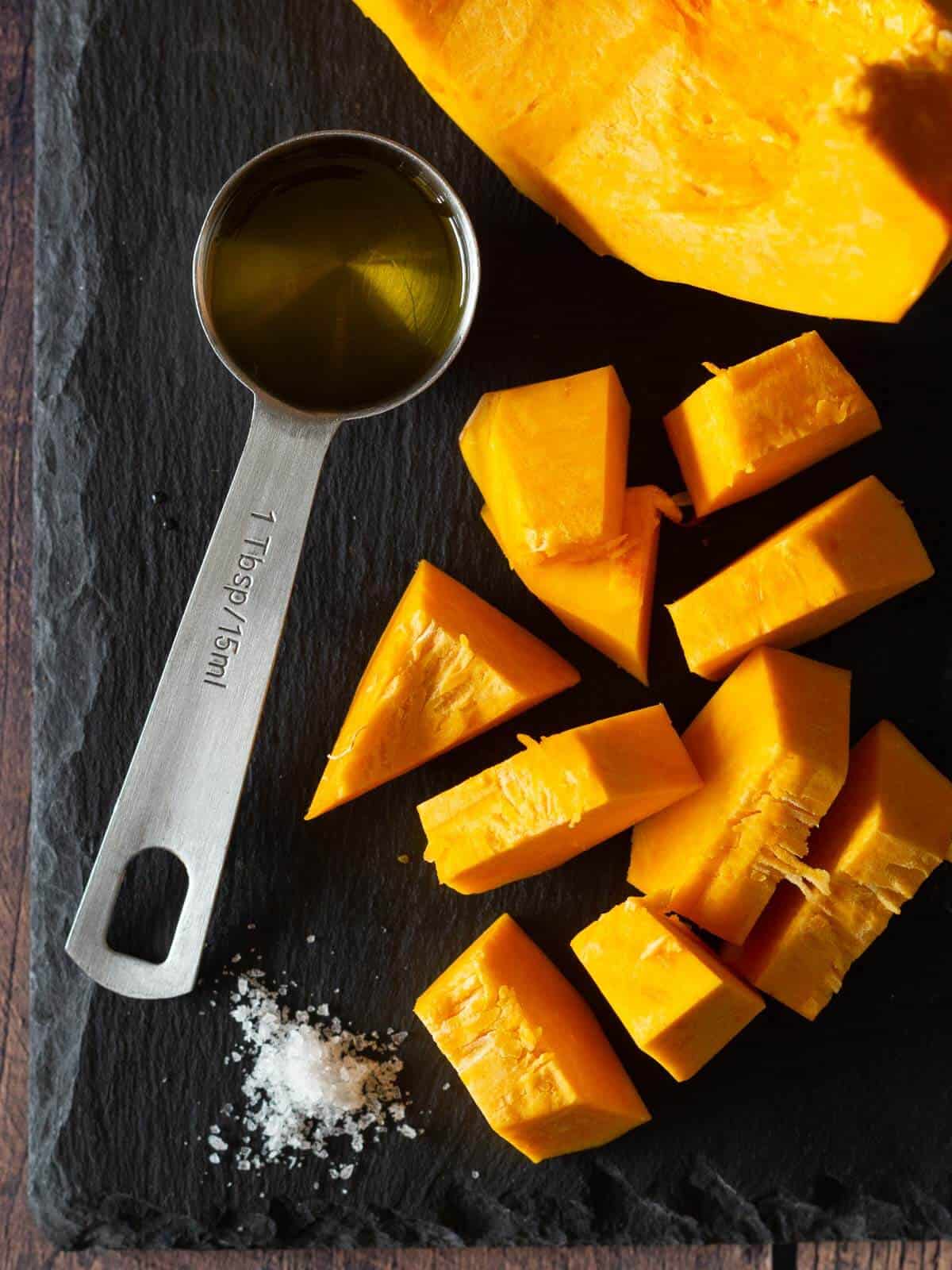 roast pumpkin with olive oil and salt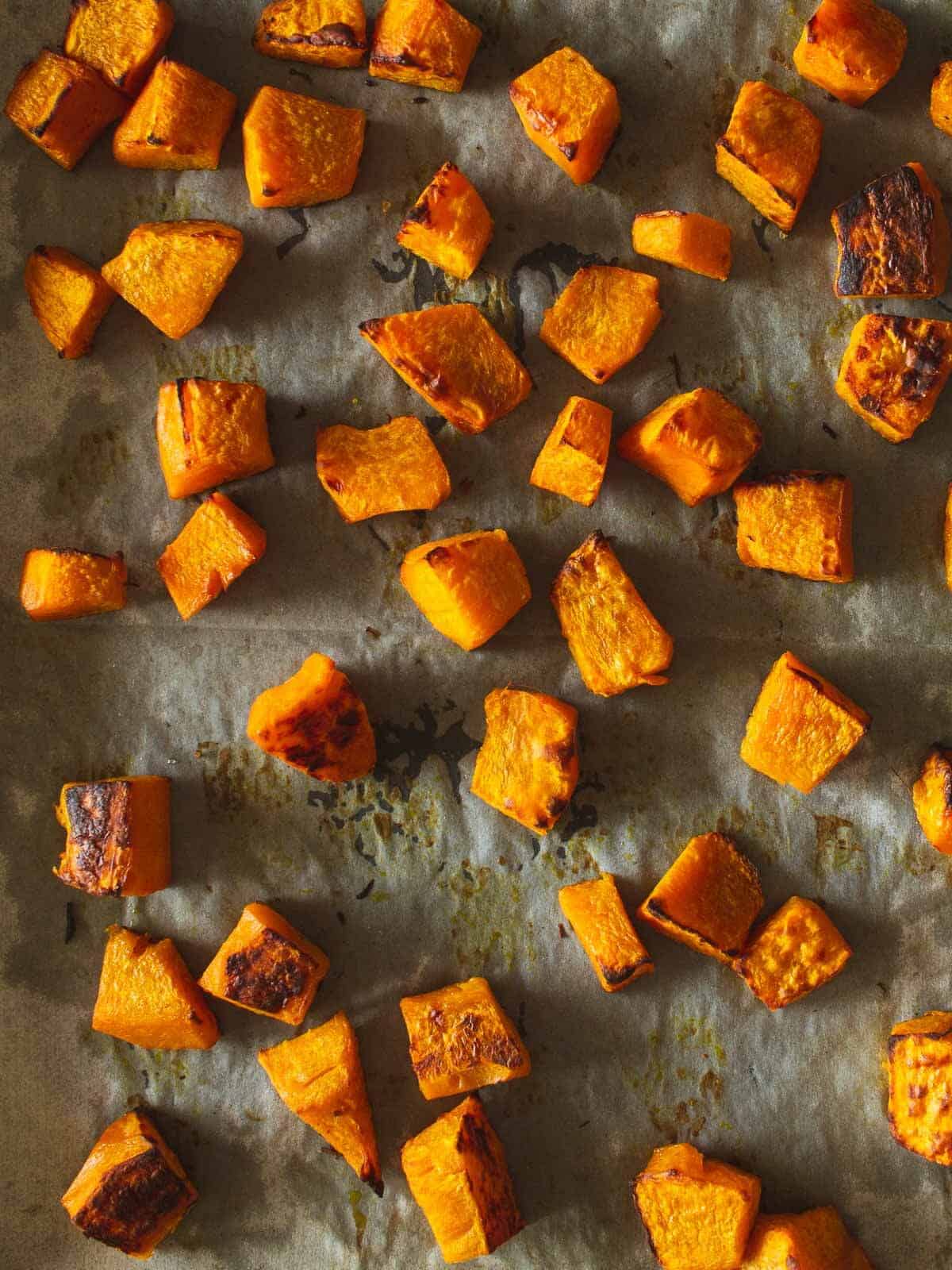 I like making small dice, so they cook quickly.
It begins in the oven briefly roasting the pumpkin dice with oil and salt for 20 minutes in a preheated oven.
Boil
Bring your choice of veggie stock to a simmer, and keep it close to your skillet where you will cook the risotto.
To make homemade stock you can simply bring some onions, garlic, and misfitted veggies to boil for 10-15 minutes in a large saucepan or large pot.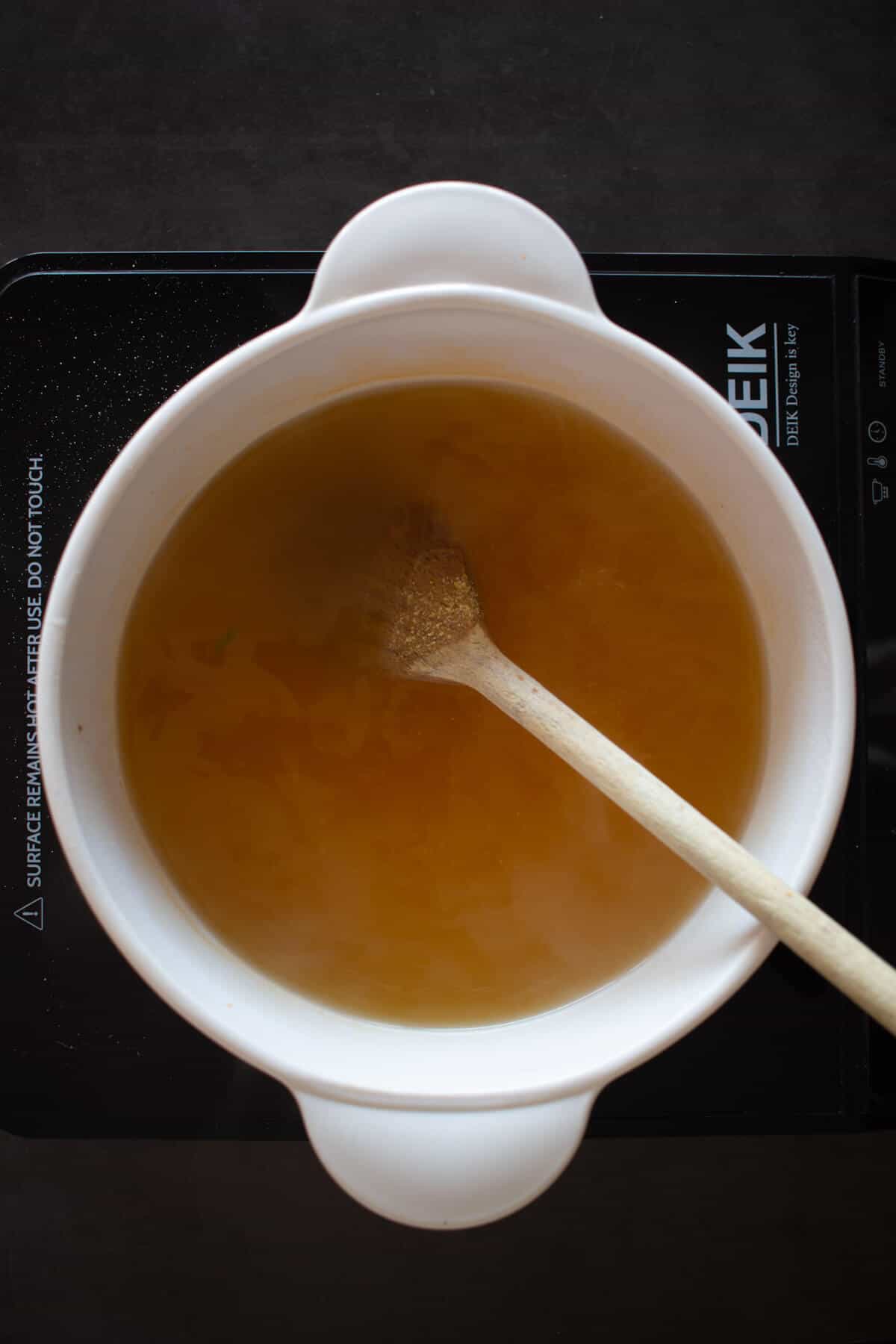 Chop and saute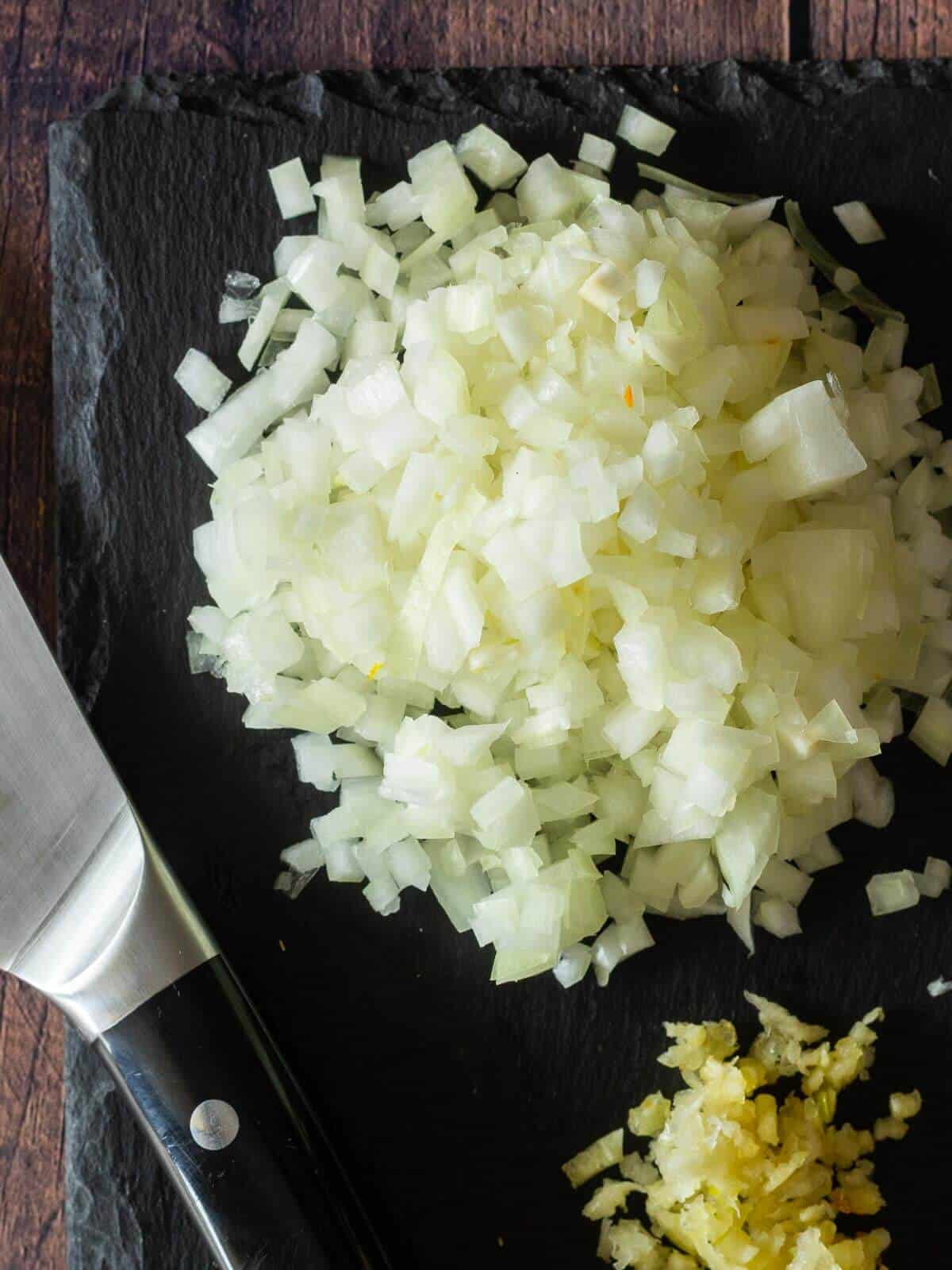 Finely chop the onion and mince the garlic.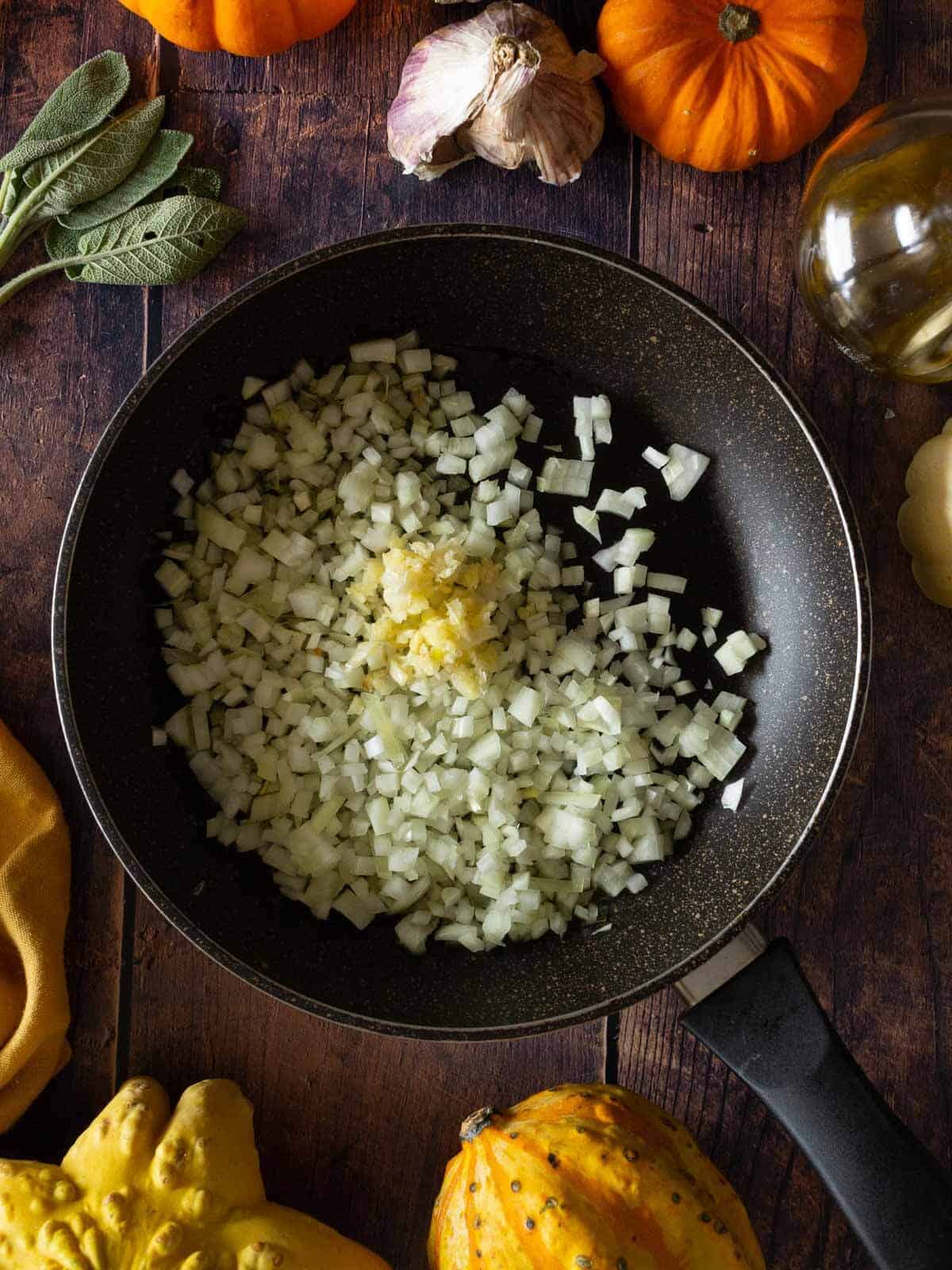 Then sauté on medium heat in a skillet on medium-high heat until the onions look translucent.
Cook the rice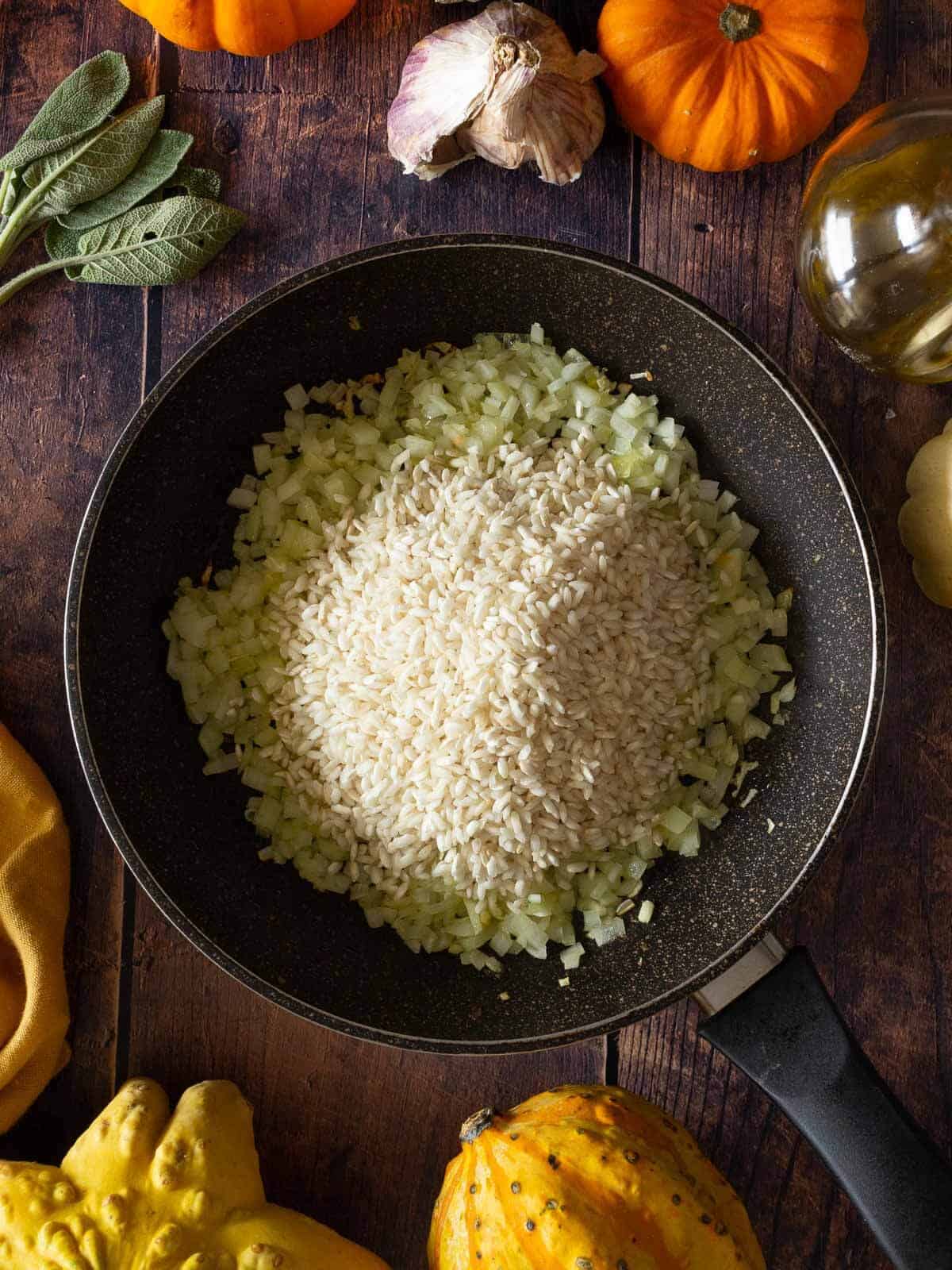 add rice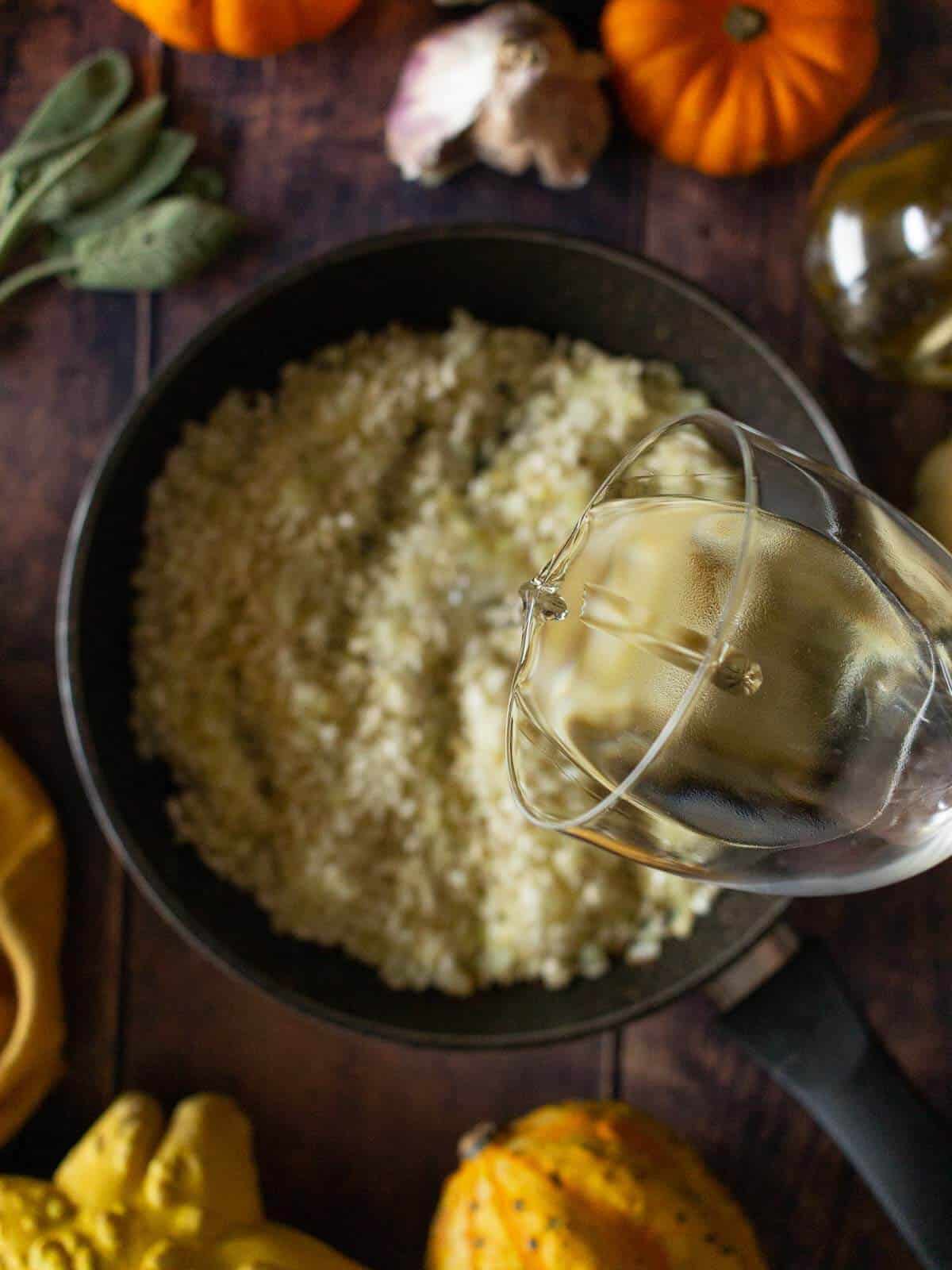 pour white wine
Stir frequently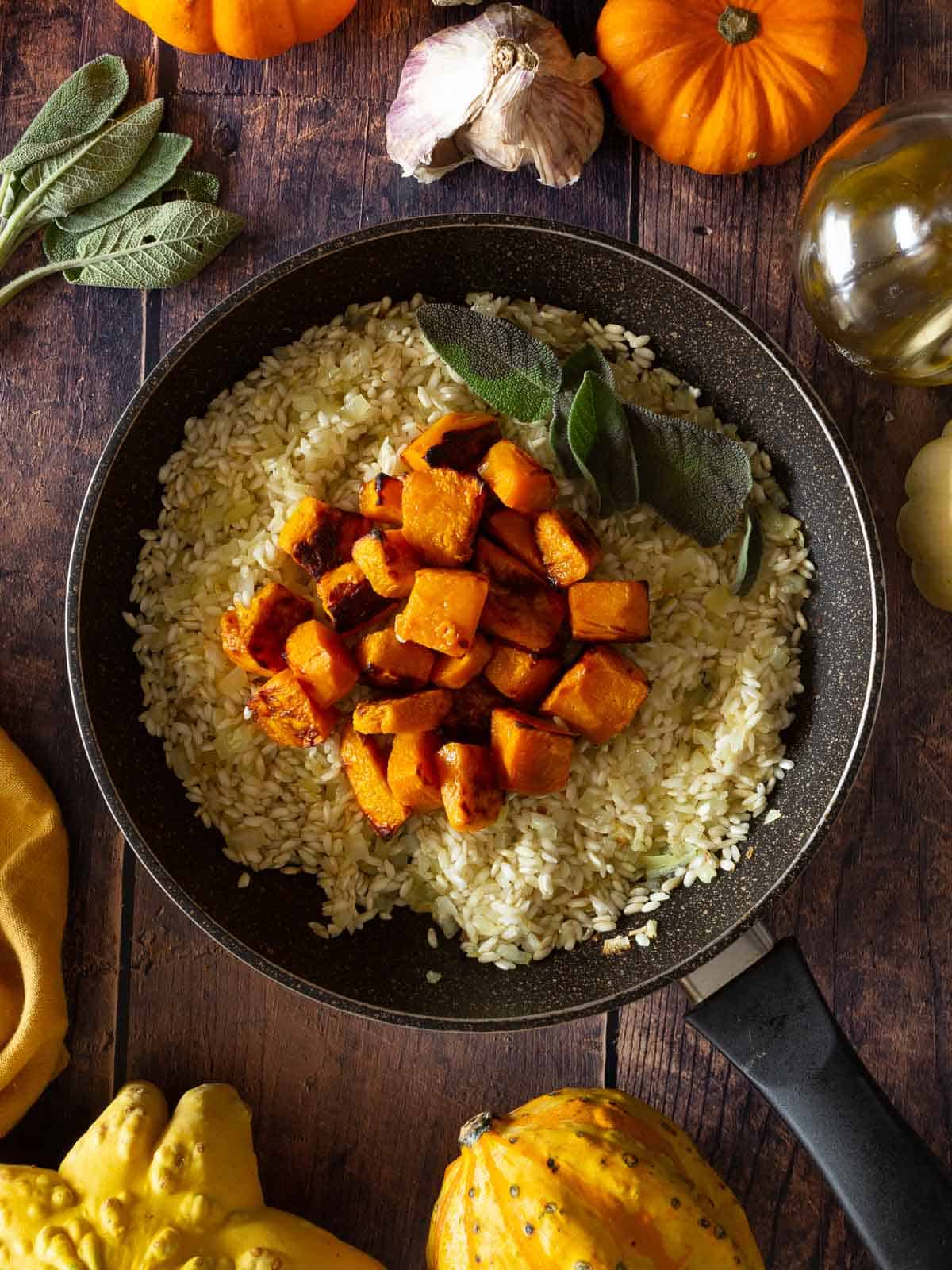 Keep adding the hot stock, a half cup at a time, and then add half the roasted pumpkin dice.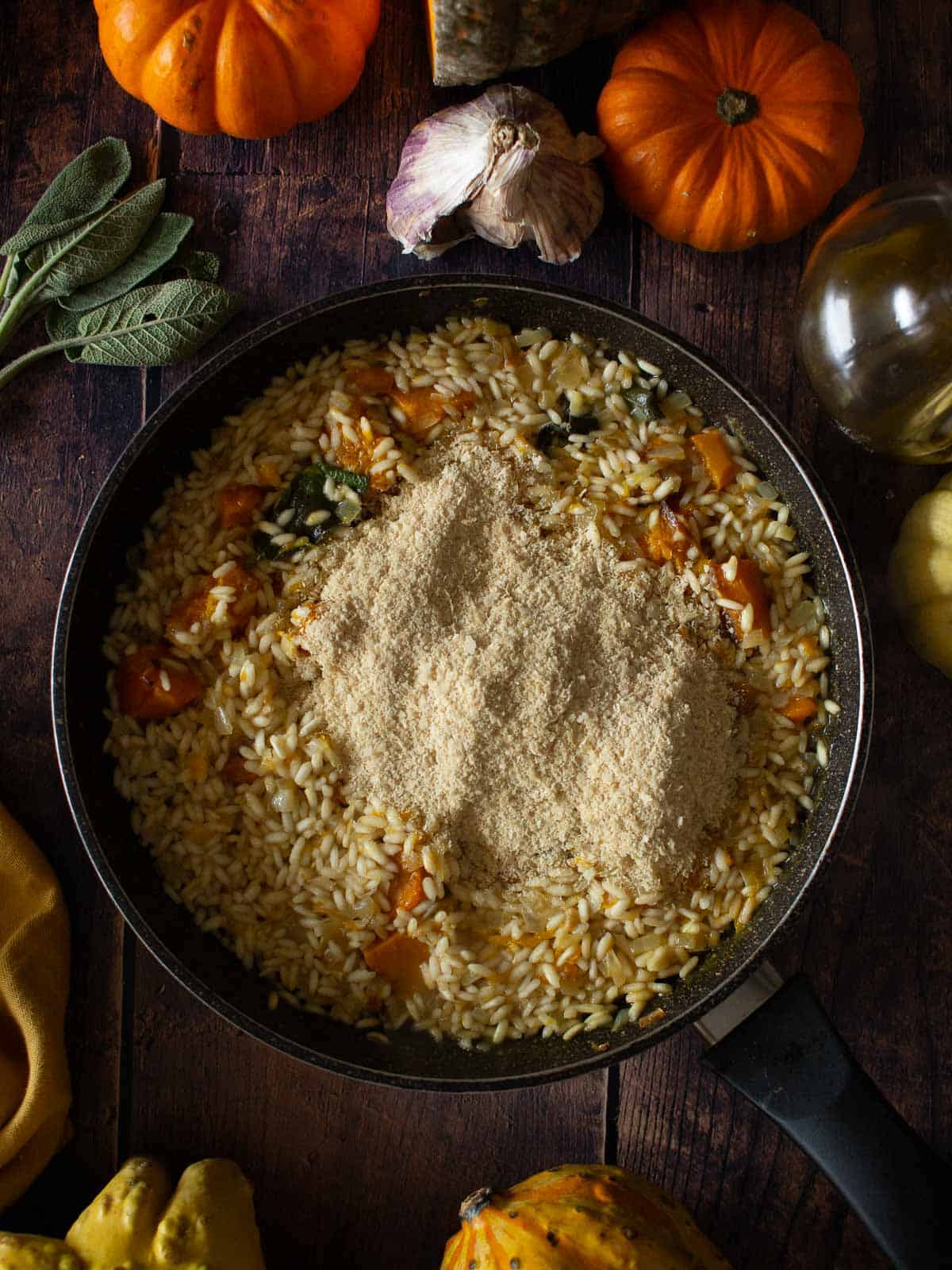 Then add the nutritional yeast or vegan parmesan cheese, to make it super creamy. Stir with a wooden spoon.
Season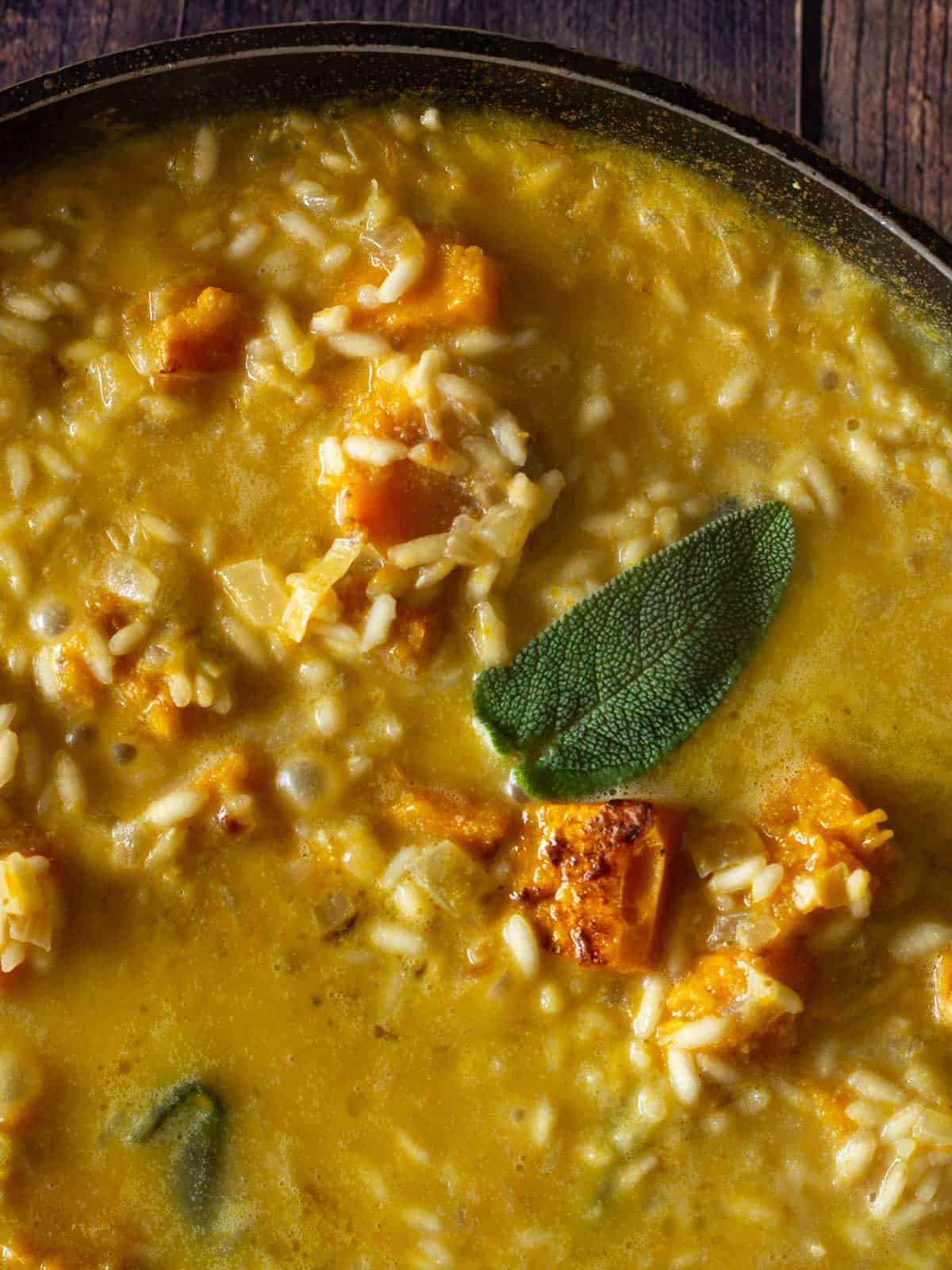 Add fresh sage (or herb of choice) and freshly grated nutmeg (optional). Add more stock and keep stirring occasionally making sure the pumpkin risotto doesn't dry out.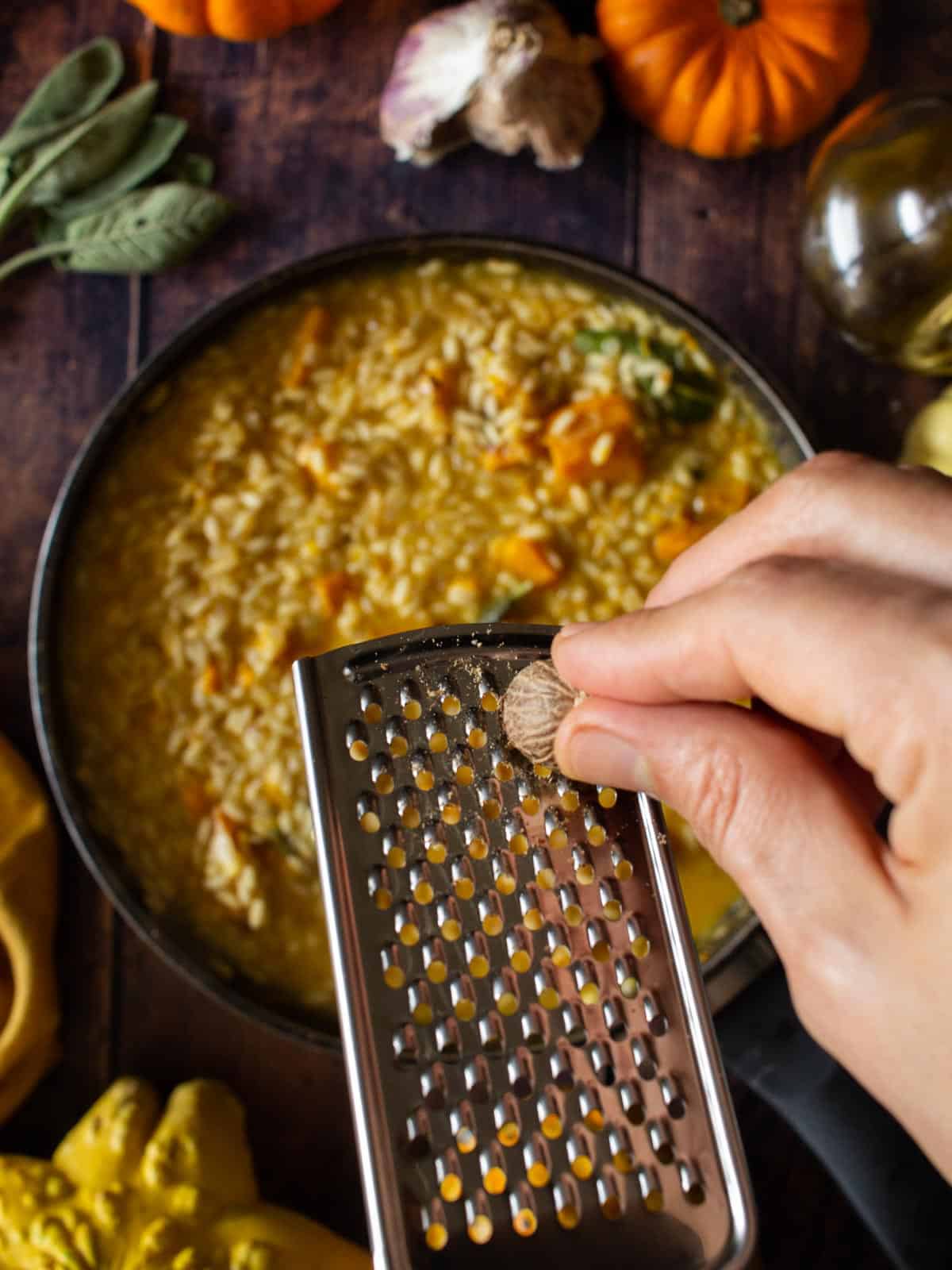 Optionally add freshly grated nutmeg.
Adjust
As soon as the rice is "al dente", reduce the heat and then turn off the hot stove.
Add a drizzle of oil or unsalted butter, optionally vegan parmesan cheese, salt, and pepper. Stir and let it sit for 2-3 minutes, then serve immediately.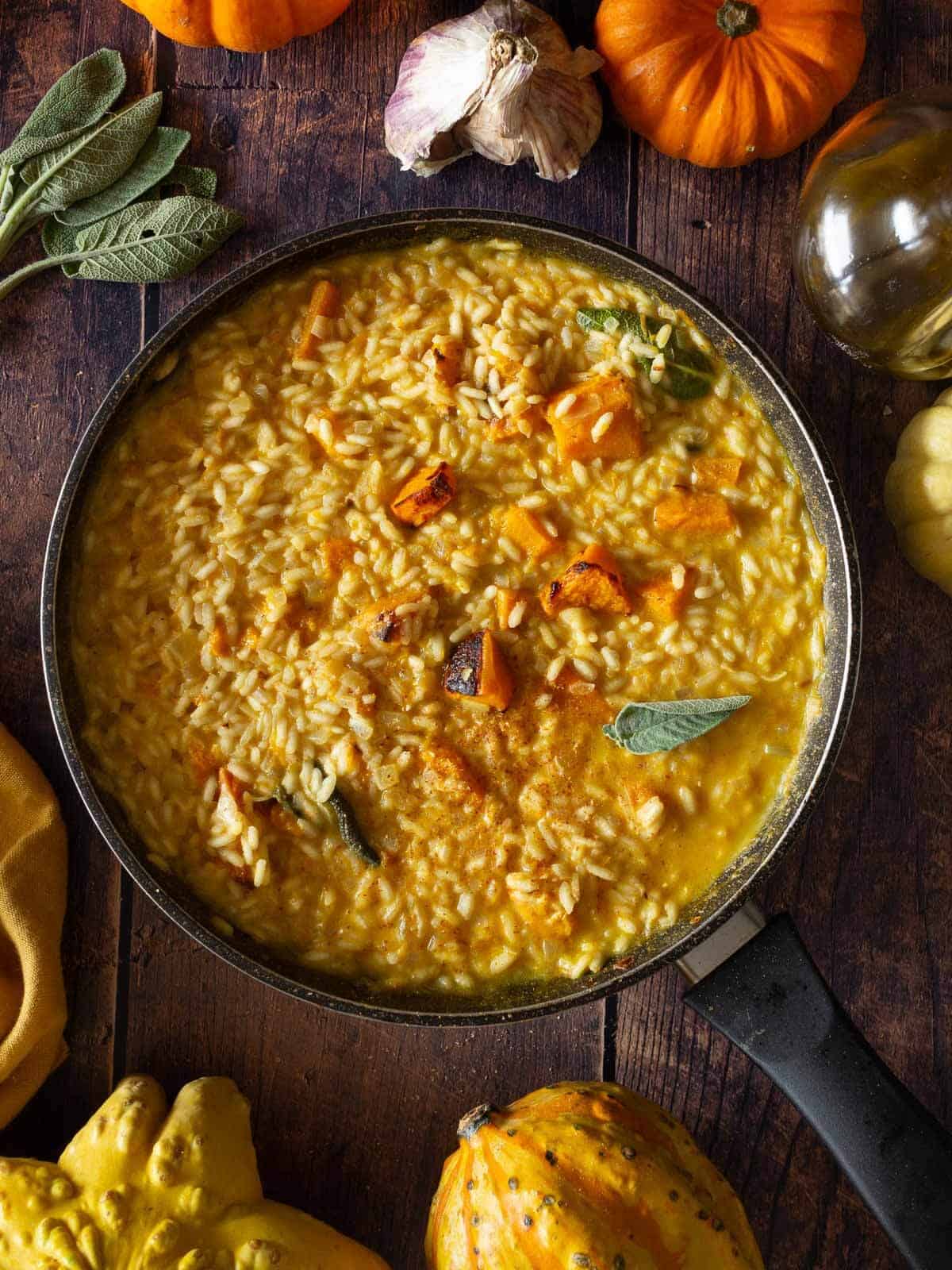 🍽 Equipment
You need a medium saucepan for the stock and a medium skillet to cook the risotto.
If you make the roasted pumpkin, you need a large baking sheet as well. The parchment paper is optional but makes things easier.
📖 Variations
Some variations also work for this delicious risotto.
Pumpkin
Instead of using fresh pumpkin, you can use pumpkin puree or canned pumpkin; it will taste nice; it will just not have the richness that we all know roasted vegetables bring in.
Use the same quantity and add the pumpkin mixture right after you start adding the hot stock.
Rice
As explained below, arborio rice also works if you can't find carnaroli rice. They are both short-grain and starchy Italian rice varieties. Here in Italy Carnaroli is considered the best rice for risotto as it makes a creamier dish.
If you want to use rice that has more fiber content, you could use brown arborio rice; keep in mind that the cooking time will increase to make it tender. In my experience, almost 2X.
Another popular rice variety used in the Veneto area is the vialone nano. The Vialone Nano rice comes in squat grains and is excellent rice: it absorbs seasonings well and has a good cooking yield, making it suitable for the preparation of risottos.
Pumpkin and spinach risotto
Immediately after adding the pumpkin dice, add one cup of shredded baby spinach per serving to the cooking rice.
Pumpkin and mushroom risotto
Before starting to cook, slice 50 grams (¼ cup) of sliced cremini or portabella mushrooms and stir fry them on an oiled skillet, turning them halfway until golden brown. Then remove from heat and reserve.
Add them to the mushroom pumpkin risotto 5 minutes after you add the pumpkin dice.
Olive oil
You can use unsalted vegan butter; instead, we love this easy homemade vegan butter recipe.
Herbs
Instead of using fresh sage, you can choose fresh thyme or rosemary; they pair very well with the pumpkin's velvety sweetness.
Onions
Leeks are very commonly used in risottos, like our winter lemony risotto. Leeks make a great substitution whenever you are out of white or yellow onions.
I have also tried using spring onion successfully.
To make a pumpkin and leek risotto, substitute the onion with one sliced leek (don't use the though green tops); then follow the exact same instructions.
Nutritional yeast
We use this fantastic ingredient to add creaminess and replace the umami flavor of regular grated parmesan cheese for this vegan pumpkin risotto and all other risottos you can find on this site.
If you have some homemade vegan parmesan cheese, go for it! It is made in minutes and adds richness.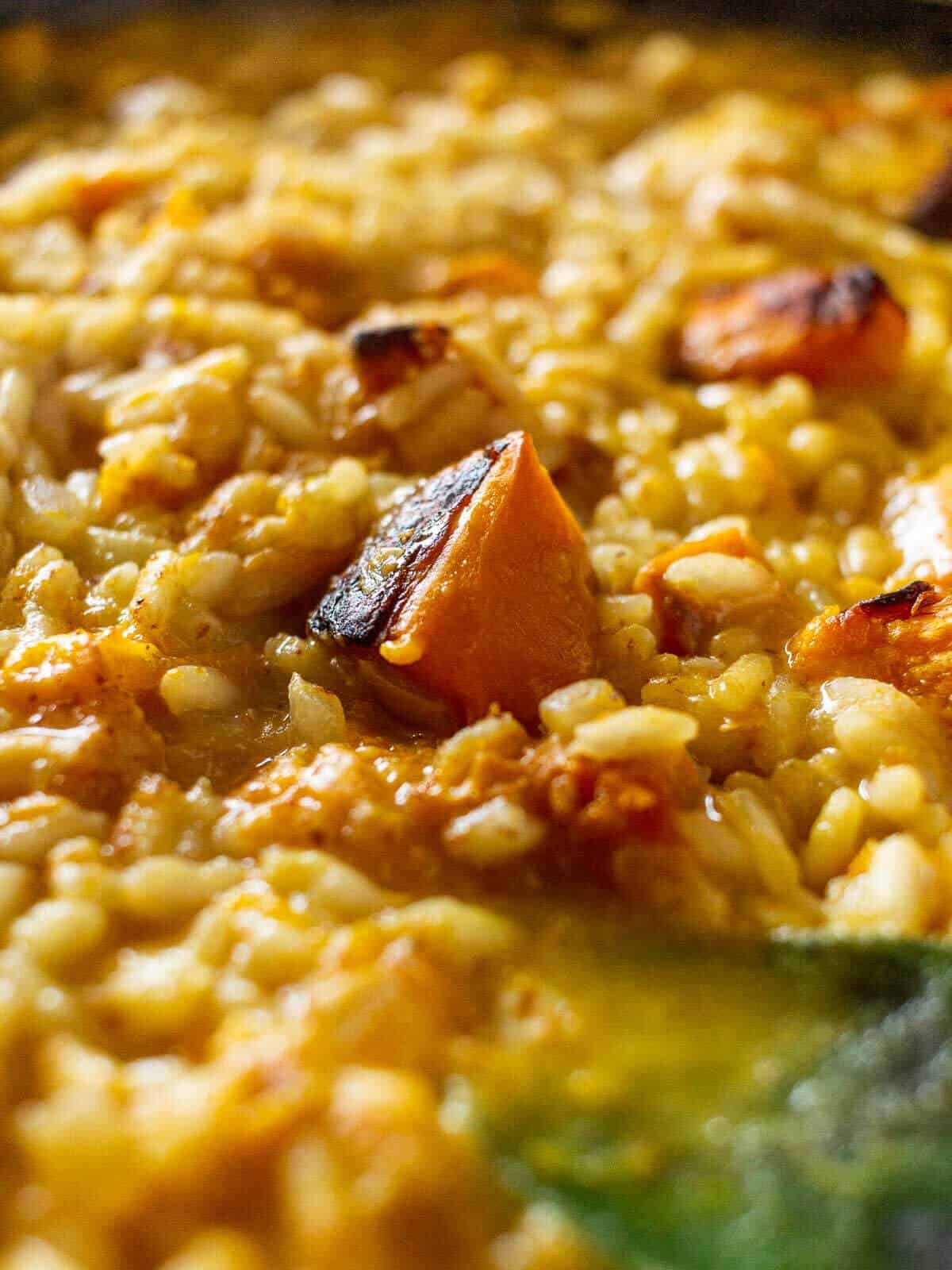 Pepper
Feel free you use black pepper or white pepper for a final touch.
🥡 Storage
Store leftovers in the fridge for up to 3 days or freeze them in an airtight container for up to 3 months.
If you freeze the risotto, unthaw it the night before in the fridge or the microwave. Then add some (not too much) to hydrate the risotto and top it with vegan parmesan.
🥢 How to serve risotto
This risotto is a complete meal, and yes, risotto means carbohydrates, but I need to let you know that people love sweeping the goodness out of their roasted pumpkin risotto plates, so there is always a piece of Pagnotta artisan bread or homemade focaccia around.
However, risotto in Italy is considered a "primo piatto", like an appetizer, as the main dish usually consists of a bigger portion of protein. That's why this risotto can make a perfect side dish as well.
Very hard to resist!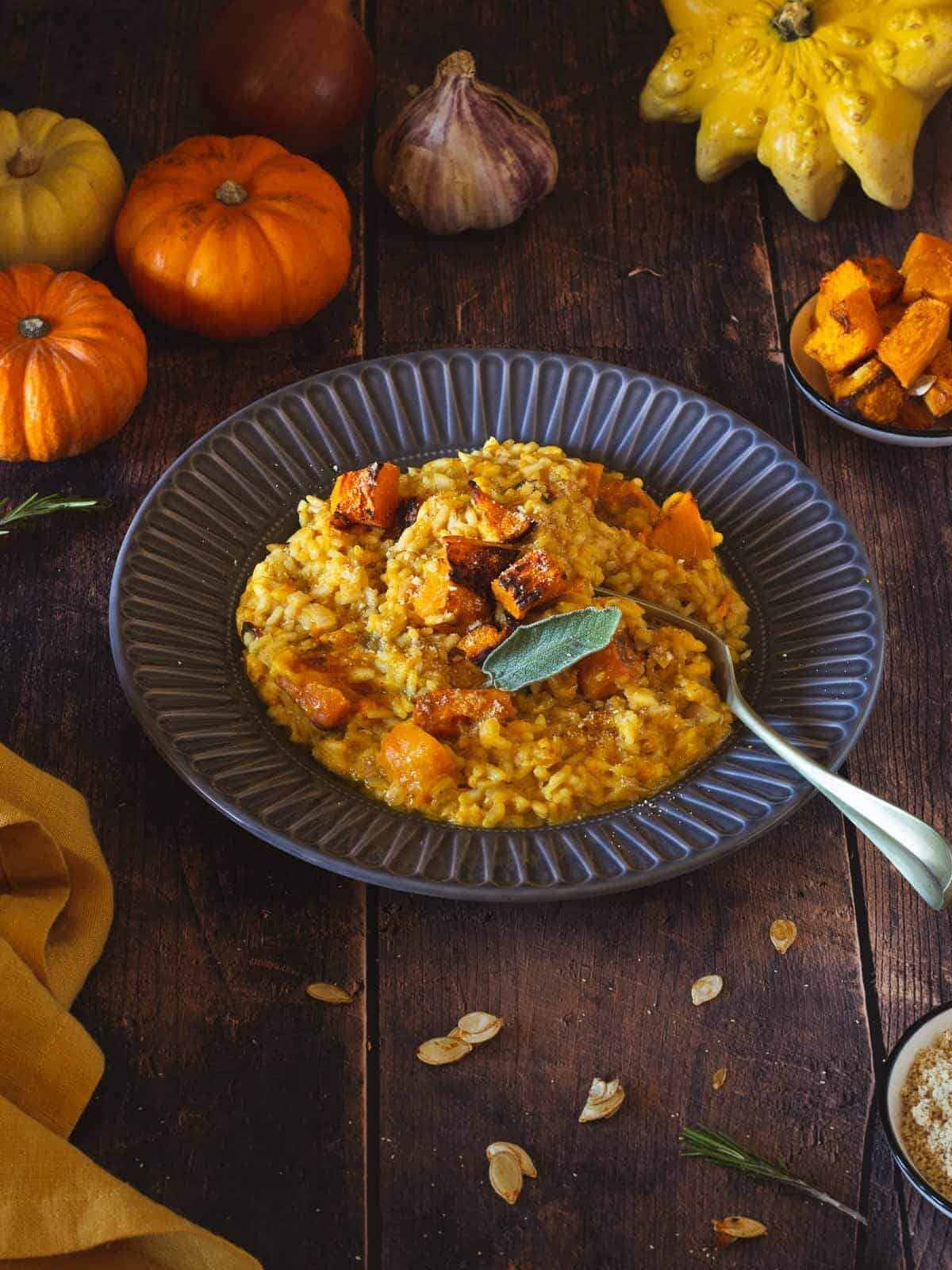 🧐 Tell me what's the best pumpkin?
In Italian cuisine, squash is called "zucca", and that term applies to the wide variety of squash they produce. You can use the same pumpkins that you would use for a pumpkin pie. They vary slightly in sweetness but are completely replaceable for this recipe.
If you use sugar pumpkin, it will decisively be a sweeter risotto, but don't worry! The flavor will be balanced out when we add the vegan parmesan (in replacement of grated parmesan cheese), sage, and the rest of the ingredients that make this pumpkin risotto fabulous.
You can use acorn squash, as well. It will be less sweet.
The magic of this recipe is that by roasting the pumpkin in the oven, you extract that amazing caramelizing goodness from any kind of squash, so pick the one you have available; even roasted butternut squash works perfectly.
Check out our guide to choosing and cooking pumpkin, to know more about how to use this delicious vegetable.
🍚 What rice to use for risotto?
The risotto rice must be creamy. The short-grain rice Italian varieties Carnaroli and Arborio bring just that: starch! It is the high starchy contents that make the risotto creamy. The most widely available on supermarket shelves is Arborio.
Risotto is traditionally cooked using carnaroli rice. Arborio rice can also be used, but here in the Lombardia region where risotto was born, most people argue Carnaroli is definitely best.
Both Carnaroli and Arborio are short-grain and starchy varieties giving an ideal creamy texture to risotto.
To complement the creaminess, the vegan parmesan cheese replaces the traditional dairy parmesan cheese and adds a mild saltiness that offers a contrast to the sweeter pumpkin.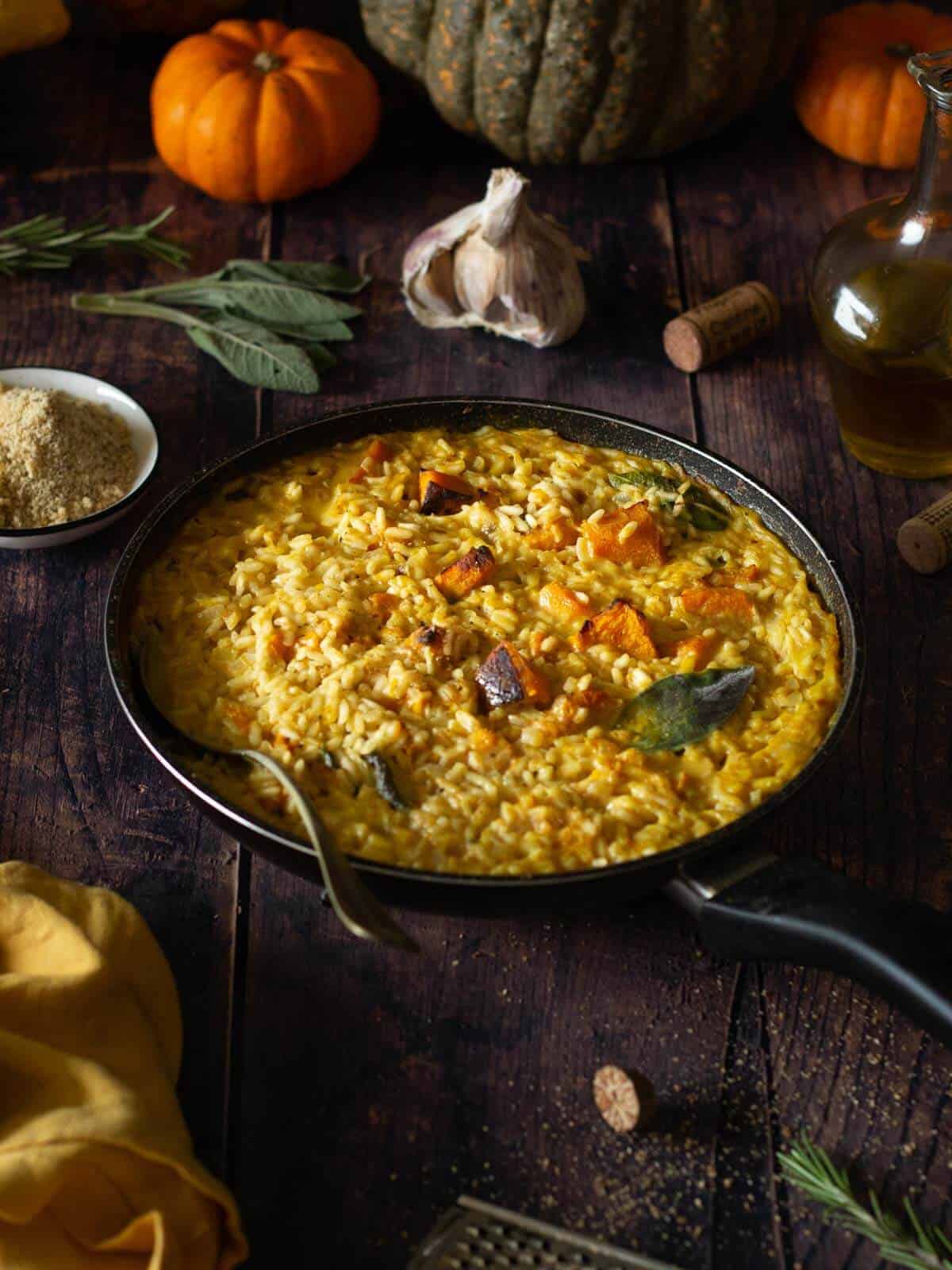 📚 More creamy risotto recipes
If you like mushrooms, you will quickly fall in love with our red wine risotto and the creamy mushroom risotto, which works with any variety of fresh mushrooms you can find.
We love lemony savory dishes like our all-time crowd please lemony spaghetti recipe, but we also use it in risottos, as it is common to find here in Italy. Experiment with this Lemony Winter risotto, made with lemons and leeks; we promise love at first sight.
If you are into traditional recipes, the classic Risotto alla Milanese is for you. It is made with saffron and allows you to appreciate the magic of traditional Italian cuisine.
Another super quick and convenient risotto is our Dried Tomato Risotto, which is easily put together with staple pantry ingredients and fresh basil; no one can resist the flawless combination of tomato and basil.
Ready to give this vegan pumpkin risotto a try? It's easier than you might think, and the end result is a creamy, healthy dish that will leave you feeling satisfied. So what are you waiting for? Get in the kitchen and start cooking one of our favorite recipes!
More Italian vegan recipes you will love in our compilation.
⭐ If you try this recipe, let us know! 💬 Leave a comment, rate it, and don't forget to tag us @ourplantbasedworld on Instagram. Cheers!
📋 Recipe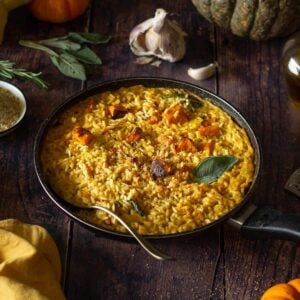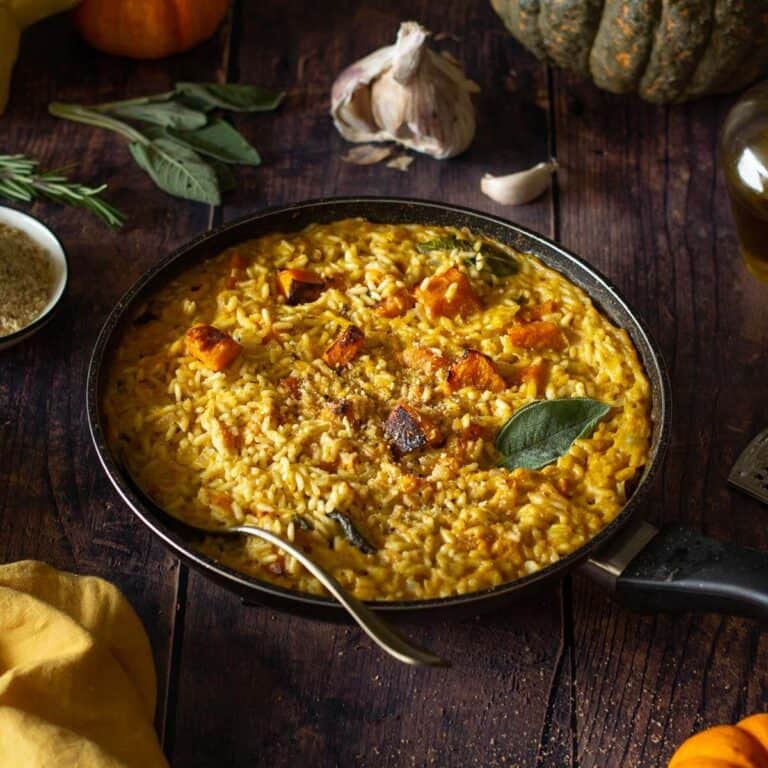 Vegan Roasted Pumpkin Risotto
Have you ever made a pumpkin risotto? If not, you're in for a real treat! This vegan, creamy, and healthy roasted pumpkin risotto is the perfect Fall dish. It's easy to make and it tastes delicious. You're going to love it!
Equipment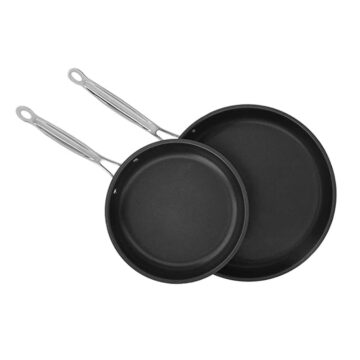 (affiliate link)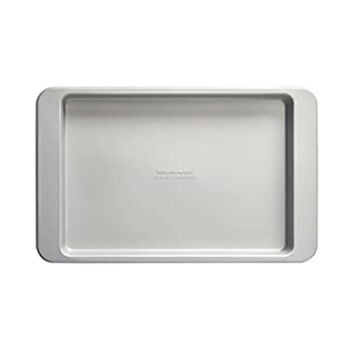 (affiliate link)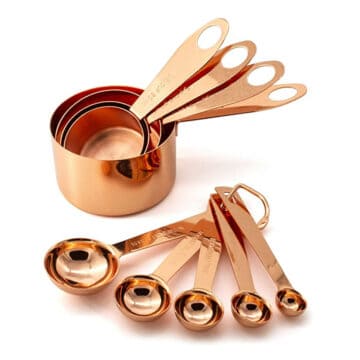 (affiliate link)
Directions
Roast the pumpkin
Preheat the oven to 425 ºF (220 ºC) and line a baking pan with parchment paper.

Cut the peeled fresh pumpkin into small dice. In a small bowl, mix the pumpkin with a teaspoon of olive oil and a pinch of salt.
Vegetable broth
In a medium saucepan, bring the vegetable stock to a boil over moderate heat. Reduce the heat to low and keep it hot.
Cook risotto
Heat the oil in a medium saucepan. Add the chopped onions, followed by the minced garlic, and cook over moderately high heat, frequently stirring, until the onion is translucent, about 3 minutes.

Add the rice, lightly cook it until and add the wine (or ⅓ cup vegetable broth), occasionally stirring, until most of the liquid has evaporated, and start adding hot stock.

Reduce the heat to moderate and gradually add 4 more cups of the hot vegetable broth, ½ cup at a time, stirring and cooking until the stock is almost absorbed before adding the next, about 15 minutes.

Add half of the pumpkin dice (save some for garnishing) and the nutritional yeast. Smash some of the pumpkins, so it contributes to the creaminess of the risotto, and leave some dice whole.

Stir in the fresh sage and grate some nutmeg (optional).
Adjust
Taste the rice and when it is al dente, turn off the heat, add a drizzle of olive oil and black pepper and adjust the salt.
Serve
Spoon the risotto into plates and sprinkle the Vegan Parmesan on top. Serve immediately.
Notes
Pumpkin weight refers to deseeded and peeled pumpkins.
Nutrition Facts
Calories:
357
kcal
Carbohydrates:
56
g
Protein:
9
g
Fat:
11
g
Saturated Fat:
2
g
Polyunsaturated Fat:
1
g
Monounsaturated Fat:
8
g
Sodium:
1178
mg
Potassium:
561
mg
Fiber:
5
g
Sugar:
6
g
Vitamin A:
7867
IU
Vitamin C:
10
mg
Calcium:
29
mg
Iron:
4
mg
Nutrition Facts
Vegan Roasted Pumpkin Risotto
Amount per Serving
% Daily Value*
* Percent Daily Values are based on a 2000 calorie diet.
🌡️ Food safety
Cook to a minimum temperature of 165 °F (74 °C)
Do not use the same utensils on cooked food that previously touched raw meat
Wash hands after touching raw meat
Don't leave food sitting out at room temperature for extended periods
Never leave cooking food unattended
Use oils with high smoking points to avoid harmful compounds
Always have good ventilation when using a gas stove
See more guidelines at USDA.gov.
The information shown is an estimate provided by an online nutrition calculator. It should not be considered a substitute for a professional nutritionist's advice. See our full Nutritional Disclosure here.
Please note that some of the links here are affiliate links, and I will earn a commission if you purchase through those links. I recommend all of the products listed because they are companies I have found helpful and trustworthy.