Move over, zucchini bread! There's a new way to use up all of those summer zucchinis, and it's even more delicious. These Lebanese stuffed zucchini are the perfect way to celebrate all that fresh produce. Filled with spiced vegan meat and rice, they're hearty and satisfying. Plus, they're easy to make so you can have a delicious dinner ready in no time. Whether you're looking for a new weeknight meal or something special for guests, these stuffed zucchini are sure to please. Give them a try tonight!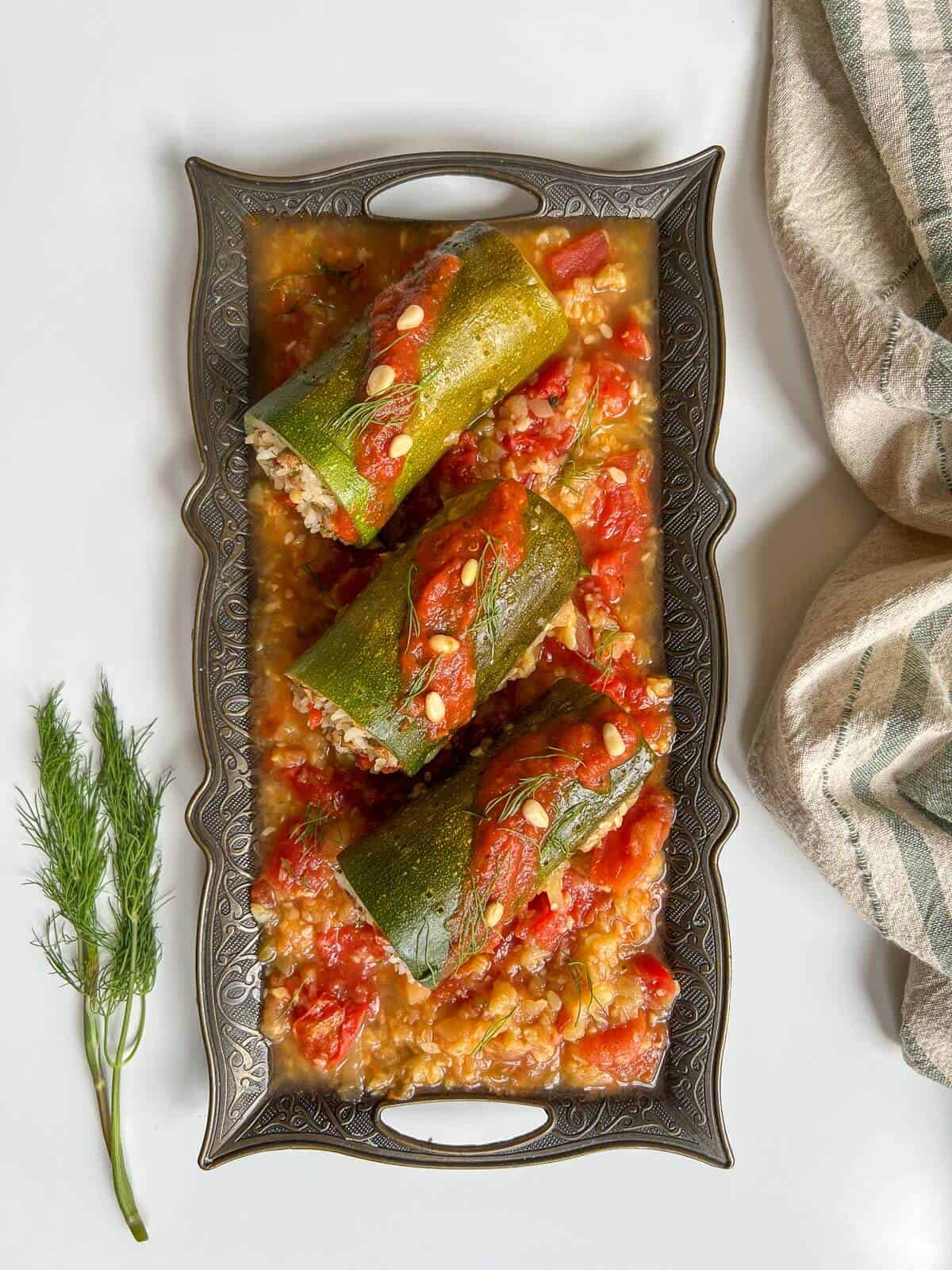 Although the summer season is almost gone, zucchini is one of the summer squashes available year-round. Smaller zucchini tend to have a better flavor and texture, while medium to large zucchini is best saved for baked goods or stuffing.
This stuffed zucchini recipe uses the whole vegetable, the zucchini shells to keep the spiced minced vegan meat and rice stuffing inside, and the zucchini flesh to combine with the tomato sauce.
This was inspired by our stuffed peppers recipe and is also seasoned with store-bought or homemade Lebanese 7 spice mix on this site. This recipe pairs well with Tabbouleh salad.
Jump to:
🧾 Ingredients
Make this stuffed zucchini with rice with a few ingredients that are super easy to find. Even the 7 spices mix is easily made home with spices you might already have in your pantry.
One thing we did to make this stuffed zucchini vegan was replacing ground beef with vegan mock meat.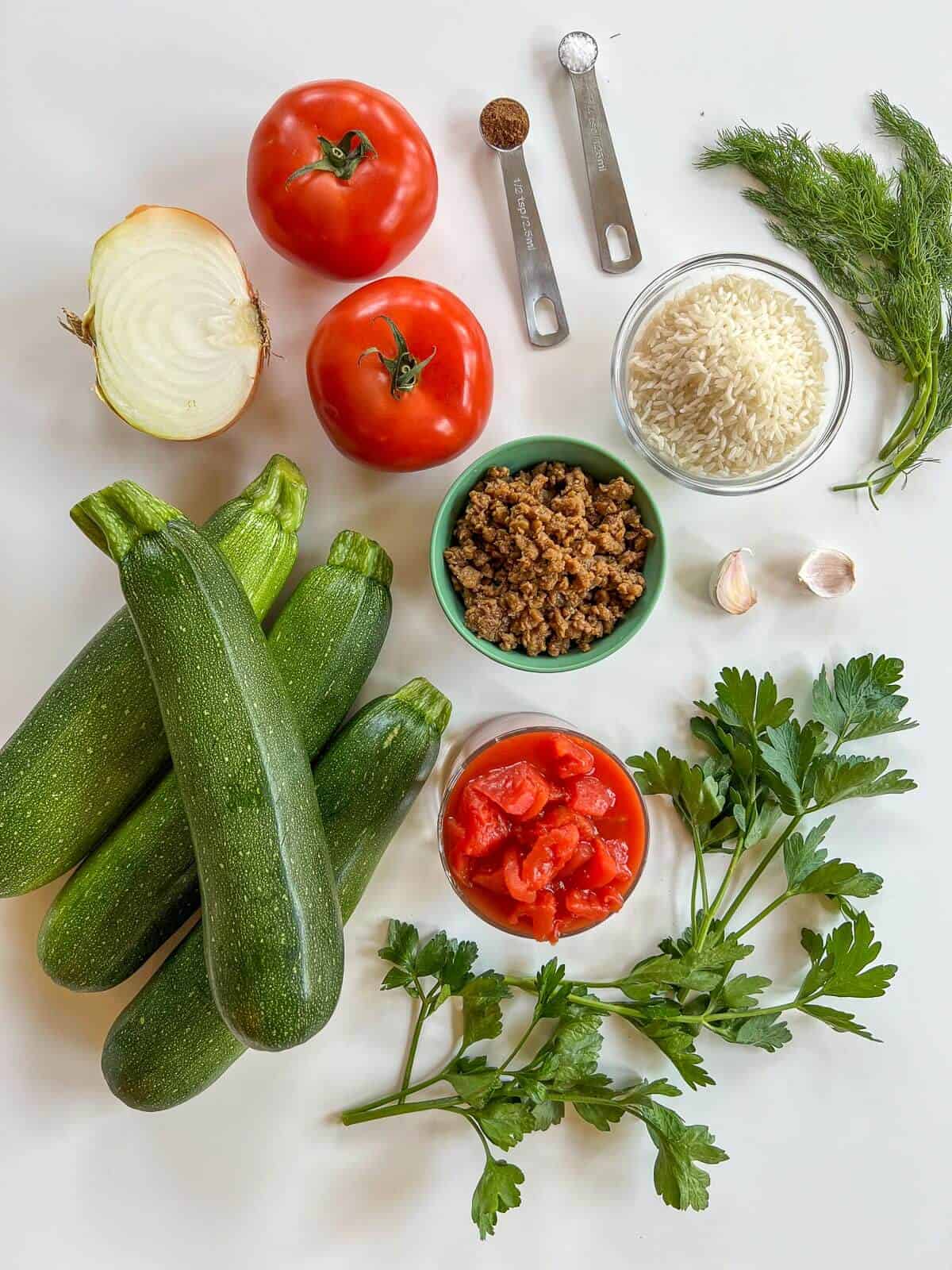 zucchini
vegetable broth
long-grain rice
ground beef-less mock meat
onion
tomato
fresh parsley
fresh dill
Lebanese 7 spice
garlic clove
salt and pepper
See the recipe card for quantities.
🔪 Instructions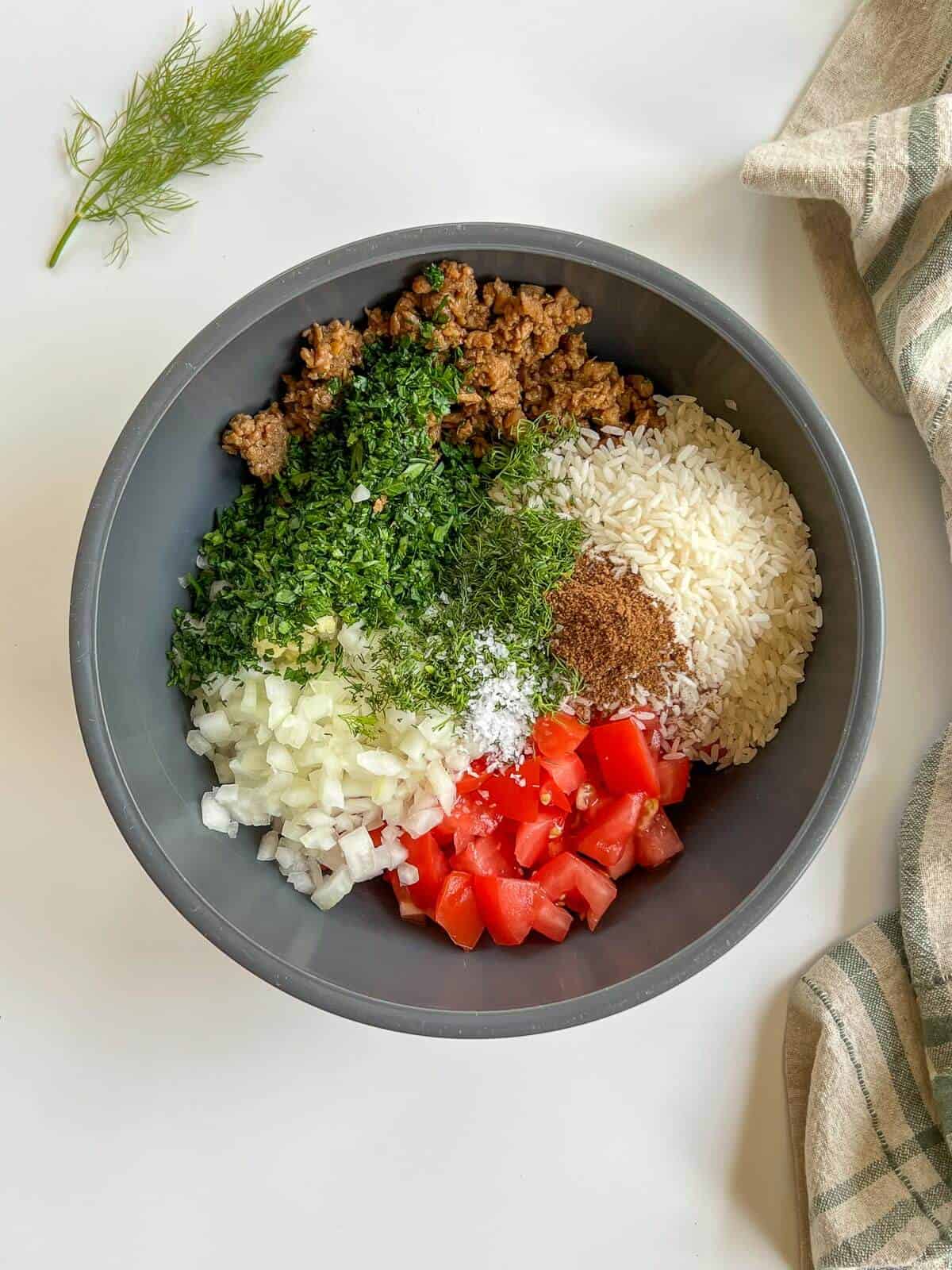 Combine the diced tomatoes, onions, and herbs with the mock meat and spices in a bowl.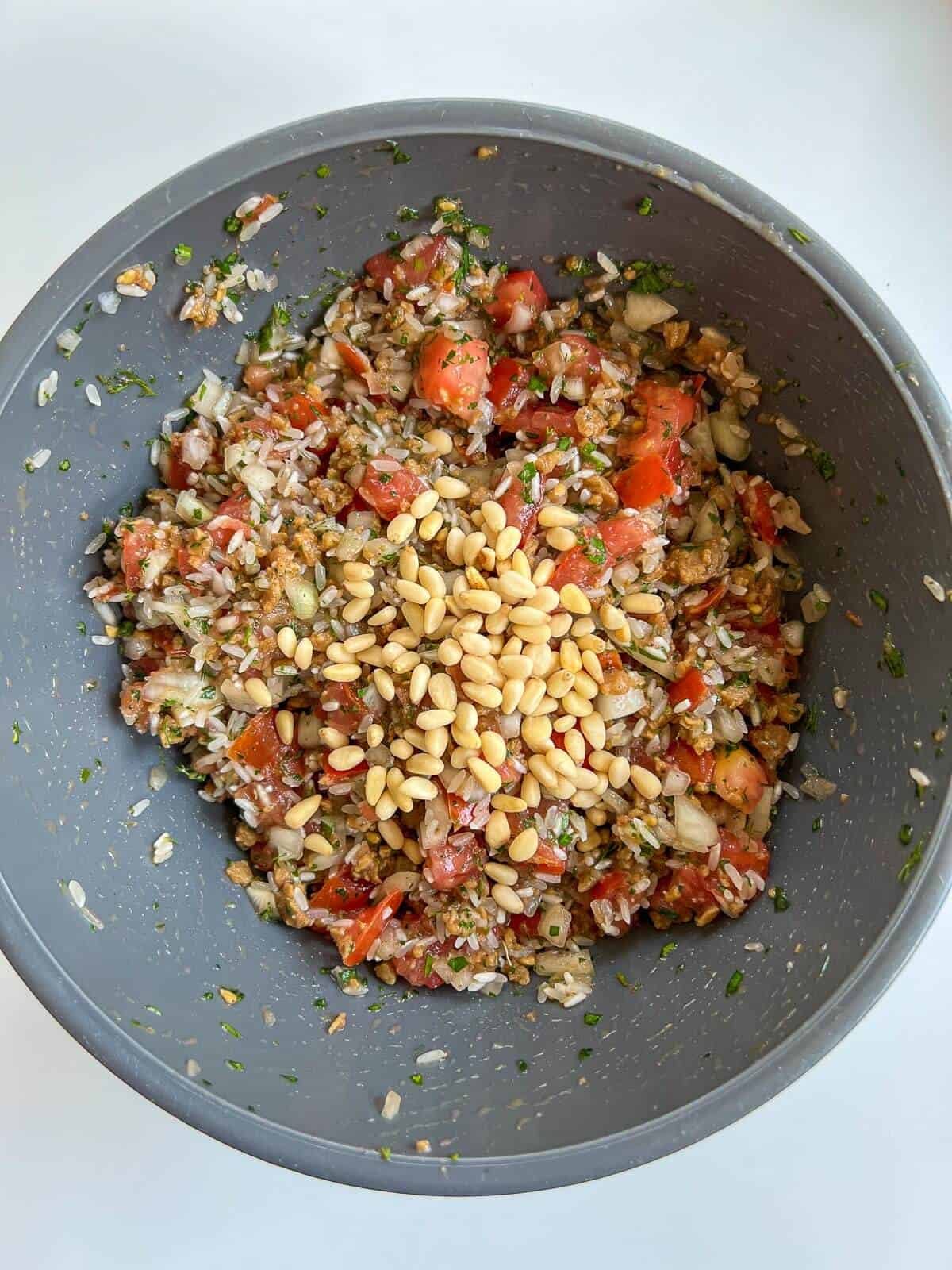 Optionally add pinenuts to the rice mixture to add a nutty flavor.
Hint: Insert your potato peeler or corer about ¾ of the way into the zucchini, making sure not to poke the bottoms.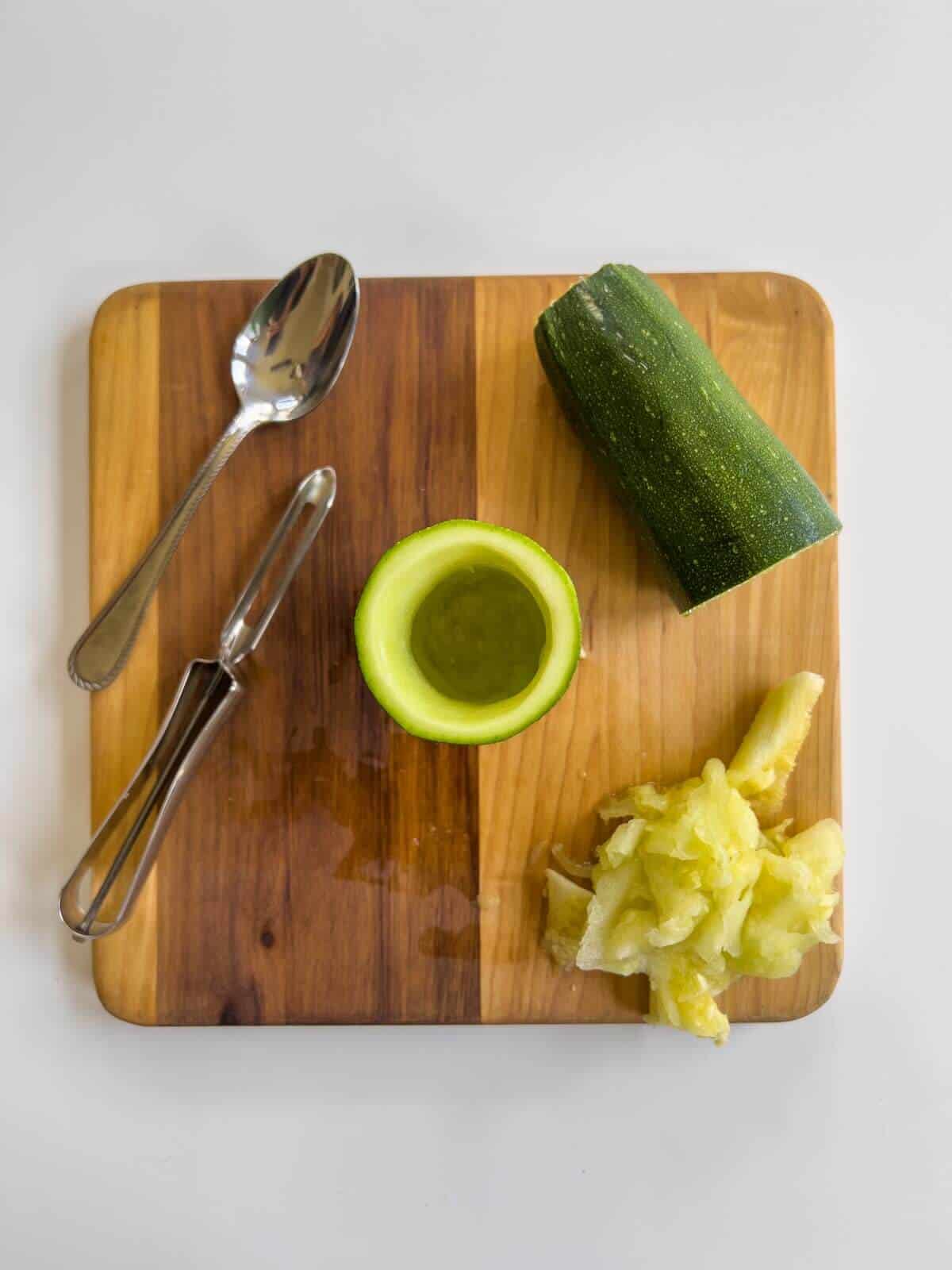 Scrape the sides of the zucchini with a pointed potato peeler or a small spoon until you have hollowed each out.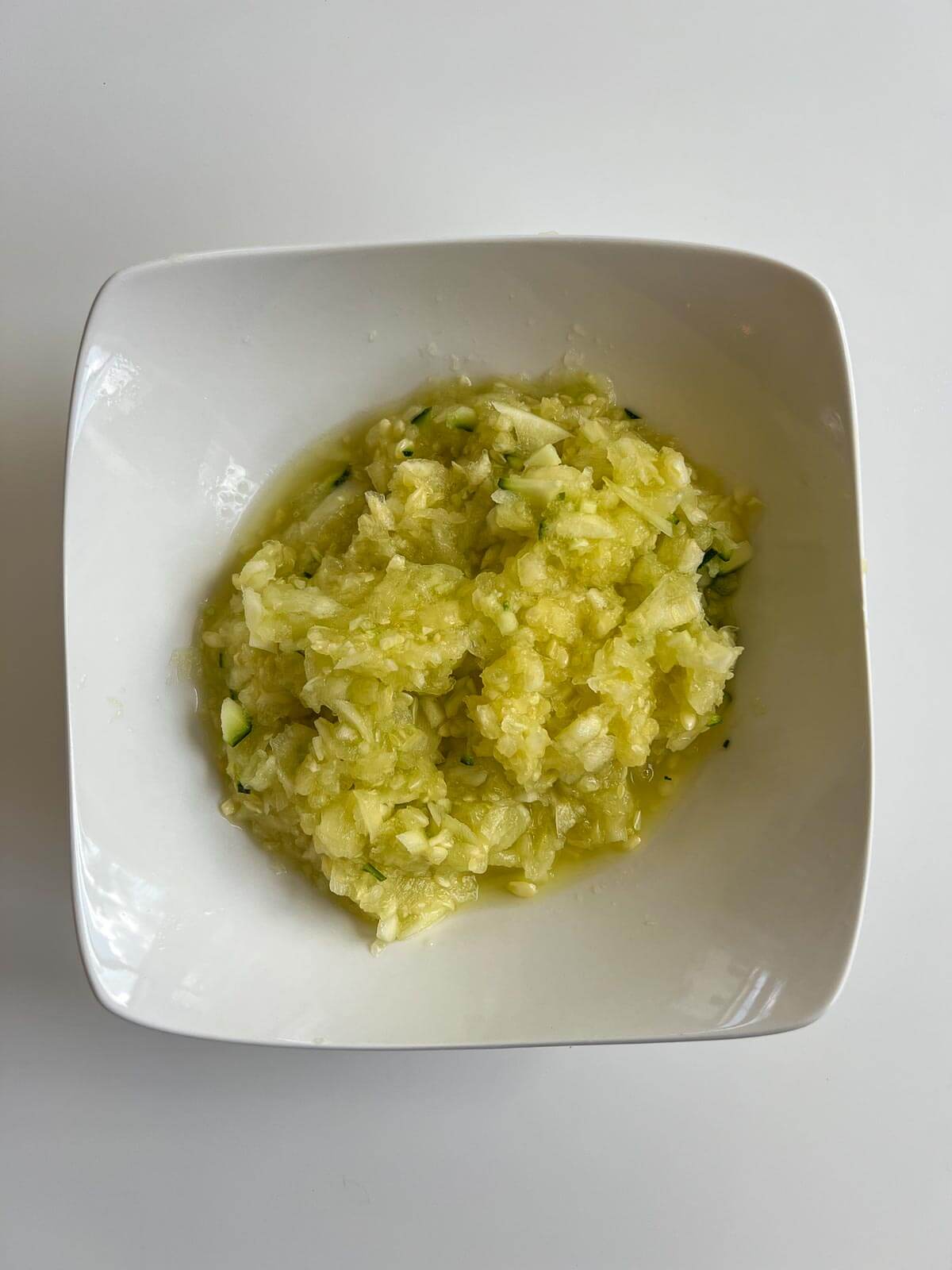 Reserve the zucchini insides.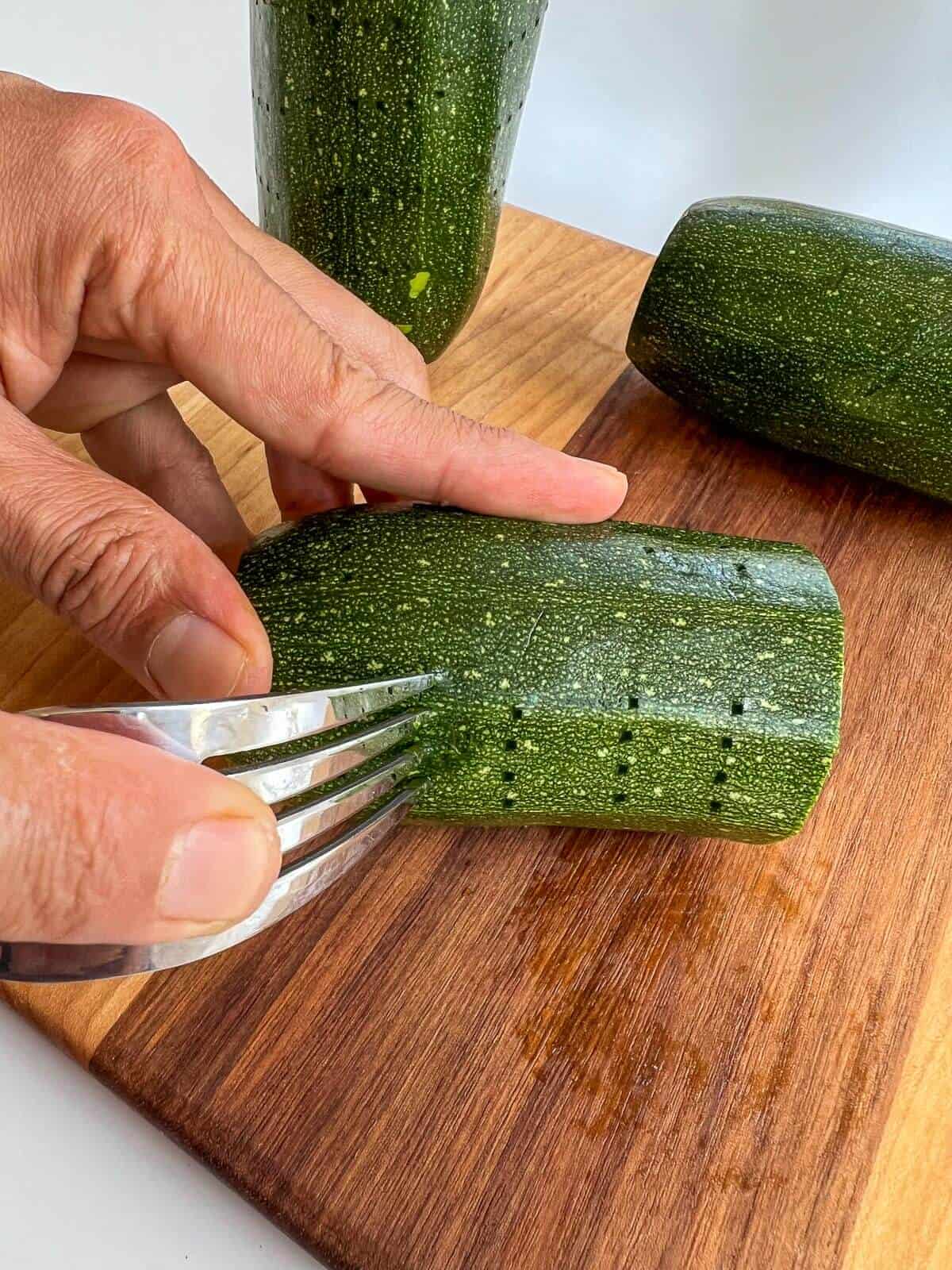 Pierce the zucchini shells with a fork.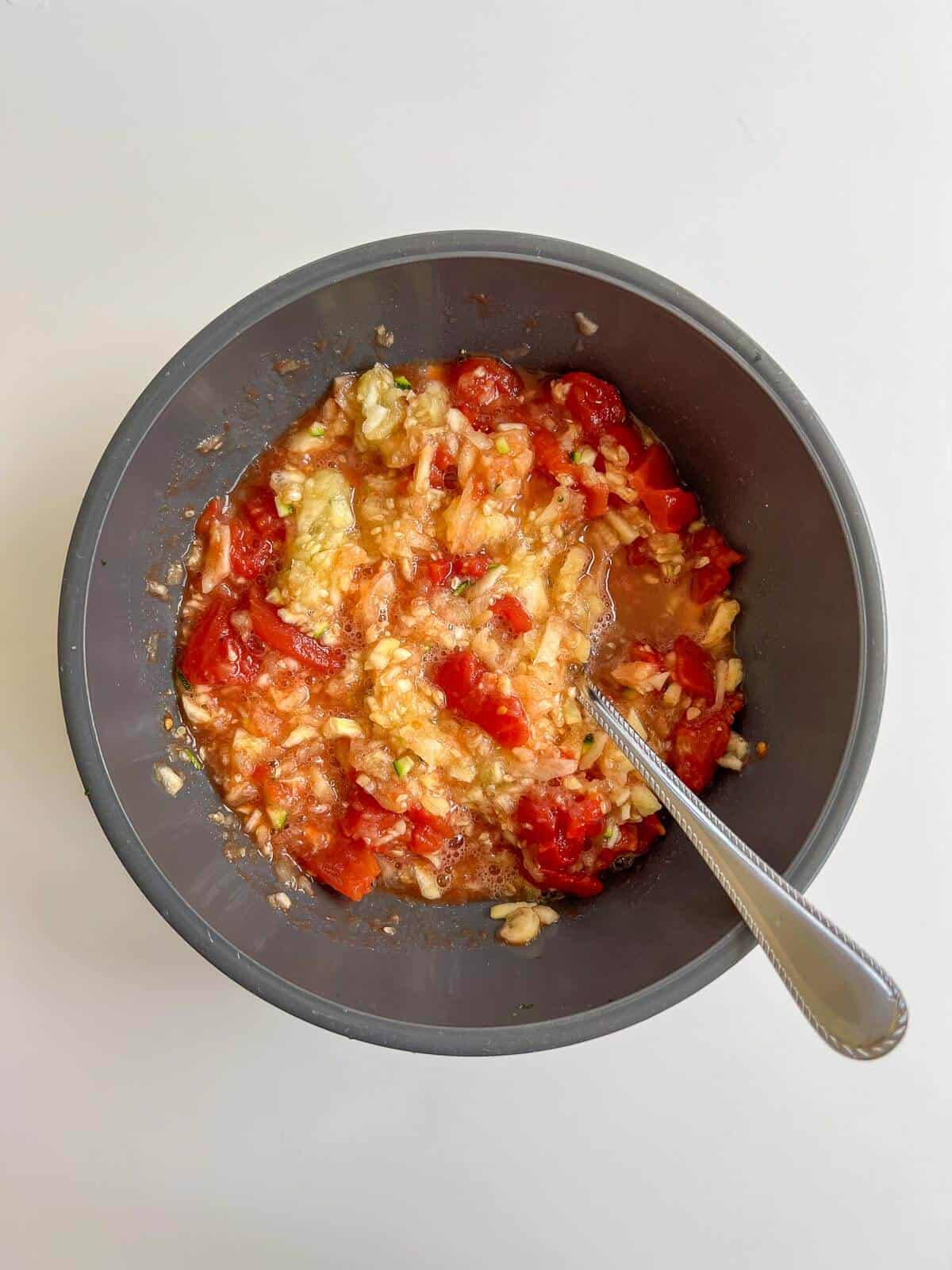 Combine the tomato dice with the zucchini flesh.
You don't need to cook rice beforehand because it will cook inside the zucchini with the heat in the saucepan.
Add a little oil to the bottom of the saucepan.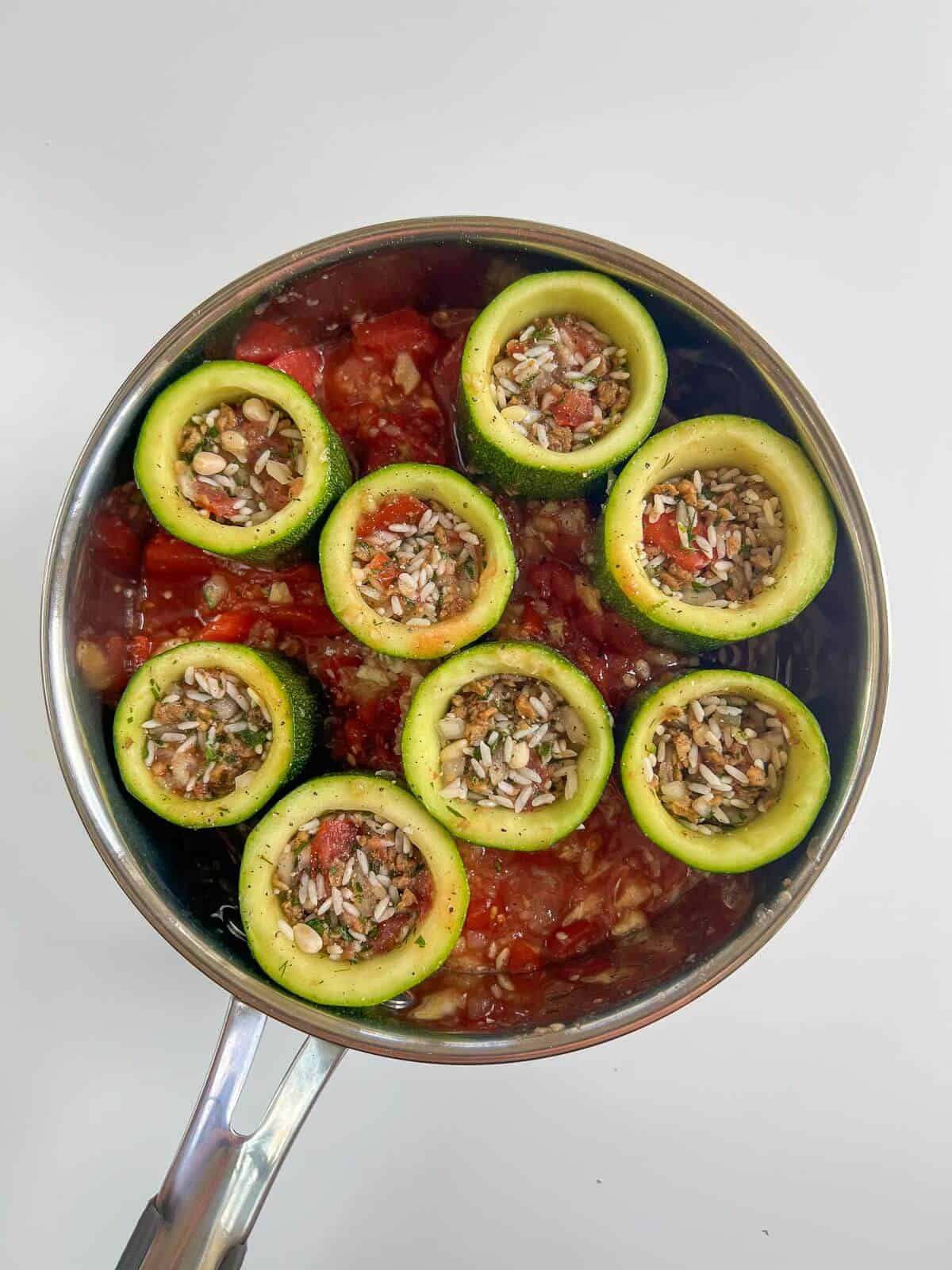 Arrange the zucchini stuffed with rice (filling about ¾ of the way) next to each other, so they don't flip.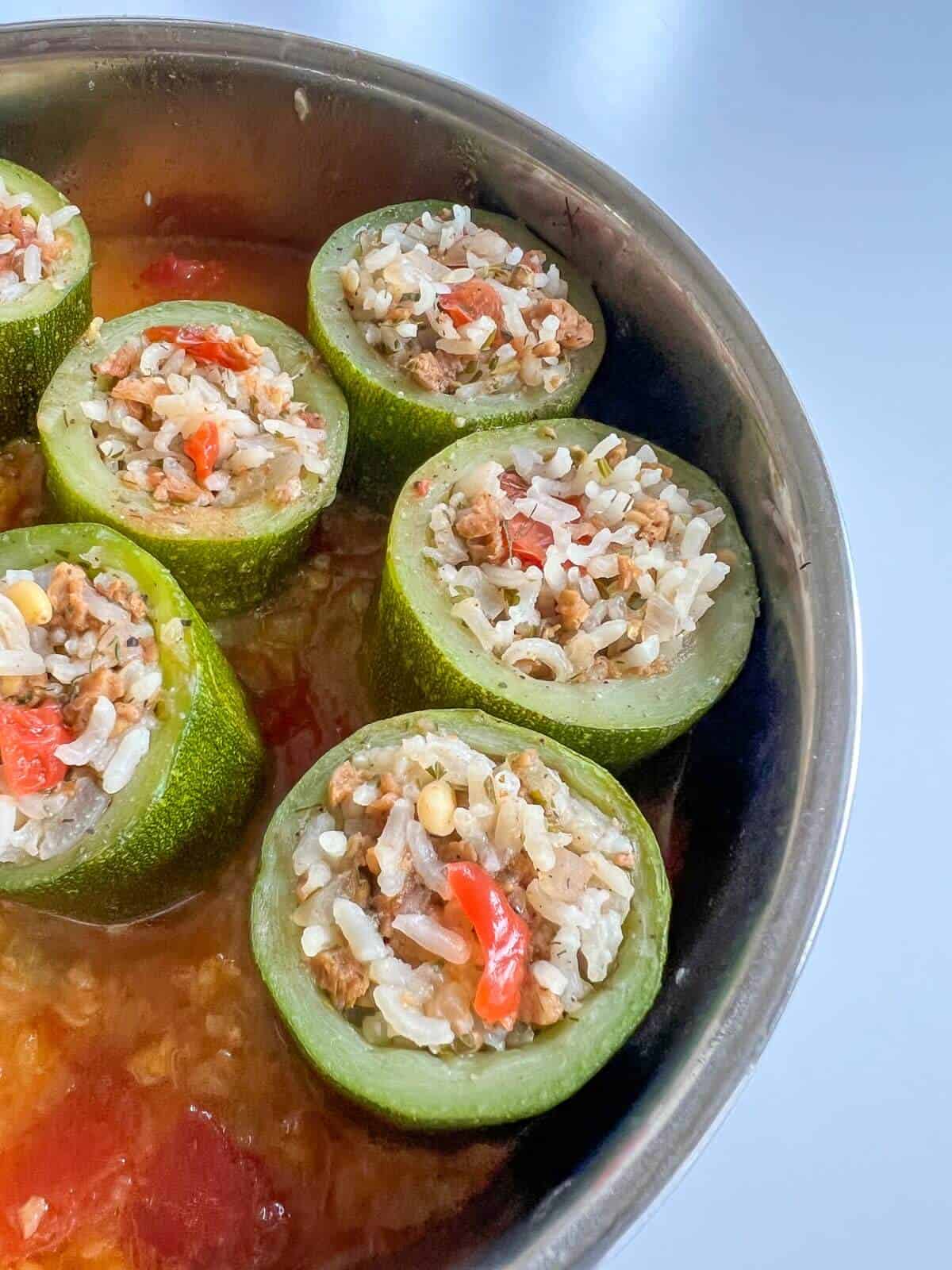 Add the tomato sauce and chopped zucchini pulp. Top with a plate to further prevent them from flipping. Cook on medium heat until the rice is cooked.
Serve plated with tomato juice, a drizzle of olive oil, extra dill, and pine nuts.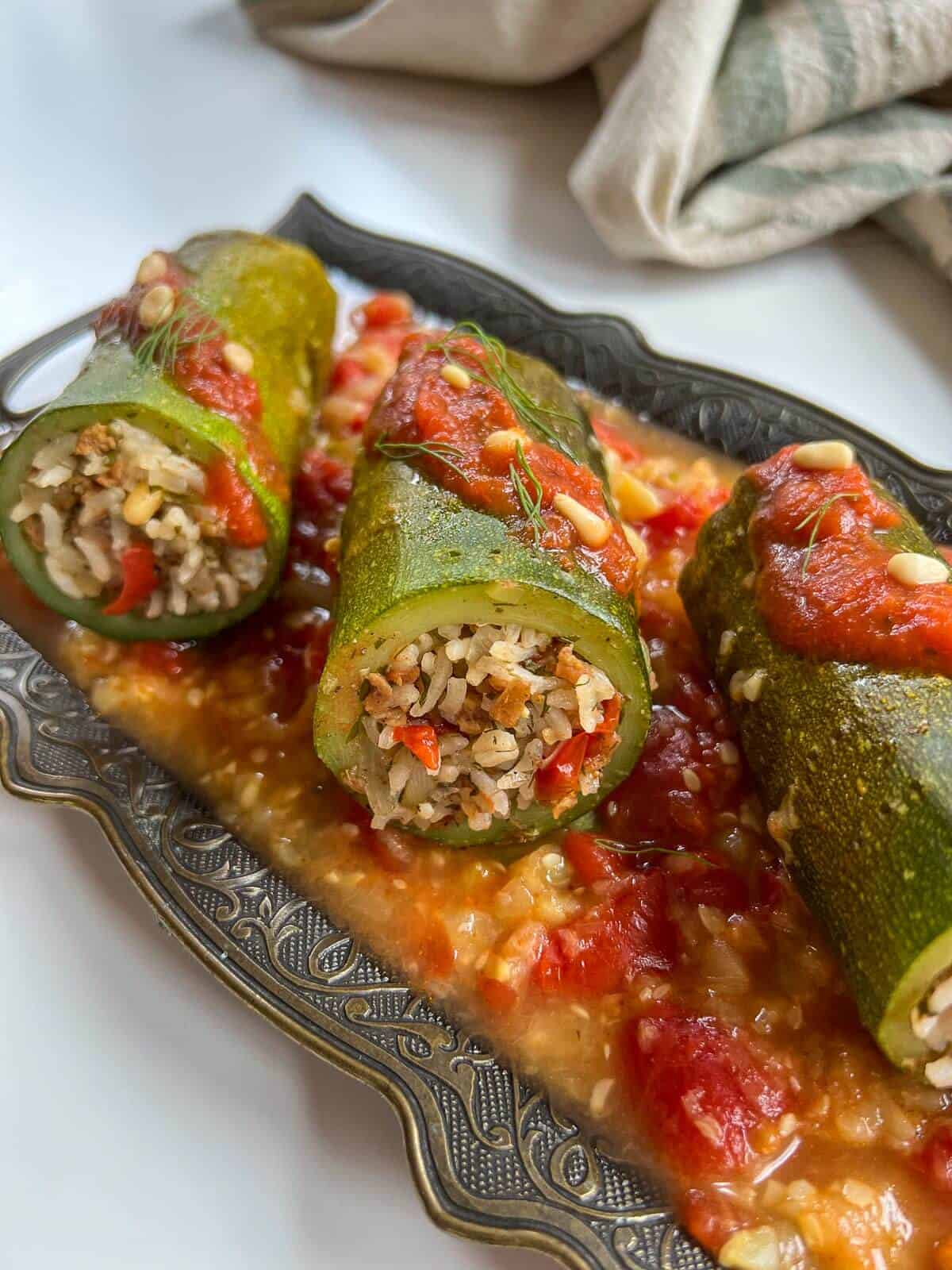 🍶 Substitutions
This simple dish can take many substitutions and still be delicious.
Rice - You can use brown rice or wild rice instead of long grain rice. Using rice versus any other starchy good such as wheat couscous, make this vegan zucchini recipe, which is also gluten-free.
Tomato - any kind of ripe tomato works; you can even use canned diced or crushed tomatoes.
Fresh herbs - herbs are important for this recipe. You can use curled parsley instead of flat leave parsley. We find dill to be the most characteristic herb flavor popping out on this recipe, but if you don't love it, you could use finely chopped mint or
Vegan mock meat - we use Trader's Joe's mock minced vegan meat but have made this recipe with the Daya's, Beyond Meat brick, and impossible burger vegan "ground beef."
📖 Variations
Rice leftovers - you can use cooked rice or leftover rice from this vegan stuffed zucchini recipe. Just reduce the cooking time until the zucchini is soft enough.
Tomato - if you want to make the tomato sauce flavor more intense, add two tablespoons of tomato paste.
Lebanese seven spice mix - another important seasoning in this recipe. To make stuffed zucchini Lebanese, you need it; if you don't have this mix, or the spices to make put it together at home, you could use Italian seasoning and add a pinch of the components of the 7 spices mix, such as cinnamon, cumin, allspice, black pepper, coriander, nutmeg, and cloves.
🥢 How to serve
Serve this rice-stuffed zucchini with other fabulous Lebanese and Middle-eastern side dishes like tabbouleh salad, falafel, eggplant baba ganoush, and pita bread with traditional hummus.
🍽 Equipment
Although making this vegetarian stuffed zucchini with rice is super easy, a couple of kitchen utensils can make a big difference. You will avoid making a mess by using the right cooking pot size and zucchini corer.
To hollow the zucchini, find that using a pointed potato peeler makes everything easier, but you can also use a small spoon. I like using this metal potato peeler (affiliate link), turning the zucchini to make the first hole, and then continuing to scrape with a tiny spoon.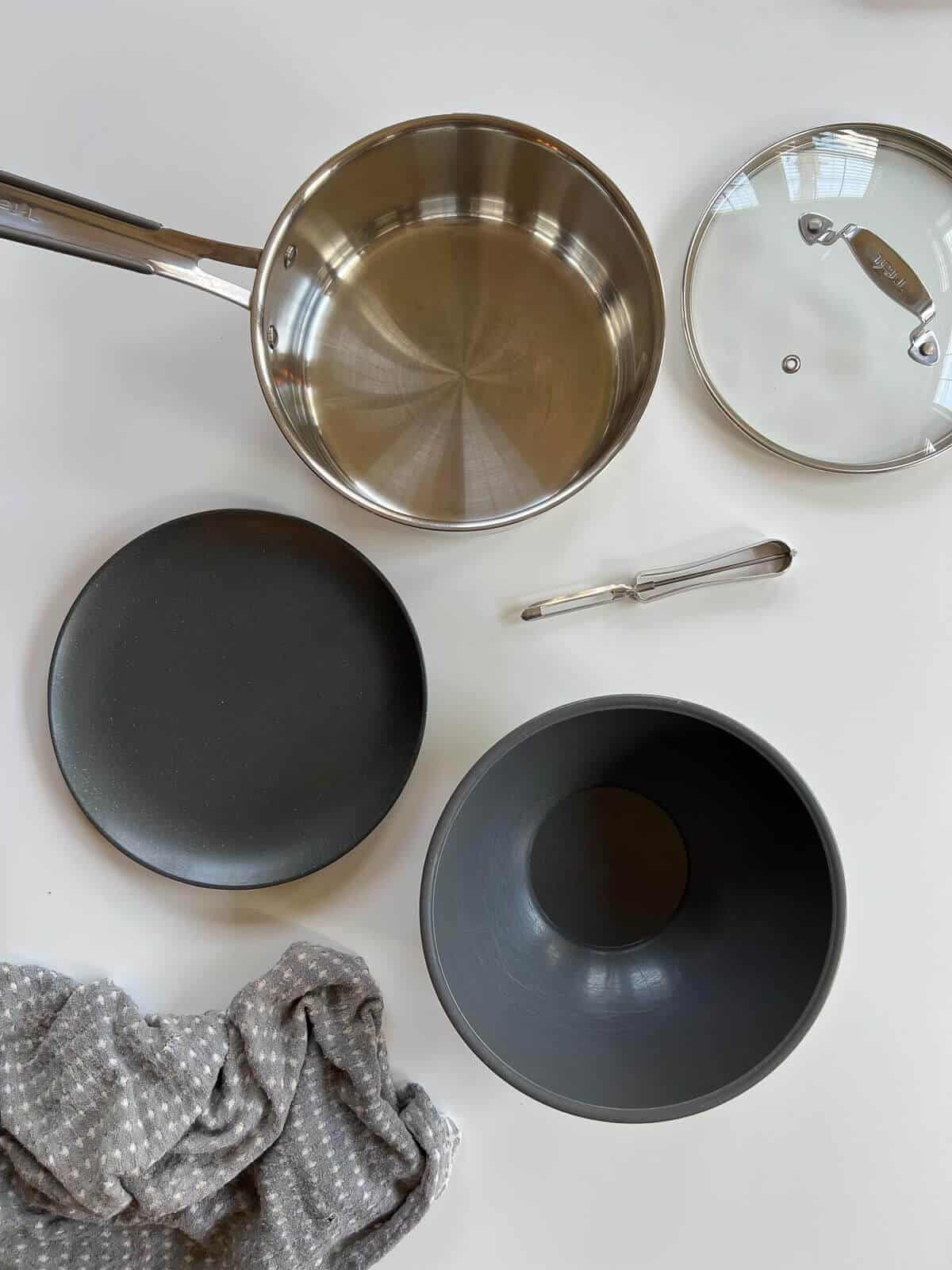 🥡 Storage
Store the vegetarian stuffed zucchini with rice in an airtight container in the fridge for 2-3 days.
Can you freeze Lebanese zucchini?
I don't recommend freezing the zucchini, as they tend to turn soggy after thawing, but this stuffed zucchini recipe is freezer friendly; you just fully cook them before freezing. They last for up to 3 months in an air-tight container. To reheat, thaw them in the fridge overnight before consuming, and warm them in a saucepan.
💡 Top tip
This delicious meal has everything to make the main dish: vegetables, vegan ground beef, and carbohydrates, so there is no need to pair it with something else, making it perfect for meal prep.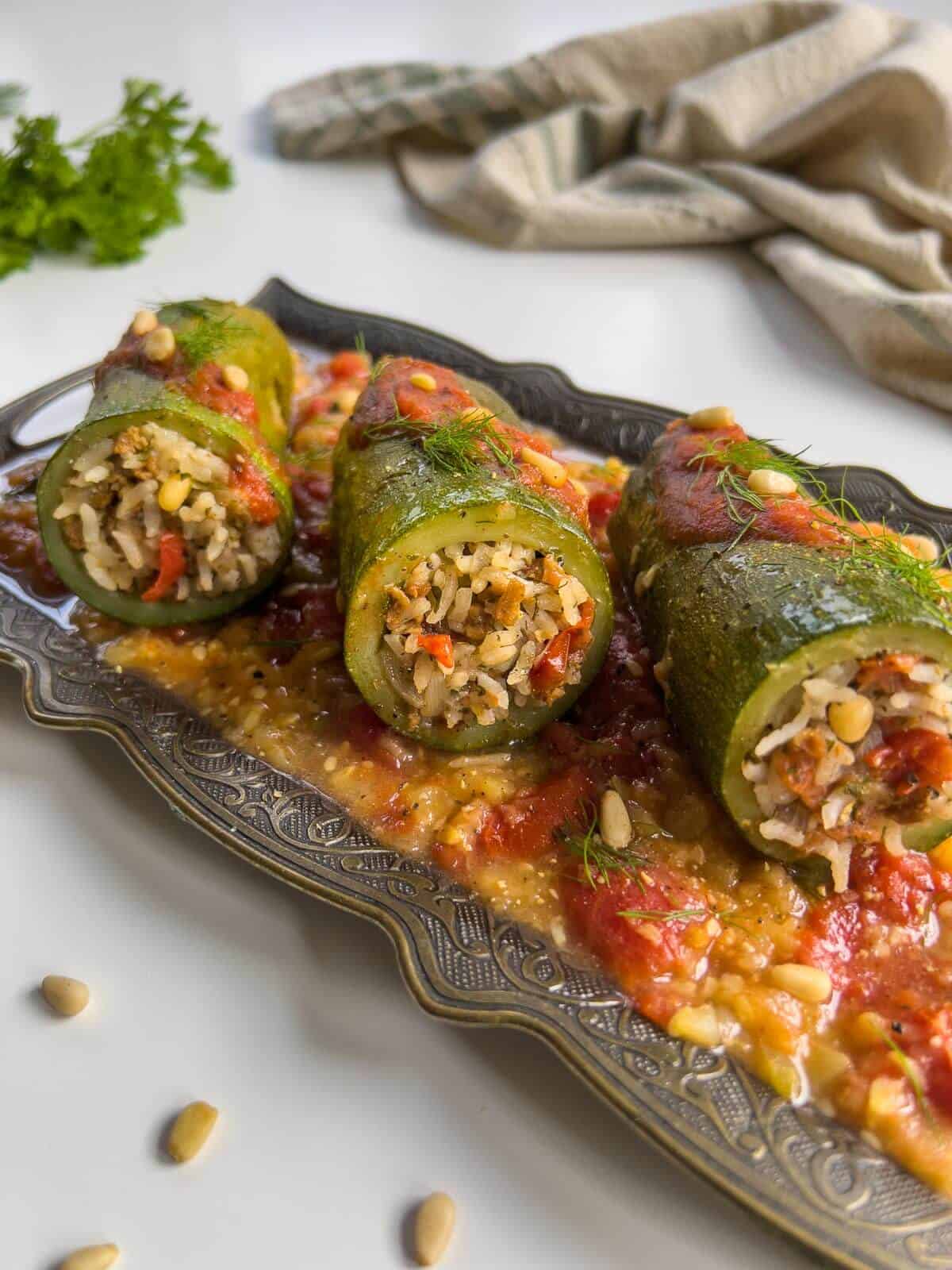 🥒 More zucchini recipes
Try out our lemony winter risotto made of lemon zest and zucchini or our Vegan Yellow Thai curry, where you will see zucchini shine in two classic Italian and Thai dishes.
⭐ If you try this vegan stuffed courgette recipe, let us know! 💬 Leave a comment, rate it, and don't forget to tag us @ourplantbasedworld on Instagram. Cheers!
📋 Recipe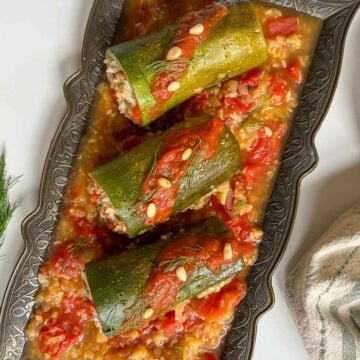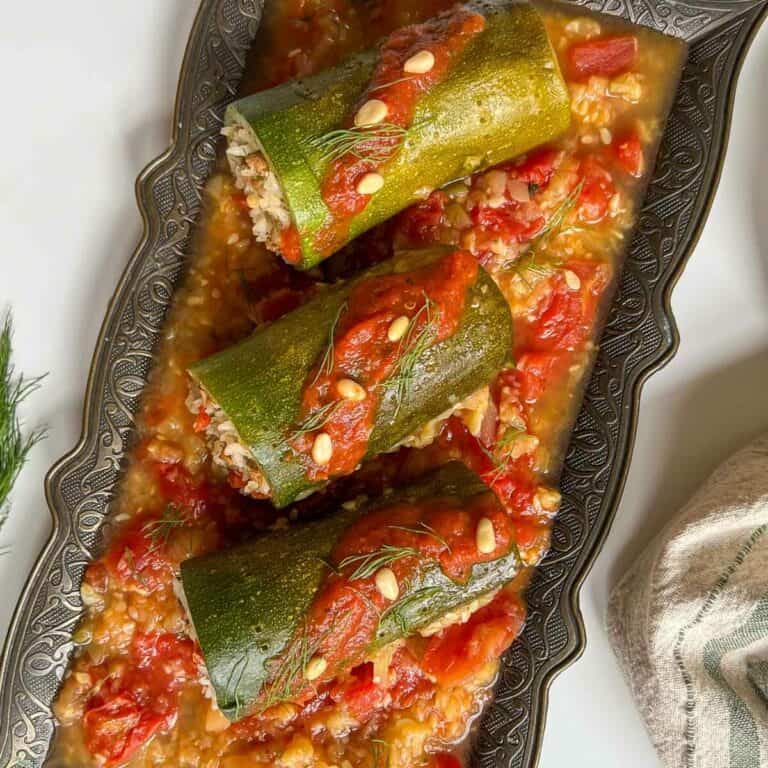 Lebanese Stuffed Zucchini
An easy and delicious recipe for Lebanese stuffed zucchini made with rice and vegan minced meat. Gluten-free and dairy-free - perfect for a healthy and hearty meal.
Equipment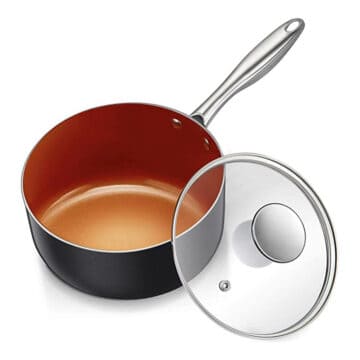 (affiliate link)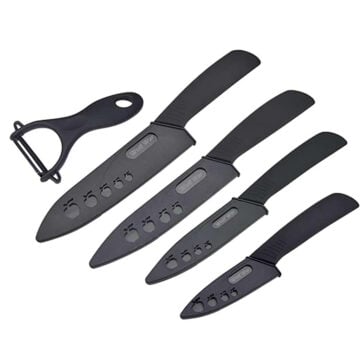 (affiliate link)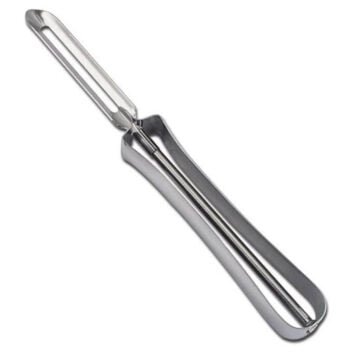 (affiliate link)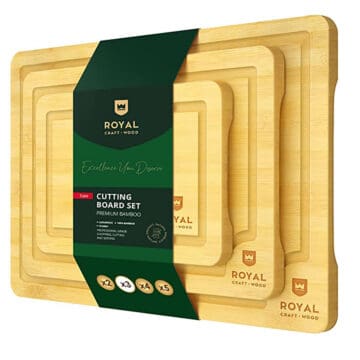 (affiliate link)
Ingredients
For the stuffing
½

cup

rice

long-grain

½

lb

ground beef-less

Trader Joe's, beyond burger, Daiya's or impossible burger

⅓

onion

large, finely diced, 5.5 oz 1 ¼ cup

1

garlic

large clove, minced

1

large ripe diced tomato

2

tablespoons

parsley

chopped

2

teaspoons

dill

chopped fresh

½

teaspoon

Lebanese 7 spice

¼

teaspoon

salt

pinch

black pepper

freshly ground

¼

cup

pine nuts

optional

1

tablespoon

olive oil

extra virgin, optional
For the Zucchini
4

large-sized zucchinis 2.5-3 lb

as green as possible

1

can

14.5 oz diced tomato

2

cups

vegetable broth
Directions
Wash the rice under running water in a colander to get rid of the excess starch.

In a large bowl, combine the stuffing ingredients rice, beef-less beef, finely diced onion, chopped fresh parsley, dill, diced tomatoes,7-spice mix, minced garlic, salt, and pepper. Mix by hand to combine.

With a knife, remove the very top of the zucchini, then cut each zucchini in half to make shorter zucchini for stuffing. Now you need to hollow out the zucchini to make room for the stuffing.

Core. Insert your potato peeler or corer about ¾ of the way into the zucchini, making sure not to poke the bottoms. Twist the corer and pull out the zucchini cores. Do this a few times, and gently scrape the sides of the zucchini until you have hollowed each out. You'll want to leave about ¼ inch rim of zucchini. Poke the zucchini with a fork so they cook evenly.

Lightly oil the bottom of a large deep cooking pan like this one. Spread the tomato sauce and diced tomato and spread over the bottom of the pan. Sprinkle with a little salt and pepper. You can optionally also add the zucchini flesh or use it for zucchini muffins.

Now, gently loosely stuff the hollowed zucchini with the stuffing about ¾ of the way (do not over-stuff or crowd the rice stuffing in the zucchini, or it will not cook well).

Arrange the stuffed zucchini (stuffed side up).

Now add the tomato sauce and chopped zucchini pulp. Sprinkle lightly with salt and pepper. Top with a plate to prevent the zucchini from flipping.

Place the pan on the stove and cook on medium-high heat until the liquid starts boiling. Turn the heat down to medium heat, cover, and simmer on medium-low heat for 45 minutes until the zucchini is tender and the rice stuffing is fully cooked. Convection stove at 4.

Transfer to a serving plate. Top with the sauce from the cooking pan. Enjoy!
Nutrition Facts
Calories:
131
kcal
Carbohydrates:
12
g
Protein:
7
g
Fat:
7
g
Saturated Fat:
1
g
Polyunsaturated Fat:
2
g
Monounsaturated Fat:
3
g
Cholesterol:
1
mg
Sodium:
479
mg
Potassium:
394
mg
Fiber:
3
g
Sugar:
4
g
Vitamin A:
414
IU
Vitamin C:
21
mg
Calcium:
60
mg
Iron:
1
mg
Nutrition Facts
Lebanese Stuffed Zucchini
Amount per Serving
% Daily Value*
* Percent Daily Values are based on a 2000 calorie diet.
❓ FAQ
How do you core a zucchini without a corer?
With a pointed potato peeler, twist it inside the zucchini with a circular motion, and scoop the remaining insides with a small teaspoon.
What is Koosa?
A Lebanese dish consists of ground meat (Lebanese seasonings, tomato sauce, rice, and ground beef or lamb(in this recipe, we use vegan mock meat) stuffed into a summer squash, such as zucchini.
Health benefits of consuming zucchini
Zucchini is low in calories and are packed with carotenoids and antioxidants (source). This may benefit your eyes and skin and protect against some types of cancer, such as prostate cancer.
🌡️ Food safety
Cook to a minimum temperature of 165 °F (74 °C)
Do not use the same utensils on cooked food, that previously touched raw meat
Wash hands after touching raw meat
Don't leave food sitting out at room temperature for extended periods
Never leave cooking food unattended
Use oils with a high smoking point to avoid harmful compounds
Always have good ventilation when using a gas stove
See more guidelines at USDA.gov.
Nutritional Disclaimer
The information shown is an estimate provided by an online nutrition calculator. It should not be considered a substitute for a professional nutritionist's advice. See our full Nutritional Disclosure here.
Affiliate Disclaimer
Please note that some of the links here are affiliate links, and I will earn a commission if you purchase through those links. I recommend all of the products listed because they are companies I have found helpful and trustworthy.