Looking for winter risotto ideas? This lemony winter risotto recipe is the first thing that comes to my mind when I think about comfort food. It is perfect for chilly nights. The addition of zucchini and squash makes it a healthy and hearty meal.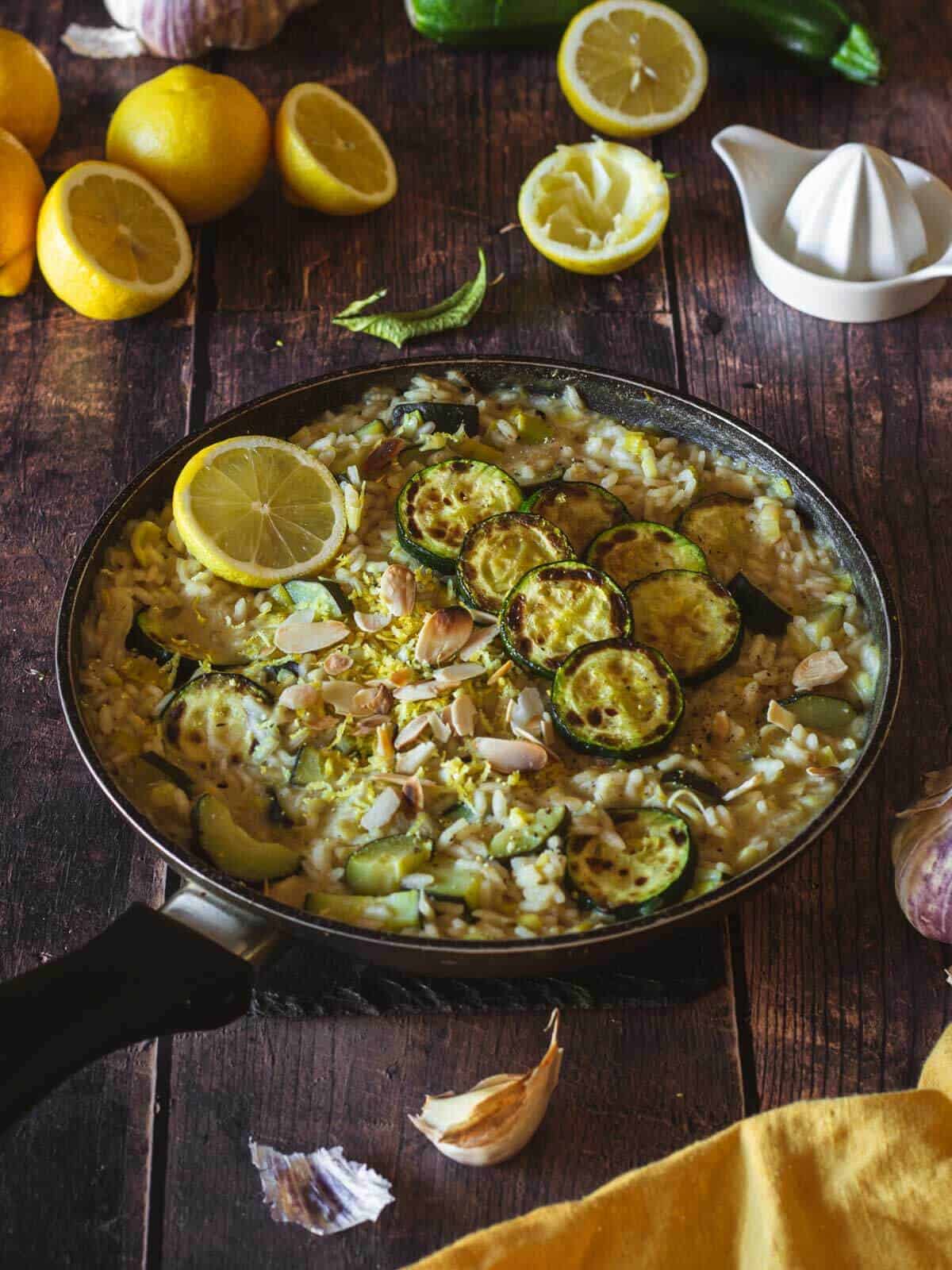 Many people fear it due to its misperceived complexity; the reason we chose to kick-start this blog demystifying while you can pamper yourself any given night.
This lemony, creamy risotto, made with zucchini, is one of our favorite Italian recipes. It is as close to our heart to our Lemony Spaghetti and Lemon Asparagus Pasta, dishes that always leave our guests asking for more, as they don't expect lemons to perform so well in savory dishes.
We love the unexpected and always welcomed tanginess that lemon brings to dishes like Thai Yellow curries, where the spice needs some counteraction and citrus performs splendidly.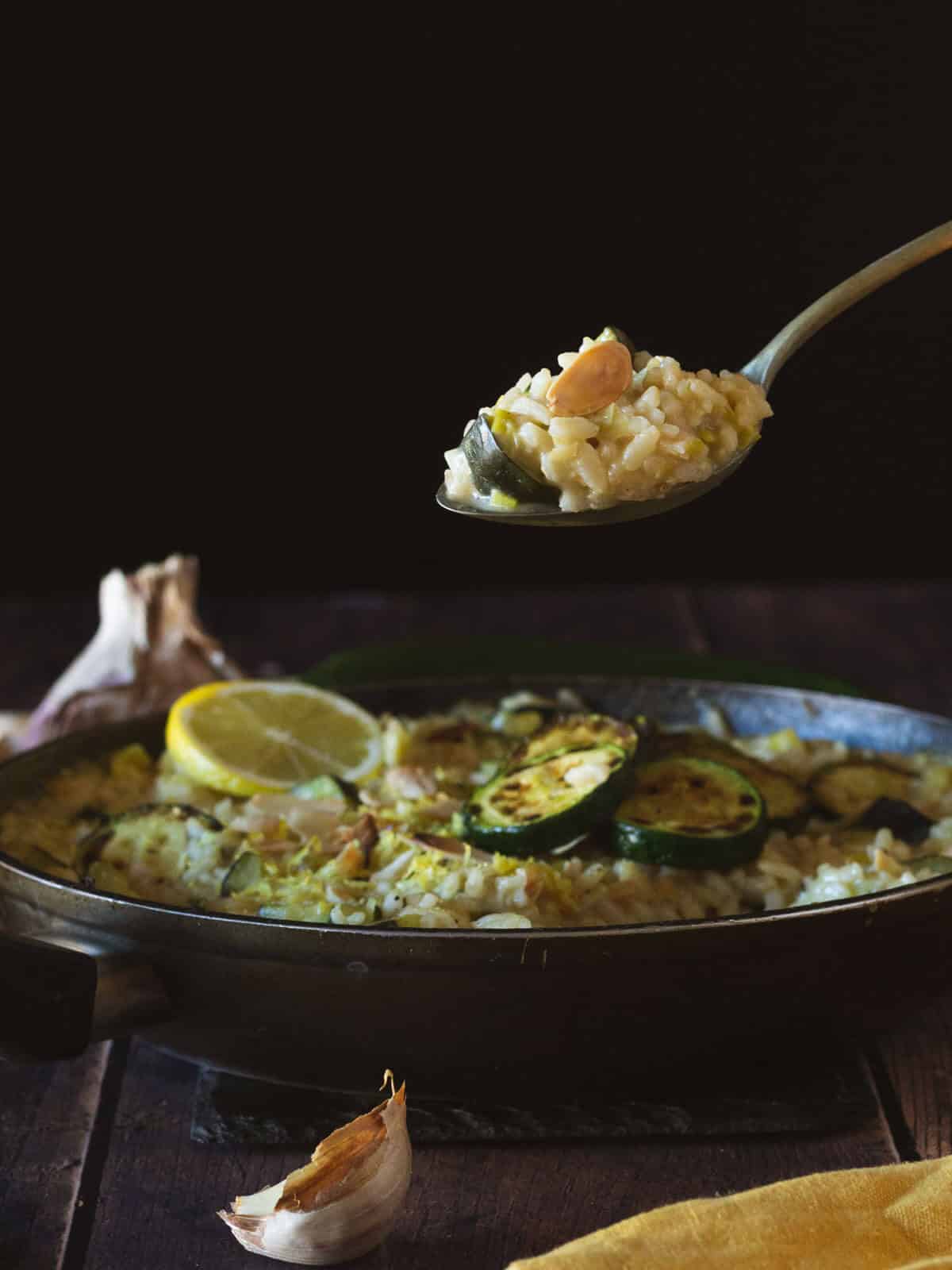 Check our dairy-free risottos including Sun-dried Tomatoes Risotto recipe, traditional risotto alla Milanese, or our Mushrooms risotto, for another great and easy-to-make version of this Italian favorite!
The good thing was that this time provided the perfect setting for cooking and a lot!
Jump to:
🧾 Ingredients
This winter squash risotto is very easy to make and you can vary the ingredients depending on the herbs you have available.
Carnaroli Rice or Arborio Rice: The MVP of risottos, it's starchy and absorbent, making your dish creamy without any cream. It's the canvas waiting for its colorful flavor palette.
Zucchini: Adds a subtle, earthy sweetness and a pop of green. It's like the supporting actor that unexpectedly steals the show.
Leeks: These bring a milder, more nuanced oniony flavor. They're the culinary equivalent of a warm, cozy blanket on a winter day.
Fresh Garlic: The aromatic powerhouse that adds depth and a kick. It's the bass drop in the symphony of flavors.
White Wine (Dry): Introduces a layer of acidity and sophistication. Think of it as the plot twist that keeps you hooked till the last bite.
Nutritional Yeast: The vegan's secret weapon for cheesy, umami goodness. It's like adding a sprinkle of magic to your dish.
Vegan Butter (or Extra Virgin Olive Oil): Adds a rich, buttery texture that's like a warm hug for your taste buds. Also, it's plant-based, so it's a hug you can feel good about.
Fresh Thyme (or Fresh Sage): A touch of herbal elegance that elevates the dish. It's like the chic accessory you didn't know your outfit needed.
Vegetable Stock: More than just a liquid; it's the flavor-infused runway for all the other ingredients. It's the unsung hero of the risotto world.
Lemon Juice and Zest: The zingy finale that brightens up the whole dish. It's like the encore at the end of a rockin' concert that leaves you cheering for more.
Optional:
🔪 Instructions
To make this winter squash risotto carefully but easily follow these steps and you will have a meal in less than 30 minutes. Risotto is not time-consuming like most people think!
Make the vegetable stock
Start by cutting the rough piece of your veggies and throwing them into a medium-high heat medium saucepan with boiling water; make sure you have some onion in. If you are in a rush, you can always use a preservative-free vegetables stock cube.
Cut your veggies
Slice the leeks and cut the zucchinis in different sizes. We love to have different textures in our risottos, so I usually sliced on zucchini, and make halves and quarters with the second one.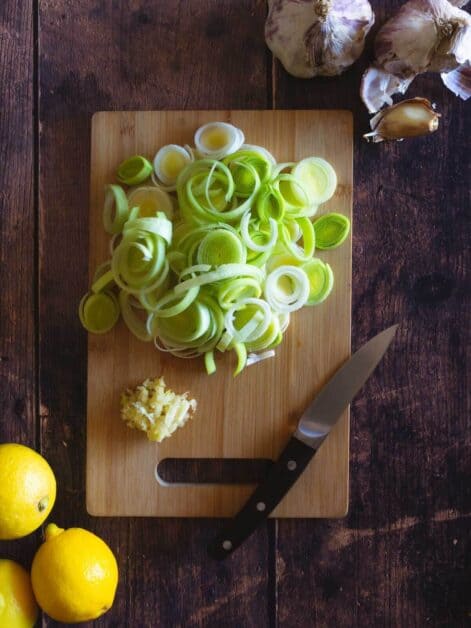 Grill half the zucchinis
In a skillet, the same you will use to make the risotto, add some vegan butter or olive oil, and grill one zucchini, the sliced one, on medium heat; stirring occasionally.
We will leave the quarters and halved to be cooked directly in the risotto.
Top tip: this step is key if you which to have some zucchinis look grilled and rich in color, vs the one that will look steamed or boiled.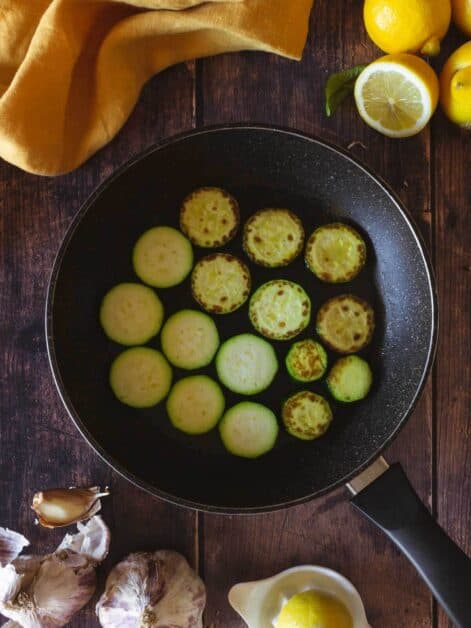 Sauté
Heat the oil on medium heat until you can see smoke coming out, then throw garlic and the chopped leeks until they become translucent.
Add rice, stirring constantly, until it also becomes translucent; it should take about 2 minutes.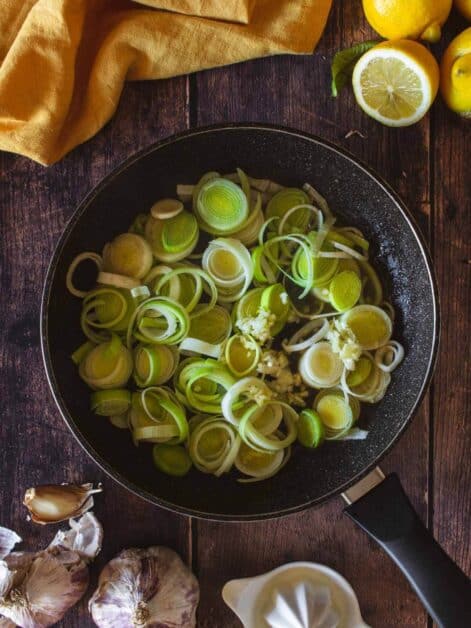 Add wine
And this is where the magic begins: pour the wine and enjoy the smell of the rice grains walls being broken by the alcohol and opening themselves up to absorb slowly and gracefully every single drop of the veggies' stock that you prepared before.
Then stir and reduce heat.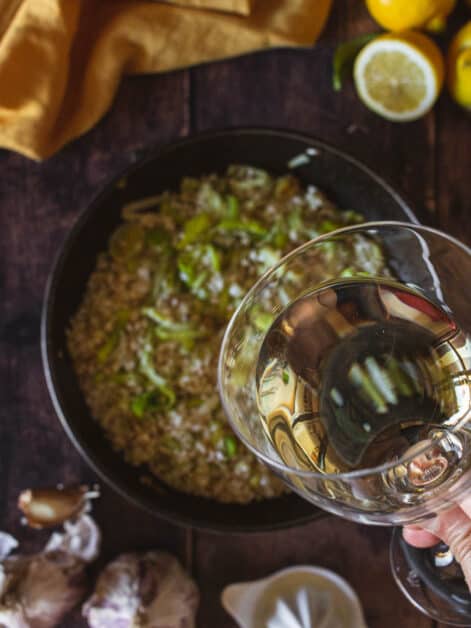 Stir zucchini and lemon
Stir in the raw chopped zucchini, followed by the lemon juice, and nutritional yeast.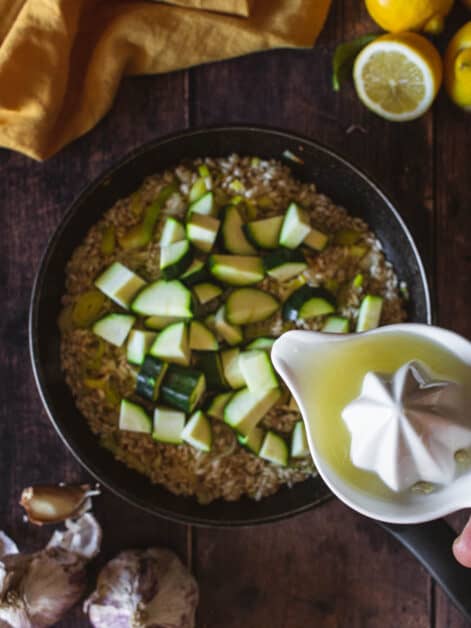 Cook
Start adding the stock, little by little, cook stirring, adding more when the rice has absorbed the liquid.
Add thyme sprigs and keep adding vegetable broth as needed.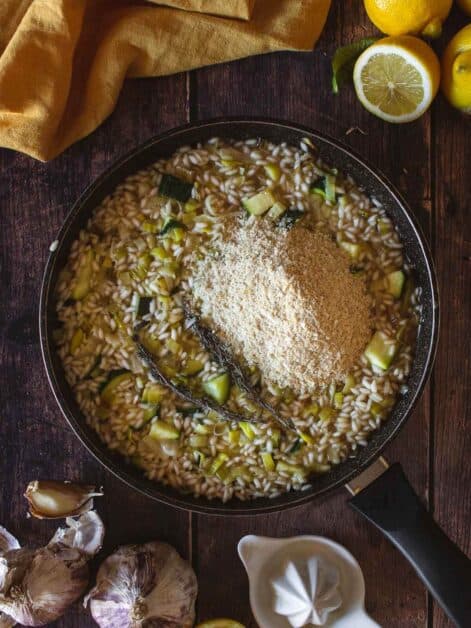 When the rice is cooked "al dente," add the grilled zucchini, fresh lemon zest, freshly ground black pepper, and salt.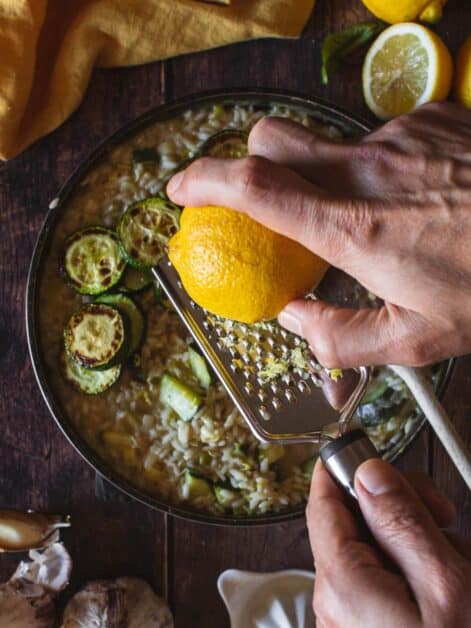 Serve
To serve, add one tablespoon of vegan butter and optionally some slightly toasted slivered almonds to make it even more delicious.
Remember to carefully remove the thyme sprigs.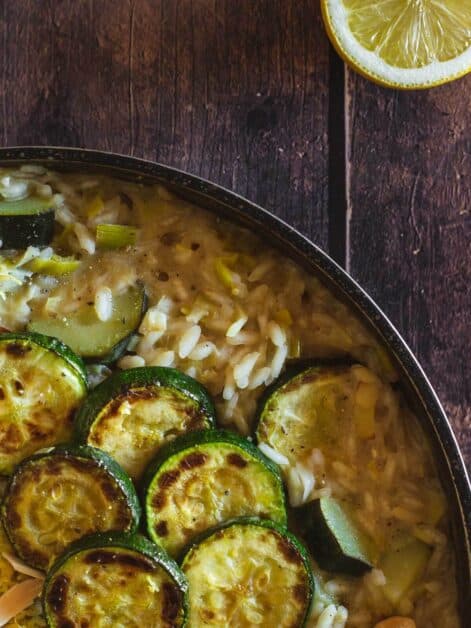 Enjoy!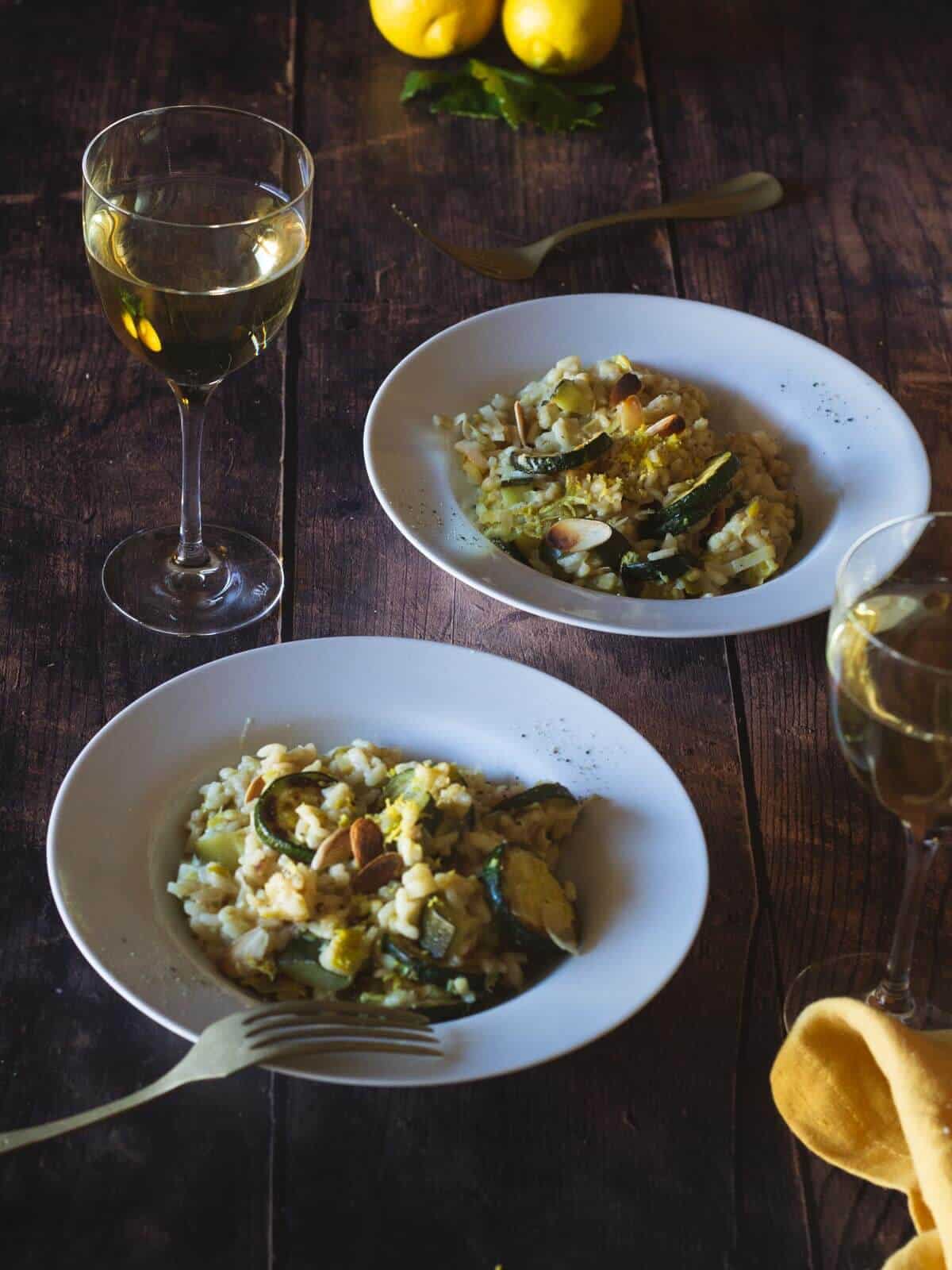 🥢 How to serve
Straight-Up Simplicity: Serve the risotto in a shallow bowl, garnished with a sprinkle of nutritional yeast and a lemon wedge on the side. It's the classic way to let the flavors shine, with no frills attached.
Veggie Medley: Pair the risotto with a side of roasted seasonal vegetables like Brussels sprouts or butternut squash. It's a hearty, balanced meal that screams comfort.
Stuffed Bell Peppers: Hollow out some bell peppers and stuff them with the risotto. Bake until the peppers are tender.
🥡 Storage
Fridge & Reheat: Store the leftover risotto in an airtight container in the fridge for up to 4 days. To reheat, place it in a saucepan over low heat, adding a splash of vegetable stock to bring back its creaminess. Stir occasionally until heated through.
Freeze & Reheat: Portion the risotto into freezer-safe bags or containers, leaving some space for expansion. Freeze for up to 3 months. To reheat, thaw in the fridge overnight and then follow the same reheating steps as above, adding a bit more vegetable stock if needed.
🍚 Is white rice good or bad for you?
Though white rice is more processed, it's not necessarily bad.
Most white rice is enriched with vitamins like folate to improve its nutritional value. Additionally, its low fiber content may help with digestive issues.
Brown rice is a healthier option for most people, but it's OK to enjoy white rice from time to time.
So a risotto once a week is OK. However, if you have diabetes or are overweight, you should limit your consumption.
So… risotto. Very easy, there are only a couple of things that you have to learn about making a risotto, which will make you master it: close attention to the first steps and presence.
Feeling like having comfort food? Check these additional recipes:
If you love zucchini dishes, give this Lebanese-style stuffed zucchini a try; you will love them. We also use them to make vegan ceviche and yellow Thai curry, they are perfect because they can absorb tons of flavor.
⭐ If you try this recipe, let us know! 💬 Leave a comment, rate it, and don't forget to tag us @ourplantbasedworld on Instagram. Cheers!
📋 Recipe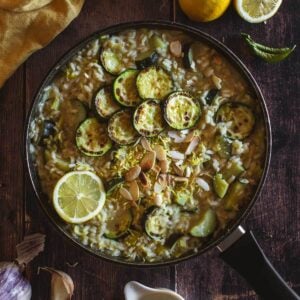 Lemony Winter Risotto (Zucchini Risotto)
Not only it's hard to find someone that doesn't like it but is one of the most versatile dishes you can think of.
Equipment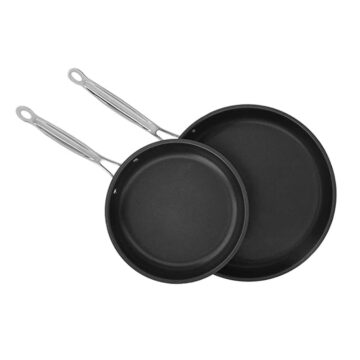 (affiliate link)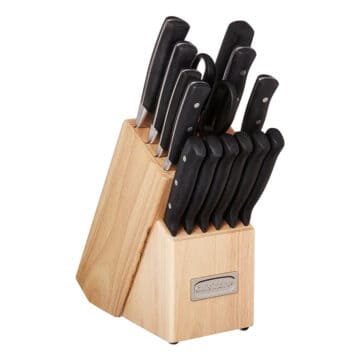 (affiliate link)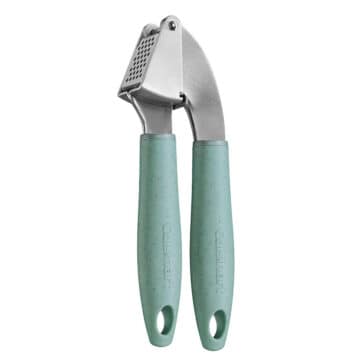 (affiliate link)
Ingredients
2

zucchini

medium, one sliced and the other chopped in quarters and halves

1

lemon

medium juice (juice of half the lemon) + whole lemon zest

1

cup

finely sliced leeks

about 8 oz, or one small onion

1

cup

carnaroli rice

or Arborio rice, 7 oz or 200 grams

5

tablespoons

nutritional yeast

3

tablespoons

vegan butter or olive oil. Divided store-bough or homemade vegan recipe.

3

sprigs

thyme

fresh, or sage, dill, rosemary
Directions
Make the stock. Start by cutting the rough piece of your veggies and throw them into a pot of boiling water; make sure you have some onion in. If you are in a rush, you can always use a preservative-free vegetables' stock cube.

1 cup finely sliced leeks,

2 zucchini

Chop yoiur veggies. Slice the leeks, chop one zucchni into slices, and the othe into quarters and halves.

Grill one zucchini. Grill one the zuccinis, the sliced one, using 1 tablespoon of teh vegan butter.

Sauté. Heat the 1 tablespoon of vegan butter on medium heat then add the sliced leeks and minced garlic, toss until they become transluscent.

1 cup finely sliced leeks,

3 tablespoons vegan butter

Stir in the rice. Add the rice and stir until it also becomes translucent; it should take about 2 minutes. Pour the white wine (or ⅓ cup vegetable broth) and as soon as it dried out, start adding the vegetable broth.

1 cup carnaroli rice,

⅓ cup white wine

Add vegetable stock. Start adding the stock, little by little, adding more when the rice has absorbed the liquid. When the rice is "al dente," add the raw zucchini, nutritional yeast, fresh thyme, and half of one lemon's juice.

5 tablespoons nutritional yeast,

2 zucchini,

3 sprigs thyme,

1 lemon

Adjust. Add the remaining tablespoon of vegan butter, salt and freshly ground black pepper. Remove the thyme sprigs.

Garnish. Add vegan parmesan and optionally lighly toasted slivered almonds.

1 cup homemade vegan parmesan cheese,

¼ cup almonds
Nutrition Facts
Calories:
314
kcal
Carbohydrates:
52
g
Protein:
10
g
Fat:
8
g
Saturated Fat:
2
g
Polyunsaturated Fat:
2
g
Monounsaturated Fat:
3
g
Trans Fat:
1
g
Sodium:
86
mg
Potassium:
566
mg
Fiber:
6
g
Sugar:
4
g
Vitamin A:
1012
IU
Vitamin C:
36
mg
Calcium:
40
mg
Iron:
4
mg
Nutrition Facts
Lemony Winter Risotto (Zucchini Risotto)
Amount per Serving
% Daily Value*
* Percent Daily Values are based on a 2000 calorie diet.
Want to know more about Rice? Check this link
🌡️ Food safety
Cook to a minimum temperature of 165 °F (74 °C)
Do not use the same utensils on cooked food, that previously touched raw meat
Wash hands after touching raw meat
Don't leave food sitting out at room temperature for extended periods
Never leave cooking food unattended
Use oils with a high smoking point to avoid harmful compounds
Always have good ventilation when using a gas stove
See more guidelines at USDA.gov.
Nutritional Disclaimer
The information shown is an estimate provided by an online nutrition calculator. It should not be considered a substitute for a professional nutritionist's advice. See our full Nutritional Disclosure here.
Affiliate Disclaimer
Please note that some of the links here are affiliate links, and I will earn a commission if you purchase through those links. I recommend all of the products listed because they are companies I have found helpful and trustworthy.