We have a fresh twist on a family favorite: Vegan Tofu Stuffed Peppers with Rice. We love stuffed peppers with a savory blend of Mediterranean goodness. There are many flavors, from Italian herbs, vegan cheese, and a delicious mix of veggies and breadcrumbs.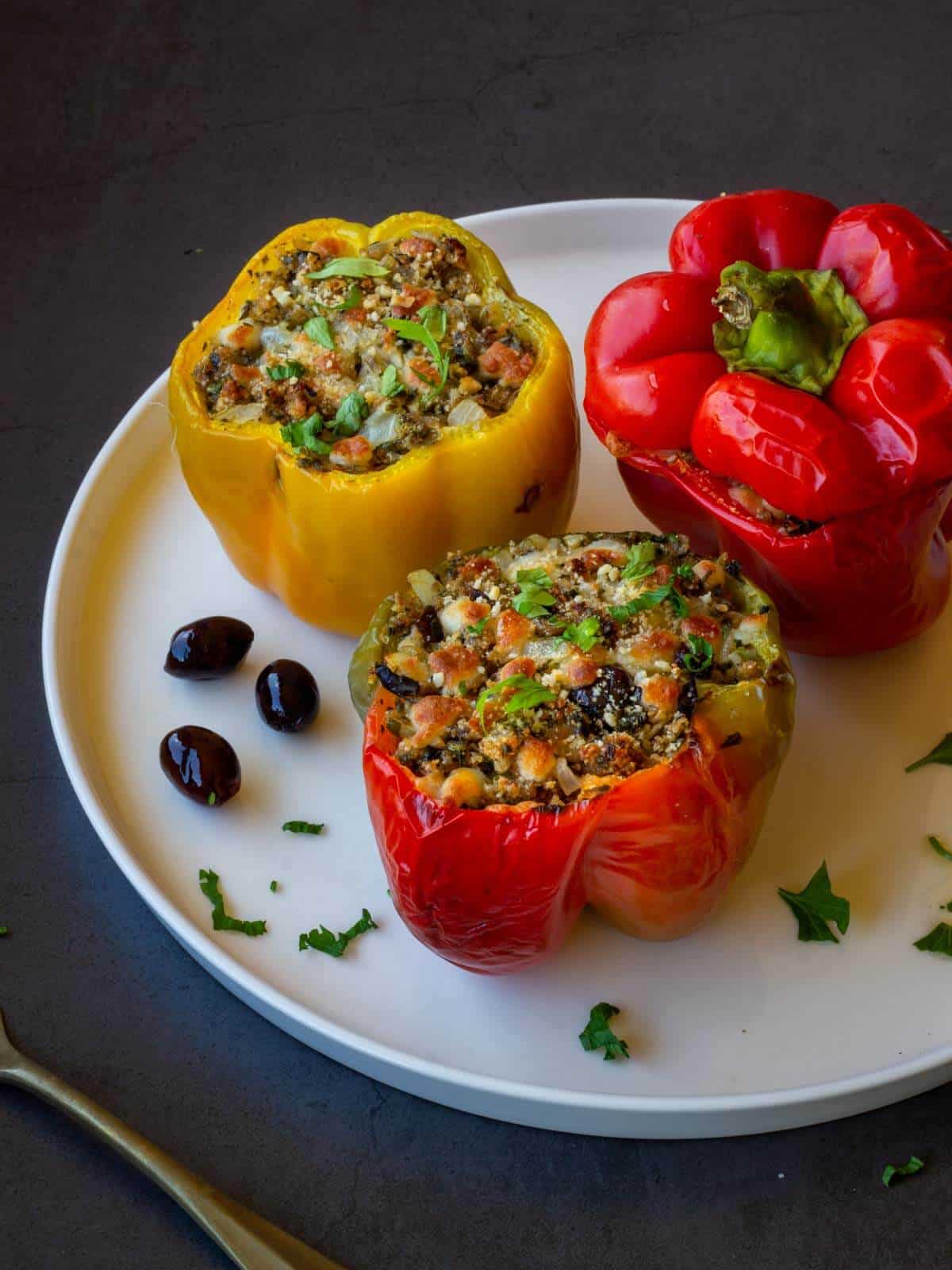 Remember that you can also add the whole grain of your choice. These meatless stuffed peppers are their own complete healthy dinner package.
Every time we make stuffed red peppers, we are reminded of how easy to make them and how versatile this great recipe is. We might eat one stuffed pepper if using it as a side dish.
You can choose to make them a full meal, either having two of them or adding extra protein such as tofu or beans. Another option is to eat a stuffed pepper as a nutritious appetizer.
Whether I choose to make this vegetarian stuffed peppers recipe, Stuffed Onions, Stuffed Portobellos, herbs stuffed mushrooms or Baked Oven-Baked Polenta with vegan ragout stuffing, we always look forward to dinner (and leftovers!).
They're super tasty and a crowd-pleaser, and are a perfect fall season recipe!
And today, we are sharing these highly addictive sweet stuffed roasted red peppers for your healthy eating and meal prep planning.
Mediterranean flavors and peppers are a natural match, so keep that in mind whenever you make variations with herbs and add-ins.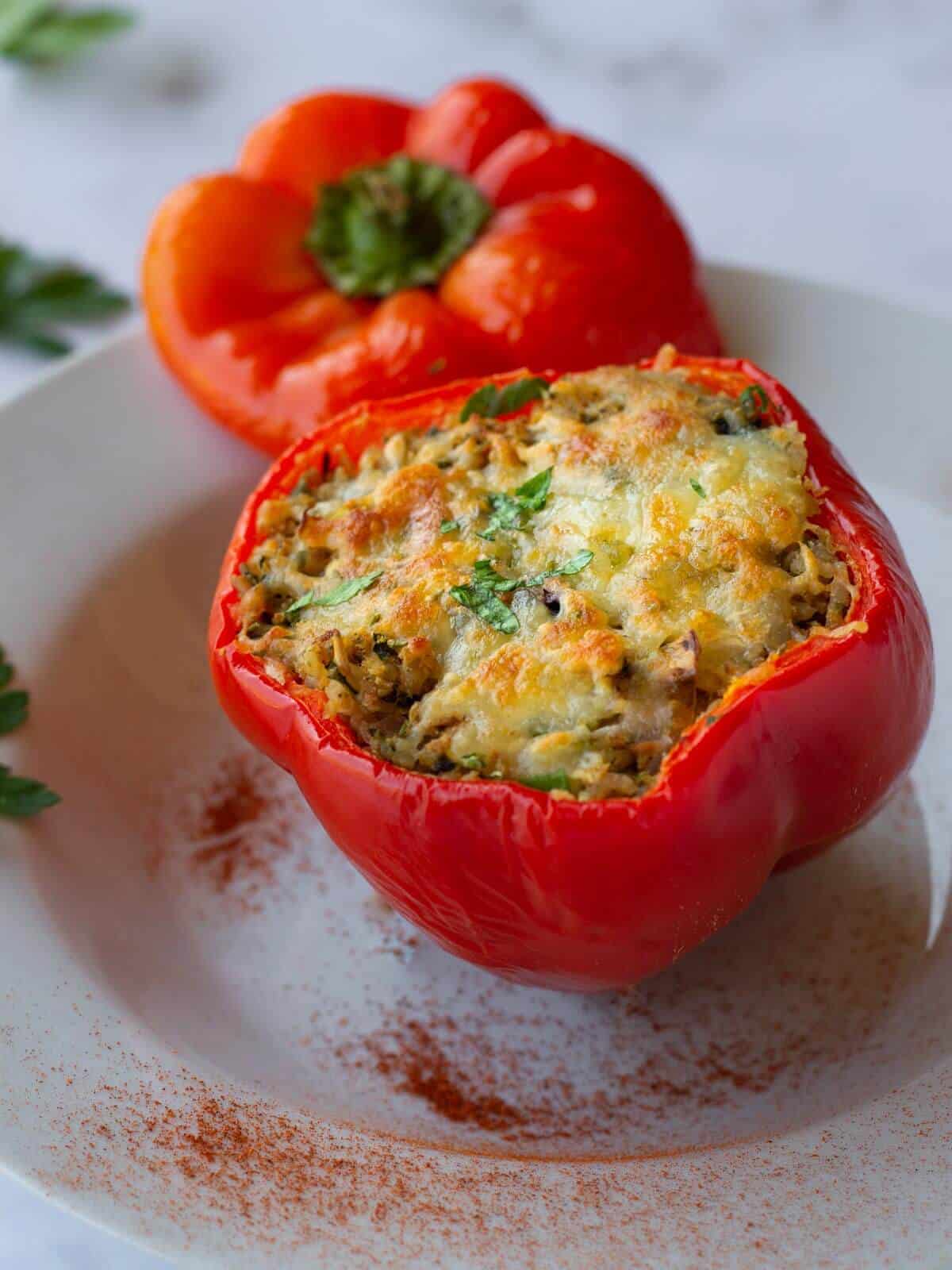 Jump to:
💚 Why you will love it
Before we dive into this yummy recipe, we want to share our top reasons to consider this pepper recipe an excellent option when seeking hassle-free healthy meals.
Vegan Stuffed red peppers are a meal prep dream. You can assemble these entirely in advance or also prepare the filling only. Their macronutrients are optimally balanced for protein, fats, and carbohydrates content.
Scaling. You can choose to scale vegetarian stuffed peppers to any quantity you need.
These peppers are healthy and versatile. Add your favorite vegan protein, such as cooked beans and tofu, and whole grains like cooked orzo, quinoa, or brown rice, while stir-frying, and you have a perfectly balanced meal.
These Mediterranean peppers with delicious Italian seasoning are easy enough to where if you haven't done any prep at all, you can still have them on the table in less than one hour.
They freeze and reheat well. We love packing bell peppers for picnics or lunch during the workweek, as they're easy to reheat in the microwave. You can also bake them early in the week, then reheat them in the oven for healthy, quick dinners.
🧾 Ingredients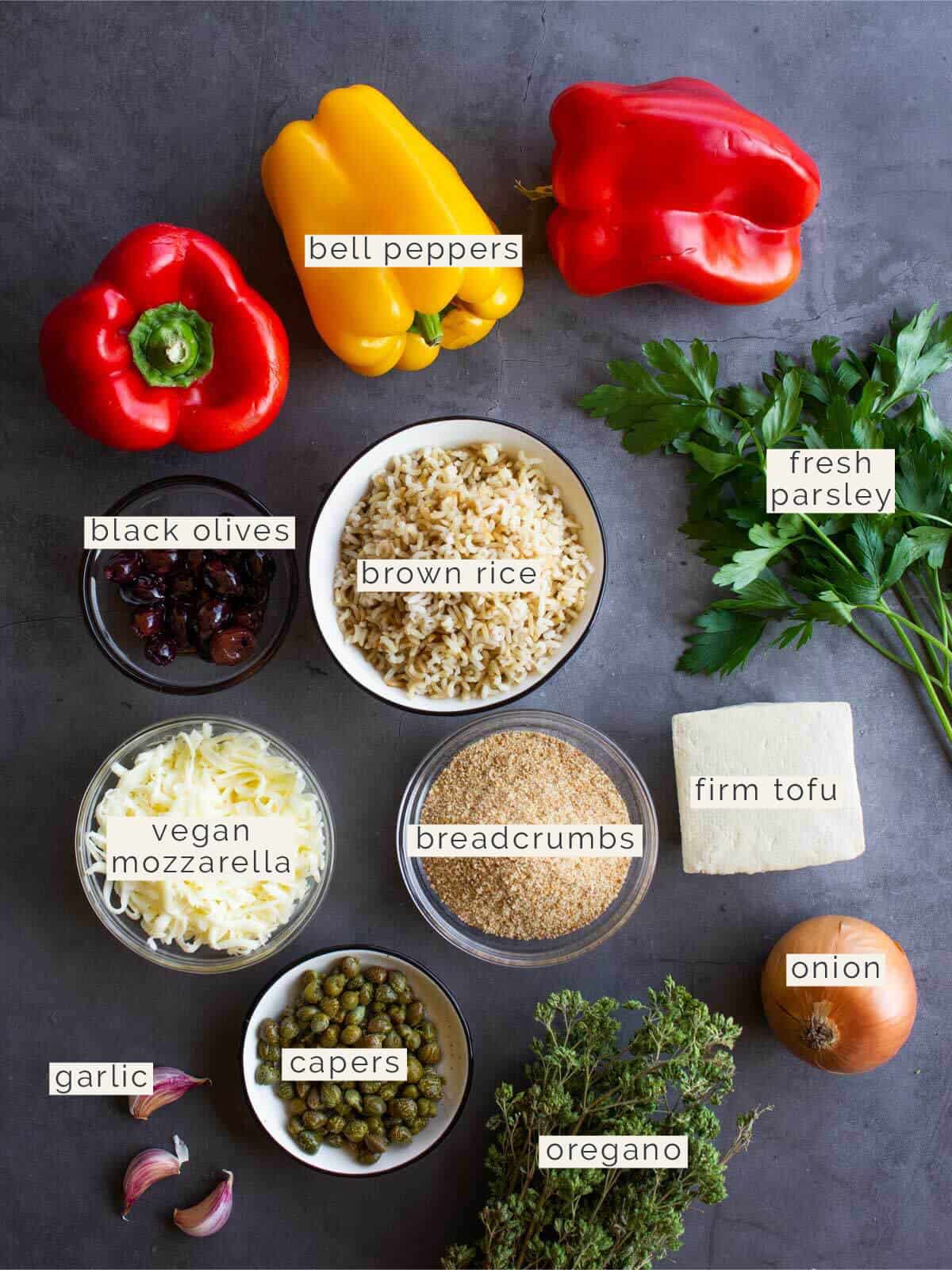 Bell Peppers: These vibrant veggies serve as the edible bowls for our stuffing, plus they bring a sweet crunch to each bite.
Onion: It's the base that builds flavor; its natural sweetness complements the bell peppers and adds depth to the dish.
Garlic (or garlic powder): This pungent gem is a flavor powerhouse, giving the dish that "something's missing" kick.
Firm Tofu: The protein hero of the dish, it absorbs flavors like a sponge and gives a meaty texture without the meat.
Brown Rice (or grain of choice): Adds a wholesome, nutty flavor and makes the dish hearty enough to be a stand-alone meal.
Black Olives: These little bites add a briny contrast, elevating the dish from good to "can't stop eating."
Capers: Tiny but mighty, they add a burst of tangy saltiness, making each bite more exciting.
Breadcrumbs: They give that irresistible crispy top layer, making each spoonful a mix of textures.
Fresh Chopped Parsley: Adds a pop of color and a fresh, herbal note that cuts through the richness of the dish.
Oregano: This herb brings a touch of Mediterranean flair, adding complexity to the overall flavor profile.
Vegan Mozzarella: Melts like a dream and adds that gooey, cheesy bliss we all crave, but in a plant-based way.
See the recipe card for exact quantities.
🔪 Instructions
To make this absolutely delicious healthy stuffed pepper recipe, we like using Italian seasonings, such as fresh parsley and oregano, you could opt for fresh basil as a replacement or addition to any of the suggested herbs, as they pair well.
Preheat the oven to 325 ºF (160ºC).
Choosing the right Bell Peppers: We like to look for ones that are round, as they are the easiest to stuff.  You can use any color; red bell peppers are sweeter, and pairs well with vegan mozzarella and Mediterranean herbs.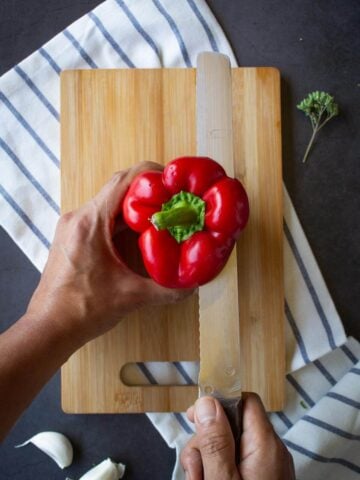 Slice off the tops of the peppers using a knife.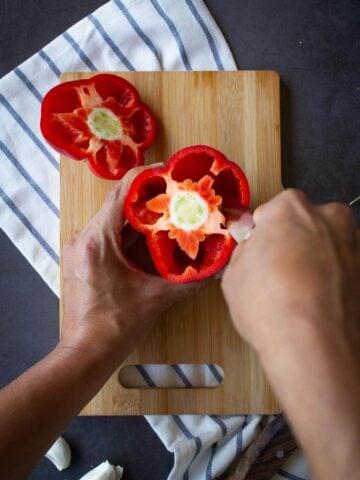 Remove peppers membranes.
How Do You Cut Peppers for Stuffing? Start by washing the peppers. Then, either cut the top of the peppers with a sawed knife or cut the peppers in half from top to bottom, cutting right down through the stems. Remove the membranes and seeds. After that, the bell peppers are ready to stuff.
Cutting the Top.
Trim off about ⅜ inch (about 1 cm) from the pepper, if you wish to serve your stuffed pepper standing on its own. Just place the pepper halves next to each other so they don't flip while cooking in the baking dish.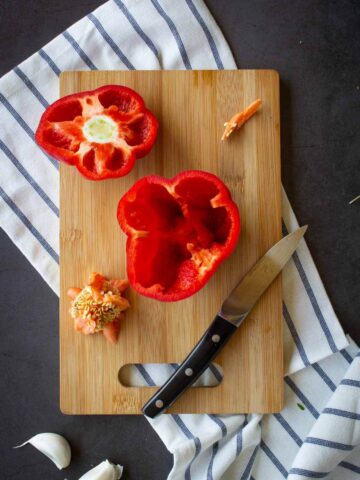 Remove the seeds and clean until you have nothing inside the bell peppers.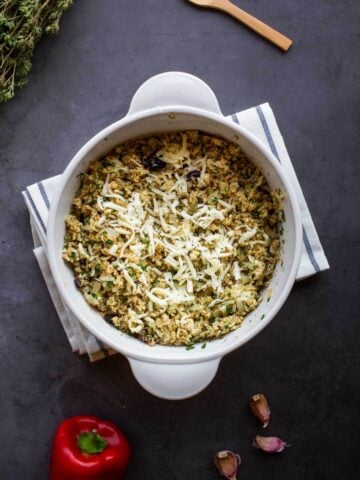 Toss the onion, garlic, and olives into a medium-sized pan and simmer over low heat until the onions turn buttery soft, about 5 minutes. Next, fold in the crumbled tofu and your pre-cooked brown rice (or quinoa, or whatever grain you're vibing with) and give it a good stir for another couple of minutes. Take it off the heat.
Season with salt and pepper, or ground black pepper or red pepper flakes, if you want. I barely use salt, when I stuff the peppers because capers and olives are salty.
Hint: you can Bell peppers in half as well. Halved peppers will have more of their surface exposed to the top with the shredded cheese.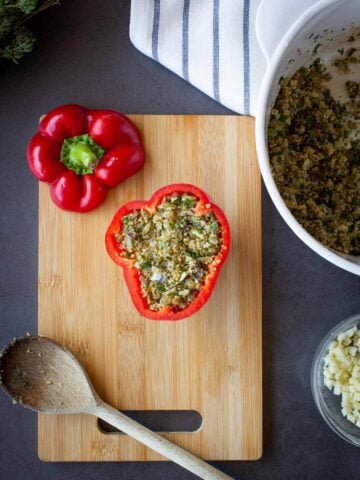 Pack the bell peppers with the rice medley, giving it a gentle press to make sure it's snug. Take it off the heat.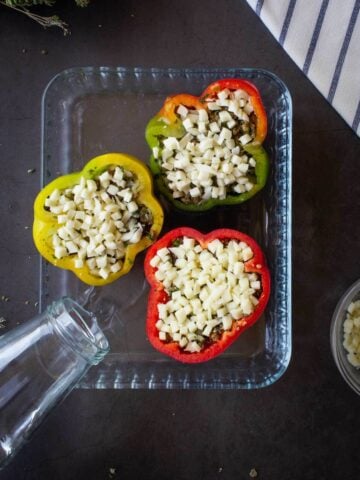 Nestle the stuffed peppers into an oven-safe dish and crown them with vegan mozzarella. Pour just enough water into the dish to coat the bottom.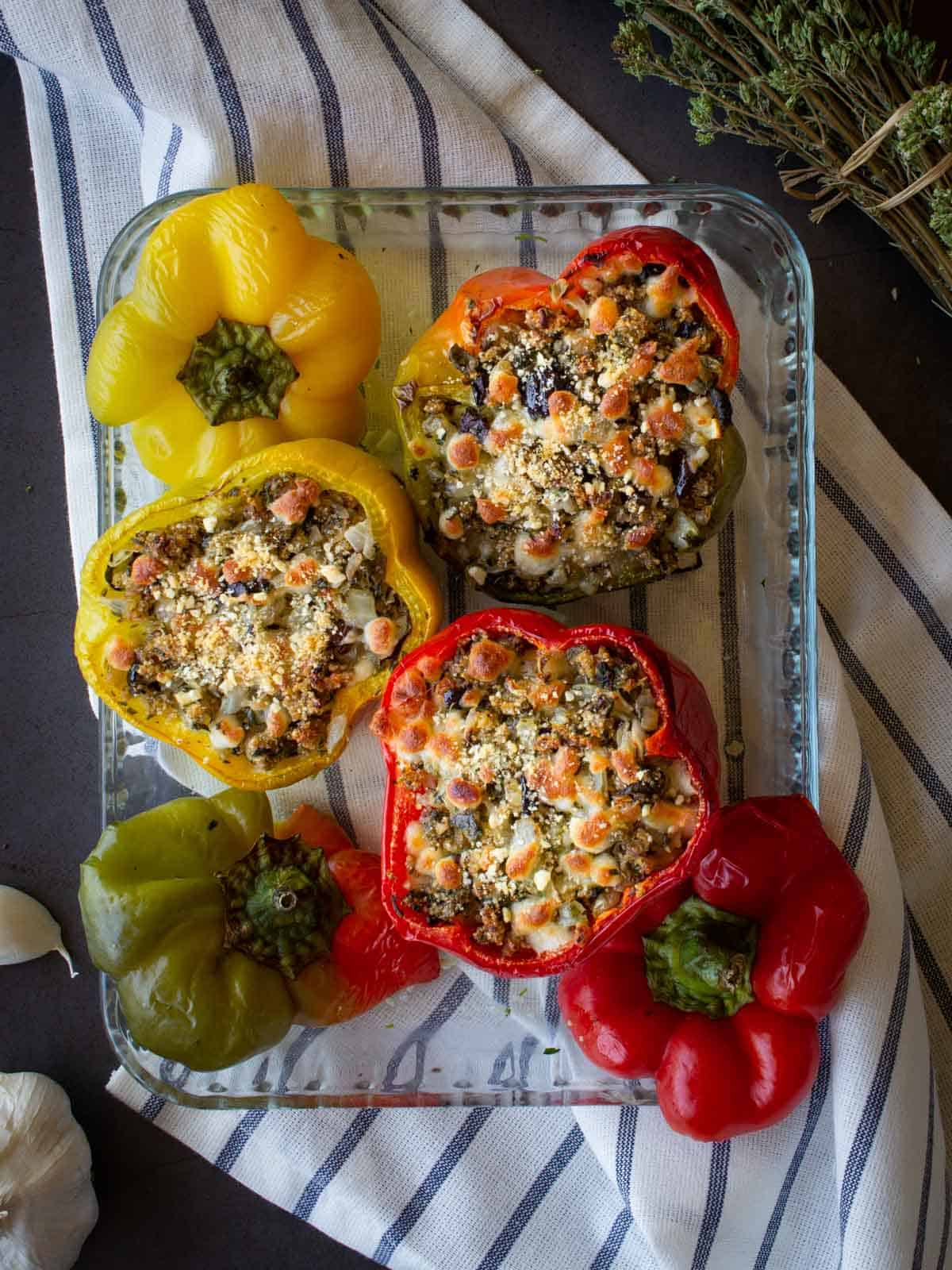 Bake the peppers for 30 to 35 minutes at medium heat 325ºF (160 ºC). Serve and DIG IN!
📖 Variations
Whole grains – add a cup of cooked brown rice or orzo to augment the dish's volume and fiber content. If doing so, add one garlic clove, half onion, a teaspoon of each herb, and an extra tablespoon of capers and olives. If you prefer you could use cauliflower rice (recipe, on this site), instead of brown rice, make sure you remove any excess moisture to avoid making the stuffed bell peppers soggy.
Protein – add a cup of crumbled extra-firm tofu. If so, add it after the onion and garlic looks translucent, and cook for 4 minutes more. Similarly, to whole grains, add extra garlic, onion, herbs, capers, and olives to keep the flavor intensity. You can also opt to replace the tofu with black beans, as they are very healthy food.
Breadcrumbs – feel free to use panko instead, which has a dryer and flakier consistency than regular breadcrumbs.
Herbs – I like alternatively using mint and basil. Simply add an extra tablespoon of fresh mint to the mix, or you can replace the oregano quantity for basil.
Cheesy – these easy vegetarian stuffed peppers can be made creamier, by adding some vegan or regular mozzarella cheese cubes into the mix before stuffing the peppers. You can also try different meltable cheeses like cheddar and parmesan.
Olives and Capers - you can choose to replace any of these ingredients with sun-dried tomatoes, as they have also a chunky texture and contribute to making up Italian stuffed peppers' flavor.
Seasoning - use red pepper flakes as part of the stuffing to give a kick of heat to your stuffed bell peppers. Use salt and pepper to adjust to your liking.
💡 Tips
Whole Foods Plant-Based – to make these vegan stuffed peppers WFPB compliant, simply replace breadcrumbs for entire grains as directed above and omit the use of oil; instead, add some water or vegetable stock while the onions and garlic are cooking to prevent them from sticking and extracting all the flavor sticking at the bottom of the pan.
Vegetarian – for the best vegetarian stuffed peppers, simply use regular cheese instead of mozzarella cheese and top it with vegan parmesan.
🥢 How to serve
Main - if you are making this stuffed pepper recipe to have it as a main dish, we recommend having two for a filling lunch or dinner and pairing them with a green salad with a base of arugula and romaine lettuce, and some fresh tomato.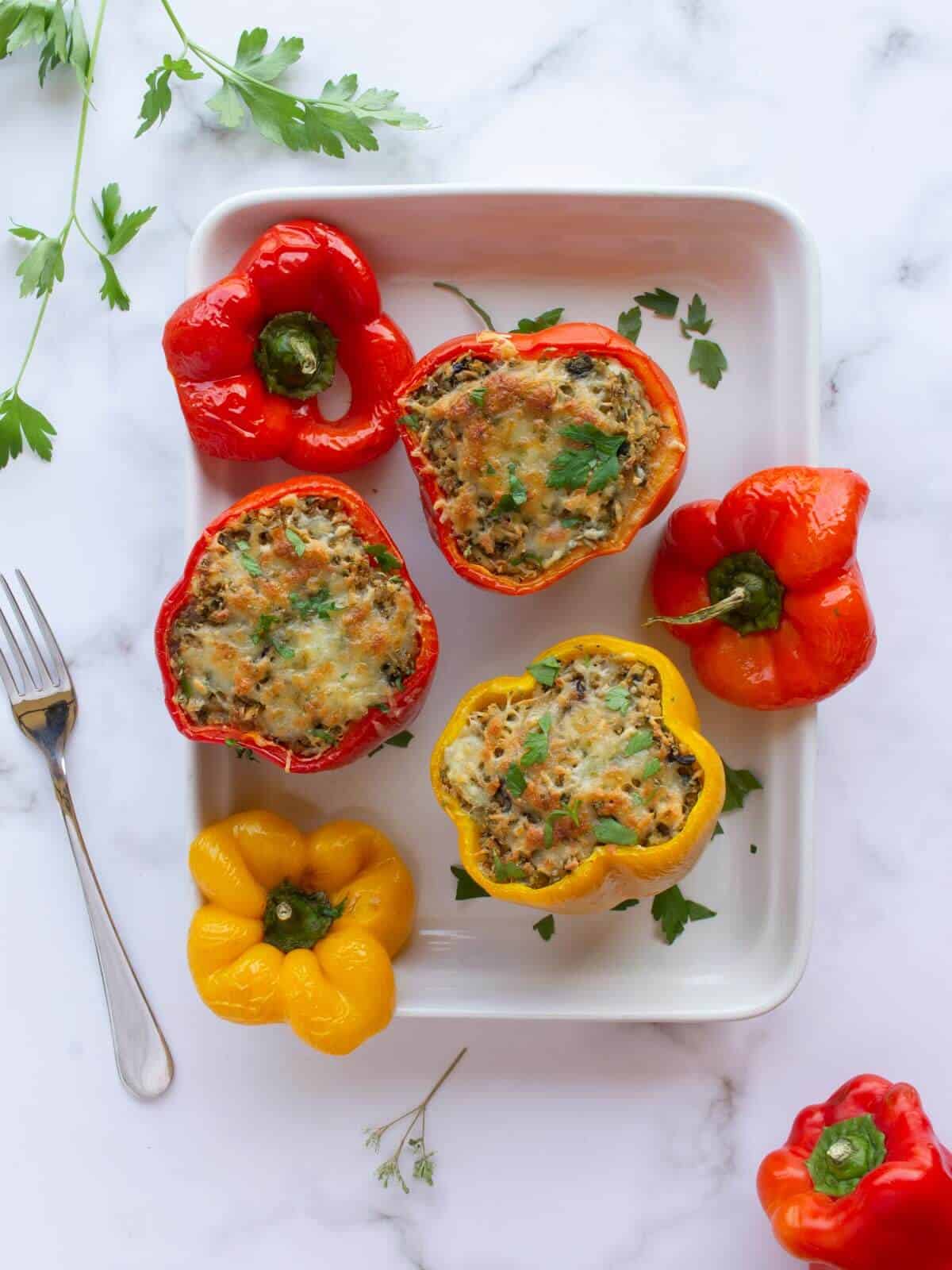 We love also throwing some fresh basil leaves in our green salads as well. You can have your salad with a delicious vinaigrette, made in 5 minutes, while your bell peppers are baking.
Side - if you are using your stuffed pepper recipe as a side dish, serve one, plus some cauliflower rice with the Oregano-based Italian seasoning suggested in the recipe.
🥡 Storing
Make this recipe in advance, it is a great recipe for meal prepping.
How to Freeze Stuffed Peppers
Do You Freeze them Cooked or Uncooked? We recommend freezing the peppers after cooking them. It makes them easier to reheat and serve for fast, healthy dinners.
To Freeze. Place the baked vegan stuffed peppers in a freezer-safe container cut side up in the freezer for up to one month.
Reheat from Frozen. Let the stuffed peppers thaw overnight in the fridge before reheating. Do it gently in the oven or microwave. To refrigerate, seal frozen peppers and cook in a 350°F oven until crisp, about 5 minutes.
Oven. Place the peppers on in a baking dish, cut side up, and warm at 350 ºF for about 10 minutes.
Microwave. Make some cuts to the peppers first to ensure that they warm evenly. Cook from frozen in a microwave for about 3-4 minutes.
❓ FAQ
Can you freeze stuffed bell peppers?
You can freeze these easy stuffed peppers in your freezer. They can be frozen because they keep flavor and texture. The products are kept for several months in airtight containers.
How do you make stuffed peppers not soggy?
You can make vegan stuffed peppers that are not soggy by baking them on low heat. As a result, the moisture evaporates and results in tasty vegan stuffed bell peppers that are also crispy on the outside.
Do you have to boil peppers before stuffing them?
After boiling, you can stuff vegan stuffed peppers with the filling and cook them again; however, if you are making vegan stuffed bell peppers from scratch, they can be baked instead of boiled.
🫑 More bell peppers recipes
If you love recipes using red bell peppers, don't forget to try the muhammara dip (using roasted peppers and nuts), the roasted red peppers hummus, and the traditional Catalonian dish, Escalivada; all of them are big crowd-pleasers.
More recipes using tofu as stuffing
Try our stuffed onions with porcini mushrooms, stuffed pasta shells, and the delicious stuffed polenta with tofu-based ragout.
⭐ If you try this recipe, let us know! 💬 Leave a comment, rate it, and don't forget to tag us @ourplantbasedworld on Instagram. Cheers!
📋 Recipe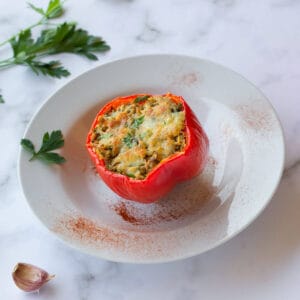 Vegan Tofu Stuffed Peppers with Rice
We have a fresh twist on a family favorite: Vegan Stuffed Peppers. Sweet bell peppers stuffed with a savory blend of Mediterranean goodness.
Equipment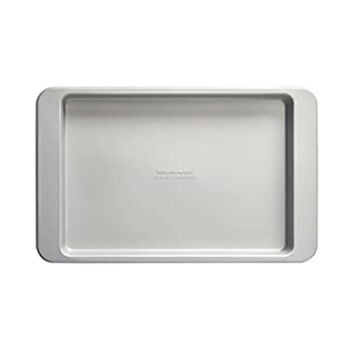 (affiliate link)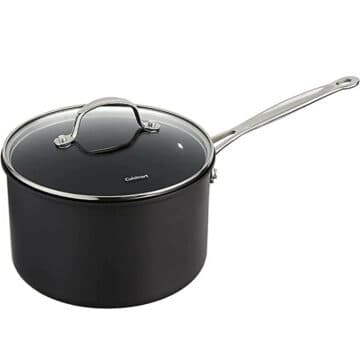 (affiliate link)
Directions
Preheat the oven to 325 ºF (160ºC).

Prepare the Bell Peppers. Start by washing the peppers. Then, either cut the top of the peppers with a sawed knife or halve them from top to bottom, cutting right down through the stems. Remove the membranes and seeds.

Stuffing. Put the onion and garlic in a large saucepan and cook on medium heat for 5 minutes until the onions are completely soft. If sticking, add a couple of tablespoons of water.

Stir fry. Stir in the crumbled tofu and stir for 2 minutes and then add the cooked rice (or grain of choice). Sir fry, for additional 3 minutes. Seaon with salt.

Remove from the heat. And stir in the breadcrumbs, parsley, oregano, chopped olives, half of the vegan mozzarella, and chopped capers.

Fill the peppers with the herb stuffing, pressing down gently, and finish with the vegan mozzarella pieces.

Place the stuffed peppers in an ovenproof baking dish (if you choose to remove the tops instead of cutting them lengthwise, add them to the pan, aside from the stuffed peppers).

Add water. Just enough water to the baking dish, so it covers the bottom of the bell peppers.

Bake the peppers for 30 to 35 minutes at 375ºF (190 ºC) until they look golden on top.
Nutrition Facts
Calories:
377
kcal
Carbohydrates:
57
g
Protein:
11
g
Fat:
12
g
Saturated Fat:
3
g
Polyunsaturated Fat:
1
g
Monounsaturated Fat:
3
g
Sodium:
1633
mg
Potassium:
584
mg
Fiber:
9
g
Sugar:
9
g
Vitamin A:
4452
IU
Vitamin C:
167
mg
Calcium:
169
mg
Iron:
4
mg
Nutrition Facts
Vegan Tofu Stuffed Peppers with Rice
Amount per Serving
% Daily Value*
* Percent Daily Values are based on a 2000 calorie diet.
Nutritional Disclaimer
The information shown is an estimate provided by an online nutrition calculator. It should not be considered a substitute for a professional nutritionist's advice. See our full Nutritional Disclosure here.
Affiliate Disclaimer
Please note that some of the links here are affiliate links, and I will earn a commission if you purchase through those links. I recommend all of the products listed because they are companies I have found helpful and trustworthy.