Who doesn't love pizza? Even those who don't eat meat or cheese can enjoy a delicious vegan pizza. This recipe for Pizza Marinara recipe will please even the pickiest of eaters. Anyone can make this tasty pizza at home with its simple ingredients and easy instructions. So roll up your sleeves and get started - you're going to love this pizza!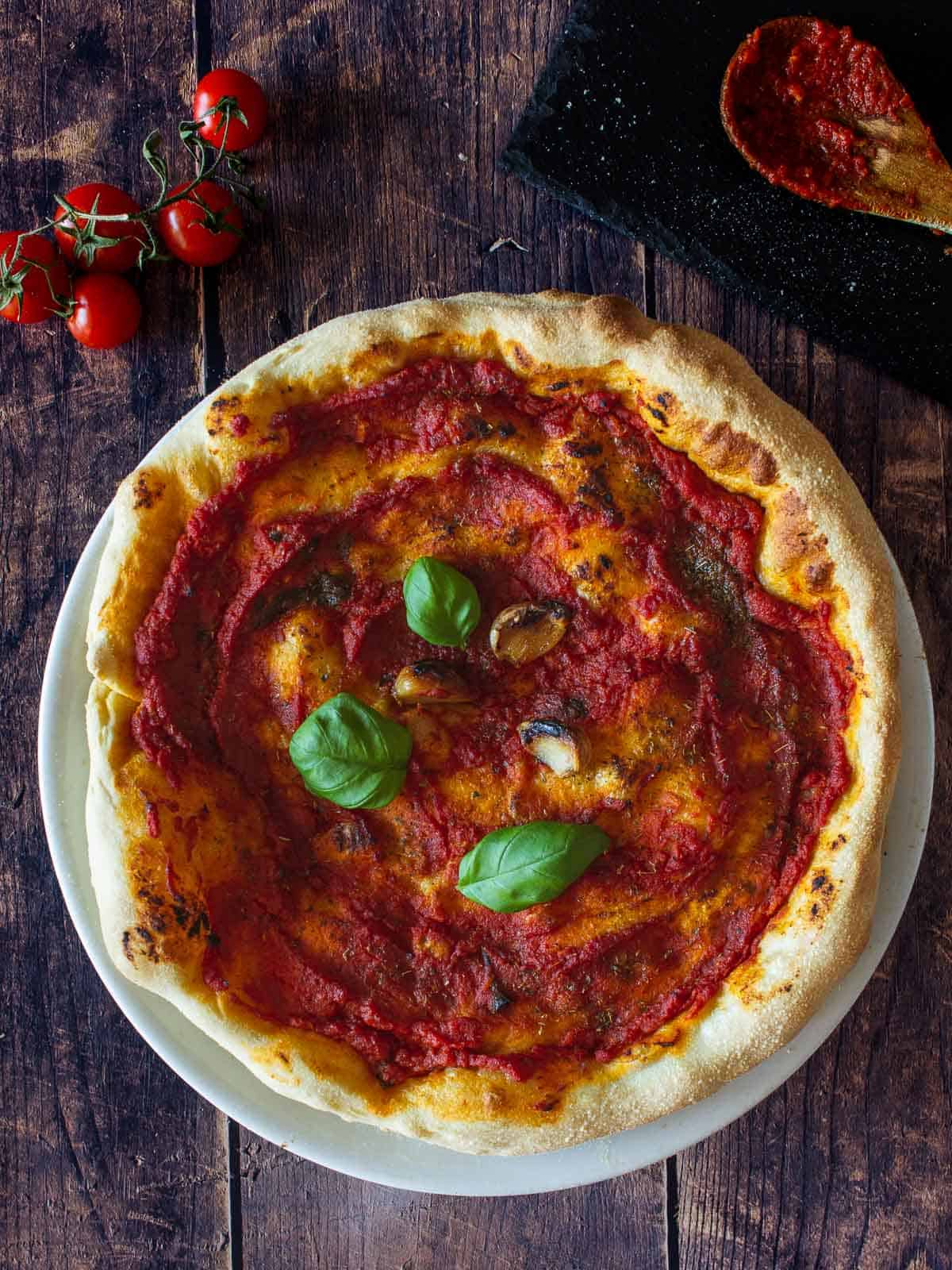 Jump to:
🧾 Ingredients
Pizza dough ingredients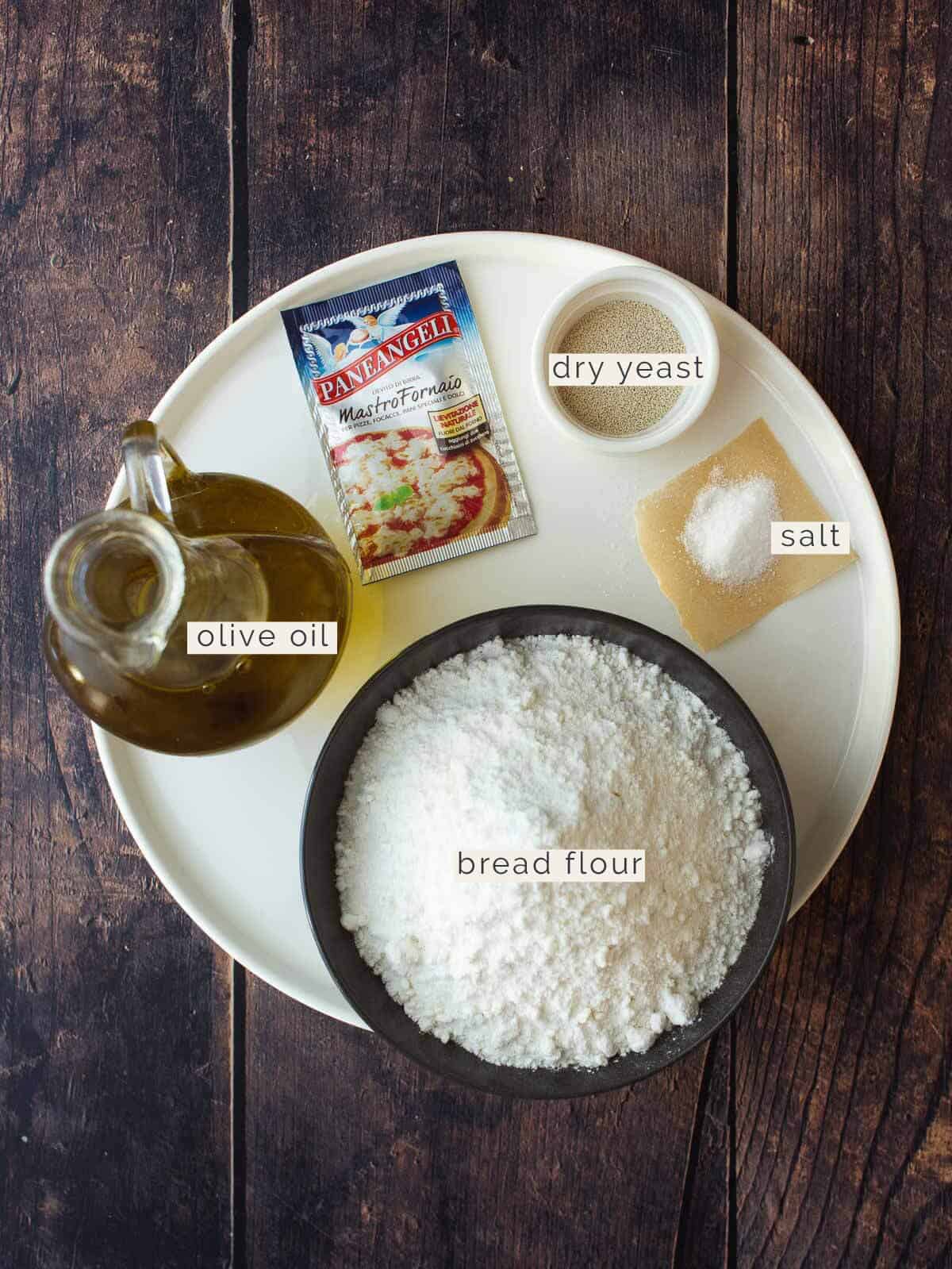 flour
extra-virgin olive oil
dry yeast
brown sugar
salt
Marinara sauce (pizza sauce) ingredients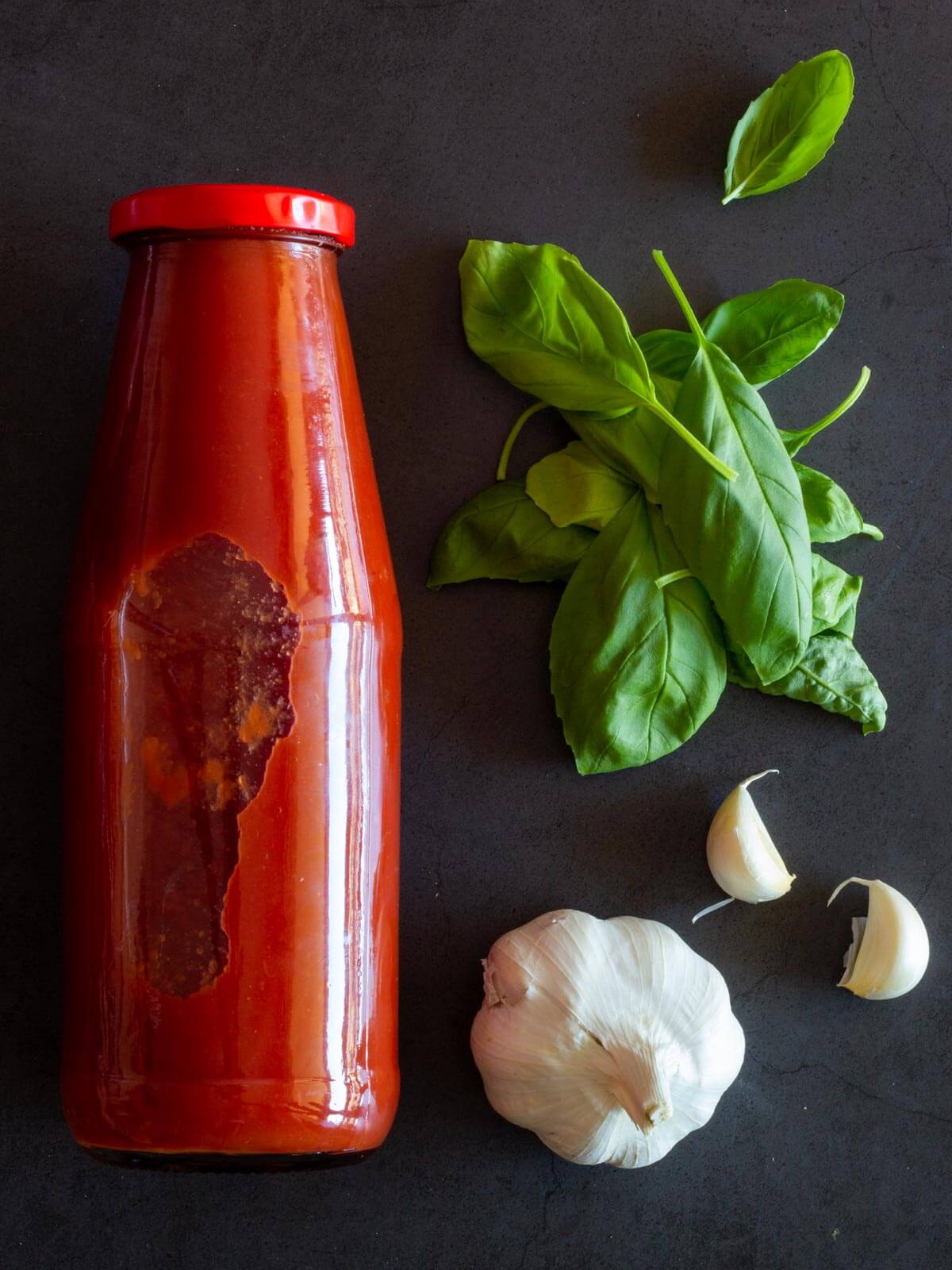 tomato sauce
fresh basil
extra-virgin olive oil
garlic
Optionally: oregano and season with salt and brown sugar to balance acidity.
🔪 Instructions
Knead the pizza dough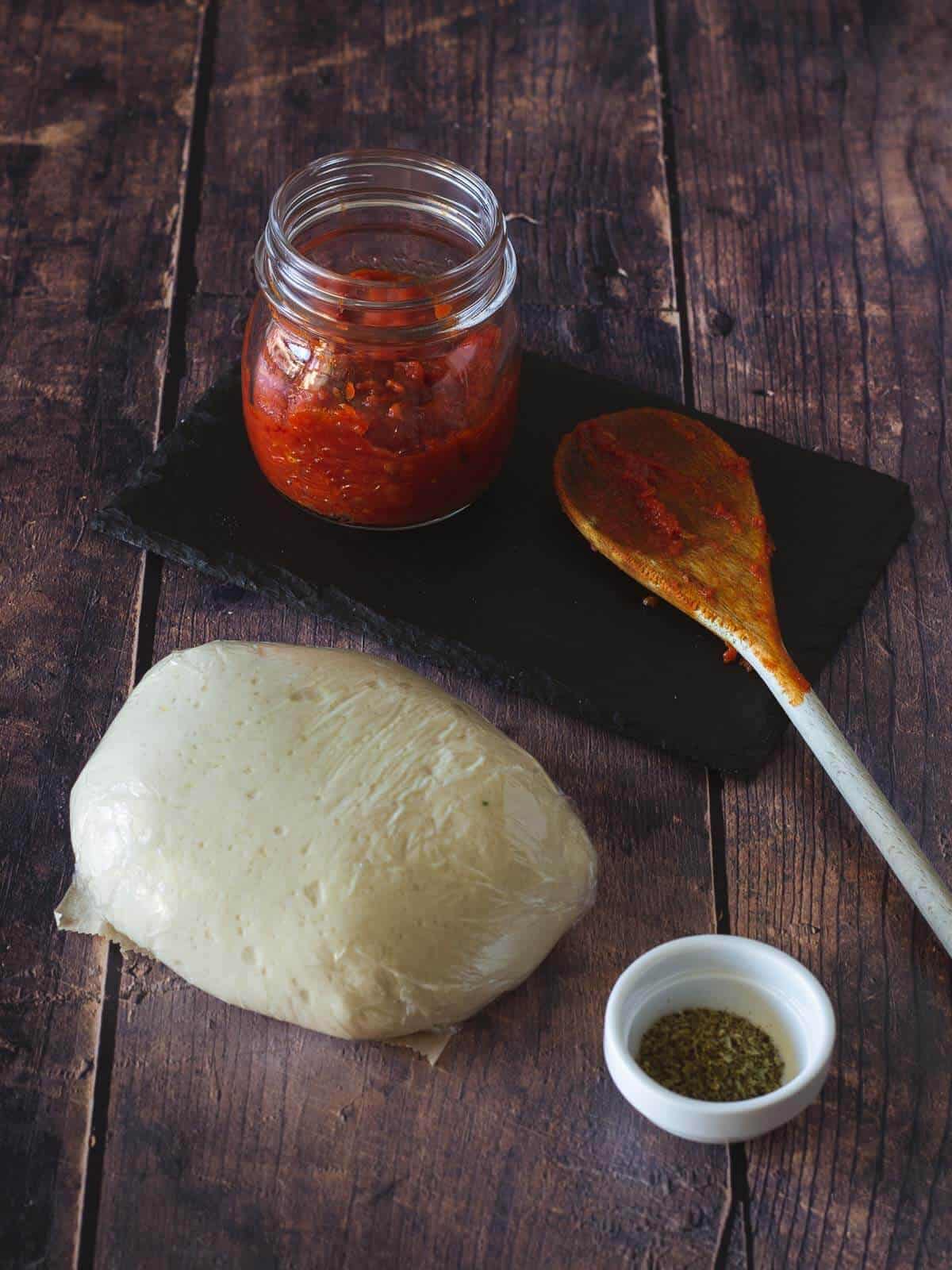 Make the marinara pizza sauce
Stir-fry the minced garlic in olive oil on medium heat.
Add tomato sauce (canned tomatoes and crushed tomatoes also work).
Then add the dried oregano and basil leaves, sugar, and salt.
Cook the sauce on medium-low heat with a lid for 20 minutes until the liquid has reduced by one-third. Stir it halfway.
Taste and adjust with salt and pepper or red pepper flakes if you want to make it a hot sauce.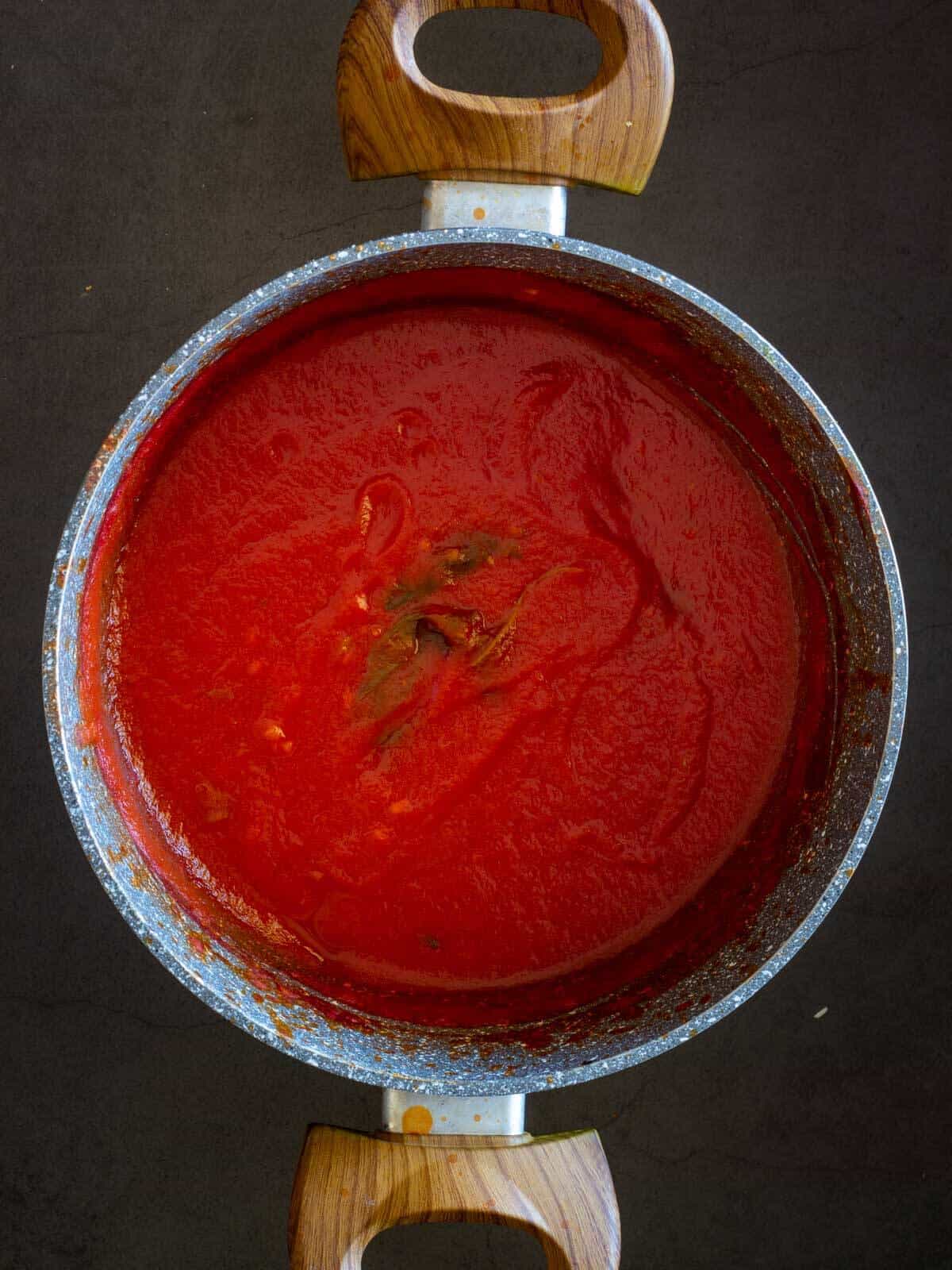 🥫Did you know?🍅
When it comes to making tomato sauce for pizza, there are two schools of thought: cooking and not cooking the sauce, evoking the question: what is the difference between pizza sauce and marinara sauce?
Some people swear by cooking their tomato sauce before putting it on the pizza, arguing that it helps to concentrate the flavors and results in a richer, more complex sauce.
Others, however, argue that cooking the sauce can actually detract from the bright, fresh flavor of the tomatoes and that a raw sauce is a way to go.
We like to cook it slightly!
Extend the pizza dough
It is important to stretch the pizza dough ball delicately to keep as much as the air in, so after you make a dough ball the size of a baseball, stretch it slightly with your fingers and then place it in the oiled baking pan pressing withe your finger from the center to the edges.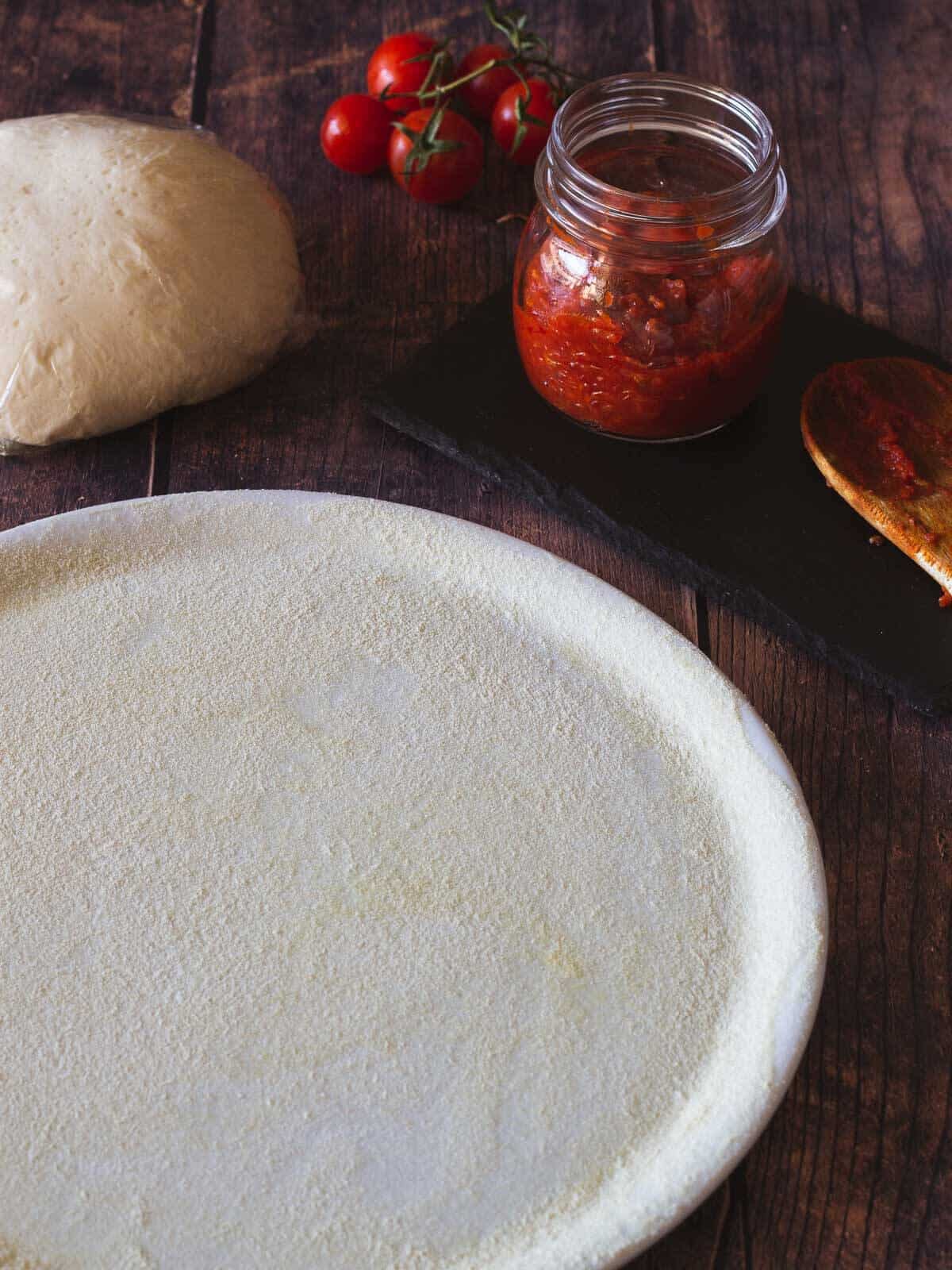 flour to a pizza baking dish with hard durum flour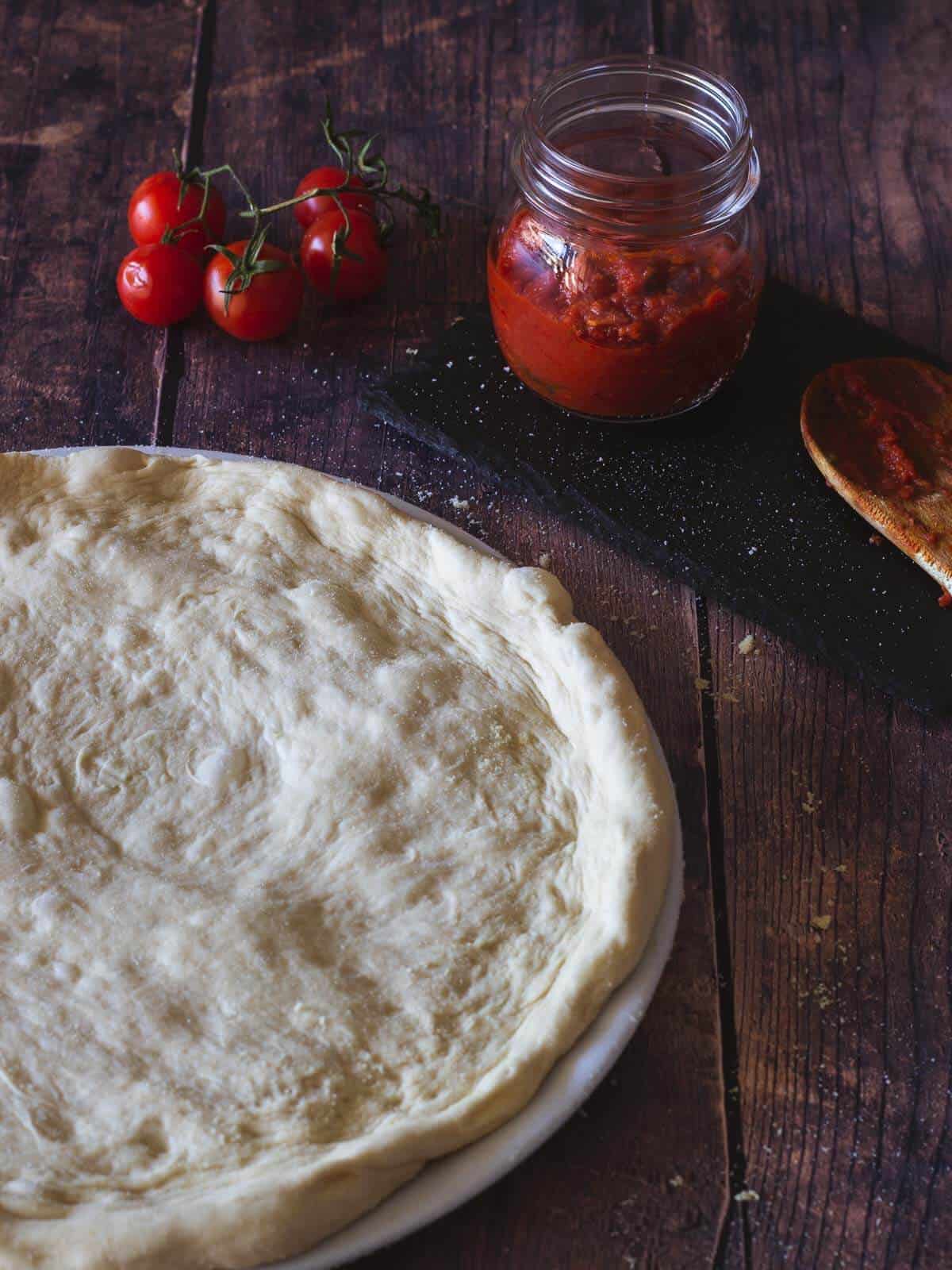 extend the pizza dough keeping as much air as possible; starting from the center
Place the sliced garlic cloves on top and a drizzle of olive oil.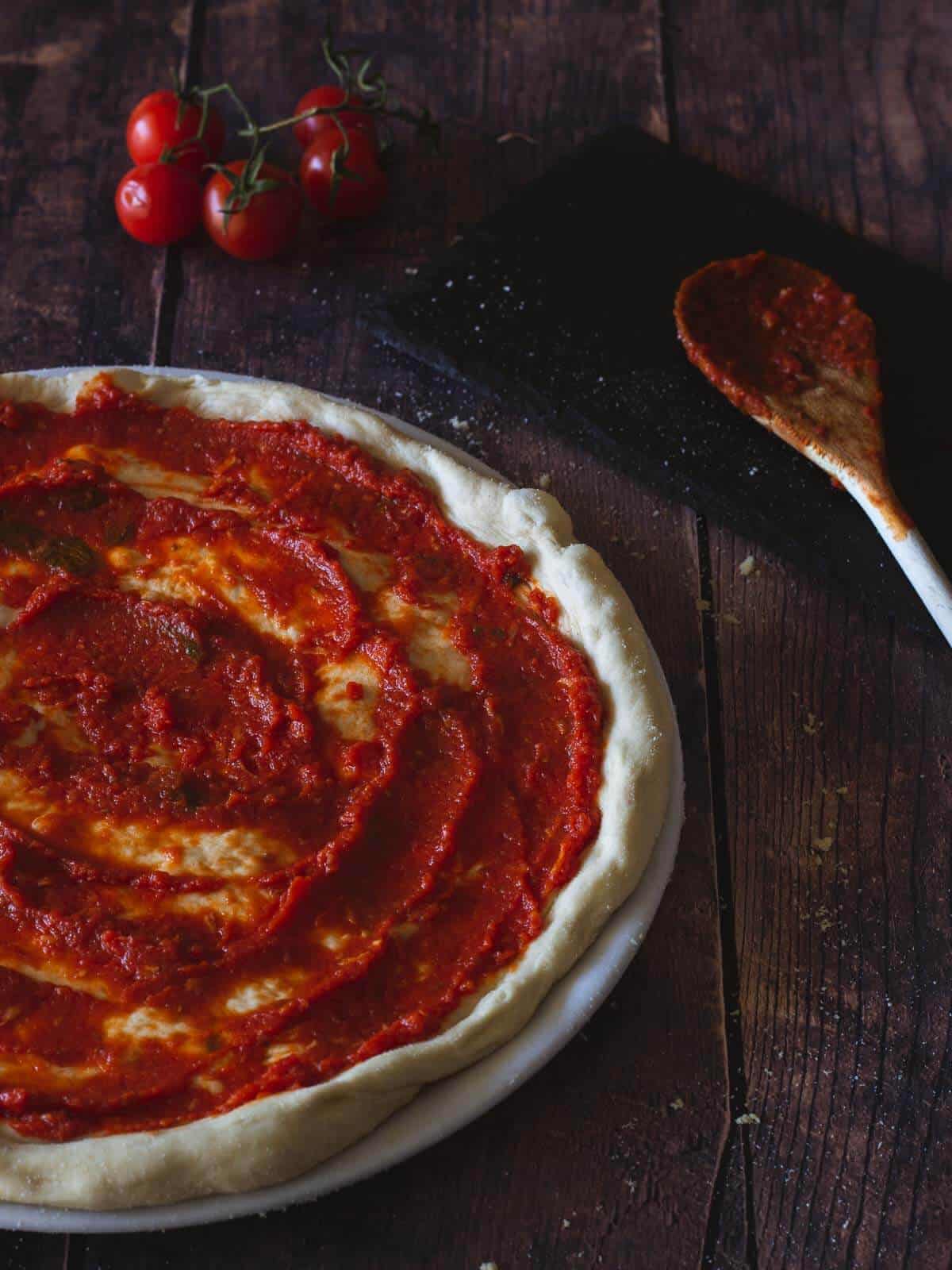 pour and extend the marinara sauce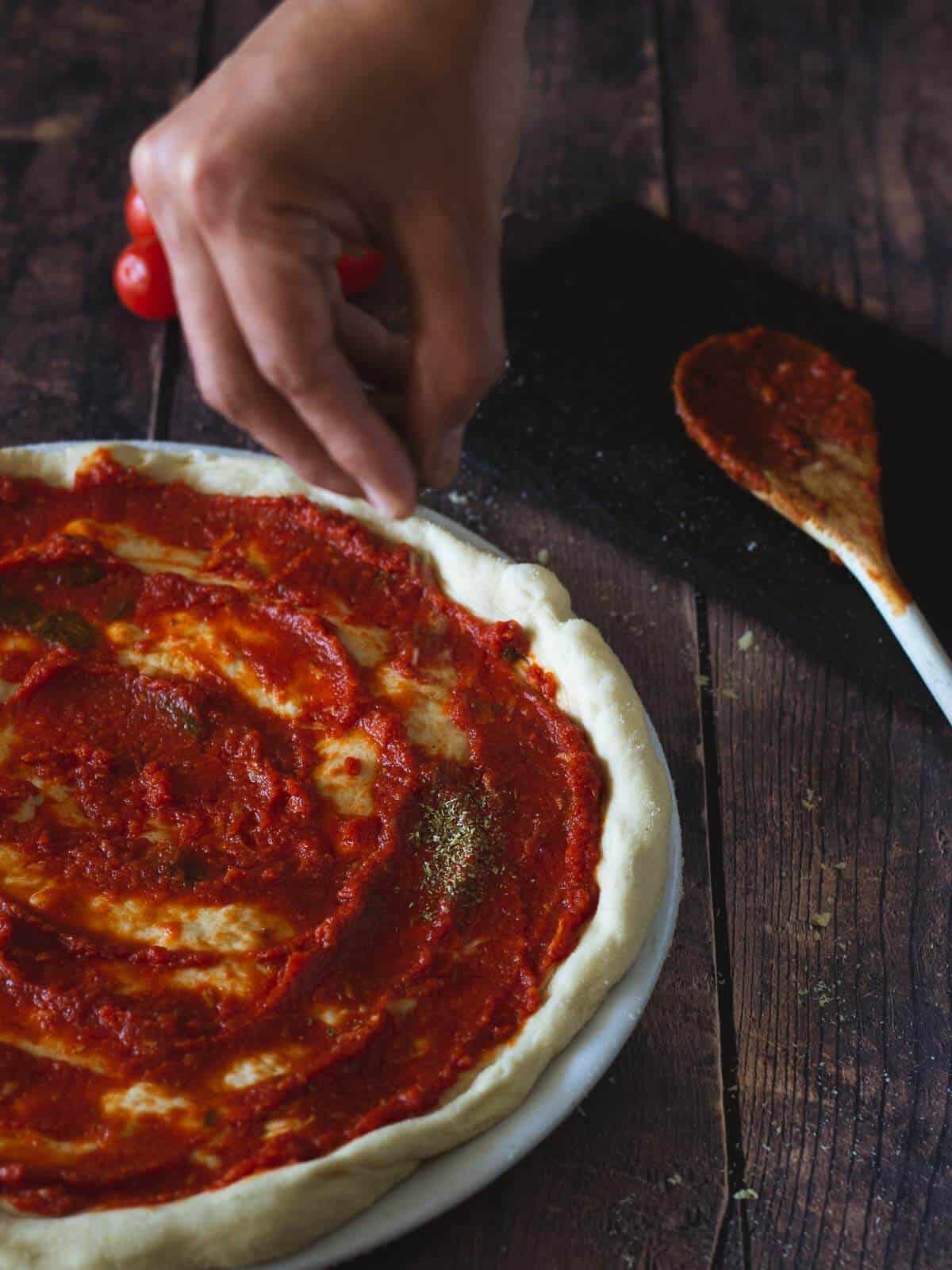 dried, and add extra oregano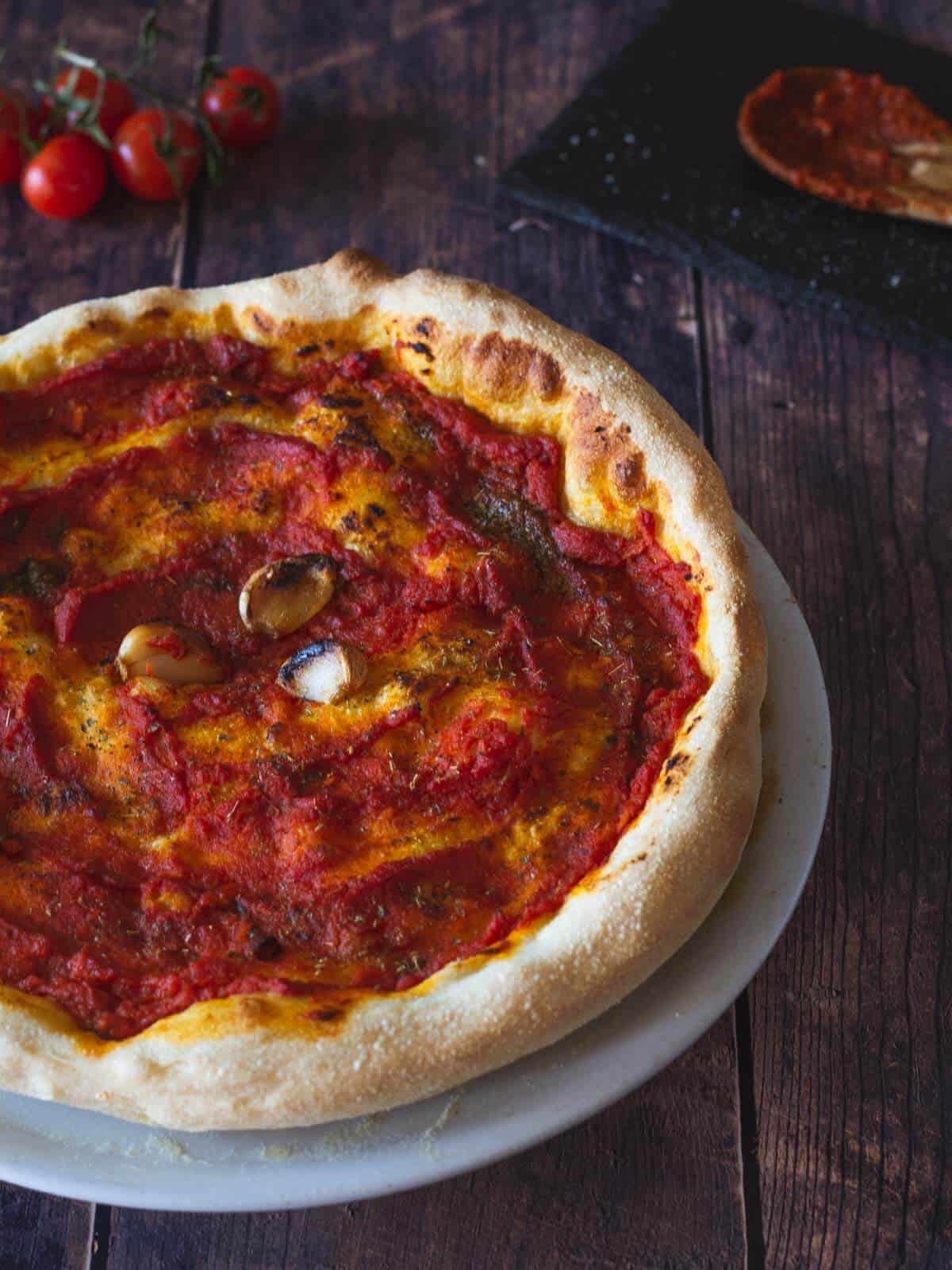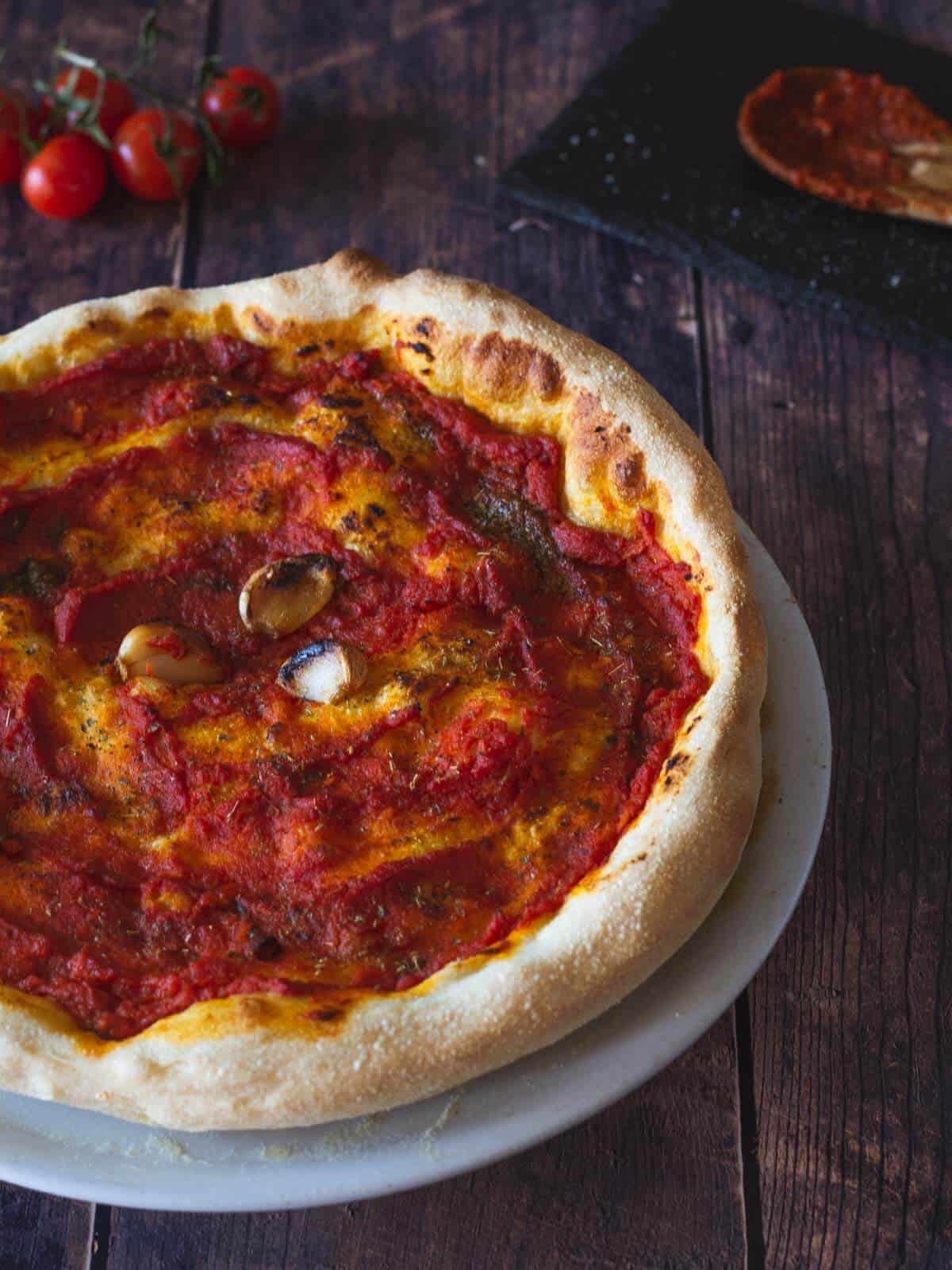 💡 Baking Tips
The moment to put the pizza in the oven is perhaps one of the most important because wrong cooking could nullify all our sacrifices in the blink of an eye!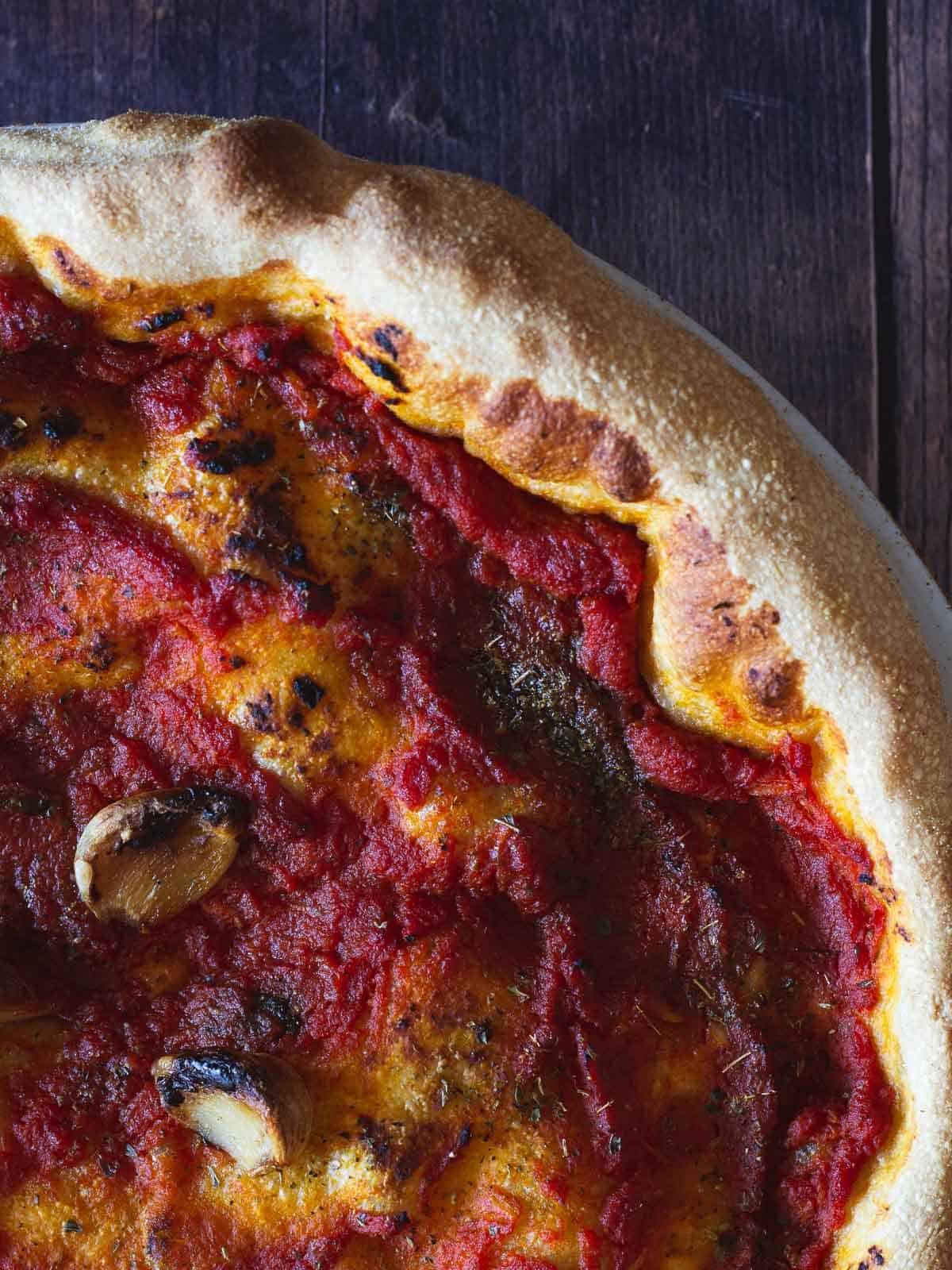 Remember that the oven must be heated very well first, to at least 250 degrees (the high temperature is essential to cook the pizza at its best).

If you have an electric oven, remember that this tends to heat up more in the back, so remember to rotate the pizza from time to time to obtain homogeneous cooking.
Put a container with water on the bottom of the oven to ensure the heat is even in the oven.
Top tip: don't open the oven until the pizza is cooked!
👨🏻‍🍳 Flour
To have an airier pizza, use half all-purpose flour(Type 00) and half strong flour (Type 0). If you do, allow at least one extra hour for proofing, as type = flour has more strength to proof, given that it has a larger protein content; thus, more time allows for the proofing to fully develop.
You can even use 100% Type 0 flour, in which case, allowing for a minimum of 4-6 hours of proofing and even overnight would be ideal.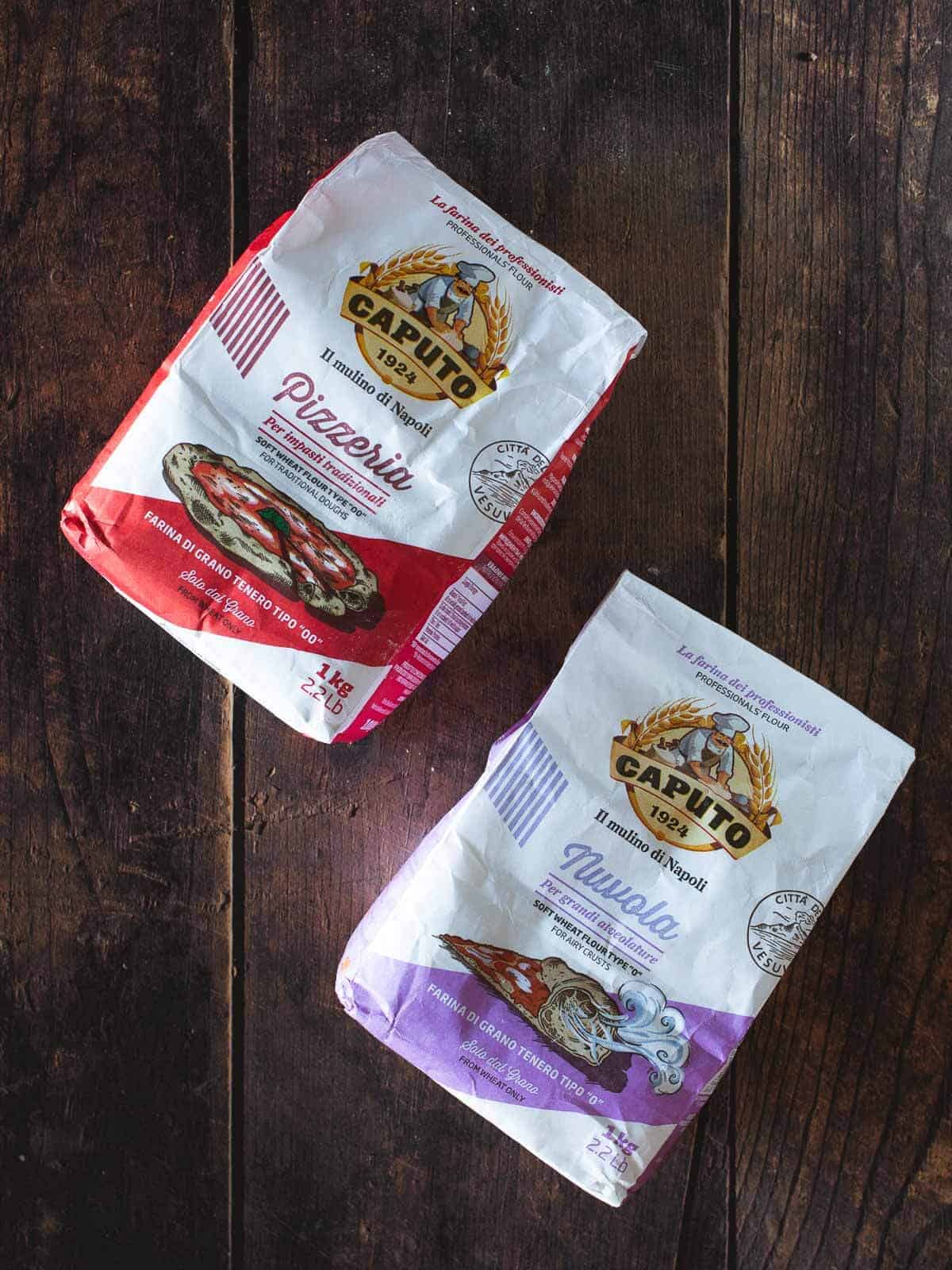 📖 Variations
This easy homemade pizza sauce can vary with simple ingredients because you can easily replace Marinara sauce's components with kitchen staples like Italian seasoning. You can also use onion powder and garlic powder to replace the fresh condiments version.
Even dried oregano works well. The only ingredient I wouldn't change to make the sauce delicious is the fresh basil, as dried basil doesn't really taste the same.
See all the tips for making a great homemade marinara sauce that can be used as spaghetti sauce pasta, dipping sauce for crostini, or as a base for a vegetarian lasagna.
If you're looking for a delicious vegan pizza option, this classic Italian dish is made with simple ingredients and comes together in just minutes. Plus, it's naturally vegan, so many more people can enjoy it, and you won't miss the cheese! Why not try making your pizza tonight?
📚 More dough recipes
See how to make your own vegan pasta dough, vegan empanadas dough, Italian pagnotta easy bread loaf, basic pizza dough, and focaccia bread.
📋 Recipe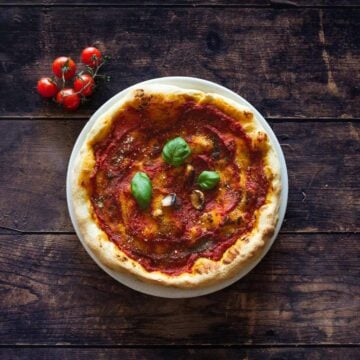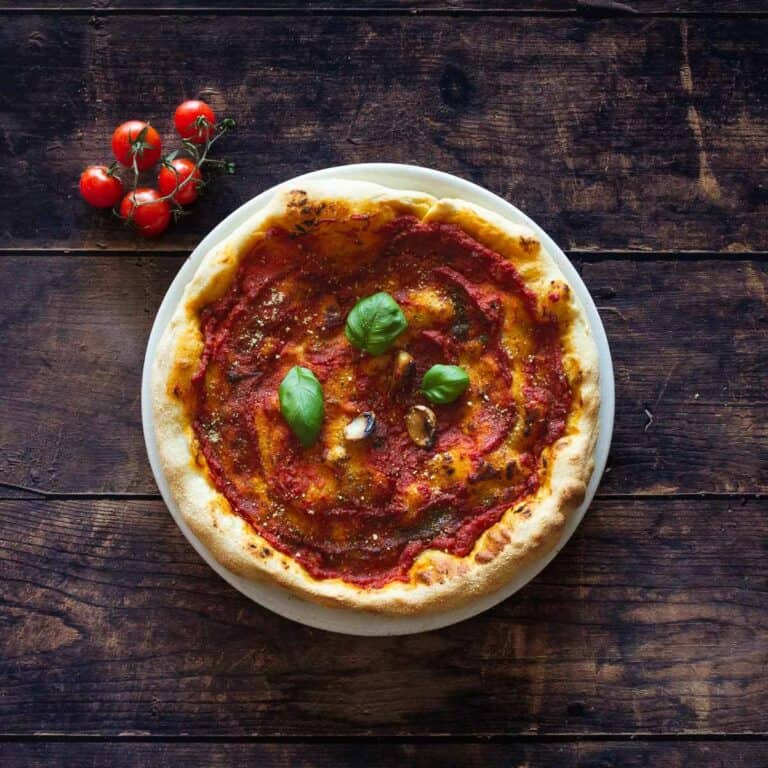 Pizza Marinara Recipe
Recipe for the delicious marinara pizza recipe. A traditional and accidentally vegan pizza recipe
Equipment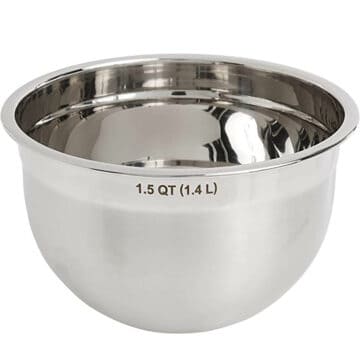 (affiliate link)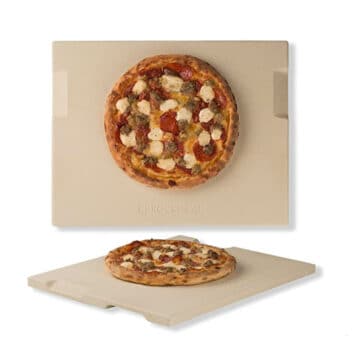 (affiliate link)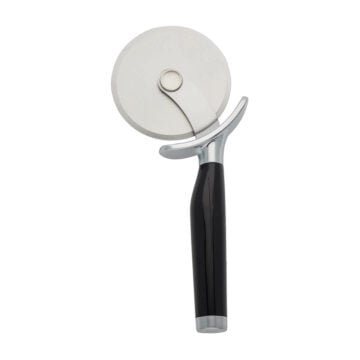 (affiliate link)
Ingredients
Dough
1

lb

bread flour (500 g)

If you want a more airy pizza, replace half the quantity for full strong manitoba flour. Remember, you need extra flour to manage.

2

tablespoons

olive oil

extra-virgin

2

teaspoons

sea salt

fine

1

tablespoon

brown sugar

¼

ounce

dry brewer's instant yeast

approx. 2-¼ teaspoons, or 7 g

11

fluid ounces

warm water (325 ml)
Optional
2

tablespoons

hard durum wheat

for dusting the pizza
Directions
Sauce:
Chop the garlic and fry in the olive oil on medium heat for 30 seconds.

Add tomato passata sauce, the oregano and basil leaves, sugar and salt.

Cook the sauce on medium-low heat with a lid for 20 minutes until the liquid has reduced one-third. Stir it halfway.

Remove from heat and add the remaining basil leaves. Adjust.
Dough:
Dilute the sugar and dry yeast in the warm water. Let the liquid sit for 10 minutres. You should see bubbles on top of the mixture.

Meanwhile, mix in a large bowl 14 ounces (400 grams) of flour and salt.

Add the yeast mixture and olive oil and start kneading.

Take out of the bowl and stretch and fold it for 20 minutes, adding more flour if needed.

Divide the dough into four pieces. Stretch and fold like making an envelope, closing the bowl from below.

Place each dough ball on an oiled baking sheet with olive oil, and cover each one with plastic wrap, leaving space between them.

Let the dough rise for a minimum of two hours. The dough should be close to a warm place, like a heater, or you can put the baking sheet in the oven with the light on.

Pre-heat your oven at 480ºF (or 250 ºC).

Put an oven-resistant container on the bottom of the oven with a cup of water

Oil pizza tin with olive oil and optionally dust with semolina (durum wheat).

Stretch the dough ball, keeping as much air inside the dough to make your pizza fluffier.

Add ¾ cup of tomato sauce and spread it widely. Don't add too much sauce, or it will make the dough soggy. Add some extra oregano if you like.

Bake for fifteen minutes without opening the oven.

Add some extra fresh basil leaves and serve hot.
Notes
Flour
All-purpose flour also works for this recipe, but we prefer bread flour for a more airy dough result.
We like King Arthur's Bread flour.
As for all baking recipes, we recommend weighing your ingredients.
1 cup approx 120 grams
Nutrition facts were calculated for 2 pizzas, large pizzas or 4 personal pizzas, 4 people.
•The minimum amount of time I would recommend letting the dough rise is two hours, but I prefer leaving it to rise for three hours and even overnight.
•Make sure you leave the dough to rise at a warm temperature. I leave it close to my house heater in winter, or also, you can turn the oven on 100 ºF (50ºC) for ten minutes and then turn it off before turning the dough in.
•I love semolina and the sandy, dusty effect it has on pizza. In my opinion, semolina makes the pizzas have more of a Sourdough texture, which I am all in for.
•When raising, cover the dough pieces with plastic foil. Air is the worst enemy of your dough. It will make a hard crust on it if you leave it uncovered.
•Put any oven-resistant pan on the bottom of the oven with 2 cups of water (this helps ensure the same temperature is homogenous if you don't have an oven with a fan).
•Suppose you don't have a Pizza Oven or a Clay Oven, which raises their temperature way above any conventional house oven. In that case, you need to increase the temperature to the maximum (about 480ºF or 250ºC) and let it pre-heat for twenty minutes.
•Do not open the oven until the pizza is ready! Otherwise, you will lose the temperature, and the dough will not forgive you.
Nutrition Facts
Calories:
393
kcal
Carbohydrates:
56
g
Protein:
14
g
Fat:
13
g
Saturated Fat:
4
g
Polyunsaturated Fat:
1
g
Monounsaturated Fat:
7
g
Cholesterol:
15
mg
Sodium:
1162
mg
Potassium:
387
mg
Fiber:
3
g
Sugar:
5
g
Vitamin A:
657
IU
Vitamin C:
7
mg
Calcium:
134
mg
Iron:
2
mg
Nutrition Facts
Pizza Marinara Recipe
Amount per Serving
% Daily Value*
* Percent Daily Values are based on a 2000 calorie diet.
🌡️ Food safety
Cook to a minimum temperature of 165 °F (74 °C)
Do not use the same utensils on cooked food, that previously touched raw meat
Wash hands after touching raw meat
Don't leave food sitting out at room temperature for extended periods
Never leave cooking food unattended
Use oils with a high smoking point to avoid harmful compounds
Always have good ventilation when using a gas stove
See more guidelines at USDA.gov.
Nutritional Disclaimer
The information shown is an estimate provided by an online nutrition calculator. It should not be considered a substitute for a professional nutritionist's advice. See our full Nutritional Disclosure here.
Affiliate Disclaimer
Please note that some of the links here are affiliate links, and I will earn a commission if you purchase through those links. I recommend all of the products listed because they are companies I have found helpful and trustworthy.