Are you looking for a vegan pasta dough recipe made with whole and simple ingredients? This easy recipe is perfect for those who want to make their own pasta at home. Plus, it's simple enough that anyone can make it. So, gather your ingredients and give this recipe a try! You won't be disappointed.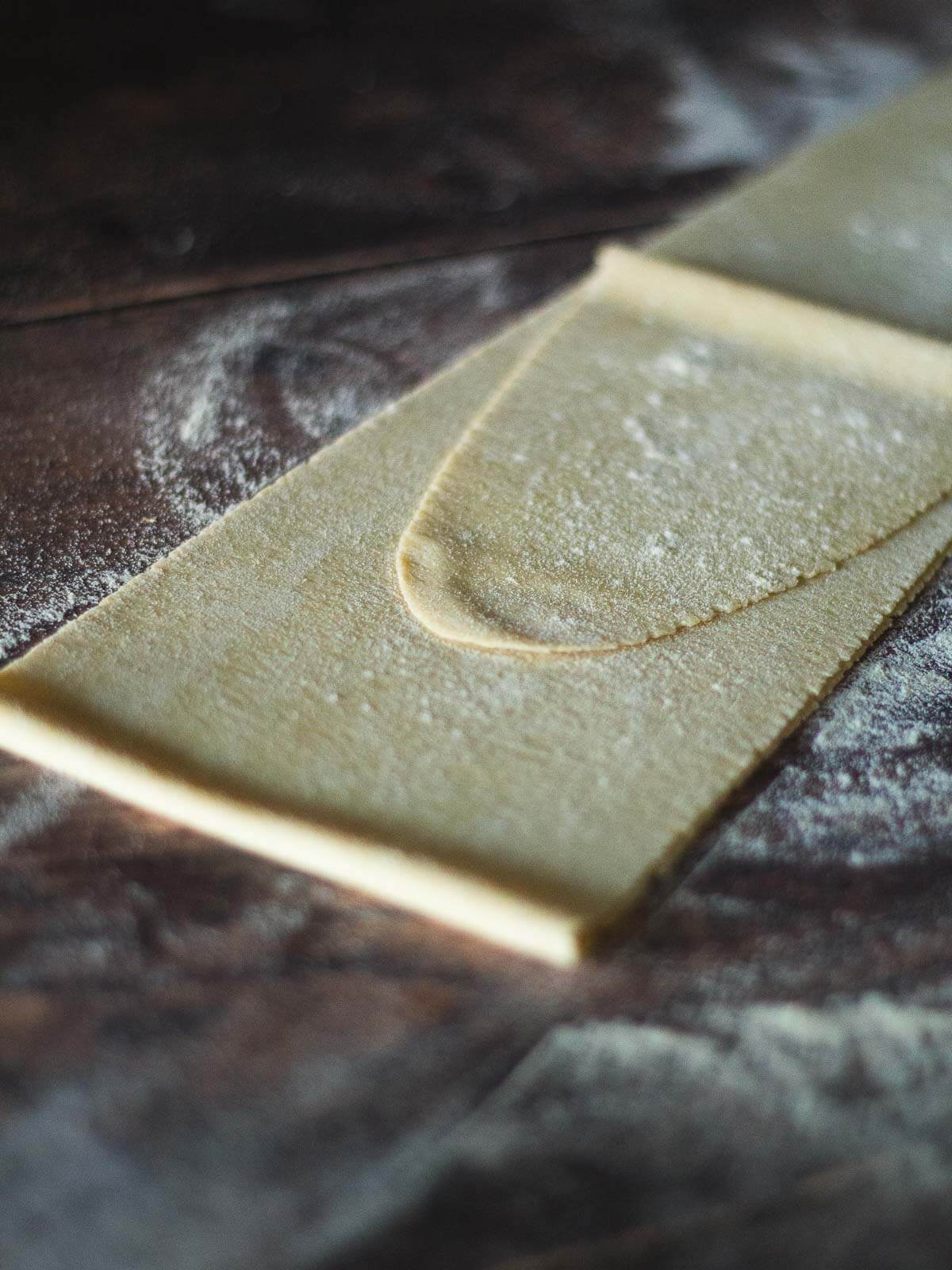 Living in Italy means making pasta regularly and being great at it. We have always made pasta as Joaquin's family is Italian, and making homemade pasta dough on Sundays is a tradition kept alive for years.
We always try out different fillings for fun and to have diversity at the table; we make two variations at each family gathering.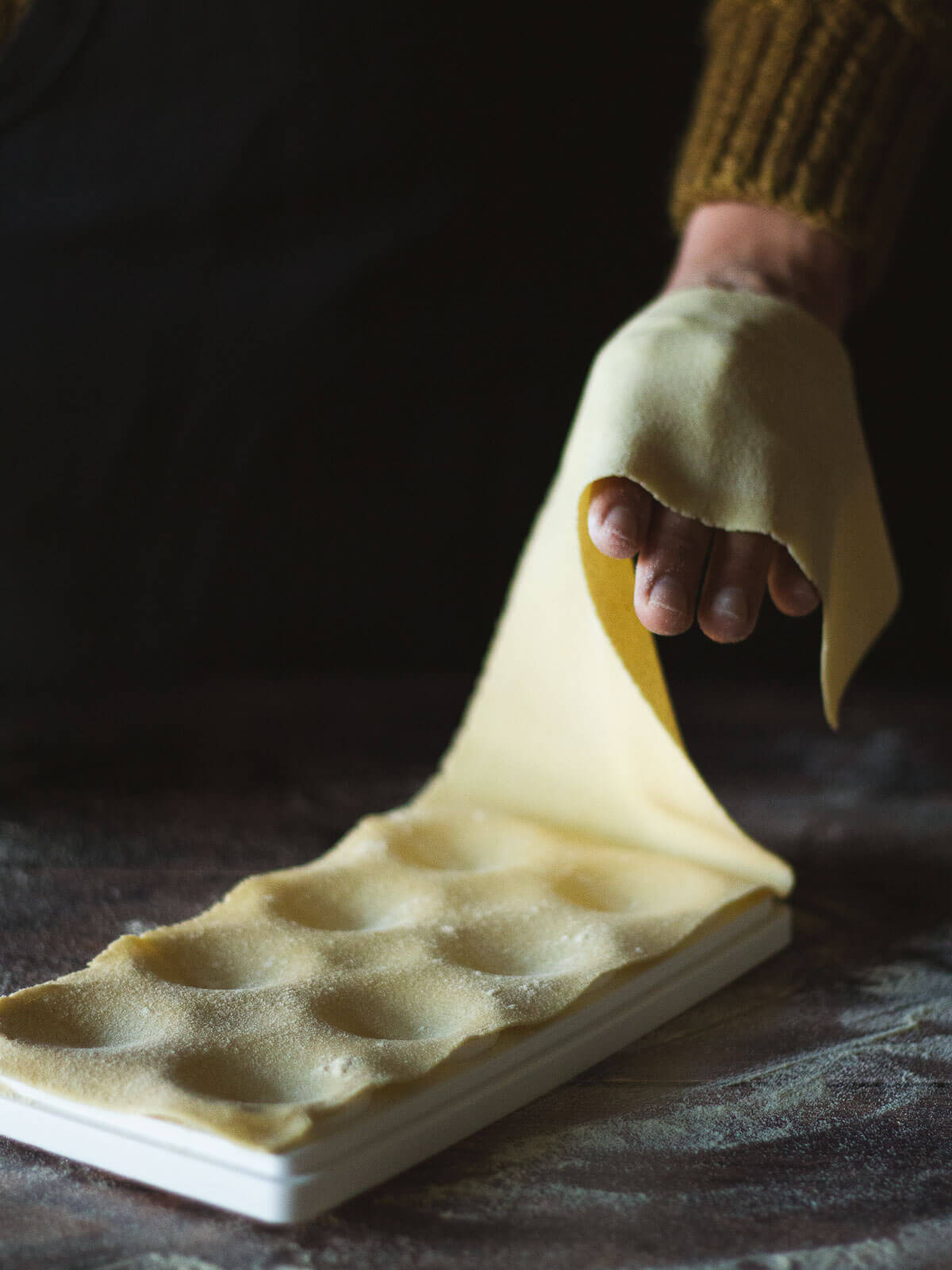 This homemade vegan pasta recipe is the base we use to make spaghetti, ravioli, fettuccine, and all kinds of pasta you can imagine. You only need to make slight adjustments to its thickness to make stuffed pasta and dumplings.
Jump to:
🧾 Ingredients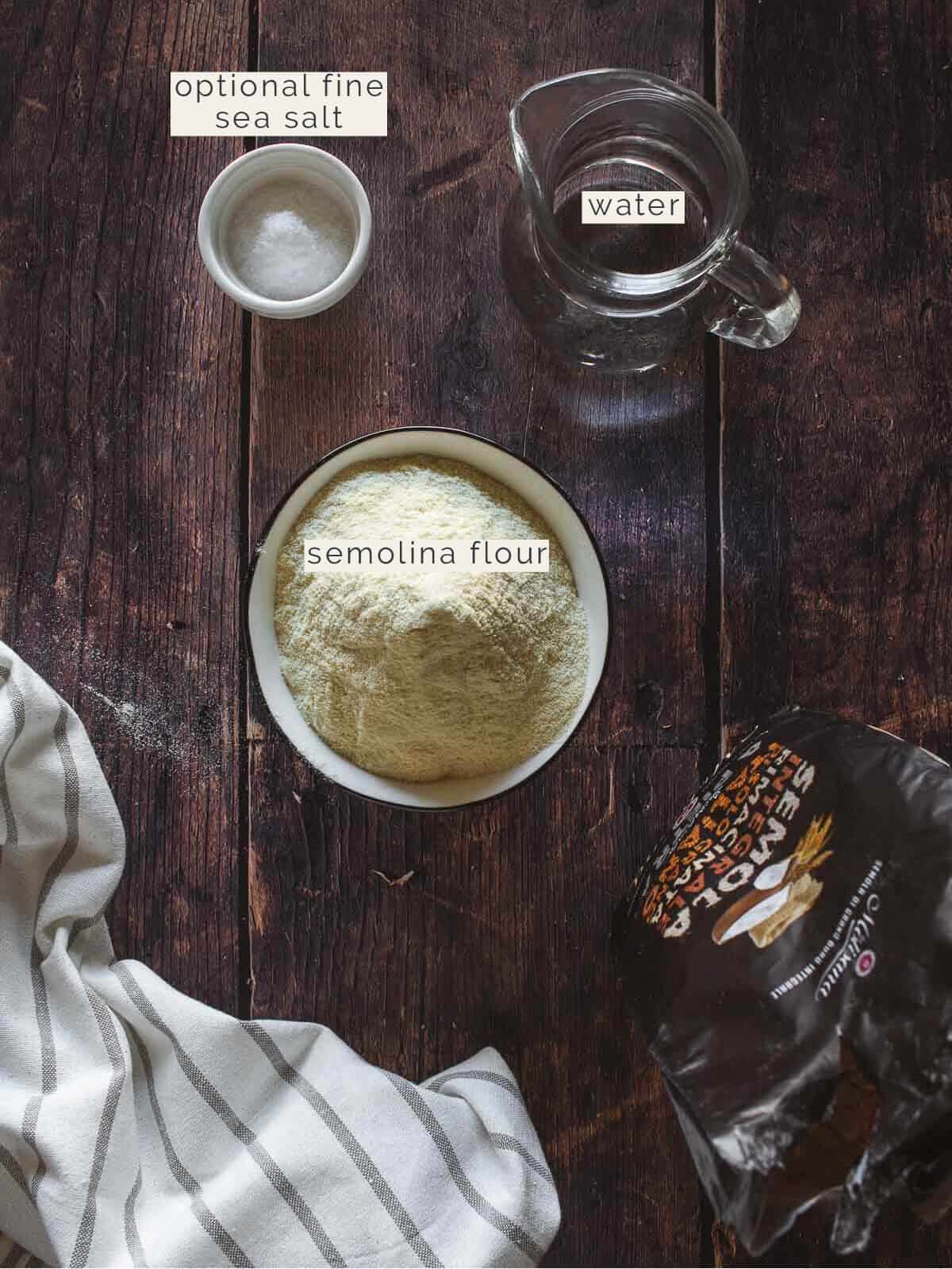 This vegan fresh pasta recipe is made with:
Whole wheat semolina flour (durum wheat) - you can also use all-purpose flour.
Water - use room temperature water
Optional: fine sea salt
🔪 How to make vegan pasta dough
To make vegan pasta from scratch, gather all your ingredients and measure carefully. As it is common practice when baking or working with flour, we recommend measuring grams.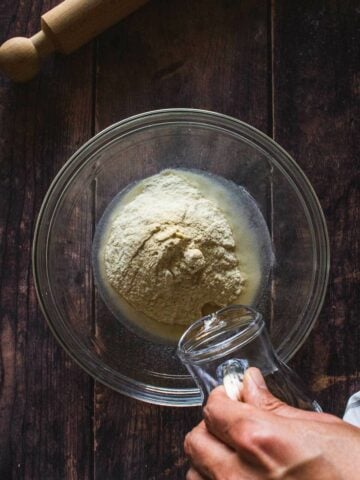 In a large pot, pour water over the semolina flour and salt.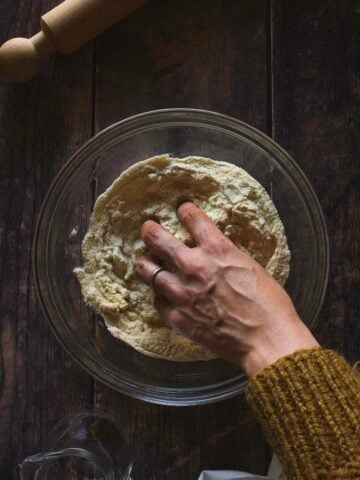 Combine with your hands.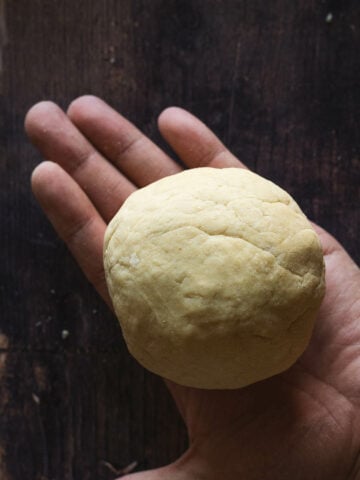 After kneading pasta dough, form a ball.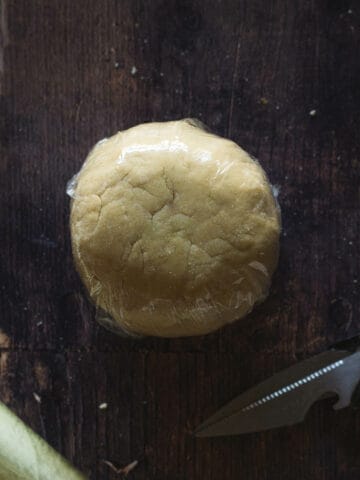 Wrap with plastic wrap and refrigerate.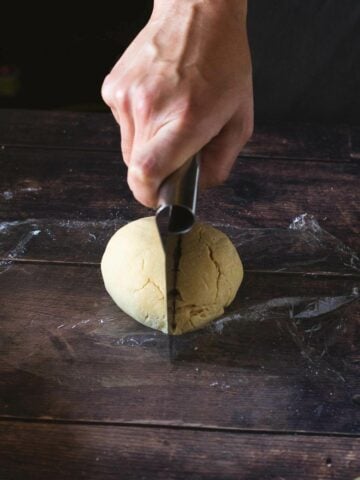 Cut the refrigerated fresh eggless pasta dough.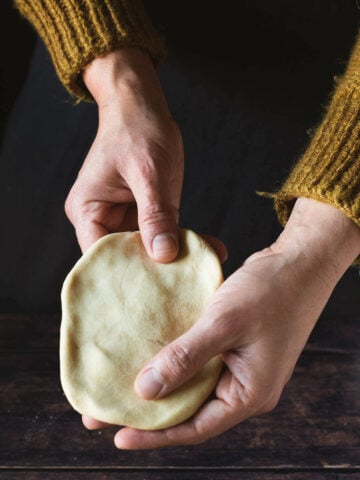 Stretch slightly with your hands.
Tip: cover the eggless pasta dough that you are not working with plastic wrap to keep your fresh homemade vegan pasta soft.
Stretching the dough - you can cut this homemade vegan pasta using a pasta maker or simply stretching it with a rolling pin.
Cutting the dough - with a sharp knife for broader noodles such as fettuccine or pappardelle or using a pasta maker.
Pasta maker
To make fresh noodles, set the pasta machine to a thicker setting.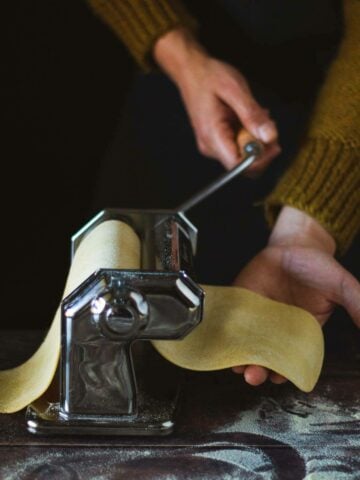 Pass the dough through the pasta maker.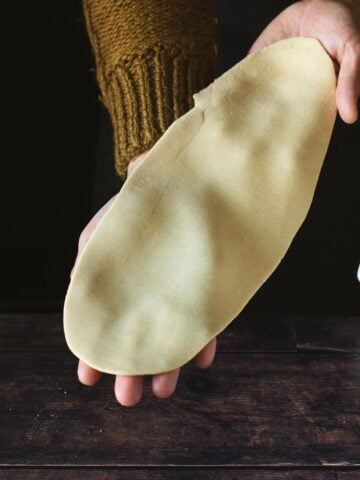 For noodles, stop at setting Nº2.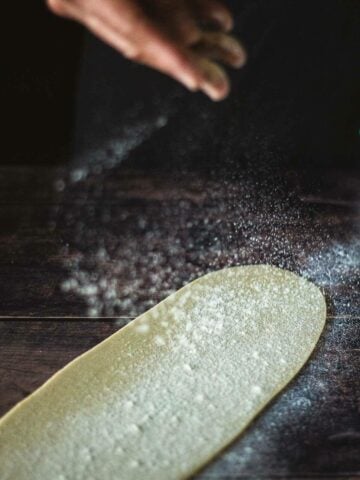 Sprinkle flour over the fresh pasta dough.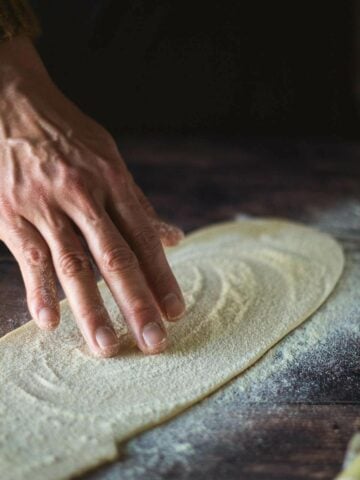 Spread more flour all over the pasta sheet.
Rolling pin
Stretch the dough on a floured work surface, roll it up, and cut it into strips with a sharp knife.
🍴 Pasta shapes
One of the perks of making homemade vegan pasta is that you can cut it in any way you prefer to make your favorite pasta recipes.
Lasagna sheets: stretch the pasta until you reach the Nº2 thickness setting, and cut the pasta sheets into rectangles.
Noodles: stretch the pasta until you reach the Nº2 thickness setting, and cut the pasta sheets into rectangles; then place the cutter head that makes thin spaghetti and wide fettucini noodles, and pick your preferred width. See how to make vegan pasta noodles in detail.
Stuffed pasta using two pasta sheets (like ravioli): stretch the pasta until you reach the Nº1 thickness setting, and cut the pasta sheets into rectangles.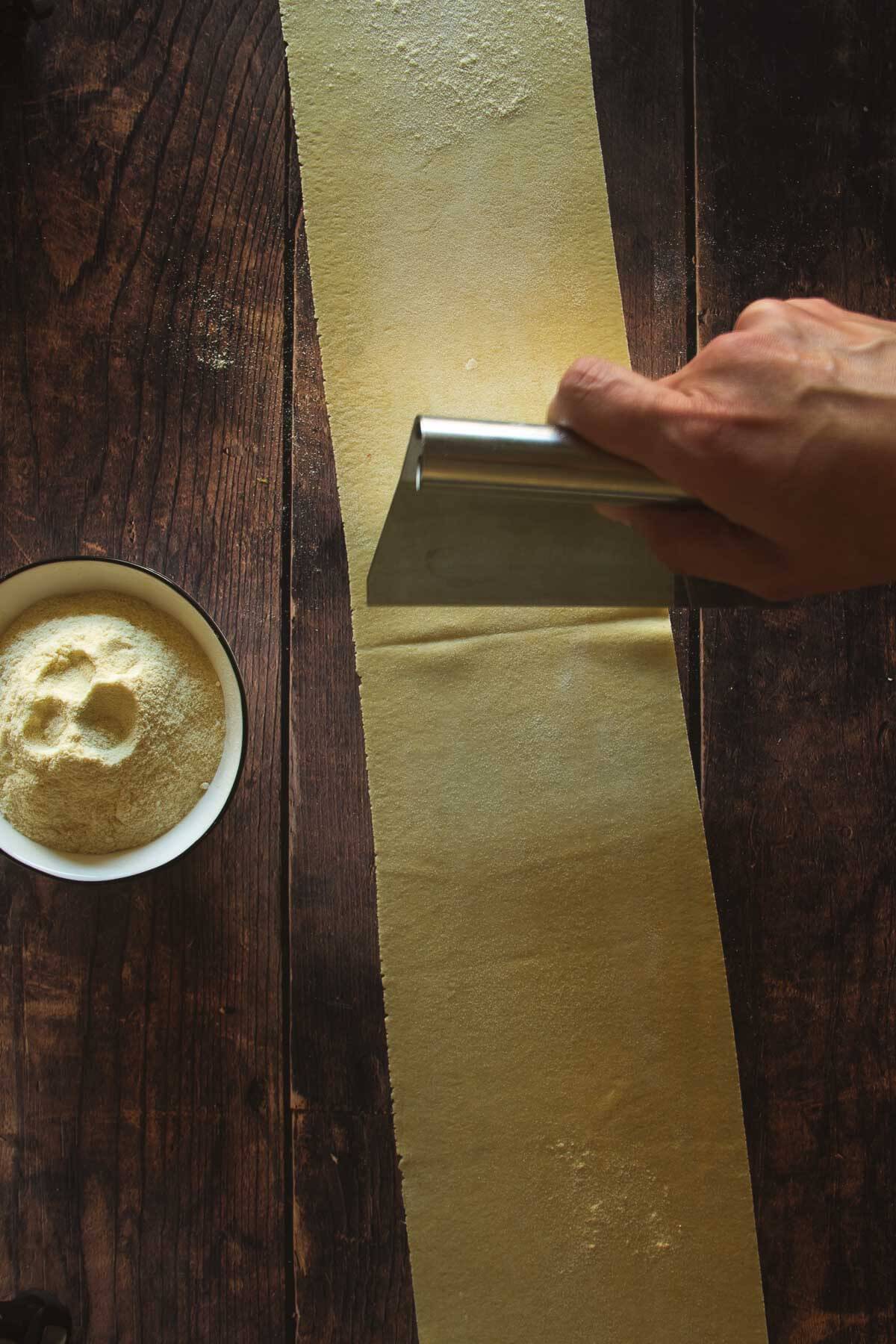 ❗ How to cut vegan ravioli dough
Cut stretched fresh pasta into 12 inches (30 cm) sheets and continue to cutting eat with your favorite pasta cutter. Watch the video and see pictures for detailed instructions using different methods and utensils.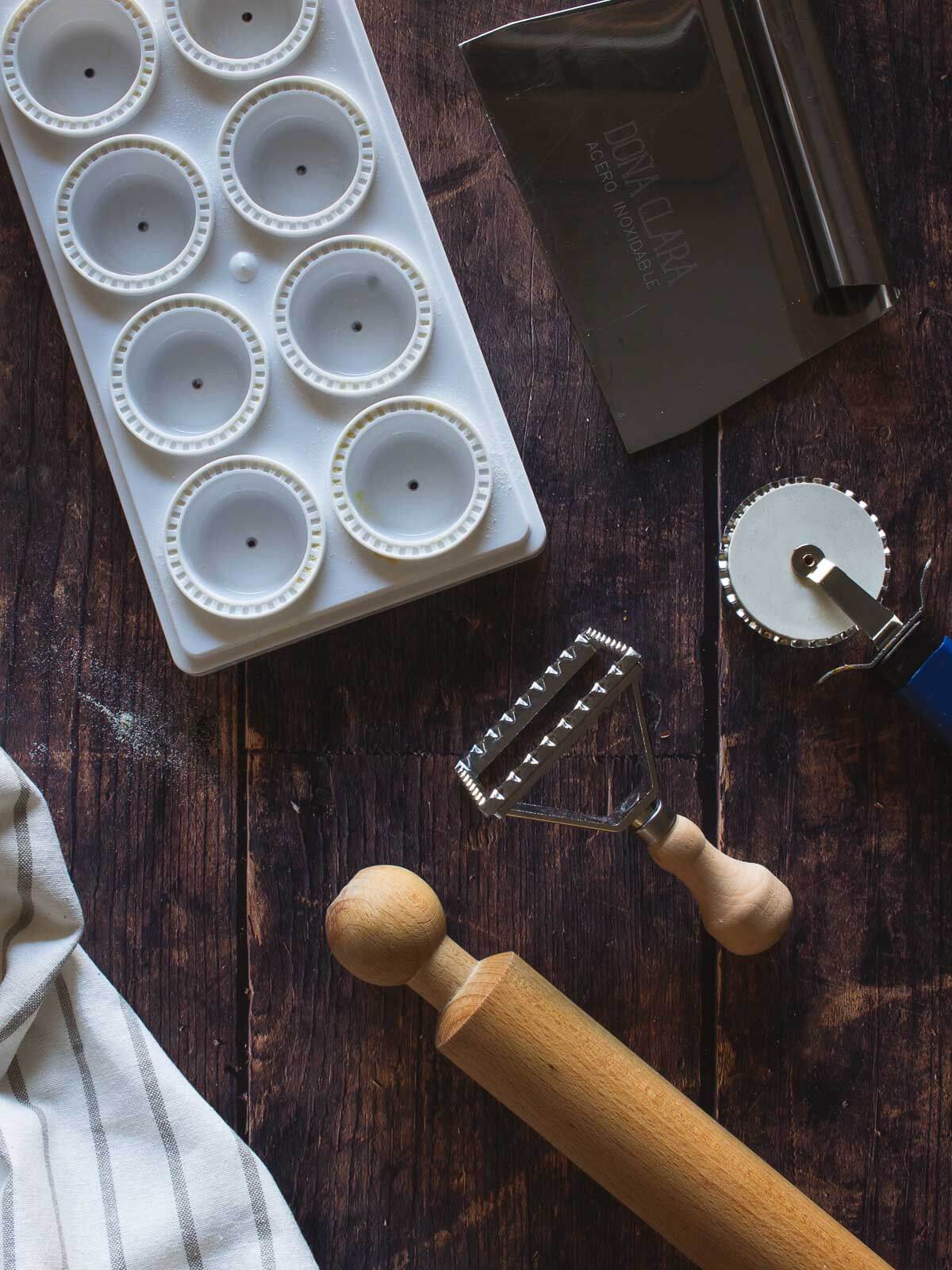 Using a pasta tray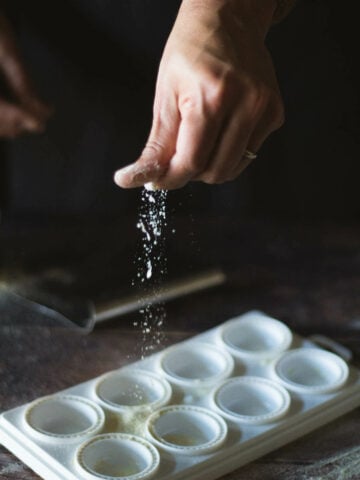 Sprinkle hard durum wheat on the pasta tray.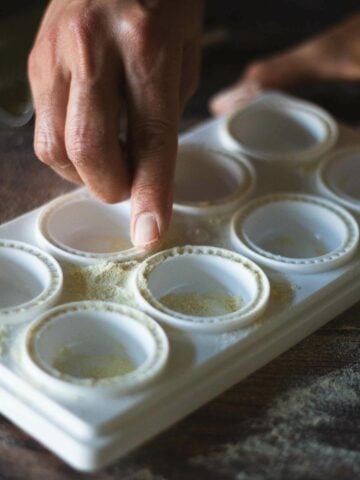 Make sure all the wholes have flour to prevent the pasta from sticking.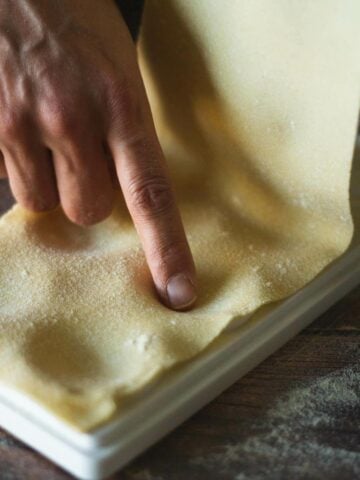 Press the dough into the ravioli maker pockets delicately with your fingers.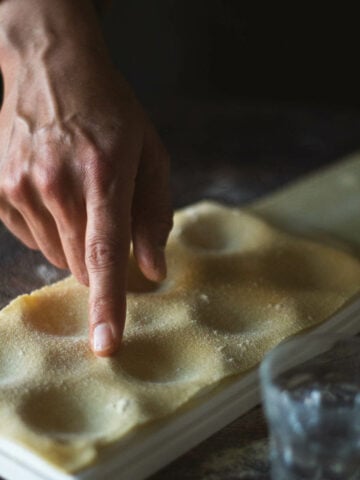 Rub the edges of the holes with water so the second pasta sheet sticks well.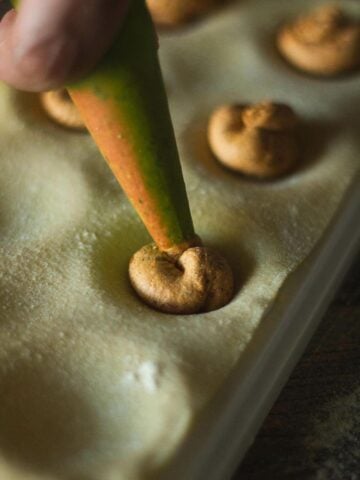 Fill a pastry sleeve with the filling, and fill each ravioli pocket with about one tablespoon.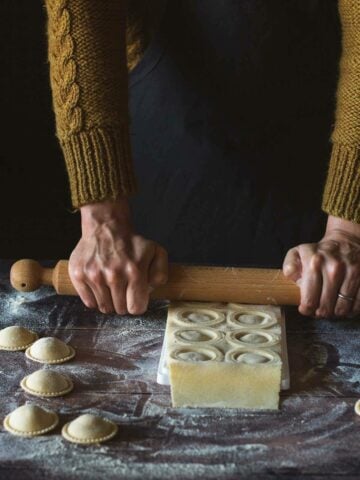 Top the tray with the second past sheet and prevent air bubbles from remaining; then press firmly with a rolling pin.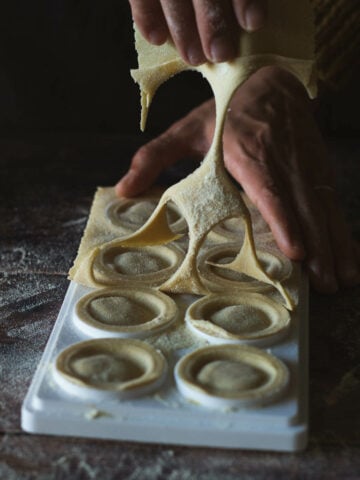 Remove the remaining pasta dough.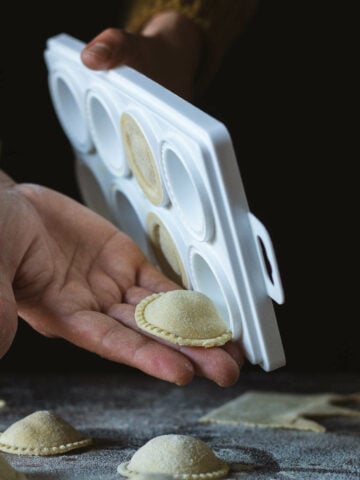 Bring to a boil, reduce heat, and simmer until it dries out.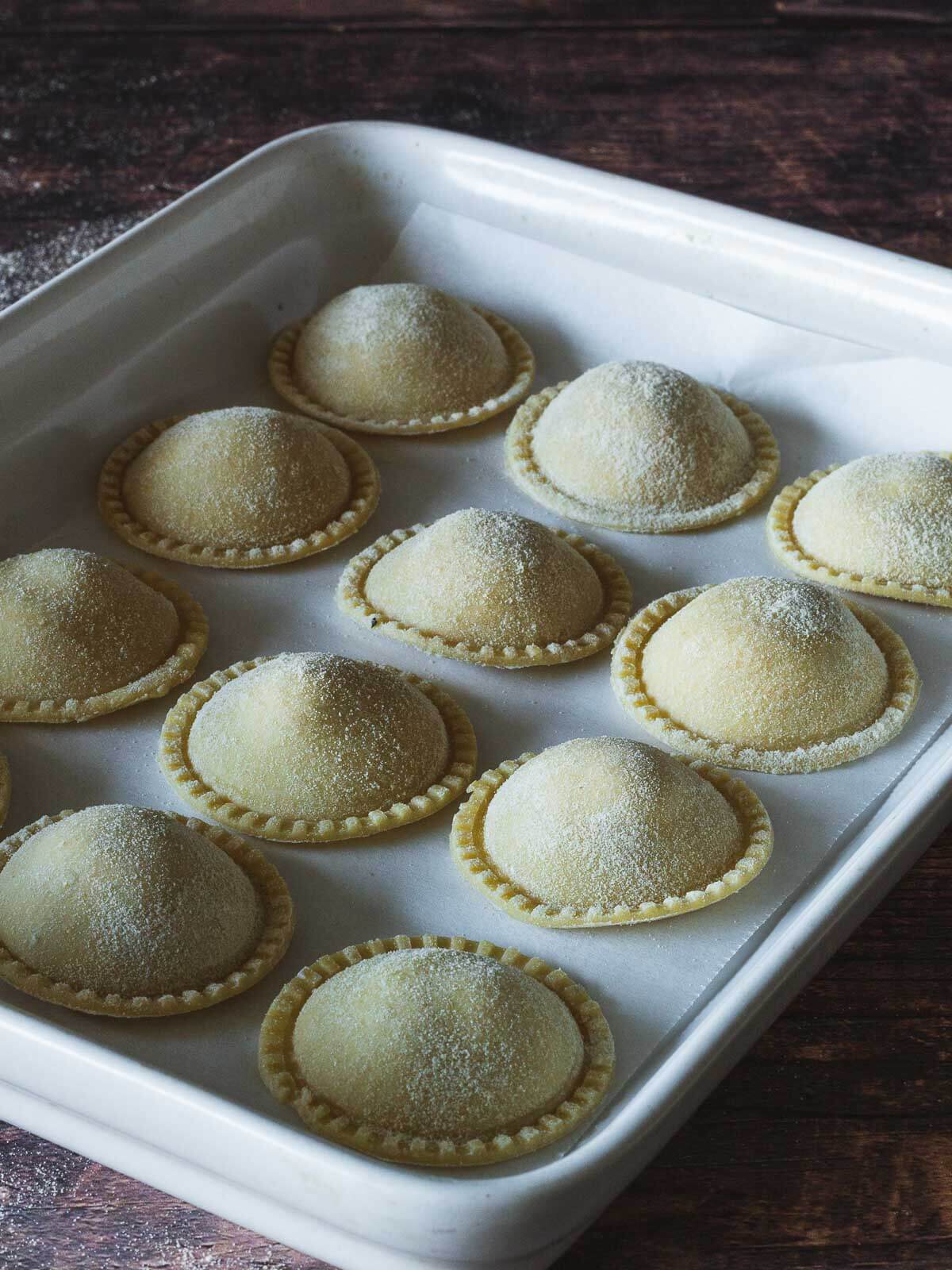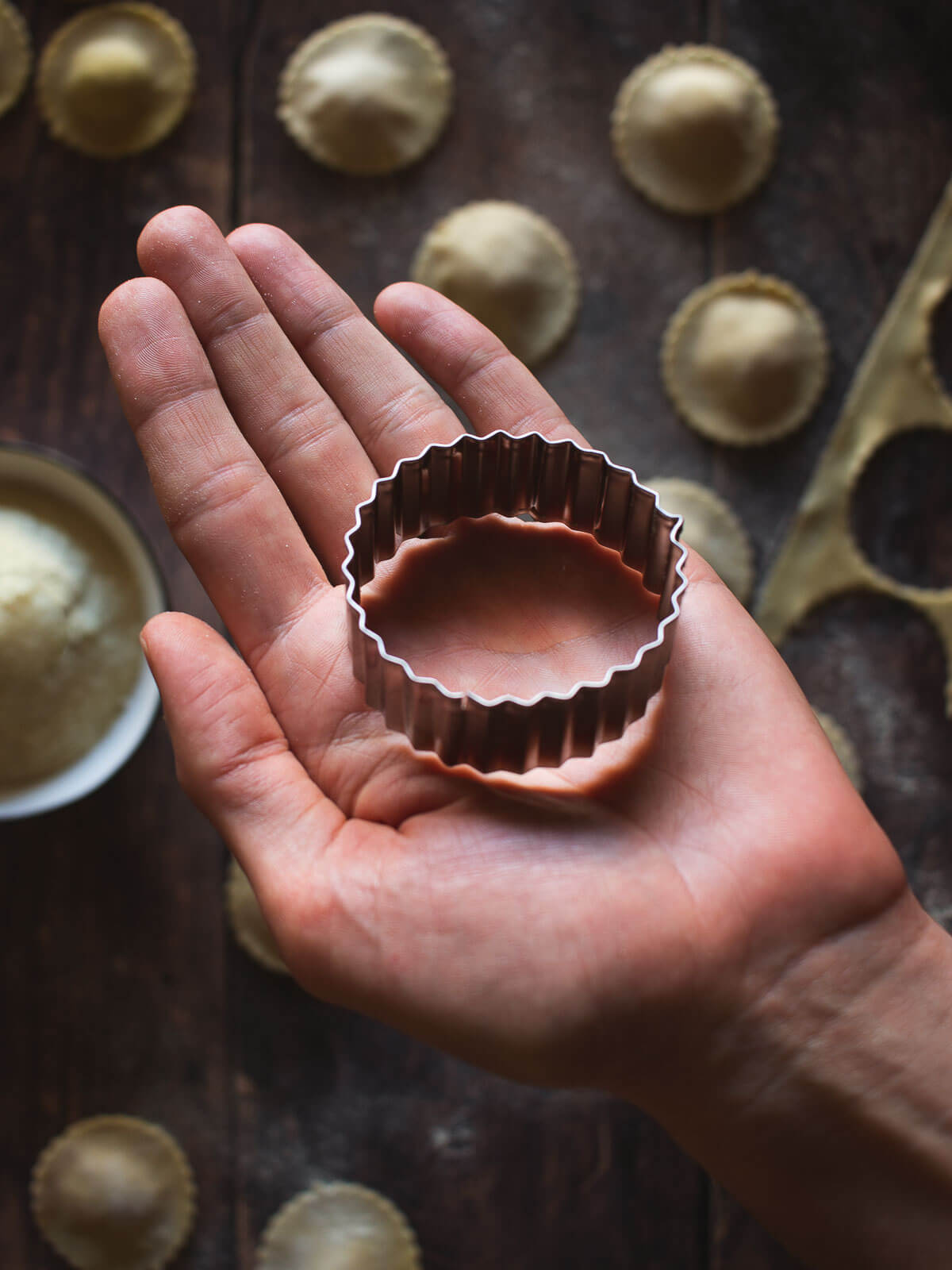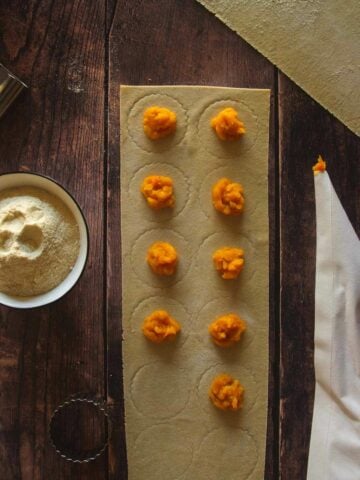 Place the pasta sheet on a floured surface, mark the ravioli slightly, leaving ¼" (0.5 cm) between each one; then put the filling.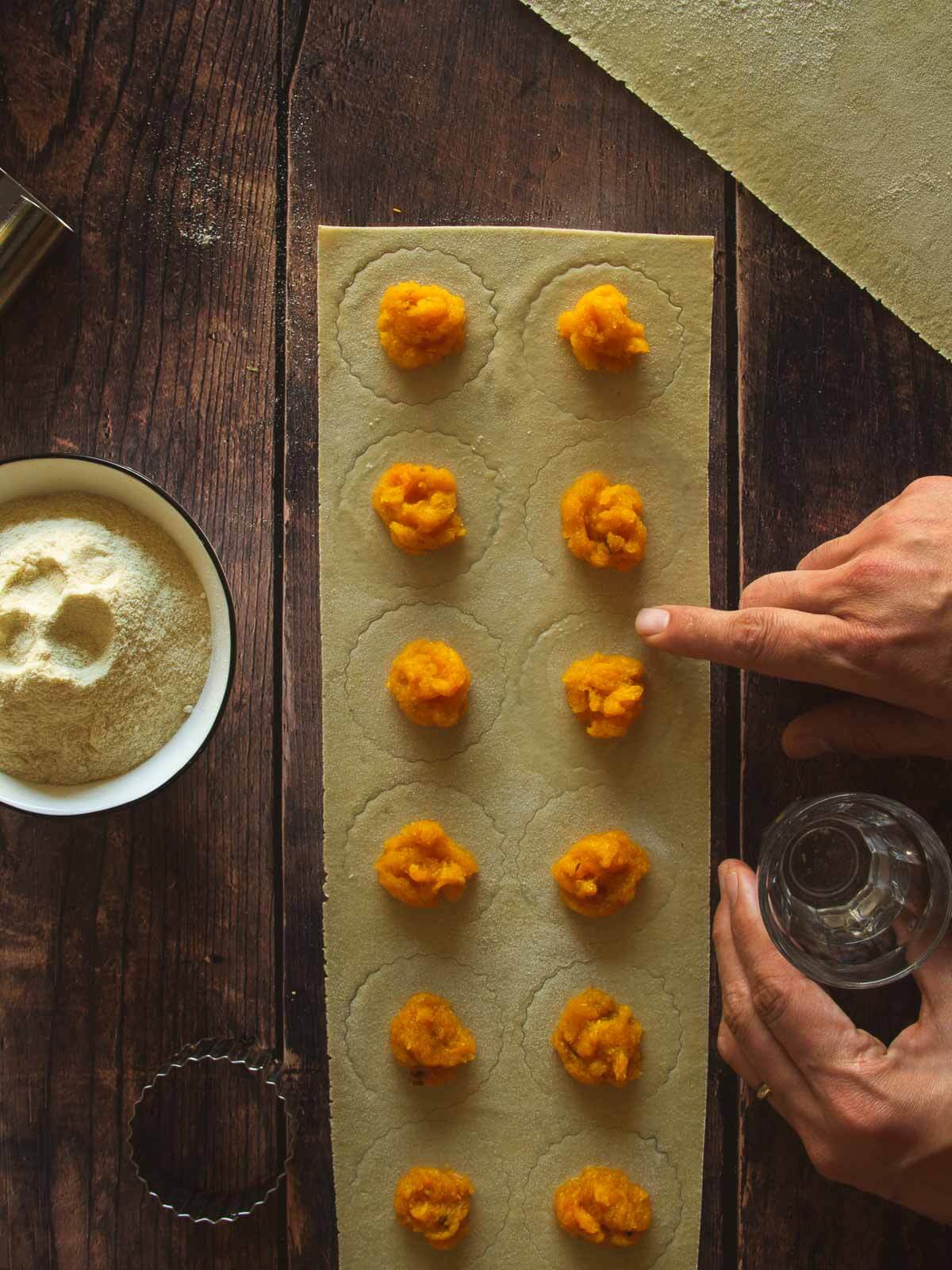 Moist the ravioli circles edges with water.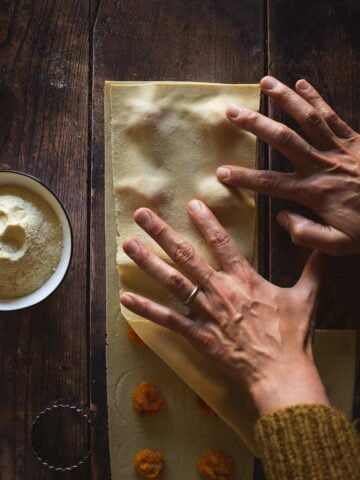 cover the second pasta sheet and press with your fingers to remove the air pockets.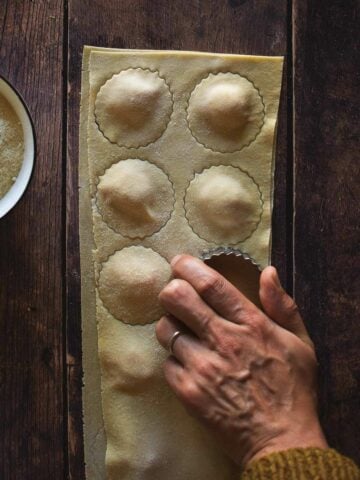 Cut ravioli with a cookie cutter.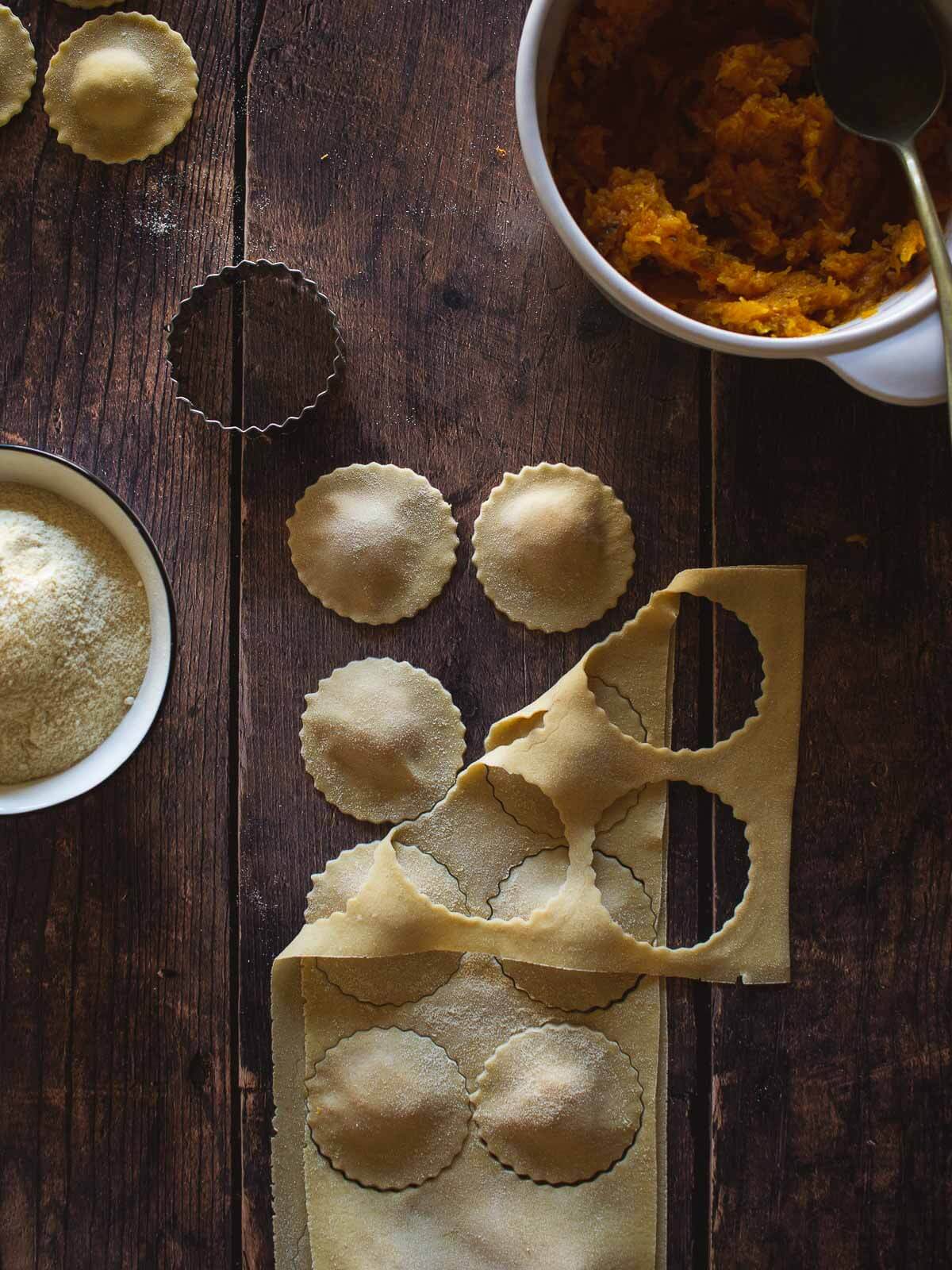 Using a ravioli cutter or roller wheel
The same principles apply. Remove air from the ravioli pockets, moist the edges, and cut. Do the same with the roller wheel.
These are our preferred methods when using leftover pasta dough pieces that are hard to use with a ravioli press.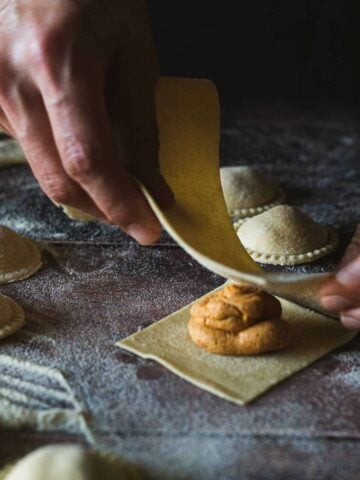 Cut vegan pasta rectangles, top with filling and moist edges, and place a second pasta layer.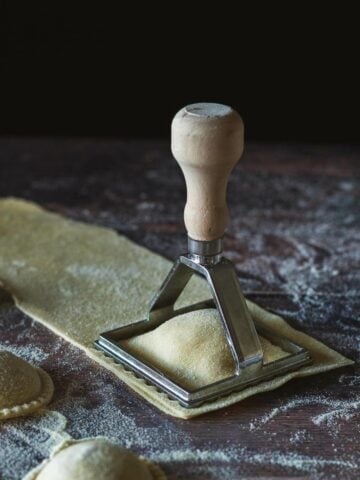 Press the ravioli cutter firmly.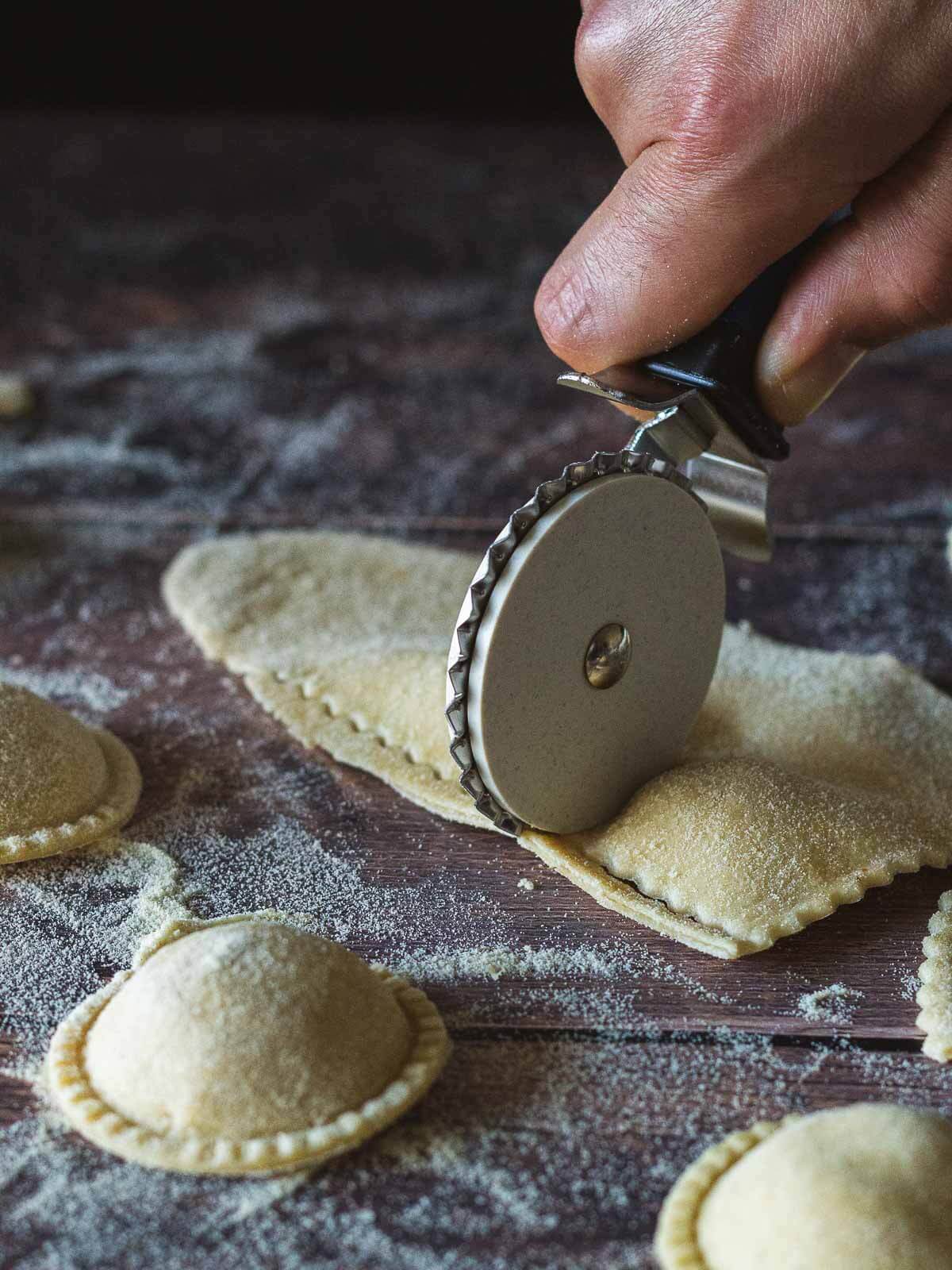 And there you go, fresh vegan pasta cut with any of your preffered methods.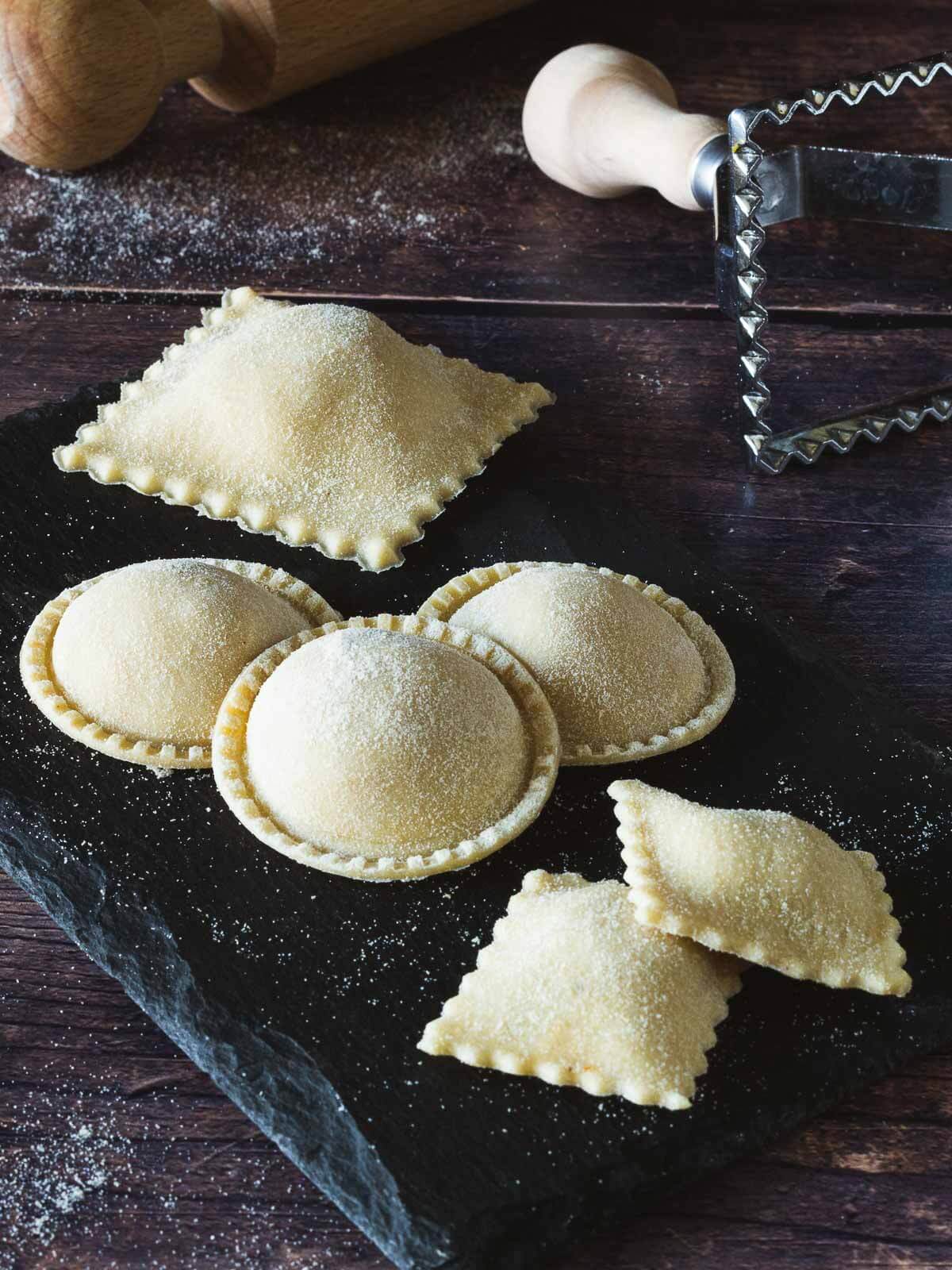 🍝 How to cook fresh pasta
Whipping up your fresh vegan pasta is a breeze and it's ready in just minutes. Start by getting that water to a vigorous boil, then season it with a good pinch of salt. Next, gently lower your pasta into the pot and let it dance in the boiling water for about 2-3 minutes.
You'll spot that magical moment when your pasta is flawlessly 'al dente'—it will gracefully float to the water's surface like it's giving you a little wave. If you're in the mood for softer pasta (we're all friends here, no pasta-shaming!), let it simmer for another minute or two.
🥢 How to serve
Imagine your fresh vegan pasta as a blank canvas, ready to be adorned with a rainbow of delicious toppings and sauces. For a Mediterranean twist, toss it with a vibrant sun-dried tomato pesto, fresh basil leaves, and a sprinkle of vegan Parmesan.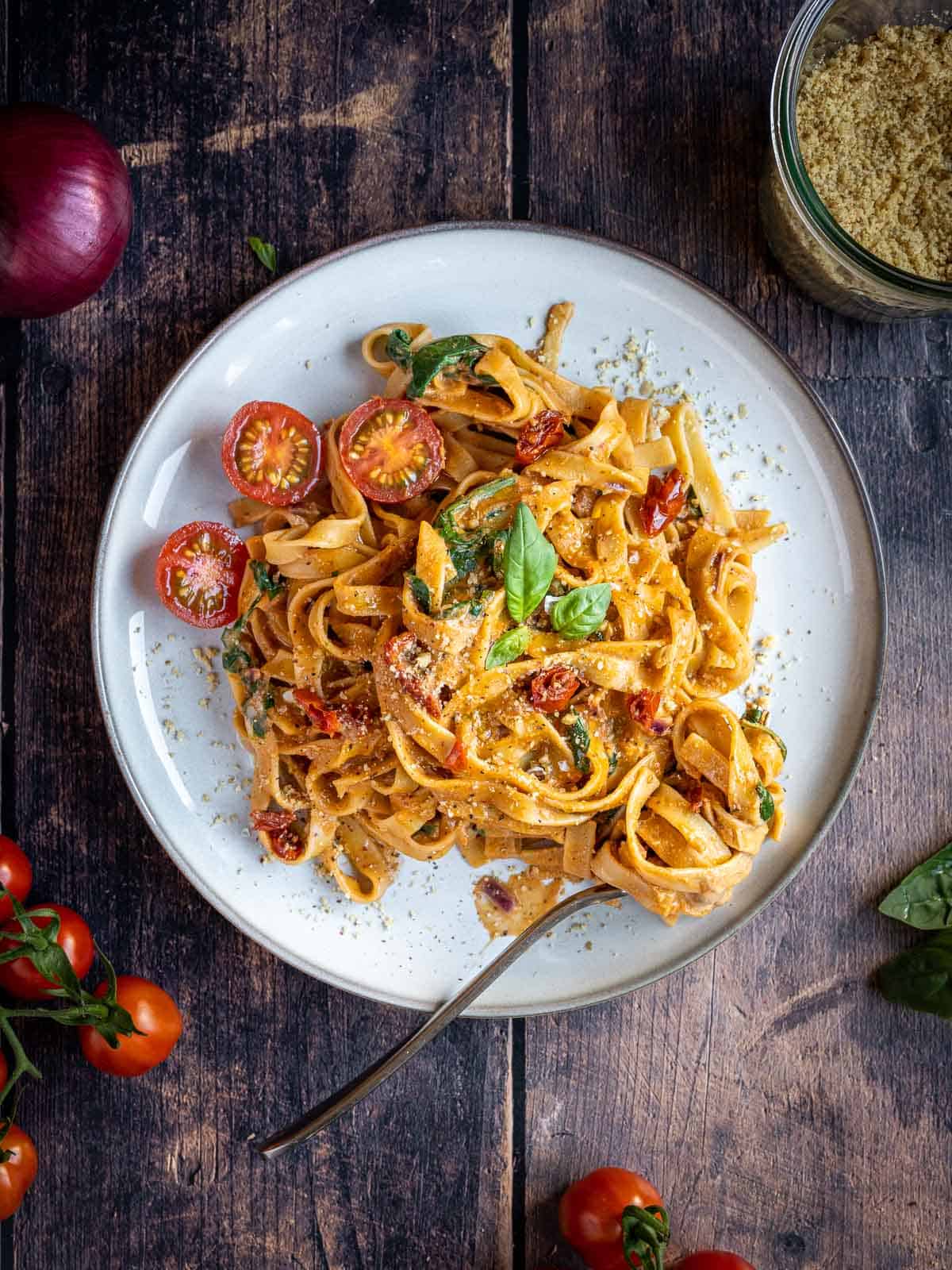 Or, for a heartier option, consider a rich and creamy vegan Alfredo sauce, made with cashews and nutritional yeast, that will cling to every delightful strand of your pasta. Don't forget to add a handful of sautéed wild mushrooms and a pinch of fresh thyme for an earthy depth of flavor that's irresistibly good.
Serve this veg pasta dough recipe cut into spaghetti with your favorite pasta sauce, marinara sauce, or even good quality extra-virgin olive oil and plant-based parmesan cheese.
You can also use it to make your favorite vegan lasagna with zucchini and spinach.
🥡 How to store fresh pasta
You only need a little patience and some counter space to dry your pasta. Lay the pasta out on your kitchen counter and let it air-dry for about 24 hours. Remember that the drying time might vary based on your local climate—watch for pasta that breaks cleanly and doesn't bend.
I personally love using my pasta hanging rack (it's a game-changer!), but laying it on the counter or draping it over hangers or DIY homemade hangers works just as well.
Once your pasta has transformed into perfect, dry strands, tuck it into an airtight container to stay fresh and ready for up to a month.
And a quick note for when it's time to cook: Dried pasta will need a bit more time in the boiling water to rehydrate, usually around 8-10 minutes, so plan accordingly.
Fridge
Planning to indulge in your homemade vegan pasta soon? The fridge is your friend! Just pop it into an airtight container, and it will stay fresh and fabulous for up to three days. It's the perfect option for when you're eyeing a pasta night in the near future.
Freezer
This fresh pasta is a total champ when it comes to freezing. Just tuck it into an airtight container and it can chill out in your freezer for up to two months. Made a pasta mountain? No worries! Portion your pasta into individual 'nests'—they're perfect for grabbing just the amount you need when you need it.
And here's the cool part: when you're ready to cook your pasta from its frozen state, there's zero defrosting required. Just plunge it into a pot of salted, boiling water and let it cook for 3-5 minutes, or until it's perfectly tender.
❓ FAQ
can you freeze pasta dough?
Yes. You can freeze fresh vegan pasta dough by first shaping it into a log and sprinkling semolina flour or all-purpose flour, then wrap it tightly in plastic or an airtight container.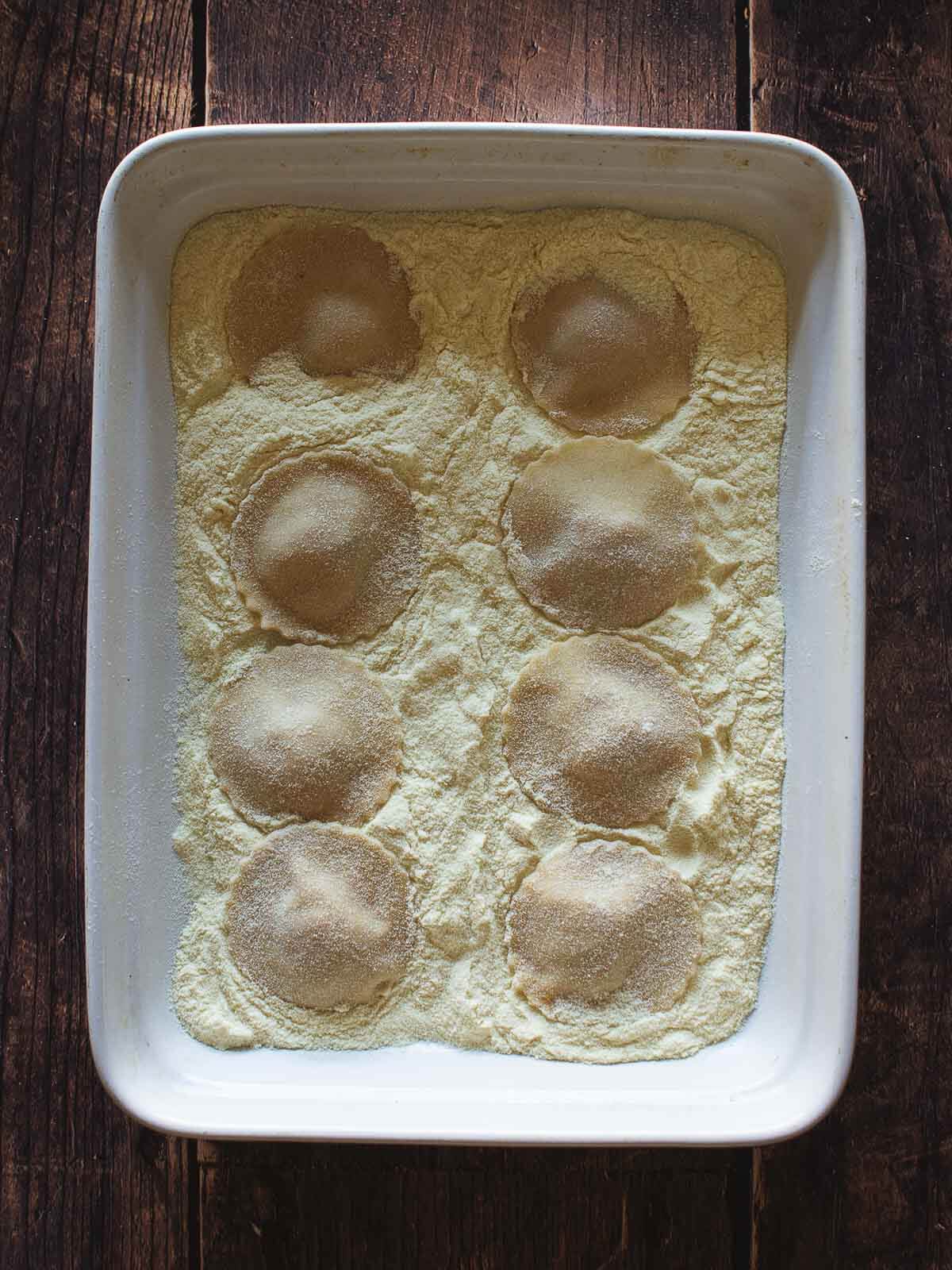 This fresh vegan pasta recipe can also be frozen in the form of pasta sheets or noodles; always sprinkle with some flour and freeze using an airtight container.
You can then freeze homemade pasta for up to 2 months. To use, thaw the dough overnight in the fridge, then roll it out and cook as usual.
Can I make gluten-free, vegan pasta?
Yes, you can use our gluten-free flour blend to replace the durum wheat semolina or flour, for a gluten-free option.
Does pasta dough need eggs?
For this recipe, there's no need to add eggs. Here in Italy, the pasta from the south is usually eggless as the weather is warmer; hence the pasta is lighter.
How can I replace eggs in pasta?
Here in Northern Italy, pasta is usually made with eggs, especially stuffed pasta, as eggs have fat, which gives elasticity and helps when working with this type of pasta.
You can use olive oil to replace eggs whenever needed to make a smooth dough.
📚 More vegan dough and pasta recipes
If you liked this whole wheat semolina pasta recipe, you would surely love these traditional and vegan Italian recipes; check out what to eat in Italy while following a plant-based diet.
Vegan penne alla puttanesca - a classic, made with capers and black olives, quick and delivers intense flavors.
3-ingredient pasta sauce - eggplant and tomato-based sauce, that you won't believe how delicious a handful of ingredients can be!
Lemony spaghetti - a fresh and summery recipe with parsley, lemons, and almonds that has become our home staple.
Try out our vegan empanadas dough, made with simple ingredients, and then fill the empanada pockets with either a lentil, spinach, or mushrooms filling.
If you like kneading and making your own bread and pizza, check out our traditional Italian Pagnotta Bread Loaf, Focaccia bread, simple Margherita Pizza, and cheese-less Marinara pizza.
⭐ If you try this recipe, let us know! 💬 Leave a comment, rate it, and don't forget to tag us @ourplantbasedworld on Instagram. Cheers!
📋 Recipe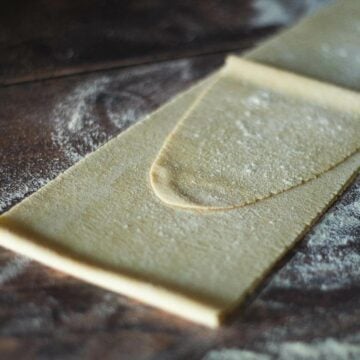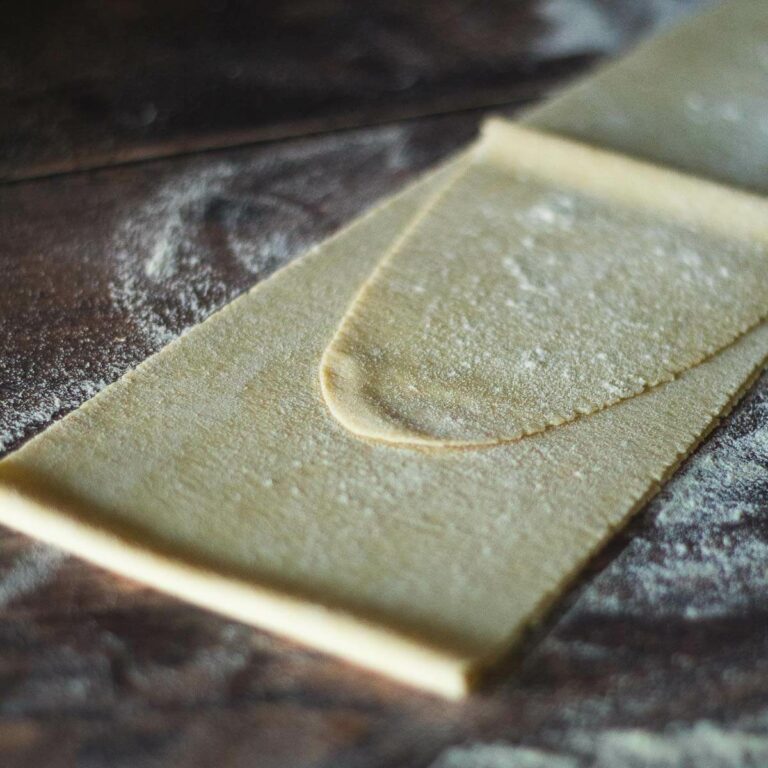 Homemade Pasta Vegan
Looking for a healthier pasta alternative? Whole wheat semolina pasta is a great vegan option that's packed with fiber and nutrients. Semolina is made from durum wheat, so it has a nice chewy texture that you'll love. Plus, this pasta is easy to prepare - just follow the simple steps in our recipe below. You'll be enjoying a delicious and healthy meal in no time!
Equipment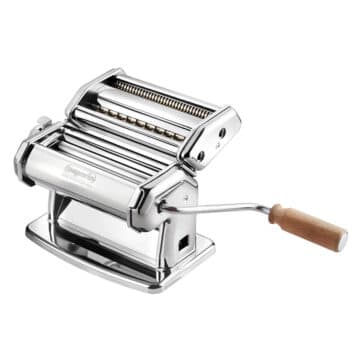 (affiliate link)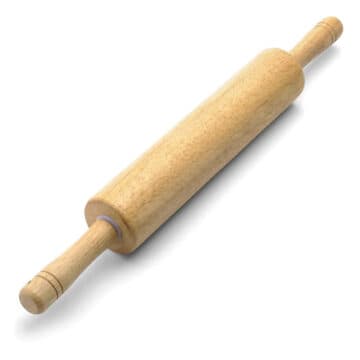 (affiliate link)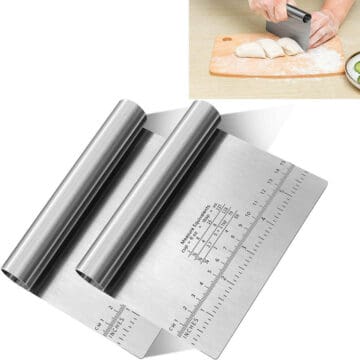 (affiliate link)
Ingredients
7

oz

whole wheat semolina

200 grams

6.1

oz

water (¾ cups)

180 ml

½

teaspoon

fine sea salt

2

tablespoons

whole wheat flour

to manage the dough, otherwise use more semolina
Directions
Make pasta dough
Mix the salt and semolina in a bowl, and then pour the warm water.

Transfer to a clean table and knead for 5-8 minutes. Add more semolina if too wet and water if too dry.

Cover with plastic wrap and reserve in the fridge for 30 minutes.
Stretch the pasta: pasta machine method
After refrigerating the pasta dough, cut the pasta into two same-sized balls (or more if you make more, keeping the proportions).

Press the balls to make small pancakes.

Set the pasta machine to the thicker mode and pass the dough.

Fold both edges of the dough inwards and pass the dough again; this way, the pasta will be more uniform. Rub some flour after passing the dough to prevent it from sticking to the machine.

Pass the dough again, and then continue passing the dough, switching to thinner settings until you reach the desired thickness.

The recommended thickness for lasagna, spaghetti, or fettuccine: 2. For ravioli or other dumplings: 1 (the thinnest)

Cut stretched fresh pasta into 12 inches (30 cm) sheets.

Add the pasta to salted boiling water and cook the pasta for 2-3 minutes, until al dente.
Stretch the pasta: rolling pin method
After chilling the dough, cut the pasta into two equal balls (or more if you make more, keeping the proportions).

Stretch the dough over a lightly floured surface using a rolling pin or a clean bottle until the dough looks very thin. Use more flour to prevent sticking.
Storing
Sprinkle some flour on top if you plan to store them or cook them immediately. You can keep them in the fridge for 2 days or frozen for up to 4 weeks.
Notes
Yes, you can use our gluten-free flour blend to replace the durum wheat semolina or flour for a gluten-free option.
Nutrition Facts
Calories:
357
kcal
Carbohydrates:
72
g
Protein:
13
g
Fat:
1
g
Saturated Fat:
0.1
g
Polyunsaturated Fat:
0.4
g
Monounsaturated Fat:
0.1
g
Sodium:
587
mg
Potassium:
185
mg
Fiber:
4
g
Calcium:
20
mg
Iron:
4
mg
Nutrition Facts
Homemade Pasta Vegan
Amount per Serving
% Daily Value*
* Percent Daily Values are based on a 2000 calorie diet.
🌡️ Food safety
Cook to a minimum temperature of 165 °F (74 °C)
Do not use the same utensils on cooked food, that previously touched raw meat
Wash hands after touching raw meat
Don't leave food sitting out at room temperature for extended periods
Never leave cooking food unattended
Use oils with a high smoking point to avoid harmful compounds
Always have good ventilation when using a gas stove
See more guidelines at USDA.gov.
Nutritional Disclaimer
The information shown is an estimate provided by an online nutrition calculator. It should not be considered a substitute for a professional nutritionist's advice. See our full Nutritional Disclosure here.
Affiliate Disclaimer
Please note that some of the links here are affiliate links, and I will earn a commission if you purchase through those links. I recommend all of the products listed because they are companies I have found helpful and trustworthy.