If you've been looking for a healthier alternative to rice, we'll show you how to make cauliflower rice! It's super easy to make at home, and you can season it however you like. We'll share a simple recipe for cauliflower rice, plus two delicious seasoning options in this post. Trust us - once you try it, you'll be hooked!
Here we bring you the Basic 2-ingredient Cauliflower Rice plus two Optional Seasoning Styles.
I was born and raised in Panama, Central America, where rice is part of every single lunch meal. The problem is that although rice is a great grain, it is a very starchy one, and even if you are eating bran rice, the calorie/nutrients ratio isn't the best if you are not exercising.
It is definitely not the dieters' best friend, but it is delicious! So what? Cauli Rice, is the best rice substitute and the best rice for diabetics!
You can always have a healthier option like steamed Jasmine Rice, which pairs wonderfully with Thai curries, but if you're avoiding carbs, this recipe is for you!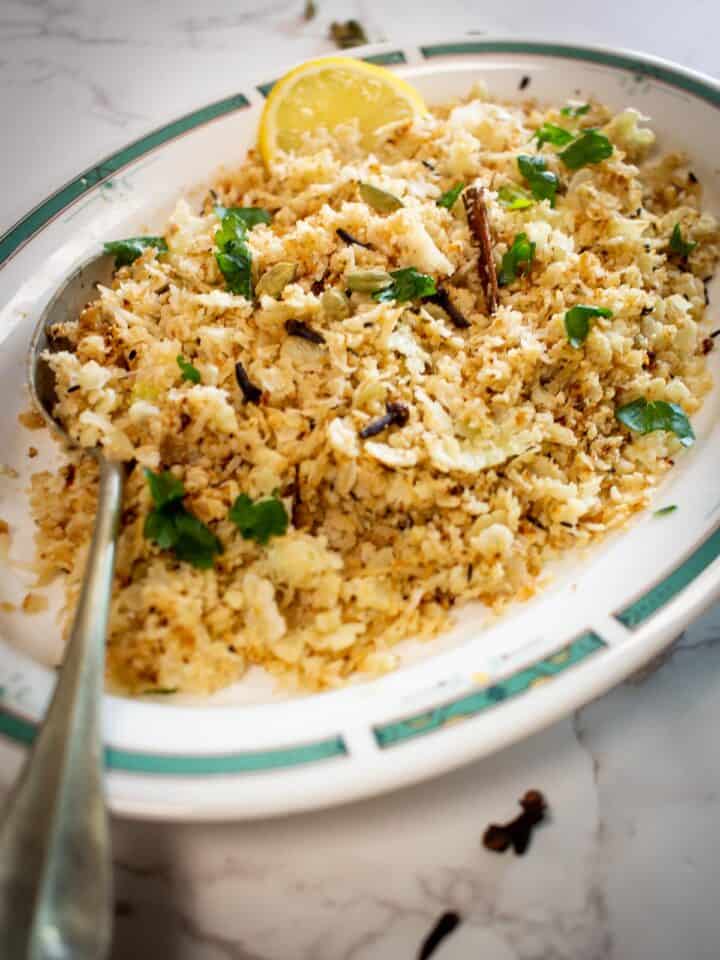 Don't forget to check out the equally simple, delicious, and healthy Cauliflower Steaks recipe and all our useful cooking tips.
Jump to:
🧾 Ingredients
This is the easy part; you just need
head of cauliflower
avocado oil or olive oil
salt and pepper
Right after the instructions, you can find two seasonings suggestions. Both with just 2-3 extra ingredients.
🔪 Instructions
Making cauliflower rice is the easiest thing on Earth!
To make this cauliflower rice recipe, start by removing the leaves and the stem from the head of cauliflower. Then, save them for another use. I like roasting them or adding them to any recipe where we can turn them into stuffing like Vegan Eggplant Involtini or simply adding it to a Vegetable Curry.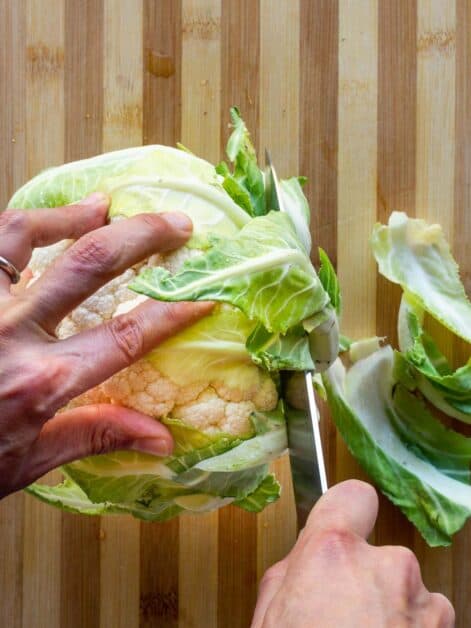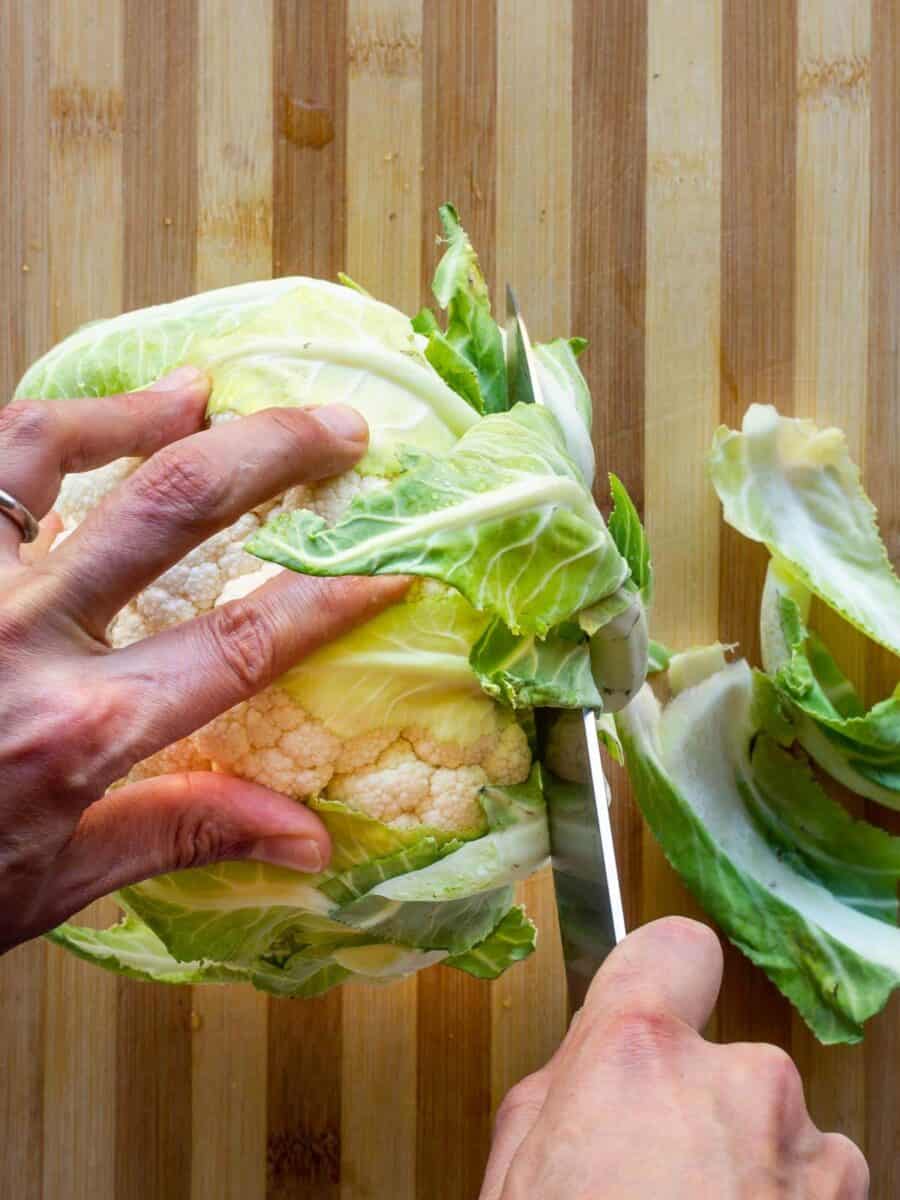 There are Two Simple Techniques for making this easy Cauliflower Rice. In both cases, you aim for little cauliflower pieces the size of rice.
Method Nº 1: Using a Box Grater
In this case, cut your cauliflower in halves or quarters and proceed to shred it.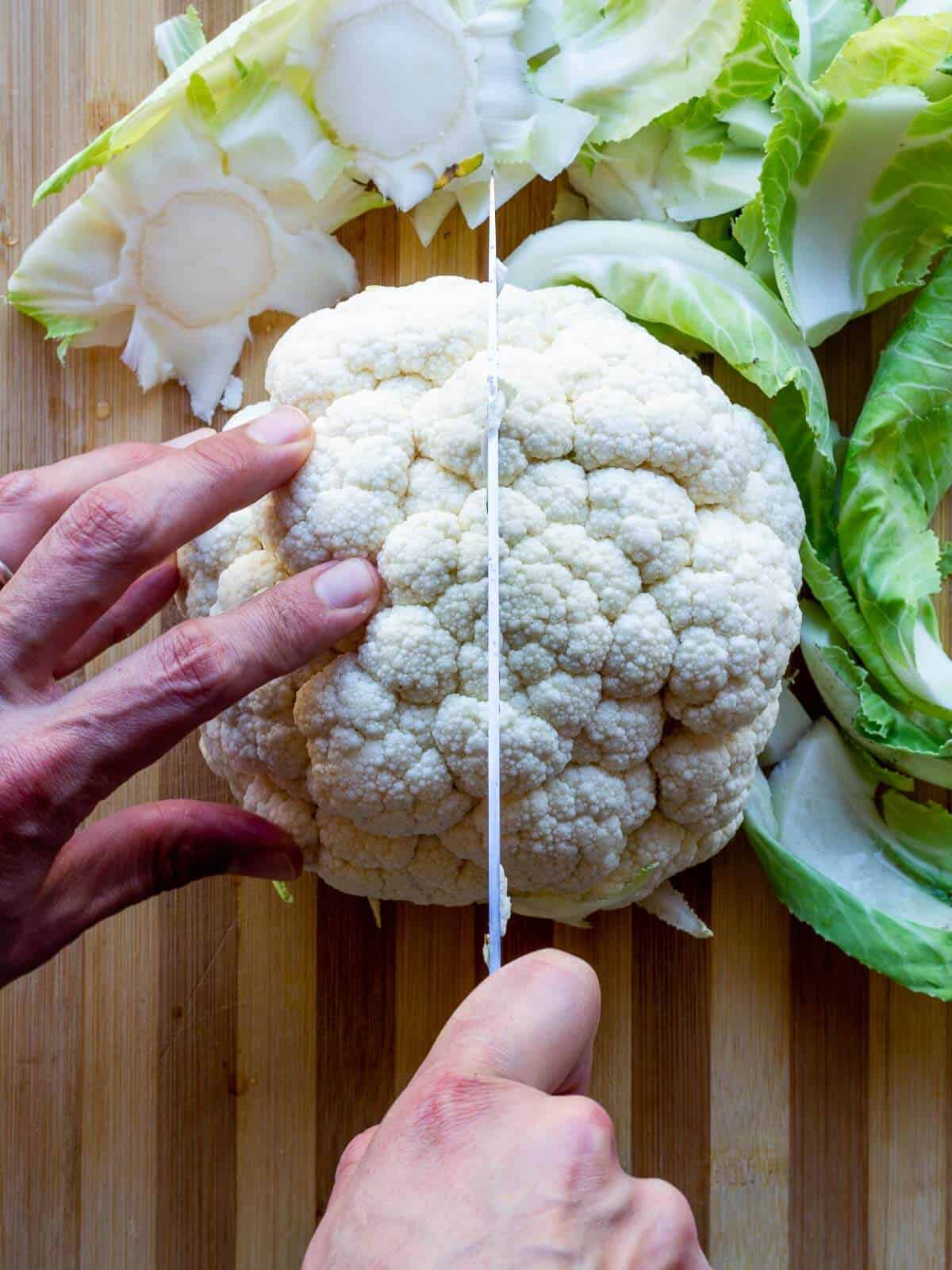 Cut the cauliflower in half.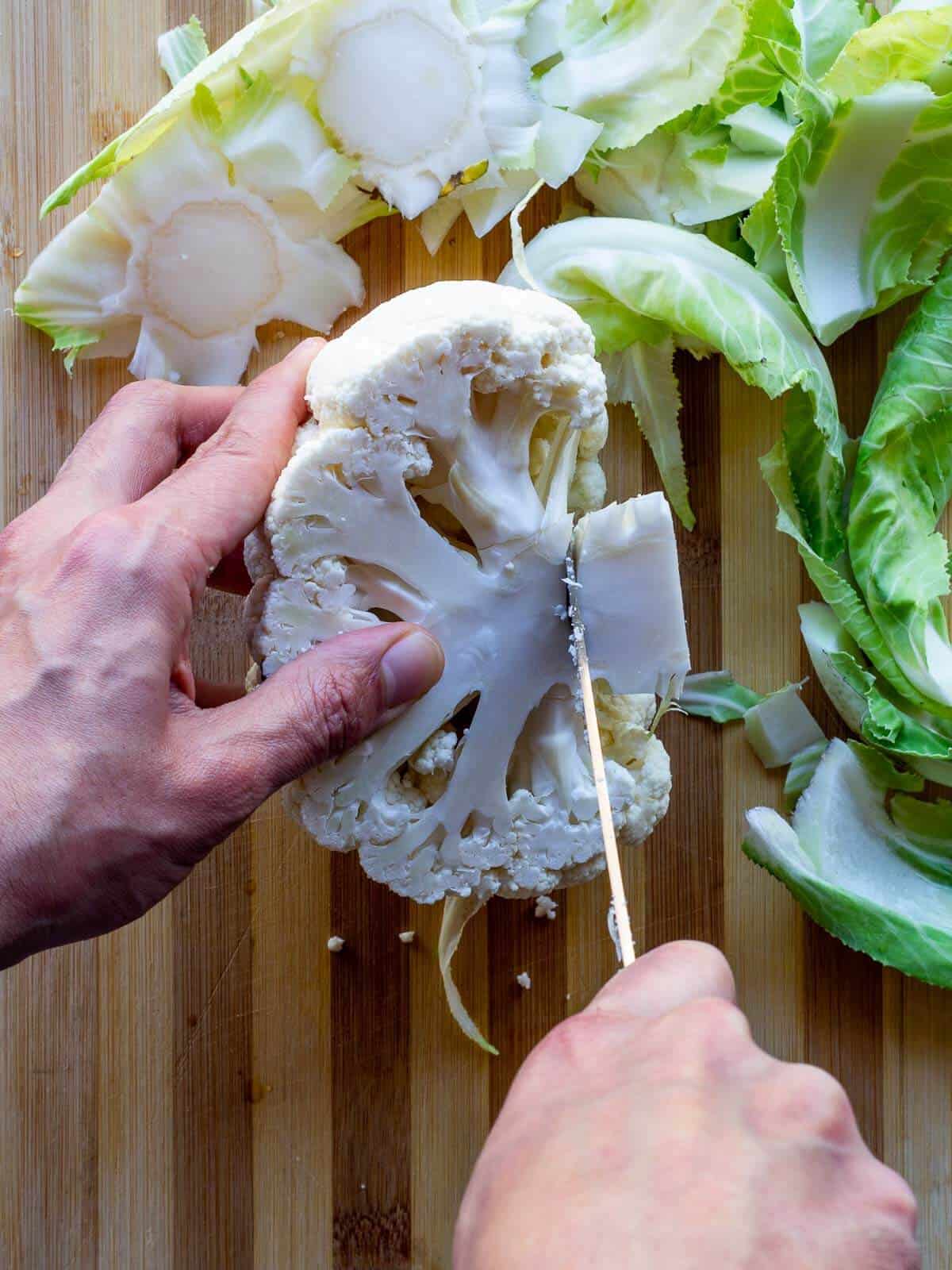 Remove the stem.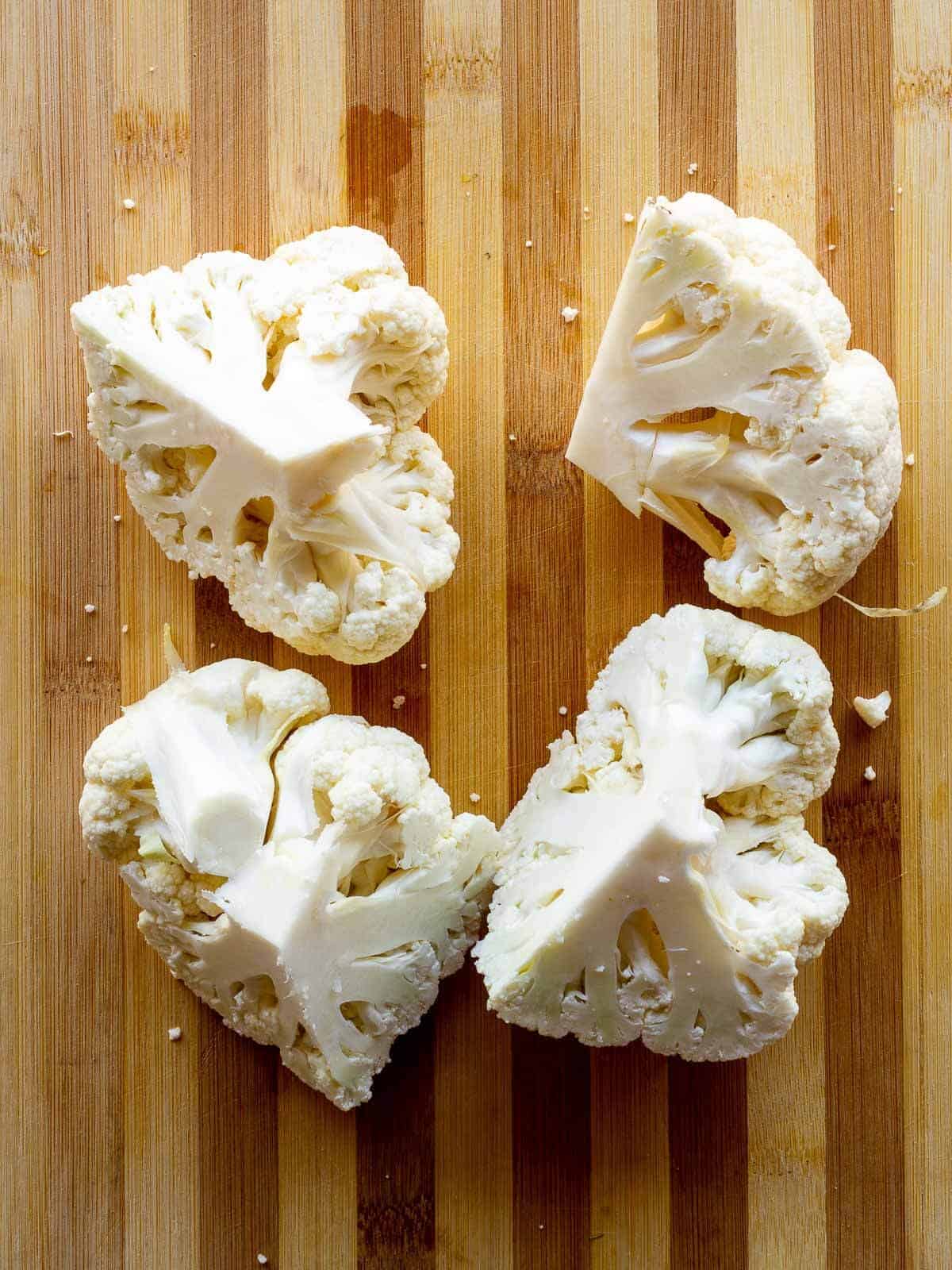 Quarter the cauliflower head.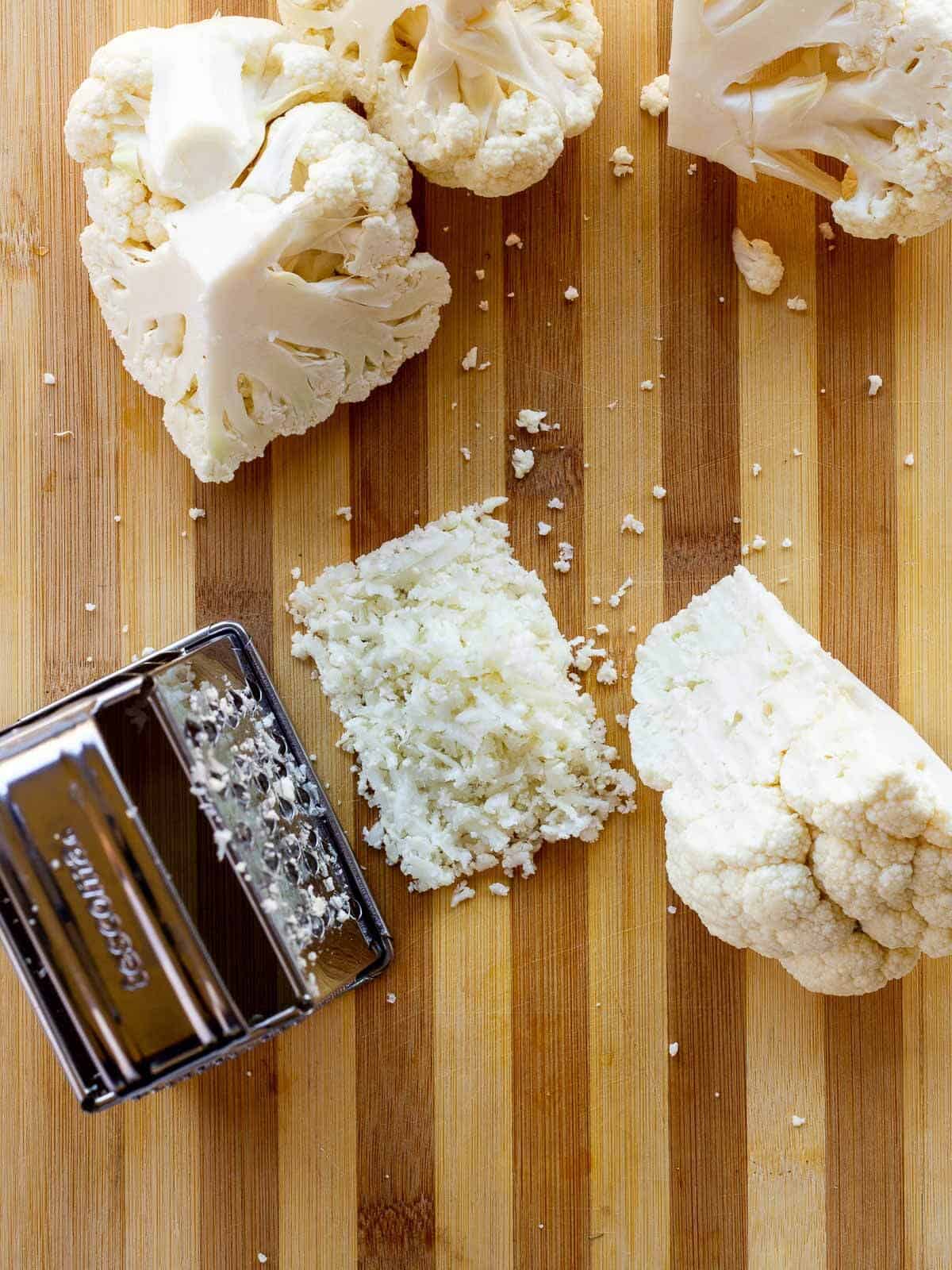 Grate using a grater box.
Method Nº 2: Using a Food Processor
Use a food processor only with the upper grater blade and without the main blade. Cut the cauliflower into small pieces (florets), so they fit the food processor hole, and start pushing them down with the tamper.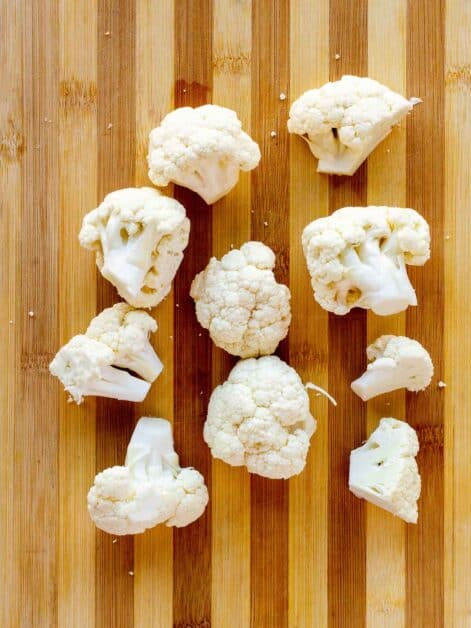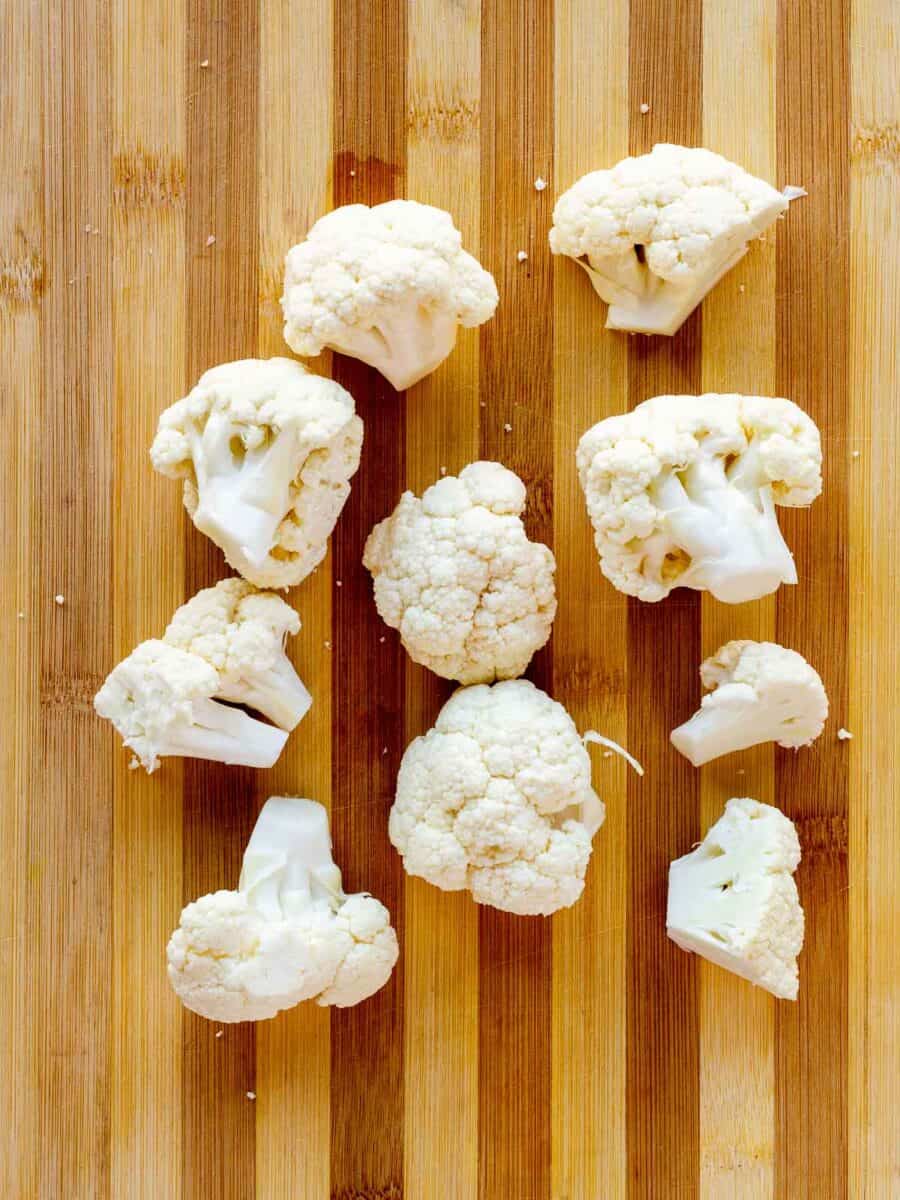 Comparison of results of the two methods
Above: Food Processor Below: Box Grater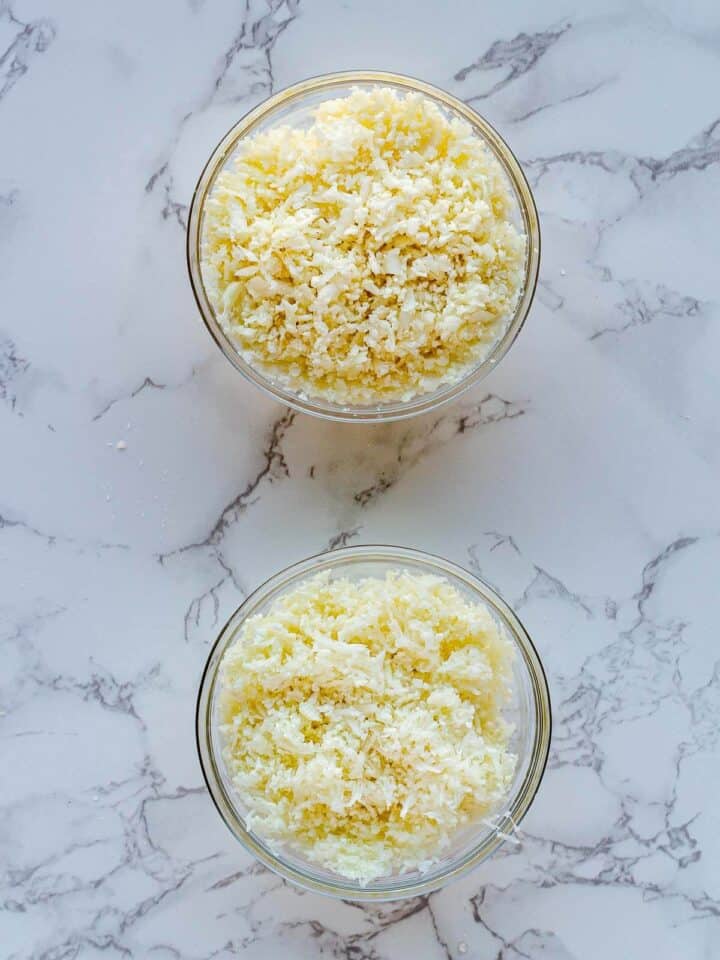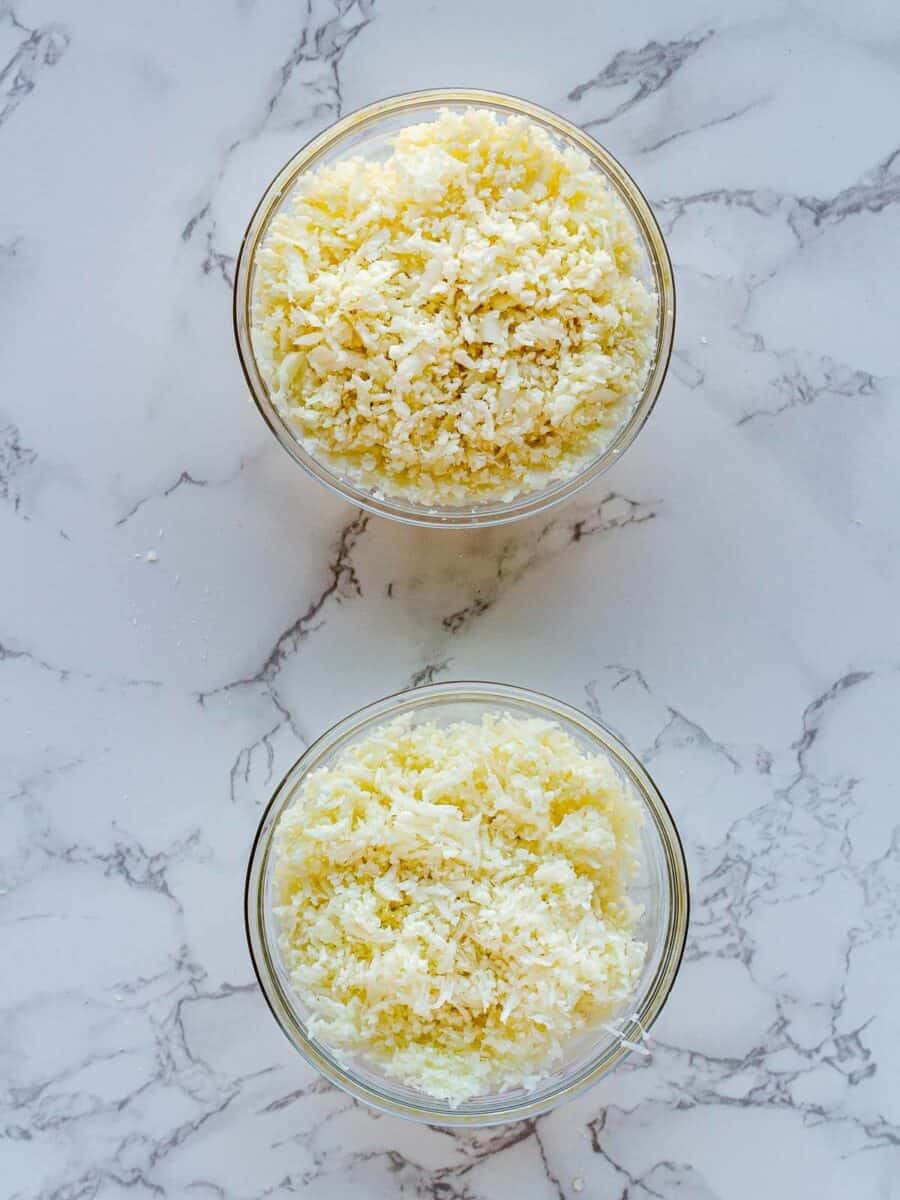 🧂 Seasoning for Cauliflower rice recipes
Now let's get into How to season cauliflower rice with these simple but delicious seasonings!
Raw cauliflower rice can be seasoned however you like it.
Once you have grated your whole head of cauliflower, it's easy to cook! Add cauliflower rice to a large skillet over medium heat in one tablespoon of olive oil or avocado oil.
It would help if you used a lid to cover it; the cauliflower can steam and become more tender.
We suggest down below 2 Seasonings; both are cooked the same way—full recipe directions down on the recipe card.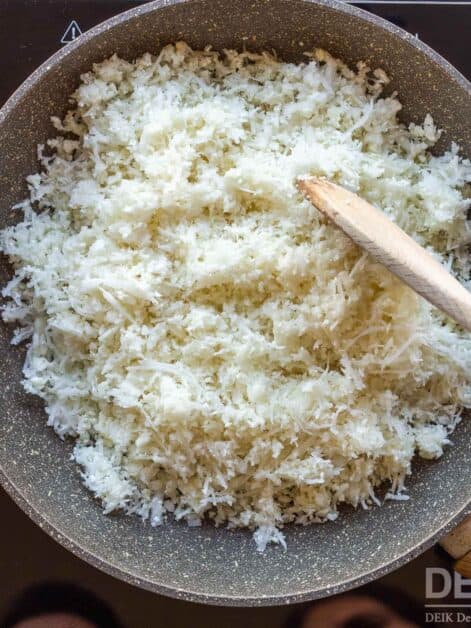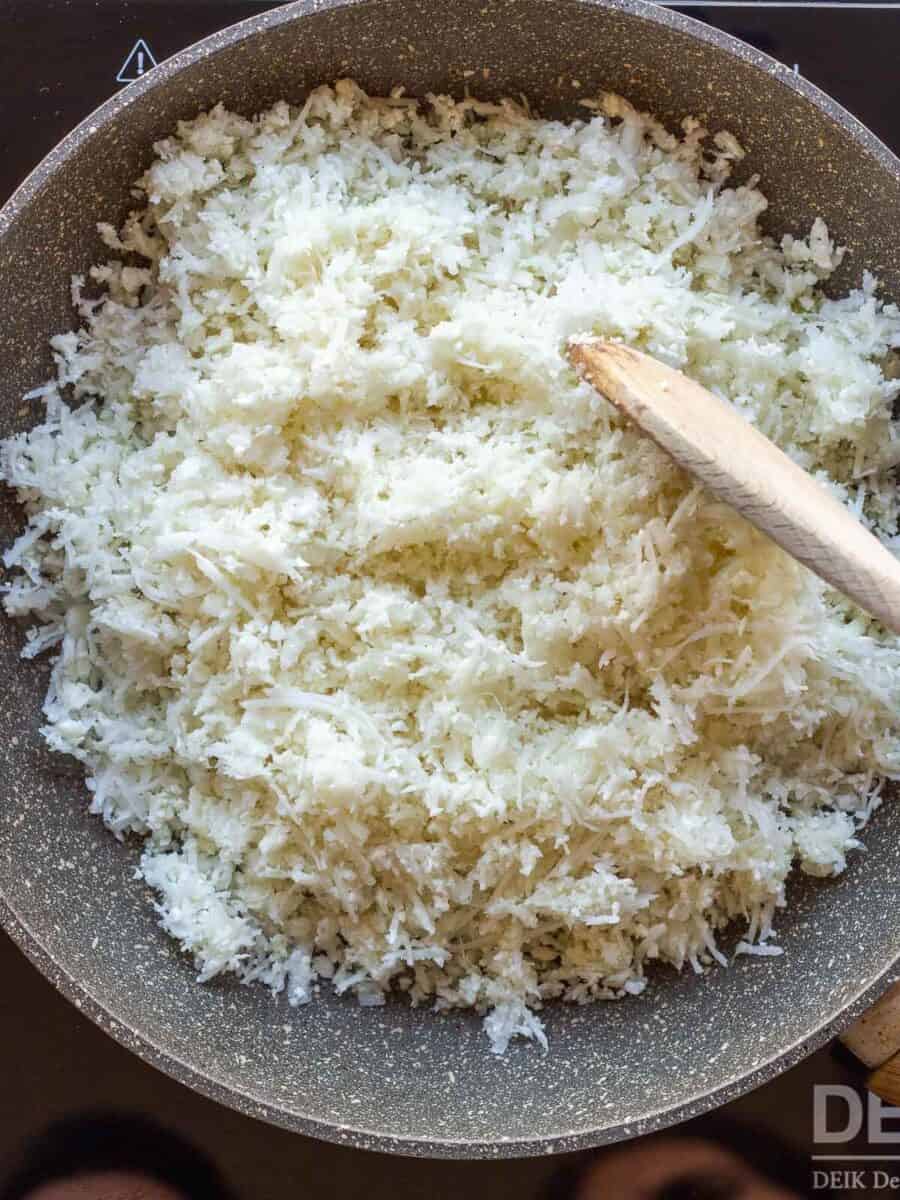 We remove the lid after 3 minutes, scratch the bottom, and stir for another minute. Having some golden pieces sticking at the bottom is OK and removing them with a spatula is OK.
At this point, season as desired. See below for suggested options.
Left: Oregano and Garlic.
Right: Indian Seasonings.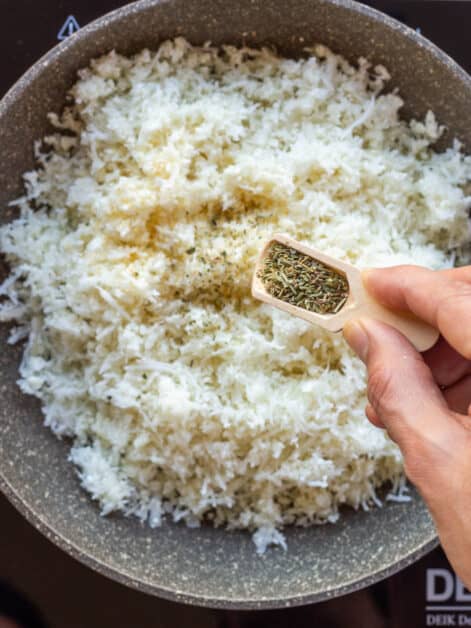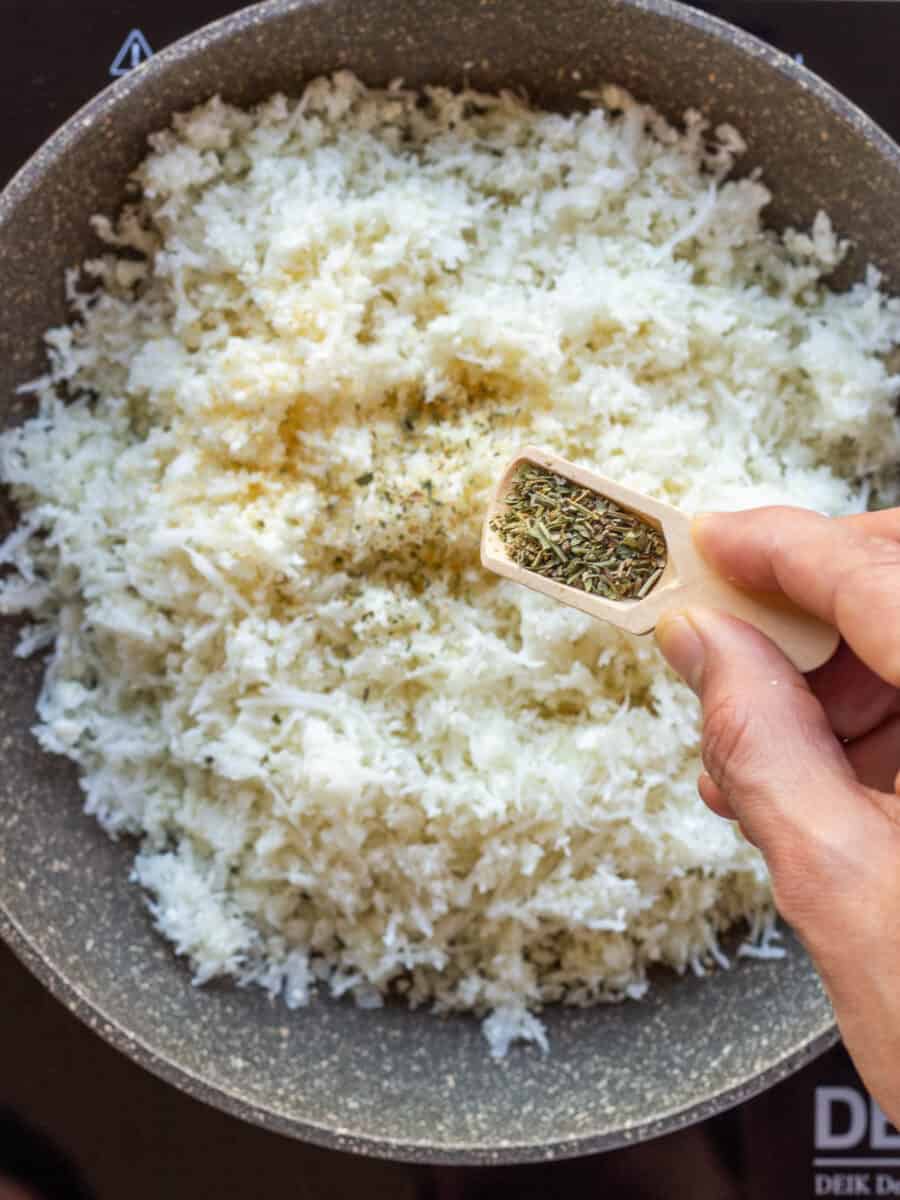 Cook cauliflower rice for another 2-3 minutes. In the end, you will have cooked it for a total of 5-7 minutes.
These are Two Recipes Using Cauliflower Rice
Caribbean Style
Dried Oregano leaves, Garlic Powder, and Sea Salt + Vegetable Oil to Sauté (we use avocado oil as it is healthier when frying, but olive oil is another great option).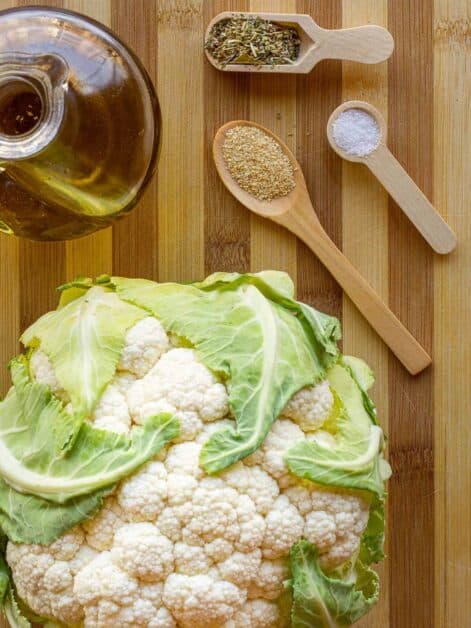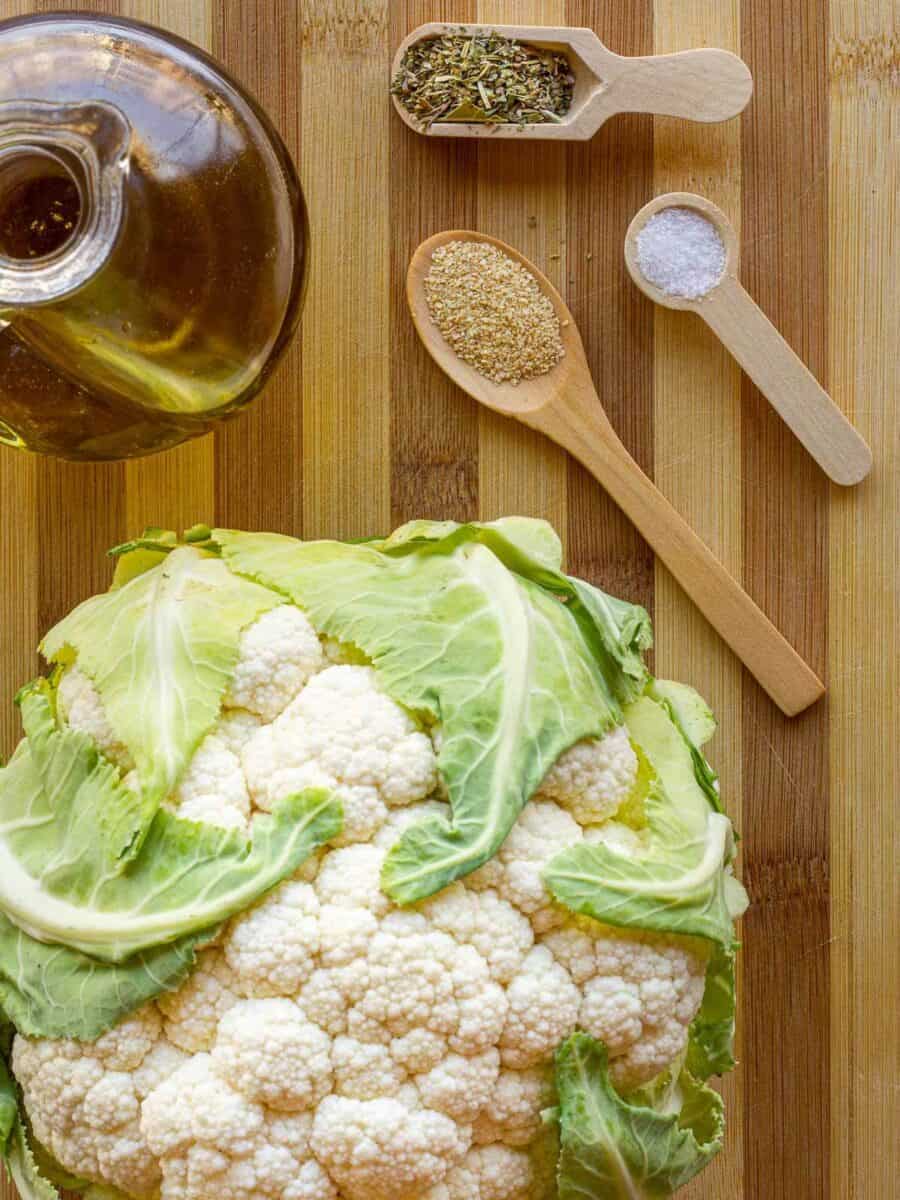 Indian cauliflower rice
Indian Mix: cloves, lightly toasted cumin seeds, cinnamon stick, cardamom, garlic powder, and sea salt + Vegetable Oil to Sauté.
If using this seasoning, remember to remove the cardamom pods, cloves, and cinnamon sticks before serving, or simply avoid them as you eat as they have a strong flavor. You just need their aroma to impregnate your Indian cauli rice.
Add some fresh cilantro on top as a garnishing option.
We loved having Indian spiced cauli rice with Eggplant curry, red lentil dal, or cauliflower curry as a substitution for the usual basmati brown rice.
Some additional seasoning options for Indian spiced cauli rice, are brown mustard seeds, fresh ginger, cumin seeds, and red pepper flakes.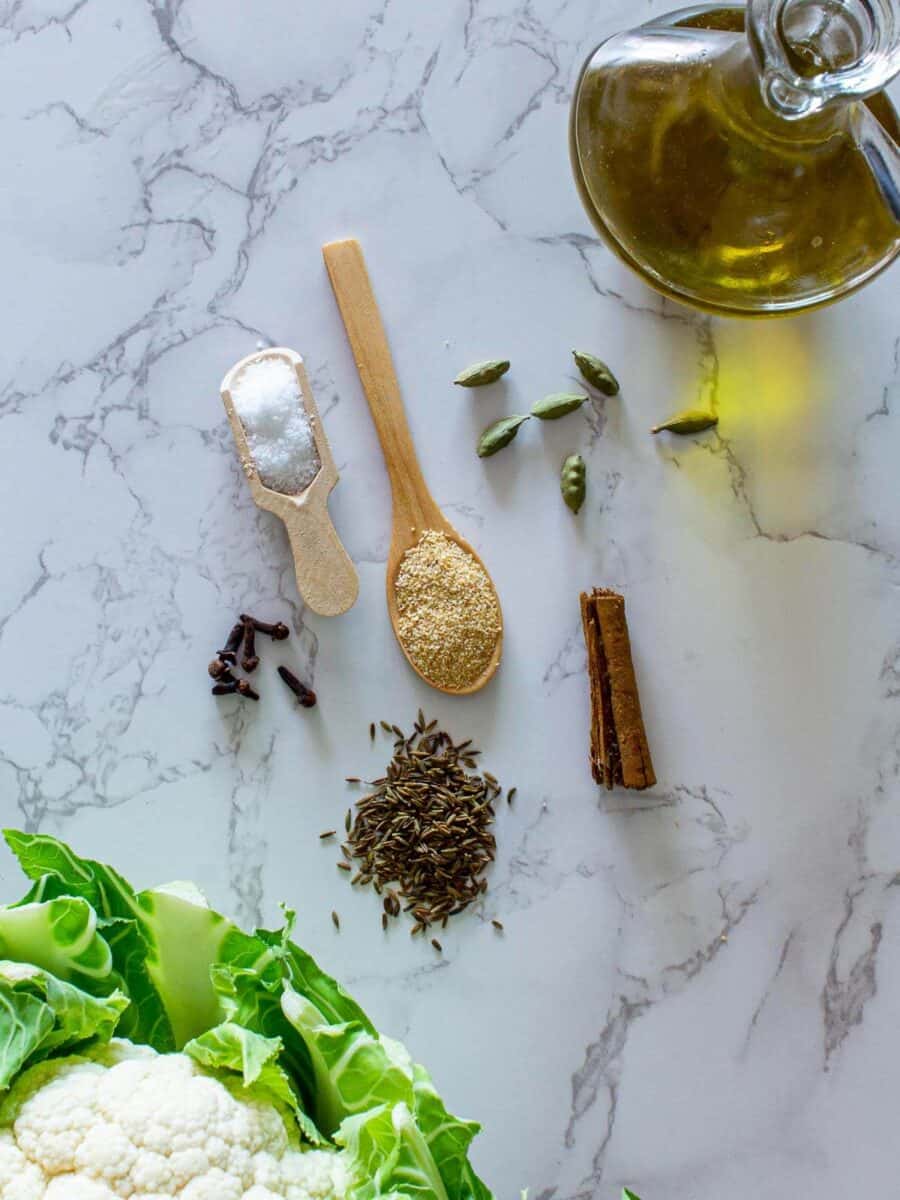 Adding frozen peas, fresh green peas, or slivered almonds would be great additions for any of the two options.
By the way, if you love Indian food and cauliflower, you should definitely try our Indian Cauliflower Curry; you will love it!
Our Indian Eggplant curry and green lentil curry are excellent pairings for this rice!
Learn how to roast a whole cauliflower head with only three ingredients! The perfect side dish to impress your guests!
⏲️ How long does it last?
Uncooked cauliflower rice left in the refrigerator develops a strong and unpleasant smell. So it is best to use it right away or freeze it.
Cooking cauliflower rice prevents it from developing a bad smell as quickly.
Cooked cauliflower rice can be kept in a sealed container in the refrigerator for three days.
🥡 Storage
Can you freeze riced cauliflower? Yes, you can!
Suppose you plan to cook frozen cauliflower rice. In that case, grate the cauliflower, press out its moisture, transfer the shredded cauliflower to a paper towel, or clean the kitchen towel and squeeze and press to remove any water.
Then freeze it in a sealed container for up to one month. We recommend using reusable Stasher Silicone Bags to reduce the use of plastic.
How to defrost Cauliflower Rice?
To make your frozen cauliflower rice, you can either:
Please put it in the refrigerator the night before and let it thaw over the day, or what I usually do is
Just put it in the skillet with the lid on for a couple of minutes. After that, it thaws right up and is ready to be cooked and seasoned.
🥢 How to serve
You can use this recipe as a replacement for recipes that call for rice, such as vegan stuffed peppers, that uses rice as part of the filling.
It can also make a side dish for various dishes like our Vegan Chickpea Avocado Salad.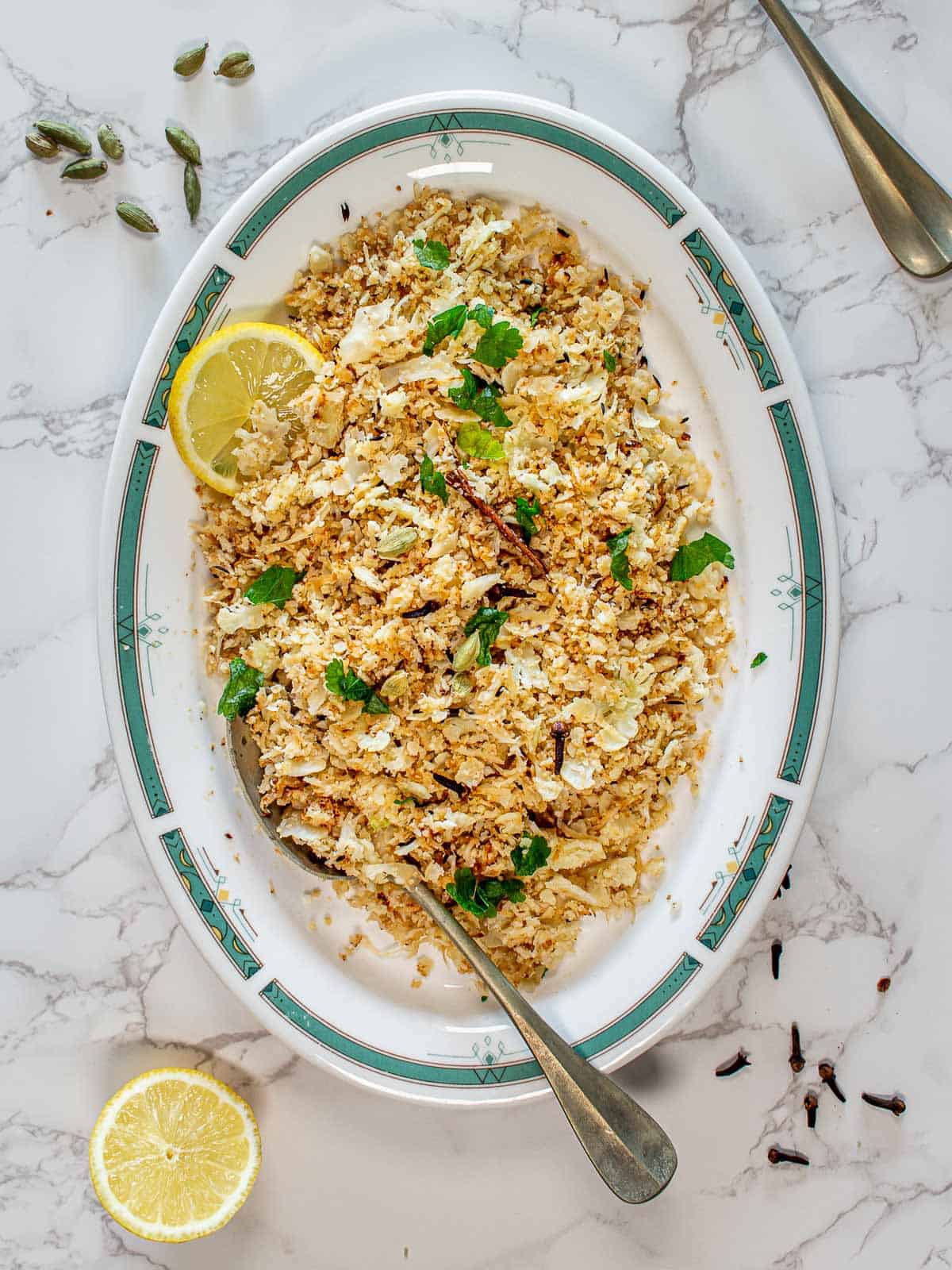 💡 Tips
This cruciferous vegetable is highly nutritious and, as Science Says, is amongst the 3 of the Healthiest Foods You Can Eat. It has a lot of beneficial, healthy properties and very few calories.
The best season to consume cauliflower is the fall season, which is when we should aim to get the best ones, and hence the best of their health benefits.
We love cauliflower in all ways. You might have heard of Cauli-Wings and even Whole Spiced Roasted Cauliflower.
One of the things that we like about it is that it doesn't take much to cook. You can enjoy it raw, steamed, boiled, roasted, creamed, or shredded. Any cooking method that you can imagine, cauliflower, will most likely take it.
You don't even have to do much to prepare it; what you see is what you get.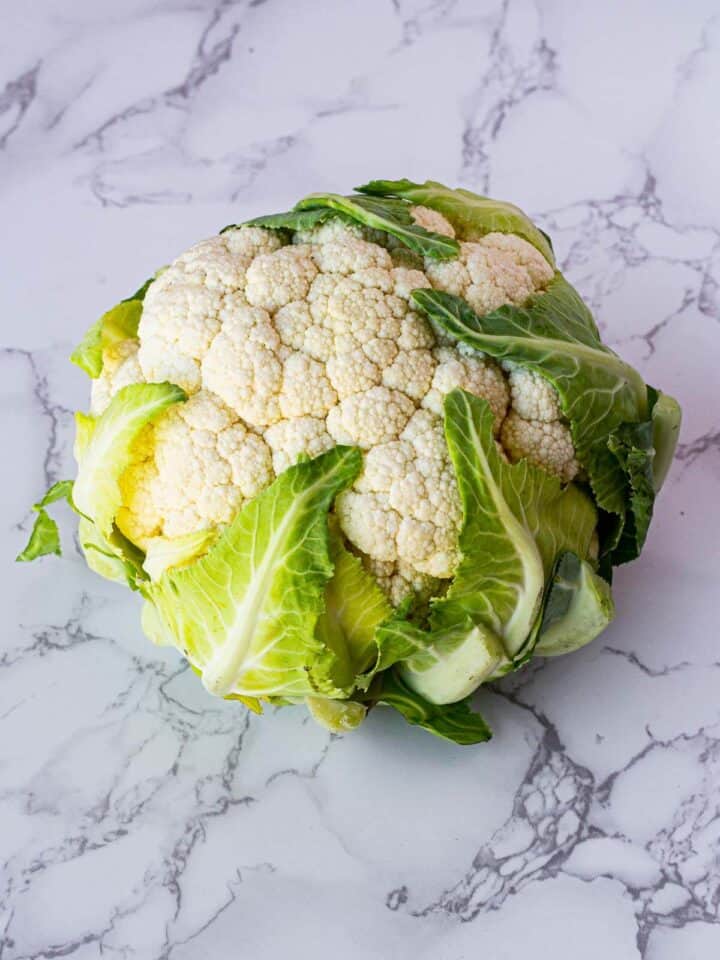 Have you ever seen the different cauliflower colorful varieties like purple and orange, equally nutritious and delicious? We love them!
If you are like us and love rice in all its ways, Cauli-Rice is for you.
📚 More cauliflower recipes
If you try any of these recipes, let us know! Leave a comment, rate it, and don't forget to tag a photo #ourplantbasedworld on Instagram. Cheers!
📋 Recipe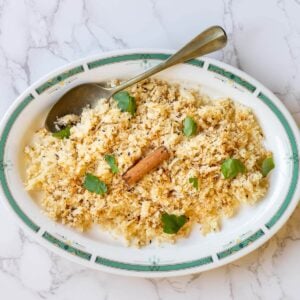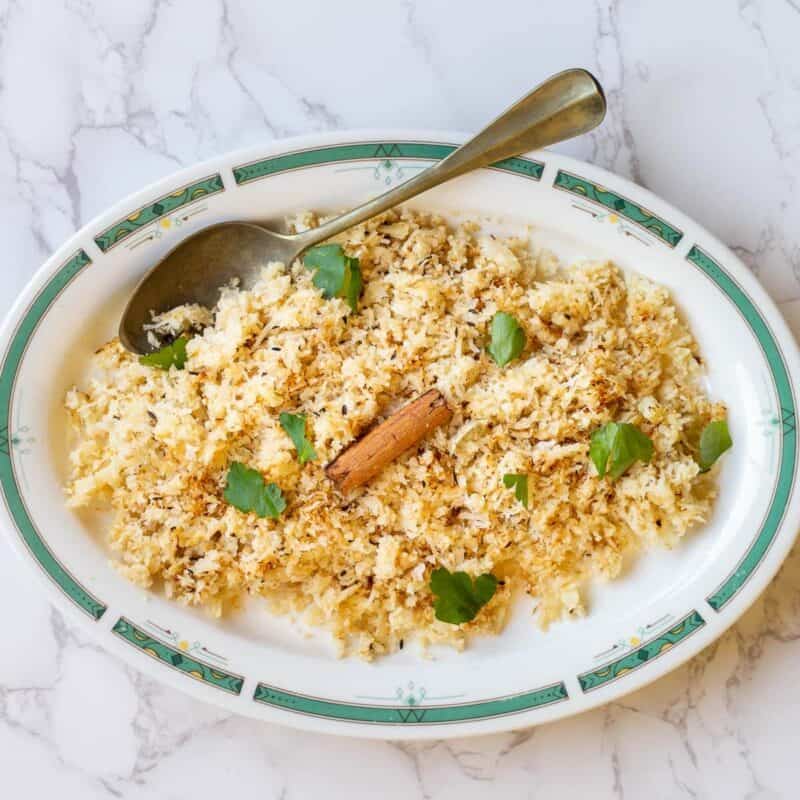 How Do You Make Cauliflower Rice
Cauliflower rice is the perfect side dish, just as rice is. It is a highly versatile side that goes well with any seasoning. Made in 10 minutes!
Equipment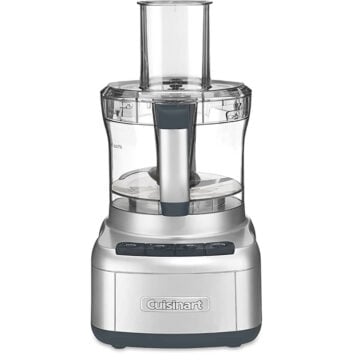 (affiliate link)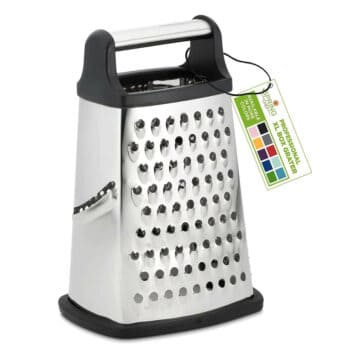 (affiliate link)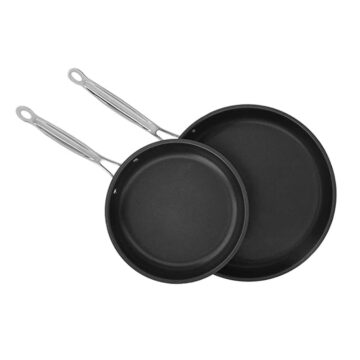 (affiliate link)
Ingredients
1

cauliflower head medium

1

tablespoon

avocado oil

or any other oil
Optional Seasoning 1 (Indian "Rice"):
Optional Seasoning 2 (Caribbean "Rice"):
Directions
Wash and dry the cauliflower head, then remove all greens. Start by removing the leaves and the stem. Save them for another use. I like either roasting them or adding it to any recipe where we can turn it into stuffing.

If using a box grater, cut the cauliflower in halves and use the medium-sized holes to grate into rice. Using a food processor only with the upper grater blade and without the main blade. Cut the cauliflower into small pieces (florets) so they fit the food processor hole and start pushing them down with the tamper.

Sauté. Once you have your cauliflower rice, it's easy to cook. Simply sauté in a large skillet over medium heat for 3 minutes.

Season. At this point season as desired. Seasoning Option #1: use 1 tablespoon of oregano, 1 teaspoon of garlic, or onion powder and salt.Seasoning Option #2: lightly toasted cumin seeds. cloves, cinnamon, cardamom, garlic, plus salt. Toast the cumin seeds for 2 minutes in a small skillet and add it with the rest of spices to the cauli rice.

Cover with a lid, that way, the cauliflower can steam and become more tender.

Cook for a an additional 3 minutes for totacooking time of 5-7 minutes.

Serve and remove the cinnamon stick, cloves and cardamom pods, if using Indian Seasoning
Notes
Store leftovers in the refrigerator for up to 3 days. Store uncooked cauliflower rice in the freezer for up to 1 month.
If using the Indian seasoning, remember to remove the cardamom pods, cloves, and cinnamon stick before serving or simply avoiding them as you eat as they have a strong flavor. You just need their aroma to impregnate your cauli rice.
Nutrition Facts
Calories:
84
kcal
Carbohydrates:
11
g
Protein:
3
g
Fat:
4
g
Saturated Fat:
1
g
Sodium:
627
mg
Potassium:
488
mg
Fiber:
4
g
Sugar:
3
g
Vitamin A:
3
IU
Vitamin C:
70
mg
Calcium:
55
mg
Iron:
1
mg
Nutrition Facts
How Do You Make Cauliflower Rice
Amount per Serving
% Daily Value*
* Percent Daily Values are based on a 2000 calorie diet.
🌡️ Food safety
Cook to a minimum temperature of 165 °F (74 °C)
Do not use the same utensils on cooked food, that previously touched raw meat
Wash hands after touching raw meat
Don't leave food sitting out at room temperature for extended periods
Never leave cooking food unattended
Use oils with a high smoking point to avoid harmful compounds
Always have good ventilation when using a gas stove
See more guidelines at USDA.gov.
Nutritional Disclaimer
The information shown is an estimate provided by an online nutrition calculator. It should not be considered a substitute for a professional nutritionist's advice. See our full Nutritional Disclosure here.
Affiliate Disclaimer
Please note that some of the links here are affiliate links, and I will earn a commission if you purchase through those links. I recommend all of the products listed because they are companies I have found helpful and trustworthy.