Discover how to make delicious and spicy vegan cauliflower wings! These bite-sized snacks are 100% plant-based, easy to prepare, and a healthier alternative to traditional wings. Perfect for parties, game nights, or anytime you're craving something hot and flavorful. No matter if you're vegan or just curious about plant-based recipes, these cauliflower wings will surely surprise and delight you.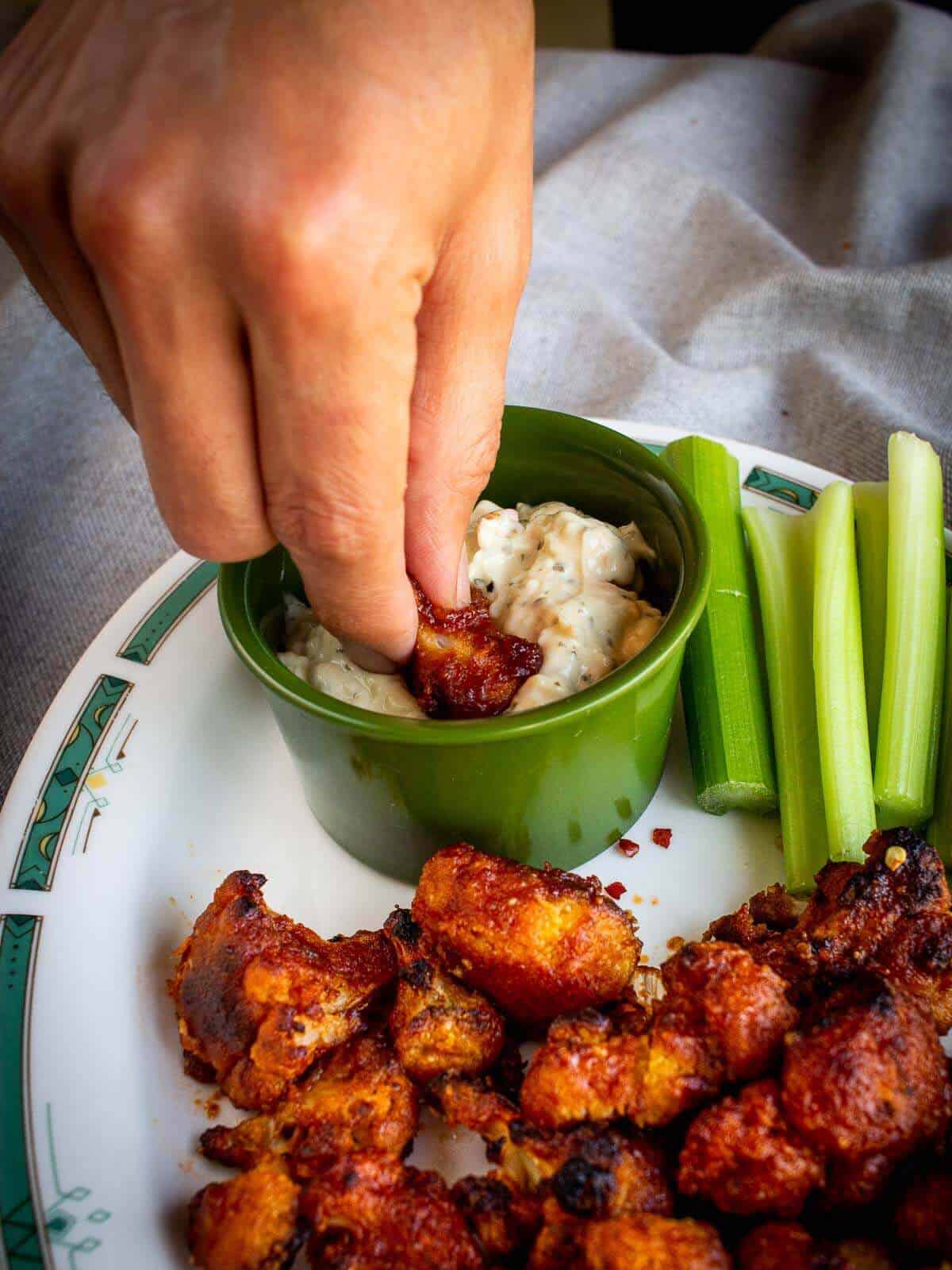 Both carnivores and vegan fellows love this snack recipe. They munch on them equally, and they have a low carb count, just like our super delicious and straightforward Vegan Cauliflower Steaks and Indian cauliflower curry.
Jump to:
💚 What you will love them
Nutrient-rich: Packed with fiber, vitamins, and minerals from cauliflower.
Protein-Packed: Enhanced with chickpea flour for a protein boost.
Low-Fat Indulgence: Minimal oil use makes these wings a guilt-free snack.
Spicy Health Boost: Hot sauce adds flavor and potential metabolic perks.
Easy & Customizable: Simple to make, with adaptable spices and sauces.
🧾 Ingredients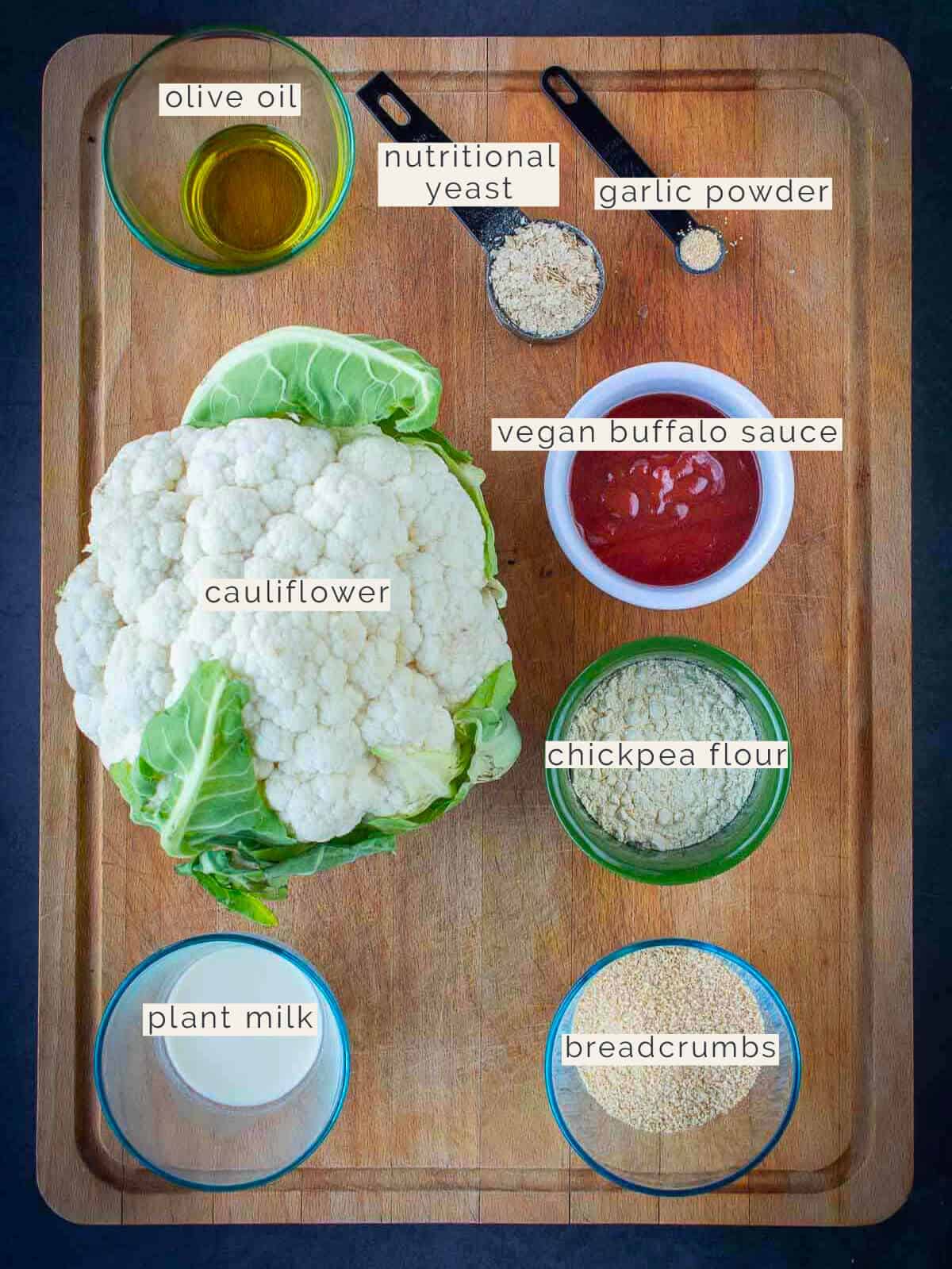 Cauliflower: Used as the main ingredient, cauliflower provides a nutritious and fiber-rich base that perfectly mimics the texture of traditional chicken wings when cooked.
Vegan Buffalo sauce: This imparts a smoky, sweet, and tangy flavor profile that gives the vegan wings their characteristic zesty taste.
Chickpea flour (or any other flour): It acts as a coating for the cauliflower, adding a delightful crispiness once baked and assisting in the absorption of the buffalo sauce for a well-rounded flavor.
Nutritional yeast: for that cheesy flavor.
Garlic powder: This is an essential seasoning to give the vegan cauliflower wings a depth of flavor, introducing a mild, sweet, and slightly spicy element to the mix.
Plant milk: This provides a liquid base for the flour mixture, ensuring the wings are moist inside while getting crispy on the outside. It also helps in adhering the dry ingredients to the cauliflower florets.
Olive oil (or avocado oil): This adds richness and aids in achieving a golden, crispy exterior on the cauliflower wings when baked.
See quantities and complete instructions in the recipe card.
Substitutions
Buffalo Sauce: If you're looking for a homemade or lower-sugar alternative, you could create a tangy sauce with tomato paste, apple cider vinegar, and your choice of sweetener, such as maple syrup or date paste. You can also use the usual BBQ sauce.
Chickpea Flour: If you don't have chickpea flour, you could use almond flour, whole wheat flour, or gluten-free all-purpose flour. These may result in a slightly different texture but will still create a tasty coating for your wings.
Garlic Powder: Substitute garlic powder with onion powder. This will lend a different but equally delicious flavor to the wings - slightly sweeter and less pungent.
Cayenne Pepper: You could substitute cayenne pepper with a milder spice like paprika for those with a lower spice tolerance. This will still add a nice color and flavor to the wings but with less heat.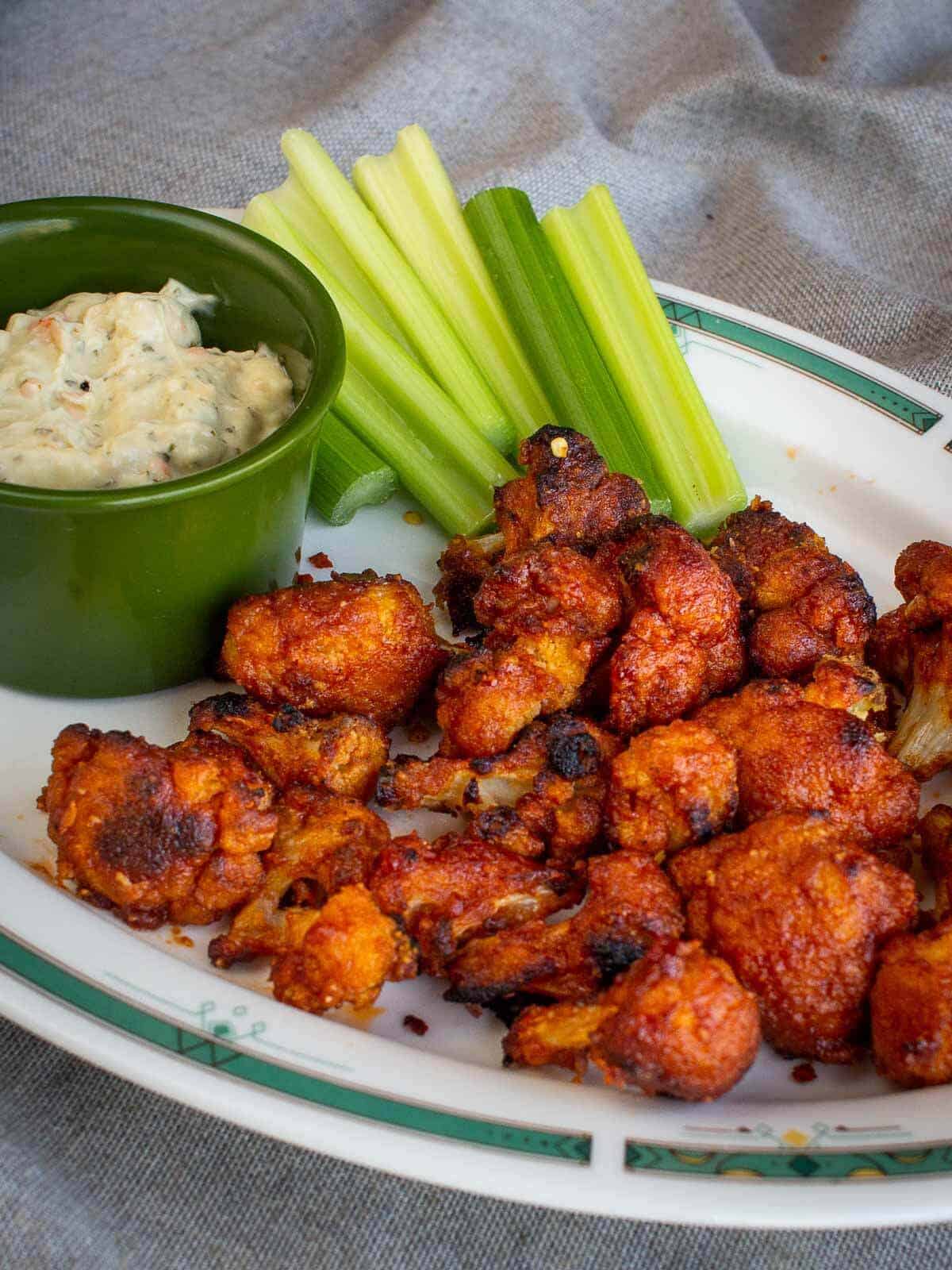 🔪 Instructions
Let's get started by warming up your oven - go ahead and preheat it. While it's heating, you can turn your attention to the cauliflower and start breaking it up into florets.
Next, grab a bowl, and let's get our hot sauce mix ready. Combine the flour and your chosen seasonings together in there. Now, it's time to give those cauliflower florets some flavor. Lightly spray them with your oil of choice, then give them a gentle bath in plant-based milk.
Here's a fun part - put those moistened florets in a plastic bag with the dry hot sauce mix and give it a good shake. Feel free to dance around a little; cooking should be fun!
After your little dance number, it's time to prep your baking tray. You can either lightly oil it or line it with parchment paper - either works. Arrange the well-coated cauliflower florets on the tray and send them for a bake in your preheated oven.
While the florets are baking, it's time to whisk together the liquid ingredients. Once the florets have baked, gently dip them in the delicious buffalo wing sauce you've just made. Once they're well coated, arrange them back on the tray.
All that's left to do is bake them for another 15 minutes. And voila! Your delicious, crispy, vegan buffalo wings are ready to be devoured! Enjoy your guilt-free indulgence.
💡 Expert tip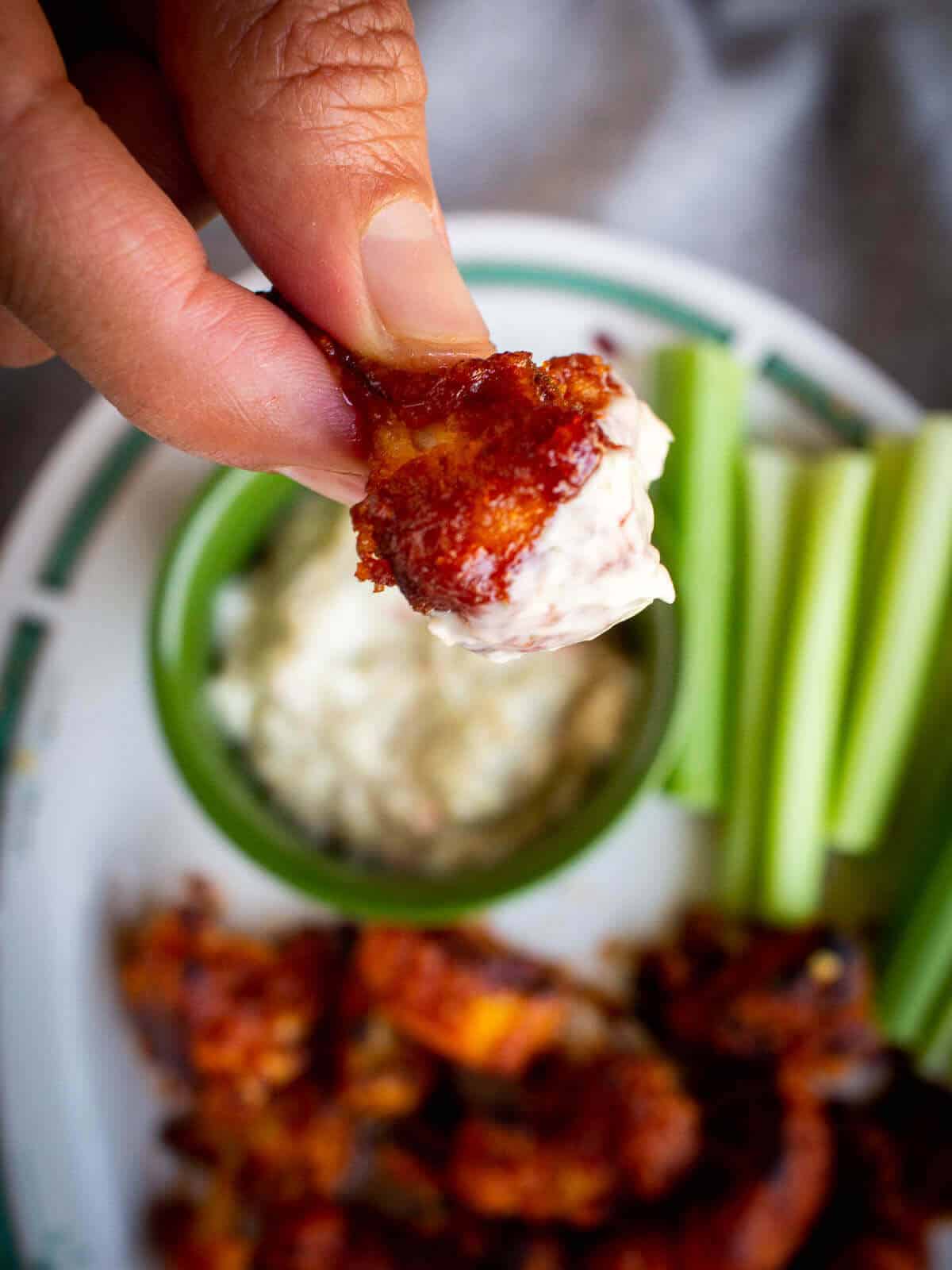 If fresh cauliflower isn't readily available, feel free to use frozen cauliflower florets for this recipe.
To ensure even cooking, be sure to thaw them fully before proceeding with the battering process.
If they seem a bit too watery after thawing, simply pat them dry with a paper towel to remove any excess liquid.
📖 Variations
BBQ Cauliflower Wings: Instead of the hot sauce mixture, try tossing your baked cauliflower florets in a tangy barbecue sauce. You'll still achieve a deliciously crispy exterior, but with a sweet, smoky flavor profile that BBQ lovers will adore. Top with a sprinkle of smoked paprika for an extra touch.
Asian-inspired Cauliflower Wings: Give your wings an Asian twist by making a sauce with soy sauce (or tamari for a gluten-free option), sweet chili sauce, ginger, and a hint of sesame oil. This variation offers a delightful blend of sweet, salty, and spicy flavors that's sure to tantalize your taste buds. Garnish with sesame seeds and chopped green onions for a vibrant finish.
Gluten-free: Make gluten-free buffalo cauliflower using gluten-free breadcrumbs or simply omitting the crumbs. They will be less crunchy, though.
Super hot: Add sriracha sauce to make this vegan wings recipe extra spicy!
🥢 How to serve
The beauty of these buffalo cauliflower bites lies not only in their fiery flavor but also in their versatility when it comes to serving.
Pair your bites with fresh, crunchy carrot sticks and celery sticks. These crisp veggies provide a refreshing crunch and a pop of color to your plate, and they pair perfectly with the spicy cauliflower and cool ranch.
Want to make it a full meal? Consider serving these buffalo cauliflower bites on top of a fresh salad or vegan quinoa bowl or as part of a wrap with your favorite veggies.
You can even use them as a topping for a vegan pizza or inside a vegan burrito for a unique, tasty twist. The possibilities are endless with these delectable plant-based bites!
❓ FAQ
Can I freeze cauliflower wings leftovers?
Yes, you can! First, let the wings cool completely, then arrange them on a baking sheet lined with parchment paper and freeze until solid.
After that, you can transfer them to a freezer-safe bag or container. They should keep well for up to 2 months.
To reheat frozen wings, there's no need to thaw. Just bake them in a preheated oven at 350°F (175°C) for 20-25 minutes, or until they're thoroughly heated and regain their crispiness. With these tips, you can enjoy your favorite vegan buffalo wings anytime you want!
🥡 Storage
Storing and reheating these leftover vegan wings is a breeze! If you've got some extras that you'd like to keep in the fridge, simply place them in an airtight container, and they'll stay good for up to 3-4 days. When you're ready to enjoy them again, you can reheat the wings in a preheated oven at 350°F (175°C) for about 10-15 minutes or until they're heated through and crispy again.
🍿 More Healthy Vegan Snacks
You may also like these delicious Falafel balls and crunchy oyster mushroom recipe.
📚 More cauliflower recipes
Embrace the exotic flavors of India with this vibrant and aromatic cauliflower curry. This rich, hearty dish will warm your soul with its delicate balance of spices and hearty textures - a culinary journey you won't want to miss!
Experience cauliflower-like never before with this whole roasted cauliflower recipe. Marvelously crispy on the outside and tender on the inside, it's a spectacular centerpiece that's not just delicious but also a sight to behold!
Take your cauliflower game to the next level with this mouthwatering recipe, featuring a silky smooth tahini sauce. The creamy, nutty flavor of tahini marries perfectly with the cauliflower, creating an absolutely irresistible side dish!
Cauliflower Rice: A low-carb alternative to traditional rice, this cauliflower rice recipe is both healthful and satisfying. It's so versatile, fluffy, and flavorful, you'll wonder why you haven't tried it sooner! Perfect to pair with your favorite main dishes.
Want to learn more about the health benefits of Cauliflower?
⭐ If you try this recipe, let us know! 💬 Leave a comment, rate it, and don't forget to tag us @ourplantbasedworld on Instagram. Cheers!
📋 Recipe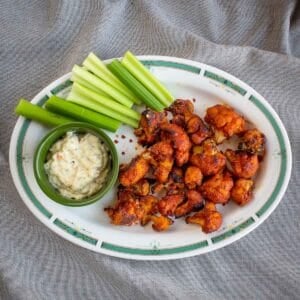 Vegan Cauliflower Wings (Hot, Easy & 100% Plant-Based)
Explore our irresistible vegan cauliflower wings recipe - a plant-based delicacy that's bursting with flavor and surprisingly easy to make. Perfect for those seeking healthier alternatives, these wings offer a guilt-free, crispy indulgence that every vegan and non-vegan will surely love.
Equipment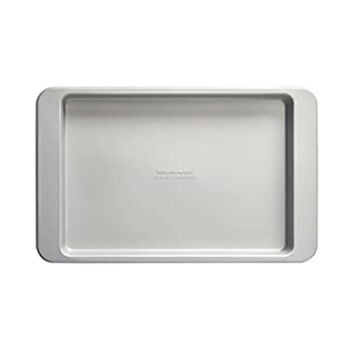 (affiliate link)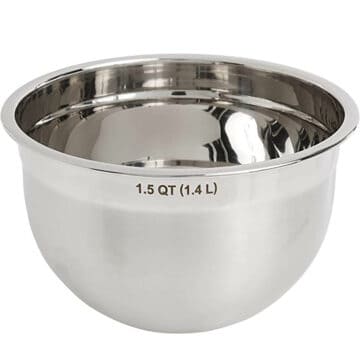 (affiliate link)
Ingredients
Optional to serve:
vegan tartar sauce

vegan Ranch sauce
Directions
Pre-heat the oven at 430ºF (225ºC).

Separate the cauliflower in florets (save the stems for a stew, they are as nutritious as the florets).

In a bowl, make a mix with the dry ingredients.

Spray the cauliflower florets with the oil spray and then moist them with the milk.

Put the florets with the dry mix in a plastic bag and shake it, ensuring the florets are well coated.

Oil a flat baking tray or place parchment paper on it.

Place the cauliflower florets on the tray and bake for 20 minutes.

Toss. Meanwhile, mix the liquid ingredients.

Dip in. Take out the florets and dip them in the BBQ sauce.

Bake. Put them back in the tray, then bake them for another 15 minutes. Serve hot!
Nutrition Facts
Calories:
273
kcal
Carbohydrates:
56
g
Protein:
6
g
Fat:
4
g
Saturated Fat:
1
g
Polyunsaturated Fat:
1
g
Monounsaturated Fat:
2
g
Sodium:
1179
mg
Potassium:
754
mg
Fiber:
5
g
Sugar:
39
g
Vitamin A:
295
IU
Vitamin C:
70
mg
Calcium:
98
mg
Iron:
2
mg
Nutritional Disclaimer
The information shown is an estimate provided by an online nutrition calculator. It should not be considered a substitute for a professional nutritionist's advice. See our full Nutritional Disclosure here.
Affiliate Disclaimer
Please note that some of the links here are affiliate links, and I will earn a commission if you purchase through those links. I recommend all of the products listed because they are companies I have found helpful and trustworthy.