Get ready to dazzle your taste buds with an extraordinary fusion of flavors! We're bringing you our own unique twist on the classic Russian Beet Potato Salad, but with a delightful Dominican vibe. This vibrant, plant-based masterpiece not only captures the essence of both worlds but also invites you on a memorable gastronomic journey.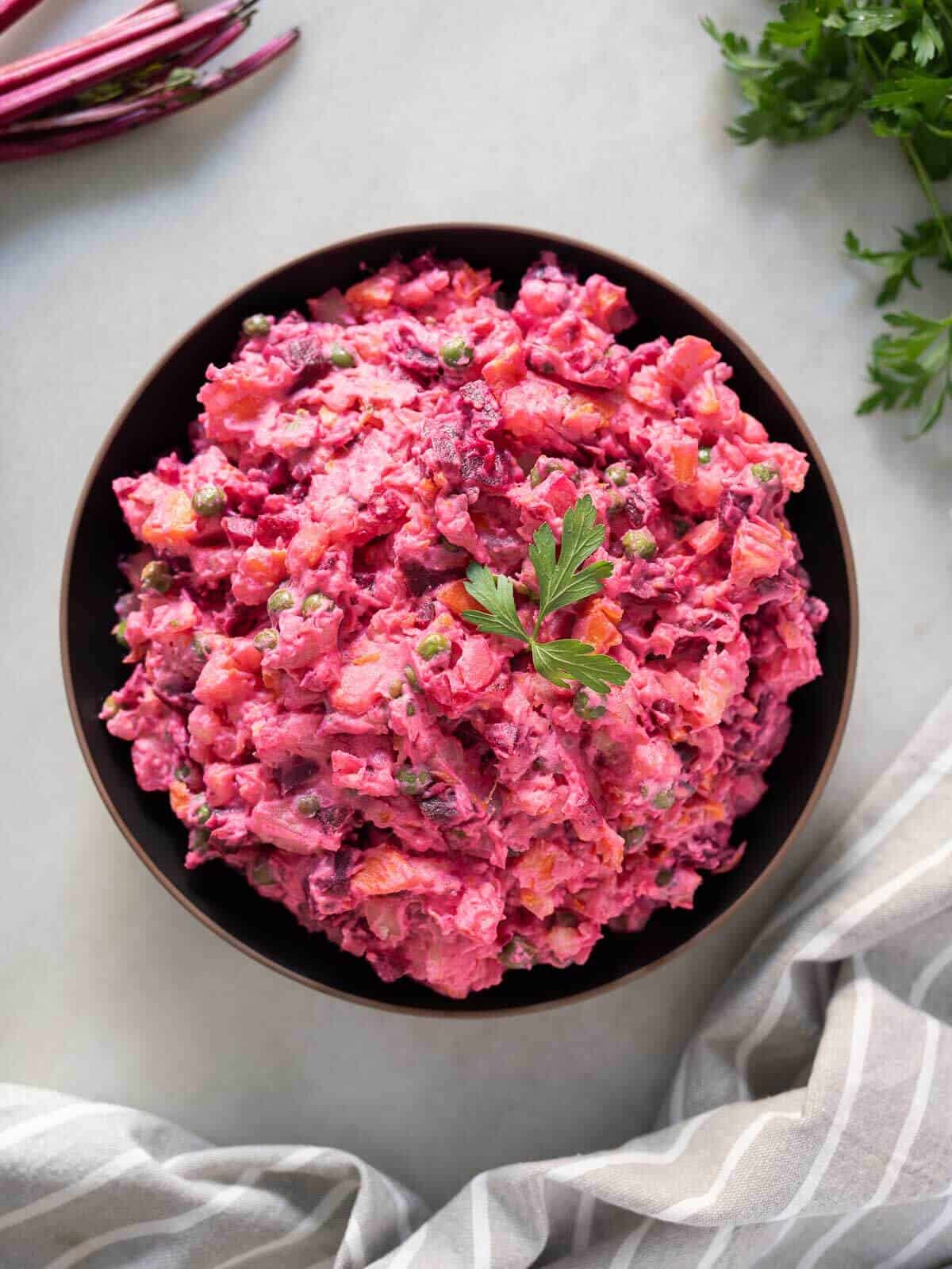 Everyone, meet your new favorite salad! This recipe stands out from the traditional potato salads with its burst of vibrant colors and harmonious blend of flavors. We've used nature's own palette of ingredients to create a visually appealing dish brimming with nutritional goodness.
With each spoonful, you'll get a taste of vitamins C and B6, potassium, and a high dose of fiber, thanks to the powerhouse combination of white potatoes, beets, and carrots. Adding green peas and optional tofu adds a satisfying dose of plant-based protein, making this dish a well-rounded, nutrient-dense meal.
The best part? This recipe is remarkably easy to prepare. Whether you're a seasoned chef or a kitchen newbie, you'll breeze through these steps and create something incredibly tasty. It's perfect for those busy weeknights when you need a quick yet nutritious dinner or when you want to impress guests with your culinary prowess.
No complex techniques here, just simple, fresh ingredients coming together to create a stunning, flavorful, and healthful salad. It's time to say goodbye to bland potato salads and say hello to this fresh, exciting twist on a classic favorite!
Jump to:
🧾 Ingredients
This Russian potato salad with beets is made with just a few delicious ingredients: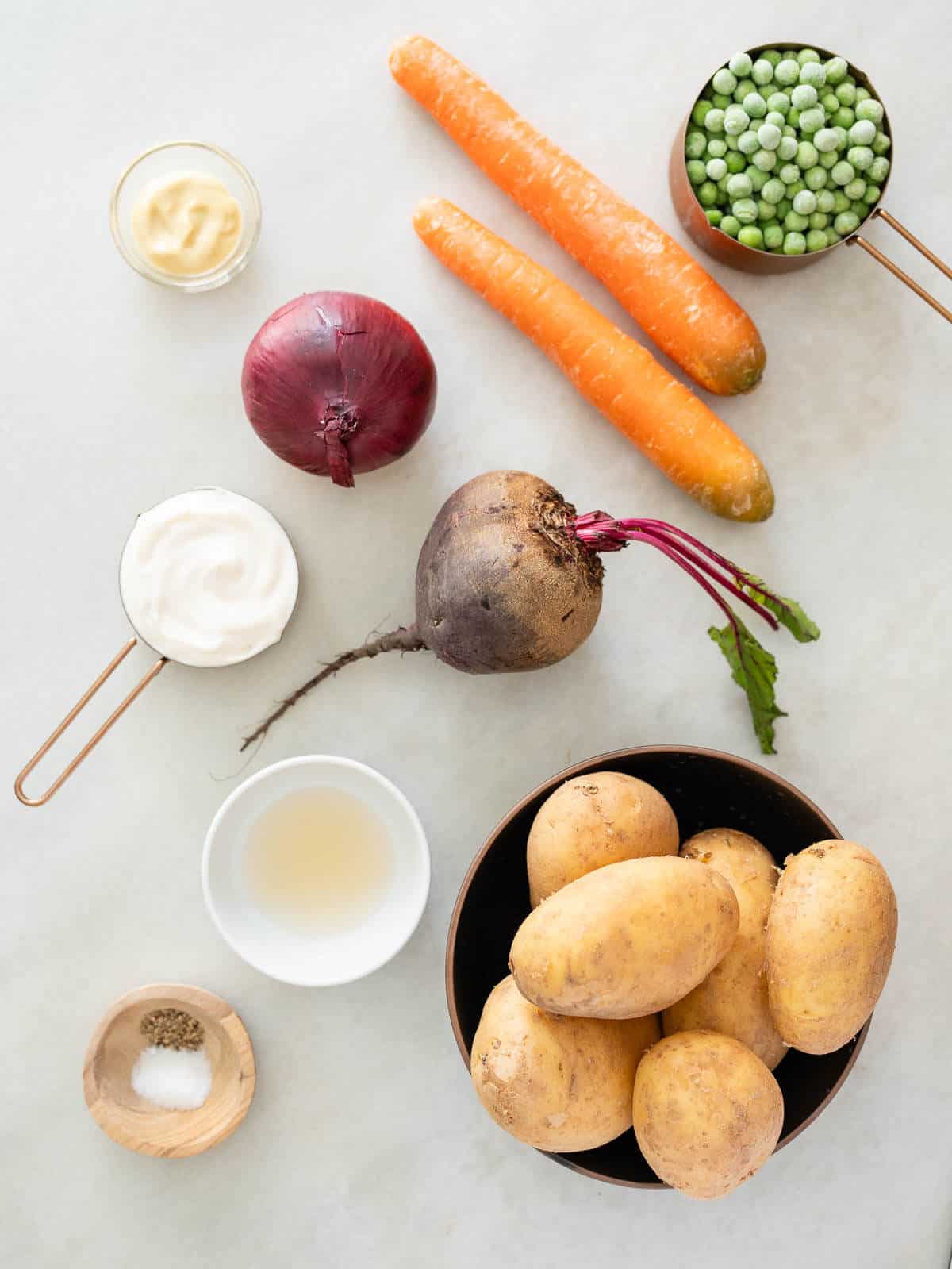 Russet potatoes: An excellent source of vitamin C and potassium, white potatoes lend a starchy creaminess that forms the perfect base for our salad.
Beets: Packed with fiber, potassium, and vitamin C, beets add a touch of natural sweetness and an irresistible deep crimson color.
Carrots: Bringing a pop of color and a punch of beta-carotene, carrots introduce a satisfying crunch and subtle sweetness to the mix.
Green peas: Rich in fiber and plant-based protein, green peas lend a bright splash of color and unique textural contrast.
Red onion: Red onions are included for their bold flavor and health benefits, such as supporting heart health and controlling blood sugar levels.
Vegan mayonnaise: Key to achieving that creamy, rich texture we all love in a salad, vegan mayonnaise adds a delightful tang without any animal products.
Apple cider vinegar: Its sharp, sweet tang not only balances out the other flavors but also aids digestion and has numerous other health benefits.
Dijon mustard: With its smooth texture and complex, tangy flavor, Dijon mustard brings depth and an unexpected spark to the salad.
Optional ingredients
Celery: If you fancy a hint of earthiness, celery is a great addition and an excellent source of antioxidants.
Medium-firm tofu: Tofu is an excellent source of plant-based protein, and its firm texture soaks up flavors, making it an ideal addition for an extra protein boost. This replaces the hard-boiled eggs in a classic potato salad, making it eggless but still adding texture and protein content.
See the recipe card for quantities.
🔪 Instructions
This beet and potato salad involves 3 simple steps.
Washing and preparing your ingredients.
Chopping in sizable chunks.
Combining all the ingredients.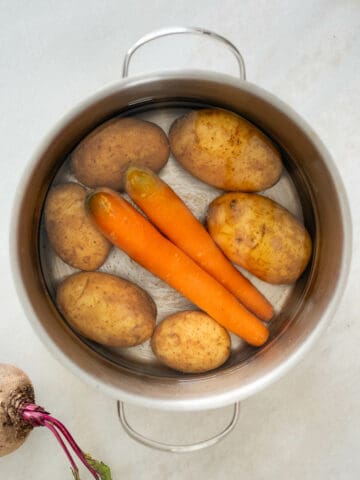 Put the potatoes and carrots in a saucepan with tap water and boil in cold water until they are fork-tender.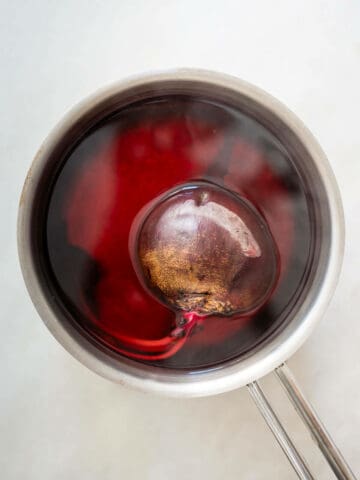 Boil beet in a different saucepan with cold water (optionally). You can use the same saucepan if you don't mind all the color combinations. You can also use canned beets,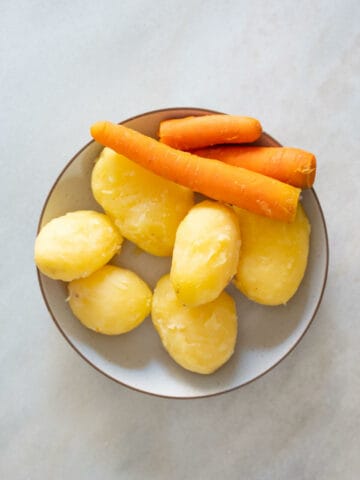 Let the potatoes and carrots cool down, then peel them with a potato peeler.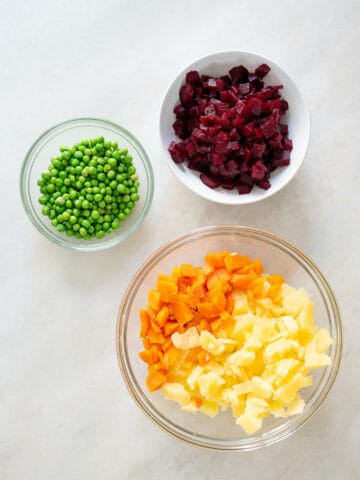 Briefly steam the frozen peas and dice the carrots, cooled beets, and potatoes into medium-sized dice. You can also use canned peas.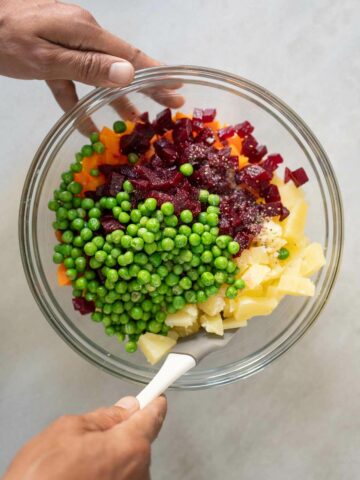 Add beets, diced carrots, and potatoes and combine with salt, and green peas in a large bowl.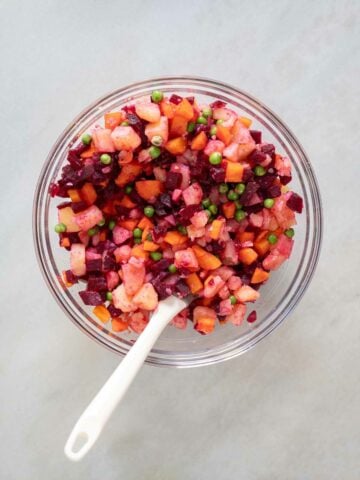 Combine the chopped ingredients thoroughly.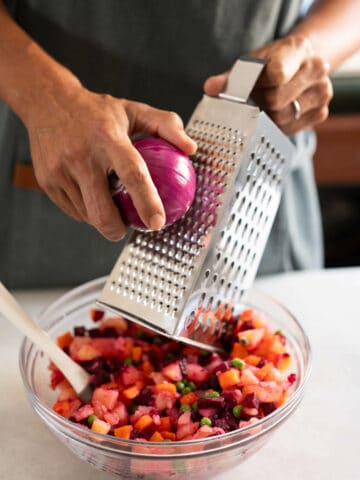 Shred the red onion on top of the combined veggies.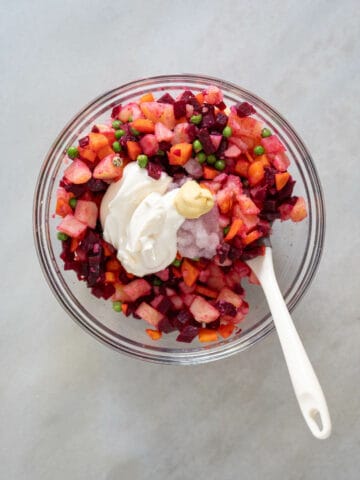 Add vegan mayonnaise, mustard, and freshly ground pepper.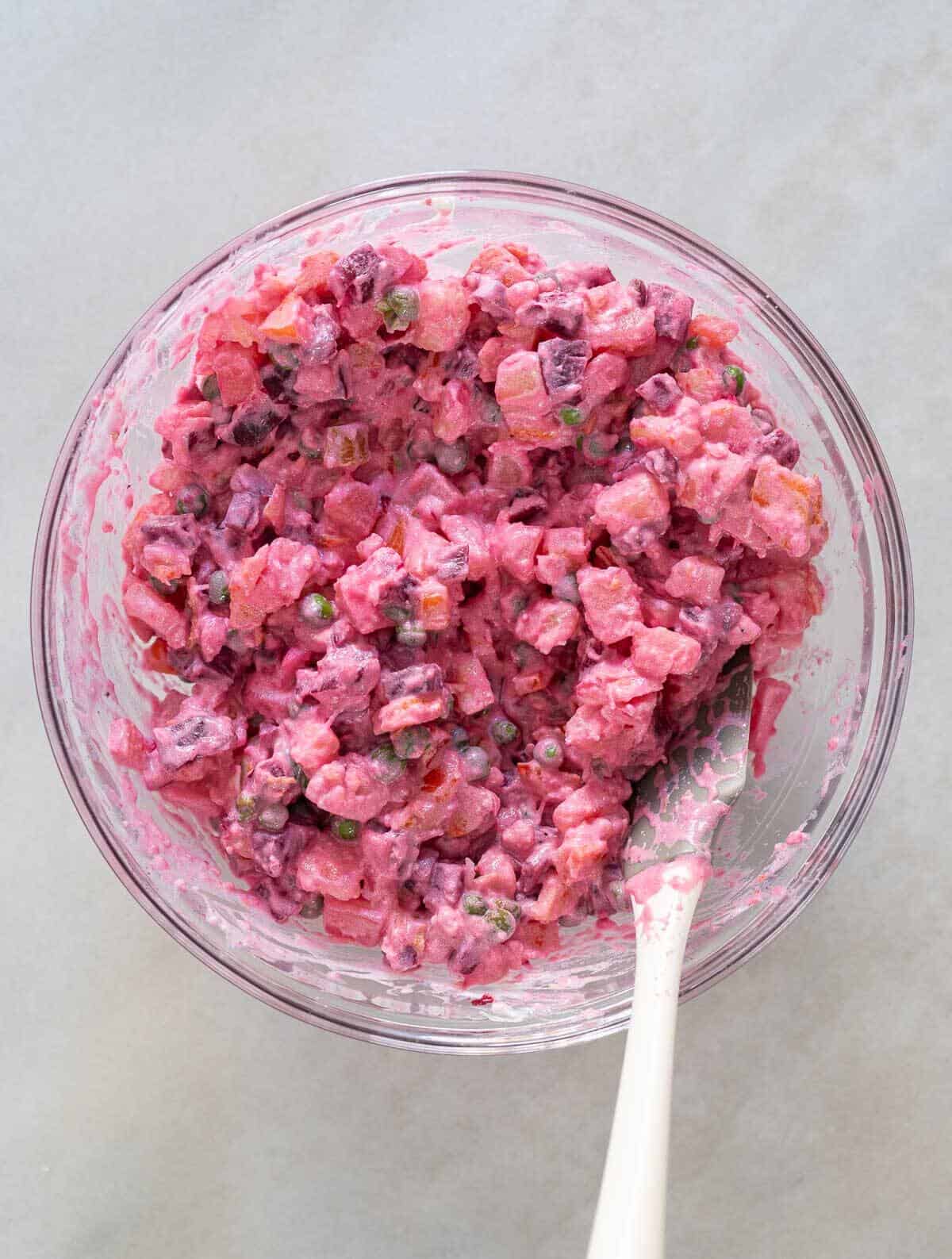 Hint: fold the Russian salad delicately to avoid over-mixing and making potatoes look like puree, although this is completely up to you, as some people prefer their Russian beet salad to be chunkier. Adjust salt.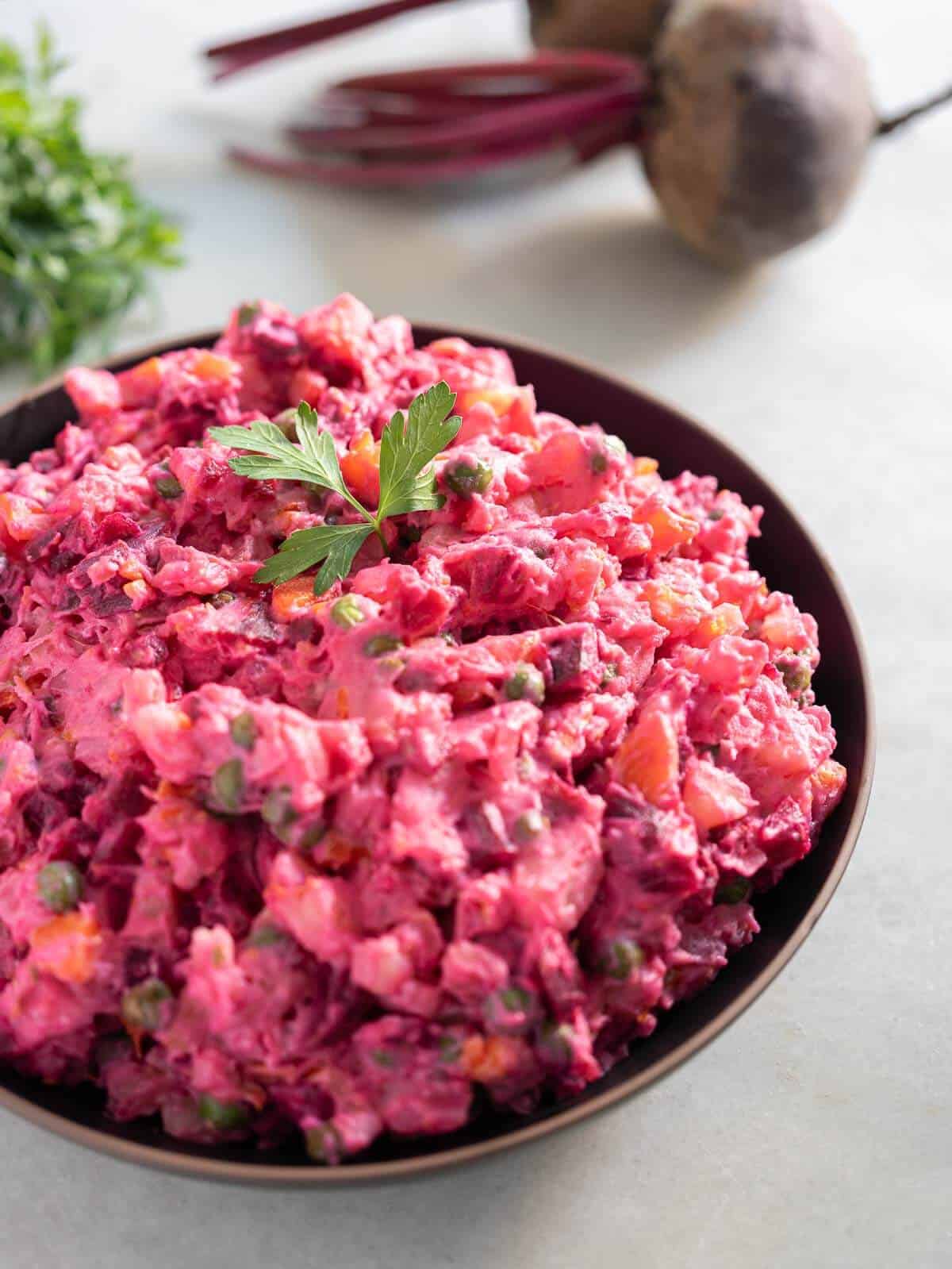 Read on: lemon beet hummus recipe and beets and red wine risotto.
🍶 Substitutions
Vegan mayonnaise: using vegan sour cream will offer a richer, tangier profile to the dish. While vegan mayo provides a creamy consistency with a mild flavor, using vegan sour cream will introduce a more pronounced tartness, making the salad zesty and refreshing.
Apple cider vinegar: Switching to white wine vinegar or champagne vinegar will give your salad a slightly sharper acidity with a delicate wine undertone. While apple cider vinegar has a mild fruity tartness, wine vinegar carries a more refined tang that complements the salad's other ingredients.
Red potatoes, instead of white potatoes have a firmer, slightly waxier texture and a richer earthy flavor. This can lend a bit more structure to the salad, ensuring it holds up better even after mixing and refrigeration.
White onions or green onions instead of red onions: White onions have a sharper, more intense flavor than their red counterparts, which can add a punch to the salad. On the other hand, green onions are milder with a fresher, grassy note. Depending on your preference, you can go for a bolder onion profile with white onions or a gentler taste with green onions. Yellow onions are also a great option.
📖 Variations
Protein-packed: give your salad a protein boost by adding tofu, a great plant-based alternative to the traditional boiled eggs found in this classic dish. Not only does tofu provide a similar texture, but it also contributes 40 calories and 4 grams of protein per serving. So, you're not just getting a fantastic flavor, but also a nutritious and balanced meal.
Olive Oil Drizzle: Finish the pink salad with a generous extra virgin olive oil drizzle after mixing all the ingredients. The fruity, peppery notes of the olive oil add depth to the flavors, enhancing the salad's richness and providing a silky texture that contrasts beautifully with the crunchy veggies.
Fresh Dill Infusion: To introduce a burst of aromatic freshness, finely chop some fresh dill and fold it into the salad. Dill pairs wonderfully with potatoes and beets, imparting a delicate anise-like flavor that elevates the salad's overall taste profile.
Herb Medley: Elevate the freshness of the salad by incorporating a blend of freshly chopped herbs. Consider basil, parsley, and cilantro for a bright, herbaceous kick. This medley adds layers of flavor and enhances the aesthetic appeal with vibrant green specks throughout.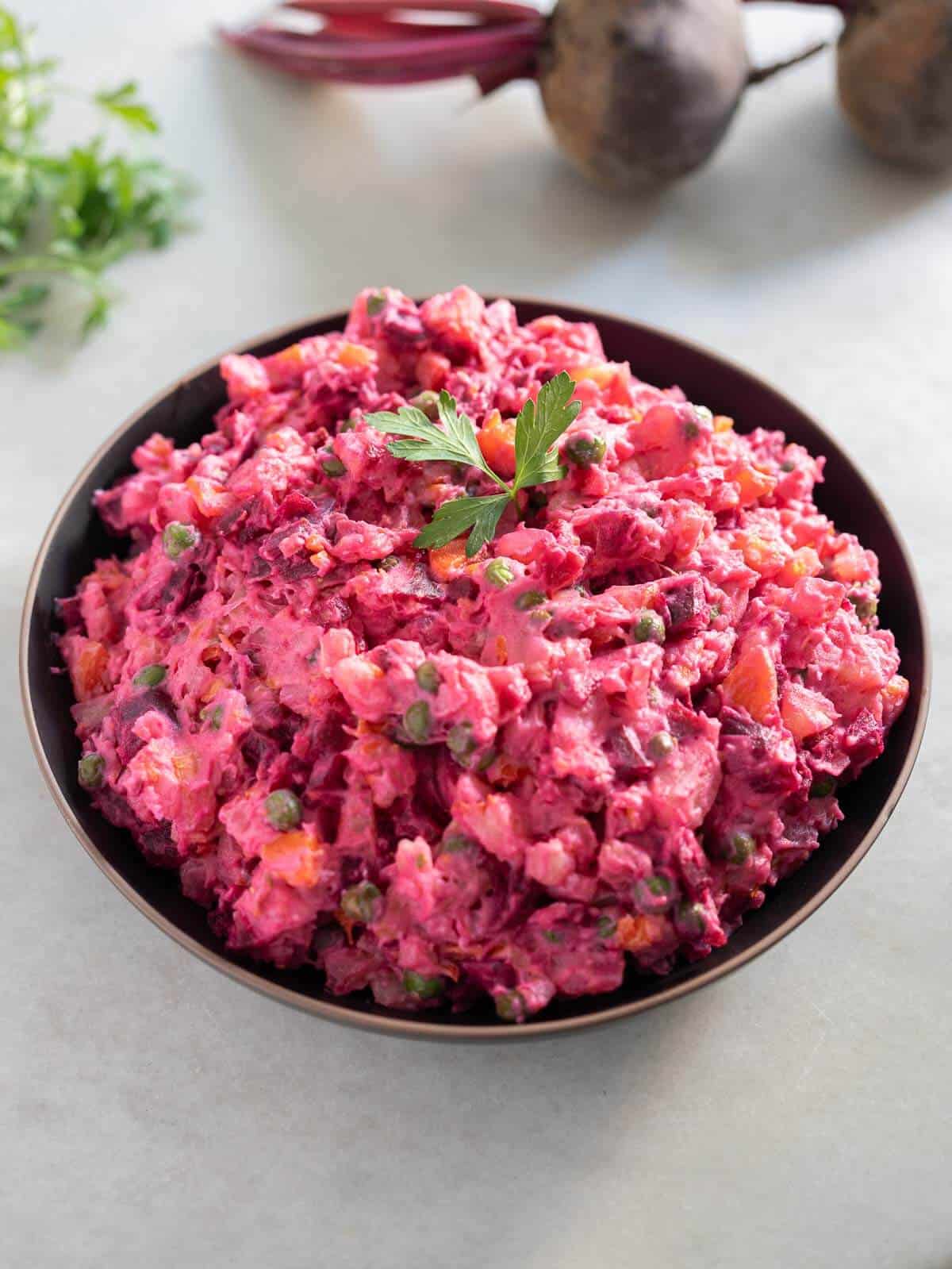 🍽 Equipment
🥡 Storage
Refrigeration
After preparing the salad, transfer it to an airtight container. Ensure there's minimal air inside to keep the salad fresh and prevent it from drying out.
Store in the fridge for up to 3-4 days.
When ready to eat, give the salad a gentle stir. If it appears dry, you can add a bit more vegan mayo or a splash of vinegar to refresh the flavors.
Freezing
If you wish to freeze the salad, it's recommended to store the diced veggies separately from the dressing components.
Transfer the mixed veggies to a freezer-safe bag or container, expelling as much air as possible to prevent freezer burn.
Store in the freezer for up to 2 months.
When ready to consume, thaw the veggies in the fridge overnight. Once defrosted, mix with the vegan mayo and other seasonings before serving.
Meal Prep Option
If you're keen on prepping this salad for future meals, dice and mix the veggies but refrain from adding any dressings. Store the mixed veggies in an airtight container in the fridge.
When you're ready to enjoy your salad, bring out the prepped veggies, season with apple cider vinegar, vegan mayo, and any other herbs or seasonings you wish to add. This ensures your salad remains fresh and vibrant, and you can tailor the flavors according to each meal's needs.
💡 Top tip
Consistent Dice Size Matters: One of the secrets to getting this Russian Salad just right is the size of your diced veggies. Ensuring that your potatoes, beets, carrots, and other ingredients are diced uniformly helps in two primary ways.
First, it ensures even cooking, so every piece is tender and perfectly done. Second, it allows for a consistent flavor and texture in every bite.
So, take a few extra minutes to carefully chop your veggies, aiming for a consistent size for each type. It's a simple step that can elevate the entire dish, ensuring perfection every time you make it!
❓ FAQ
What main dish goes well with beets?
Beets pair beautifully with grilled or roasted dishes, especially proteins like tofu steaks or seitan. Their sweet and earthy flavor complements these main courses' charred and savory notes, making them a harmonious side choice. Additionally, beet salads can accompany grain-based dishes like quinoa or couscous pilafs for a well-rounded meal.
📚 More salad recipes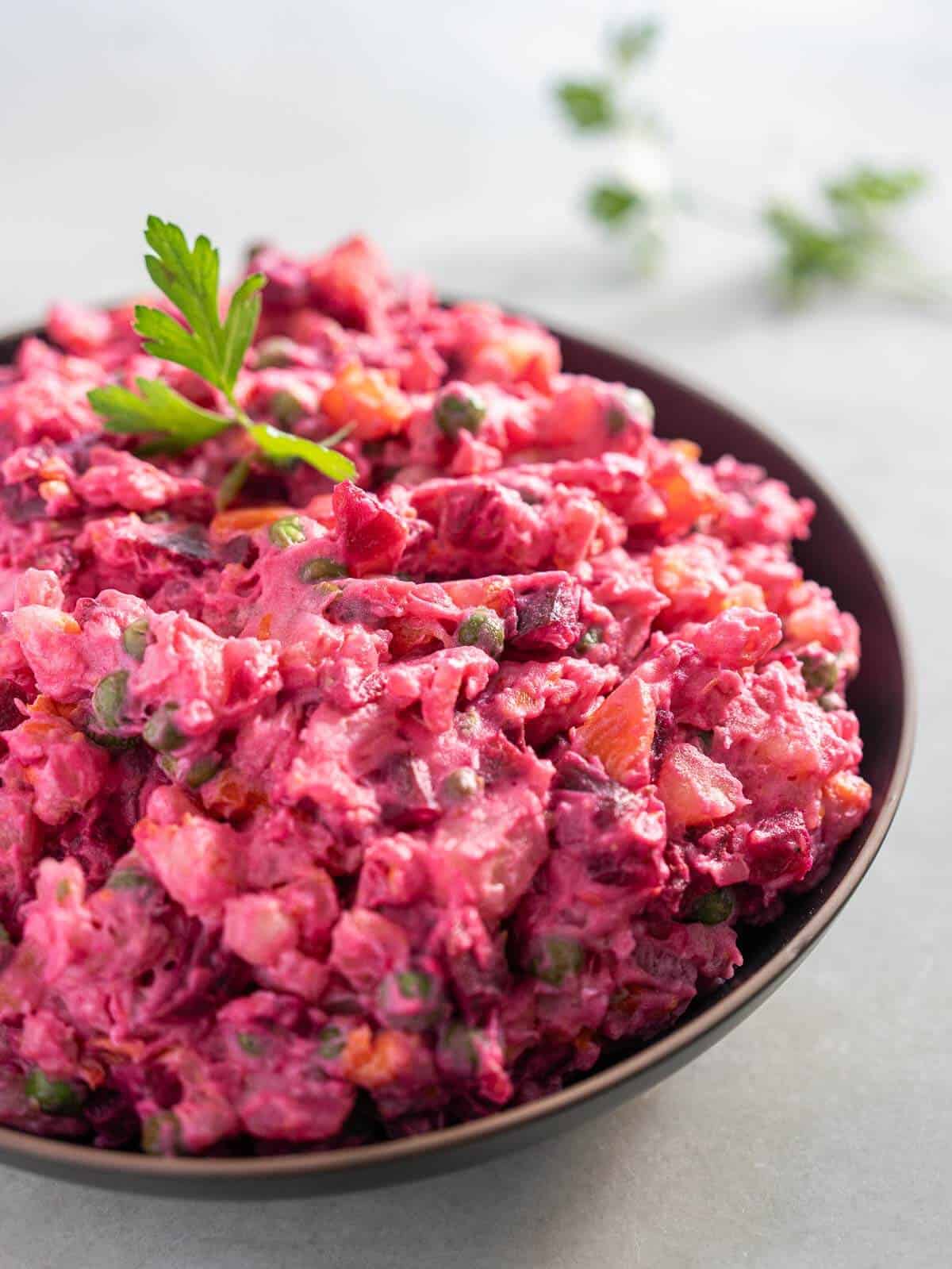 If you love beets, don't forget to check out our pink hummus and stunning beet carpaccio, an Italian authentic gem!
⭐ If you try this beet potato recipe, let us know! 💬 Leave a comment, rate it, and don't forget to tag us @ourplantbasedworld on Instagram. Cheers!
📋 Recipe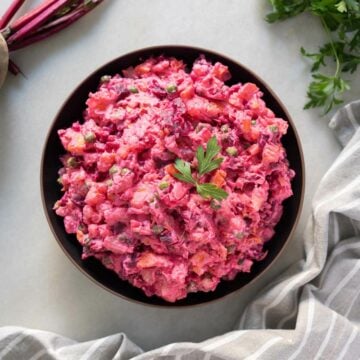 Russian Beet Potato Salad Recipe (Dominican Style)
Experience a delightful vegan spin on a classic with our Russian Beet Potato Salad Recipe (Dominican Style). This vibrant dish marries traditional flavors with plant-based ingredients for a meal that's both healthy and satisfying. It's the perfect salad for meal prep or festive occasions, offering a familiar taste with a vegan touch. Enjoy the tradition reimagined!
Equipment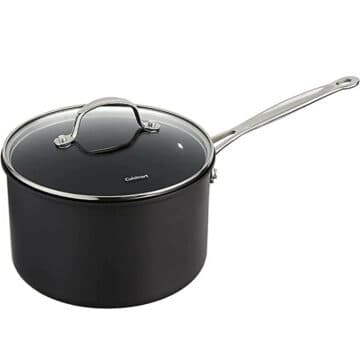 (affiliate link)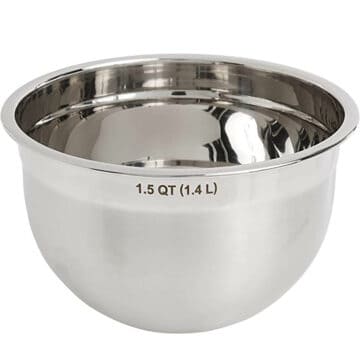 (affiliate link)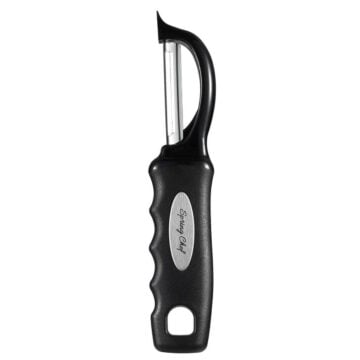 (affiliate link)
Ingredients
Optional
½

cup

celery

about 1 ½ stalks, finely diced or shredded

1

cup

medium-firm tofu

diced
Directions
Wash: Thoroughly wash the potatoes, beets, and carrots.

Boil: Place the potatoes and carrots in a pot and boil in cold water until tender (15-25 minutes, depending on the size of the potatoes). If using raw beets, boil them in a separate pot, as they have a longer cooking time. Alternatively, you can boil all vegetables in one pot, keeping the beets in longer. Once cooked, drain and allow to cool completely.

Dice: When the vegetables are cool, peel and dice them into bite-sized pieces. Add these to a large bowl.

Shred: Over the same bowl, shred the red onion and, if using, the celery. If you're adding tofu, cube it and add it to the bowl.

Add: Now, directly to the bowl, add the vegan mayonnaise, apple cider vinegar, Dijon mustard, salt, and white pepper.

Combine: Gently toss everything until the vegetables are evenly coated with the seasonings.
Notes
Meal Prep: If you're planning to meal prep or unsure about how much salad will be consumed immediately, you can refrigerate the vegetables and other solid ingredients separately. Add the vegan mayonnaise and apple cider vinegar just before serving. Tofu Addition: Give your salad a protein boost by adding tofu, a great plant-based alternative to the traditional boiled eggs found in this classic dish. Not only does tofu provide a similar texture, but it also contributes an additional 40 calories and 4 grams of protein per serving. So, you're not just getting a fantastic flavor, but also a nutritious and balanced meal. 
Nutrition Facts
Calories:
289
kcal
Carbohydrates:
38
g
Protein:
5
g
Fat:
12
g
Saturated Fat:
1
g
Polyunsaturated Fat:
0.2
g
Monounsaturated Fat:
0.1
g
Sodium:
277
mg
Potassium:
913
mg
Fiber:
7
g
Sugar:
7
g
Vitamin A:
3766
IU
Vitamin C:
44
mg
Calcium:
42
mg
Iron:
2
mg
Nutrition Facts
Russian Beet Potato Salad Recipe (Dominican Style)
Amount per Serving
% Daily Value*
* Percent Daily Values are based on a 2000 calorie diet.
🌡️ Food safety
Cook to a minimum temperature of 165 °F (74 °C)
Do not use the same utensils on cooked food, that previously touched raw meat
Wash hands after touching raw meat
Don't leave food sitting out at room temperature for extended periods
Never leave cooking food unattended
Use oils with a high smoking point to avoid harmful compounds
Always have good ventilation when using a gas stove
See more guidelines at USDA.gov.
Nutritional Disclaimer
The information shown is an estimate provided by an online nutrition calculator. It should not be considered a substitute for a professional nutritionist's advice. See our full Nutritional Disclosure here.
Affiliate Disclaimer
Please note that some of the links here are affiliate links, and I will earn a commission if you purchase through those links. I recommend all of the products listed because they are companies I have found helpful and trustworthy.