You have a cup of leftover red wine, too little to make a toast but just perfect to make a fantastic red wine risotto. Although you could make this fabulous dish without any other ingredients than a regular risotto would call for, we decided to add a touch of charm with stovetop caramelized plums and beets to make it surreal!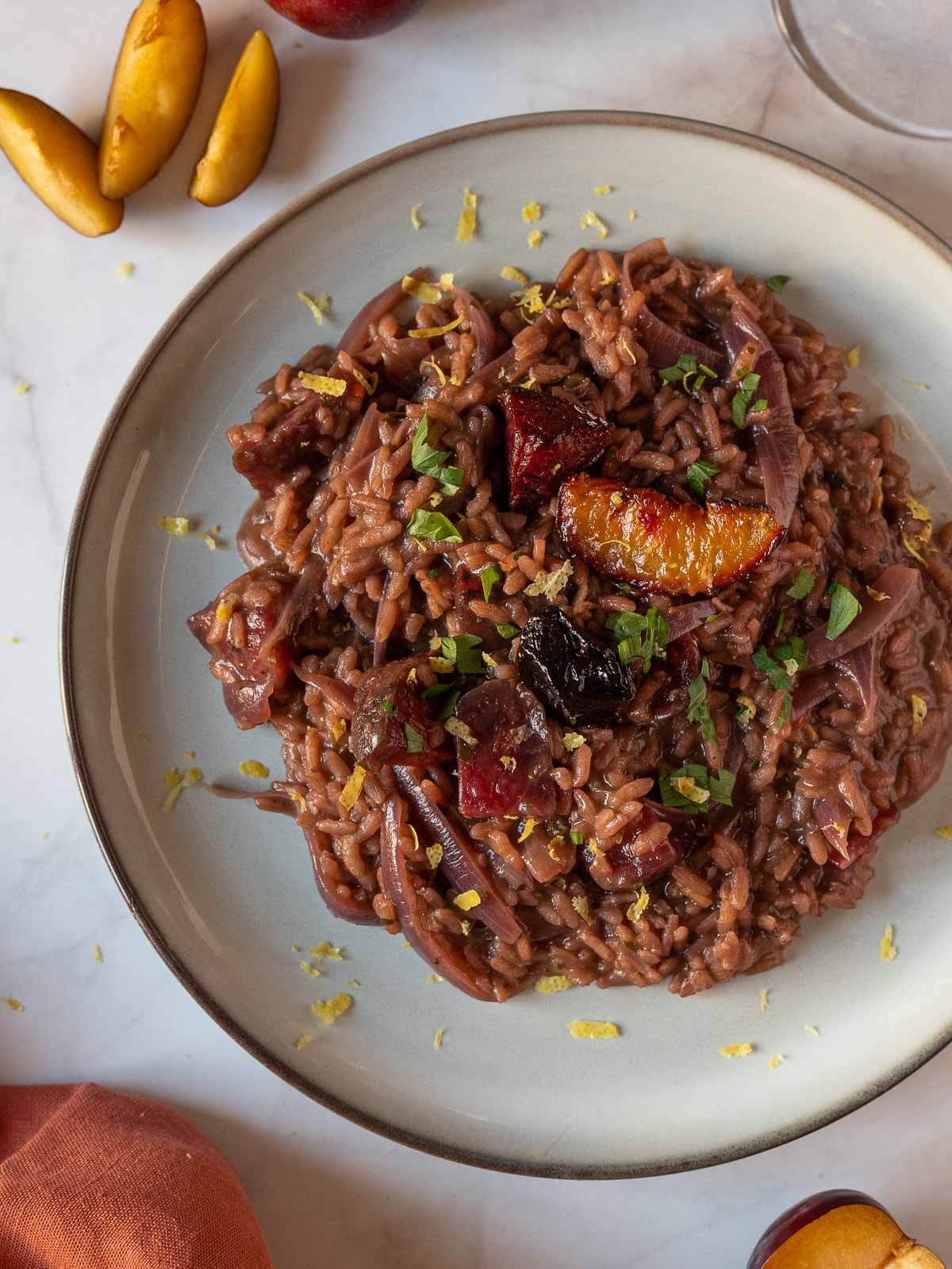 Serve it as a first course, as Italians would do, or make it the centerpiece of any memorable year-end holiday or Valentine's Day. If you make it the main course, you can start a fabulous meal with a fall-inspired kale salad with maple syrup and balsamic vinaigrette.
We also used the same risotto techniques for our lemony winter and pumpkin risottos on this site. You can use the same steps over and over, simply changing your choice of vegetables to make a bowl of creamy risotto rice all the time.
Jump to:
🧾 Ingredients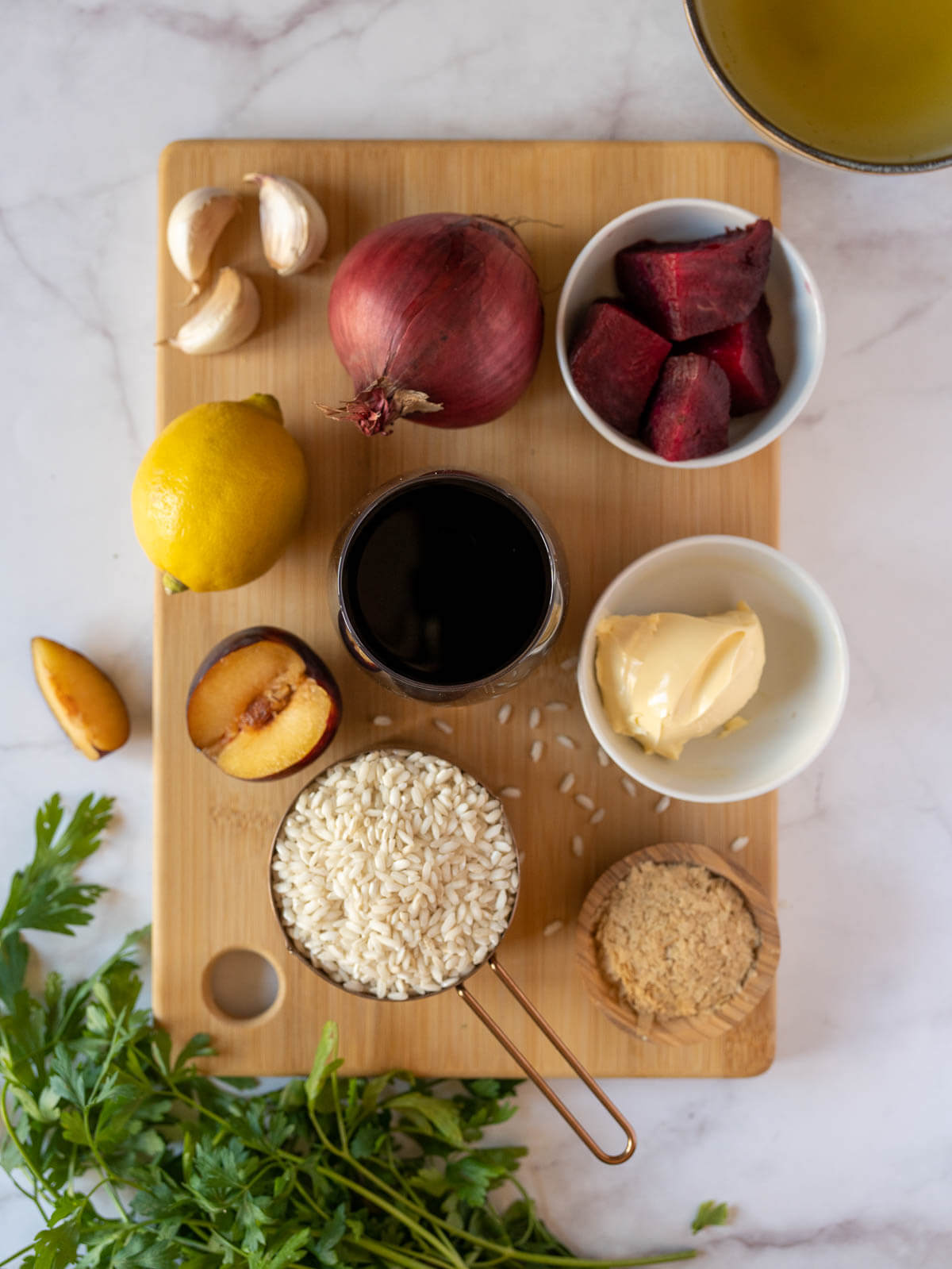 Make this wine risotto with just a handful of staple ingredients.
Red wine - the best wines for this risotto are those that are young and not aged in the wood. Tempranillo and Garnacha are excellent choices.
Risotto rice - use arborio rice or if you have access to carnarolli rice, go for it! This is the rice Italians use to make the creamier risotto.
Onion - this recipe calls for the red onion to match the red theme of this dish, but also because red onions have a sweeter flavor that helps to balance out red wine's tannins. Also, we decided to cut it into fine slices (Jullien) instead of risotto's classic fine-diced cut. Why? Caramelized onions' texture, which we really wanted to integrate into this creamy Italian rice, is better appreciated with this particular cut.
Vegan butter - we like using Earth Balance or making our own vegan butter.
Nutritional yeast is the regular parmesan cheese replacement in most vegan risottos.
Vegetable broth - instead of the regular chicken broth, we always pick an organic vegetable broth that may come in cubes for you to dilute, as per packaging directions, buy liquid vegetable stock, or make your own with vegetable leftovers.
Garlic - together with onions, they add the flavor kick necessary to bring all the rest of the dish together.
Parsley and lemon zest- adding an herb to all risotto recipes is a good idea. The usual ones are rosemary and fresh thyme, but we picked the delicious gremolata which we discovered while living in Italy.
Because we wanted to add some fresh lemony, and wintery notes, we nailed it as the perfect seasoning pairing for this dish.
Optional:
Beets - It is pretty challenging to get the right color for a red risotto. To sort it out, we used red beets. They have just the right color and sweetness, and if you buy them already peeled and packed in the supermarket, you can use all the red juice that comes from them to give your risotto a more intense color.
Plums - we wanted to add a citric note in addition to the lemon one, and plums have a sweet and sour taste that is very common to find in red wine, so we added plum to this risotto as an optional to intensify the sweet and sour red wine's natural notes. We decided to cut half of the plum to braise it with the beets and use the other half to serve it fresh as a garnishing option.
Both fresh and braised plums add their own touch to the final dish.
See the recipe card for quantities.
🔪 Instructions
This red wine rice recipe involves three simple steps.
Braising the beets and plums.
Stir-frying onion, garlic, and rice.
Deglazing and adding broth slowly until you get the right creamy consistency.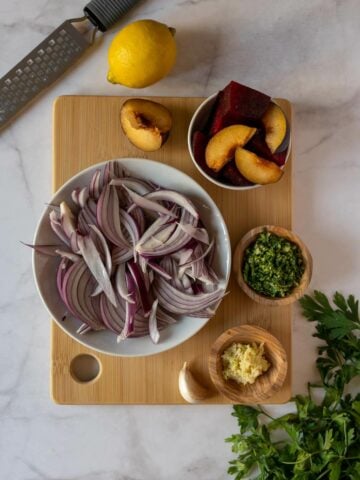 Cut the red onions into tiny slices. Slice plum, chop parsley and onion, and zest lemon.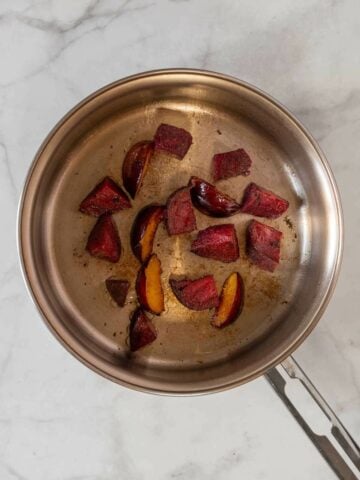 Braise the beets and plums in a saucepan with vegan butter, turning them halfway. Remove from heat and reserve.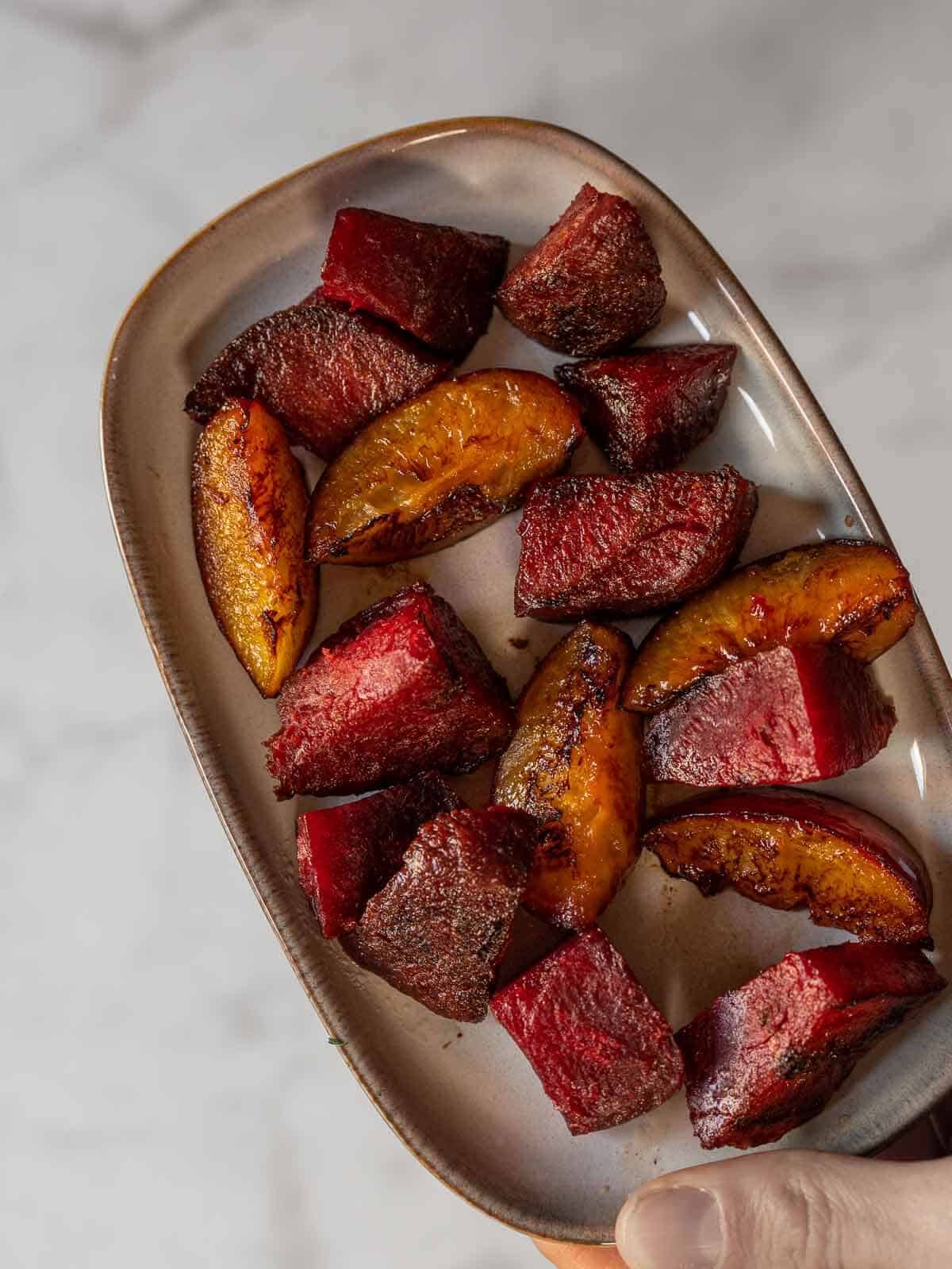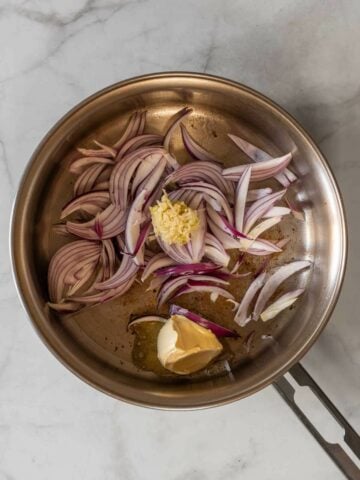 In the same saucepan, stir-fry the onions on medium heat with vegan butter.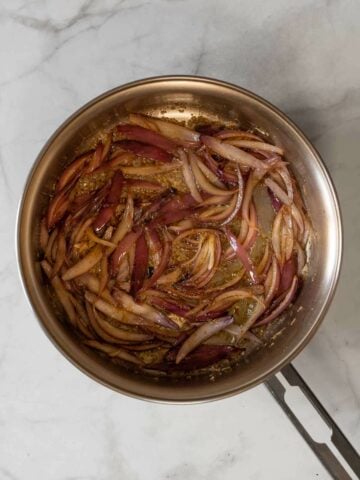 Add a tablespoon of brown sugar optionally. This way, they will be perfectly caramelized.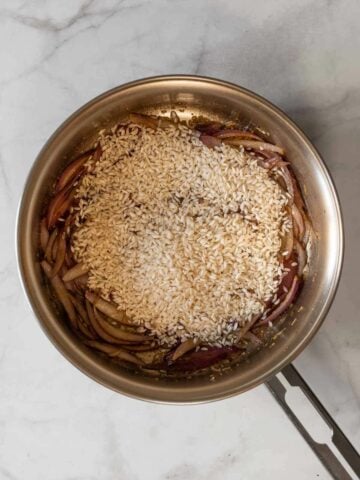 Add risotto rice directly to the cooked onions.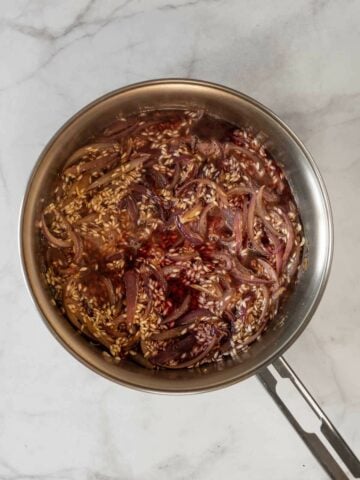 Stir to coat thoroughly until the rice starts toasting, and add red wine.
💡 When to add wine to risotto? The moment to stir in the red wine is when either the rice starts looking brownish, or the onions are about to start burning.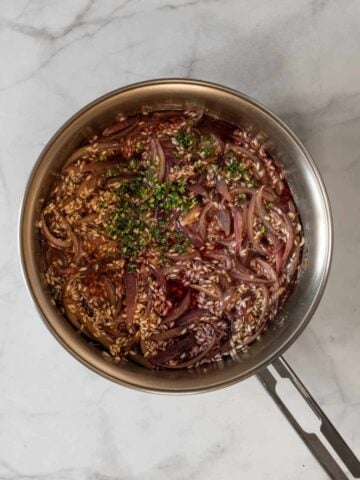 Add the chopped parsley or gremolata if you used the Italian green sauce, and add vegetable broth, ⅓ cup at a time, until the rice is fully absorbed.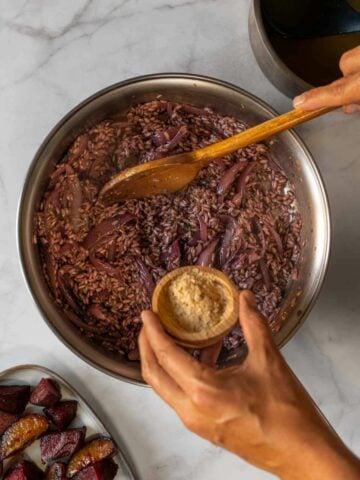 Sprinkle half of the nutritional yeast or vegan parmesan cheese.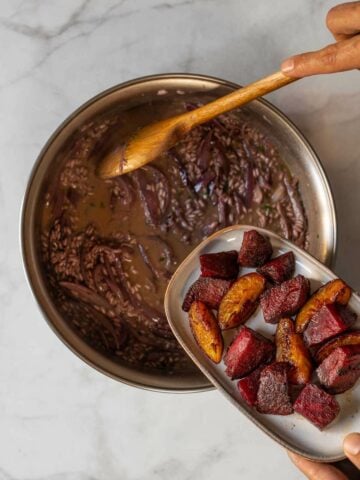 Stir in the braised beets and plums and more vegetable broth as needed.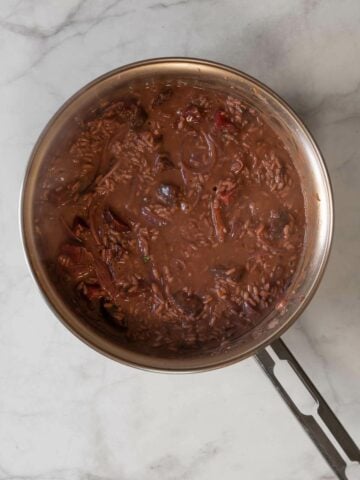 Stir frequently, letting the rice absorbs the liquid before adding more liquid.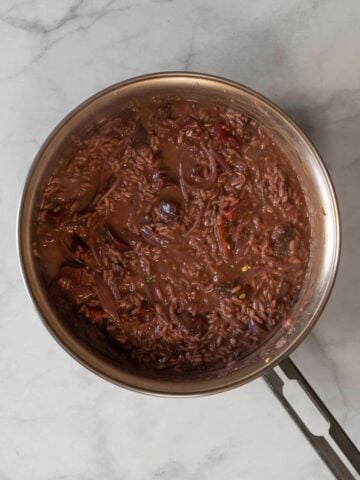 Keep stirring constantly while the risotto simmers, adding hot broth until the rice is al dente and creamy.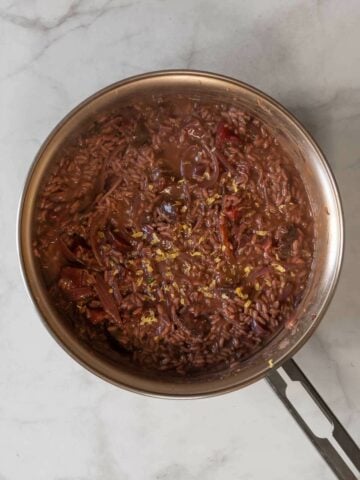 Add Lemon zest on top.
Hint: you don't need to use all the broth. Just enough so you don't run out of liquid before the rice is creamy enough.
🍶 Substitutions
Nutritional yeast - use vegan parmesan cheese or a tablespoon of marmite.
Red onion - use any kind of onion, like yellow, white, or spring. Leeks are also great for risotto.
Beets - use two tablespoons of tomato paste to get some of the sweetness and color that beets contribute to the dish.
Parsley - use fresh or dried thyme or Rosemary.
Vegan butter - use olive oil, grapeseed, coconut, or avocado oil instead.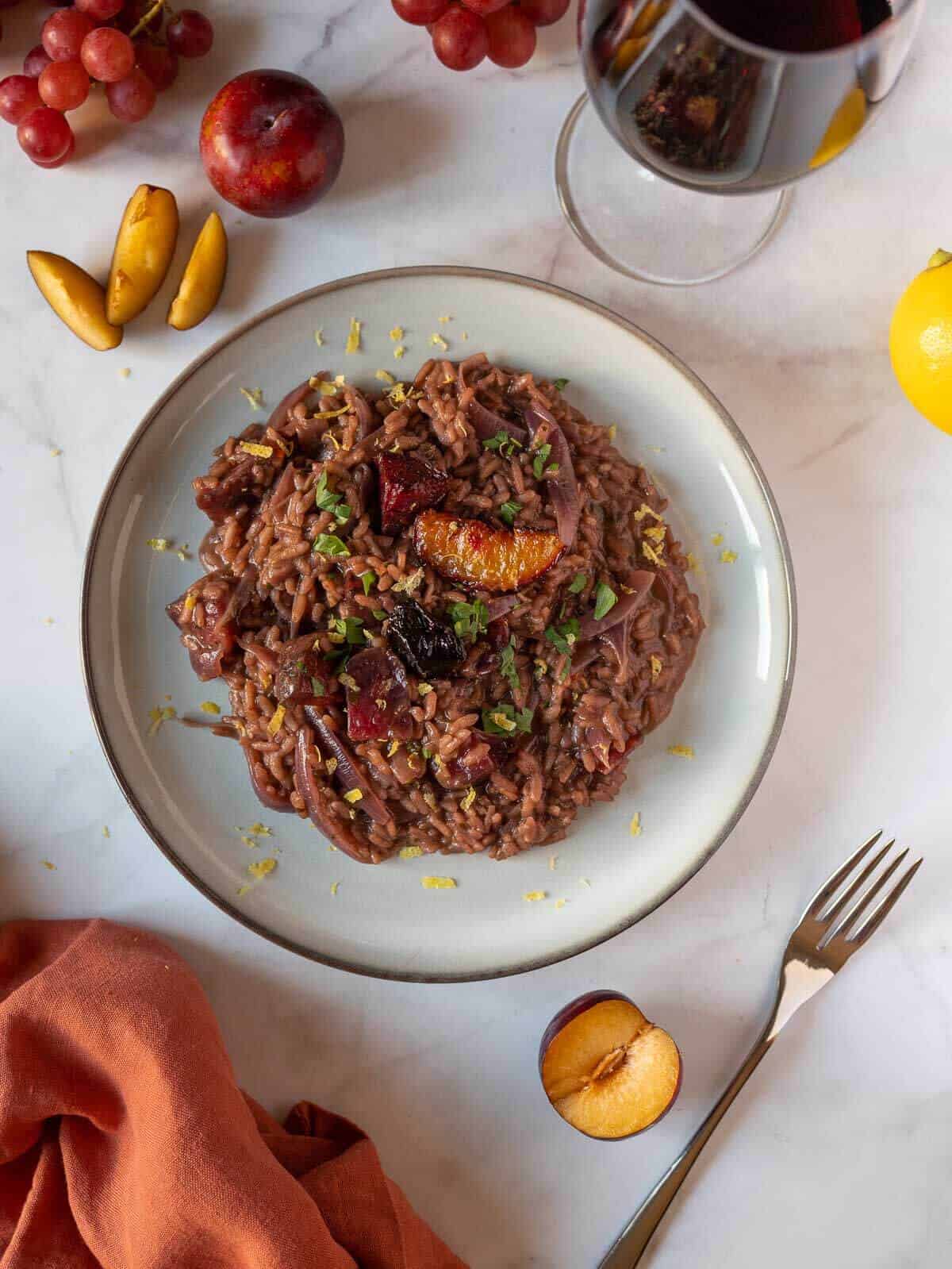 📖 Variations
Peas - make this red wine risotto with peas by simply adding a cup of frozen peas five minutes before turning off the heat. Peas barely need any cooking, so it is better to add them to dishes when they are almost ready just to defrost and keep their beautiful bright green color.
Mushrooms - you can substitute the beets and plums with mushrooms. To make a red wine risotto with mushrooms, pan-sear them before making the risotto, as we do in our creamy mushroom risotto, so the mushrooms keep their golden color and don't look soggy.
🍽 Equipment
Medium saucepan - it is your most important piece of equipment to make creamy rice. I like using one that is somewhere in between a shallow and a deep saucepan. This way, it can hold vegetable broth but has enough hot surface for the risotto to cook quicker and evenly.
Regular chopping board and knife.
Soupspoon to add broth into the saucepan.
🥡 Storage
Store risotto in a BPA-free airtight container in the fridge for up to 3 days.
You can freeze risotto in an airtight container, but it doesn't stand up well to freezing for more than 3 months.
You can reheat it in a saucepan or microwave.
💡 Top tip
When reheating risotto, always add more liquid to the risotto on medium-low heat to get a creamy texture.
🥢 How to serve
Appetizer - serve risotto as a first course. This is what Italians do; they have a small portion of risotto before the main dish, which usually consists of a protein centerpiece and contorno (side dish), which can be a salad.
Side dish - Risotto can also make a delicious side dish when you make a banquet; just be sure to serve it warm.
Main course - when serving risotto as the main course, be sure to calculate at least 100 grams (3.5 oz) of rice per person.
❓ FAQ
Can you use red wine in risotto?
Yes, you can use red wine in risotto. It's a popular addition and gives the dish a nice depth of flavor.
Some people prefer to use white wine in risotto, but red wine is definitely a valid option. Just be sure to choose a good quality red wine that you would enjoy drinking on its own. That way, you'll know it will also taste good in the risotto.
📚 More risotto recipes
If you are a regular reader of our blog, you know we have all kinds of rice, from basmati rice for our Indian curries to steamed Jasmine rice as side dishes for our Thai curries.
Risotto is what we cook when we just want something easy, cozy, and flavorful with just a handful of ingredients.
If you love beets, don't forget to check out our stunning beet carpaccio, an authentic Italian gem!
Try our roasted pumpkin, butternut squash, sun-dried tomato, asparagus, lemony winter, mushrooms, or Milanese saffron risottos.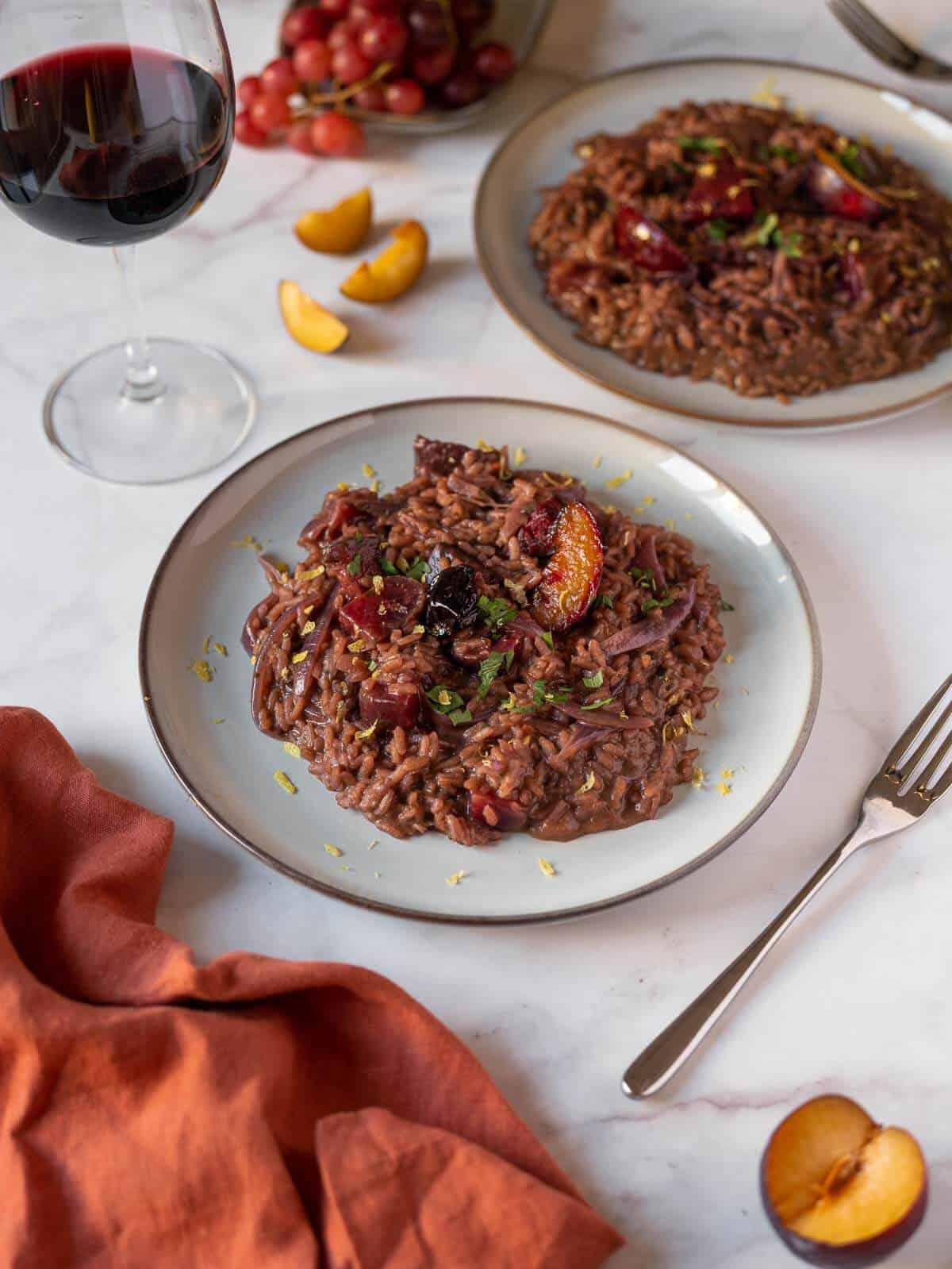 ⭐ If you try this amazing recipe, let us know! 💬 Leave a comment, rate it, and don't forget to tag us @ourplantbasedworld on Instagram. Cheers!
📋 Recipe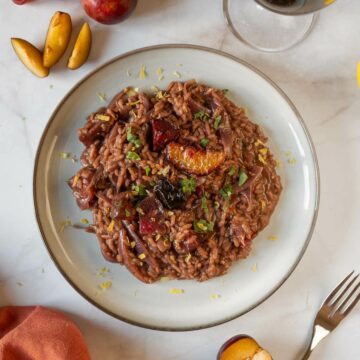 Red Wine Risotto
A healthy vegan recipe for red wine risotto. This dish is perfect for a special occasion such as a romantic Valentine's night in.
Equipment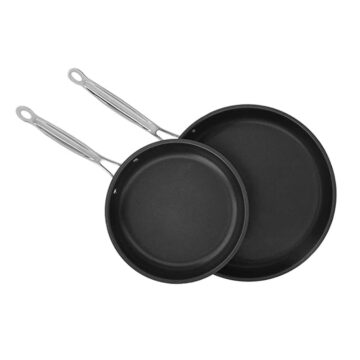 (affiliate link)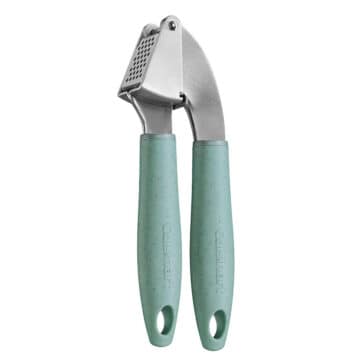 (affiliate link)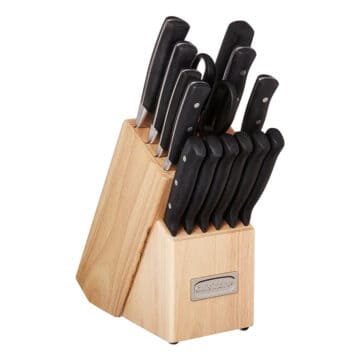 (affiliate link)
Directions
Prepare the vegetable stock
Put your vegetable stock to simmer. If using granulated store-bought veggie stock, bring the water to a boil and prepare according to packaging instructions.
Braise the beets and one plum
Dice the beets into medium dice; core the plumbs and slice into half moons.

Add a tablespoon of butter to a hot skillet and braise, turning them halfway, until golden brown. Optionally add one tablespoon of brown or coconut sugar.
Making the risotto (about 15 minutes)
Add one tablespoon of vegan butter to a skillet, stir-fry the onion and garlic on medium heat, ensure they don't burn, and then add the parsley.

Stir in the risotto rice, stir until lightly toasted, then add the red wine and vegetable broth. Stir constantly until completely absorbed.

Using a spoon, add hot vegetable broth ⅓ cup (80 ml) at a time and the butternut squash dice, stirring almost constantly. Keep on medium heat, and there should always be a slight simmer to prevent it from becoming gummy.

On minute ten, add nutritional yeast or (homemade vegan parmesan) and the finely chopped parsley, followed by extra broth.

Once the rice is al dente, turn the heat to the minimum and add the extra lemon zest if wanter. Stir until well combined adding one last tablespoon of vegan butter and stir well.

Taste and adjust flavor, adding a pinch of salt and pepper to taste or vegan parmesan cheese.
Notes
Best when fresh, though leftovers will keep covered in the fridge for 2-3 days. Reheat the stovetop over medium heat, adding vegetable broth or water as needed to rehydrate. You can also reheat it in the microwave, adding some liquid.
Look at the Tips on the post body, for variations and substitutions.
Nutrition Facts
Calories:
410
kcal
Carbohydrates:
62
g
Protein:
10
g
Fat:
9
g
Saturated Fat:
2
g
Polyunsaturated Fat:
3
g
Monounsaturated Fat:
4
g
Trans Fat:
2
g
Sodium:
1050
mg
Potassium:
615
mg
Fiber:
7
g
Sugar:
10
g
Vitamin A:
1236
IU
Vitamin C:
32
mg
Calcium:
42
mg
Iron:
4
mg
Nutrition Facts
Red Wine Risotto
Amount per Serving
% Daily Value*
* Percent Daily Values are based on a 2000 calorie diet.
🌡️ Food safety
Cook to a minimum temperature of 165 °F (74 °C)
Do not use the same utensils on cooked food, that previously touched raw meat
Wash hands after touching raw meat
Don't leave food sitting out at room temperature for extended periods
Never leave cooking food unattended
Use oils with a high smoking point to avoid harmful compounds
Always have good ventilation when using a gas stove
See more guidelines at USDA.gov.
Nutritional Disclaimer
The information shown is an estimate provided by an online nutrition calculator. It should not be considered a substitute for a professional nutritionist's advice. See our full Nutritional Disclosure here.
Affiliate Disclaimer
Please note that some of the links here are affiliate links, and I will earn a commission if you purchase through those links. I recommend all of the products listed because they are companies I have found helpful and trustworthy.