Hey there, food explorers! Ready to embark on another delectable journey in plant-based culinary artistry? Today, we're flipping the script on a classic dish and presenting it with a vibrant, vegan twist. Buckle up as we dive headfirst into the universe of our fresh and enticing Beet Carpaccio Salad with herby Vinaigrette!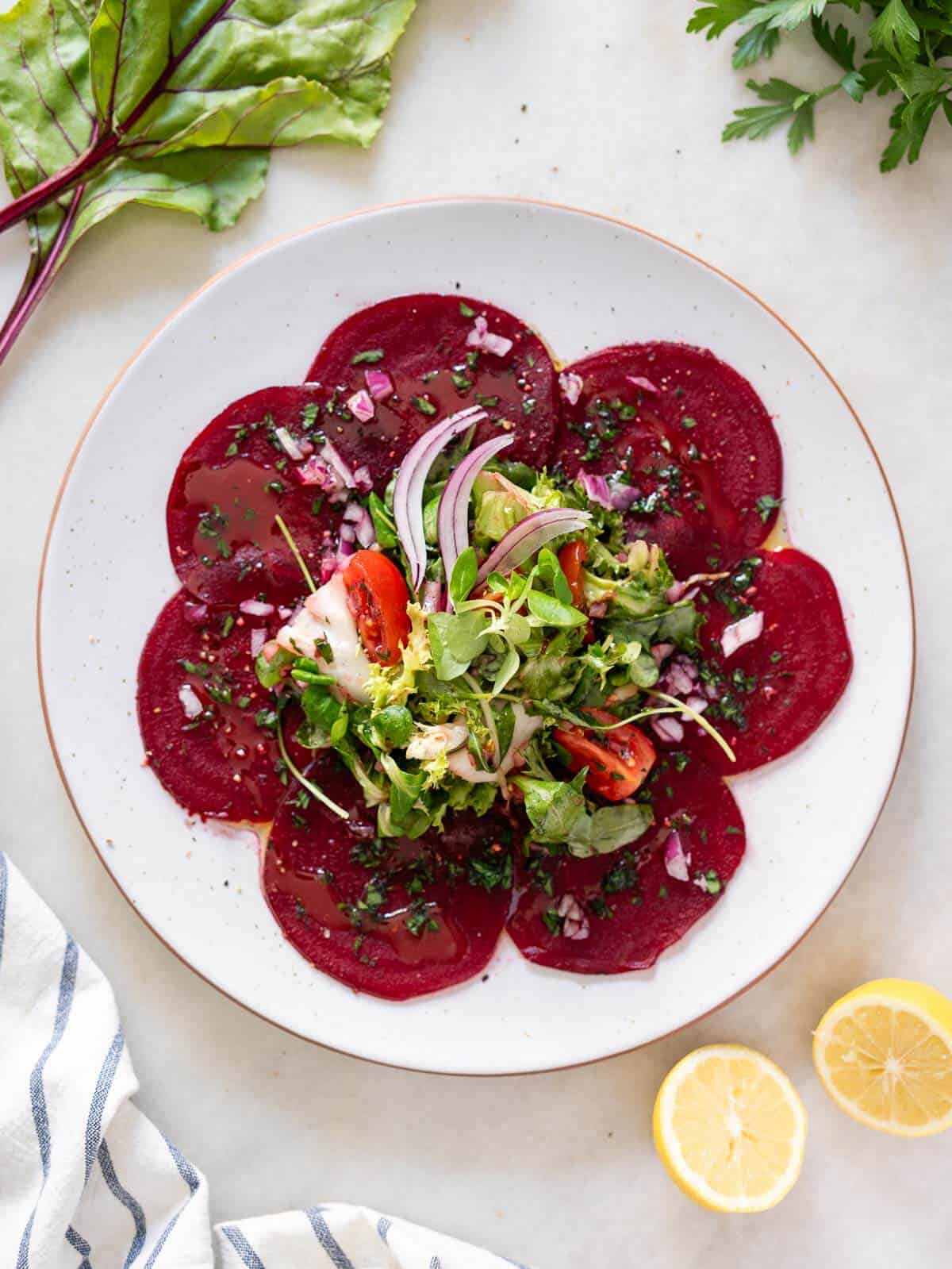 It's all about the beets today, folks. These nutrient-dense, crimson wonders are taking center stage, standing proudly in place of traditional meat used in carpaccio. High in fiber, vitamin C, and essential minerals like potassium, beets are not just gloriously colored but are also a treasure chest of health benefits.
In the culinary world, the traditional Italian dish featuring thinly sliced raw beef has been a timeless classic, the classic beef carpaccio. However, in our quest to offer a vegan alternative without compromising the dish's essence, we've replaced raw meat with beets. This innovative twist retains the original's elegance and introduces a delightfully earthy flavor, making it a perfect vegan homage to the beloved Italian delicacy.
Ah, the joys of reuniting with old friends! Rubens, with his authentic Italian roots, has been a cherished part of our lives for years. While he ran an outstanding Italian restaurant in Mexico City, we were more than just regular eaters; we were neighbors in the same building for years.
We'd often discuss the intriguing similarities between how ceviches are seasoned at Mexico beaches and the traditions in Panama, my homeland.
Fast forward to our recent European adventure in Málaga for this shoot, where we teamed up to craft this delightful recipe. Cooking alongside Rubens is always a blend of nostalgia, laughter, and a fusion of our collective culinary heritages.
We're making the beet's earthy-sweet flavor shine brightly in our carpaccio of beetroot salad, so the recipe revolves around thin slices of these raw beauties. Trust us; each mouthful is an explosion of freshness, guaranteed to make your taste buds dance, making it a fantastic elegant appetizer for a special occasion!
Jump to:
🧾 Ingredients
This carpaccio of beets is made with just a few delicious ingredients: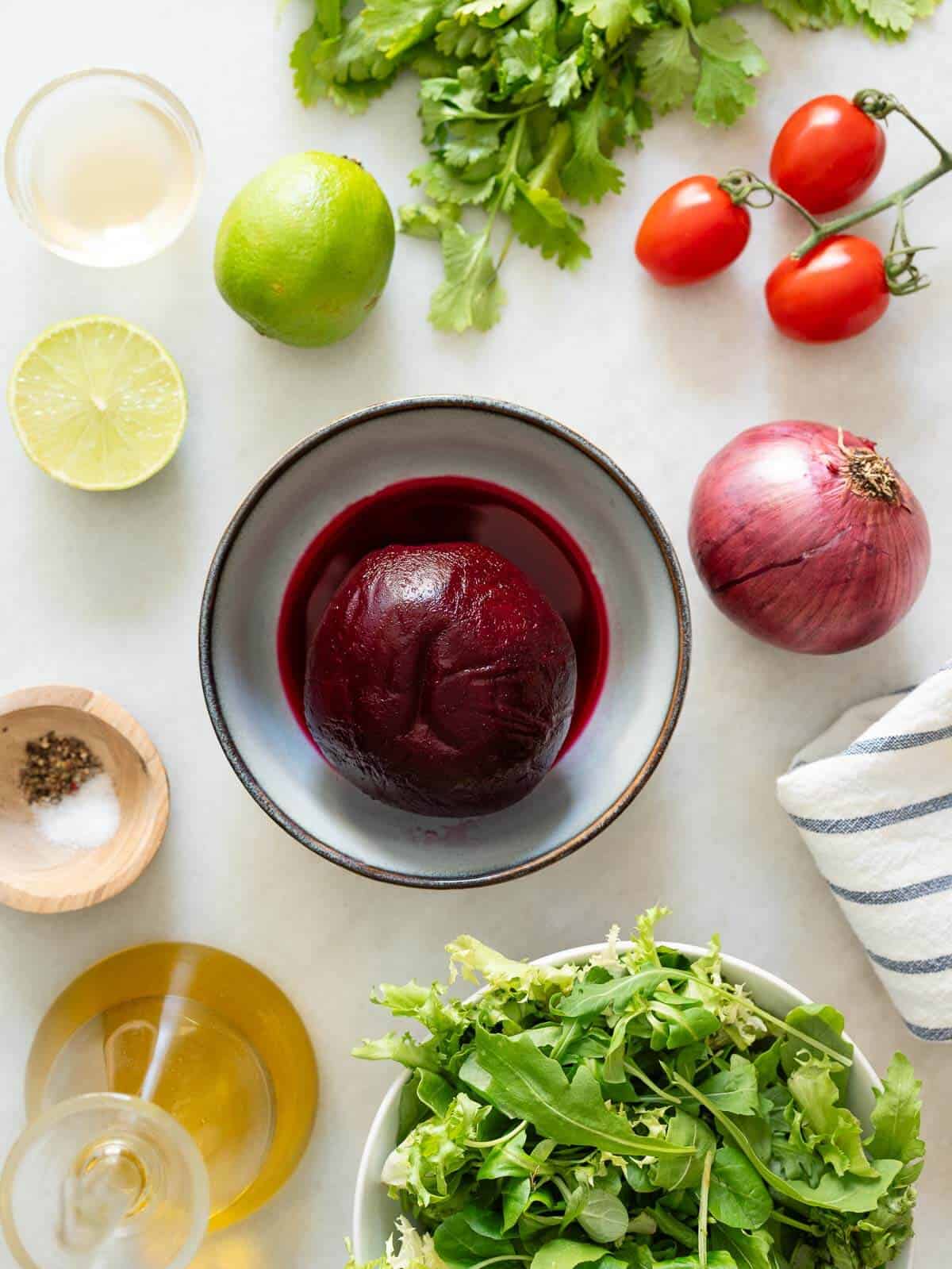 Beet: Beets provide a sweet, earthy flavor and a vibrant color to the dish. Their texture contrasts beautifully with the other ingredients, offering a tender bite.
Fresh Parsley: Parsley adds a burst of fresh, herbaceous flavor. It also enhances the visual appeal with its bright green hue.
Arugula or mixed greens: These greens introduce a peppery note, especially arugula. They also add volume and a fresh crunch to the salad.
Red onion: They impart a mild pungency, adding depth to the flavor profile. When finely chopped, they blend seamlessly into the salad.
Lemon: Lemon juice offers a zesty tang, balancing the sweetness of the beets. It also acts as a natural preservative, keeping the salad fresh.
Balsamic vinegar: This vinegar introduces a sweet and tangy dimension. It complements the natural sugars in the beet and enhances the overall taste.
Fine sea salt: Salt is essential for seasoning, drawing out the ingredients' natural flavors. It also balances the acidity of the lemon and vinegar.
Black pepper: Pepper adds subtle heat and spiciness. It complements the sweetness of the beets and the tanginess of the dressing.
Optional ingredients
Grape tomatoes: These tomatoes provide a juicy burst and a touch of acidity. Their vibrant red color also adds to the visual appeal of the dish.
Extra-virgin Olive oil: Olive oil gives the salad a smooth, velvety texture. Its fruity undertones enhance the overall flavor profile.
See the recipe card for quantities.
🔪 Instructions
This beetroot carpaccio involves 3 simple steps.
Washing and preparing your ingredients.
Chopping in sizable chunks and marinating.
Assembling.
Set your beet and herbs
Opt for the largest and most rounded beet you can find. As for the herbs, pick your favorite. We're fond of chopped parsley and mint or a combination of the two.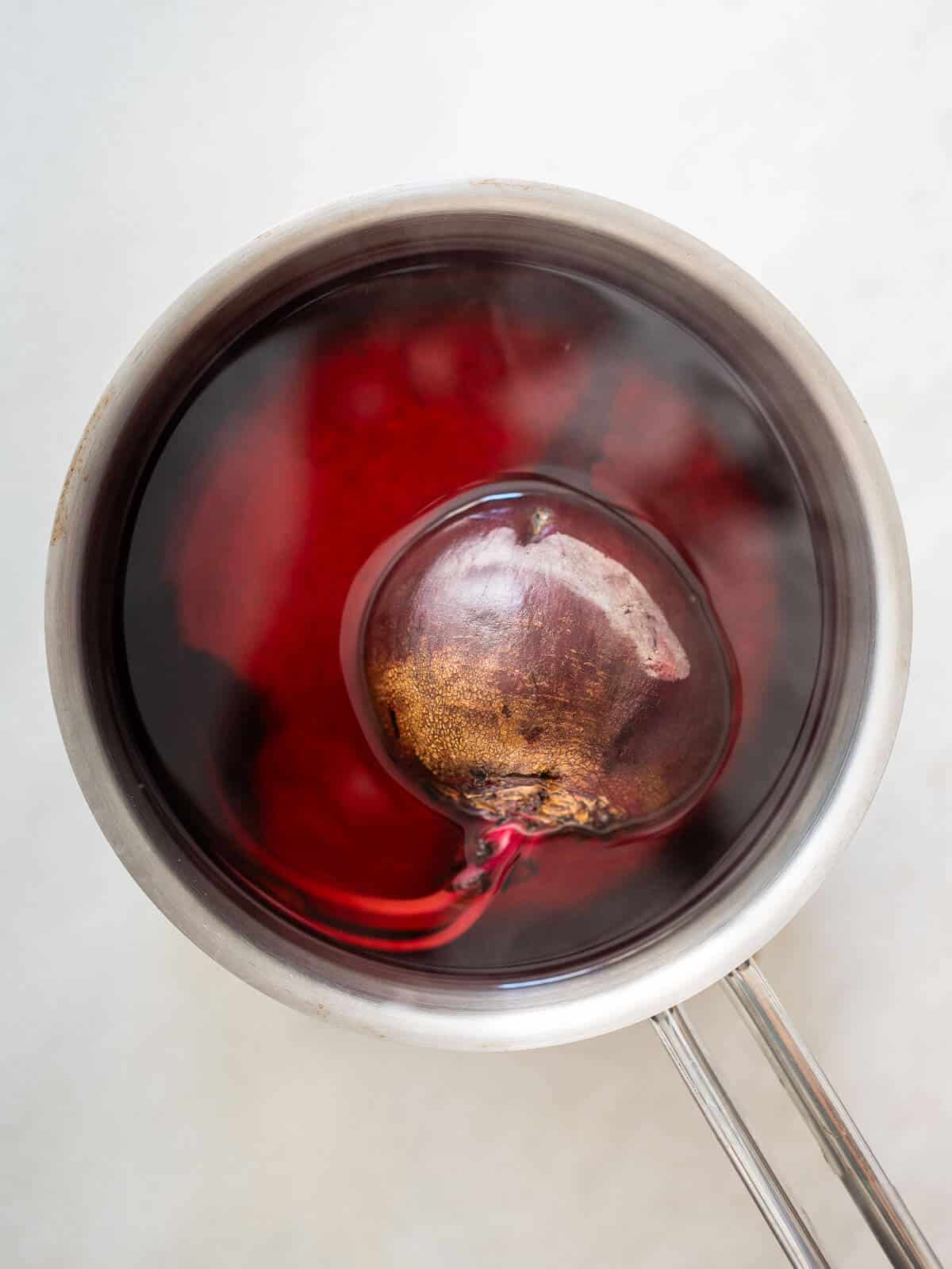 If you start with raw beets, boil them, fully cool down, and then peel beets with a vegetable peeler.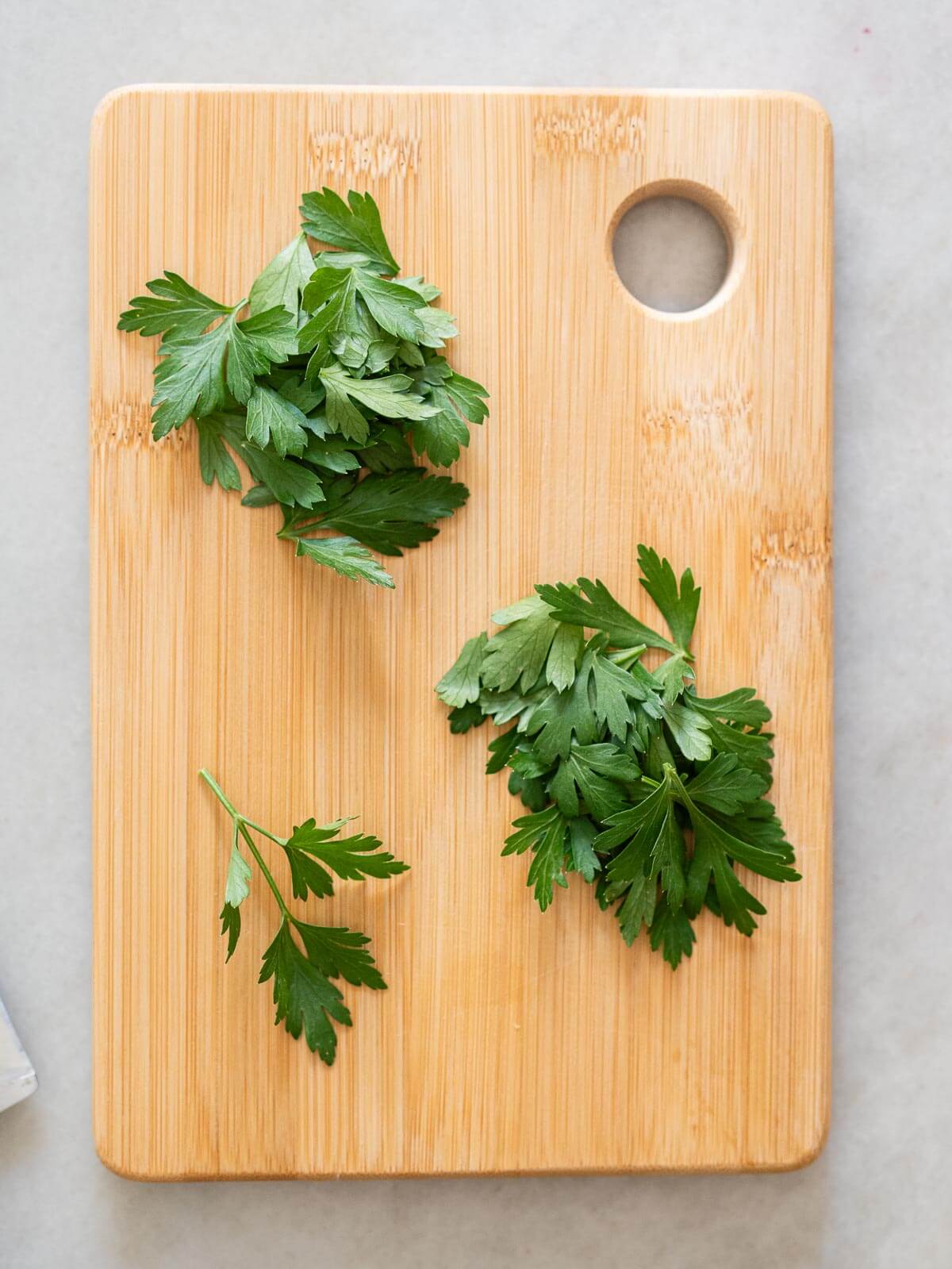 Remove the stems from the parsley or mint, leaving only the leaves.
Hint: handle cooked beets with a kitchen glove to avoid staining your hands.
Make the greens salad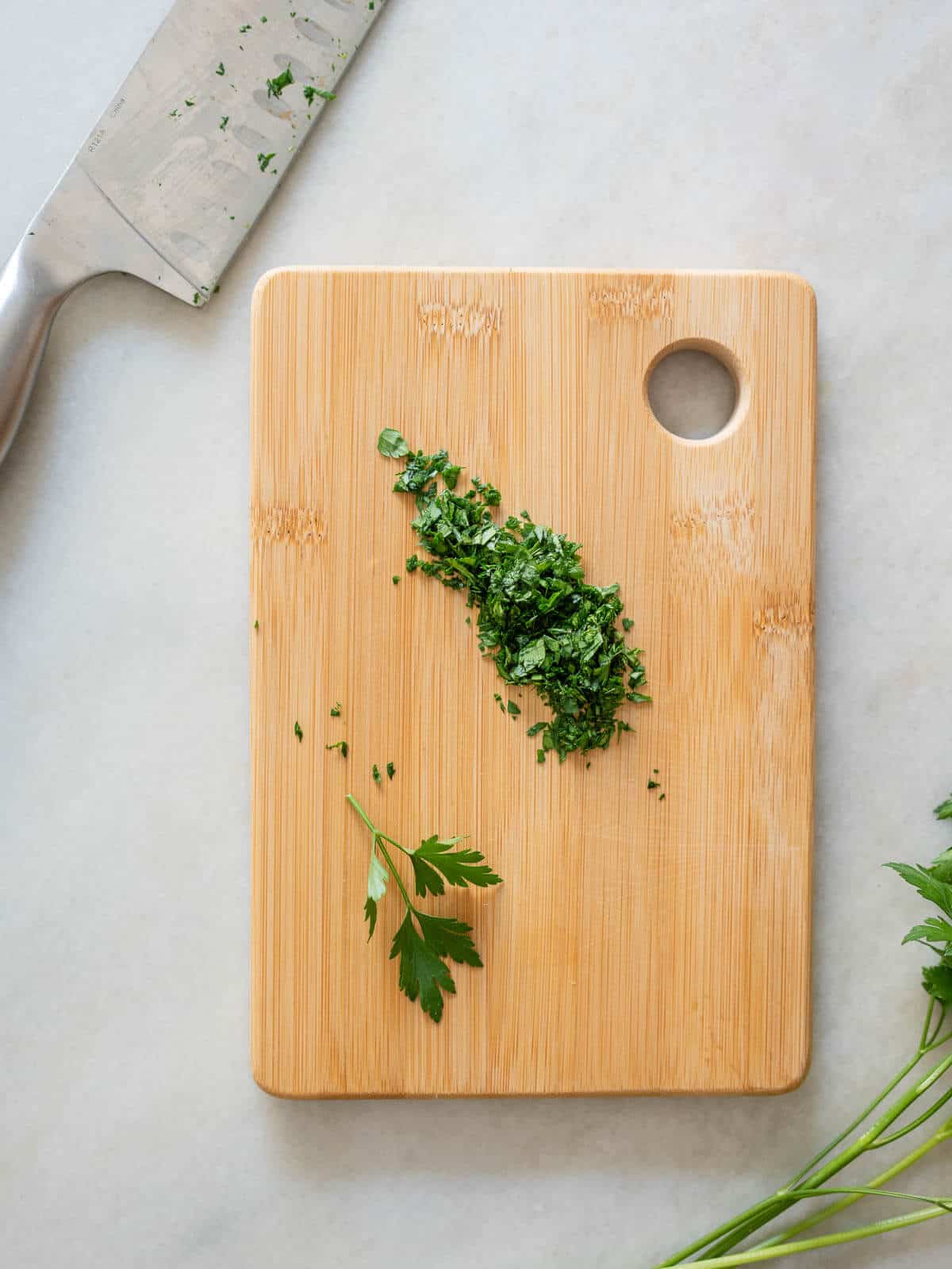 Finely chop your herb of choice.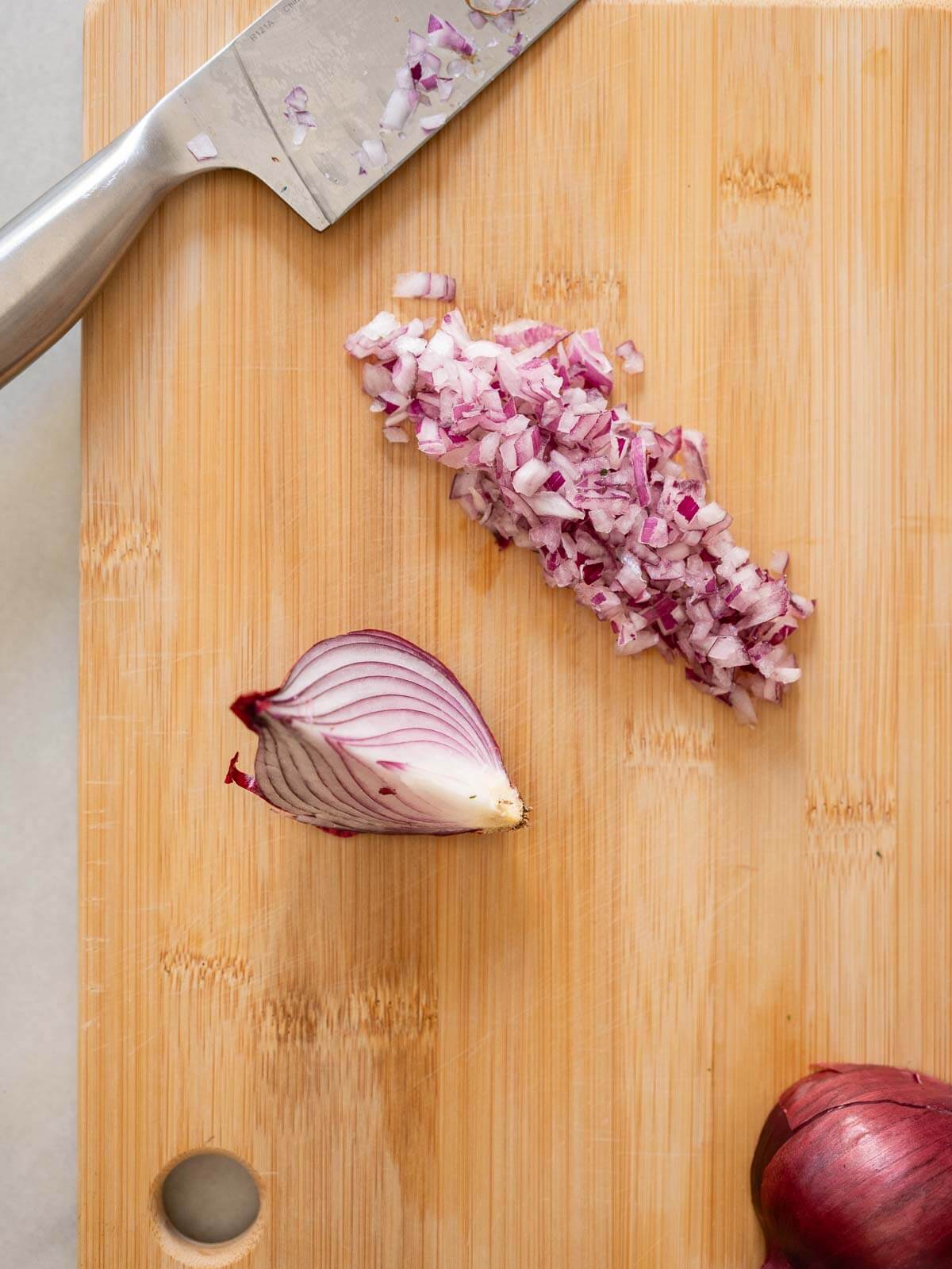 Chop the red onions.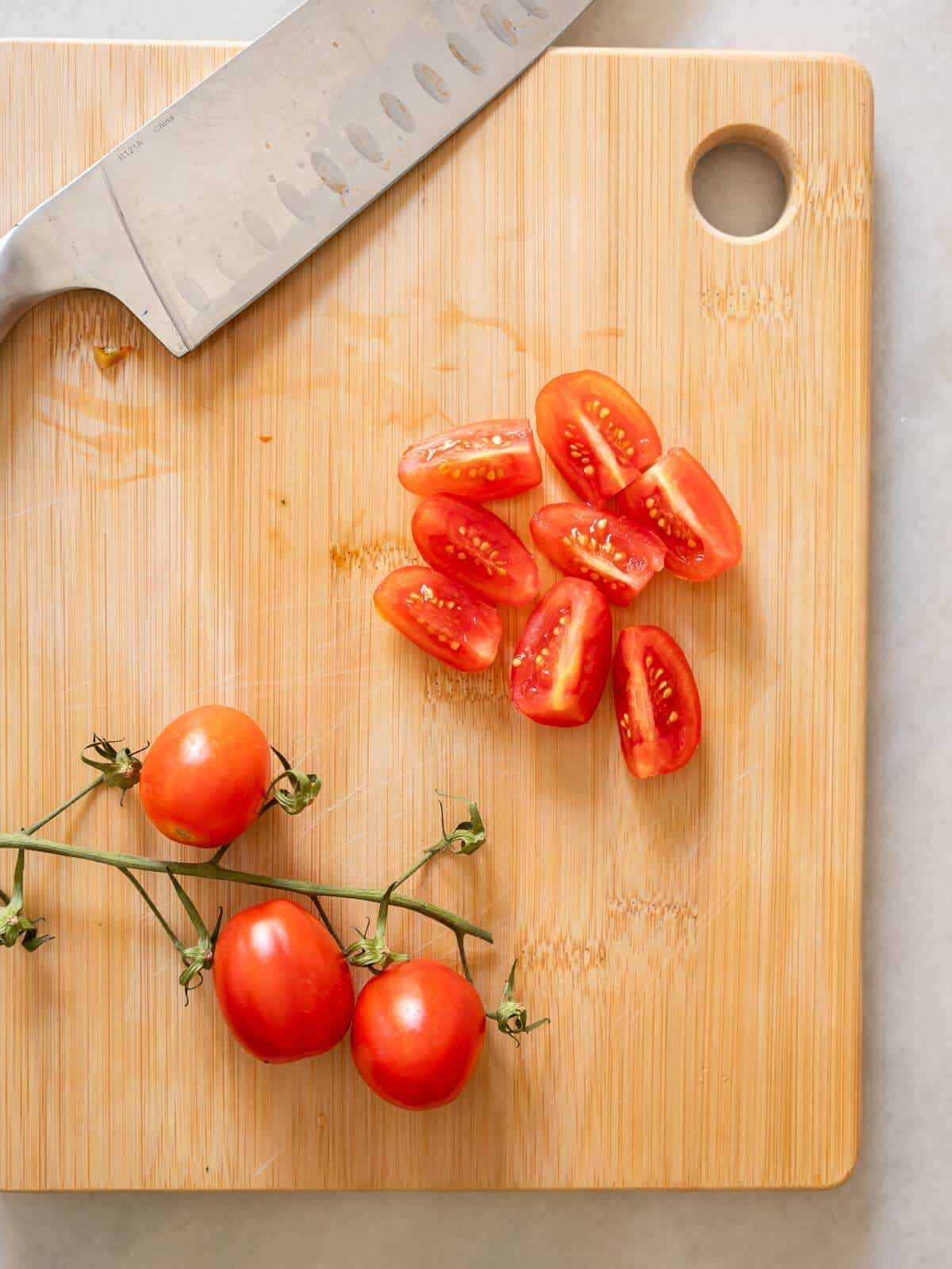 Quarter the grape tomatoes.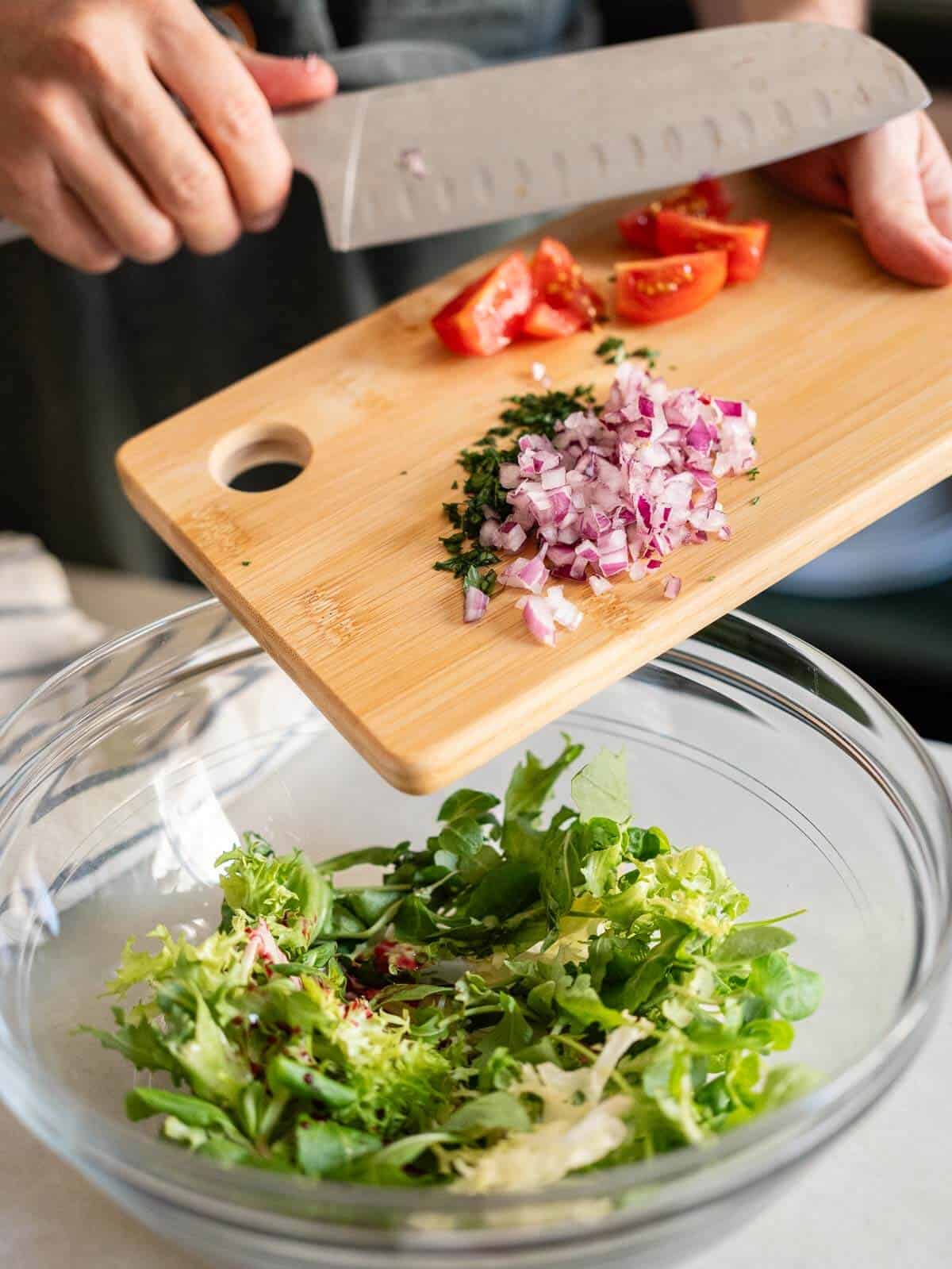 Place half of the red onions, parsley, and all the quartered tomatoes into a medium bowl filled with your greens.
Make the carpaccio slices and marinate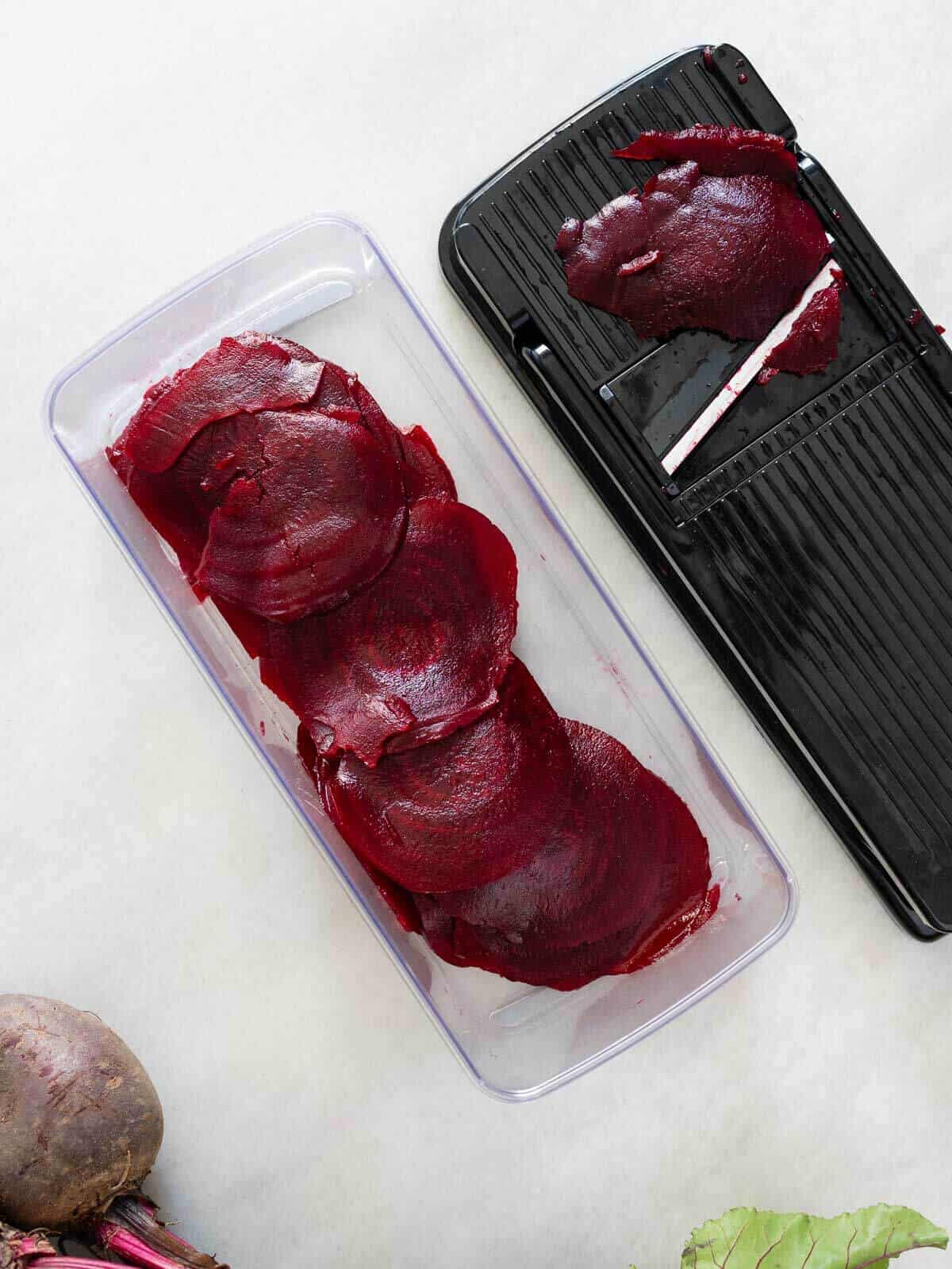 To avoid staining your hands, put on some kitchen gloves. For precise and even beet slices, opt for a mandoline, as we did, or use your sharpest knife.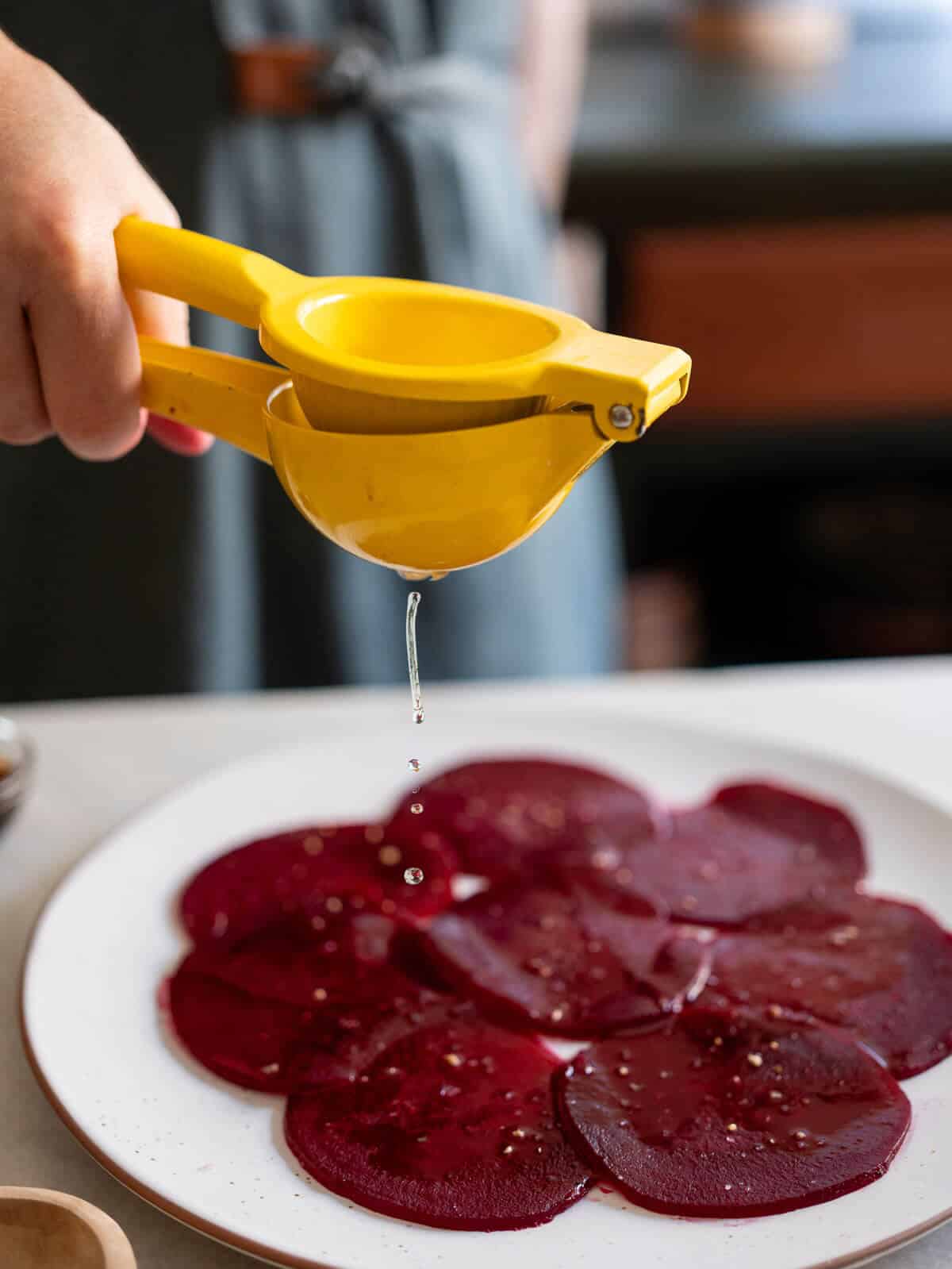 Arrange the thinly sliced beets in a circular pattern on a plate, ensuring they slightly overlap—season with salt and freshly ground pepper. Then, drizzle the juice from half a lemon over the beets.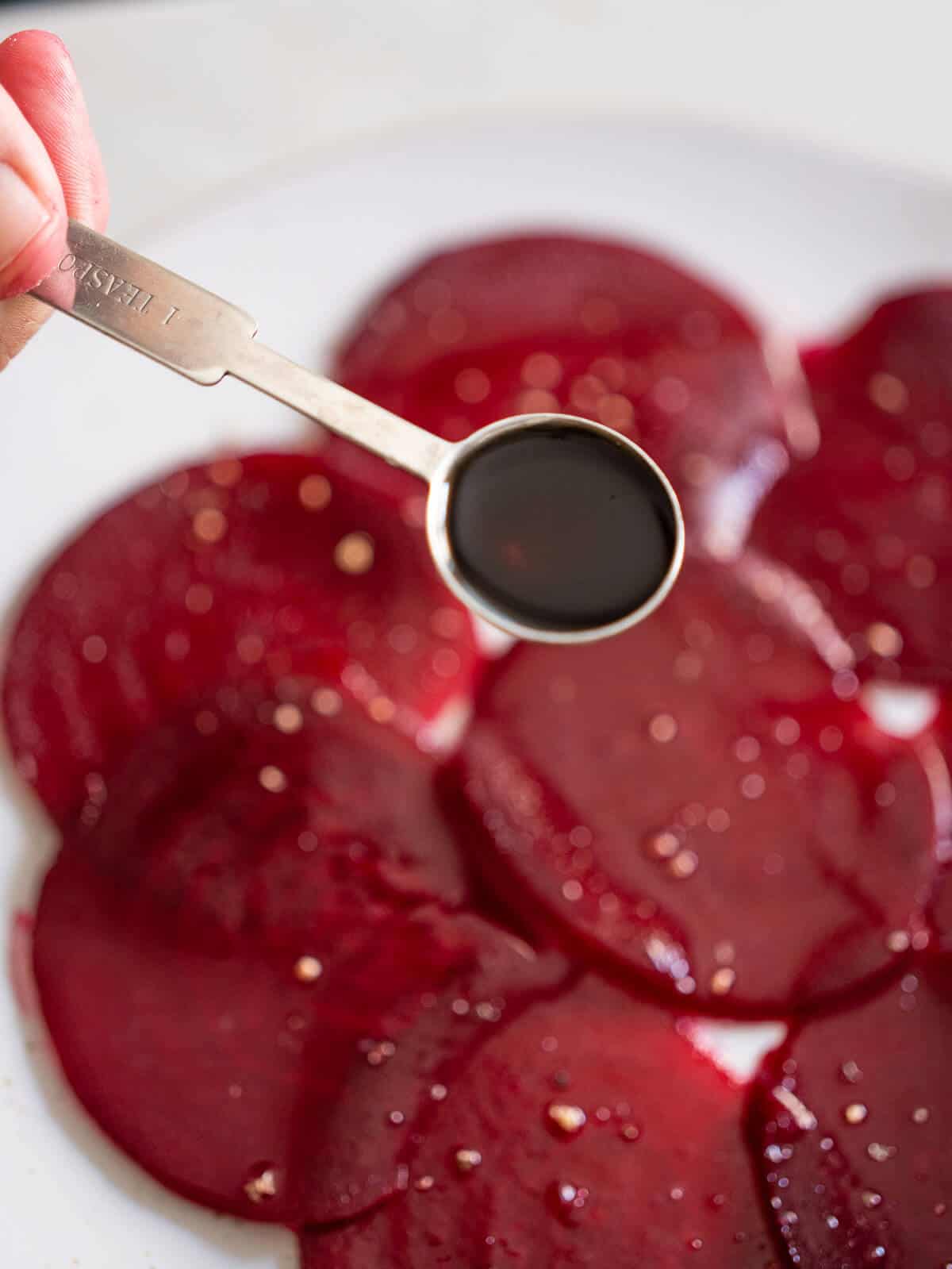 Pour in some balsamic vinegar. Next, chill in the fridge and let it marinate for at least 25 minutes.
Assemble the carpaccio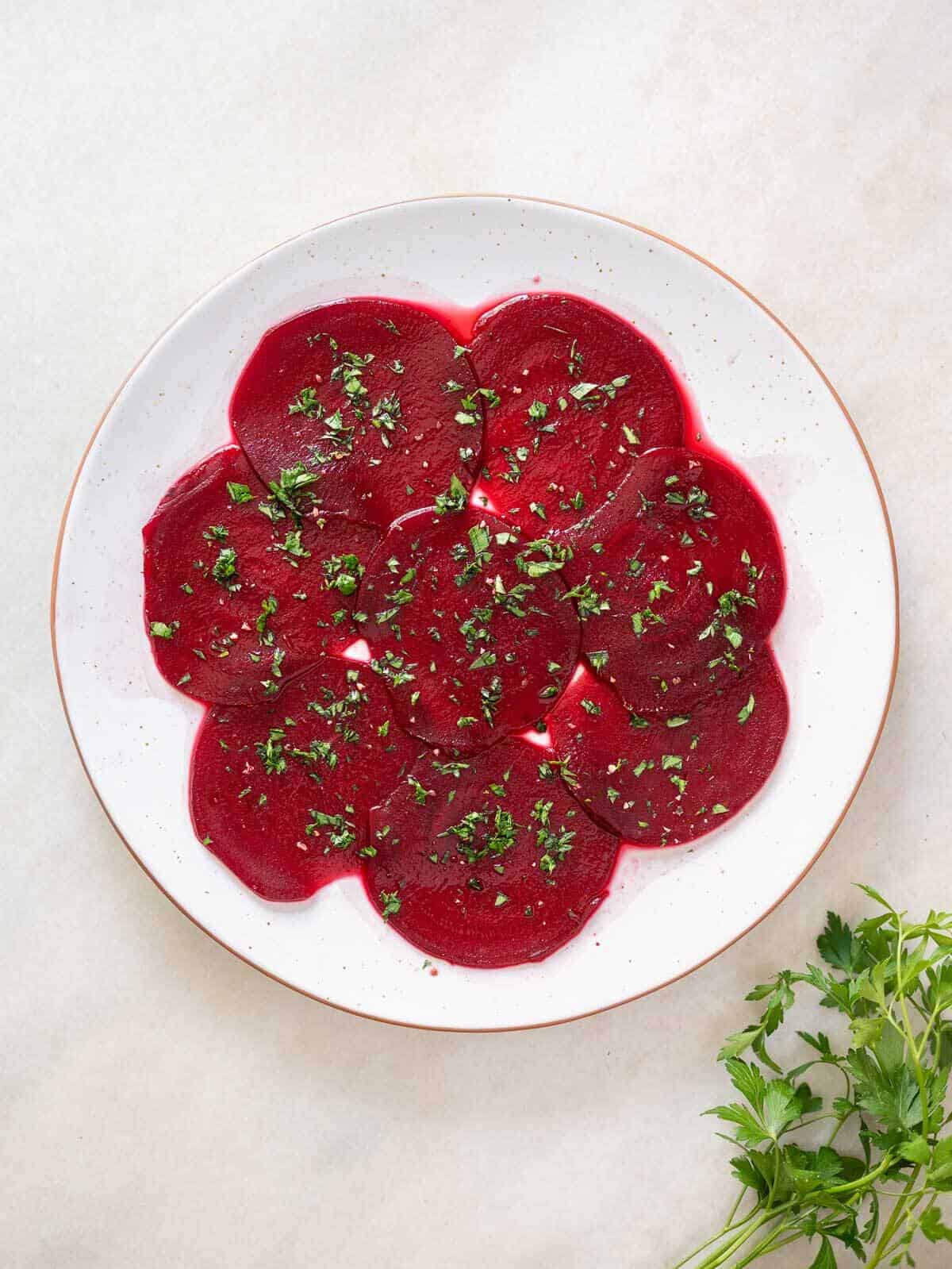 Pour off the accumulated juice, but save it for dressing your greens later. As you do this, use your spread fingers to maintain the circular pattern of the beets while tipping the plate over the salad bowl.
Lay out the beetroot slices in a single layer, preserving their circular/flower arrangement, and sprinkle with the leftover herbs and chopped onion.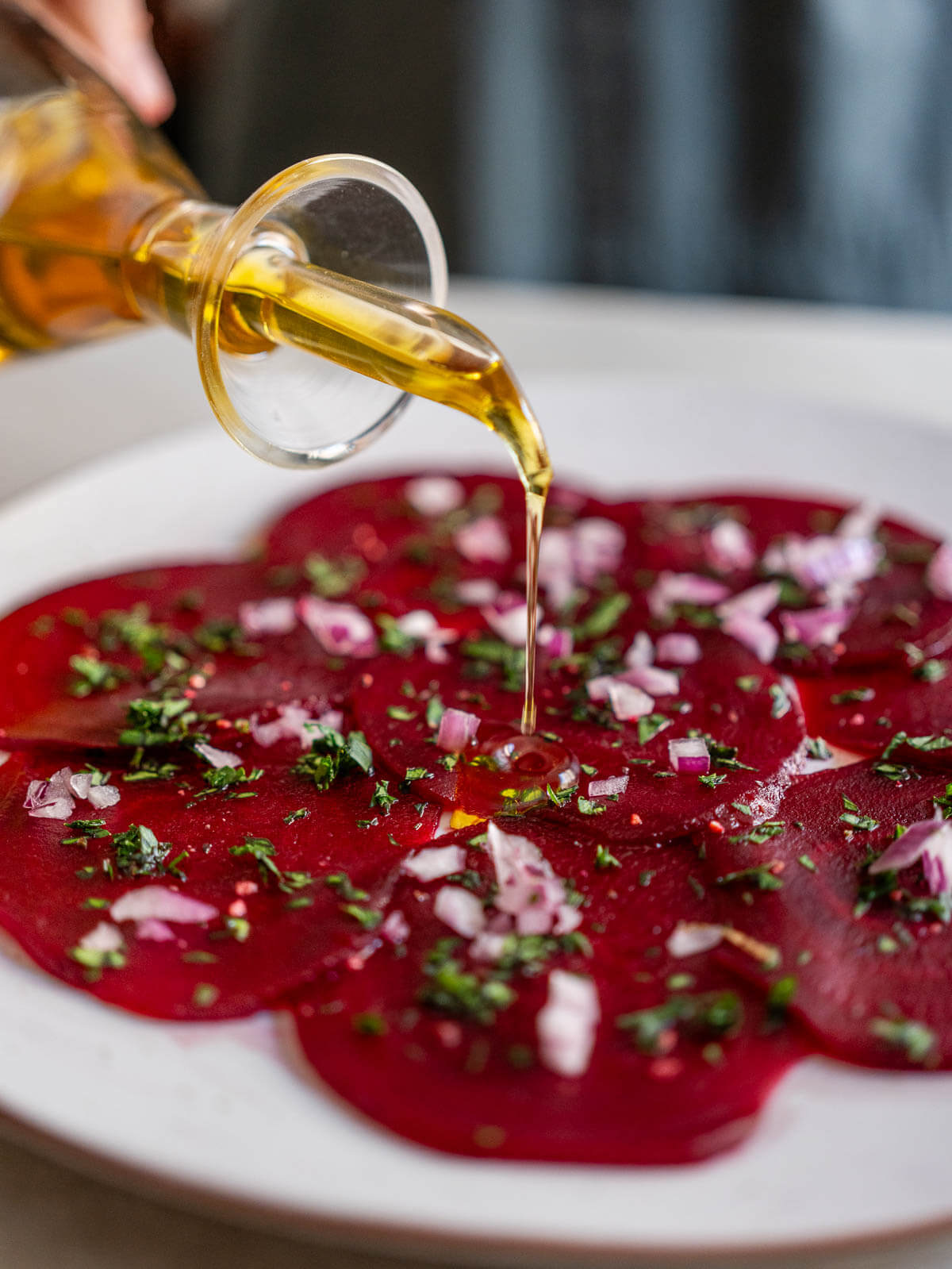 Pour olive oil over the beet salad, then mix the saved pink juice into the seasoned greens salad bowl. Fine-tune the flavor with salt and pepper as needed.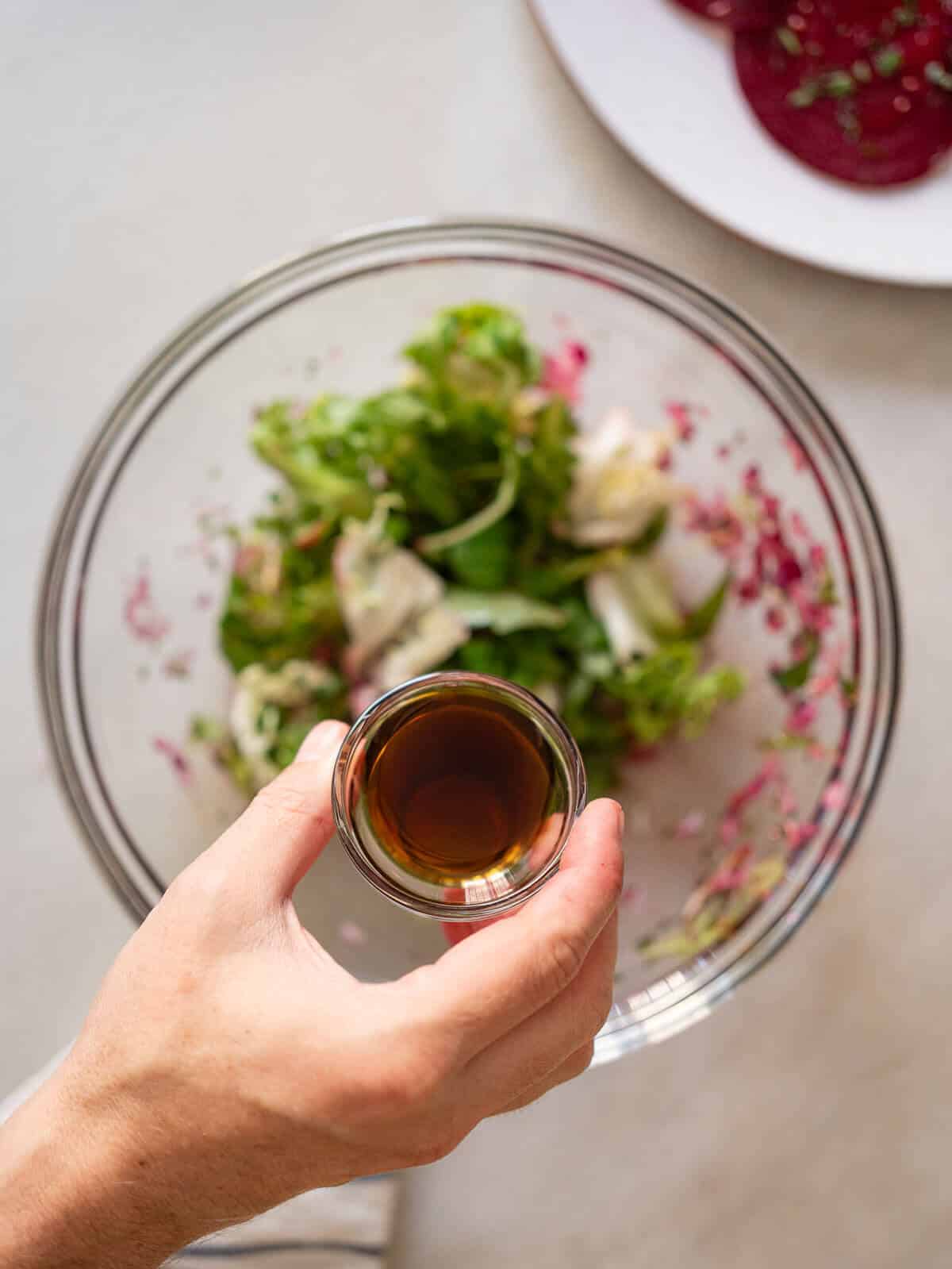 Let's season those veggies. Start by adding vinegar.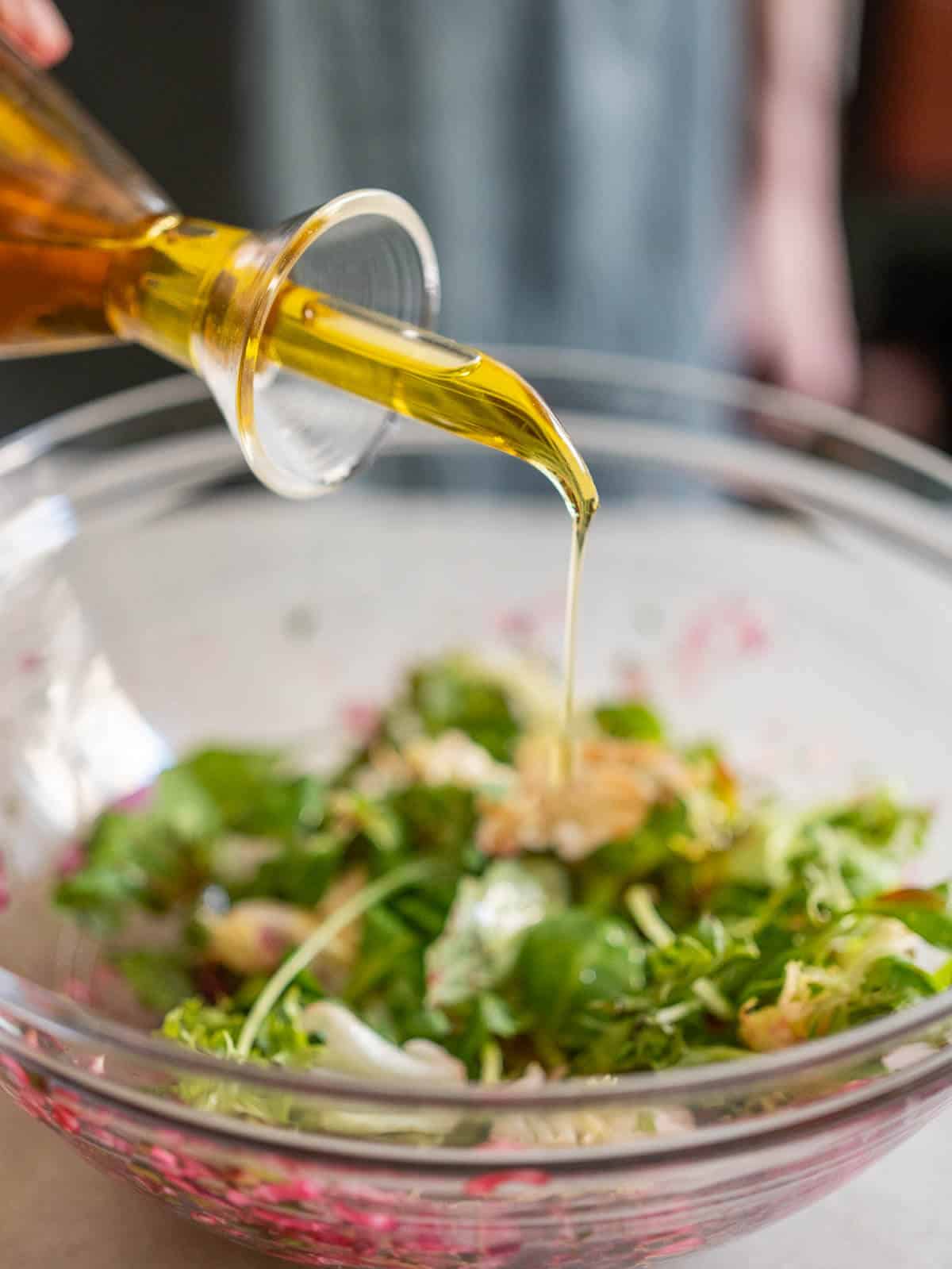 Then a swirl of your best quality olive oil, the beets juices, remaining chopped herbs and red onions.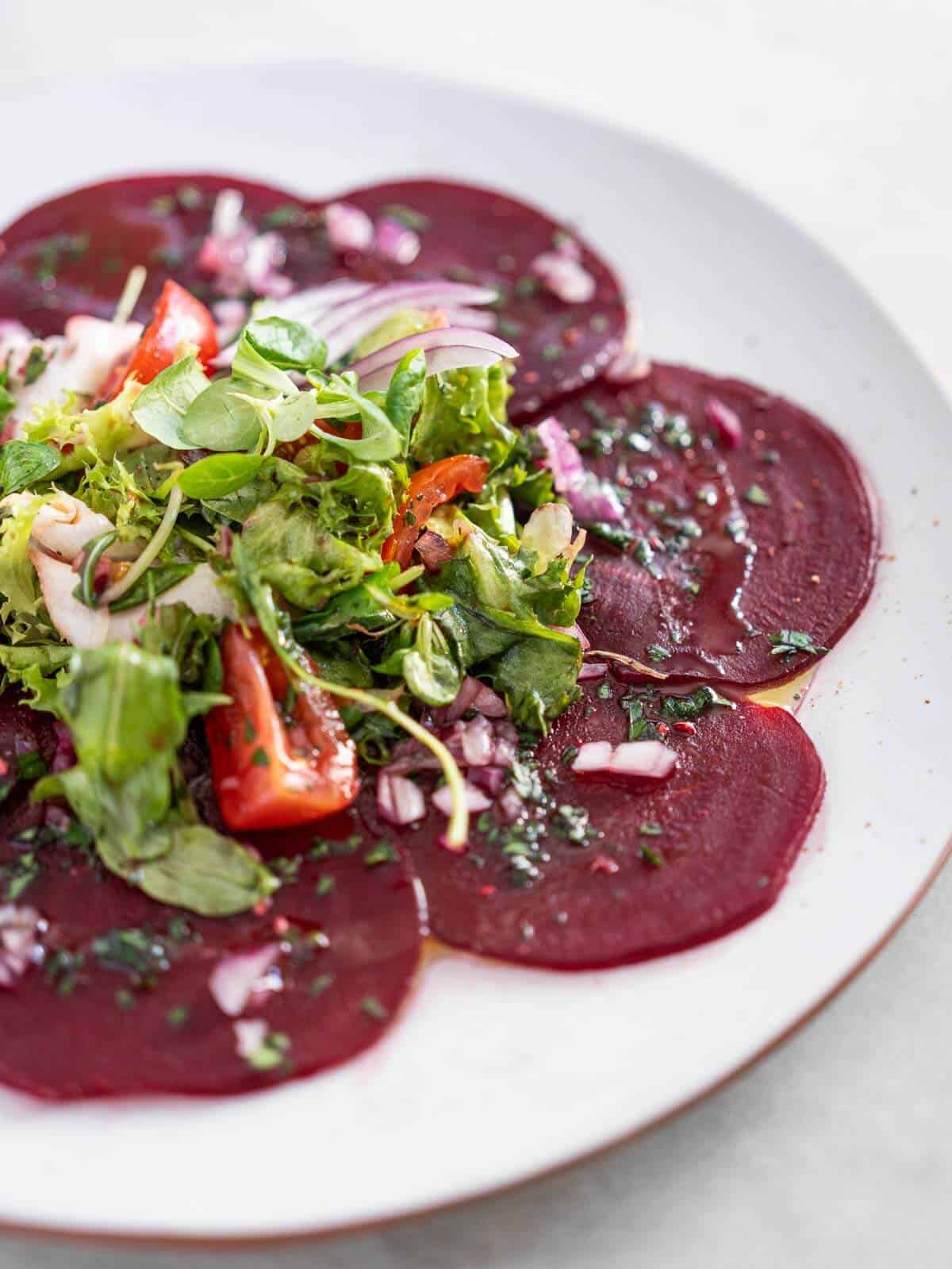 In the end, top the marinated beet slices with the seasoned salad greens and serve it chilled. Verify if it has cooled down; if it has, chill for at least 15 minutes.
Hint: at all times during the process, keep the beetroot slices in the fridge, as the aim is to serve the plate as fresh and chilled as possible.
Read on: Russian beet potato salad and red wine and roasted beets risotto.
🥢 How to serve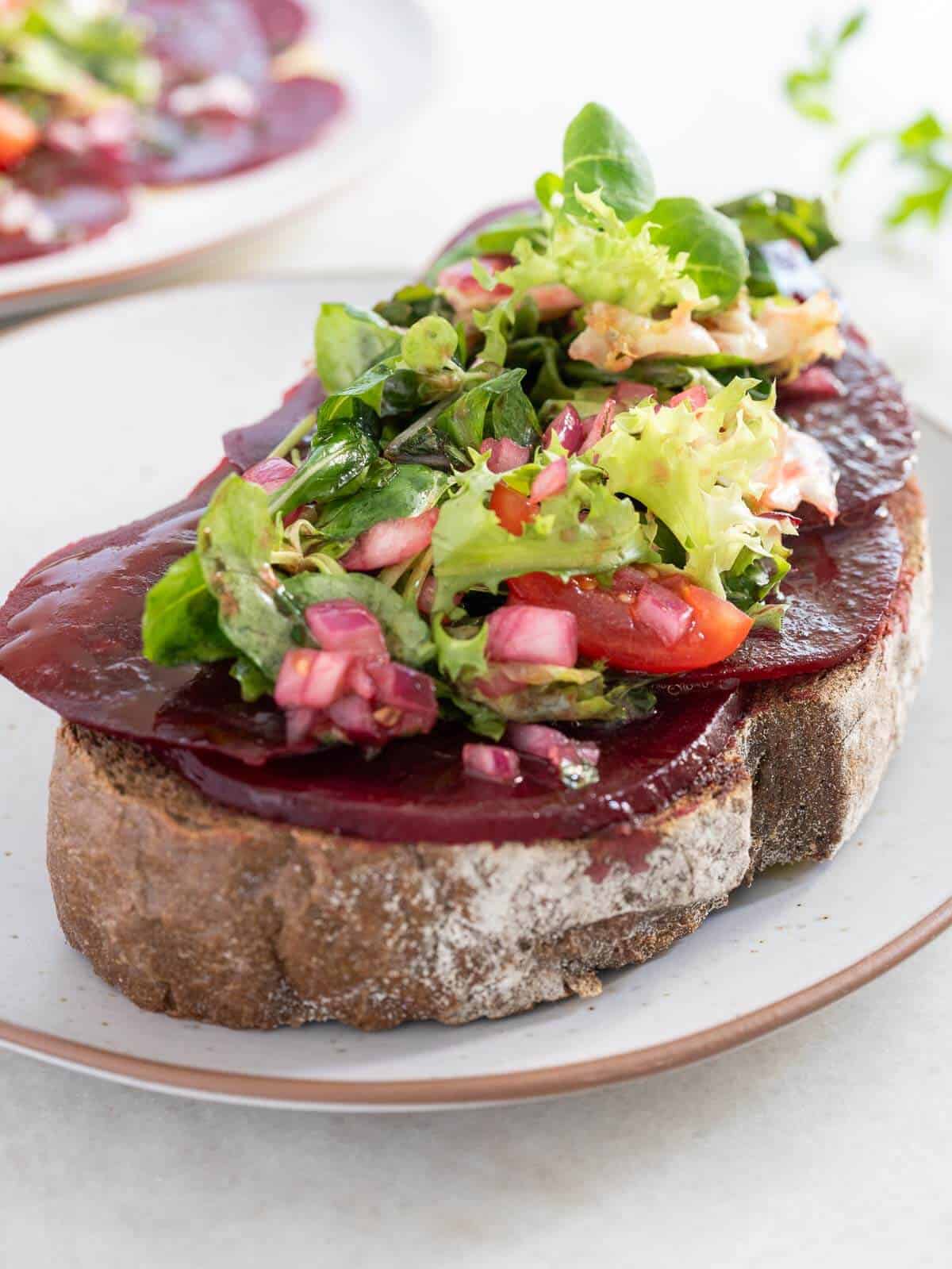 Artisan Bread Delight: Elevate your dining experience by topping a slice of toasted Italian artisan bread with the beet carpaccio, as showcased in the picture. The crunchy texture of the bread combined with the tender beet slices creates a delightful contrast.
Wrap or Roll-Up: Use large beet slices as a base to create a wrap or roll-up, filling it with your favorite greens and vegan cheese. Secure with a toothpick and serve as a unique appetizer.
Salad Bowl: Layer the beet carpaccio over a bed of mixed greens, sprinkle with some roasted nuts or seeds, and drizzle with extra dressing for a hearty salad bowl.
Open-Faced Sandwich: Use the beet carpaccio as a vibrant layer on an open-faced sandwich, adding avocado slices, vegan cheese, and a drizzle of olive oil for a fulfilling meal.
With Grilled Veggies: Serve the beet carpaccio alongside grilled vegetables for a colorful and flavorful plate that's perfect for summer gatherings.
🍶 Substitutions
Apple cider vinegar for balsamic vinegar: Apple cider vinegar has a sharper and fruitier taste than balsamic vinegar's sweet and tangy flavor. The substitution might result in a slightly different acidity profile in the dish.
Mint for parsley: While parsley offers a fresh, herbaceous flavor, mint introduces a cool, refreshing taste. This swap will give the salad a more aromatic and slightly sweeter undertone.
Golden beets instead of red beets: Golden beets are milder and sweeter than their red counterparts. Using them will produce a less earthy flavor, and the salad will have a vibrant yellow hue instead of the deep red from red beets.
Red onions: you can use shallots or yellow or white onions.
📖 Variations
Dijon Mustard Twist: Add a teaspoon of Dijon mustard to the dressing for a tangy kick. The mustard will enhance the flavor and help emulsify the vinaigrette, giving it a creamier texture.
Vegan Feta Delight: Swap out classic goat cheese for vegan feta cheese. This will introduce a tangy and crumbly texture to the salad, making it even more delightful for those following a vegan diet.
Minty Fresh Vinaigrette: Replace the parsley with fresh mint to create a mint vinaigrette. This variation will give the salad a refreshing and aromatic twist, perfect for a summer day dish.
Arugula Salad Variation: Opt for a bed of peppery arugula instead of mixed greens. Arugula adds a distinct spicy note, elevating the overall flavor profile of the salad.
Zucchini Citrus Delight with Toasted Almonds: This vibrant appetizer marries the delicate flavors of thinly sliced raw zucchini with the zesty notes of orange. Replacing the traditional pine nuts, toasted almonds add a delightful crunch and nuttiness. Drizzled with a hint of olive oil and seasoned to perfection with salt and pepper. A slightly similar version is our vegan ceviche, with Peruvian and Panamanian inspiration.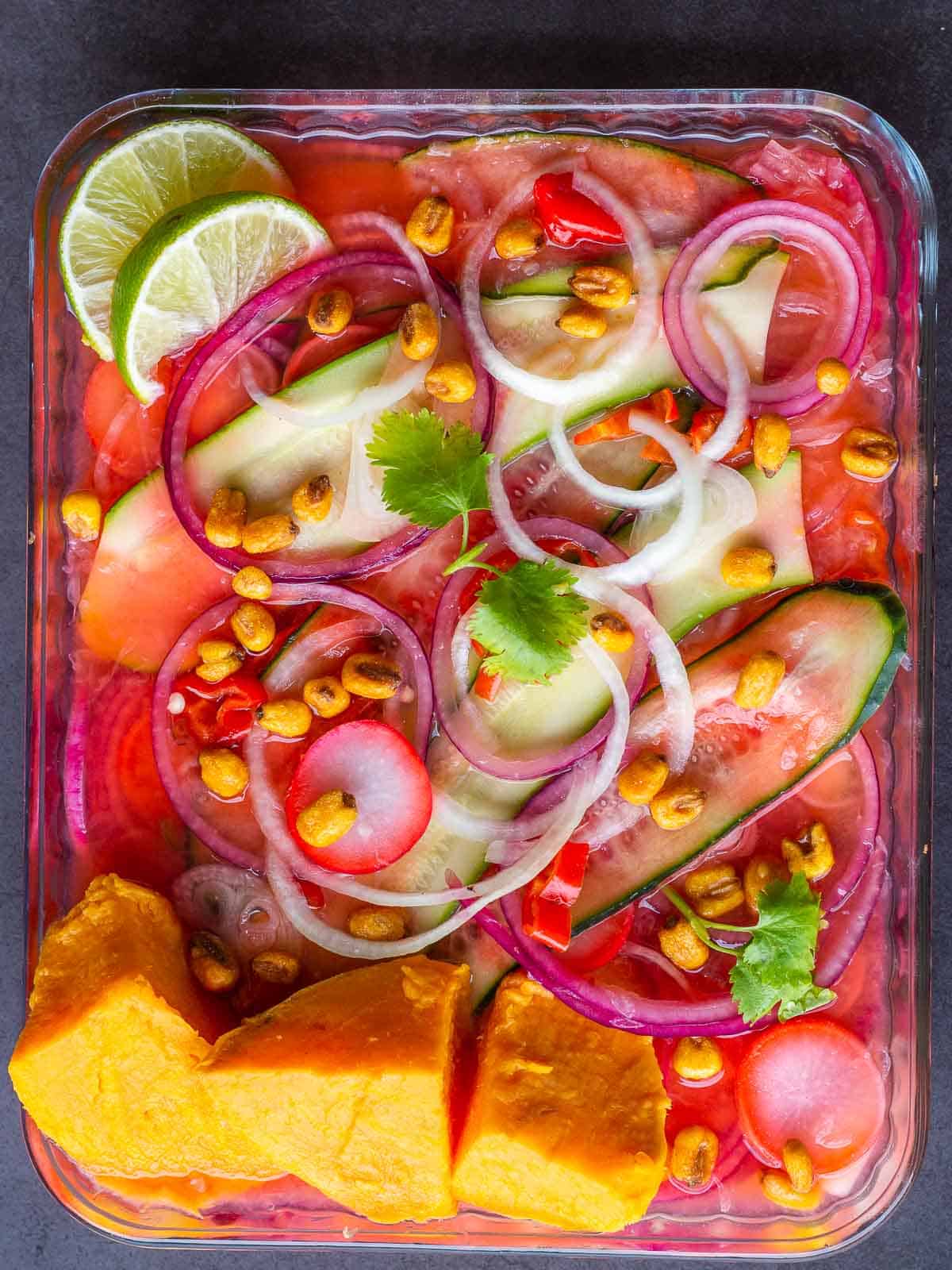 🍽 Equipment
Mandoline

(affiliate link)

or Sharp Knife

(affiliate link)

: Essential for achieving those perfectly thin beet slices. A mandoline ensures uniformity in thickness, while a sharp knife allows for precision and control during slicing.
Bowl

(affiliate link)

: Needed for mixing the ingredients, especially for preparing the dressing and tossing the greens. A good-sized bowl ensures an even distribution of flavors and makes mixing more accessible.
Lemon Press

(affiliate link)

: This tool ensures you extract the maximum juice from the lemon without getting any seeds into the mix. It's efficient and provides a clean, seed-free juice for the dressing.
🥡 Storage
To store the beet carpaccio salad, place it in an airtight container and refrigerate. Consuming the salad within 2-3 days is best for optimal freshness and flavor. After this period, the ingredients may start to lose their vibrancy.
💡 Top tips
When marinating the beet slices, ensure they are laid out in a single layer without overlapping. This allows each slice to absorb the marinade evenly, resulting in a consistent flavor throughout the salad.
Always taste your dressing before adding it to the salad; adjusting the seasoning at this stage ensures that the final dish is perfectly balanced. Remember, the vinegar can be adjusted to your preference; if you enjoy a tangier carpaccio, feel free to add a bit more until it suits your taste.
If you want a juicy marinade for your greens, add more vinegar to the marinating beet slices so they yield more pink juice.
Ensure all the dish's elements remain chilled during any waiting or marinating periods.
❓ FAQ
How do you use raw beetroot?
Raw beetroot can be peeled and grated for salads, juiced for a nutritious drink, or thinly sliced and marinated for dishes like carpaccio. Always wash and scrub the beetroot thoroughly before use.
📚 More beets recipes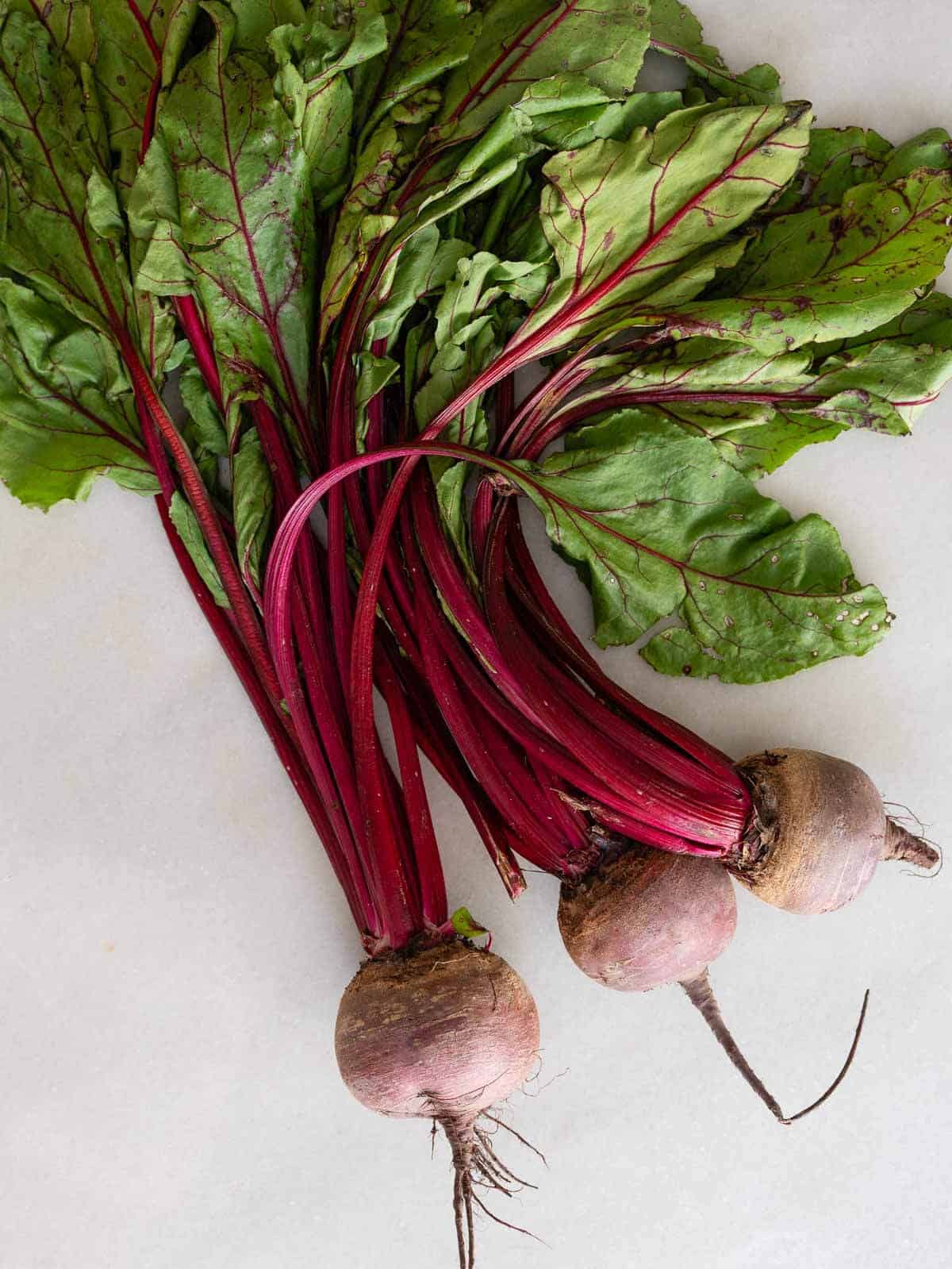 Quench your thirst with this nutrient-packed beetroot juice. Not only is it refreshing, but it's also a powerhouse of health benefits waiting to be explored. We also have a beet detox juice, and you will surely love it.
Dive into a vibrant fusion of earthy beets and zesty lemon in this unique hummus variation. It's a delightful twist that promises a burst of flavor with every bite!
Dive into the rich flavors of this red risotto, where the earthiness of roasted beets meets the depth of red wine. A culinary experience you won't want to miss!
Experience a classic Russian delight with a refreshing blend of beets and potatoes. This beet potato salad promises a burst of flavor with every bite.
Boost your energy levels before hitting the gym with this vibrant smoothie. Beets provide natural endurance-enhancing properties, making this drink your perfect workout companion.
⭐ If you try this beet carpaccio recipe, let us know! 💬 Leave a comment, rate it, and don't forget to tag us @ourplantbasedworld on Instagram. Cheers!
📋 Recipe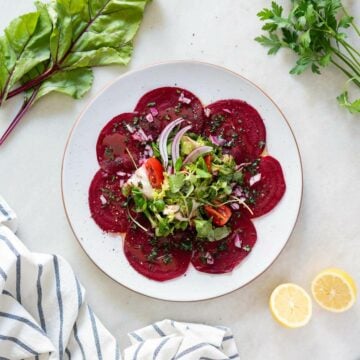 Beet Carpaccio Salad with Vinaigrette
A refreshing and vibrant salad featuring thinly sliced beets marinated in a tangy lemon-balsamic blend, complemented by crisp arugula, finely chopped red onion, and fresh parsley. This dish is a delightful fusion of flavors and textures, perfect for a light lunch or a sophisticated starter. Enjoy it chilled for the best experience!
Equipment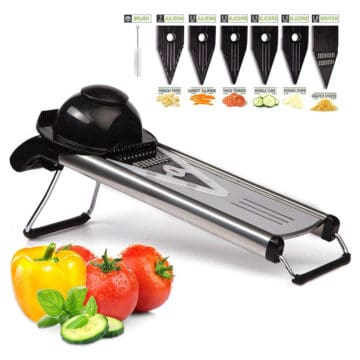 (affiliate link)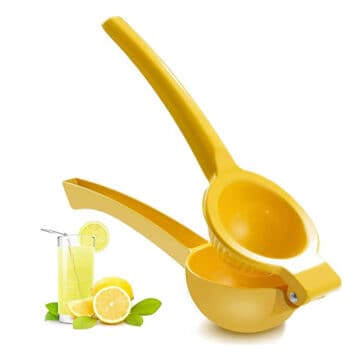 (affiliate link)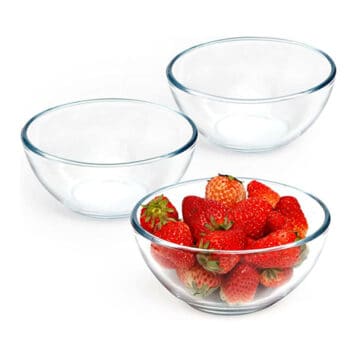 (affiliate link)
Ingredients
1

beet

large, cooked, and thinly sliced

3

tablespoons

parsley

fresh, chopped, separated into two

1

bunch greens mix

or arugula

¼

red onion

finely chopped - or shallots, divided in two

1

lemon

juiced, divided into two

4

teaspoons

balsamic vinegar

divided into two parts

½

teaspoon

fine sea salt

divided in two

black pepper

freshly ground
Optional
4

grape tomatoes

quartered

2

tablespoons

olive oil

extra-virgin, divided in two. Plus to dress
Directions
Prepare Beets and Herbs
Choose Beets: Go for the biggest, roundest beet available. For herbs, it's your call, but a mix of parsley and mint is our go-to.

Prep Beets: If starting with raw beets, boil until tender. Once cooled, peel using a vegetable peeler.

Herb Prep: Detach stems from parsley or mint, keeping only the leaves. Tip: Wearing kitchen gloves when handling cooked beets keeps hands stain-free.

Chop Herbs: Dice your selected herb finely.

Onion Time: Slice those red onions.
Make the greens salad
Tomato Prep: Quarter those juicy grape tomatoes.

Mix Veggies: Combine half the red onions and parsley with all the tomatoes in a bowl brimming with greens.
Make the carpaccio slices and marinate
Slice Away: To keep hands clean, gloves are a good idea. For uniform beet slices, a mandoline is your best friend, but a sharp knife works wonders too.

Beet Design: Lay beet slices in a circular fashion on a plate, overlapping slightly. Season with salt, pepper, and a squeeze of lemon.

Marinate: Add balsamic vinegar and let the flavors meld in the fridge for at least 25 minutes.
Assemble the carpaccio
Assemble: Carefully drain the beets' juice, reserving it for your greens. Keep the beet's circular design intact as you keep them on the same serving plate.

Dress It: Sprinkle with remaining herbs and onions. Drizzle olive oil over the beets, then blend the reserved lemon juice into the beets.

Season Up the salad: Begin with a splash of balsamic vinegar, followed by a generous drizzle of top-notch olive oil and the reserved pink juice into the seasoned greens, salt and pepper.

Serve Chilled: Crown the beet slices with the seasoned greens. If it's not cool enough, give it an extra 15-minute chill in the fridge.
Notes
Serving Suggestion: Dive into this salad right away when it's chilled, and the greens are at their peak freshness.
Relish this colorful, nutritious, and delectable beet carpaccio salad with its tangy vinaigrette!
Pro Tips
Acidity
Enhance the citrusy vibe by zesting the lemon before you juice it. You can blend this zest into your dressing or sprinkle it directly onto the beet slices. - If you plan to serve this salad later, you can marinate the beet and prepare the dressing and greens in advance. However, only put everything together just before serving to maintain the freshness of the greens.
If you go for an oil-free version, each portion has 58 kcal and only 0.4 Fat.
Temperature
Ensure all the dish's elements remain chilled during any waiting or marinating periods.
Nutrition Facts
Calories:
182
kcal
Carbohydrates:
14
g
Protein:
2
g
Fat:
14
g
Saturated Fat:
2
g
Polyunsaturated Fat:
2
g
Monounsaturated Fat:
10
g
Sodium:
625
mg
Potassium:
390
mg
Fiber:
4
g
Sugar:
7
g
Vitamin A:
1052
IU
Vitamin C:
46
mg
Calcium:
55
mg
Iron:
1
mg
Nutrition Facts
Beet Carpaccio Salad with Vinaigrette
Amount per Serving
% Daily Value*
* Percent Daily Values are based on a 2000 calorie diet.
🌡️ Food safety
Cook to a minimum temperature of 165 °F (74 °C)
Do not use the same utensils on cooked food, that previously touched raw meat
Wash hands after touching raw meat
Don't leave food sitting out at room temperature for extended periods
Never leave cooking food unattended
Use oils with a high smoking point to avoid harmful compounds
Always have good ventilation when using a gas stove
See more guidelines at USDA.gov.
Nutritional Disclaimer
The information shown is an estimate provided by an online nutrition calculator. It should not be considered a substitute for a professional nutritionist's advice. See our full Nutritional Disclosure here.
Affiliate Disclaimer
Please note that some of the links here are affiliate links, and I will earn a commission if you purchase through those links. I recommend all of the products listed because they are companies I have found helpful and trustworthy.