There's something about grilled vegetables that just makes them so much better. Maybe it's the smokey flavor or the slightly charred edges. Whatever it is, grilled asparagus is definitely a winner. And this recipe takes it up a notch by adding toasted almonds and pine nuts. So good!
Asparagus is one of those vegetables that seems to go with everything. You can grill asparagus, roast it, or stir fry asparagus and they will be delicious either way.
In this Grilled Asparagus Recipe, we grill asparagus and top asparagus spears with crunchy toasted almonds and pine nuts.
This side dish is perfect for a summer BBQ, a casual weeknight meal, brunch, dinner, or even as part of your Christmas Table. So if you're looking for an easy side dish that will impress your guests, this recipe is for you. Cooking asparagus is super easy!
I love to cook asparagus because they bring a classy touch to any supper with no effort. They are just as easy to make as our steamed White Asparagus Recipe, a must-have during the spring season.
When we see asparagus as we stroll in the Farmer's market, we immediately start craving our springtime favorite recipes, like lemon asparagus risotto, and lemony pasta with asparagus.
However, they make a second appearance during the fall season, making it a perfect addition to your fall season recipes repertoire!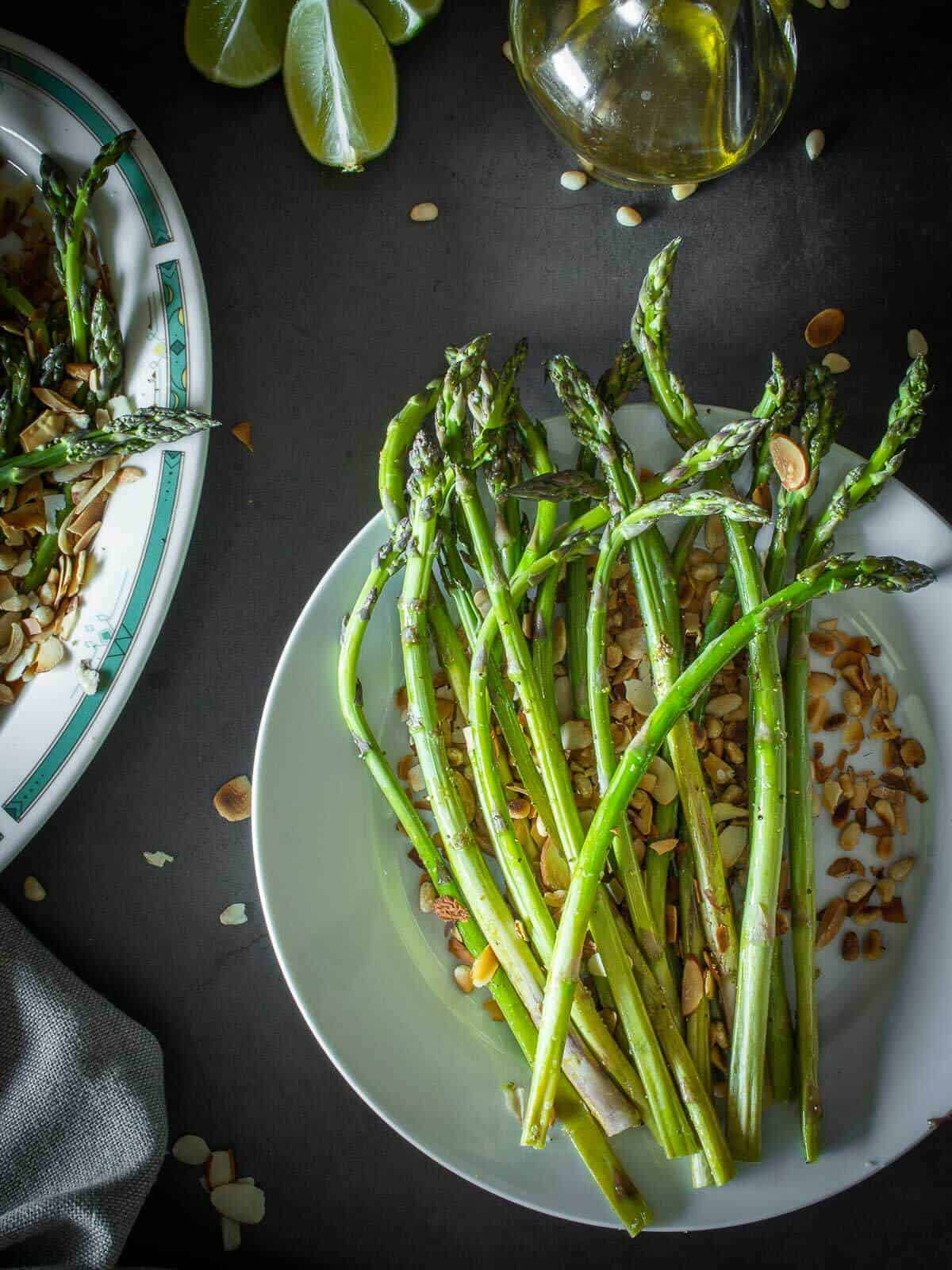 Jump to:
🧾 Ingredients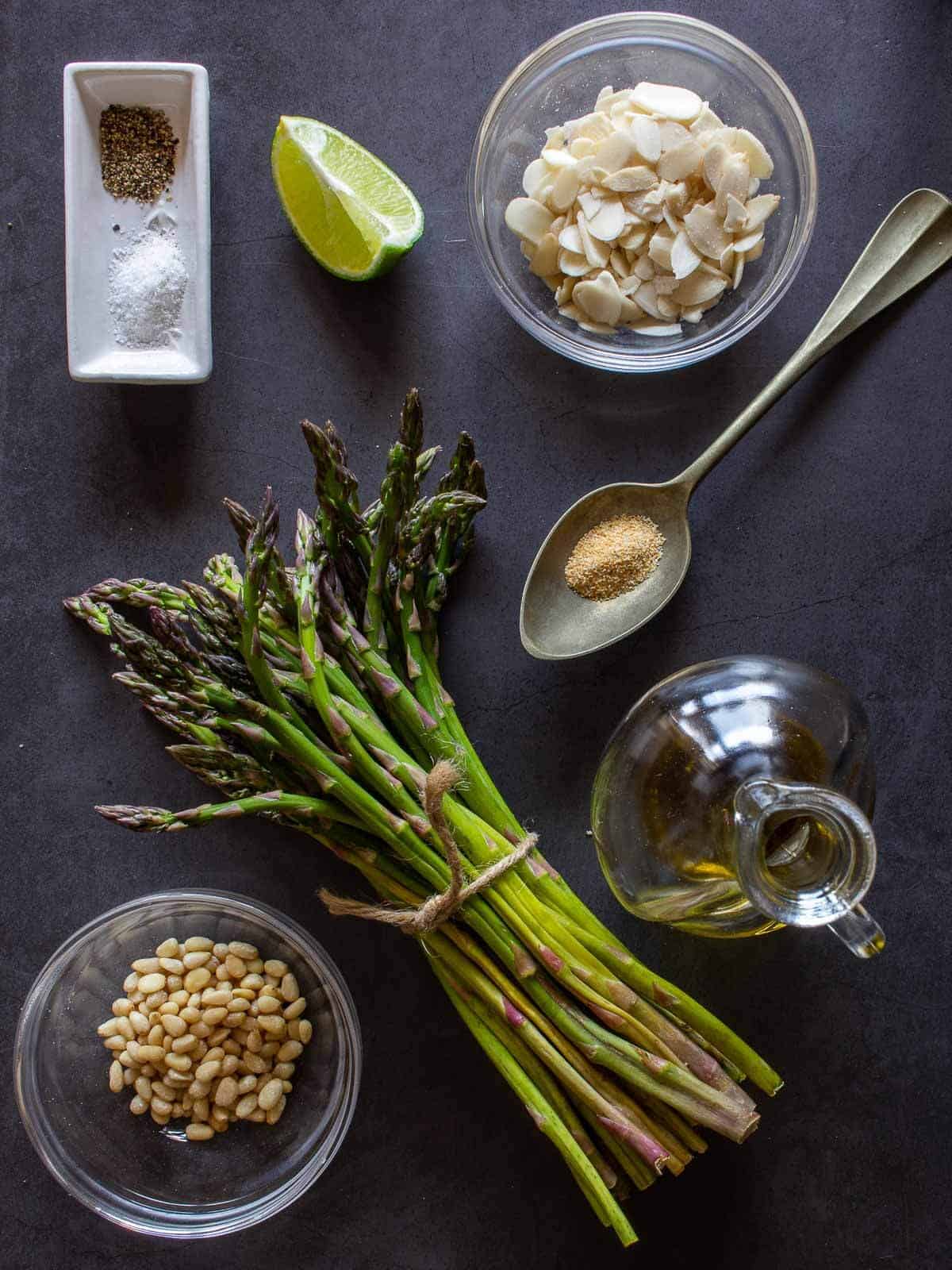 Fresh asparagus: It is the main ingredient in the recipe and provides a fresh and crisp texture to the dish.
Pine nuts: Adds a nutty and rich flavor to the recipe, which complements the earthy taste of asparagus.
Avocado oil or extra virgin olive oil: Used to coat the asparagus before grilling to prevent it from sticking to the grill and adds a rich flavor.
Sliced almonds: Adds a crunchy texture and nutty flavor to the dish, which complements the asparagus and pine nuts.
Garlic powder: Adds a subtle garlic flavor to the dish, which complements the nuttiness of the pine nuts and the freshness of the asparagus.
Black pepper: Adds a subtle spicy and pungent flavor to the dish, which complements the nuttiness of the pine nuts and the freshness of the asparagus.
Kosher salt: Used to season the dish and enhances the flavors of the other ingredients.
Lime or lemon juice: Adds a tangy and acidic flavor to the dish, which complements the freshness of the asparagus and balances the nuttiness of the pine nuts and sliced almonds.
See quantities and complete instructions in the recipe card.
🔪 Instructions
Grilling asparagus is very quick and straightforward. Just set your grill pan, prepare asparagus, remove the thick asparagus stalks, then toss asparagus with oil, salt, and pepper, and add your preferred seasonings such as lemon juice, balsamic vinegar, garlic, or onion powder.
In this recipe, we take an extra mile, to make the grilled asparagus extra yummy and toast almonds and pine nuts in a skillet for no more than two minutes.
Prepare asparagus spears
Step 1. Wash your asparagus carefully under running cold water. Asparagus' tips are very delicate, so make sure you treat them with care to avoid breaking them.
Pro Tip: when shopping for fresh asparagus, make sure you look for firm stems and tight, closed ends.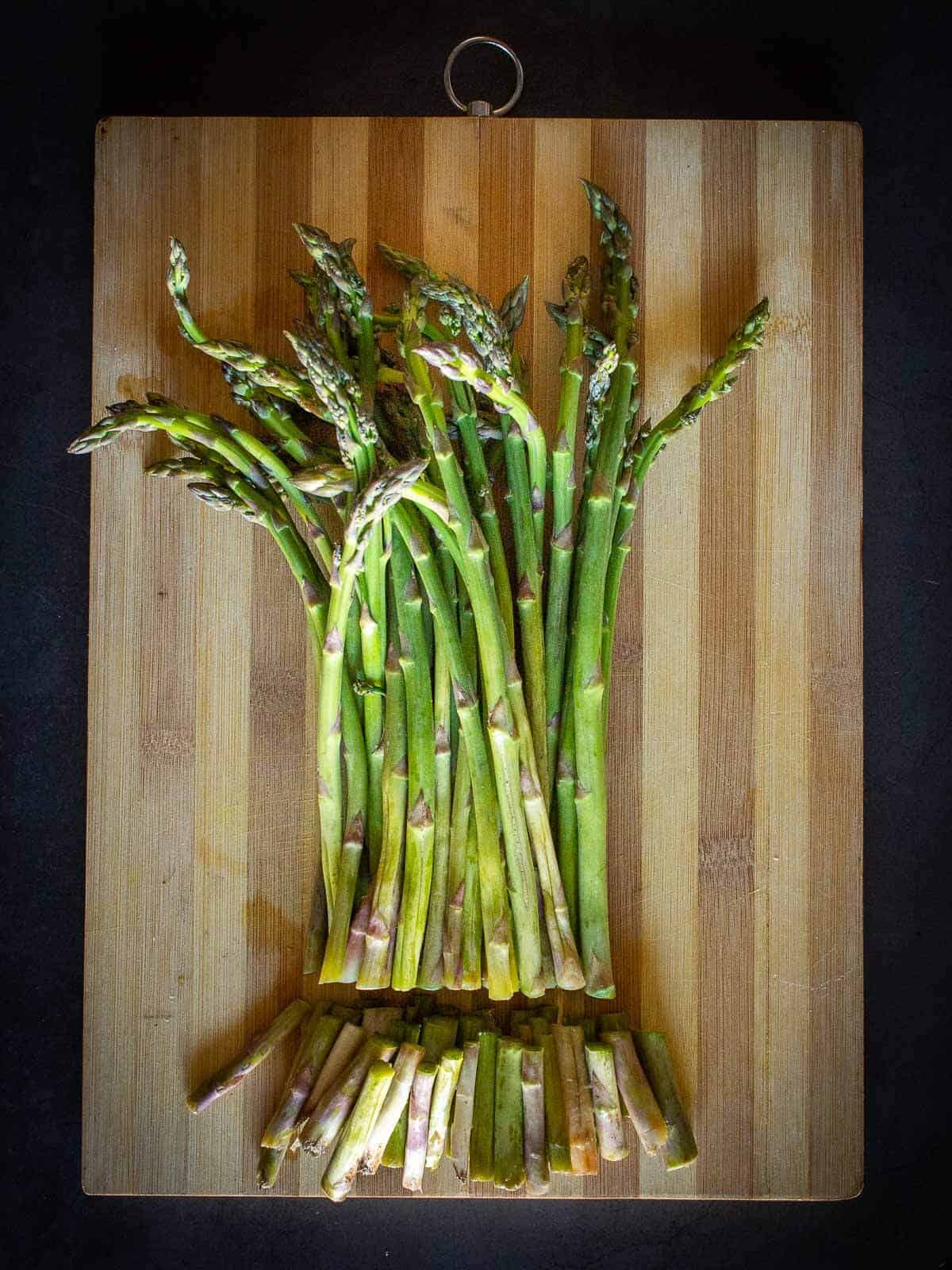 The thick asparagus stalks are generally fleshy and woody. I recommend trimming asparagus about one inch (2.5 centimeters) at the base of the asparagus, even if you have thin stalks.
Toast nuts
Slightly toast the sliced almonds and pine nuts together, in medium-low heat, for about 2 minutes, until they look just golden brown but not toasted.
After removing the skillet from the heat, they will keep toasting with the remaining heat.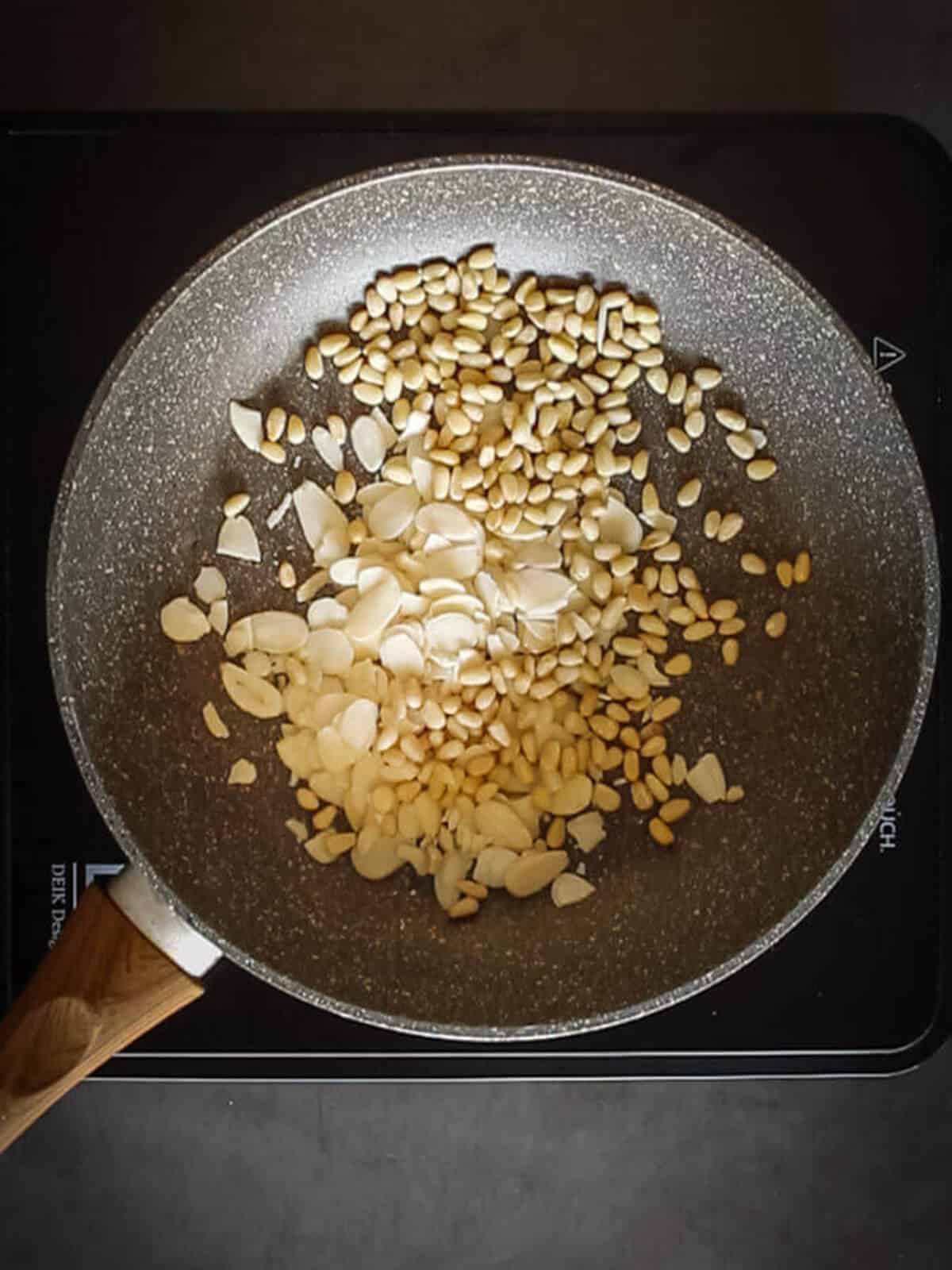 Grill asparagus
Time to cook asparagus. Set the stovetop heat to medium, and add the thicker asparagus spears first in case they are uneven. If they are all thin asparagus spears, you can add all asparagus at once.
Drizzle avocado or olive oil, and add ground garlic, lemon, salt, and pepper. Grill asparagus until they look slightly charred.
We like our tender asparagus crispy, so we only cook them for five minutes.
Set the asparagus in the grill pan until you can see the grill grate marks, and then use kitchen tongs to toss them.
Tip: is you are working with thick asparagus spears, you can blanch them in boiling water for a minute, before you set them on the grill, to ensure they cook well.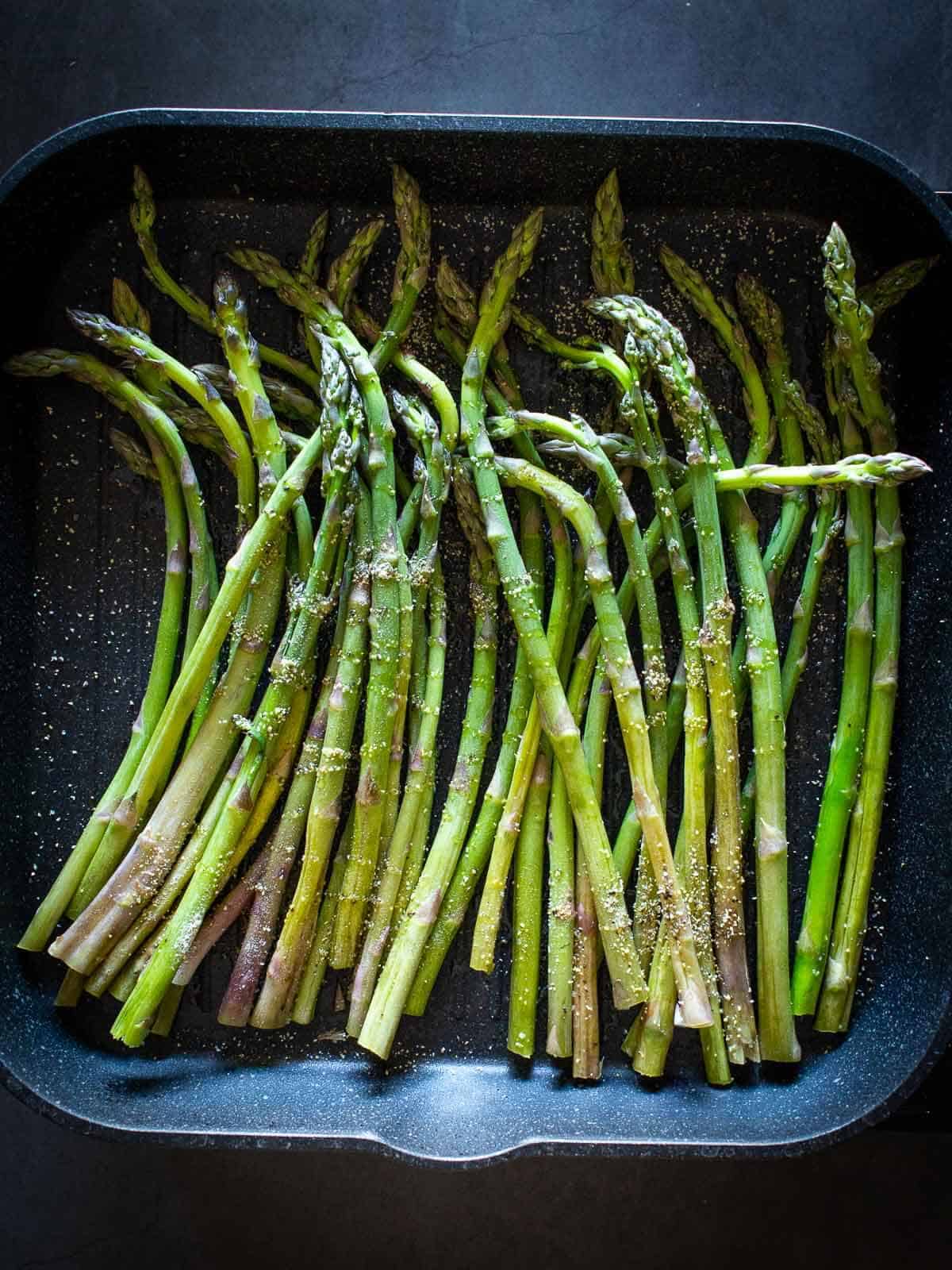 Season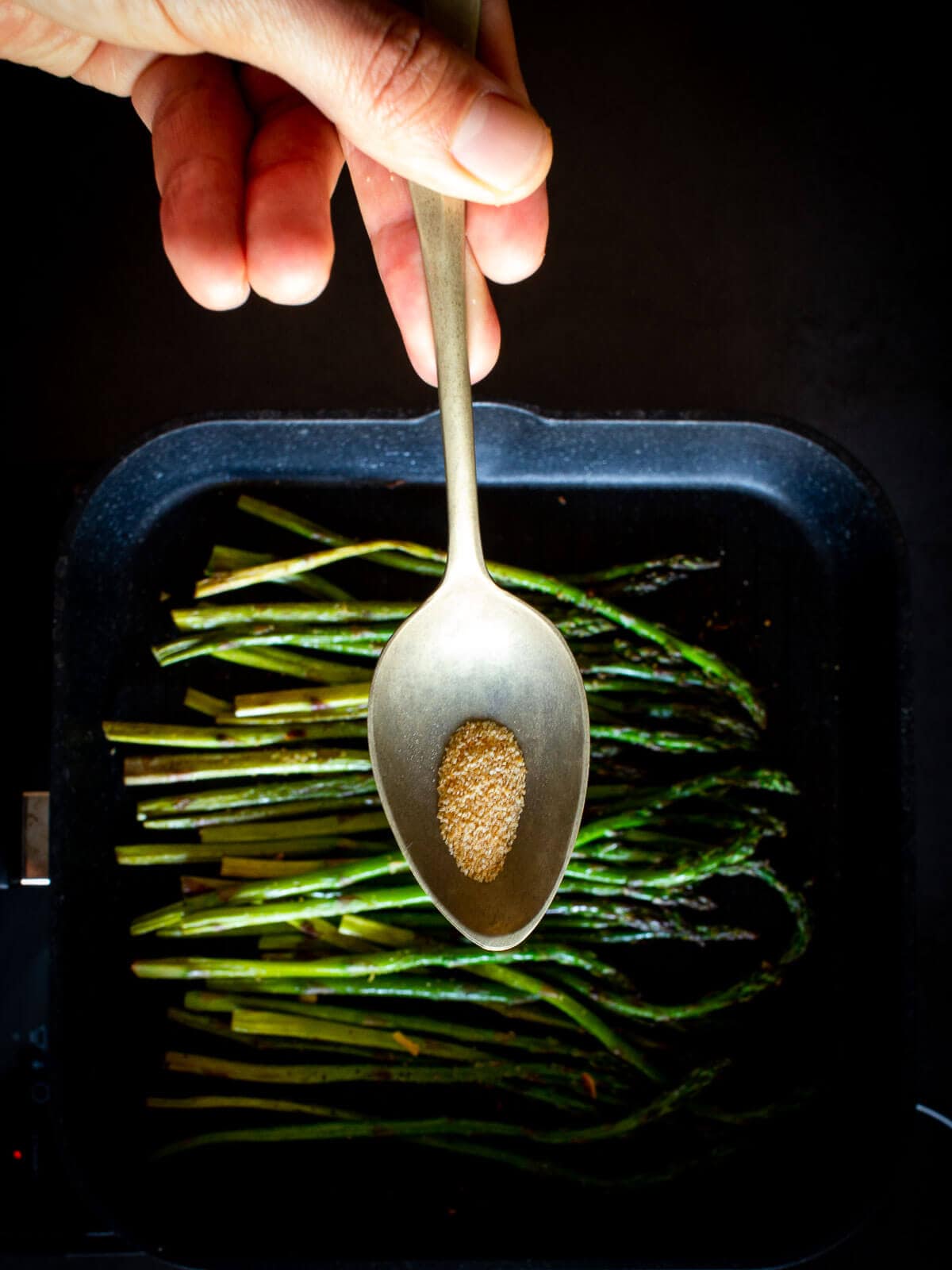 Add the seasonings of choice, beginning with the lemon, then garlic powder, kosher salt, and freshly ground black pepper.
Plate
Transfer the fork-tender, lightly charred asparagus to a serving dish and top with the toasted almonds and pine nuts. You can also add vegan parmesan cheese.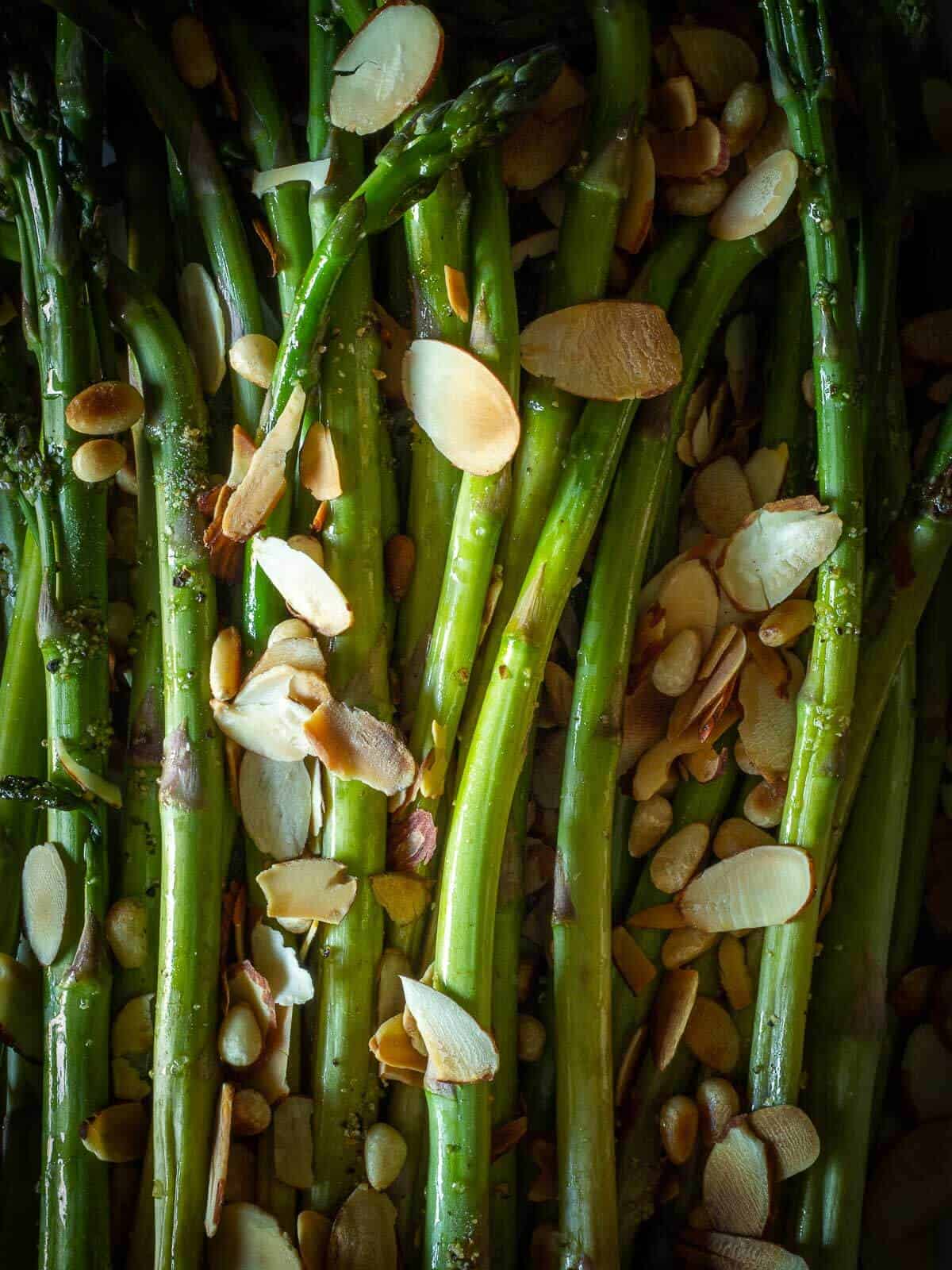 Tip: serve with a wedge of lime or lemon. The acidity will bring up all the flavors.
📖 Variations and seasonings
Take a look at these ideas for flavors that will pair perfectly with your grilled asparagus.
Just remember not to overdo any seasoning, as asparagus are rich in flavor and need some extra kick of saltiness, depth, and acidity.
Salt
The salt overrides the asparagus's slight bitterness, and the fat of the olive oil goes very well with the acidity of lemons or limes.
Spicy
I also like adding a kick of pepper or pepperoncini.
Toppings
As a topping, I like using any nuts as we do in this recipe. Think almonds, pine nuts, and walnuts.
Seasonings
Vegan Parmesan Cheese
I also like using my Homemade Vegan Parmesan cheese when for a quick solution instead of any other seasoning. Normally people add dairy parmesan cheese just right before removing the asparagus spears from the grill pan or grill grates, to allow it to melt.
If you are using vegan parmesan, you can add it directly to the plate, or toss it when you add the rest of the seasonings.
Balsamic
We also like using thick balsamic vinegar glaze.
Pesto
Sometimes we just make this grilled asparagus recipe without seasoning and just add a dollop of vegan pesto sauce on top.
You can go bor a basil pesto, arugula pesto, kale pesto with sage, and even a mint pesto work really well with grilled asparagus.
Olive oil
If you have a great Extra virgin olive oil, it will have an extra touch; this asparagus recipe is a great dish for it to shine!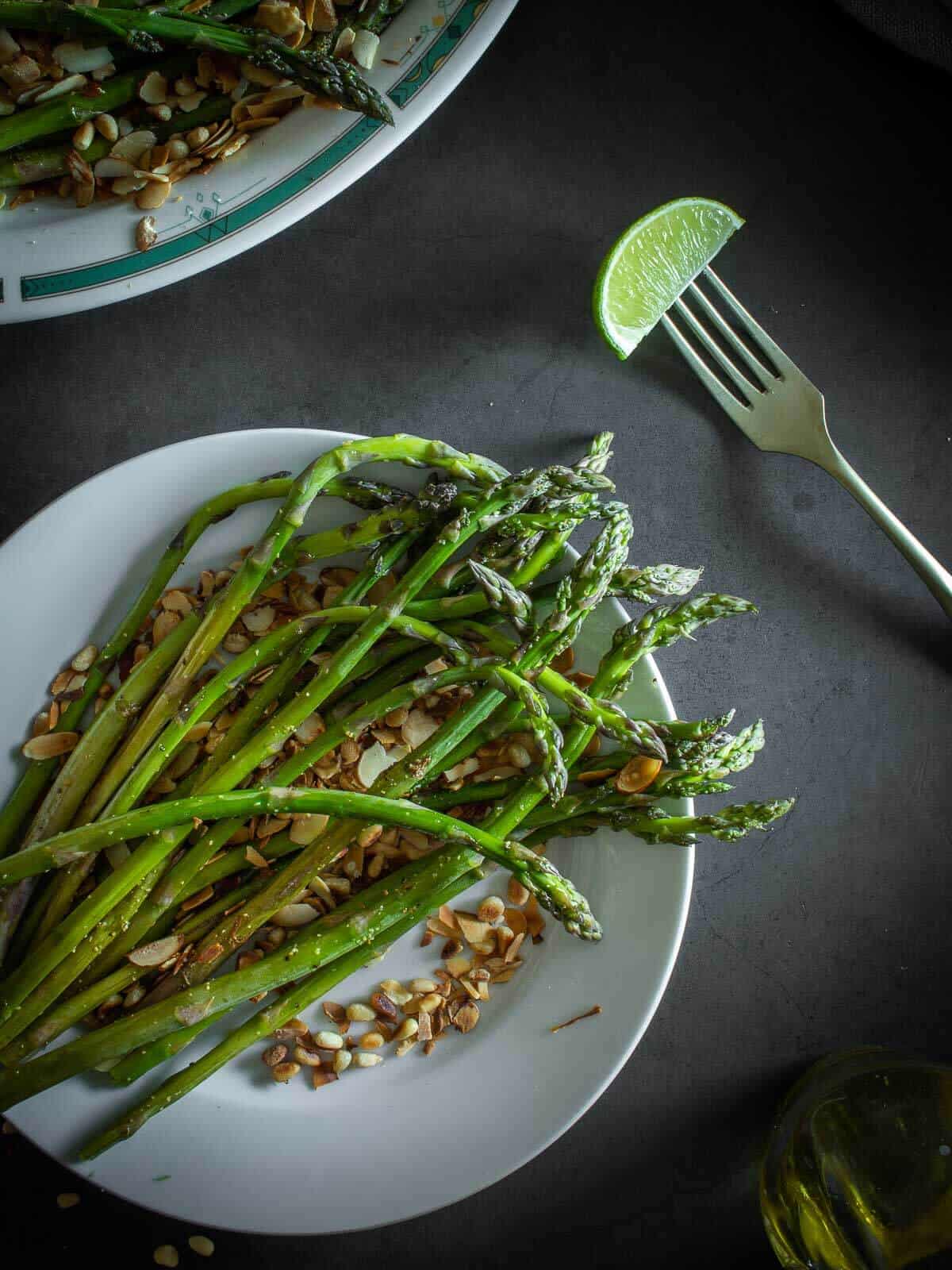 🥡 Storing
How to Store Asparagus? As soon as you buy them, place them in a large glass, and add some water. Then, place a plastic bag over the top and store it in your refrigerator. This way, you will retain their freshness.
Apply this technique applies to all your fresh herbs, such as parsley and cilantro. As a result, your herbs will last for much longer.
✅ Health Benefits of Asparagus
Asparagus is full of nutrients and has very few calories.
They are a great source of antioxidants.
Asparagus helps supports a healthy pregnancy as they are an excellent source of folates.
In addition, asparagus help lowers blood pressure.
Finally, they help to improve digestive tract health.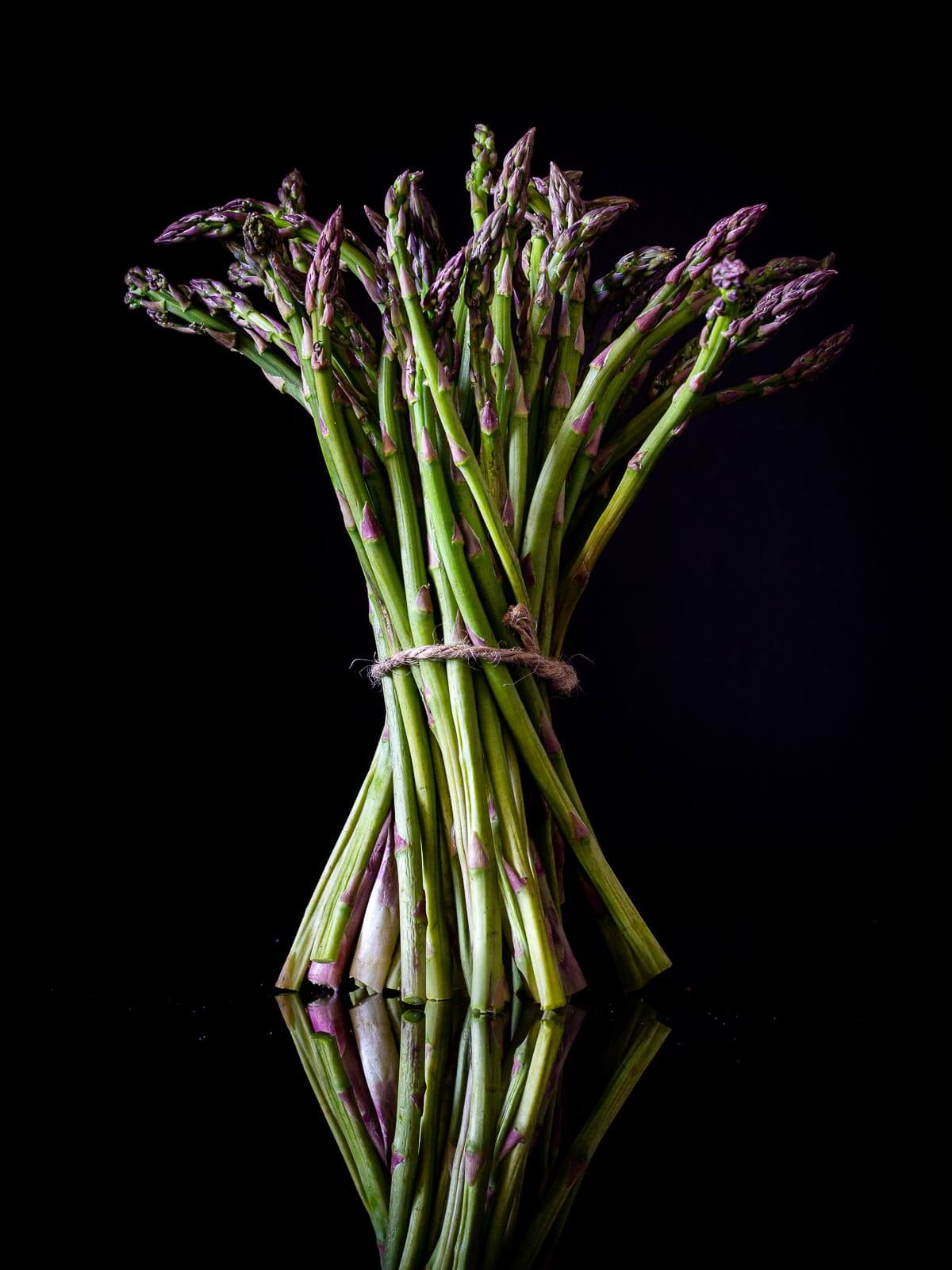 Want to know more about the health benefits of Asparagus. Visit HealthLine
📚 More sides recipes
⭐ If you try this recipe, let us know! 💬 Leave a comment, rate it, and don't forget to tag us @ourplantbasedworld on Instagram. Cheers!
📋 Recipe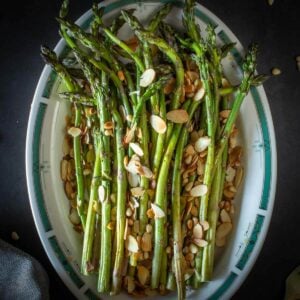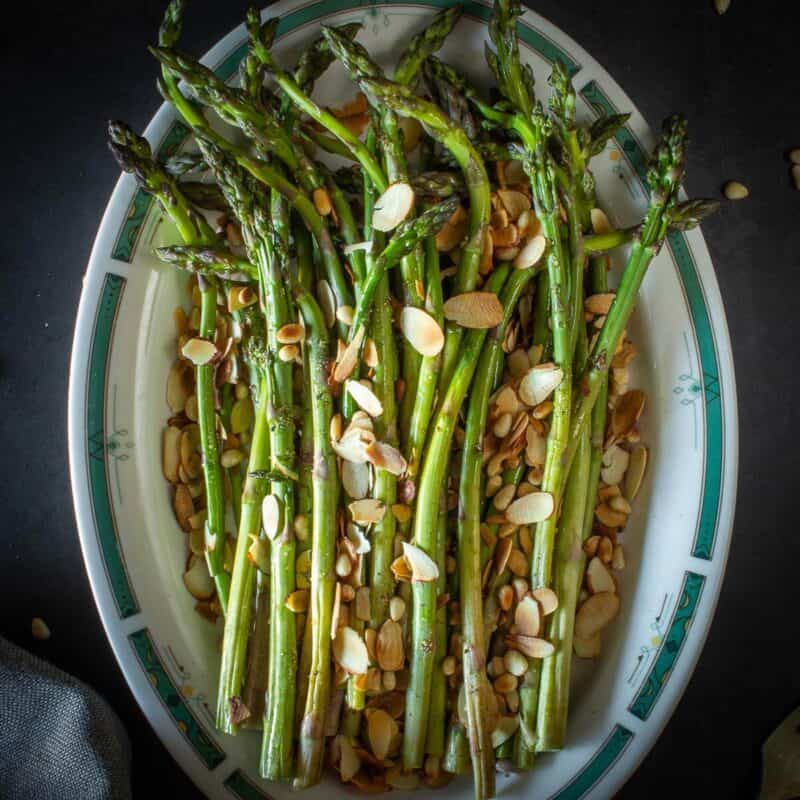 Perfect Grilled Asparagus Recipe with Toasted Almonds
It's asparagus season, and I can't get enough of it. This grilled asparagus brings out its best. This recipe is made in five minutes and the flavor is to die for.
Equipment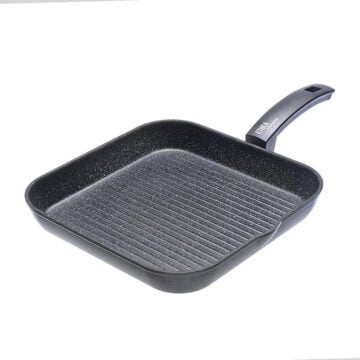 (affiliate link)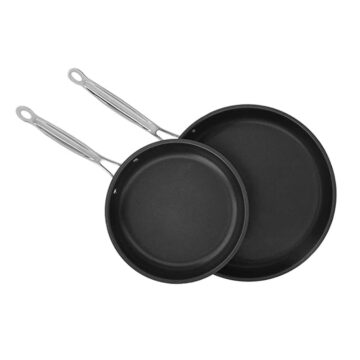 (affiliate link)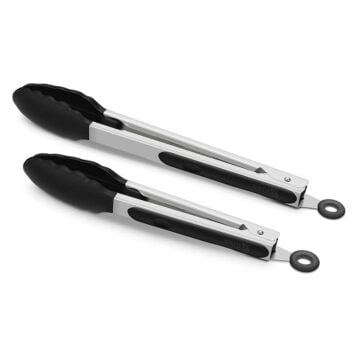 (affiliate link)
Directions
Cut the bottom inch (about 2 ½ cm) of the asparagus, as they are usually fleshy.

Toast the sliced almonds and pine nuts on a skillet for one minute. Keep an eye to avoid them from burning. Take them off the heat as soon as you see they are slightly toasted. (the heat from the skillet will keep toasting them after the heat is off).

If your asparagus are not extra thin, blanch them in boiling water for 30 seconds. If they are thin, omit this step.

Grill the asparagus with a drizzle of avocado oil for about 2 minutes.  Place the asparagus across the grill pan perpendicular to the lines.

Add the garlic powder, salt, and pepper and toss for another 30 seconds or so. Do not overcook them as they could become too soft and lose their crispness.

Plate the asparagus and sprinkle the toasted almonds and pine nuts on top.

Serve with a wedge of lime or lemon. The acidity will bring up all the flavors.
Nutrition Facts
Calories:
245
kcal
Carbohydrates:
11
g
Protein:
8
g
Fat:
21
g
Saturated Fat:
2
g
Polyunsaturated Fat:
6
g
Monounsaturated Fat:
11
g
Sodium:
4
mg
Potassium:
467
mg
Fiber:
5
g
Sugar:
4
g
Vitamin A:
1080
IU
Vitamin C:
10
mg
Calcium:
78
mg
Iron:
4
mg
Nutrition Facts
Perfect Grilled Asparagus Recipe with Toasted Almonds
Amount per Serving
% Daily Value*
* Percent Daily Values are based on a 2000 calorie diet.
🌡️ Food safety
Cook to a minimum temperature of 165 °F (74 °C)
Do not use the same utensils on cooked food that previously touched raw meat
Wash hands after touching raw meat
Don't leave food sitting out at room temperature for extended periods
Never leave cooking food unattended
Use oils with high smoking points to avoid harmful compounds
Always have good ventilation when using a gas stove
See more guidelines at USDA.gov.
The information shown is an estimate provided by an online nutrition calculator. It should not be considered a substitute for a professional nutritionist's advice. See our full Nutritional Disclosure here.
Please note that some of the links here are affiliate links, and I will earn a commission if you purchase through those links. I recommend all of the products listed because they are companies I have found helpful and trustworthy.