Ever wondered how to bring the tropical vibes of Thailand right into your kitchen? Look no further because we've got you covered with an irresistible vegan coconut pineapple Thai curry that's as vibrant as a Thai sunset. This dish is a perfect blend of creamy coconut, zesty pineapple, and aromatic spices. Trust us, it's the pineapple curry recipe you've been searching for!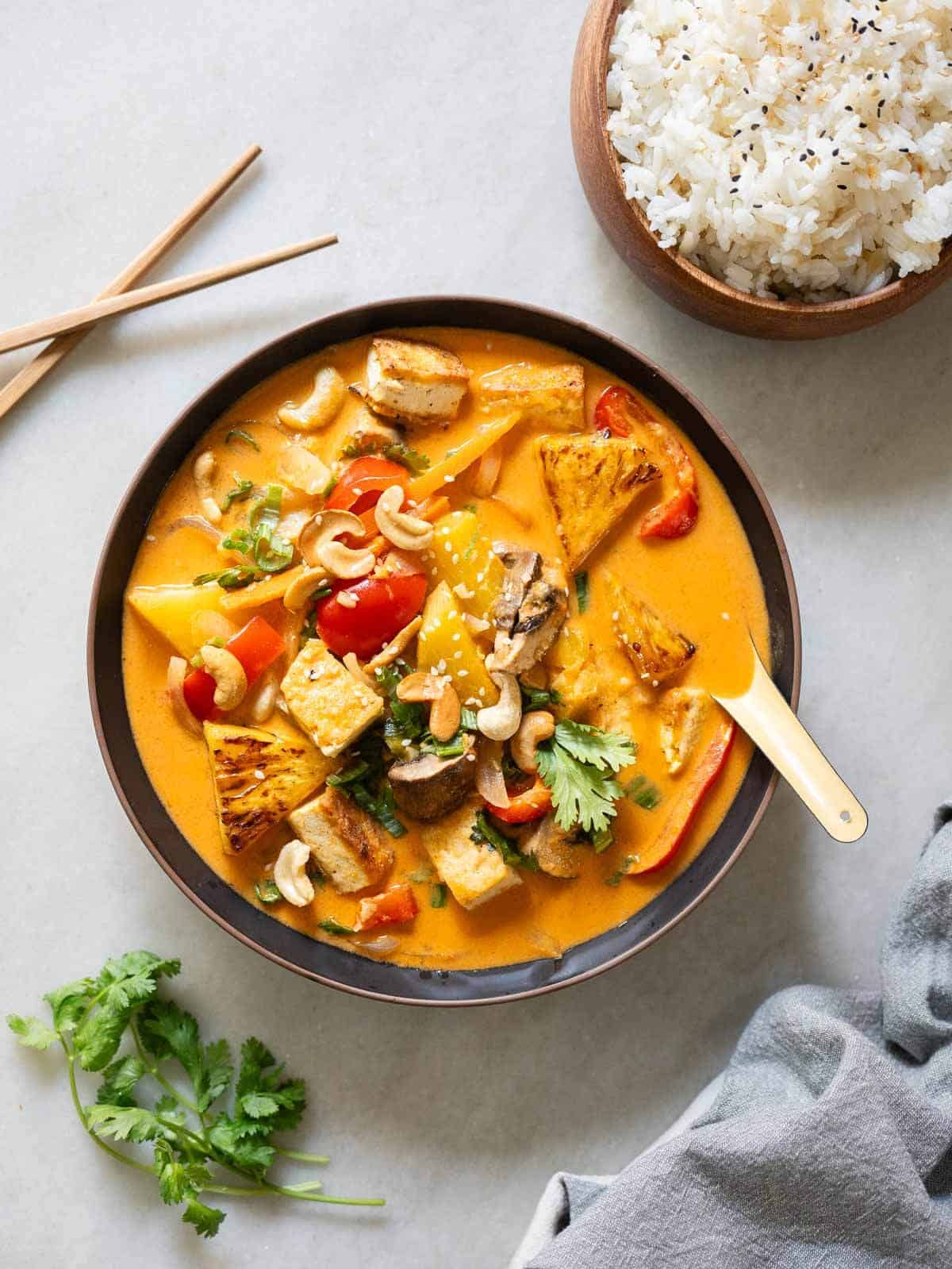 Our popular Thai Massaman Curry recipe and our Hawaiian tofu bowl inspired this dinner dish. It's perfect for those who love Thai curries but are looking for a low-carb pineapple dish option. The creamy coconut milk and the natural sweetness of the pineapple make it absolutely delicious. So, go ahead and serve warm; this dish is sure to be a hit!
Jump to:
💚 Why you will love this recipe
Tropical Flavors: This pineapple curry dish is like a vacation in a bowl, featuring creamy coconut milk, tangy pineapple chunks, and aromatic Thai spices.
Versatility: Whether you're into Thai food or just exploring vegan curry recipes, this dish offers plenty of variations. Swap out jasmine rice for basmati or even quinoa!
Quick and Easy: With a prep time that's a breeze and simple cooking spices, you'll have a delicious dish ready in no time. Plus, it's a one-pot wonder, so cleanup is minimal.
Nutrient-Packed: Loaded with healthy vegetables like bell peppers and spinach, this meal is not just tasty but also nutritious.
Customizable Heat: Whether you like your pineapple curry spicier or prefer medium heat, you can easily adjust the red curry paste to your liking.
🧾 Ingredients
The ingredients that make this pineapple coconut curry sauce SO good are: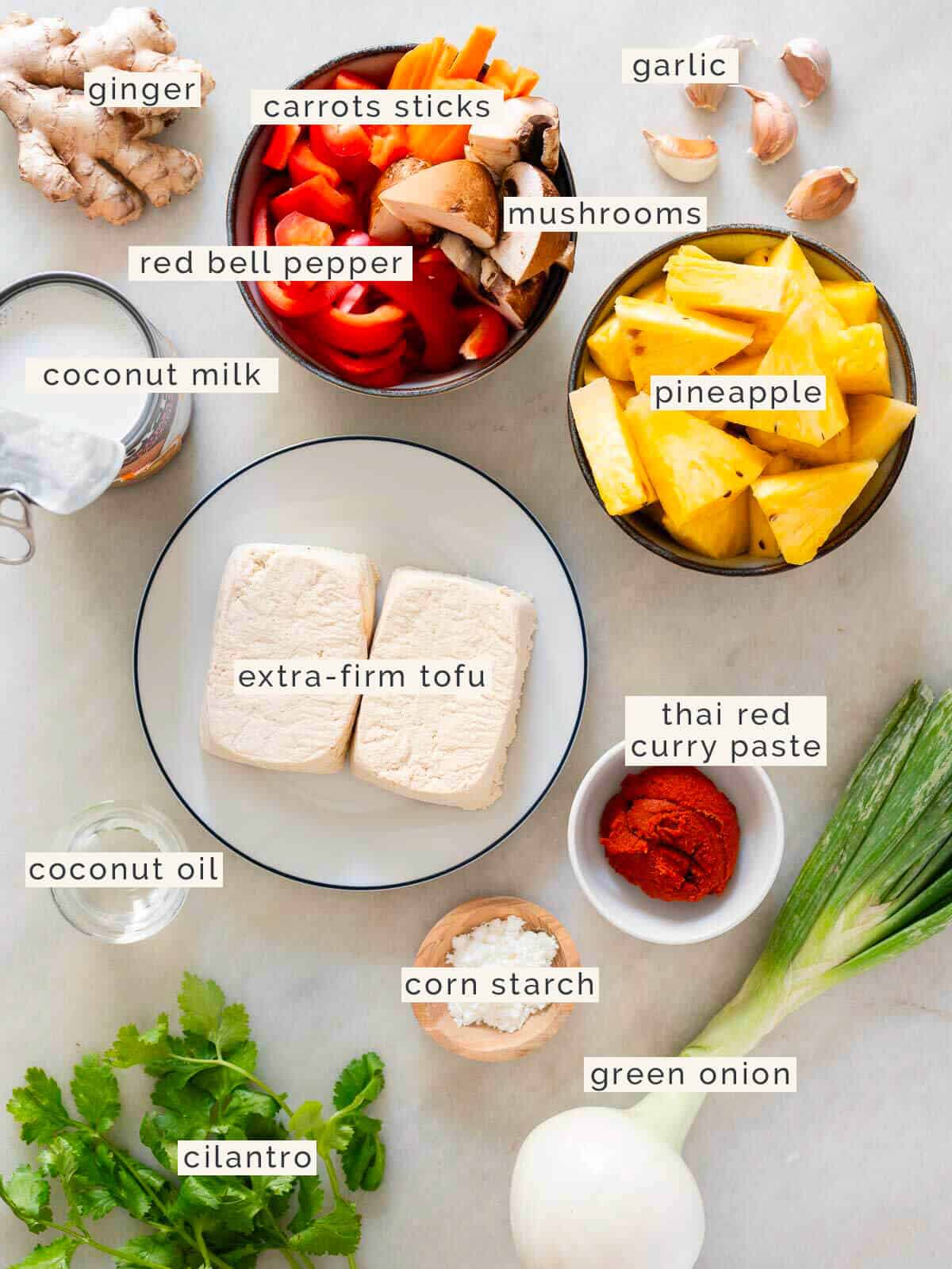 Pineapple: Adds a tropical sweetness and tang that balances the spiciness of the curry. It also provides a juicy, fruity element that complements the creamy texture.
Light Coconut Milk: Offers a lighter yet still creamy base for the curry, making the dish less heavy but still indulgent.
Thai Red Curry Paste: This brings authentic Thai flavors into the mix, offering a combination of spice, depth, and complexity.
Ginger: Infuses the curry with a warm, spicy kick that elevates the overall flavor profile.
Garlic: Provides a foundational aroma and taste that's essential in building the curry's complex flavors.
Green Onion: The white parts add a subtle onion flavor without overpowering, while the green tops make for a fresh garnish.
Carrot: Introduces a slight sweetness and a crunchy texture, adding another layer of complexity to the dish.
Red Bell Pepper: Adds a pop of color and a sweet, slightly smoky flavor that complements the spiciness of the curry.
Mushrooms: Contribute an earthy flavor and meaty texture, making the curry more satisfying.
Extra-Firm Tofu: Serves as the protein backbone of the dish, absorbing flavors well and providing a chewy contrast to the softer veggies.
Coconut Oil: Used for sautéing, it enhances the coconut flavor in the curry and helps in better absorption of spices.
Coriander (AKA Cilantro): Freshens up the dish with its herbal notes and pairs wonderfully with the other spices.
Lime Juice: Adds a final zesty touch, brightening the flavors and tying everything together.
Substitutions
Light Coconut Milk: If you're out of light coconut milk, use cashew or oat milk for a lighter texture. For a creamier version, full-fat coconut milk works too.
Thai Red Curry Paste: use other curry paste like Massaman, green curry paste, or yellow curry paste. If you can't find this, you can use a blend of ground cumin, coriander, and a dash of cayenne pepper. Note that this won't be as authentic but will still offer a spicy kick.
Red Bell Pepper: Feel free to swap with yellow or green bell peppers for a different color and flavor profile.
Carrot: Parsnips or sweet potatoes can be used for a different texture and flavor.
Mushrooms: Zucchini or eggplant can be used for a different texture but with a similar umami flavor.
Extra-Firm Tofu: Tempeh or seitan can be used for a different protein base, but note that they will offer a different texture.
Coriander: Fresh Thai basil or parsley can be used if coriander isn't available, although the flavor profile will change slightly.
Green Onion: Shallots or leeks can be used for a milder, sweeter flavor.
Garlic: Garlic powder or minced garlic from a jar can be used in a pinch.
Ginger: Ground ginger can be used if fresh ginger is not available.
🍽 Equipment
Large Saucepan: Essential for making the curry, as it provides enough space for all the ingredients to mingle and cook evenly. The wide base also allows for better heat distribution, ensuring your curry is cooked to perfection.
Skillet: Ideal for searing the pineapple and tofu, as it heats up quickly and evenly. The searing process caramelizes the edges of the pineapple and tofu, adding an extra layer of flavor and texture to the dish.
🔪 Instructions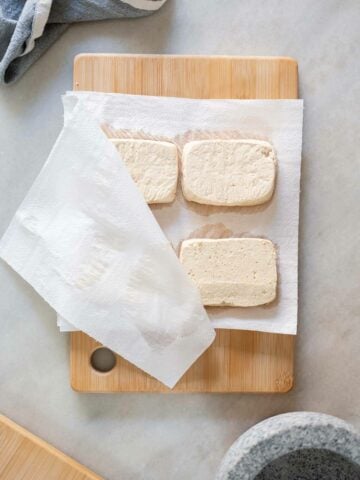 Step 1: Place tofu between paper towels.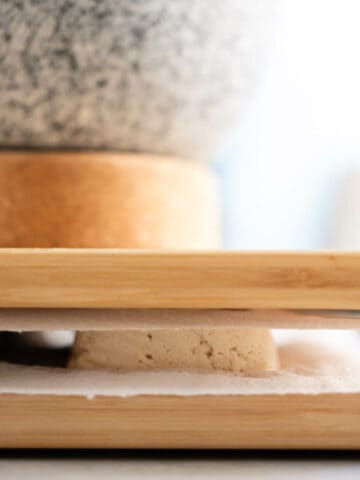 Step 2: Then put something heavy on top for at least 10 minutes.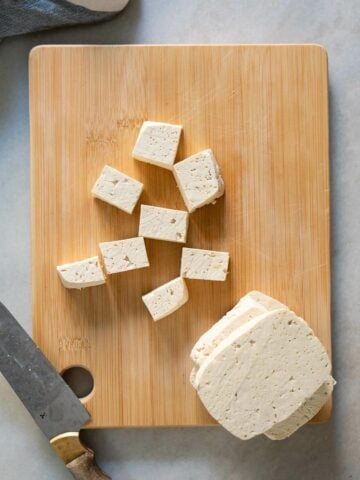 Step 3: Then cut the tofu into cubes.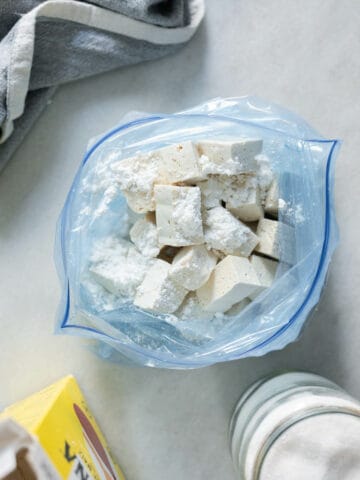 Step 4: Add salt and cornstarch in a ziplock bag.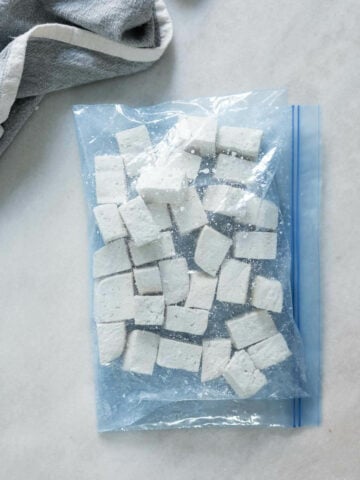 Step 5: Close the bag and move it delicately with your hands until all cubes are perfectly coated.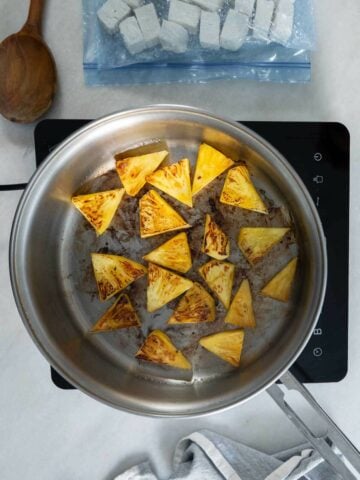 Step 6: Sear half of the pineapple chunks in a skillet with a tablespoon of neutral or coconut oil. Turn them halfway and remove them.
Tip: While you can certainly toss in all the pineapple chunks at once, giving them a quick sear beforehand not only enhances their flavor but also gives them a more appealing look when you serve the dish.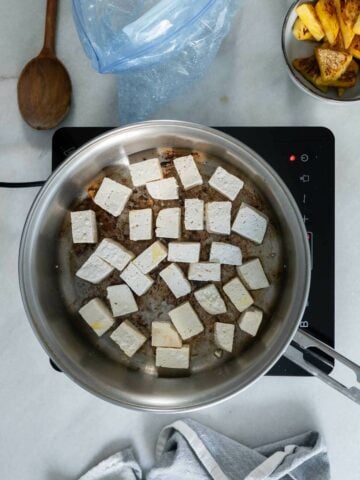 Step 7: Add another tablespoon of oil and continue searing the tofu cubes. Then reserve.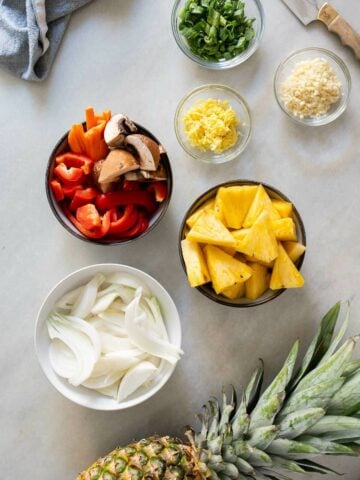 Step 8: Chop your veggies and mince garlic and fresh ginger.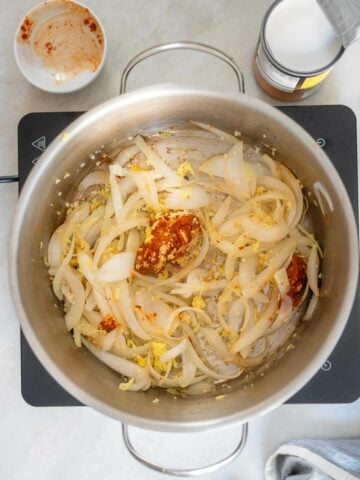 Step 9: In a large saucepan with a tablespoon of oil, stir-fry the onions, followed by the garlic, ginger, and red curry paste.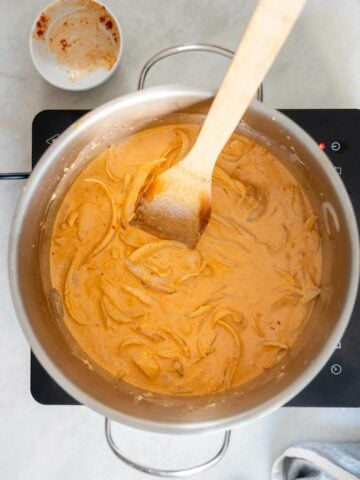 Step 10: Then add the coconut milk and cook for two minutes.
Hint: use full-fat coconut milk for a richer and creamier curry.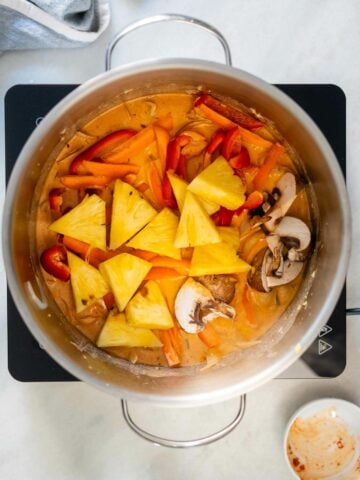 Step 11: Continue adding the chopped vegetables and half of the unseared pineapple chunks.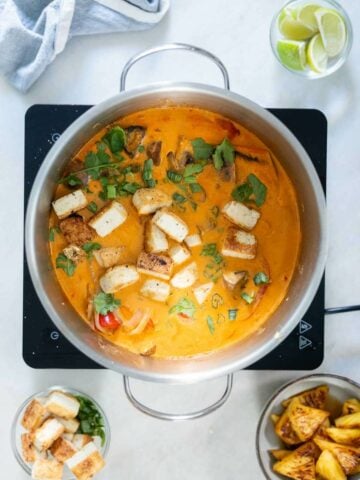 Step 12: Toss in seared tofu cubes and add cilantro.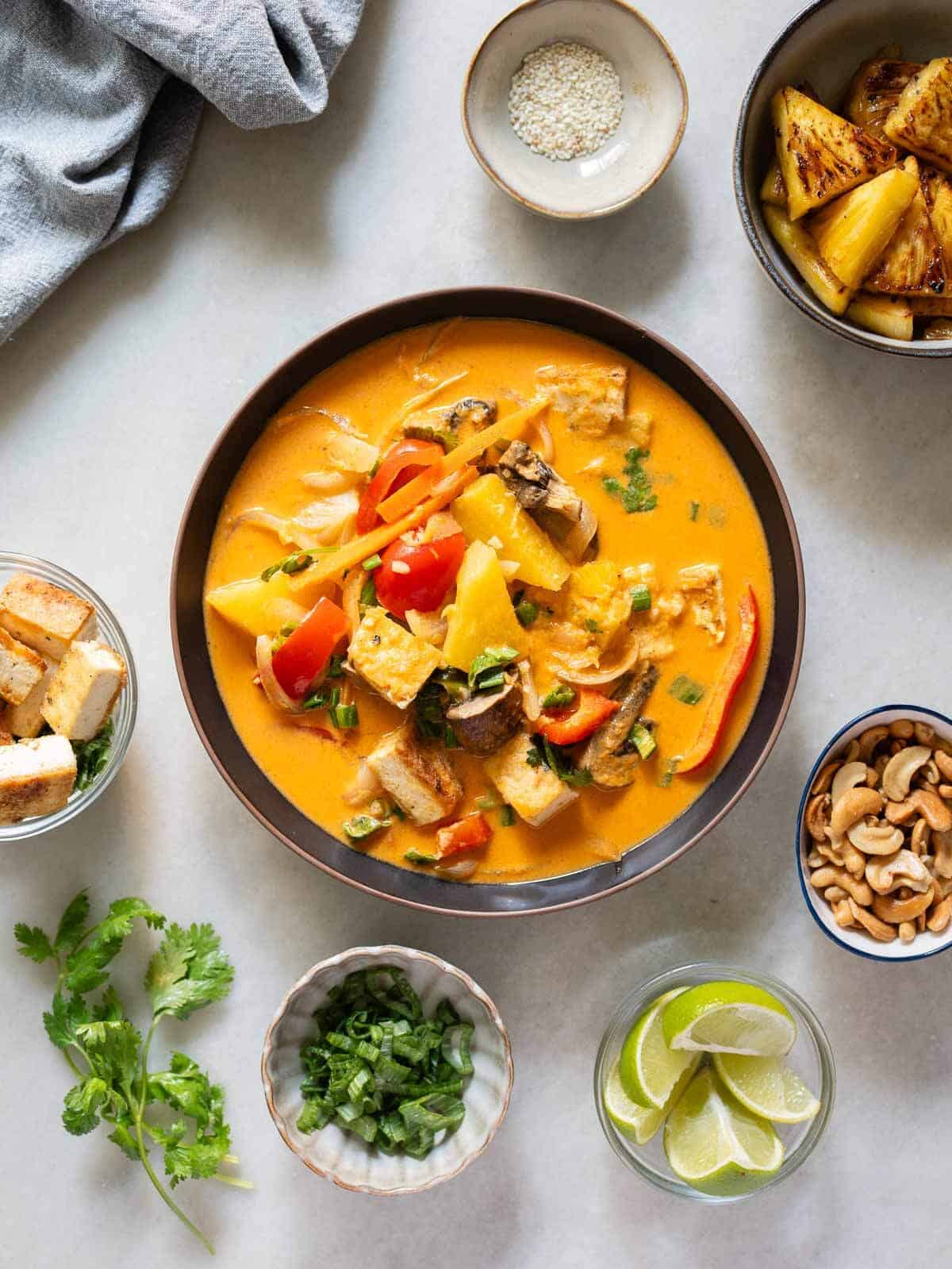 Serve the curry with your preferred garnishes. We like leaving some seared pineapple and tofu cubes to top the curry bowls and then adding sesame seeds, green onions tops, and freshly squeezed lime juice.
💡 Expert Tip
To get this recipe right 100% of the time, make sure to shake your can of light coconut milk vigorously before opening. This ensures all the creamy goodness is well-mixed, offering a consistent texture and flavor to your pineapple curry. It's a small step, but it's a game-changer!
📖 Variations
Spicy Kick: If you're a heat fan, add a sliced Thai chili or a teaspoon of chili flakes to make your pineapple curry spicier. This will elevate the medium heat to a whole new level!
Protein Boost: For an extra protein kick, in addition to crispy tofu, toss in some cooked chickpeas or lentils. They'll absorb the flavors and add a different texture to the dish.
Tropical Fusion: Add some mango chunks along with the pineapple for a unique twist. The mango adds a different layer of sweetness and makes the dish even more tropical.
🥢 How to serve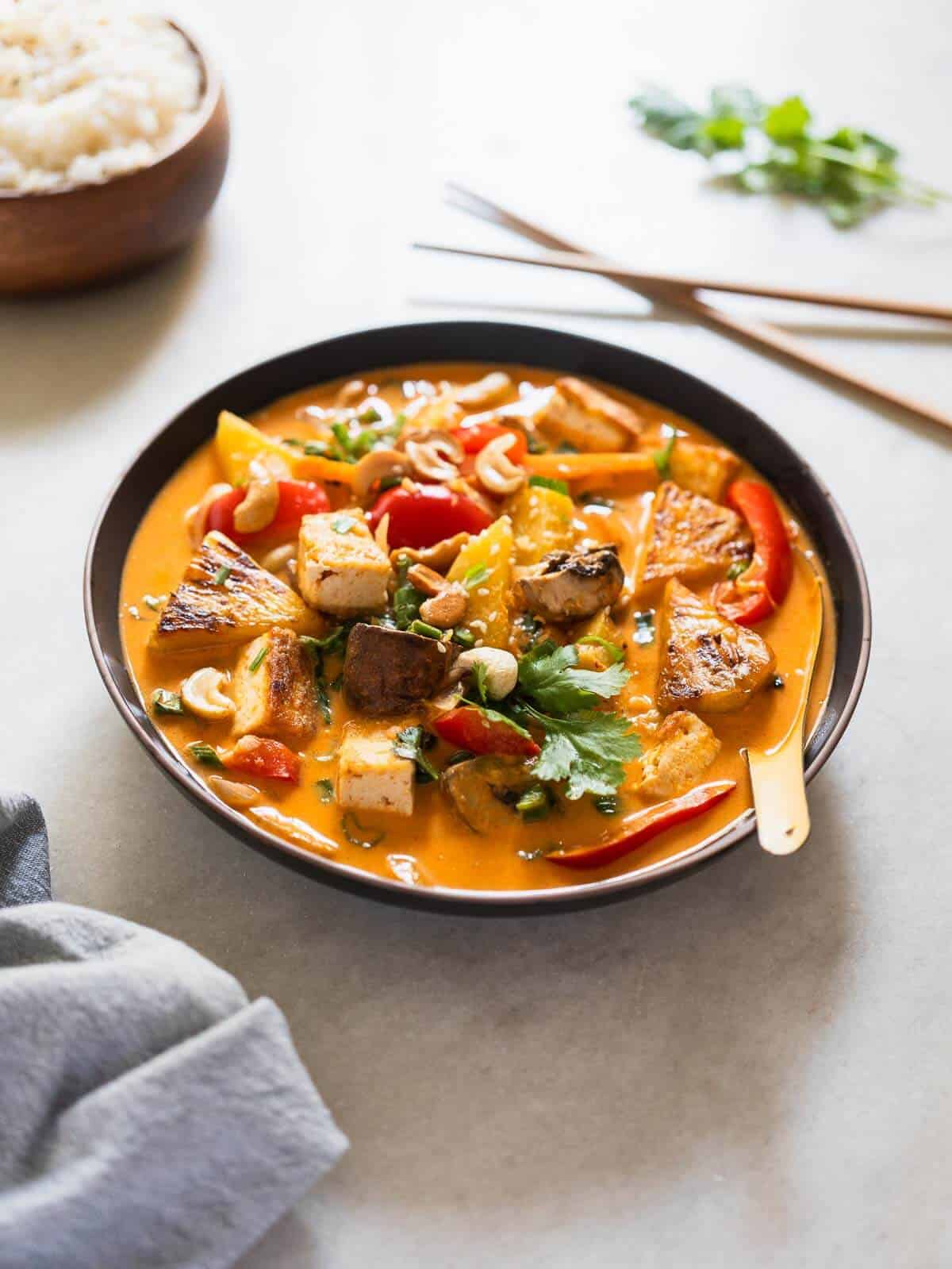 With Steamed Jasmine Rice: Enjoy this pineapple curry alongside a steamed Jasmine or basmati rice bowl. A sprinkle of fresh cilantro and a dash of lime juice elevate the flavors.
Stuffed Pineapple Bowl: For a unique serving idea, hollow out a pineapple and use it as a natural bowl. Fill it with the curry and top with some bamboo shoots for added crunch. This presentation is not only delicious but also Instagram-worthy!
🥡 Storage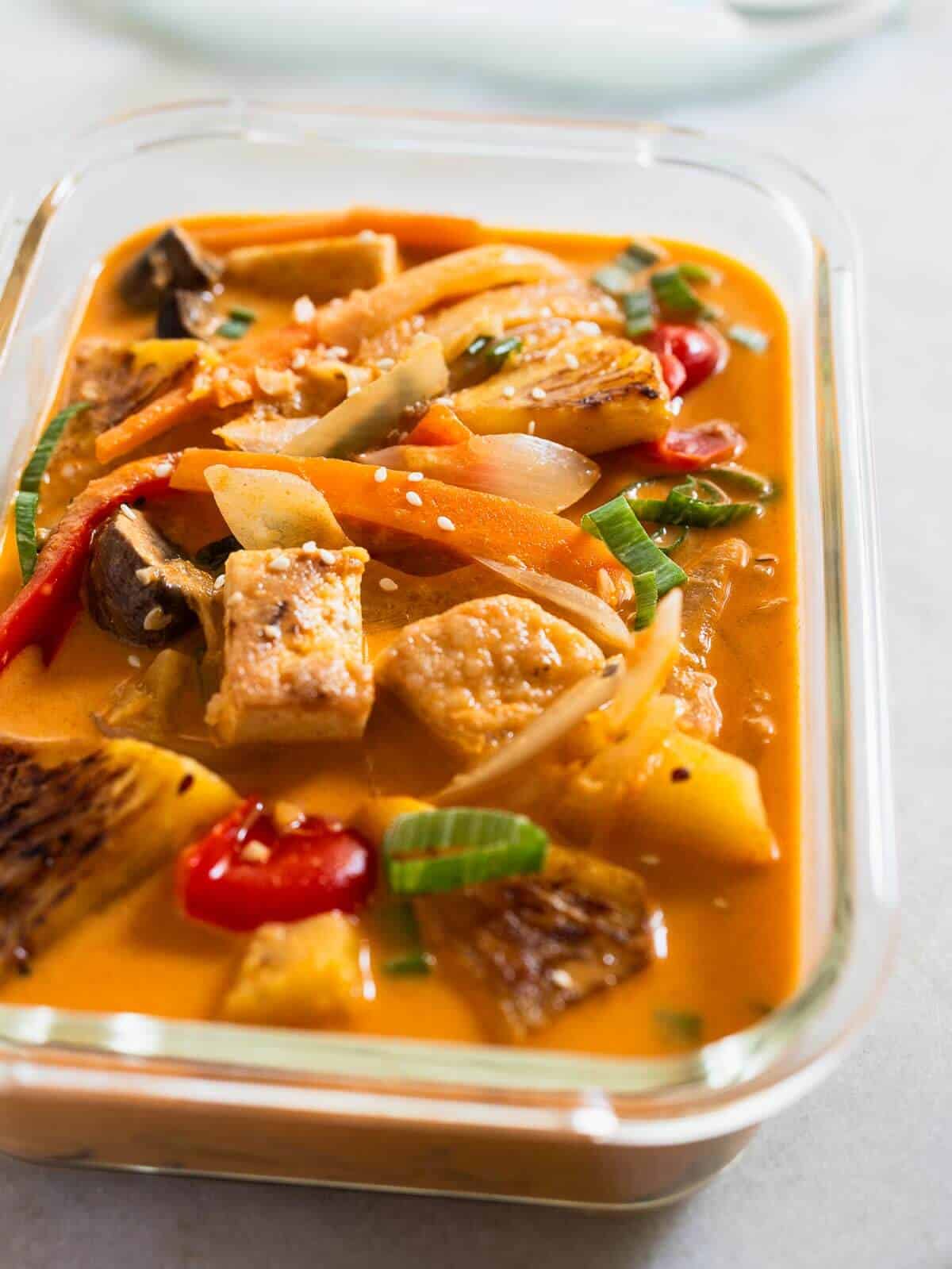 In the Fridge: Store any leftover pineapple curry in an airtight container and keep it in the fridge for up to 3-4 days. To reheat, simply place the desired amount in a saucepan and warm over low heat, stirring occasionally.
Freezing: This curry freezes well. Portion it into freezer-safe containers, leaving a little space at the top for expansion. It can be frozen for up to 2 months. To reheat, thaw it in the fridge overnight and then warm it in a saucepan over low heat.
📚 More Thai Curry recipes
We love our curries, so you will find plenty of inspo in our vegan curries category.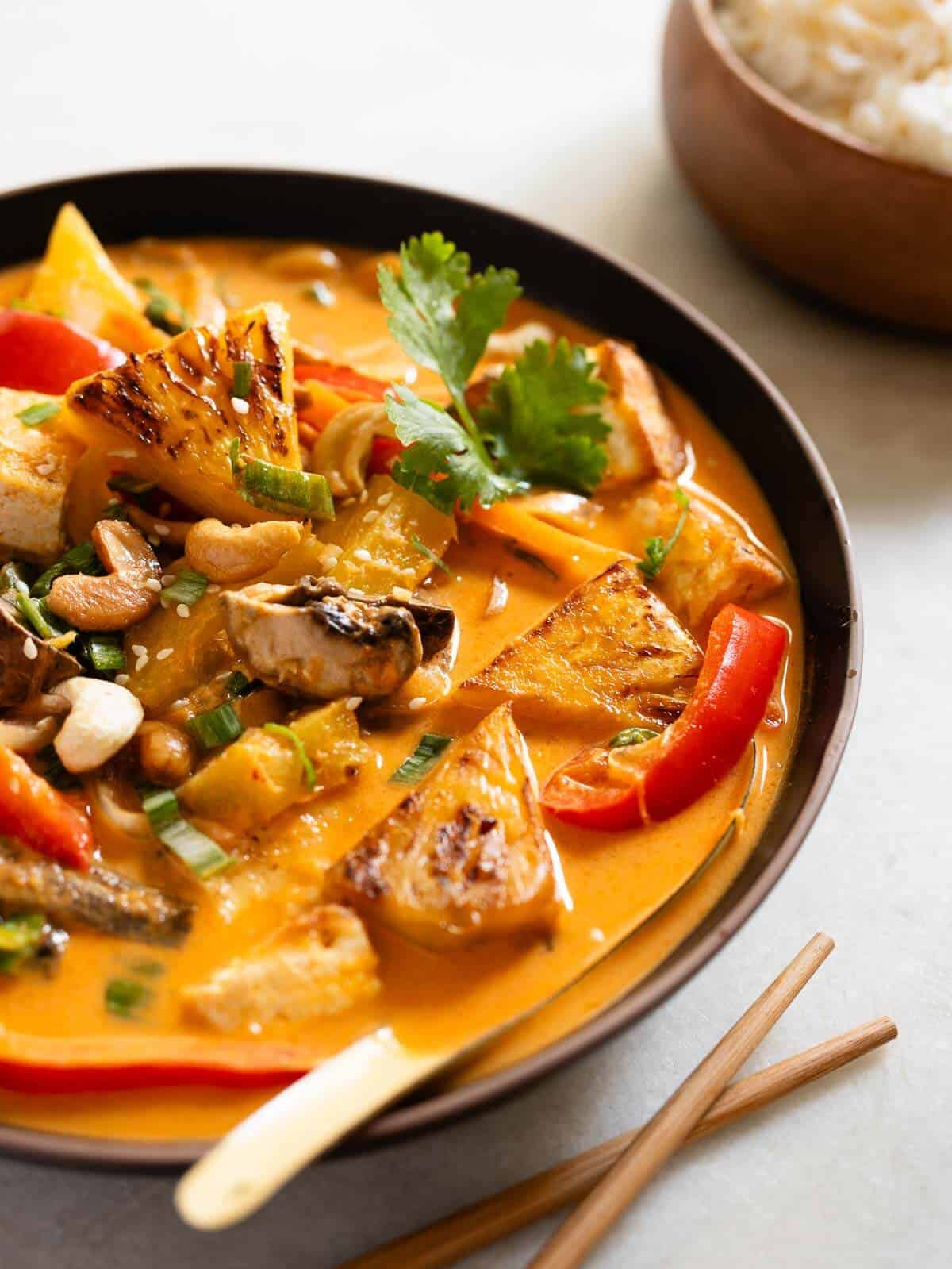 ⭐ If you try this pineapple Thai curry recipe, let us know! 💬 Leave a comment, rate it, and don't forget to tag us @ourplantbasedworld on Instagram. Cheers!
📋 Recipe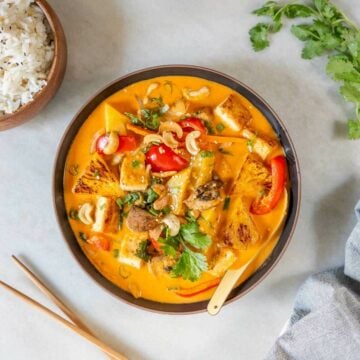 Vegan Coconut Pineapple Thai Curry
Get ready to transport your taste buds to Thailand! This Coconut Pineapple Thai Curry is a tropical delight that's easy to make and packed with flavor.
Equipment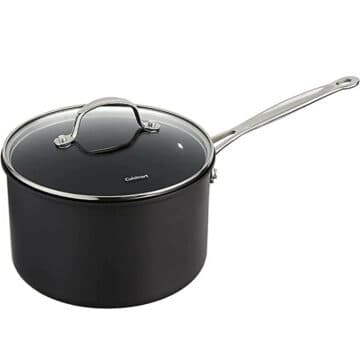 (affiliate link)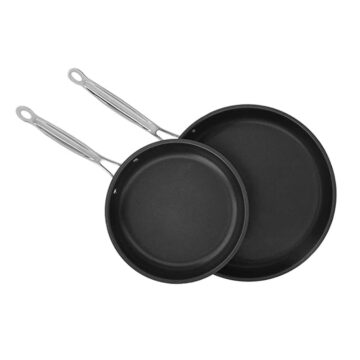 (affiliate link)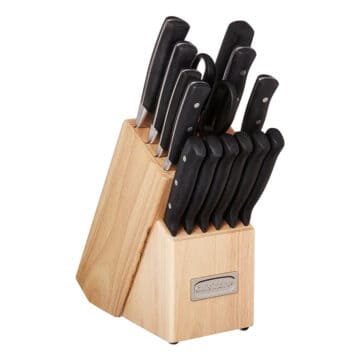 (affiliate link)
Ingredients
2

cups

pineapple

fresh, canned can be used, but ensure it's no sugar added

1

can

light coconut milk

2

tablespoon

Thai red curry paste

2-

inch

ginger

grated

5

cloves

garlic

minced

1

green onion

large, chopped, separating green and white parts

1

carrot

medium, chopped into sticks

1

red bell pepper

sliced

8

oz

mushrooms

14

oz

extra-firm tofu

2 blocks, pressed and cubed

3

tablespoons

coconut oil

divided

1

bunch

coriander

1

tablespoon

lime juice

1

teaspoon

salt

to taste
Directions
Press Tofu: Place tofu between paper towels and set a chopping board with a heavy object on top. Let it sit for at least 10 minutes to remove excess moisture.

Cube Tofu: After pressing, cut the tofu into even cubes.

Coat Tofu: Place the tofu cubes in a ziplock bag, and add salt and cornstarch. Seal the bag and gently shake until the tofu is well-coated.

Sear Pineapple: In a skillet, add a tablespoon of either neutral or coconut oil and sear half of the pineapple chunks. Turn them halfway and then remove from the skillet.

Stir-Fry Tofu: In the same skillet, add another tablespoon of oil and sear the tofu cubes until golden. Set aside.

Prep Veggies: Chop all your vegetables, and mince the garlic and ginger.

Cook Aromatics: In a large saucepan, add a tablespoon of oil and stir-fry the onions, garlic, ginger, and red curry paste.

Add Coconut Milk: Pour in the light coconut milk and let it simmer for two minutes.

Add Veggies and Pineapple: Incorporate the chopped vegetables and the remaining unseared pineapple chunks into the saucepan.

Combine Everything: Add the seared tofu cubes to the saucepan, followed by a sprinkle of cilantro.

Garnish and Serve: Dish out the curry into bowls and top with your choice of garnishes. We recommend using the seared pineapple and tofu cubes, along with sesame seeds, chopped green onions, and a splash of lime juice.
Notes
You can add any other vegetables you like; just make sure to adjust the seasonings, so the flavor remains the same.
i.e. adding more curry paste, ~½ tablespoon curry for every cup of vegetables.
Nutrition Facts
Calories:
309
kcal
Carbohydrates:
24
g
Protein:
11
g
Fat:
20
g
Saturated Fat:
16
g
Polyunsaturated Fat:
2
g
Monounsaturated Fat:
1
g
Sodium:
742
mg
Potassium:
587
mg
Fiber:
3
g
Sugar:
13
g
Vitamin A:
4875
IU
Vitamin C:
84
mg
Calcium:
73
mg
Iron:
2
mg
Nutritional Disclaimer
The information shown is an estimate provided by an online nutrition calculator. It should not be considered a substitute for a professional nutritionist's advice. See our full Nutritional Disclosure here.
Affiliate Disclaimer
Please note that some of the links here are affiliate links, and I will earn a commission if you purchase through those links. I recommend all of the products listed because they are companies I have found helpful and trustworthy.