Being Argentinean and living in Italy, we really miss the great "Empanadas Argentinas." This vegan empanadas recipe is delicious and very easy to make; you will feel that you have taken a quick trip to Argentina.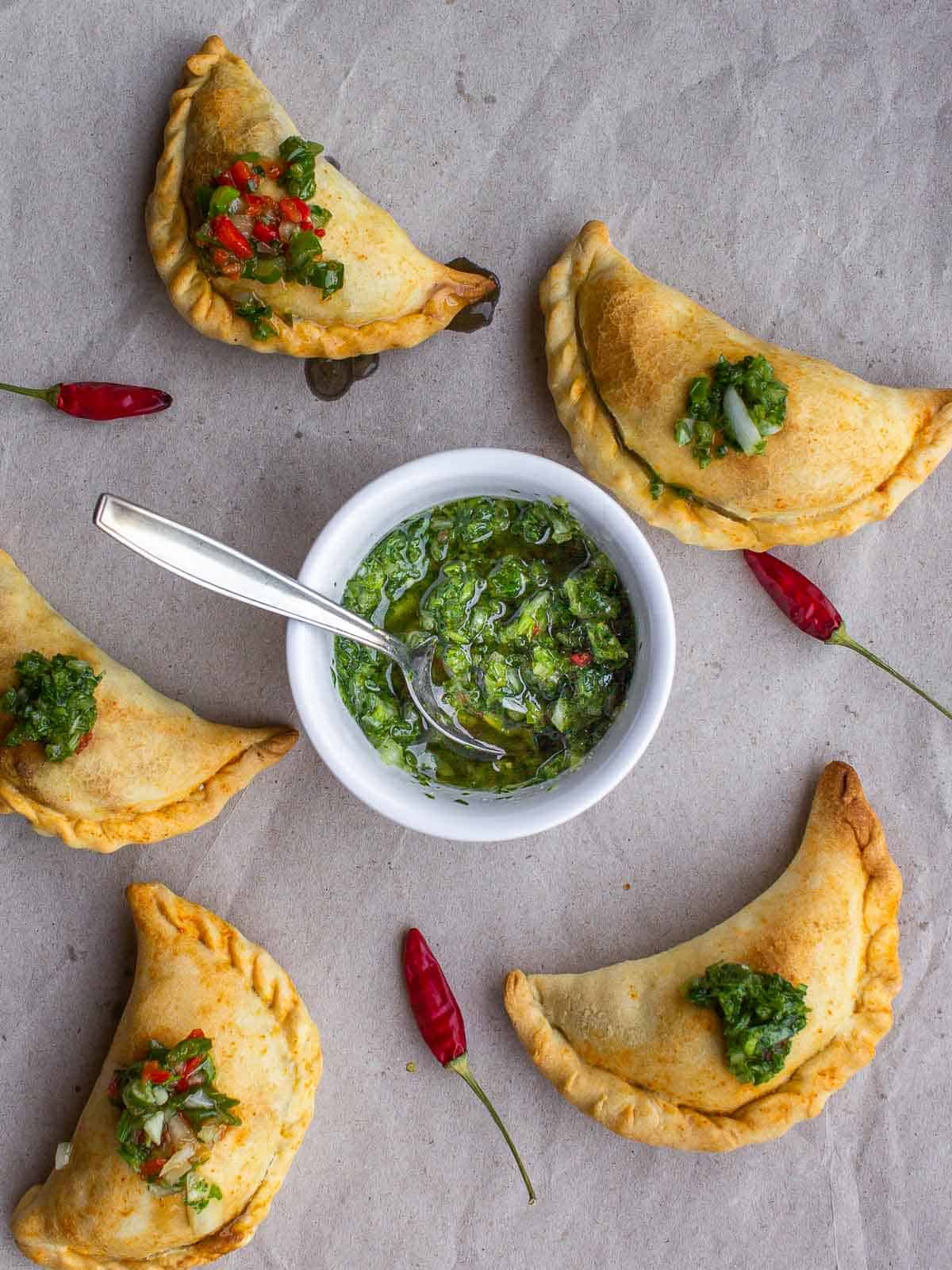 There are many different kinds of these puffy savory pastries. In a way, they are very close to the pizzas as the principle for making empanadas is the same: dough plus getting creative with the garnishing/filling.
We have empanadas year-round but we especially love this lentils version during the fall season, as it is when we tend to eat more lentils and pulses.
Ingredients
Follow this vegetable empanada recipe to make your own homemade empanadas. It's fast and fun to make vegetable empanadas with the whole family. These healthy lentil empanadas are also vegan, which means that, unlike some vegetable empanadas, they don't use any animal products like cheese or eggs.
These healthy vegetarian empanadas have a lentil base. We make a thick lentil stew which becomes the filling. We use the same seasonings that a meat empanada would have; hence the flavor profile is very similar but without the meat!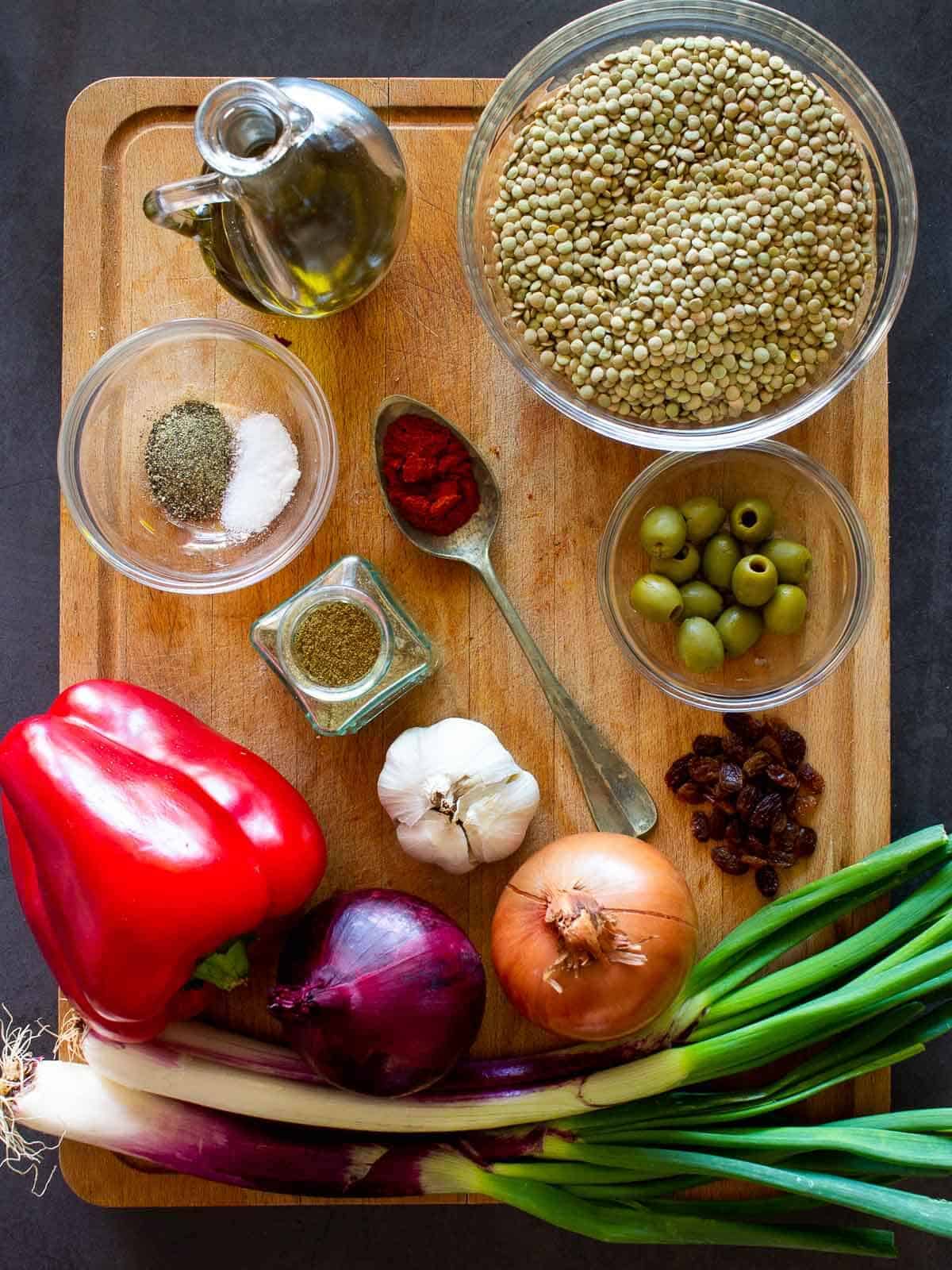 lentils
green onion
white onion
red onion
garlic
red bell pepper
ground cumin
smoked paprika
raisins (optional)
olives (optional)
See quantities and full instructions in the recipe card.
Optional: salt and pepper to adjust the seasoning.
Instructions
Make your own dough as directed. You can also use pre-bought puff pastry.
Make the filling.
Assemble the empanadas.
Bake.
Serve.
When making empanadas, you need to think about three things that differentiate the different types you can find typically in Argentina: the kind of dough, the cooking method, and the filling.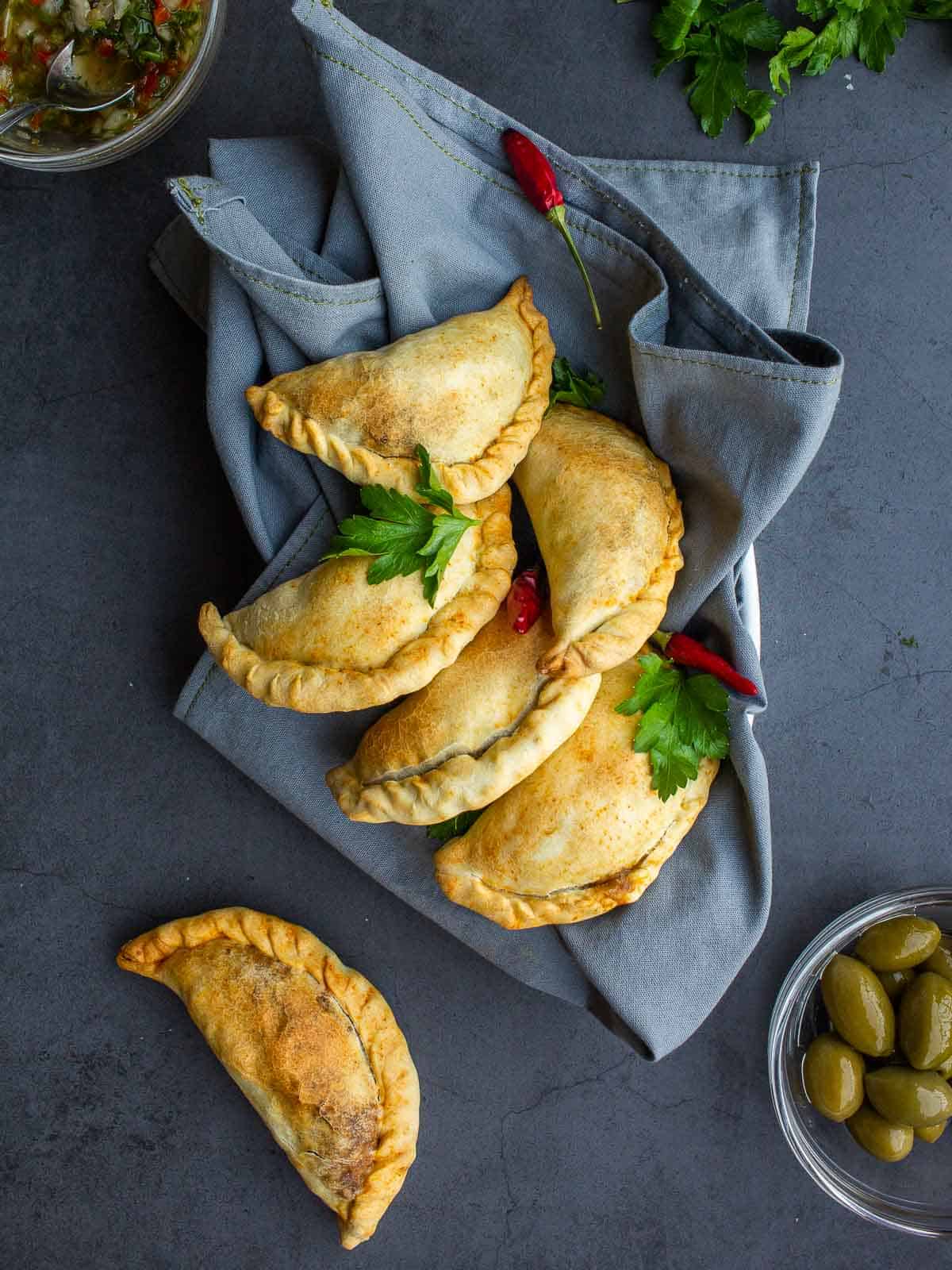 If you mix these three variables, you can find an endless array of possibilities.
Let's start with the simplest of the variables.
Cooking method
Fried vs. Oven Baked. Although fried empanadas are quite common, they have become less common day by day. In our point of view for two reasons:
It is widespread to ask for empanadas' deliveries, and just as any other fried delivered good, will not reach its destiny as crispy as they should.
Fried empanadas are not very healthy. They are usually fried in pork's fat, and nowadays, people are always looking for healthier comfort food versions. Still, they widely consumed when eating out, and they naturally will reach your mouth crispy.
Preheat oven. Cook the empanadas in the oven until they are golden brown, about 15 minutes. If you are working with frozen vegetarian empanadas, you can bake them directly (frozen), reducing the heat to 400 ºF (200ºC) instead, and cook for extra 5-10 minutes, until golden brown.
These veggie empanadas can be cooked either fried or baked.
Hint: using a lined baking sheet can facilitate the baking process and prevent the empanadas from sticking to the baking tray.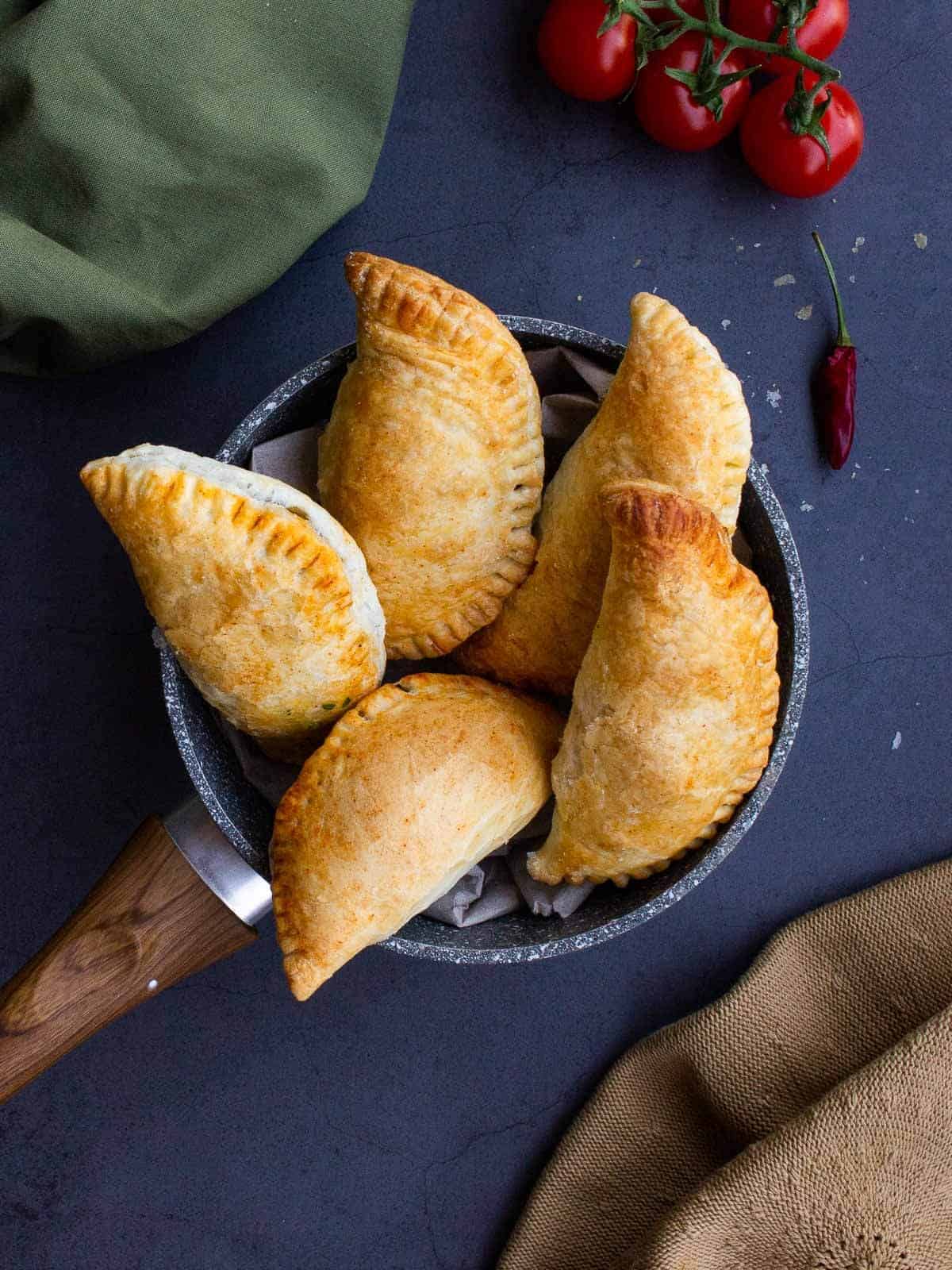 Empanada Dough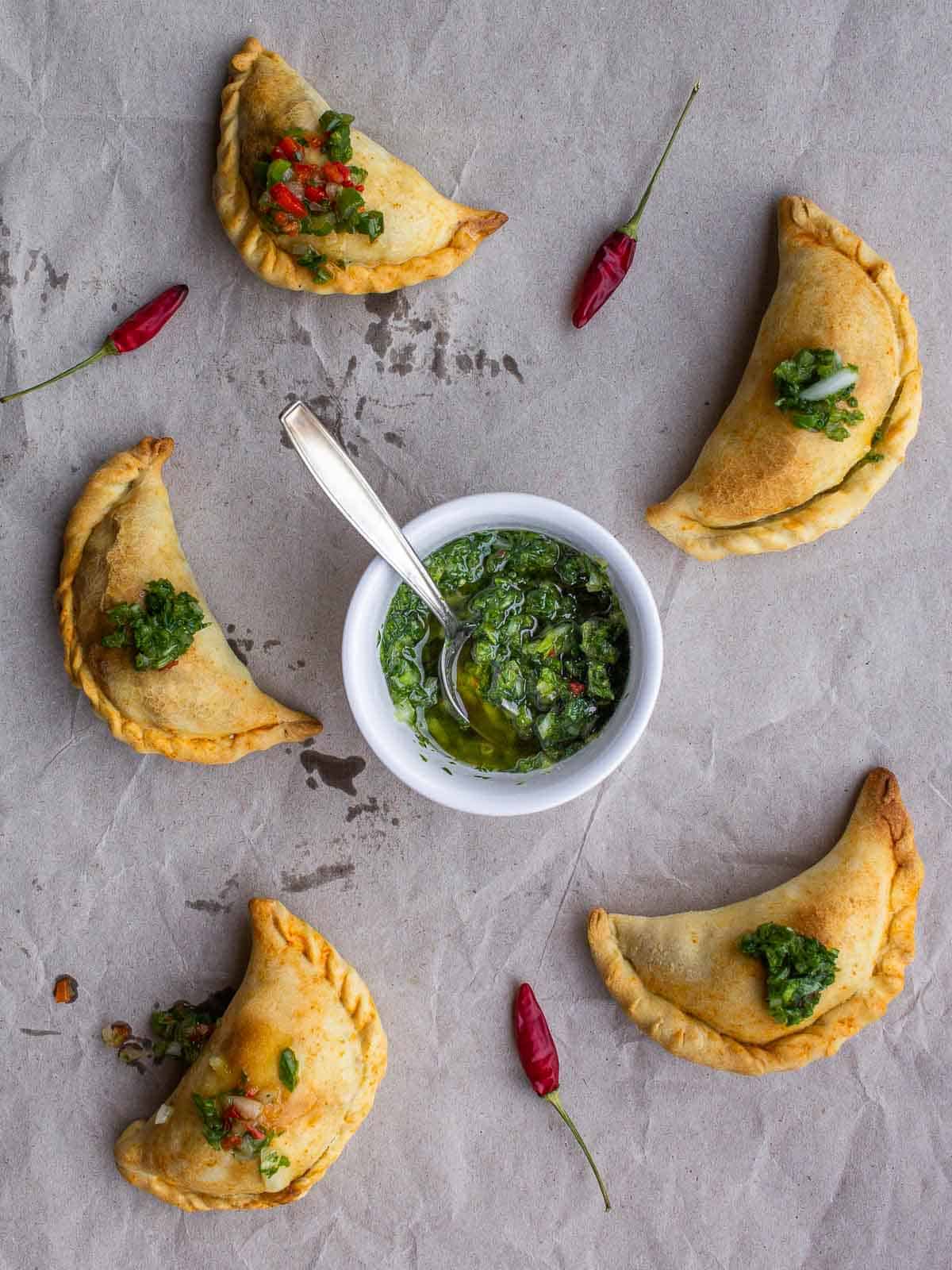 You can find mainly two kinds of empanada dough, puff pastry (flaky crust), and regular pastry.
This decision is harder to make, and we like both very much; it is just up to what you feel like having. We vary amongst these types, depending on our mood.
Simple and Tasty Empanadas Homemade Dough Recipe: All-purpose flour, Olive Oil, and Salt.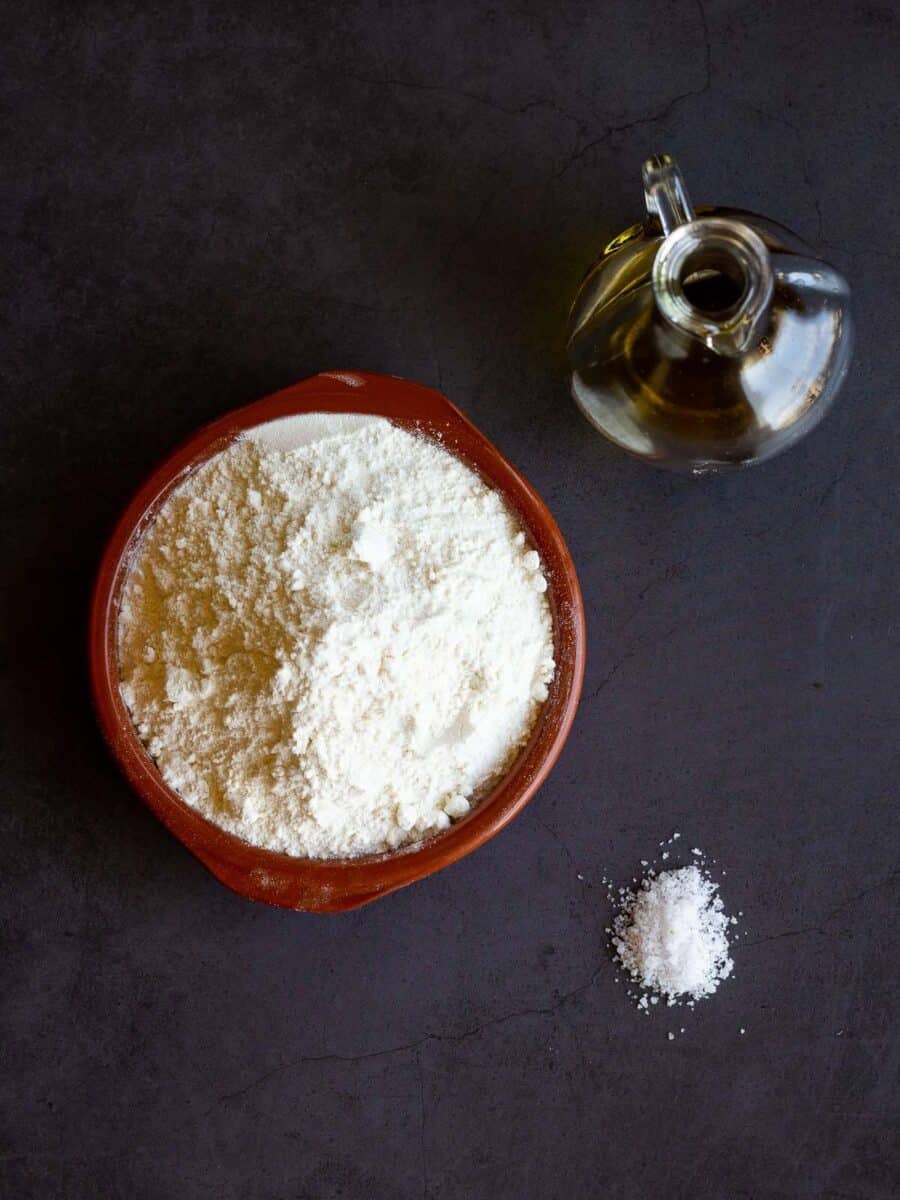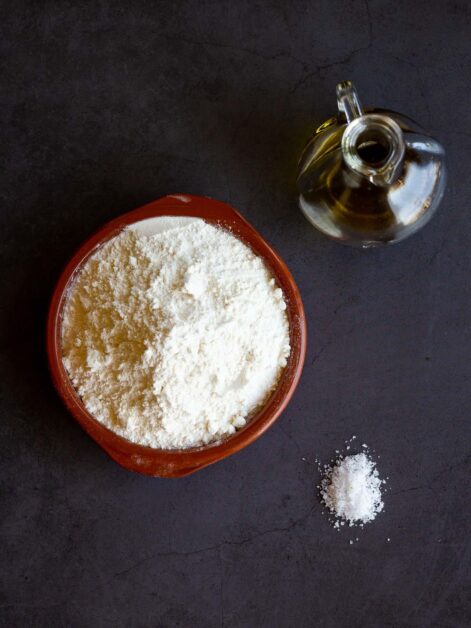 Also, in the north of Argentina, Tucuman's empanadas use pork's fat to make the dough. Being plant-based, we limit our consumption of animal fats. We have tried them before, but in my opinion, there is nothing to miss from porcine fat; also, they are obviously, less healthy.
Filling
Every Empanada Shop has at least five kinds of fillings. The ones that you will always find are beef, ham and cheese, Caprese, humita (sweet corn), and Roquefort (blue cheese). But most empanadas shops have about ten types or more.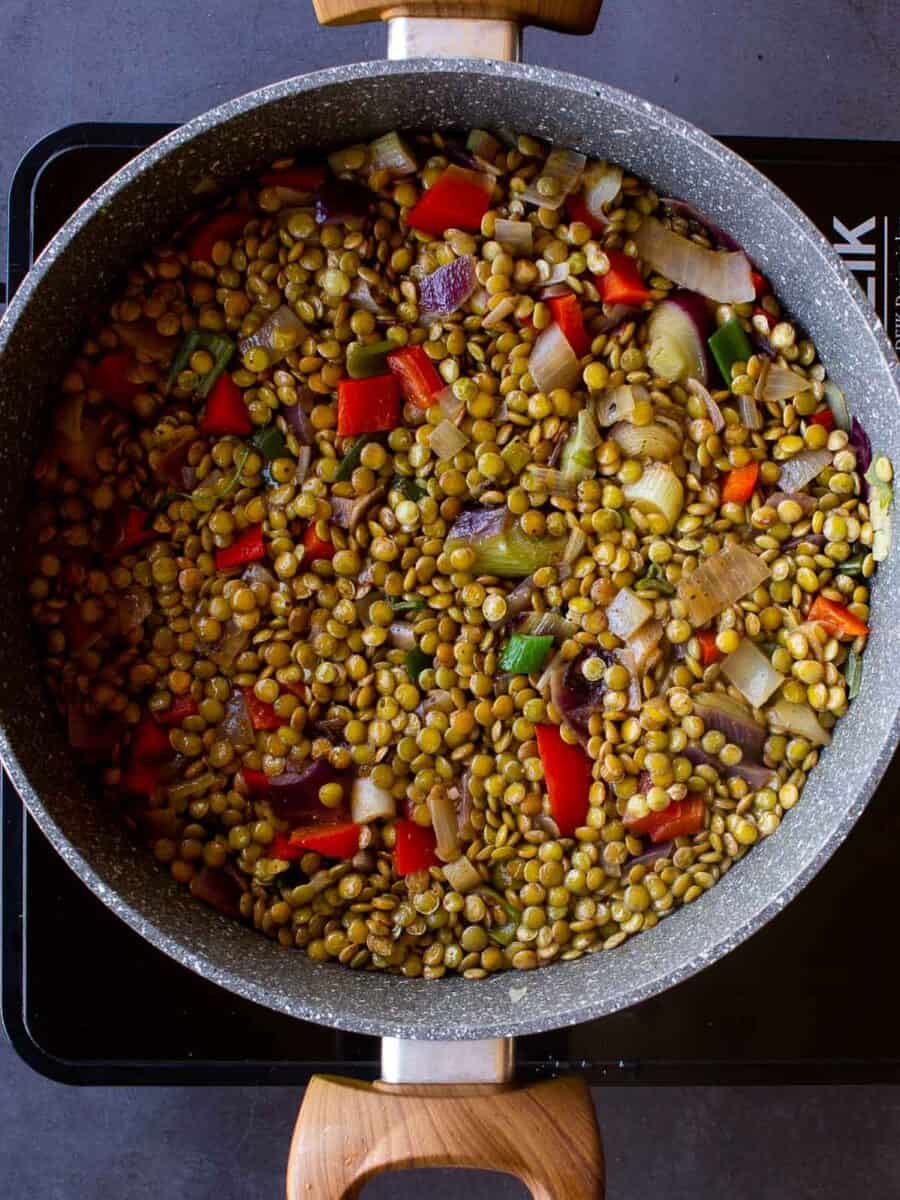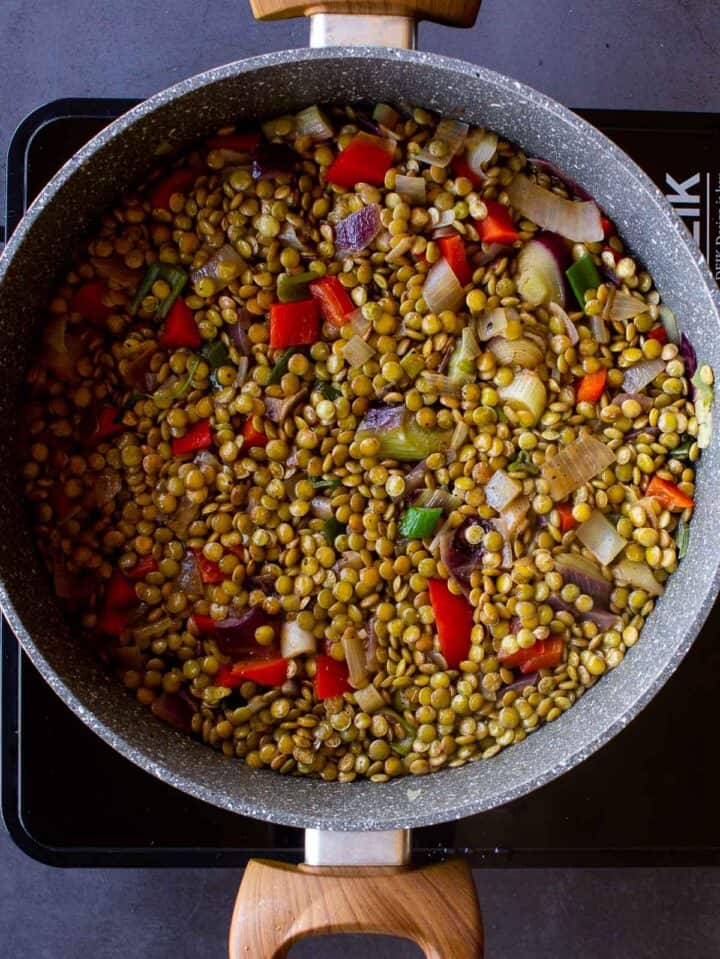 In the case of empanadas, unlike pizzas, cheese is not an essential component. Nevertheless, certain filings include cheese such as ham and cheese, onions and cheese kind, mushrooms, spinach ricotta, or Caprese (cheese, basil, and tomato).
You can use cheese if you are making a vegetarian empanada recipe, but for this recipe, I wouldn't add it, as our vegetarian filling (with a base of lentils) is rich enough, which we use in replacement of the classic meat filling.
Practical aspects
The Folding
Since it is common to eat more than one kind of empanadas as part of the same meal, the cue to differentiate them from the outside is the fold dough technique (repulgue). Also, different marks work. Try working on a lightly floured surface, to prevent the veggie empanadas from sticking.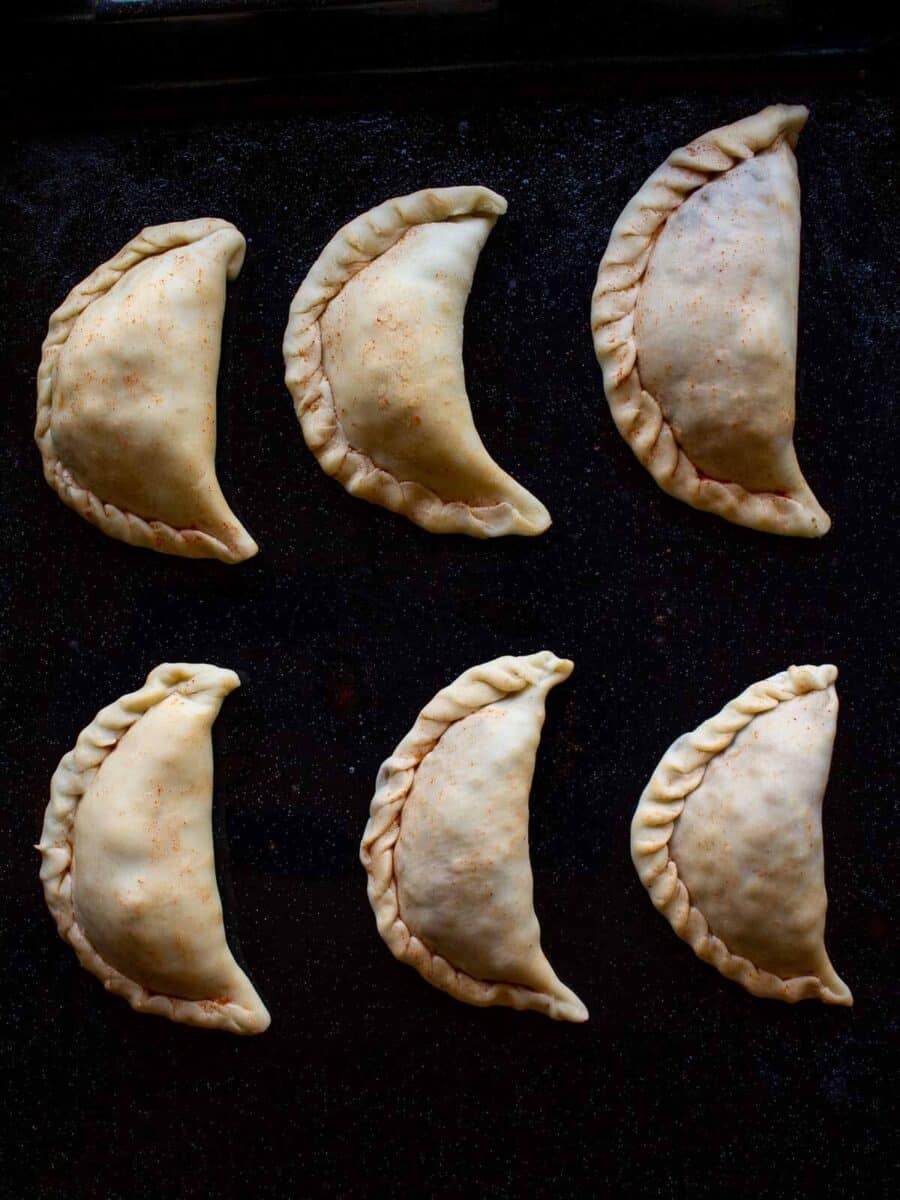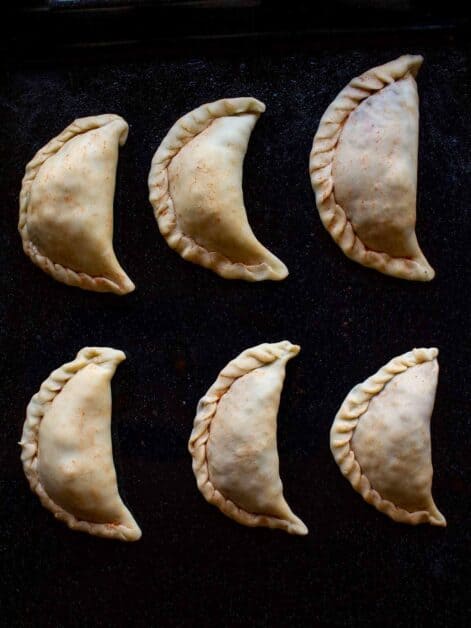 I will show how to make the repulgue, but the easiest way to get it right for a beginner is to use a fork to pressure the border and close them.
Quantity per person
If you're like us, empanadas are good any time of the day. They are both a staple appetizer and an excellent option for any lunch or dinner with family or friends. And for a while now, we've been craving some as we miss them so much!
For a full dinner or lunch: four empanadas.
Not that hungry: three empanadas.
On a diet? Two empanadas.
As an appetizer: one empanada.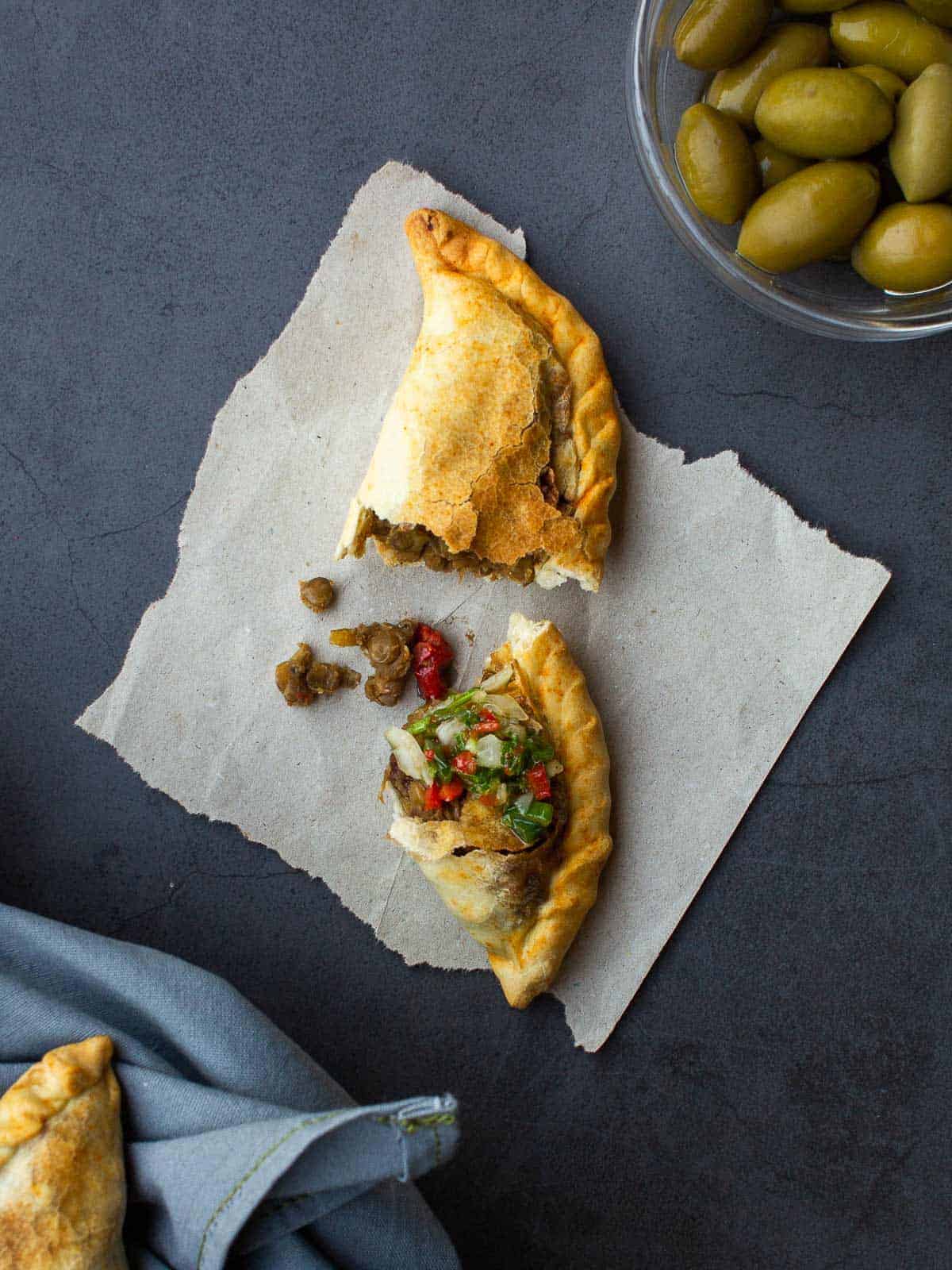 Tips if using pre-made puff pastry
You can get about seven medium dough circles out of one store-bought pie disc.
Take it out of the fridge just right before cutting and using it.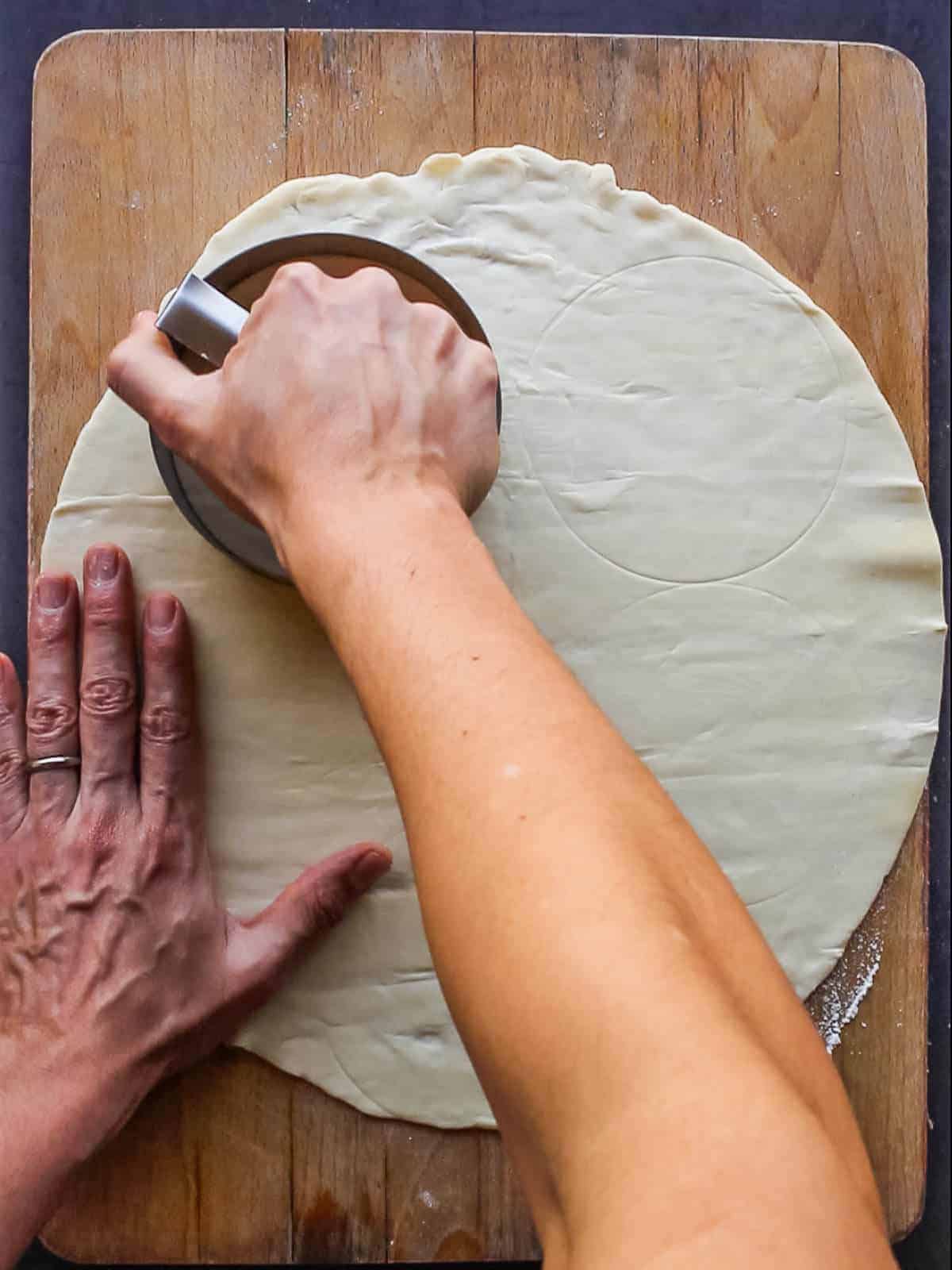 We use Tucuman Style Empanada's seasonings, which typically include cumin, paprika, olives, and raisins.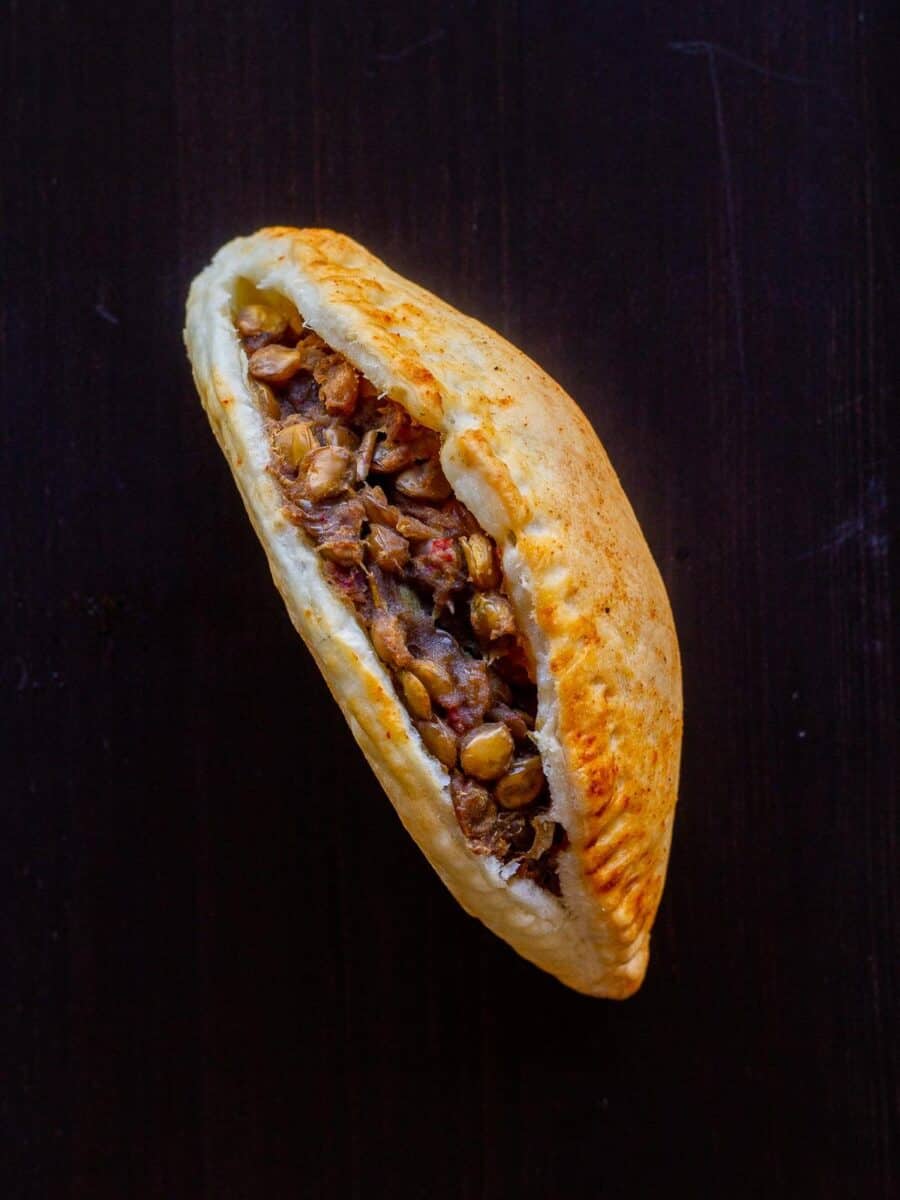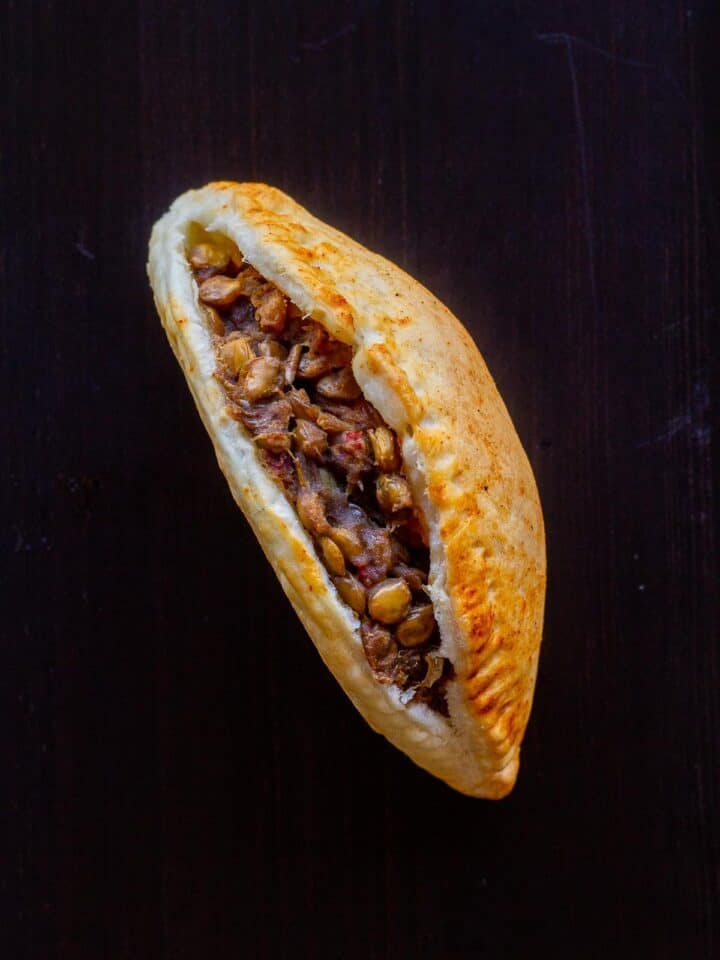 These lentil empanadas are a veganized version, so we use olive oil (or vegetable oil) instead of porcine fat and lentils instead of pork. Also, we are not using eggs which the Tucuman version usually includes.
Also, we make vegan empanadas dough using olive oil instead of pork fat.
Garnishing
The big question: sauce or no sauce?
The short answer: it is not necessary, and it is not common. For example, if you go to a Restaurant, typically a Meat restaurant would probably have a chimichurri sauce or Provenzal sauce, which some people will put on top.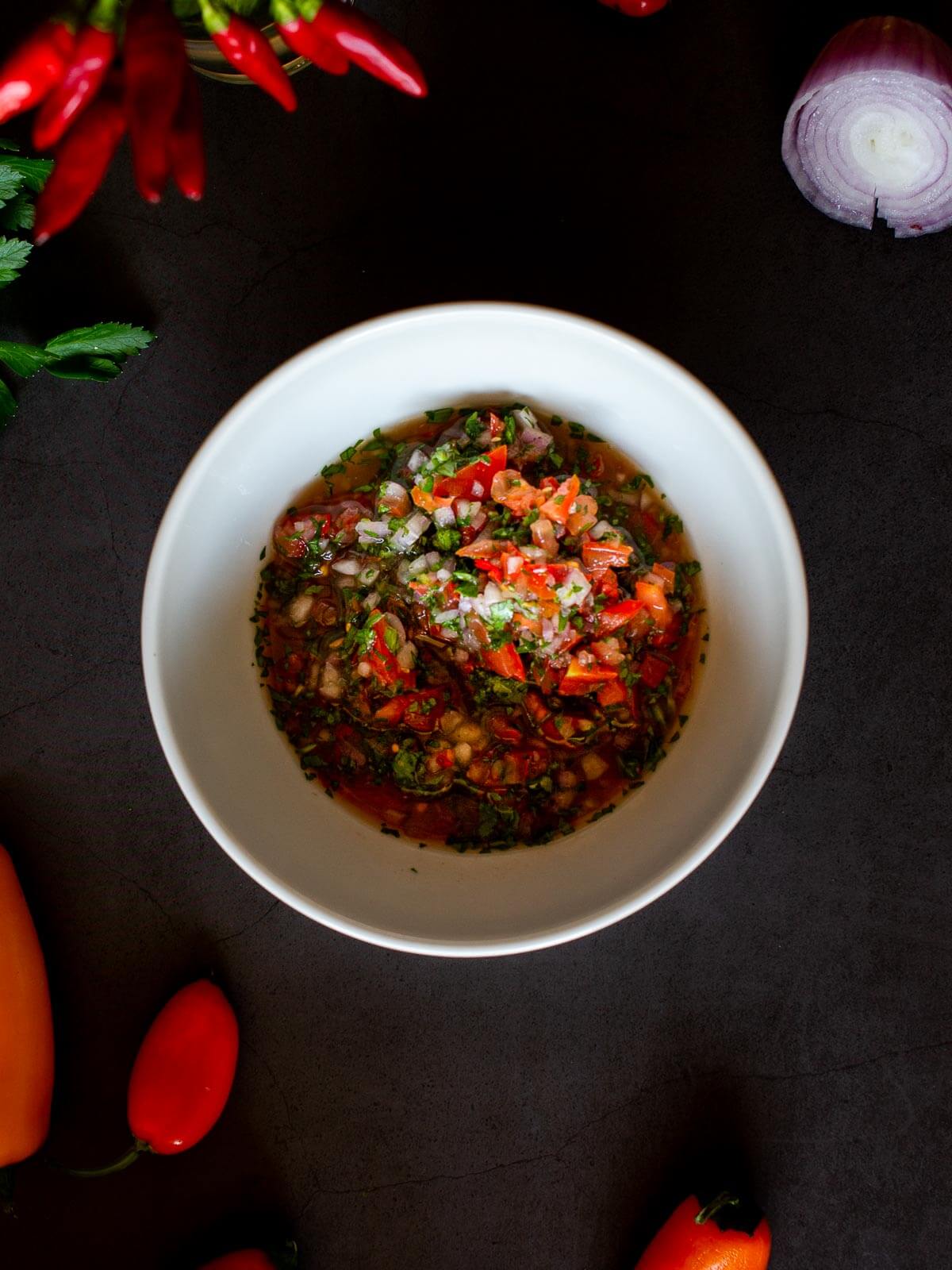 There is a large community of Argentineans living in Mexico, so these puffy pastries have become quite common there, luckily.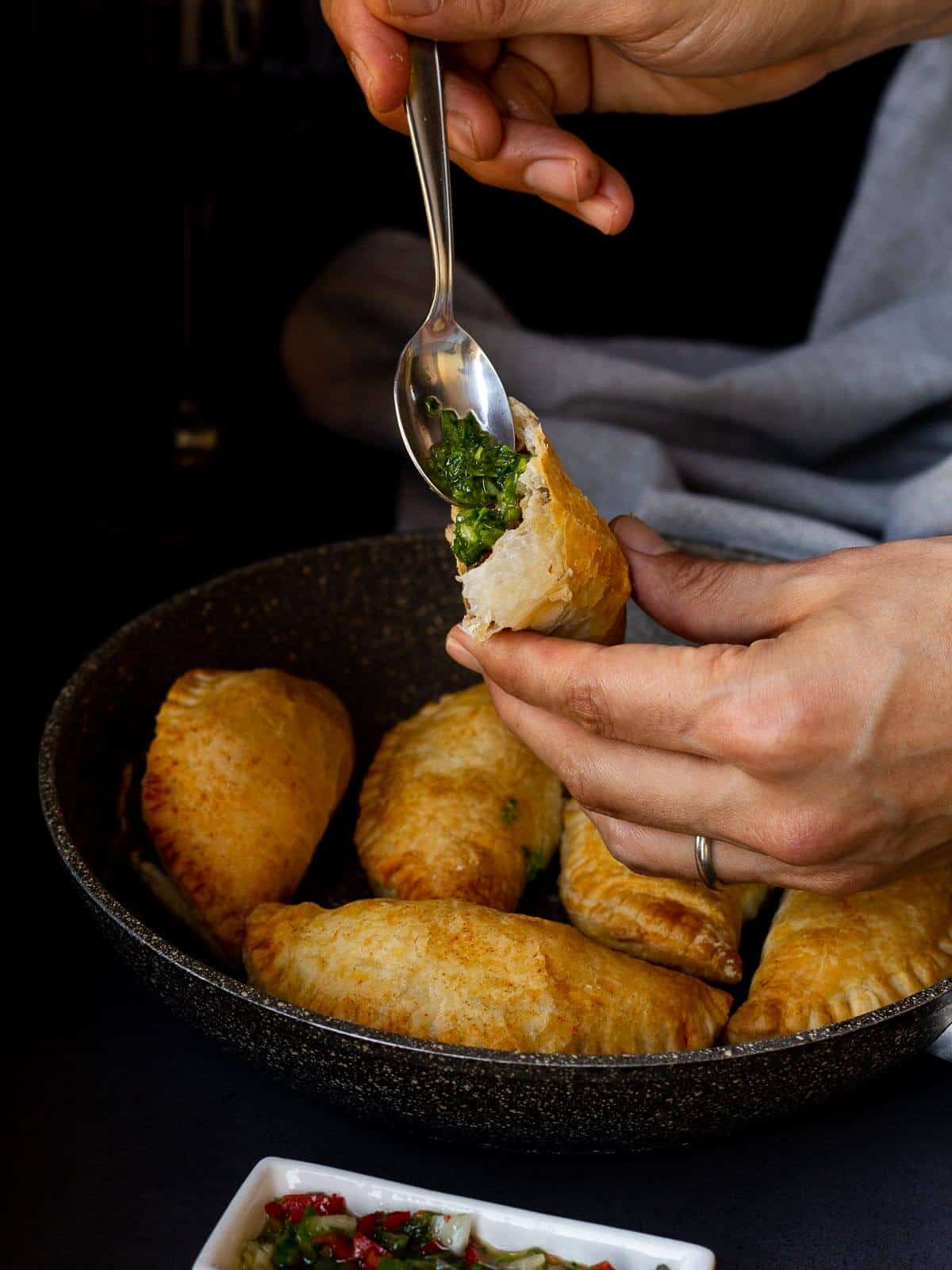 While we lived there, we noticed that we would also get some extra sauces with every Empanadas Delivery, but yes is Mexico! The land of salsas. Feel free to try it.
Some people also like adding lime juice to the inner side while munching on their veggie empanadas.
Hot or cold empanadas? Although we all love hot empanadas, everyone has eaten cold ones, preferably at room temperature. Think of them as pizza!
Storing
You can freeze leftover vegetarian empanadas as meal preparation to save time during the week. Just place them in a sealed airtight container, separating them with parchment paper, or plastic wrap.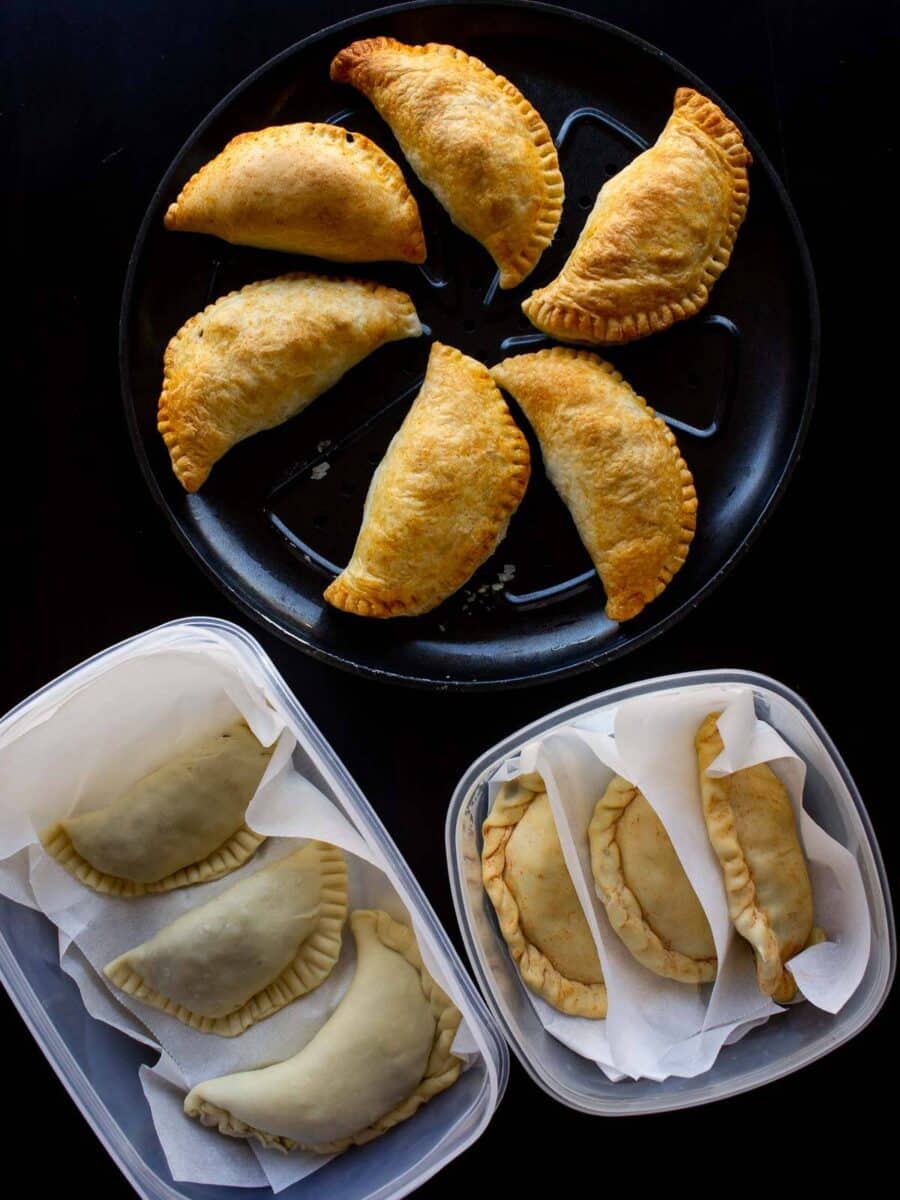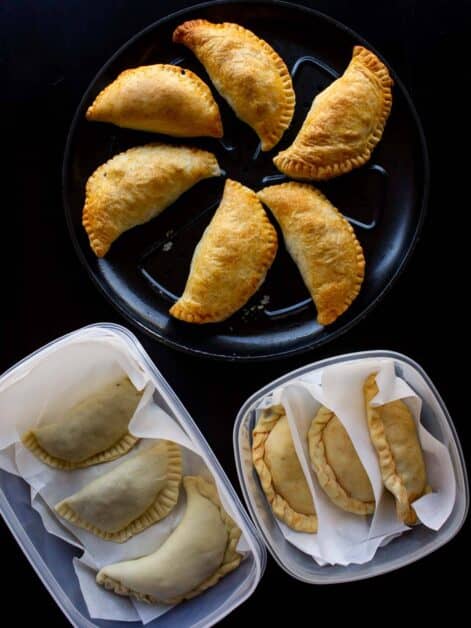 Ready for cooking?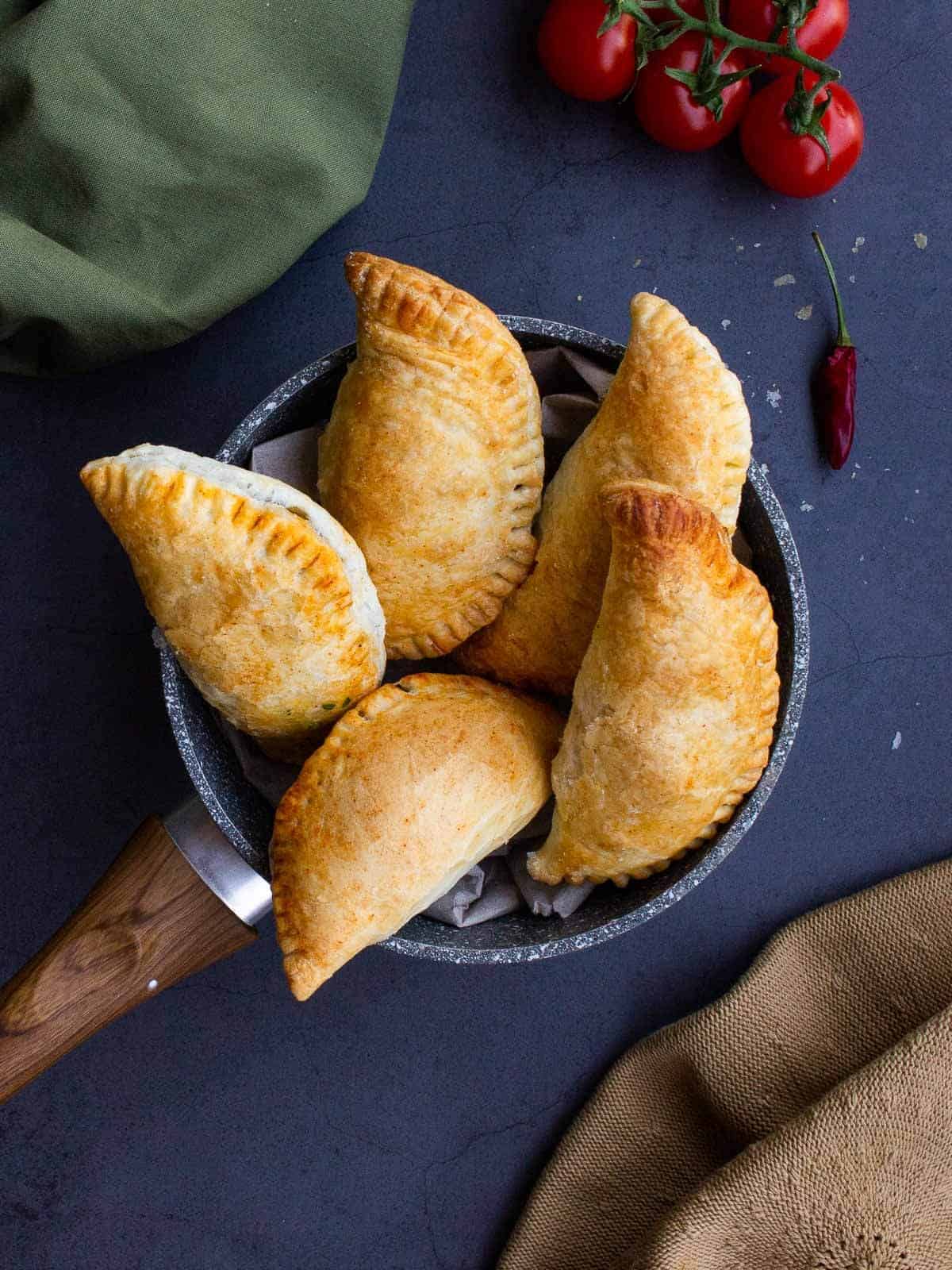 Please let us know which is your favorite and what type of empanadas you find in your region.
Jump to Recipe
Wine Pairing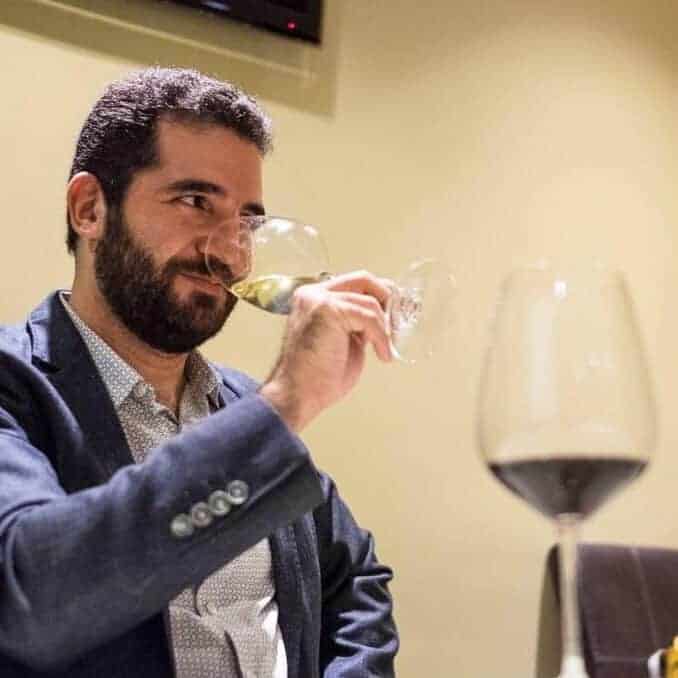 Ramón Barreiro
Wine Pairing by our Sommelier Ramón Barreiro @pejo_barreiro
How delicious are the empanadas, and how easy to eat them! Wrapping food and flavor within a dough, which is also eaten, is an inspired invention. It's street food, farm work, idle snack at home, an aperitif at your favorite bar, childhood memories, and grandma's kitchen. Those are all moments when the empanada shines. It is challenging to propose a pairing that shines through so much emotion… But we are going to try!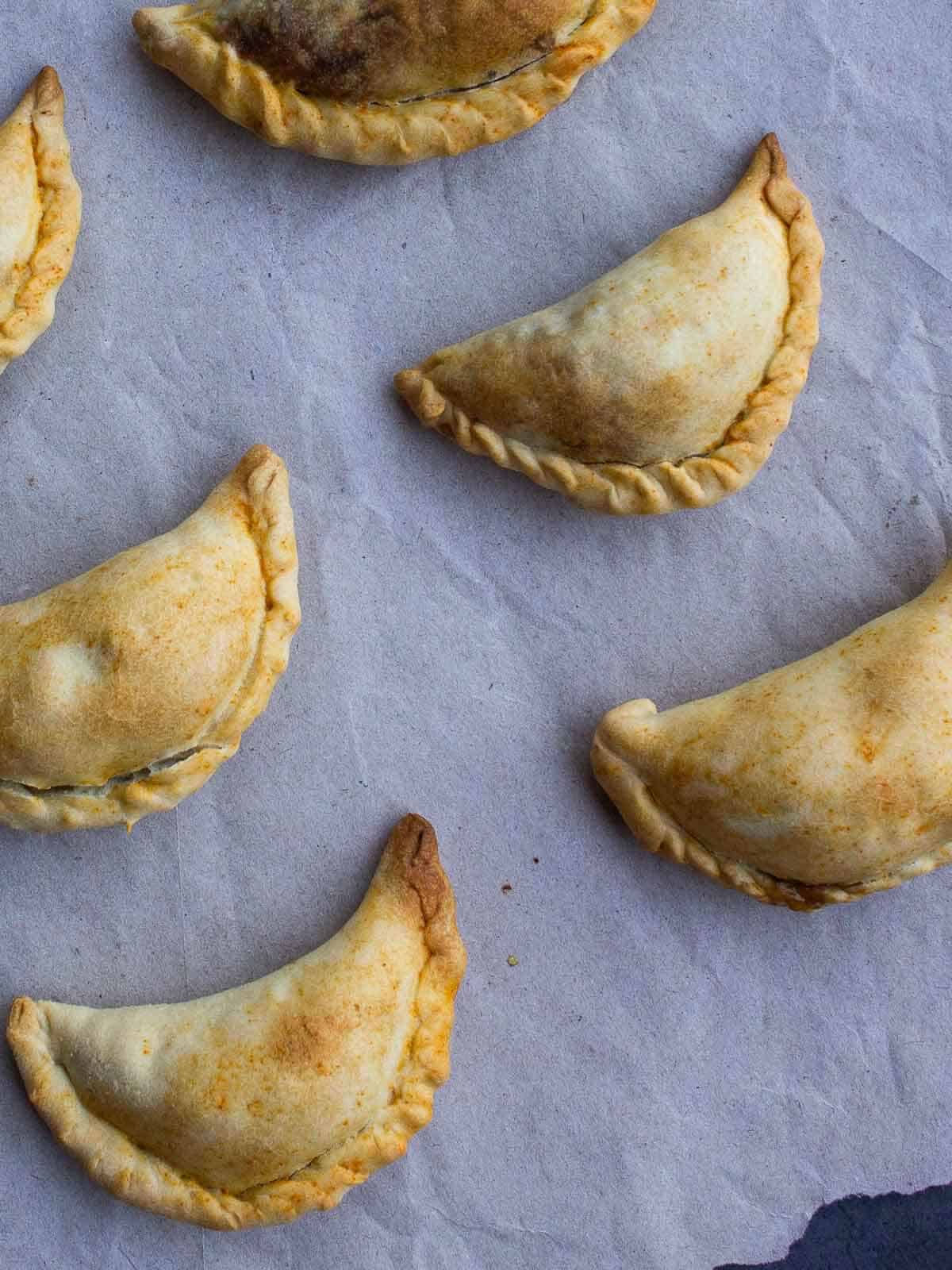 The Challenge of Pairing Empanadas
Part of the challenge of finding harmony between wine and empanadas is that we don't usually eat them with just one filling; In all countries that have empanadas, it is customary to serve them with a variety of fillings, and the combinations that exist continue to grow.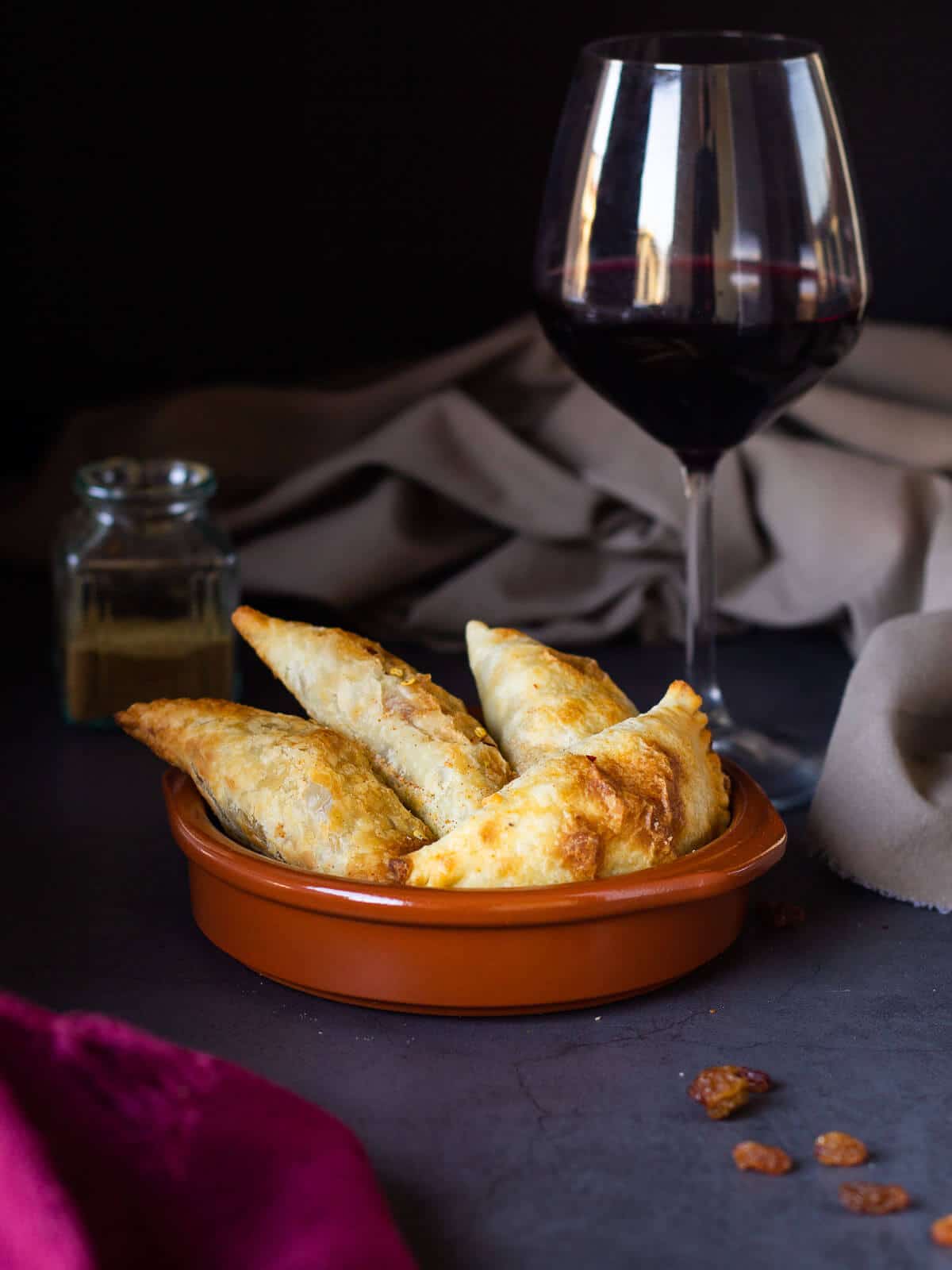 One solution to this dilemma is to pay attention to how the empanadas are seasoned. Typically, when you taste the empanadas from a region, although the filling ingredients vary, seasoning choices remain more or less constant. It is what makes an empanada recognize itself as Argentinean, Chilean, or Galician. Those fillings have a sauce and some spices that are repeated with each chosen variation of ingredients.
Ingredients to Anchor the Pairing
In our recipe, the filling is flavored with cumin and hot paprika; additionally, sweetness is added with raisins and bitterness with green olives. But the cumin and hot paprika are the ones defining the flavor profile, especially the smoky flavor. Imagine your empanadas coming out of a wood oven and how the smoky flavor of your filling is enhanced...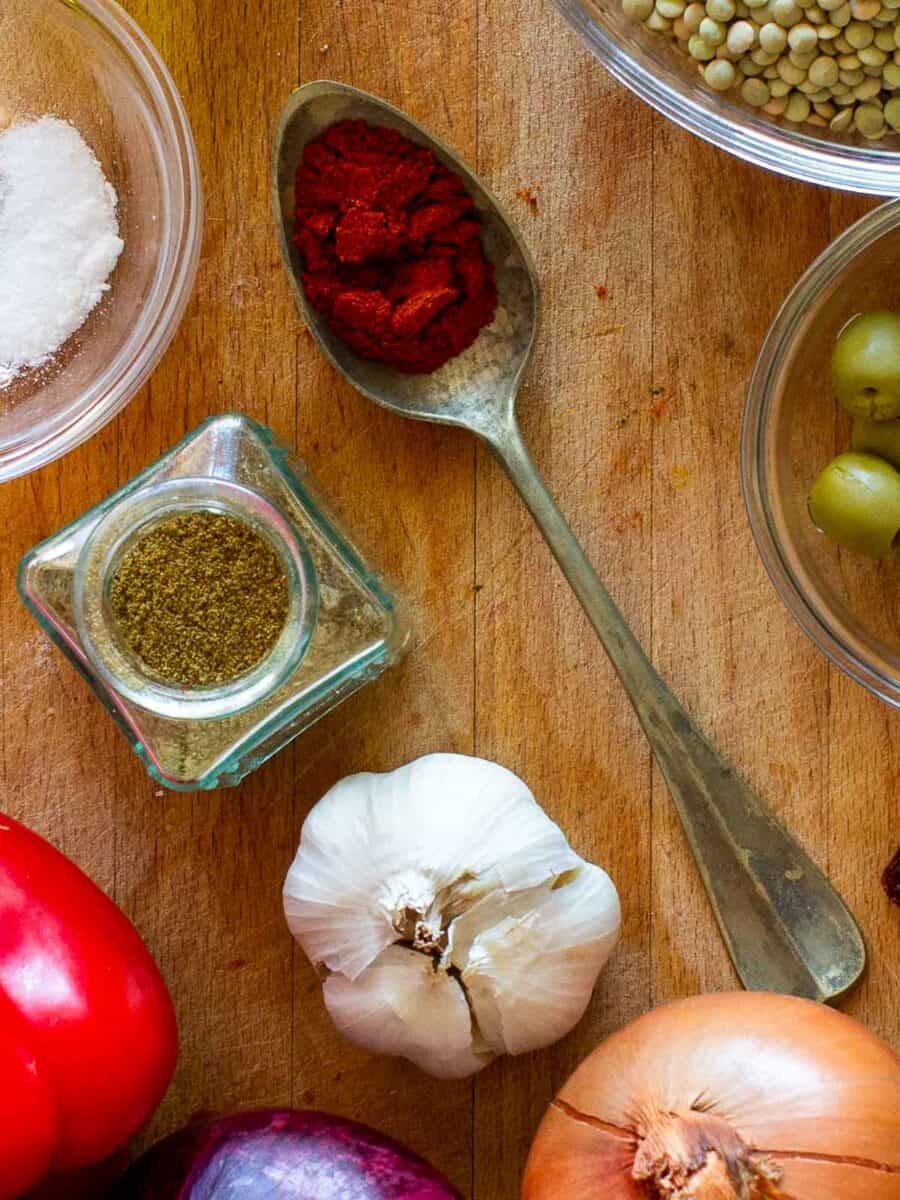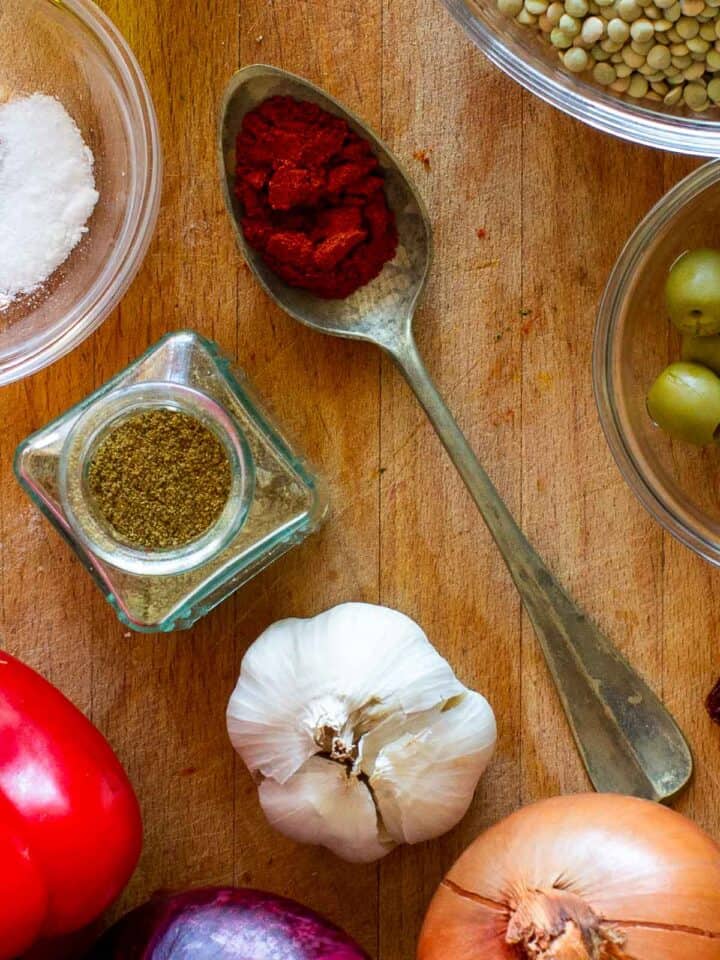 So our empanadas, inspired by the flavors of the Argentine empanada, need smoky-flavored wines.
Suggested Wines
I always start with the regional pairing. In Argentina, it is usual for empanadas to be paired with a Torrontés white wine. It can be an interesting choice if you want a fresh contrast to the empanada's intense flavors. But there really isn't a great complement between the flavors of this wine and our empanada seasonings.
Yes, I am going to choose an Argentine wine for my first pairing recommendation… Red wine! If you want smokiness, choose a Cabernet Sauvignon from Mendoza, and if you want more pepper, choose a Cabernet Franc, also from Mendoza. But the best option, also Argentine, is a sober Pinot Noir from Patagonia, which often shows the aroma of smoke and pepper.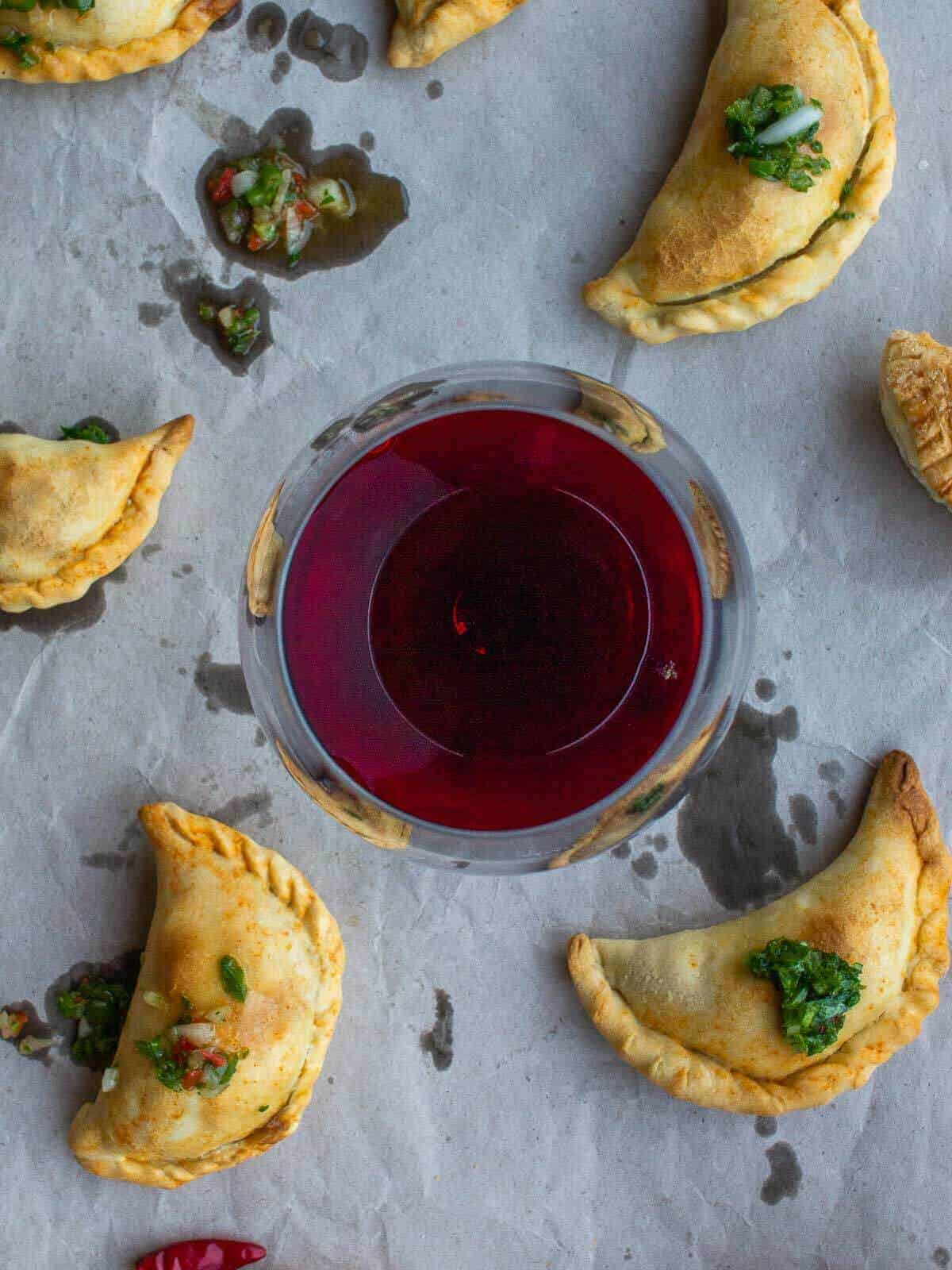 There is also a white wine in which the smoke stands out, especially in its variant of gunpowder smoke. And this is my other pairing recommendation, the surprising one: a Pouilly-Fumé. This white wine from the Loire region in France is made with Sauvignon Blanc, known in the area by Blanc Fumé, due to the aftertaste of gunpowder smoke left by its wines. It will go perfectly with the pine and smoke aroma coming from the cumin and provide a contrast of freshness to the tasty empanada. Discover the French connection in your Argentine empanadas!
Wine Pairing Recap
Argentina - Young Red - Cabernet Sauvignon (Mendoza)
Argentina - Young Red - Pinot Noir (Patagonia)
France - Dry White - Pouilly-Fumé (Sauvignon Blanc)
More Argentinean cuisine favorites
If you try this recipe, let us know! Leave a comment, rate it, and don't forget to tag a photo #ourplantbasedworld on Instagram. Cheers!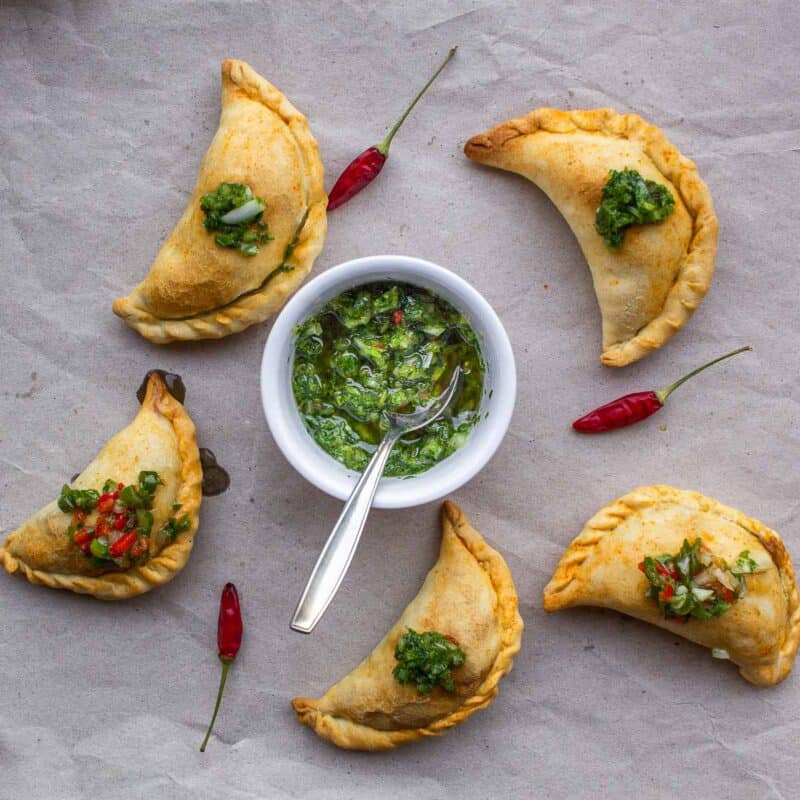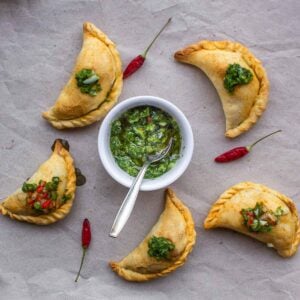 Recipe: Vegan Empanadas
Being Argentinean and living in Italy, we really miss the great "Empanadas Argentinas." These vegan empanadas are delicious and very easy to make; you will feel that you have taken a quick trip to Argentina.
Ingredients
To paint them (for color):
¼

teaspoon

paprika

2

tablespoon

water
Directions
The dough:
Unite all the ingredients to form a dough.

24 ounces all-purpose flour,

3 tablespoons olive oil,

½ teaspoon sea salt,

2 cups water

Knead for 5 minutes so that it is well united and tender. Cover with a film or damp towel and let rest which will prevent the surface from drying.
The filling:
Wash and soak the lentils in a bowl with a glass of water.

Chop the different kinds of onions, garlic, and red bell pepper.

2 green onions,

1 garlic clove,

¼ red bell pepper

Sauté the chopped ingredients on medium heat, until tender.

2 green onions,

½ white onion,

½ red onion,

1 garlic clove,

¼ red bell pepper

Add the lentils, plus the water.

9 ounces lentils,

14 fluid ounces water

Add all the spices, salt, and pepper.In about 15 minutes, the lentils should be tender. You should slightly overcook the lentils to manageable and don't fall apart while assembling the empanadas. Optionally add the raisins and olives.

1 teaspoon cumin,

1 teaspoon paprika,

1 tablespoon raisins,

24 olives

Set. Prepare two little bowls, one with water and the other one with the 2 tablesppons ow water plus the paprika.

2 tablespoon water,

¼ teaspoon paprika

Spread the dough with a rolling pin on a surface with just a little bit of flour to prevent it from sticking.

Cut the discs with a 3-4 inches cutter or any circular plate with a circular shape.
Assemble:
Pre-heat the oven at 450ºF (230ºC).

Moist your fingertips in the water bowl and spread some water in the edges of the discs.

Fill the discs with about one full tablespoon of the cold mixture in the center of the disc.

Close the discs and with a fork, put pressure in the moist edges until perfectly closed.
Bake:
Paint the discs with a brush and the paprika and water mix. This replaces an egg wash.

Arrange the empanadas on a oiled baking tray.

Bake for 15 minutes, watching it after the minute ten, to them from burning.
Notes
It is crucial to put water in the discs' tips before closing them. Otherwise, they will open in the oven.
You can have the mix prepare a couple of hours or a day before.
You can store the empanadas in the fridge, separating them with pieces of parchment paper.
To bake frozen empanadas, you just need to place them directly in a baking tray without defrosting. You might need to leave them in the oven for another 5 minutes.
Empanadas are well kept frozen for months, so they make a great meal prep.
The dough is well kept wholly covered in the fridge for two days.
Wine Pairing by our Sommelier Ramón Barreiro 

@pejo_barreiro
Argentina - Young Red - Cabernet Sauvignon (Mendoza)
Argentina - Young Red - Pinot Noir (Patagonia)
France - Dry White - Pouilly-Fumé (Sauvignon Blanc)
Nutrition Facts
Calories:
250
kcal
Carbohydrates:
44
g
Protein:
9
g
Fat:
4
g
Saturated Fat:
1
g
Polyunsaturated Fat:
1
g
Monounsaturated Fat:
3
g
Sodium:
172
mg
Potassium:
229
mg
Fiber:
6
g
Sugar:
1
g
Vitamin A:
117
IU
Vitamin C:
4
mg
Calcium:
24
mg
Iron:
3
mg
Nutrition Facts
Recipe: Vegan Empanadas
Amount per Serving
% Daily Value*
* Percent Daily Values are based on a 2000 calorie diet.
Pin for Later!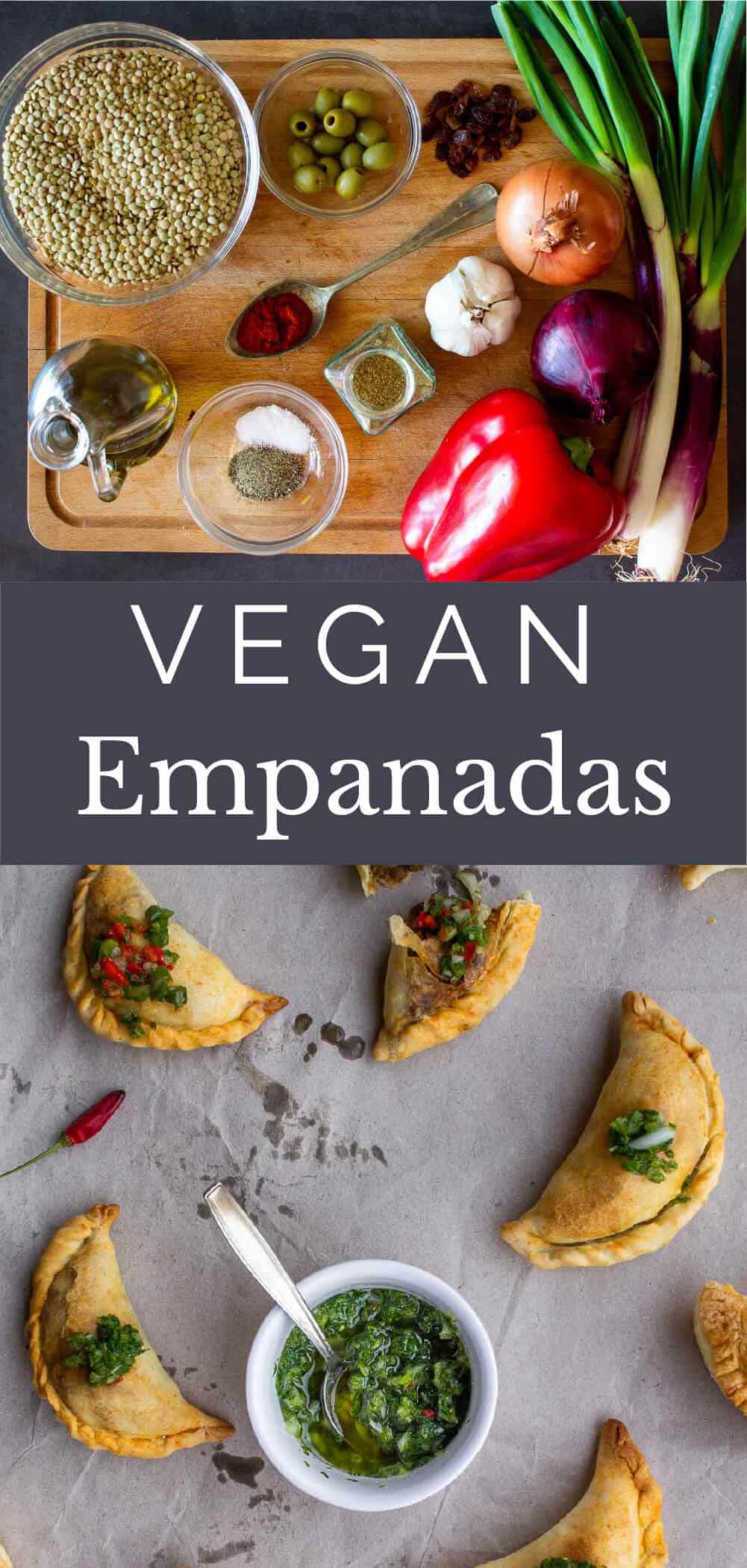 Food safety
We sometimes take for granted that we have years (or decades) of cooking experience that the average visitor may not. Add to, or remove from, the list below with health and safety tips.
Cook to a minimum temperature of 165 °F (74 °C)
Do not use the same utensils on cooked food that previously touched raw meat
Wash hands after touching raw meat
Don't leave food sitting out at room temperature for extended periods
Never leave cooking food unattended
Use oils with high smoking points to avoid harmful compounds
Always have good ventilation when using a gas stove
See more guidelines at USDA.gov.
The information shown is an estimate provided by an online nutrition calculator. It should not be considered a substitute for a professional nutritionist's advice. See our full Nutritional Disclosure here.
Please note that some of the links here are affiliate links, and I will earn a commission if you purchase through those links. I use all of the products listed and recommend them because they are companies that I have found helpful and trustworthy.