Looking for a quick and easy way to add some flavor to your meals? This sun-dried tomato pesto sauce is the perfect solution! It only takes a few minutes to prepare. It's vegan and can be easily made gluten-free friendly.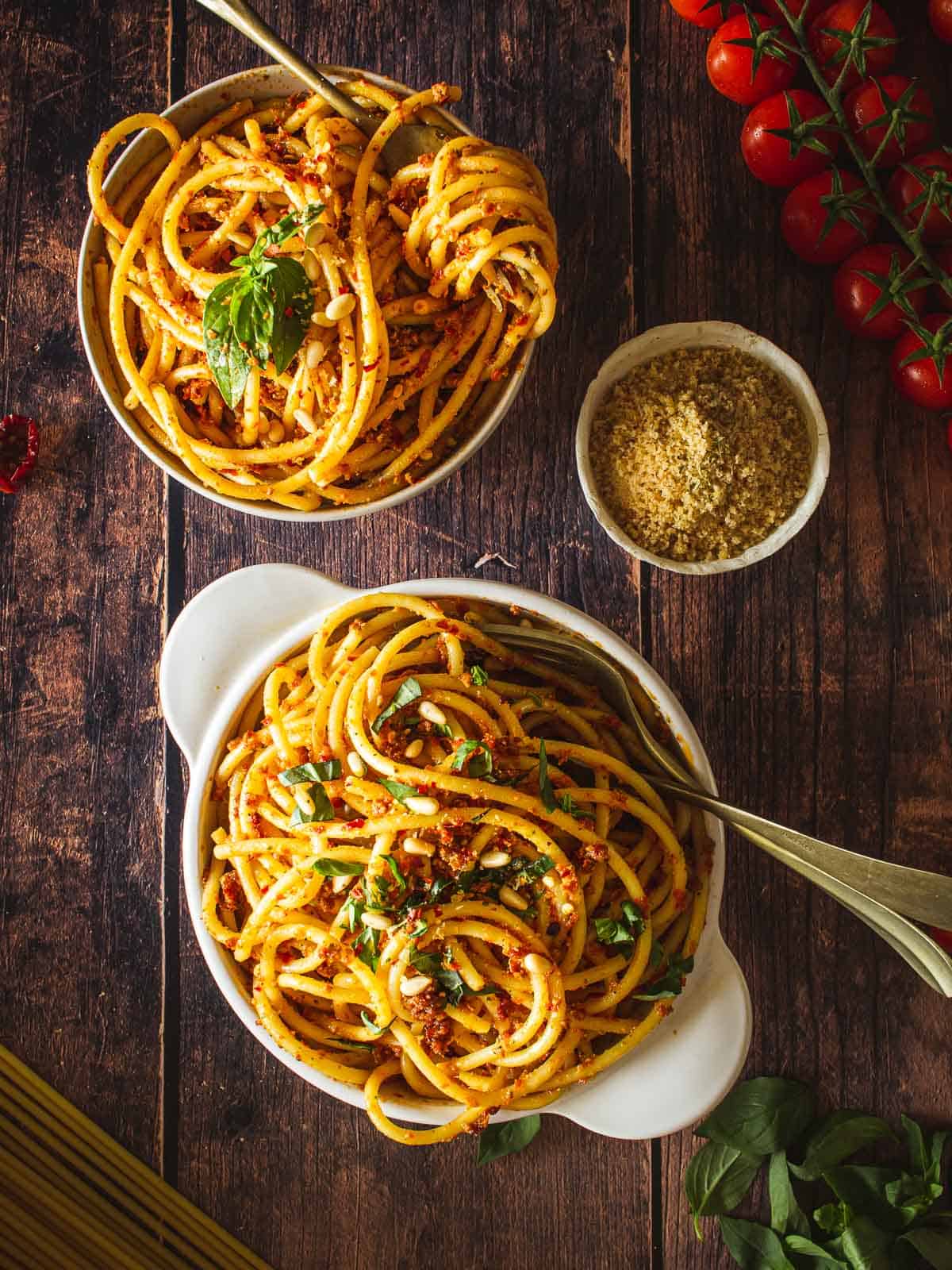 This sun-dried tomato pesto sauce is the perfect weeknight meal. It takes only 15 minutes to make, and it's super delicious. We will show you how to make this tasty pesto sauce with just a few simple ingredients.
It is common to make pasta recipes with sun-dried tomatoes here in Italy, such as ravioli fillings and sun-dried tomatoes risottos.
Although tomatoes are not native to Italy but to Mexico and Central America, they grow very well on Italian soil. The production is vast, and it is widespread to see tomatoes year-round and find all different kinds of sun-dried tomatoes at the farmer's market.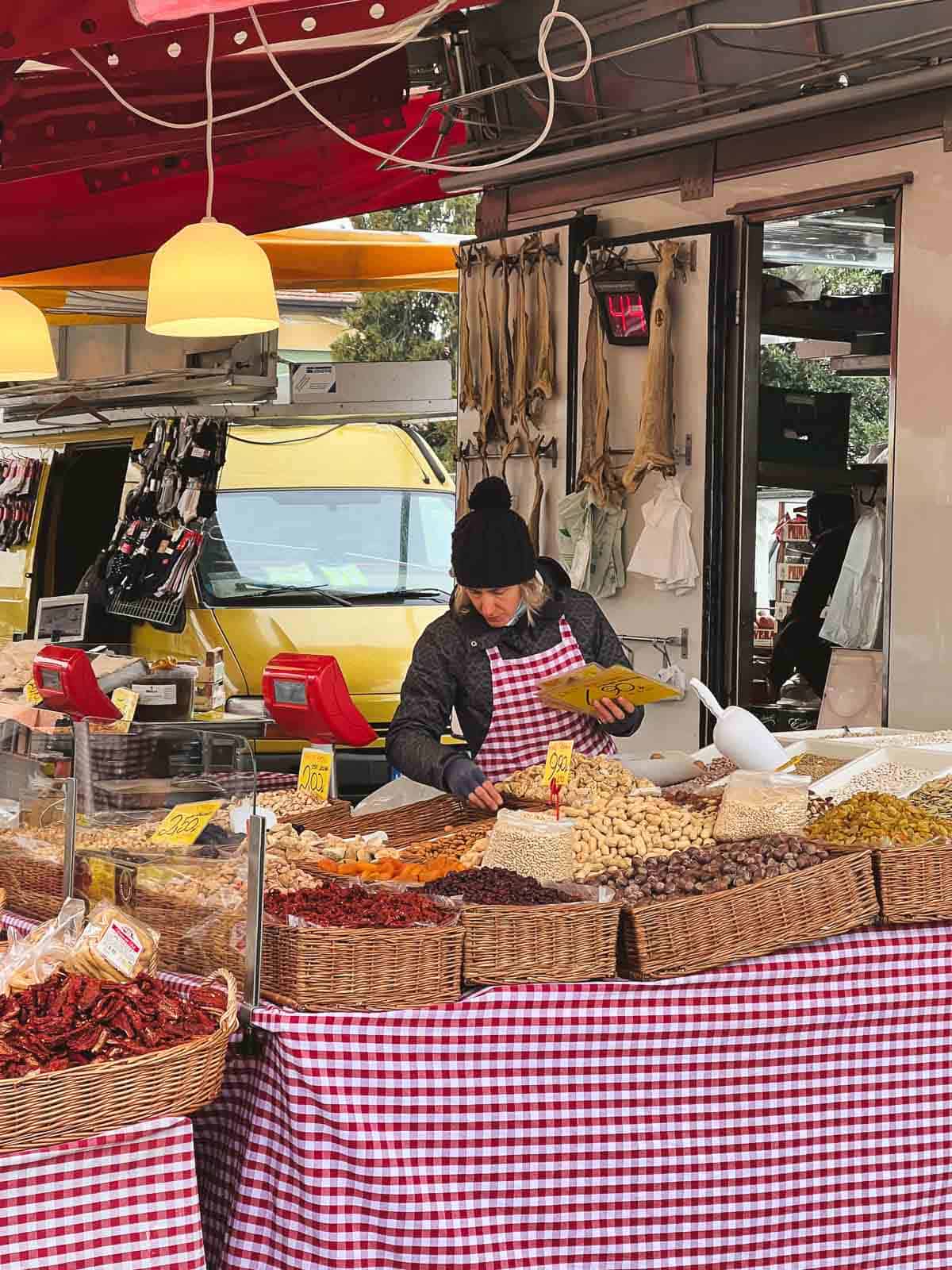 We like to use the sweeter kinds, but there are many varieties. If you love tomatoes, you can really go crazy with all the different types you can find.
This vegan pesto rosso recipe, as they call it here, makes the perfect hassle-free pasta.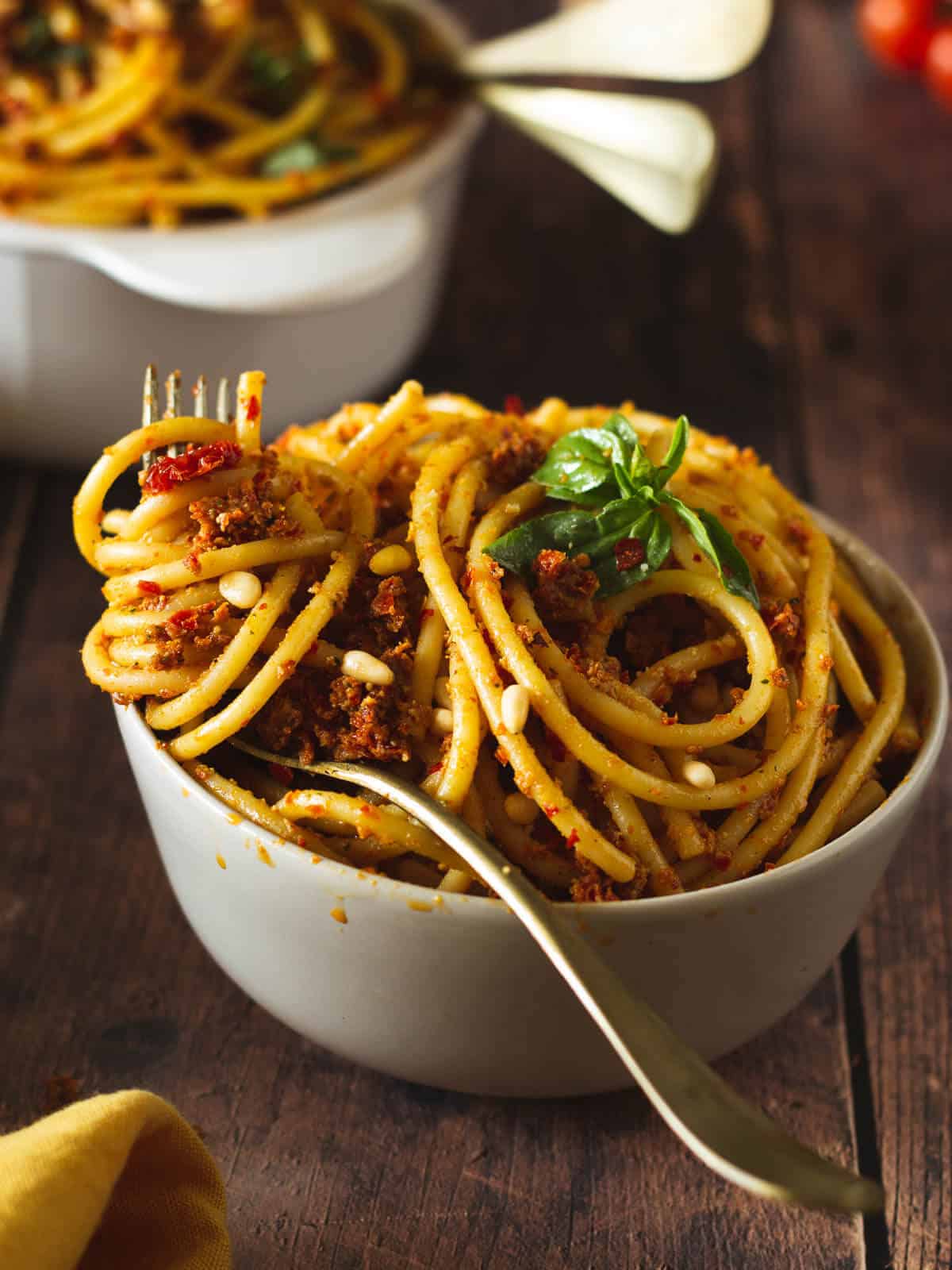 This is a vegan version as it doesn't use regular parmesan cheese but nutritional yeast instead.
We love pesto, as they are a flavorful preparation that is perfect for elevating any bland meal. They are at the top of our vegan sauces choices!
We have previously shared our different pesto varieties, as we love veganizing all kinds of traditional pesto recipes we find around here.
Be sure to check our 5-minute pesto (vegan basil pesto), kale pesto, arugula pesto, mint pesto, pistachio pesto, and our carrot tops pesto, along with a vast list of pesto recipes, including sandwiches, pizza sauce, stuffed shells, pasta salads, and even vegan poke bowls.
Jump to:
🤔 What is sun-dried tomato pesto
The sun-dried tomato is a type of tomato prepared by leaving whole tomatoes out in the sun until they have lost most of their water content.
Originating in Southern Italy, sun-dried tomatoes were traditionally made in the regions of Apulia and Calabria.
We love using them in lentil salads and as the main ingredient for stuffed portobello mushrooms.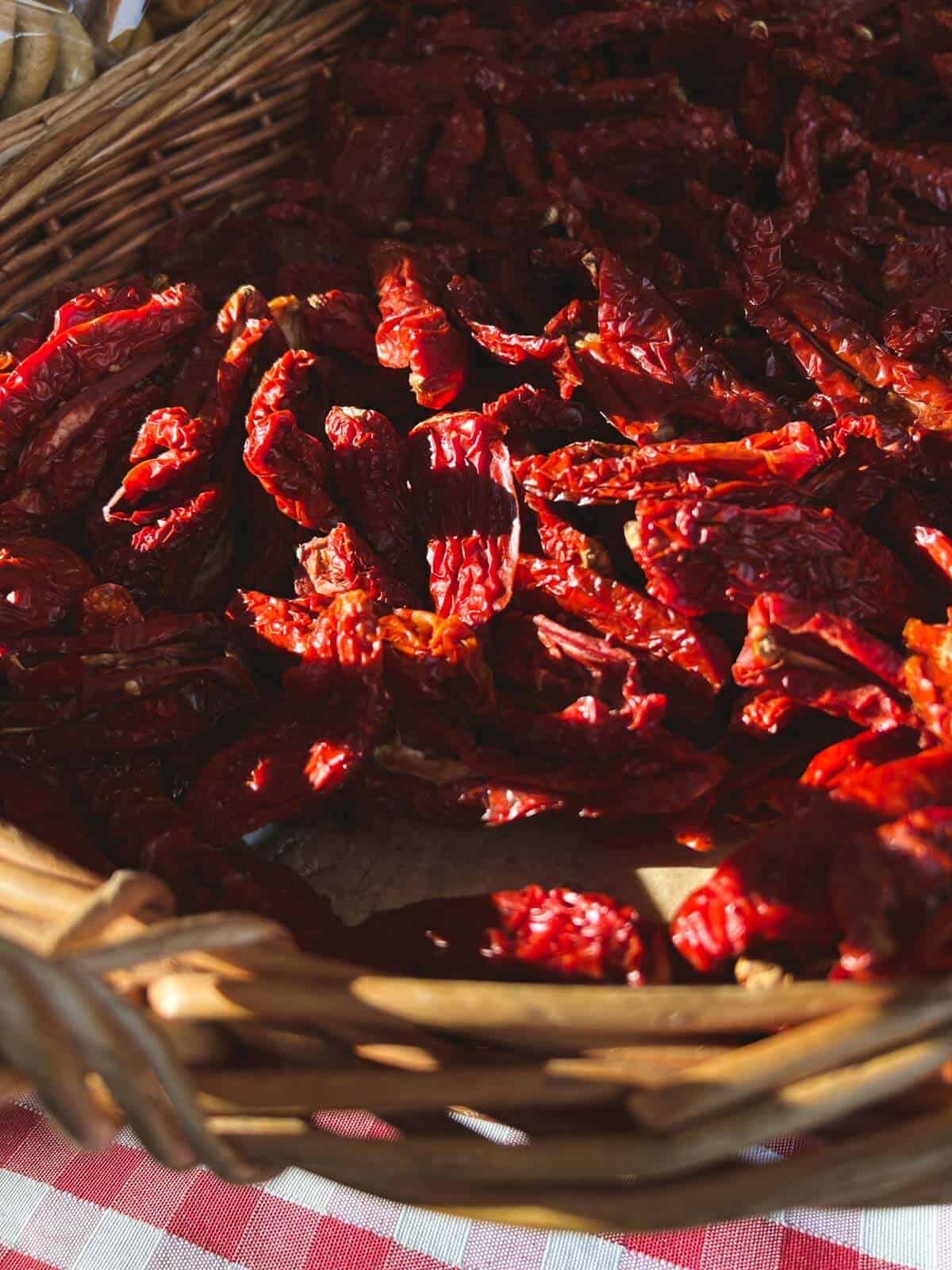 The sun-drying process concentrates the flavors of the tomatoes, making them more intense and sweet.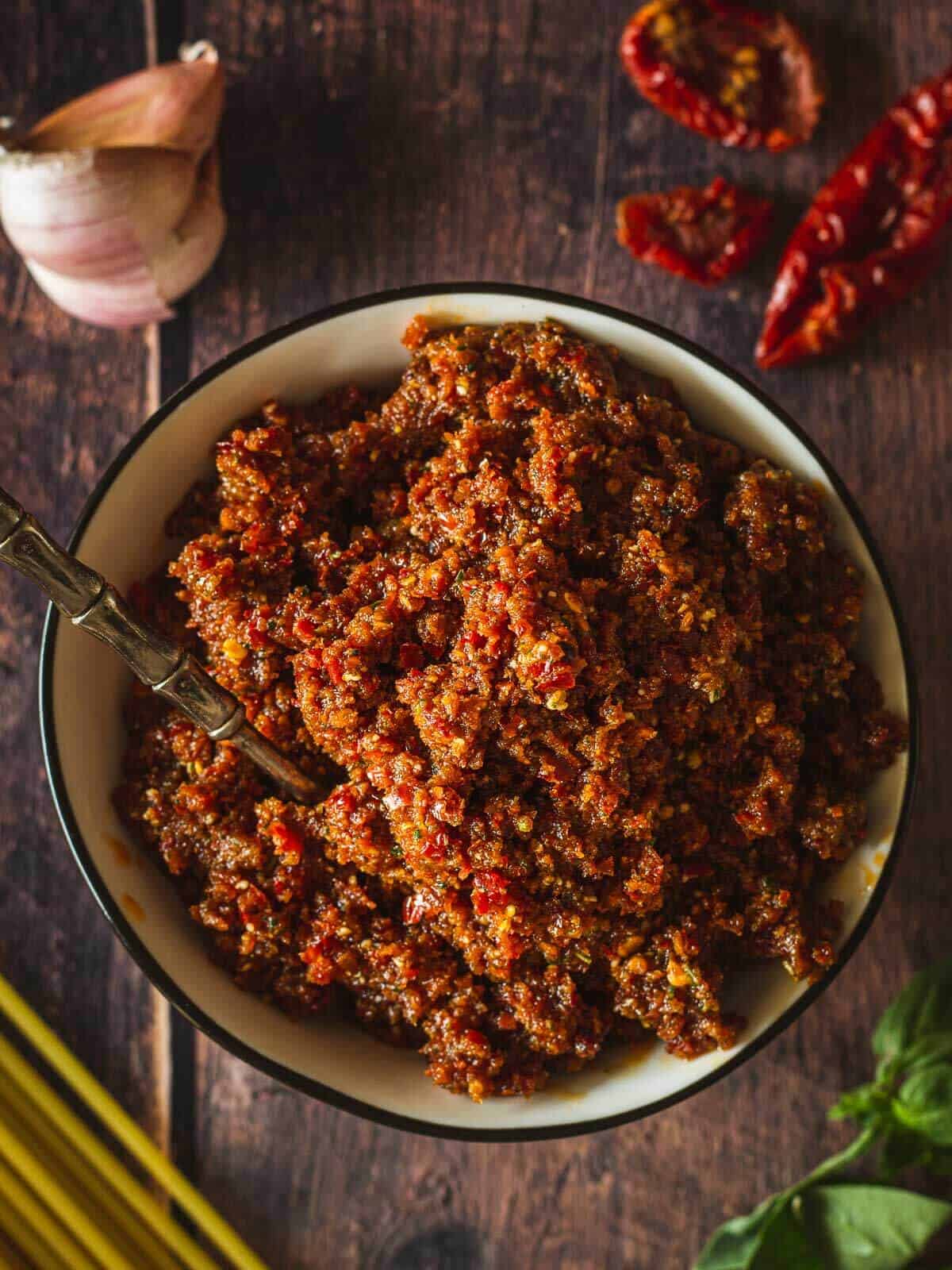 The sun-dried tomato pesto combines the delicious concentrated flavor of tomatoes with olive oil, nuts, garlic cheese, and basil.
🧾 Ingredients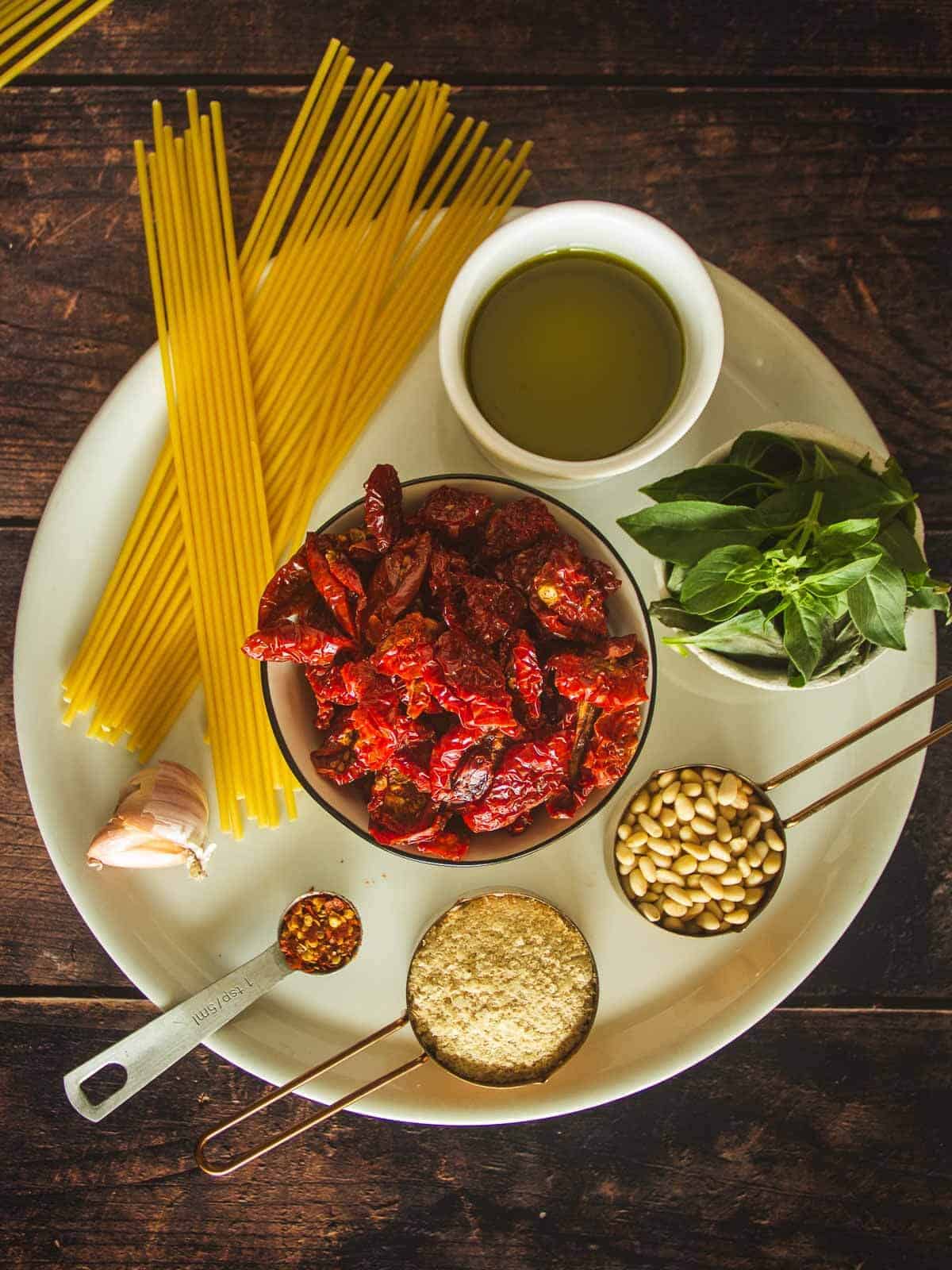 Sun-dried tomatoes
Fresh basil leaves
Nutritional yeast or vegan parmesan cheese
Pine nuts or hulled roasted almonds
Garlic cloves
Extra-virgin olive oil
Optional: red pepper flakes, plus your favorite pasta.
🍅 How to Make Sun-Dried Tomato Pesto Pasta
To make sun-dried tomato pesto, you just need to follow one step. You don't even have to wash any produce.
This is why we love pesto so much. You just need to get your food processor, high-speed blender, or immersion blender (affiliate link); through everything on it and blend until you reach a spreadable consistency.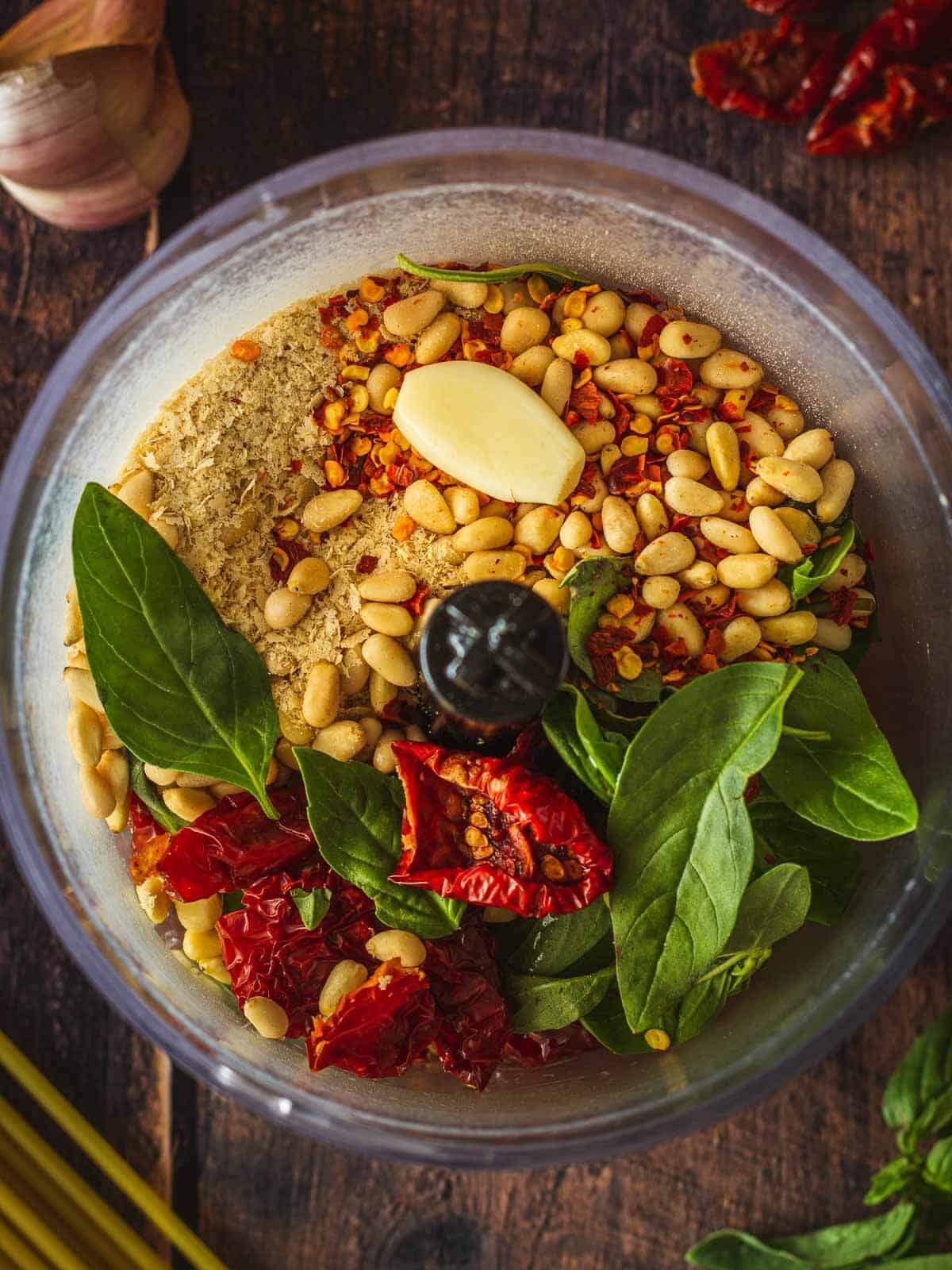 If you like more of a chunky red pesto, you can pulse instead until you reach the desired consistency.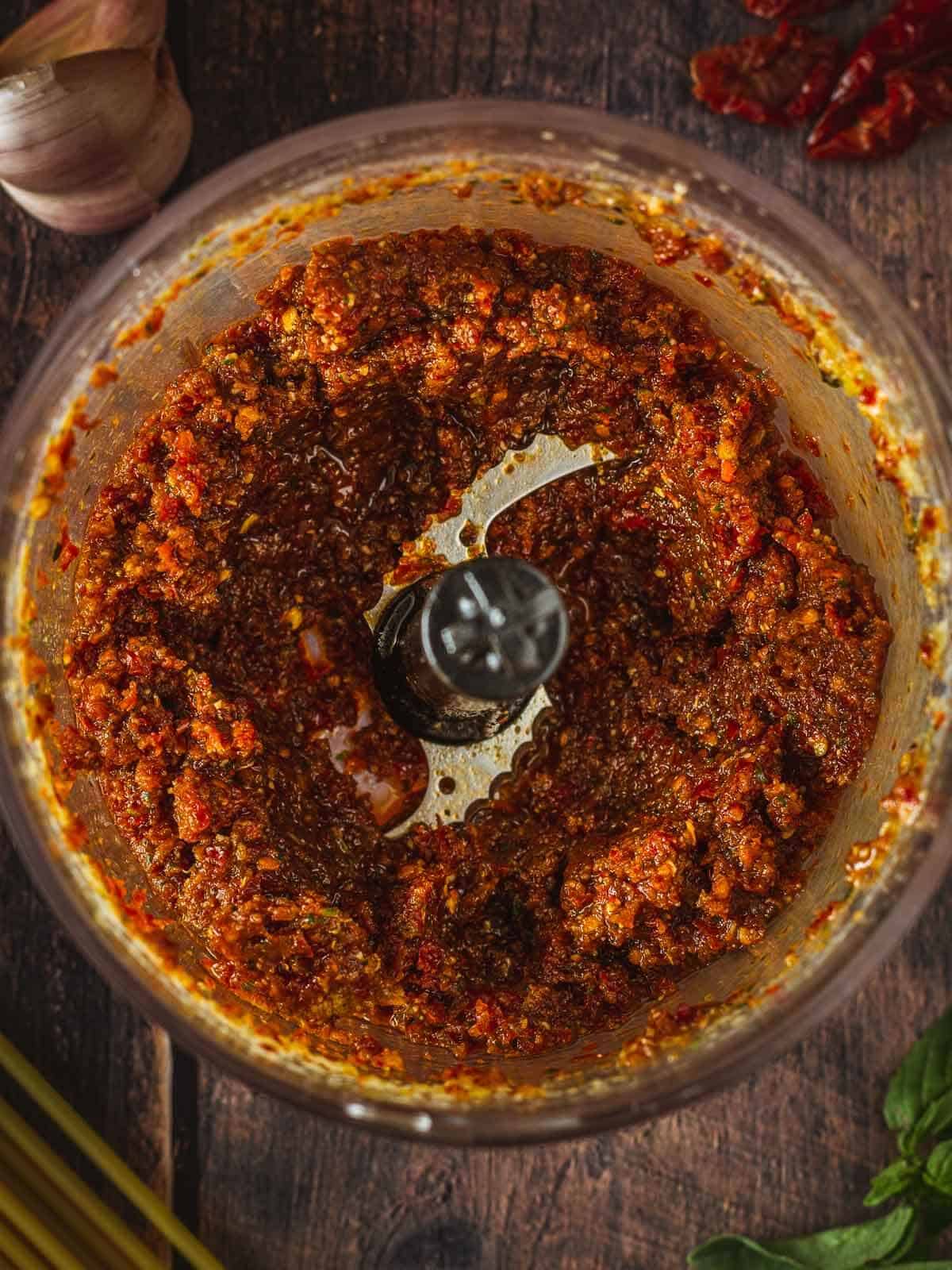 If you plan on having pasta with it, start by boiling the water.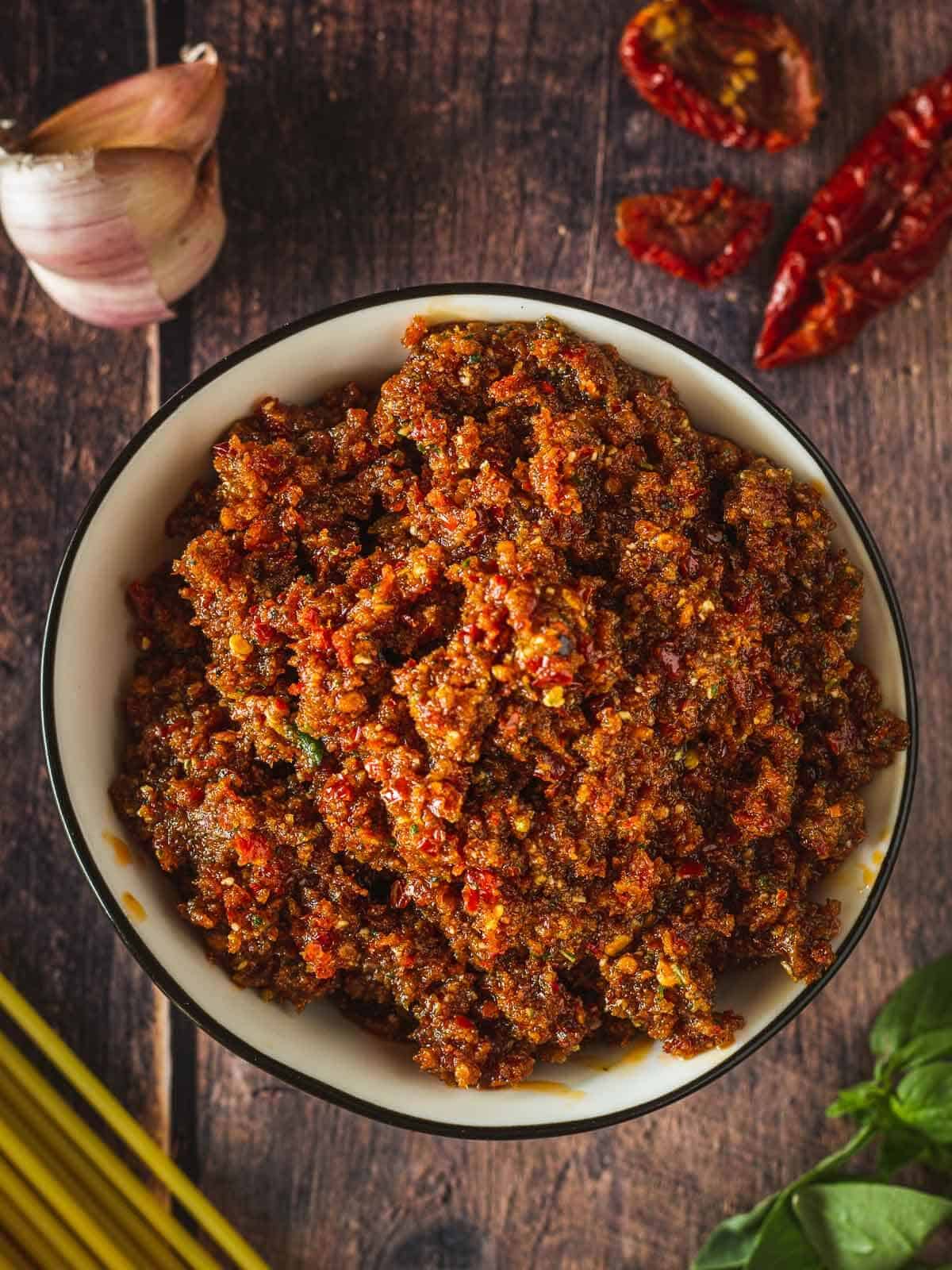 Then make your pesto rosso as the pasta cooks. Your pesto sauce will be ready before your pasta does... how cool is that?
Cook your pasta until it is al dente, and drain it, reserving some of the pasta cooking water. It will come in handy next.
Using the same saucepan, scoop in some sun-dried tomato pesto, add the pasta on top, and mix with your kitchen tongs. Add some cooking water to dissolve the pesto, and make your pasta super creamy.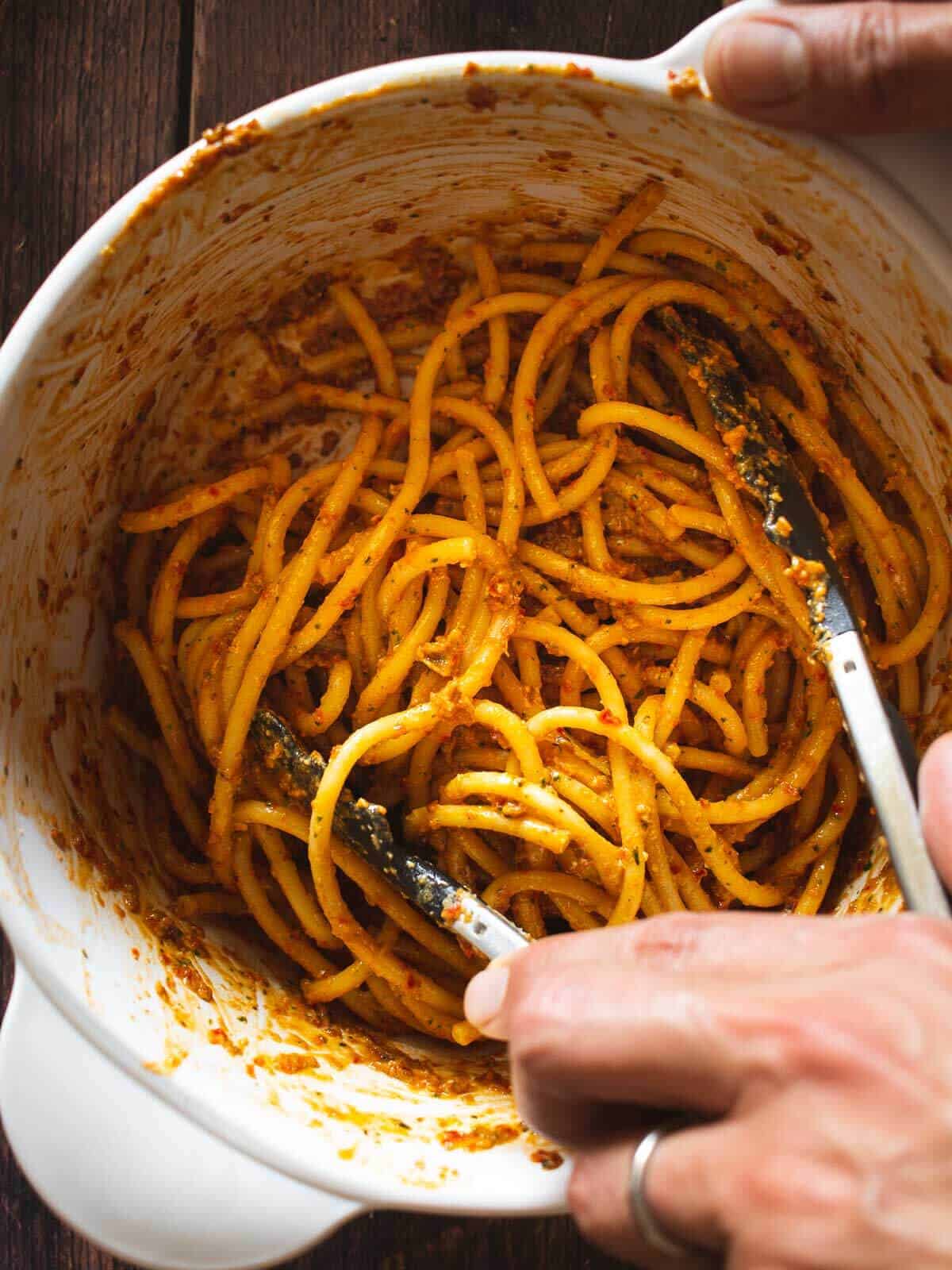 The pasta water has some starch on it, making the pasta creamier. That's the trick! That way, you need to add extra olive oil or calories!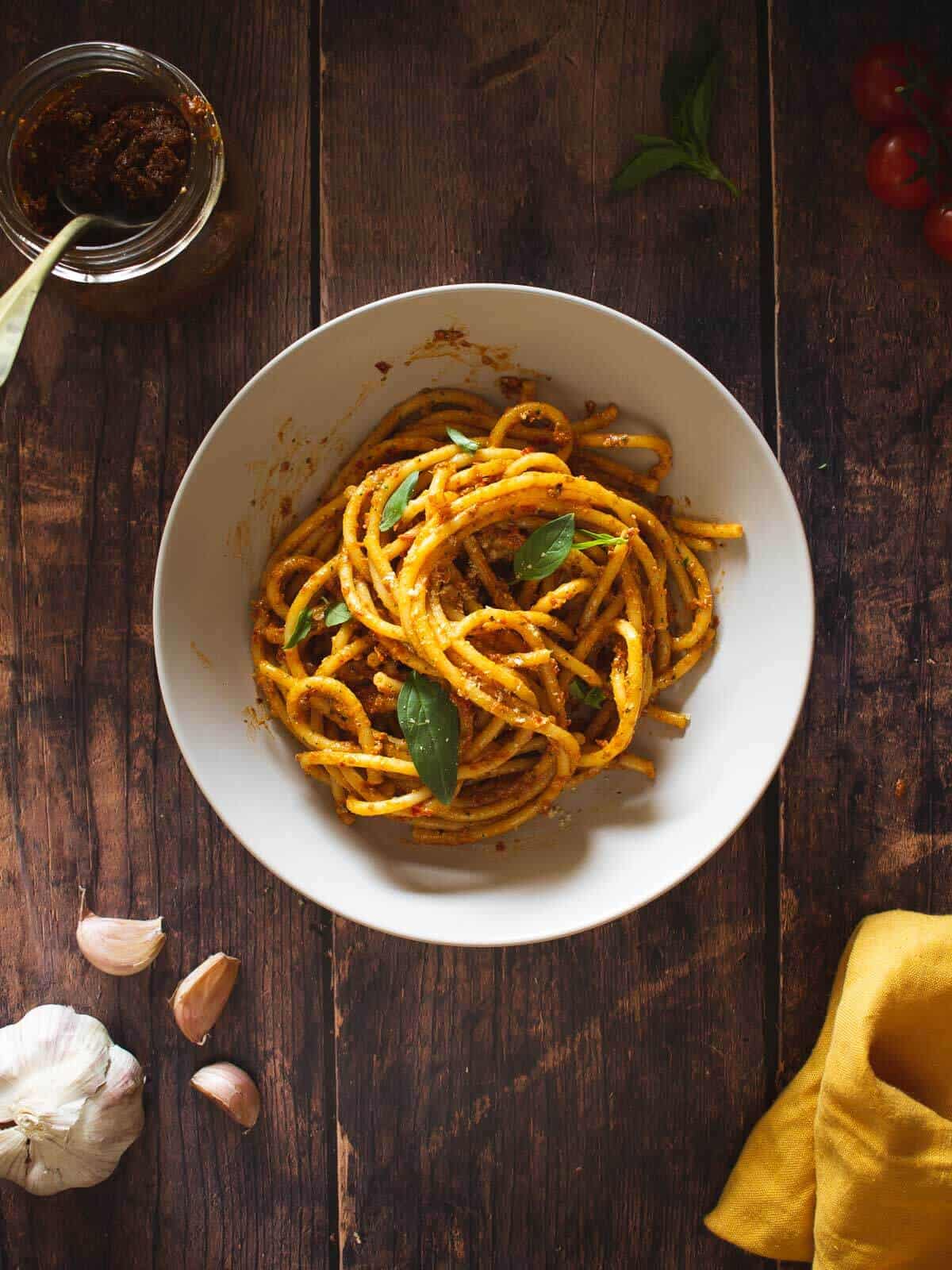 🥢 How to serve
If you like your pasta spicy, add some extra chili flakes on top, along with fresh basil and vegan parmesan cheese.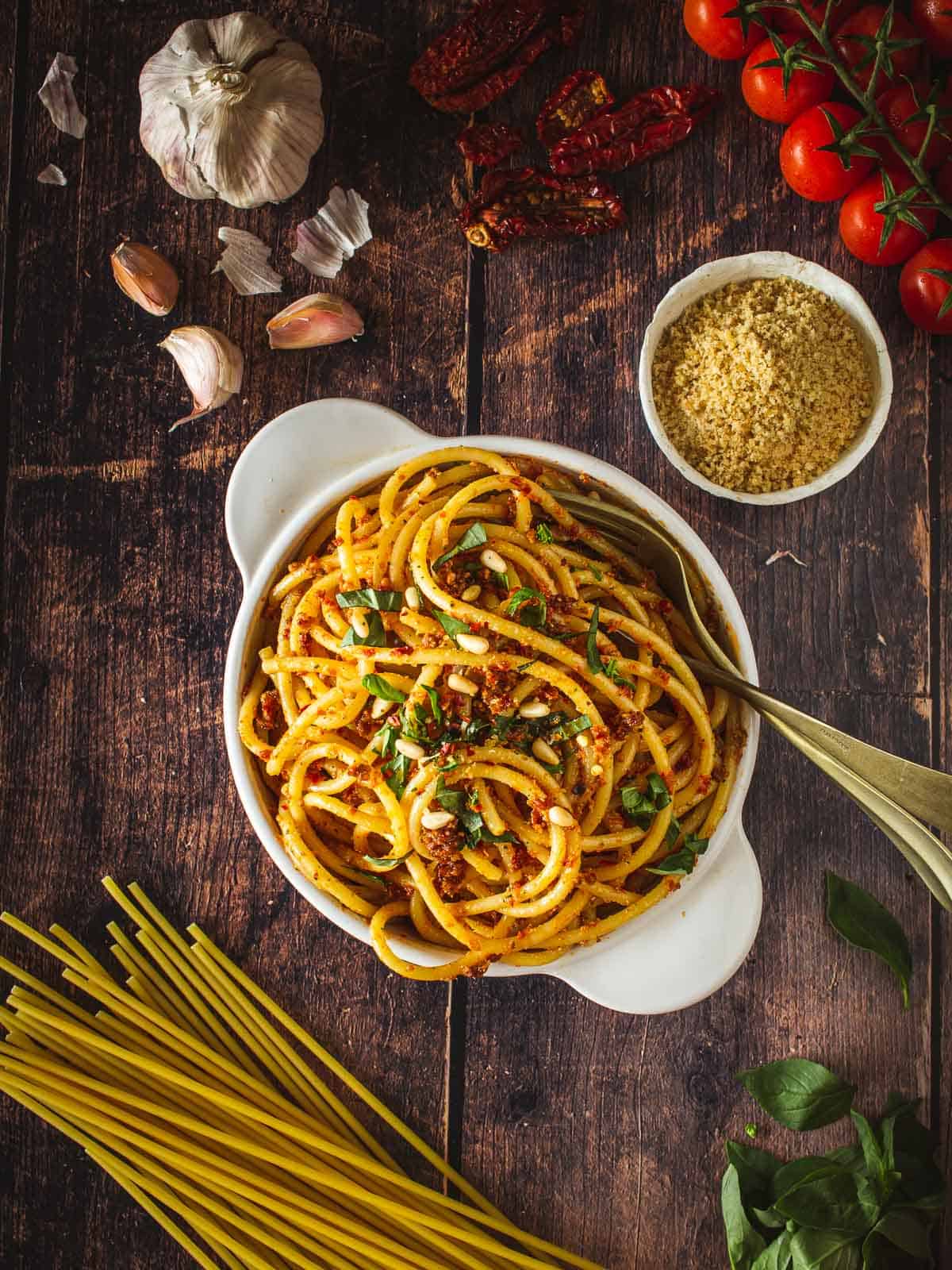 We like adding fresh cherry tomatoes on top and chunks of un-blended sun-dried tomatoes.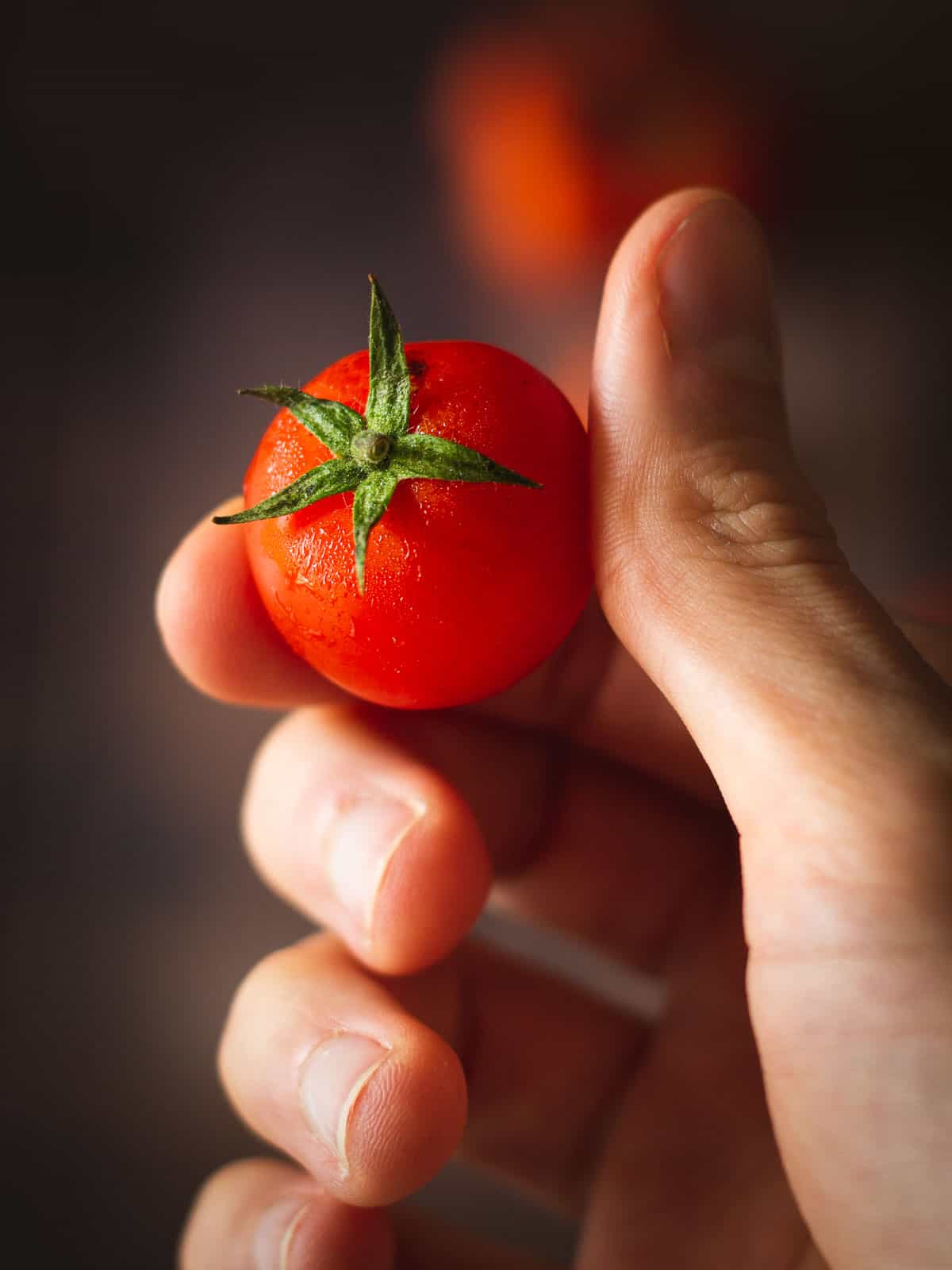 If you want your weeknight dinners to look extra fancy, sprinkle some extra pine nuts on top.
You can also use your sun-dried tomato pesto spread on sandwiches, salads and as a base for other preparations.
We also use this sun-dried tomato pesto with our vegan ricotta cheese to make the perfect homemade ravioli filling.
We sometimes replace sun-dried tomatoes with this pesto on our rosé sauce fettuccine recipe to make the sauce remarkably delicious.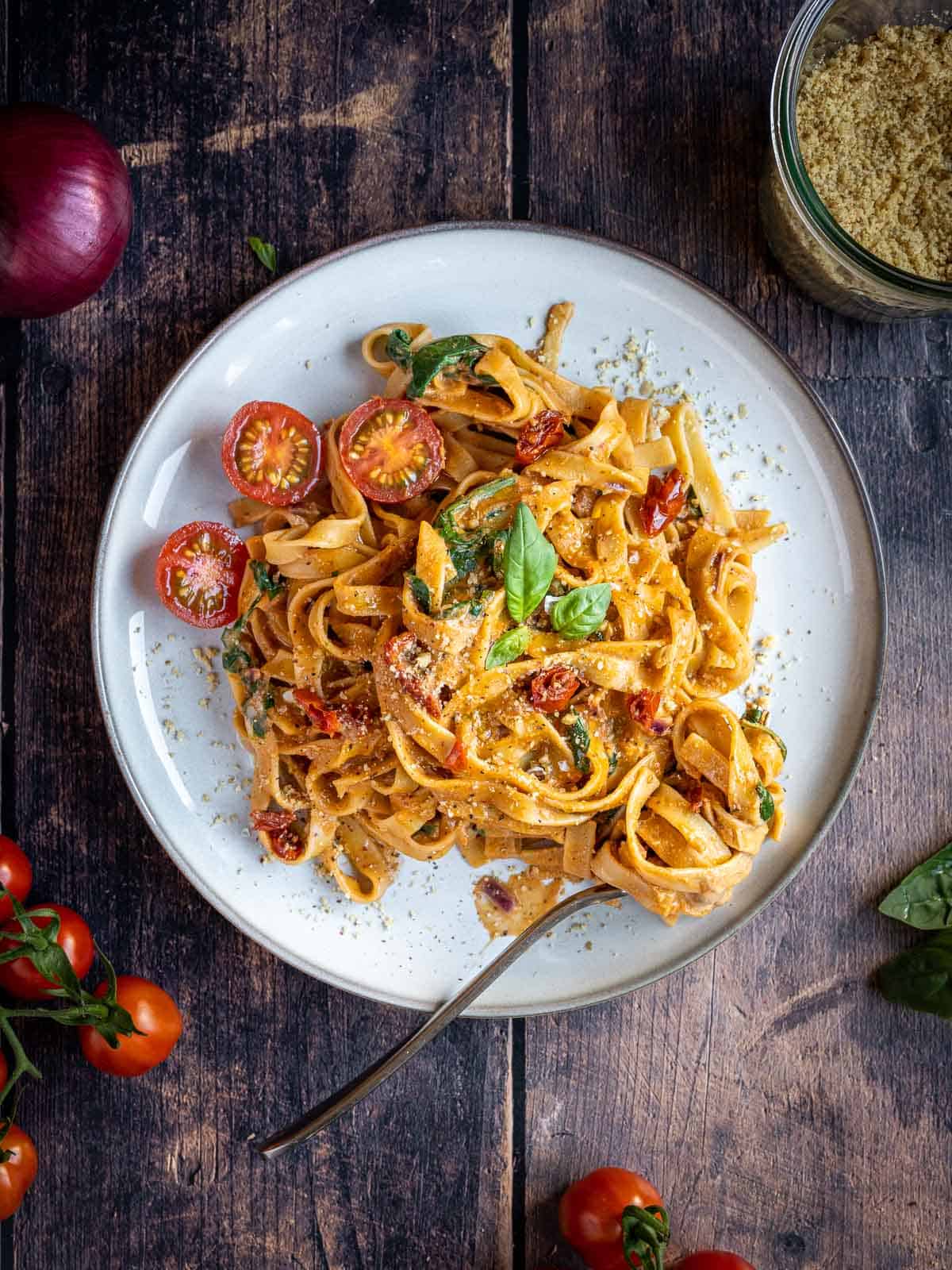 Pasta salad
If you have this fabulous recipe as a springtime or summertime dish or even for a picnic, you can have it as a cold pasta salad. Just be sure to bring it to room temperature before eating, so the flavor can shine.
Cold pasta tends to hold up the flavor, and you may feel you need more salt or olive oil, but in reality, it unleashes all of its flavors in just a few minutes.
🍝 Which pasta to use
Any kind of pasta works. We love using bucatini, the one you see in the pictures.
Bucatini is a type of pasta that is long and thin and looks like tubes. In general, you can use any recipe that calls for spaghetti. That's because the pasta is hollow, which means it is extruded through a machine instead of rolled.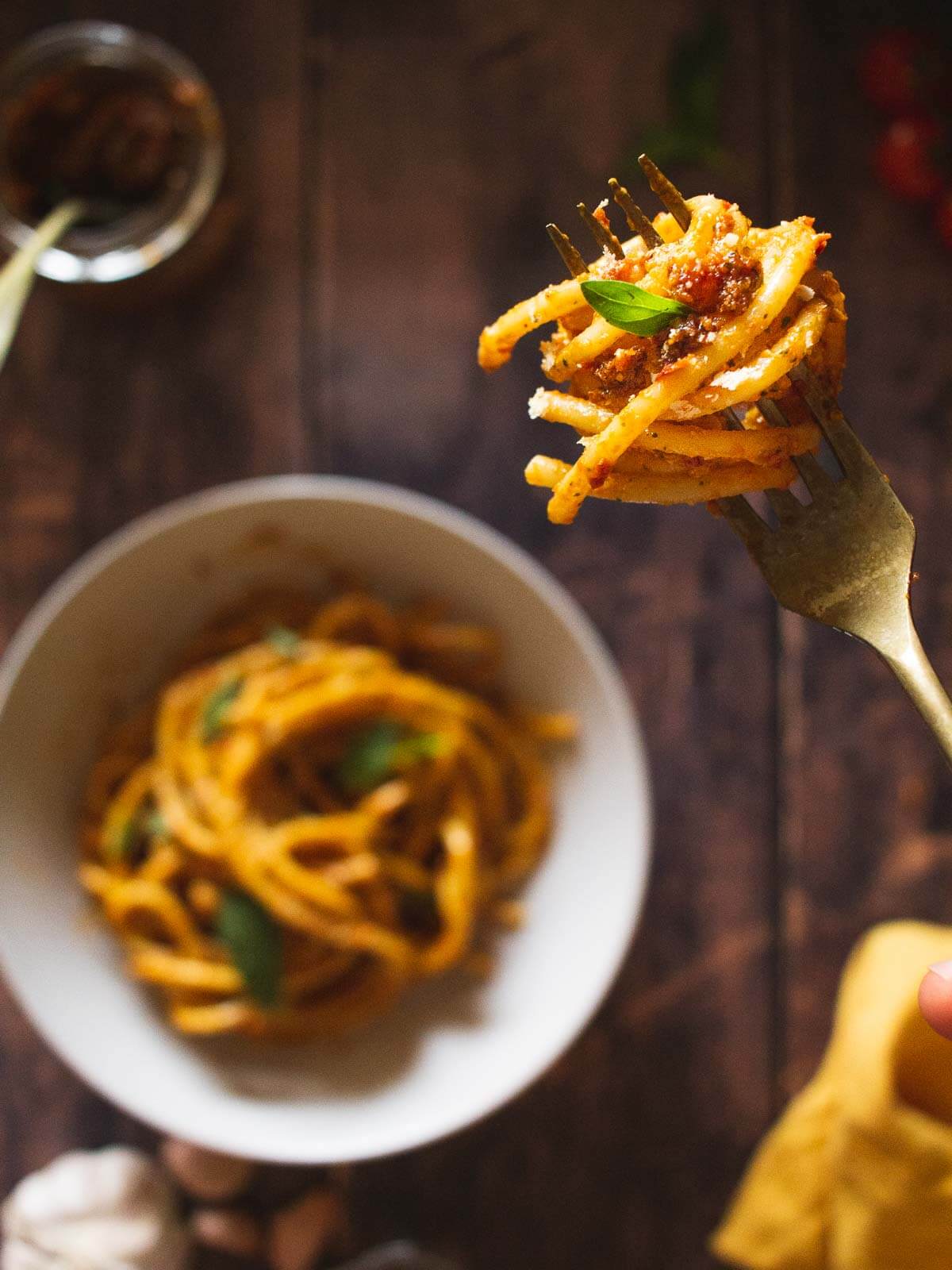 They are thicker and sort of bite you back.
We also like using fusilli, as it goes very well with pesto, as the sauce gets all inside the swirls of the pasta. Tie bow pasta is also a great choice.
Read on: how to make your own fresh vegan pasta dough and homemade noodles!
📖 Variations
Lemons
Pesto sauce is usually made with lemon juice, but we skipped it for this recipe because sundried tomatoes are both sweet and sour. Feel free to stir in some lemon juice if you use the sweeter kind.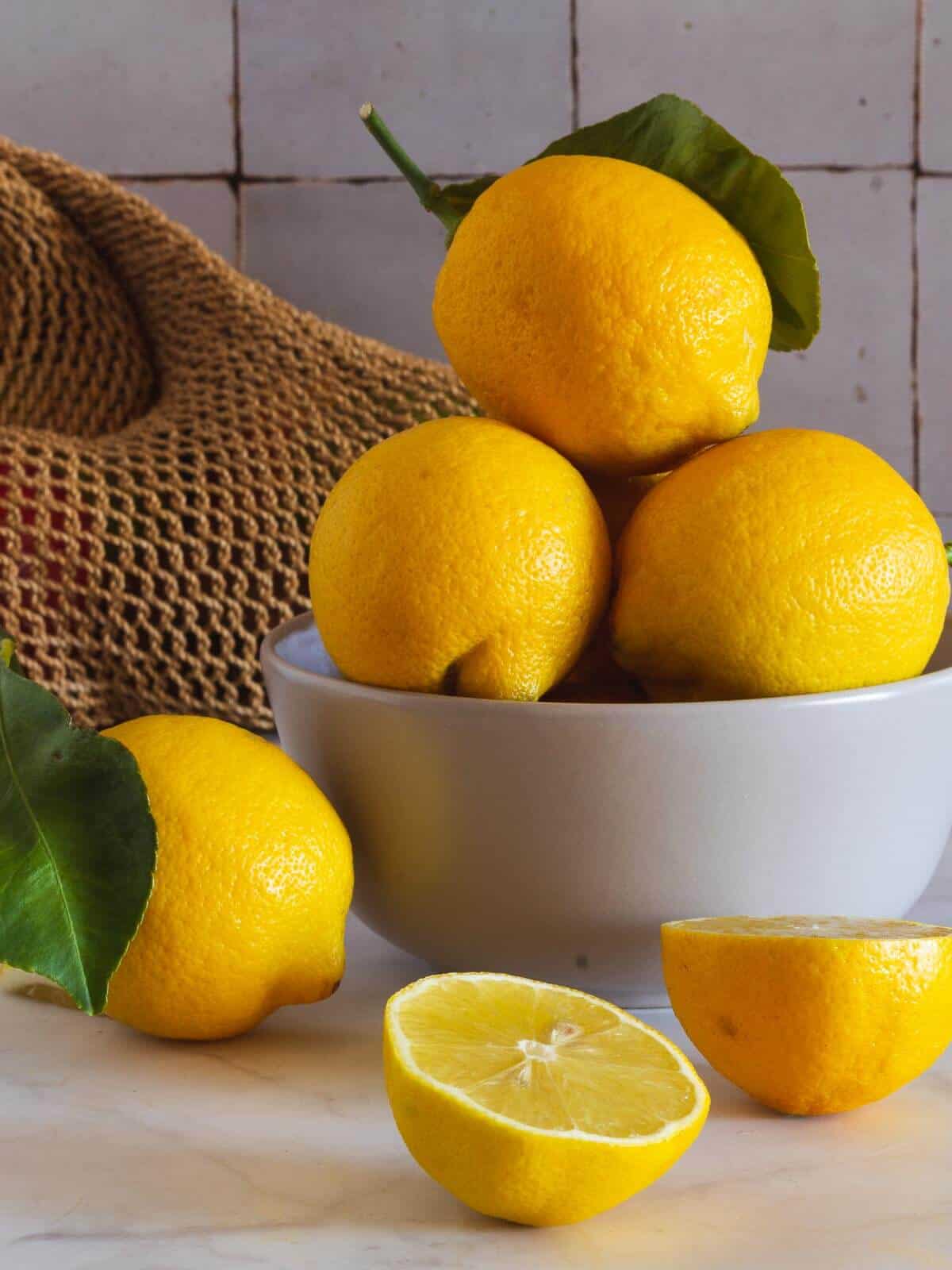 Salt
We don't use any salt either because sundried tomatoes are salty. Feel free to adjust with kosher salt.
Pine nuts
Any nuts will work for this recipe. We decided to use pine nuts to be closer to the traditional pesto rosso, but you can use almonds and walnuts interchangeably.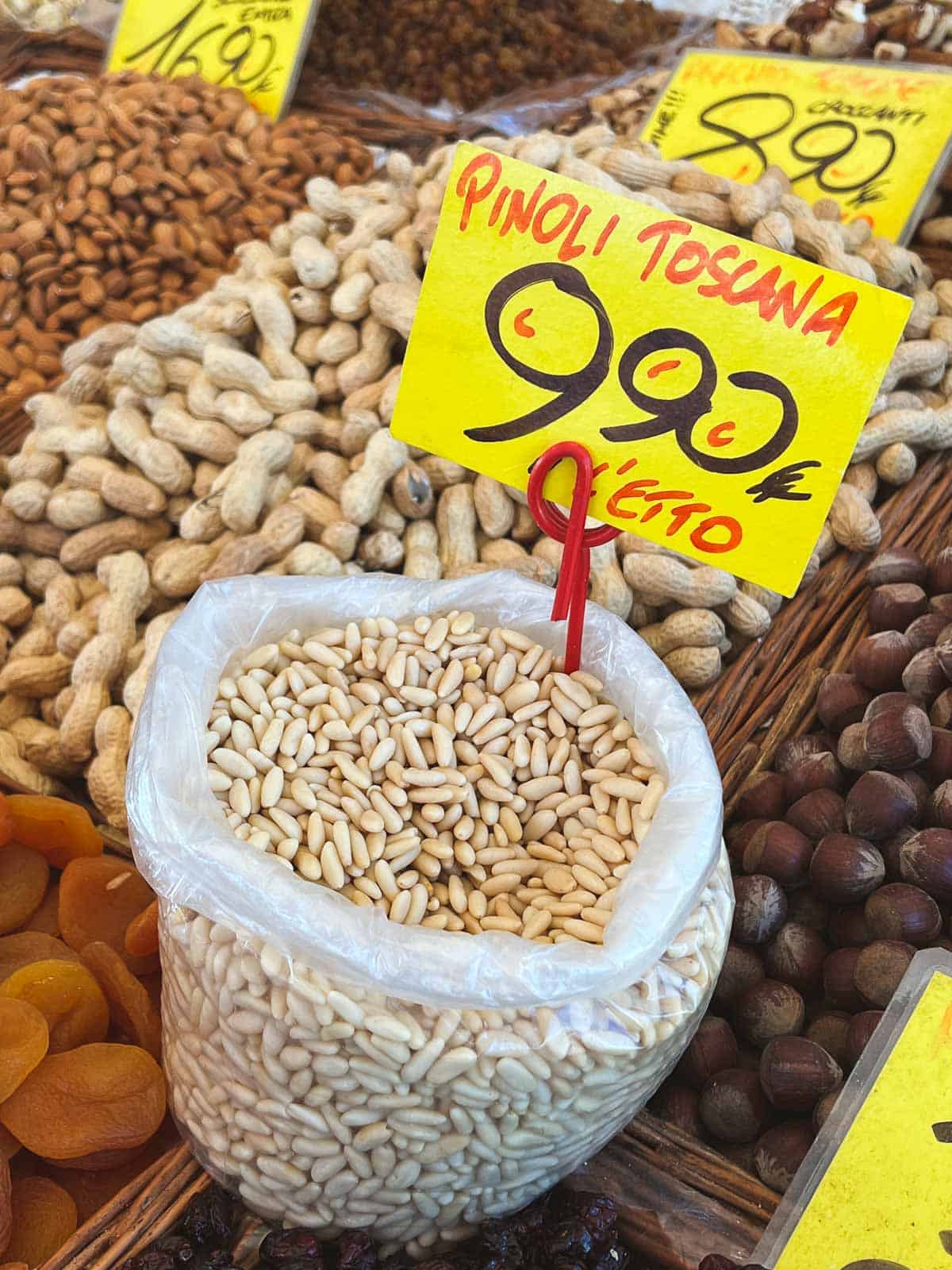 Try our roasted red pepper tofu pesto recipe for an oil-free, healthier pesto option.
🥡 Storing
After blending the sun-dried tomato pesto in your food processor, you can store any leftovers using an airtight container and keep them in the fridge.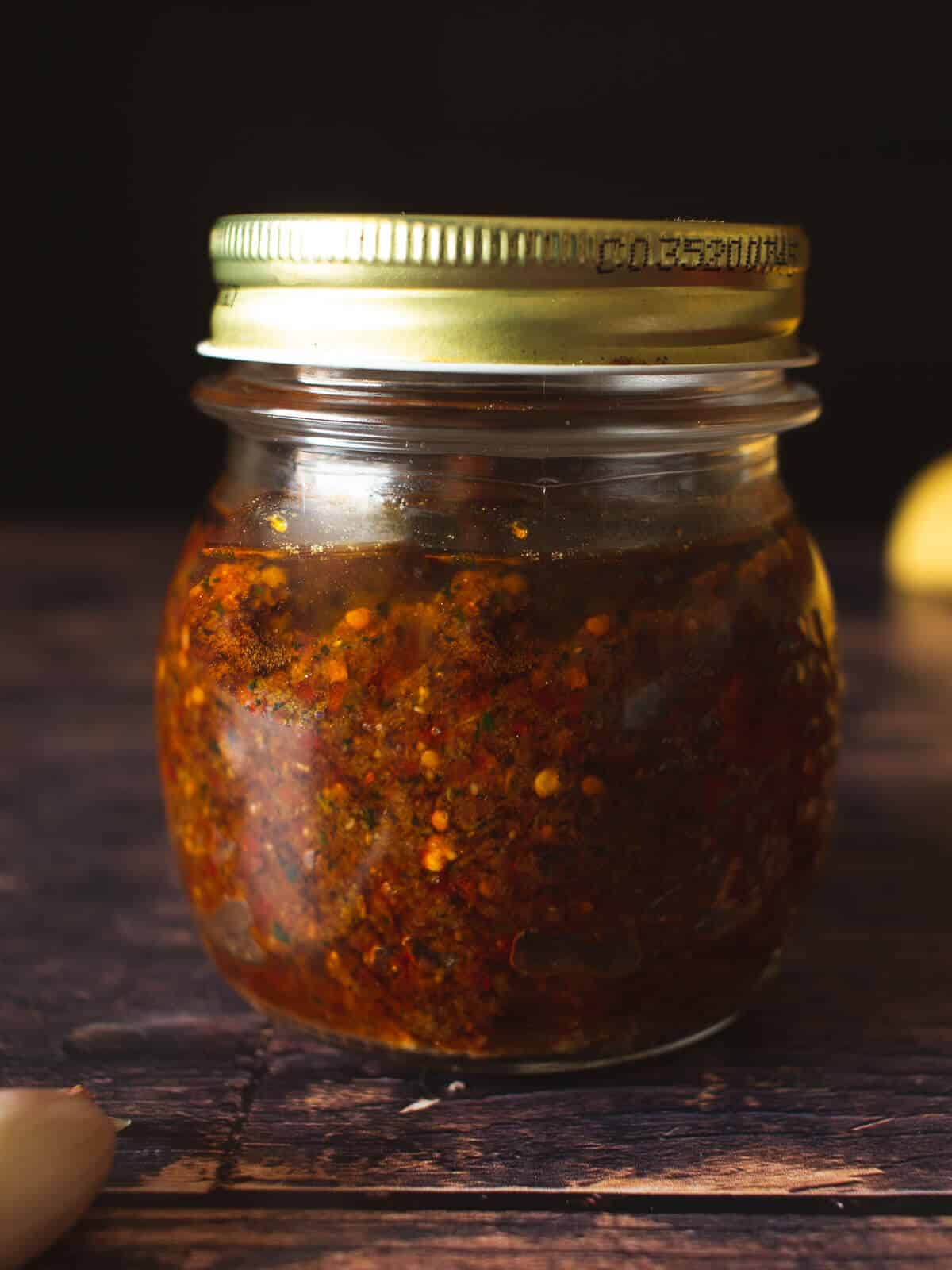 Cover it with extra virgin olive oil if you plan to leave it for an extended period. This will help to keep it for longer and keep its vibrant color. Make sure the pesto surface is covered with oil.
Freezer
If you want to keep your delicious pesto for longer, simply store it in the freezer using an ice cube tray, and then use the portions as needed.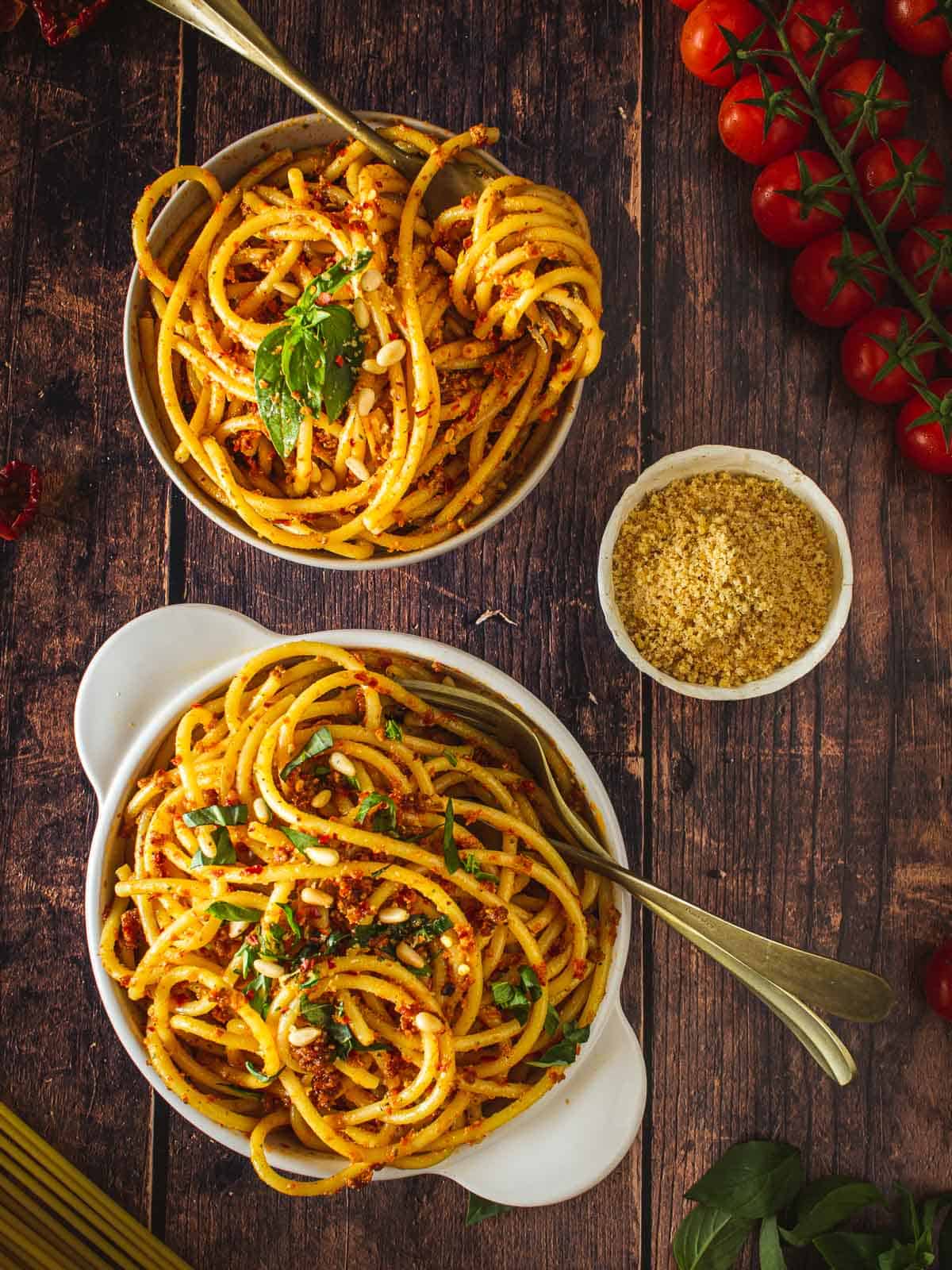 💡 Blending tip
If you are making a small quantity and have an immersion blender, I recommend using it to facilitate the cleaning.
Use a blender or food processor if making a larger batch.
⭐ If you try this recipe, let us know! 💬 Leave a comment, rate it, and don't forget to tag us @ourplantbasedworld on Instagram. Cheers!
📋 Recipe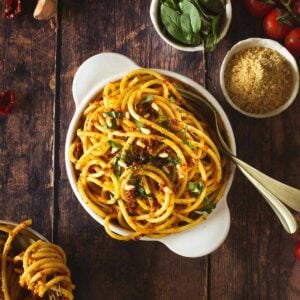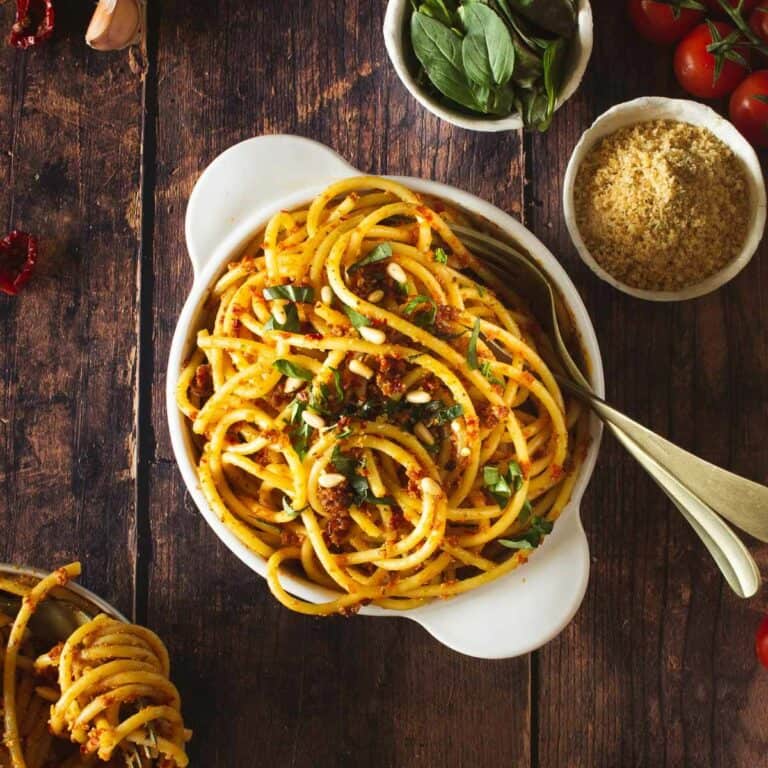 Sun-dried Tomato Pesto Pasta Recipe | Vegan
This sun-dried tomato pesto pasta recipe is the perfect quick and easy meal for busy weeknights. Made with just a few simple ingredients, it's packed full of flavor and sure to become a new family favorite!
Equipment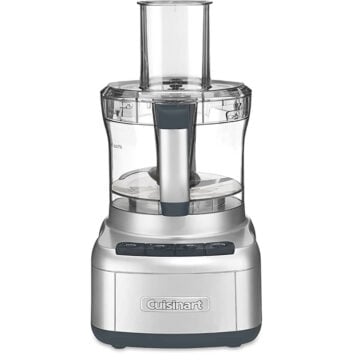 (affiliate link)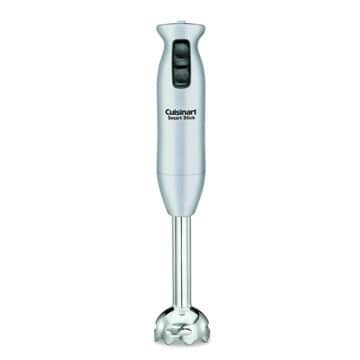 (affiliate link)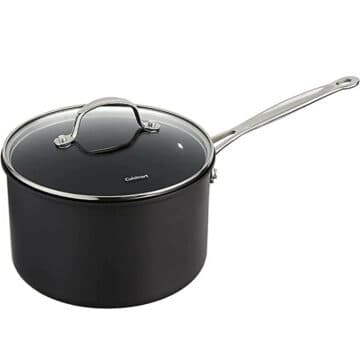 (affiliate link)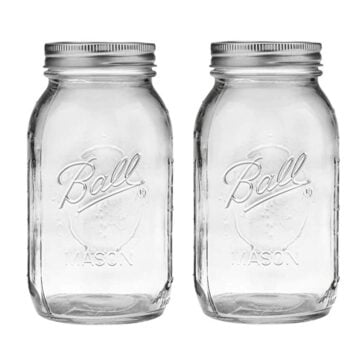 (affiliate link)
Ingredients
Optional:
10

oz

bucatini pasta

300 grams (100 grams per person)

¾

cup

pasta water
Directions
Blend all the ingredients in an immersion blender or food processor until the pesto reaches the desired consistency. You might have to stop and scrape down the sides with a spatula.

Adjust the seasoning. If you want it to be more garlicky, add an extra garlic clove. Add more olive oil for a thinner and runnier pesto.
If making pasta
You can start boiling water before making your pesto because it is made fast!

Boil the pasta as per package directions, with salt. Before straining the pasta on a colander, save some of the pasta water, which will be starchy, so when you add the pesto to your strained pasta, you can add some water little by little to achieve the creamiest texture.
Notes
Note: Yields 5 ¼ oz, good for 3 servings.
Storing: cover with additional olive oil, and sea in an airtight container, so it last more time in the fridge.
Use Gluten-free pasta to make your dish, gluten-free. The pesto itself is gluten-free.
Nutrition Facts
Calories:
548
kcal
Carbohydrates:
81
g
Protein:
17
g
Fat:
18
g
Saturated Fat:
2
g
Polyunsaturated Fat:
4
g
Monounsaturated Fat:
10
g
Sodium:
23
mg
Potassium:
796
mg
Fiber:
6
g
Sugar:
8
g
Vitamin A:
275
IU
Vitamin C:
6
mg
Calcium:
42
mg
Iron:
3
mg
Nutrition Facts
Sun-dried Tomato Pesto Pasta Recipe | Vegan
Amount per Serving
% Daily Value*
* Percent Daily Values are based on a 2000 calorie diet.
🌡️ Food safety
Cook to a minimum temperature of 165 °F (74 °C)
Do not use the same utensils on cooked food that previously touched raw meat
Wash hands after touching raw meat
Don't leave food sitting out at room temperature for extended periods
Never leave cooking food unattended
Use oils with high smoking points to avoid harmful compounds
Always have good ventilation when using a gas stove
See more guidelines at USDA.gov.
The information shown is an estimate provided by an online nutrition calculator. It should not be considered a substitute for a professional nutritionist's advice. See our full Nutritional Disclosure here.
Please note that some of the links here are affiliate links, and I will earn a commission if you purchase through those links. I recommend all of the products listed because they are companies I have found helpful and trustworthy.