Are you struggling with constipation and bloating? If so, you're not alone. Many people deal with these issues on a regular basis. However, you can do some simple things to help alleviate these symptoms, including drinking a high-fiber smoothie for constipation. In this blog post, we'll share our favorite recipe for a healthy gut smoothie that is both delicious and healthy!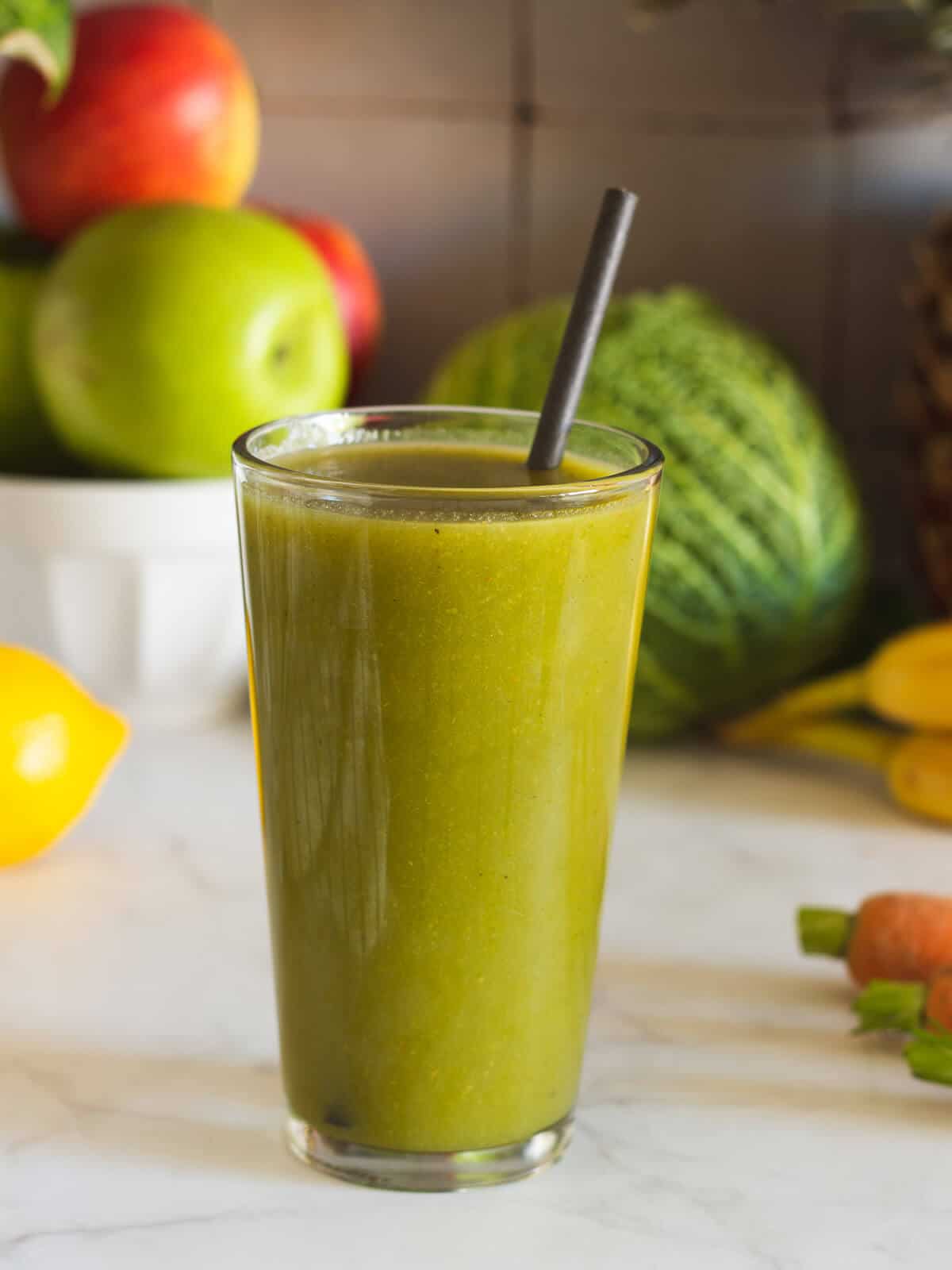 Constipation and digestive system issues are signs of a poor diet, usually lacking a daily dose of more different foods high in prebiotic fiber, which helps improve digestion.
🤔 What juices help with constipation?
All fruit juices and vegetables contain water, but not all contain soluble and insoluble fiber, which we need to keep our bowel movements going and digestive health where they need to be, as explained by Richmond from WorldofBlenders.com.
Many juices can relieve constipation due to their hydration power, but the ones that can help the most keep the fiber. That's why smoothies, high-fiber drinks, and fiber shake for constipation and bloating work best because they keep the fiber.
The best formula for constipation: this high-fiber smoothie recipe is made using a blender instead of a juicer, aiming to keep all that soluble fiber from the healthy foods we add into it, which have been carefully picked due to their properties to keep their digestive enzymes going.
The exception is those juices containing insoluble fiber, like pear juice, which is excellent for constipation.
This green smoothie was inspired by our cabbage juice and carrot and apple juice recipe since they contain just the right elements to propel regular bowel movements.
Jump to:
🧾 Ingredients
To make this constipation smoothie, you only need three fresh products plus water.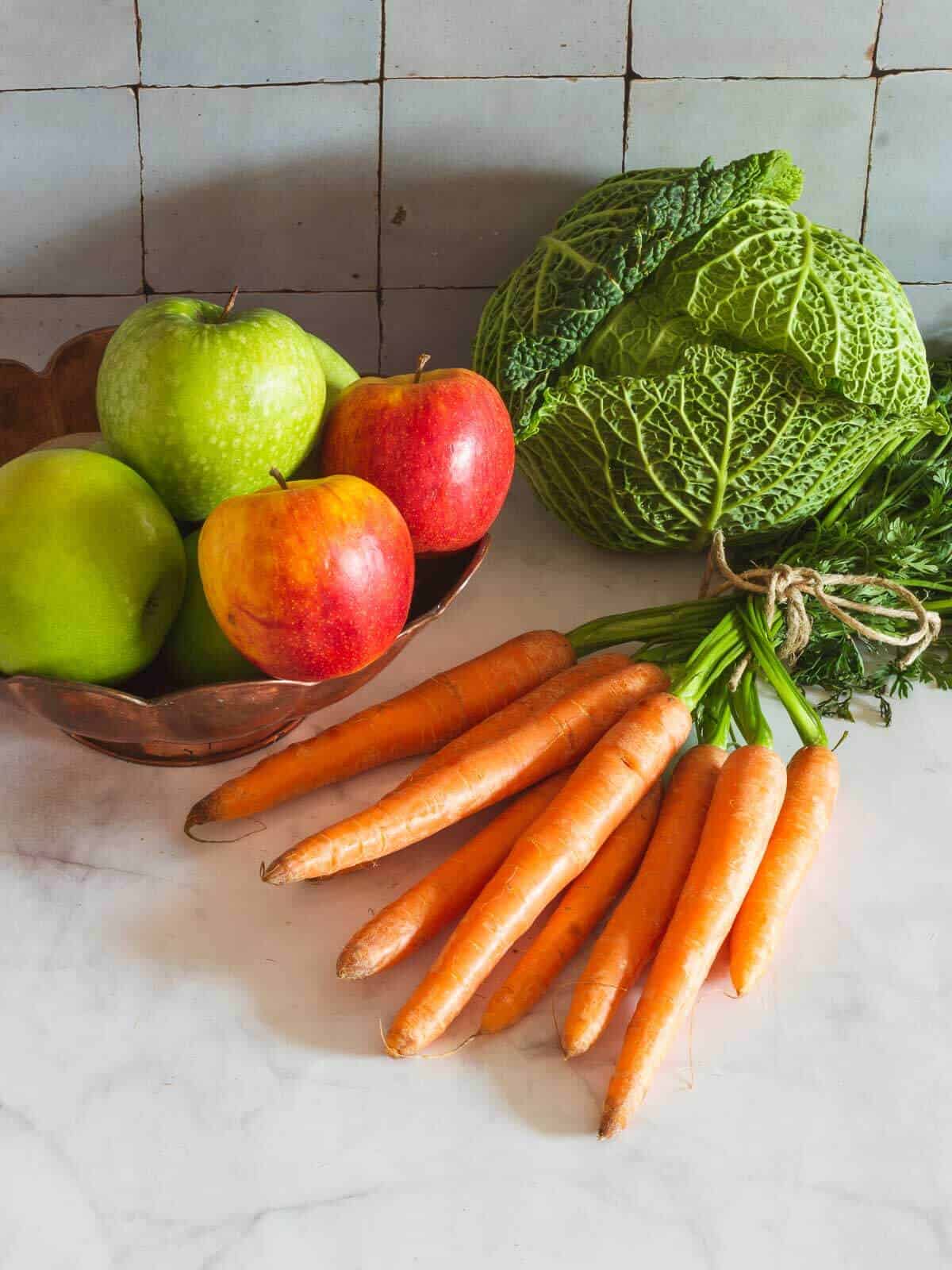 Cabbage is high in fiber and helps to regulate digestion, reducing constipation and bloating.
Carrots are rich in fiber, promoting regular bowel movements and reducing constipation and bloating.
Apples are a good source of fiber, containing both insoluble and soluble fibers that aid in digestion and reduce bloating.
Water and ice cubes are used to thin the smoothie and provide hydration, helping to flush out toxins and prevent constipation.
See the recipe card for quantities.
🔪 Instructions
Wash the carrot and cabbage leaves thoroughly. Core the apple to make this apple smoothie. Otherwise, you may find seeds in your glass.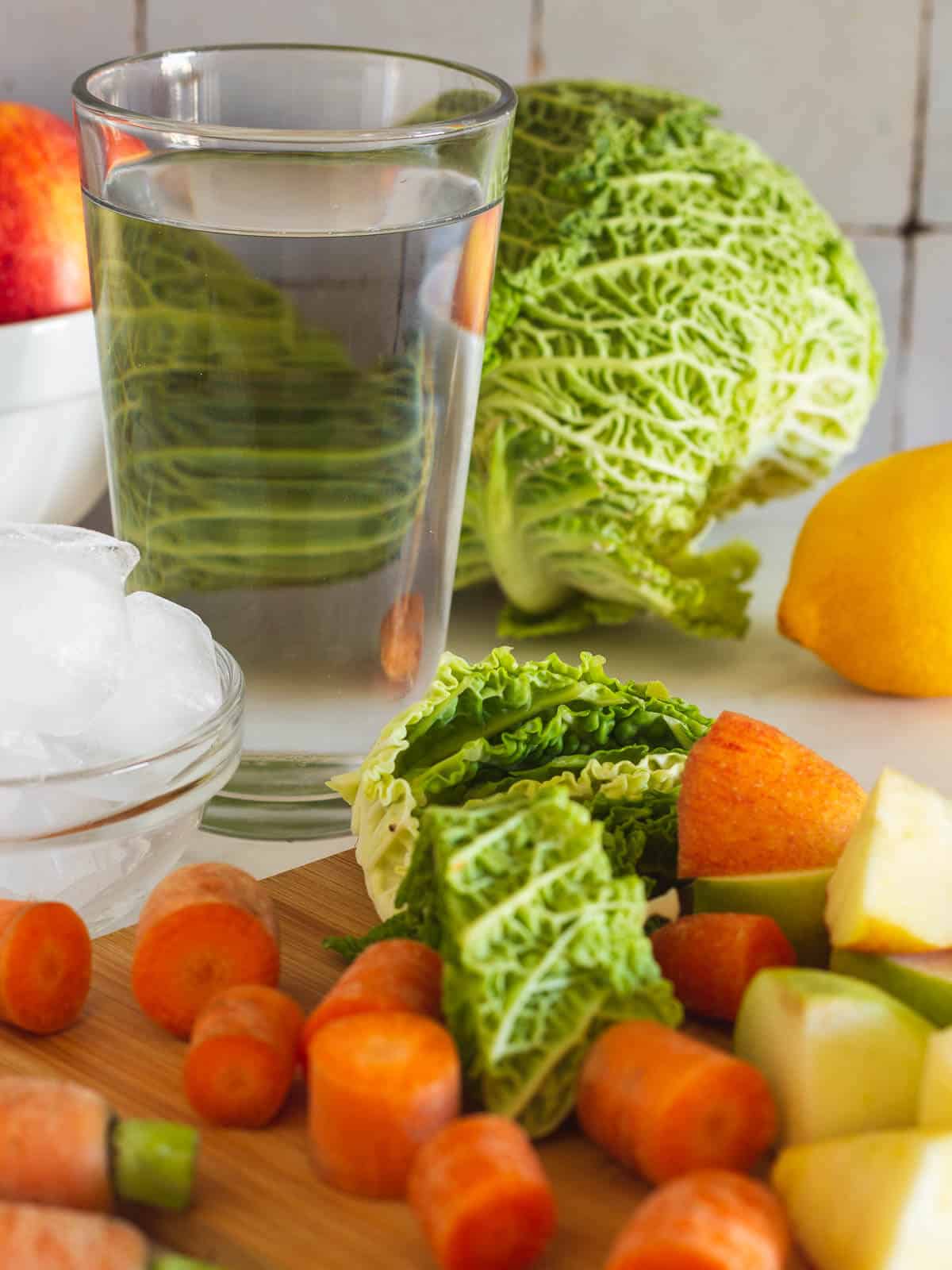 Measure your ingredients for the best results.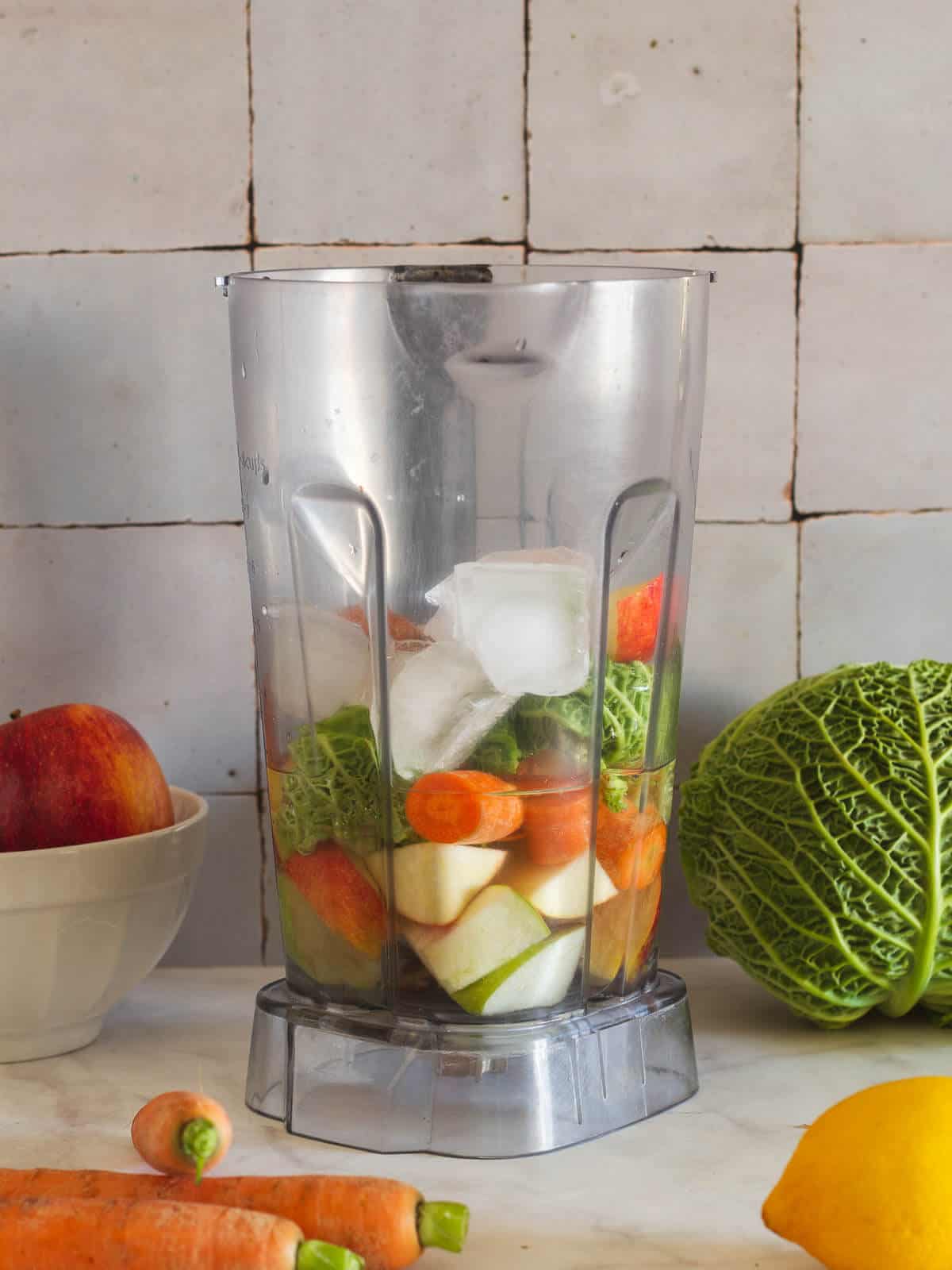 Add all ingredients into the blender and mix at high speed.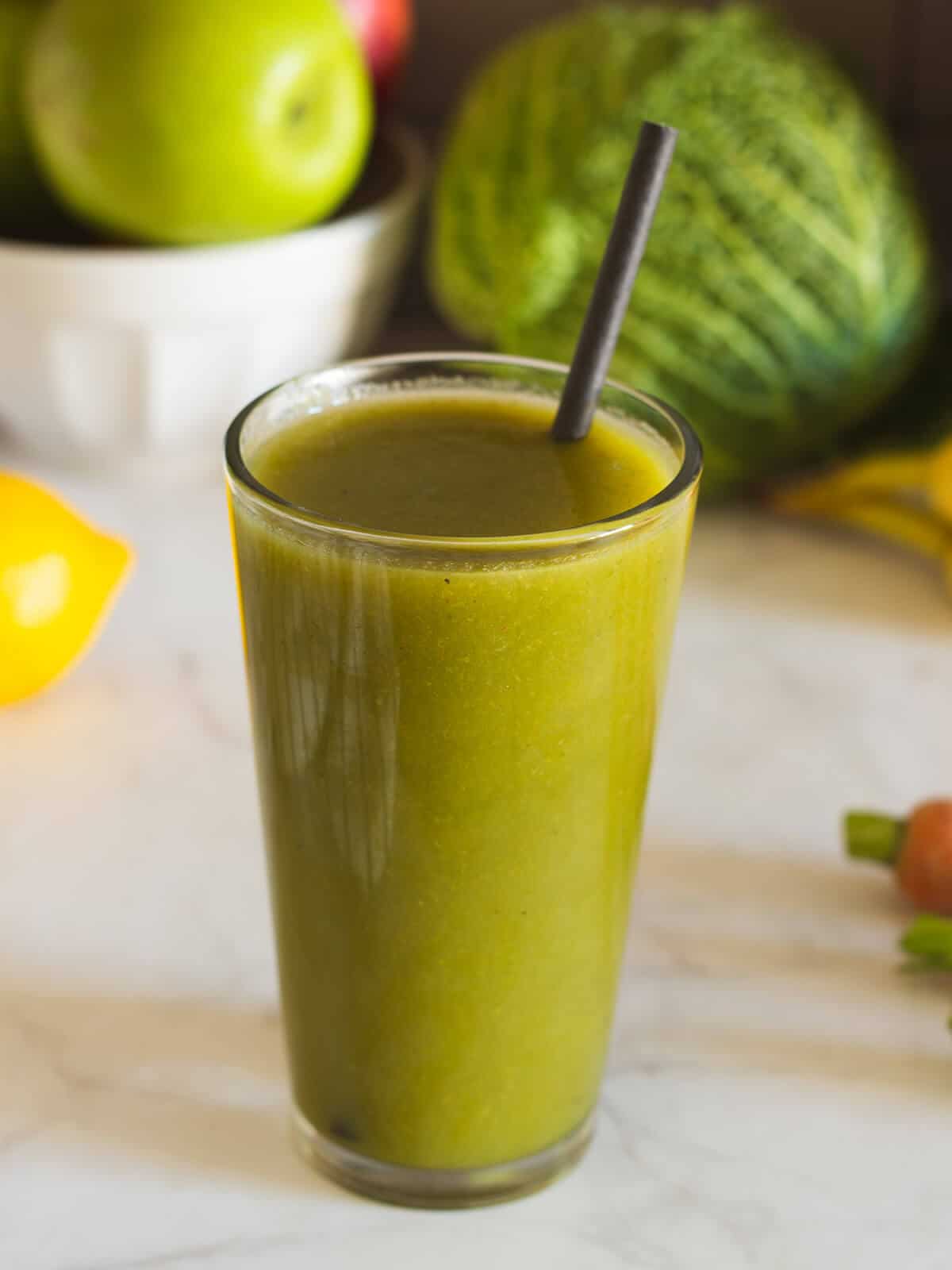 Hint: when you make juice without a juicer, you need to add water or ice to the juices because the juicer extracts all the liquids. Smoothies for constipation work because the insoluble fiber adds bulk, so we need more water to make it drinkable; otherwise, the juice would be extremely thick.
🍶 Substitutions
Cabbage- instead of green cabbage, you could use red cabbage juice or your choice of leafy green vegetables like Swiss chard, kale, or spinach.
Apple - fresh pear juice is a great substitution. Just core the pear before adding it to the blender. You can also use fresh or frozen pineapple chunks.
Carrots - use cored plums instead. Frozen raspberries, plums, and prunes (dried plums) are also great for treating constipation, given their high-fiber content.
Other high-fiber fruits that you can include in a constipation smoothie to improve digestive health are pineapple juice, fresh or frozen berries, or simply add a frozen banana. Check out our 3-ingredient pineapple coconut smoothie.
A watermelon smoothie with ginger is a delicious light smoothie that can also work as a constipation smoothie.
Hint: if you suffer from frequent constipation, try including more high-fiber foods in your diet, like whole grains and sweet potatoes, both great for constipation relief and alleviating digestive issues.
💭 Did you know that The United States Department of Agriculture suggests that we eat a variety of food fiber sources that should total 28 to 34 grams daily? 🤯
This fiber should come from foods and not store-bought supplements. Currently, this number in the US averages about 15 grams daily; in most cases, this is the root cause of digestive problems.
🍓 Other fiber-rich ingredients
Add strawberries, blackberries, blueberries, chia, and flax seeds to your smoothies to increase their fiber content naturally while making them taste delicious.
Apply the same to your smoothie bowls, which are super easy to make with store-bought frozen berries, check out how to make a thick smoothie bowl.
📖 Variations
Water - to make the smoothie creamier, use your favorite non-dairy milk or almond milk, or add a tropical note using light coconut milk instead of water. You can also add unflavored protein powder to make it a breakfast smoothie.
Healthy fats and extra fiber - add a tablespoon of chia seeds, flax meal, and hemp seeds. Chia seeds are highly nutritious, high in fiber and Vitamin C, and have enough fiber for a meal.
Nut butter - almond butter can double peanut butter's fiber content. The combination works great for reducing constipation risk if you use your favorite nut butter with fiber-rich bread, oats' smoothies, apples, and bananas.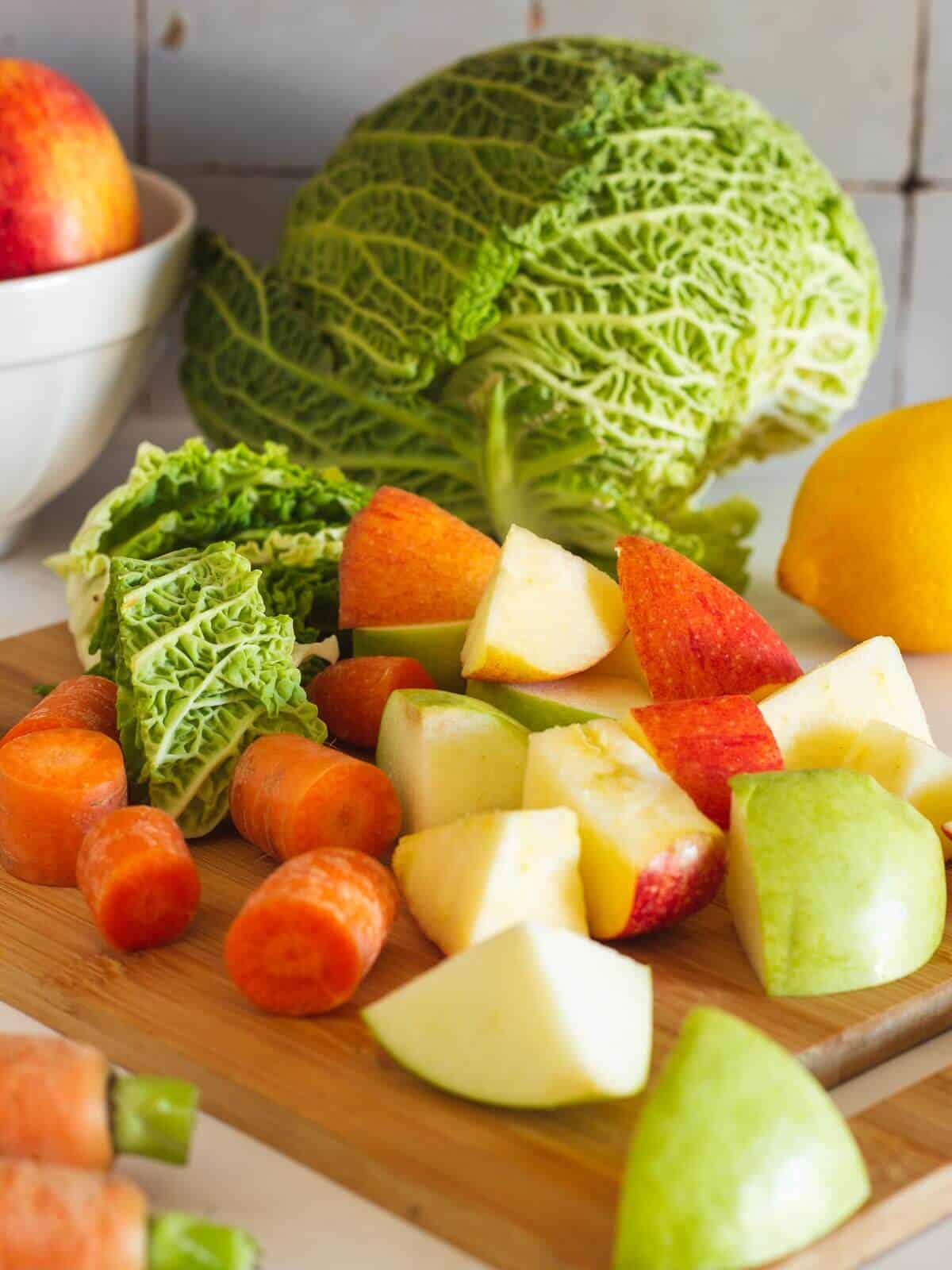 Add half a lemon or fresh ginger to add a fresh note. In addition, ginger is great for alleviating stomach issues naturally and is often added to juices for an upset stomach.
🍽 Equipment
Make this high-fiber smoothie recipe using a high-speed blender such as a nutribullet (affiliate) for best results. A good quality blender is essential to making a perfect smoothie, regardless of how tough the product is.
🫙 Storage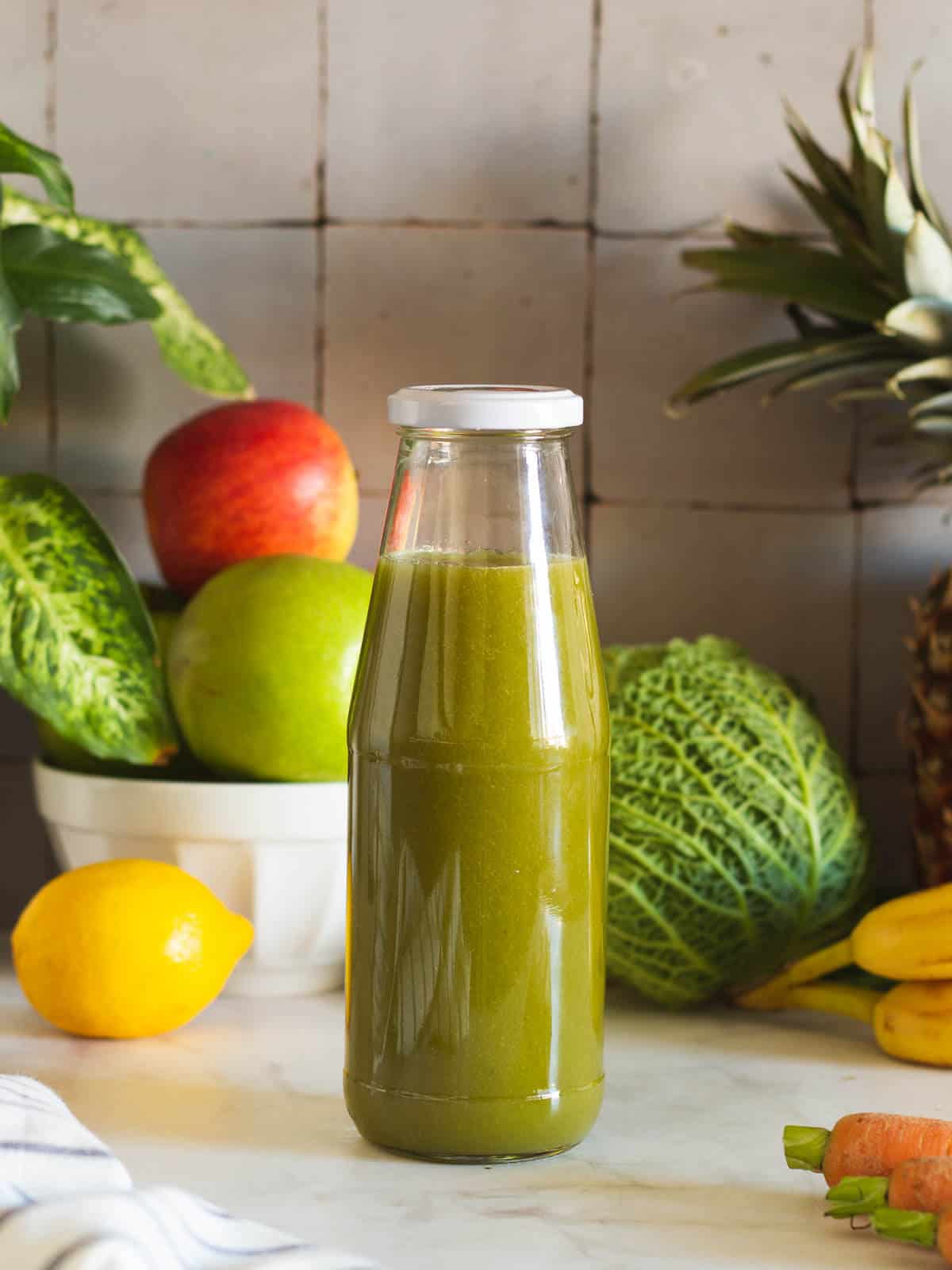 These green smoothies' leftovers will keep in a covered mason jar in the refrigerator for up to one day, though best when fresh.
💡Top tip
If you are suffering from constipation, before taking any juice, smoothie, or medication, ask yourself if you are drinking enough water or herbal teas. The same goes for headaches and hangovers. Our bodies need to be well hydrated to perform most of their functions.
❓FAQ
Are juices good for constipation?
Even though juices are liquid, some fresh juices often still contain dietary fiber that can help with constipation issues. Bear in mind that their fiber content is not even close to that present in smoothies.
Do smoothies help with constipation?
Because our bodies don't digest fiber, which is kept when making smoothies, the fiber passes through the digestive tract and helps promote gut health. Consuming products high in dietary fiber creates the natural laxative effect we need to keep a regular bowel function.
Is apple juice good for constipation?
Apple juice is a good natural remedy for constipation because it contains dietary fiber, which can help to soften stools and promote regular bowel movements.
In addition, apple juice contains antioxidants and other nutrients that may help improve gut health and relieve constipation.
Is cranberry juice good for constipation?
There are a few different ways that cranberry juice can help with constipation.
First, the juice is a natural laxative that helps loosen stool and move it through the intestines more quickly.
Second, cranberry juice is high in fiber which helps to add bulk to the stool and makes it easier to pass.
And third, cranberry juice's antioxidants help reduce inflammation in the intestines and promote healthy bowel function. So overall, cranberry juice is a great option for relieving constipation symptoms.
Is prune juice good for constipation?
Prune juice is a great home remedy for constipation. The natural fruit acids in prunes help to soften the stool and make it easier to pass. Prune juice also contains high levels of fiber which can help to stimulate bowel movements.
Drinking prune juice regularly can help to keep your bowels moving smoothly and can help to prevent constipation from developing in the first place.
Is orange juice good for constipation?
It depends on why you're constipated. If it's because of a lack of fiber in your diet, drinking orange juice might help, but you'd be better off eating whole fruits and vegetables instead.
If you're constipated because you're not drinking enough fluids, drinking orange juice will help you get more fluids into your system and relieve your constipation.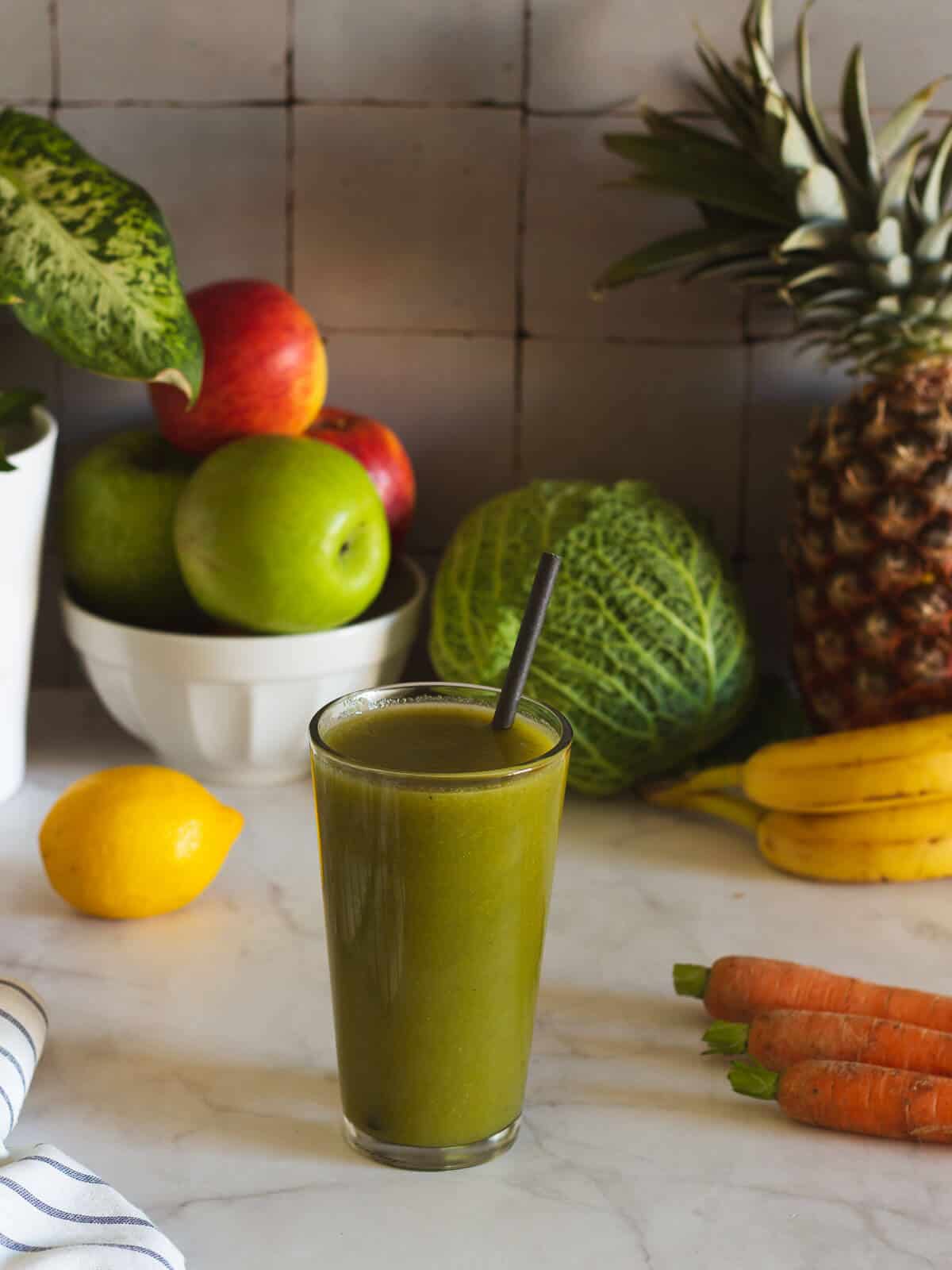 🥤 More green smoothie recipes
Try this post-workout smoothie made with spinach and lots of fiber; we love this green creamy detox smoothie made with Swiss chard and avocado.
If you want something super light, this frozen spinach smoothie with ginger, pineapple, cucumber smoothie, spinach blueberry smoothie, and spinach smoothie with bananas and pear will do the trick.
All these smoothies are packed with fiber and make excellent smoothies for constipation and bloating, so you can alternate this recipe with those, making sure you meet the daily fiber intake recommendations for a healthy gut.
⭐ If you try this recipe, let us know! 💬 Leave a comment, rate it, and don't forget to tag us @ourplantbasedworld on Instagram. Cheers!
📋 Recipe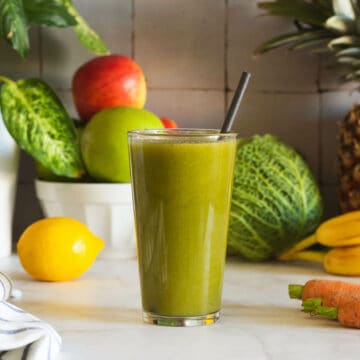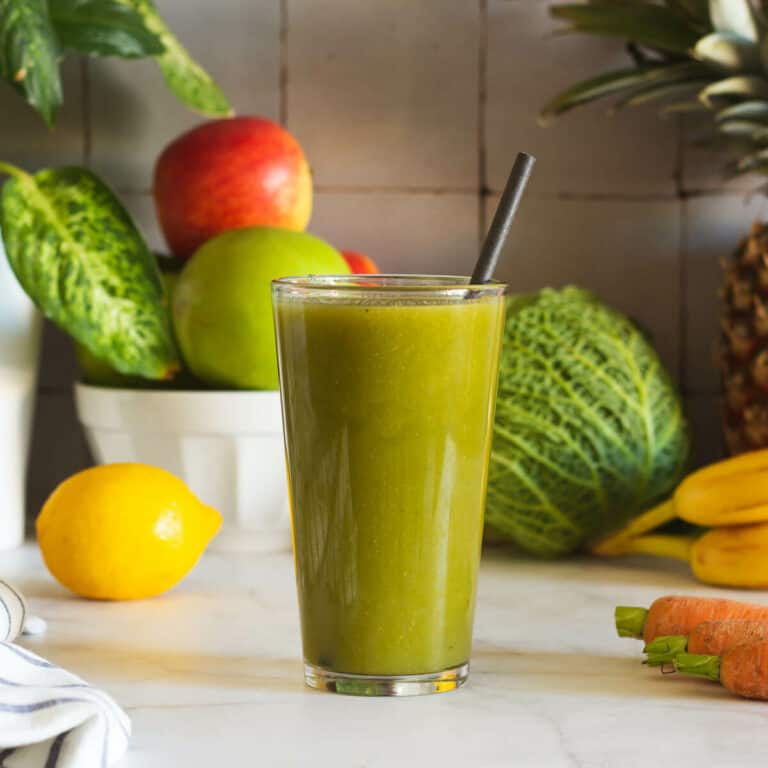 High-fiber Smoothie for Constipation and Bloating
This constipation smoothie is your morning bet on keeping you regular and improving digestive issues and bloating.
Equipment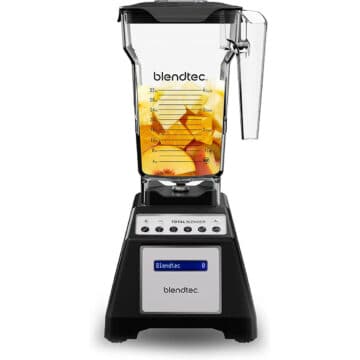 (affiliate link)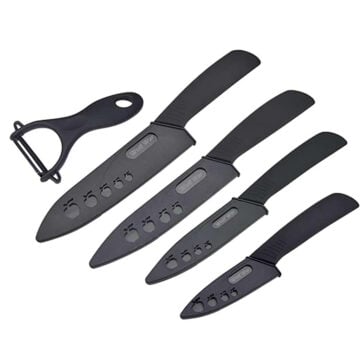 (affiliate link)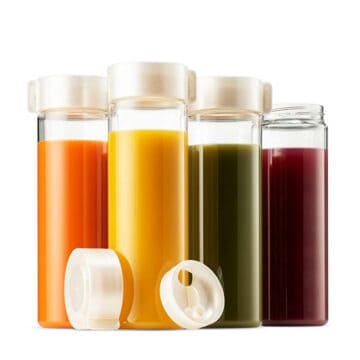 (affiliate link)
Ingredients
2

apples

cored and chopped

1

carrots

chopped into medium pieces

1

cabbage leave

1

cup

water

12

ice cubes
Optional:
1

tablespoon

ginger

fresh, about 1 inch

½

tablespoon

lemon juice

add lemon drops if you like to make it more acid
Directions
Wash, chop, and core the apple.

Measure your ingredients.

Blend. Add all product, water, and ice into the blender, then add the rest. Blend until creamy, usually about 40 seconds.

Thin-up. If you want to thin out the smoothie, add about half a cup of water to the blender.

Serve. Or you can reserve the juice for up to 24 hours in a mason jar.
Notes
It is not necessary to peel the ginger; the Juicer will do it all.
You can also add both the carrots and celery stalks and leaves.
I use this

Juicer

. Works very well but I am planning to upgrade to a

Cold-Pressed

one (the benefits are outlined in the article).
Nutrition Facts
Calories:
109
kcal
Carbohydrates:
28
g
Protein:
1
g
Fat:
0.4
g
Saturated Fat:
0.1
g
Polyunsaturated Fat:
0.1
g
Monounsaturated Fat:
0.03
g
Sodium:
30
mg
Potassium:
326
mg
Fiber:
5
g
Sugar:
21
g
Vitamin A:
5238
IU
Vitamin C:
14
mg
Calcium:
35
mg
Iron:
0.4
mg
Nutrition Facts
High-fiber Smoothie for Constipation and Bloating
Amount per Serving
% Daily Value*
* Percent Daily Values are based on a 2000 calorie diet.
Nutritional Disclaimer
The information shown is an estimate provided by an online nutrition calculator. It should not be considered a substitute for a professional nutritionist's advice. See our full Nutritional Disclosure here.
Affiliate Disclaimer
Please note that some of the links here are affiliate links, and I will earn a commission if you purchase through those links. I recommend all of the products listed because they are companies I have found helpful and trustworthy.