This Vegan Savory Eggplant Pie will win your heart in the first bite! It is creamy, cheesy, and pure comfort food. The Filling for this vegan pie recipe is made in minutes, and the rest is baking time. It is one of the best vegan eggplant recipes out there.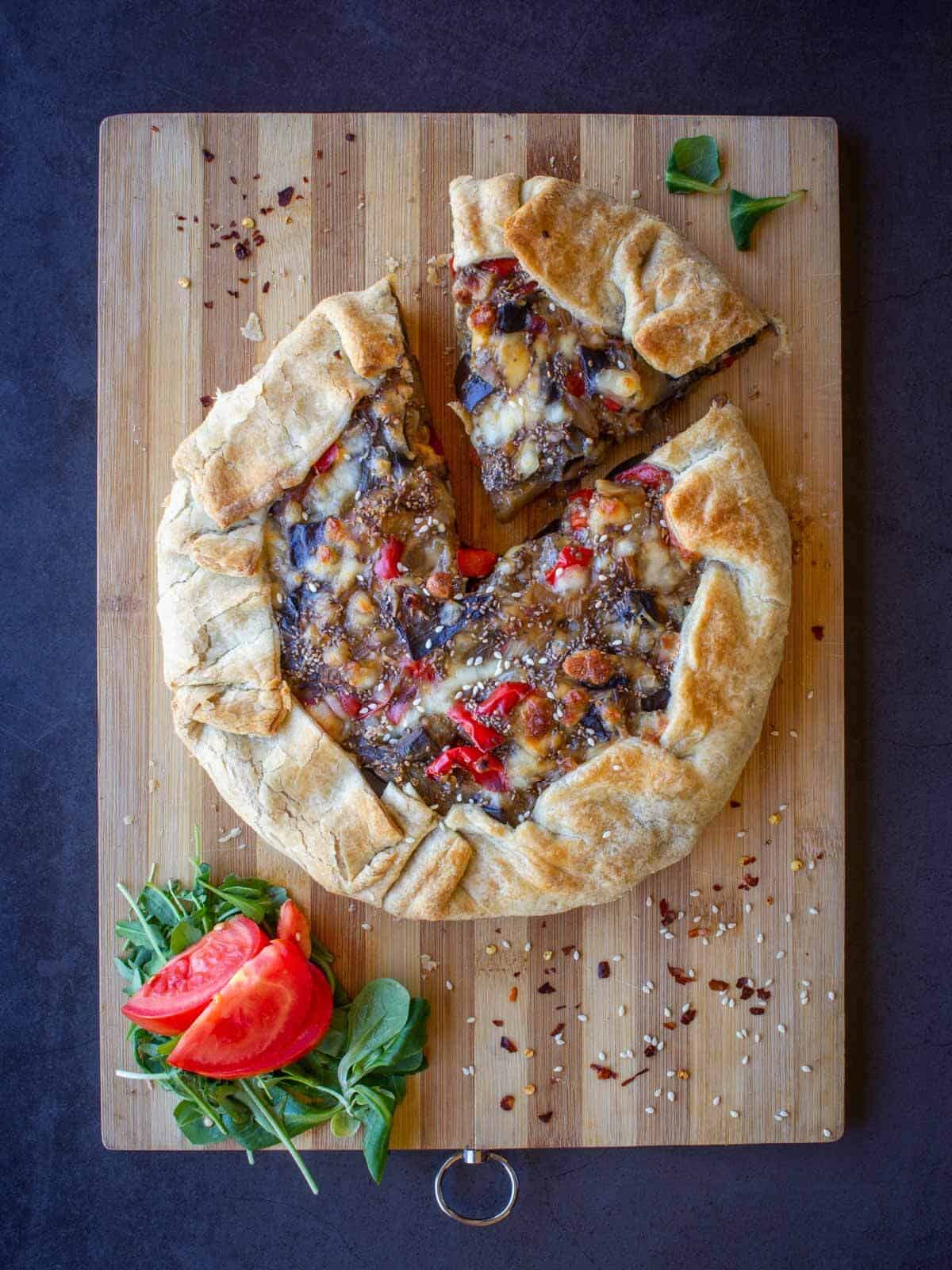 We love savory tarts with all kinds of fillings, and we are big fans of eggplant recipes!
So, it was only natural to end up making this eggplant pie! It's crazy because we make it all the time.
Eggplant pies are very similar to Tiella's from the beautiful gastronomic Gaeta Roman Beach destination, except that the pastry doesn't cover the top.
We hadn't thought about sharing it before, just because it is a ubiquitous dish, at home, almost like a no-brainer dish when you need something accessible and known. Comfort zone, and yes...also comfort food!
This eggplant pie recipe makes an excellent healthy vegan appetizer, side dish, or main dish.
The whole family will love it; it is a rich dish that even meat-eaters enjoy; it is absolutely delicious and makes an excellent vegan meal.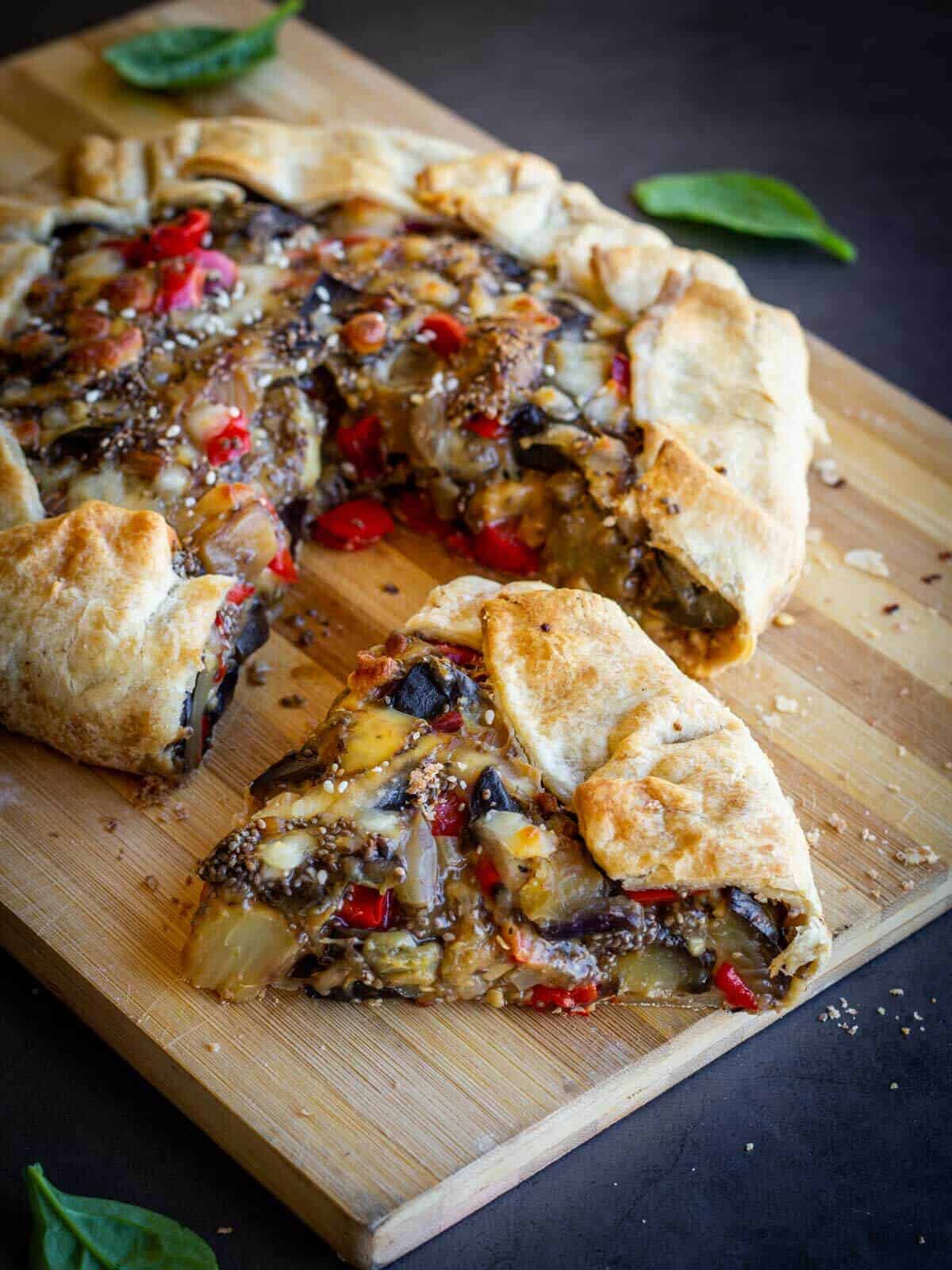 This is a re-make of our carrot savory tart recipe. If you want to make your puff pastry dough, it is easily made in 5 minutes, and you can also find the recipe on this site.
It is the same dough we use for our vegan lentil empanadas and Argentine Spinach empanadas, just a different shape. Don't forget to try our mushrooms empanadas filling.
Jump to:
🧾 Ingredients
To make this vegan pie recipe you only need a couple of kitchen staples.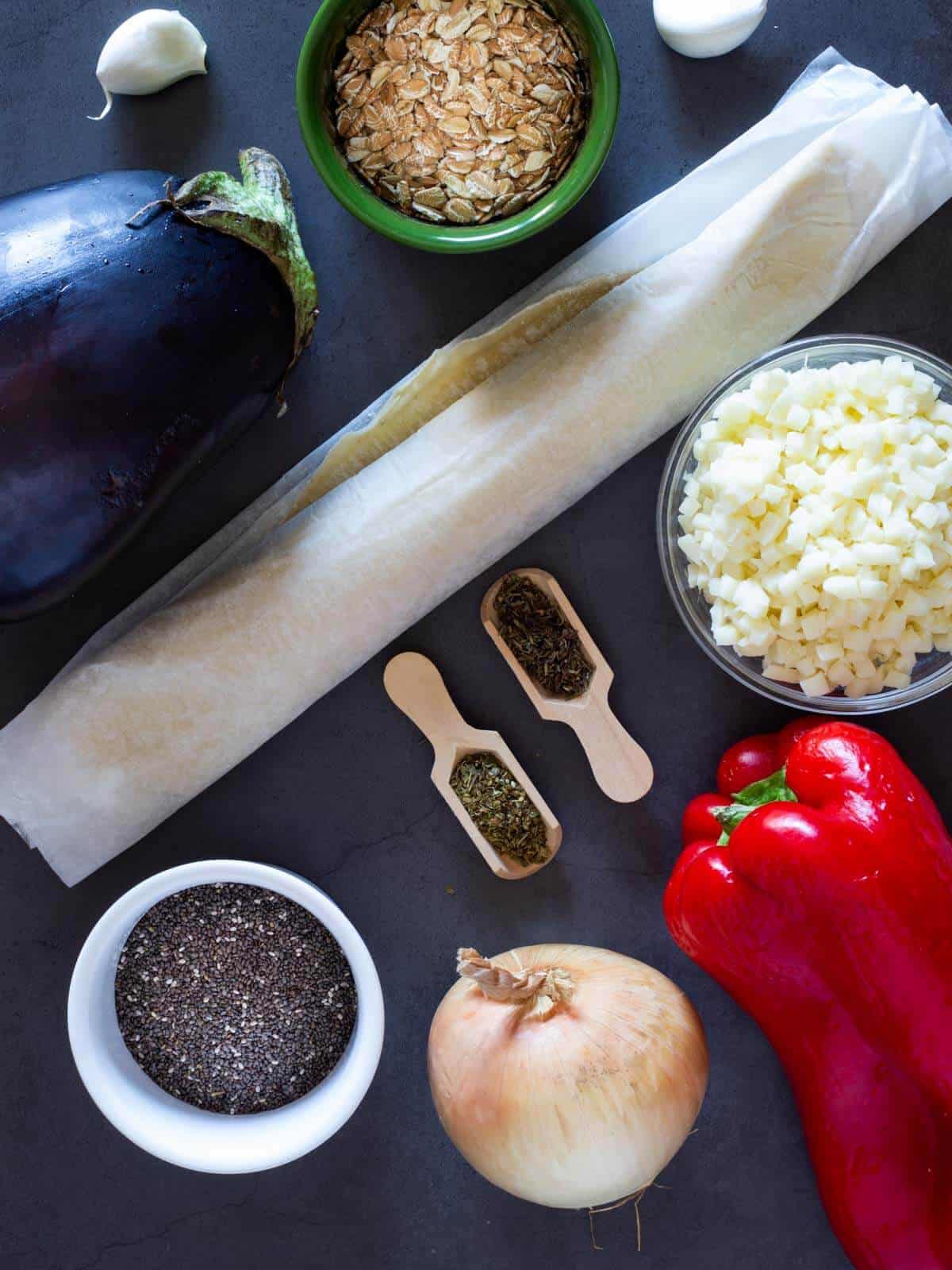 Eggplant: The star ingredient of the dish, eggplant offers a succulent, spongy texture that absorbs other flavors well, contributing to a rich and satisfying pie filling. Additionally, its high fiber and low-calorie content make it a nutritious choice.
Red bell pepper: Red bell peppers add a vibrant color and a hint of sweetness to the dish, enhancing the overall aesthetic and flavor profile. They also provide a wealth of essential vitamins, particularly Vitamin C.
Onion: Onions are used for their unique ability to add depth and complexity to the flavors of the pie. Their natural sweetness, when sautéed, complements the other ingredients, while their antioxidants and anti-inflammatory properties boost the dish's nutritional profile.
Oats: Oats act as a binder in our recipe, helping the pie filling maintain its structure while adding a subtle nutty flavor. They're also a great source of fiber and plant-based protein.
Garlic or garlic powder: Garlic adds a punch of robust flavor that complements the vegetables, enhancing the savory notes in the pie. Its antibacterial and antiviral properties are added benefits, contributing to overall health.
Chia seeds: In vegan cooking, chia seeds often serve as an egg substitute because, when mixed with water, they form a gel that helps bind ingredients together. Besides this, they are a nutritional powerhouse, rich in omega-3 fatty acids, fiber, and protein.
Vegan mozzarella cheese: Vegan mozzarella cheese brings the comforting, creamy richness and gooey texture associated with traditional cheese pies without using any animal products. This also adds a layer of flavor that perfectly complements the other ingredients.
Herbs (Thyme, Oregano, Italian seasoning, or fresh basil): These herbs are used to infuse the pie with aromatic and savory elements that bring depth and complexity to the overall flavor profile. Each offers unique health benefits, including antioxidant properties and digestive health support.
Vegan tart dough (store-bought) or our 5-mins dough recipe: This forms the base of our pie, offering a delicious, crisp contrast to the soft and flavorful filling. It's also a convenient option for those looking to save time, or it can be homemade for an even more custom and fresh taste.
Optional: olive oil and salt.
See the recipe card for quantities.
🔪 Instructions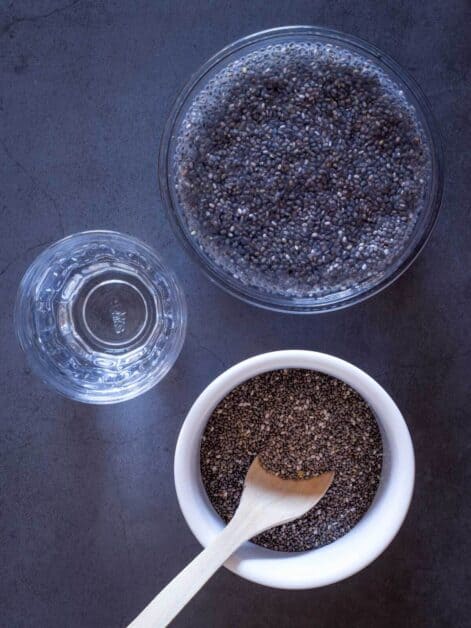 Step 1: Make the chia eggs (soak chia and water).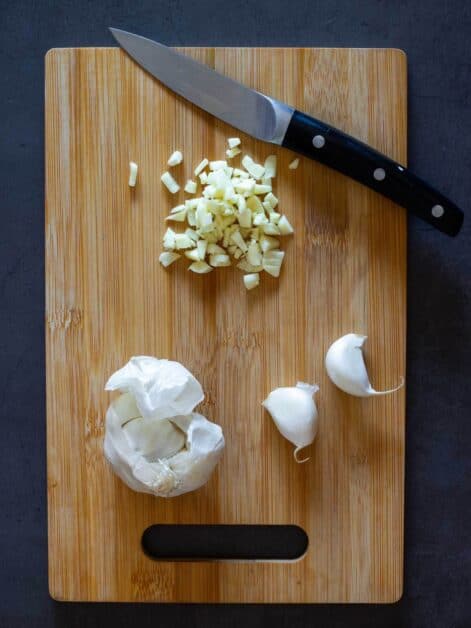 Step 2: Chop the garlic coarsley.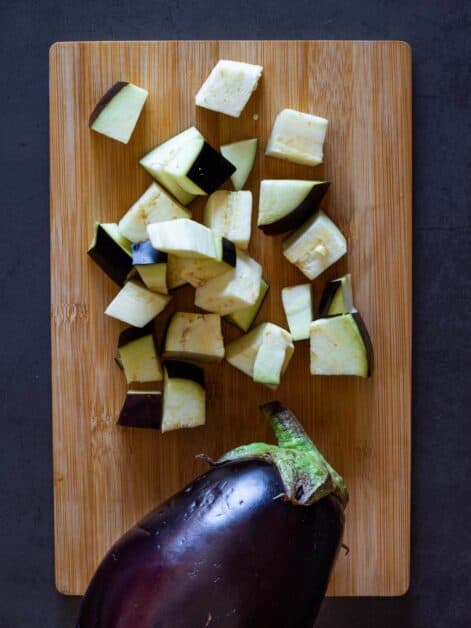 Step 3: Dice the onions, eggplants, and red bell pepper. The size of the dice does not make a difference. Once you cook eggplant, it will become tender and juicy strips.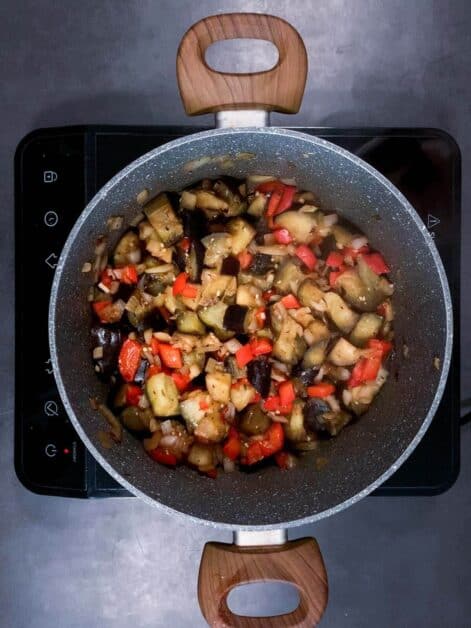 Step 3: In a saucepan, stir-fry the onion and garlic until golden brown, and then add the diced eggplant and bell pepper. Stir fry all the veggies and herbs.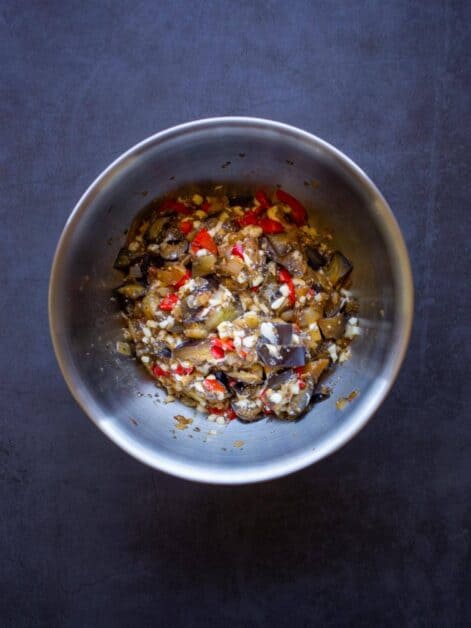 Step 5: Remove from heat when cooked, and add half of the vegan cheese to a bowl.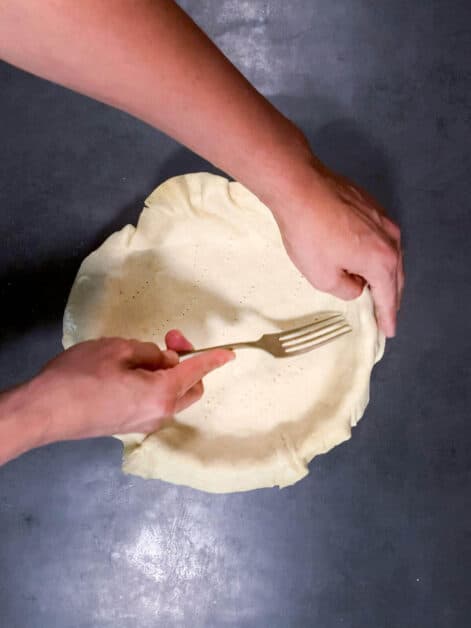 Step 6: In a round non-stick or oiled and flour-dusted baking pan, place the store-bought or homemade pastry. And pinch with a fork, allowing it to cook evenly.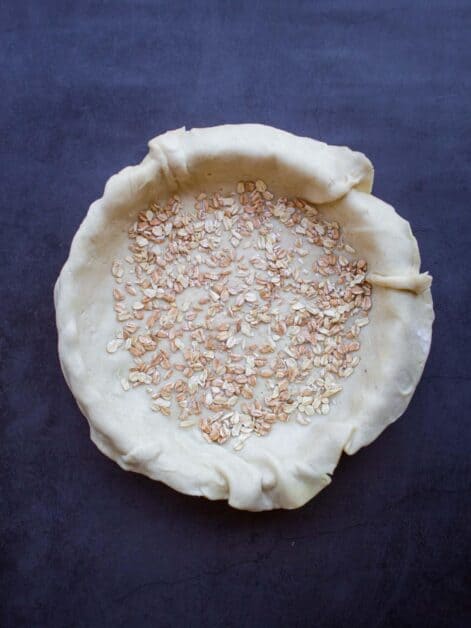 Step 7: Add oats to the bottom of the baking pan so it absorbs any extra moisture on the bottom, and avoid having uncooked dough.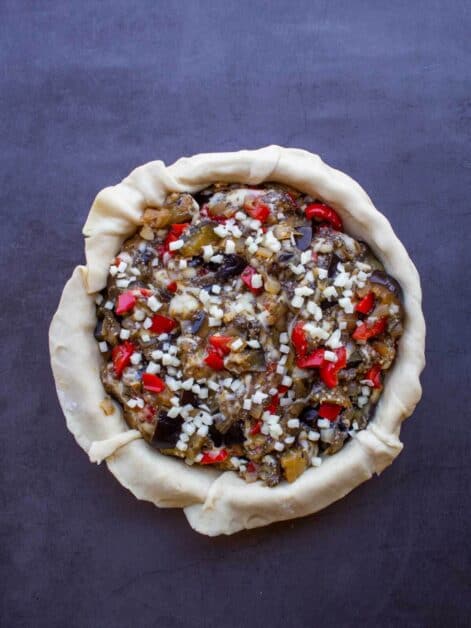 Step 8: evenly spread the eggplant mixture.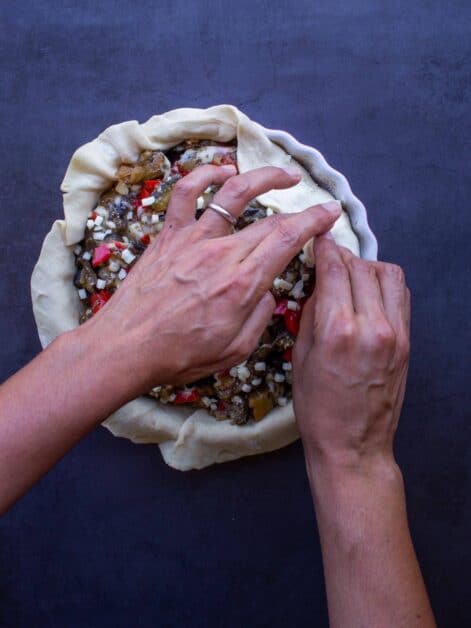 Step 9: Close the pastry, pulling on the side and folding the next piece over the last one clockwise.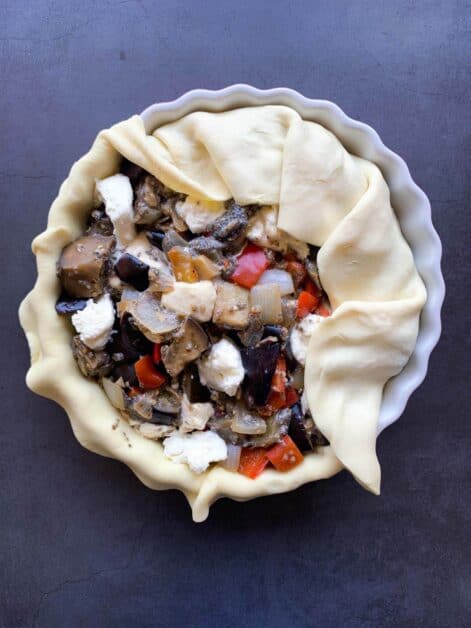 Step 10: Add the rest of your vegan cheese of choice on top and bake in a pre-heated oven.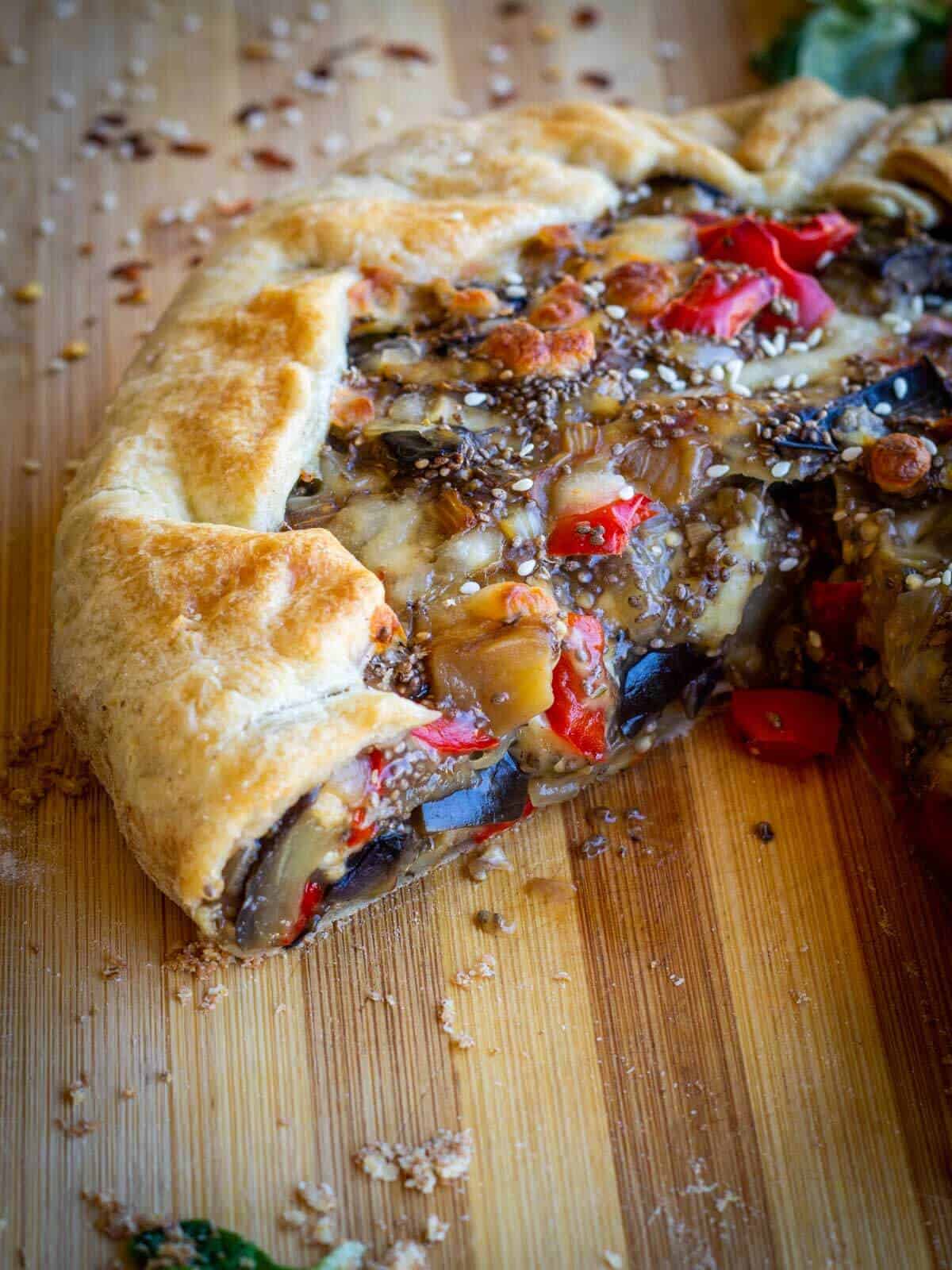 After 30-35 minutes. Take the pie out of the oven and sit 5-10 minutes before serving. It will be easier to cook and will be held together.
🍶 Substitutions
Red bell pepper: Some people are sensitive to bell peppers; this is because they cannot digest their pealing well. You can either skip the bell pepper or use canned bell peppers which usually come skinned. If you want to skip the bell pepper and still keep some of the sweetness that it delivers, you can use an organic and BPA-free can of whole-kernel sweet corn as a replacement.
Dough: Use whole bran or regular wheat dough. It will not change the result. We prefer using whole bran for extra fiber. You can also use store-bought regular or flaky dough. Bake the pie according to the packaging directions.
Vegetarian
You can use regular mozzarella cheese to get the same results.
📖 Variations
You can also choose to use a dinner version of the tart, extending the dough over a non-stick flat pizza pan, pouring the filling in, padding it with a spatula, and then folding the edges inwards, about one inch.
Spicy option: Add chili pepper flakes while cooking to imbue heat into the dish.
Tomato: If you want to add some acidity and delicious tomato flavor, you can add a portion of marinara sauce, thick tomato sauce, or a couple of diced juicy tomatoes while you cook eggplant.
Paprika: add some smoked paprika for an extra smoky touch.
Olives: add half a cup of halved green or black olives to the mixture.
If you tend to feel too much of an eggplant's bitter taste, sprinkle some sea salt on top after dicing the eggplant, and let it sit for 15 minutes. This will make the eggplant lose some water and bitterness.
🥢 How to serve
We like serving our savory pie with a fresh salad, arugula, spinach, and tomatoes, with homemade vinaigrette.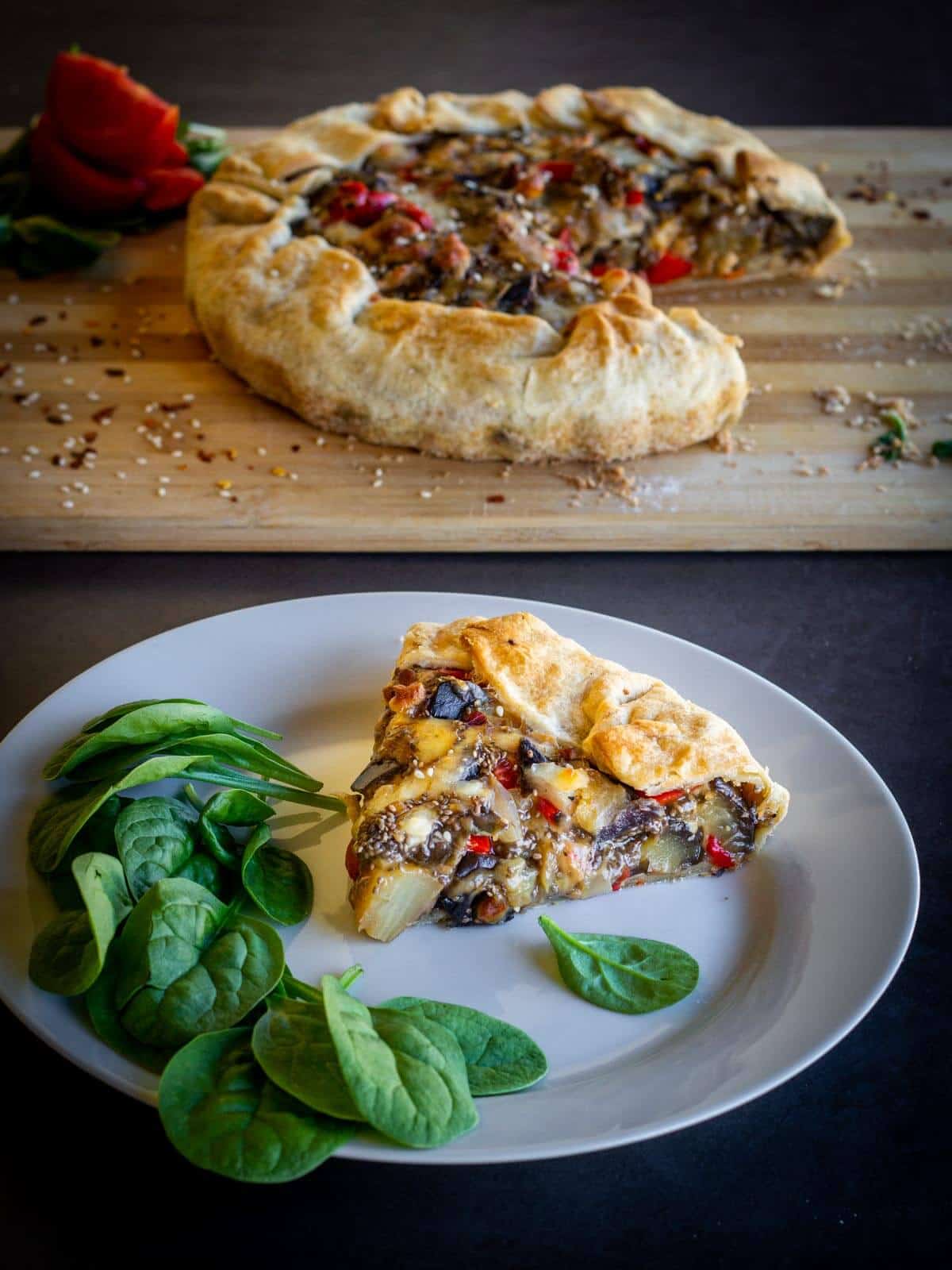 We also like serving it with a portion of roasted sweet potato wedges.
If you plan to have guests, you can also use it as an appetizer before the main meal. Just use smaller portions.
🍽 Equipment
It would be better to use an 8" non-stick quiche tart pan to facilitate things. You can also oil and dust the pan with flour to prevent the pie from sticking.
A regular large saucepan is the only thing to cook the filling before getting the pie in the oven.
🥡 Storage & Freezing
Meal Prep Alert: We like to make savory tarts as a meal prep option. When we do so, our preferred method is the one described above. The whole point of meal prepping is having a quick meal, right?
Quick Thaw: Making thinner versions allows for quick thawing. Store these individual portions in a closed Tupperware, separated with parchment paper. Trust us, it's a game-changer for those hectic weekdays.
Reheat: Got a hot date with Netflix and need your pie ASAP? You can quickly heat the frozen portions in the oven at 350°F (175°C) for about 20-25 minutes or microwave them for 4-5 minutes.
Portion Control: You may want to eat two portions instead of one, but the recipe ingredient quantities remain the same. So, feel free to double up!
Longevity Check
After three months in the freezer, we've munched on these frozen tarts without noticing any change in flavor. They may keep for longer, but we can't swear on it!
💡 Top tip
Every oven is different, so we suggest watching your pie after minute 20. Once it starts getting golden, things get ready very quickly; it takes only minutes after that point. Don't burn your pie!
🍆 More easy and vegan eggplant recipes
We love eggplant cooked in every way, and a couple of years ago embarked on a journey to master vegan eggplant recipes, so here we leave you with a few of them.
You probably know baba ganoush, the Middle-Eastern eggplant dip loved by everyone, made with baked eggplant and tahini sauce. You can find the eggplant babaganoush recipe on this site.
Other favorites in the house are the vegan eggplant parmesan (like a veggie eggplant lasagna, without the pasta) and the eggplant vegan moussaka, also known as a vegan vegetable casserole, is another delicious recipe.
If you like your eggplant baked, I recommend you try out the Escalivada, an authentic Catalonian dish that makes the best out of cooked eggplant, and it is also gluten-free.
Or you can explore our Recipe compilations with our favorite Vegan Eggplant Recipes.
⭐ If you try this recipe, let us know! 💬 Leave a comment, rate it, and don't forget to tag us @ourplantbasedworld on Instagram. Cheers!
📋 Recipe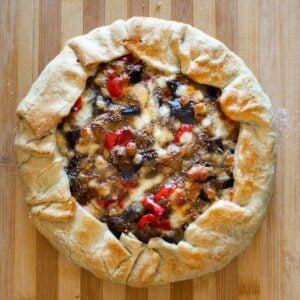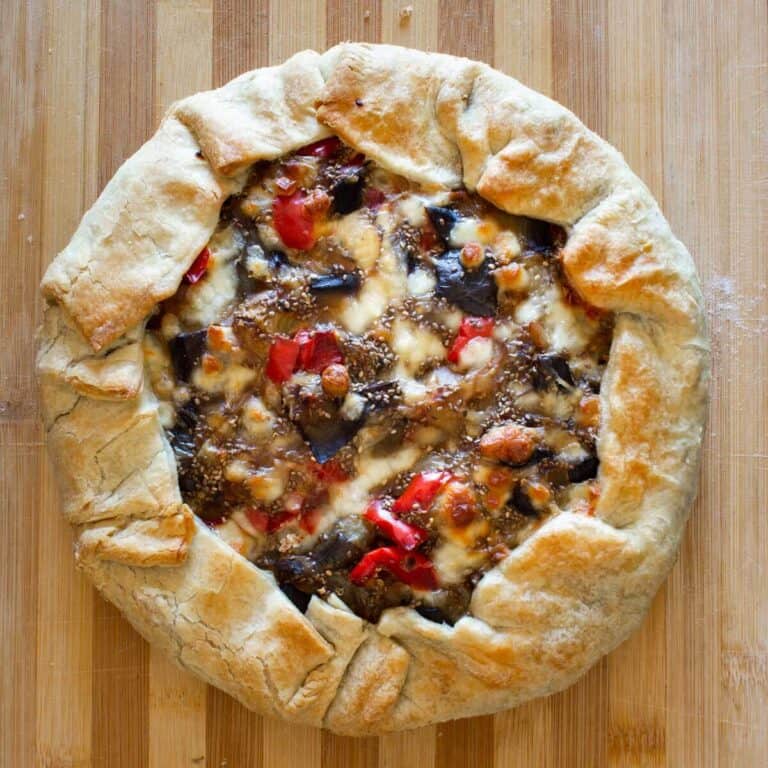 Vegan Eggplant Pie Recipe
This Vegan Savory Eggplant pie will win your heart in the first bite! It is creamy, cheesy. It is pure comfort food.
Equipment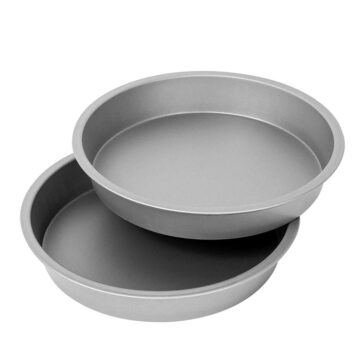 (affiliate link)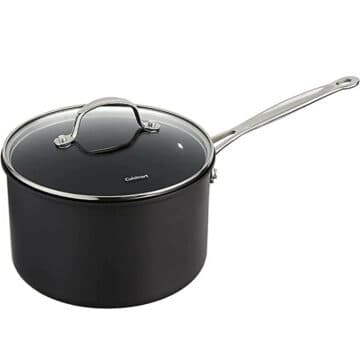 (affiliate link)
Ingredients
1

eggplant

large, diced

1

Easy Vegan Empanadas Dough

same dough used for this pie (use ½ of recipe, or 1 store-bought pastry crust

1

yellow onion

medium, diced

2

cloves

garlic

minced

½

red bell pepper

deseeded

3

tablespoons

chia seeds

soaked in 6 tablespoons of water

4

ounces

vegan mozzarella cheese

shredded

1

teaspoon

thyme

dried

1

teaspoon

oregano

dried
Optional:
Serve with a green salad, I suggest Rucola and cherry tomatoes.
Directions
Chia Prep: Soak the chia seeds in a cup of warm water for 10 minutes.

Veggie Sauté: On medium-high heat, stir fry your veggies. Kick off with the onions and garlic. When they're golden (around 4 mins), throw in the red bell pepper, eggplant, thyme, oregano, and salt. Keep everything dancing in the pan for about 10 minutes with the lid on. Don't forget to give it an occasional stir.

Oven Time: Preheat your oven to 400ºF (200ºC) for 10 minutes.

Cool & Mix: Take your pan off the heat and let the veggie mix cool for 5 minutes. Then, mix in the hydrated chia seeds and shredded vegan mozzarella.

Crust Ready: If you're not using a non-stick pan, oil an 8" pan and optionally dust it with flour to avoid the pie from sticking. Then, lay out your pie crust, giving it a few pinches with a fork for even cooking. Sprinkle in those oats – they'll be our little secret to absorb any extra moisture and ensure the bottom crust is on point.

Fill & Bake: Pour your lovely veggie mix into the crust. Slide it into the oven and bake for 30-35 minutes.

Patience: After baking, let it rest for about 10 minutes before serving.
Notes
Note:
Use our Vegan Empanadas or Pie Dough Recipe
Store: Place in airtight container. Good for 5 days.
Reheat: Oven at 350°F for 10-15 mins or microwave for 2-3 mins.
In the Freezer
Meal Prep: Make thinner versions for quick thaw. Store in Tupperware with parchment paper.
Freeze: Good for up to 1 month, maybe more but no promises.
Reheat: Oven at 350°F for 20-25 mins or microwave for 4-5 mins.
Nutrition Facts
Calories:
425
kcal
Carbohydrates:
61
g
Protein:
10
g
Fat:
17
g
Saturated Fat:
4
g
Polyunsaturated Fat:
4
g
Monounsaturated Fat:
6
g
Trans Fat:
1
g
Sodium:
1164
mg
Potassium:
453
mg
Fiber:
11
g
Sugar:
7
g
Vitamin A:
530
IU
Vitamin C:
25
mg
Calcium:
118
mg
Iron:
4
mg
Nutrition Facts
Vegan Eggplant Pie Recipe
Amount per Serving
% Daily Value*
* Percent Daily Values are based on a 2000 calorie diet.
Nutritional Disclaimer
The information shown is an estimate provided by an online nutrition calculator. It should not be considered a substitute for a professional nutritionist's advice. See our full Nutritional Disclosure here.
Affiliate Disclaimer
Please note that some of the links here are affiliate links, and I will earn a commission if you purchase through those links. I recommend all of the products listed because they are companies I have found helpful and trustworthy.