These vegan empanadas are delicious and easy-to-make party food. They're made with puff pastry, mushrooms, and vegan cheese, and they're sure to please vegans and meat-eaters alike. So if you're looking for a tasty main course or appetizer that's both filling and delicious, give these empanadas a try!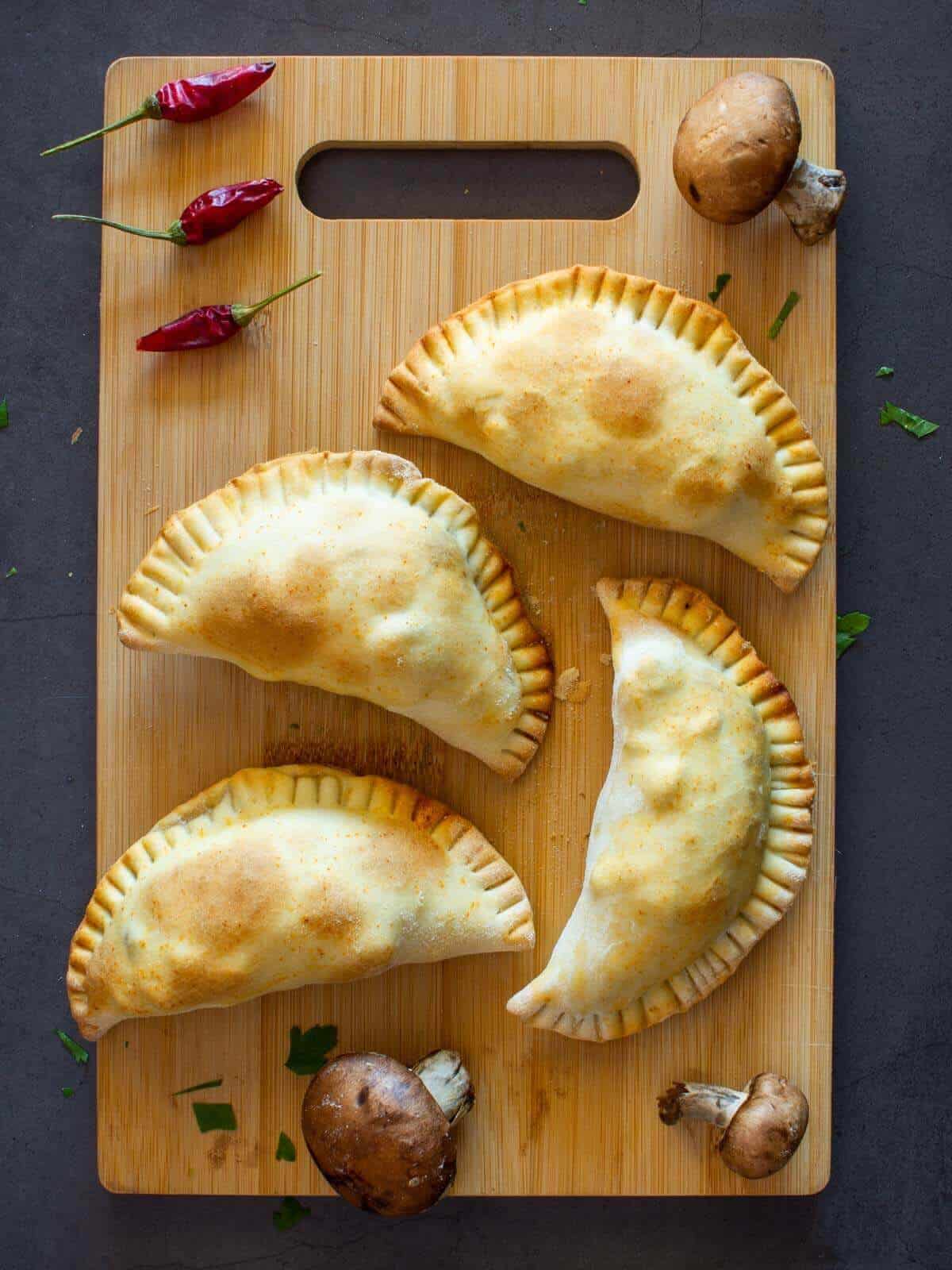 If you are running out of empanada-filling ideas, you have come to the right place!
The mushroom filling is hearty and quickly made with a few ingredients. We even use this simple mushroom preparation to place on top of mashed potatoes or add it to a vegan bechamel sauce to create a perfectly creamy pasta bowl.
If you live in places like Argentina, you can buy cut empanadas discs in supermarkets, but most of us don't. So, make sure you look at our Vegan Empanadas Dough recipe, which takes only 5 minutes to make, as they don't require any proofing.
If you feel like having a delicious version of the classic Meat Argentinean empanadas, use our thickened vegan ragout to fill the empanadas. You won't be disappointed.
Cremini mushrooms are a great addition to your diet, as they are very low in calories but pack lots of nutrients and health benefits, including immune system boosting and cancer prevention properties.
We love using all kinds of mushrooms in our fall recipes, to eat seasonally and enjoy their flavors at their best!
Jump to:
🧾 Ingredients
These vegan mushroom empanadas are made with just a handful of ingredients.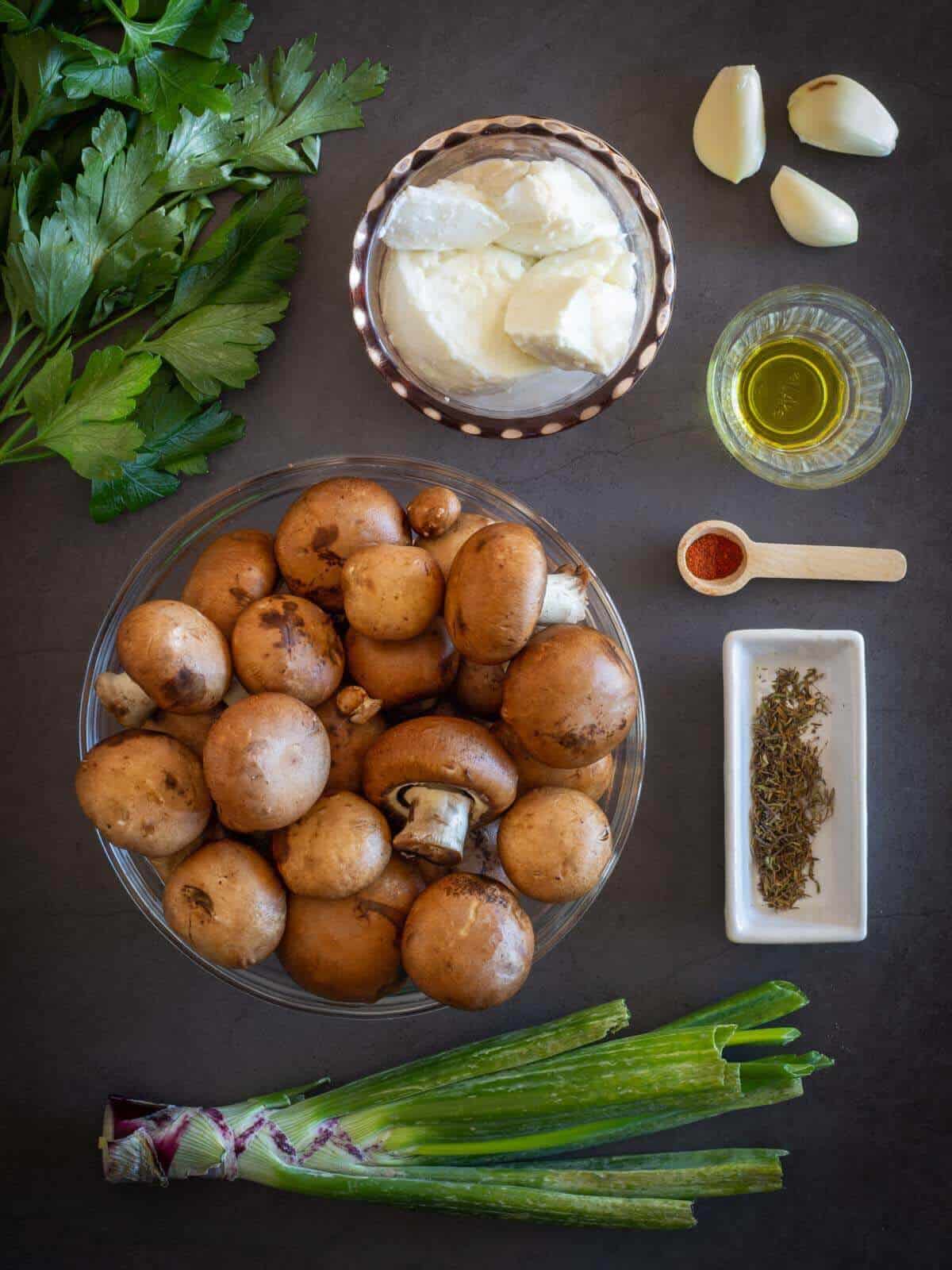 Optional: oil (or vegan butter), thyme, vegan mozzarella, and salt.
🔪 Instructions
This Mushroom Empanada recipe is easy. The steps are divided into three: preparing the filling, assembling the empanadas, and baking.
Empanada dough
If you are making your empanada dough, plan for extra 35 minutes, 5 minutes for making the dough, and optional 30 minutes to let the dough sit in the fridge so it becomes easier to manage with your rolling pin.
Here's our homemade dough recipe, which also works for savory tarts (pies), like our carrot tart and eggplant pie.
If you use store-bought dough instead of homemade dough, take it out of the fridge 10-15 minutes before using it.
Filling
Wash and dry the mushrooms. Some mushrooms come with all the dirt on them, and some don't. Just make sure that you clean them and clip their ends.
Chop. Continue chopping only the tops of the green onions, then the garlic and parsley leaves. Make sure they are all finely chopped.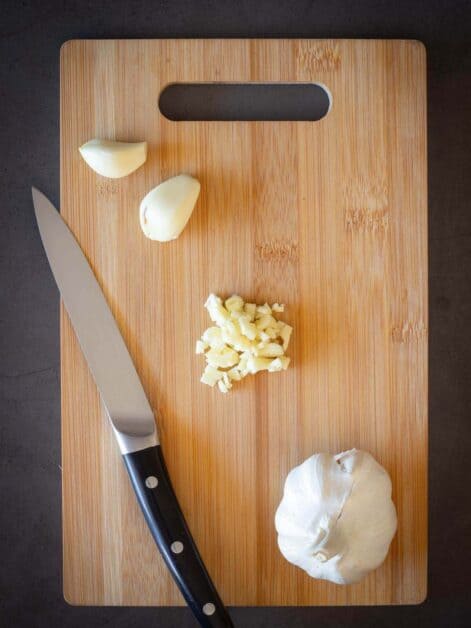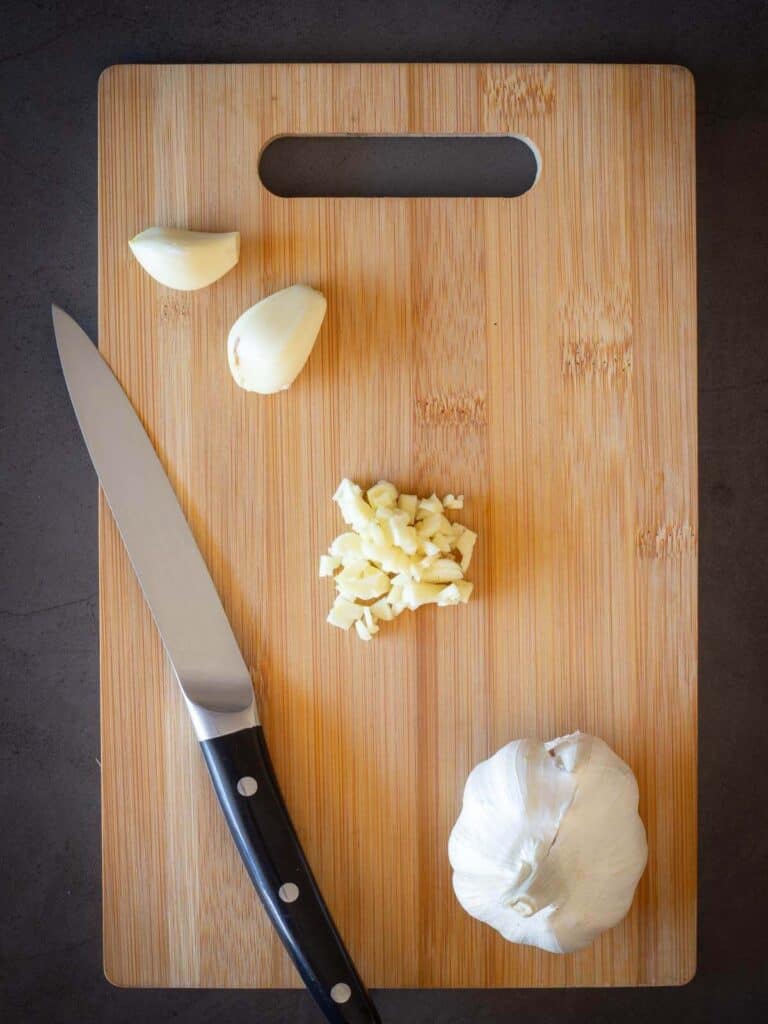 Quarter. Grab your clean mushrooms and slice them with two cuts. If you have small mushrooms leave them as they are or simply half them. They will reduce in size as they cook and lose water.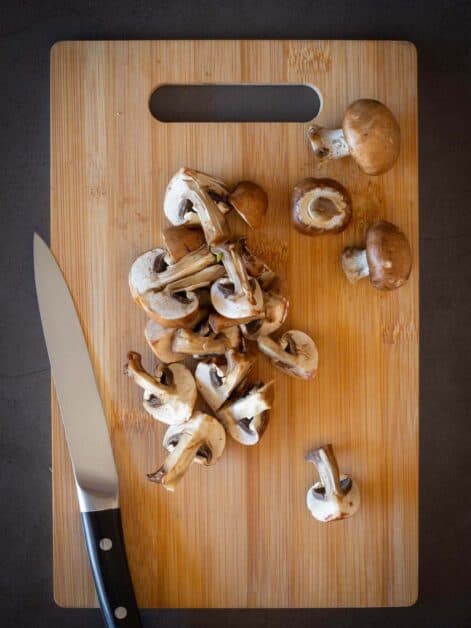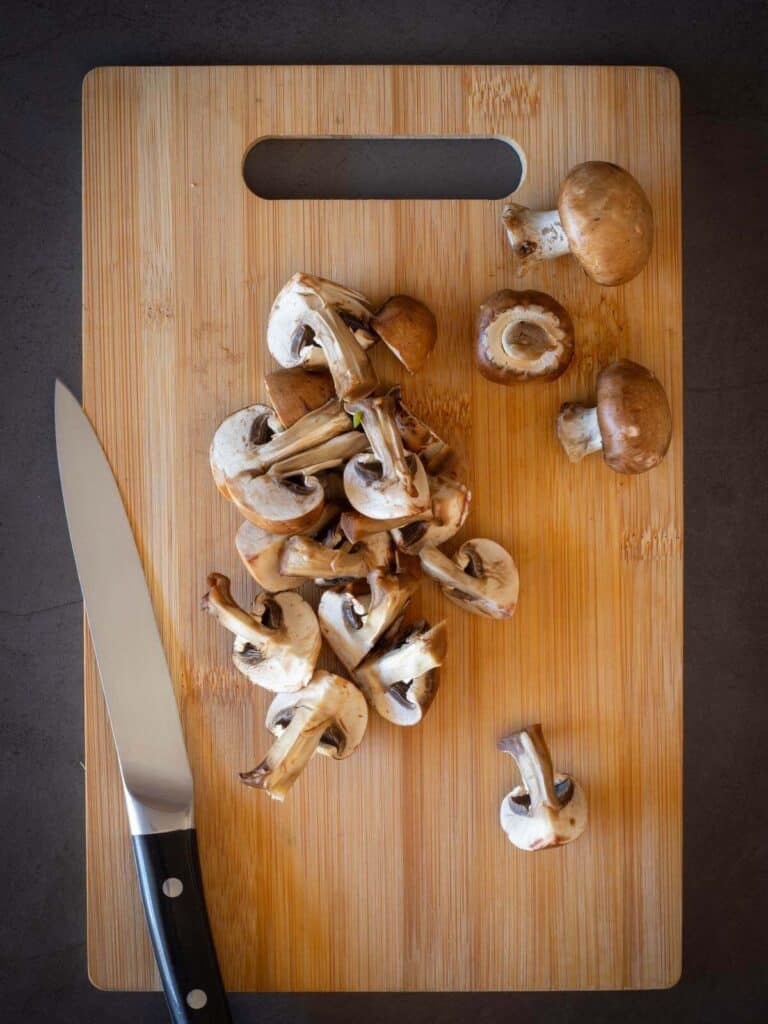 Stir-fry. In a saucepan, lightly heat a tablespoon of oil, stir-fry the chopped garlic, add onion, and cook on medium heat.
Add the quartered mushrooms and chopped parsley, thyme, salt, and pepper. Stir constantly and remove from the heat. Let the mushroom mixture cool down in a large bowl.
Note: you can use a blender or food processor optionally, but I prefer our empanadas with a chunky filling. It is just a matter of taste.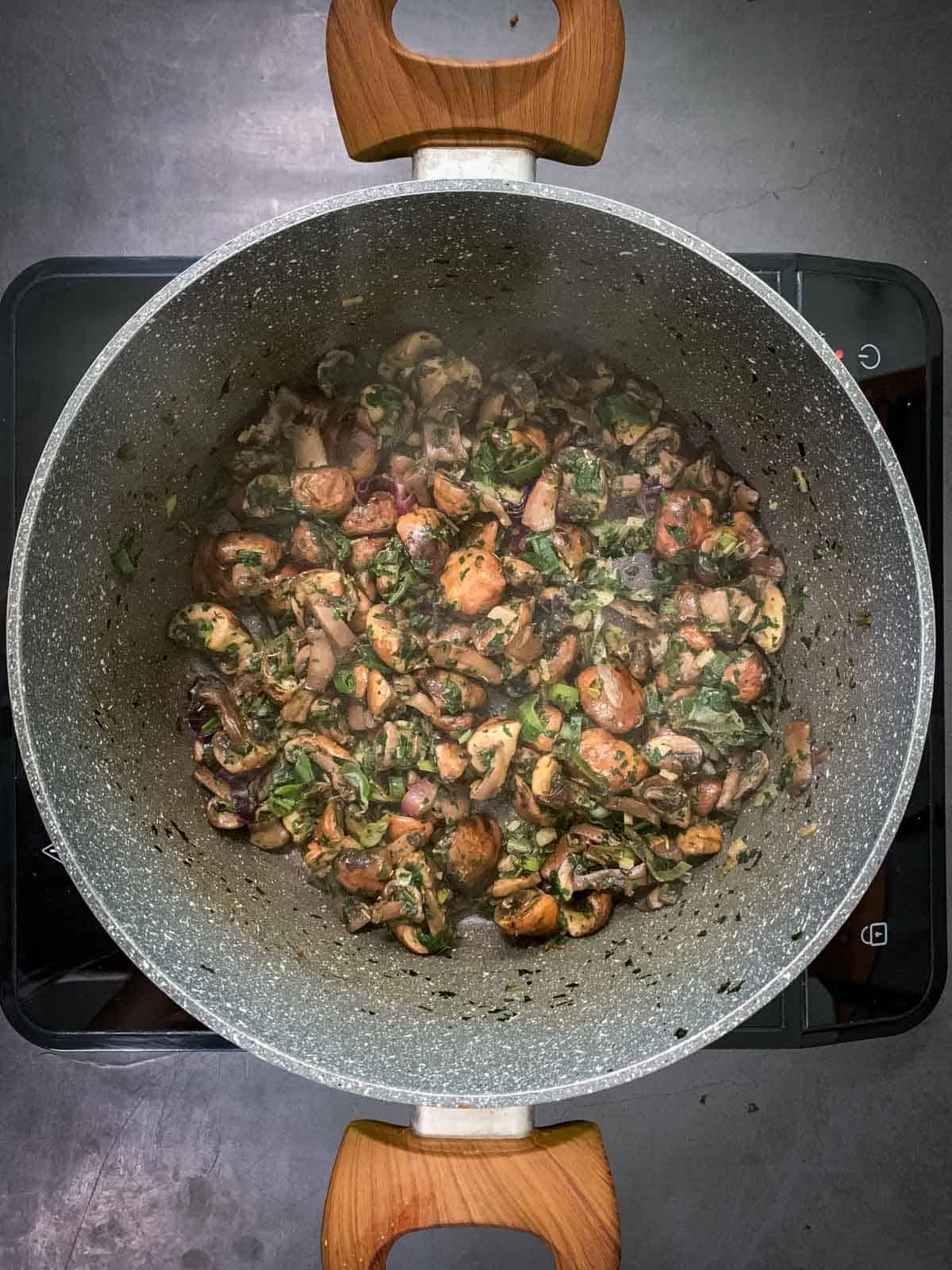 Assembling
Dust your working surface. Place the empanadas discs on the floured surface.
Prepare two little bowls with water.
Add and stir the paprika into one of them. This step is optional and only serves to add a deeper golden color while the empanadas bake.
Fill the discs with about one full tablespoon of the mushroom filling in the center of the disc, and add a piece of vegan cheese inside (optional).
Moist your fingertips in the water bowl and moisten the edges of the discs. This will help the discs to close better as you put some pressure while closing them.
Fold and close the discs. Grab half circle and close the pockets. With a fork, put pressure on the moist edges until perfectly closed. You can also fold wavy edges with the "repulgue" Argentinean technique if you want wavy edges. See the video to find out how.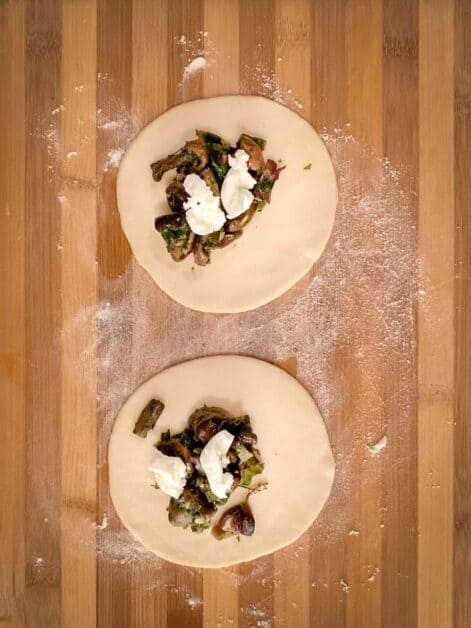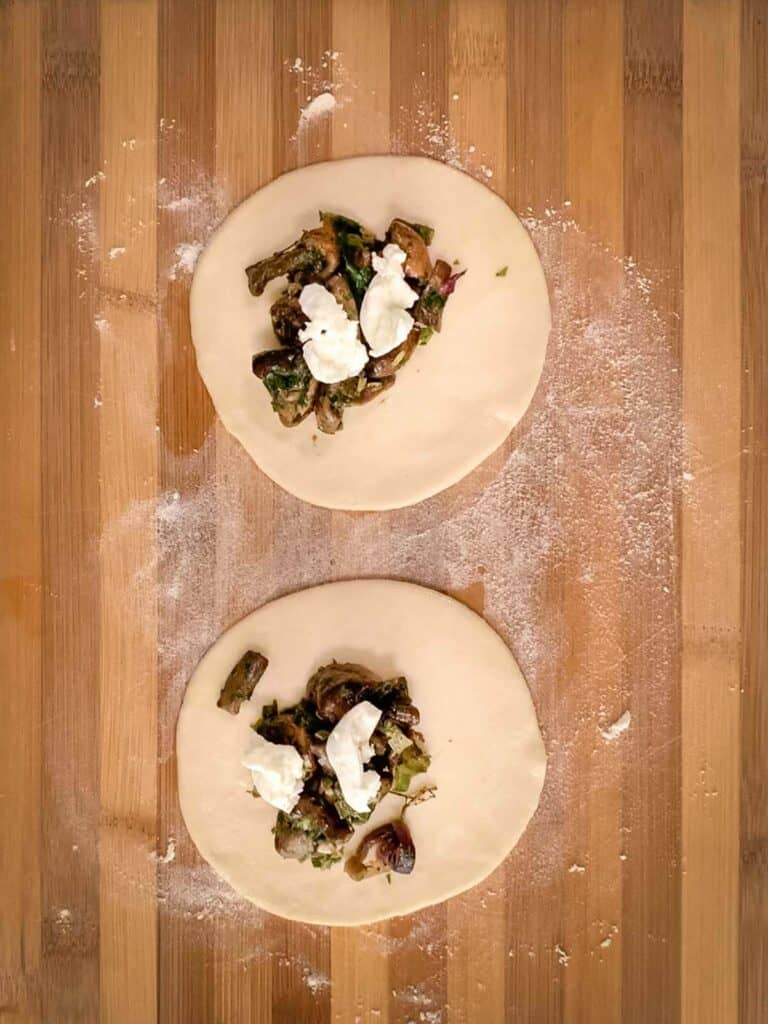 Paint the discs with a brush and the paprika and water mix (optional). The mixture comprises ¼ teaspoon of smoked paprika plus two tablespoons of water.
Top tip: pinch the top of the empanadas with a fork, so they can release well the heat while being baked, that way they won't explode.
Baking
Preheat oven to 450ºF (230ºC).
Arrange the empanadas on an oiled baking tray or use parchment paper.
Bake for 15 minutes or until golden brown, watching it after minute ten, to them from burning. You want them crispy but not burned!
Remove from heat.
Enjoy a Mushroom Empanada by itself or with your favorite chimichurri sauce or pico de gallo.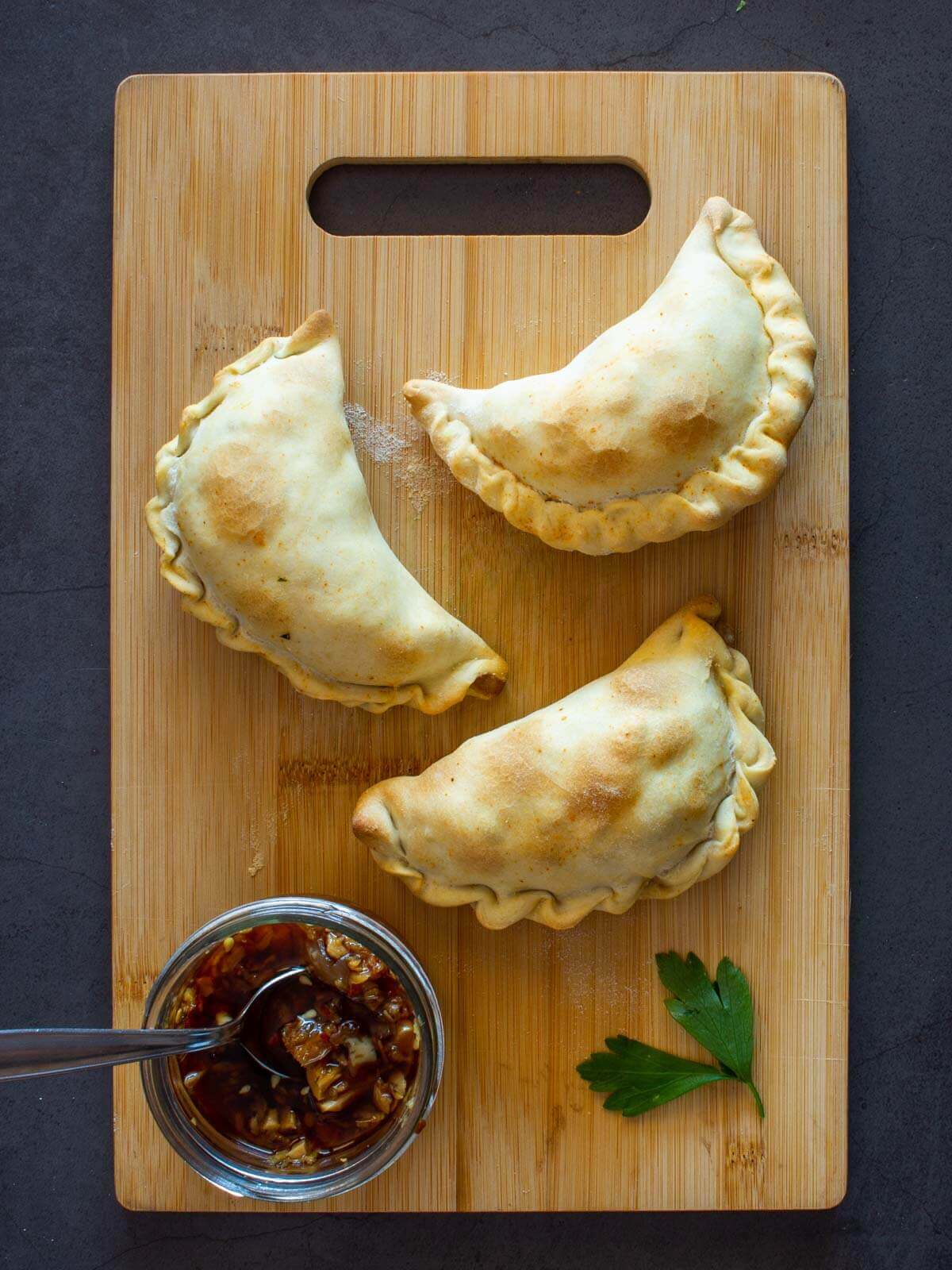 📖 Variations
Additional veggies - You can add spinach, green bell pepper, or add corn to the mushroom mixture when stir-frying.
Spinach mushroom empanadas are a popular mix, and you need to add a bunch of chopped spinach while you cook the filling. Always cook at medium heat to prevent the spinach from wilting too much.
Oil - if you use oil for stir-frying, you can also use coconut oil instead of olive oil.
Extra umami - if you want to give some extra touch, add 1 tablespoon of soy sauce or coconut aminos.
Vegan cheese - we love adding some shredded vegan mozzarella cheese or vegan ricotta cheese; they pair very well with mushrooms.
Cooking method - some people prefer using a deep fryer instead of baking, completely up to you. We always bake our empanadas for a healthier version. If you go for a fried version, please skip the optional paprika brushing step, as the water doesn't go well with hot oil!
🥡 Storage
Check the tip about storing and thawing empanadas on our vegan empanadas dough.
You will need to separate the empanadas with parchment paper before freezing.
After thawing, bake and consume. Do not freeze again.
You can store any remaining dough sealed with plastic wrap in the fridge for up to three days.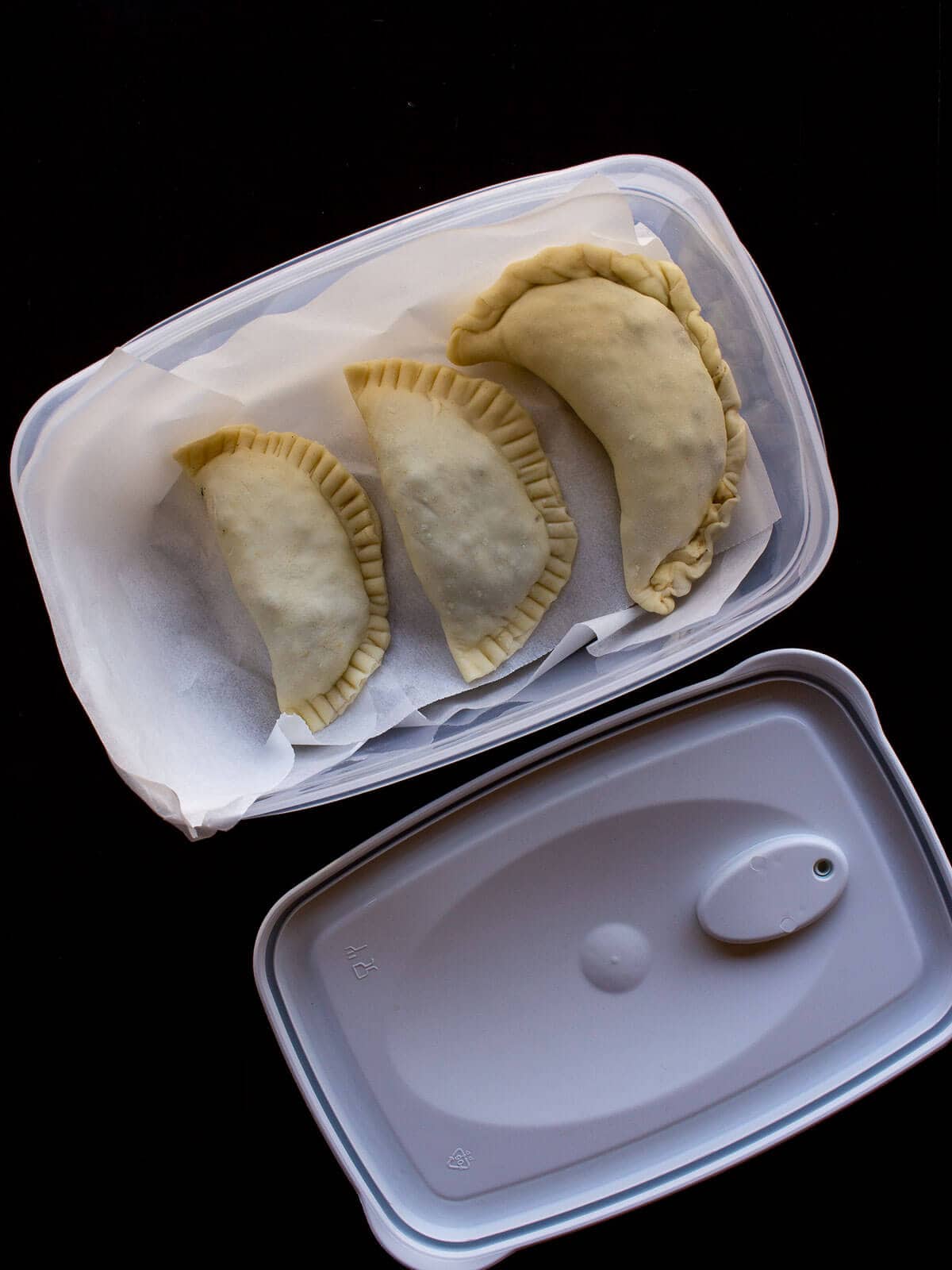 💡Top tip,
If you want to know more about the folding technique (repulgue). Check out the folding tips.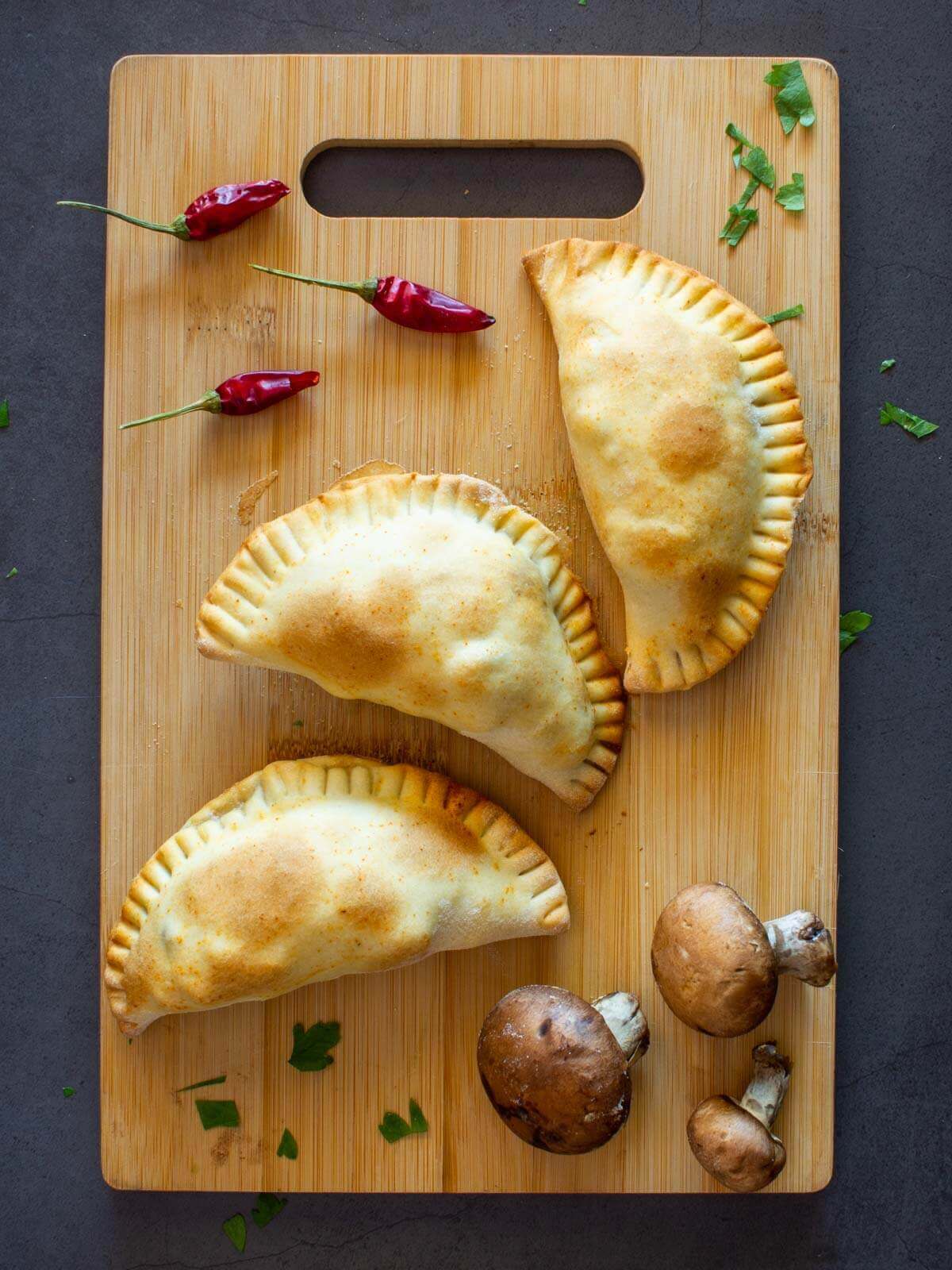 📖 Variations
There are many kinds of fillings. Some of our favorites are the lentil protein-packed filling and the spinach ricotta empanadas. Get creative; think of it as a sandwich where you could pack the mix of your favorite ingredients.
Just make sure you don't add fresh, watery ingredients, like lettuce or tomato. They will make the dough soggy. If you want to do it anyway. Make sure you drain the juices as much as possible.
Caprese empanada. As described above, cut your tomato into medium pieces and drain its juices. Then add a fresh basil leave and vegan mozzarella cheese. This way, you have another simple vegan empanada filling with only three ingredients and no cooking required.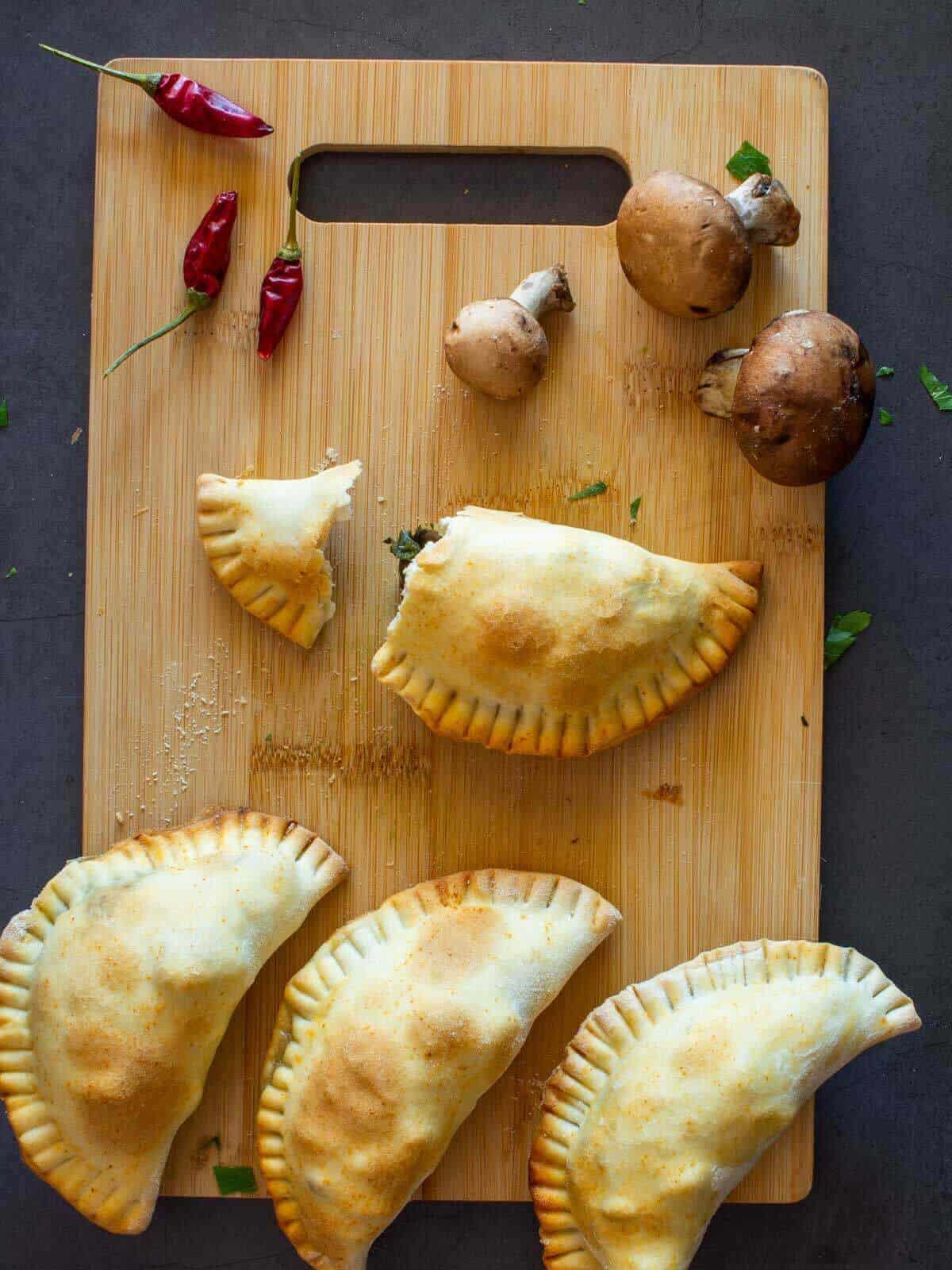 ❓ FAQ
vegan egg wash substitute
My favorite egg wash substitute is a mix of paprika and water. Paprika brings in the color. Mix ¼ teaspoon of paprika with 2 tablespoons of water. Then brush it onto baking goods. An alternative to paprika is turmeric powder, which provides a yellowish color.
🥟 Related and Similar recipes
If you love mushrooms, I am sure you will love this easy stuffed portobello recipe, air fryer oyster mushrooms, and our Stuffed Herbs Stuffed Piopini recipe. Check them out!
Also, you can benefit from mushrooms benefits consuming them as a supplement and adding it to your meals. We like using Lions Mane Mushroom Powder Organic Supplement - (USA Grown).
⭐ If you try this recipe, let us know! 💬 Leave a comment, rate it, and don't forget to tag us @ourplantbasedworld on Instagram. Cheers!
📋 Recipe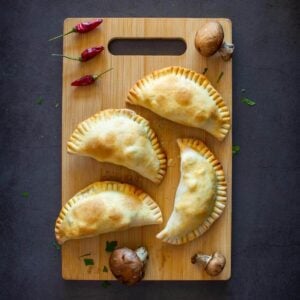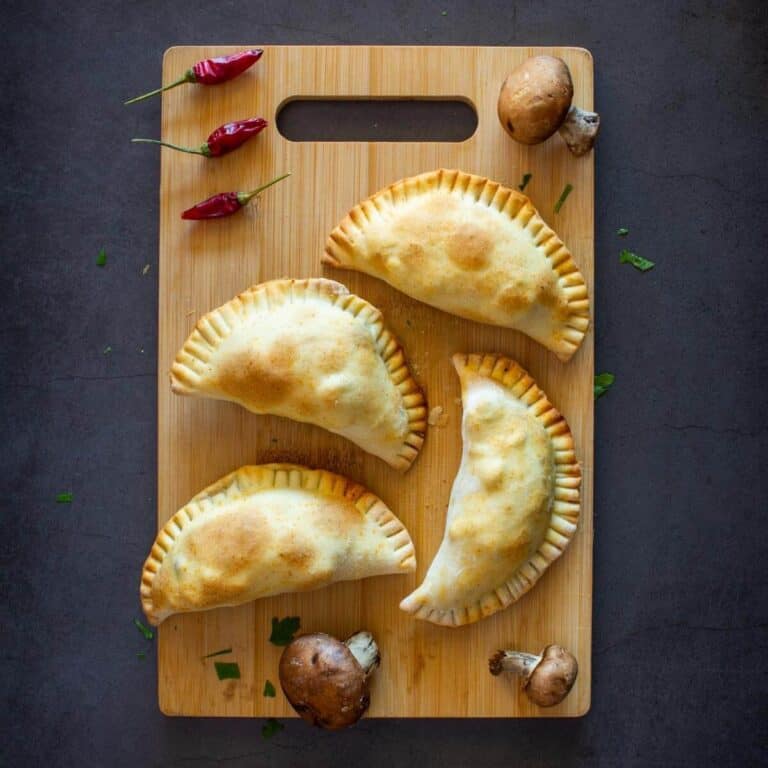 Vegan Mushroom Empanadas
Empanadas are these delicious patties, that can be stuffed with anything you can imagine. This time we are bring you how to make the perfect mushroom empanada.
Equipment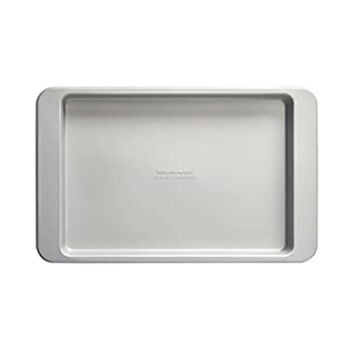 (affiliate link)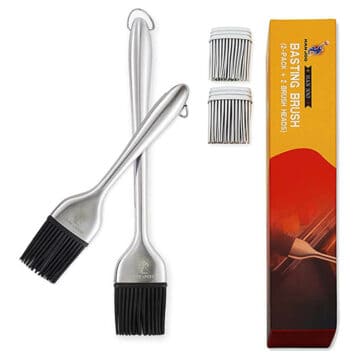 (affiliate link)
(affiliate link)
Ingredients
15

oz

cremini mushrooms

washed and cleaned

2.5

oz

green onions

only the green tops

1

bunch

parsley

about once ounce, or 25 grams, taste with less and adjust

3

cloves

garlic

1

teaspoon

olive oil

extra virgin

1

tablespoon

thyme

dried
Directions
Filling
Chop the green onion tops, garlic, and parsley.

Quarter the mushrooms and cube the vegan mozzarella.

Sauté the onions, garlic, thyme and parsley with the olive oil for 2 minutes and add the mushrooms.

Stir until golden and add a pinch of salt and pepper.
Prepare the assembling table
Make vegan "egg" wash. Prepare two little bowls, one with water and the other with two tablespoons of water and the paprika.

Spread the dough with a rolling pin on a surface with just a little bit of flour to avoid sticking.

Cut the discs with a 3-4 inches cutter or any circular plate with a circular shape.
Assemble
Pre-heat the oven at 450ºF (230ºC).

Line a baking sheet with parchment paper.

Moist your fingertips in the water bowl and spread some water in the edges of the discs.

Fill the discs with about one full tablespoon of the cold mixture in the center of the disc and adding a piece of vegan cheese on top.

Close the discs and with a fork, put pressure in the moist edges until perfectly closed.

Brush the empanadas with the paprika mixture.

Pinch the top of the empanadas with a fork, so they can release well the heat while being baked, that way they won't explode.
Bake
Bake the empanadas on a non-stick pan or a flat pan with a lined-parchment paper, for 15-20 minutes (until golden).
Notes
It is crucial to put water in the discs' tips before closing them. Otherwise, they will open in the oven.
You can have the mix prepared a couple of hours or a day before.
You can store the empanadas in the fridge, separating them with pieces of parchment paper.
To bake frozen empanadas, you just need to place them directly in a baking tray without defrosting. You might need to leave them in the oven for another 5 minutes.
Empanadas are well kept frozen for months, so they make a great meal prep.
The dough is well kept wholly covered in the fridge for two days.
Nutrition Facts
Calories:
138
kcal
Carbohydrates:
20
g
Protein:
3
g
Fat:
5
g
Saturated Fat:
2
g
Polyunsaturated Fat:
1
g
Monounsaturated Fat:
1
g
Sodium:
230
mg
Potassium:
157
mg
Fiber:
1
g
Sugar:
1
g
Vitamin A:
383
IU
Vitamin C:
7
mg
Calcium:
22
mg
Iron:
1
mg
Nutrition Facts
Vegan Mushroom Empanadas
Amount per Serving
% Daily Value*
* Percent Daily Values are based on a 2000 calorie diet.
🌡️ Food safety
Cook to a minimum temperature of 165 °F (74 °C)
Do not use the same utensils on cooked food that previously touched raw meat
Wash hands after touching raw meat
Don't leave food sitting out at room temperature for extended periods
Never leave cooking food unattended
Use oils with high smoking points to avoid harmful compounds
Always have good ventilation when using a gas stove
See more guidelines at USDA.gov.
The information shown is an estimate provided by an online nutrition calculator. It should not be considered a substitute for a professional nutritionist's advice. See our full Nutritional Disclosure here.
Please note that some of the links here are affiliate links, and I will earn a commission if you purchase through those links. I recommend all of the products listed because they are companies I have found helpful and trustworthy.