Discover our Easy Carrot Top Chimichurri Sauce Recipe and reduce food waste by using every part of the carrot. This delicious and versatile no-greens-waste condiment made in Argentinean Style is perfect for elevating your meals with its zesty and fresh flavors. Learn how to make this unique spin on the classic Argentinian sauce with our easy-to-follow guide!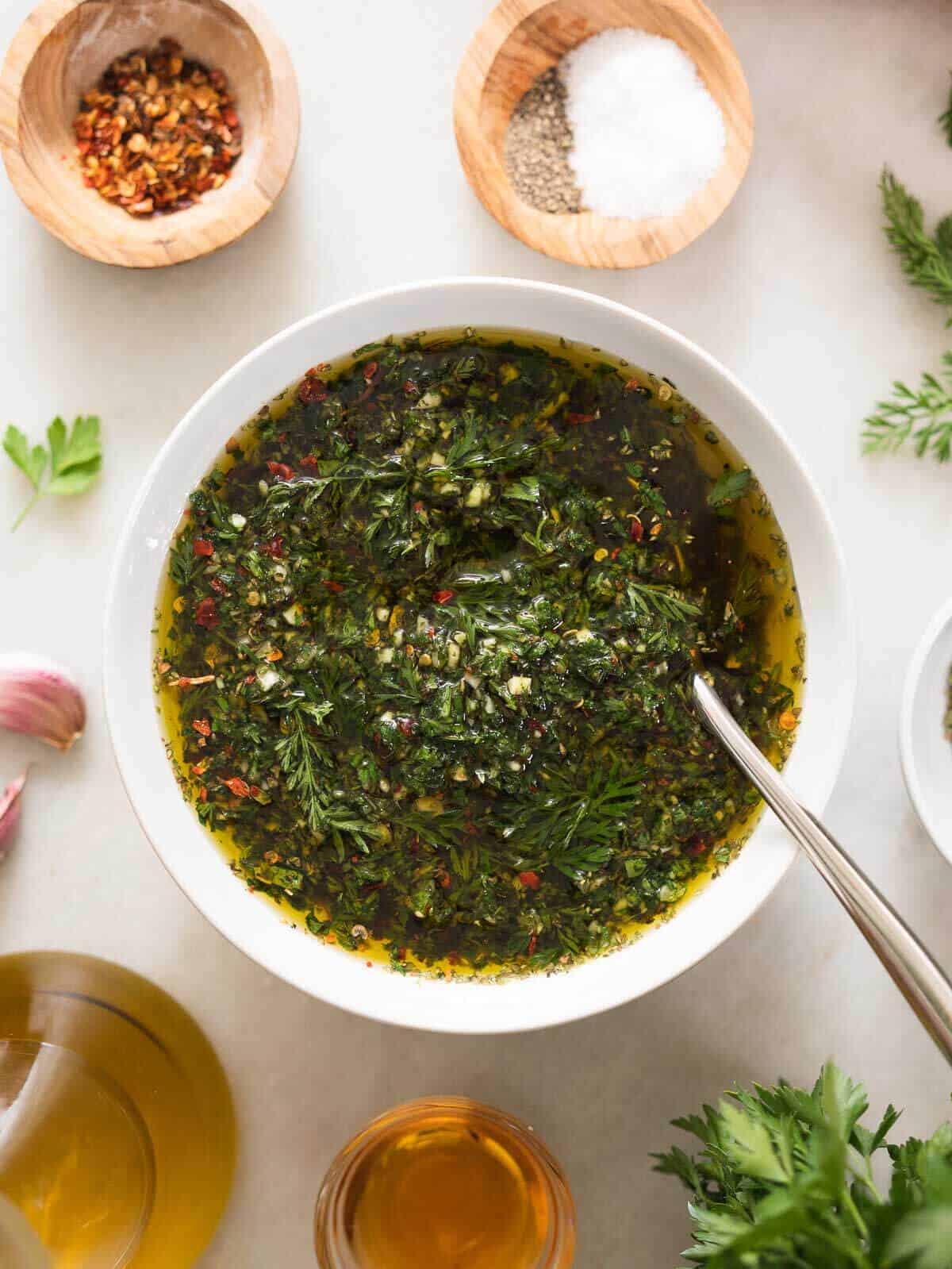 Carrot greens are an often overlooked part of the carrot plant that is delicious and highly nutritious. As May unfolds and brings fresh seasonal carrots with beautiful greens, instead of discarding them as waste, they can be used in a variety of culinary applications.
We have come to love eating carrot greens because of their unique flavor profile that adds depth and complexity to our dishes.
They are also a great source of vitamins and minerals, including calcium, potassium, and iron.
By incorporating carrot greens into our meals, we are not only benefiting from their nutritional value but also reducing waste, reusing your meal's leftovers, which is an important aspect of sustainable living.
This simple yet effective step towards reducing food waste can significantly promote a more environmentally conscious lifestyle.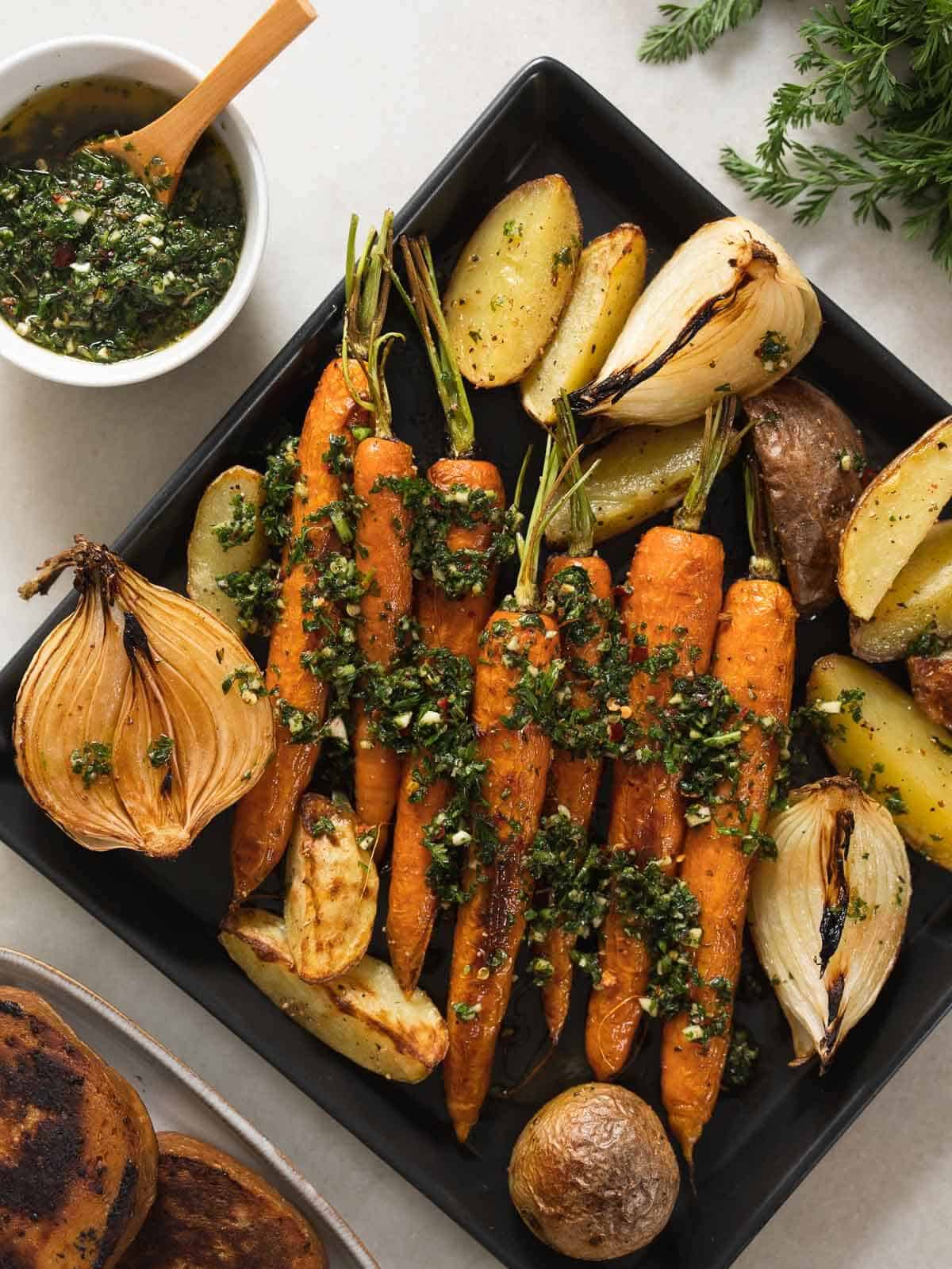 Incorporate this delectable chimichurri recipe into your collection of gluten-free secret sauces to take your meals to new heights with just a small dollop! The rich flavors of this sauce can enhance the taste of numerous dishes, making it a versatile addition to your culinary repertoire.
Whether you use it as a marinade for grilled goods or as a topping for roasted veggies, this chimichurri recipe inspired by the traditional Argentinean Chimichurri recipe and our carrot tops pesto is sure to impress your taste buds. With just a spoonful of this zesty sauce, you can elevate the taste of hundreds of meals, making it a valuable weapon in your kitchen arsenal.
Jump to:
🧾 Ingredients
This carrot-top chimichurri recipe is made with just a few delicious ingredients.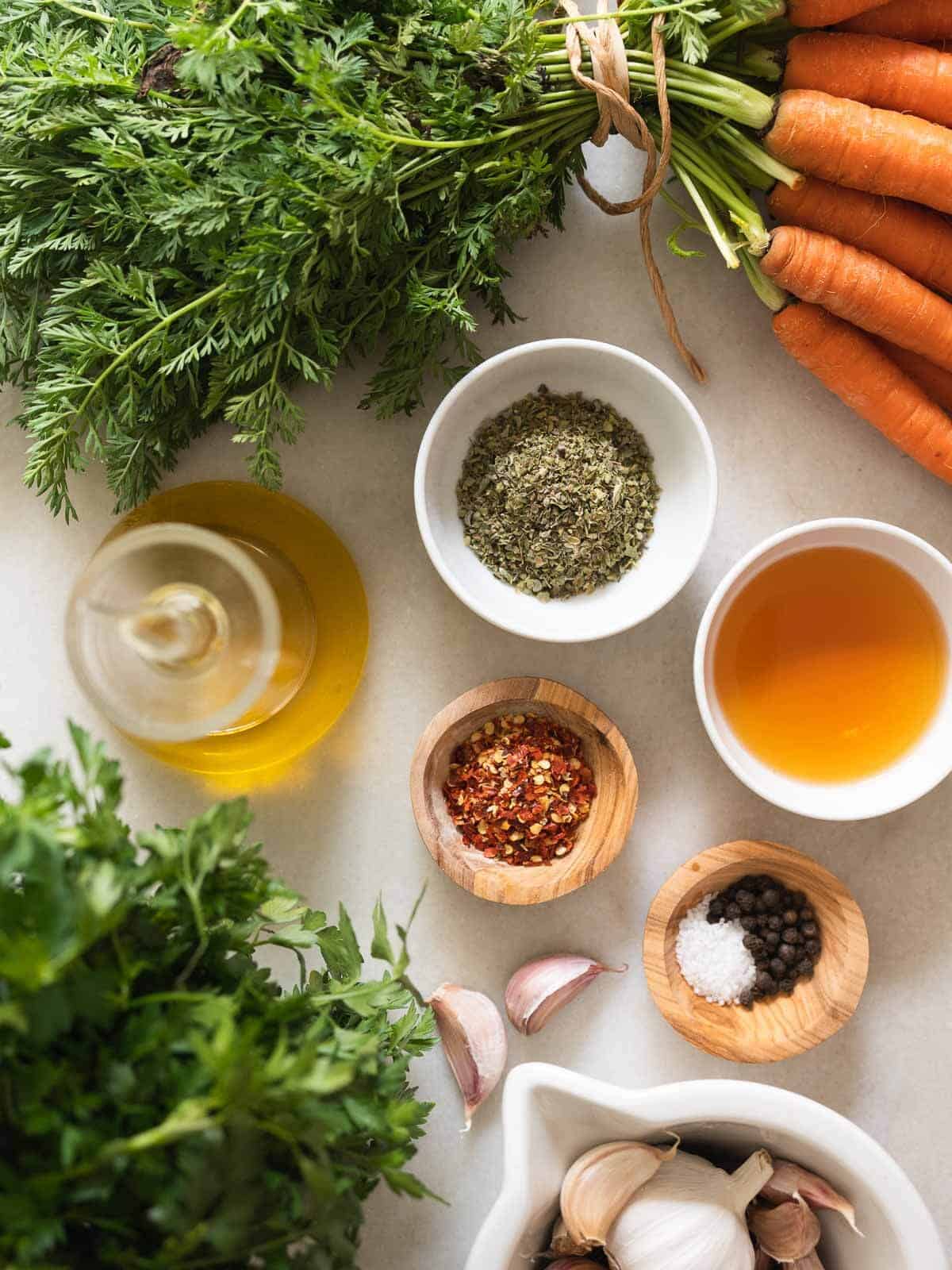 Carrot tops are the main ingredient in this recipe as they bring a unique flavor and texture to the sauce, which complements the vegan meat substitute or vegetables it is served with.
Fresh parsley is added to balance the bitterness of the carrot greens and enhance the overall flavor of the sauce.
Dried oregano provides a savory and slightly earthy flavor that adds depth to the sauce.
Red wine vinegar is used to add acidity to the sauce and brighten up the flavors of the other ingredients.
Fresh garlic is added for a pungent and sharp taste that complements the other flavors in the sauce.
Red pepper flakes are added to the recipe to provide a spicy kick that balances the sweetness of the carrot tops and adds depth to the overall flavor.
Extra virgin olive oil is used as the base of the sauce to give it a smooth and creamy texture while also adding a fruity and nutty flavor.
Salt and pepper are added to season the sauce and bring out the flavors of the other ingredients.
See the recipe card for quantities.
🔪 Instructions
Thoroughly wash the carrot greens and parsley and pass them through a salad spinner to remove the excess water.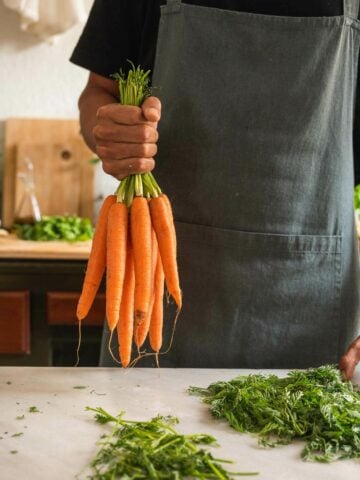 Step 1: Remove carrot stems.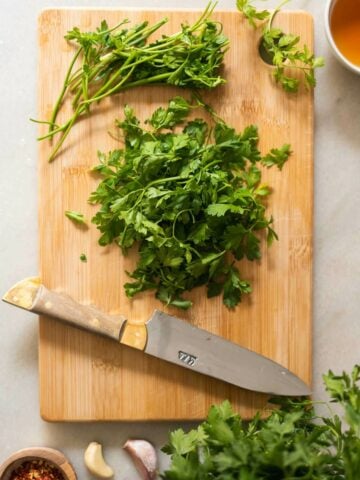 Step 2: Keeping only the carrot tops and parsley leaves.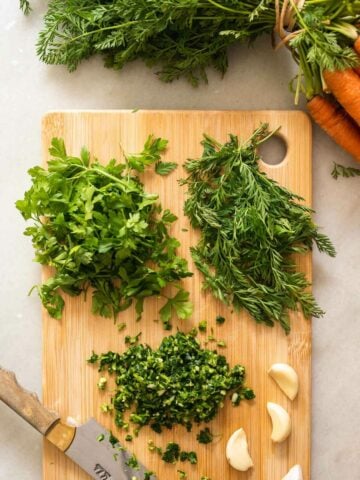 Step 3: Finely chop the herbs and mince garlic.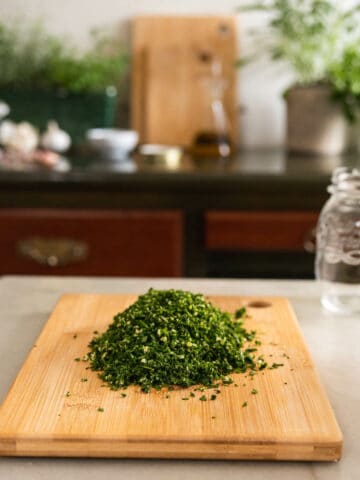 Step 4: Chop together parsley, carrot greens, and garlic until thoroughly mixed.
Hint: you can chop all the fresh herbs, garlic, and even seasonings in a food processor, but don't add the oil. Fold it manually to keep the light consistency; otherwise, it will look like a paste.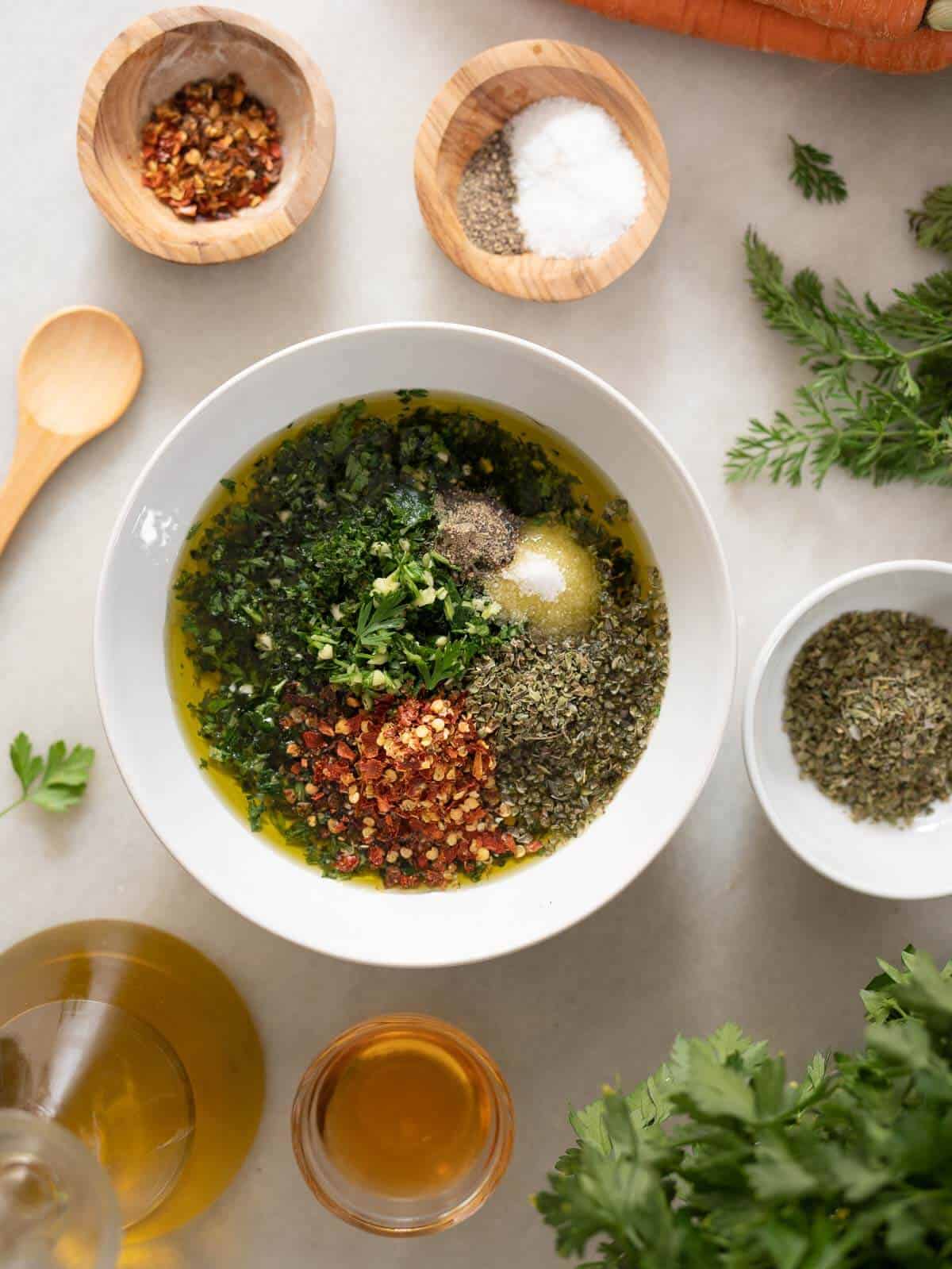 Step 5: Transfer all the finely chopped herbs to a bowl and top with the remaining ingredients.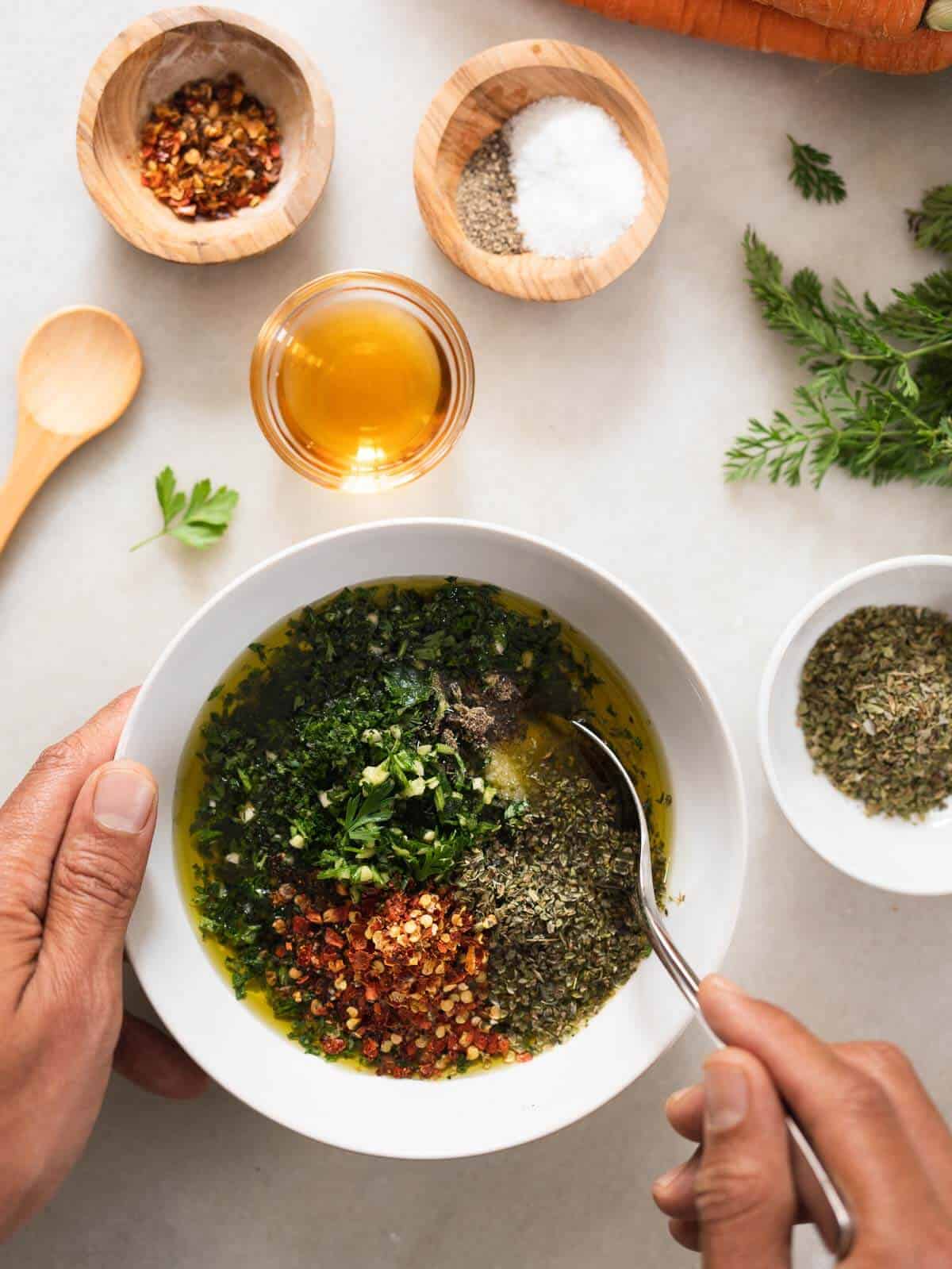 Step 6: Mix well with a fork or a whisk. Then it is ready to use or store.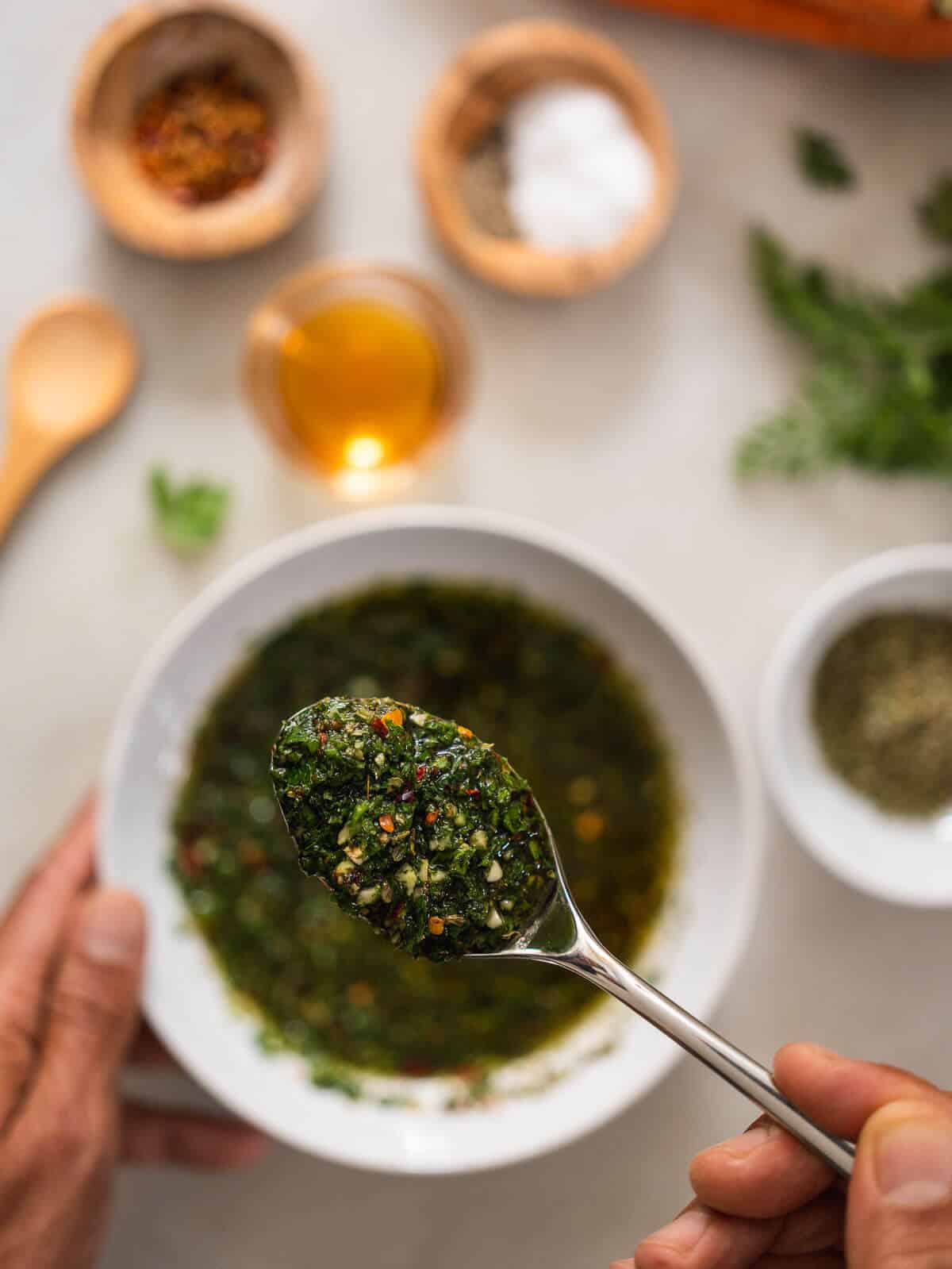 Hint: instead of using a bowl, you can simply add all the chimichurri ingredients into a mason jar and shake well.
Hint: make this carrot greens recipe in advance and let it settle for at least 10 minutes before serving so the flavors meld optimally, then use it on top of roasted veggies.
🍶 Substitutions
Oregano - use fresh oregano instead and chop it with the rest of the herbs.
Red wine vinegar - you can use apple cider vinegar or lemon juice instead.
Red pepper flakes - use Italian pepperoncino, "aji dulce," or crushed red pepper.
📖 Variations
Parsley - you can replace it with the same amount of extra carrot greens, making it more similar to the traditional chimichurri we have in Argentina.
Fresh cilantro can also serve as a substitute, although the flavor will be less similar to your regular chimichurri.
🥢 How to serve
Serve this chimichurri recipe with your grilled goods, roasted vegetables, and grilled veggies like green onions, carrots, potatoes, roasted fennel, onions, peppers, roasted butternut squash, roasted pumpkin, grilled asparagus, cauliflowers steaks, baked sweet potatoes, and more.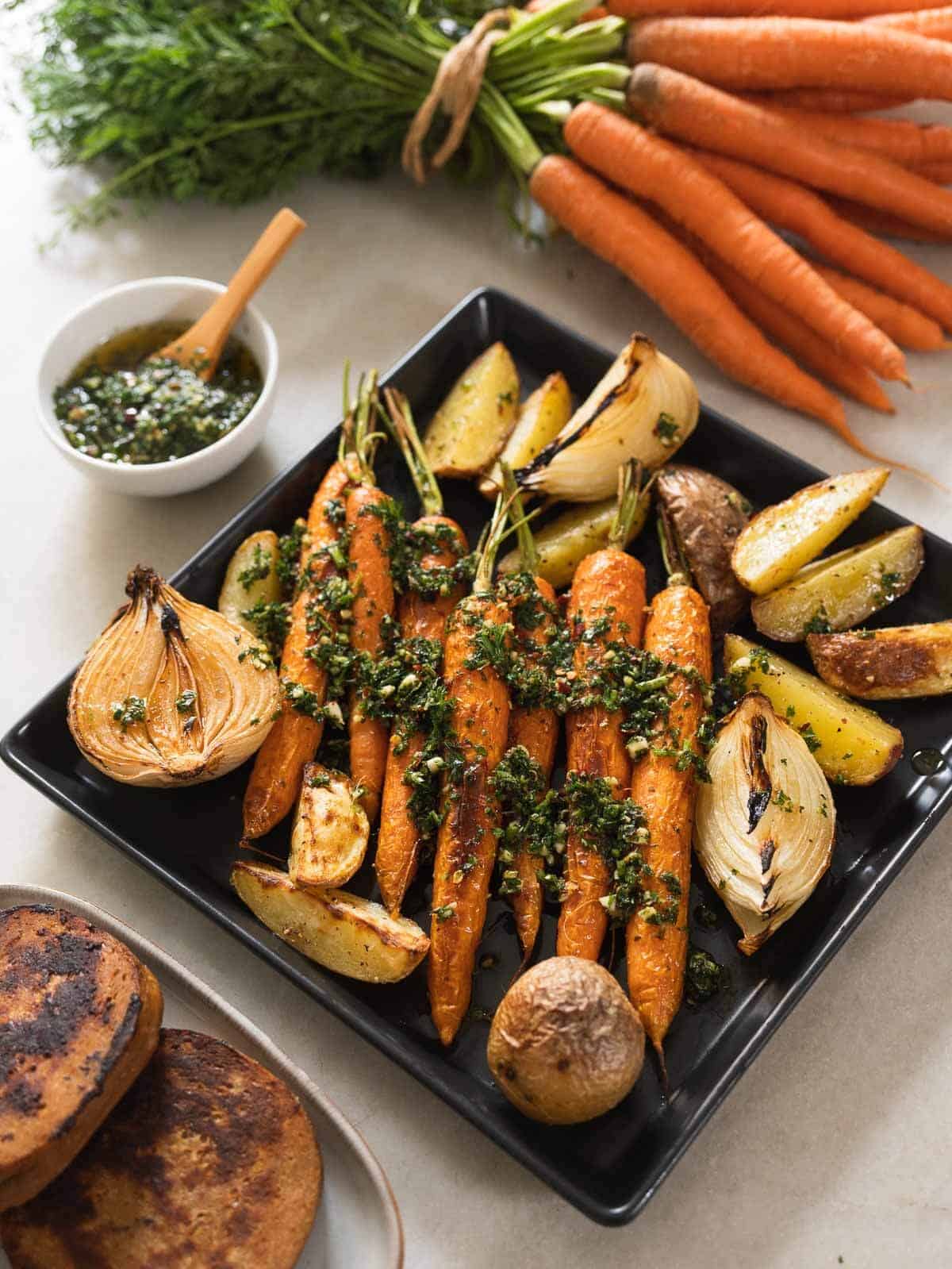 A great food pairing suggestion is to serve Argentinean empanadas with chimichurri sauce. The herbaceous and fresh taste of the sauce nicely complements the spicy and savory flavors of the empanadas while also adding a tangy and acidic note to balance out the richness of the filling.
Try chimichurri on chickpea burgers or homemade focaccia, vegan bread buns, or rustic artisan bread.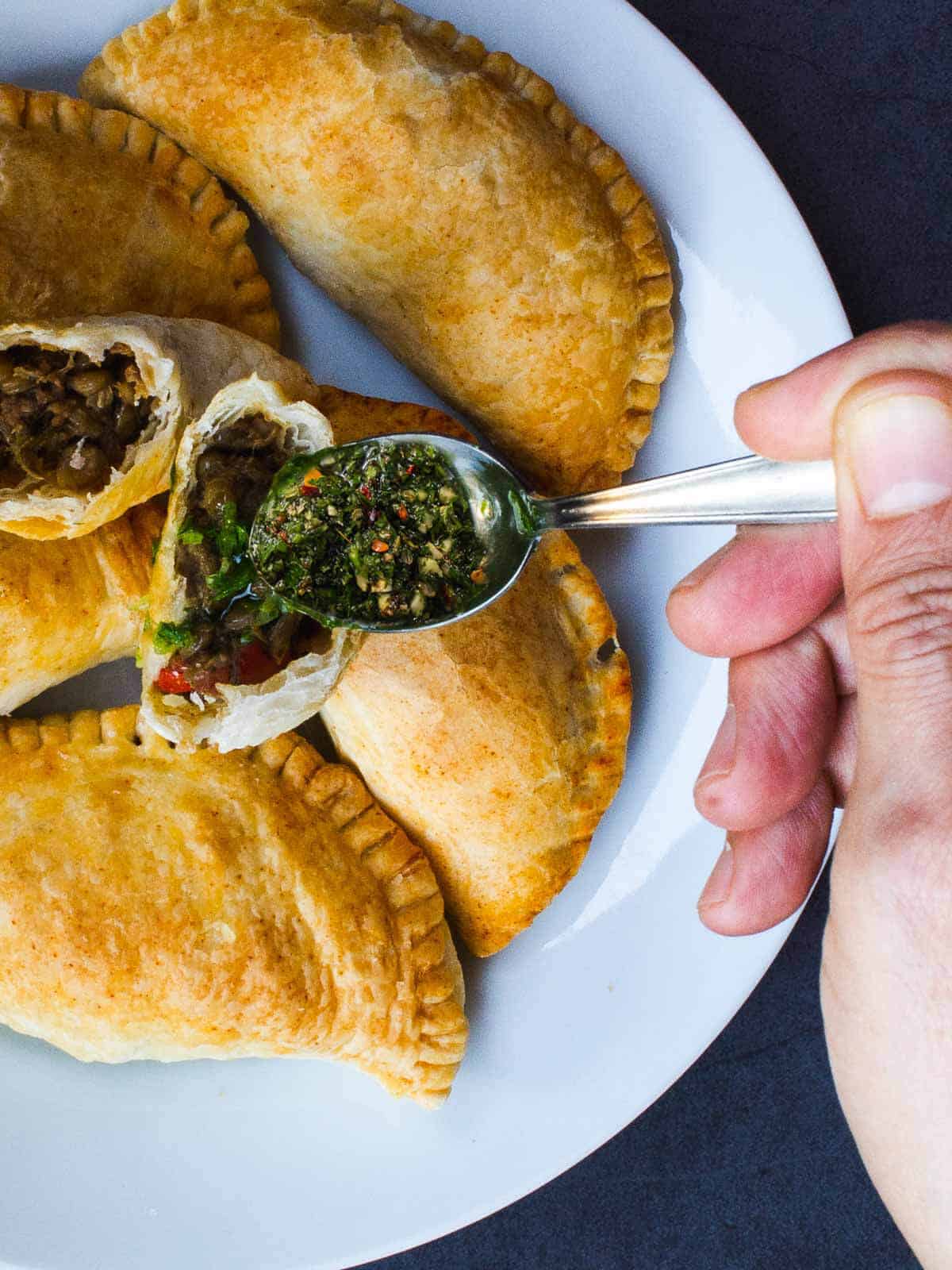 Curious? Try out our spinach empanadas or maybe the lentil empanadas or mushrooms. You can even make the vegan empanada dough from scratch in minutes.
We also like dipping our mediterranean tofu nuggets, seitan steaks, crispy tofu cubes in this chimichurri sauce for a tasty appetizer on friends' nights!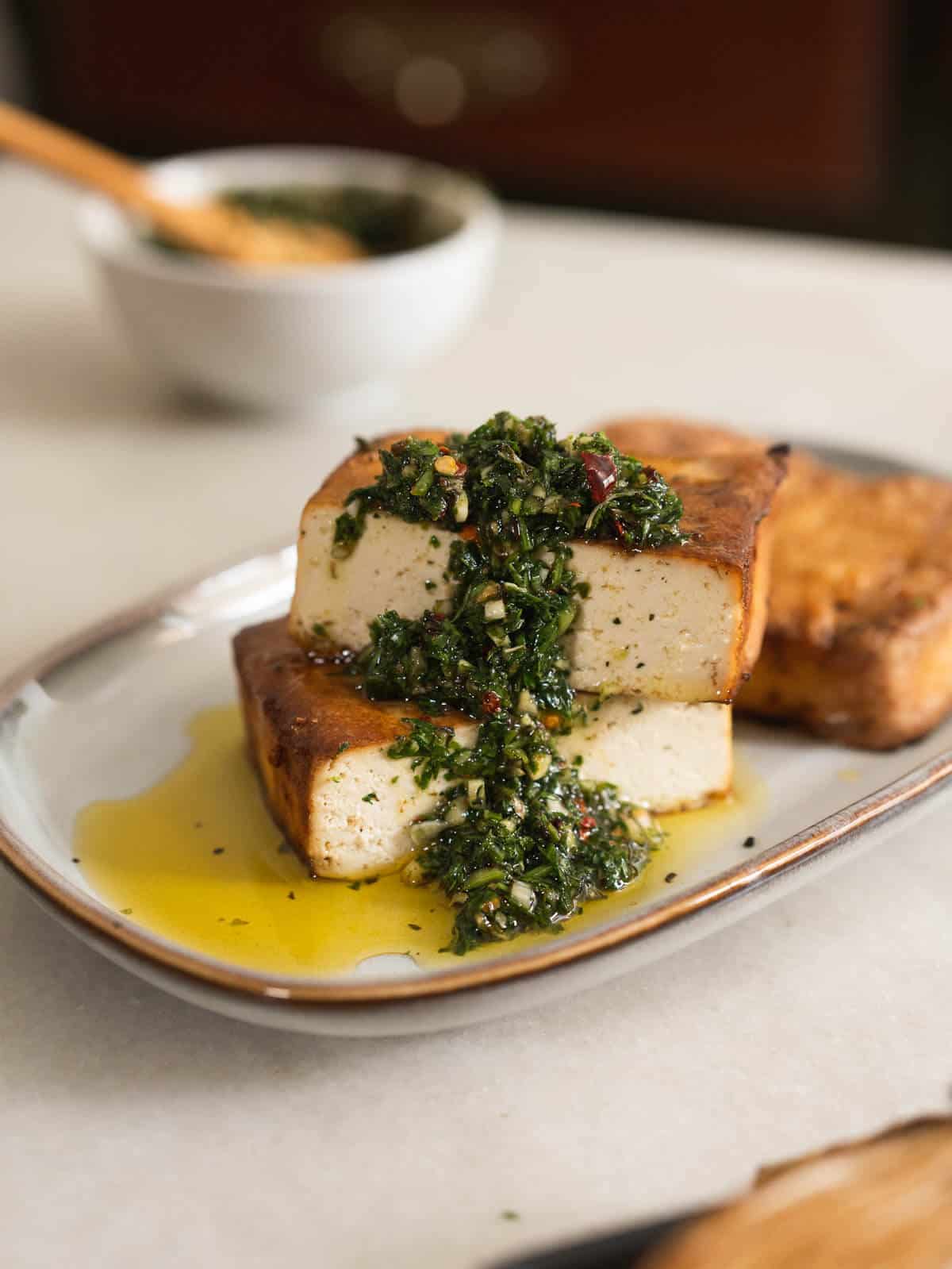 Also, top your plain grilled tofu with a dollop of this fantastic sauce and take it to the next level.
Carrot tops chimichurri is a flavorful addition to green salads, providing a fresh and herbaceous taste that pairs well with a variety of salad greens, like kale salad. The tangy and acidic notes of the sauce's flavorful ingredients also make it a great light and refreshing dressing option while adding nutritional value to your salad.
🍽 Equipment
You don't need other than a medium bowl, a chopping board, a knife, and a mason jar to reserve leftover sauce.
You can use a food processor (affiliate link) to skip all that chopping!
🥡 Storage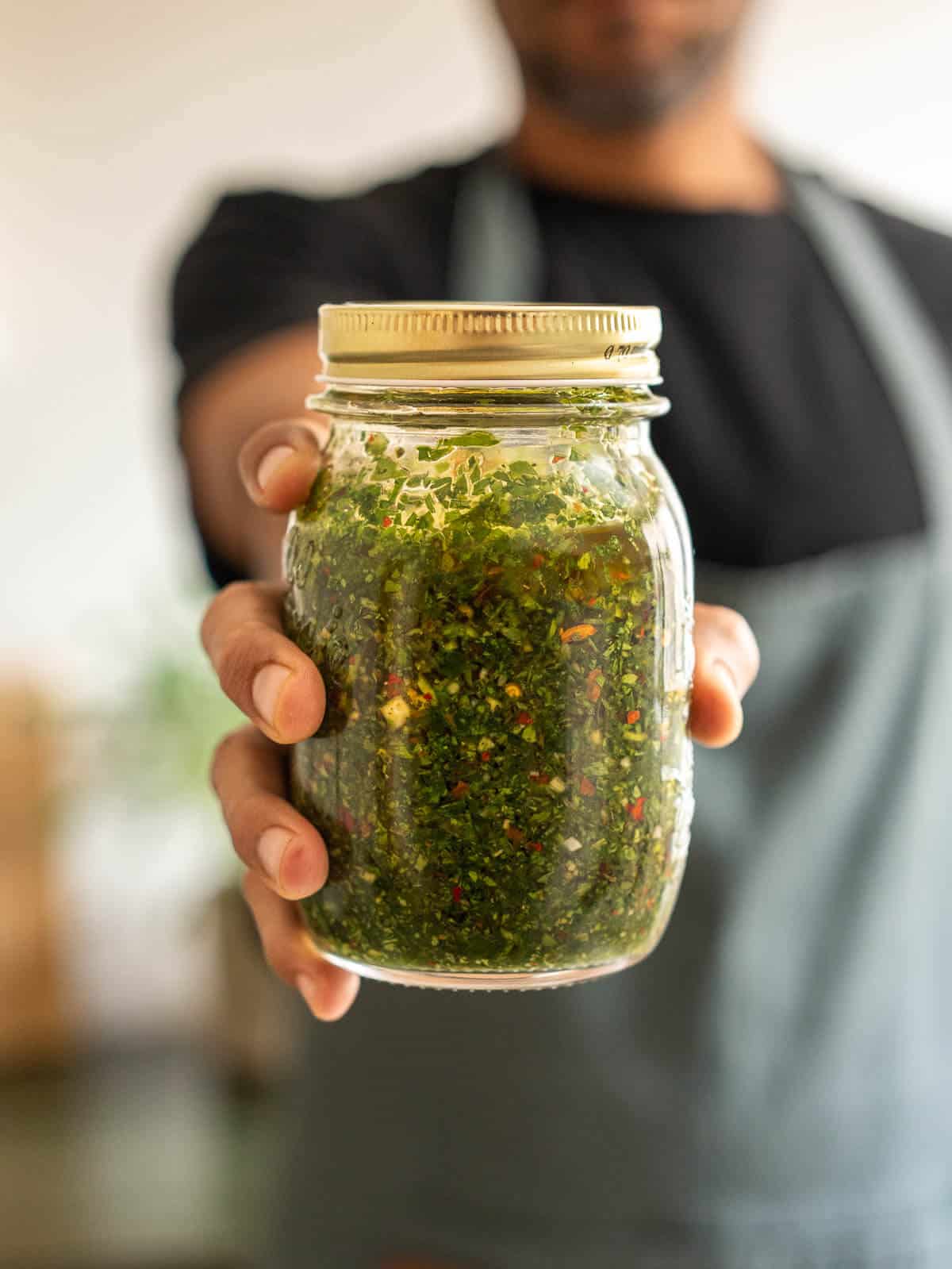 Leftover chimichurri can be stored in a BPA-free airtight container in the refrigerator or at room temperature for up to one week; remember that olive oil should cover the surface.
It is essential to ensure the container is tightly sealed to prevent air from getting in and causing the sauce to spoil.
To extend the shelf life of chimichurri, you can freeze chimichurri for up to 3 months. When ready to use, simply thaw it in the refrigerator overnight and give it a stir before serving.
💡 Top tip
Chimichurri oil may harden in the fridge due to the high content of olive oil, which solidifies at cold temperatures. To fix this, take the chimichurri out of the fridge and let it come to room temperature for a few minutes.
Then, give it a good stir or shake to mix the ingredients back together and restore its original consistency. If necessary, you can also add a little bit of warm water to help loosen up the sauce.
🥕 What to do with carrot tops (15 ideas!)
Pesto: Blend them with garlic, nuts, olive oil, and nutritional yeast to make a unique vegan pesto sauce.
Chimichurri: Incorporate carrot greens into a traditional chimichurri recipe for a fresh, zesty sauce like this one.
Stir-fry: Sauté with other vegetables and protein in a flavorful stir-fry dish.
Smoothies: Add them to your smoothie for a nutritious, green boost.
Soup garnish: Chop and sprinkle them on top of soups for added flavor and color.
Vegetable broth: Use them as a key ingredient in homemade vegetable broth or stock.
Salads: Toss with mixed greens and your choice of dressing for a unique salad.
Vegan frittatas and scrambles: Add chopped carrot tops to vegan scrambled tofu or frittatas for extra flavor and nutrients.
Carrot top tabbouleh: Replace the parsley of traditional tabbouleh with carrot tops in a traditional tabbouleh recipe for a different take on this Middle Eastern dish.
Stuffing: Combine chopped tops with other herbs and ingredients to create a flavorful filling for portobello mushrooms or acorn squash.
Tea infusion: Steep carrot tops in hot water for a mild, herbal tea.
Pickling: Create a pickling brine and use it to pickle carrot tops for a unique, tangy treat.
Juicing: Include them when juicing other fruits and vegetables for a nutrient-packed drink, adding a healthy dose of vitamins and minerals.
Growing Carrots: cultivate a healthy crop of carrots easily!
Make a different gremolata: Finely chop carrot tops and mix with minced garlic, lemon zest, and a touch of olive oil to create a flavorful gremolata that can be garnished or sauced for grilled vegetables.
❓ FAQ
How does carrot top chimichurri taste?
When it comes to how chimichurri tastes, carrot top chimichurri has a distinctive flavor profile that is different from regular chimichurri due to the fresh and herbaceous taste of the carrot tops, which provides a mild and delicate flavor compared to the traditional version and tastes amazing. The sweetness of the carrot tops also contributes to the unique taste of carrot top chimichurri.
🇦🇷 More Argentinean-inspired recipes
In addition to the empanada recipes above, you can try our pickled eggplants, the savory carrot tart, or the eggplant pie, which actually goes really well with chimichurri.
⭐ If you try this carrot greens recipe, let us know! 💬 Leave a comment, rate it, and don't forget to tag us @ourplantbasedworld on Instagram. Cheers!
📋 Recipe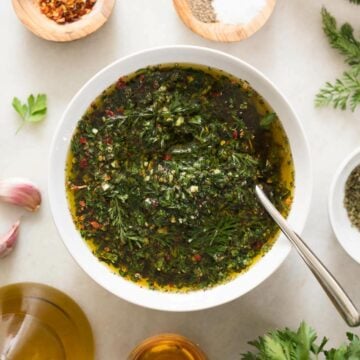 Carrot Tops Chimichurri - Argentinean Style
Looking for a unique twist on traditional chimichurri? Try our Carrot Tops Chimichurri recipe! Made with fresh carrot tops, garlic, herbs, and a kick of red pepper flakes, this flavorful sauce is perfect for drizzling over grilled goods, roasted veggies, or even as a dipping sauce for bread. Impress your guests with this vibrant and delicious addition to your next meal.
Equipment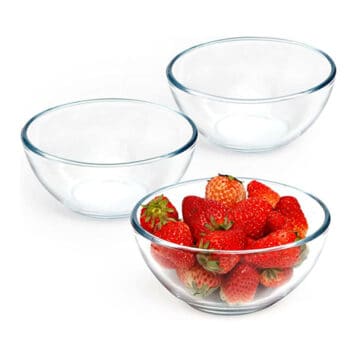 (affiliate link)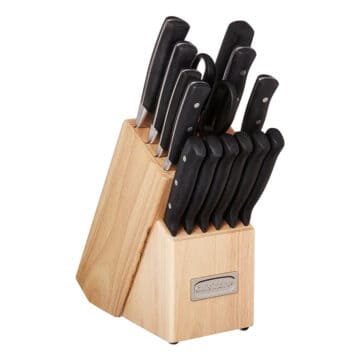 (affiliate link)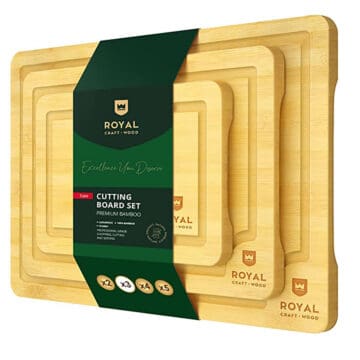 (affiliate link)
Directions
Wash and finely chop the carrot tops and parsley.

Combine carrot tops, parsley, dried oregano, chopped garlic, crushed red pepper, olive oil, and red wine vinegar in a medium mixing bowl. Slowly add salt and pepper while tasting the mixture to ensure it's not oversalted. Mix everything well.

Allow the sauce to rest for at least 10 minutes before serving. For optimal results, make the carrot top chimichurri 30 minutes before serving so that the flavors have enough time to meld together.

You can serve this delicious sauce on top of roasted vegetables, plant-based burgers, or vegan sausages, as a dip for bread or raw veggies, or mix it into soups and stews. Chimichurri can also be used as a marinade for vegetables.
Nutrition Facts
Calories:
198
kcal
Carbohydrates:
4
g
Protein:
1
g
Fat:
20
g
Saturated Fat:
3
g
Polyunsaturated Fat:
2
g
Monounsaturated Fat:
15
g
Sodium:
441
mg
Potassium:
90
mg
Fiber:
1
g
Sugar:
1
g
Vitamin A:
482
IU
Vitamin C:
36
mg
Calcium:
43
mg
Iron:
1
mg
Nutrition Facts
Carrot Tops Chimichurri - Argentinean Style
Amount per Serving
% Daily Value*
* Percent Daily Values are based on a 2000 calorie diet.
Nutritional Disclaimer
The information shown is an estimate provided by an online nutrition calculator. It should not be considered a substitute for a professional nutritionist's advice. See our full Nutritional Disclosure here.
Affiliate Disclaimer
Please note that some of the links here are affiliate links, and I will earn a commission if you purchase through those links. I recommend all of the products listed because they are companies I have found helpful and trustworthy.