Are you feeling like having some comfort food? Let's bake an Argentinean Vegan Savory Carrot Tart. one of the easiest and best dinner tart recipes you will find out there!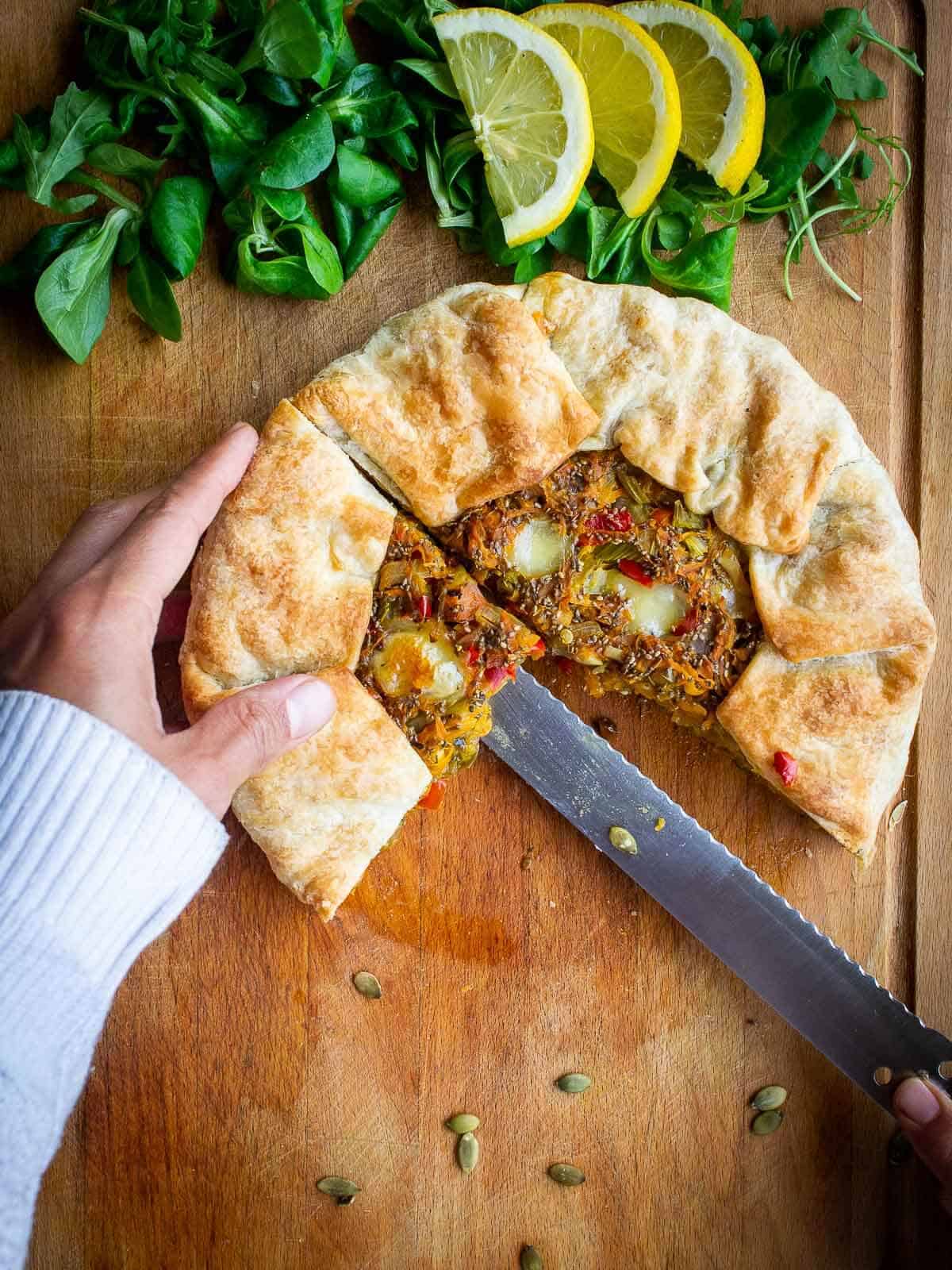 When I was living in Argentina, I would always make a big one and freeze these vegan savory tart portions to have them readily available as the main dish for quick lunches or lazy dinners. This one is a vegan version!
Jump to:
🧾 Ingredients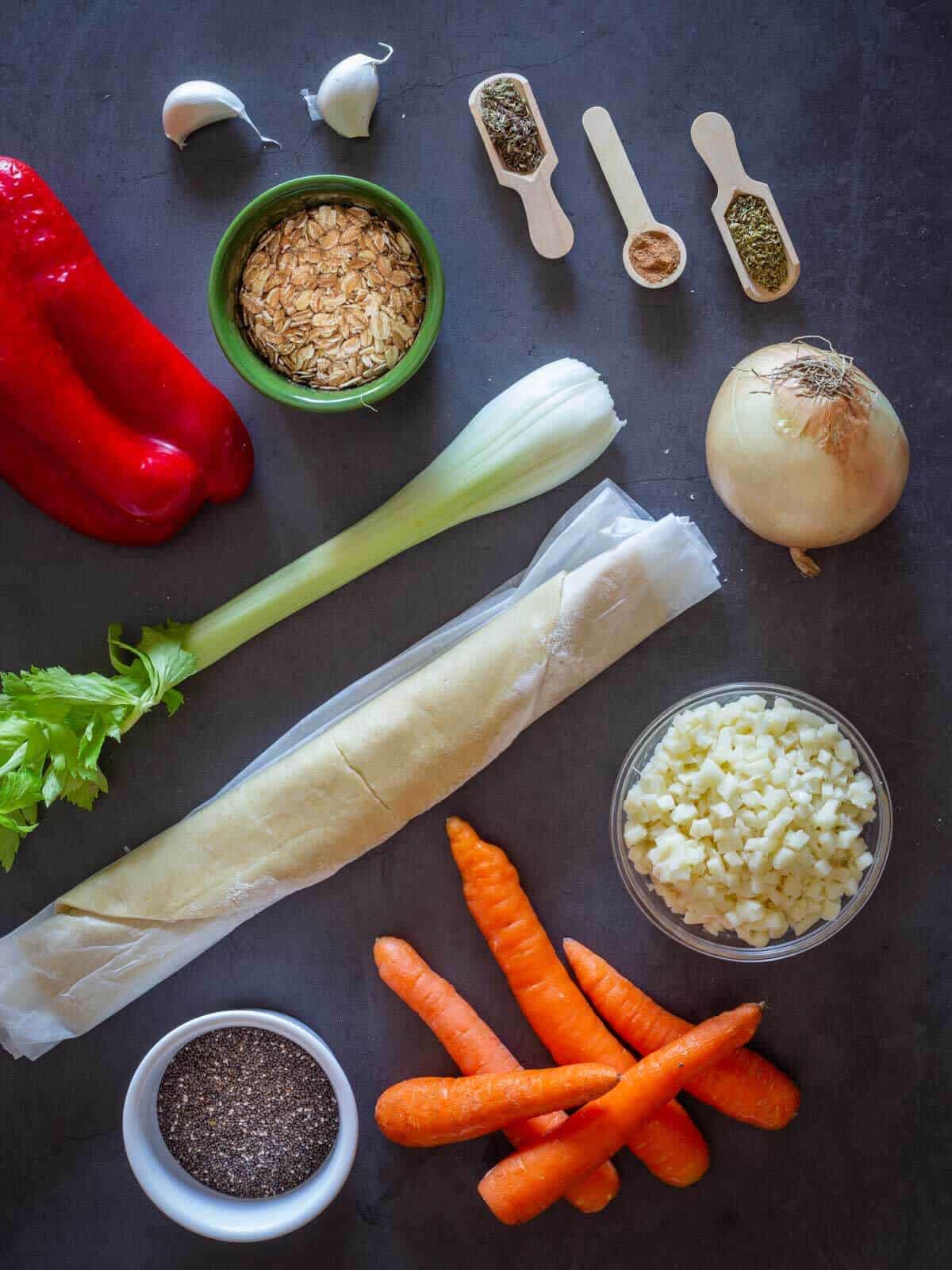 Carrots
Vegan Pie Dough Recipe (or store-bought puff pastry)
White onion
Fresh Garlic
Celery
Red bell pepper
Chia seeds
Vegan mozzarella cheese
Your choice of herbs (thyme, rosemary, and oregano)
Olive oil
Nutmeg (optional)
Oats (optional)
Salt and pepper to taste.
See quantities and complete instructions in the recipe card.
Which pie dough to use?
We use this straightforward recipe that also works for Vegan Empanadas, which we make with a lentil or mushroom filling. If you want to make this easy dough from scratch, find it here: Vegan Empanadas Dough.
You can also choose to use store-bought puff pastry, and it will also work well. Just take it out of the fridge ten minutes before using it.
If you are going for the store-bought puff pastry option, remember that there are different kinds of puff pastry, some of them being dryer and others flakier.
If you are using frozen puff pastry, I recommend leaving it to thaw overnight in the refrigerator.
🔪 Instructions
Preheat the oven to 400 ºF (200 ºC). Use olive oil and a bit of flour to prepare an 8" (25 cm) baking sheet and place the tart crust on top of it; you can use parchment paper to help you manage it. Pinch with a fork.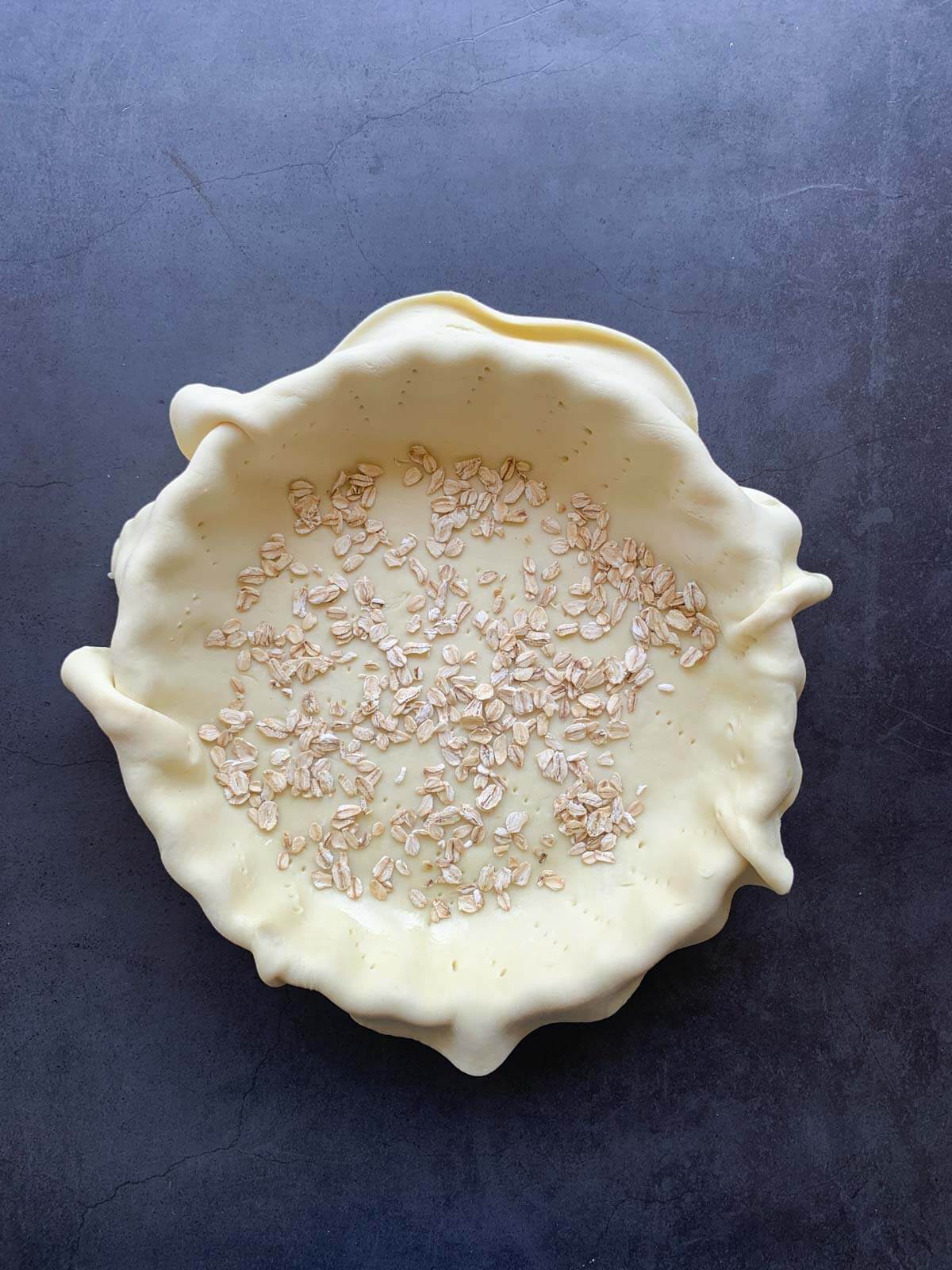 Make the chia egg by hydrating the chia seeds in one cup of warm water for 10 minutes.

Prepare the filling
Peel and shred the carrots, and continue chopping the rest of the vegetables.
Stir fry the chopped onions and the minced garlic, then add the celery and chopped bell peppers. Stir regularly.
Add the shredded carrots, followed by the herbs and spices, and remove them from the heat.
Cool down the mixture, remove any excess liquid, and stir in the chia eggs and the cubed vegan mozzarella cheese.
Season with salt and pepper to taste.

Assemble the carrot pie
Sprinkle the rolled oats in the puff pastry, this will help absorb any residual moisture from the carrots mixture, ensuring your crust is cooked well and doesn't come up soggy.
Pour the veggie and cheese mixture into the baking pan and spread evenly. Then fold the puff pastry inwards.
Bake the vegetable tart in the oven for 30-40 minutes, until it looks golden brown.
Let the galette sit for 10 mins before serving.
Note: Optionally, you can brush the tart with a mix of paprika and water to replace the egg wash, adding color and making the golden brown color stand out more. I usually don't use it.
Serve warm with a green salad with cherry tomatoes.
💡Pro tip
If you are not using a non-stick pie pan. Use one teaspoon of oil to grease the pan.
Then use flour to dust the oiled pan, and then place the dough in.
Tip: sometimes, the moisture of the filling can prevent the dough from cooking evenly. To avoid this, lay oats flakes on top of savory tart dough. This will absorb any residual moisture from the carrots mix, ensuring your pie crust is cooked well and doesn't end up mushy.
👨🏻‍🍳 Making a vegan tart
I was looking for Carrot Main Dish Recipes, and Argentineans usually make tarts using eggs as the binding ingredient. However, today we are replacing eggs with "chia eggs." Although we sometimes use them, we often replace them with different options, depending on their function in a recipe.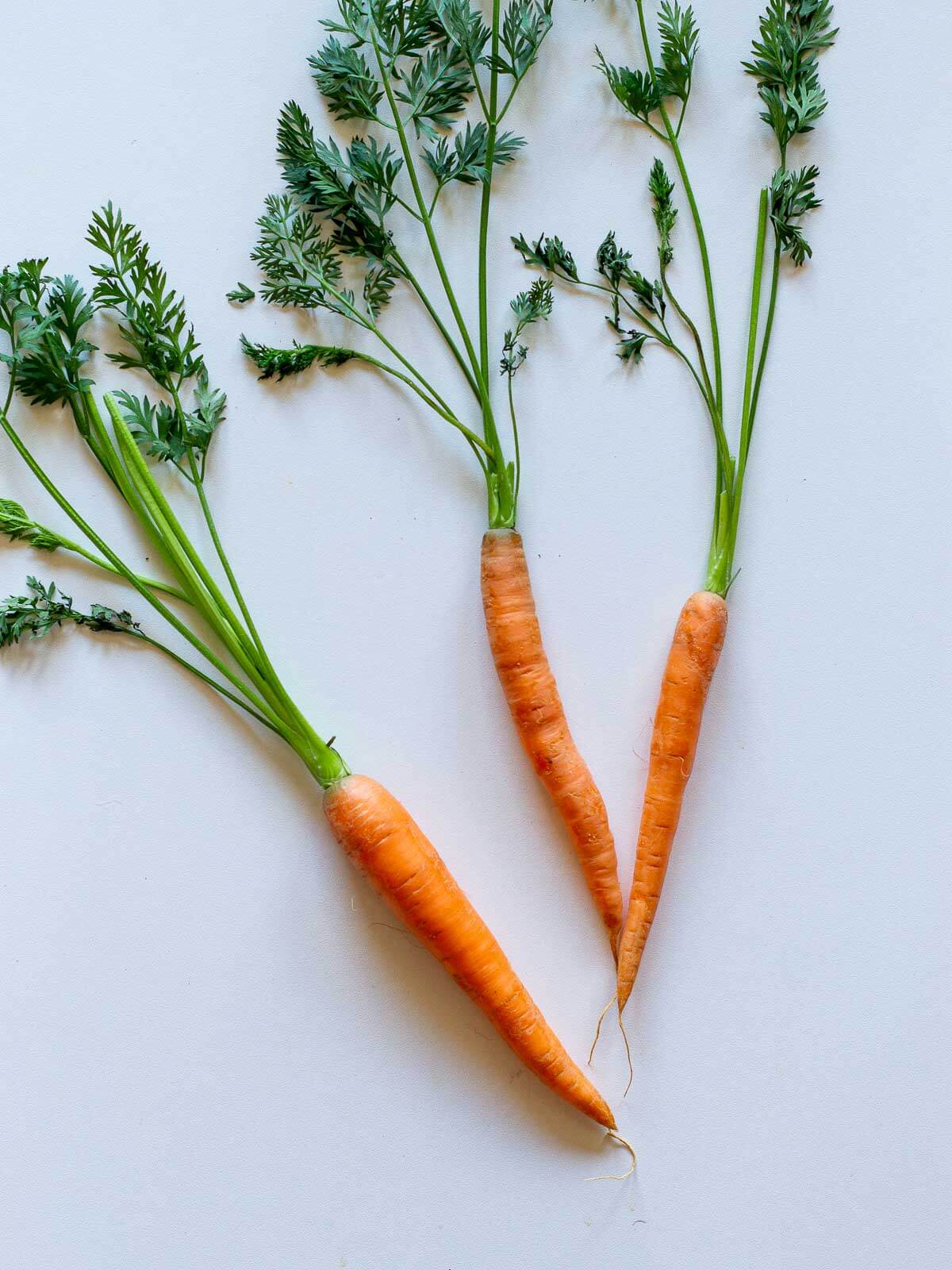 In this case, it is the binding feature that we are going after, and both chia and flax seeds are great at binding.
You can also add the pulp of red pepper carrot juice to this savory tart to avoid waste and make the most out of your juice's fiber.
🤔 How to make a chia egg
To make a chia egg, double the amount of water to the number of chia seeds.
Let the chia seeds soak for 10 minutes, stirring once, ensuring all seeds come in contact with water. A gel will form. This chia egg mixture is then added to the filling mix, which will make it all hold together.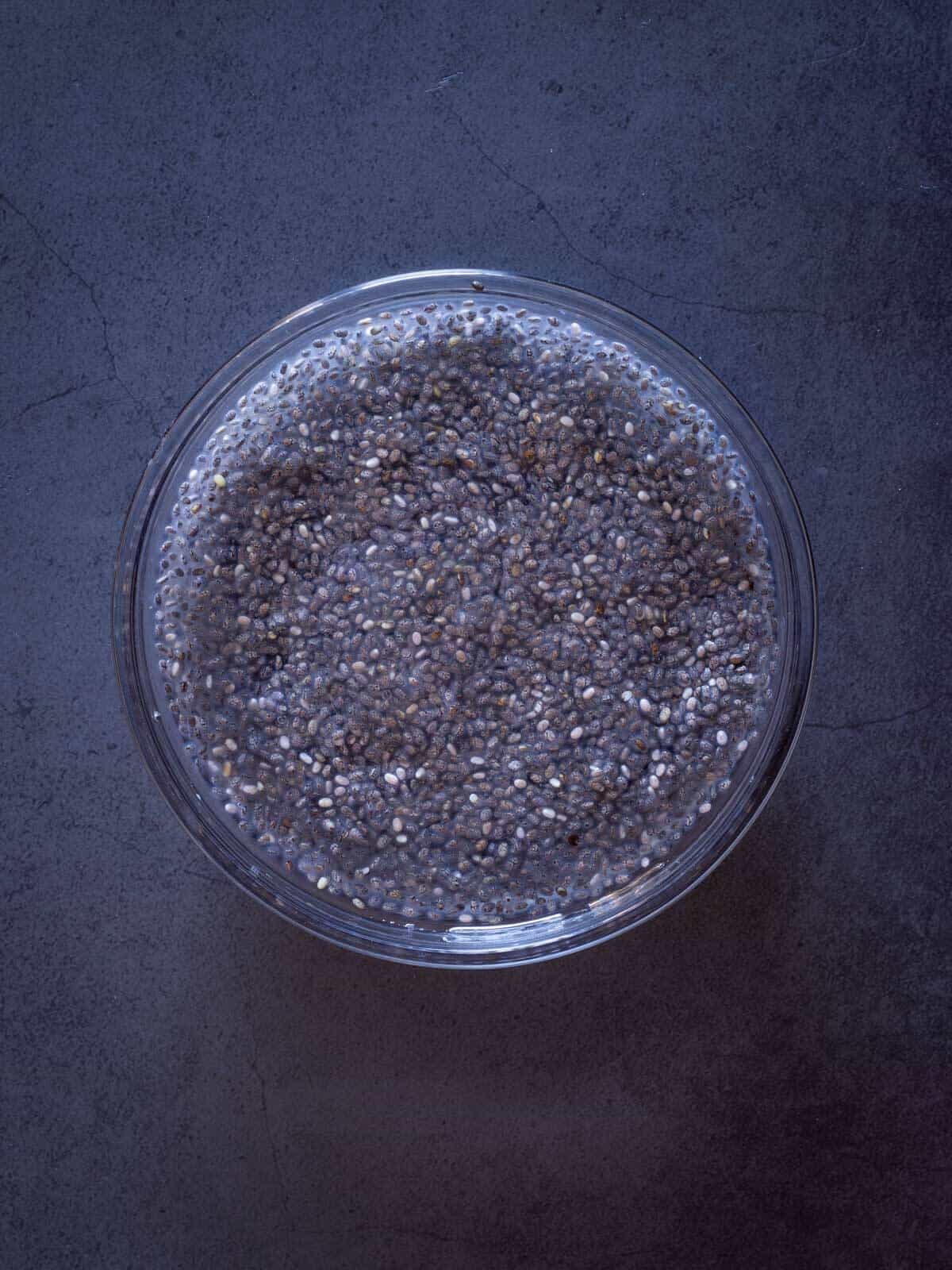 You can use the same method with flaxseeds, although you need to let them soak for 20 minutes or use boiling water.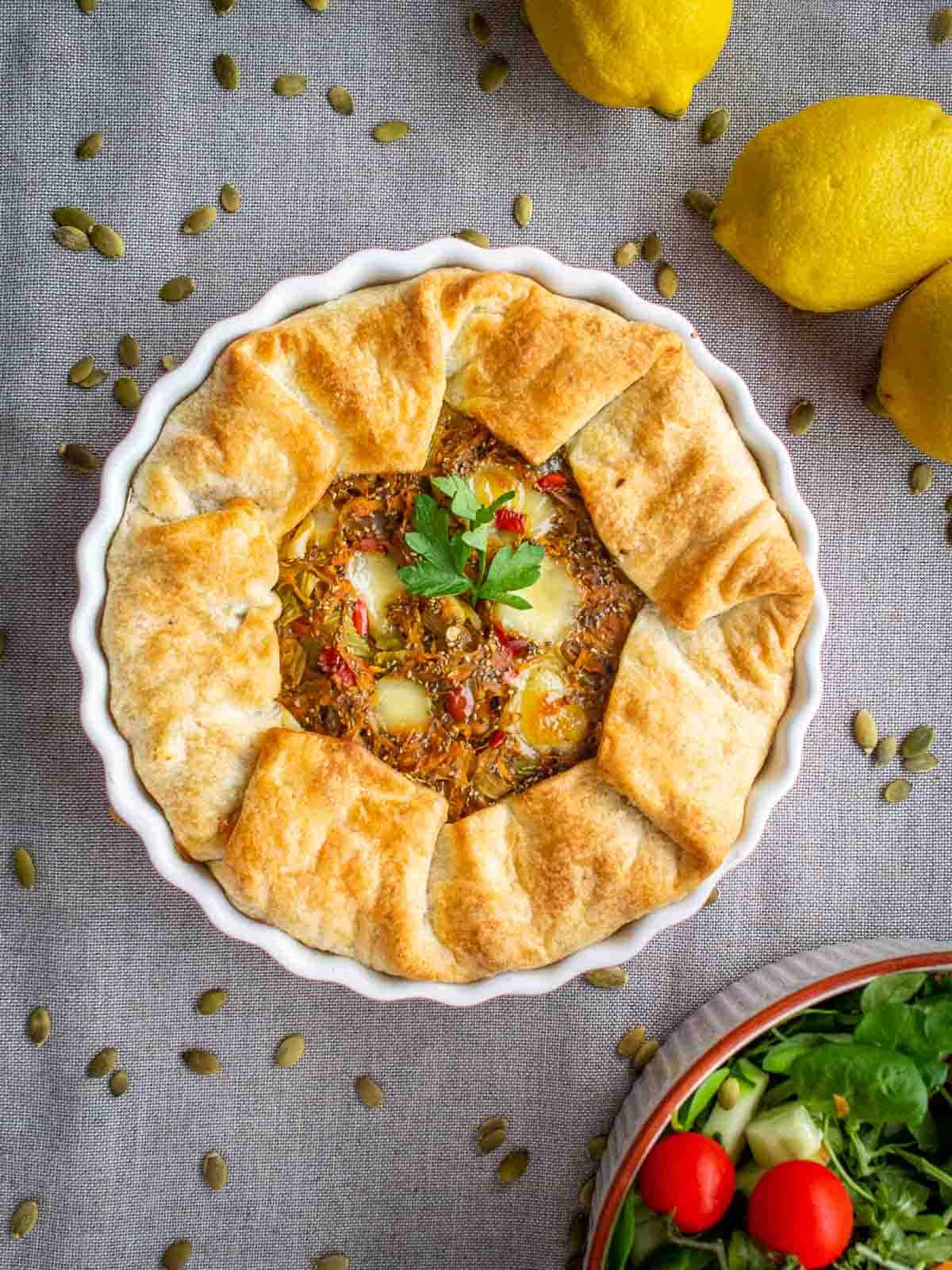 📖 Savoury tarts recipes ideas
Tarts are free forms versions of open fruit tarts, and you can find them in various shapes and fillings.
The most common tart options include the veggie ones: Verdura (Spinach and chard), Butternut Squash, zucchini, yellow summer squash, Cheese, and Onion, Eggplant, but you can find endless combinations.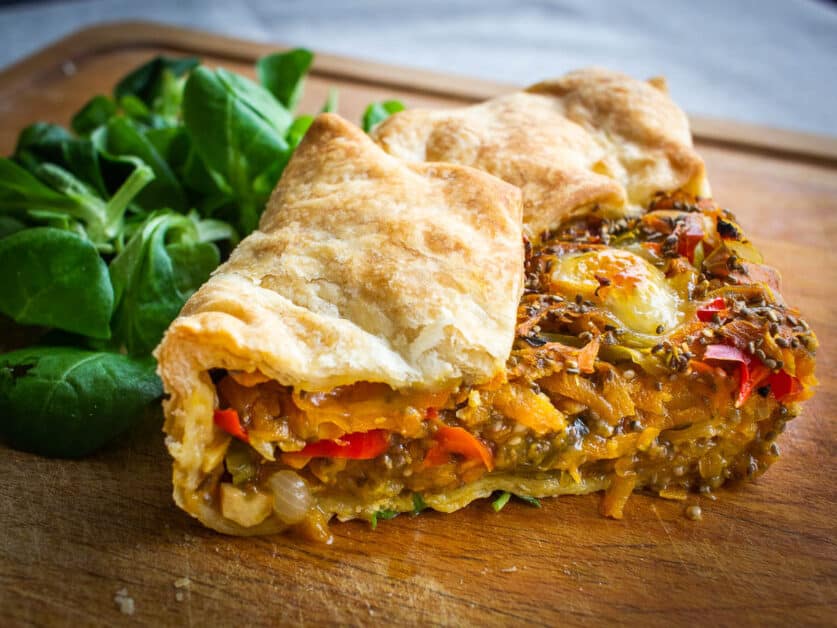 A savory vegetable tart is not time-consuming and is a cheap, tasty, and convenient option for a mid-day lunch. It is common to find them on fixed-priced menus. Rotisseries (ready-made food-to-go stores) also have them as a widespread, fast, jet-healthy option.
Veggie tarts are so typical that some food delivery restaurants only make empanadas (filled pastries), pizzas, and pies. As a result, many Rotiserias survive entirely on these three menu options. Just with a slice, you have a light and convenient meal.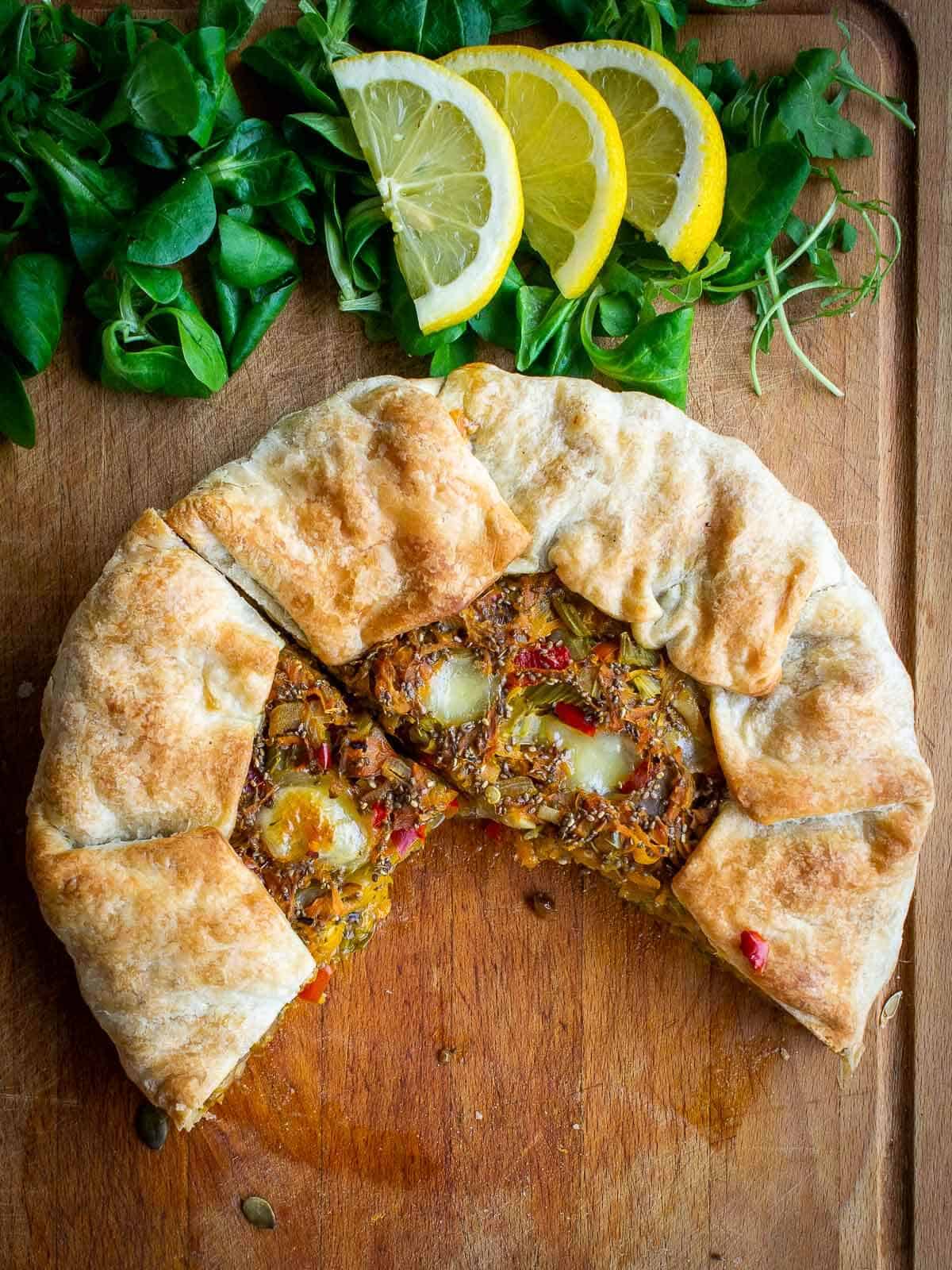 Carrots are an excellent source of beta-carotene, fiber, and antioxidants. They also have several health benefits linked to lower cholesterol levels and improved eye health.
🥢 How to serve
This simple carrot recipe works as a main dish or a side dish when paired with a nice salad with cherry tomatoes, a spinach salad, or a kale salad. That way, you have a complete meal.
To learn more about the benefits of Carrots.
Include more Carrots in your daily routine: Have this Apple, Carrot, Celery Juice First Thing in the Morning.
We use carrots quite often for juicing, and we love zero-waste cooking and minimizing churn; we also use carrot tops to make carrot greens pesto. It goes perfectly with vegan tuna salads and cold pasta salads.
Sometimes buy way too many carrots; what do we do? Carrot and Ginger soup is another favorite that is made very quickly with minimal cooking time and it's sooo yummy!
Have you heard about vegan bacon? You may be heading to a new treat with this easy-to-make and healthy carrot bacon recipe.
If you love cooking with carrots, you will surely love our one-pot carrot cake, made with our go-to gluten-free flour blend, for a healthy treat or breakfast.
📚 More Argentinean recipes
⭐ If you try this vegan savory tart recipe, let us know! 💬 Leave a comment, rate it, and don't forget to tag us @ourplantbasedworld on Instagram. Cheers!
📋 Recipe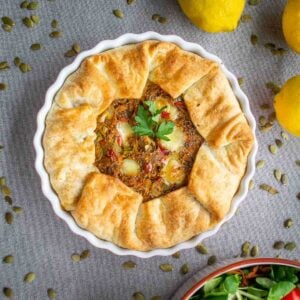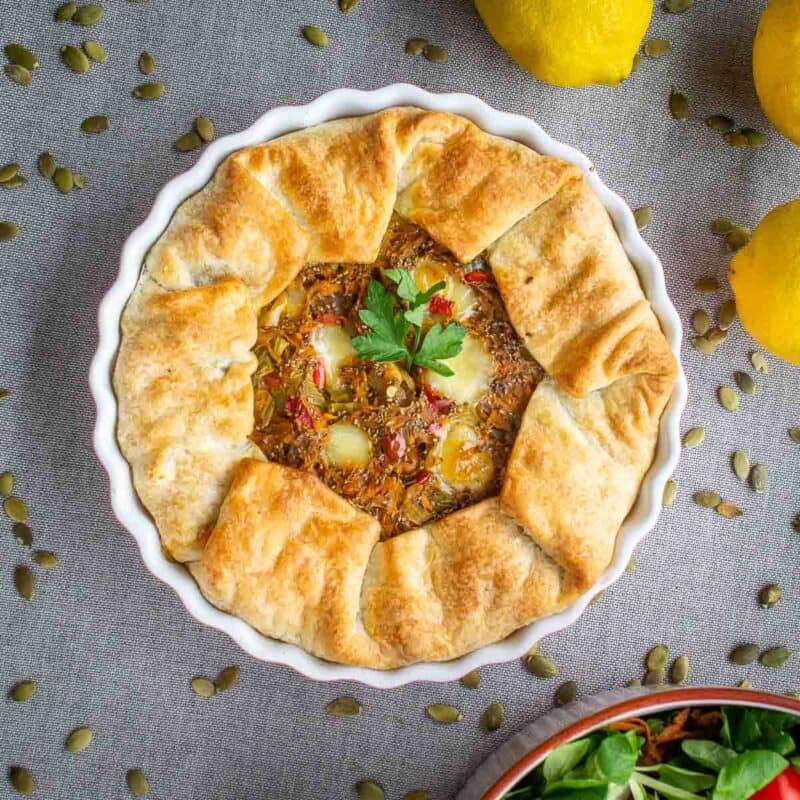 Savory Carrot Tart
This Vegan version of an Argentinean Tart is an excellent option to have a guilt-free Carbs lunch.
Equipment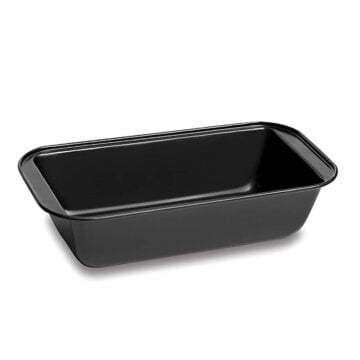 (affiliate link)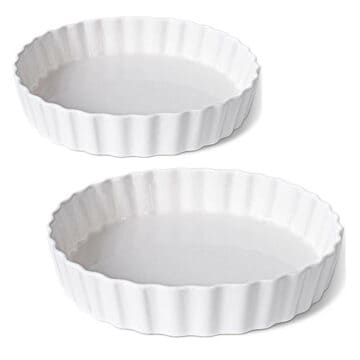 (affiliate link)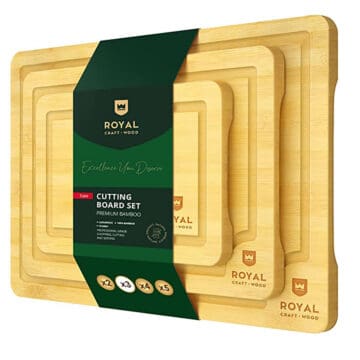 (affiliate link)
Ingredients
Serve with a green salad, I suggest Rucola and cherry tomatoes.
Directions
Preheat oven to 400ºF (200ºC) for 10 mins.

Hydrate the chia seeds in one cup of warm water for 10 mins. This wil create a gel called chia egg.

Oil an 8" pan and place the pie crust on it. Pinch with a fork (this will ensure it gets cooked evenly).

Peel and shred the carrots.

Chop the rest of the vegetables and stir fry them in a pan, stirring regularly. If the mix sticks, add a tiny amount of water.

Cook. The carrots, herbs, and spices and stir for a couple of minutes.

Remove. Take the Mix off the fire and let it cool down for 5 mins and remove any excess liquid.

Cut the vegan mozzarella into cubes.

Add the chia egg to the Mix, along with the cheese cubes. Add black pepper if you like.

Lay the oats flakes in the baking pan (this will absorb any residual moisture from the carrots mix, ensuring your crust is cooked well and doesn't end up mushy).

Pour the mix into the baking pan.

Bake tart for 30-40 mins.

Let it rest for 10 mins before serving.
Notes
Nutrition Facts
Calories:
510
kcal
Carbohydrates:
66
g
Protein:
11
g
Fat:
23
g
Saturated Fat:
6
g
Polyunsaturated Fat:
5
g
Monounsaturated Fat:
5
g
Trans Fat:
1
g
Sodium:
908
mg
Potassium:
428
mg
Fiber:
12
g
Sugar:
7
g
Vitamin A:
11156
IU
Vitamin C:
45
mg
Calcium:
176
mg
Iron:
4
mg
Nutrition Facts
Savory Carrot Tart
Amount per Serving
% Daily Value*
* Percent Daily Values are based on a 2000 calorie diet.
🌡️ Food safety
Cook to a minimum temperature of 165 °F (74 °C)
Do not use the same utensils on cooked food, that previously touched raw meat
Wash hands after touching raw meat
Don't leave food sitting out at room temperature for extended periods
Never leave cooking food unattended
Use oils with a high smoking point to avoid harmful compounds
Always have good ventilation when using a gas stove
See more guidelines at USDA.gov.
Nutritional Disclaimer
The information shown is an estimate provided by an online nutrition calculator. It should not be considered a substitute for a professional nutritionist's advice. See our full Nutritional Disclosure here.
Affiliate Disclaimer
Please note that some of the links here are affiliate links, and I will earn a commission if you purchase through those links. I recommend all of the products listed because they are companies I have found helpful and trustworthy.