Are you feeling like having some comfort food? Let's bake an Argentinean Vegan Savory Carrot Tart. one of the easiest and best dinner tart recipes you will find out there!
When I was living in Argentina, I would always make a big one and freeze the portions to have them readily available for quick lunches or lazy dinners. This one is a vegan version!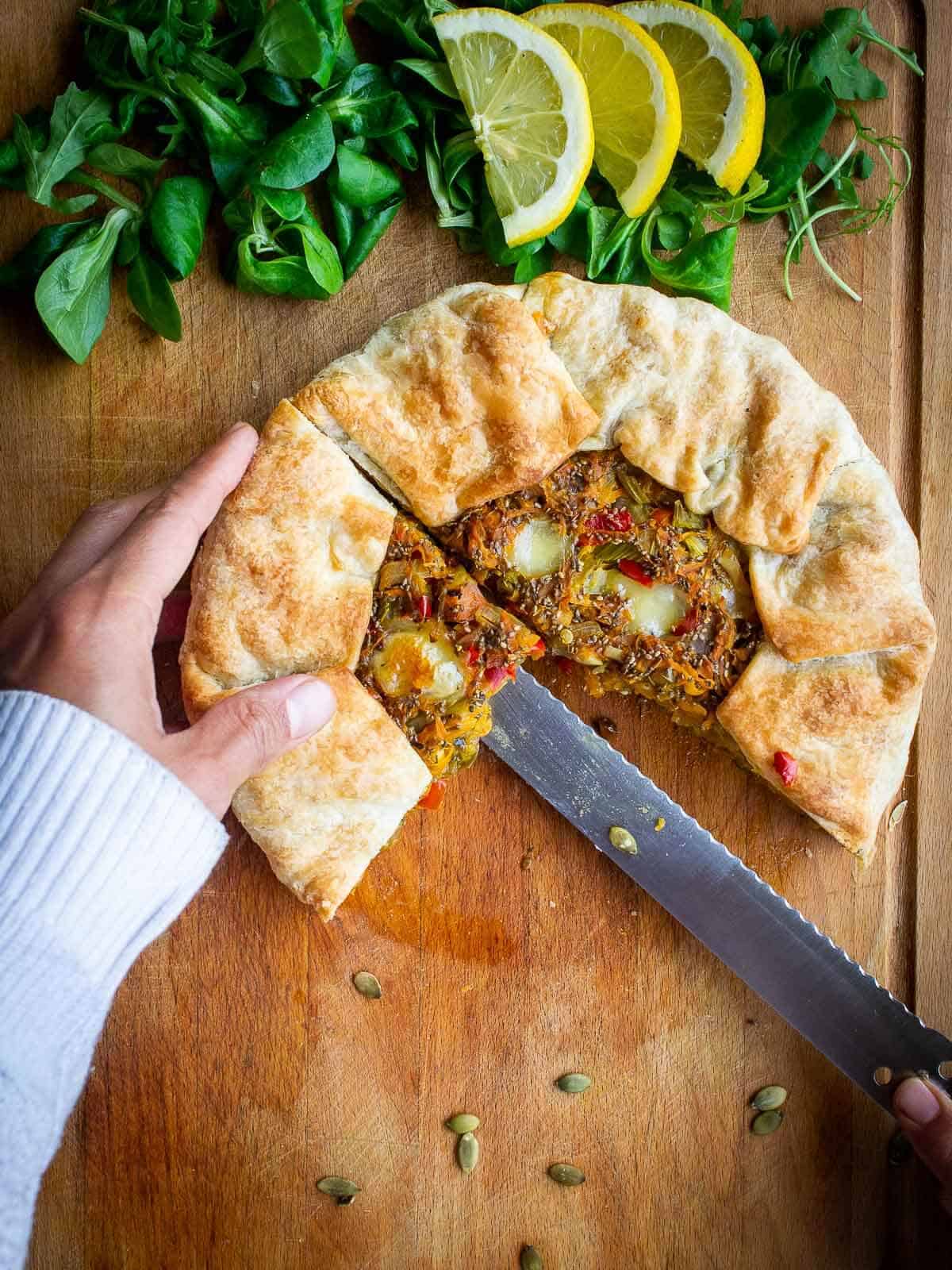 Ingredients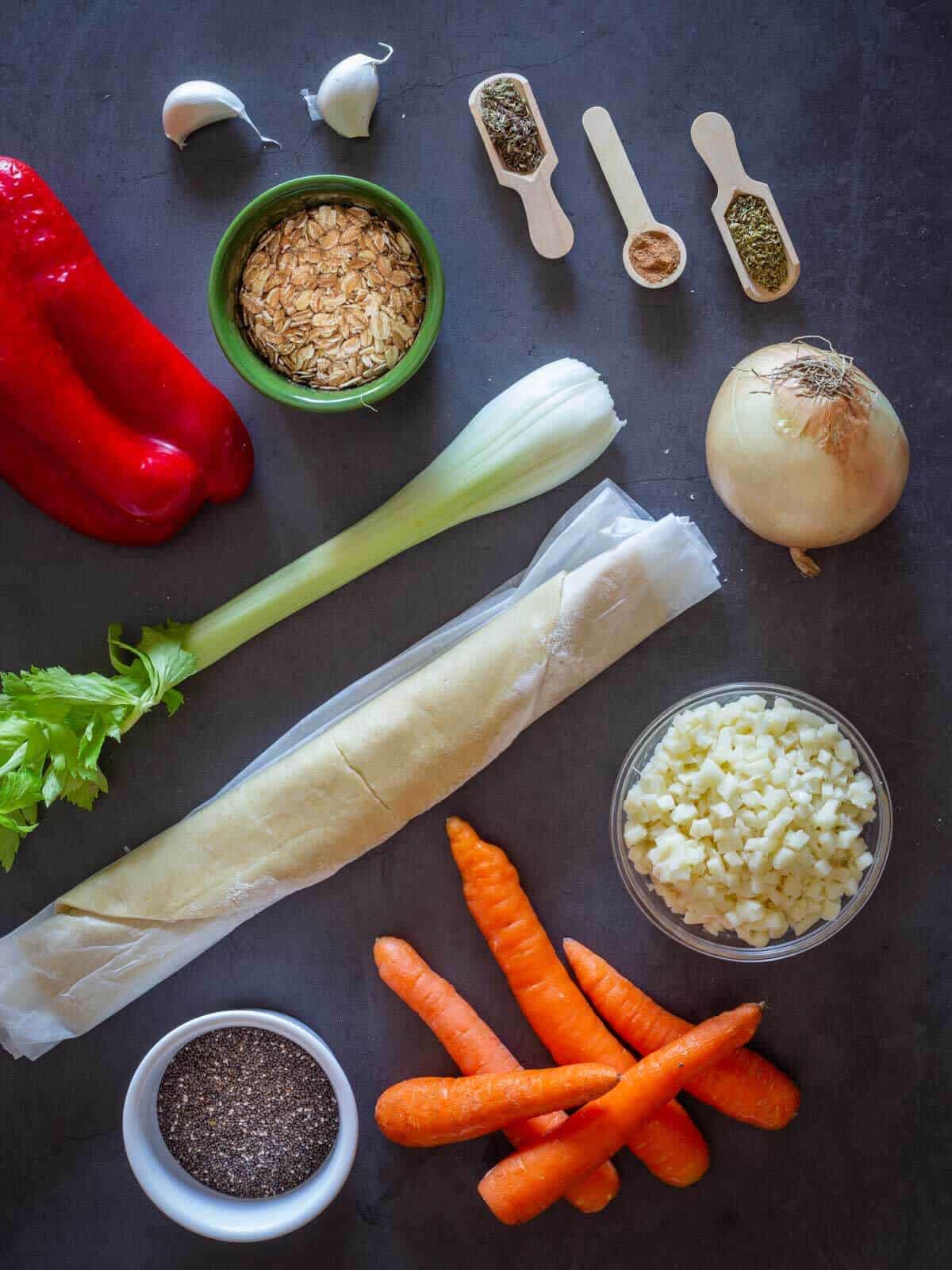 Carrots
Vegan Pie Dough Recipe (or store-bought pastry crust)
White onion
Garlic
Celery
Red bell pepper
Chia seeds
Vegan mozzarella cheese
Your choice of herbs (thyme, rosemary, and oregano)
Olive oil
Nutmeg (optional)
Oats (optional)
See quantities and full instructions in the recipe card.
The Dough
We use this straightforward recipe that also works for Vegan Empanadas, which we make with a lentil or mushroom filling. If you want to make this easy dough from scratch, find it here: Vegan Empanadas Dough.
You can also choose to use store-bought puff pastry, and it will also work well. Just take it out of the fridge ten minutes before using it.
Pro tip
If you are not using a non-stick pie pan. Use one teaspoon of oil to grease the pan.
Then use flour to dust the oiled pan, and then place the dough in.
Sometimes the moisture of the filling can prevent the dough from cooking evenly, to avoid this, lay oats flakes on top of savory tart dough. This will absorb any residual moisture from the carrots mix, ensuring your crust is cooked well and doesn't end up mushy.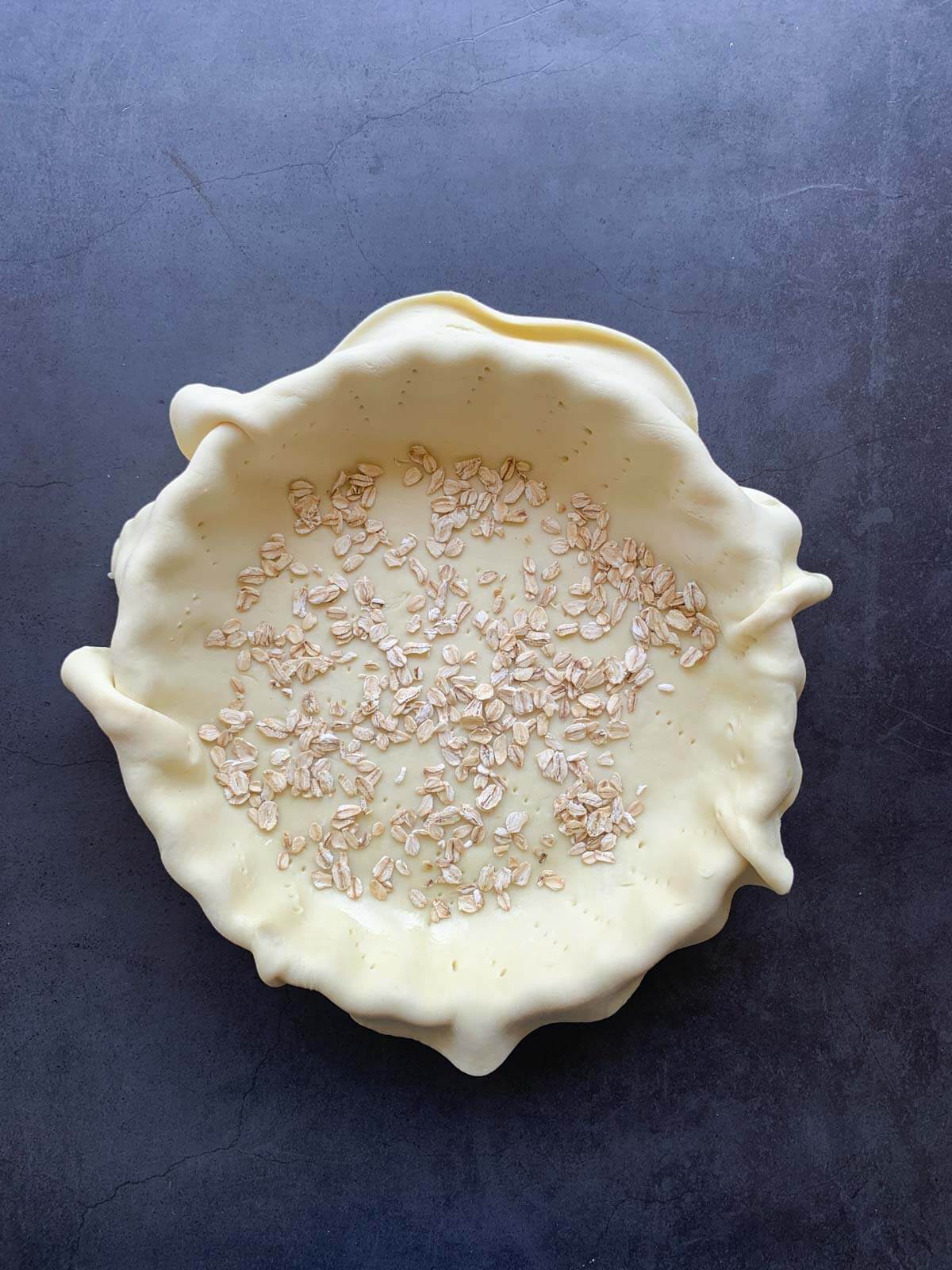 Making a tart Vegan
I was looking for Carrot Main Dish Recipes, and Argentineans usually make tarts using eggs as the binding ingredient. However, today we are replacing eggs with "chia eggs." Although sometimes we use them, we often replace them with different options, depending on the function they play in a recipe.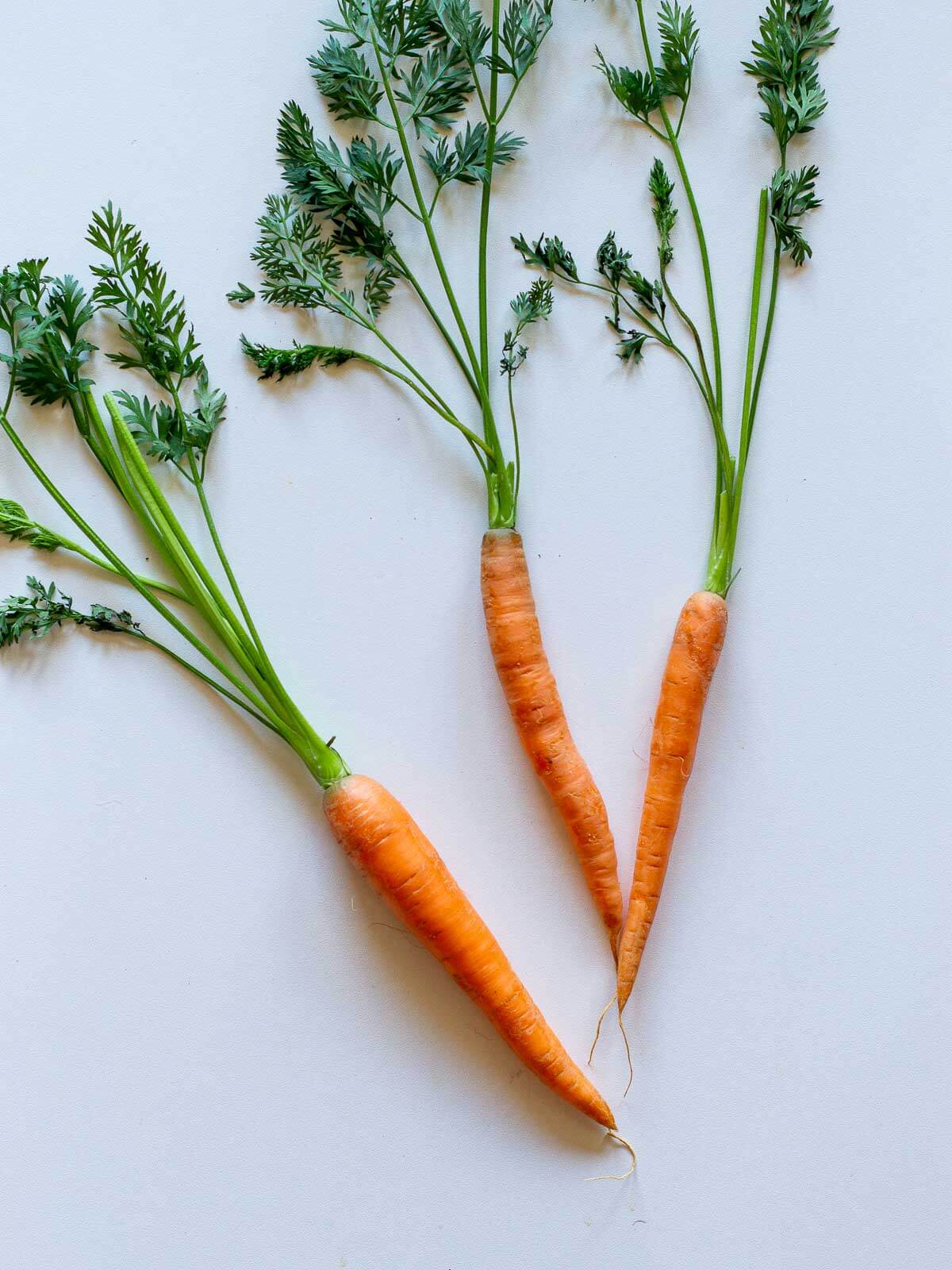 In this case, it is the binding feature that we are going after, and both chia and flax seeds are great at binding.
How to make a chia egg
To make a chia egg, double the amount of water to the number of chia seeds.
Let the chia seeds soak for 10 minutes, stirring once, ensuring all seeds come in contact with water. A gel will form.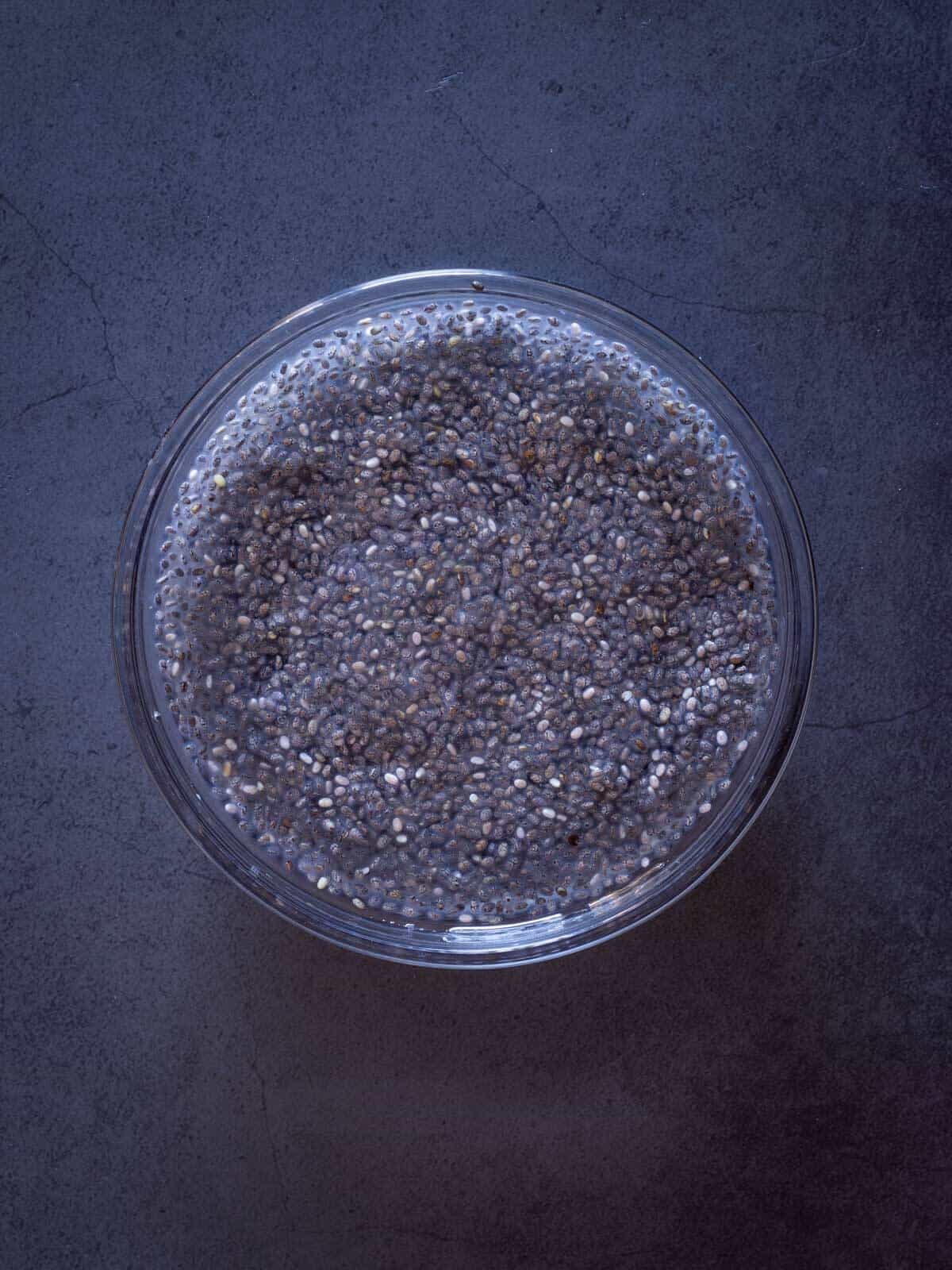 You can use the same method with flaxseeds, although you need to let them soak for 20 minutes or use boiling water.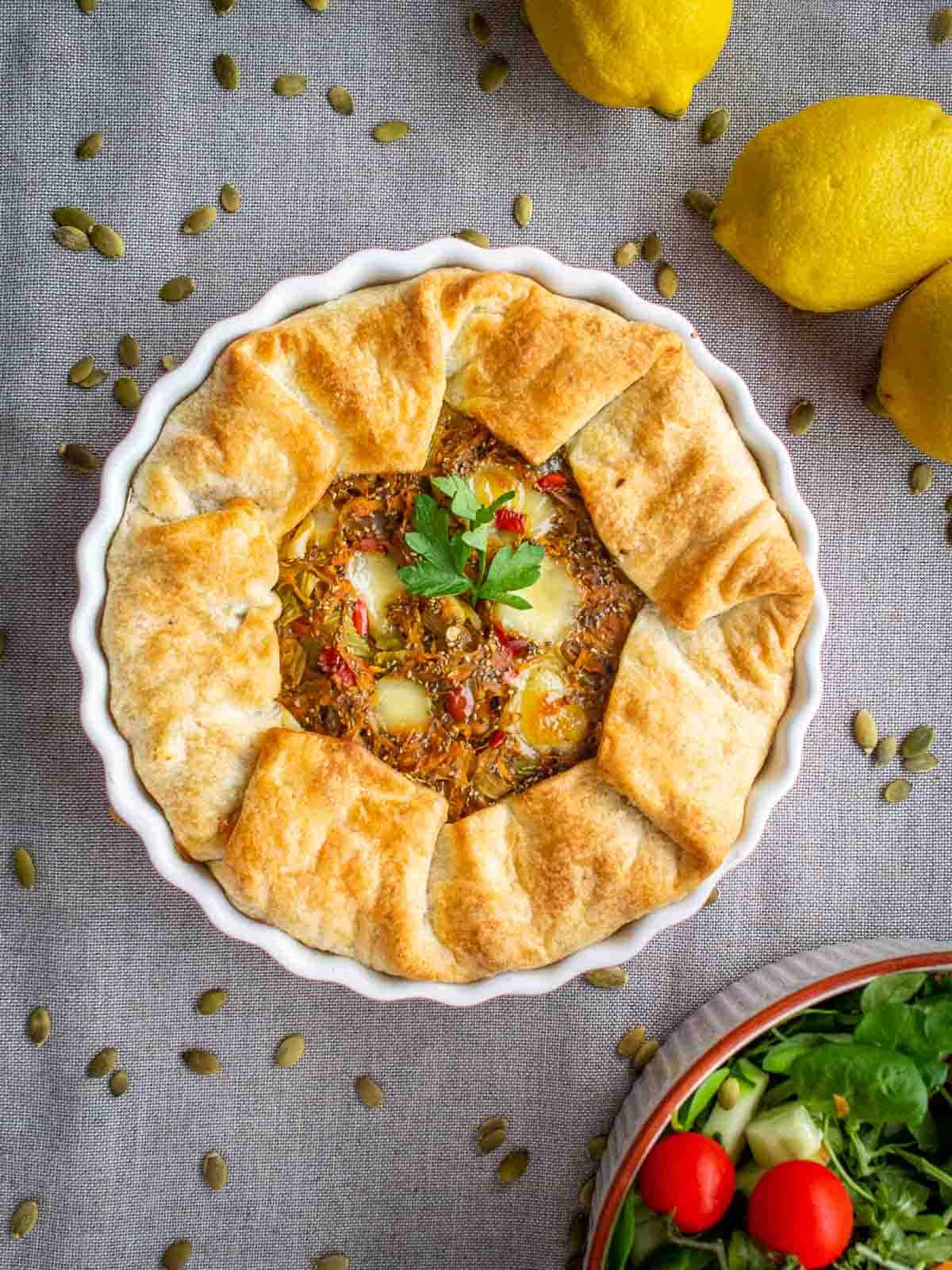 Savoury tarts recipes ideas
Tarts are free forms versions of open fruit tarts, and you can find them in various shapes and fillings.
The most common options of tarts include Verdura (Spinach and chard), Butternut Squash, Ham and Cheese, Tuna, Cheese, and Onion, Eggplant, but you can find endless combinations.
A savory tart is a very cheap and convenient option for a mid-day lunch, and it is common to find them in fixed-priced menus. Rotisseries (ready-made food-to-go stores) also have them as a widespread, fast, jet-healthy option.
Tarts are so common there that some food delivery restaurants only make empanadas (filled pastry), pizzas, and tarts. As a result, a lot of Rotiserias survive entirely on these three menu options.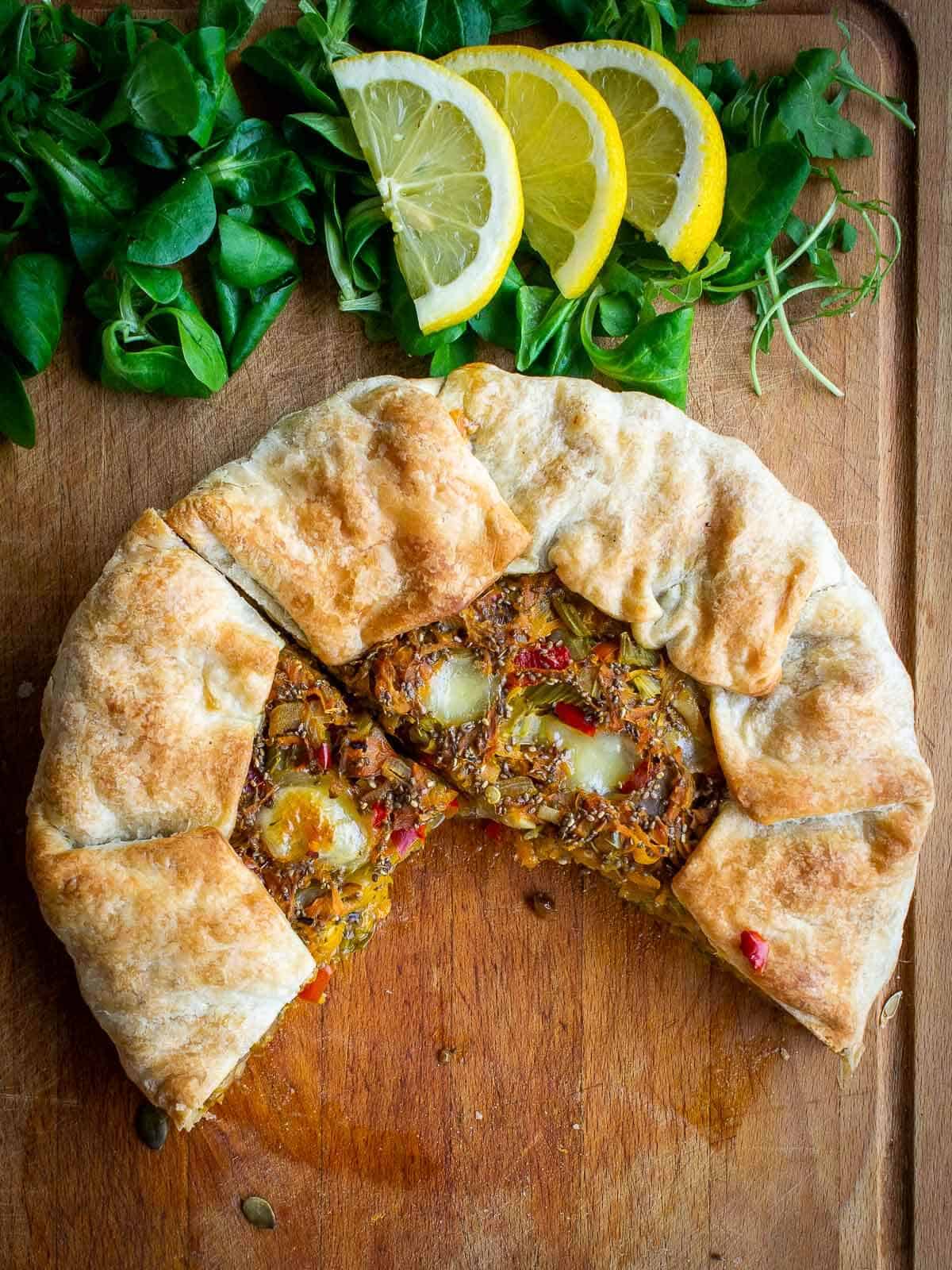 The recipe idea
The idea of creating this delicious carrot recipe came from Argentinean memories. About fifteen years, a friend used to make a cheese and carrot tart that I could never get enough from.
I remembered this tart a couple of months ago while in quarantine with Joaco's parents. So I re-created it, replacing the eggs for the chia seeds and the mozzarella cheese for a vegan mozzarella and voilà! It became an instant favorite, and I started making it every week.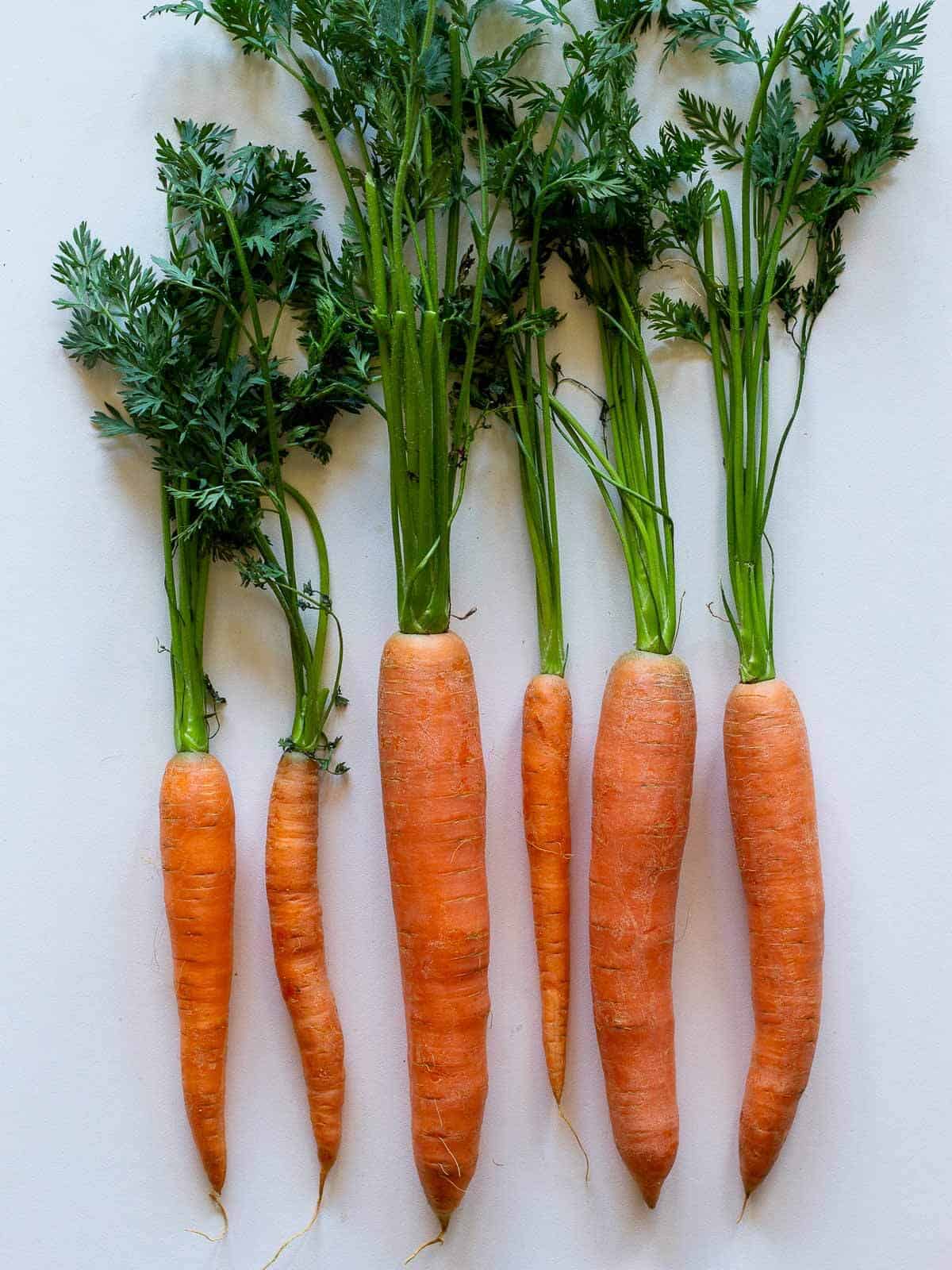 Carrots are an excellent source of beta carotene, fiber, and antioxidants. They also have several health benefits and have been linked to lower cholesterol levels and improved eye health.
A simple carrot recipe works both as a main dish or a side dish when paired with a nice salad. That way, you have a complete meal.
Benefits of carrots
These are 10 Benefits of Carrot juice and drinking this morning elixir
Improve skin health: carrots have beta-carotene and Vitamin C. Both may protect your skin from damage. In addition, our body needs Vitamin C to produce collagen.
Improve sight: beta-carotene also helps to protect your eyes and lowers your chances of eye problems.
Heart health:  the potassium in carrots can help keep your heart health in check.
Anticancer effects: Antioxidants in carrots fight harmful free radicals in your body, and that can make you less likely to have cancer.
Promote liver health: antioxidants in carrots reduce liver toxicity. 
Anti-inflammatory properties: carrots and other orange vegetables are rich in vitamin A and beta-carotene, both believed to have anti-inflammatory properties.
Improve the digestive tract's function: carrots have a lot of fiber, which helps keep the digestive system healthy and balancing our blood sugar levels. This is because fiber helps our body to release energy coming from sugar slower.
Immune booster property: carrot celery juice may give your immune system a boost protecting immune cells from free radical damage.
Fight insomnia: carrots also pack several other sleep-promoting nutrients like Vitamin A, biotin, potassium, and Vitamin B6.
Carrots have powerful antioxidants: all those antioxidants are also good for your heart and help fight free radicals.
Carrot Tip (how to better absorb the carrot's nutrients): Beta carotenes are fat-soluble and insoluble in water, so make sure to eat them with some healthy oil such as coconut oil when cooked or extra virgin olive oil in your salads.
To learn more about the benefits of Carrots.
Include more Carrots in your daily routine: Have this Apple, Carrot, Celery Juice First Thing in the Morning.
More Argentine Cuisine Favorites?
If you try this recipe, let us know! Leave a comment, rate it, and don't forget to tag a photo #ourplantbasedworld on Instagram. Cheers!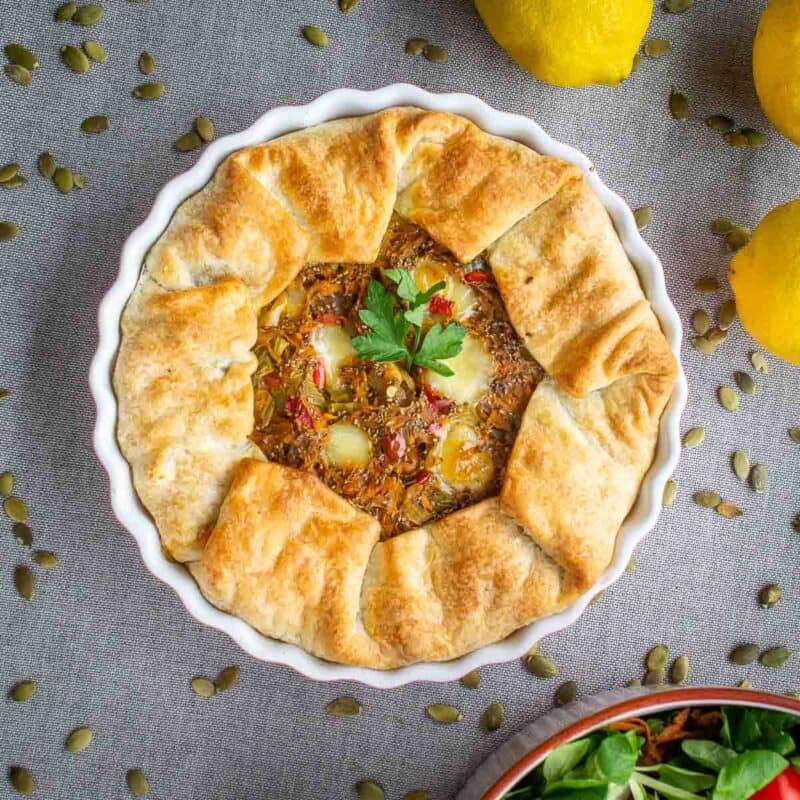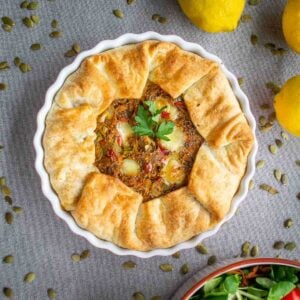 Recipe: Savory Carrot Tart
This Vegan version of an Argentinean Tart is an excellent option to have a guilty-free Carbs lunch.
Ingredients
Serve with a green salad, I suggest Rucola and cherry tomatoes.
Instructions
Pre-heat the oven at 400ºF (200ºC) for 10 mins.

Hydrate the chia seeds in one cup of warm water for 10 mins. This wil create a gel called chia egg.

Oil an 8" pan and place the pie crust on it. Pinch with a fork (this will ensure it gets cooked evenly).

Peel and shred the carrots.

Chop the rest of the vegetables and stir fry them in a pan. Stirring regularly. If the mix sticks, add a little amount of water.

1 medium white onion

,

2 garlic cloves

,

2 celery stalks

,

1 red bell pepper

Cook. The carrots, herbs, and spices and stir for a couple of minutes.

2 garlic cloves

,

½ teaspoon thyme

,

½ teaspoon oregano

,

Pinch of nutmeg

Remove. Take the Mix off the fire and let it cool down for 5 mins and remove any excess liquid.

Cut the vegan mozzarella into cubes.

8 ounces vegan mozzarella cheese

Add the chia egg to the Mix, along with the cheese cubes.

Lay the oats flakes in the baking pan (this with absorbing any residual moisture from the carrots mix, ensuring your crust is cooked well and doesn't end up mushy).

Pour the mix into the baking pan.

Bake for 30-40 mins.

Let it rest for 10 mins before serving.
Nutrition
Calories:
536
kcal
Carbohydrates:
54
g
Protein:
9
g
Fat:
32
g
Saturated Fat:
9
g
Trans Fat:
1
g
Sodium:
790
mg
Potassium:
424
mg
Fiber:
11
g
Sugar:
5
g
Vitamin A:
11156
IU
Vitamin C:
45
mg
Calcium:
177
mg
Iron:
4
mg
Nutrition Facts
Recipe: Savory Carrot Tart
Amount per Serving
% Daily Value*
* Percent Daily Values are based on a 2000 calorie diet.
Food safety
We sometimes take for granted that we have years (or decades) of cooking experience that the average visitor may not. Add to, or remove from, the list below with health and safety tips.
Cook to a minimum temperature of 165 °F (74 °C)
Do not use the same utensils on cooked food, that previously touched raw meat
Wash hands after touching raw meat
Don't leave food sitting out at room temperature for extended periods
Never leave cooking food unattended
Use oils with high smoking point to avoid harmful compounds
Always have good ventilation when using a gas stove
See more guidelines at USDA.gov.
The information shown is an estimate provided by an online nutrition calculator. It should not be considered a substitute for a professional nutritionist's advice. See our full Nutritional Disclosure here.
Please note that some of the links here are affiliate links and I will earn a commission if you purchase through those links. I use all of the products listed and recommend them because they are companies that I have found helpful and trustworthy.