Ready to level up your dinner game? Say hello to our Baked Caramelized Stuffed Onions and Mushrooms! This dish is a flavor bomb that's about to explode in your mouth. Imagine tender onions, caramelized to perfection, stuffed with a mouthwatering mix of mushrooms, vegan cheese, and a sprinkle of herbs. It's the kind of meal that makes you go "Mmm" with every bite. Plus, onions are packed with antioxidants and mushrooms are a great source of Vitamin D. So not only is this dish delish, but it's also doing your body some good. Let's get cooking, shall we? 🍄🔥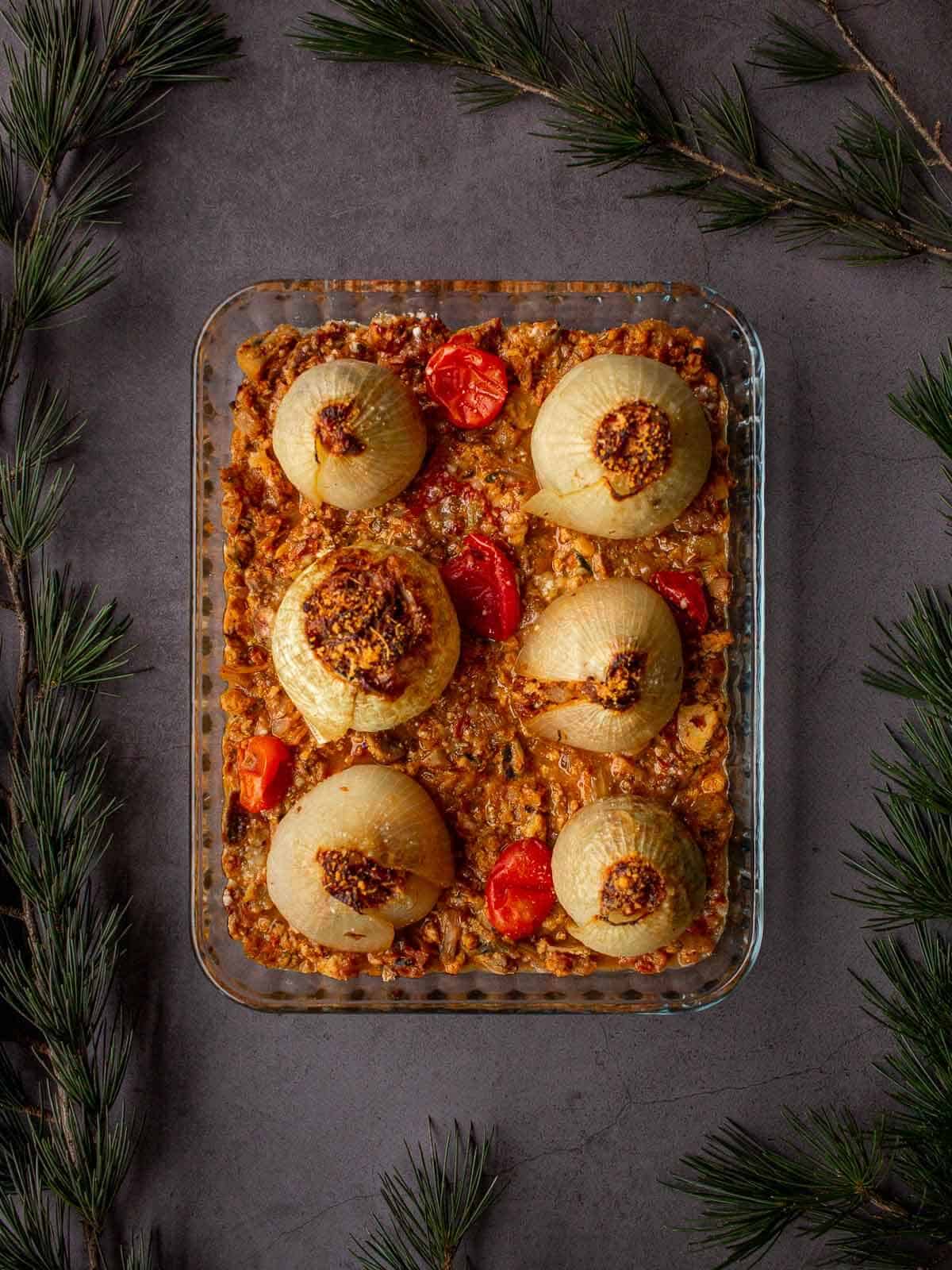 This recipe for stuffed onions calls for porcini mushrooms and firm tofu to make a sublime stuffing. They are a total game-changer and one of our favorite porcini mushroom recipes!
Porcini mushrooms are freshly available during the fall season, so it is easier to find dishes that rely on this delicious mushroom as part of the fall recipes favorites.
This recipe makes a perfect Holiday season side dish or can even make the main dish if serving more than one.
Jump to:
🧾 Ingredients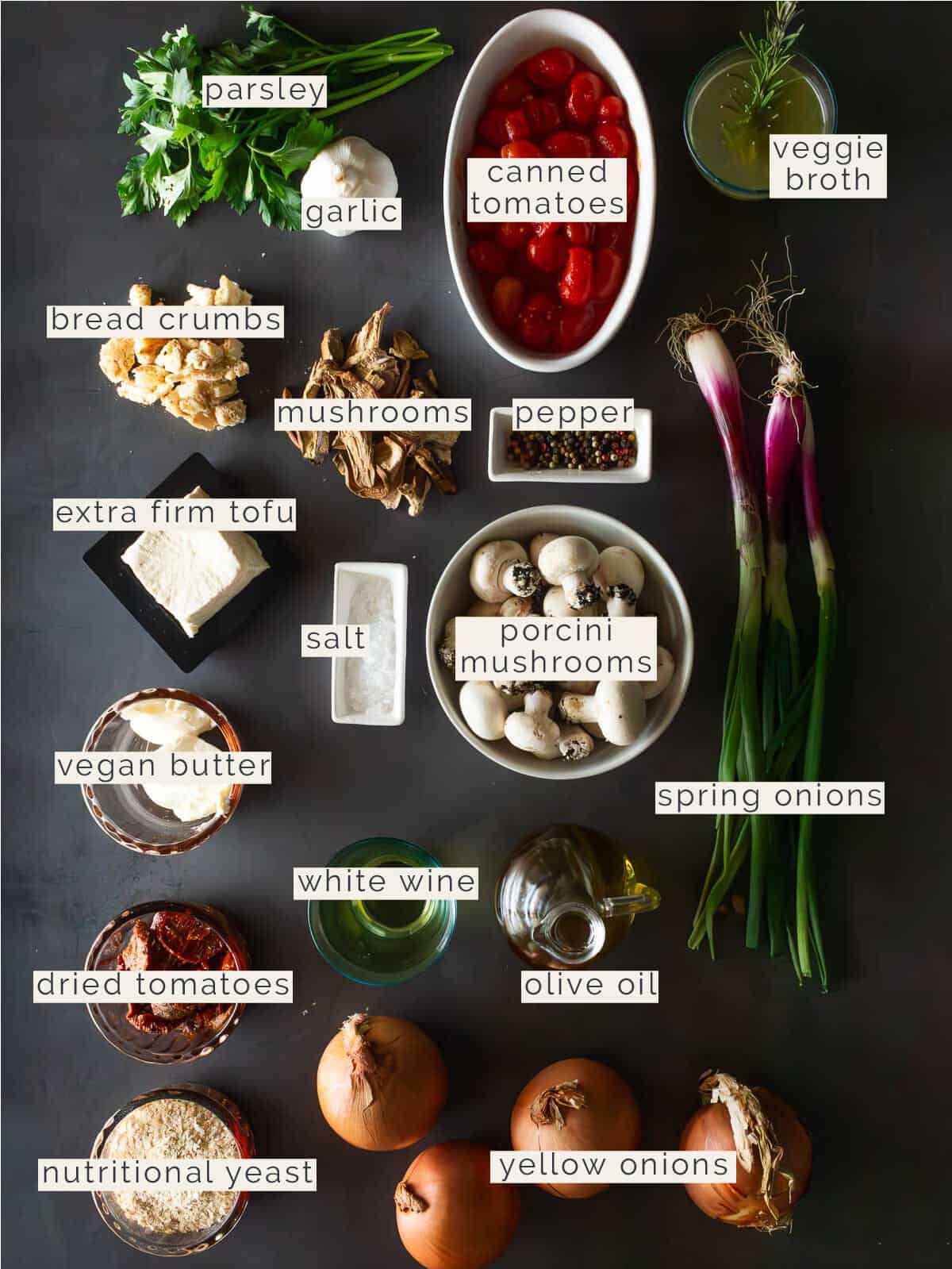 Large Yellow Onions: These beauties serve as the perfect edible bowls, and their natural sweetness elevates when caramelized, adding a rich depth to the dish.
Porcini Mushrooms: Known for their earthy, nutty flavor, they add a gourmet touch and a meaty texture that's to die for.
White Wine: A splash of this elevates the flavors and helps in adding flavor to the onions, making sure you get every bit of deliciousness.
Garlic: It's the flavor backbone, offering a punch of aroma and taste that complements the mushrooms like a dream.
Extra Firm Tofu: This plant-based powerhouse adds protein and soaks up flavors like a sponge, making it a perfect filler.
Dried Tomatoes: These little gems add a concentrated burst of tangy sweetness, giving the dish a Mediterranean flair.
Gluten-Free Bread Crumbs: They offer that much-needed crunch and help bind the stuffing, all while keeping the dish gluten-free.
Mushrooms: A versatile veggie that adds umami and texture, making the stuffing irresistibly good.
Canned Tomatoes: These provide moisture and a touch of acidity, balancing out the richness of the other ingredients.
Nutritional Yeast: This is your go-to for cheesy flavor without the dairy; it also packs in essential B-vitamins.
Fresh Parsley: A sprinkle of this green goodness adds color and a burst of freshness, making each bite even more delightful.
Optional: spring onions, vegan butter, olive oil.
See quantities and complete instructions in the recipe card.
🔪 Instructions
Step 1: Prepare the stock.
Simmer the porcini mushroom in boiling water for 5 minutes and set aside.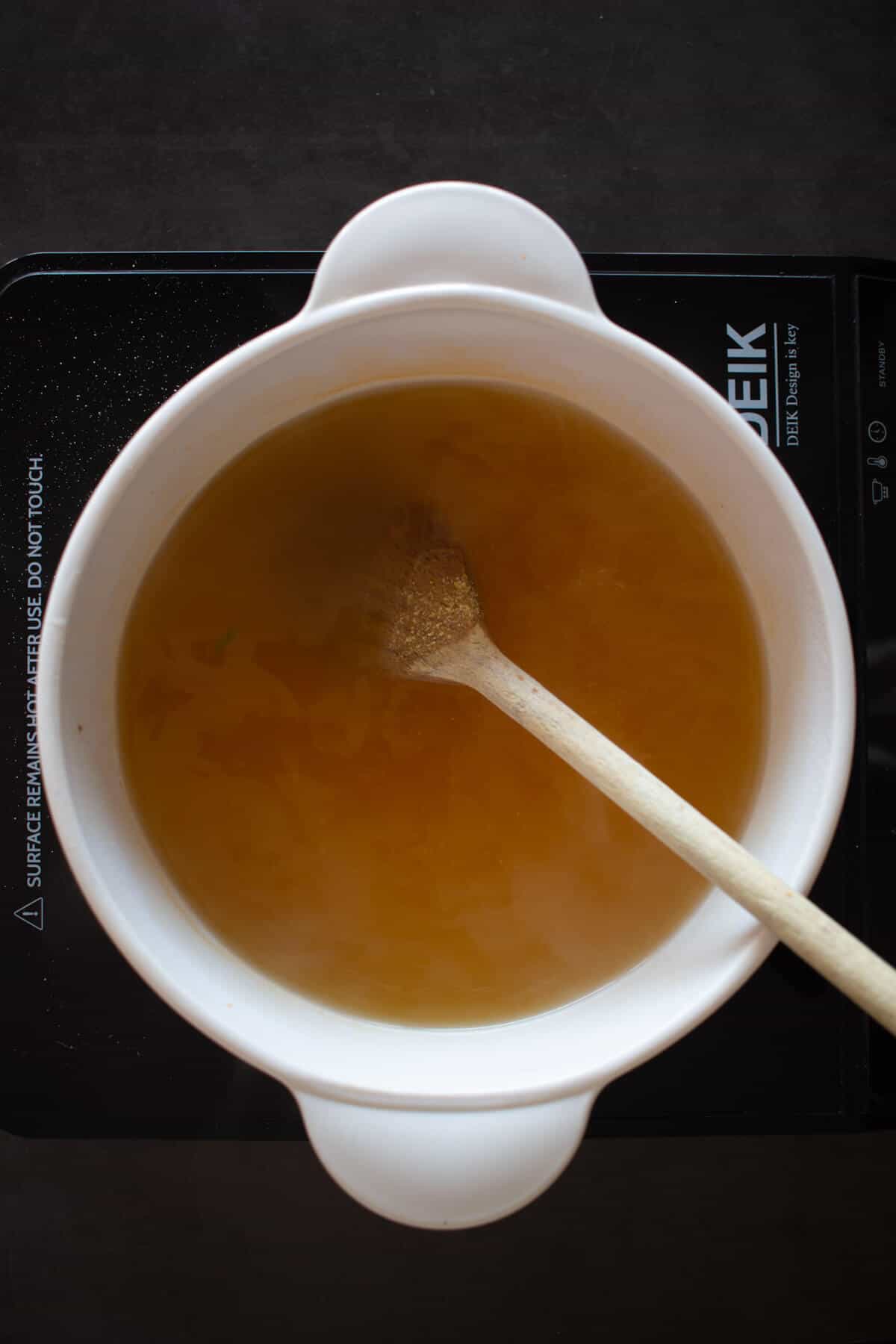 Step 2: Prepare the onions.
Peel each whole onion carefully. With a sharp knife, cut the tops and bottoms of the onions.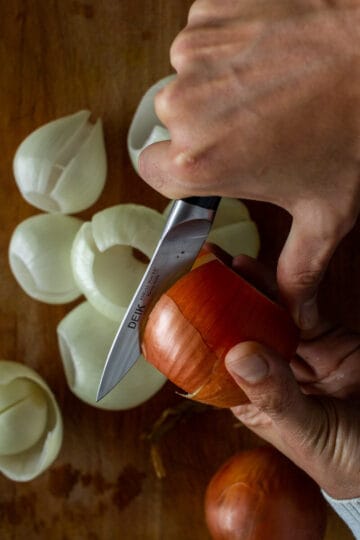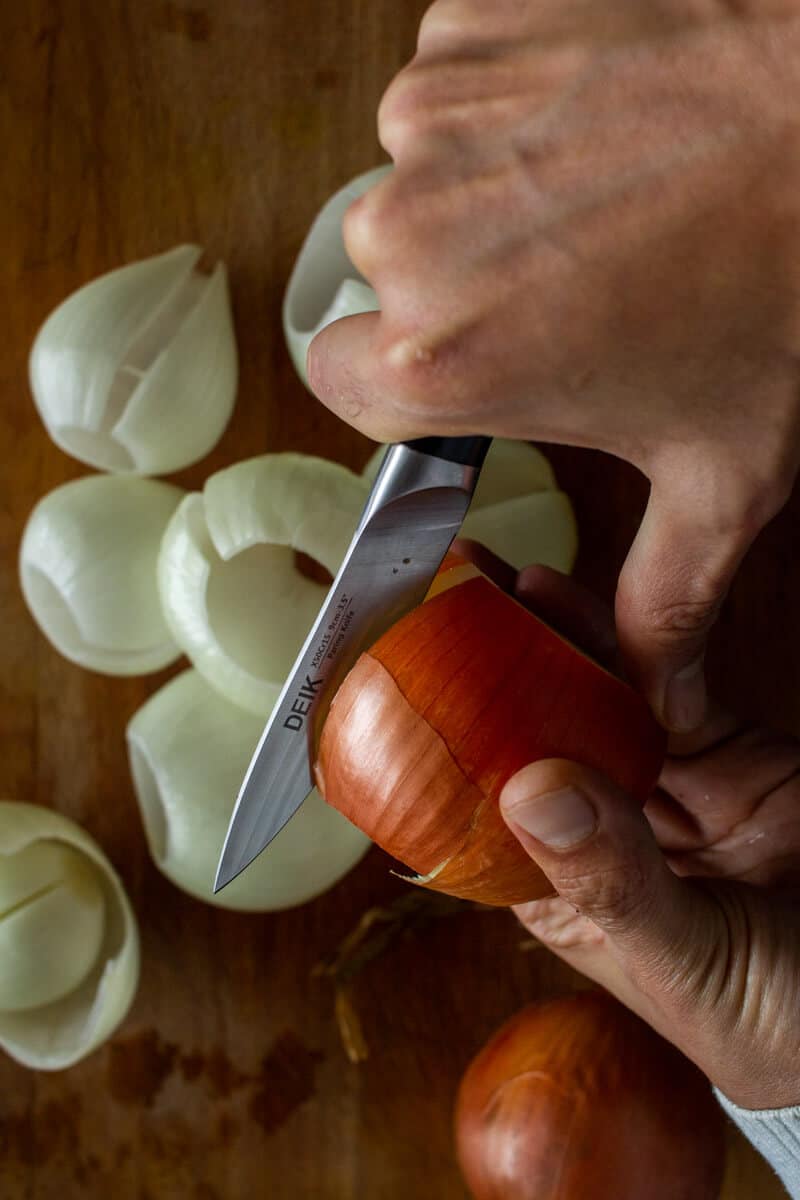 Then cut top to bottom, placing the knife's tip at the center of the onion.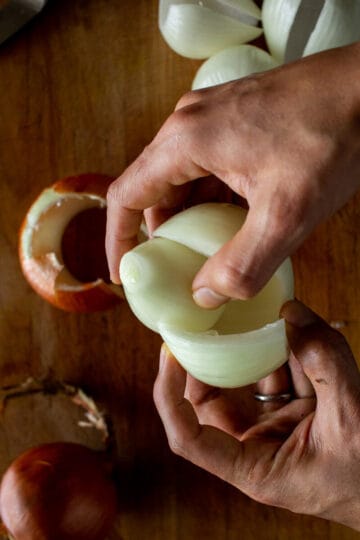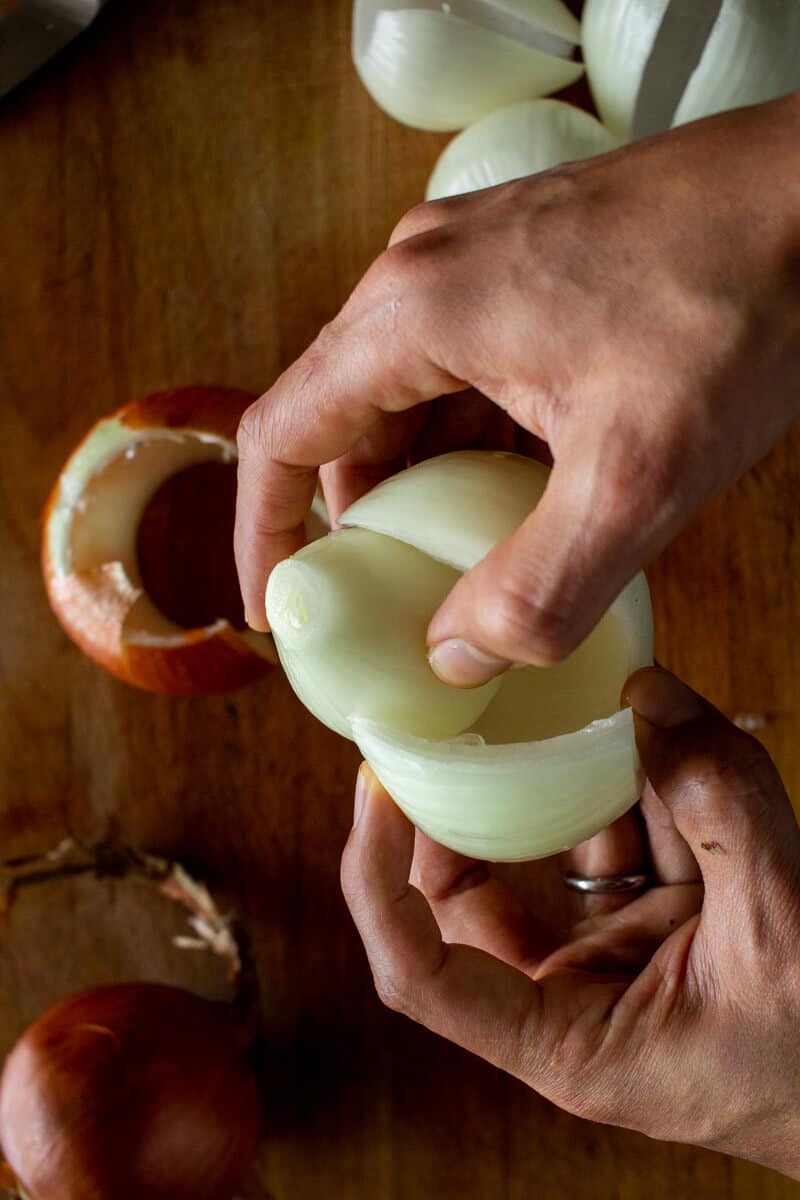 Remove the onion's inner flesh and reserve it for the stuffing.
Hint: carefully remove the inner layers (onion flesh), reserve the onion flash for another use, or chop centers and replace the spring onions for the stuffing.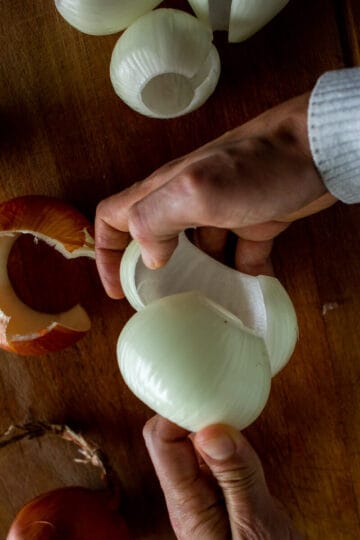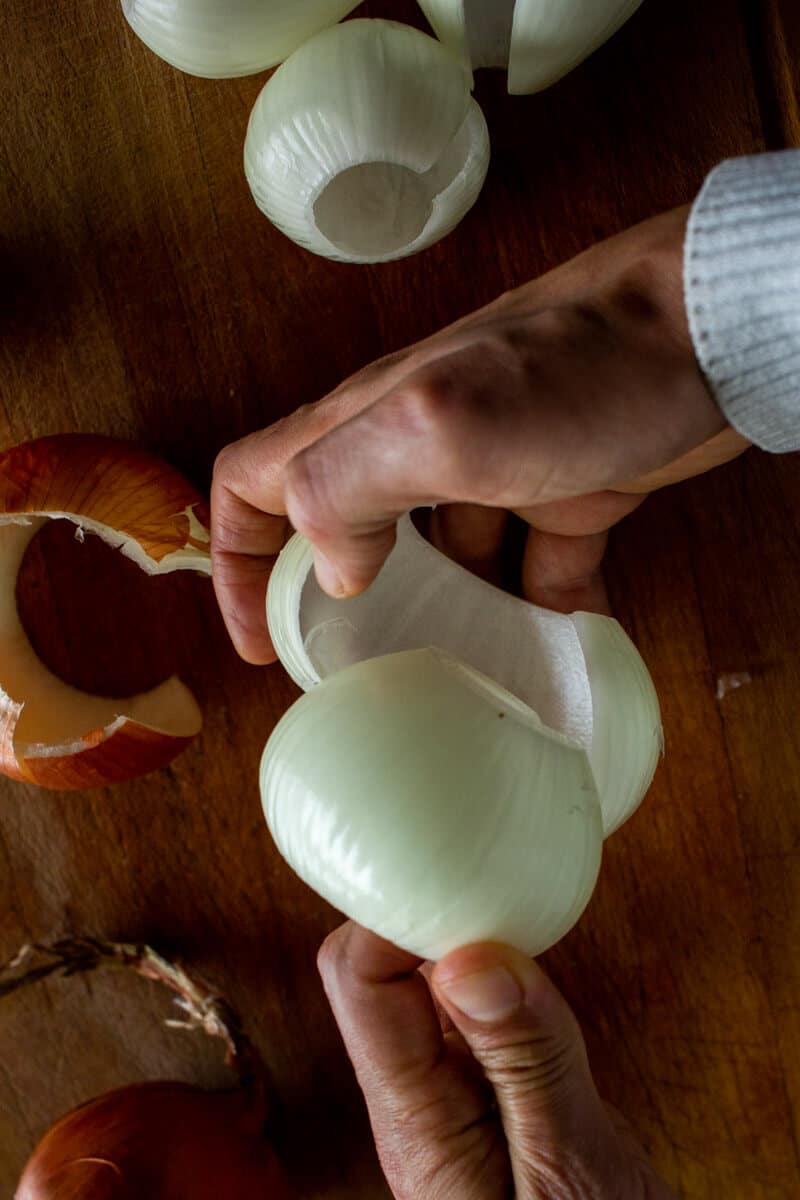 Remove the outer layers carefully.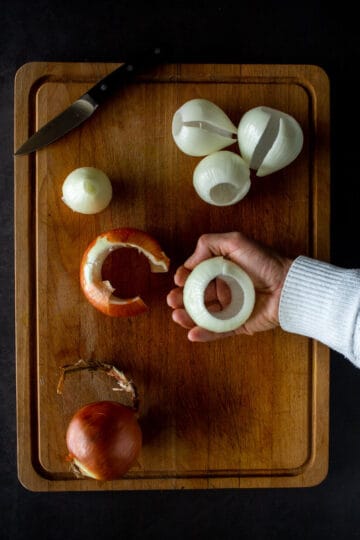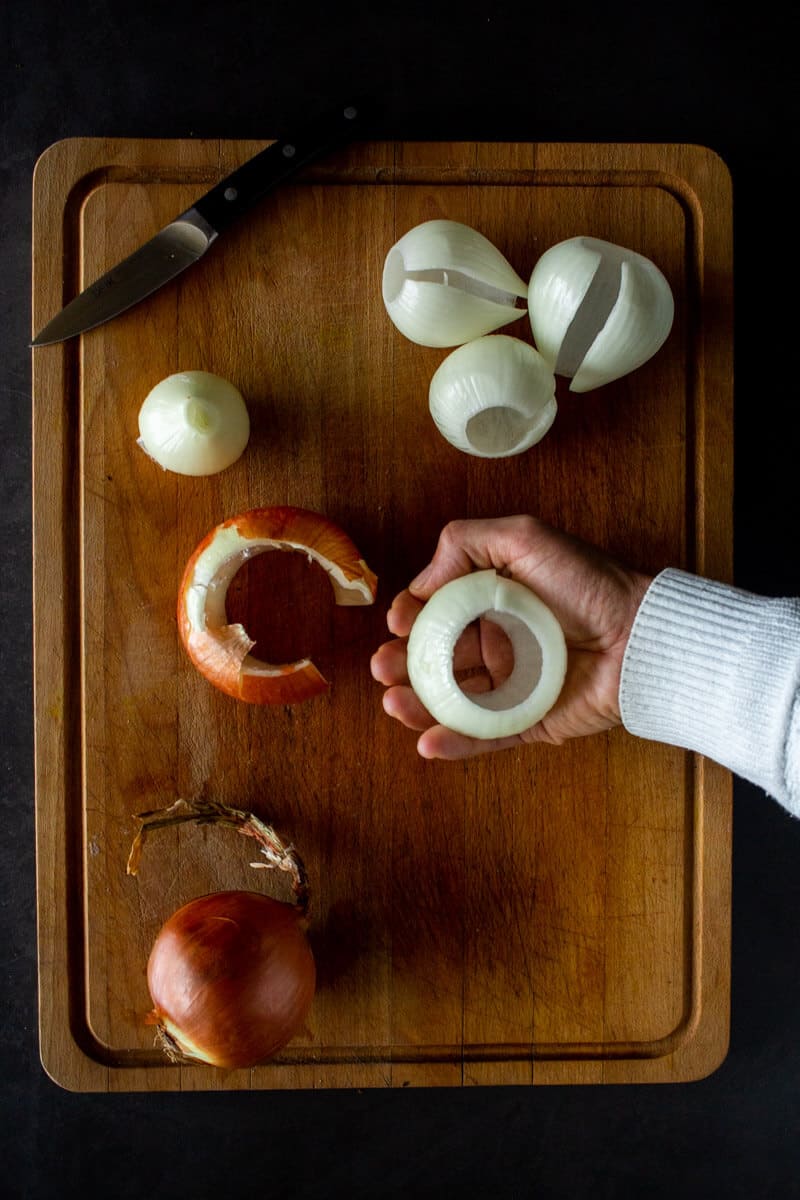 The smaller the holes, the better.
Step 3. Briefly cook the onion's outer layers.
Take off the porcini mushrooms from the saucepan and add the white wine, 1 cup at a time. Simmer for a few minutes, and briefly cook the onion layer, a few at a time. They should not cook much. They only need to be a little tender, as the cooking process will finalize in the oven.
Set aside and let them cool, as you will handle them later with your hands.
Preheat oven to medium-high heat, 350 ºF (175ºC).
Step 4: Making the vegan stuffing mix.
On a medium saucepan, stir the chopped stuffing ingredients, beginning with chopped onion and garlic, then the crumbled tofu, and chopped dried tomatoes, until you add all the remaining ingredients.
Mix everything, occasionally stirring, until you have a nice texture.
Hint: Don't use a food processor; you need your stuffing textures! Add more liquid if needed.
Remove from heat and add the bread crumbs and nutritional yeast to the saucepan or a large bowl. Then, season with a teaspoon of salt and ground black pepper.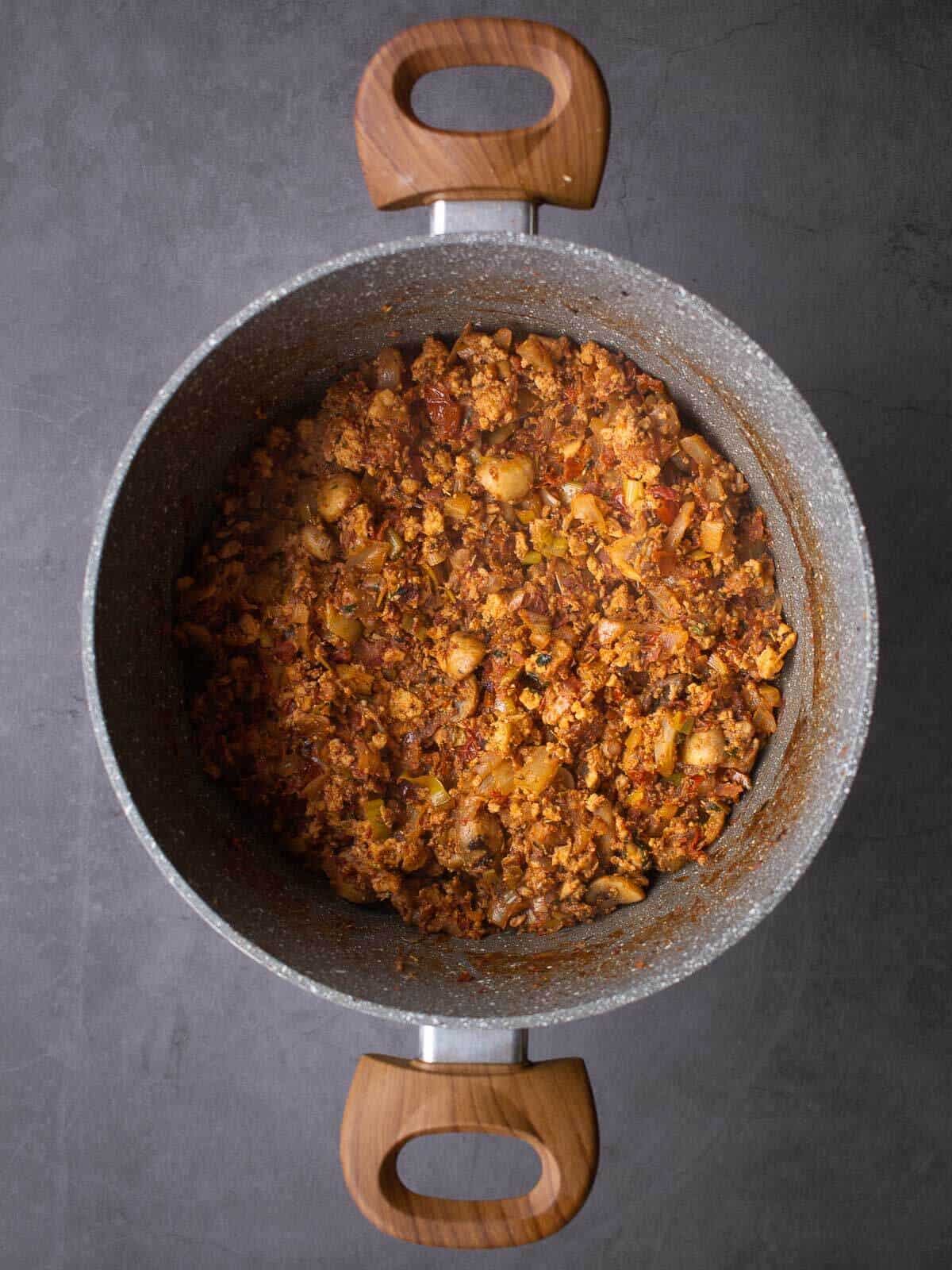 Step 5: Assemble the boiled onions with the vegetarian stovetop stuffing.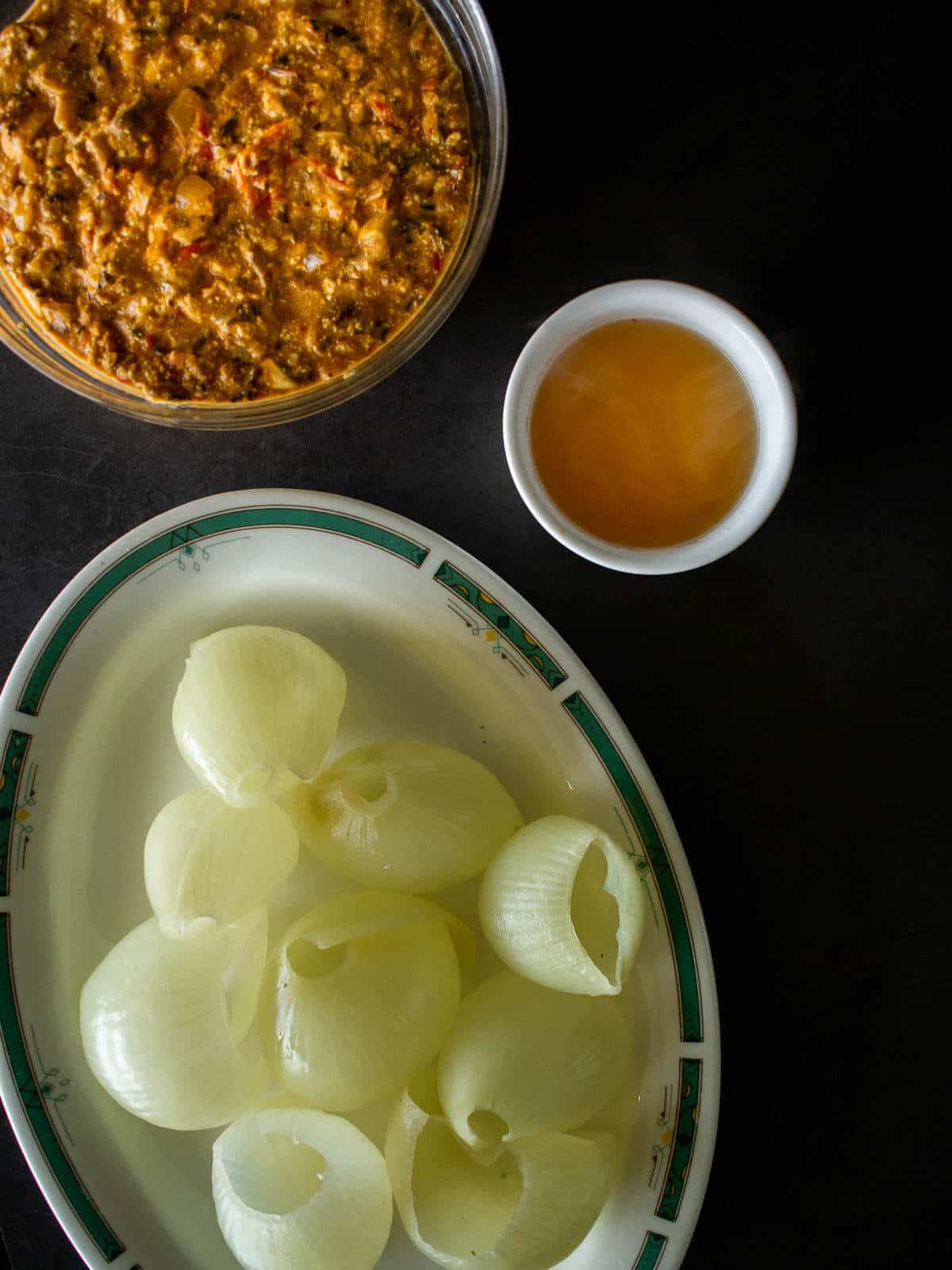 Prepare your table to start stuffing the onion shells and line a baking dish with cooking spray or just a little olive oil.
Stuff the onions with the help of a spoon and secure them with a toothpick.
Step 5. Baking stove top stuffing inside of the onions.
Your stuffed onions recipe will be ready after 45-50 minutes. The stuffed onions are best served warm.
👪 Scaling
The tofu stuffing for these roasted onions can be made ahead of time and stored in the fridge until ready to use. This stuffed onion recipe makes about six onions, perfect for feeding 2-4 people, depending on appetite size!
These baked stuffed onions can make an excellent side dish. If you want to serve these roasted onions recipes as the main dish, we suggest calculating two per person.
I recommend using a pretty baking dish for cooking this porcini recipe, you can even plate the onions using the same dish. If you do so, use a glass or ceramic one.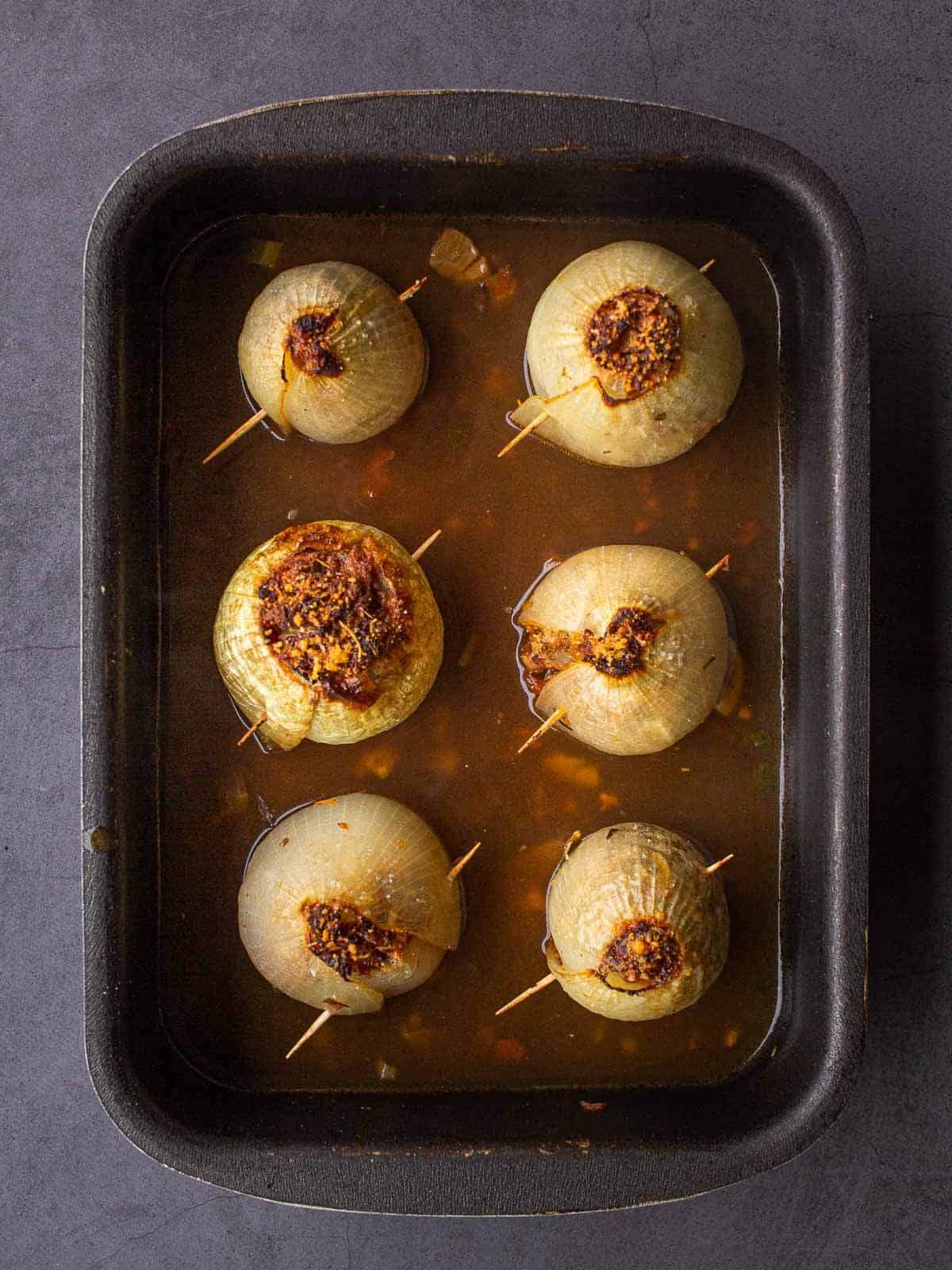 📖 Variations
Tartness - If you like to add some additional festive and tart notes to your stuffing, you can add a handful of dried cranberries to the stuffing while it cooks.
Stuffing volume - You can also add cooked rice to your stuffing to make it bigger. Adjust the seasoning accordingly.
Onions - Sweet onions also work well for this stuffed onions recipe. After you separate the onion shells, the spring onions can be replaced by the remaining onions.
Gluten-free - you can omit the bread crumbs or use gluten-free breadcrumbs. If you skip them, we suggest making a chia egg or flax egg with 1 tablespoon of chia seeds plus 3 warm water. This will help to thicken the stuffing. Also, you should add them while the filling is still being cooked.
🥡 Storage
It's a great recipe for friends and family because it can be made ahead, refrigerated overnight, or frozen in advance.
Store leftover onions in the fridge for up to 3 days, covered in an airtight container.
Freeze the tofu stuffing and keep it for up to 2 months. To use it, let it thaw overnight and use it on your favorite stuffed vegetable recipes, such as stuffed peppers, pasta shells, stuffed zucchini, or eggplants.
You can also have the stuffing with an Italian bread loaf, focaccia bread, cornbread, stuffing, or vegan bread buns.
🥢 How to serve
You may want to serve them alongside some roasted root vegetables like maple-glazed carrots, parsnips, turnips, and potatoes. If you have time before dinner prep starts on Thanksgiving Day, try to roast these ingredients in the oven while preparing other dishes from our blog post about what you need for Thanksgiving Dinner!
This site dish could go well with mashed sweet potatoes if you don't feel like making green beans again.
We love indulging in these flavorful mushrooms, especially if they are from the Piedmont Region in Italy; their flavor is majestic! These stuffed portobellos and herb stuffed pioppini mushroom recipes are good examples.
❓FAQ
How to use porcini mushrooms?
First, you have to make sure you are buying an authentic product. Many products are available in markets with very few mushrooms, so you should be careful when buying them.
Porcini mushrooms have a fresh earthy smell; the younger they are, the more intense their flavor will be. You can use them for cooking different meals, like pasta, stuffing, and casseroles.
This mushroom's special flavor and fragrance make it one of Italy's favorite pickings during autumn, but its price forces one to choose between fresh porcini mushrooms or dried ones.
🍄 More porcini mushrooms recipes
As for dried porcini, mushrooms are used in dishes including mushroom risotto, stuffed pasta shells, or pasta al ragu.
Our suggested Vegan Christmas Menu Post
If you try this recipe, let us know! Leave a comment, rate it, and don't forget to tag a photo #ourplantbasedworld on Instagram. Cheers!
📋 Recipe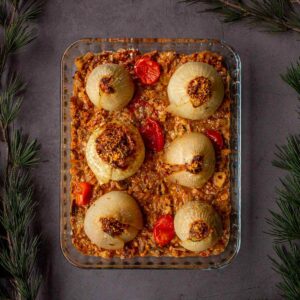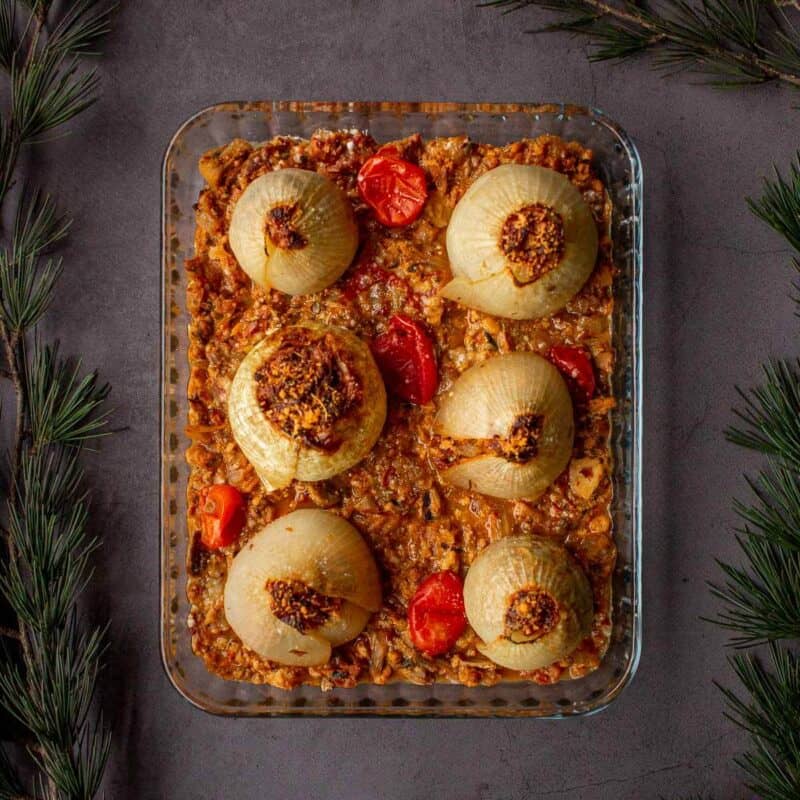 Baked Stuffed Onions and Mushrooms
The tofu and porcini mushrooms make up entirely for any meat craving palates. The stuffing by itself can be used as a Holiday stuffing.
Equipment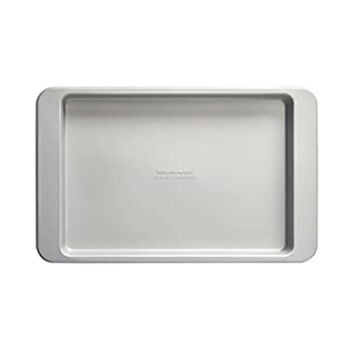 (affiliate link)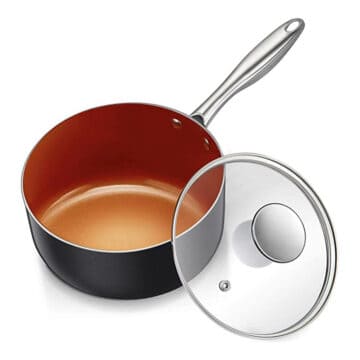 (affiliate link)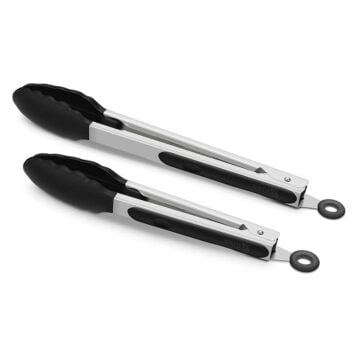 (affiliate link)
Ingredients
4

onions

large

1

ounce

porcini mushrooms

dried, hydrated ,and chopped (simmer in 2 cups of water to cook the onions)

10

ounces

cremini mushrooms

chopped

2

cups

white wine

1

tablespoon

vegan butter

or margarine, omit if following a WFPB diet

3

spring onions

chopped

3

clove

garlic

chopped

9

ounces

firm tofu

extra-firm, crumbled

1

ounce

tomatoes

dried, in oil

4

ounces

breadcrumbs

or 2 chia eggs to make it gluten-free

18

ounces

mushrooms

cremini or portobello, quartered

14

ounces

tomatoes

canned

1.5

ounces

nutritional yeast

1

cup

parsley

finely chopped

1

teaspoon

sea salt

optional, avoid if following a WFPB diet

1

teaspoon

black pepper

freshly ground
Directions
Soak. Place the dry porcini mushrooms in a bowl with 3 cups of hot water for 5 minutes. Reserve the stock.

Preheat the oven to 350 ºF (175ºC). Have ready a small oiled ovenproof dish.

Boil. Place the mushrooms, stock, and white wine in a medium saucepan and bring to boil.
Prepare onions:
Meanwhile, trim ¼ inch off the top and bottom of the onions.

Cut them lengthways in half and remove the brown skin.

Gently remove most of the insides (keep these for another use), retaining two or three of the outer layers.

Carefully separate the outer layers from each other and place them in the simmering stock, a few at a time. Cook for 3 to 4 minutes, or until just tender.

Drain well and cool slightly. Keep the stock.
Prepare the stuffing:
On a Medium Saucepan, melt the margarine or vegan butter and stir fry on medium heat the crumbled tofu, chopped drained porcini mushrooms, breadcrumbs, chopped spring onions, and garlic for 5 minutes.

Add ½ cup of white wine, followed by half of the resulting porcini/wine stock.

Add the chopped canned and dry tomatoes, quartered mushrooms, nutritional yeast, chopped parsley, salt, and pepper.

Cook for 10 minutes or until most of the liquid is absorbed.
Assemble and bake:
Fill each onion layer generously with stuffing. Pull the sides together, so you end up with a fat cigar shape and secure them with a toothpick.

Place the onions, seam-side down, in the oiled dish and pour over about ½ cup of the reserved stock, just to cover the bottom of the dish.

Bake for 45 to 50 minutes, or until de onions are soft and lightly colored, and the stuffing is bubbling; add more stock if they dry completely before the end of the cooking process. Serve warm.
Nutrition Facts
Calories:
278
kcal
Carbohydrates:
44
g
Protein:
14
g
Fat:
2
g
Saturated Fat:
1
g
Polyunsaturated Fat:
1
g
Monounsaturated Fat:
1
g
Trans Fat:
1
g
Sodium:
173
mg
Potassium:
649
mg
Fiber:
6
g
Sugar:
9
g
Vitamin A:
784
IU
Vitamin C:
24
mg
Calcium:
122
mg
Iron:
4
mg
Nutrition Facts
Baked Stuffed Onions and Mushrooms
Amount per Serving
% Daily Value*
* Percent Daily Values are based on a 2000 calorie diet.
🌡️ Food safety
Cook to a minimum temperature of 165 °F (74 °C)
Do not use the same utensils on cooked food, that previously touched raw meat
Wash hands after touching raw meat
Don't leave food sitting out at room temperature for extended periods
Never leave cooking food unattended
Use oils with a high smoking point to avoid harmful compounds
Always have good ventilation when using a gas stove
See more guidelines at USDA.gov.
Nutritional Disclaimer
The information shown is an estimate provided by an online nutrition calculator. It should not be considered a substitute for a professional nutritionist's advice. See our full Nutritional Disclosure here.
Affiliate Disclaimer
Please note that some of the links here are affiliate links, and I will earn a commission if you purchase through those links. I recommend all of the products listed because they are companies I have found helpful and trustworthy.