Shell pasta is a classic dish traditionally made with meat or cheese stuffing. This vegan stuffed shells pasta version uses tofu, pesto, and vegetables as the stuffing for a healthy and delicious meal. This dish is easy to make and perfect for a weekend dinner party. Guests will love the creamy sauce and cheesy flavor of the shells.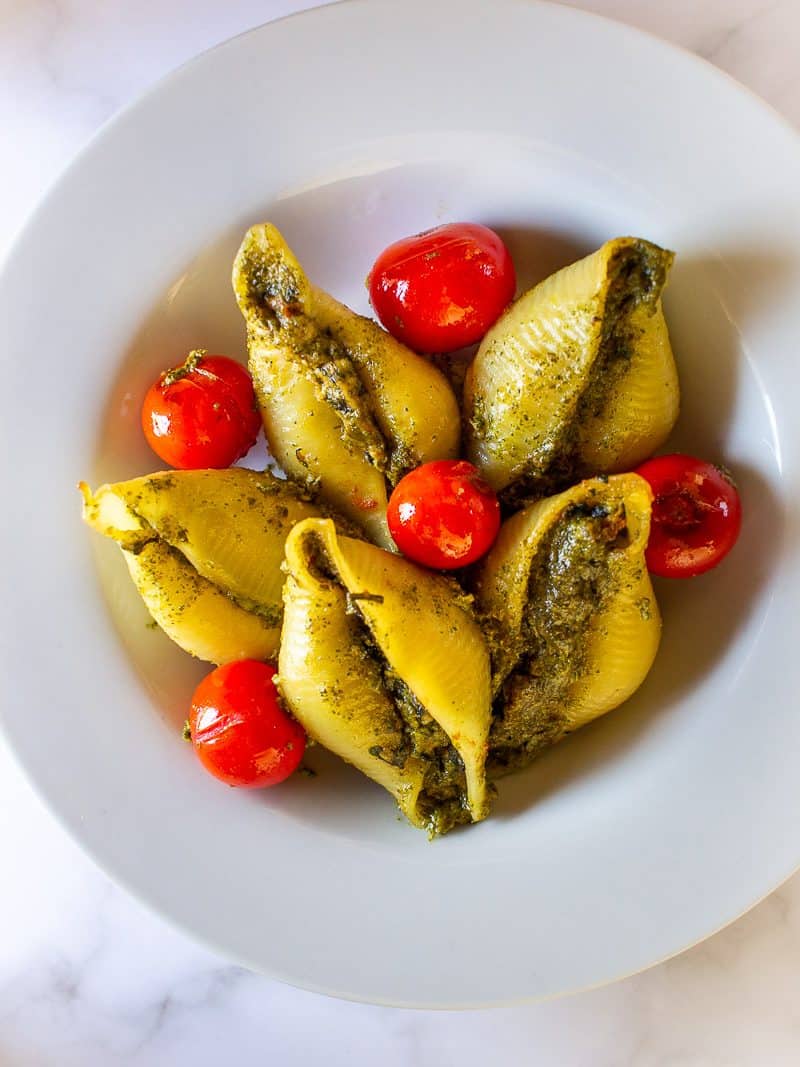 If you're looking for a delectable twist on traditional pasta recipes, this vegan stuffed shells dish is sure to satisfy your cravings. By replacing the meat and cheese stuffing with a tantalizing blend of tofu, pesto, and vegetables, you'll create a mouthwatering combination that will leave your taste buds dancing with delight. Adding lemon juice to pesto adds a refreshing zest to the filling, elevating the flavors and adding a bright citrus note to the dish.
One of the great joys of vegan cooking is discovering the vast array of possibilities that await when it comes to pasta recipes. These stuffed shells dish is a prime example of delicious creations that can be crafted without animal products. By exploring the world of vegan pasta recipes, you'll find a wealth of innovative and flavorful options that cater to a variety of dietary preferences.
The combination of tofu, pesto, and vegetables creates a rich and creamy filling that is reminiscent of the traditional cheese-stuffed shells but without any animal-derived ingredients. The flavors meld together harmoniously, resulting in a dish that is both satisfying and wholesome. Whether you're a seasoned vegan or simply looking to incorporate more delicious vegan recipes into your repertoire, this stuffed shells dish is a must-try that will leave you amazed at just how incredible plant-based cooking can be.
We love that these vegan stuffed pasta shells work perfectly as an entree, side dish, or appetizer and are delicious, accompanied by a kale salad with balsamic marinade.
This stuffed conchiglioni (italian stuffed pasta) was inspired by our stuffed mushrooms and 5-minute vegan basil pesto on this site.
These pasta shells make a perfect special occasion starter. Why not try it out for Valentine's dinner!
Jump to:
🧾 Ingredients
Optional ingredients
Chopped parsley and cherry tomatoes: Chopped parsley brings a fresh and herbaceous note to the dish, while cherry tomatoes provide bursts of juicy sweetness, enhancing the overall visual appeal and taste.
If making homemade pesto. Make the 5-minutes Easy Vegan Pesto Recipe, simply placing all the ingredients in a blender.
🔪 Instructions
Briefly boil the jumbo pasta shells according to package directions until they are just al dente, and reserve them with a little olive oil to prevent them from sticking.
Crumble tofu with your hands, draining any excess water.
Cook tofu. Dice the zucchini and mushrooms, and coarsely chop the dried tomatoes; then cook with a little olive oil, if not using a non-stick pan, stirring occasionally.
Sauté your chopped vegetables, crumbled tofu, and seasonings.
Blend the sautéd ingredients plus all the remaining ingredients in a food processor, reserve there, or place them in a large mixing bowl to work more comfortably.
Fill the jumbo shells with the help of a spoon, holding them with a hand, one at a time.
Prepare for baking, arranging the stuffed shells in a baking dish or casserole dish.
Top with the pesto and let the vegan stuffed shells cook in a preheated oven for 30 minutes at 375ºF (180ºC).
Optionally, briefly cook whole cherry or grape tomatoes in a skillet and reserve.
Serve the pasta shells with the blistered tomatoes and optional fresh basil leaves.
Make this vegan stuffed shells recipe for dinner tonight!
💡Top tip
Use giant stuffed shells to make the stuffing process easier, especially if you plan on having the tofu pesto pasta as a main dish.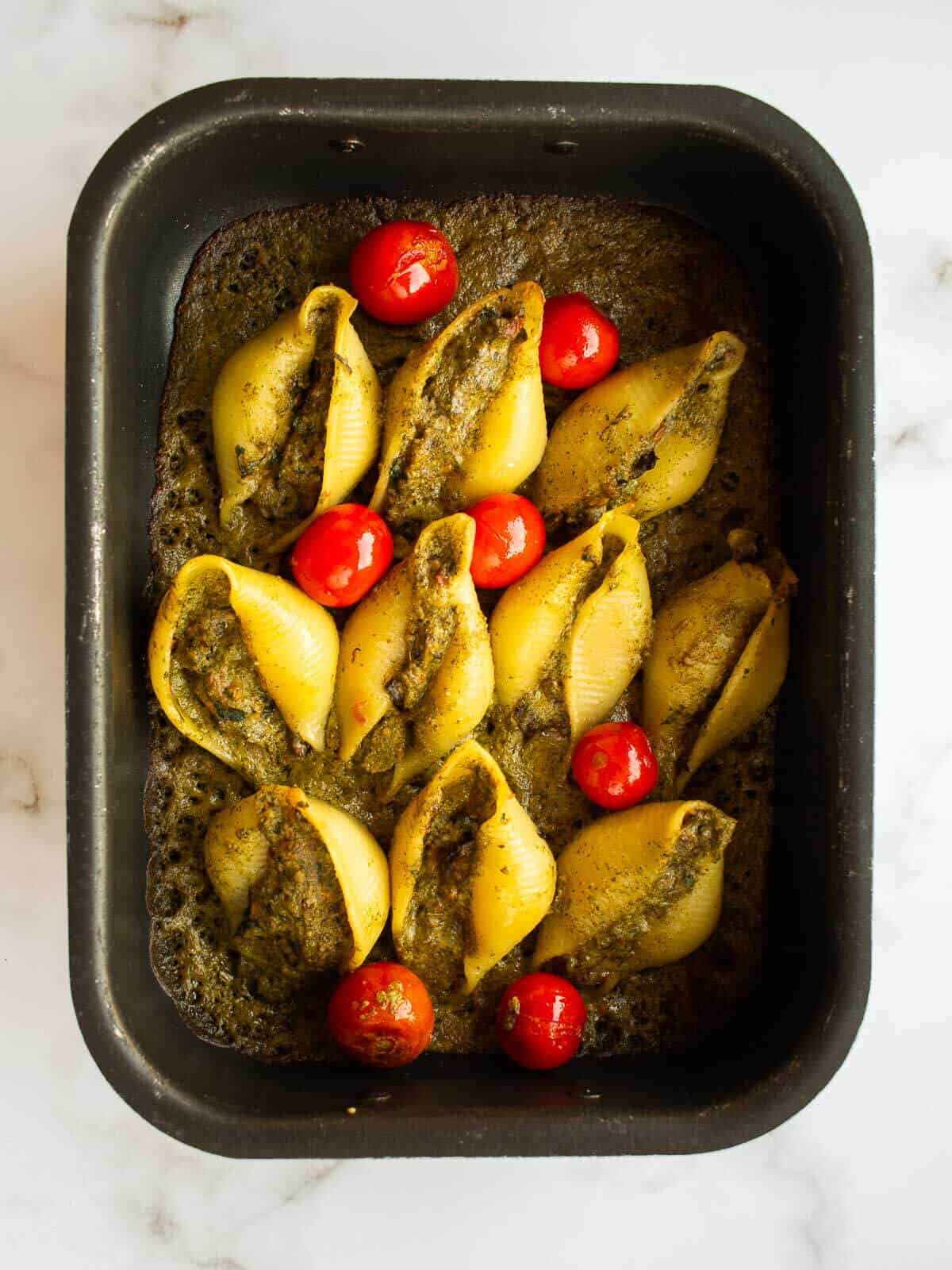 🍶 Substitutions
Here we offer some substitutions to make dairy-free stuffed shells
Hint: add red pepper flakes to make the dish hot.
🍽 Equipment
🥡 Storage
This tofu and pasta recipe is abundant, so it's perfect for serving a crowd, having seconds, or saving leftover stuffed shells for the next day.
Store tofu pesto pasta leftovers in an airtight container in the fridge for up to 4 days.
Alternatively, store them in the freezer for several months, and thaw them overnight before consuming.
🇮🇹 More Italian recipes inspiration
Check out our Vegan Italian Dishes Post.
See more ways to prepare tofu to perfection and how to make crispy tofu.
Tofu is great for making stuffing on vegan dishes; we use it to stuff onions and our stuffed peppers recipe.
If you made these stuffed pasta shells vegan, let us know! Leave a comment, rate it, and don't forget to tag a photo #ourplantbasedworld on Instagram. Cheers!
📋 Recipe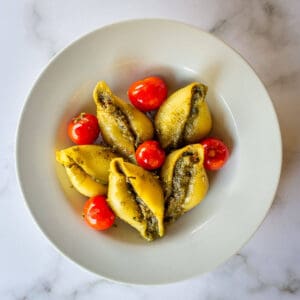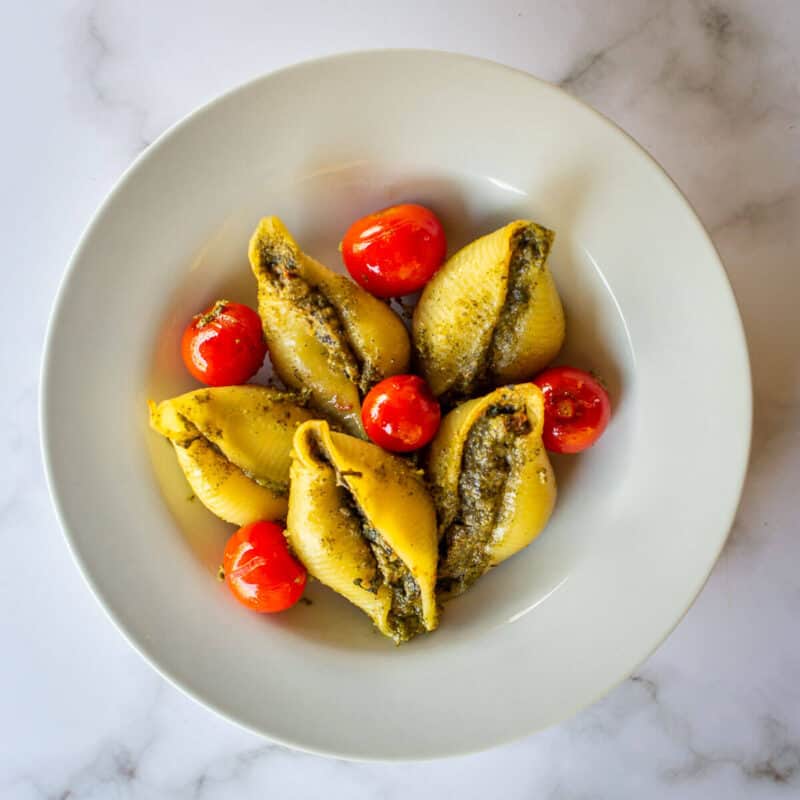 Vegan Stuffed Shells Tofu Pasta Recipe
This tofu pesto pasta is creamy, has a great texture, and is loaded with the most delicious mushrooms and tofu protein-packed mixture.
Equipment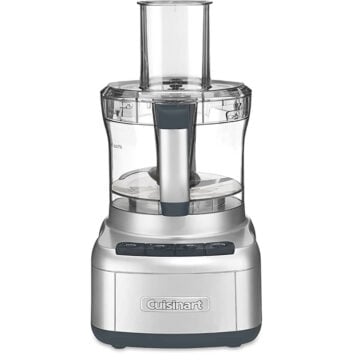 (affiliate link)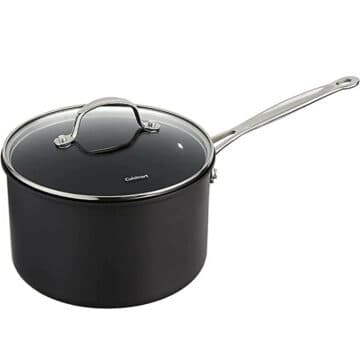 (affiliate link)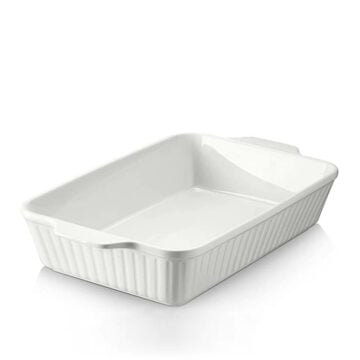 (affiliate link)
Directions
Preheat the oven to 375ºF (180ºC) with racks in the middle and upper third. Bring a large stockpot of water to boil over high heat. Add 2 tablespoons of salt.

Dice the onion, zucchini, and garlic. Crumble the tofu. Cut the mushrooms in quarters. Roughly cut the dried tomatoes, parsley, and spinach. Stir fry everything for 5 minutes. No need to use oil. Let it cool down.

Gently add the pasta shells into the boiling water in handfuls, so they don't break. Cook until al dente, about 10 minutes, often stirring so they don't stick to the pot. Drain off the water, place them under cold running water for 10 seconds, return the shells to the pot, and stir in some olive oil to prevent them from sticking.

Blend. Turn on the food processor and drop the stir-fried mix. Add the breadcrumbs, nutritional yeast, salt, and pepper. Blend well.

Stuff each shell generously with the mix with a teaspoon. Place each stuffed shell in the baker in rows and top the shells with the pesto sauce.

Bake on the middle rack for 30 minutes. Check how it goes and bake for 5 to 10 more minutes if necessary.

Put the cherry tomatoes in an oiled pan, on high heat, for about 1 minute until they start to have blisters.

Garnish the shells with charred cherry tomatoes and some chopped parsley if desired.

Leftover shells will keep well in the refrigerator for up to 4 days or in the freezer for months.
Nutrition Facts
Calories:
566
kcal
Carbohydrates:
106
g
Protein:
31
g
Fat:
5
g
Saturated Fat:
1
g
Polyunsaturated Fat:
2
g
Monounsaturated Fat:
1
g
Sodium:
248
mg
Potassium:
2192
mg
Fiber:
13
g
Sugar:
18
g
Vitamin A:
5669
IU
Vitamin C:
55
mg
Calcium:
165
mg
Iron:
8
mg
Nutrition Facts
Vegan Stuffed Shells Tofu Pasta Recipe
Amount per Serving
% Daily Value*
* Percent Daily Values are based on a 2000 calorie diet.
🌡️ Food safety
Cook to a minimum temperature of 165 °F (74 °C)
Do not use the same utensils on cooked food, that previously touched raw meat
Wash hands after touching raw meat
Don't leave food sitting out at room temperature for extended periods
Never leave cooking food unattended
Use oils with a high smoking point to avoid harmful compounds
Always have good ventilation when using a gas stove
See more guidelines at USDA.gov.
Nutritional Disclaimer
The information shown is an estimate provided by an online nutrition calculator. It should not be considered a substitute for a professional nutritionist's advice. See our full Nutritional Disclosure here.
Affiliate Disclaimer
Please note that some of the links here are affiliate links, and I will earn a commission if you purchase through those links. I recommend all of the products listed because they are companies I have found helpful and trustworthy.