Summertime is the perfect time to enjoy a chilled soup like Gazpacho Andaluz. This recipe is easy to make and perfect for a hot day. This Recipe for Gazpacho Andaluz is a one-of-a-kind cold soup. A delicious and extremely easy-to-make soup. It is a soup that is traditionally consumed as a beverage.
As the sun starts making its way and we start having sunny days, our craving for soups spin towards this staple Spanish dish, more precisely Andalusian.
How does soup sound?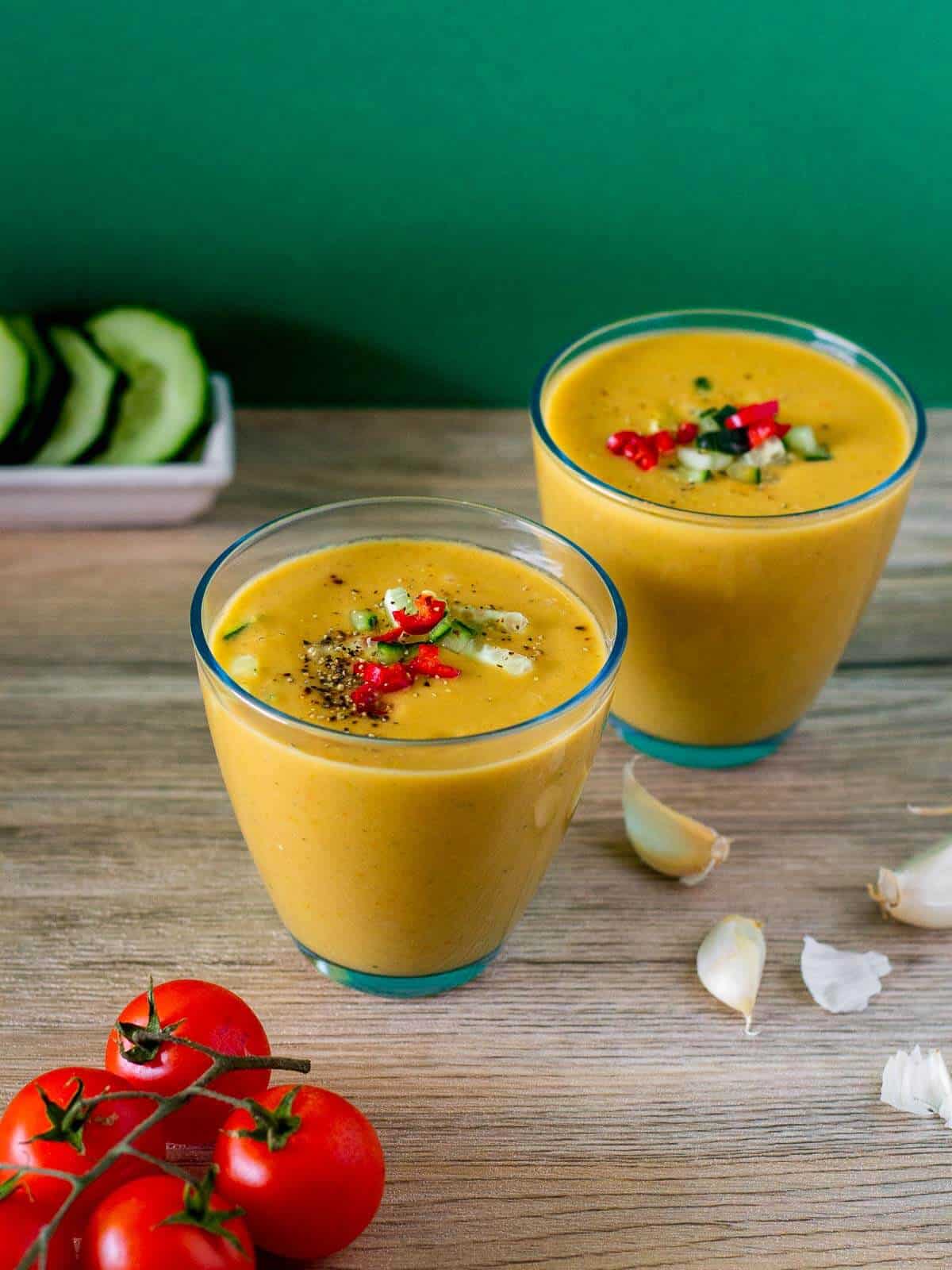 We started having this soup about 3 years ago, when we were on holiday back in my Hometown, Panama, which is very hot.
We met with our Colombian friend Sergio (a one-of-a-kind Photographer), and I was cooking as our Spanish friend Loreto arrived with a bag of vegetables and said: Oh my God! It is so hot out there that I started carving for Gazpacho.
So, she stopped by a store, grabbed some easy veggies, and arrived to make this perfect soup in 5 minutes so we could have it as an appetizer as I finished cooking the main supper.
Once we fell hit, we couldn't stop making this fabulous soup over and over again.
Also, tomatoes are great to boost your immune system, they can be easily included in juices when you don't have a juicer.
🧾 Andalusian Gazpacho Ingredients
ripe plum tomatoes
green bell pepper
small cucumbers
stale bread
white wine vinegar (or sherry vinegar)
extra-virgin olive oil
kosher salt
Optional: small red onion and garlic.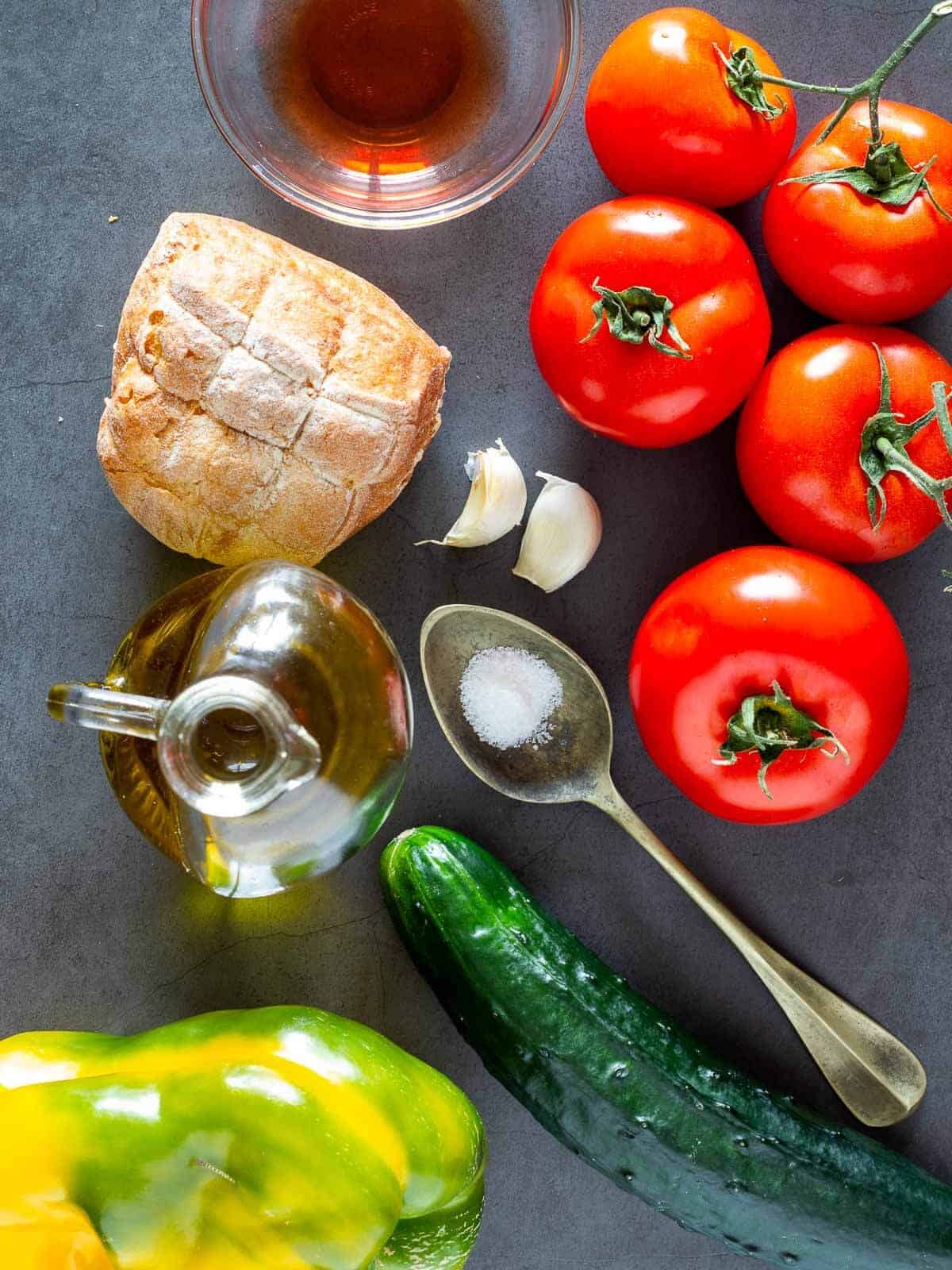 You need ripe tomatoes, cucumbers, green peppers, bread, red wine vinegar (preferably Jerez), garlic, extra virgin olive oil, water, and salt.
Note: omit oil if adhering to a Whole Foods Plant-Based Diet.
🔪 Instructions
Soak bread in water for 5 minutes, but ideally overnight.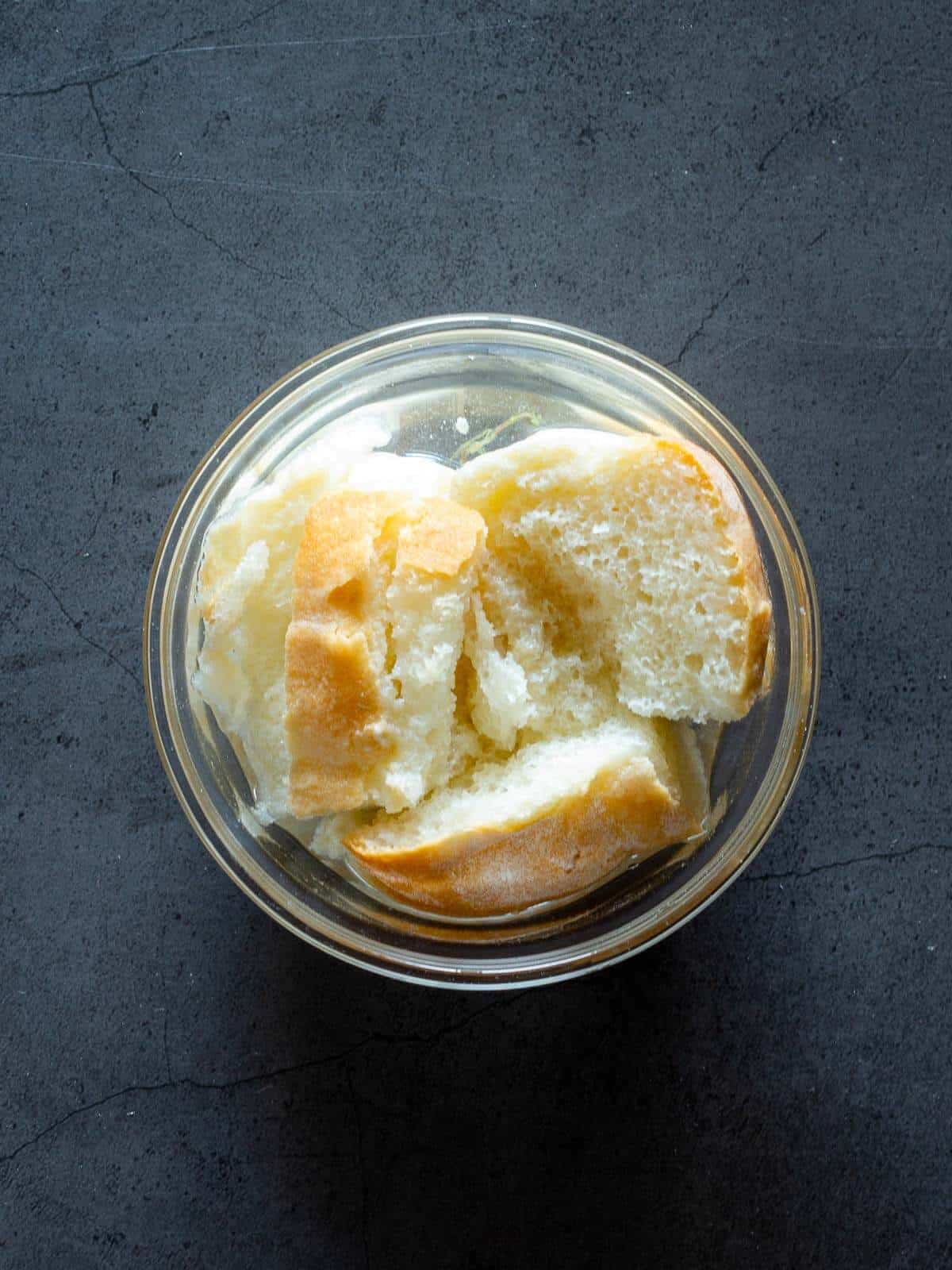 Roughly chop or dice all the veggies, and mince the garlic if using it.
Stir in all the ingredients, including the soaked slice of bread, into a high-speed blender.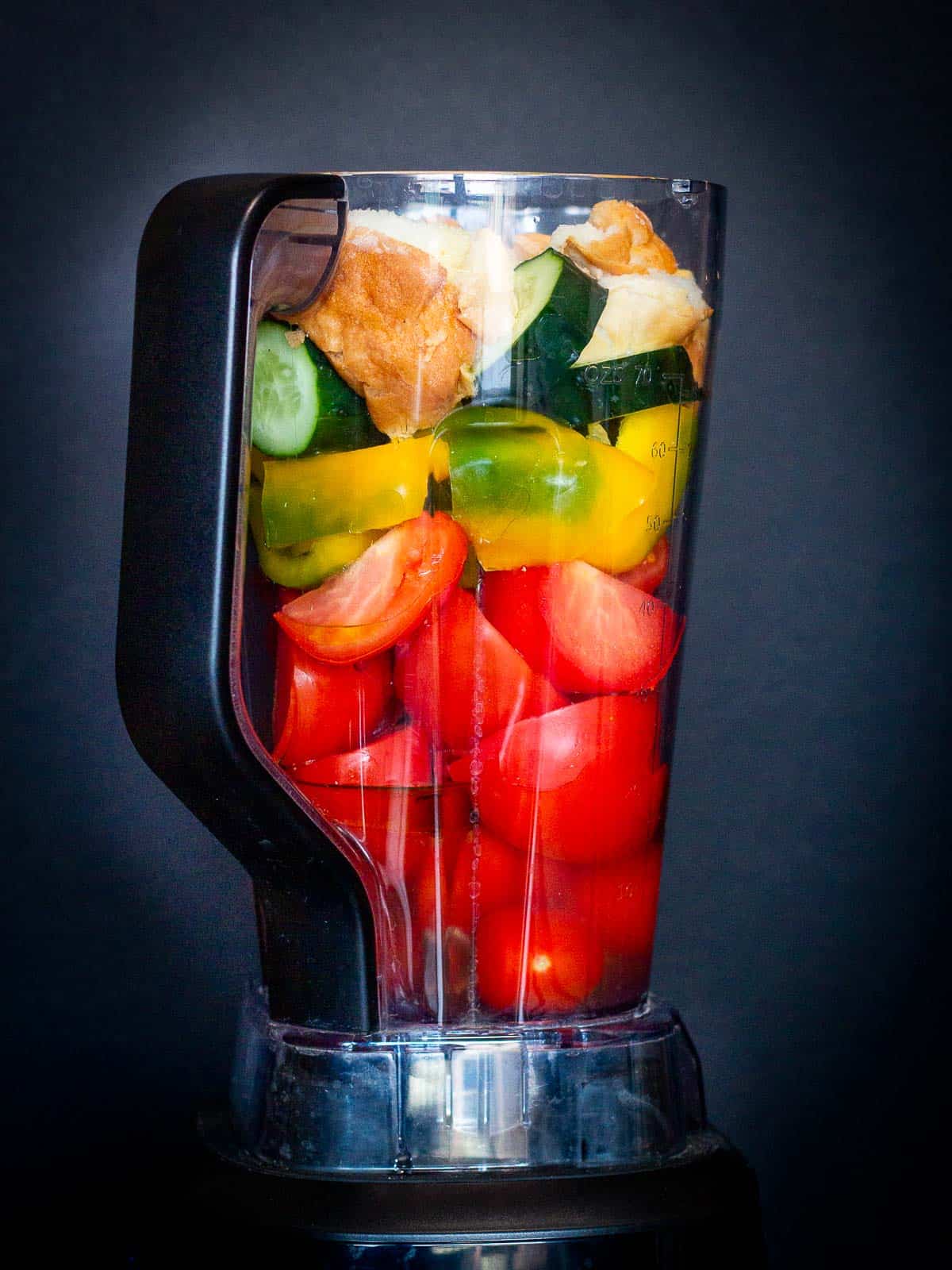 Blend until you reach the desired consistency, as this is a matter of taste. Some people even strain soup through a fine-mesh strainer to have a more beverage-like drink. I prefer to have mine a little chunky.
This cold tomato soup is better when served chilled in the fridge for a couple of hours. Therefore, we recommend reserving it in the refrigerator for a minimum of 1 hour before consuming it.
🇪🇸 History of Gazpacho Andaluz
The Andalusian Gazpacho is an ancient dish mentioned in Greek and Roman literature. However, two of the main ingredients of the modern version, tomatoes and green peppers, were brought to Spain from the New World only in the 16th century.
The most frequent Spanish Gazpacho is the Andalusian version, and it is an uncooked mixture of tomatoes, garlic, olive oil, water, Jerez vinegar (sherry vinegar), cucumbers, and green peppers, thickened with breadcrumbs. Sometimes adding onions depends on the household. The word Gazpacho is derived from the Arabic for "soaked bread."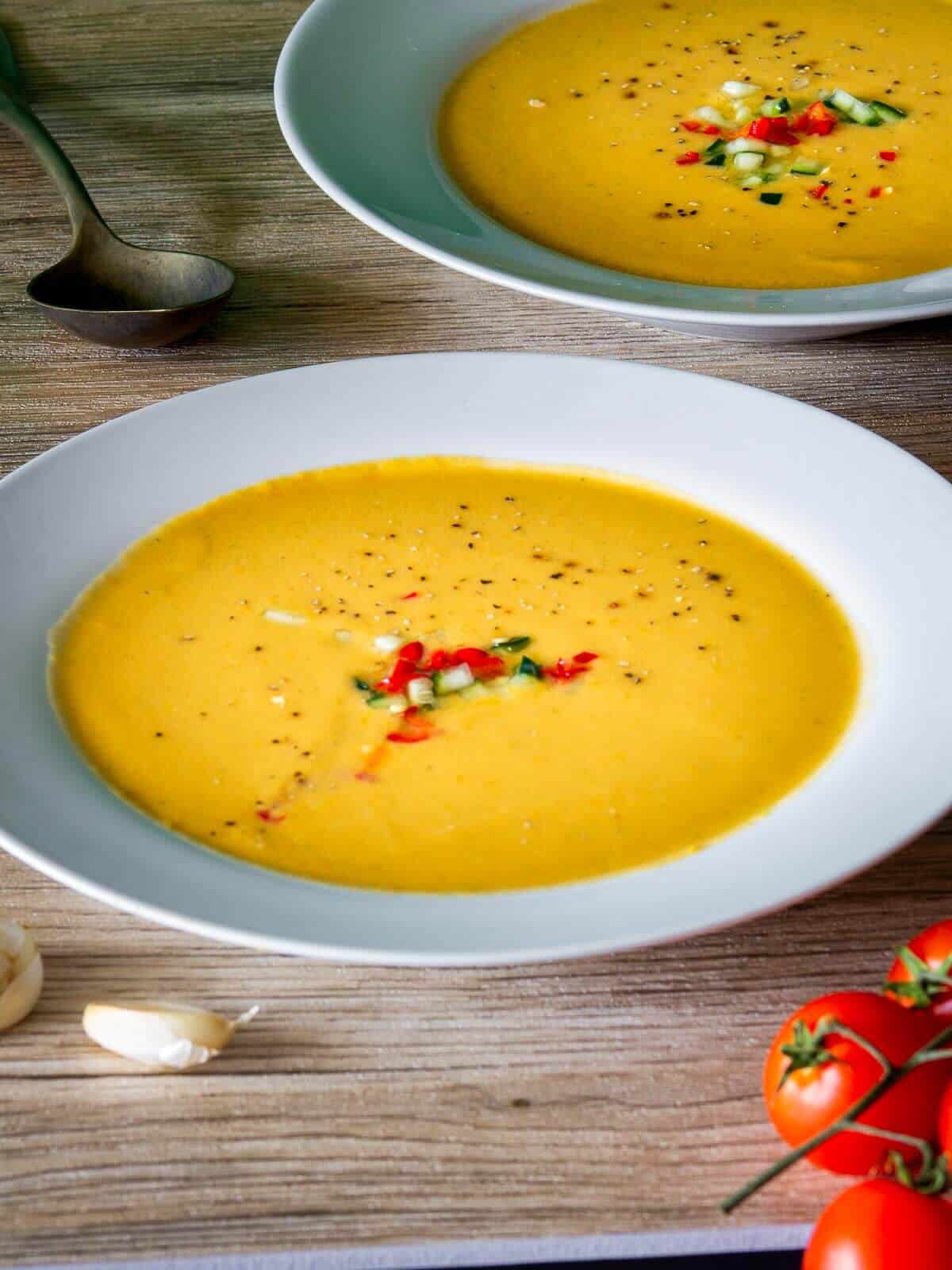 There are several theories as to the origin of this cold soup. The most popular one states that it is a soup made of bread, olive oil, water, vinegar, and garlic and that it arrived in Spain during the time of the Roman Empire's ruling.
In Spain, it was adopted and became a part of Andalusian cuisine.
During the 19th century, red Gazpacho was created when Spaniards added tomatoes to the ingredients, and this is the version that spread internationally.
There are many modern variations of this staple dish, including melon and watermelon, amongst other produce instead of tomatoes and bread.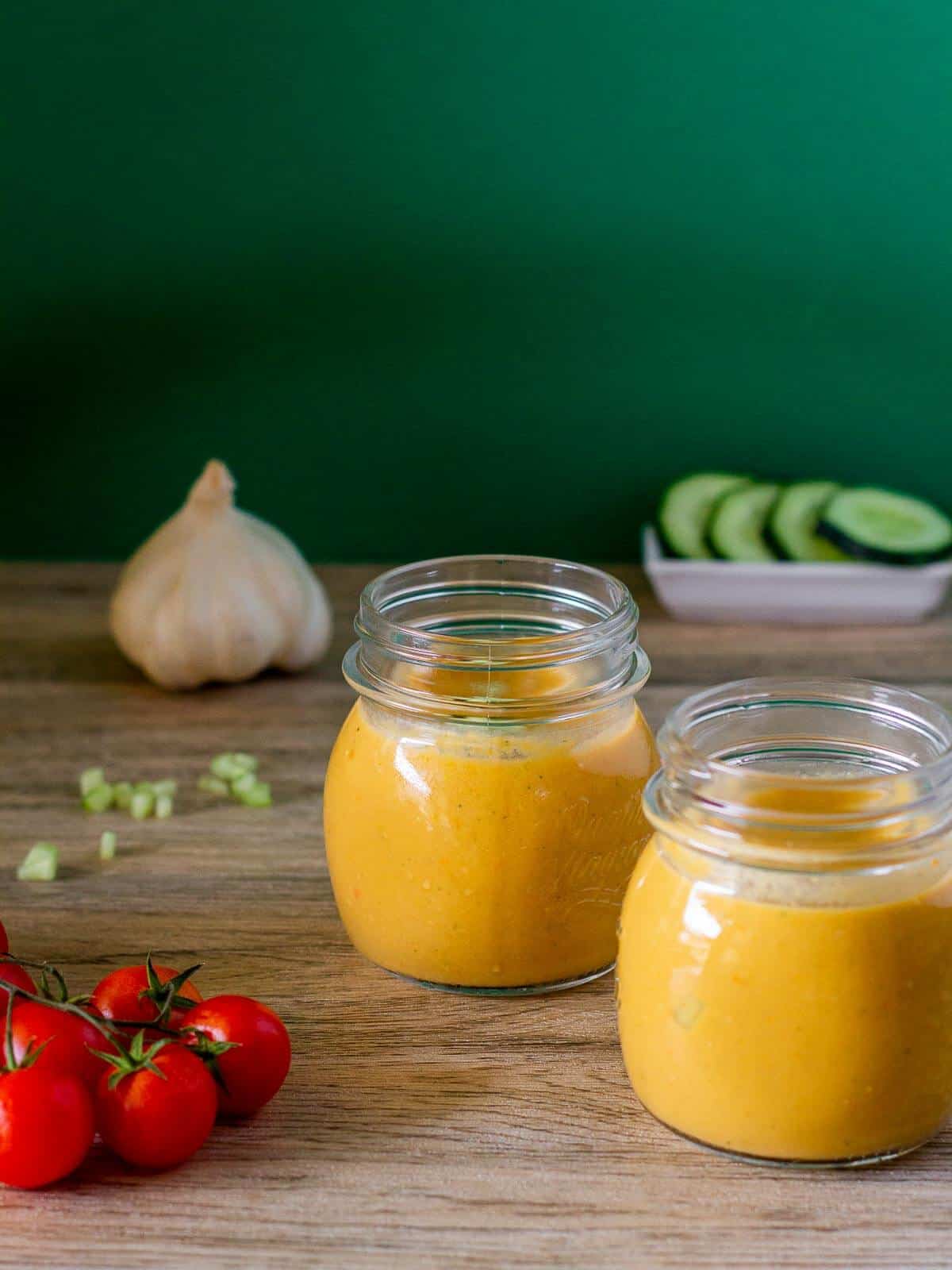 Today we try to adhere to the Recipe for Gazpacho Andaluz, respecting all the local "rules".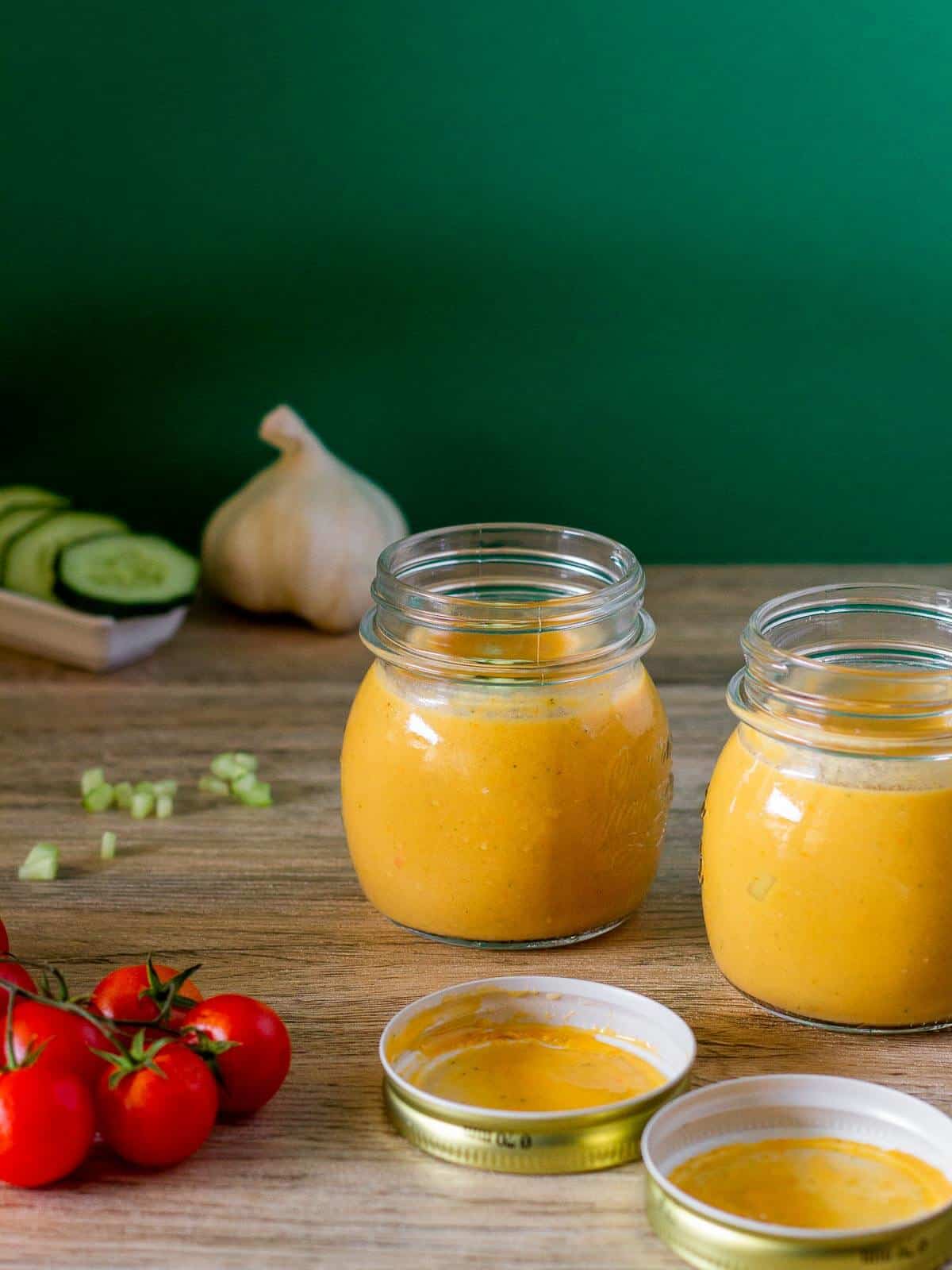 This soup is ideal for warm Spring and hot Summer days when you want something simple and healthy. Make a batch ahead of time and store in closed bottles ready to serve or portioned in small mason jars.
We made Gazpacho part of our Healthy Savory Snacks; although it is by no means considered a Snack, it fulfills that role perfectly. It is nutritious and full of flavor.
📖 Variations
So we tried to adhere to Andalusia's traditional Gazpacho recipe; nevertheless, Gazpacho is a name used for several types of dishes in Spain. Hence the different variations; some people like adding a touch of heat, using chile, adding fresh basil or chives, including a pinch of cumin, or even using red bell pepper instead of the Italian green pepper.
Another popular way to have gazpacho is the Watermelon Gazpacho and also the Watermelon Rinds Gazpacho, also on this site. I love putting my watermelon rinds to good use!
🫙 Storing
So, how long does Gazpacho last? When well stored in your refrigerator lasts 2-3 days.
🧂Garnishing
Gazpacho is great on its own. Sometimes we put some finely chopped cucumber and tomato, breadcrumbs, and a splash of extra-virgin olive oil on top.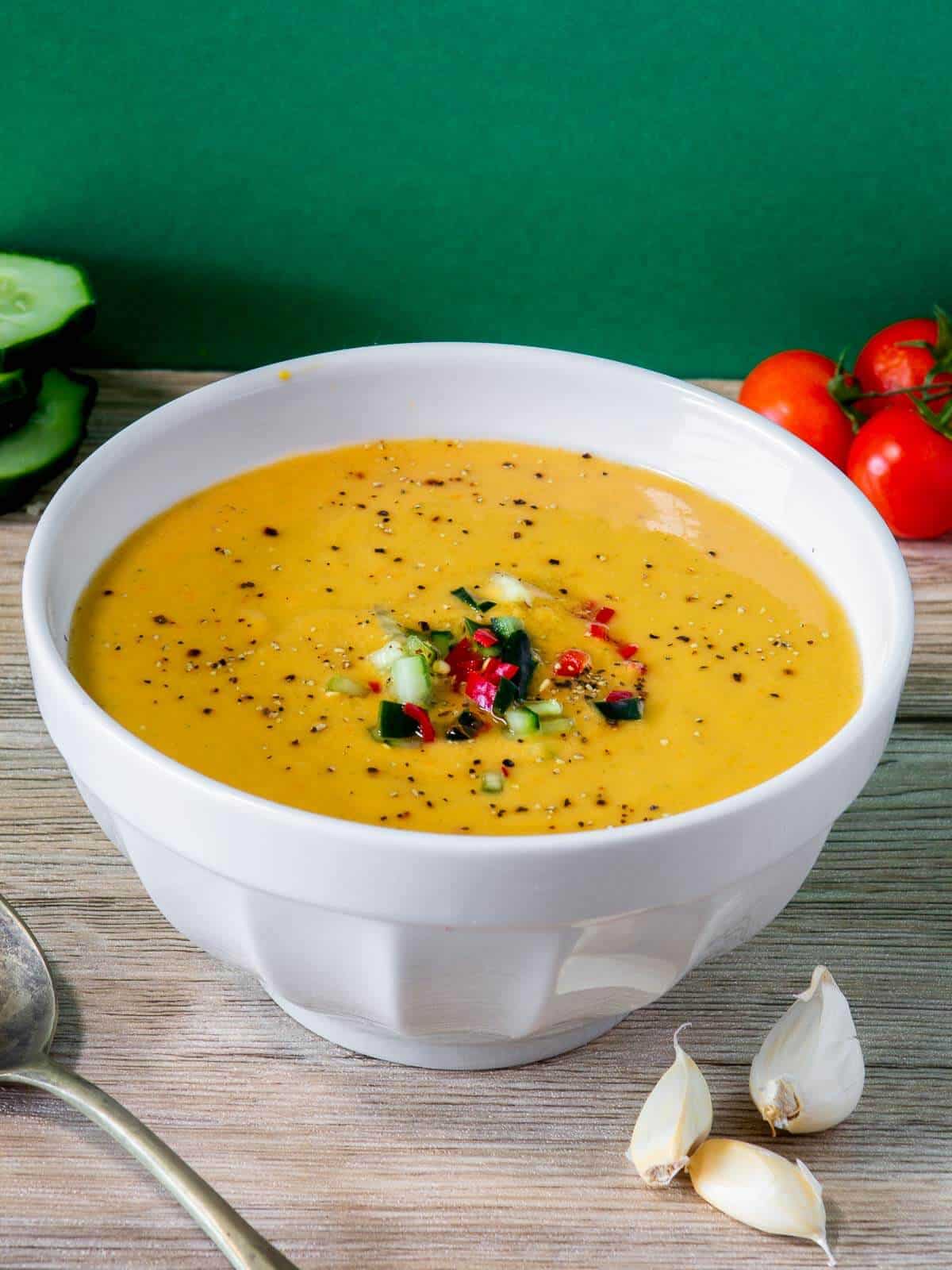 Suppose you are into Spanish and Mediterranean cuisine and simple ways of consuming Veggies. In that case, we recommend trying the Catalonian Escalivada, a Tortilla Española (Spanish Omelette), or this delicious Eggplant Baba Ganoush.
📚More delicious soups
We love soups, and I am sure you will love our selection of vegan soups: Vegan Pumpkin Tahini Soup, Watermelon Rind Gazpacho, Curried Lentil Soup, carrot and ginger soup, and try out the traditional Tuscan White Bean Ribollita soup.
Try out this deliciously creamy and cozy 4-ingredient potato soup; it is super easy and quick to make!
⭐ If you try this recipe, let us know! 💬 Leave a comment, rate it, and don't forget to tag us @ourplantbasedworld on Instagram. Cheers!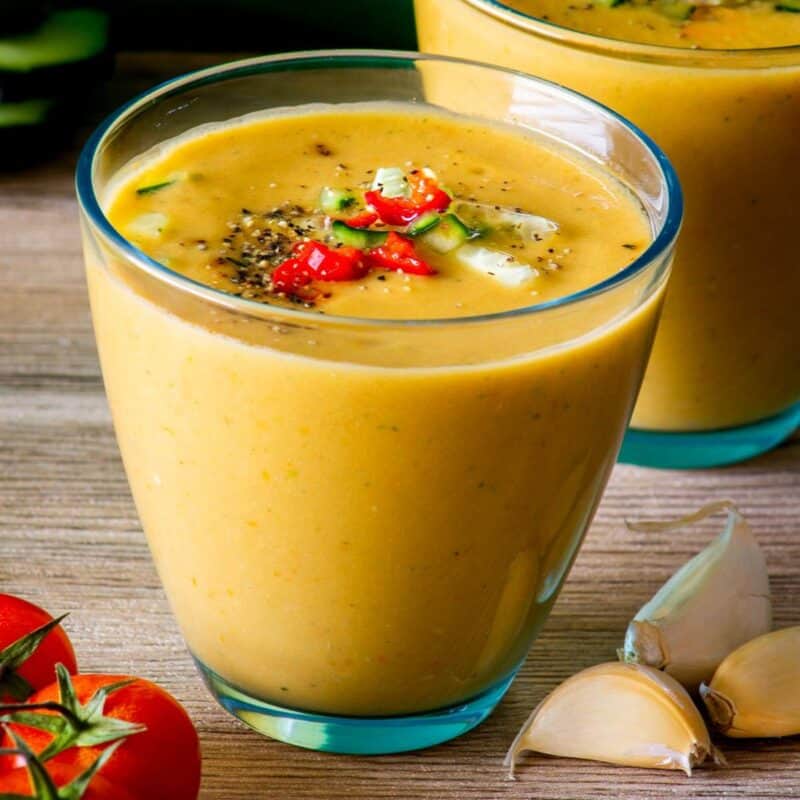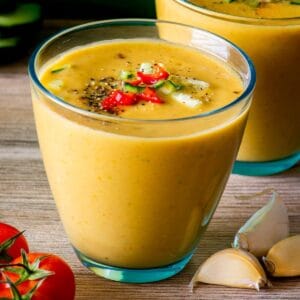 Recipe for Gazpacho Andaluz
Gazpacho is one of those soups that are one of a kind. A cold soup. A delicious and extremely easy-to-make soup. A soup that is traditionally drunk as a beverage.
Equipment

(affiliate link)

(affiliate link)
Ingredients
2.2

lbs

ripe plum tomatoes

or Roma

1

Italian green pepper

medium

1

Spanish cucumber

or ⅕ English cucumber, roughly chopped

3 ½

tablespoons

red wine vinegar

or white wine vinegar, sherry vinegar

1 ¾

oz

stale bread

sourdough, ciabatta, or baguette (ideally soaked from the day before).

1

cups

ice cold water

¼

cups

extra-virgin olive oil

optional, avoid id adhering to a WFPB diet

1 ½

teaspoon

sea salt

optional, avoid id adhering to a WFPB diet
Directions
Soak bread in water for 5 minutes.

Roughly chop all the veggies and mince the garklicif using.

Blend. Add all the ingredients to a blender, blend for 2 minutes (let the blender rest for a minute if it tends to overheat).

In case your blender does not grind produce until it is creamy and chunk-less. We recommend passing the gazpacho through a colander.

Serve. Gazpacho is better when served cold. We recommend reserving it in the refrigerator for a minimum of 1 hour before consuming it.
Notes
Gazpacho, when well stored in your refrigerator, lasts 2-3 days.
Oil and Salt are optional. Avoid it along with bread if yo are following to a WFPB diet
Use gluten-free bread or skip it to make a gluten-free gazpacho.
Nutrition Facts
Calories:
145
kcal
Carbohydrates:
14
g
Protein:
3
g
Fat:
10
g
Saturated Fat:
1
g
Polyunsaturated Fat:
1
g
Monounsaturated Fat:
7
g
Sodium:
633
mg
Potassium:
510
mg
Fiber:
3
g
Sugar:
6
g
Vitamin A:
1511
IU
Vitamin C:
40
mg
Calcium:
31
mg
Iron:
1
mg
Nutrition Facts
Recipe for Gazpacho Andaluz
Amount per Serving
% Daily Value*
* Percent Daily Values are based on a 2000 calorie diet.
🌡️ Food safety
Cook to a minimum temperature of 165 °F (74 °C)
Do not use the same utensils on cooked food that previously touched raw meat
Wash hands after touching raw meat
Don't leave food sitting out at room temperature for extended periods
Never leave cooking food unattended
Use oils with high smoking points to avoid harmful compounds
Always have good ventilation when using a gas stove
See more guidelines at USDA.gov.
The information shown is an estimate provided by an online nutrition calculator. It should not be considered a substitute for a professional nutritionist's advice. See our full Nutritional Disclosure here.
Please note that some of the links here are affiliate links, and I will earn a commission if you purchase through those links. I use all of the products listed and recommend them because they are companies that I have found helpful and trustworthy.