Hey there, foodies! If you're on the hunt for a soul-warming, flavor-packed dish, look no further than our Vegetable & Mushroom Miso Soup with Tofu. Trust us, this isn't your average soup; it's a vegan culinary adventure that's as easy to make as it is delicious. Let's get cooking!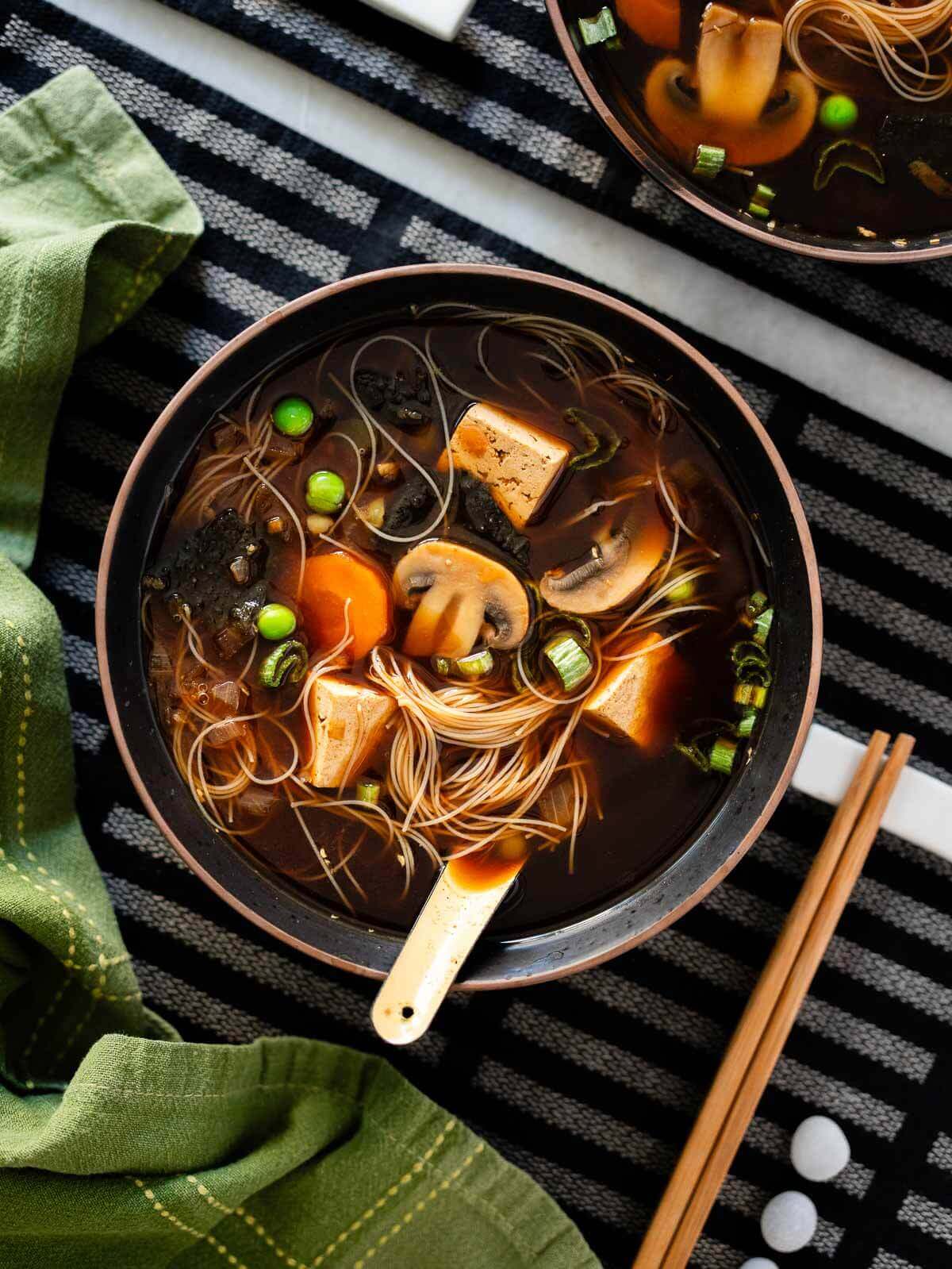 Ready to elevate your soup game? Our miso soup recipe is a total winner for a multitude of reasons. First off, let's talk nutrition. With powerhouse ingredients like shiitake mushrooms, tofu, and fermented soybean paste (hello, miso paste!), you're diving into a bowl full of plant-based protein, vitamins, and gut-friendly probiotics. Plus, adding seasonal vegetables like bok choy and carrots adds a splash of vibrant colors and packs in essential nutrients.
Now, let's chat about the easy factor. Making the best miso soup might sound like you need a degree in Japanese cooking, but trust us, it's a walk in the park. Most of the ingredients, like white miso paste, are readily available at your local grocery store.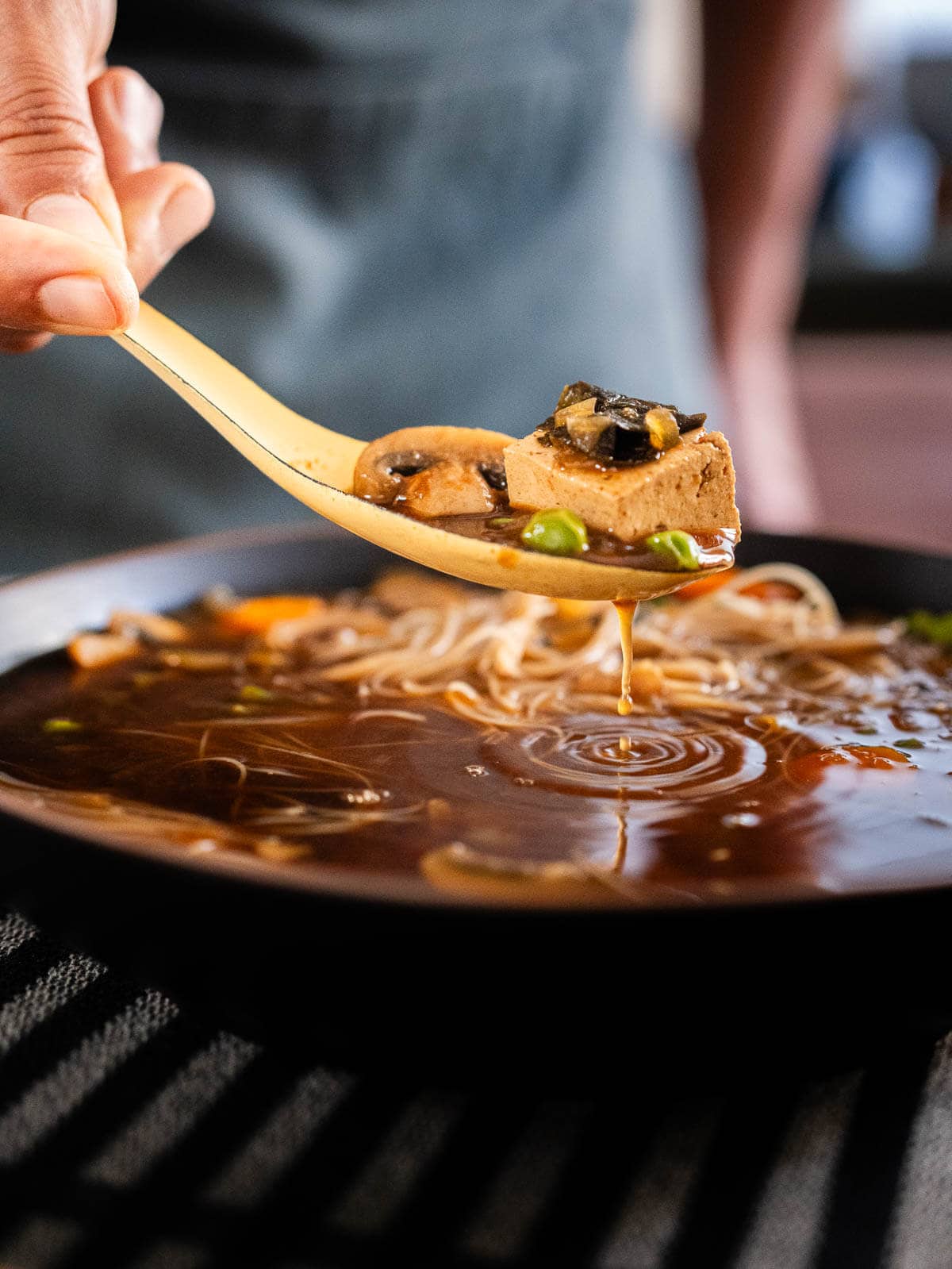 With a few simple steps and medium heat on your stove, you've got yourself a flavorful soup that could give any restaurant's miso soup a run for its money. So, why settle for a small bowl when you can whip up a pot full of this deliciousness?
Oh, and here's the cherry on top—or should we say, the sprouts on the soup? This miso soup recipe is incredibly versatile; it can effortlessly serve as a hearty main dish or a tantalizing appetizer. If you loved our sprout lentil soup, consider this: its cosmopolitan cousin.
Inspired by the same principles of nutrition and flavor, this miso soup takes culinary cues from Japanese cuisine to bring you a dish that's as satisfying as it is nourishing. Whether you're setting the table for a full-course meal or looking for a quick, soul-warming bite, this soup has got you covered. Let's get those taste buds dancing!
Jump to:
🧾 Soup Ingredients
This vegetable miso soup with tofu cubes is made with just a few delicious ingredients: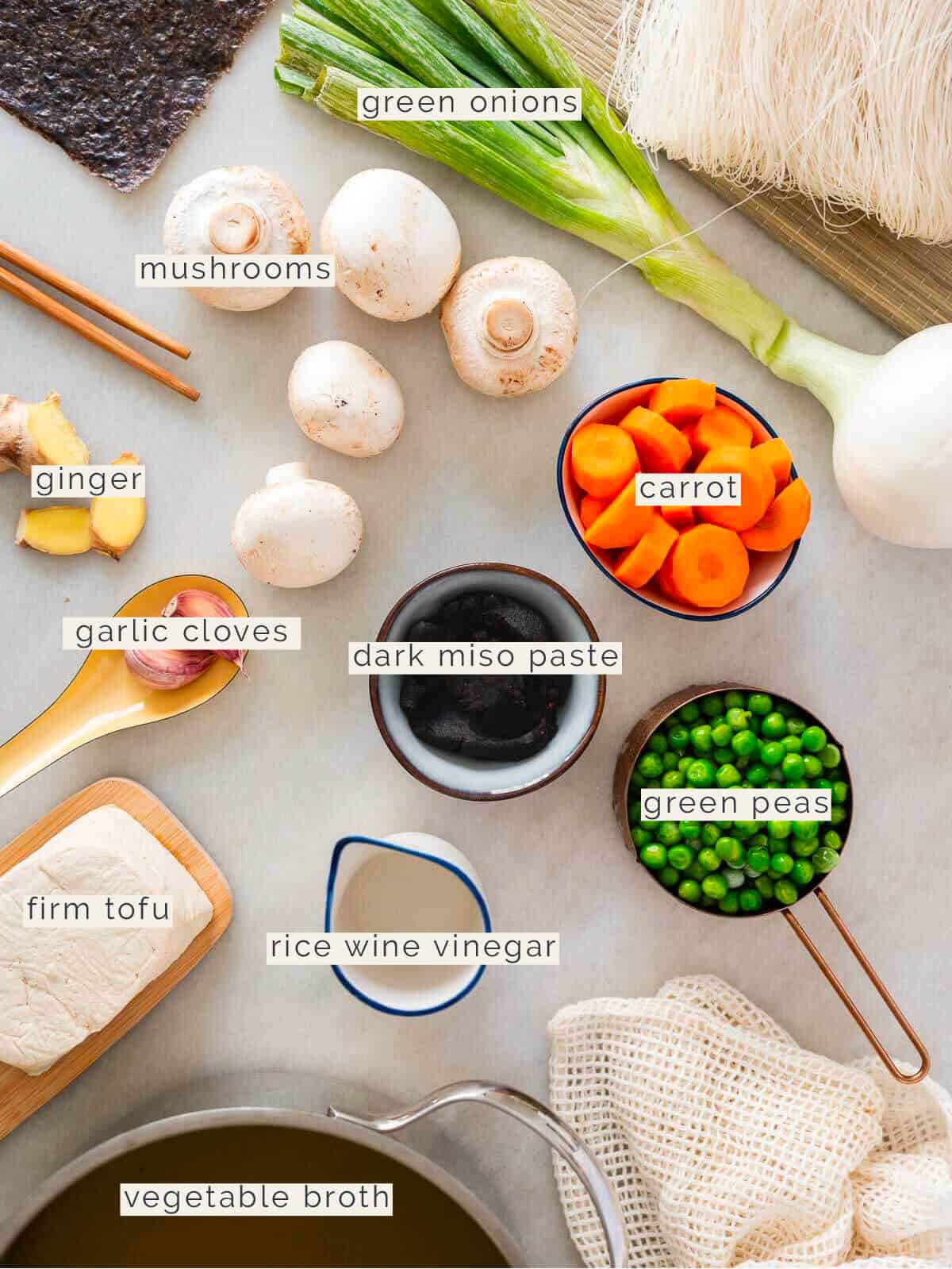 Dark miso paste: Adds a rich, umami flavor that elevates the soup to a whole new level. It's also fermented, which is great for gut health.
Green onions: Provides a mild, zesty kick and a pop of color. The tops make a beautiful garnish.
Garlic cloves: Infuse the soup with aromatic depth. Plus, garlic has numerous health benefits.
Mushrooms: Offer a meaty texture and earthy flavor. They're also packed with nutrients like vitamin D.
Carrot: Adds a touch of natural sweetness and vibrant color. It's also a great source of beta-carotene.
Green peas: Bring in a burst of freshness and plant-based protein. They also add a lovely green hue.
Firm tofu: Acts as a hearty protein source that soaks up all the flavors. Opt for silken tofu for a more traditional texture.
Vegetable broth: Serves as the liquid base, making the soup rich and flavorful. For a more traditional take, you can use dashi (for non-veggie miso).
Rice wine vinegar: Gives the soup a subtle tanginess that balances the flavors. It also has digestive benefits.
Ginger: Adds a warm, spicy undertone and is known for its anti-inflammatory properties.
Optional ingredients
Nori (recommended): Enhances the sea flavor and adds a crunchy texture. Plus, it's rich in iodine.
Rice noodles (recommended): Make the soup more filling and add a delightful chewy texture. Ramen noodles like Udon also work.
Chinese 5 spices: Adds complexity and a unique blend of flavors. It's a mix of star anise, cloves, Chinese cinnamon, Sichuan pepper, and fennel seeds.
Sesame oil (just for stir-frying, if not on an oil-free diet): Used for sautéing, it adds a nutty aroma that complements the other flavors. It's also rich in antioxidants.
Soy sprouts - to add some crunch to the bite.
See the recipe card for quantities.
🔪 Instructions
This mushroom soup involves very simple steps.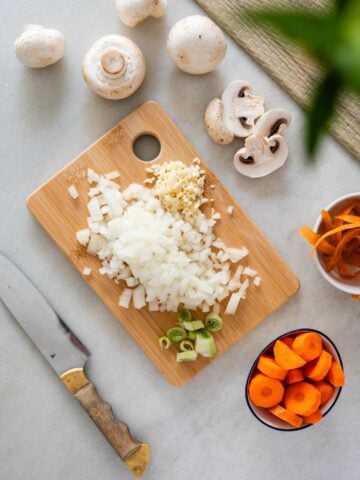 Chop those veggies into bite-sized pieces. Keep 'em no larger than 3-4 inches. Also, slice the mushrooms.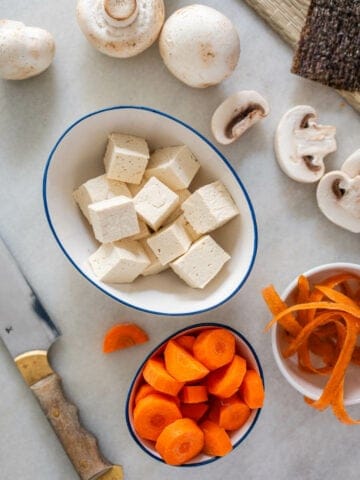 Cube the tofu.
Tip: Carrot and ginger are a match made in heaven, just like in our mind-blowing gingery carrot cream soup. And when it comes to carrots meeting miso? Trust us, it's a flavor explosion you've got to try—just check out our miso-mapled carrots!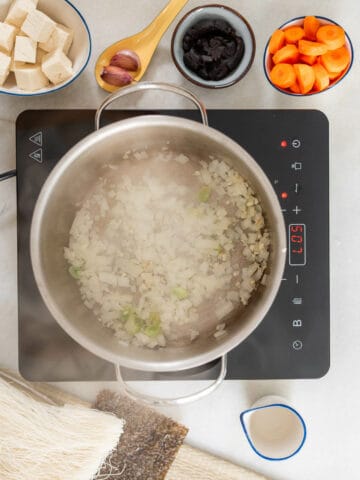 Get those onions and garlic translucent in a large pot. Splash in some rice wine vinegar. Gradually add water, a tablespoon at a time. This keeps the onions from turning into charcoal. Toss the minced ginger.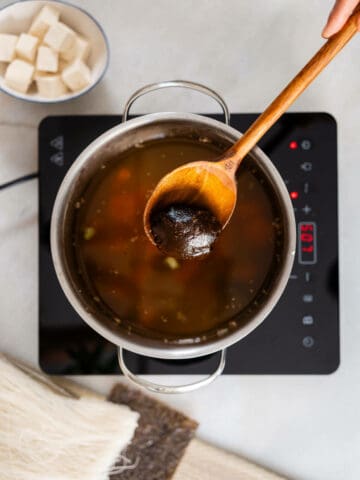 Add carrots and mince ginger. Pour in vegetable broth and bring it to a boil. Add miso and let those veggies get tender.
Hint: If you're using silken tofu, wear gloves and carefully cube the drained tofu block with a knife right over the soup. This helps prevent it from falling apart.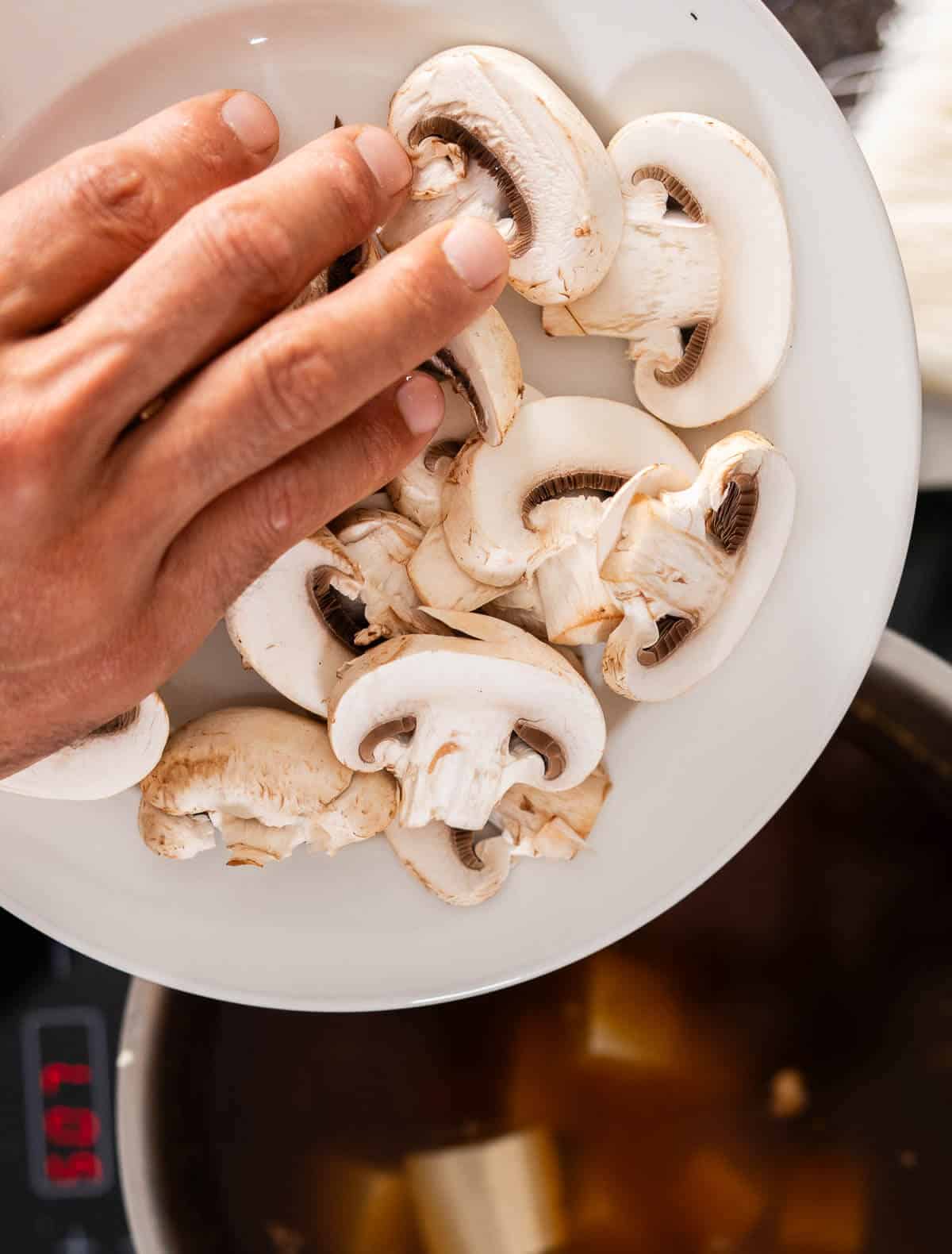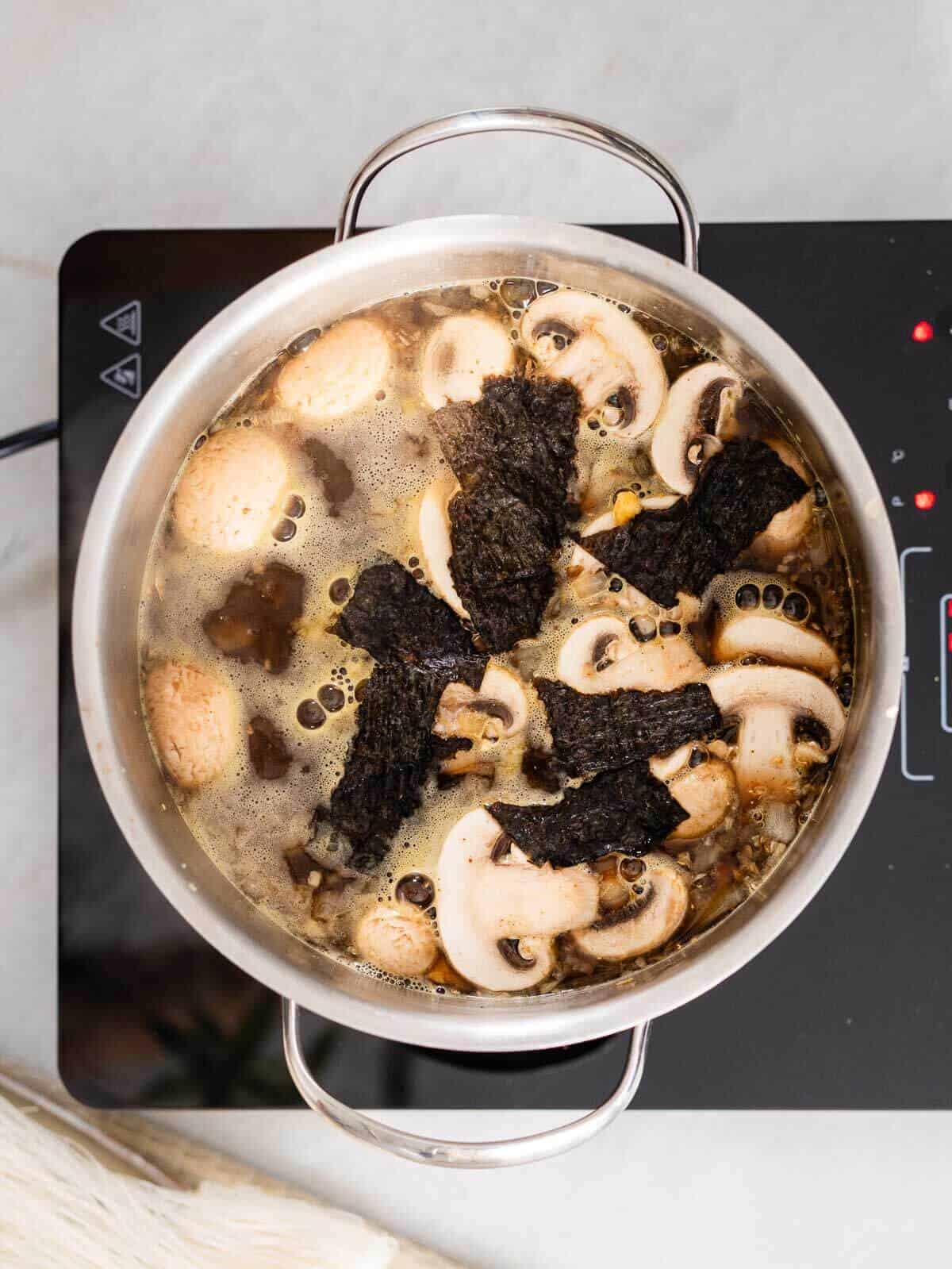 Add the tofu cubes and half of the green peas.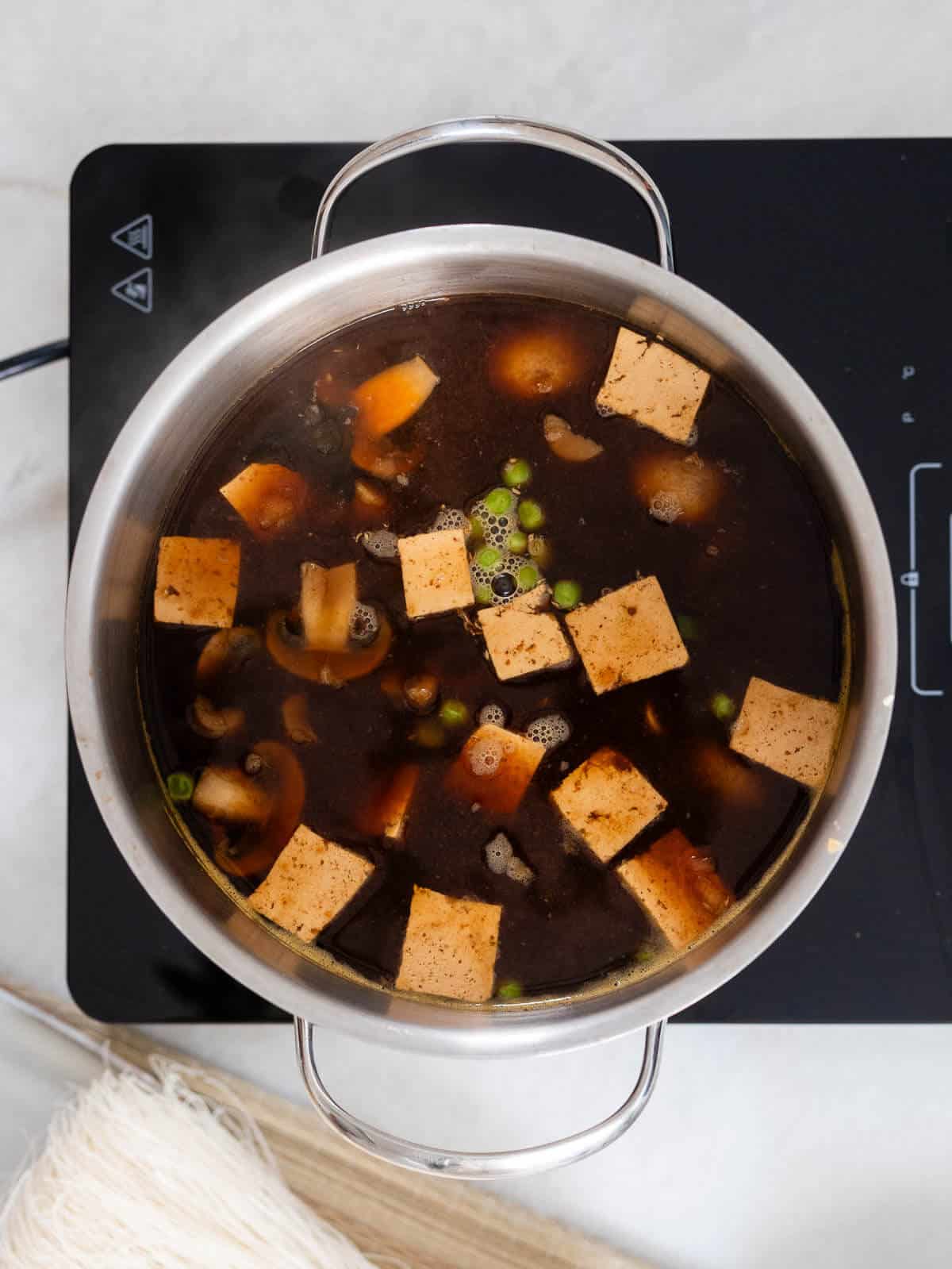 Lower the heat and let it simmer. Throw in nori sheets and sliced mushrooms.
Hint: Stir a few times while simmering to ensure the miso paste is dissolved.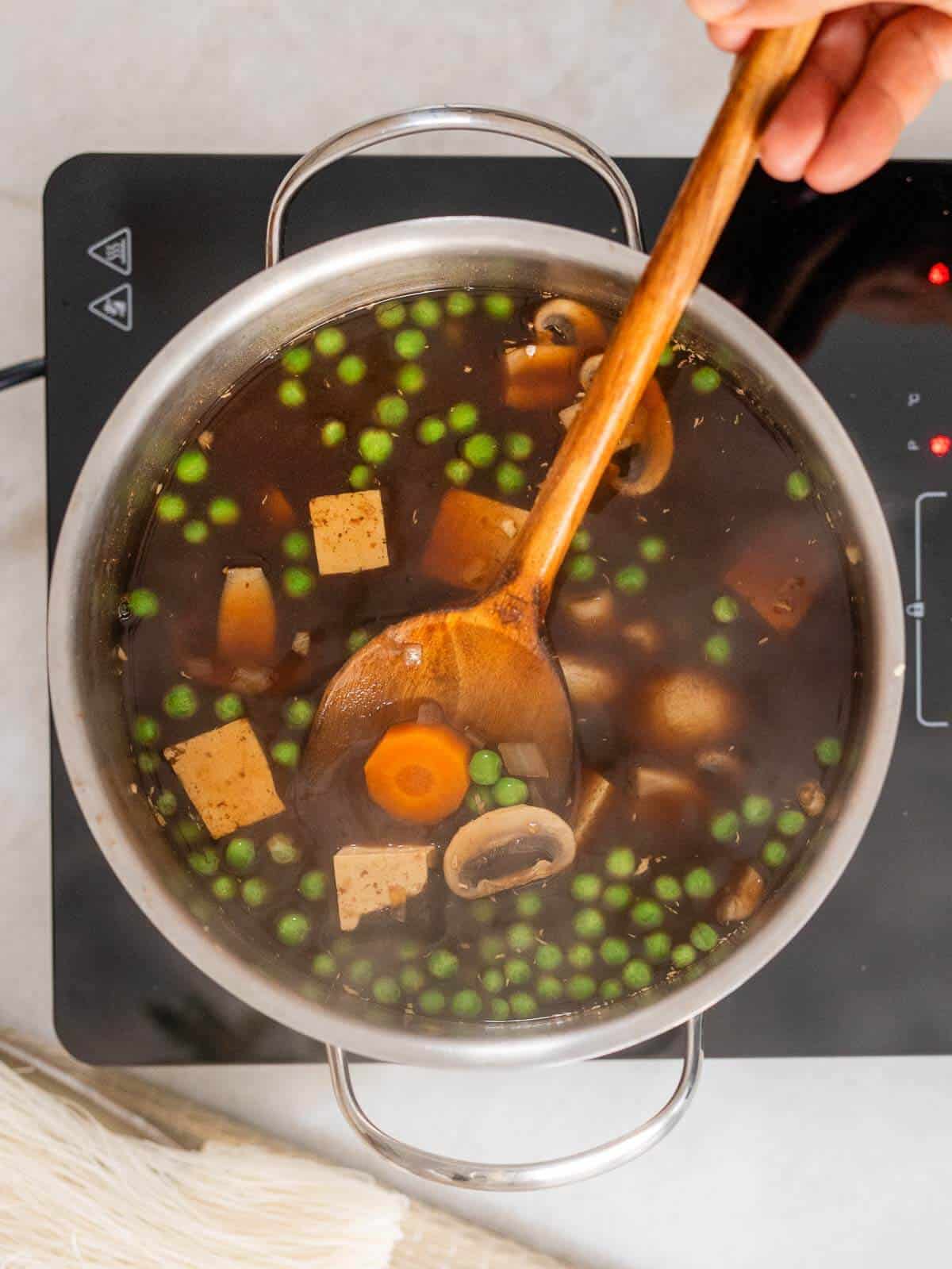 Let it simmer for 15 more minutes. Add the rest of the green peas and garnish with some leftover green onions.
Flavor Hint: If you're using a lighter version of miso for your miso broth, consider adding a splash of soy sauce. It'll deepen the flavors and bring that umami richness closer to what you'd get with a dark red miso mixture. Feel free to adjust to your own taste!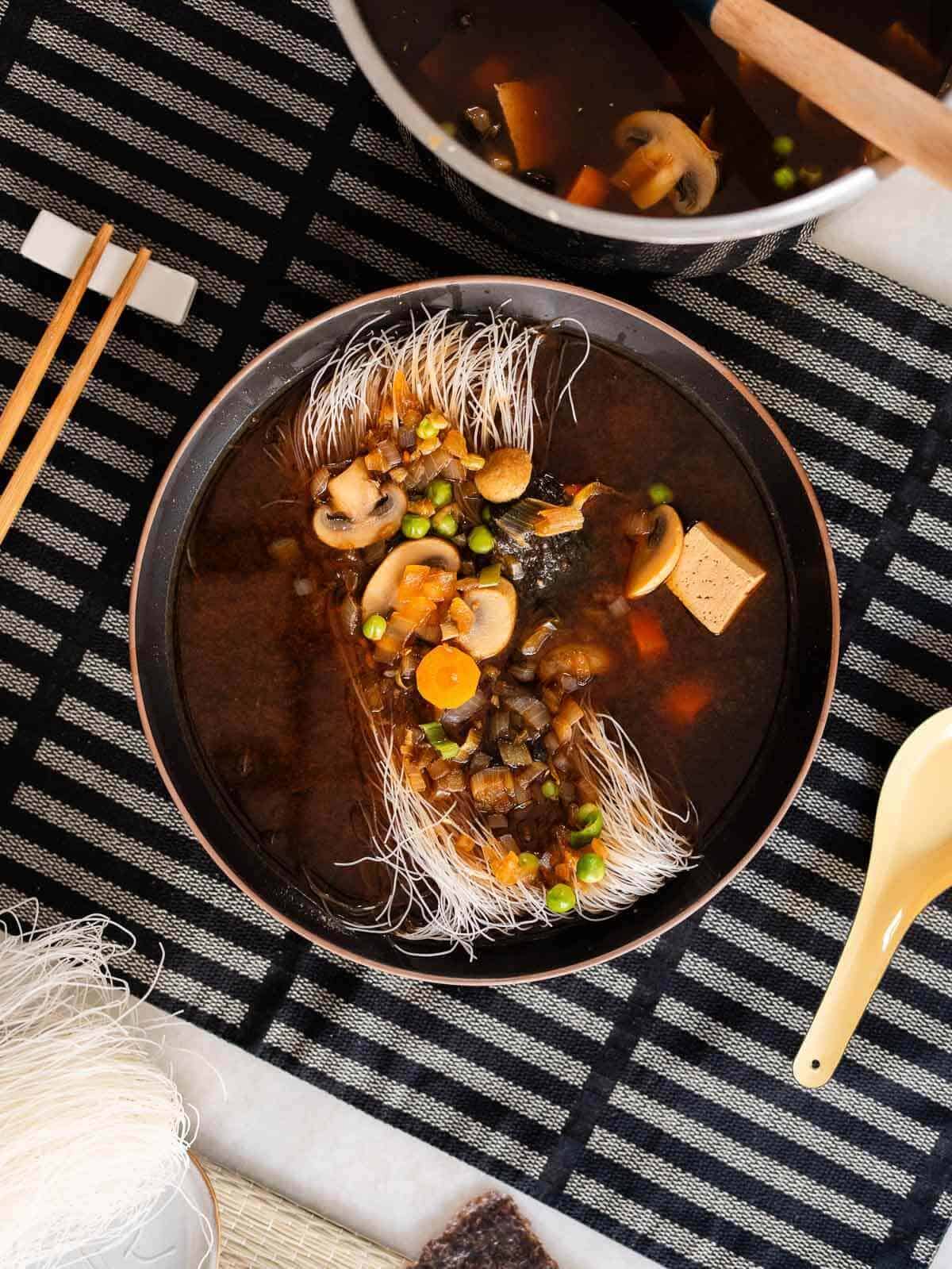 If you're going the noodle route, place them in a bowl. Pour the hot miso soup over and wait 4 minutes.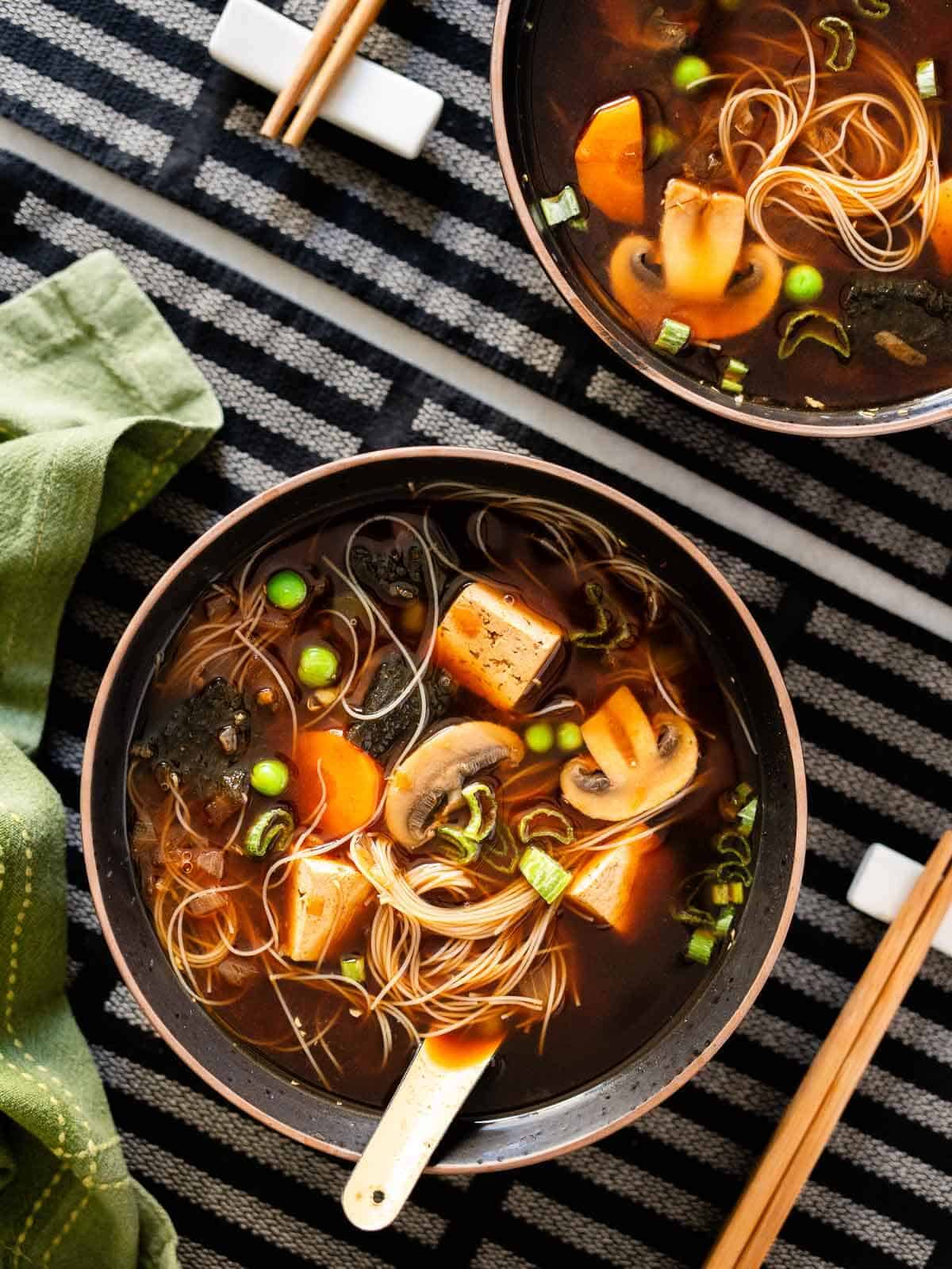 Sprinkle on any optional garnishes you've got, such as toasted sesame seeds and green onion tops. Make it as fancy or as simple as you like.
Read on: spicy garlic edamame beans
🥢 How to serve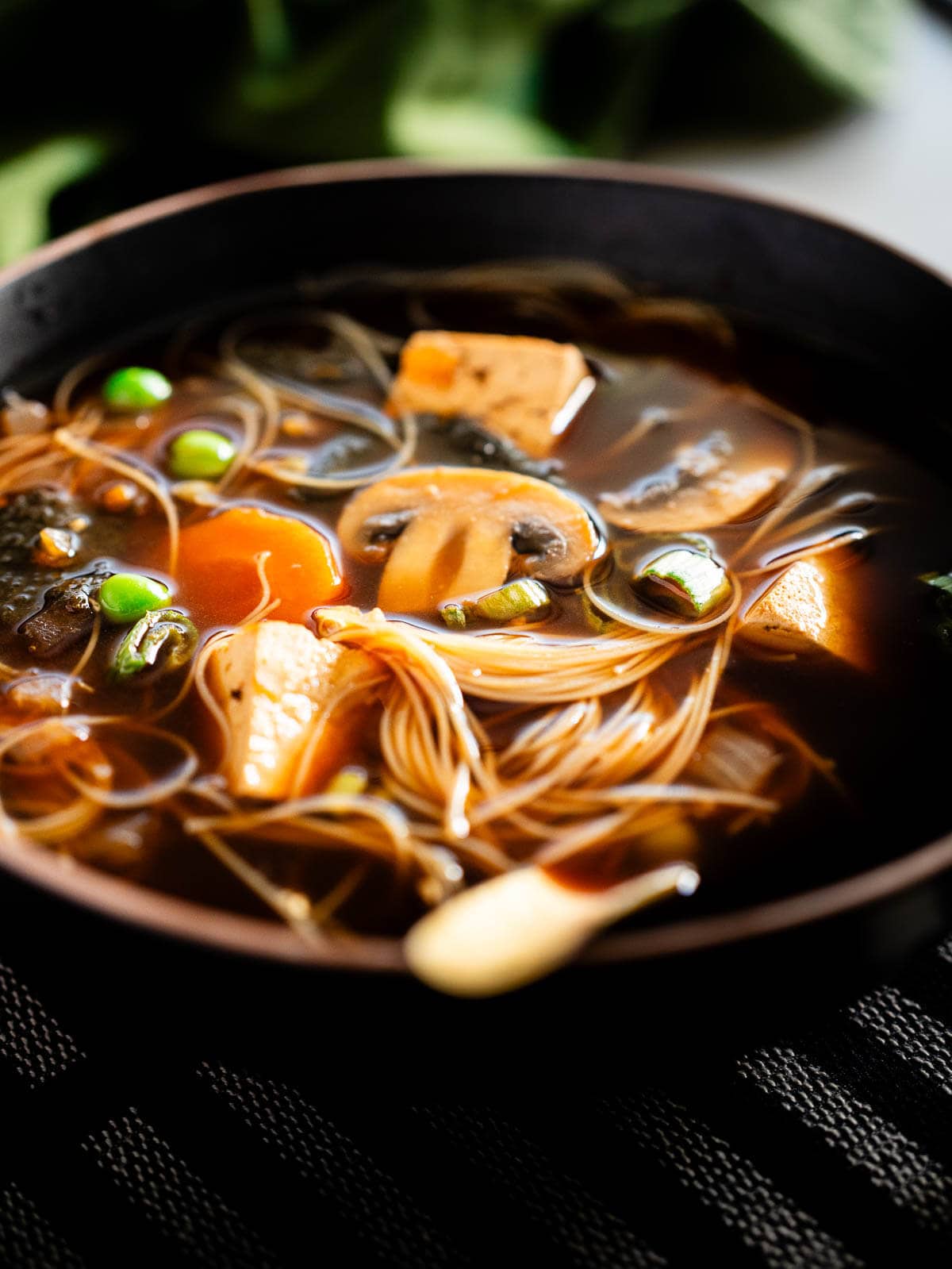 Elevate your miso soup game with these creative serving options that are anything but ordinary:
Miso Sipper: Serve the miso soup in small, heat-proof cups as a warm appetizer. It's like a comforting sip of wellness to kick off your meal.
Sushi Sidekick: Pair the miso soup with a platter of vegan sushi rolls. The contrasting flavors and textures make for a delightful dining experience.
Soup & Edamame Crunch Salad: Serve alongside a vibrant, seasonal plant-based salad, like an edamame crunch salad or spicy cucumber salad. The freshness of the greens perfectly complements the umami richness of the miso soup.
Bread Bowl: For a truly indulgent experience, serve the miso soup in a hollowed-out artisan bread loaf. It's not just a meal; it's a bowl you can eat!
🍶 Substitutions
Here are some alternative ingredients you can use to achieve similar delicious results:
Red Miso (aka miso): Yellow or white miso (shiro miso) can be used for a milder, less intense flavor. See recipe card for instructions.
Onions: Leeks or shallots can be a good substitute if you're out of onions.
Garlic: Garlic powder or minced garlic from a jar can work in a pinch.
Rice Wine Vinegar: Apple cider vinegar or white wine vinegar can be used as an alternative.
Carrots: Parsnips, Japanese turnips, or regular or sweet potatoes can offer a different but equally tasty flavor profile.
Mushrooms: If you don't have fresh mushrooms, dried shiitake mushrooms or fresh shiitake mushrooms can be used as a substitute.
Minced Ginger: Ground ginger can be used if fresh ginger isn't available. Just use it sparingly, as it's more concentrated.
Firm Tofu: Diced silken tofu can be used as a softer alternative, but keep in mind it will break apart more easily during cooking.
Vegetable Broth: You can use homemade vegetable stock or even water with a bit of extra seasoning. Traditional Japanese miso soup uses bonito flakes, but this is a vegan miso soup with mushrooms, so we kept it away.
Nori Sheets: Seaweed snacks or kelp powder can be used as a substitute.
Green Peas: Edamame or snap peas can be used for a different kind of green crunch.
Miso Paste Substitute
So you're all set to make that scrumptious miso soup, but uh-oh, you realize you're out of miso paste. Don't sweat it! There are several ways to find a substitute for miso paste without losing out on flavor. One popular miso substitute is miso powder. To use it, simply dissolve 1 tablespoon of miso powder in a small amount of hot water to form a paste-like consistency. Then, add it to your recipe just as you would with regular miso paste.
If you're looking for a miso replacement that's not miso powder, you can also consider options like soy sauce or tamari. While these won't perfectly mimic the unique umami flavor of miso, they can still add depth and richness to your dish. So whatever miso paste alternative you opt for, rest assured you can whip up a dish that's both delicious and satisfying. Go ahead, get creative and don't let the absence of one ingredient hold you back!
📖 Variations
Want to switch things up a bit? Here are some creative twists on this miso soup:
Spicy Miso Delight: Add a teaspoon of Sriracha or your favorite chili paste to the miso mixture for a spicy kick. It's a great way to warm up on a chilly day.
Protein-Packed Miso: Throw in some vegan chicken strips, chickpeas, and tofu for an extra protein boost. It'll make your miso soup even more filling.
Tropical Miso Fusion: Add a handful of diced pineapple and/or coconut milk to the miso broth for a unique twist. The sweetness of the fruit pairs surprisingly well with the savory miso flavors.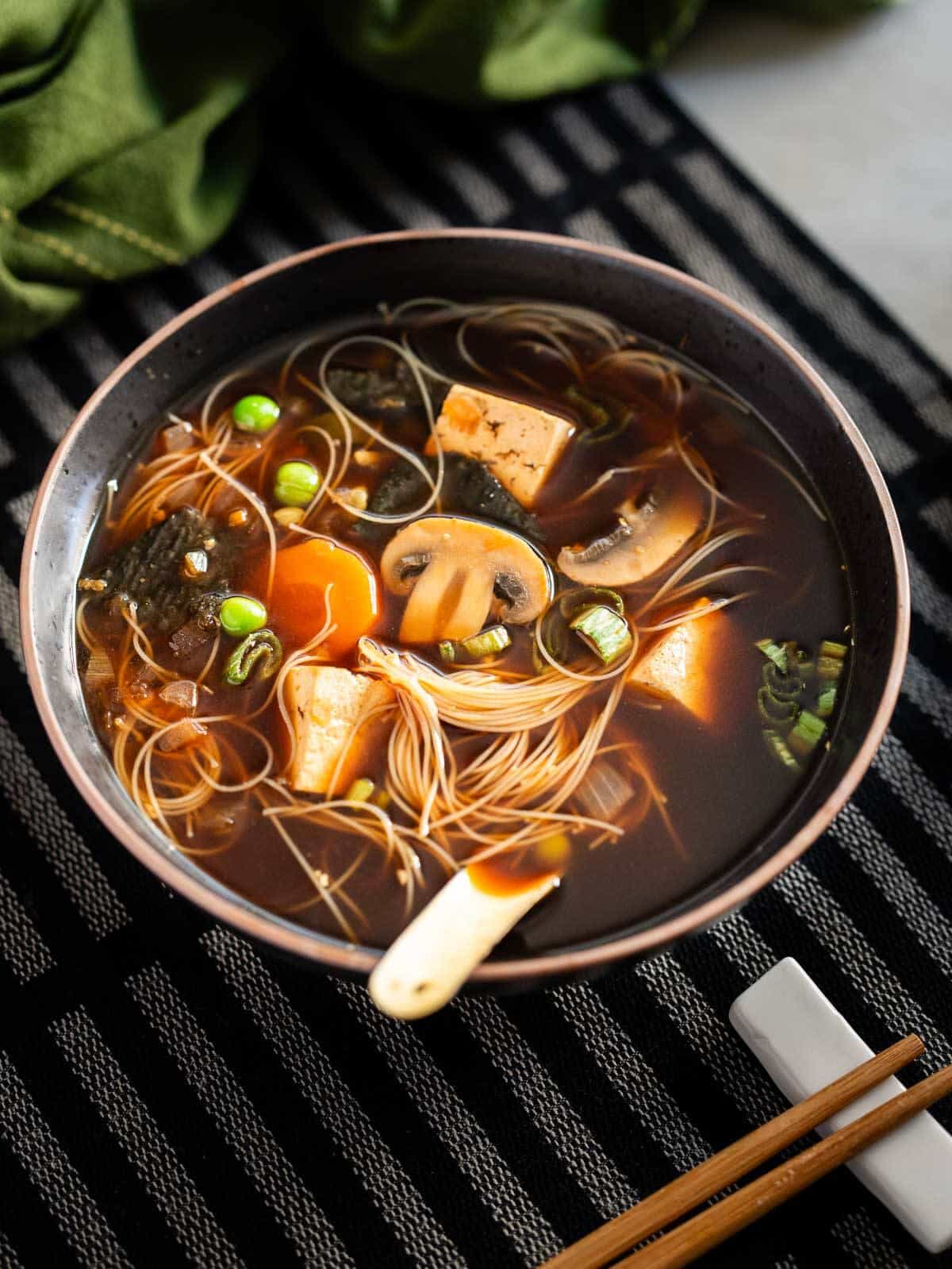 🍽 Equipment
Large Pot (affiliate link): A large pot is essential for making miso soup because it provides enough space to comfortably sauté your veggies and tofu and mix in the miso and broth. It ensures even cooking and melts all the flavors together beautifully during simmering.
🥡 Storage and reheating
In the Fridge: Store any leftover miso soup in an airtight container in the fridge for up to 3-4 days. When you're ready to enjoy it again, reheat it on the stovetop over low heat until it's warmed through.
Freezing: If you'd like to freeze your miso soup, it's best to do so without the tofu, as it can change in texture when frozen and reheated. Store the soup in a freezer-safe container for up to 2 months. To reheat, thaw it in the fridge overnight and warm it up on the stovetop.
Meal Prep Option:
You can prepare the miso broth and veggies in advance and store them separately in the fridge. When you're ready to eat, combine them in a pot, bring them to a simmer, and add the tofu. This way, you can enjoy a fresh-tasting miso soup with mushrooms in minutes, any day of the week!
💡 Top tip
The secret to nailing this miso mushroom soup every single time lies in the miso paste itself. Always add the miso paste to a small amount of hot broth and whisk it until smooth before incorporating it into the larger pot. This ensures that the miso fully dissolves, preventing any lumpy or gritty bits in your soup. It's a simple step, but it makes all the difference in achieving that silky, well-balanced miso broth. Trust us; your taste buds will thank you!
❓ FAQ
Is Miso Soup Vegan?
Traditional miso soup often contains fish-based ingredients like dashi, a Japanese stock made from fish flakes, and bonito flakes, which are also derived from fish. However, making a vegan version is a breeze! Simply use a vegetable broth in place of dashi and skip the bonito flakes. Always check the ingredient list on your miso paste to ensure it's vegan-friendly, and you're good to go.

What does miso soup taste like?
Miso soup has a unique, complex flavor profile that's both savory and a bit salty, often described as "umami," which is a fifth basic taste alongside sweet, sour, bitter, and salty. The miso paste itself can range from sweet and mild to salty and intense, depending on whether it's white, red, or another variety.
When combined with other ingredients like seaweed, tofu, and vegetables, the soup takes on additional layers of flavor, making it a comforting, versatile dish that's both simple and sophisticated.
How to use miso paste?
Miso paste is incredibly versatile and can be used in a variety of dishes beyond just miso soup. Here are some creative ways to incorporate miso paste into your cooking:
Salad Dressings: Mix miso with olive oil, lemon juice, and a touch of sweetener for a unique salad dressing.
Marinades: Combine miso with soy sauce, garlic, and ginger to marinate tofu, tempeh, or vegan meat substitutes.
Sauces: Add a spoonful of miso to vegan cream sauces or gravies for an extra layer of flavor.
Stir-Fries: Stir some miso into your stir-fry sauce for added depth and umami.
📚 More hearty soup recipes
⭐ If you try this miso vegetable soup recipe, let us know! 💬 Leave a comment, rate it, and don't forget to tag us @ourplantbasedworld on Instagram. Cheers!
📋 Recipe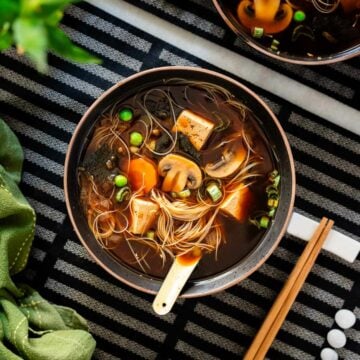 Easy Vegetable Miso Soup with Tofu (Hearty & Healthy)
Get ready for a flavor-packed adventure with our One-Pot Vegetable and Mushroom Miso Soup with Tofu. It's vegan, hearty, and oh-so-delicious. Let's get cooking!
Equipment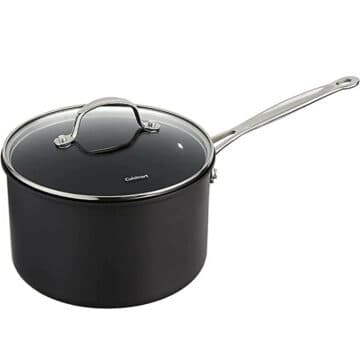 (affiliate link)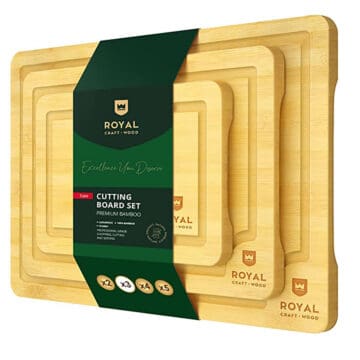 (affiliate link)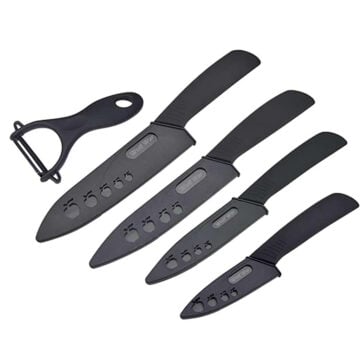 (affiliate link)
Ingredients
2.5

tablespoons

dark miso paste

or 3-4 Tbsp white or yellow miso paste (fermented soybean or chickpea paste)

1

green onion

Medium, diced. Tops to garnish

2

garlic cloves

finely chpopped

6

mushrooms

Cremini, oyster mushrooms, or shiitake.

1

carrot

Peeled, make quarters and halves

1

cup

green peas

7

ounces

firm tofu

cubed, or use silken tofu for more traditional miso soup

7

cups

vegetable broth

instead of dashi (used in traditional miso soup)

1

teaspoon

rice wine vinegar

1

knob

ginger
Optional
½

sheet

nori dried sea weed

alga nori sheets. For extra Sea flavor. dried seaweed / cut into large rectangles

2

nests

Rice noodles

(Vermicelli) To make it more filling. Or udon noodles.

pinch

Chinese 5 spices

For extra complexity

1

tablespoon

sesame oil

Toasted, for sautéeing the onions.
Garnish ideas:
Enoki mushroom tips

sivered scallions

Toasted sesame seeds
Directions
Prep Veggies & Mushrooms: Kick things off by cutting the vegetables and slice mushrooms into bite-sized pieces. Make sure they're no larger than 3 to 4 inches for even cooking and a satisfying bite.

Sauté Basics: Fire up a large pot and sauté the onions and garlic until they're translucent. Add a splash of rice wine vinegar to elevate the flavors. To prevent any burning, add water a tablespoon at a time. Alternatively, sesame oil is a stellar choice for stir-frying.

Add More Veggies: Time to throw in the carrots, minced ginger, and diced tofu. Keep the sauté action going for another 3 minutes. This is where the flavors start to come alive.

Broth & First Batch of Peas: Add your vegetable broth or to the pot and bring it to a boil. Once it's bubbling, toss in the miso, nori sheets, mushroom slices, and half of the green peas. Optional but recommended: a sprinkle of five Chinese spices.

Simmer: Turn down the heat to a simmer and let all those amazing flavors meld for about 15 minutes. This is the stage where your soup goes from good to "can't stop slurping."

Final Touch: Right before serving, add the remaining green peas for that vibrant pop of color and freshness. Trust us, it makes a difference.

Noodle Option: If you're feeling like going the extra mile, pour the hot miso soup over uncooked rice noodles. Let them sit for 4 minutes to soften, and voila, you've got a hearty, soul-warming meal. Enjoy!

Garnish Time: To elevate your miso soup even further, consider adding some optional garnishes listed in the ingredients section. Whether it's a sprinkle of sesame seeds, a dash of chili flakes, or a handful of enoki mushrooms cilantro, these finishing touches can make your dish truly unforgettable. Just scatter your chosen garnishes over the top right before serving. Trust us, it's the cherry on top of an already delicious meal. Enjoy!
Notes
Consider starting with half of the recommended quantity of miso paste and gradually adding more, one tablespoon at a time, until it reaches your desired taste. Although it is not excessively intense, the recipe is designed to achieve a robust umami flavor by utilizing dark miso paste.
Nutrition Facts
Calories:
131
kcal
Carbohydrates:
18
g
Protein:
9
g
Fat:
3
g
Saturated Fat:
0.4
g
Polyunsaturated Fat:
2
g
Monounsaturated Fat:
1
g
Sodium:
2059
mg
Potassium:
272
mg
Fiber:
4
g
Sugar:
8
g
Vitamin A:
3756
IU
Vitamin C:
17
mg
Calcium:
88
mg
Iron:
2
mg
Nutrition Facts
Easy Vegetable Miso Soup with Tofu (Hearty & Healthy)
Amount per Serving
% Daily Value*
* Percent Daily Values are based on a 2000 calorie diet.
🌡️ Food safety
Cook to a minimum temperature of 165 °F (74 °C)
Do not use the same utensils on cooked food, that previously touched raw meat
Wash hands after touching raw meat
Don't leave food sitting out at room temperature for extended periods
Never leave cooking food unattended
Use oils with a high smoking point to avoid harmful compounds
Always have good ventilation when using a gas stove
See more guidelines at USDA.gov.
Nutritional Disclaimer
The information shown is an estimate provided by an online nutrition calculator. It should not be considered a substitute for a professional nutritionist's advice. See our full Nutritional Disclosure here.
Affiliate Disclaimer
Please note that some of the links here are affiliate links, and I will earn a commission if you purchase through those links. I recommend all of the products listed because they are companies I have found helpful and trustworthy.