This carrot and ginger soup is the perfect winter warmer. Cozy up with a bowl of this flavorful soup and you'll be feeling warm and toasty in no time. Made with only a few simple ingredients, this soup is easy to throw together on a weeknight. Plus, it's vegan and gluten-free so everyone can enjoy it!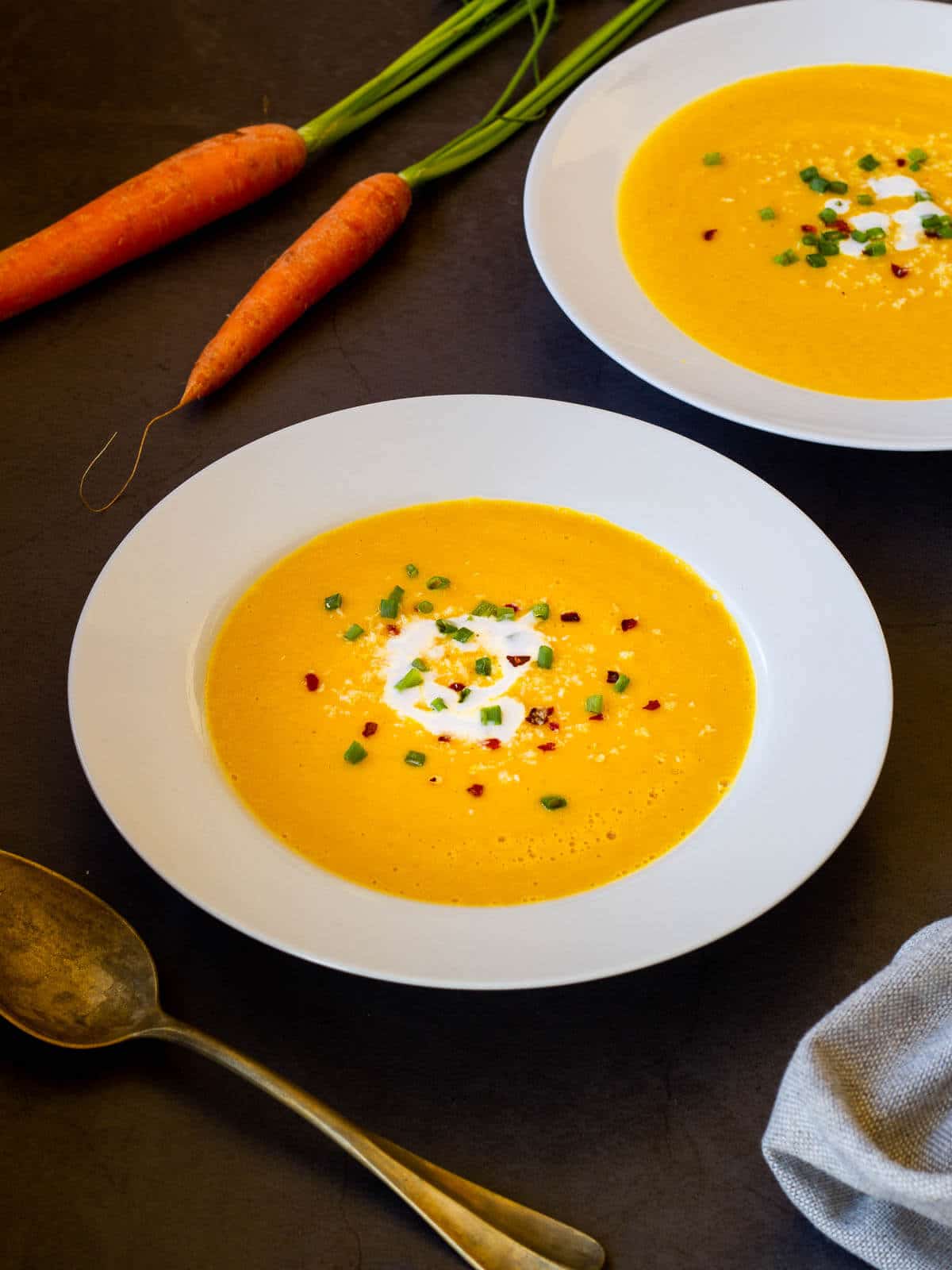 But the lightness of this food comes overcharged with flavor.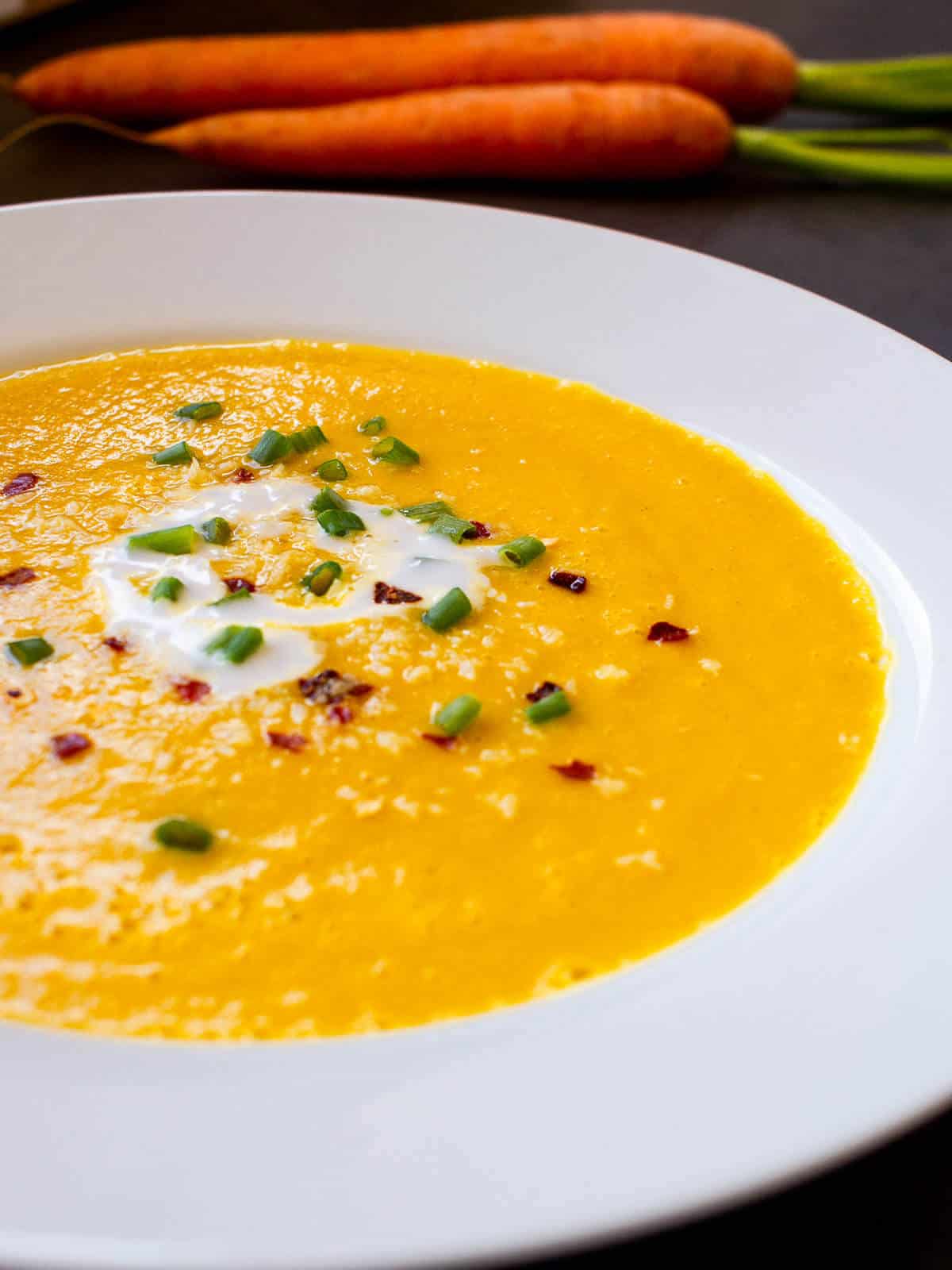 The complexity of flavors comes delivered to you by the Maillard reaction, the chemical reaction between amino acids and reducing sugar, giving browned food its distinctive flavor.
Onions have a high protein quality (ratio of mg amino acid/gram protein), making it optimal to achieve the belove Maillard effect that we all love.
Carrots come later, adding extra natural sugars, which also contribute to flavor and add texture.
This makes a great fall season recipe because it is extra creamy and cozy and packs delicious ginger flavor to help boost our immune system against the typical seasonal flu.
Read on: Drinks to boost the immune system »
🧾 Ingredients
For this carrot soup recipe, you will indeed find the essential ingredients in your kitchen. Considering they are pretty interchangeable.
fresh carrots
oil
onion
fresh garlic
apple cider vinegar (or lemon juice)
fresh ginger
coconut milk (or coconut cream)
vegetable broth
If you want to get fancy, you can stir in some coconut milk on top and fresh lemongrass or lemongrass paste, but that's entirely optional.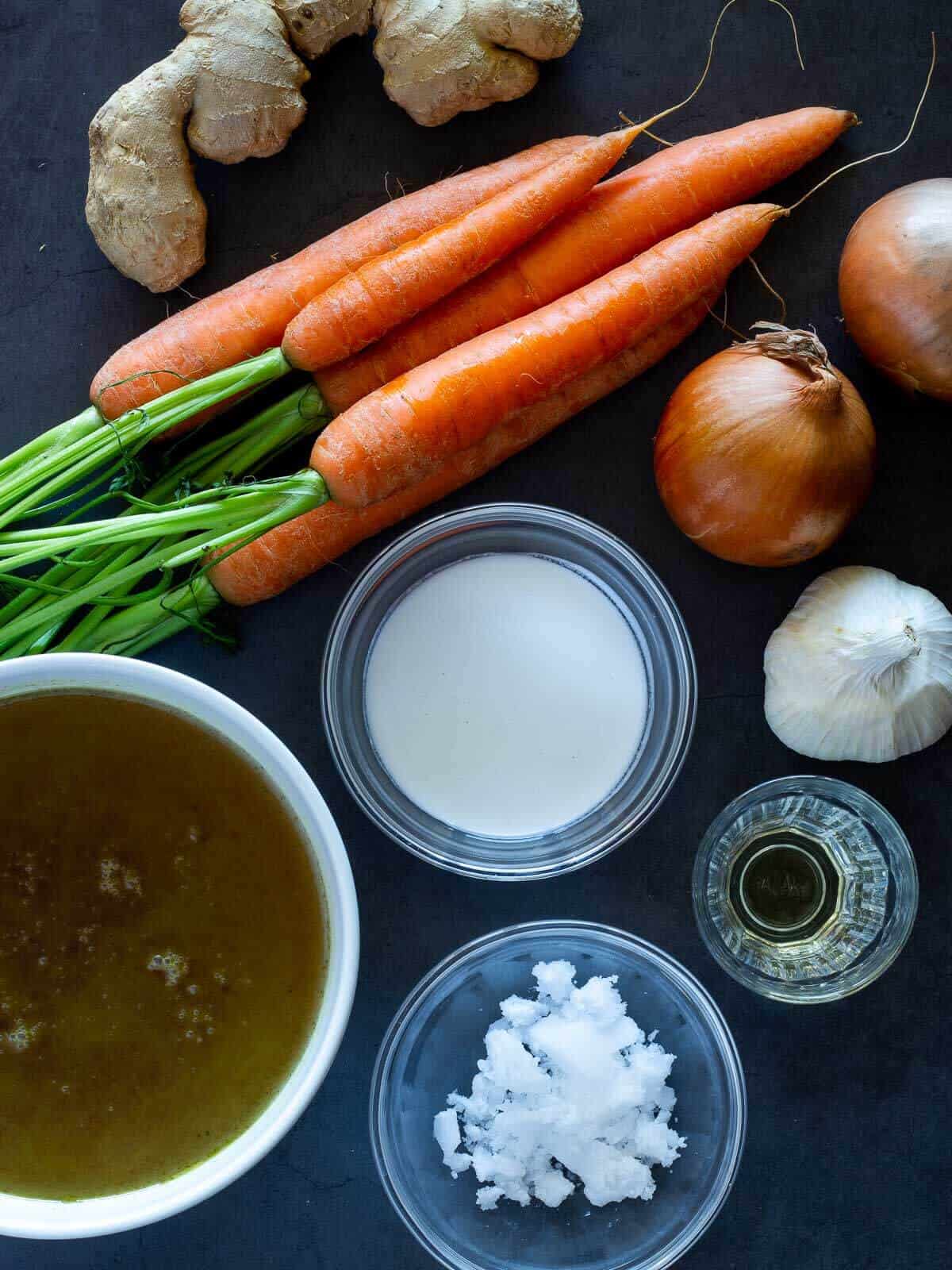 🔪 Instructions
Making this carrot ginger vegan soup is super easy. Just follow these simple steps:
Stir fry the chopped onion and fresh garlic with a little bit of coconut oil on medium heat, stirring occasionally.
Add the fresh carrots, apple cider vinegar, and freshly grated ginger.
Then add in the apple cider vinegar, lemon juice, or white wine to extract all that flavor sticking down in the bottom of the pot.
Pour the vegetable stock and let it simmer.
Briefly cool down and blend with coconut milk either in a blender or using an immersion blender, for about 40 seconds until you have a creamy carrot soup.
That's it! Your wonderful vegan carrot soup will be ready to pour and enjoy immediately.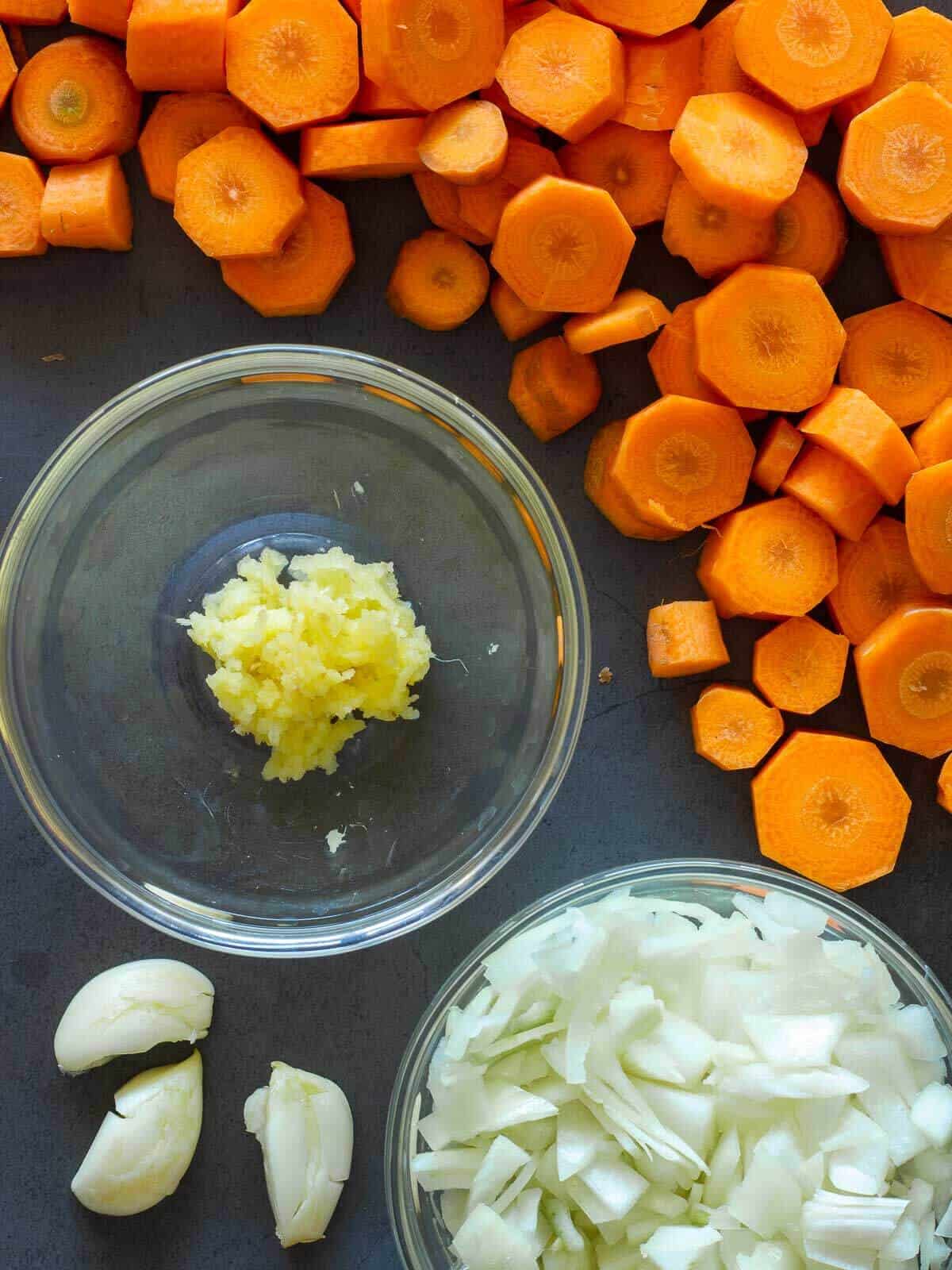 🤔 Versatility of carrots
Carrots are immensely healthy, versatile, and flavorful. Carrots work well in breakfast, lunch, and dinner and are a perfect snack.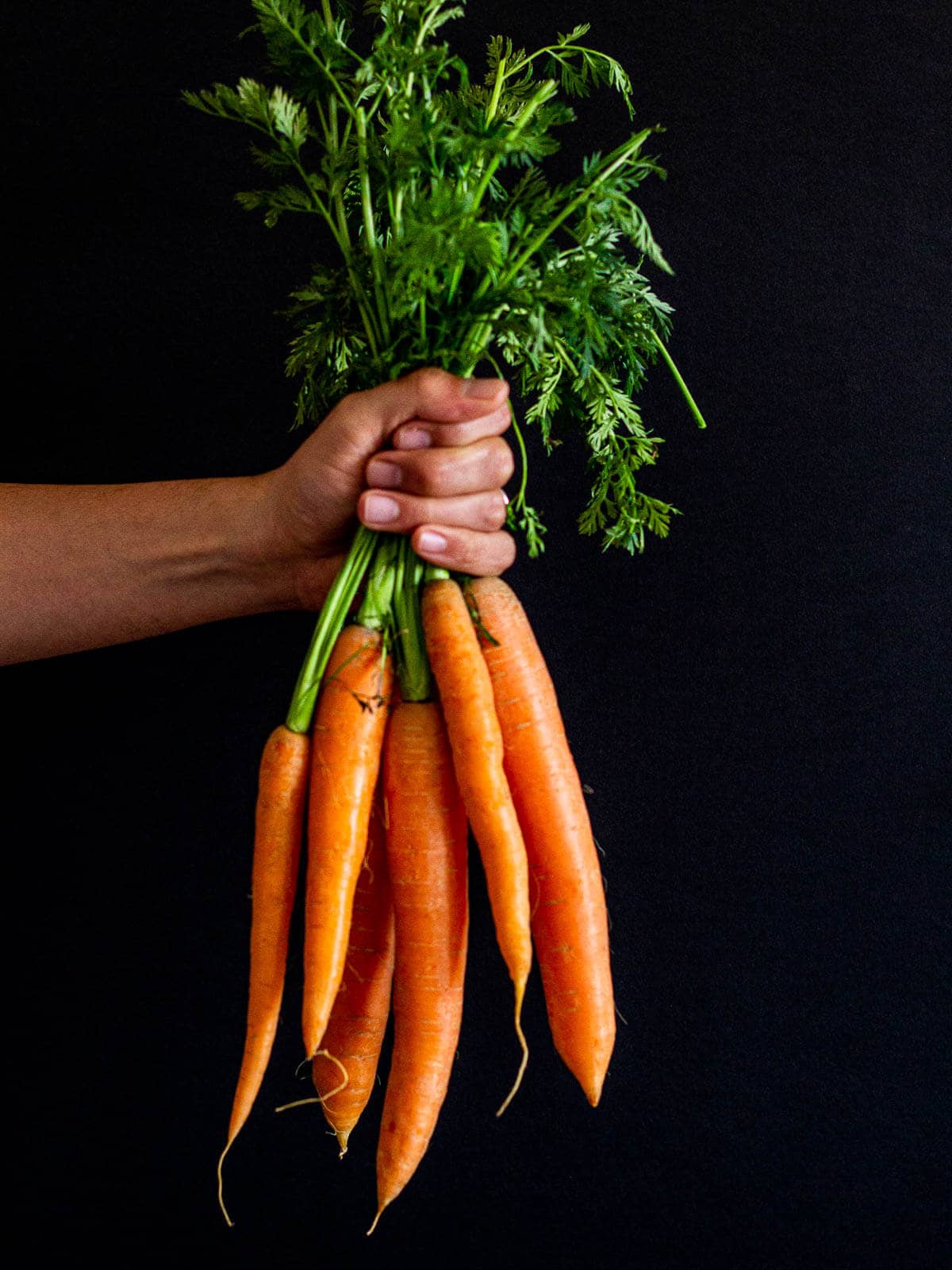 Breakfast: a delicious Carrot, Celery, and Apple Juice is an excellent way to start your day.
Snack: you love your Hummus but don't want to pair it with bread? Carrot Sticks!
Lunch: have a delicious Savory Carrot Tart, super easy to make, and works perfectly for meal preps. It freezes and thaws perfectly.
Dinner: have this excellent carrot soup as a starter for your main dish.
If you are curious about carrots nutrition, check out 10 Benefits of Carrot, Apple and Celery Juice
✅ Benefits of carrot ginger soup
This delicious Carrot Ginger Soup recipe is not only vegan but gluten-free, dairy-free, and paleo. It's perfect for warming you up on a cold day, whether it be winter or fall.
Carrots are chock full of beta-carotene (a pro-vitamin that the body converts to Vitamin A), essential for healthy vision, cell growth and development, immune function, and a strong heart. Carrots are so rich in Vitamin A that practically no other vegetable can compare.
The anti-inflammatory properties of carrots come from their high levels of antioxidant carotenoids such as alpha-carotene, beta-carotene, and beta-cryptoxanthin. According to a study published in the "Journal of Nutrition," eating foods rich in carotenoids may reduce your risk of heart disease.
Another nutrient found in carrots that can help prevent certain types of cancer is falcarinol – a phytochemical that gives carrots their characteristic flavor. Falcarinol also has anti-inflammatory and antioxidant properties and is currently the subject of numerous studies.
Another phytochemical found in carrots is falcarinol. A study published in "Journal of Agricultural and Food Chemistry" shows that this phytochemical may help fight inflammation associated with conditions such as arthritis.
Carrots also contain Vitamin K, which plays a vital role in blood clotting and bone health.
They also contain Vitamin C, essential for the growth and repair of tissues in all parts of your body, and are one of the most well-known antioxidants.
Tip: When buying carrots, look for firm and crisp ones without cracks or blemishes. Avoid limp carrots, have a mushy texture, or have gone soft.
You should store carrots in the refrigerator for up to two weeks. If you're not going to use them immediately after buying them, it's best to cut off any greens before storing them. Green tops draw moisture out of carrots and cause them to spoil more quickly.
Tip: Carrot greens can be used in stir-fries, soups, pesto, and salads.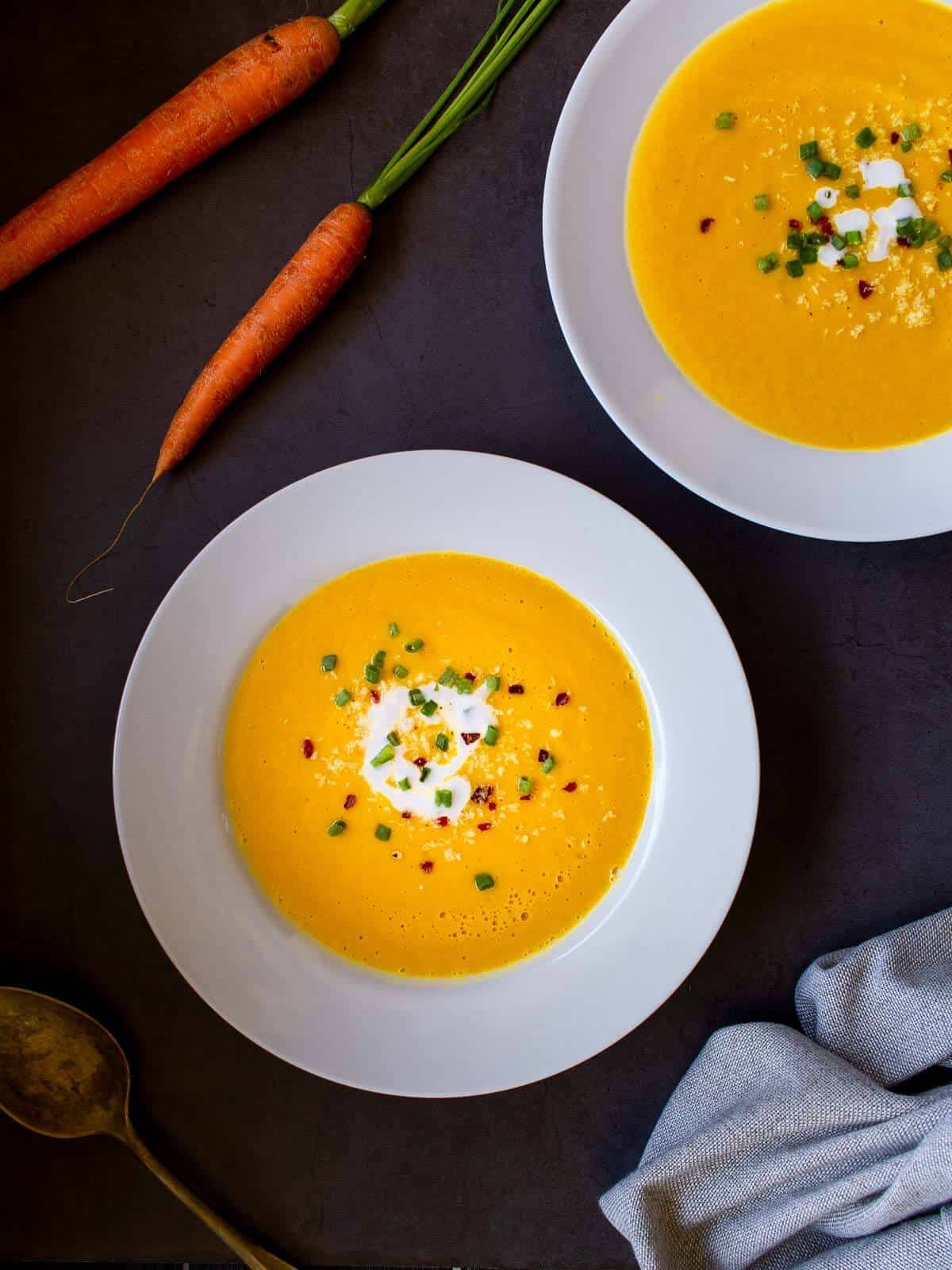 Ginger is known for its powerful anti-inflammatory benefits when consumed raw or undercooked. It also has numerous medicinal qualities, including acting as an antibiotic, reducing nausea symptoms, relieving pain, stimulating the immune system, and much more.
Ginger also helps improve blood circulation, which means it can help reduce muscle pain and chronic inflammation.
A study published in the "Journal of Nutritional Science and Vitaminology" shows that ginger may benefit athletes experiencing exercise-induced muscle damage.
Ginger is best consumed raw or undercooked; however, if you prefer to cook it, make sure not to burn it. To preserve the nutrients and enzymes in ginger, slice off a small amount at a time and grate or chop with a sharp knife.
It's best to consume fresh gingerroot within three weeks of buying it. If you don't plan on using it within that timeframe, wrap the unpeeled gingerroot in plastic wrap, put it in a sealable bag, and store it in the freezer.
Tip: You can also freeze ginger by grating it, then transferring it to an ice cube tray with water. Once frozen, transfer cubes into a sealable bag. Add one or two cubes to smoothies for a kick of flavor!
🍲 More Vegan Soup recipes
Make sure to try this Fasolada Greek soup, the Tuscan bean soup, Vegan Pumpkin Tahini Soup, Curried Hearty, and Spicy Sprouted Lentils Soup!
Feeling like a cozy soup with everything to make a complete meal? Try this traditional Italian Tuscan Soup, which is not only healthy but delicious and packed with nutrients.
If you want a summery soup, try out the Andalusian Gazpacho recipe or the Watermelon Rinds Gazpacho recipe on this site. Both are delicious and made in minutes!
Our delicious pea pottage is a fantastic hearty, filling, and protein-packed meal.
Try out this fantastic and super simple 4-ingredient potato soup; it is gluten-free and oil-free!
Hint: you can use carrot orange, and ginger juice remaining pulp on this recipe! 💡
🥕 More carrot recipes
Sometimes we go crazy on carrots and find ourselves with more than we think we can consume until we simply start juicing them! We love our carrot, apple and celery juice in the morning!
We even make pesto out of carrot tops; it is delicious and a great way to reduce waste. What otherwise would have finished in the compost bin becomes a delicious pesto sauce.
If you like bacon or used to like it until you switched to a plant-based diet, you may be heading to a new treat with this easy-to-make and healthy carrot bacon recipe.
If you love carrots, you will surely love our one-pot carrot loaf cake, made with our go-to gluten-free flour mix, for a healthy treat or breakfast.
If you try this vegan ginger carrot soup, let us know! Leave a comment, rate it, and don't forget to tag a photo #ourplantbasedworld on Instagram. Cheers!
📋 Recipe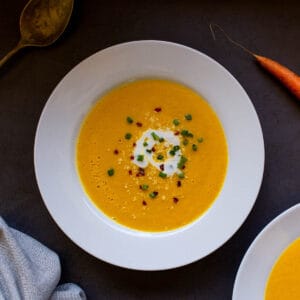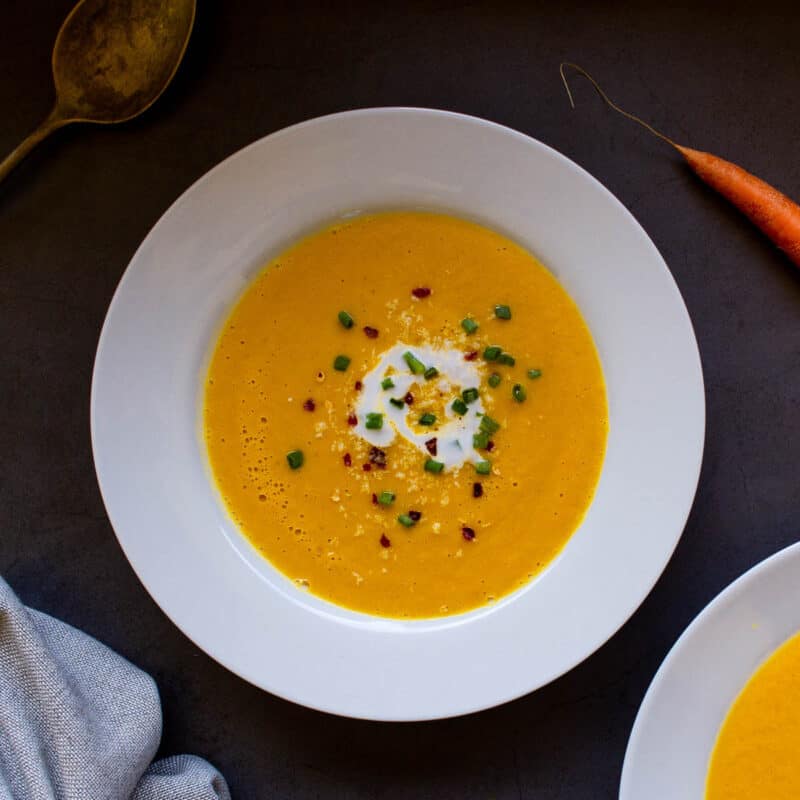 Carrot and Ginger Soup
Spring Carrot and Ginger soup with coconut and lemongrass notes. A light and healthy soup for a quick lunch or to start a great meal.
Equipment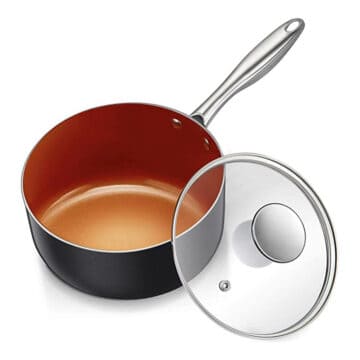 (affiliate link)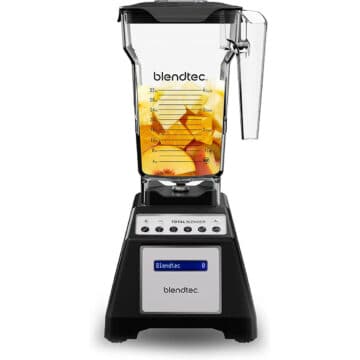 (affiliate link)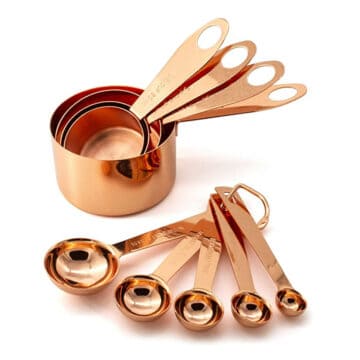 (affiliate link)
Ingredients
Optional:
sea salt and fresh black pepper

optional, omit if following a WFPB diet
Directions
Saucepan method
Wash, peel, and chop your carrots coarsely.

Stir-fry the onions and garlic and pinch pepper and cook until golden, occasionally stirring for about 5 minutes. Add the carrots, garlic, ginger, lemongrass (optional), and apple cider vinegar, and then add 5 cups of broth. Reduce the heat to a simmer and cook until the carrots are soft, about 30 minutes.

Blend. Let cool slightly, transfer to a blender, add the coconut milk, and blend until smooth (about 1 minute). Taste and adjust salt and pepper, or even ginger, if you want it to be more gingery).

Serve with a drizzle of coconut milk, if desired.
Instant Pot Method
Stir-fry the onions, garlic, ginger, apple cider vinegar, and carrots in the instant pot using the stir-fry mode.

Add vegetable broth and close the lid. Set to pressure cook at high (204 C, 400 F) for 15 minutes. De-pressurize.

Blend. Let cool slightly, transfer to a blender, add the coconut milk, and blend until smooth (about 1 minute). Taste and adjust salt and pepper, or even ginger, if you want it to be more gingery).
Notes
Feel free to add a cup of water if you want to dilute the flavor slightly or less stock to thicken the soup even more.
Nutrition Facts
Calories:
66
kcal
Carbohydrates:
14
g
Protein:
1
g
Fat:
1
g
Saturated Fat:
1
g
Polyunsaturated Fat:
0.1
g
Monounsaturated Fat:
0.01
g
Sodium:
1219
mg
Potassium:
257
mg
Fiber:
2
g
Sugar:
7
g
Vitamin A:
10817
IU
Vitamin C:
7
mg
Calcium:
45
mg
Iron:
0.3
mg
Nutrition Facts
Carrot and Ginger Soup
Amount per Serving
% Daily Value*
* Percent Daily Values are based on a 2000 calorie diet.
🌡️ Food safety
Cook to a minimum temperature of 165 °F (74 °C)
Do not use the same utensils on cooked food that previously touched raw meat
Wash hands after touching raw meat
Don't leave food sitting out at room temperature for extended periods
Never leave cooking food unattended
Use oils with high smoking points to avoid harmful compounds
Always have good ventilation when using a gas stove
See more guidelines at USDA.gov.
The information shown is an estimate provided by an online nutrition calculator. It should not be considered a substitute for a professional nutritionist's advice. See our full Nutritional Disclosure here.
Please note that some of the links here are affiliate links, and I will earn a commission if you purchase through those links. I recommend all of the products listed because they are companies I have found helpful and trustworthy.