The miso and maple glazed carrots recipe constitutes a classic culinary treat that has no boundaries. Basic ingredients can create a sweet and savory meal that will please everyone. They are one great appetizer and side dish and are ideal for Thanksgiving.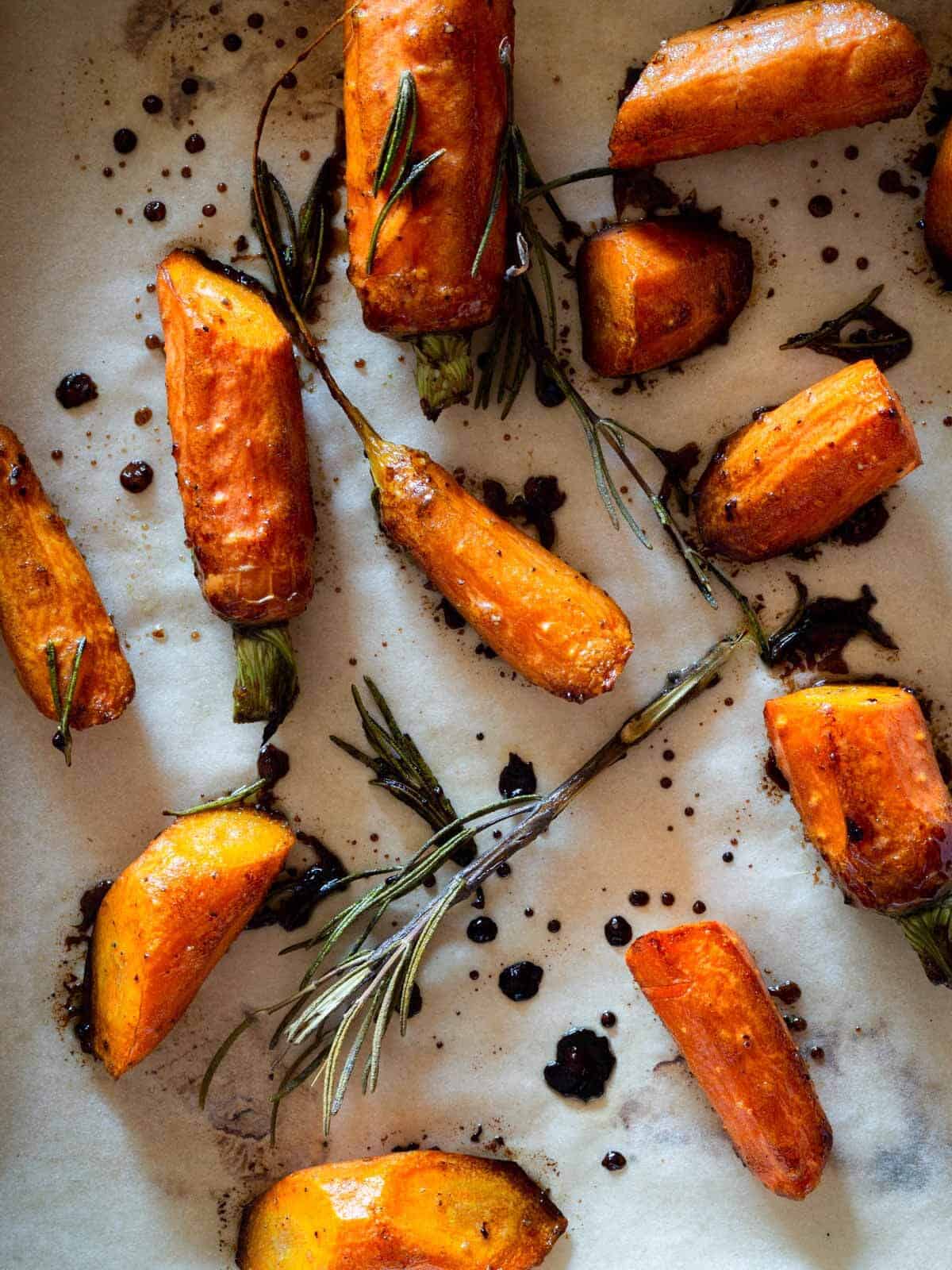 These maple glazed carrots make a great side dish that goes nicely with a Holiday Vegan Roast with Mushroom Gravy and mashed potatoes for a complete Vegan Thanksgiving or Christmas dinner.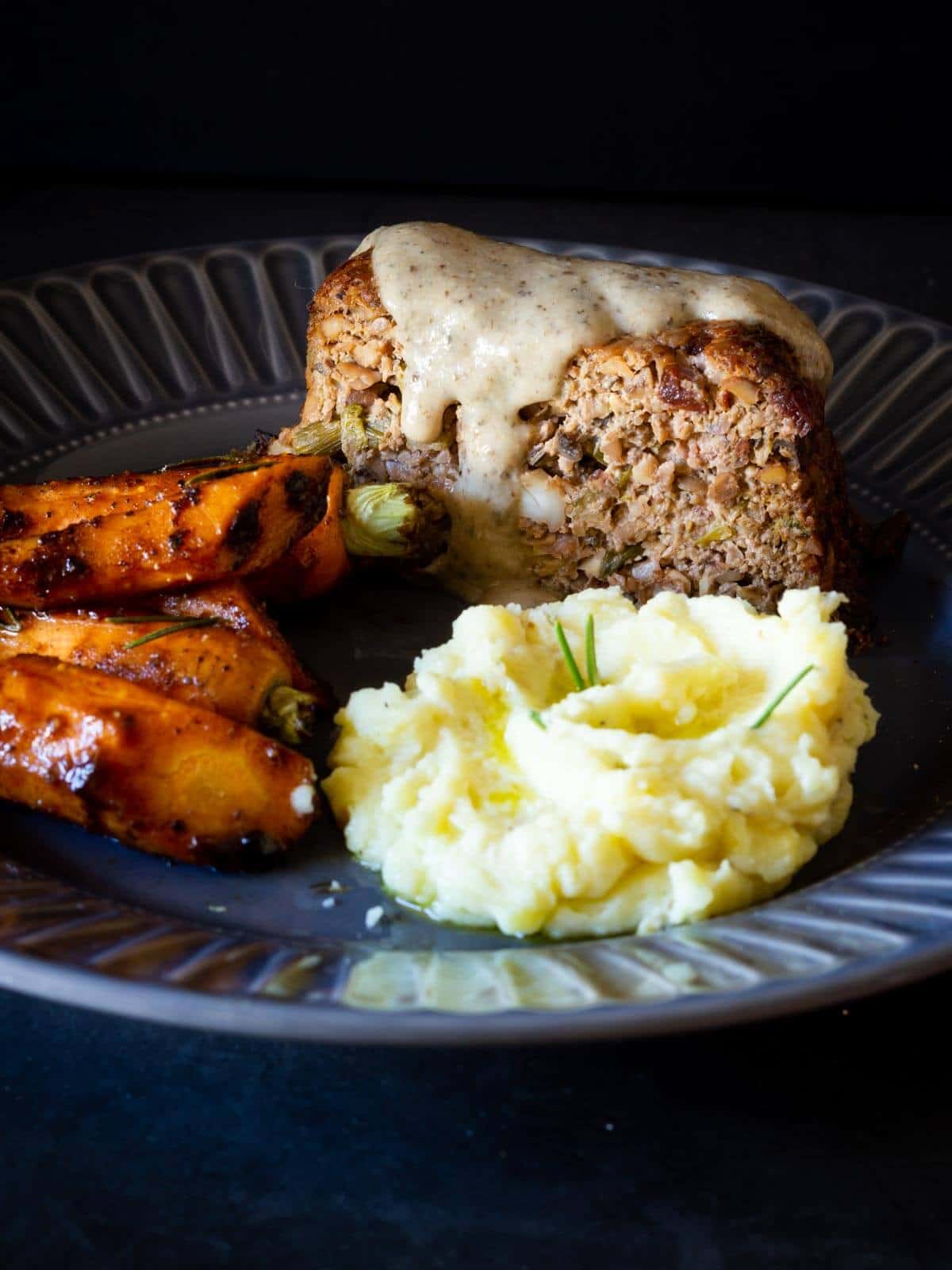 Jump to:
💡 The ultimate last-minute side dish
The glazed carrot recipe is our go-to side dish. Ideal for weeknights when you're rushed, stressful holidays, and everything in between. All ingredients are put together and ready within 5 minutes.
Then you can relax and just place them in the oven for around 25 minutes, tossing them halfway. Very convenient.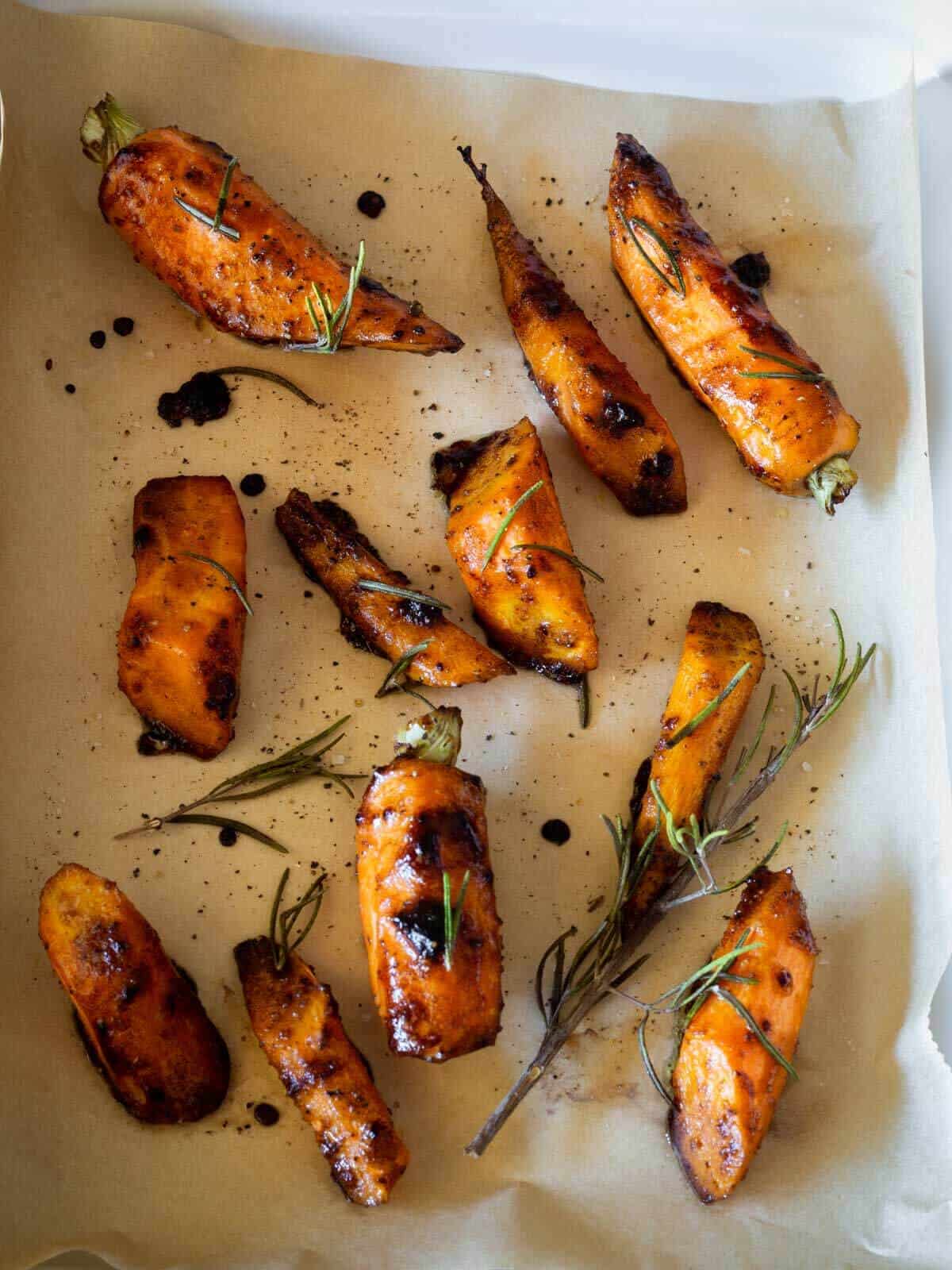 Carrots are cheap and healthy and these maple-glazed carrots are so easy - this simple recipe has a pretty great impact during holiday gatherings. Who doesn't love carrots?
🧾 Ingredients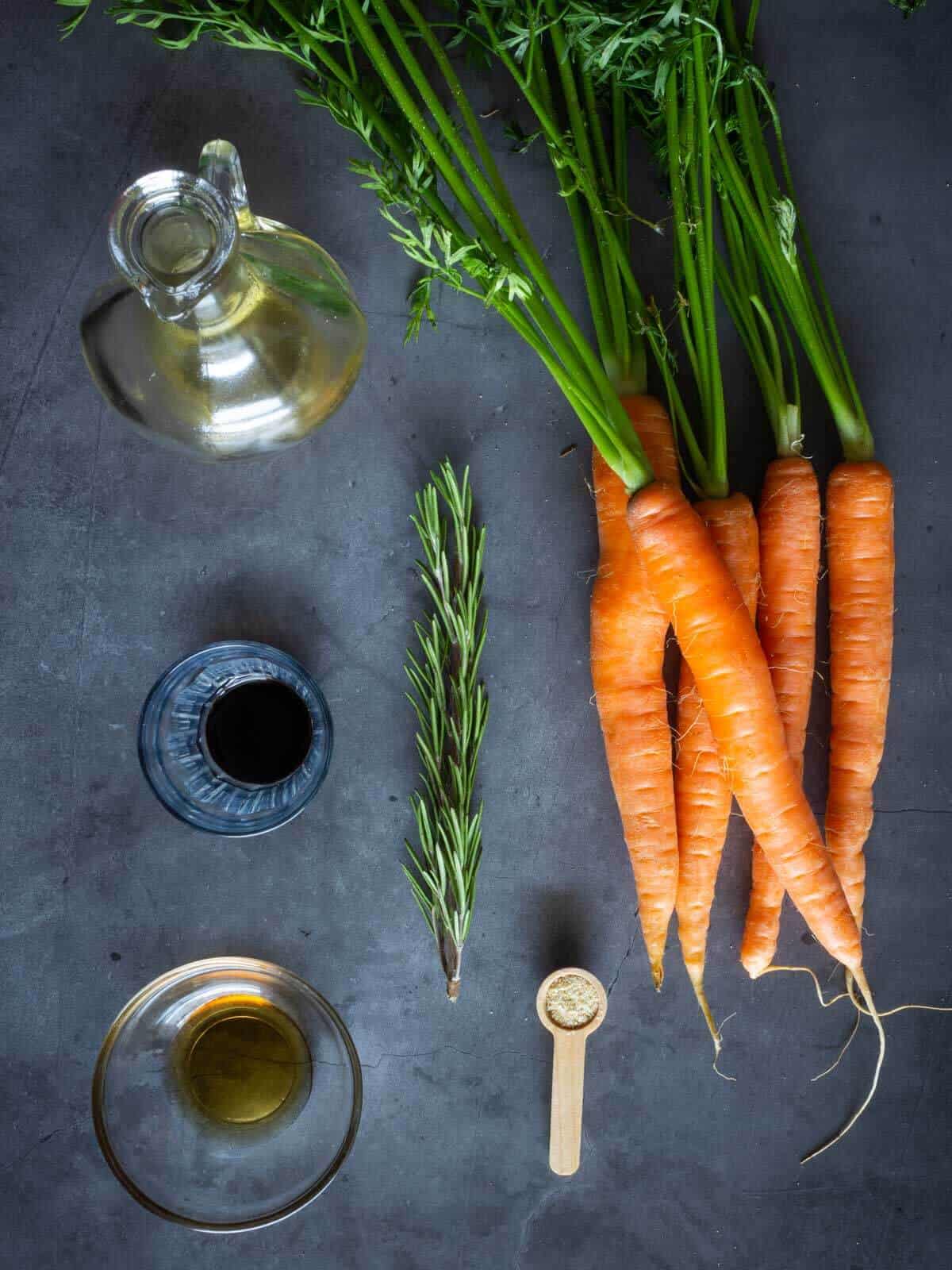 Whole carrots peeled and sliced, or baby carrots: These are the star of the dish, offering a natural sweetness and vibrant color. Slicing them ensures they cook evenly and absorb the glaze well.
Extra virgin olive oil or avocado oil: Used for roasting the carrots, these oils have high smoke points and add a subtle, complementary flavor.
Glaze balsamic: This adds a tangy richness, balancing out the sweetness of the carrots and maple syrup.
Maple syrup: Brings in that natural, earthy sweetness that pairs perfectly with the carrots and enhances the glaze.
Fresh rosemary or thyme: These herbs infuse the dish with aromatic undertones, elevating the flavors of the carrots and glaze.
Miso paste: Adds a savory, umami kick that contrasts beautifully with the sweetness of the dish.
Onion powder (optional): For those who want a hint of savory depth, this optional ingredient rounds out the flavor profile.
See quantities and complete instructions in the recipe card.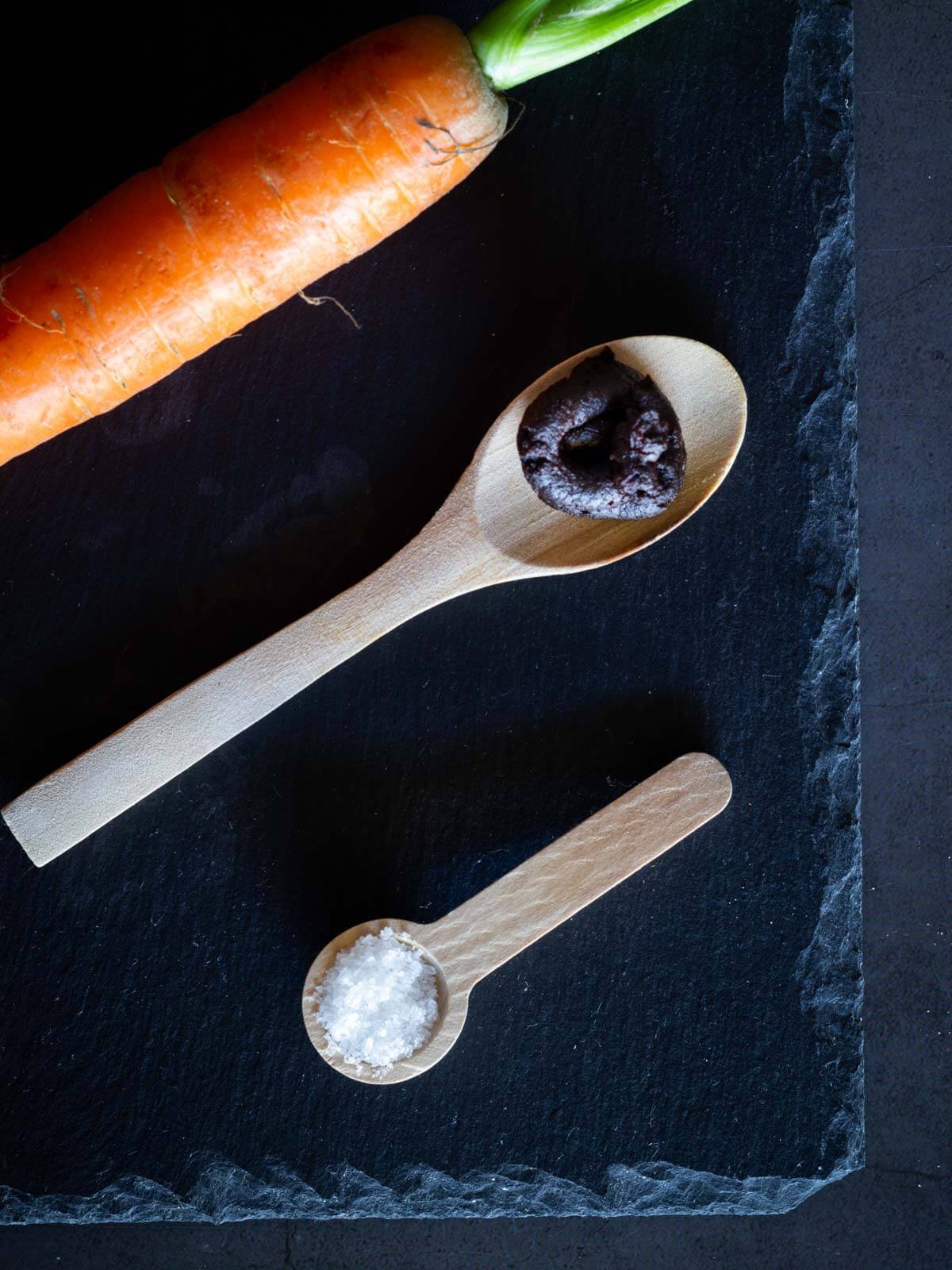 🔪 How to make glazed carrots
Making this glazed carrots recipe side dish or appetizer is super easy; you need just a couple of utensils available in every kitchen.
Step 1. Prepare the carrots. Peel them and chop them into medium chunks, ensuring they are even in size. We like leaving the stems on because the chunks closer to the stem will look really pretty after being plated.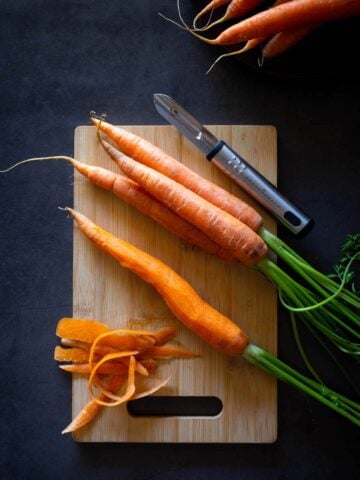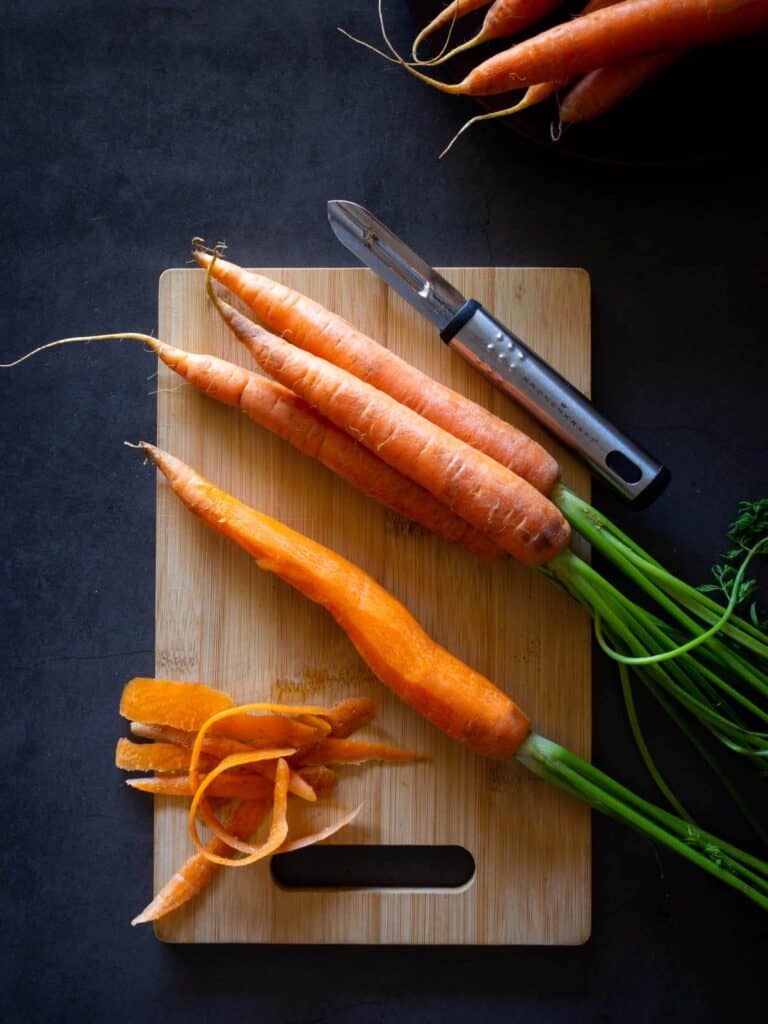 Step 2. Mix all the seasonings.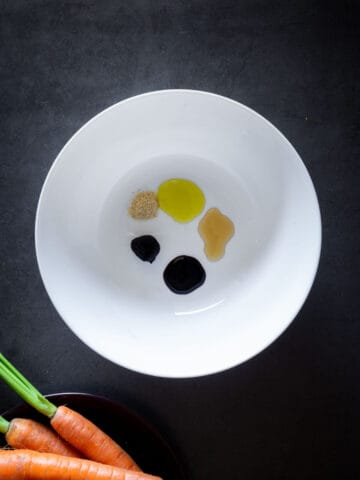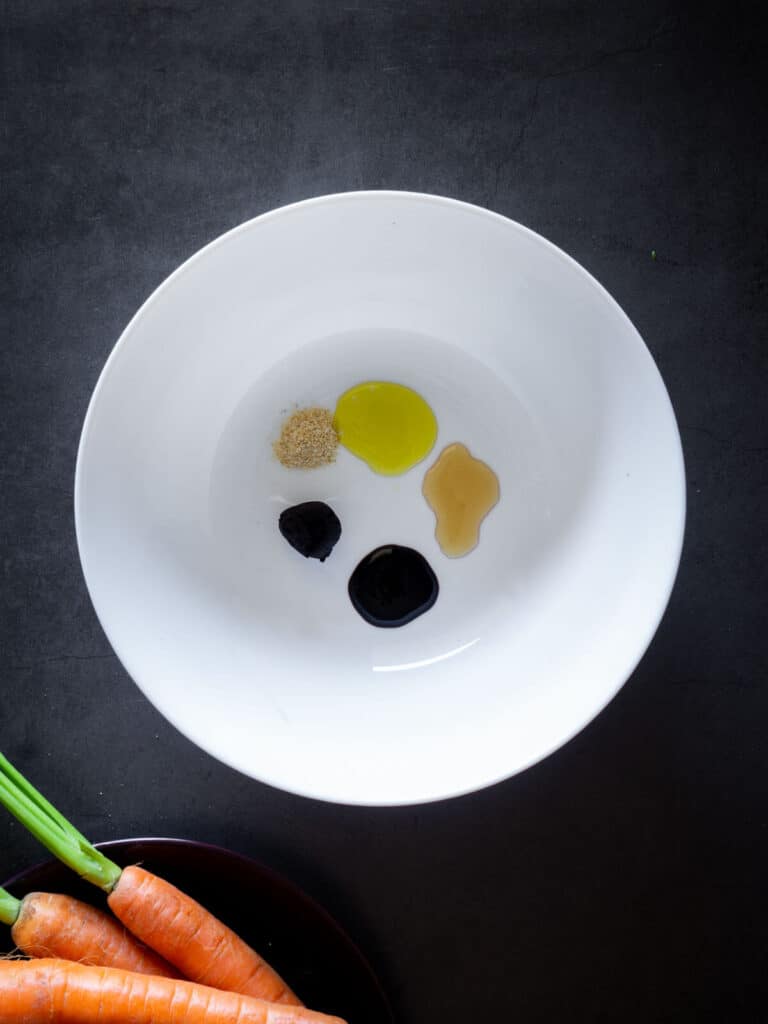 Step 3. Add carrots to the bowl where you mixed the seasonings.
Step 4. Line a parchment paper and add the carrots, with the herbs on top. Sprinkle some salt and pepper.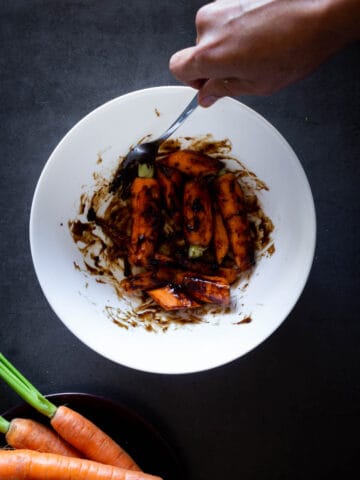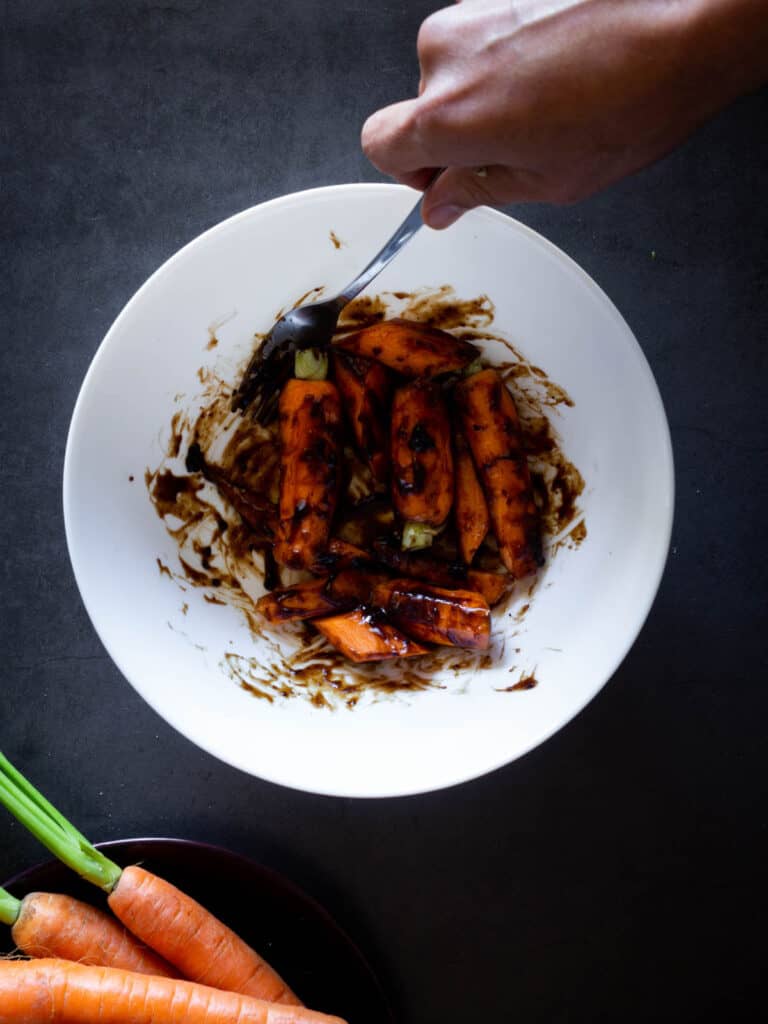 Step 5. Bake and toss halfway (after 15 minutes).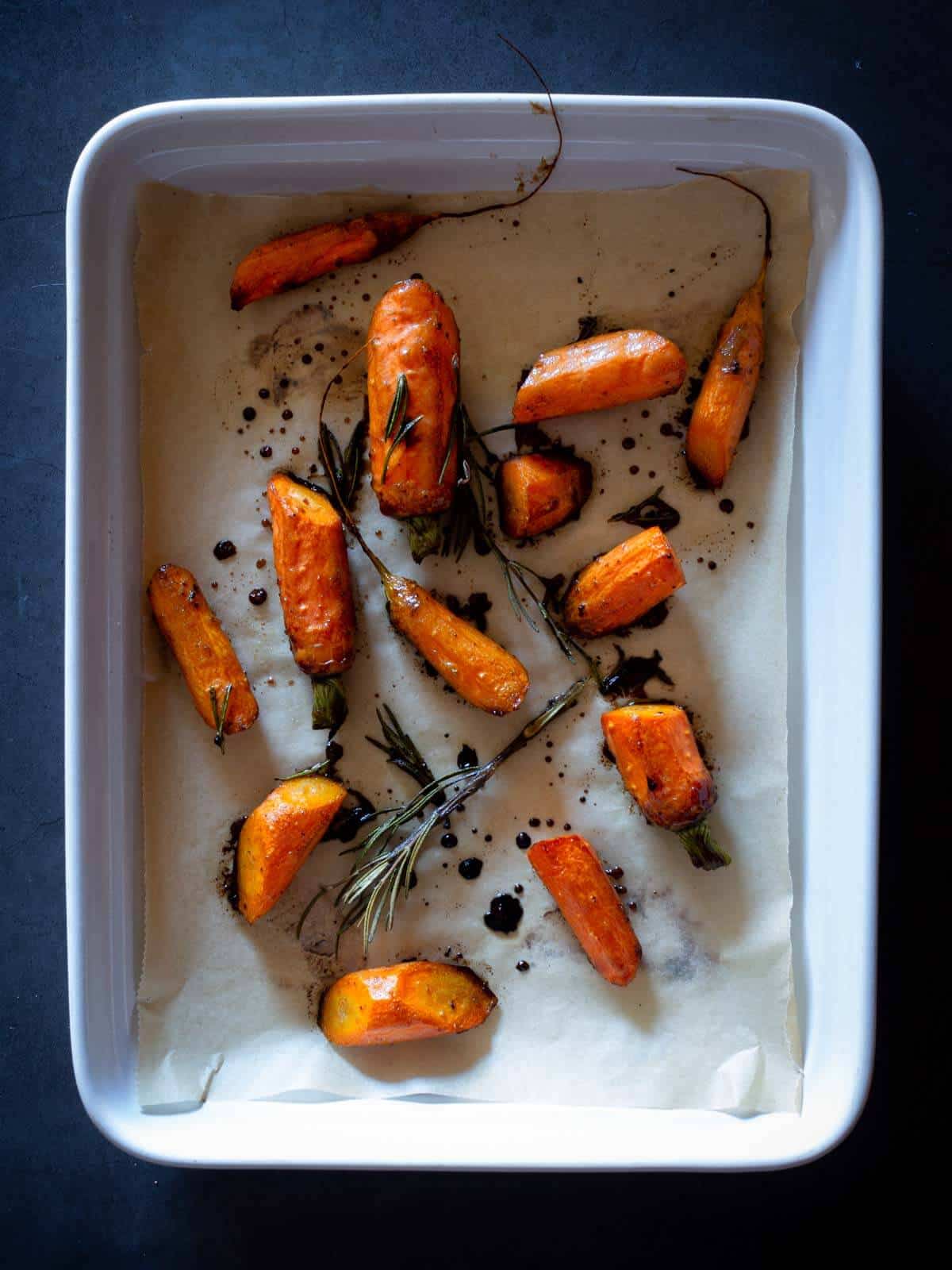 You can make glazed carrots ahead of time; just make sure to eat and serve warm, although they are also delicious at room temperature.
Love miso? You may want to try our vegetable miso soup! So good!
🥢 What to serve with glazed carrots
Carrot glazed can be perfectly paired with most other dishes. Serve it with a vegan nut roast or maple-glazed tofu with steamed Jasmin rice.
We also like serving these carrots on brunch occasions next to a Brussels sprout sweet potato hash; a fantastic combination.
It's still considered a classic side dish at Holiday Dinners, including Thanksgiving and Christmas, just like a roasted pumpkin and butternut squash.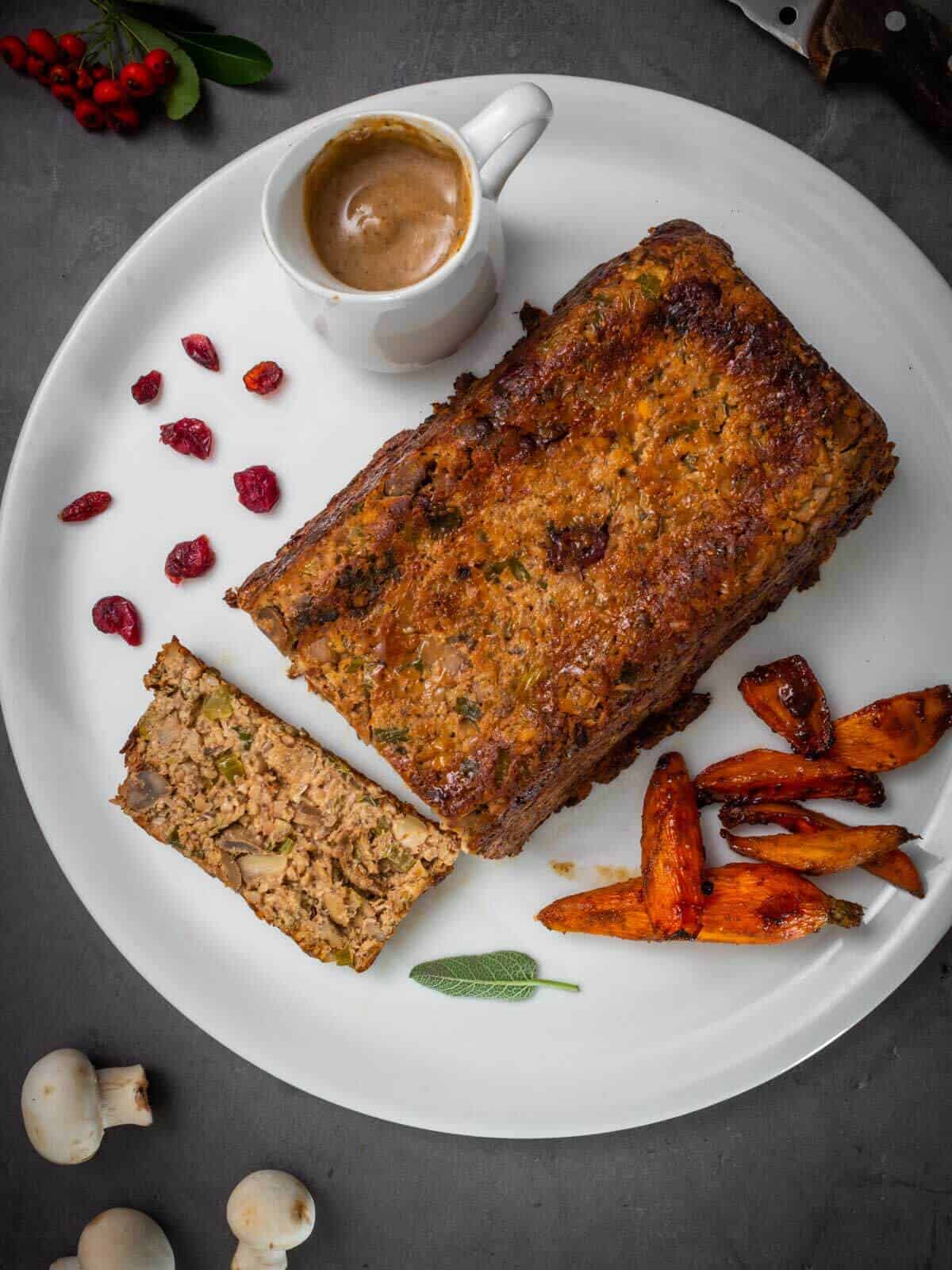 🍶 Variations and substitutions
Carrots - All types of carrots are suitable for this recipe – just cut larger carrots to sizes. Roasting carrots in a hot oven works best for a caramelized edge.
Purple and yellow carrots also work well and can provide extra color and nutrients. If you want to maximize every single second, you can use baby carrots.
Sweetener - we try to avoid sugar in our recipes, but you can substitute the maple syrup with ¼ cup of dark brown sugar for 1 kilogram/ 2lbs of carrots. Honey or maple syrup is the most popular sweetener for this glazed carrots recipe. If you are a vegetarian, you may want to use honey, but I encourage you to substitute honey with maple syrup, agave nectar, or brown sugar. Let's take care of these beautiful creatures.
Olive oil - you can also use avocado oil or vegan butter. If cooking oil-free, briefly steam the carrots first until carrots are tender (just slightly). Then, toss the half-cooked carrots into the mix and roast them for around 15 minutes.
Miso paste - you can use light, medium, or dark miso. Just take into consideration that the darker, the stronger, so reduce the amount of miso if using a dark paste. You can also sub for one teaspoon of powdered miso.
Seasonings - instead of onion powder, you can also use garlic powder (in a small quantity) or even curry powder.
Herbs - I used rosemary here, but thyme works perfectly well, just as they do with roasted butternut squash. Both herbs pair very well with sweet veggies, think sweet potatoes dishes, roasted pumpkin, and acorn squash.
Other variations - if you are feeling adventurous, add a little orange juice to the mix to add some citric flavor notes. Cinnamon and nutmeg in very small quantities also make glazed carrots more festive taste.
Can you use vegan butter and brown sugar?
Yes, you can substitute the olive oil with the same amount of melted vegan butter. Then melt the brown sugar on it.
👨🏻‍🍳 Pro tips
Space between the carrots - when you overcrowd the baking pan, the carrots will be steamed instead of roasted; we want tender carrots with crispy edges! Leave some room between carrot pieces.
Carrots size - It works equally well on whatever cut you choose. What is critical is to cut carrots roughly of the same size. This will ensure they cook equally and you don't end up with a carrot, which is mushy, while others aren't cooked through. Ensure halving large segments so they're evenly sized.
Temperature - we don't want to burn the carrots, but we want our carrots crispy. 400 ºF (200 ºC) works perfectly fine.
Oven setting - we like cooking the carrots with upper and lower heat (upper and lower line), and after tossing them near the halfway point, we use the upper grill (upper zig-zag line)
🥡 Storing
Store the maple-glazed carrots in an air-tight container.
Miso glazed carrots are even tasty, chilled, and served with salad.
The caramelized carrot lasts for 3 days in an airtight container. Don't freeze the cooked carrots; they will thaw soggy. Reheat the stovetop over medium heat until hot. You can also reheat them in a 350 F (175 C) oven or microwave.
Since we use carrots quite often for juicing, and we love zero-waste cooking and minimizing churn, we always use carrot tops to make carrot greens pesto, which goes perfectly with vegan tuna salads and cold pasta salads.
If you love carrots, you will surely love our 1-pot carrot cake, made with our go-to gluten-free flour blend, for a healthy treat or breakfast.
🎄 More holiday recipes
Try this fantastic recipe next to cornbread stuffing on your holiday table.
If you like roasted carrots, try out these Holiday-perfect Honey Roasted Vegetables, you will love them!
⭐ If you try this recipe, let us know! 💬 Leave a comment, rate it, and don't forget to tag us @ourplantbasedworld on Instagram. Cheers!
📋 Recipe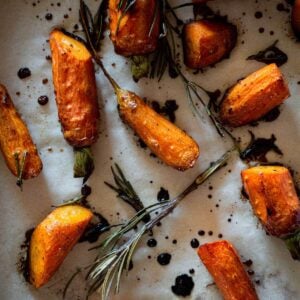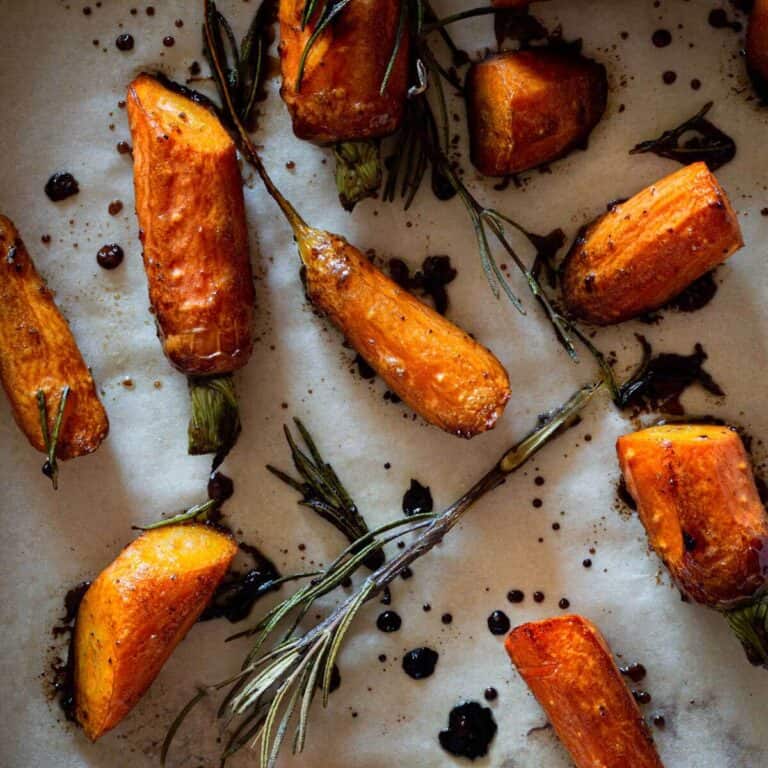 Roasted Maple Glazed Carrots
Glazed carrots are a classic tasteless culinary treat that has no boundaries. Three essential ingredients can create a sweet and savory meal that will please everyone at tables. They are one great appetizer, side dish and are ideal for Thanksgiving.
Equipment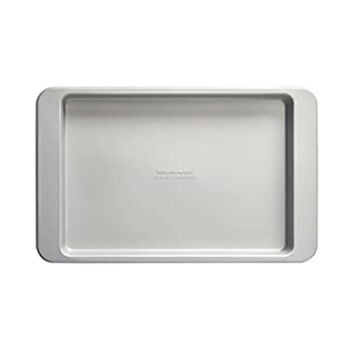 (affiliate link)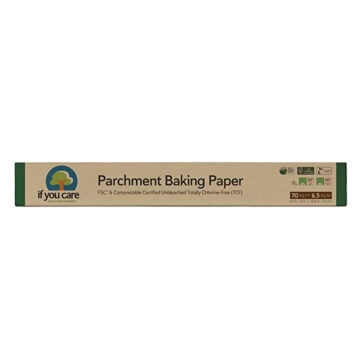 (affiliate link)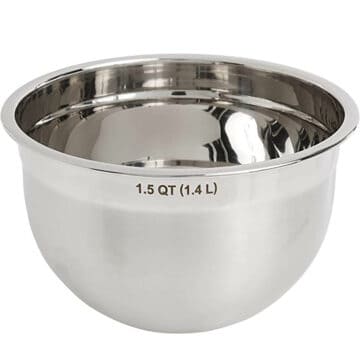 (affiliate link)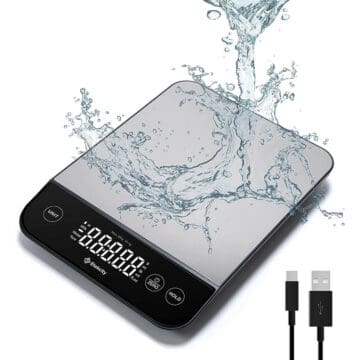 (affiliate link)
Ingredients
Optional:
½

teaspoon

onion

ground

1

teaspoon

miso paste

or powder, organic

pinch

sea salt

and pepper
Directions
Preheat the oven to 400 °F (200 C).

Peel and chop the carrots. Slice them at an angle into 1 ½-inch pieces. If you have larger pieces that are closer to the stem, just half of them.

Mix all the ingredients in a bowl, except for the rosemary and carrots.

Add the carrots, and toss the chopped carrots, ensuring they are well-coated with the mix.

Line a parchment paper on a baking tray and put the carrots in. Leave some space between them.

Strip the herb's leaves and top the carrots with them.

Cook for 25-30 minutes, or until carrots are golden brown. They should look slightly caramelized. Toss the carrots near the halfway point to ensure they are evenly cooked. Serve as a side to nearly any main dish.
Notes
Store leftovers covered in the fridge for up to 3 days. Don't freeze the cooked carrots; they will thaw soggy. Reheat the stovetop over medium heat until hot. You can also reheat them in a 350 F (175 C) oven or the microwave.
Oil-free:
If cooking oil-free, briefly steam the carrots first. Then toss them with the mix and then roast them.
Nutrition Facts
Calories:
125
kcal
Carbohydrates:
22
g
Protein:
2
g
Fat:
4
g
Saturated Fat:
1
g
Polyunsaturated Fat:
1
g
Monounsaturated Fat:
3
g
Sodium:
133
mg
Potassium:
626
mg
Fiber:
5
g
Sugar:
11
g
Vitamin A:
32090
IU
Vitamin C:
11
mg
Calcium:
69
mg
Iron:
1
mg
Nutrition Facts
Roasted Maple Glazed Carrots
Amount per Serving
% Daily Value*
* Percent Daily Values are based on a 2000 calorie diet.
Nutritional Disclaimer
The information shown is an estimate provided by an online nutrition calculator. It should not be considered a substitute for a professional nutritionist's advice. See our full Nutritional Disclosure here.
Affiliate Disclaimer
Please note that some of the links here are affiliate links, and I will earn a commission if you purchase through those links. I recommend all of the products listed because they are companies I have found helpful and trustworthy.