Naturally sweet and vibrant Beetroot Detox Juice recipe with beets, pineapple, carrot, and lime plus soothing ginger. High in beta-carotene, vitamin C, and essential minerals!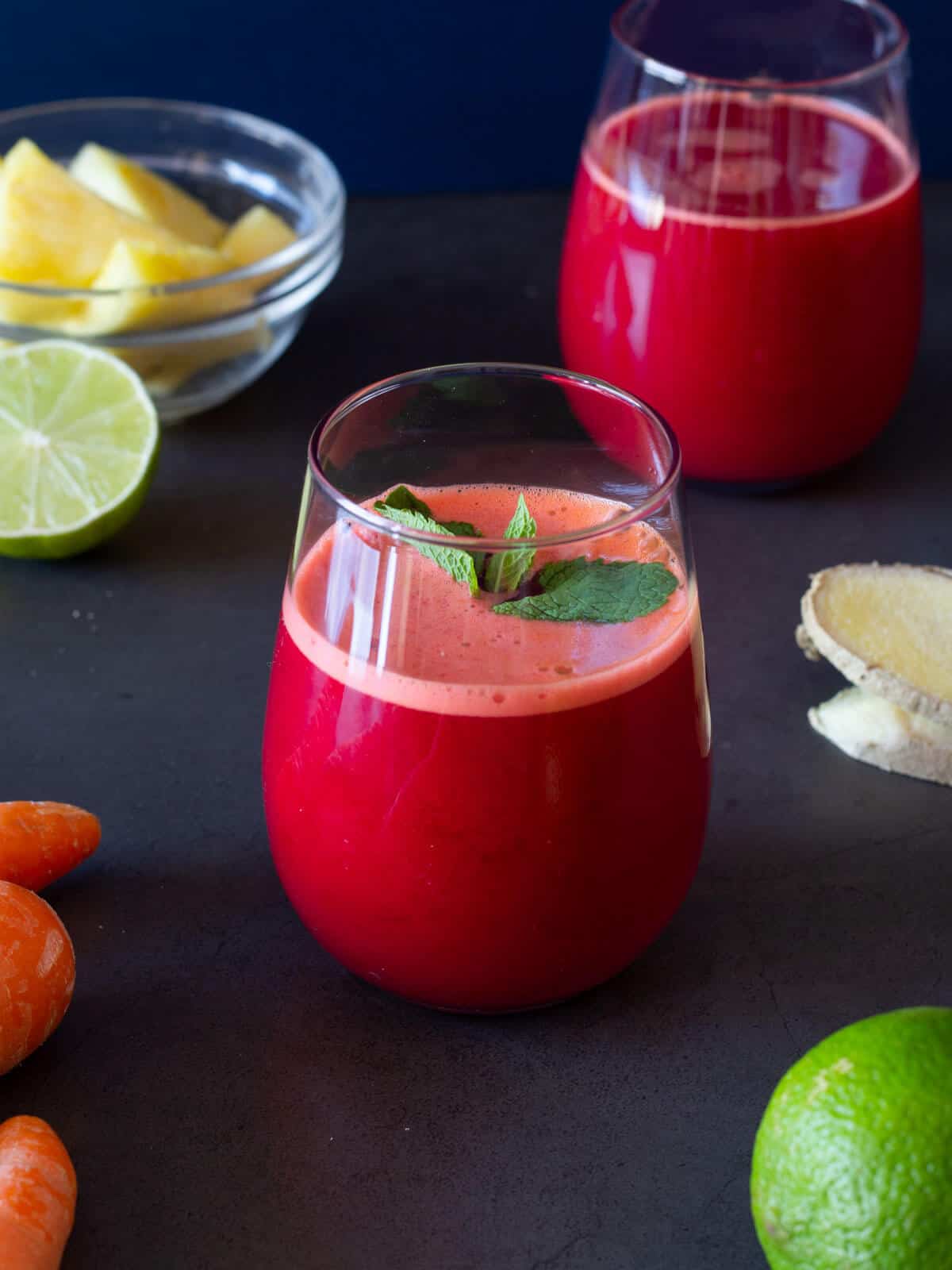 We have been making fruit and vegetable juices at home for years and have already shared how we make one of our favorite juices with kale, beets, carrots, cucumbers, apples, lemon, and our beloved ginger.
Think of juicing as a quick way to get lots of minerals, vitamins, and nutrients to nurture our bodies with nature's best first thing in the morning. Life in a glass!
Try also our Superfood Green Detox Smoothie, carrot orange and ginger juice, and our 10 favorite drinks for a detox plan, also on this site, to complement your weekly detox plan.
Jump to:
💡 Healthy juicing tips
Most of the time, we combine fresh vegetable juice with fruit juice in our healthy juicing recipes to ensure the taste, tartness, and sweetness are excellent and fabulous; this ensures the detox juice cleanse is a pleasing experience that is easy to maintain over time.
The key to a juice cleanse is sticking to your cleanse for at least one week; that way, you will experience its health benefits.
Mainly, we use veggies and try to keep a 3-1 ratio with veggies and fruit to avoid skyrocketing the sugar content unless we do yoga or go jogging when the sugar is well spent.
Some veggies, such as carrots and beets, are naturally sweet and don't need much fruit to make a lightly sweetened juice.
When we first started juicing our carrot, apple, and celery juice, along with our simple but powerful celery juice, they became staples in our breakfast until we started adding more variety and delicious fruits and veggies.
When the weight has gone up a little, we use our juice for weight loss, which has many flavors and features de-bloating ingredients. Green smoothies are also great for weight loss as, in general, they are made with leafy vegetables and contain fewer calories.
Our go-to green juice is made with a combination of kale, spinach, and fruits like green apple, coming together in a delicious green detox juice.
We do juice cleanses every month and sometimes use them as a meal replacement. Also, we love making veggie-packed juice to enjoy with our homemade granola, vegan scramble or oats, and chia pudding.
🤔 Detox juice recipe
On this occasion, we created this Beetroot Detox Juice as part of an Ayurvedic Cleanse for our friends from Ayurveda Lifestyle Yoga Academy. We combined highly alkalizing pineapple, beta-carotene-packed carrots and beets, tangy immune system booster, anti-inflammatory ginger, and lime for this beetroot detox juice recipe, making it the perfect detox cleanse elixir.
Beets and carrots - both the vegetables in this carrot beet juice recipe bring sweetness and extremely eye and skin-nurturing properties. Pineapple adds lots of tropical flavor and water, while lime and ginger add zing. Please look at our Hangover Juice recipe for another excellent detox juice.
If you have problems with digestion after over-indulging in foods and alcohol, juices can also offer great help!
Consuming green cabbage juice and Red cabbage juice with apples are also excellent ways to support gut health.
🧾 Ingredients
When making fresh juice, try to shop for organic vegetables and fruits. You need only five ingredients to make this tasty beet and carrot juice.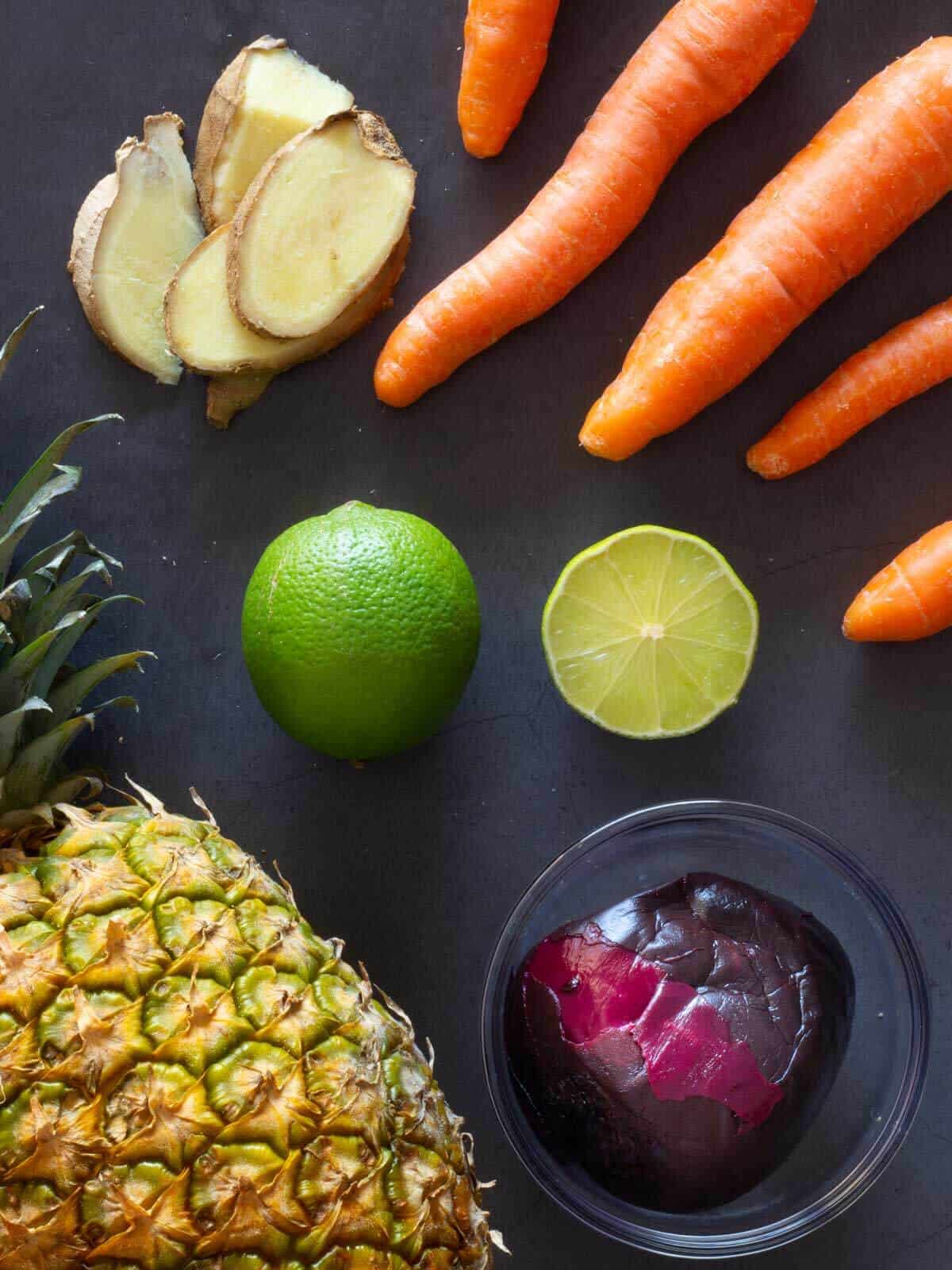 Beets
Fresh carrots
Pineapple chunks
Lime juice (or lemon juice)
Fresh ginger
See quantities and complete instructions in the recipe card.
Tip: always use fresh produce and whole fruits and vegetables.
🔪 How to make our favorite beet juice detox recipe
Wash thoroughly all the ingredients. Peel the pineapple and the lemon. Then chop all the ingredients into medium chunks that fit your juicer's aperture.
We use a Slow Masticating Juicer for the juice recipes that we love. Juicers break down into cold-pressed (also called slow masticating or macerating juicers) and centrifugal juicers.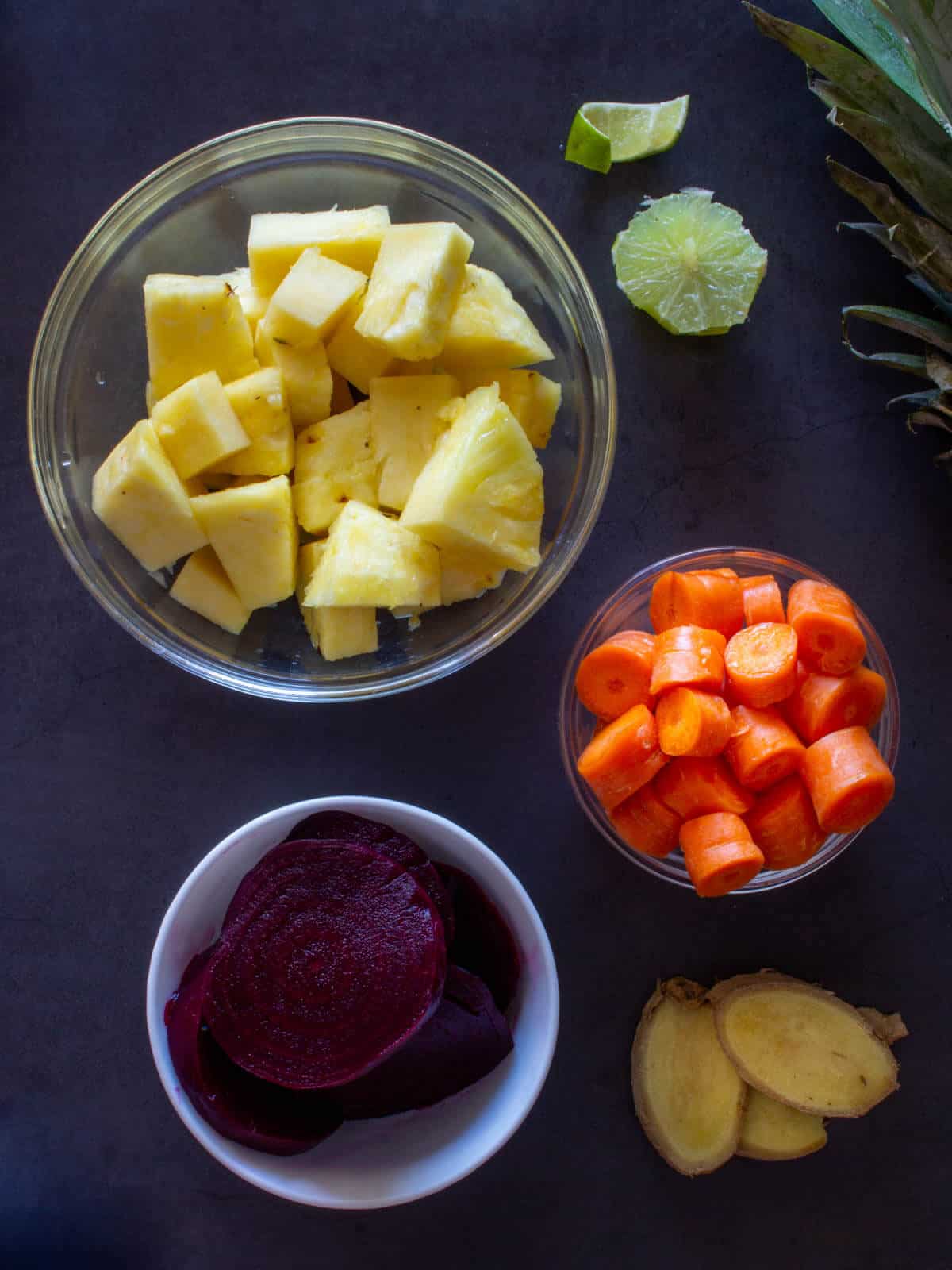 The cold-pressed juicers slowly press down the vegetables and fruits until the juice is squeezed out and the dry fiber falls into another container.
Get an excellent Cold-Pressed juicer, also known as a slow-masticating juicer.
It will be one of the best investments you have made this year! Trust me! Make sure you check the juicer's instructions before starting, as many juicers have different working mechanisms.
Use our Discount Code OPBW10 for 10% off (affiliate link)
On the other hand, centrifugal juicers extract juice quickly and spinning cut down produce around until the pulp and liquid separate.
The centrifugal juicers are typically cheaper as the spinning mechanism creates heat, breaking down enzymes. Keep in mind that slow-masticating juicers are more efficient at getting more juice from your veggies and fruits.
If you want to save some bucks, you can buy a centrifugal juicer and add about a ⅕ ratio of water to augment the volume without losing flavor.
But here is the catch, in my experience, slow juicers yield about 40% more juice. So, in the long run, you save more.
Our juicer is a slow cold-pressed juicer, and I am delighted with it. We used to have a centrifugal juicer, but we did experience, from time to time, a funny smell when the motor would get stuck for a couple of seconds with not cut-enough produce. That smoky-burn flavor can permeate into your juice.
A juicer makes quick veggies, fruit, roots, leafy greens, and everything else. The carrot beet juice comes together in under 10 minutes.
If you don't have a juicer, you can also make juices, by following these simple tips on juicing without a juicer, plus three delicious recipes.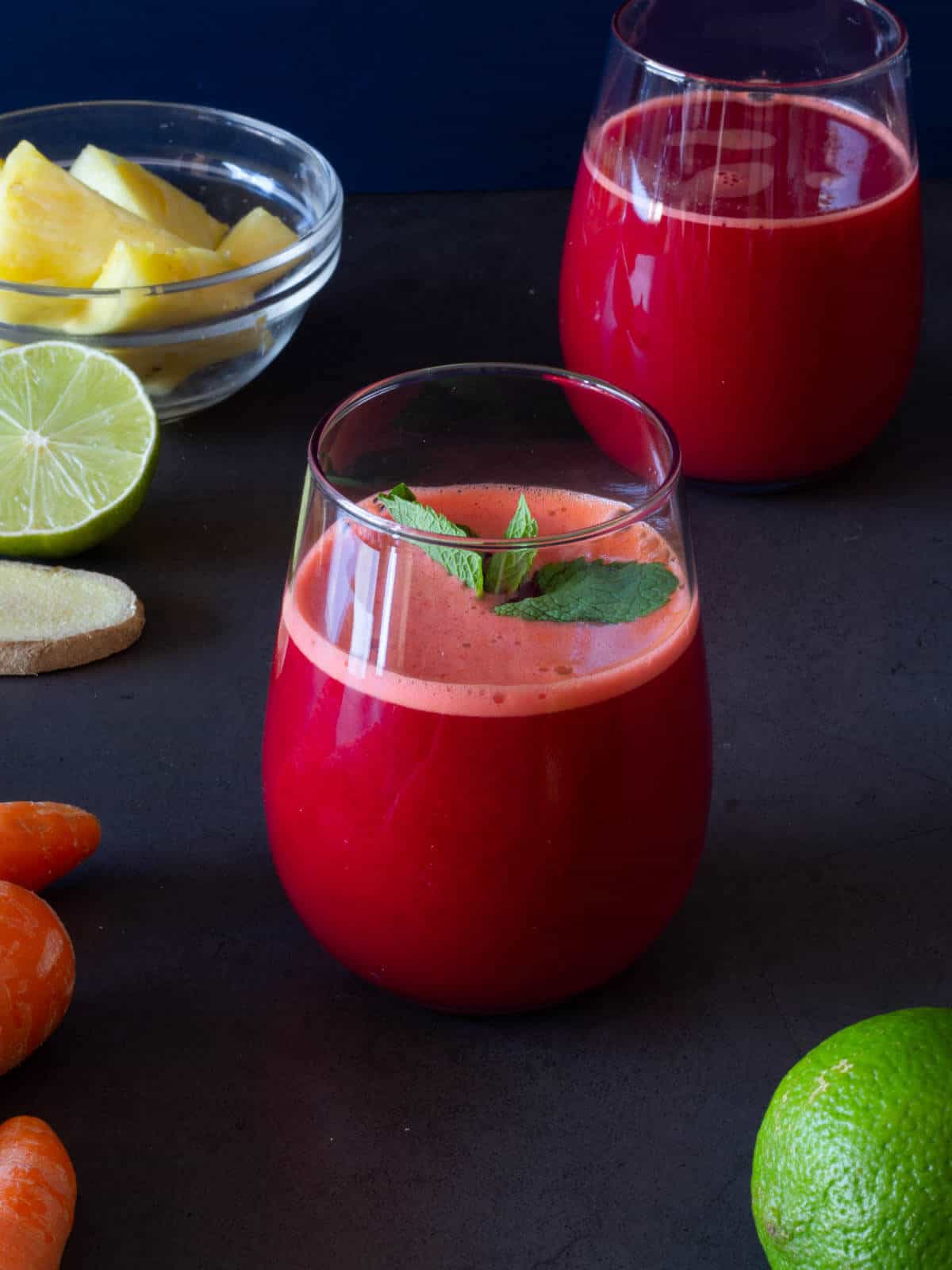 🍶 Substitutions
Pineapple - use green apples like granny smith apple, sweet and tart.
Lime - you can use lemon and limes interchangeably.
🫙 Storage
Remember that it is always better to consume freshly squeezed juice, but if you have carrot and beetroot juice leftovers, store them in a BPA-free (affiliate link), airtight container.
Store your vegetable juice recipes in the refrigerator for 24 to 48 hours.
✅ Benefits of carrot and beetroot juice
We love learning about the nutritional aspects of fruits, veggies, and fresh juices, so let's explore the benefits of carrot beetroot juice.
Beets with high folate content should be your go-to option if in need to increase your blood's levels of hemoglobin; It is also a great source of Vitamin C and iron. Their natural sweetness is great because you need less sugary fruits in your fruit juicers to sweeten them.
Carrot juice (hello pretty skin) – the beta-carotenes present in carrots promote eye and skin health.
Pineapples – have been linked to significant health benefits, including relief of arthritis symptoms, aiding digestion, improved immunity, and recovery after exercise.
Limes (and lemons) - are very high in Vitamin C, a staple immune-boosting nutrient. They are highly alkalizing and are known for their antioxidant and detoxifying properties. Also, vitamin C helps with absorbing the iron found in beets.
Ginger is the king in juices. Ginger aids in digestion, has powerful anti-inflammatory effects, and relieves bloating. We love that is no need to peel ginger before juicing it. Just scrub it clean, and cut the pieces off, then push them through the juicer. If you're sensitive to ginger's spicy quality, try adding it and taste it before adding more.
Tip: if using fresh pineapple, don't forget to save your pineapple peels to make a delicious, anti-inflammatory, zero-calorie drink that you are sure to love: pineapple-infused water, another great hydration drink for detox periods.
It is also popular to have green juice as part of your juice cleanse. Be sure to check our juice containing kale and green apples, including fresh ginger, which is packed with health benefits; it makes a tremendous anti-inflammatory juice and helps to lose weight. I would say it should always be present in a healthy diet.
Read on: Homemade Liver Cleanse Juice » and Beetroot Celery Juice »
You can also try beets in savory dishes like this delicious pink beet hummus, also on this site.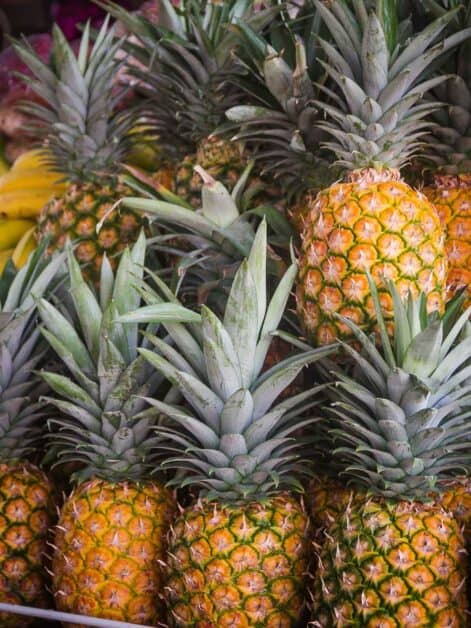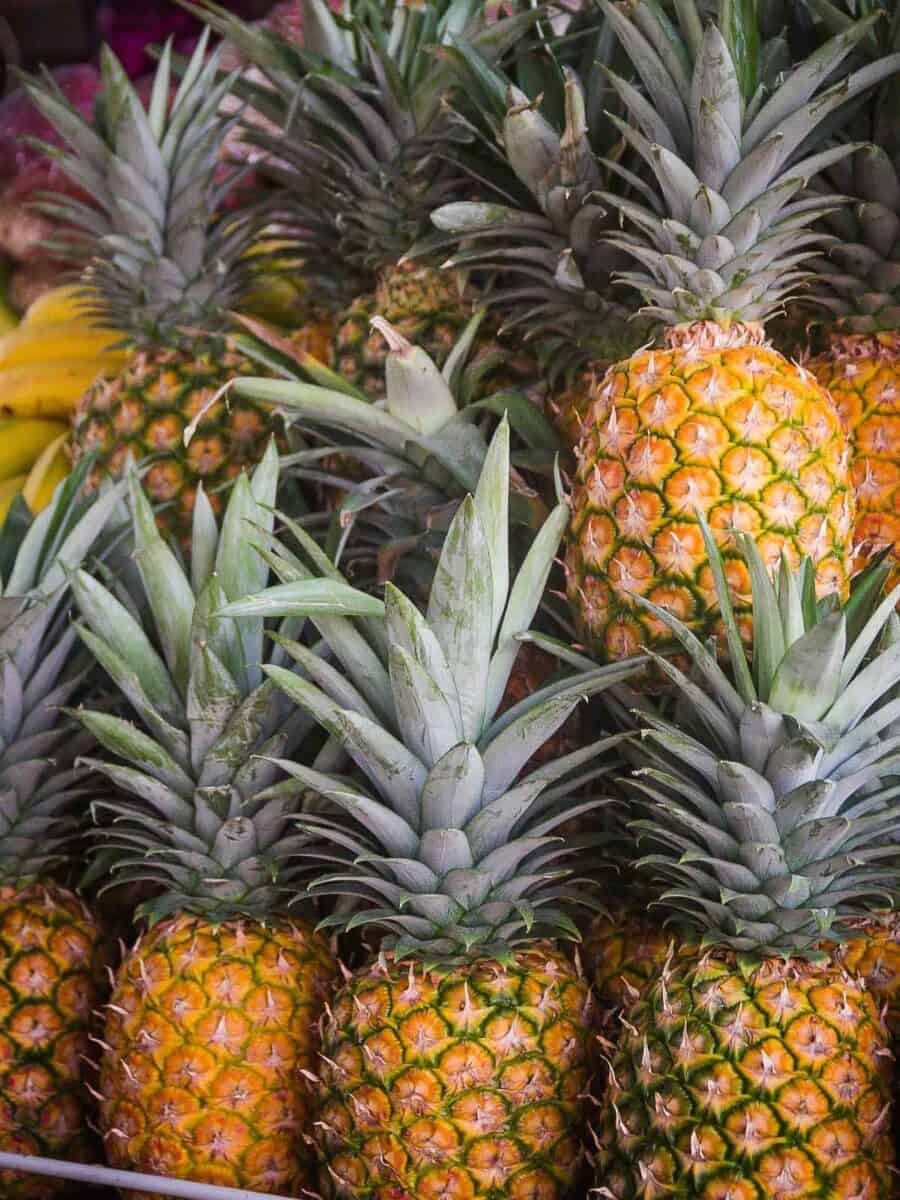 Read on: Drinks to boost the immune system »
Read on: the perfect pineapple cucumber detox smoothie »
❓ FAQ
What is the best time to drink beetroot and carrot juice?
First thing in the morning, on an empty stomach. This way, the nutrients in the carrot beet juice will be the first to hit your body and absorb its minerals and vegetables much better.
🧃 More vegetable juice recipes
These are some of our favorite detox juice recipes for juicer
If you love beets, don't forget to check out our stunning beet carpaccio, an authentic Italian gem!
If you love carrots and want to include them in your savory recipes, try this delicious savory carrot tart as a main dish, this carrot and ginger soup, or this carrot bacon recipe that makes a great vegan side dish.
⭐ If you try this beetroot juice recipe, let us know! 💬 Leave a comment, rate it, and don't forget to tag us @ourplantbasedworld on Instagram. Cheers!
📋 Recipe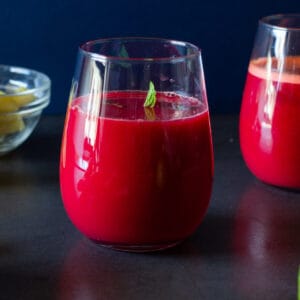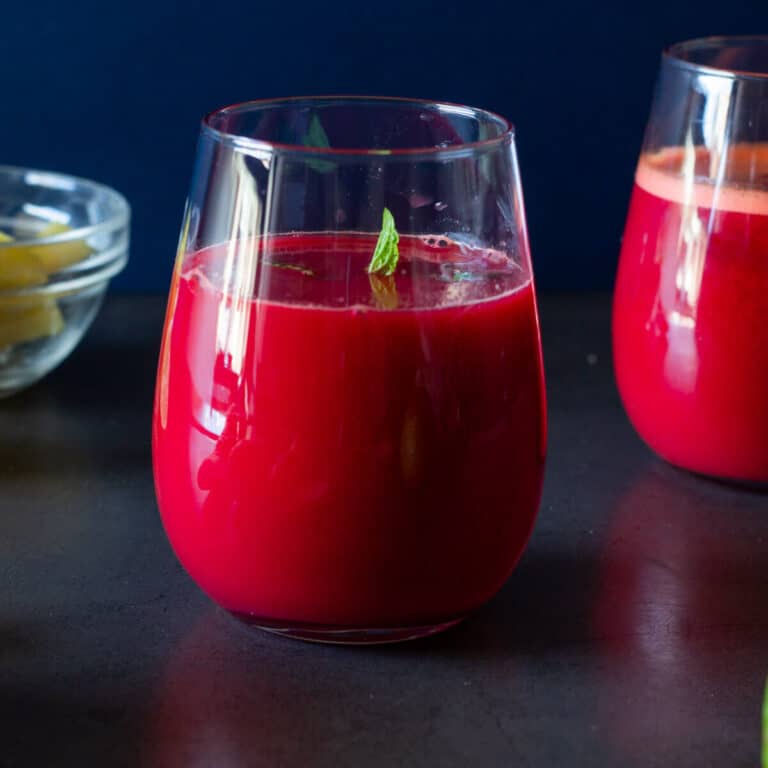 Carrot Beetroot Detox Juice
Naturally sweet and vibrant beetroot detox juice recipe with beets, pineapple, carrot, and lime plus soothing ginger. High in beta-carotene, vitamin C, and essential minerals!
Equipment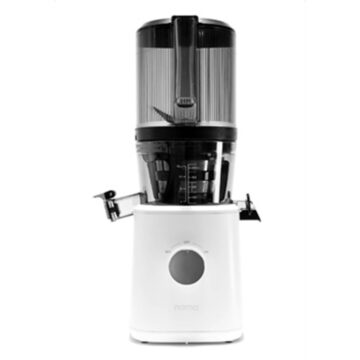 (affiliate link)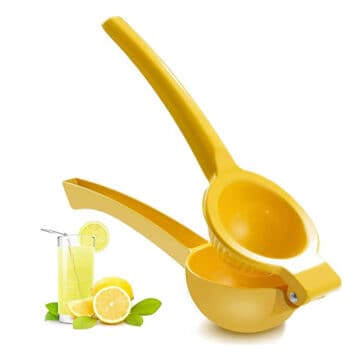 (affiliate link)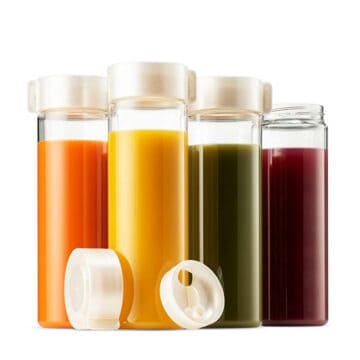 (affiliate link)
Ingredients
1

beet

large

2

cups

pineapple

in chunks

5

carrots

small, 3 mediums

1

inch

ginger

length piece fresh, scrubbed clean

½

lime

or lemon, without the rind
Directions
PREPARE THE VEGETABLES and FRUITS
Wash all your vegetables and fruits thoroughly.

Cutaway the tops of the carrots.

Chop the beet, pineapple, and ginger into thin pieces small enough to go through the juicer easily.

Cutaway the peel from the lime or lemon, leaving most of the white pith and lime flesh. Cut into slices.
MAKE JUICE
Reserve about half of the lime.

Turn the juicer on and push everything through, alternating between the pineapple chunks and the firmer carrots, beet, and lime.

When everything but the reserved lemon has been juiced, stir the juice and taste for tartness. Add the remaining lime if you feel it can take it. Or, if the juice is too tart, consider adding a couple of scrubbed unpeeled carrots or a cored apple.
Notes
Gus TIPS
Make-ahead: Fresh fruit and vegetable juice is best enjoyed soon after juicing, but you can make it a day or two in advance. Make sure to store in glass, airtight containers. In case you have used a cold-pressed juicer, you are cashing up the expense! It should last a little longer.
Nutrition Facts
Calories:
85
kcal
Carbohydrates:
21
g
Protein:
2
g
Fat:
1
g
Saturated Fat:
1
g
Polyunsaturated Fat:
1
g
Monounsaturated Fat:
1
g
Sodium:
70
mg
Potassium:
416
mg
Fiber:
4
g
Sugar:
13
g
Vitamin A:
12797
IU
Vitamin C:
47
mg
Calcium:
42
mg
Iron:
1
mg
Nutrition Facts
Carrot Beetroot Detox Juice
Amount per Serving
% Daily Value*
* Percent Daily Values are based on a 2000 calorie diet.
Nutritional Disclaimer
The information shown is an estimate provided by an online nutrition calculator. It should not be considered a substitute for a professional nutritionist's advice. See our full Nutritional Disclosure here.
Affiliate Disclaimer
Please note that some of the links here are affiliate links, and I will earn a commission if you purchase through those links. I recommend all of the products listed because they are companies I have found helpful and trustworthy.