Ceviche is one of our Latin staple foods and has as many variations as countries in Latin America. Have you tried a Vegan Ceviche version yet? You will be surprised how close the flavor is to the fish-based one.
What is a ceviche (cebiche)?
Ceviche has its origins in Latin America. The most widely known version is Peruvian, but the reality is that Ecuador, Mexico, Panama, Colombia, and other Central American countries also have long-standing versions. We all have our traditional varieties.
Ceviche is traditionally made of diced cubes of fish cooked in lime juice and onion.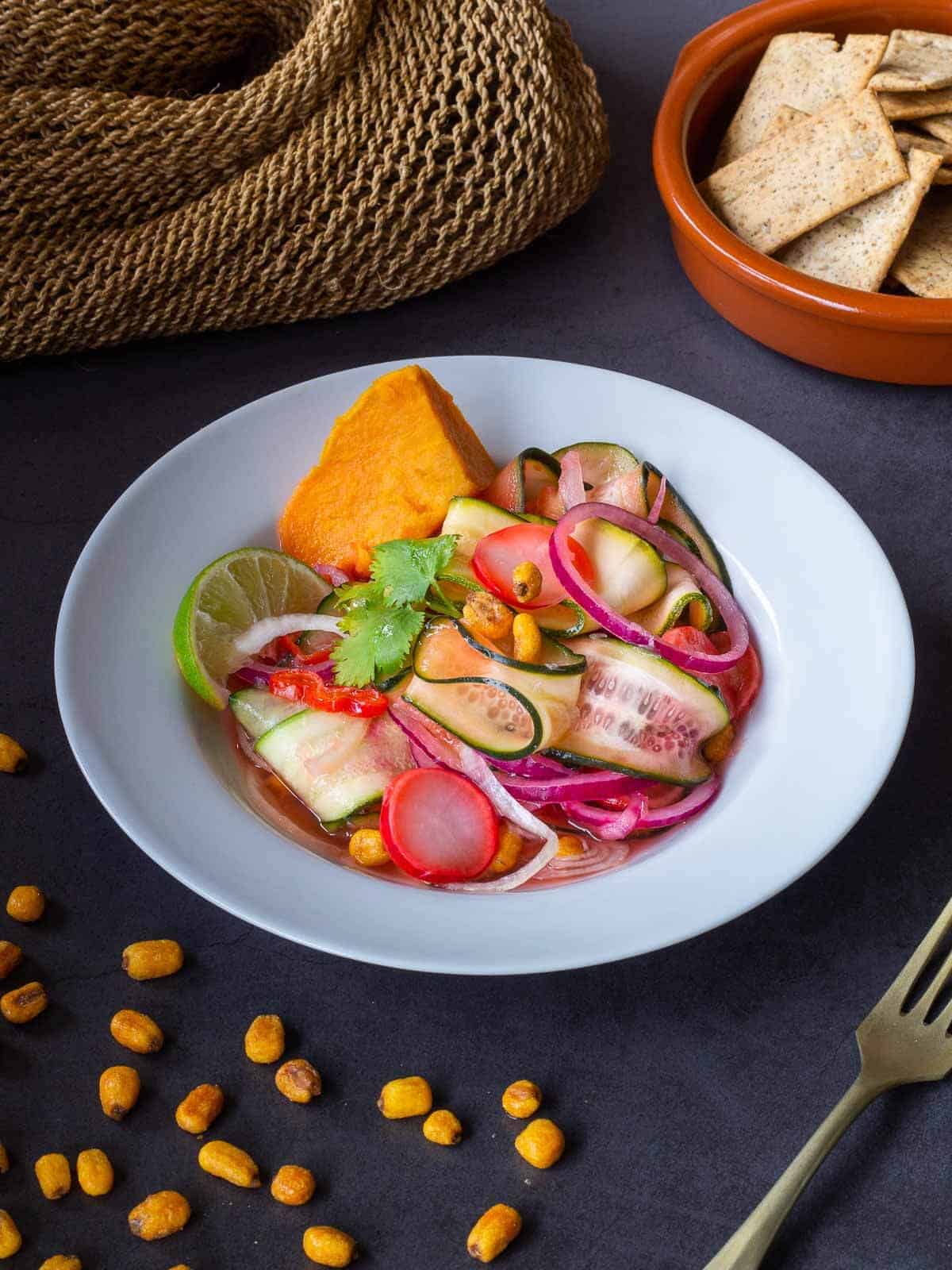 As you explore ceviche's versions, you'll see that the variations come from the kind of onion used, the type of fish or seafood, the addition of hot chili peppers, the use of herbs like cilantro, and even garnishing it with sweet potatoes and/or corn.
It is the perfect summer season appetizer!
How to make a vegetable ceviche
This veggie ceviche recipe simply changes the fish component of the ceviche and replaces it with three kinds of vegetables:
radishes
cucumbers
zucchinis
You then add the must-have ingredients: lime and onions, as the vegetables will "cook" in lime juice. We have chosen the ingredients to make it as close as possible to the most popular version, thus making a vegetarian Peruvian ceviche.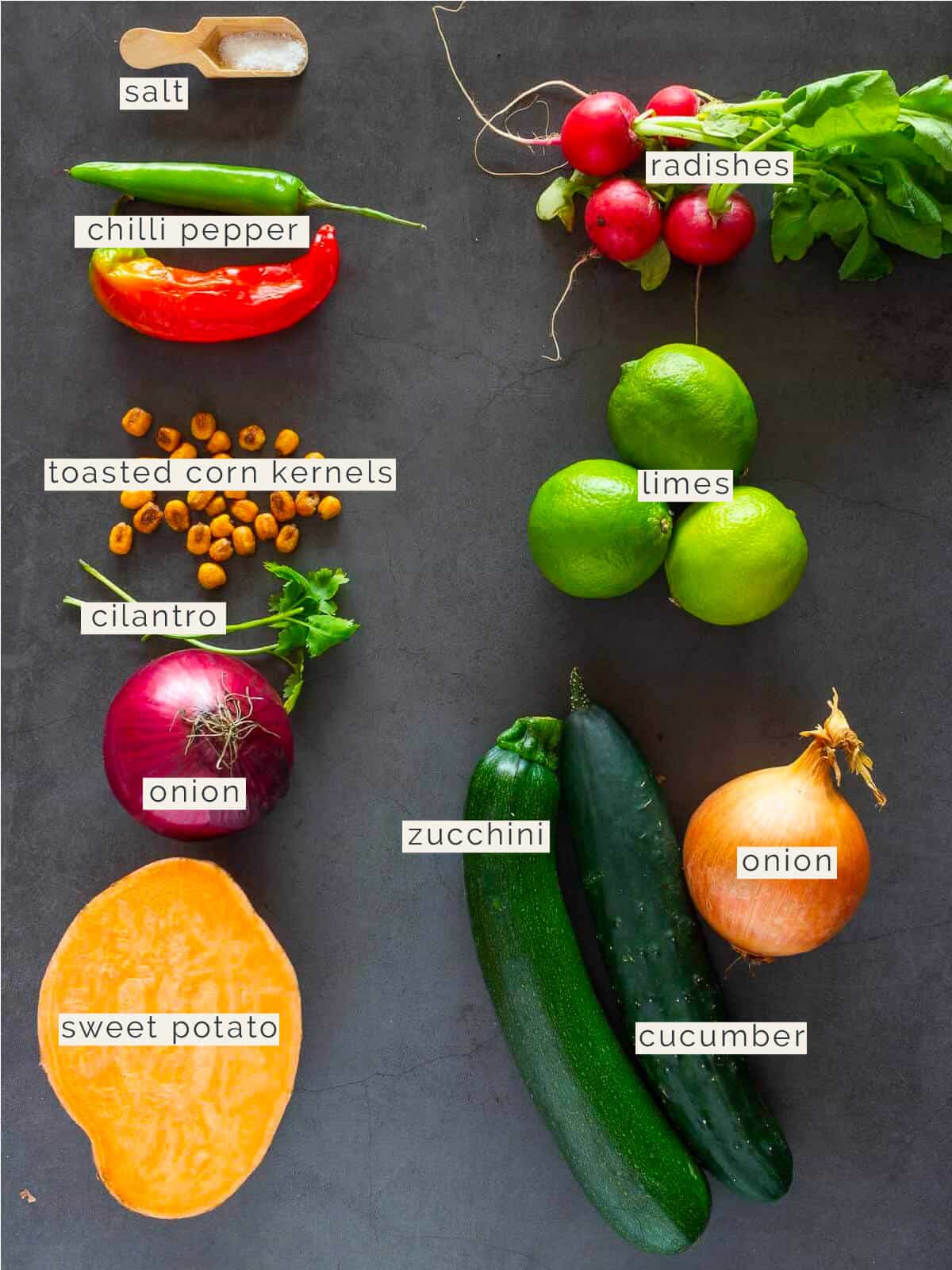 Finally, top it with your choice of garnishes such as sweet potato, cilantro leaves, and toasted or boiled corn kernels.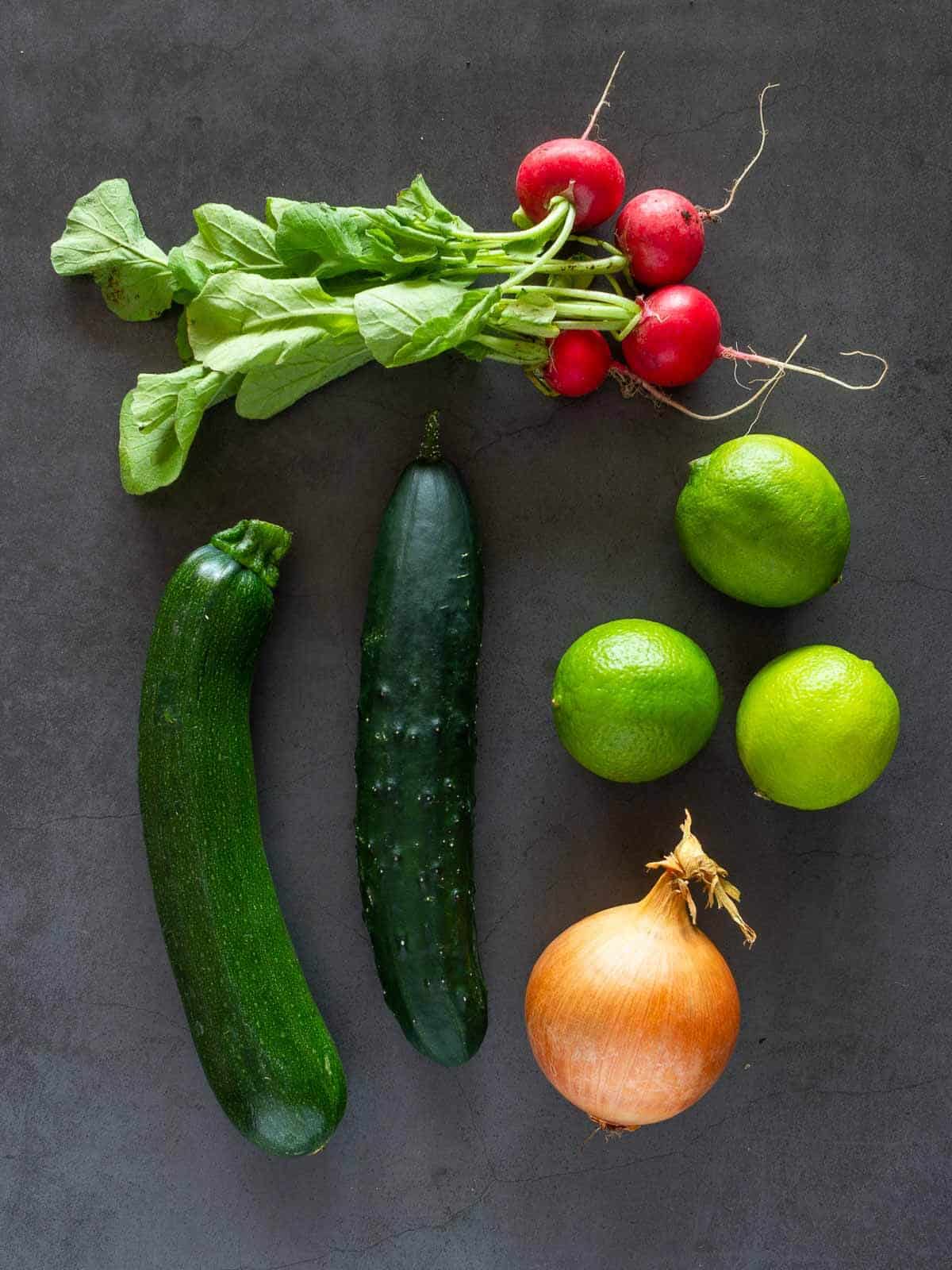 This is already a free version of ceviche, so please add or take any veggies that you consider appropriate. These three are my favorite mix, and I have been making it for years.
I learned how to make the basic veggie ceviche recipe while I lived in Argentina. My Panamanian Yogi friend Jermaine (also the founder of Ayurveda Lifestyle), who grew in the Coast Side in Colón, showed me how they made this veggie ceviche while not even trying to make a vegan version.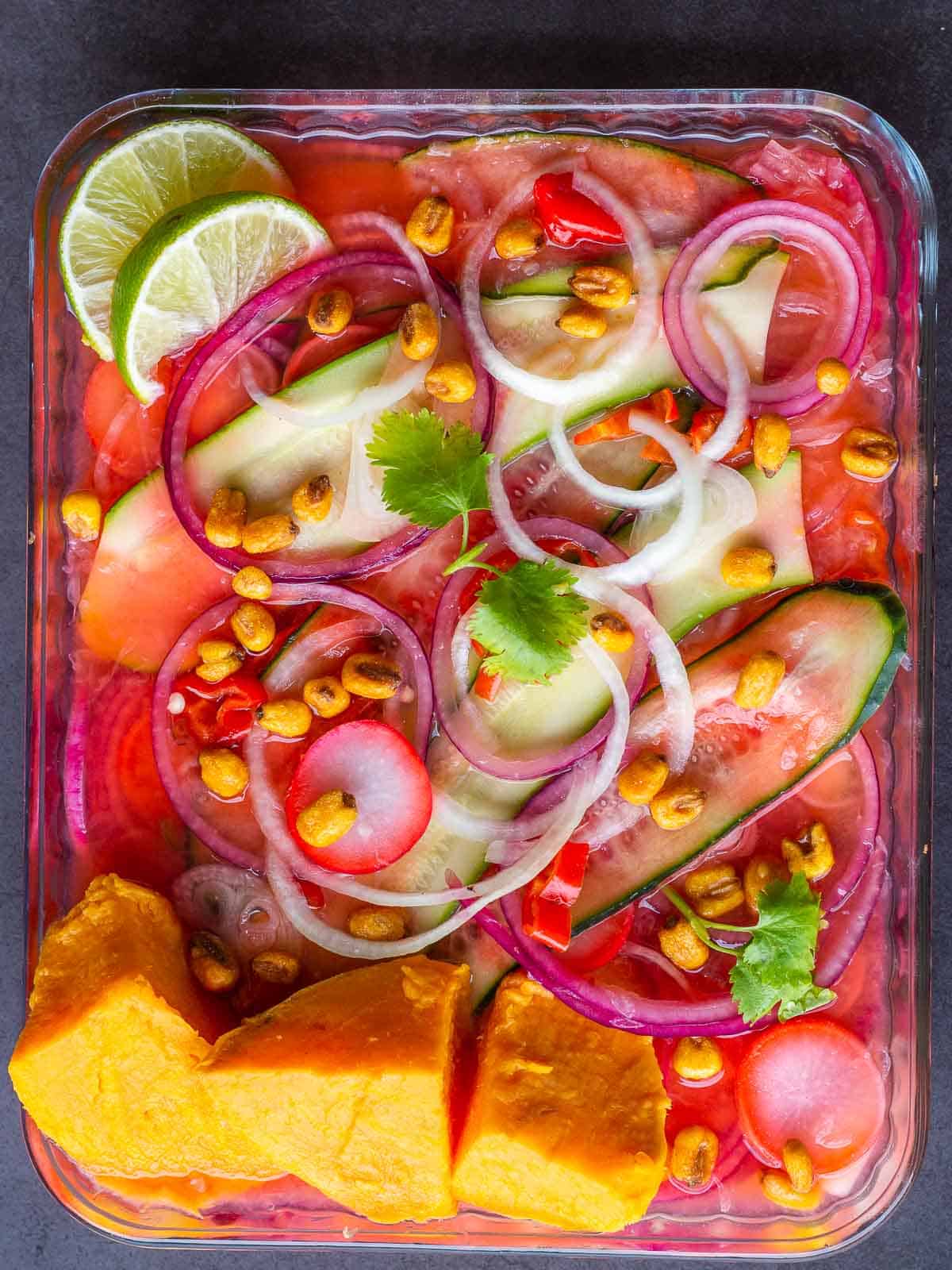 A vegan version traditionally existed in his province. I was immediately surprised by how close the veggie version was to the fish version, and at that time, I was still eating fish. I realized that most of the flavor in ceviche came from the "cooking" method. Soaking produce in lime juice and onions.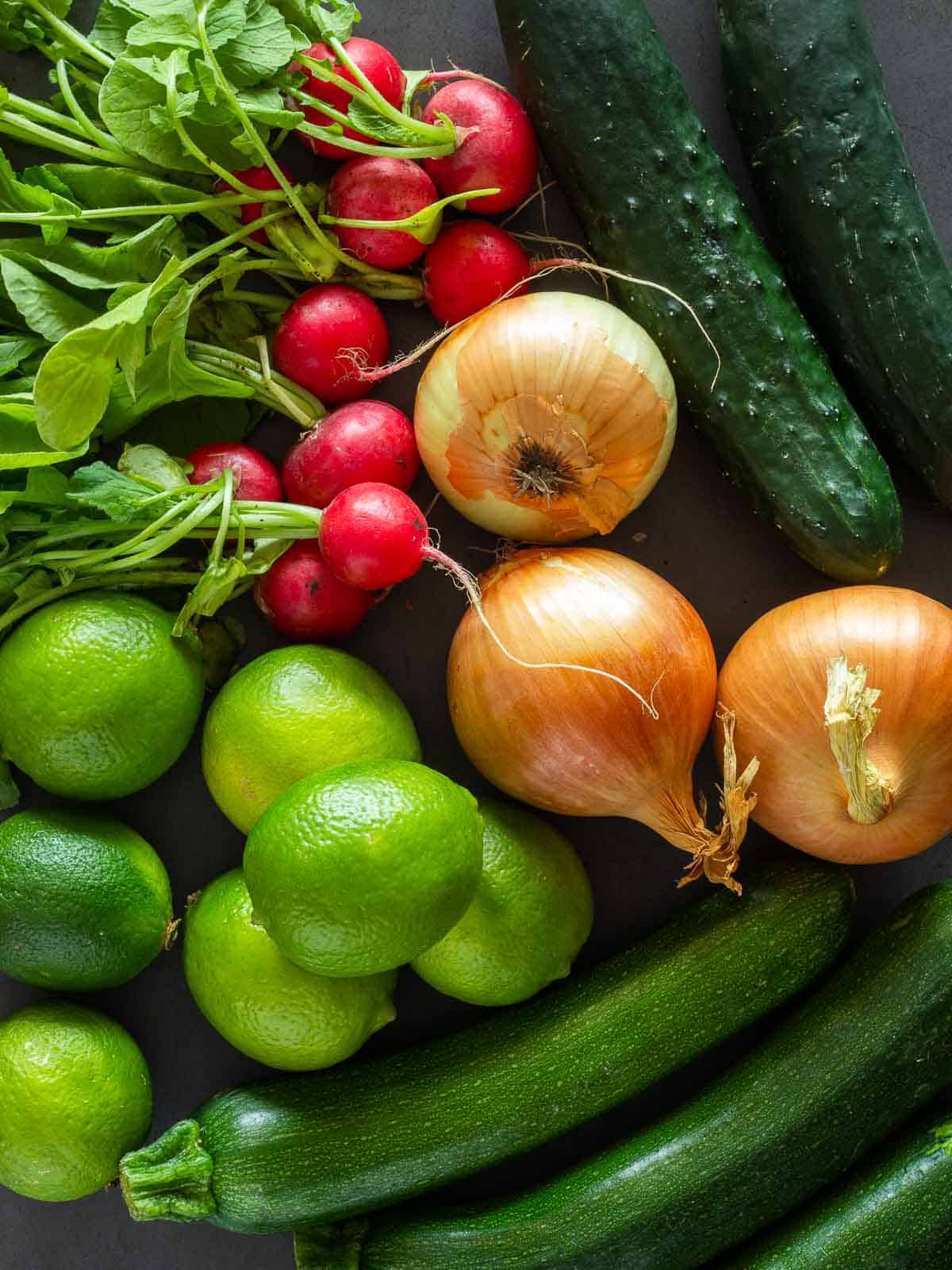 From that moment, I included it in my kitchen as an option when craving ceviche and didn't have access to fresh fish. Now, of course, it is my go-to version.
Ceviche in Latin America
As you can imagine, having so many variables, you can have many different results. For example, in Latin America, we share many of our heritage foods, so it is widespread to see this phenomenon in many staple dishes such as tamales, arepas, tostones (patacones), and so on.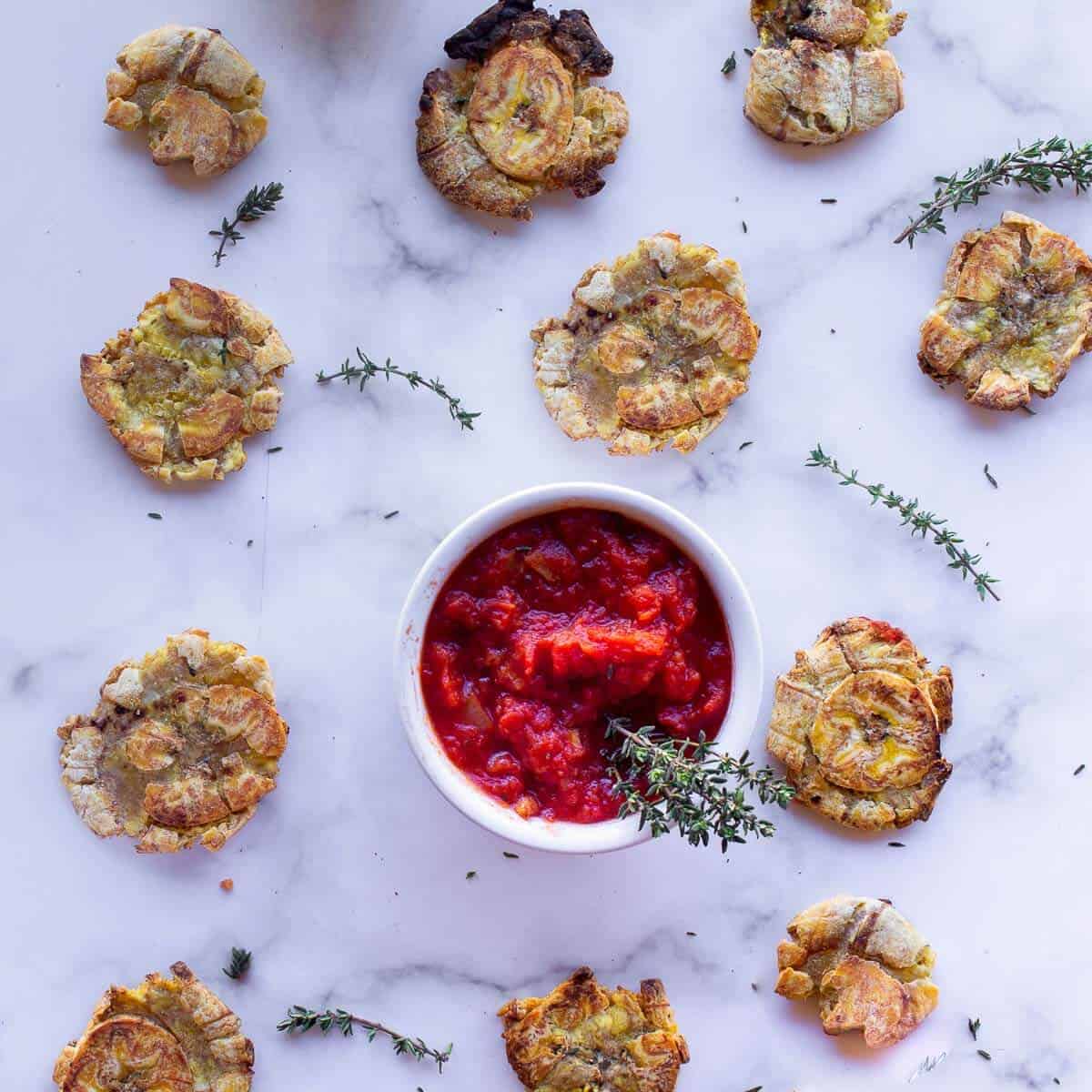 Each culture adds its touch based on the produce cultivated and local fish. And usually, nobody is fighting over the dishes' origins. So, any discussion on that topic would be controversial and useless.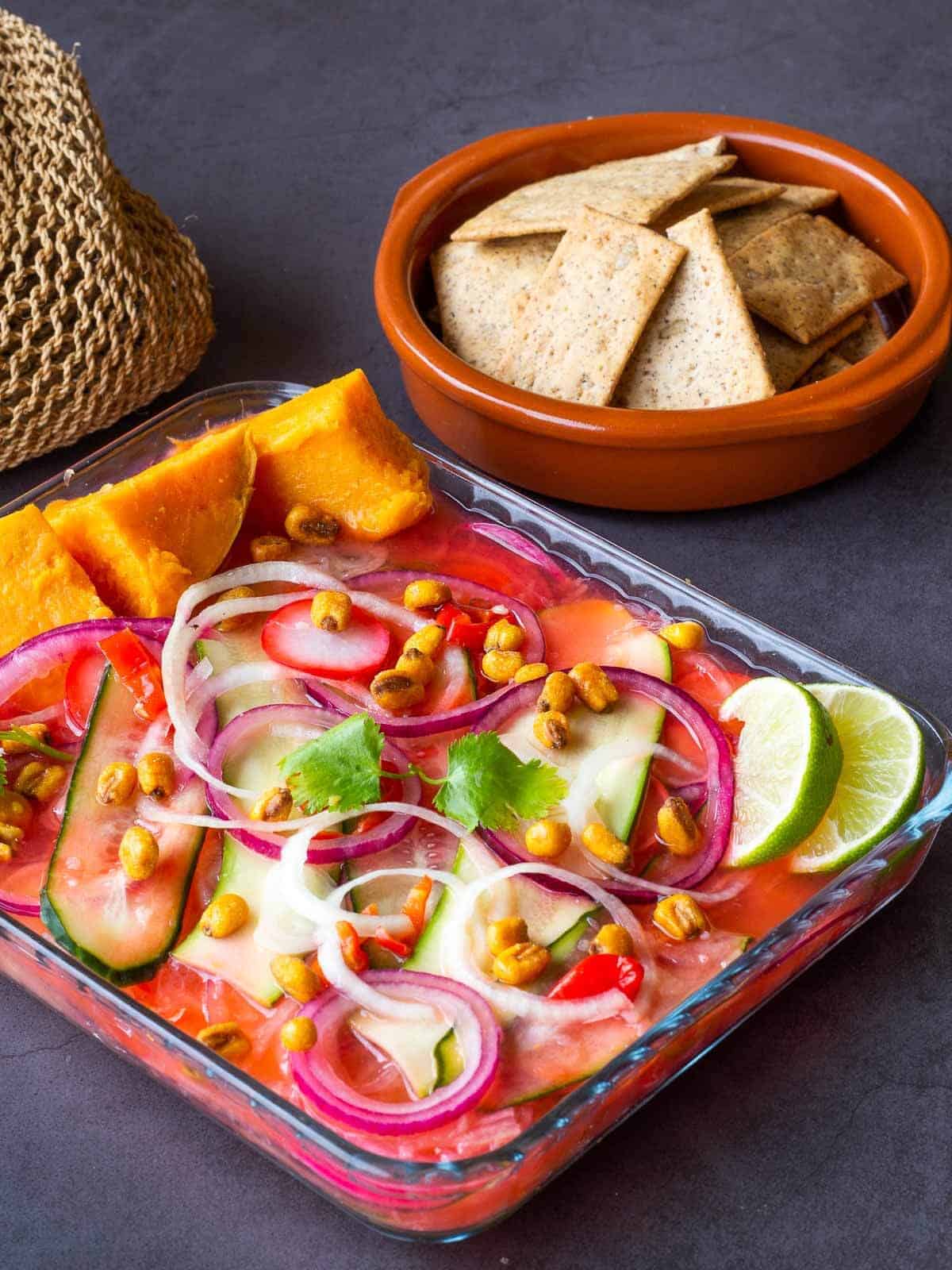 There is a close cousin to ceviche: the Tiradito.
Ceviche and tiradito
What is the difference? It is about the same as everything described above, seafood cuts cooked in lime. The only difference is how the main ingredients are cut and the use of onions.
Tiraditos were born not long ago, and the origins are debated between the Japanese immigrants and their technique to cut fish and the Genovese immigrants and their carpaccio slicing method.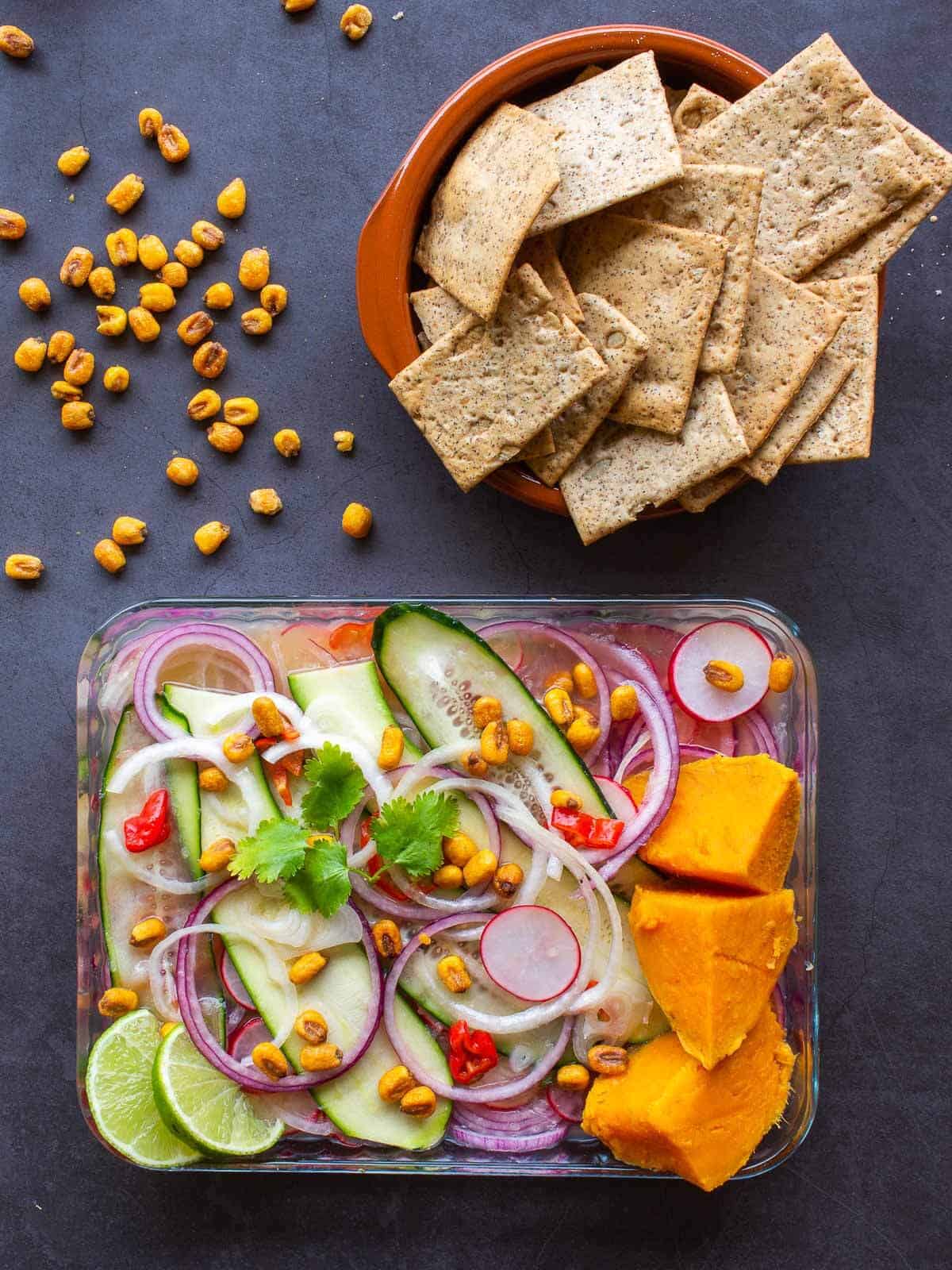 Tiradito is a finely sliced fish cut cooked with lime with no onions.
So, why am I introducing you to Tiraditos anyway?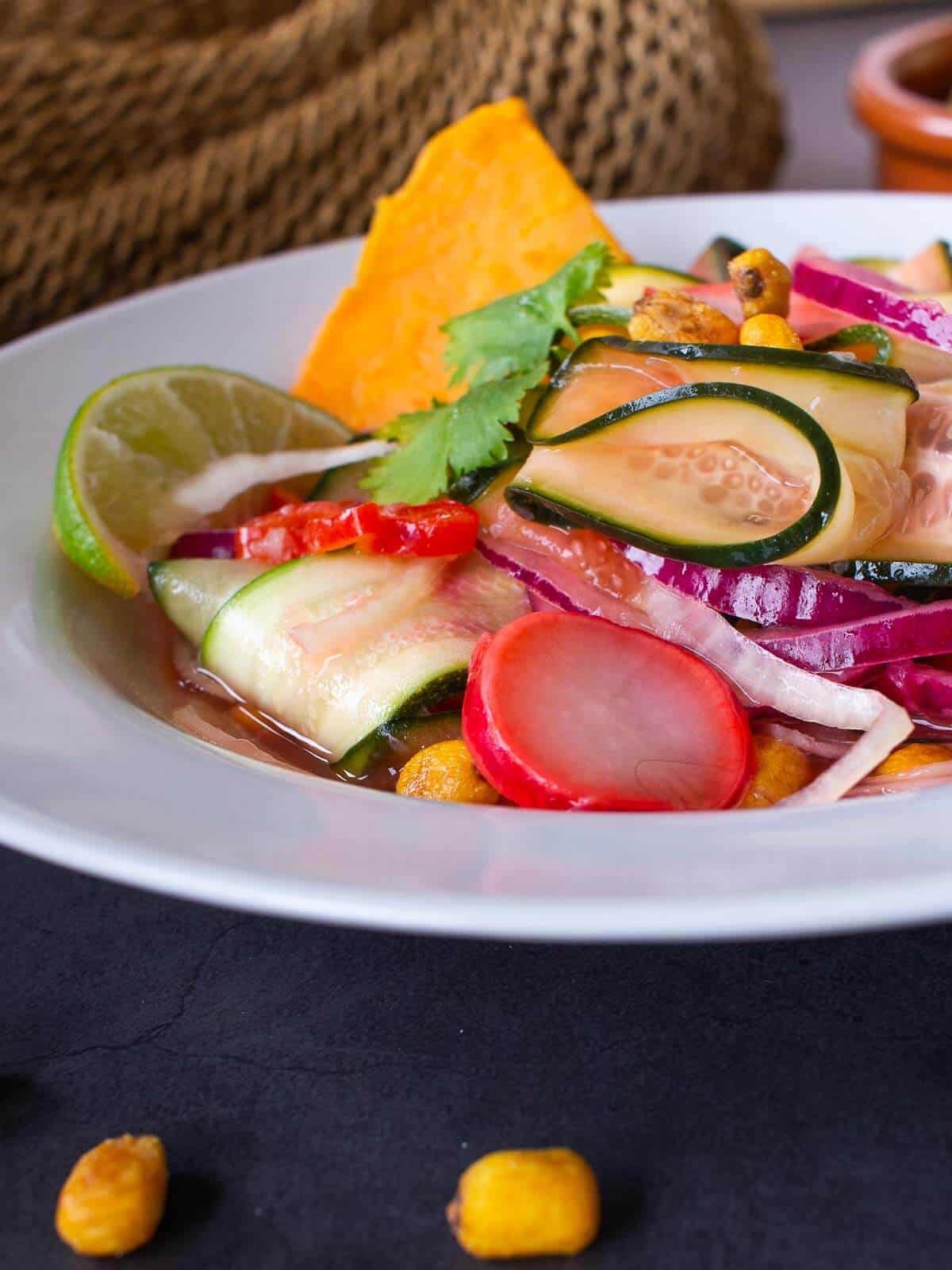 Because our Vegan Ceviche is a mix of the ceviche and the Tiradito techniques, using lime as the common ground.
We take the slicing style from the Tiraditos, the onions from the ceviche, and the lime-cooked method from both. Voilà!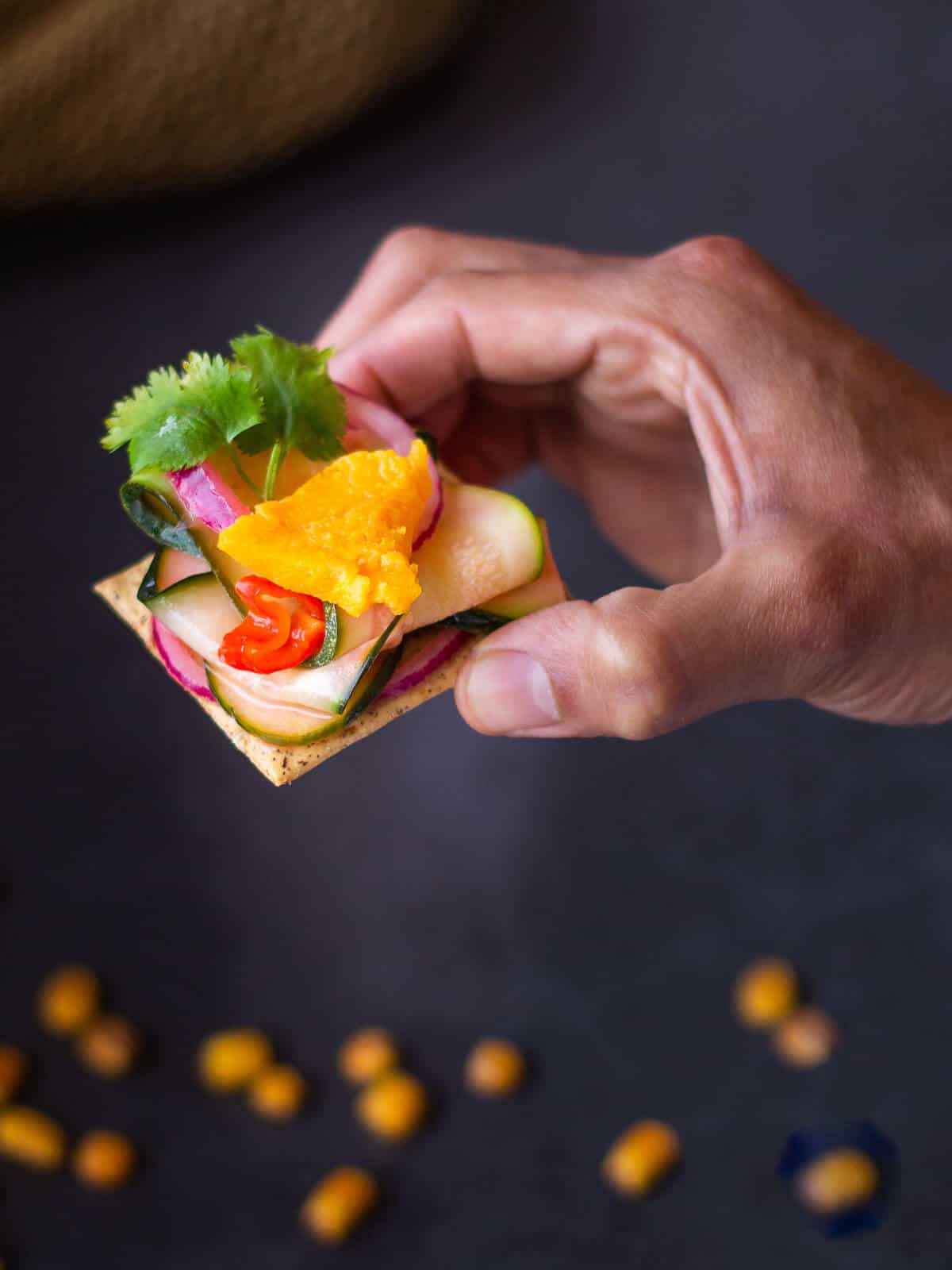 Leche de tigre (tiger's milk)
The leftover juice of the ceviche is known as Leche de Tigre (Tiger's Milk). It is usually served in a small glass, and it is believed to cure a hangover and have aphrodisiac effects (hence its name). It is sometimes served in restaurants along with the ceviche and taken with pisco or a beer.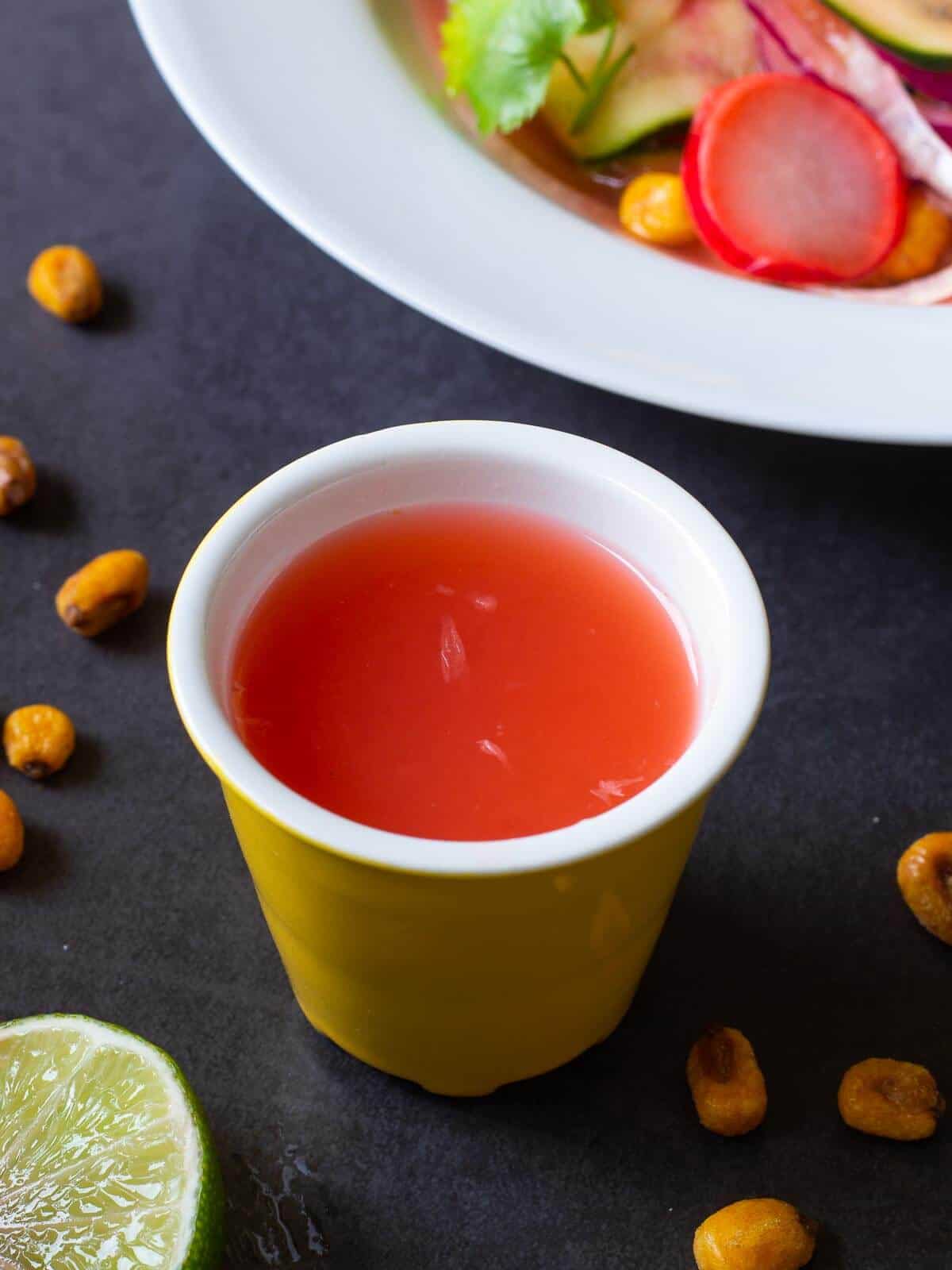 It is called Leche de Tigre, as when consumed as an aphrodisiac, it is supposed to unleash the inner tiger of a man in bed.
I suppose it is because it traditionally comes from seafood (which supposedly enhanced libido). But, of course, it is not the case in this vegetarian ceviche recipe. So we drink it anyway as it is equally delicious and packed with one of the most potent antioxidants, Vitamin C.
Leche de Tigre usually has the color of lime juice. Here you see a pinkish color coming from the dyeing from radishes.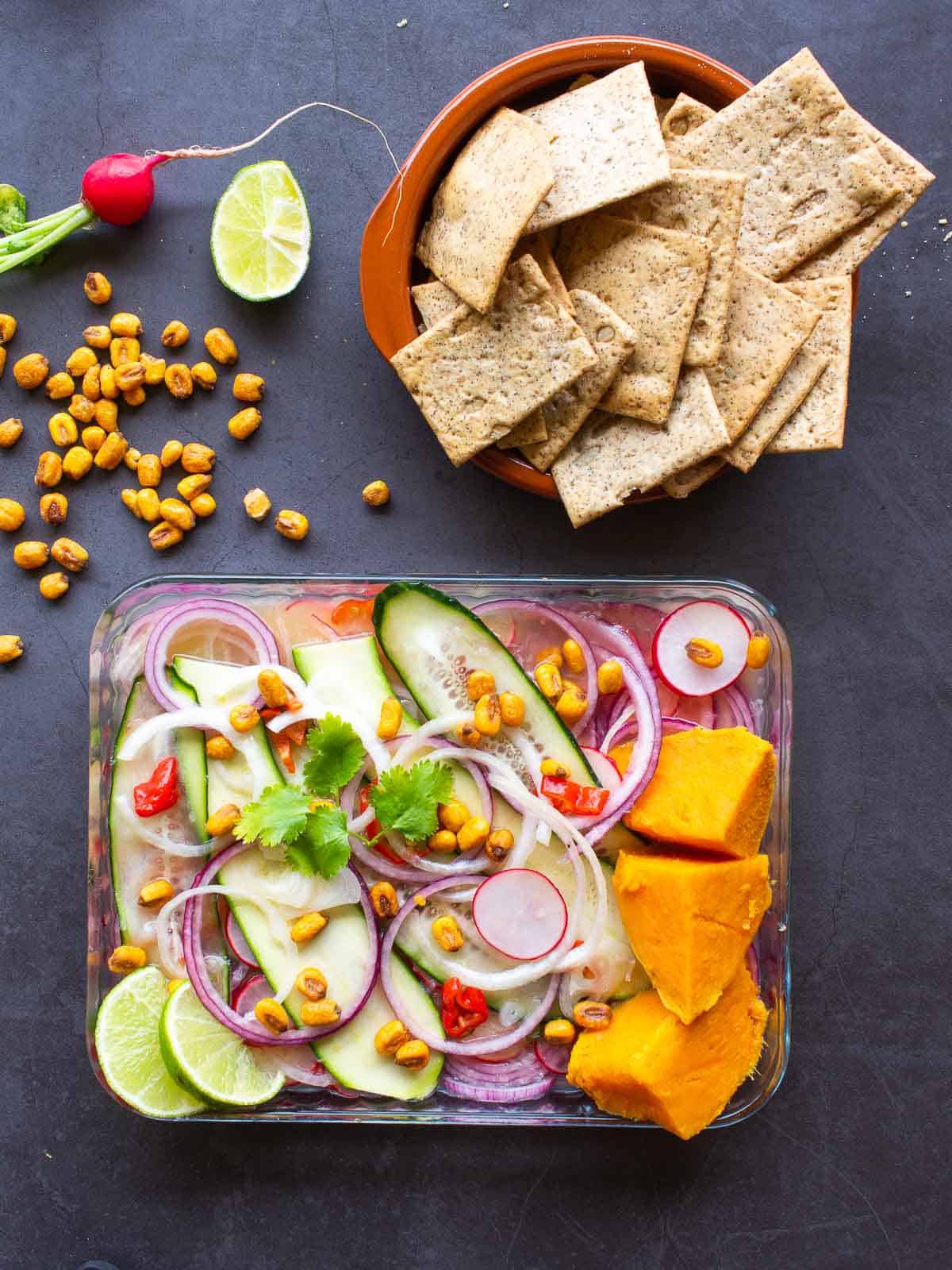 More Latin vegetarian recipes
If you try this recipe, let us know! Leave a comment, rate it, and don't forget to tag a photo #ourplantbasedworld on Instagram. Cheers!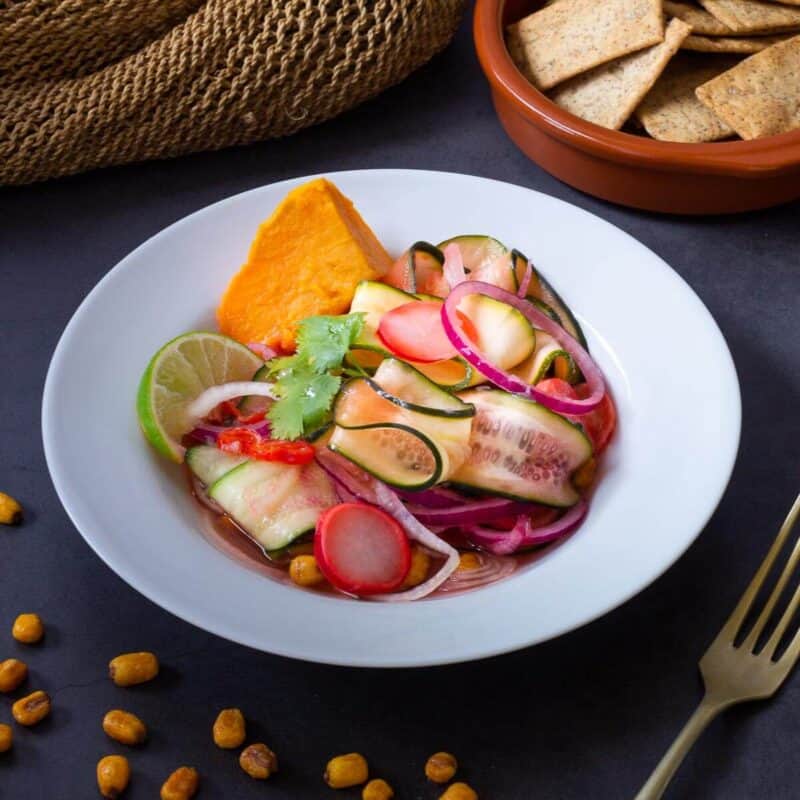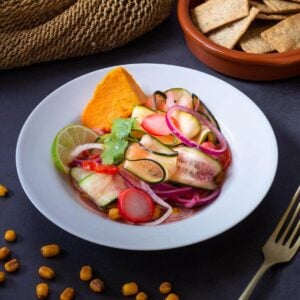 Recipe: Vegan Ceviche
Ceviche is one of our Latin staple foods and has as many variations as countries in Latin America. Have you tried a Vegan Ceviche version yet? You will be surprised how close the flavor is to the fish-based one.
Equipment
Ingredients
5

red radishes

small, thinly sliced

1

white onion

thinly sliced (julienne)

15

limes

juiced

1

cucumber

peeled and sliced

1

zucchini

thinly sliced lengthwise
Optional:
1

Chili

spicy, chopped

1

teaspoon

sea salt
To Garnish (optional):
1

sweet potato

boiled or steamed

1

handful cilantro leaves

1

red onion

thinly sliced (julienne)

crackers

lime slices
Directions
Thinly slice the onions (white and/or red). If you have a mandolin, this is an excellent time to use it, but it is not essential.

Rub the onion slices with ½ tablespoon of salt and rinse in cold water.

Juice the limes.

Thinly slice the radishes ,cucumber ,and zucchini.

Place the cucumbers, radishes, and zucchini, half of the chopped cilantro leaves, and hot peppers (optional) in a glass bowl and pour the lime juice over the ingredients. Sprinkle with a little bit of salt. To minimize the acidity of the limes, you can add a couple of ice cubes.

Cover and refrigerate for about 1-2 hours.

If garnishing with sweet potato, cut it in half put them to boil, or steam.

Taste any veggies and add additional salt if needed.

Top with the remaining freshly chopped cilantro.

Serve immediately with your choice of sides and garnishes.
Nutrition Facts
Calories:
73
kcal
Carbohydrates:
22
g
Protein:
2
g
Fat:
1
g
Saturated Fat:
1
g
Polyunsaturated Fat:
1
g
Monounsaturated Fat:
1
g
Sodium:
10
mg
Potassium:
383
mg
Fiber:
6
g
Sugar:
6
g
Vitamin A:
257
IU
Vitamin C:
69
mg
Calcium:
74
mg
Iron:
1
mg
Nutrition Facts
Recipe: Vegan Ceviche
Amount per Serving
% Daily Value*
* Percent Daily Values are based on a 2000 calorie diet.
Food safety
We sometimes take for granted that we have years (or decades) of cooking experience that the average visitor may not. Add to, or remove from, the list below with health and safety tips.
Cook to a minimum temperature of 165 °F (74 °C)
Do not use the same utensils on cooked food, that previously touched raw meat
Wash hands after touching raw meat
Don't leave food sitting out at room temperature for extended periods
Never leave cooking food unattended
Use oils with high smoking point to avoid harmful compounds
Always have good ventilation when using a gas stove
See more guidelines at USDA.gov.
The information shown is an estimate provided by an online nutrition calculator. It should not be considered a substitute for a professional nutritionist's advice. See our full Nutritional Disclosure here.
Please note that some of the links here are affiliate links and I will earn a commission if you purchase through those links. I use all of the products listed and recommend them because they are companies that I have found helpful and trustworthy.