Discover the ultimate pre-workout smoothie recipe for muscle gain and weight loss. Packed with essential nutrients, this delicious and energizing smoothie will supercharge your workouts and help you achieve your fitness goals!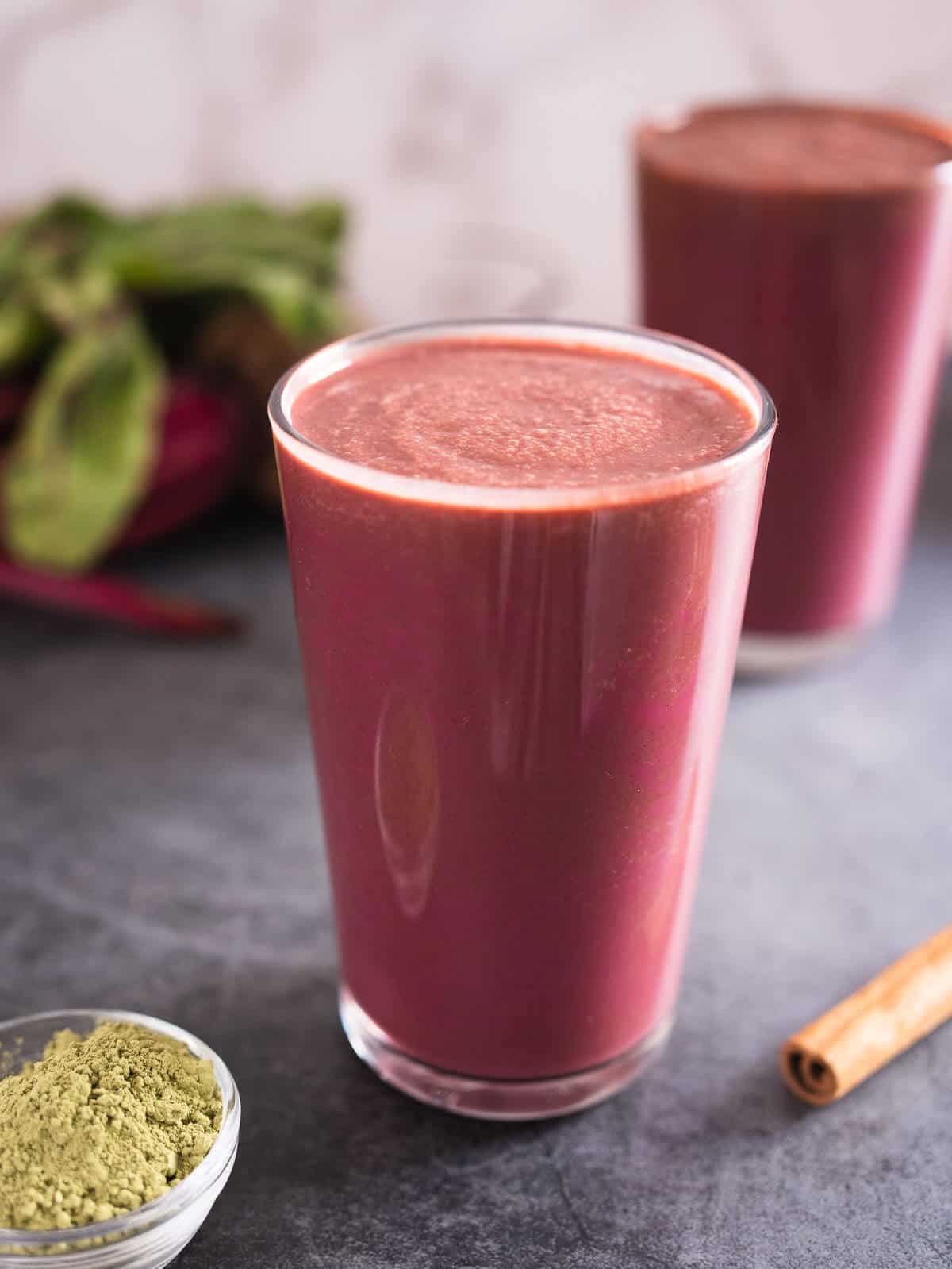 Are you searching for the perfect pre-workout smoothie that not only energizes you but also supports muscle gain and weight loss?
Pre-workout smoothies should have the perfect balance of protein, fiber, and slow-releasing complex carbohydrates to release energy as you exercise and support endurance.
In this post, we reveal a delicious and nutrient-dense smoothie recipe that combines the goodness of homemade soy milk, endurance-supporting beets, Meedjol dates as a natural sweetener, fast recovery aid, and matcha powder for an energy boost and natural electrolytes from coconut water.
This smoothie is your ultimate fitness companion, designed to fuel your workouts and keep you feeling great throughout your fitness journey.
Together, these wholesome ingredients create a powerhouse smoothie that not only tastes amazing but also provides the essential nutrients required for muscle gain and weight loss.
So, gear up and give your fitness routine a delicious and nutritious boost with this ultimate pre-workout smoothie. Your body will thank you for it!
Don't forget to pair this pre-workout shake with our post-workout smoothie, specially designed to provide the best pre and post-workout aids to maximize your efforts!
Jump to:
🧾 Ingredients
This delicious pre-workout smoothie is made with just a few delicious ingredients:
Soy milk - serves as the protein-rich base of this smoothie, providing all essential amino acids to support muscle growth and repair.
Beets - work wonders for endurance, thanks to their high nitrate content, which has been shown to improve blood flow and oxygen delivery to muscles.
Meedjol dates - offer natural sweetness while supplying your body with essential minerals and fiber, promoting fast recovery and digestive health.
Matcha powder - a potent source of antioxidants and caffeine, gives you the energy kick you need to power through your workouts and increase calorie burn. Check out our energy-boosting matcha smoothie.
Coconut water - adds a refreshing touch and replenishes your body with natural electrolytes, ensuring optimal hydration and peak performance during your workout.
Chocolate-flavored plant-based Protein powder - ensures that you're providing your body with a high-quality, easily digestible protein source that supports muscle growth, recovery, and overall workout performance. Plus, the delicious chocolate flavor makes it a tasty and enjoyable addition to your fitness routine.
Hint: we usually buy cooked, packed beets, but you can also consume canned or raw beets. Raw beets may affect the texture of the smoothie slightly. Be sure to wash, peel, and blend them well.
See the recipe card for quantities.
🔪 Instructions
Measure. Gather and measure your ingredients.
Blend your ingredients, adjusting for the desired consistency.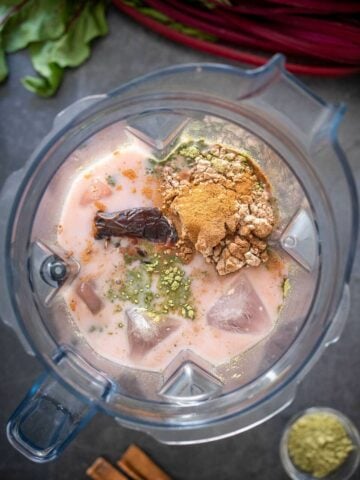 Place all the chopped ingredients on the blender's vase.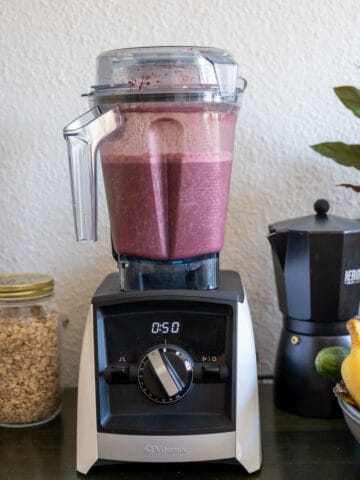 Blend for about 40 seconds on high.
Watch out! Over-blending the smoothie will make it become warm which also affects the bio-availability of the nutrients.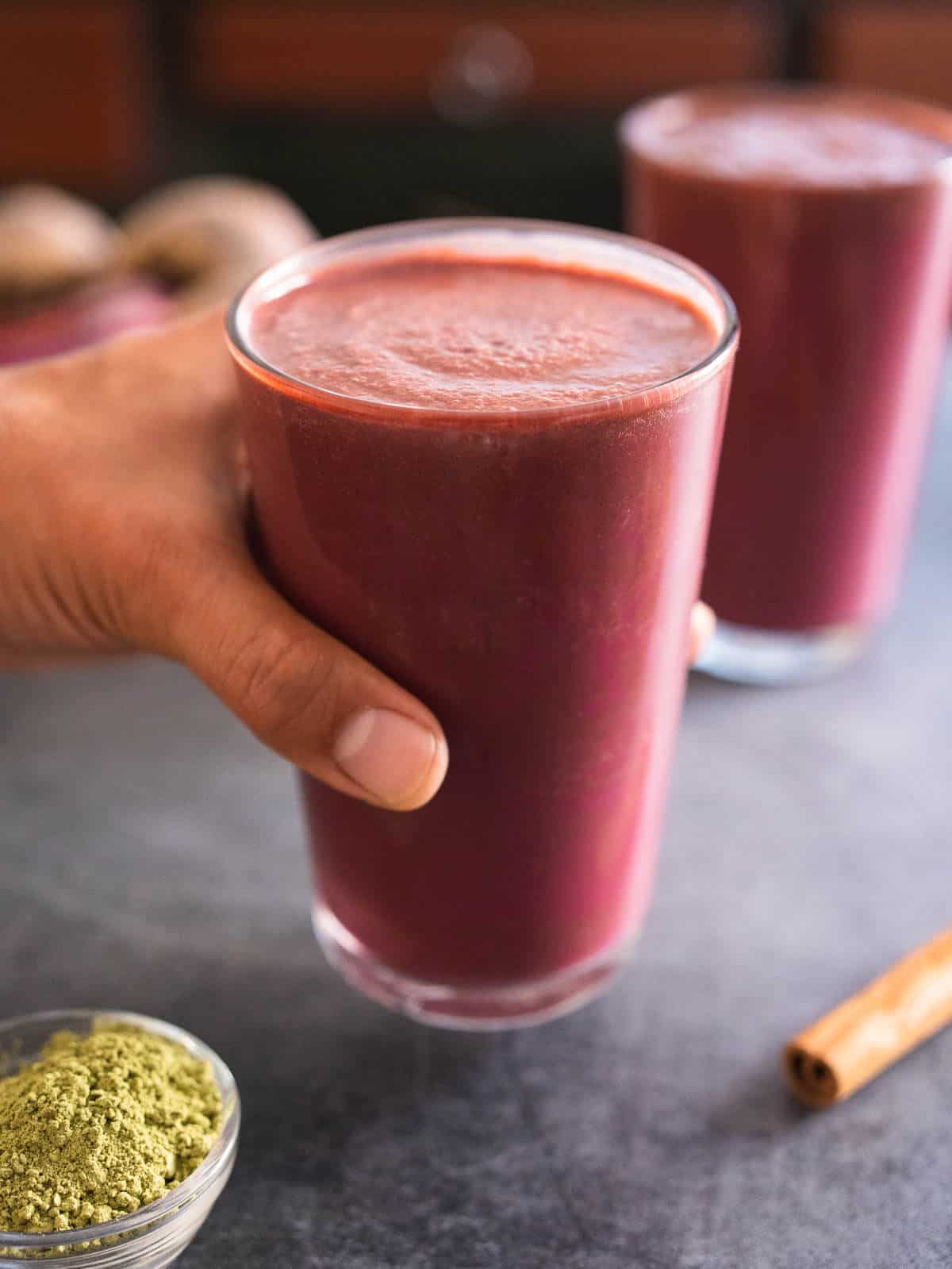 Hint: add ice cubes to make a cold smoothie, since we are not using any other frozen fruits, as you do with most green smoothies.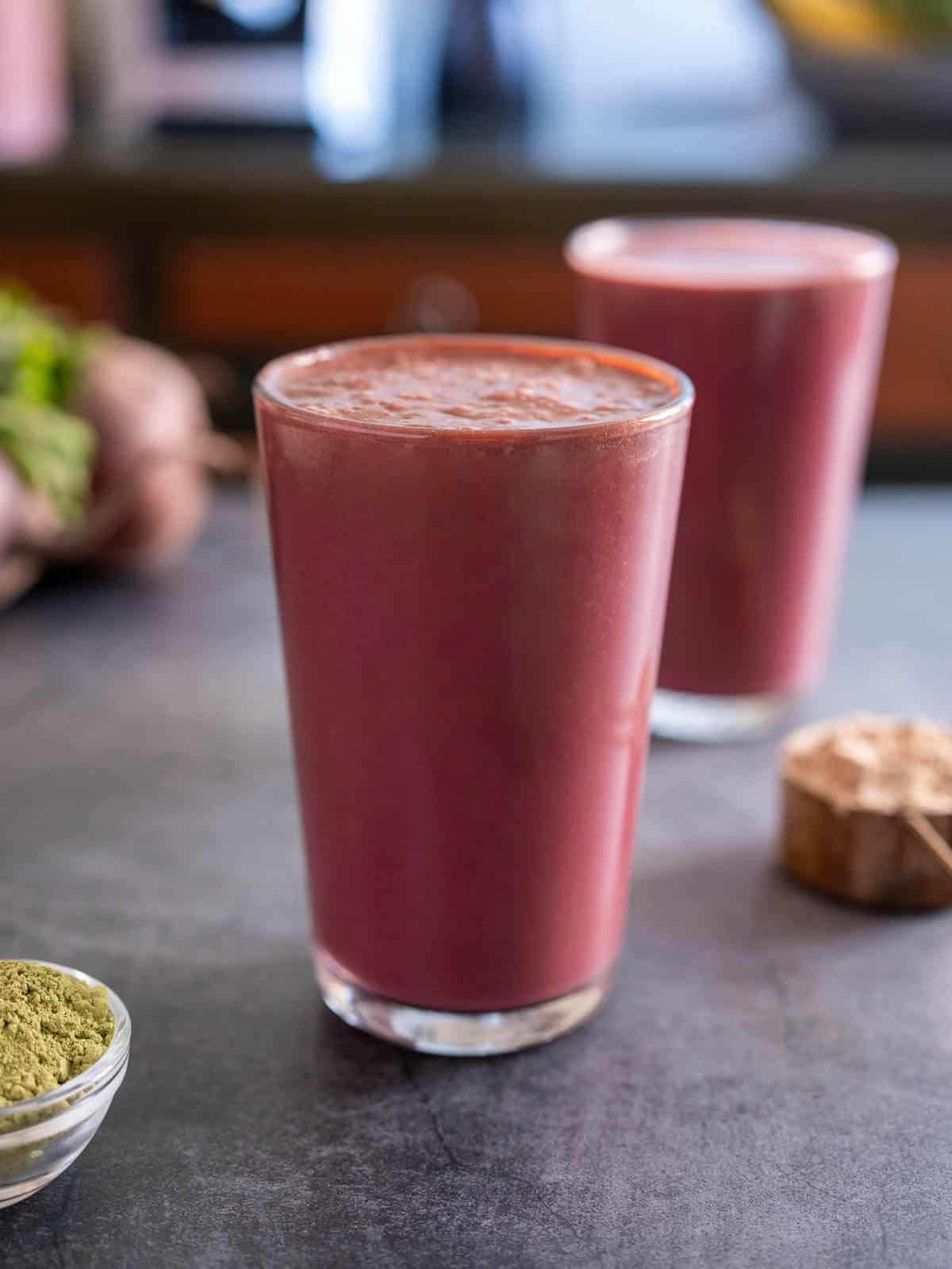 Hint: make a double batch and drink half before exercising and the rest after your work out, as this recipe can work as a pre and post-workout smoothie.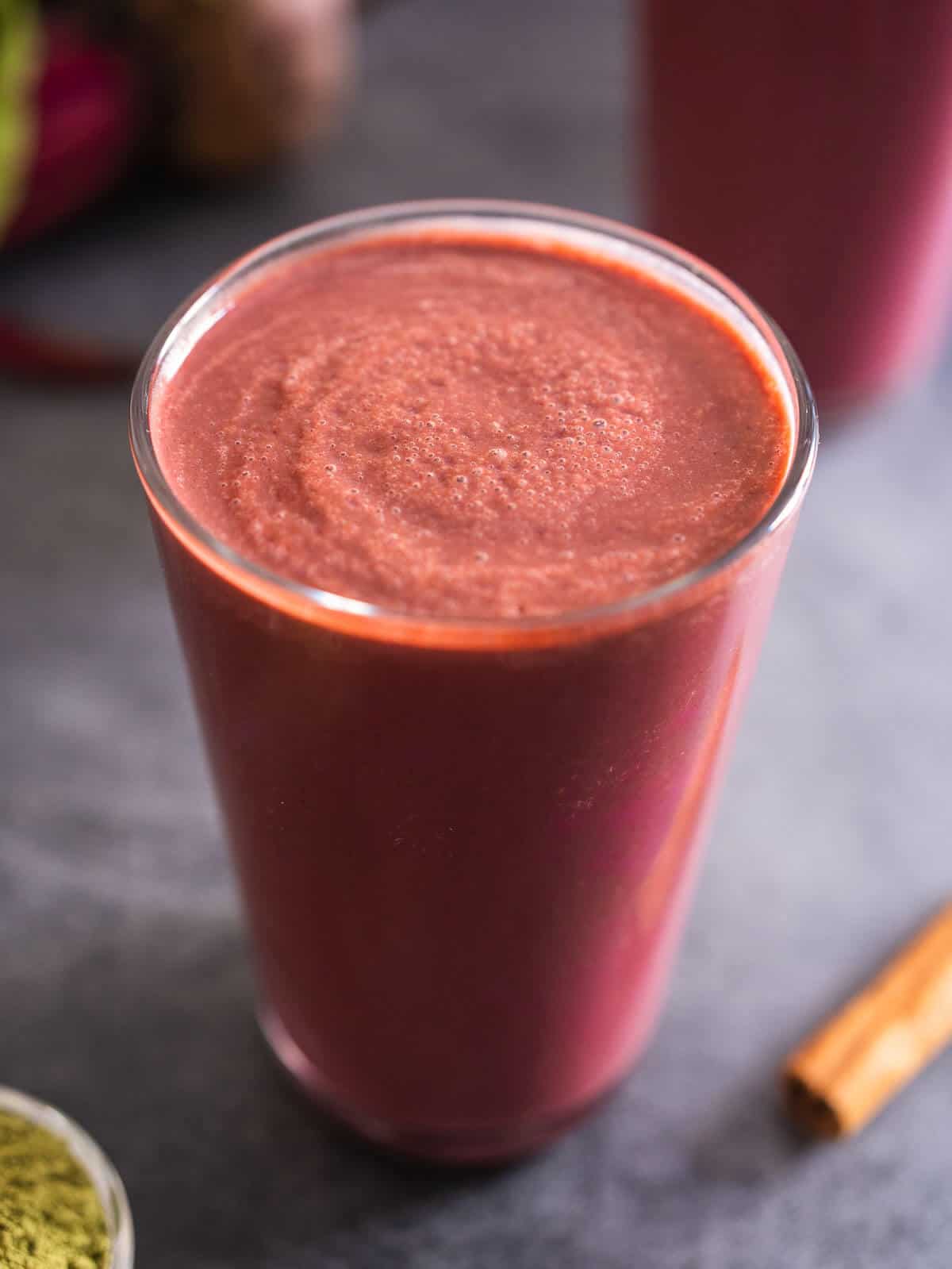 🍶 Substitutions
Hint: you can use unflavored protein powder or a vanilla-flavored one, and simply add raw cocoa powder or chocolate syrup.
📖 Variations
Try out some extra ingredients that increase even more the nutritional value and help you make the best of a serious workout routine: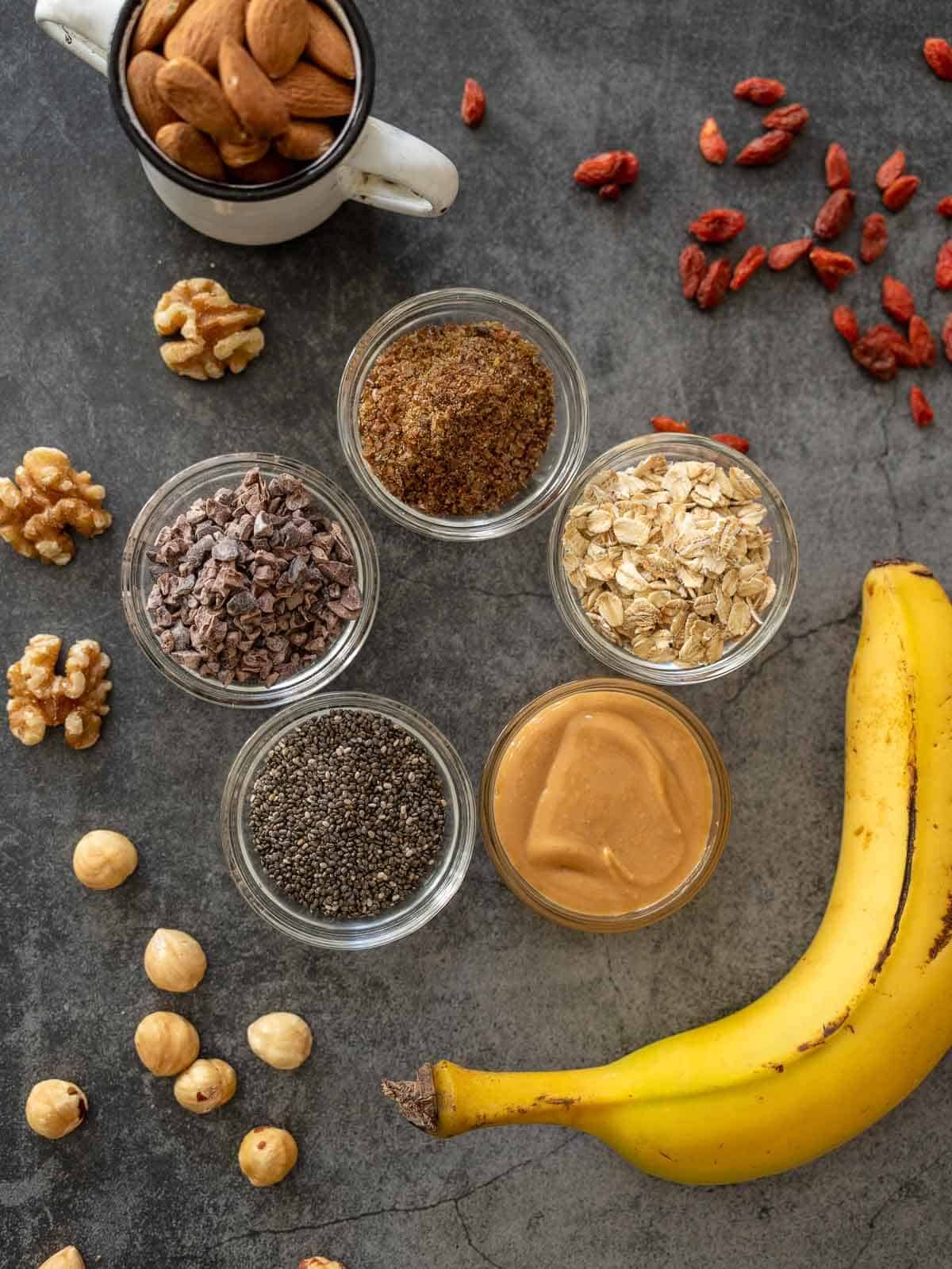 Seeds - add some healthy fats to your pre-workout smoothie recipes. Our seeds of choice are flax, chia seeds, and pepitas.
Nuts - add 5 almonds, walnuts, hazelnuts, or any other of your favorite nuts, for an extra dose of energy and healthy fats.
Leafy greens and berries - try adding a cup of fresh spinach, goji, or mixed berries, and frozen blueberries for a change. If you have some fresh berries that are about to go off, throw them in! They will increase the antioxidant content of the smoothie.
Enhanced flavor - add a teaspoon of vanilla extract or coconut extract.
Extra protein sources - try adding a cup of silken tofu instead of the regular Greek yogurt to keep the smoothie dairy-free. Hemp seeds, rolled oats, and spirulina powder are also optimal additions.
Energy boosting add-ins - try adding a tablespoon of your favorite nut butter; we like almond butter because it blends easily with any other flavors vs peanut butter, which has a more distinct touch.
Turmeric - is packed with vitamins and antioxidants, and anti-inflammatory properties. Adding turmeric powder with a dash of black pepper is a great idea to aid great recovery, so be sure to add it to your post-workout smoothie.
Sweet potato - Have some leftover sweet potatoes? Replace the beets. Sweet potatoes have usable energy in the form of energizing carbs that also support weight management and optimal performance.
💡 Top tip
Mitigating stress accumulation: Engaging in physical activity, especially high-intensity workouts, acts as a stressor on the body. While a certain amount of stress can be advantageous, the body's capacity to handle stress is finite.
Fasting introduces an additional stress factor, so exercising on an empty stomach compounds stress levels. Overburdening the body with excessive stress may result in elevated cortisol levels, potentially hindering weight loss efforts.
We love and practice intermittent fasting but you need to be mindful to fit it into your schedule in a way that makes sense. You don't want to faint during your workout session!
Gymgoers: remember to drink plenty of water while working out!
🍽 Equipment
Blender- you will need a high-speed blender (affiliate link) to make the perfect smoothie.
🥡 Storage
Store this smoothie in a BPA-free (affiliate link), tightly sealed container in the fridge for up to 3 days.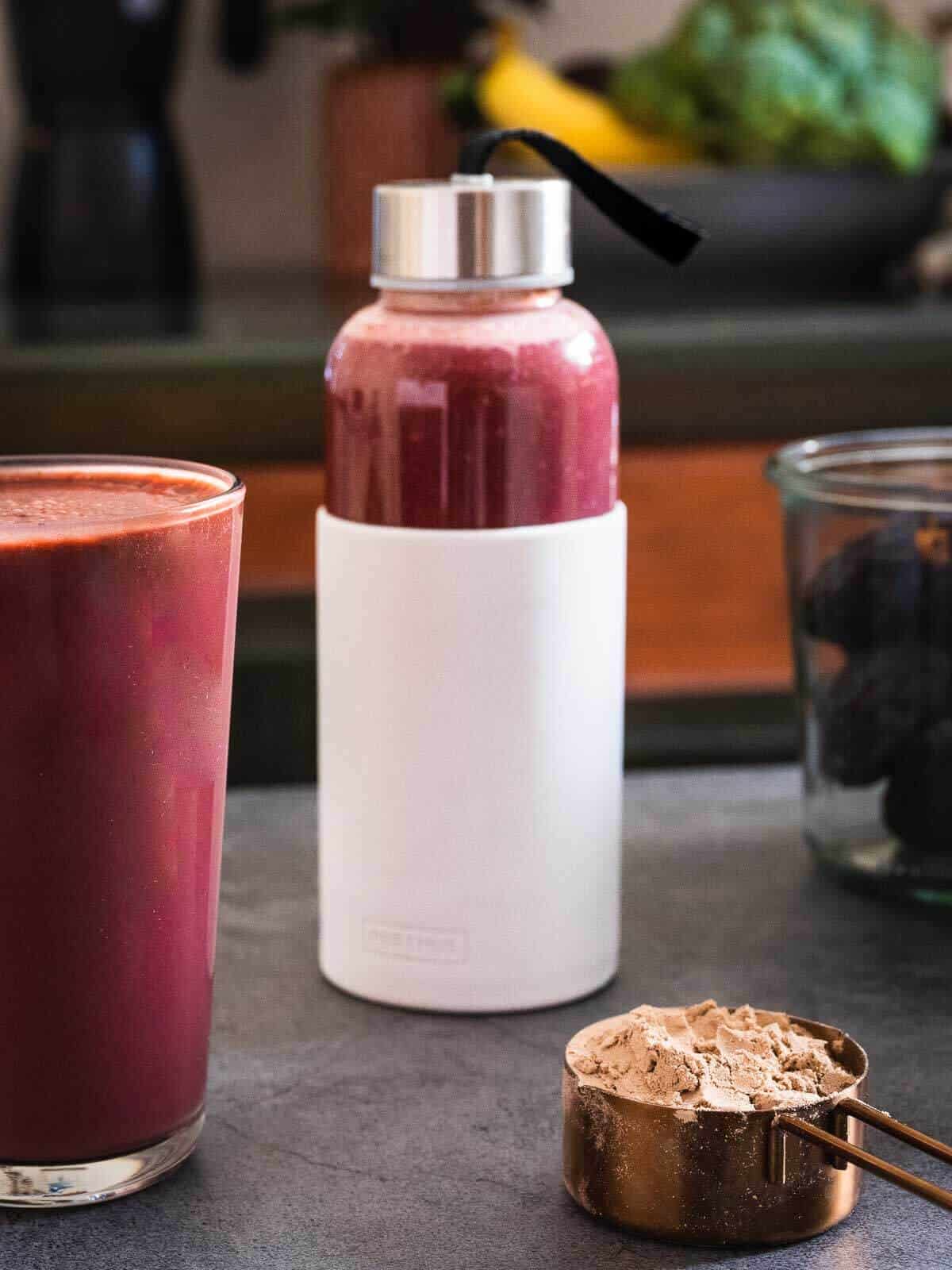 You can freeze smoothie leftovers in an airtight container, but it doesn't stand up well to freezing for more than three months.
✅ Why use plant-based protein powder
Incorporating chocolate-flavored plant-based protein powder in place of the usual whey protein concentrate in our smoothie offers several benefits that can help optimize your workout performance and support your fitness goals: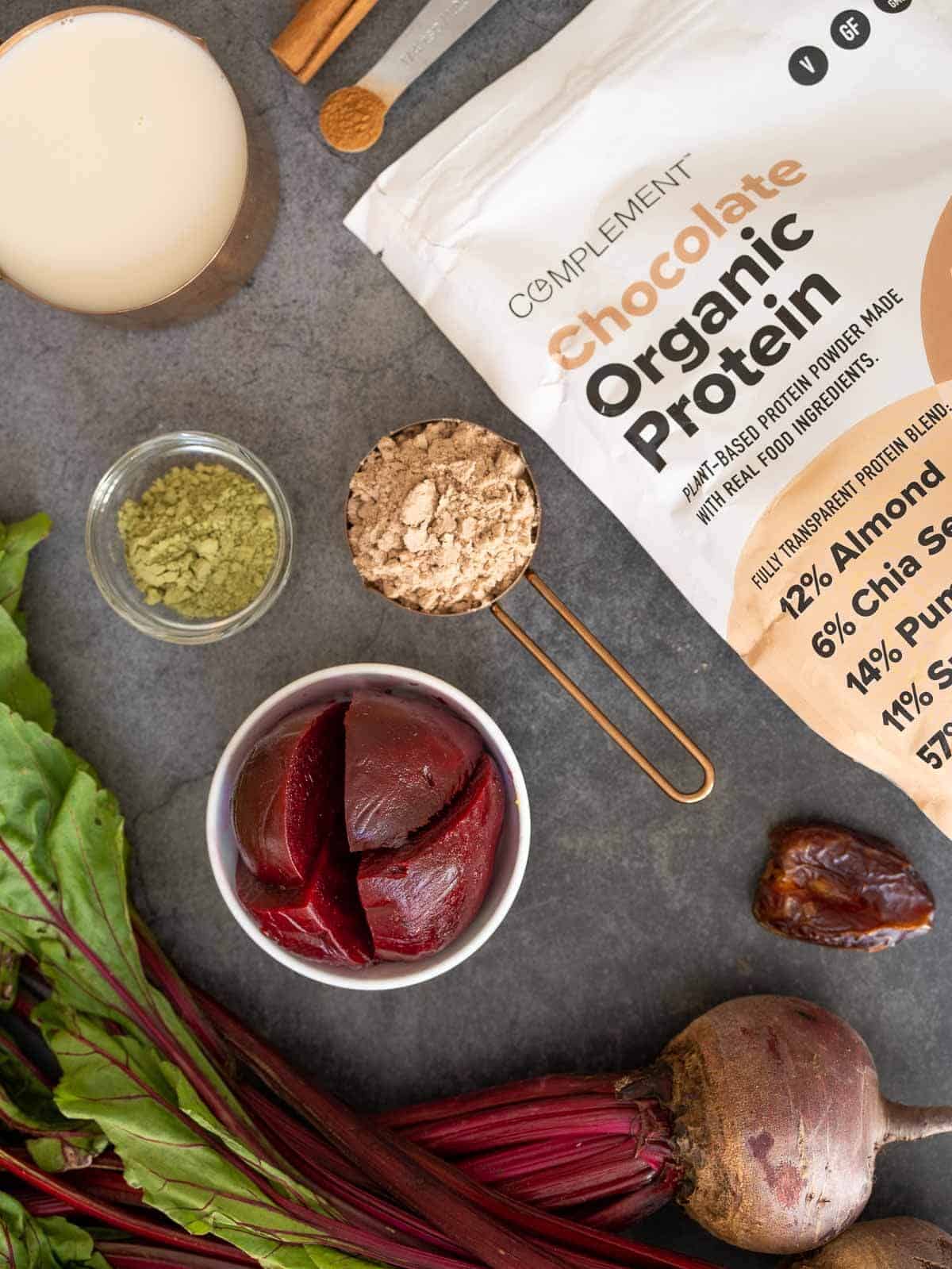 High-quality protein source: Plant-based protein powder, such as pea or brown rice protein, provides essential amino acids for muscle growth and recovery. Consuming protein before your workout ensures that your body has the necessary building blocks to repair and grow muscle tissue during and after exercise.
Easy to digest: Plant-based protein sources are generally easier on the digestive system compared to animal-based proteins. This makes them a great choice for a pre-workout smoothie, as they minimize the risk of digestive discomfort or bloating during exercise.
Allergen-friendly: Plant-based protein powders are suitable for individuals with dairy or lactose allergies and those following a vegan or vegetarian diet. Using a plant-based protein source, the smoothie caters to a broader range of dietary preferences and needs.
Appetite control: Protein is known to promote satiety, helping you feel fuller for longer. Including a protein source in your pre-workout smoothie can help prevent hunger pangs during your workout, allowing you to stay focused on your performance.
Chocolate flavor: The chocolate flavor not only enhances the taste of the smoothie but also provides an enjoyable way to consume your pre-workout nutrients. The rich and indulgent taste of chocolate can make the smoothie more palatable and enjoyable, increasing the likelihood that you'll consistently consume it before workouts.
Overall, using chocolate-flavored plant-based protein powder in a pre-workout smoothie ensures that you're providing your body with a high-quality, easily digestible protein source that supports muscle growth, recovery, and overall workout performance.
Plus, the delicious chocolate flavor makes it a tasty and enjoyable addition to your fitness routine.
❓ FAQ
Is it better to drink a smoothie before or after a workout?
The optimal timing for consuming a smoothie in relation to a workout depends on individual preferences, workout goals, and digestive comfort.
Drinking a smoothie before a workout can provide the body with essential nutrients and energy to fuel the exercise session. Consuming a smoothie containing carbohydrates and some protein about 30 minutes to an hour before a workout can be beneficial for maintaining energy levels and enhancing performance.
On the other hand, consuming a smoothie after a workout can aid in recovery and muscle growth. A post-workout smoothie containing protein and carbohydrates within 30 minutes to an hour after exercising can help replenish glycogen stores, repair muscle tissue, and support muscle growth.
Ultimately, it is essential to listen to your body and determine what works best for you. Some people might prefer having a smoothie before a workout, while others might find it more suitable after exercising.
📚 More smoothie recipes
If you love beets, don't forget to check out our lemon hummus, Russian pink potato salad, and the stunning beet carpaccio, an authentic Italian gem!
⭐ If you try this smoothie for muscle gain, let us know! 💬 Leave a comment, rate it, and don't forget to tag us @ourplantbasedworld on Instagram. Cheers!
📋 Recipe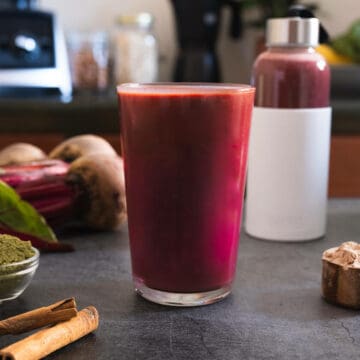 Best Pre-workout Smoothie for Muscle Gain & Weight Loss
Looking for a quick and easy way to supercharge your workouts? Try this delicious pre-workout smoothie made with beets, soy milk, and matcha powder! Packed with energizing nutrients and antioxidants, this smoothie is the perfect way to fuel your body and get the most out of your workout.
Equipment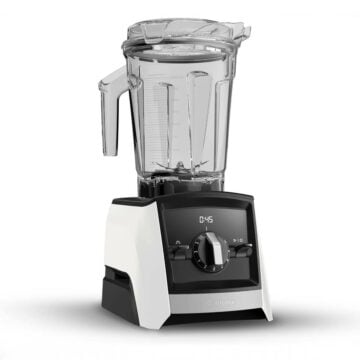 (affiliate link)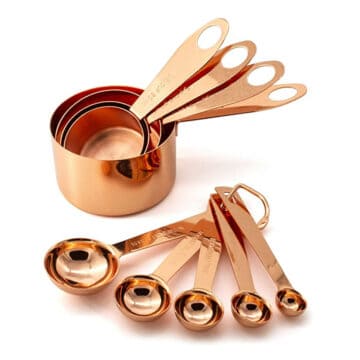 (affiliate link)
Directions
Wash all the fresh ingredients and pit the dates; then measure your ingredients with measuring spoons and/or cups.

Add everything into a high-speed blender.

For a thicker smoothie, omit water and ice cubes. For a thinner smoothie, add more plant milk or water (it will affect sweetness).

Taste and adjust flavor as needed, adding more dates for sweetness and more plant milk for creaminess.

For a thicker smoothie, add frozen banana, peach, or peach.

Serve Cold.
Notes
Smoothie leftovers will keep in a covered mason jar in the refrigerator for up to 2 days, though best when fresh.
Add spirulina powder for extra protein without adding many calories. This might change the flavor of your smoothie drastically as the chlorophyll flavor is intense.
Nutrition facts are calculated, including the protein powder.
The protein powder accounts for 86 calories, 0 carbohydrates, and 15 grams of protein per serving.
Add agave or maple syrup for extra sweetness or extra dates. We like using dates because they have a ton of beneficial post-workout benefits.
Vegan Clean Protein: if using the clean protein powder

(affiliate link)

, add our 10% discount code PBWORLD10 at check-out to enjoy the benefit. (affiliate)
Nutrition Facts
Calories:
261
kcal
Carbohydrates:
27
g
Protein:
29
g
Fat:
8
g
Saturated Fat:
2
g
Polyunsaturated Fat:
4
g
Monounsaturated Fat:
1
g
Sodium:
643
mg
Potassium:
1306
mg
Fiber:
6
g
Sugar:
15
g
Vitamin A:
1240
IU
Vitamin C:
27
mg
Calcium:
415
mg
Iron:
12
mg
Nutrition Facts
Best Pre-workout Smoothie for Muscle Gain & Weight Loss
Amount per Serving
% Daily Value*
* Percent Daily Values are based on a 2000 calorie diet.
🌡️ Food safety
Cook to a minimum temperature of 165 °F (74 °C)
Do not use the same utensils on cooked food, that previously touched raw meat
Wash hands after touching raw meat
Don't leave food sitting out at room temperature for extended periods
Never leave cooking food unattended
Use oils with a high smoking point to avoid harmful compounds
Always have good ventilation when using a gas stove
See more guidelines at USDA.gov.
Nutritional Disclaimer
The information shown is an estimate provided by an online nutrition calculator. It should not be considered a substitute for a professional nutritionist's advice. See our full Nutritional Disclosure here.
Affiliate Disclaimer
Please note that some of the links here are affiliate links, and I will earn a commission if you purchase through those links. I recommend all of the products listed because they are companies I have found helpful and trustworthy.