This Easy Vegan Arugula Pesto Recipe is one of my favorite Italian preparations. Not only can you make great pasta, but you can use it to boost the flavor of many other dishes.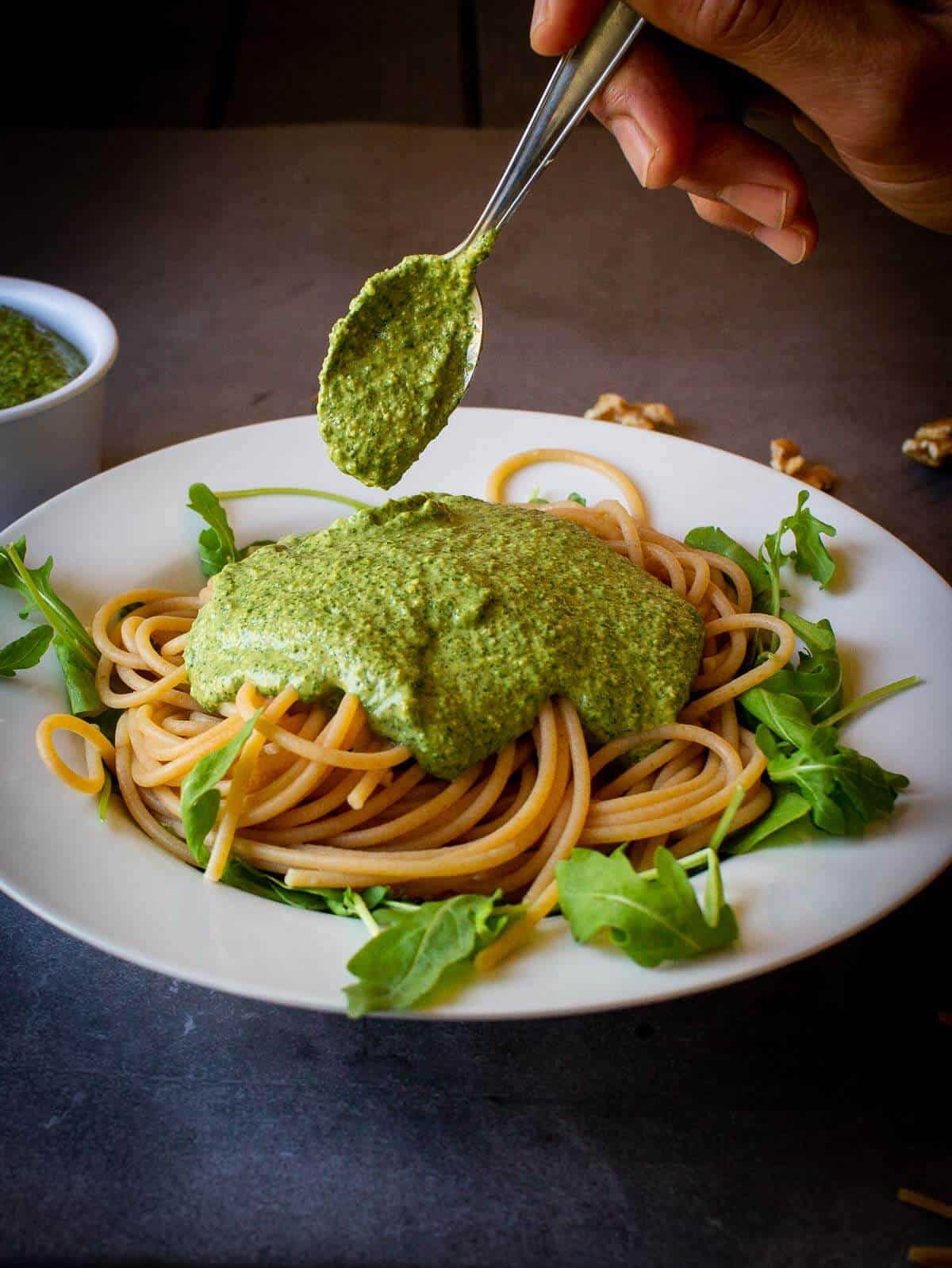 Sometimes we add it to a stew, make bruschettas or add it to pizzas. We also use pesto as a sandwich spread to boost its flavor instantly instead of mayonnaise.
We also love using the super-food-packed kale pesto topping for roasted veggies like cauliflower steaks.
Since we use carrots quite often for juicing, and we love zero-waste cooking and minimizing churn, we use carrot tops to make carrot greens pesto on pasta salads.
Jump to:
🤔 What is pesto sauce?
There are many kinds of pesto: Pesto Alla Genovese is the traditional one and consists of seven ingredients, according to il Consorzio del Pesto Genovese (the Academy of Pesto).
These ingredients are Basil leaves, Extra Virgin Olive Oil, Parmigiano Reggiano cheese, Pecorino Cheese (Sheep's milk cheese from Sardinia), Garlic, Pine nuts, and Coarse Salt.
It is common to replace pine nuts with walnuts since pine nuts may be challenging to find and relatively expensive.
In addition to the traditional Basil pesto and the less traditional but commonly found Arugula one, the standard pesto products found in Italy are:
Pesto Alla Calabrese (Hot Peppers)
The Pesto Alla Siciliane (Ricotta Cheese and Nuts)
Pesto Rosso (with tomatoes).
Then you have more Gourmet pestos made out of Pistachio nuts.
In a nutshell, to make a pesto, you need a Vegetable or Leave (such as Basil, Red Peppers, Tomato, Arugula), Cheese, Garlic, and Oil. The variations come with imagination. The Mint Pesto is a good example.
Pestos make great and easy vegan sauces.
🧾 Ingredients
This is how you make a pesto vegan. We are replacing the Cheese Component with Cheesy Nutritional Yeast. It is essential to have good quality and cheesy nutritional yeast; otherwise, it won't make it for the recipe's lack of cheese. Some Nutritional Yeasts are neutral or are even fruit-scented, which, of course, won't work.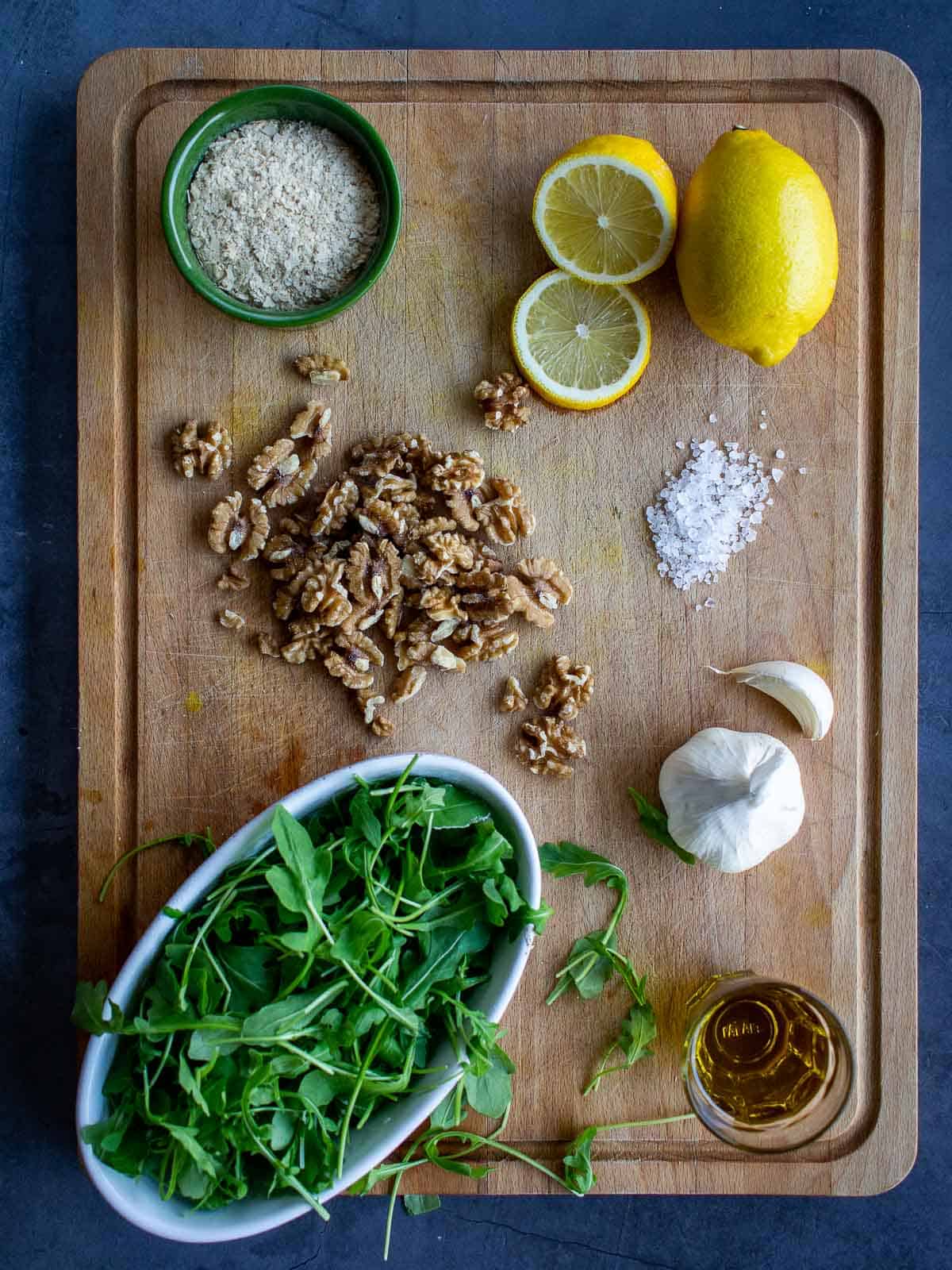 Fresh arugula (used in place of the traditional fresh basil)
Olive Oil
Lemon juice
Walnuts (pine nuts or almonds also work)
Garlic cloves
Nutritional yeast
Salt
Another plus of having this vegan version is that it is dairy-free and casein-free. Therefore, lactose-intolerant individuals can consume it, and nutritional yeast is packed with protein and has a very low-calorie count compared to cheese.
🔪 Instructions
Making pesto is very simple:
Wash the arugula thoroughly.
Measure your ingredients.
Throw everything in the food processor. Blend in the food processor for 2-3 minutes until you reach the desired consistency. Add more oil if you want it to be thinner. You may have to scrape the sides with a spatula a couple of times.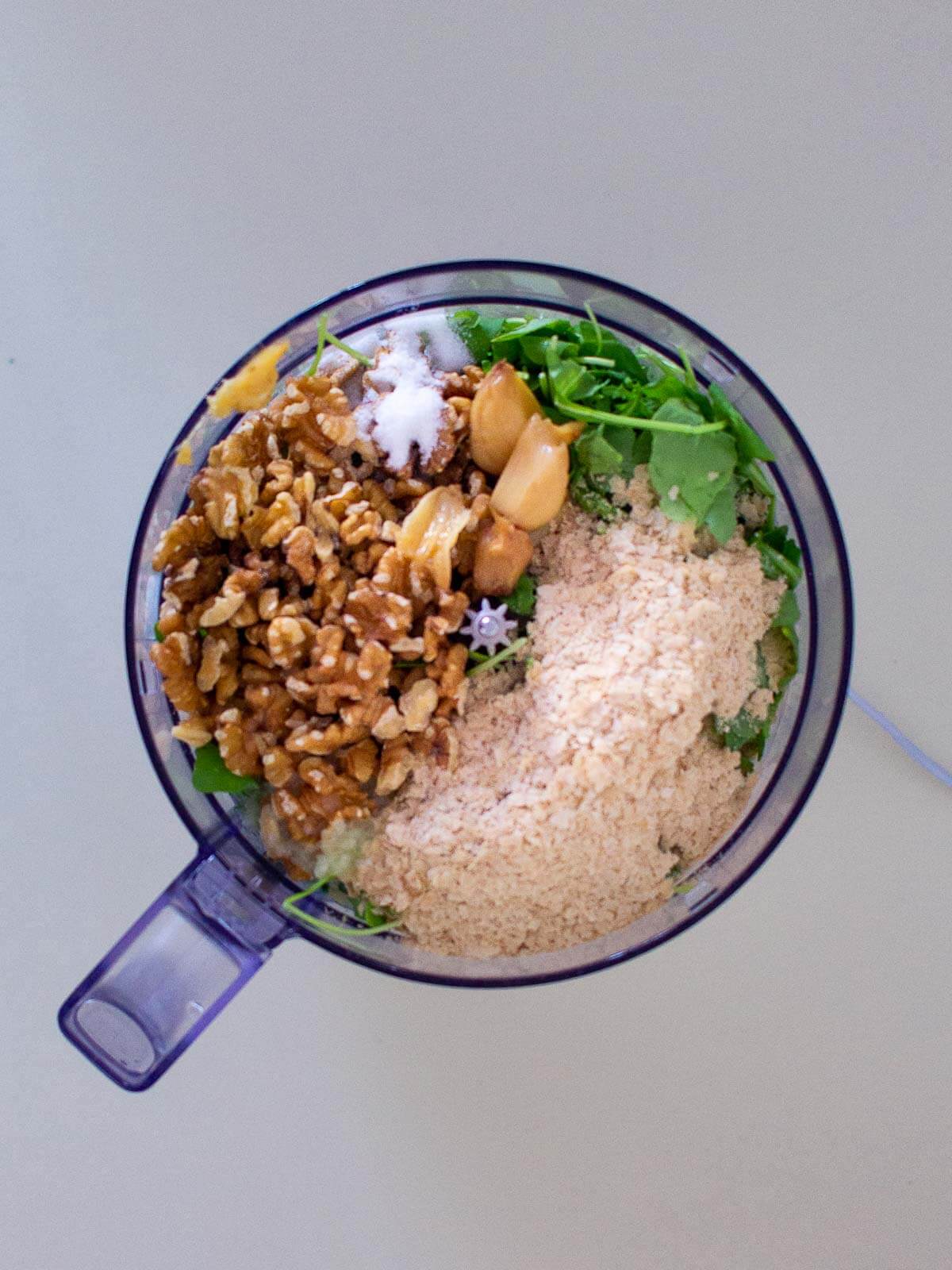 Adjusting flavor - add more nutritional yeast if you want it to taste cheesier. Lime juice to make it more acid, more nuts to make it thicker.
Tip: add more extra virgin olive oil to make it more liquid and creamy.
🫙 Storing
Leftover pesto will last in the fridge for weeks; make sure you store it in a glass container with a lid. Add extra olive oil to ensure it is covered; this with help to prevent it from developing fungi.
Using ice cube trays, you can also store this vegan walnut pesto recipe in batches in the fridge. You can then add your vegan pesto cubes directly to your favorite pasta or sauces.
🥢 How to use
In addition to making a rocket pesto vegan pasta, you can use fresh pesto instead of roasted vegetables, roasted cauliflower, sandwiches, pesto pizza, and even use your vegan pesto recipe as a salad dressing.
We love using a thin layer of pesto and cherry tomatoes on top of bruschettas for a punch of flavor.
We just love pesto on top of everything, including our vegan and gluten-free zucchini lasagna.
📖 Variations
Nuts - Use your choice of walnuts, almonds, pine nuts, pecan nuts, Brazilian nuts, or even pumpkin seeds or sunflower seeds. You can use toasted pine nuts or walnuts to have extra depth in the flavor.
Fresh herbs - instead of arugula, you can make your vegan pesto using fresh basil, kale, or spinach.
Garlic - I prefer to briefly grill my garlic cloves in a small skillet, skin-on, covered with a lid, for a couple of minutes; this ensures the garlic flavor becomes less intense.
Lemon juice - you could use lime juice instead, but it will change the flavor profile of your pesto. If you don't have an option, you can go for it. I have done it, and although it tastes different, it is better than not making pesto.
Nutritional yeast - to make this rucola pesto vegan, this easy recipe calls for nutritional yeast to replace parmesan cheese. That's what adds the cheese flavor to this vegan version. Of all the ingredients, this is the one that I would not recommend substituting.
🍽 Equipment
You can make a pesto using a high-speed blender (affiliate link) or food processor (affiliate link) for a quick fix, but we also love using our handmade granite mortar and pestle, for a more authentic texture.
💭 5 Reasons to make your own pesto
Versatility
Pesto Sauce is super versatile and customizable. First, you need a strong-flavored green such as Arugula (Rucola), Basil, Mint, or Kale, any nut, olive oil, nutritional yeast (used in place of parmesan cheese), lemon, salt, and garlic.
Preservative free
Looking at the ingredients of store-bought pesto, I realized how many preservatives and chemicals they have. You should be in complete control of what I put in your body.
Vitamin B
If you are vegan, including Nutritional Yeast in your diet is essential. This pesto replaces Cheese with Nutritional Yeast to make up for the traditional pesto cheesy flavor.
Budget-friendly
You can make a lot and save some money. For example, I used to buy lots of pesto, using it at least twice a week. But, making your own pesto is suitable for your pocket!
Including more greens in your diet
It is a great way to add nutritious greens to your diet. Fresh Arugula (Rucola) is considered a cancer-fighting superfood, so with this pesto, you deliciously include arugula in your diet as you also protect the Aging Brain From Cognitive Decline.
🍃 5 Benefits of arugula (rocket or rucola)
Arugula's Health Benefits are vast. Did you know that rucola is considered a Superfood?
Cancer-Fighting Powerfood
Studies show may reduce the risk of developing lung, prostate, breast, and pancreatic cancer.
Aphrodisiac
Research has shown us that the trace minerals and antioxidants in the dark, leafy greens are essential for our sexual health.
Weight loss
Rucola in your diet can benefit you with many nutrients. Two cups contain only 80 calories, making it a good choice for those on a diet.
Protects the aging brain from cognitive decline
Rucola, along with broccoli, cauliflower, and cabbage, is high in fiber and antioxidants and rich in glucosinolates, which studies show may reduce the risk of developing lung, prostate, breast, and pancreatic cancer.
It helps reduce inflammation in the body
It contains substances that have been shown to suppress the production of inflammation in the body.
Now, let's get cooking! Well, just blending... it only takes 5 minutes, so you might want to start boiling your pasta!
📚 More vegan pesto recipes
Try our basil vegan pesto which is closer to the traditional version as it uses fresh basil instead of arugula.
We also love using our mint pesto on dishes like our vegan poke bowl.
Finally, we use our kale pesto to top our cauliflower steaks and, of course, for a healthy bowl of whole bran pasta.
Try our roasted red pepper tofu pesto recipe for an oil-free, healthier pesto option.
We will soon be sharing our sun-dried tomato pesto as well.
🇮🇹 More Vegan Italian Recipes
Find out more about Nutritional Yeast benefits.
See how to make vegan homemade pasta and spaghetti noodles.
⭐ If you try this recipe, let us know! 💬 Leave a comment, rate it, and don't forget to tag us @ourplantbasedworld on Instagram. Cheers!
📋 Recipe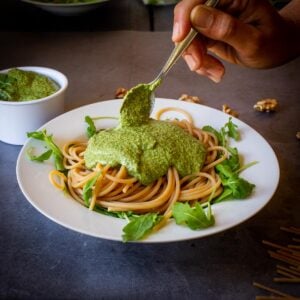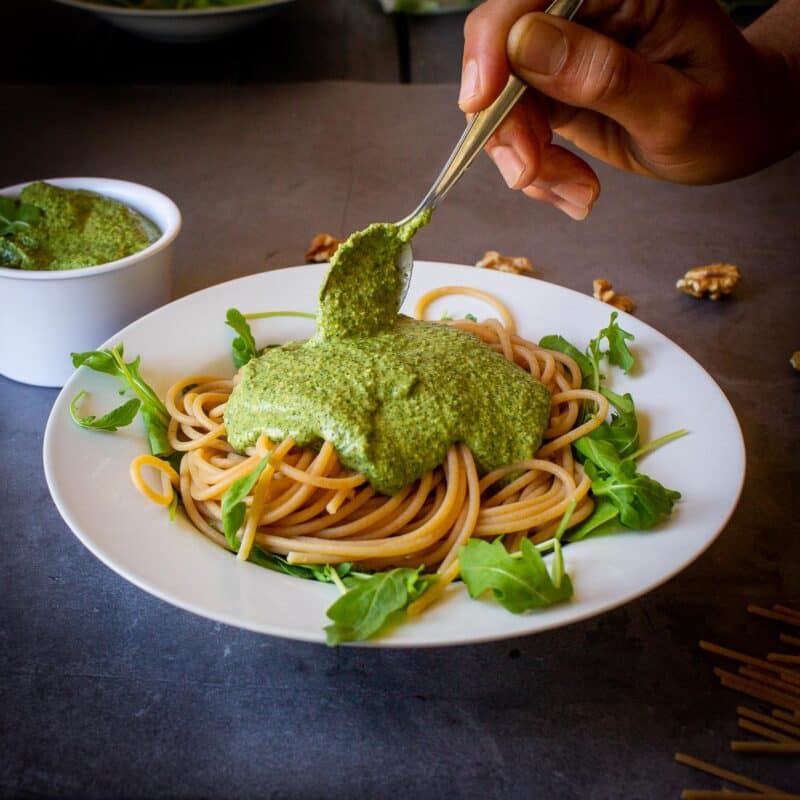 Vegan Arugula Pesto
Pesto is one of my favorite Italian sauces. Not only can you make great pasta, but you can use it to boost the flavor of other dishes. This one is an Arugula version which is very common here in Italy.
Equipment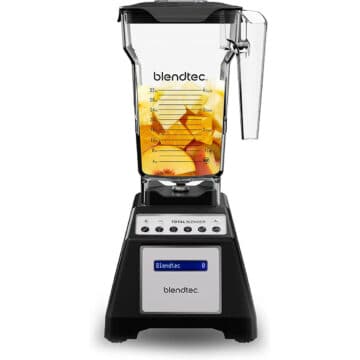 (affiliate link)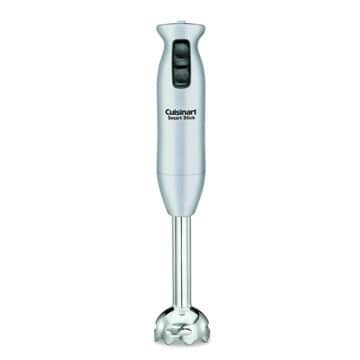 (affiliate link)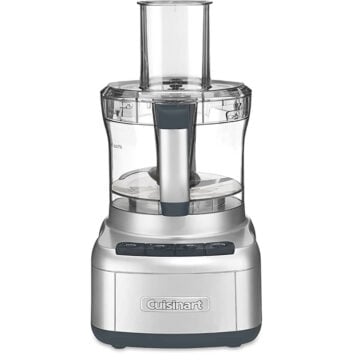 (affiliate link)
Directions
Blend. Put all the ingredients on the food processor or you can also use a small blender. Blend for 2-3 minutes until smooth.

Adjust with water for fluidness or nutritional yeast for thickness.
Notes
You can adjust how creamy or fluid you want the pesto adding some more water or olive oil. This one is a thick version.
Tip
You can make a half/half - Basil/Arugula version as well. They play well together.
You can pre-cook for 2 minutes the garlic cloves on a saucepan with a lid to make its flavorless pungent.
Nutrition Facts
Calories:
253
kcal
Carbohydrates:
7
g
Protein:
7
g
Fat:
23
g
Saturated Fat:
3
g
Sodium:
585
mg
Potassium:
311
mg
Fiber:
4
g
Sugar:
1
g
Vitamin A:
241
IU
Vitamin C:
6
mg
Calcium:
29
mg
Iron:
1
mg
Nutrition Facts
Vegan Arugula Pesto
Amount per Serving
% Daily Value*
* Percent Daily Values are based on a 2000 calorie diet.
Nutritional Disclaimer
The information shown is an estimate provided by an online nutrition calculator. It should not be considered a substitute for a professional nutritionist's advice. See our full Nutritional Disclosure here.
Affiliate Disclaimer
Please note that some of the links here are affiliate links, and I will earn a commission if you purchase through those links. I recommend all of the products listed because they are companies I have found helpful and trustworthy.