Dive into the flavors of the Mediterranean with this delightful baked stuffed eggplant dish. Perfect for those who adore a fusion of rich tastes and health benefits, this vegetarian stuffed eggplant recipe is a must-try. It's not just a meal; it's an experience!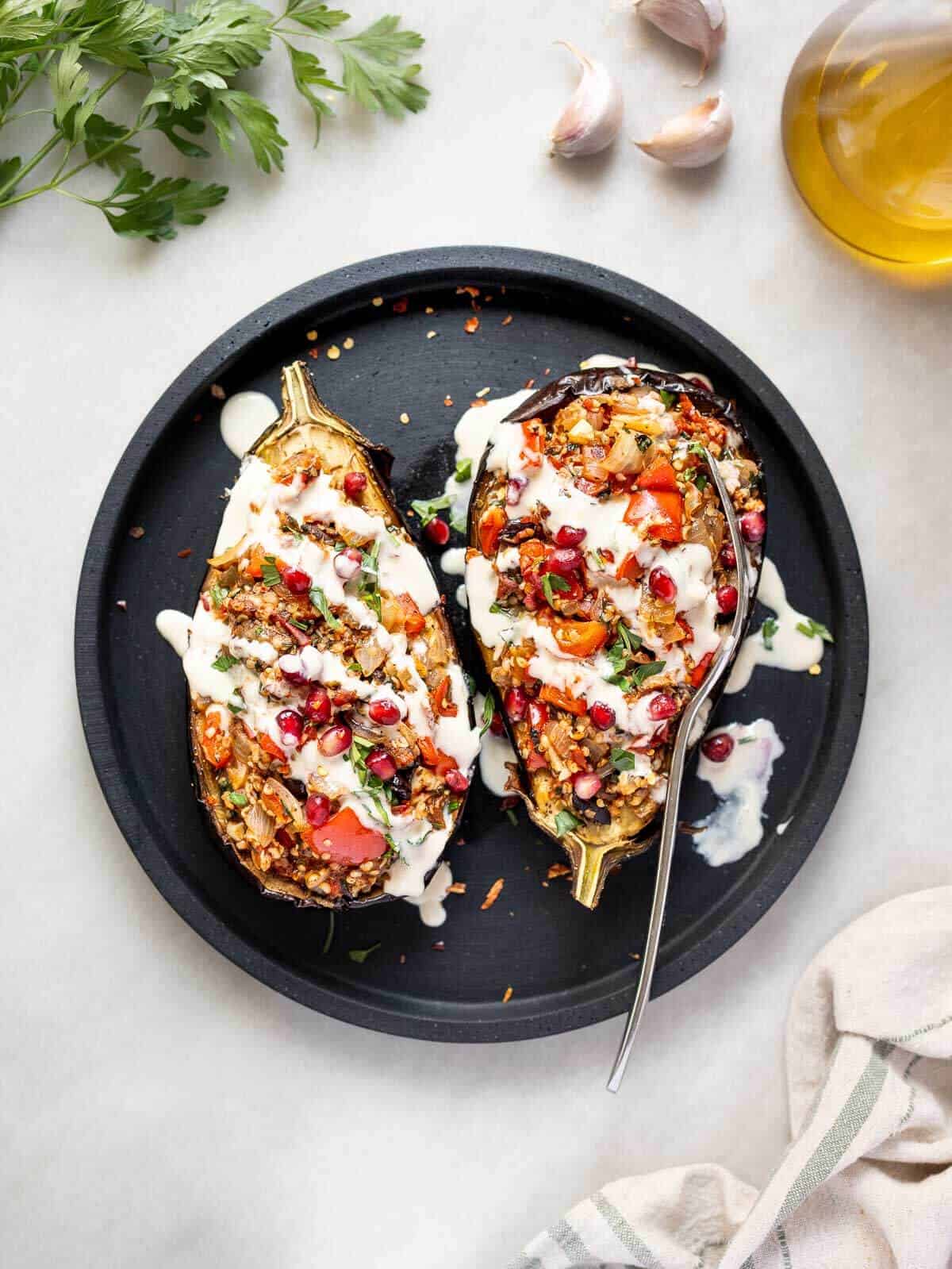 Alright, foodies, let's talk stuffed eggplant. If you're looking for a dish that's as show-stopping as your favorite dance move, this is it! Those hemp seeds? They're not just for smoothies, folks. Paired with olive oil, they make our eggplant as hearty as your favorite uncle's bear hug. And those chopped tomatoes? They're the zesty sidekick every superhero dish needs. Did you know that eggplants are a powerhouse of nutrients, packed with fiber, vitamins, and antioxidants?
Now, let's chat herbs. Thyme and oregano strut into this recipe like they own the place, giving our eggplant that "I've-got-my-life-together" vibe. And don't even get me started on the eggplant flesh—it's like the universe's way of saying, "No waste here, thank you very much!" All snuggled up with tomato sauce, and it's the heart of this dish that is so versatile that you can make it the main course, serve it as an appetizer, or as a copious side dish.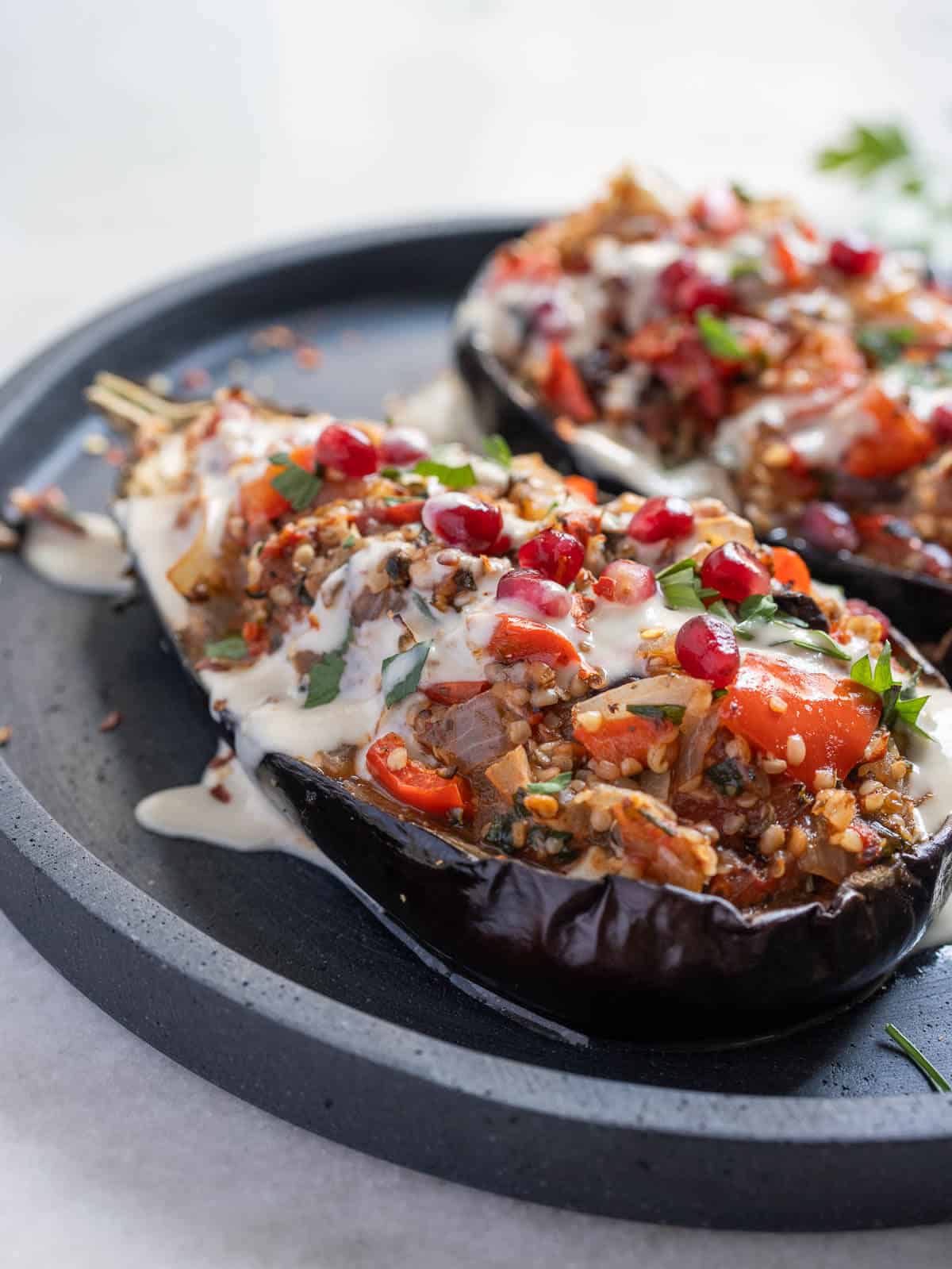 But here's the kicker: this dish is as easy as eggplant pie (but, you know, without the pie). You won't be slaving away in the kitchen; instead, you'll be out there showing off your dance moves in no time. A dash of minced garlic here, a drizzle of extra virgin olive oil there, and bam! Gourmet dinner, minus the gourmet effort. So, whether you're a kitchen newbie or the next top chef, this stuffed eggplant recipe is your ticket to culinary stardom. Dive in and let the flavor fiesta begin!
Jump to:
🧾 Ingredients
This vegan stuffed eggplants is made with just a few delicious ingredients: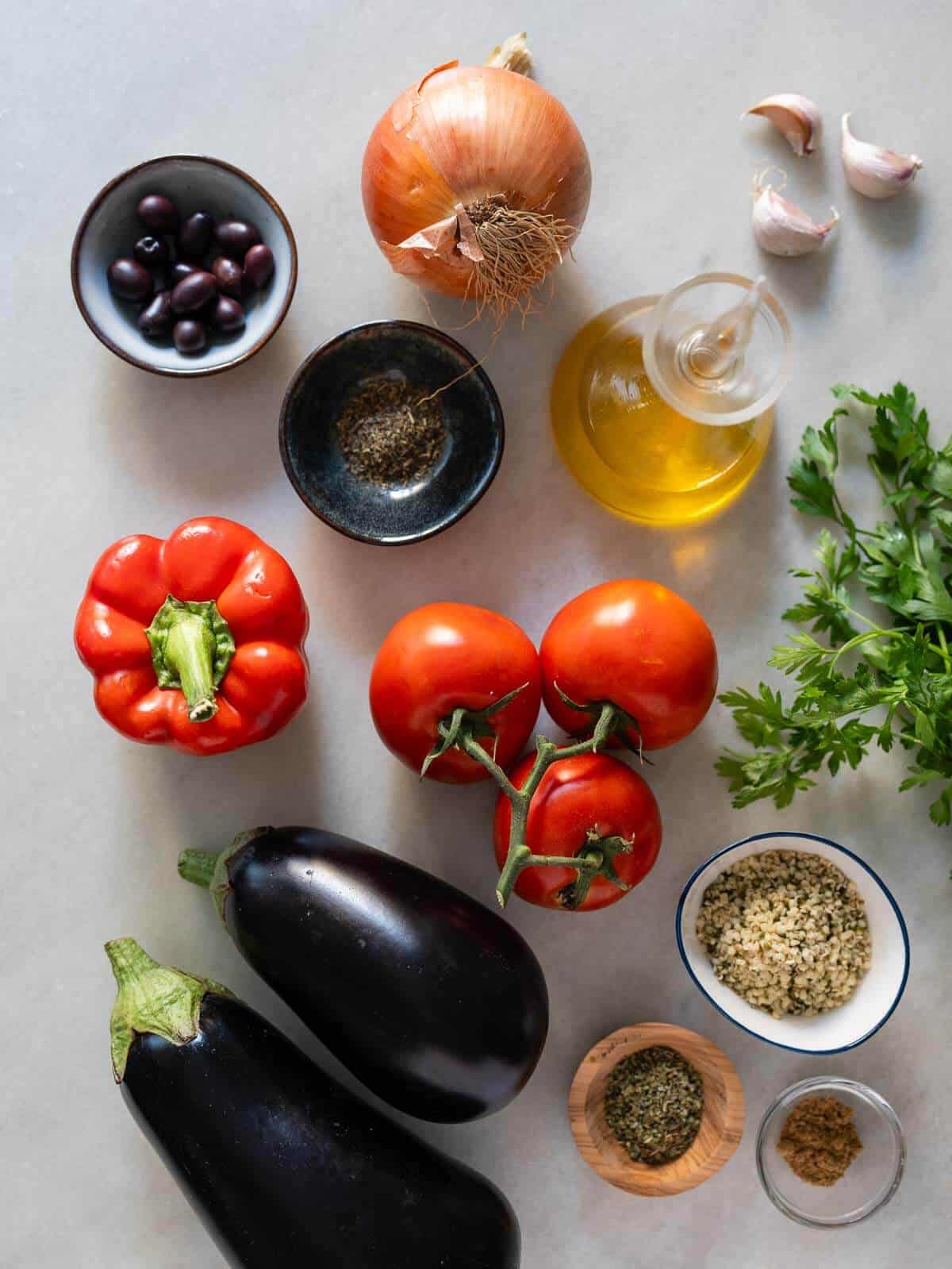 Eggplants: These add a meaty texture and absorb flavors well, making them a versatile base for many dishes.
Onion or red onion: Provides a sharp, aromatic flavor that enhances the overall taste and adds depth to the dish.
Hemp seeds: A source of protein and texture, they also contribute to the dish's heartiness, making it a complete meal. You can also use cooked quinoa or couscous.
Fresh garlic: Introduces a pungent kick, elevating the aromatic profile of the dish.
Tomatoes: Offer a tangy sweetness and moisture, balancing out the other flavors.
Red bell pepper: Adds a sweet crunch and vibrant color, enhancing the dish's visual appeal.
Kalamata olives: Bring in a briny and savory touch, complementing the other ingredients.
Thyme: Introduce a fragrant note, adding complexity to the flavor palette.
Dried oregano: Its aromatic nature gives the dish a Mediterranean flair and depth.
Cumin: Introduces a warm, earthy spice that pairs well with the other ingredients.
Flat-leaf parsley: Brightens up the dish with its fresh, herbaceous flavor and adds a pop of green.
Optional ingredients
Extra virgin- olive oil: Adds richness and helps in sautéing, bringing out the flavors of the ingredients.
Maple tahini sauce: Drizzled on top, it contrasts the savory elements with a sweet and nutty contrast. Or a mix of tahini sauce, lemon juice, and salt.
Pomegranate seeds: Offer a burst of sweet-tartness and a decorative touch to the finished dish.
See the recipe card for quantities.
🔪 How to make stuffed eggplant?
This Mediterranean Stuffed Eggplant recipe involves simple steps.
Prepare the eggplants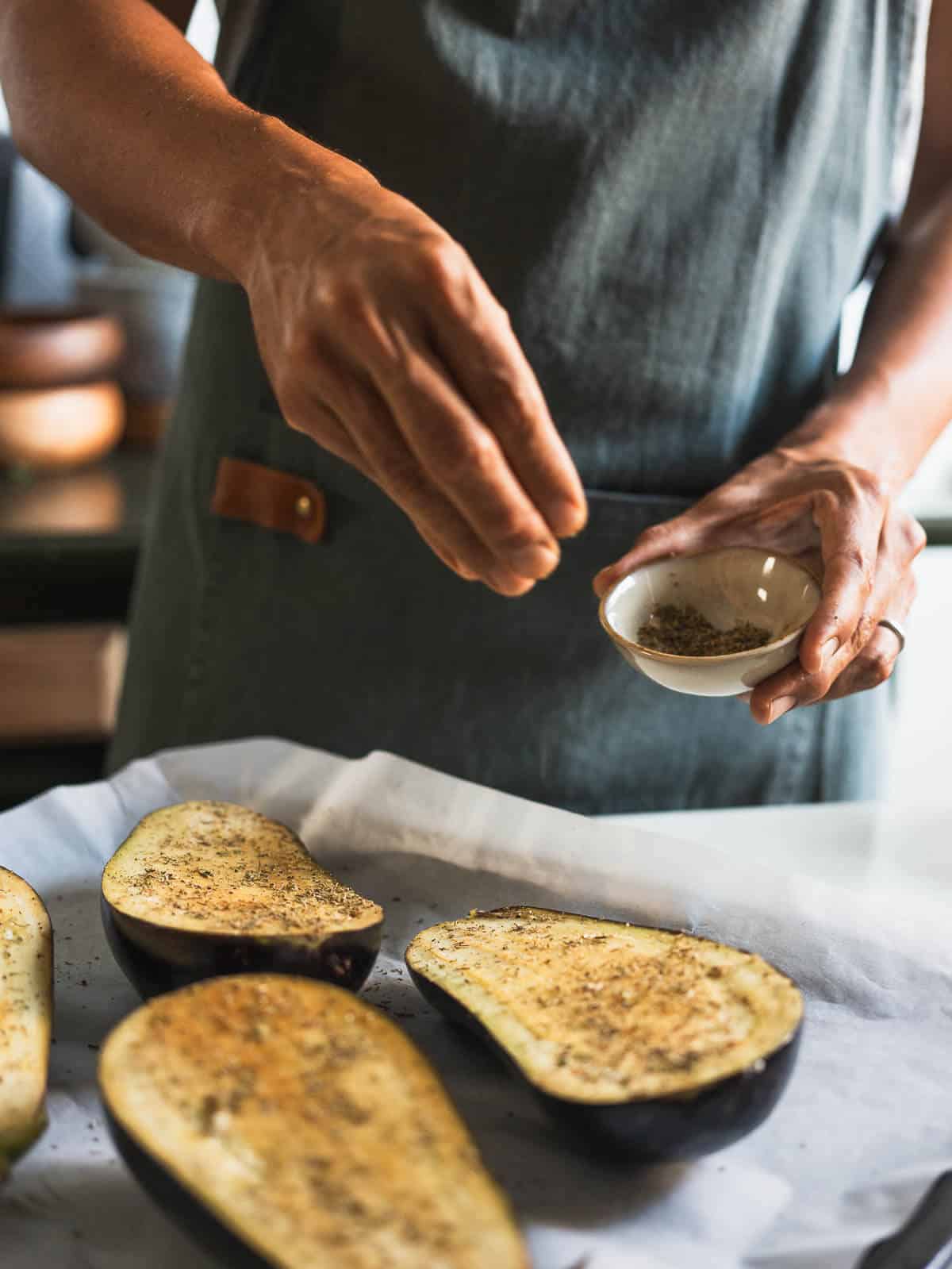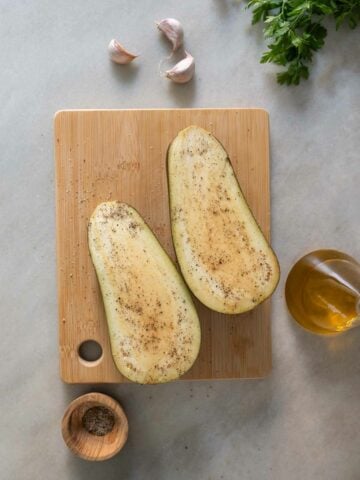 Wash them thoroughly. Half lengthwise. You can keep the green tops or not. Sprinkle with salt and pepper.
Line a baking dish with parchment paper. Let the halved eggplants sweat.
Make stuffing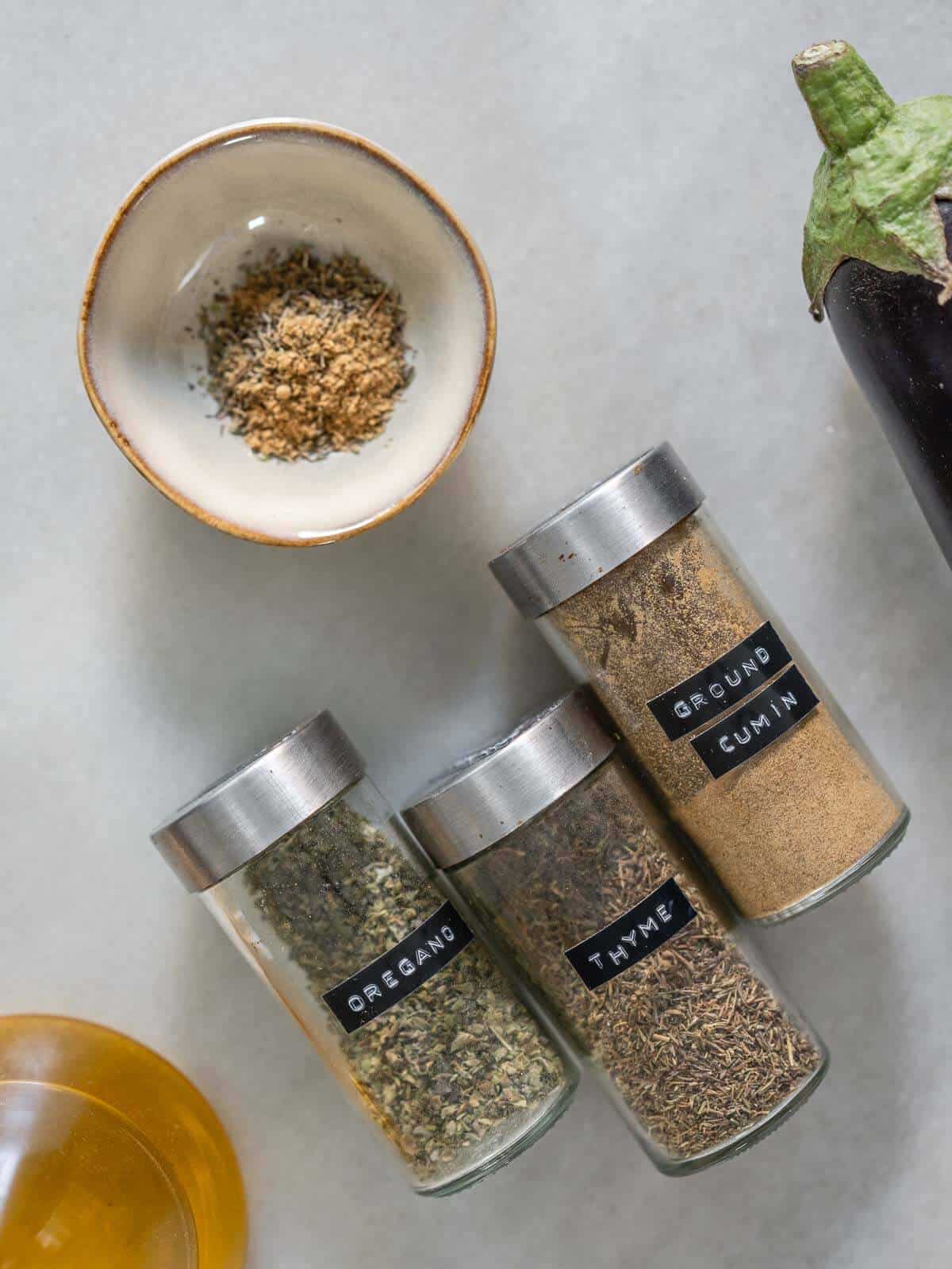 Make a spices-herbs mix in a small bowl, and use half to season your stuffing and another half to season the eggplant's halves later.
Many stuffed eggplant recipes traditionally feature meat-based fillings, but in this step, we're crafting a vegan vegetable stuffing that's both flavorful and satisfying.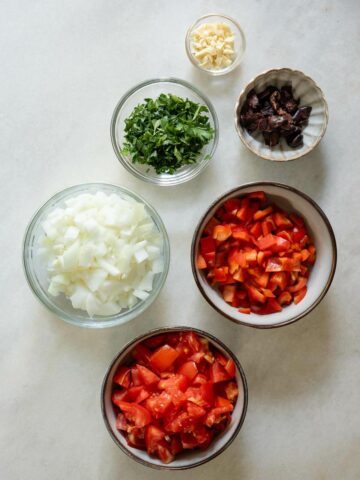 Chop all the vegetables for the stuffing.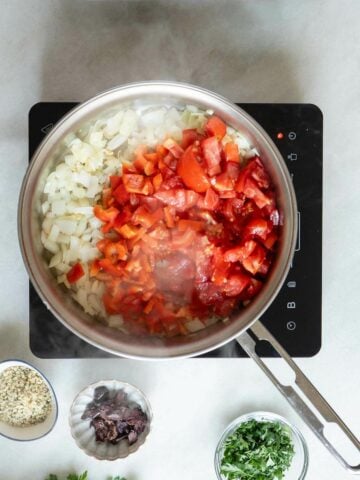 In a frying pan, sautée onions, garlic, red bell peppers, and chopped tomatoes.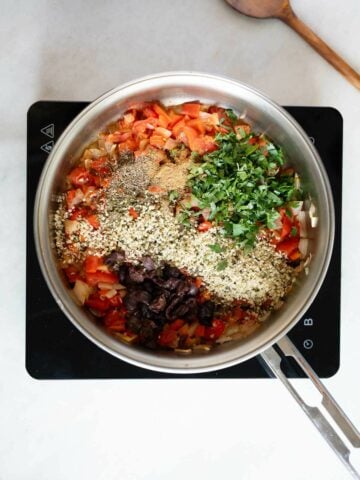 Add the rest of the ingredients and cook.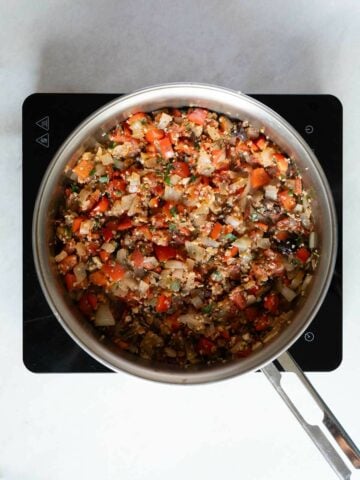 Turn the heat off and reserve the stuffing.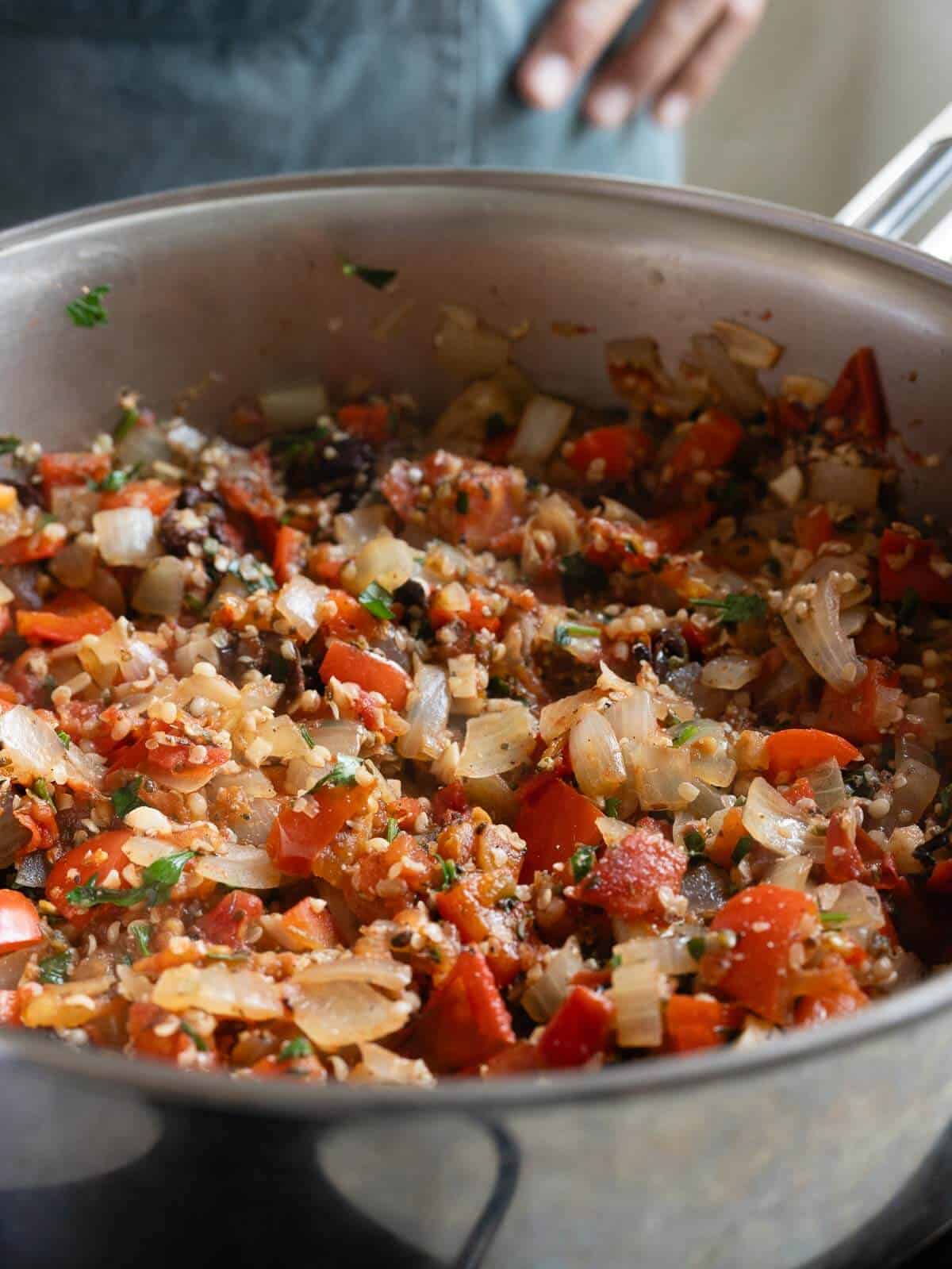 Adjust seasoning and reserve stuffing.
Roast eggplants
After the eggplants have "sweated," we are ready to bake these beauties.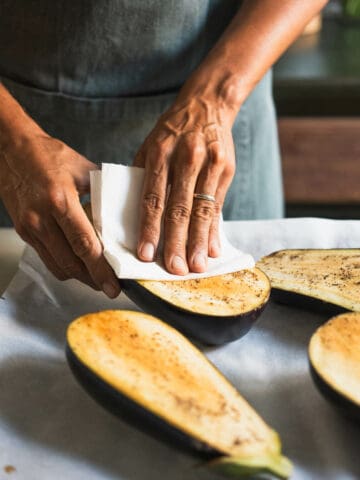 Pat dry the eggplants with paper towels.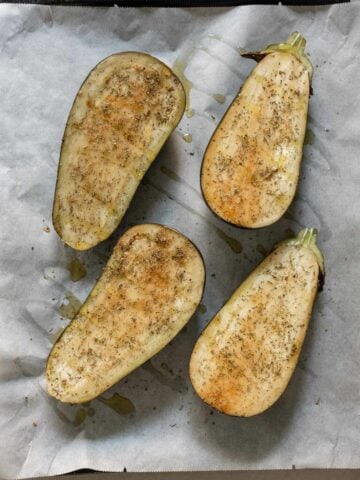 Rub the eggplant with the herbs and spices mix. Then let eggplants roast for 30 minutes.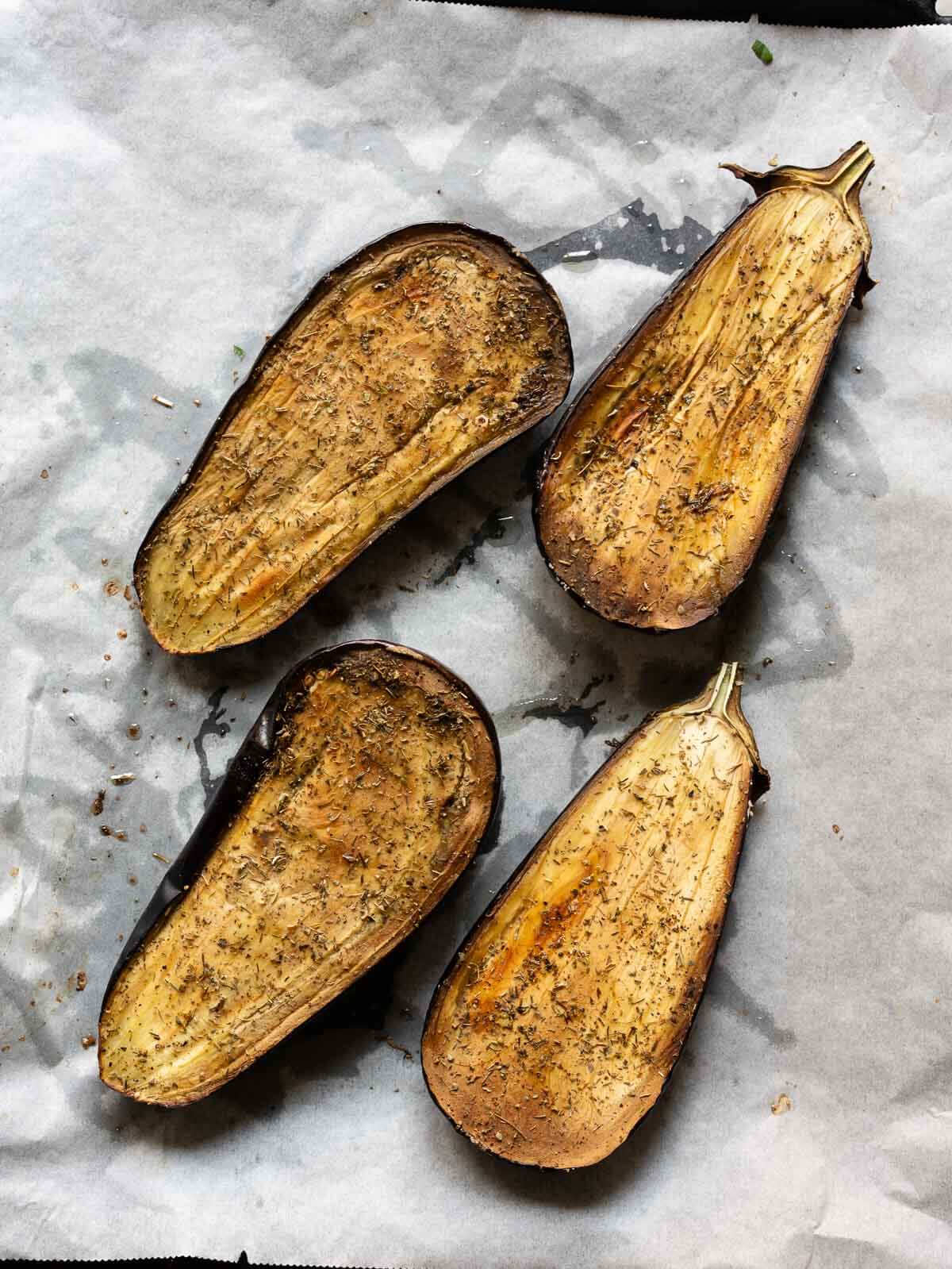 After 30 minutes, remove the roasted eggplant from the oven.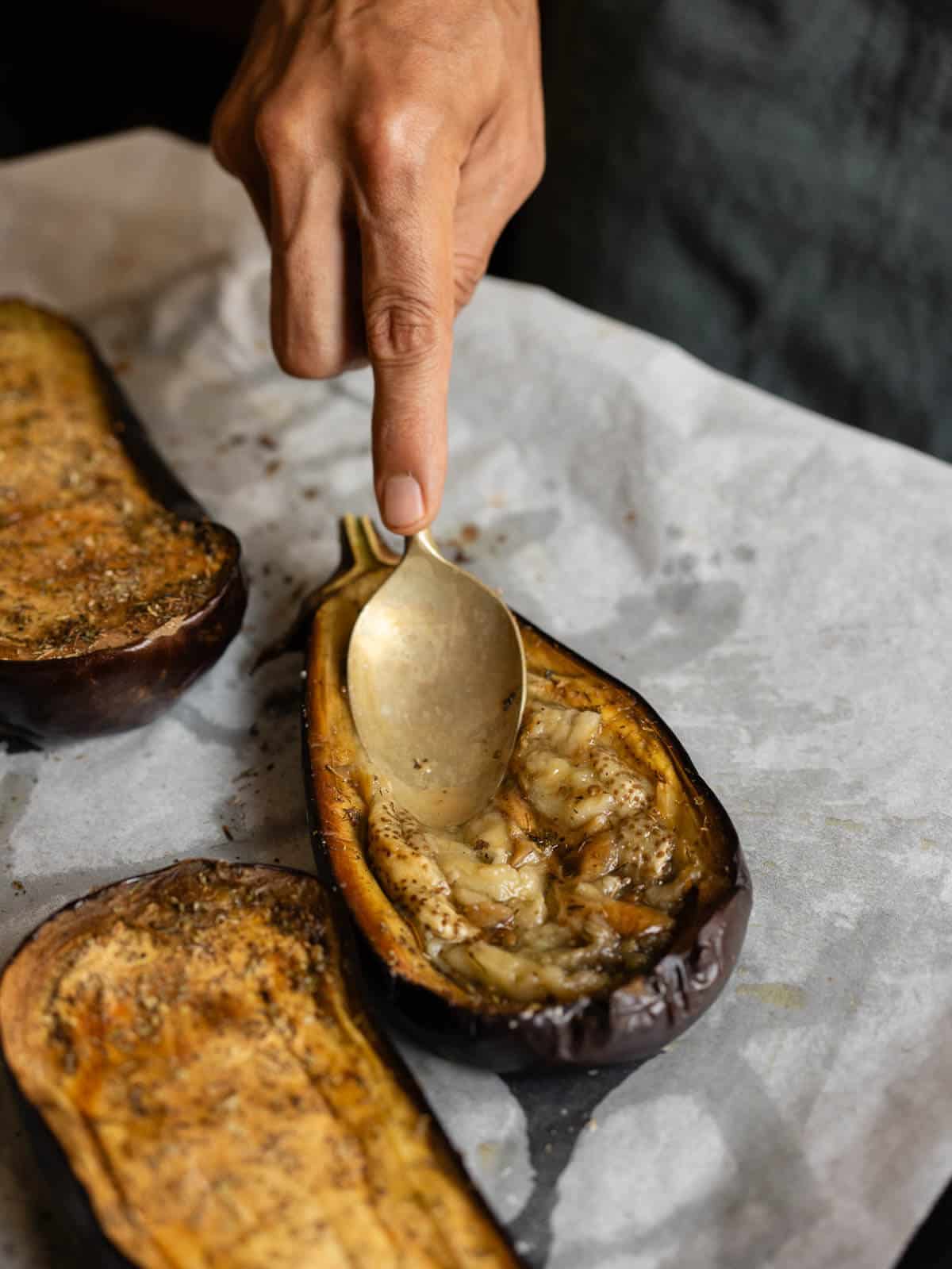 Press the roasted eggplant pulp with the back of a spoon and make a puree.
Hint: you can mash the eggplants with the back of the spoon, the edges, or a fork. Keep the edge intact to keep the eggplant shell slightly firm.
Assemble the dish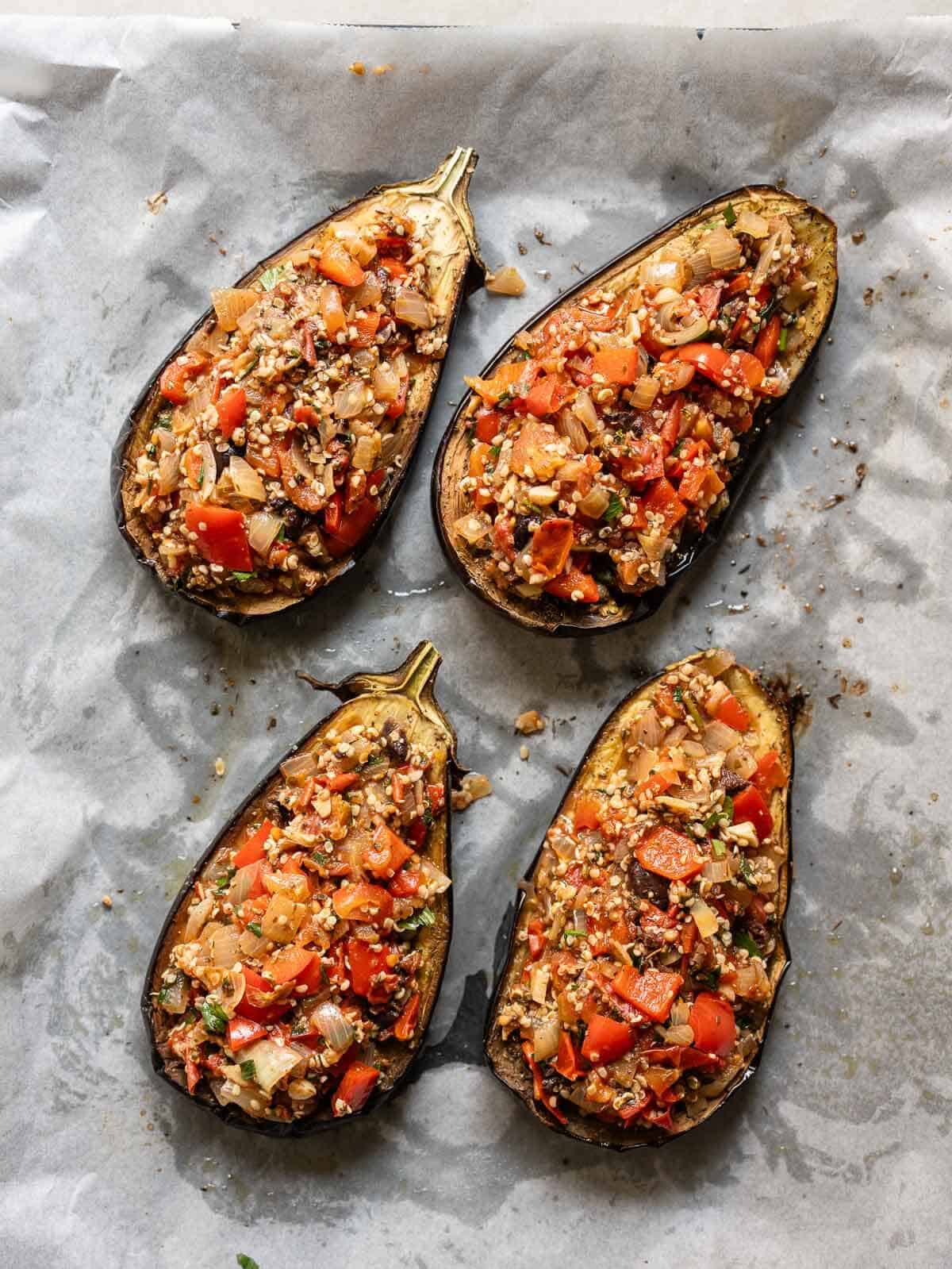 Stuffed cooked eggplant boats with the previously prepared vegetable stuffing.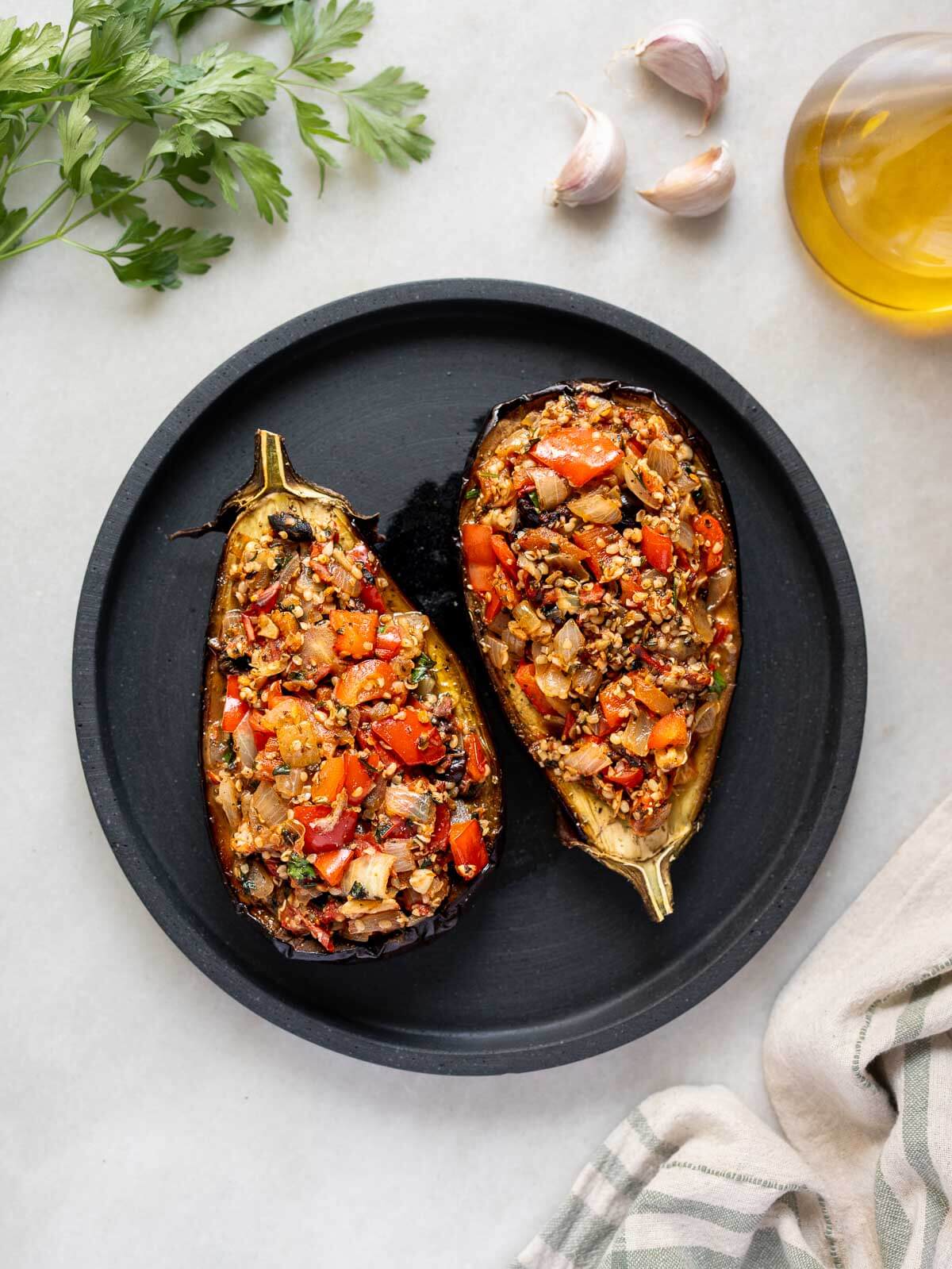 Transfer baked stuffed eggplants to a serving plate before garnishing.
Hint: We often give the eggplants an added 2-3 minutes of broiling to achieve a richer golden finish on the vegetable stuffing.
Garnish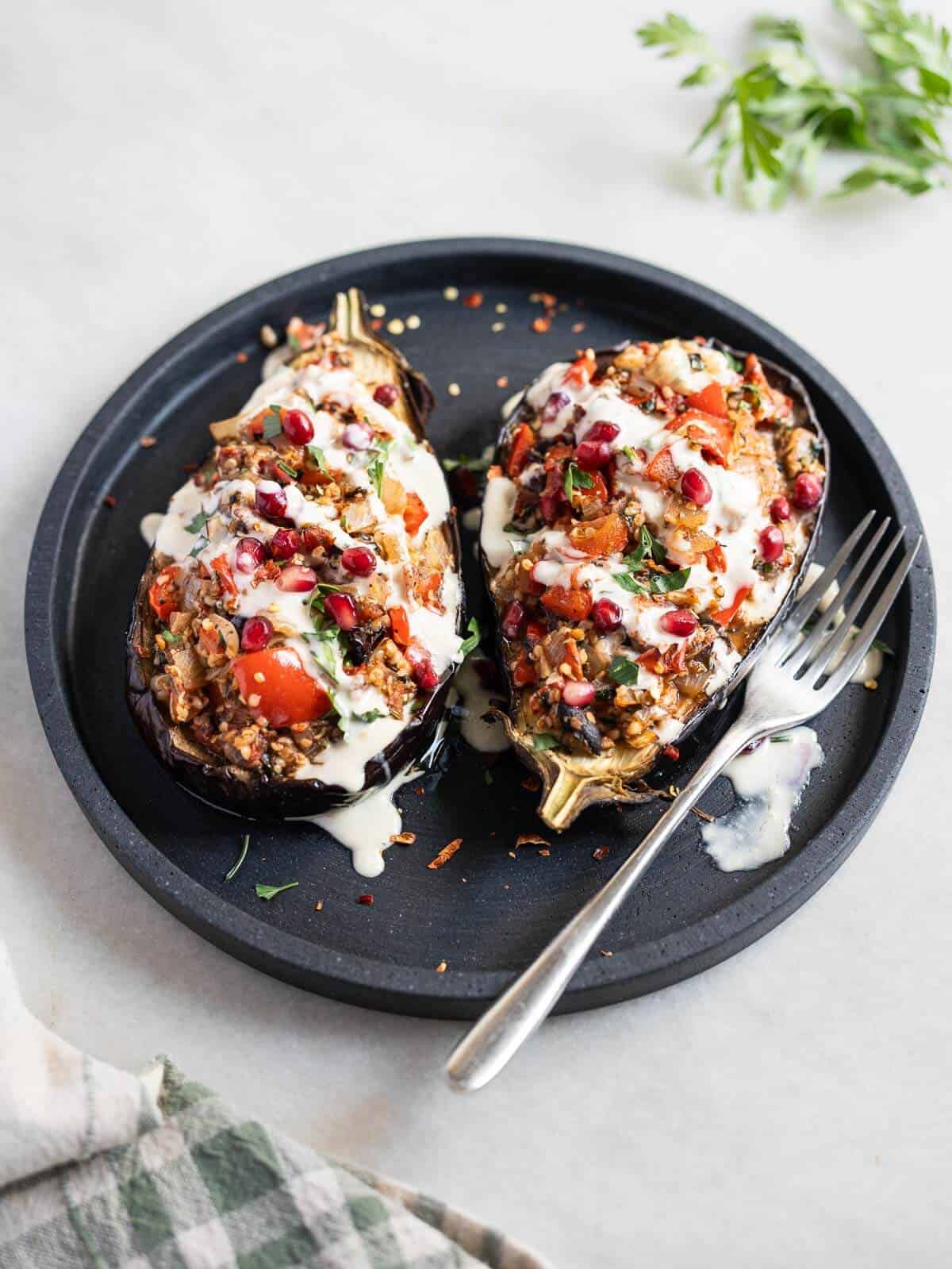 Drizzle regular tahini sauce or our sweet-tart maple tahini sauce, initially made for our crispy chickpea salad but works wonders on this recipe, topped with chopped fresh parsley and pomegranate seeds (check how to remove pomegranate arils, if you have fresh pomegranate).
Read on: Vegan Eggplant Recipes, a collection of our dearest eggplant creations.
🥢 How to serve along?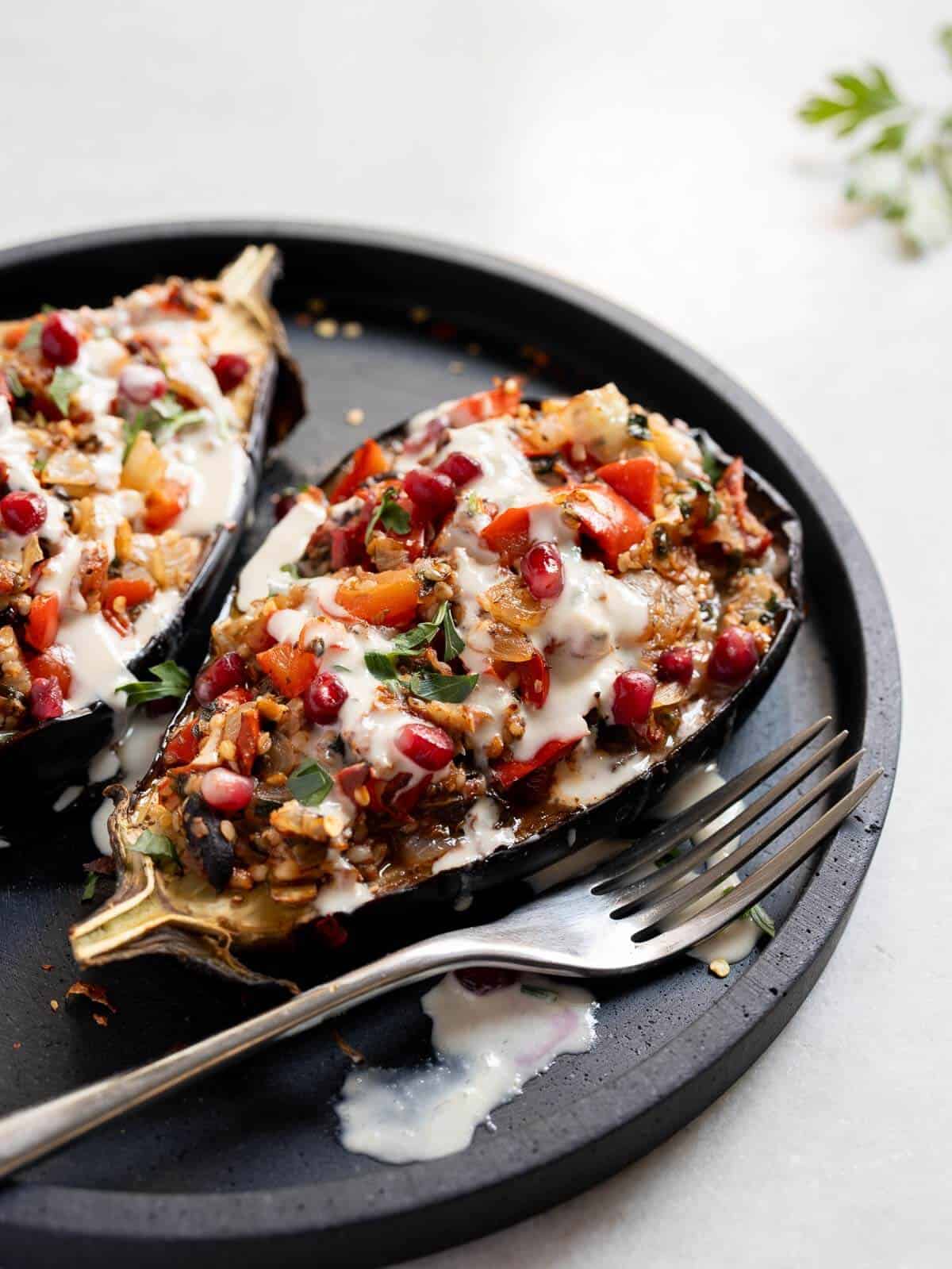 Toppings:
Garnish with Freshness: Sprinkle some fresh herbs like chopped fresh basil, parsley, or cilantro on top of your baked stuffed eggplant for a burst of color and flavor.
Add a Tangy Twist: Drizzle a bit of tahini, squeeze lemon juice to enhance the Mediterranean vibe, or use our maple tahini sauce. We also like adding fresh pomegranate seeds or cranberries.
Crunchy Element: Consider adding some toasted pine nuts or walnuts for a delightful crunch.
Spice it Up: A sprinkle of za'atar or red pepper flakes can give it that extra kick for those who love a hint of spice.
Side Dishes:
Persian Rice: Serve your baked stuffed eggplant alongside steamed basmati rice, beautifully garnished with saffron-infused grains on top. The aromatic rice complements the rich flavors of the eggplant.
Crispy Mediterranean Tofu Nuggets: These golden-brown tofu nuggets, seasoned with Mediterranean herbs, make for a protein-packed side that's both delicious and vegan-friendly.
Fresh Salad: A simple Greek salad with tomatoes, cucumbers, olives, and vegan feta cheese drizzled with olive oil and lemon juice can be a refreshing side.
Warm Pita Bread: Soft, warm pita bread is perfect for scooping up any delicious bits and complements the eggplant beautifully.
Protein Dishes:
Chickpea Falafel: Golden and crispy on the outside and soft on the inside, these falafels can be a delightful protein-packed side.
Hummus: A bowl of creamy hummus, drizzled with olive oil and sprinkled with paprika, can be a protein-rich dip to accompany your meal.
With these serving options, you can create a diverse Mediterranean feast that's not only delicious but also caters to a plant-based diet. Enjoy your meal!
🍶 Substitutions
Onion or red onion: Substitute with green onions or leeks. They provide a milder flavor but still enhance the overall taste of the dish.
Hemp seeds or cooked quinoa or couscous: Substitute with cooked lentils or chickpeas. They offer a different texture but are still a good source of vegan protein. Another great option is brown or wild rice.
Fresh Garlic: Substitute with ground garlic.
Tomatoes: Use canned tomatoes, no salt-added, or also ripe cherry tomatoes.
Red bell pepper: Substitute with yellow or orange bell pepper. They offer a similar crunch and color variation.
Kalamata olives: Substitute with stuffed green olives or capers. They have a briny flavor, though slightly more pungent than olives.
Thyme or dill: Substitute with basil or cilantro. They introduce a different fragrant note but still add complexity to the flavor palette.
Oregano: Substitute with marjoram. It's a close relative to oregano and provides a similar aromatic nature.
Cumin: Substitute with coriander seeds or ground coriander. It offers a citrusy, sweet flavor.
Flat-leaf parsley: Substitute with arugula or spinach. They provide a fresh, herbaceous flavor, though slightly peppery (in the case of arugula).
📖 Variations
Cheesy Delight:
Top the stuffed eggplant with shredded mozzarella cheese before baking. This will give the dish a creamy, melt-in-your-mouth texture on top. The vegan mozzarella will add a rich, cheesy flavor that complements the savory filling.
For an extra touch of flavor, sprinkle some vegan parmesan cheese over the dish once it's out of the oven. This will add a nutty, salty kick that elevates the overall taste.
Tofu and Mock-Meat Filling:
Add vegan mock meat to the filling, similar to the stuffed zucchini recipe. This will enhance the meaty texture of the dish, making it even more hearty and satisfying. You can choose from a variety of vegan mock meats available in the market, such as vegan ground beef or vegan sausage crumbles. You can even use seasoned tofu or make an Italian version, filling it with our tofu-nut bolognese sauce and top it with vegan cheese.
Combine the mock meat with the other filling ingredients and stuff the eggplant. This variation is perfect for those who crave a meaty texture without the actual meat.
Italian and Greek Twist:
Add some chopped sun-dried tomatoes and pine nuts along with the standard filling. The sun-dried tomatoes will introduce a tangy, concentrated tomato flavor, while the pine nuts will add a delightful crunch.
Top the stuffed eggplant with vegan feta cheese before baking. Vegan feta will provide a tangy, crumbly texture that pairs beautifully with the Mediterranean-inspired filling. Use along with dill as your chosen herb to make it even more Greek!
Feel free to mix and match these variations or adjust the ingredients based on personal preferences. Each variation offers a unique twist to the classic baked stuffed eggplant healthy recipe.
🍽 Equipment
Baking Sheet

(affiliate link)

: A baking sheet provides a flat surface that ensures even heat distribution, allowing the eggplants to cook uniformly. It also contains any juices or fillings that might spill out during baking. To use it, slice the eggplants in half and scoop out some of the flesh to create a cavity for the filling. Place the eggplant halves on the baking sheet, stuff them with the prepared filling, and bake according to the recipe instructions. The baking sheet makes transferring the eggplants in and out of the oven easy.
Saucepan

(affiliate link)

: A saucepan is essential for preparing the filling for the stuffed eggplant. It allows for sautéing and combining ingredients over controlled heat, ensuring that flavors meld together and the filling is cooked to perfection. To use the saucepan, heat some oil or vegan butter in it. Add onions, garlic, mock meat, or other filling components. Sauté until they are soft and aromatic.
🥡 Storage
Keeping in the Fridge:
Allow the baked stuffed eggplant to cool completely at room temperature.
Transfer the eggplant halves to an airtight container or wrap them individually in plastic wrap or aluminum foil.
Store in the refrigerator for up to 3-4 days.
Reheating from the Fridge:
Preheat your oven to 350°F (175°C).
Place the eggplant halves on a baking sheet.
Cover with aluminum foil to prevent them from drying out.
Heat in the oven for about 15-20 minutes or until warmed through. Alternatively, you can reheat them in the microwave for 2-3 minutes, but the oven method will retain a better texture.
Freezing:
Allow the baked stuffed eggplant to cool completely.
Wrap each eggplant half individually in plastic wrap or aluminum foil.
Place the wrapped eggplants in a freezer-safe bag or container, removing as much air as possible.
Label the bag or container with the date and contents.
Store in the freezer for up to 2-3 months.
Reheating from Frozen:
For best results, thaw the frozen stuffed eggplants in the refrigerator overnight.
Once thawed, follow the reheating instructions from the fridge. If reheating directly from frozen, increase the oven time to 30-35 minutes, ensuring they are covered with foil to prevent drying.
Meal Prep Option:
Prepare the filling for the stuffed eggplant in advance and store it in an airtight container in the refrigerator for up to 2 days.
On the day you plan to eat, simply scoop out the eggplant halves, stuff them with the pre-made filling, and bake.
This method allows you to enjoy a fresh-baked meal without spending too much time on preparation on the day of serving.
💡 Recipe tips
To ensure your baked stuffed eggplant turns out perfect every time, consider the following:
Making the Eggplant Sweet with Salt: After slicing the eggplants in half, sprinkle the exposed flesh with a generous amount of salt. Let them sit for about 20-30 minutes. This process, known as "sweating," draws out the eggplant's bitter juices. After the time has passed, pat the eggplants dry with a paper towel to remove the released liquids and any excess salt. This technique not only reduces bitterness but also helps in achieving a better, more consistent texture when cooked.
Seasoning and Roasting for Depth of Flavor: Season the eggplant halves with your chosen spice-herbs mixture before roasting. This allows the eggplants to absorb the flavors deeply while roasting, enhancing the dish's overall taste. This makes a creamier, babaganoush-like texture as roasting the eggplant halves until they're tender and slightly caramelized. Once roasted, the flesh can be easily mashed or pureed to achieve that silky texture. This method, combined with the seasoning, gives the dish a rich, aromatic flavor profile that's deeply satisfying.
Additional broiling: I prefer to broil the eggplants under high heat for 2-3 minutes using the grill setting. This imparts a deeper golden hue to the vegetable filling.
❓ FAQ
Can you eat raw eggplants?
Yes, you can eat raw eggplants, but there are a few things to consider:
Taste and Texture: Raw eggplants have a slightly bitter taste and a spongy texture. Some people might find this unpalatable. Cooking eggplant softens its texture and reduces its bitterness.
Solanine: Eggplants belong to the nightshade family and contain solanine, a natural toxin. Ingesting large amounts of solanine can be harmful. However, the solanine content in eggplants is relatively low compared to other nightshades like green potatoes. Eating eggplant in moderation, even raw, is generally considered safe for most people.
Digestibility: Cooking eggplant can make it easier to digest for some people.
Preparation: If you choose to eat raw eggplant, it's a good idea to slice it thin and perhaps soak it in salted water for a few minutes to reduce its bitterness. Rinsing and draining after soaking can also help.
Allergies: Some people might be allergic or sensitive to eggplants. If you've never eaten raw eggplant before, it's a good idea to start with a small amount to see how your body reacts.
In summary, while you can eat raw eggplants, many people prefer them cooked due to their improved taste, texture, and digestibility. If you decide to eat them raw, ensure they are fresh and properly prepared.
📚 More stuffed vegetables recipes
Lebanase Stuffed Zucchini: Dive into a world of flavors with this delectable dish, where zucchini meets a hearty filling, creating a symphony of textures and tastes.
White-wine Caramelized Stuffed Onions: Unravel layers of culinary delight as tender onions envelop a savory filling, promising a gastronomic adventure with every bite.
Vegan Stuffed Red Bell Peppers: Experience the vibrant allure of red bell peppers, generously filled to the brim with a mouthwatering medley of ingredients.
Stuffed Portobello Mushrooms: Savor the rich, earthy notes of portobello mushrooms, complemented by a sumptuous stuffing that's sure to tantalize your taste buds.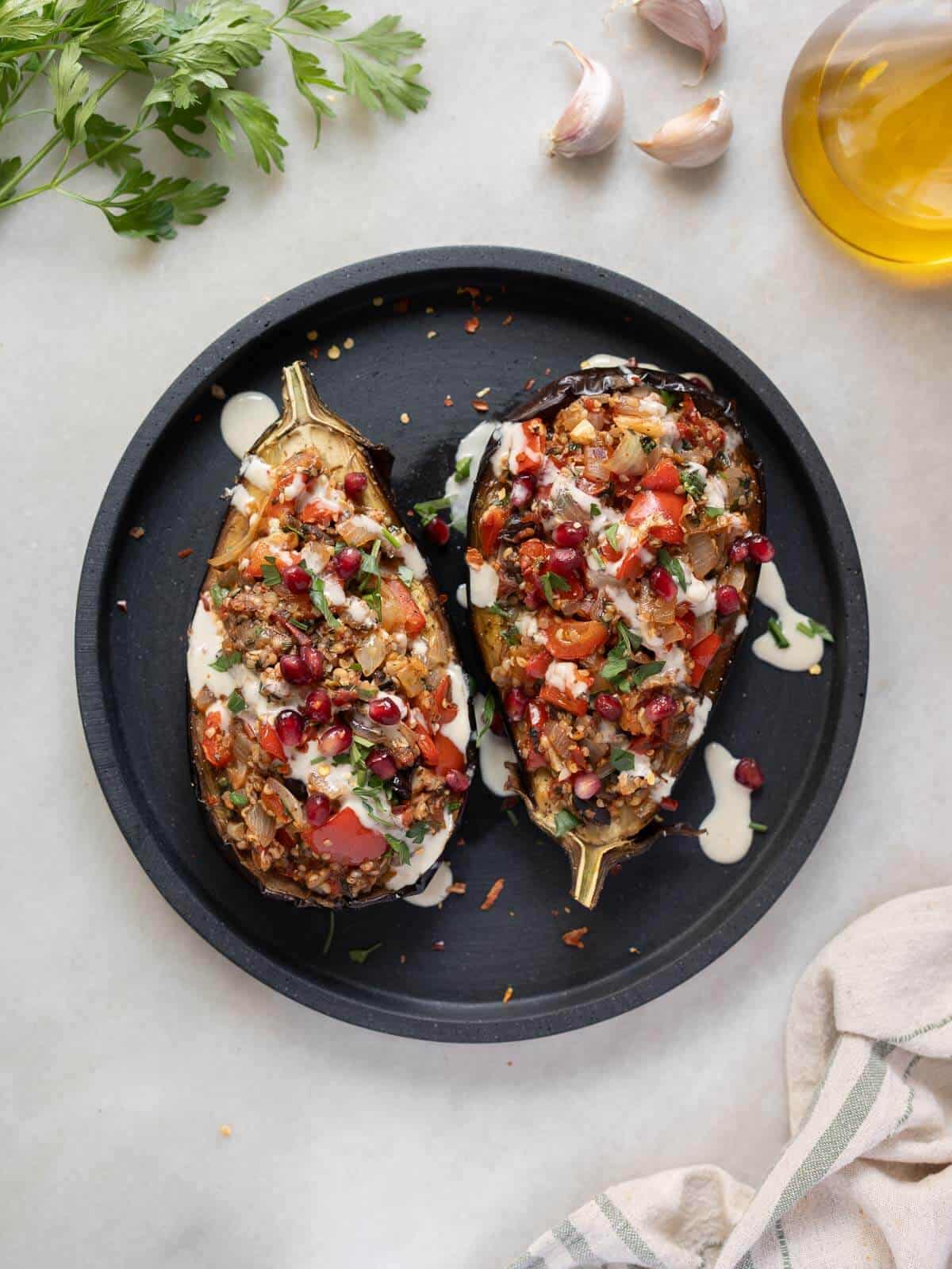 ⭐ If you try this baked stugged eggplant recipe, let us know! 💬 Leave a comment, rate it, and don't forget to tag us @ourplantbasedworld on Instagram. Cheers!
📋 Recipe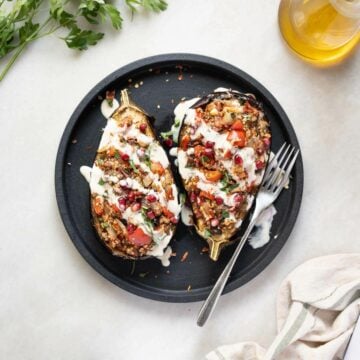 Mediterranean Baked Stuffed Eggplant Recipe (Vegan)
Discover our Vegan Mediterranean Stuffed Eggplants recipe: a delightful blend of aromatic herbs, fresh vegetables, and tahini sauce, baked to perfection. A must-try for a wholesome meal
Equipment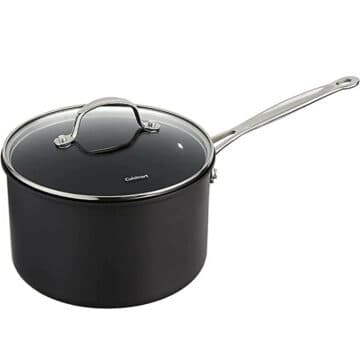 (affiliate link)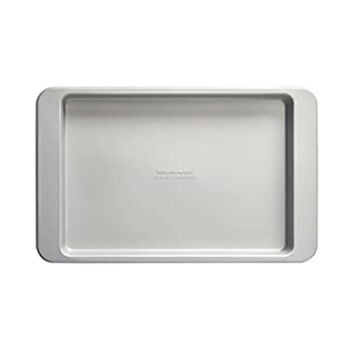 (affiliate link)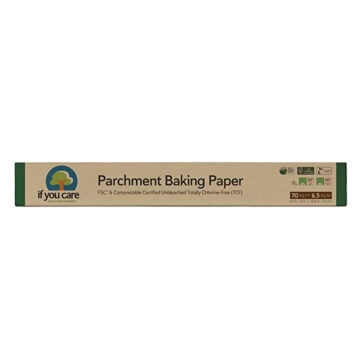 (affiliate link)
Ingredients
2

eggplants

medium, about 1 pound each

1

onion

medium, finely chopped, or red onion

8

tablespoons

hemp seeds

hulled, or cooked quinoa or couscous

3

cloves

garlic

minced

3

tomatoes

plum, diced, or canned no-salt-added

1

red bell pepper

medium

10

Kalamata olives

large, pitted , quartered, or stuffed green olives

1

teaspoon

thyme

or dill, dry or chopped. Divided

1

tablespoon

oregano

dried. Divided

½

teaspoon

cumin

ground . Divided

¼

cup

flat-leaf parsley

chopped fresh

1

teaspoon

kosher salt
Optional
2

tablespoons

olive oil

extra-virgin, divided optional. Ignore if following a WFPB diet, simply use water to sautée
Optional to garnish
4

tablespoons

maple tahini sauce

or mix of lemon, tahini sauce, salt, and water.

2

tablespoons

pomegranate

seeds
Directions
Preheat Oven: Adjust the oven rack to the top third position and set to 400 °F (200 ºC). Prepare a baking tray with aluminum foil.

Slice the eggplants vertically, keeping the stem and skin intact. Place them face-up on a spacious baking tray. Sprinkle roughly ¼ teaspoon of salt and pepper over each half.

Allow them to "sweat" for 20 minutes. This salting process not only flavors the eggplant but also extracts extra moisture to prevent sogginess and reduces seed bitterness.

Combine herbs and spices. Mi half the oregano, thyme, and cumin in a small bowl

Oil & Bake: Pat dry the surface of the eggplant with a paper towel. Rub half the herbs mixture, Drizzle 1 tablespoon of oil on the eggplant halves. Place face-up on the tray and bake for 30 minutes.

Prepare Filling: In a pan over medium-high heat, add oil. Sauté onions for 3-4 minutes. Add garlic, tomatoes, red bell pepper, herbs, and cumin mixture, stirring for a minute. Cook for 10 minutes. Mix in parsley and olives.
Assemble
Stuff. On the same baking sheet, gently press the eggplant's flesh to create a cavity for the filling. Fill each eggplant with the hemp seeds and vegetable mix. Sprinkle with pomegranate seeds. Broil at 425 ºF (about 220 ºC) for 3 minutes.

Serve: After broiling, transfer them to a serving dish, garnish with chopped parsley, and, if desired, drizzle with tahini sauce and add more pomegranate seeds. Enjoy!
Notes
STORAGE & REHEATING
Fridge Storage:
- Cool baked stuffed eggplant fully.
- Place in an airtight container or wrap each half in plastic or foil.
- Keep refrigerated for 3-4 days.
Reheating from Fridge:
- Oven: Preheat to 350°F (175°C), cover eggplants with foil, and warm for 15-20 minutes.
- Microwave: Heat for 2-3 minutes, but oven retains better texture.
Freezing:
- Cool eggplants, wrap each half, and store in a labeled freezer bag.
- Freeze for up to 2-3 months.
Reheating from Frozen:
- Ideally, thaw overnight in the fridge.
- Reheat as per fridge instructions. If still frozen, oven heat for 30-35 minutes with foil cover.
Meal Prep Tip:
- Make filling ahead and refrigerate for up to 2 days.
- On serving day, stuff and bake eggplant halves for a quick, fresh meal.
GUS' TOP TIPS
Sweating the Eggplant: Sprinkle salt on sliced eggplants and let sit for 20-30 minutes. Pat dry to remove bitterness and enhance texture.
Roasting for Flavor: Season eggplants before roasting for deep flavor absorption. Roast until tender for a creamy, babaganoush-like consistency.
Broiling Tip: For a golden finish, broil eggplants under high heat for 2-3 minutes.
Nutrition Facts
Calories:
352
kcal
Carbohydrates:
26
g
Protein:
15
g
Fat:
23
g
Saturated Fat:
2
g
Polyunsaturated Fat:
12
g
Monounsaturated Fat:
8
g
Sodium:
752
mg
Potassium:
903
mg
Fiber:
11
g
Sugar:
13
g
Vitamin A:
2312
IU
Vitamin C:
64
mg
Calcium:
119
mg
Iron:
6
mg
Nutrition Facts
Mediterranean Baked Stuffed Eggplant Recipe (Vegan)
Amount per Serving
% Daily Value*
* Percent Daily Values are based on a 2000 calorie diet.
🌡️ Food safety
Cook to a minimum temperature of 165 °F (74 °C)
Do not use the same utensils on cooked food, that previously touched raw meat
Wash hands after touching raw meat
Don't leave food sitting out at room temperature for extended periods
Never leave cooking food unattended
Use oils with a high smoking point to avoid harmful compounds
Always have good ventilation when using a gas stove
See more guidelines at USDA.gov.
Nutritional Disclaimer
The information shown is an estimate provided by an online nutrition calculator. It should not be considered a substitute for a professional nutritionist's advice. See our full Nutritional Disclosure here.
Affiliate Disclaimer
Please note that some of the links here are affiliate links, and I will earn a commission if you purchase through those links. I recommend all of the products listed because they are companies I have found helpful and trustworthy.