Looking for a delicious and nutritious way to start your day? Look no further than this Green Smoothie Recipe with Avocado! Packed with vitamins, minerals, and all the goodness of fresh greens, this creamy and healthy smoothie is the perfect way to fuel your body and satisfy your taste buds. The star ingredient, avocado, adds a delightful creaminess and a dose of healthy fats, making this smoothie refreshing and incredibly nourishing. Whether you're a dedicated health enthusiast or simply looking to incorporate more greens into your diet, this green smoothie is a fantastic choice. Get ready to sip on a glass of pure vitality and discover just how delicious and healthy it can be!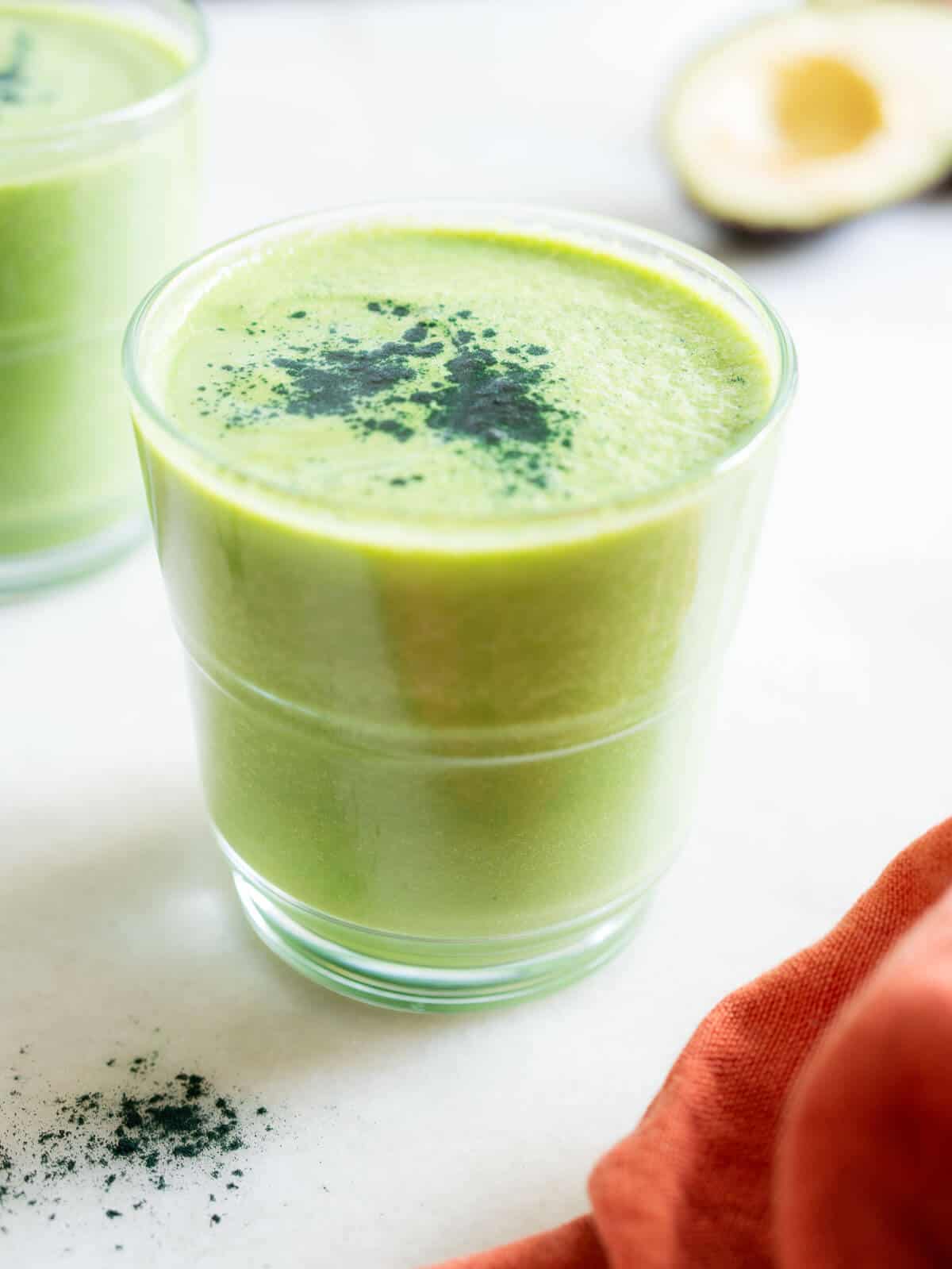 This creamy avocado smoothie recipe is a true winner for so many reasons.
Firstly, it's a fantastic way to incorporate fresh spinach into your diet, giving you a boost of essential vitamins and minerals without sacrificing taste. The combination of creamy avocado and vibrant green spinach creates a delightful texture and flavor that will leave you craving more.
What makes this recipe even better is its versatility. You have the option to include a frozen banana for a touch of natural sweetness and a thicker consistency, or you can omit it if you prefer a lighter version. Whether you enjoy it as a breakfast treat, post-workout fuel, or a midday pick-me-up snack, this smoothie has got you covered. Plus, it's elementary to make, requiring just a few simple ingredients and a blender. You'll have a refreshing and nutritious smoothie ready to enjoy in no time, making it a convenient option for those busy mornings or when you're on the go.
Jump to:
🧾 Ingredients
This vegan avocado smoothie is made with just a few delicious ingredients: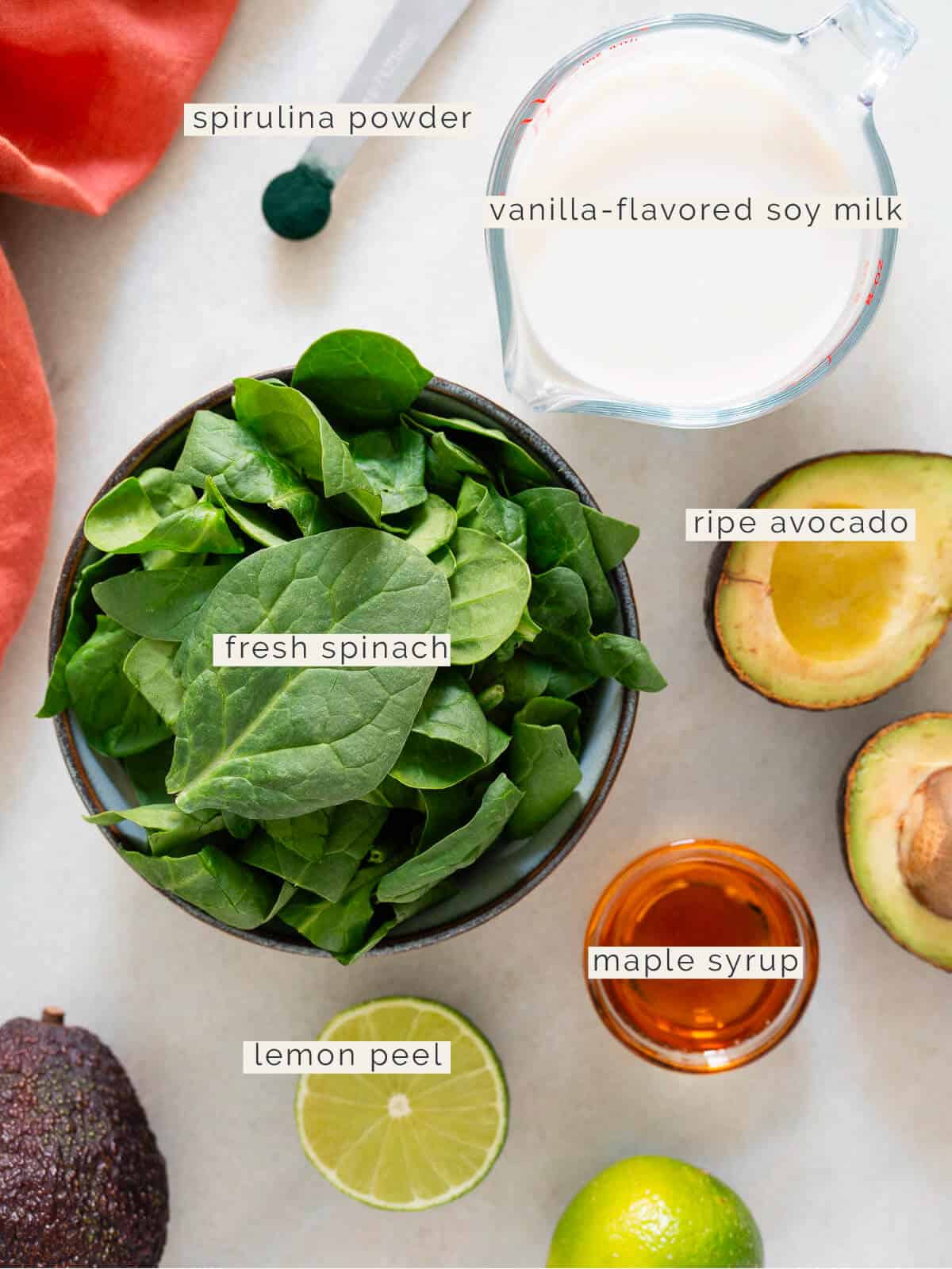 Ripe avocado: Adds a creamy texture and provides healthy fats and a rich source of vitamins and minerals.
Lime zest: Adds a refreshing citrusy flavor that complements the other ingredients and enhances the overall taste of the smoothie.
Vanilla-flavored soy milk: Provides a creamy base and adds a hint of sweetness with a subtle vanilla flavor.
Frozen or fresh spinach: Adds a nutritional boost, packed with vitamins, minerals, and antioxidants, while blending seamlessly into the smoothie without altering the taste.
Maple syrup: Offers a natural sweetener that balances the flavors and enhances the overall taste profile of the smoothie.
Optional ingredients
Vanilla extract (in case you used unflavored plant milk): Adds a touch of aromatic vanilla essence, further enhancing the flavor of the smoothie.
Spirulina powder: Provides an extra nutritional punch, offering a concentrated source of vitamins, minerals, and plant-based protein, while also contributing to the vibrant green color of the smoothie.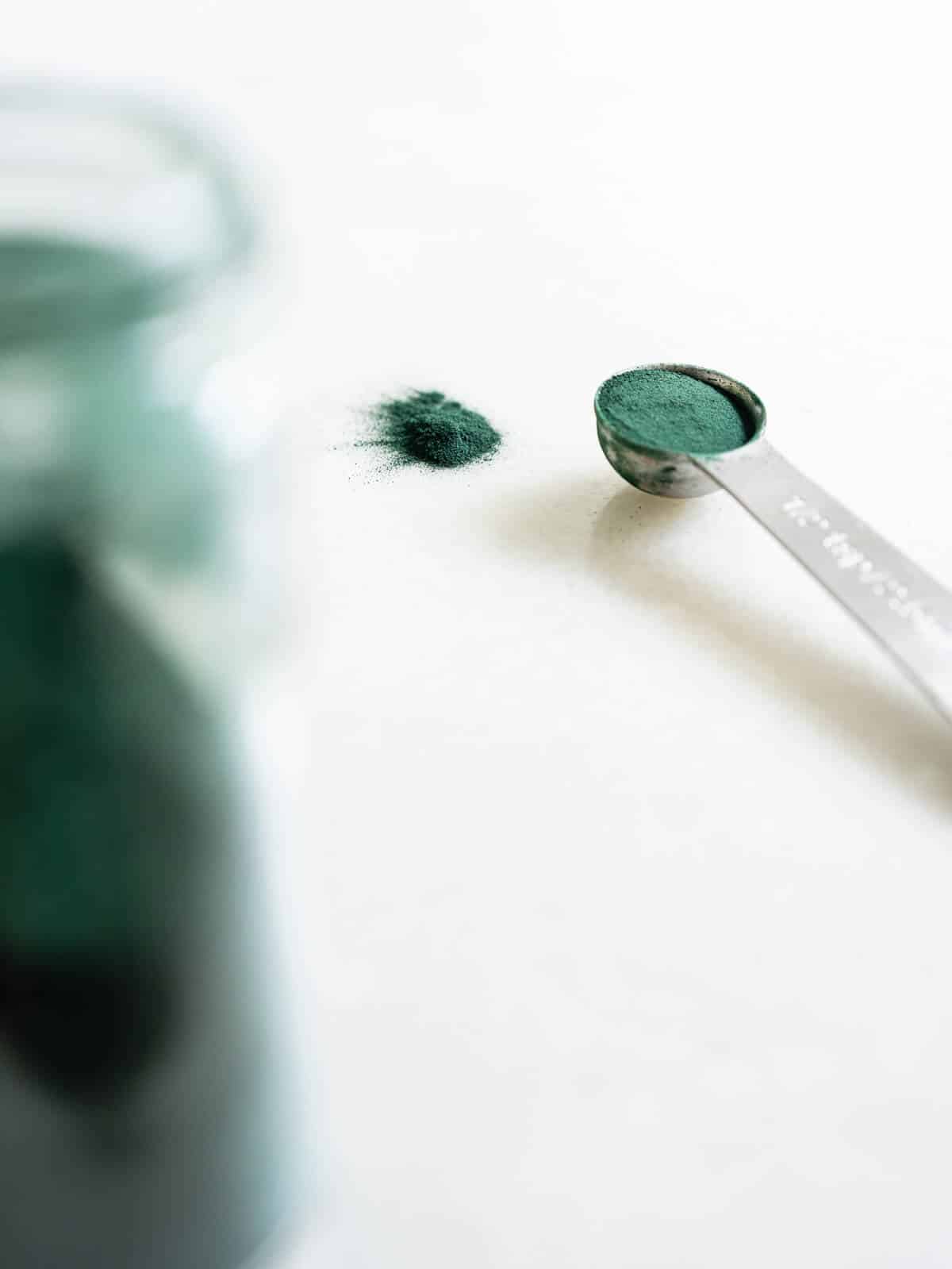 See the recipe card for quantities.
🔪 Instructions
This avocado smoothie involves 3 simple steps.
Washing and preparing your ingredients.
Chopping in sizable chunks.
Blending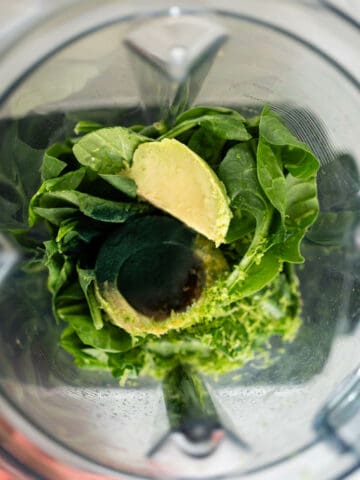 First, blend all the green and liquids.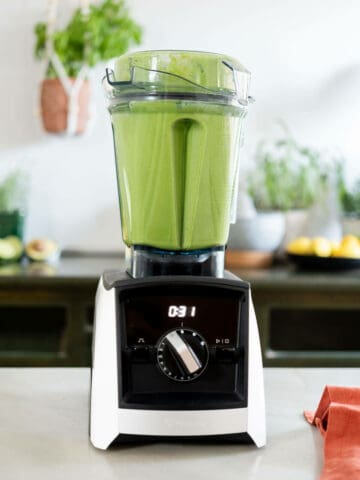 Then add all the ingredients to a high-speed blender and mix until creamy.
Hint: for a thinner avocado smoothie, add more dairy-free milk or iced water.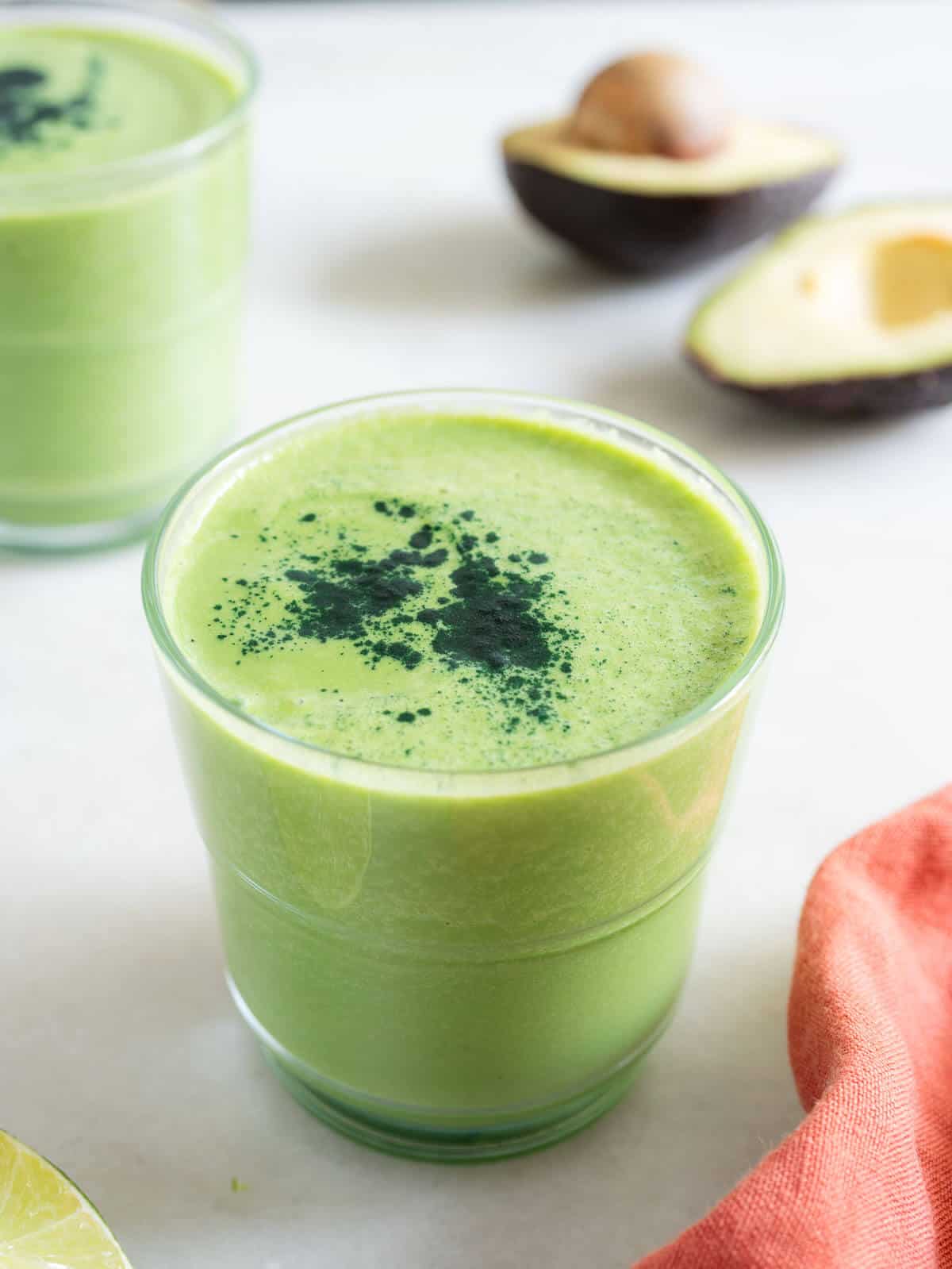 Hint: add chia seeds for extra antioxidants. It will result in a thicker smoothie as well.
Read on: Best greens for your smoothies!
🍶 Substitutions
Oat Milk: Replace the vanilla-flavored soy milk with oat milk to maintain a creamy texture and slightly sweet flavor. Oat milk has a similar thickness to soy milk and adds a subtle nutty taste to the smoothie, resulting in a delicious alternative.
Coconut Milk: Substitute the vanilla-flavored soy milk with coconut milk for a tropical twist. Coconut milk lends a rich and creamy consistency to the smoothie, along with a hint of natural sweetness and a subtle coconut flavor that pairs well with the avocado.
Cinnamon: Replace the optional vanilla extract with a sprinkle of cinnamon for a warm and aromatic twist. Cinnamon adds a cozy and comforting flavor to the smoothie, complementing the creamy avocado and enhancing the overall taste profile.
Nutmeg or Pumpkin Pie Spice Mix: Similarly, you can substitute the vanilla extract with a pinch of nutmeg or a sprinkle of pumpkin pie spice mix. These spices bring a touch of warmth and depth to the smoothie, creating a delightful seasonal variation with hints of fall flavors.
Lemon Zest: If you prefer a brighter citrus note, replace the lime zest with lemon zest. Lemon zest adds a refreshing and tangy element to the smoothie, balancing the creaminess of the avocado and providing a zesty twist to the overall taste.
📖 Variations
Chocolate Avocado Smoothie: Add a tablespoon of cocoa powder to the base recipe for a luscious and decadent chocolate avocado smoothie. This chocolate smoothie variation combines the rich creaminess of avocado with the indulgent flavor of cocoa, resulting in a delicious creamy texture that tastes like chocolate avocado pudding.
Fresh Avocado Banana Smoothie: Incorporate a ripe banana along with the avocado for a creamy and naturally sweet combination. This variation adds a touch of tropical flavor and extra creaminess to the smoothie, making it a perfect choice for a refreshing and satisfying snack or breakfast.
Tropical delight: add a half cup of frozen mango along with coconut milk instead of soy milk and make a deliciously creamy and tropical green smoothie. You can try the same using frozen pineapple chunks.
Protein Shake: Transform the smoothie into a protein-packed shake by adding a scoop of vegan protein powder

(affiliate link)

. This variation is ideal for those looking to boost their protein intake and enjoy a creamy, nutrient-packed beverage that can be enjoyed post-workout or as a meal replacement.
Avocado Recipe with Blueberries: Enhance the nutritional profile and add a burst of antioxidants by including fresh or frozen blueberries in the smoothie. The combination of avocado and blueberries creates a vibrant and flavorful smoothie packed with essential nutrients and a delightful taste.
Almond Goodness: Replace the vanilla-flavored soy milk with almond milk and incorporate a tablespoon of almond butter into the base recipe. This variation brings a delightful almond flavor to the forefront, providing a creamy and nutty twist that pairs perfectly with the avocado's natural creaminess.
These versatile recipe variations allow you to explore different flavor combinations and adapt the smoothie to suit your preferences, ensuring that you can enjoy the benefits of avocado in a variety of delicious and nutritious ways.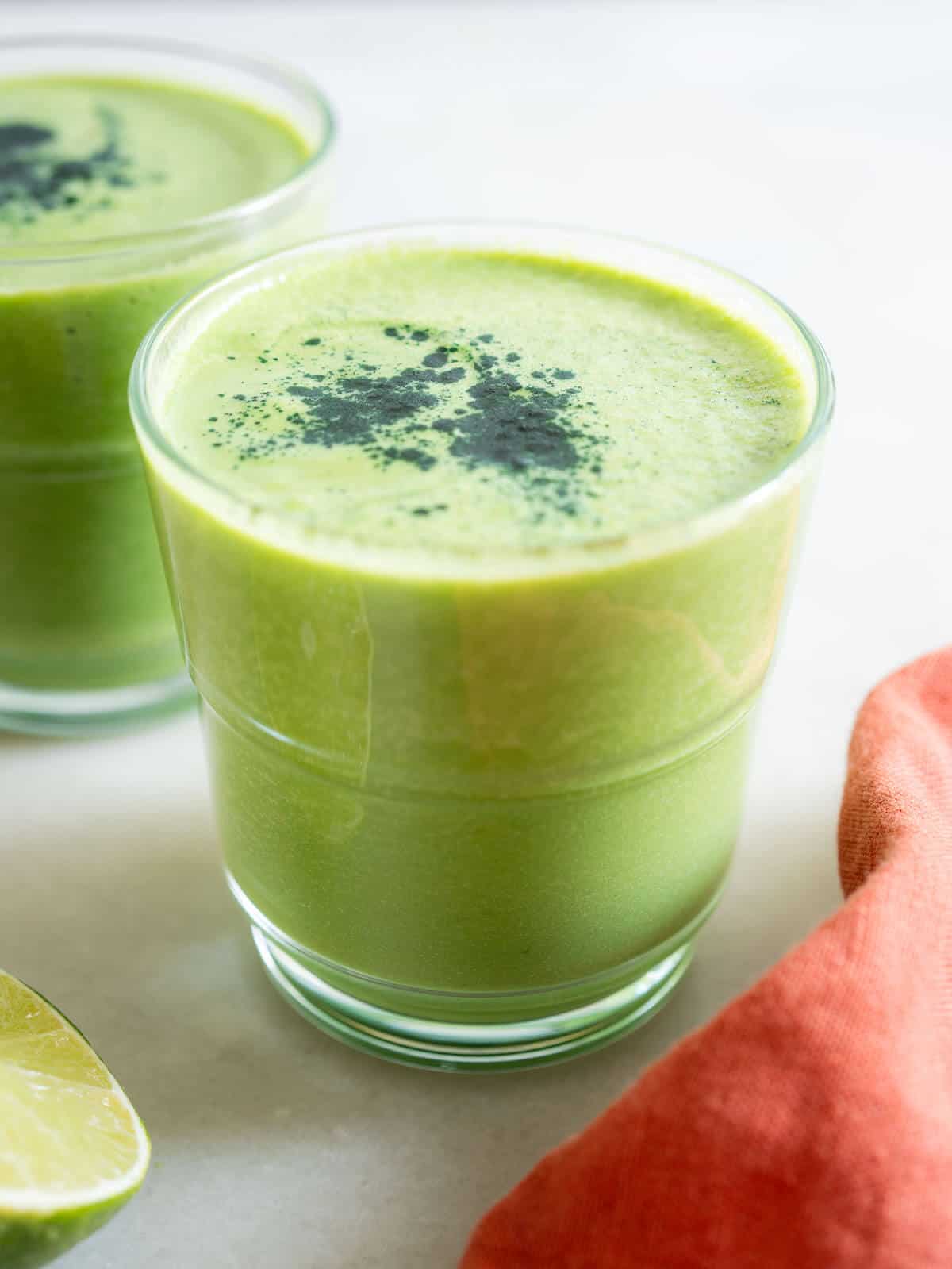 🍽 Equipment
Blender: A blender (affiliate link) is essential for creating a smooth and well-blended green smoothie. It allows you to combine all the ingredients thoroughly, resulting in a creamy and consistent texture. Simply add the ingredients to the blender, secure the lid, and blend until smooth. The blender ensures that the avocado, spinach, and other ingredients are thoroughly mixed, creating a delicious and visually appealing smoothie.
🥡 Storage
Leftover Storage: If you have any leftover avocado smoothies, store them in an airtight container in the refrigerator. Avocado can oxidize and change color when exposed to air, so it's important to minimize air contact to maintain its freshness and vibrant green color.
Preventing Color Change: To minimize color change, press a sheet of plastic wrap directly onto the surface of the smoothie before sealing the container. This helps create a barrier between the air and the smoothie, reducing the contact and slowing down the oxidation process. Another option is to store the smoothie in a mason jar with a tight-fitting lid, ensuring minimal air exposure.
Consumption Time: It's best to consume the leftover avocado smoothie within 24 hours for optimal freshness and taste. As time passes, the smoothie may start to lose its vibrant green color and develop a slightly darker hue. While the color change is natural and doesn't affect the taste or nutritional value significantly, it's always best to enjoy the smoothie when it's at its freshest and most visually appealing.
By following these storage tips, you can prolong the shelf life of your leftover avocado smoothie and enjoy it later while minimizing any color changes that may occur.
💡 Top tip
When making our Green Smoothie Recipe with Avocado, be sure to blend your greens and liquid first before adding the rest of your ingredients. This ensures that the greens are fully pulverized, and your smoothie has a smooth and creamy texture. By blending your greens and liquid first, you'll avoid unpleasant chunks and achieve a perfect smoothie consistency every time!
✅ Benefits of avocado smoothie
By incorporating avocado smoothies into your diet, you can enjoy these science-backed benefits while indulging in a delicious and nutritious beverage that supports your overall health and well-being.
❓ FAQ
What fruit goes well with avocado?
Citrus Fruits: Oranges, grapefruits, and lemons complement avocado beautifully. The citrusy tang and brightness of these fruits provide a refreshing contrast to the creamy texture of avocado.
Berries: Strawberries, blueberries, and raspberries add a touch of sweetness and vibrant color to avocado-based recipes. These berries bring a burst of freshness that balances the richness of avocado.
Tropical Fruits: Pineapple, mango, and papaya create a tropical fusion with avocado. These fruits' sweetness and tropical flavors blend harmoniously with the creamy avocado, resulting in a delightful combination.
Stone Fruits: Peaches, nectarines, and plums can be a surprising yet delightful pairing with avocado. The juicy and slightly tangy nature of stone fruits complements the creamy texture of avocado, offering a unique flavor profile.
Can you freeze avocados for smoothies?
Absolutely, you can freeze avocados for smoothies. This is a great way to extend the shelf-life of ripe avocados and have them readily available for your smoothie preparations. Here's how to do it:
Cut the avocado in half and remove the pit.
Scoop out the flesh with a spoon.
If you plan to freeze for an extended period, consider adding a little lemon or lime juice to prevent browning.
Place the scooped avocado into a resealable bag or container. If using a bag, try to remove as much air as possible before sealing.
Store it in the freezer. Frozen avocado should maintain good quality for about 4-6 months.
When ready to use, you can directly add your frozen avocado to the blender for your smoothie. No need to thaw! It gives a lovely creamy texture to your smoothie.
🥤 More healthy smoothie recipes
Looking to boost your intake of healthy fats? Avocados have got you covered! We've got some fun and tasty recipes for you to try. Check out our scrumptious Chickpea Salad with Avocado, our classic Guacamole recipe, and our rich and creamy Avocado Hummus. Each dish is not just healthy but also packed full of flavor, so let's get cooking and enjoy some delicious avocado goodness together!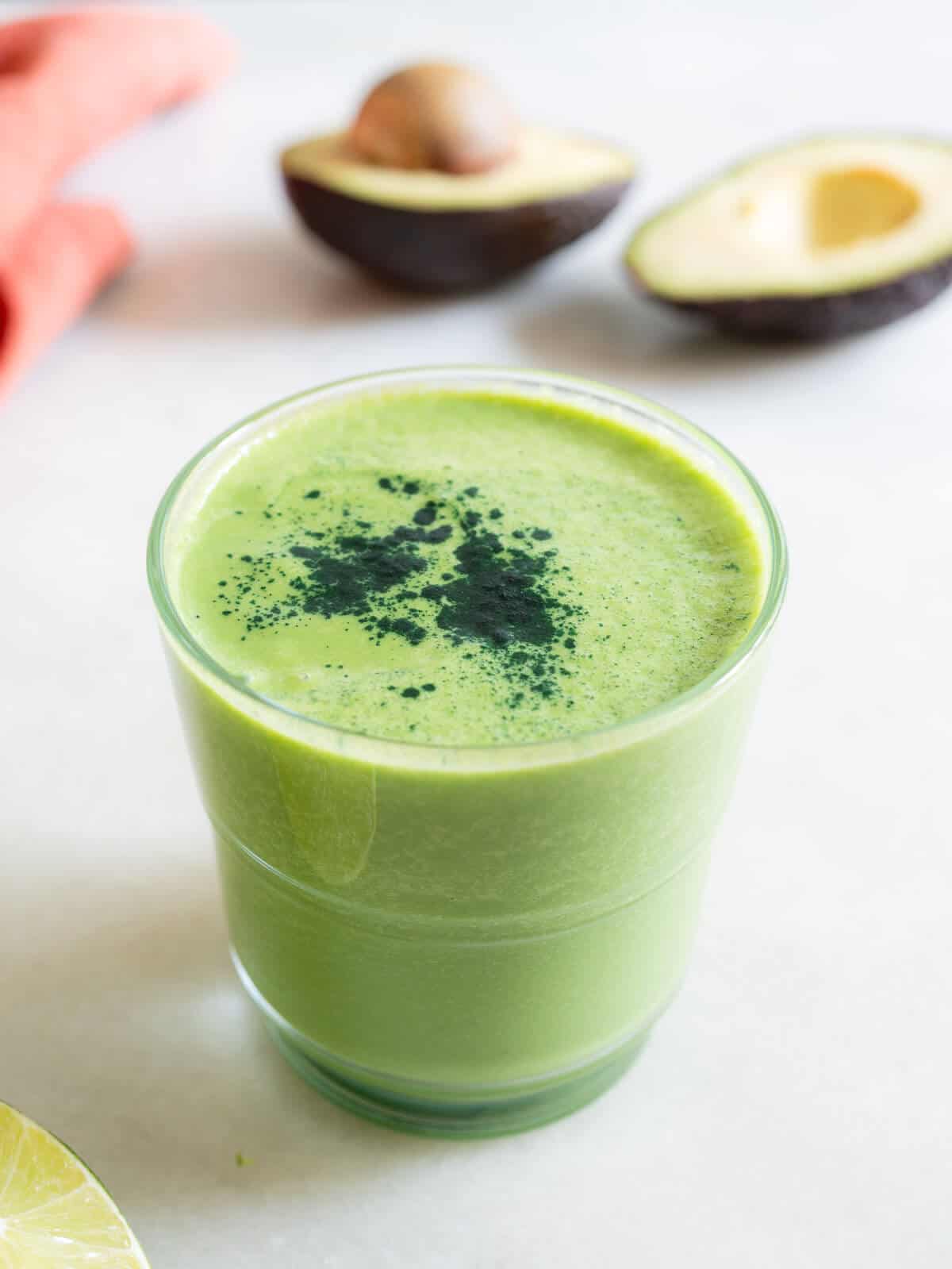 ⭐ If you try this avocado smoothie recipe, let us know! 💬 Leave a comment, rate it, and don't forget to tag us @ourplantbasedworld on Instagram. Cheers!
📋 Recipe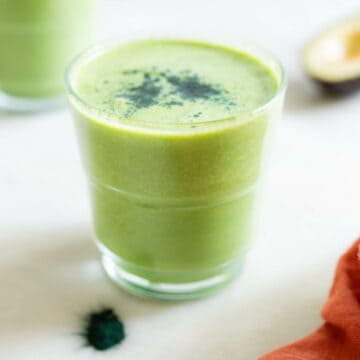 Green Smoothie Recipe with Avocado (Creamy & Healthy)
Discover a nutrient-rich, creamy, and delicious Green Smoothie Recipe with Avocado. This post will guide you through the steps to create the perfect blend of greens, fruit, and avocado for a smoothie that's packed with vitamins, fiber, and healthy fats. Great for a quick breakfast or an energizing midday snack!
Equipment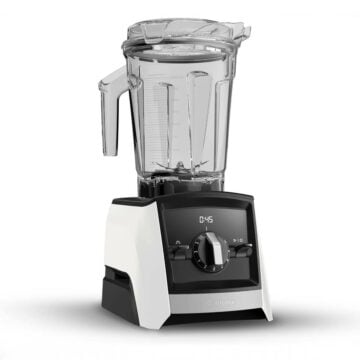 (affiliate link)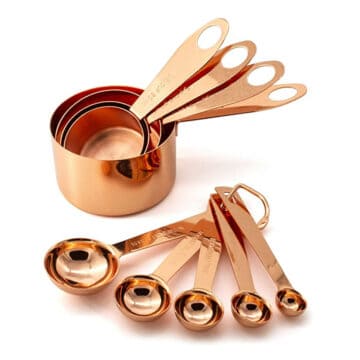 (affiliate link)
Ingredients
¼

cup

avocado

about half avocado or ½ cup

1

cup

spinach

1

lime

zest only

1 ½

cup

soy milk

organic / vanilla flavored, or almond milk (has more protein)

2

tablespoon

maple syrup

¼

teaspoon

spirulina
Optional (recommended, included in Nutrition Table)
Directions
Start by thoroughly washing the spinach.

Combine this cleaned spinach with soy milk in your blender and process until smooth.

Once your greens are well blended, incorporate the remaining ingredients.

Modify the thickness of your smoothie to suit your taste. Leave out water and ice for a denser texture. To thin it out, add more plant milk or water (but remember this might decrease the sweetness).

Give your smoothie a taste test. If needed, enhance its sweetness with extra maple syrup or increase creaminess by adding more plant milk.

Serve your delightful smoothie cold and enjoy!
Notes
Smoothie leftovers will keep in a covered mason jar in the refrigerator for up to 2 days, though best when fresh.
Add spirulina powder for extra protein without adding many calories. This might change the flavor of your smoothie drastically as the chlorophyll flavor is intense.
Nutrition facts are calculated, including the protein powder.
The protein powder accounts for 86 calories, 0 carbohydrates, and 15 grams of protein per serving.
Add agave or maple syrup for extra sweetness or extra dates. We like using dates because they have a ton of beneficial post-workout benefits.
Vegan Clean Protein: if using the clean protein powder

(affiliate link)

, add our 10% discount code PBWORLD10 at check-out to enjoy the benefit. (affiliate)
Nutrition Facts
Serving:
16
oz
Calories:
206
kcal
Carbohydrates:
26
g
Protein:
11
g
Fat:
7
g
Saturated Fat:
1
g
Polyunsaturated Fat:
2
g
Monounsaturated Fat:
3
g
Sodium:
123
mg
Potassium:
545
mg
Fiber:
4
g
Sugar:
17
g
Vitamin A:
2146
IU
Vitamin C:
29
mg
Calcium:
311
mg
Iron:
3
mg
Nutrition Facts
Green Smoothie Recipe with Avocado (Creamy & Healthy)
Amount per Serving
% Daily Value*
* Percent Daily Values are based on a 2000 calorie diet.
🌡️ Food safety
Cook to a minimum temperature of 165 °F (74 °C)
Do not use the same utensils on cooked food, that previously touched raw meat
Wash hands after touching raw meat
Don't leave food sitting out at room temperature for extended periods
Never leave cooking food unattended
Use oils with a high smoking point to avoid harmful compounds
Always have good ventilation when using a gas stove
See more guidelines at USDA.gov.
Nutritional Disclaimer
The information shown is an estimate provided by an online nutrition calculator. It should not be considered a substitute for a professional nutritionist's advice. See our full Nutritional Disclosure here.
Affiliate Disclaimer
Please note that some of the links here are affiliate links, and I will earn a commission if you purchase through those links. I recommend all of the products listed because they are companies I have found helpful and trustworthy.