Embark on a refreshing, nutrient-packed journey with our Avocado Blueberry Smoothie, a vibrant fusion of creamy avocados, sweet bananas, and juicy blueberries. Bursting with health benefits, from heart-healthy fats to antioxidants and fibers, this smoothie showcases the wonders of seasonal, plant-based produce in every slurp.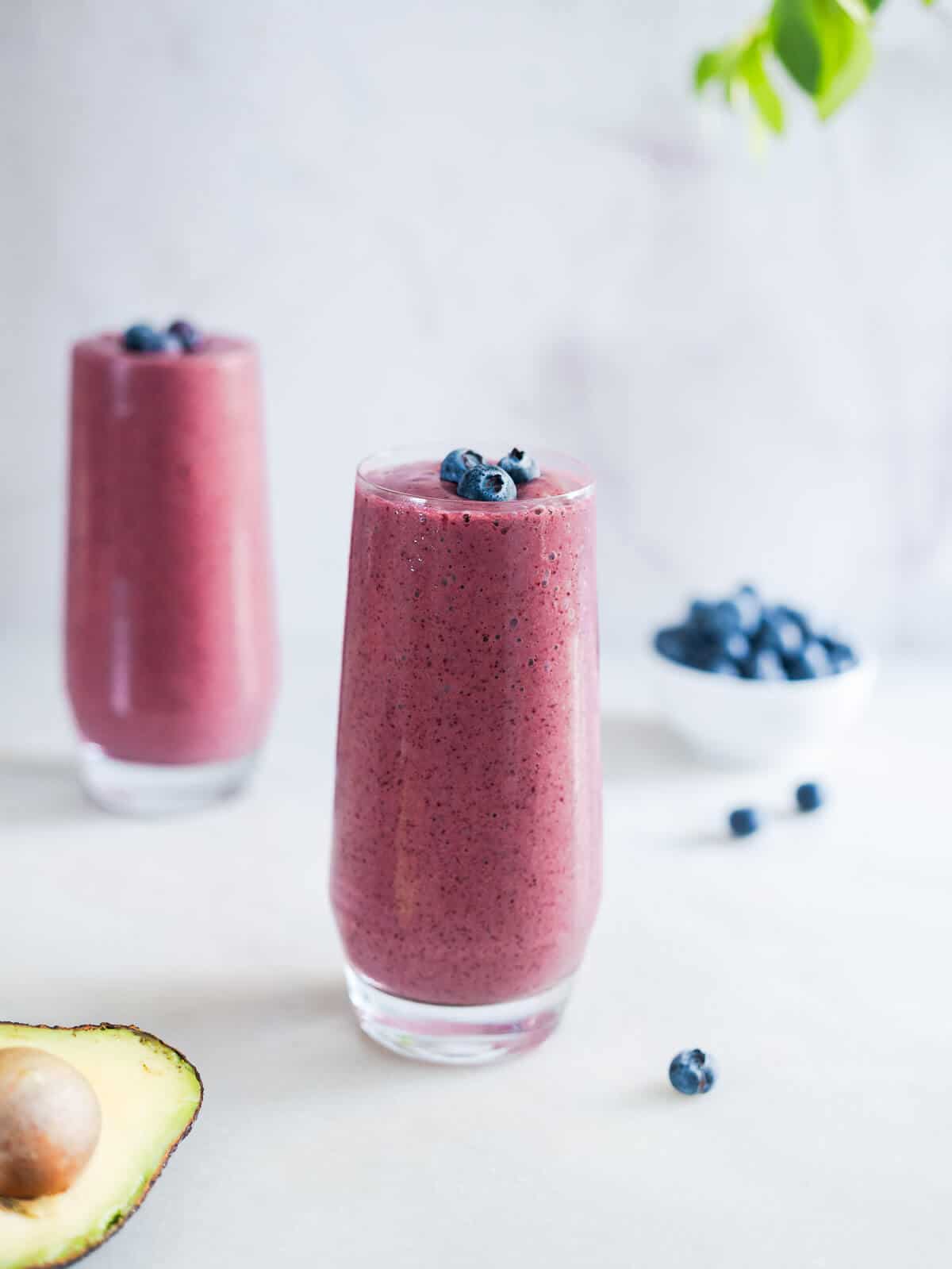 There's no denying that this Blueberry Avocado Smoothie is a real game-changer, serving as a nutritious powerhouse that turns your ordinary morning into a healthy smoothie that tastes like blueberry pie at the start of the day.
Packed with an abundance of vitamins, fiber, and healthy fats, just like our spinach blueberry smoothie the ultimate healthy breakfast choice.
Imagine sipping on a rich, creamy smoothie that satisfies your taste buds and nurtures your body with the goodness of avocados, blueberries, and a sneaky addition of spinach. Yes, it's a Spinach Smoothie that cleverly masks the greens with fruity flavors while keeping all the health perks intact.
The ease of making this smoothie is another feather in its cap. Have some frozen fruit on hand? Perfect! This recipe offers the flexibility to use fresh or frozen fruits, allowing you to whip up this creamy delight anytime you, please. Moreover, it doesn't require exotic ingredients or complicated procedures.
With just a blender and a few minutes, you can make this smoothie and savor a nutritious, heavenly drink in no time. Whether you're looking to kick-start your day, need a midday pick-me-up, or want a satisfying post-workout snack, this Blueberry Avocado Smoothie is your go-to option.
Jump to:
🧾 Ingredients
This spinach and blueberries smoothie recipe is made with just a few delicious ingredients: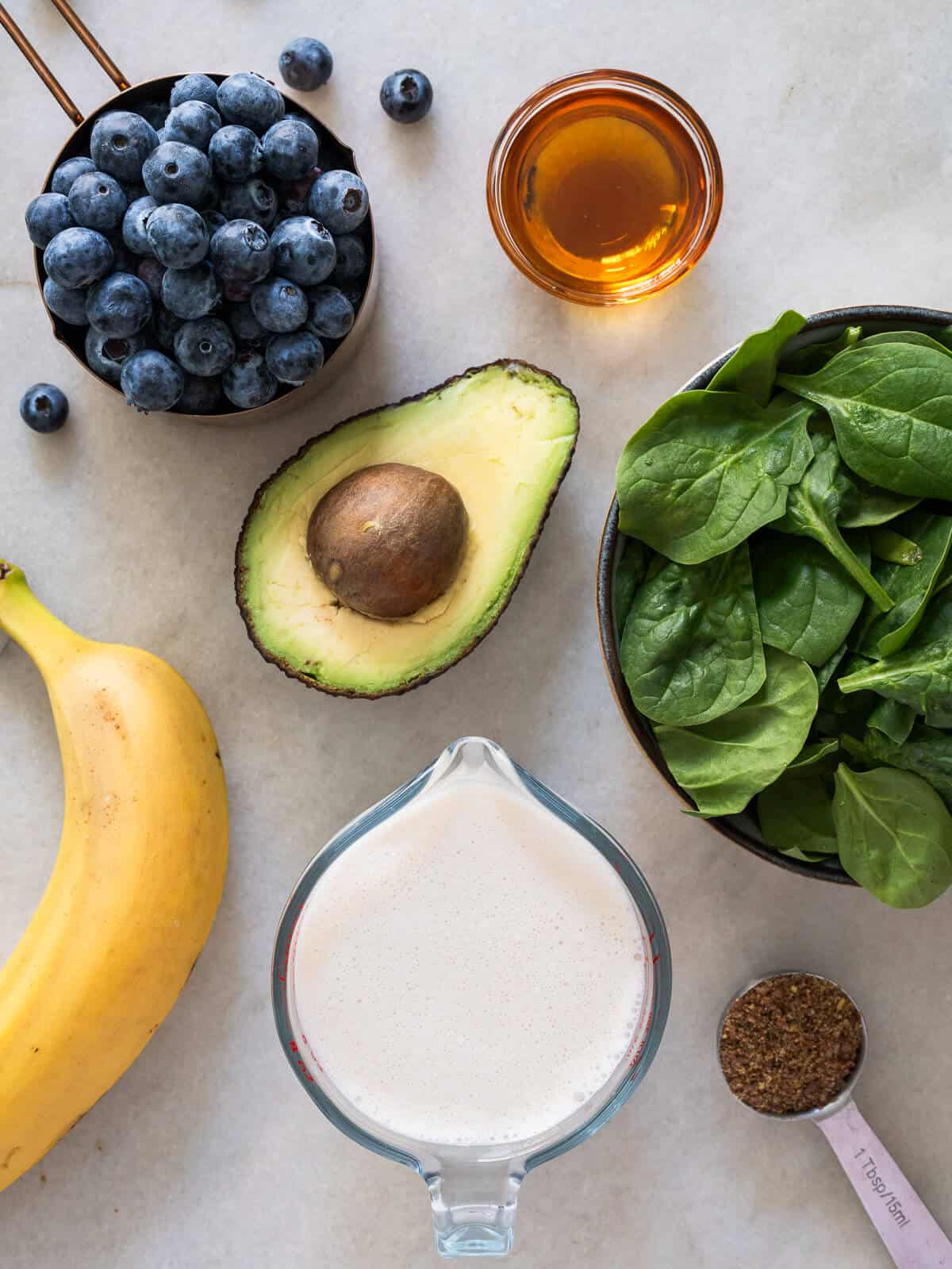 Avocado: This creamy fruit provides heart-healthy monounsaturated fats, contributing to the smooth texture while offering substantial nutritional value. I usually find frozen avocado in my groceries which is a great option.
Fresh or frozen blueberries: These little gems are packed with antioxidants and vitamin C, giving the smoothie its rich color and a delightful, naturally sweet flavor.
Fresh or frozen Banana: The natural sweetness of bananas helps balance the smoothie's flavor, while their potassium content promotes heart health.
Almond milk or coconut milk: Either choice adds creaminess to the smoothie; while almond milk lends a subtle nuttiness, coconut milk introduces a tropical twist.
Maple syrup: A splash of this natural sweetener enhances the fruit flavors, and it's also a source of essential minerals like manganese and zinc.
Optional ingredients
Flax meal or chia seeds: These power-packed additions infuse your smoothie with fiber and omega-3 fatty acids, promoting a feeling of fullness and supporting overall health.
Optional fresh or frozen spinach: A stealthy addition of greens, spinach injects iron and vitamins A, C, and K into the smoothie without altering the fruity taste.
Plant-Based Protein Powder (optional): Elevate the protein content of your smoothie by adding a scoop of your preferred plant-based protein powder. Berry, vanilla, unflavored, or even chocolate protein powder varieties enhance the overall nutritional value while providing an extra protein punch.
See the recipe card for quantities.
🔪 Instructions
This blueberry spinach smoothie involves 3 simple steps.
Washing and preparing your ingredients.
Chopping in sizable chunks.
Blending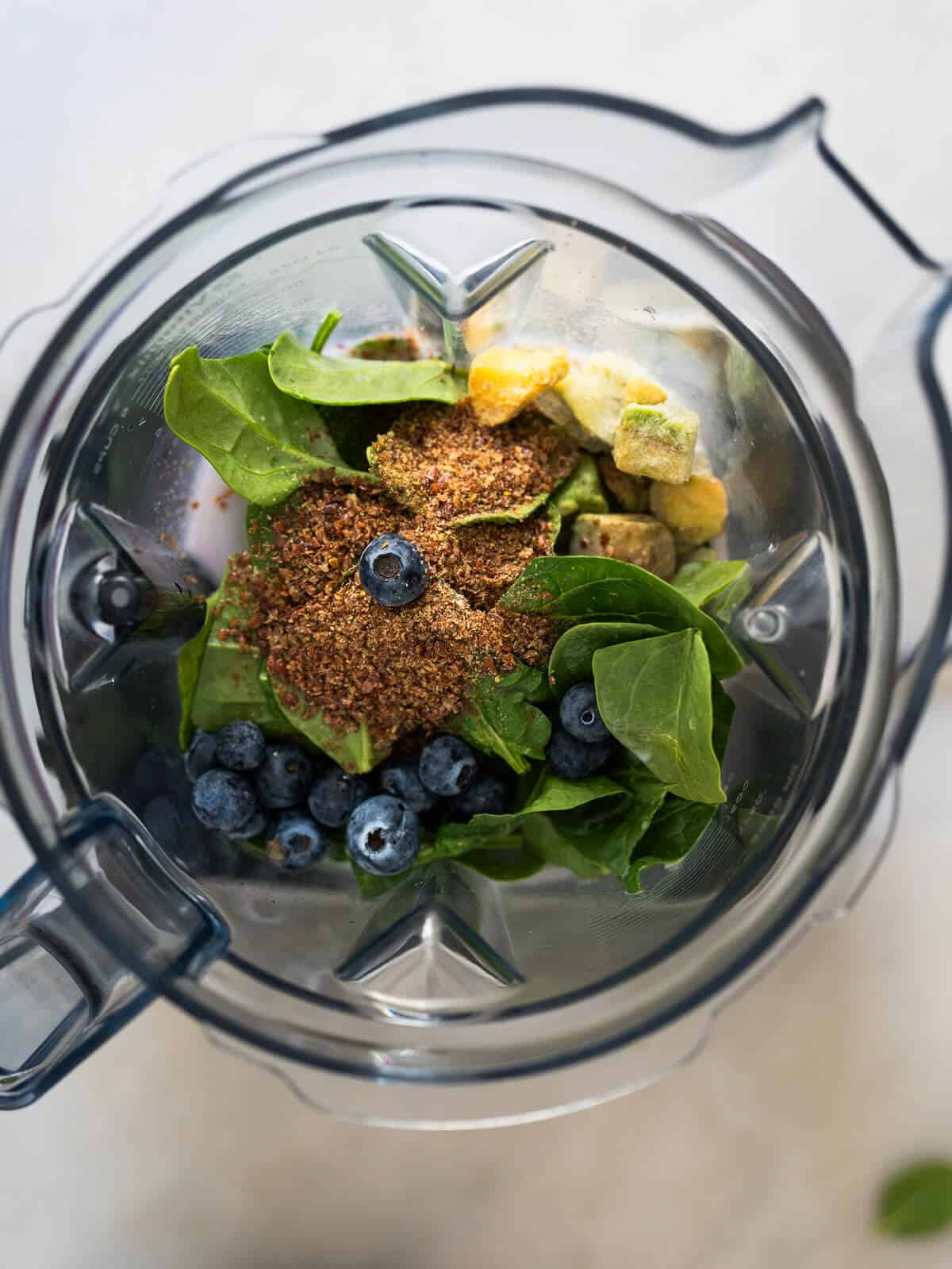 Place all the smoothie ingredients on the juicer's vase. Blend until smooth.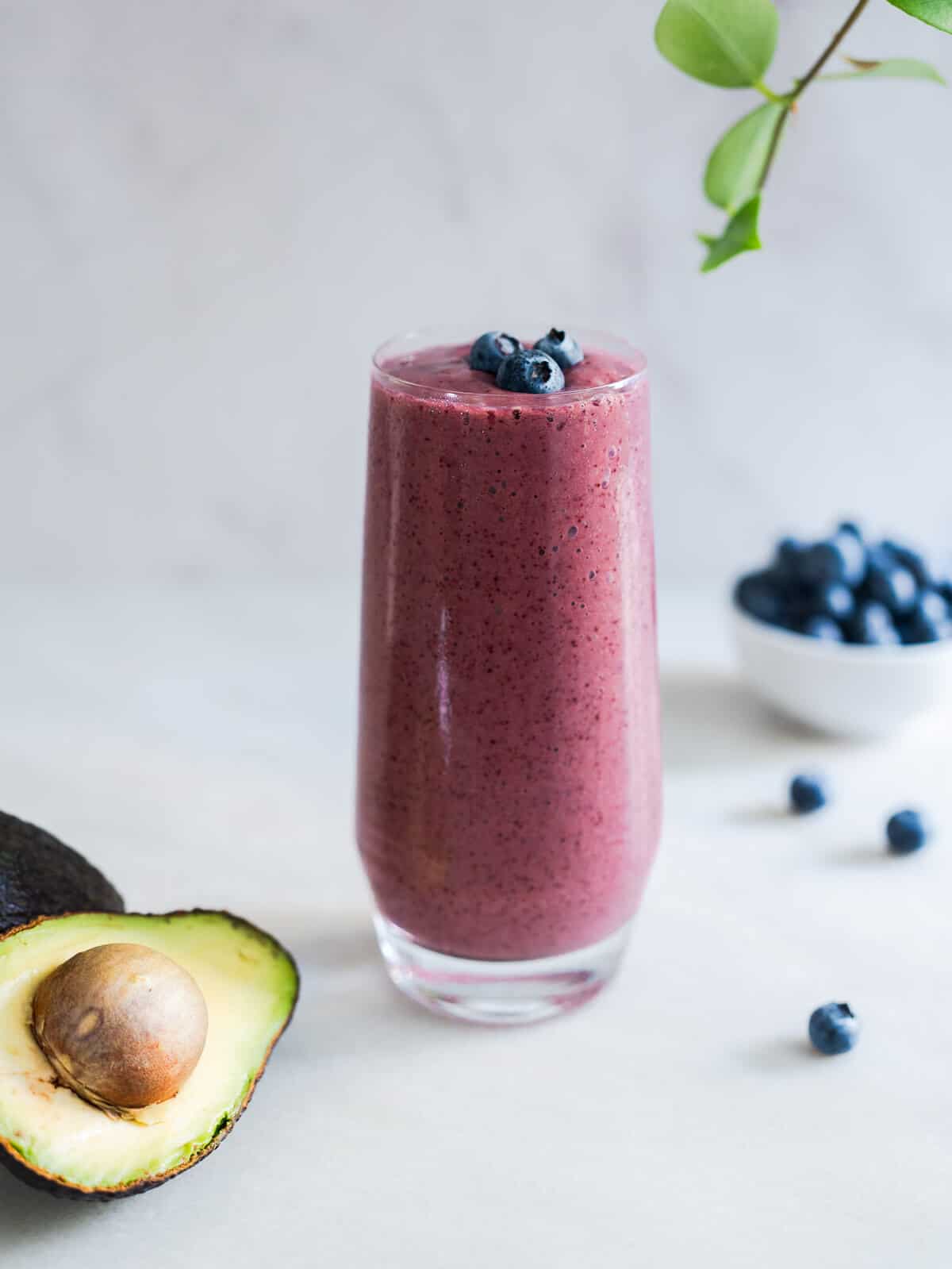 Hint: garnish with extra fresh blueberries or coconut flakes.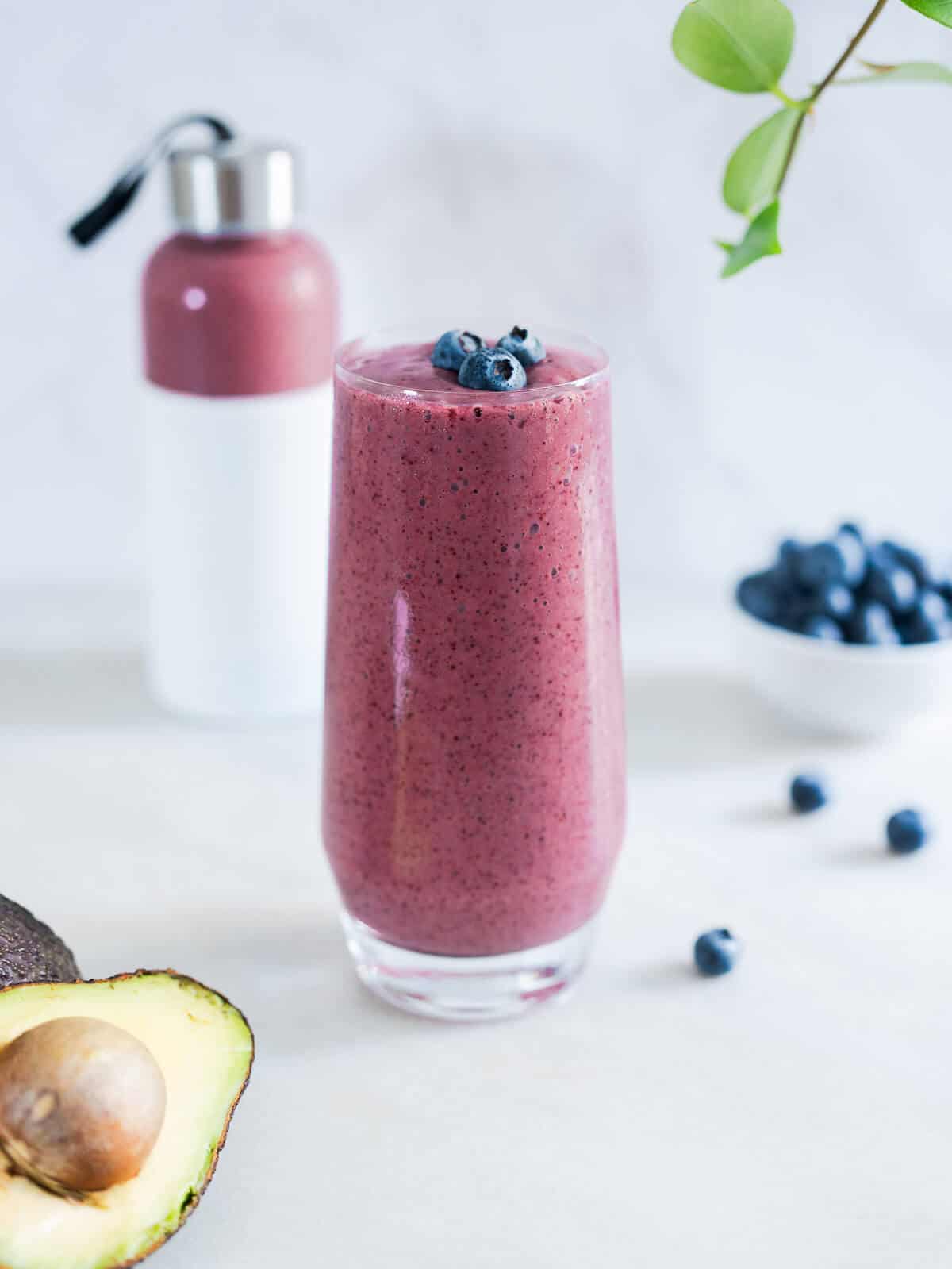 Hint: to change the smoothie consistency, add more almond milk for a thinner smoothie
Read on: got too many blueberries? Try making your own blueberry juice
🍶 Substitutions
Avocado: For a similar creamy texture, you could substitute the avocado with silken tofu. Remember that tofu may slightly dilute the overall flavor.
Fresh or frozen blueberries: If you don't have blueberries on hand, other berries such as raspberries or strawberries, will work. However, they may alter the smoothie's color and flavor profile.
Almond milk: Any other plant-based milk like homemade soy milk, cashew milk, hemp milk, or oat milk can be used in place of almond milk. The overall flavor will slightly vary depending on the type of milk used.
Spinach: Any leafy green like kale or Swiss chard can replace spinach. Just note that these greens might impart a slightly stronger taste.
Banana: An equal amount of mango or peach can substitute for banana, though it will change the smoothie's sweetness level and overall flavor.
Maple syrup: Agave nectar or date paste can replace maple syrup for similar sweetness. Note that each sweetener will slightly alter the flavor.
Flax meal or chia seeds: Hemp seeds can work as a substitution, although they might not provide the same thickening effect. They do, however, add a boost of healthy omega fats and protein.
Plant-Based Protein Powder (optional): If you don't have protein powder, you can add a handful of soaked nuts, pea protein, or seeds for an extra protein boost.
📖 Variations
Almond Butter Boost: Adding a spoonful of almond butter can bring a nutty depth of flavor to the smoothie while providing an extra boost of protein and healthy fats. It pairs wonderfully with the banana and blueberries, resulting in a more satisfying, energy-rich drink.
Plant-Based Yogurt Twist: Swap the usual Vanilla Greek yogurt for a plant-based yogurt of your choice. This switch not only keeps the recipe entirely vegan but also adds a tangy flavor profile and creaminess to the smoothie, mimicking the luscious texture of dairy yogurt.
Cocoa Indulgence: For a chocolatey spin on this smoothie, add a tablespoon or two of unsweetened cocoa powder. This variation introduces an irresistible chocolaty flavor, harmonizing with the blueberries and banana, and offers a boost of antioxidants.
Smoothie Bowl Transformation: Want to switch things up from a drinkable smoothie? Transform this blend into a smoothie bowl! Make sure the consistency is a bit thicker (you might want to reduce the almond milk a tad and use frozen berries). Pour it into a bowl and adorn it with your favorite toppings like sliced fruits, granola, chia seeds, or a drizzle of almond butter.
🍽 Equipment
High-Powered Blender (affiliate link): The star tool of this recipe, a high-powered blender ensures your smoothie is silky smooth. It efficiently pulverizes the fruits, spinach, and seeds, merging their flavors beautifully while creating that desirable creamy texture.
Plus, if you're using frozen fruit or adding plant-based protein powder, a high-powered blender will integrate these elements seamlessly into the mix without leaving any unappetizing chunks or gritty residue. Simply toss your ingredients in, blitz until smooth, and voila - your nutritious, plant-powered smoothie is ready to enjoy!
🥡 Storage
This smoothie is best enjoyed fresh, right after it's made. However, if you need to store it, follow these steps: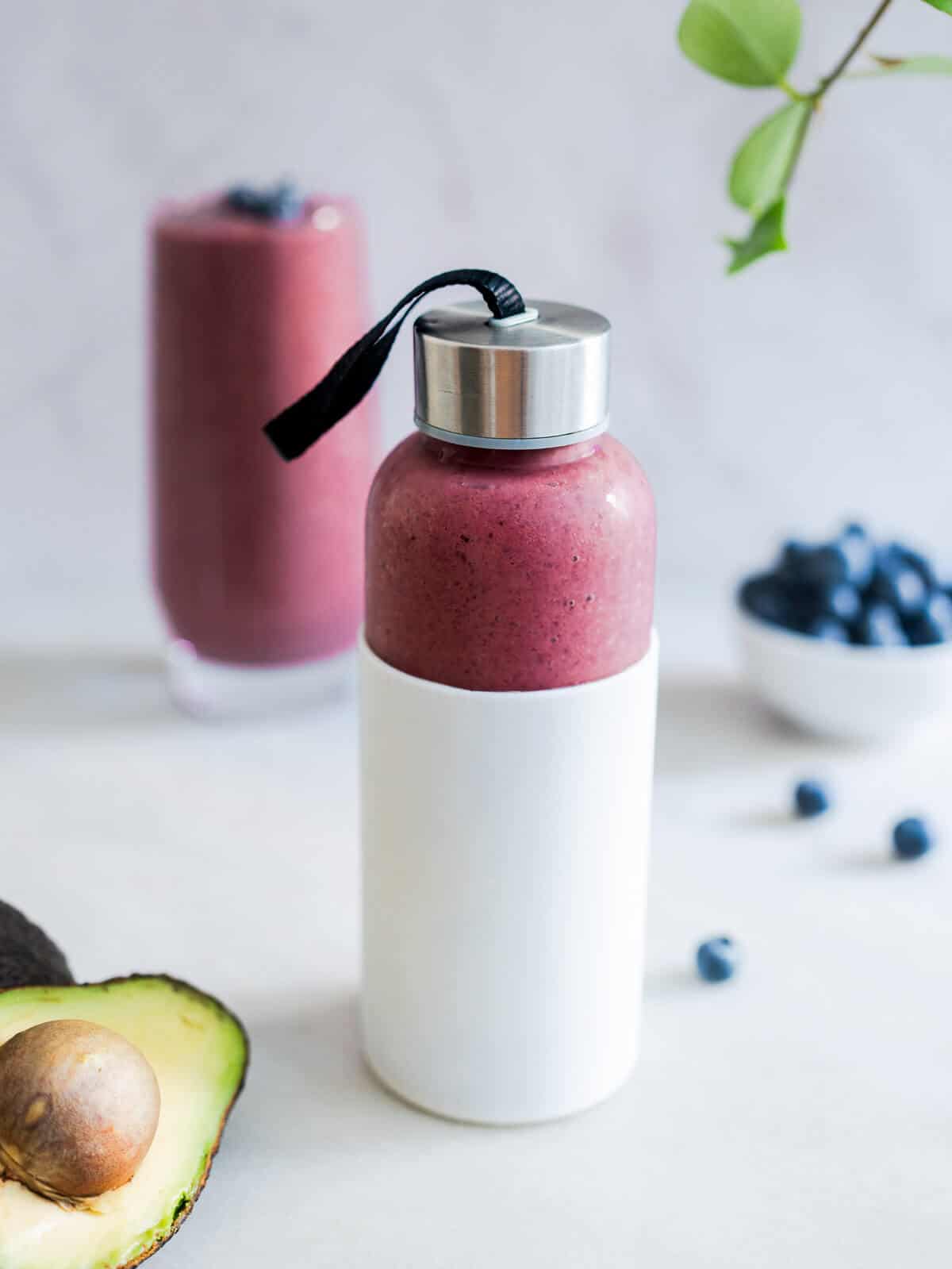 Fridge: Pour any leftover smoothie into an airtight container or a mason jar and store it in the refrigerator. It's ideal to consume it within 24 hours to ensure the best taste and nutrient preservation. Remember, due to the nature of fresh produce, the smoothie may change color over time because of oxidation - this is completely natural and doesn't affect the taste or nutritional value, but it may look less appetizing.
Freezing: If you wish to prepare this smoothie in advance, you can also freeze it. Pour the smoothie into ice cube trays or freezer-safe containers and freeze. When ready to consume, thaw the smoothie cubes in the fridge for several hours or overnight. Then, blend the thawed smoothie cubes until smooth, adding a bit of plant-based milk if needed to reach your desired consistency.
Note: As with refrigeration, freezing may also result in some color change due to oxidation. Rest assured, this doesn't mean your smoothie has gone bad, but it may make the smoothie appear less vibrant.
💡 Top tip
If you use frozen fruit you don't need to add ice cubes to make your smoothie cold, and you keep more of its creamy texture.
🫐 Avocado blueberry smoothie benefits
Nutrient Dense: This smoothie is packed with an abundance of vitamins, minerals, and fiber, providing you with a significant portion of your daily nutrient needs in a single serving.
Rich in Antioxidants: Blueberries are renowned for their high antioxidant content, which helps fight off harmful free radicals in the body, supporting overall health.
Healthy Fats: Avocados contribute heart-healthy monounsaturated fats, essential for optimal brain function and help absorb fat-soluble vitamins.
Protein Packed: If you add the optional plant-based protein powder, this smoothie becomes a fantastic source of protein, making it perfect for a post-workout recovery drink or a satisfying breakfast.
High in Fiber: Thanks to ingredients like flax meal, chia seeds, and fruits, this smoothie is high in fiber, promoting good digestion and contributing to feelings of fullness.
Bone Health: This smoothie's almond milk and spinach provide a good source of calcium and vitamin K, which are essential for bone health.
Hydrating: This smoothie has a high water content due to the fruits and almond milk, helping you stay hydrated throughout the day.
Energy Boosting: With a balance of complex carbs, healthy fats, and protein, this smoothie provides sustained energy release, making it a great start to your day or a revitalizing afternoon pick-me-up.
❓ FAQ
What fruits go well with avocado?
Avocado, with its mild and creamy taste, pairs exceptionally well with a wide range of fruits. Here are a few:
Citrus Fruits: Lime, lemon, grapefruit, and orange juice can add a refreshing tanginess that complements the creaminess of avocado.
Berries: Blueberries, strawberries, raspberries, or blackberries bring a sweet-tart flavor profile and vibrant color to an avocado-based smoothie.
Banana: Its sweet taste and creamy texture mesh well with avocado, creating an incredibly smooth and satisfying drink.
Mango and Pineapple: they contribute to a sweet, juicy quality that pairs deliciously with avocado's rich texture, resulting in a tropical-tasting delight.
Peaches and Apricots: They offer a delicate sweetness that harmonizes well with avocado, especially in summer smoothie recipes.
🥤 More smoothie recipes
Spinach Blueberry Banana Smoothie: Craving an energizing start to your day? Discover a vibrant blend of leafy greens and sweet fruits in this nutrient-dense concoction that seamlessly combines wellness and taste. It's a wholesome elixir that will redefine your concept of a green smoothie!
Blueberry Pineapple Smoothie: Embark on a tropical adventure with this exotic fusion of juicy pineapple and sweet blueberries. This smoothie is packed with vitamins and sure to bring a ray of sunshine into your day.
Peach Blueberry Smoothie: Savor the essence of summer any time of year with this enticing blend of juicy peaches and blueberries. A truly refreshing escape that's just a blend away!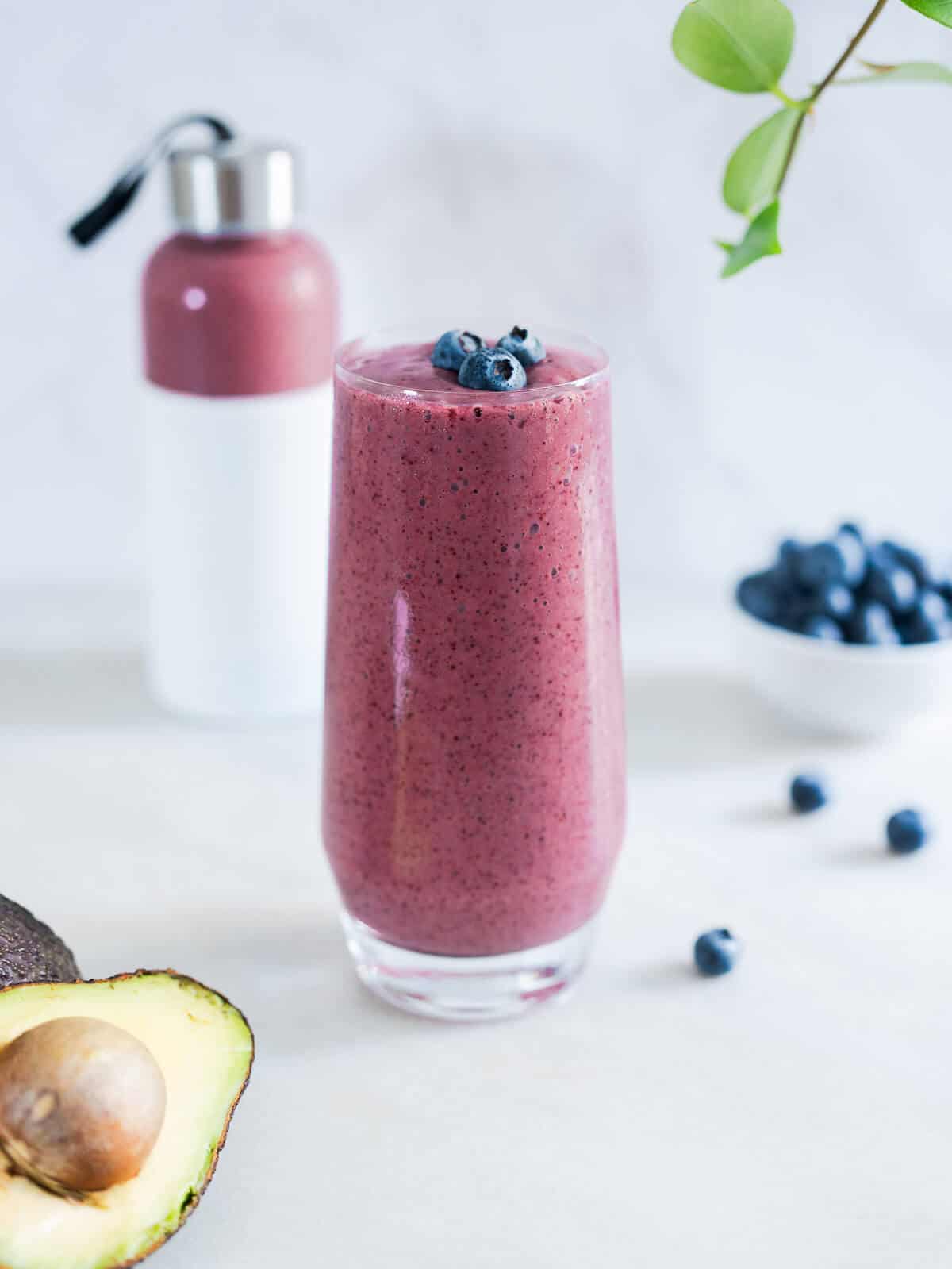 ⭐ If you try this blueberry avocado smoothie recipe, let us know! 💬 Leave a comment, rate it, and don't forget to tag us @ourplantbasedworld on Instagram. Cheers!
📋 Recipe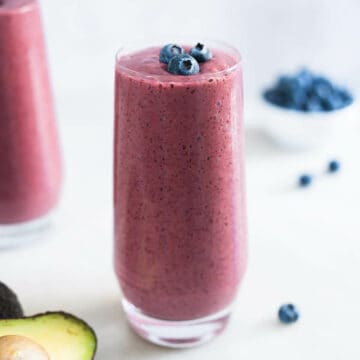 Avocado Blueberry Smoothie with Banana
Dive into our Avocado Blueberry Smoothie, a vibrant blend of plant-based goodness, offering a nutritional punch of heart-healthy fats, antioxidants, and fibers. Embrace the delight of seasonal produce in every refreshing sip.
Equipment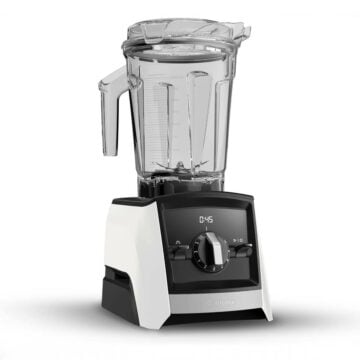 (affiliate link)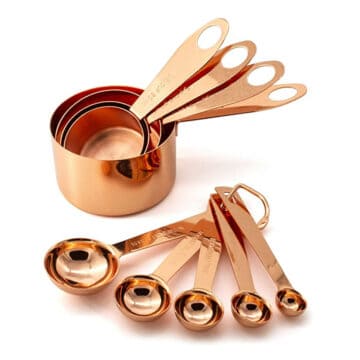 (affiliate link)
Ingredients
2

cups

blueberries

froze, about 10 oz

4

oz

avocado

about half avocado or ½ cup

1

banana

ripe

1 ½

cup

almond milk

organic / or almond milk (has more protein)

1

cup

water

1 ½

tablespoon

maple syrup

½

tablespoon

flax meal

or chia seeds (optional)

1

handful

spinach

optional
Directions
Wash all the fresh ingredients and pit the dates; then measure your ingredients with measuring spoons and/or cups.

Add everything into a high-speed blender.

For a thicker smoothie, omit water and ice cubes. For a thinner smoothie, add more plant milk or water (it will affect sweetness).

Taste and adjust flavor as needed, adding more dates for sweetness and more plant milk for creaminess.

For a thicker smoothie, add frozen banana, peach, or peach.

Serve Cold.
Notes
Smoothie leftovers will keep in a covered mason jar in the refrigerator for up to 2 days, though best when fresh.
Add spirulina powder for extra protein without adding many calories. This might change the flavor of your smoothie drastically as the chlorophyll flavor is intense.
Add agave or maple syrup for extra sweetness or extra dates. We like using dates because they have a ton of beneficial post-workout benefits.
Vegan Clean Protein: if using the clean protein powder

(affiliate link)

, add our 10% discount code PBWORLD10 at check-out to enjoy the benefit. (affiliate)
Nutrition Facts
Calories:
261
kcal
Carbohydrates:
27
g
Protein:
29
g
Fat:
8
g
Saturated Fat:
2
g
Polyunsaturated Fat:
4
g
Monounsaturated Fat:
1
g
Sodium:
643
mg
Potassium:
1306
mg
Fiber:
6
g
Sugar:
15
g
Vitamin A:
1240
IU
Vitamin C:
27
mg
Calcium:
415
mg
Iron:
12
mg
Nutrition Facts
Avocado Blueberry Smoothie with Banana
Amount per Serving
% Daily Value*
* Percent Daily Values are based on a 2000 calorie diet.
🌡️ Food safety
Cook to a minimum temperature of 165 °F (74 °C)
Do not use the same utensils on cooked food, that previously touched raw meat
Wash hands after touching raw meat
Don't leave food sitting out at room temperature for extended periods
Never leave cooking food unattended
Use oils with a high smoking point to avoid harmful compounds
Always have good ventilation when using a gas stove
See more guidelines at USDA.gov.
Nutritional Disclaimer
The information shown is an estimate provided by an online nutrition calculator. It should not be considered a substitute for a professional nutritionist's advice. See our full Nutritional Disclosure here.
Affiliate Disclaimer
Please note that some of the links here are affiliate links, and I will earn a commission if you purchase through those links. I recommend all of the products listed because they are companies I have found helpful and trustworthy.