Summer is the perfect time to enjoy light and healthy salads. This vegan chickpea avocado salad is a great quick and easy meal prep salad that works perfectly to bring on a potluck. The ingredients are simple and affordable, and the salad can be whipped up in just a few minutes. Plus, it's packed with protein and healthy fats to help keep you feeling full throughout the day. Give this salad a try today!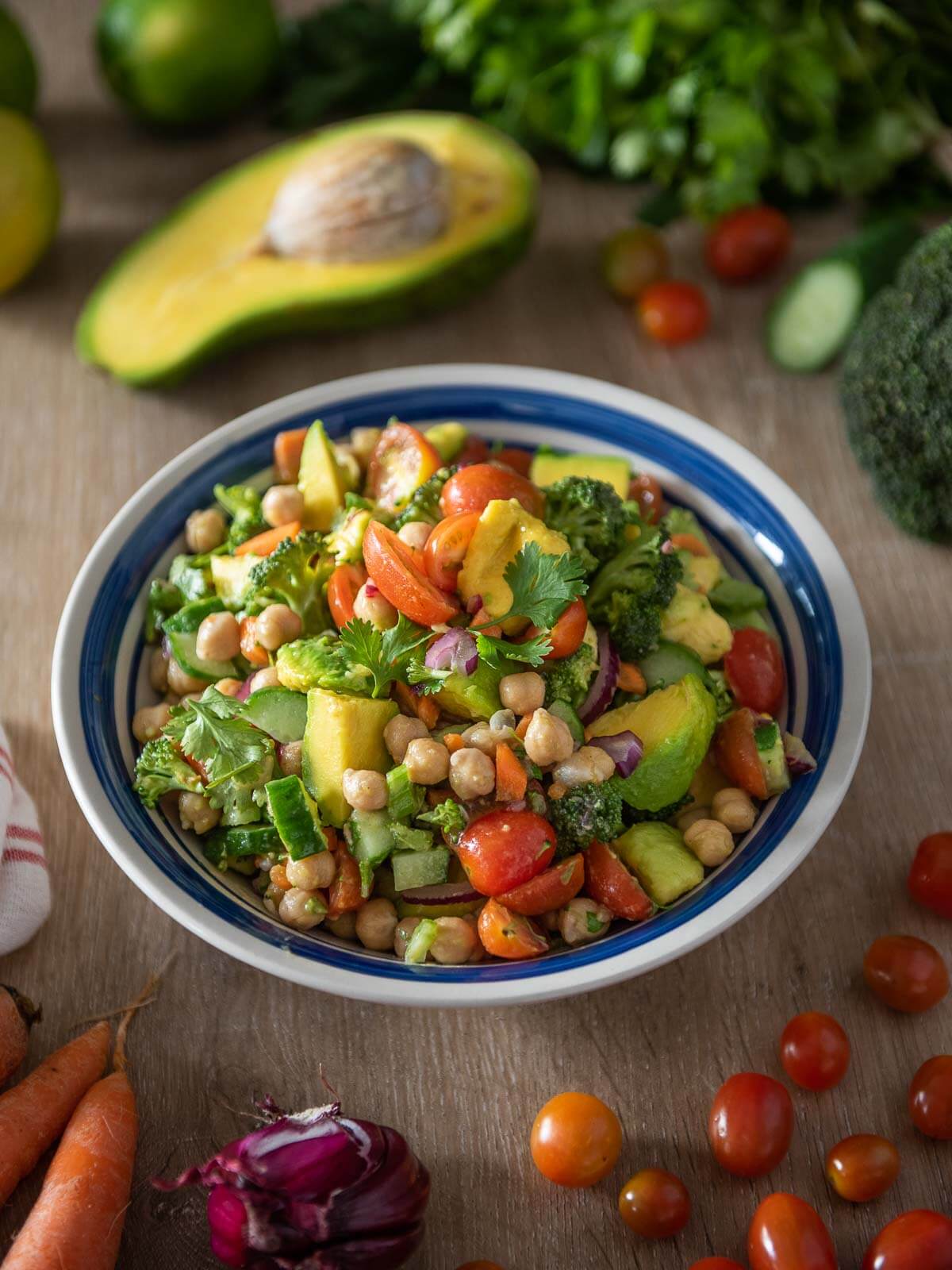 We love salads that make up for a complete meal; that's why we often add a healthy portion of beans or lentils to them as we do on our couscous and lentil salad and our vegan "tuna" salad.
Use this recipe as a side dish, or bring it to your next potluck with a vegetarian ceviche, to host a deliciously vegan get-together!
This avocado and chickpea salad recipe is inspired by crowd-pleaser traditional Mexican guacamole, our vegan poke bowl, and our avocado chickpea hummus, traditional hummus, and beets white beans hummus.
All recipes we have been munching on regularly over the past few days.
These gluten-free and easy meals are perfect on hot days as we crave easy vegan summer recipes, just like our grill-friendly vegan chickpea burgers (you don't want to miss them!).
Those recipes that will not make us feel bloated include filling salads that keep us going throughout the day and can be used for meal prep on busy schedules.
Jump to:
🧾 Ingredients and substitutions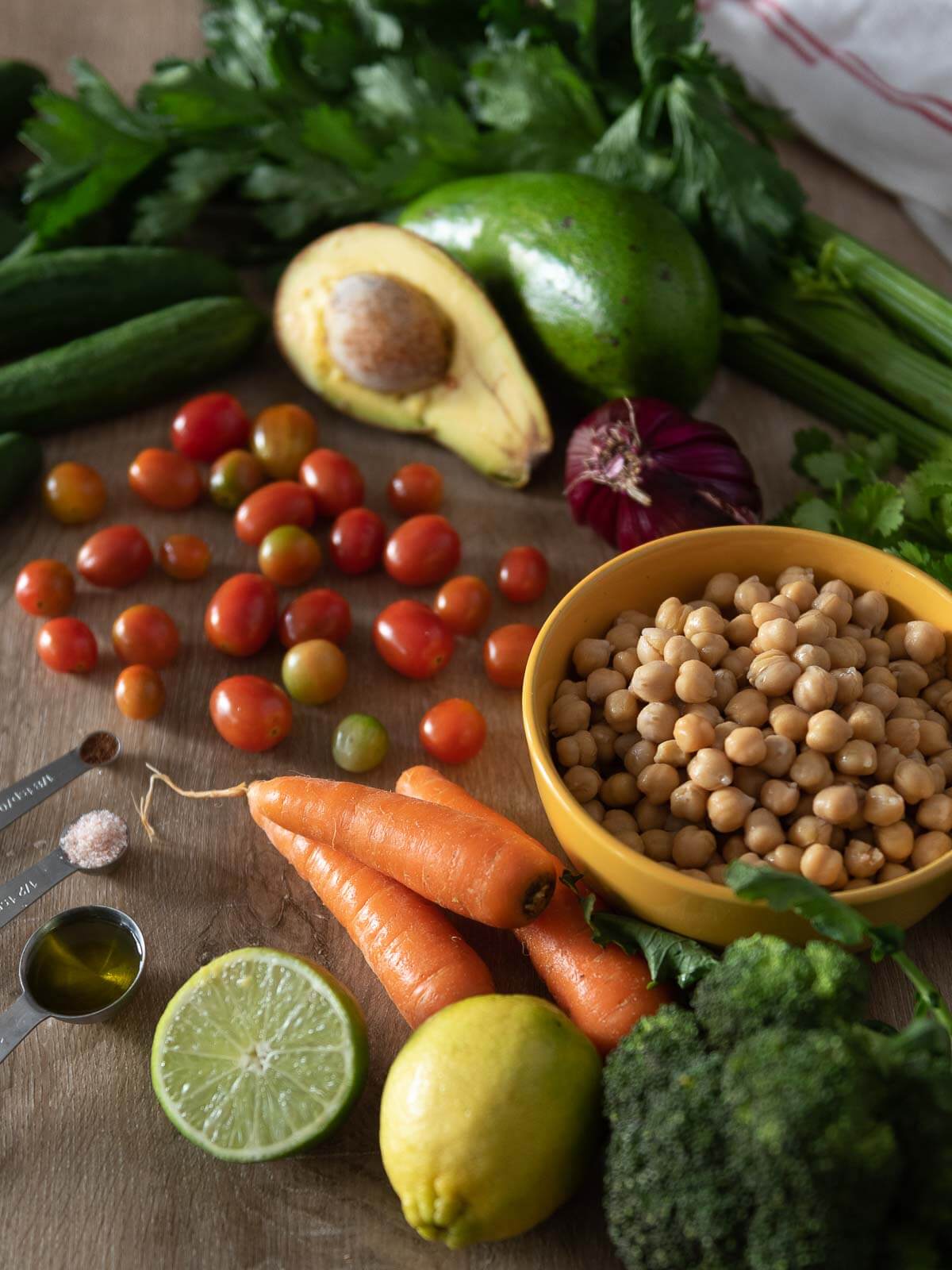 Canned chickpeas - drained and rinsed. You can cook your own chickpeas in a sauce or use a pressure cooker to make them quicker. You can also replace the garbanzo beans with butter beans, great northern beans, white beans, cannellini beans, baby lima beans, or navy beans. You can even use black beans or kidney beans.
Avocado - make sure you use ripe avocados, especially if not using olive oil.
Carrot - in small dice.
Broccoli - chopped coarsely. Instead of a chickpea broccoli salad, you can use cauliflower, romanesco broccoli, or colored cauliflower.
Celery - finely chopped. We also like using chopped fennel. We think making a celery chickpea salad is great since celery has so many benefits.
Cilantro - or Italian parsley, curly parsley, chives, mint, and fresh dill work well. Always use fresh herbs.
Red onion - or shallots finely chopped. We also like using spring onion and green onion. White or yellow onion also works.
Cherry tomatoes - we like halving most of them and leaving the smaller one's whole. You can also use ripe and firm plum tomatoes or heirloom tomatoes.
Lime - we like using lime as it pairs very well with avocadoes, but you can also use lemon juice, grapefruit, mandarin orange, or an orange for a sweeter note.
Himalayan salt - kosher salt and table salt also work.
Cayenne pepper - alternatively, use freshly ground black pepper, red pepper, or finely diced jalapeño peppers for a Mexican touch.
Optional: olive oil
🔪 How do You make chickpeas Salad with avocado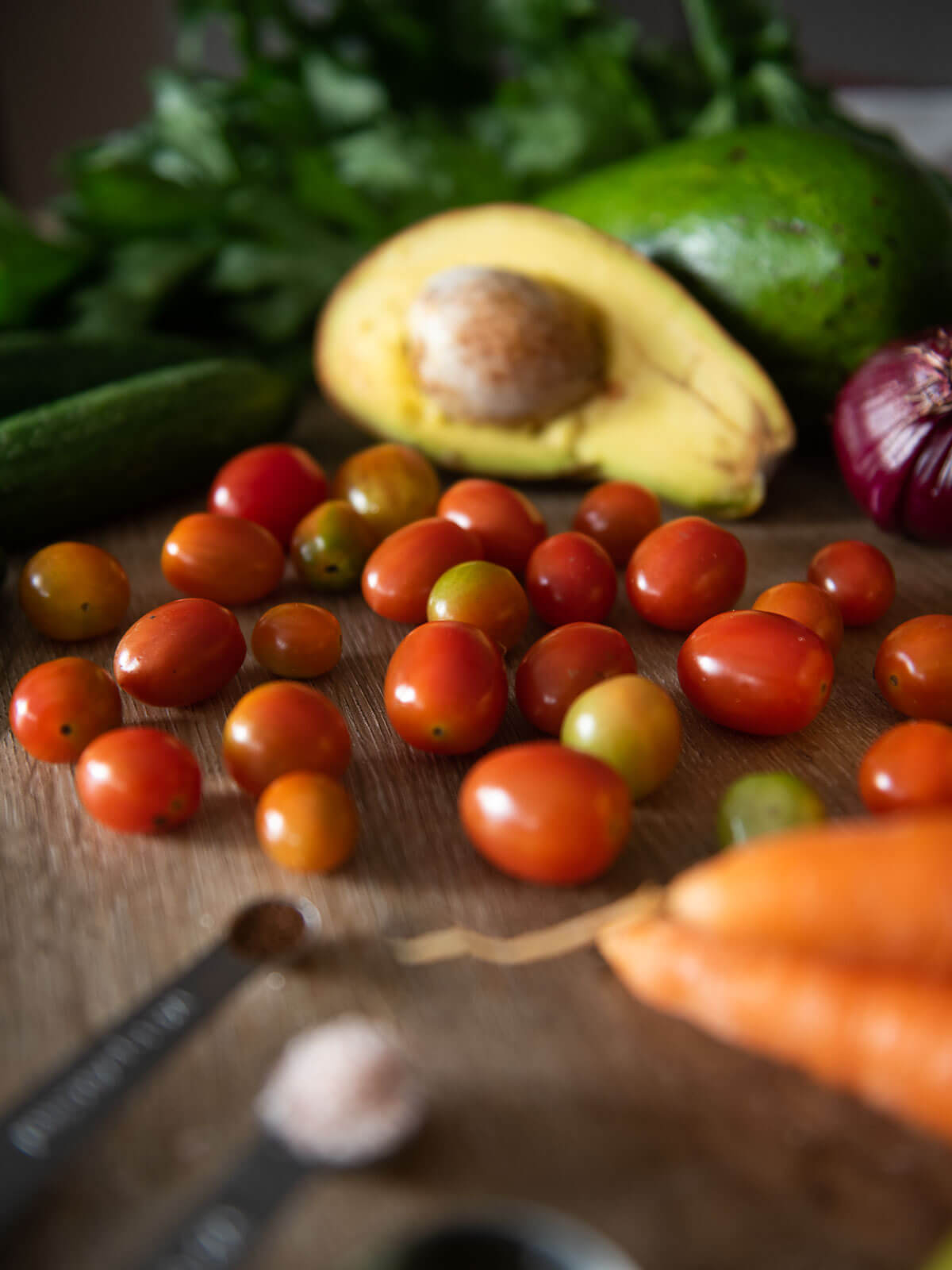 To make chickpea salad recipes, start by chopping the vegetables. Remember to dice them nicely so you can experience the best out of each vegetable's texture.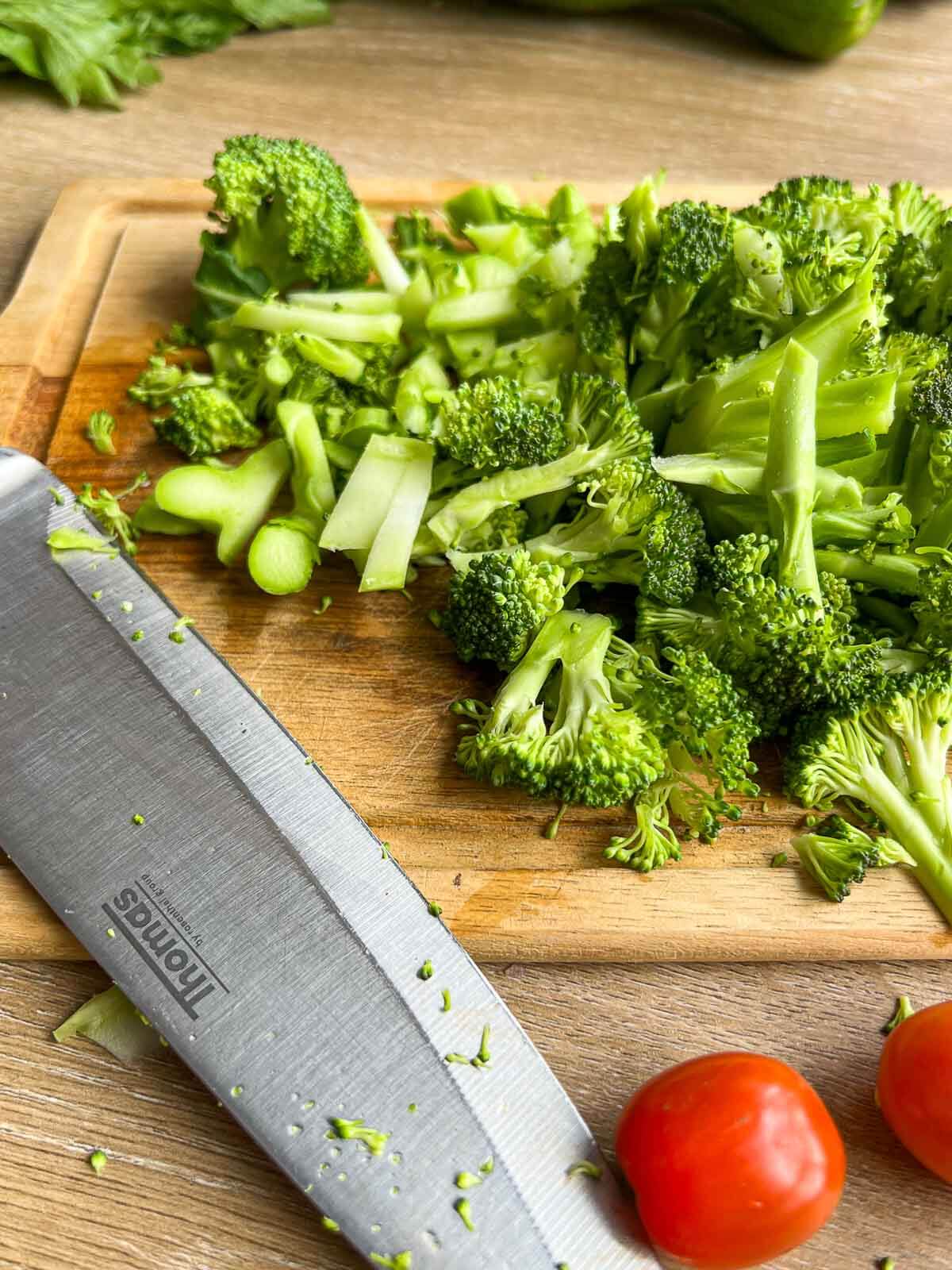 Leave the chickpeas as they are when mixing them into the salad bowl (don't mash them).
To dice avocado, use a knife to cut the avocado lengthwise. Hold half with a pit in one hand, then gently tap a sharp edge into the pit deep, twist the pit out, twist the knife, and plant a tree or discard the pit into your compost bin. Remove any remaining seed's skin. Slice with a knife in dice and remove with the spoon.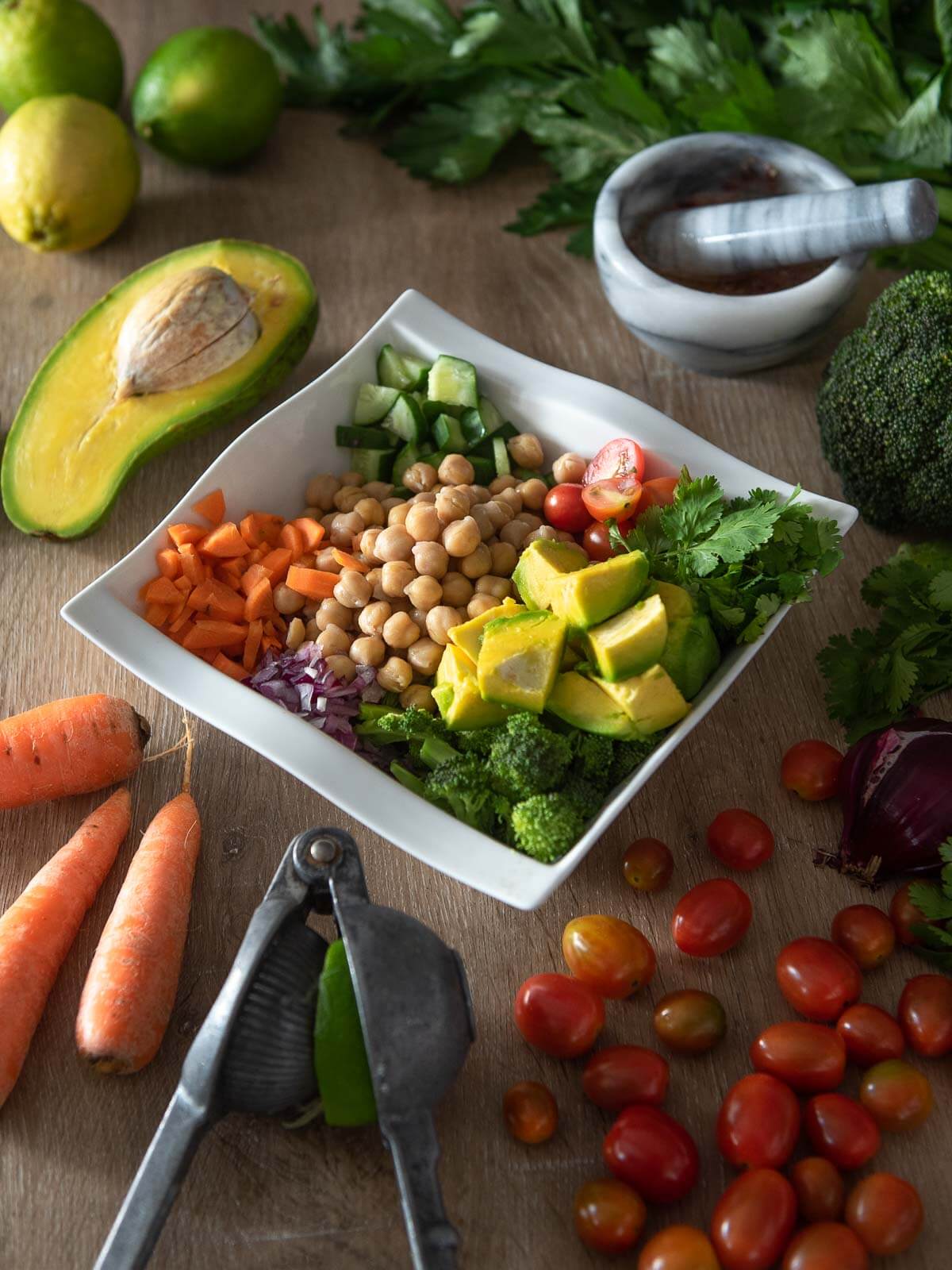 Alternatively: make the dressing by smashing half of the finely diced red onion, freshly squeezed lime juice, oil, Himalayan salt, and cayenne pepper, using a pestle and mortar. You can just add the ingredients on their own separately if you don't mind the onion's strong aftertaste.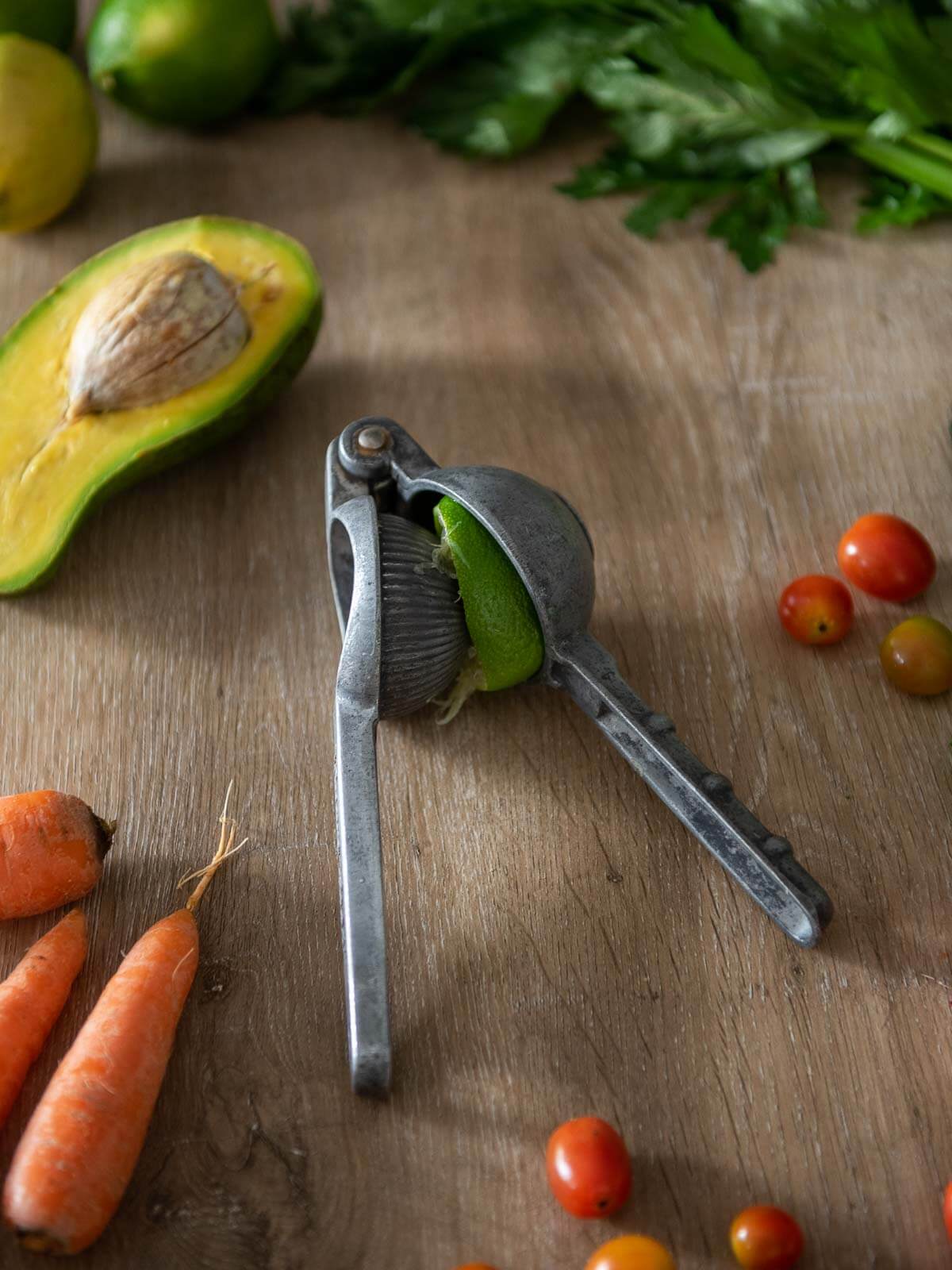 juice lime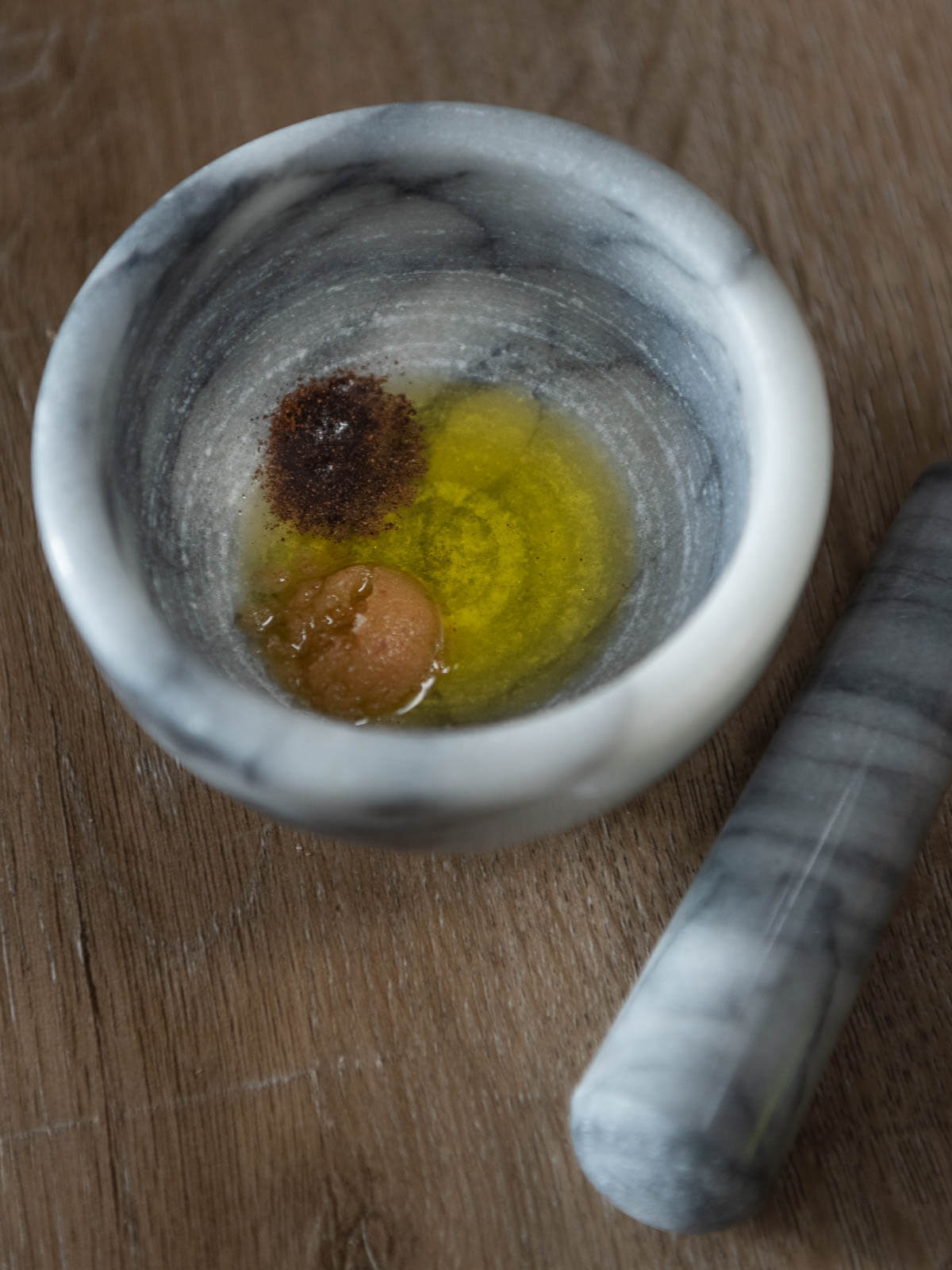 add seasonings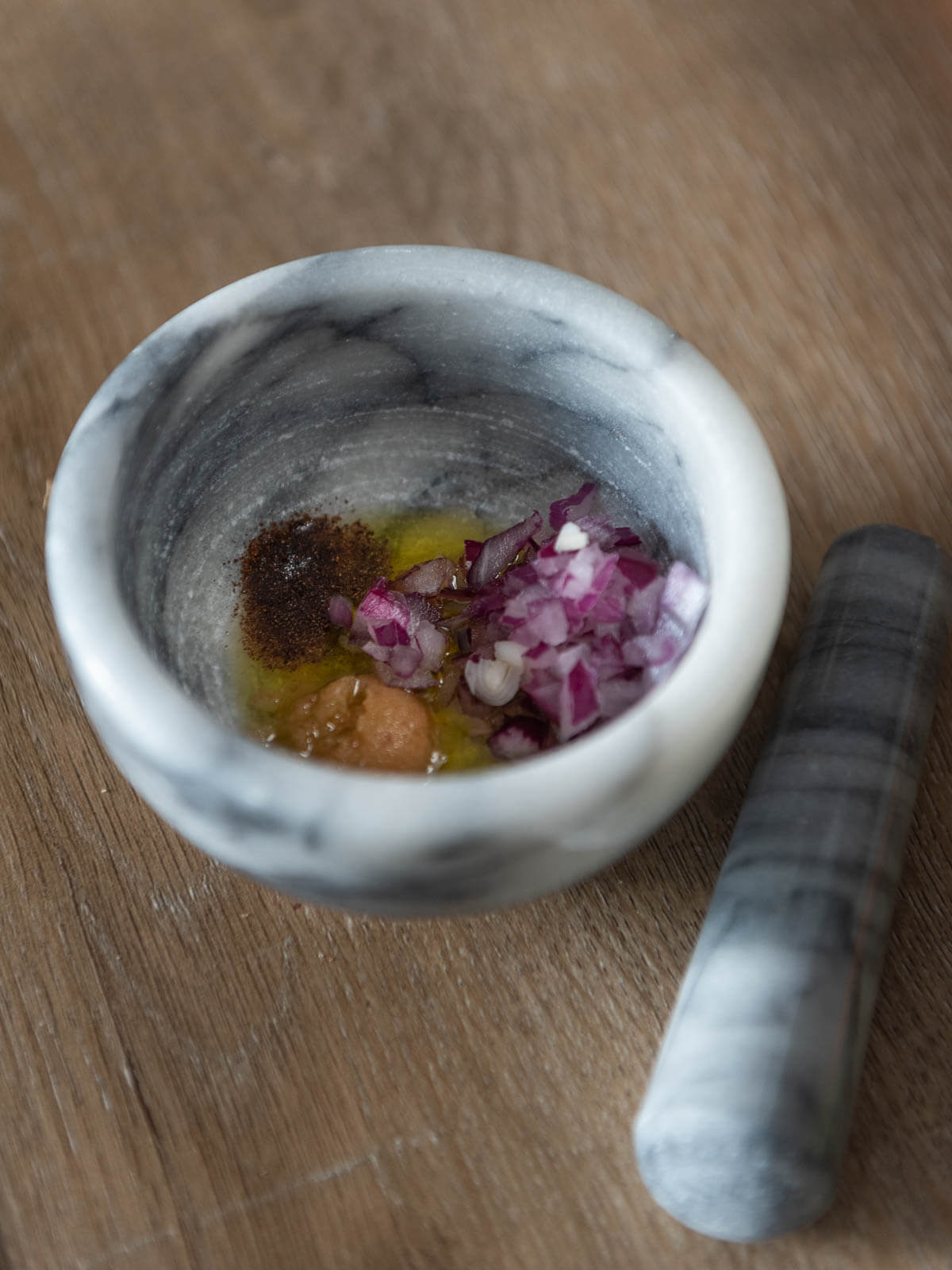 add half red onion dice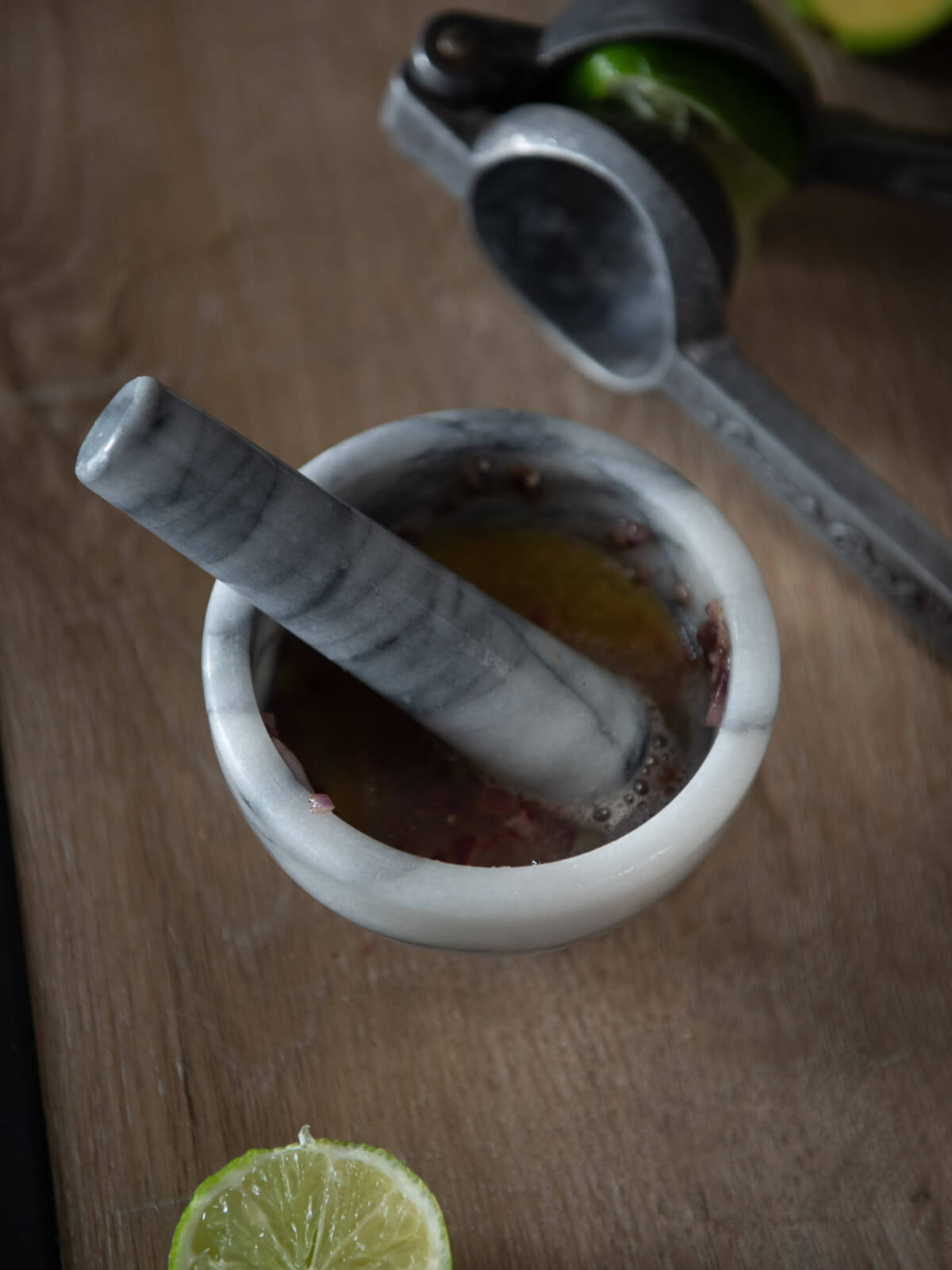 mash red onions and seasoning
Tip: If you want to make this carrot chickpea salad Whole Foods Plant-Based diet (WFPB)- friendly, feel free to skip the olive oil. The fats from the avocadoes will do the work.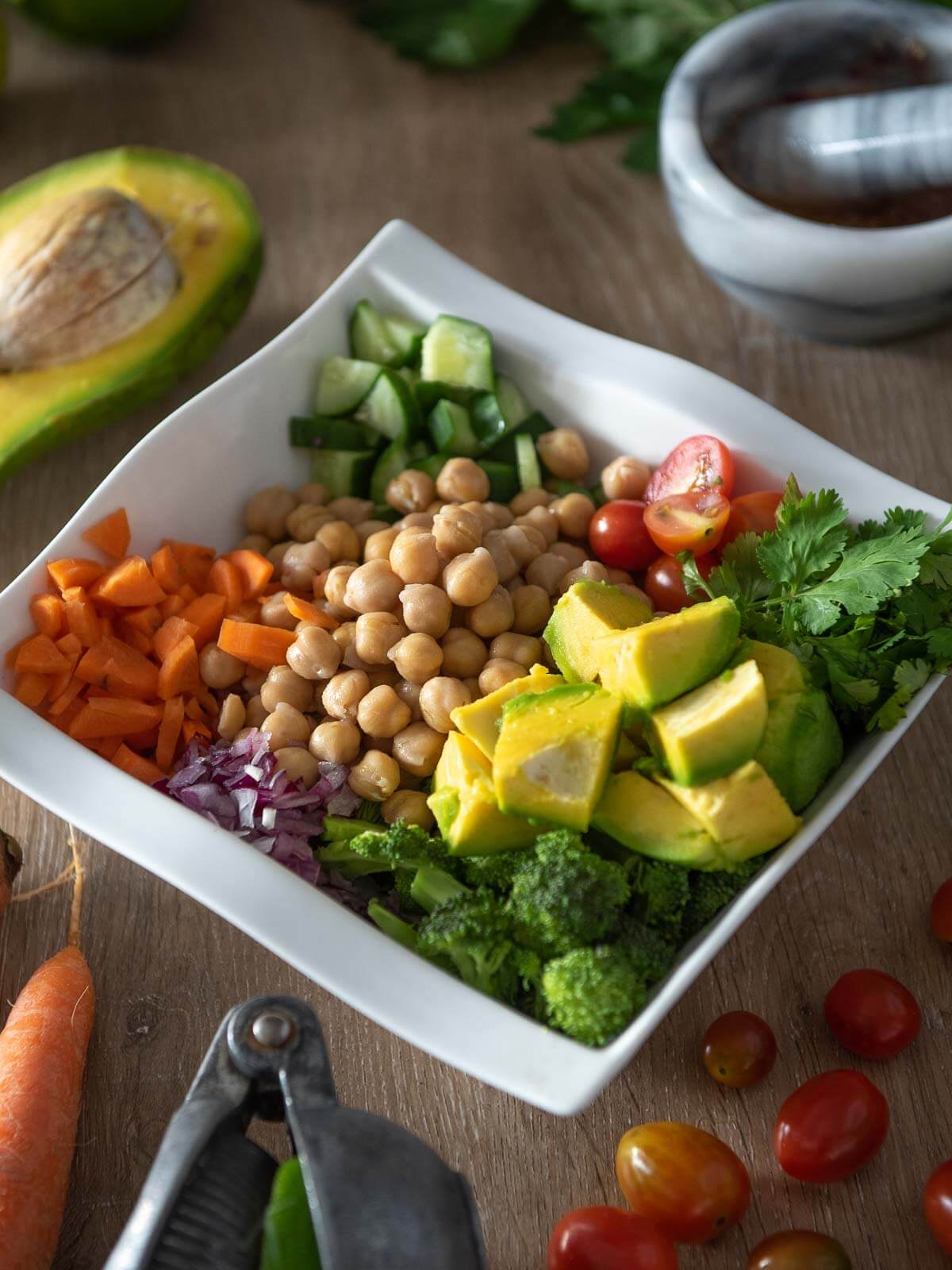 Toss gently. Combine all the ingredients using a large bowl and stir gently so the creamy avocado melts slightly into the salad's juices. Add the remaining red onion dice. I like to use a spatula to better manage the veggies without affecting their texture.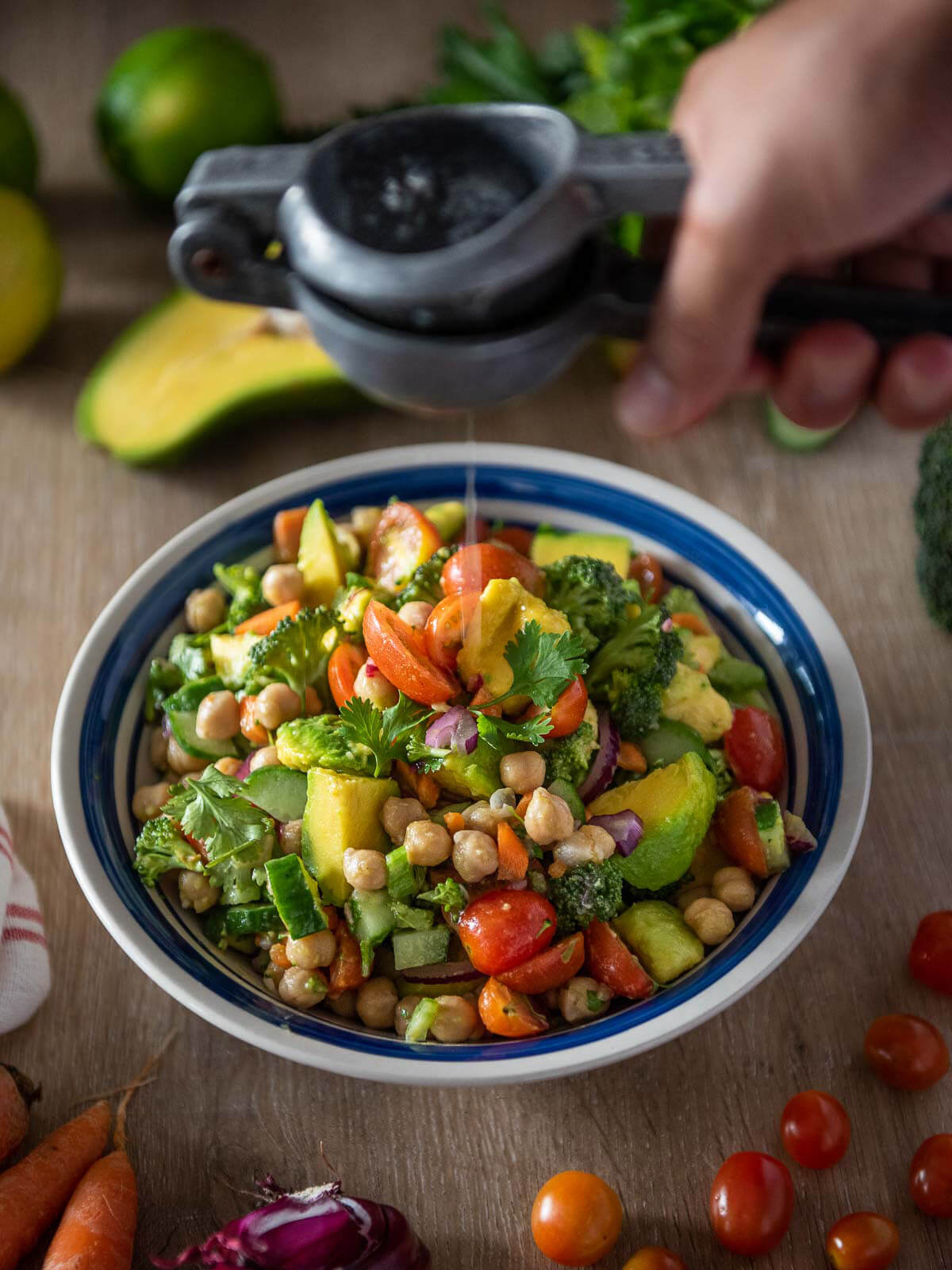 Garnish this chickpea broccoli salad with cilantro leaves, slices of red onion, and season with salt and pepper, and more lemon juice or lime juice, if needed, right before serving. Serve cold.
Add the small cherry tomatoes on top for an extra-popping texture.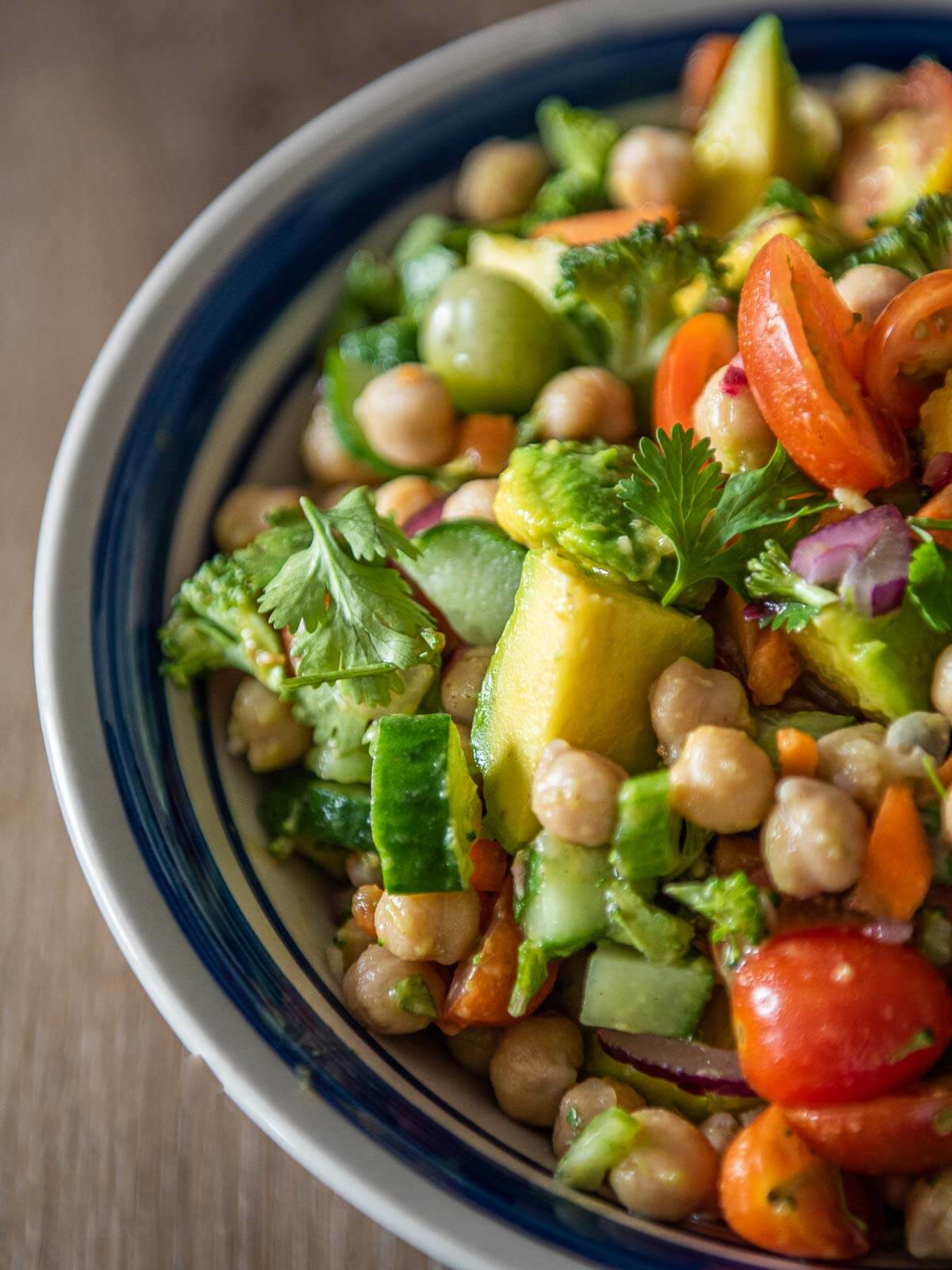 📖 Chickpea salad flavor variations
One of the things I love about this vegan chickpea avocado salad is how versatile it is. We offer here our favorite variations.
Nuts - add toasted almonds, peanuts, or walnuts for a crunchy and nutty note, as you add more healthy fats to your meal.
Greens - add a handful of chopped raw kale or your choice of leafy greens.
Tanginess - add one teaspoon of dijon mustard or lemon juice.
More protein - make a quinoa avocado chickpea salad by adding a ¼ cup of cooked quinoa per serving to add 8 grams of protein to each bowl.
👨🏻‍🍳 Suggested random add-ins we love
Tip: I recommend limiting the additional oily dressings when making a chickpea avocado salad. Choose intense flavors coming from spices or garlic or onion powder. If your chickpea salad is avocado-less, choose more nut-based healthy fats dressing.
Mexican variation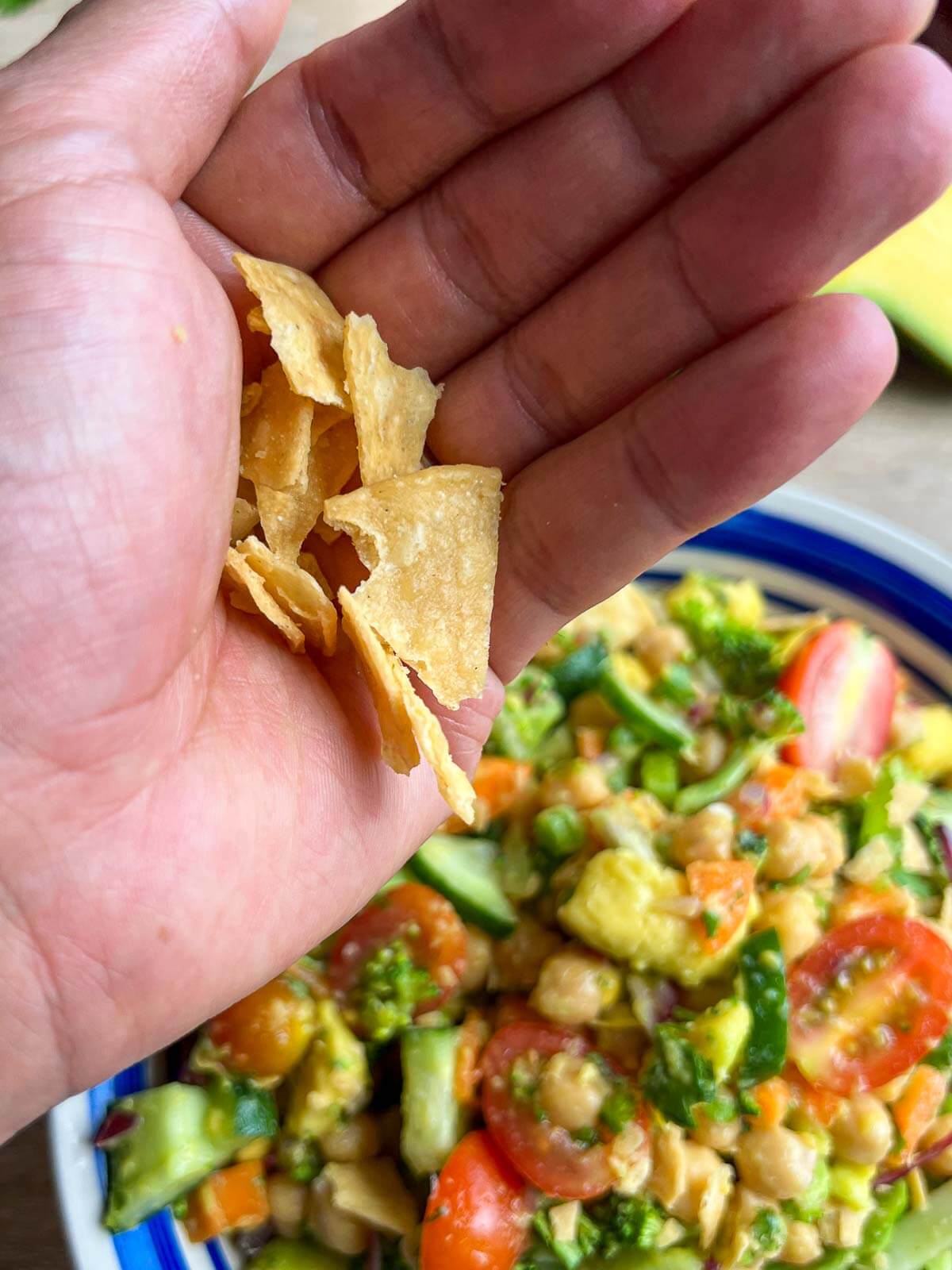 Tortilla chips - add crushed baked tortilla chips for a crunchy texture and Mexican note.
Peppers - add red bell peppers, jalapeño peppers, or yellow peppers for a delicate sweeter note, and add extra antioxidants.
Beans - use black beans instead of chickpeas.
Cheesy variation
Italian variation
Use a tablespoon of vegan basil pesto or arugula pesto instead of olive oil, salt, and pepper, ad a dressing to give your dish a fabulous Italian twist. We recommend using one tablespoon for every two servings.
Fresh herbs - omit the cilantro and alternatively replace for fresh parsley or fresh basil.
Vinegar - replace half of the lime juice with red wine vinegar or apple cider vinegar.
🥢 How to serve
Serve this chickpeas avocado salad on its own as a main dish, or use it as an appetizer serving it with tortilla chips or pita chips for your guests to enjoy.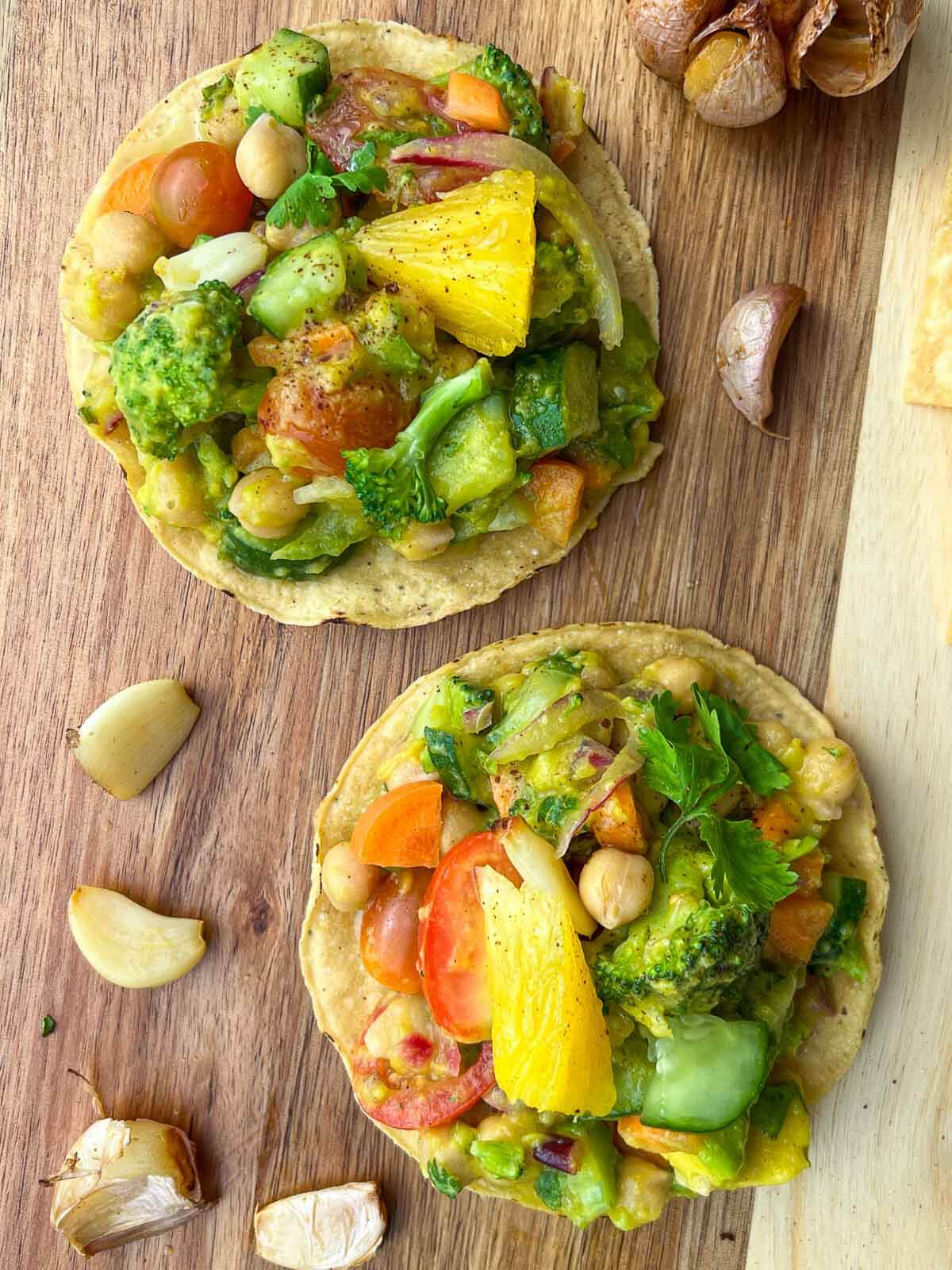 When we serve this avocado and chickpea salad as an easy appetizer or snack, we love using non-GMO yellow or blue round tortilla nacho chips (affiliate links) to top them with the salad.
We like blue corn tortilla chips, sweet potatoes, quinoa, and cassava chips. You can even make soft tacos with grain-free tortillas; we love Tia Lupita Grain-Free Tortillas (affiliate).
🥡 Storing and meal prepping
To keep this salad fresh: refrigerate your healthy chickpea salad in an airtight container for up to one day. To make it last a few days, see how to meal prep salad in one step.
❓ FAQ
What makes this chickpea broccoli salad with avocado so Healthy?
This Chickpea Salad Recipe contains plant protein, lots of fiber, healthy avocado, and cancer-prevention red onion. Also, the minimum suggested amount of olive oil can be easily omitted, making it an oil-free, gluten-free, WFPB, vegan, raw salad. This means you are getting the most out of all the nutrients like vitamins and minerals available in your food in their rawest state.
It is important to understand that the longer we expose all nutrients to heat, their bioavailability decreases, and their potential cancerous cells increase.
How to meal prep salad?
You can make this vegan chickpea avocado salad up to one day ahead. Refrigerate the mixed garbanzo beans and vegetable dice. Reserve the whole avocado and make the vinaigrette, and store.
When you are ready to serve avocado, combine it with the veggie dice and dressing.
how to store leftover beans
Refrigerate beans! Store leftover beans in a sealed container in the refrigerator. The canned chickpeas will last for 3-5 days. You can also freeze them for later use. Just place them in a freezer-safe bag or container and freeze for up to 3 months.
You can not only make a chickpea carrot salad but your favorite hummus or add it as a plant-based protein source to your poke bowls in place of the classic green edamame beans.
how to choose an avocado
When choosing an avocado, look for dark green and firm avocado with a smooth texture. Avoid avocados that are brown or appear to be bruised. If looking for a ripe avocado and for ripeness, gently press the stem end of the avocado. A giving slightly avocado means that it is ripe. If it does not give at all, it is not ripe yet.
How to cook dried chickpeas
If using dried chickpeas, leave them soaking in water overnight.
Stovetop
Cover the garbanzo bean with room temperature water by 2 inches. Bring the water to a boil, then reduce the heat slightly and let them simmer for 20 to 25 minutes if using firmer beans or 40 to 50 minutes for softer beans.
Then boil with a teaspoon of baking soda to make them soften faster, then boil for 30-40 minutes.
Pressure cooker
Add soaked overnight chickpeas to the pressure cooker for 1 pound or half kilo-dried chickpeas plus 6 cups of water in a medium bowl. Seal the lid and cook on High Pressure for 12 minutes; then naturally release the steam for 10 minutes.
Can you use another dressing for salads?
This chickpea salad is very versatile – try this healthy dressing with different flavors. We loved using our sauce for everything, our homemade vinaigrette, and vegan basil pesto on our chickpea avocado salad.
See more options in our variations section.
🥗 More salad recipes
If you loved our chickpea avocado salad, you would also love these delicious salad bowls that make great meal prep dishes.
Try out our favorite recipes for salads: tabbouleh salad, lentil salad, couscous and lentil sprout salad, or vegan poke bowl.
If you love chickpeas and high protein vegan meals, don't forget to check out our saffron garbanzo beans stew and our roasted red peppers hummus.
If you like simple dishes with chickpeas, try out this Traditional Spanish Chickpeas with spinach tapa.
⭐ If you try this recipe, let us know! 💬 Leave a comment, rate it, and don't forget to tag us @ourplantbasedworld on Instagram. Cheers!
📋 Recipe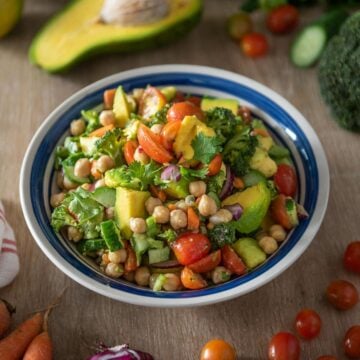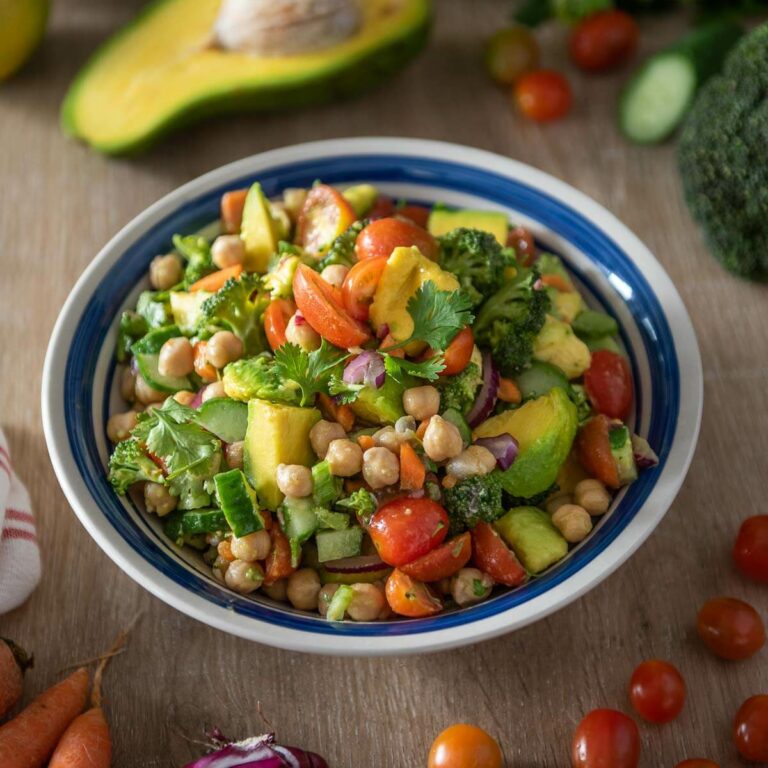 Vegan Chickpea Avocado Salad
This vegan chickpea salad is a delicious and healthy lunch or dinner option that's oil-free, gluten-free, and perfect for any day of the week!
Equipment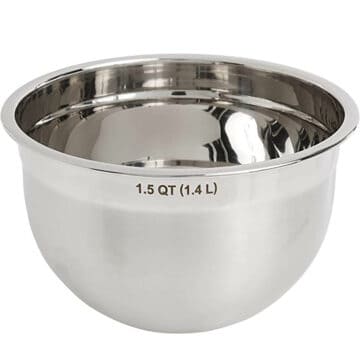 (affiliate link)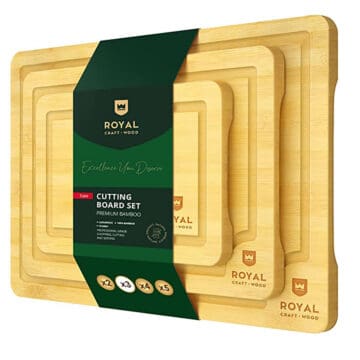 (affiliate link)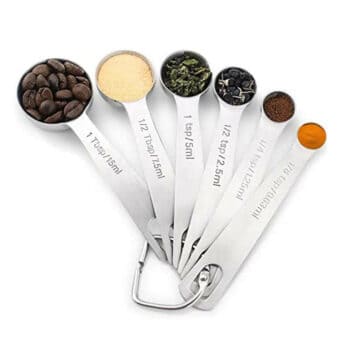 (affiliate link)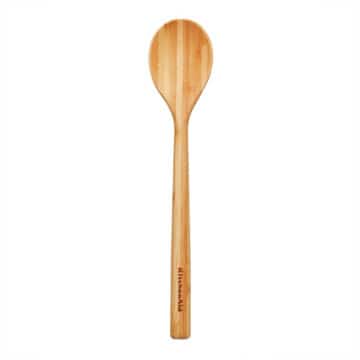 (affiliate link)
Ingredients
1

14 oz can

chickpeas

drained and rinsed

1

carrot

small, diced

½

head

broccoli

roughly chopped

1

stalk

celery

finely chopped

½

cucumber

English, cut into bite-size pieces

10

cherry tomatoes

halved

1

avocado

medium, ripe, diced

¼

cup

red onion

diced

½

cup

cilantro

or parsley, finely chopped

1

lime

large, or lemon juice

½

teaspoon

salt

⅛

cayenne pepper

or finely chopped jalapeno
Optional
1

tablespoon

olive oil

extra-virgin, skip for WFPB diet
Directions
Chop all the vegetables as per suggested next to each ingredient.

In a large bowl, add chickpeas, cucumber, celery, carrots, tomatoes, avocado, red onion, broccoli, and cilantro.

In a small pestle, add the optional olive oil, lemon juice, half of red onion, salt, and cayenne pepper and then whisk.

Pour the dressing over the salad and gently stir to combine.
Notes
Store
Refrigerate in an airtight container for up to one day.
Meal prep
You can make this chickpea and carrot salad up to one day ahead. Refrigerate the mixed garbanzo beans and vegetable dice in a reusable ziplock or glass Tupperware.
Reserve the whole avocado and make the vinaigrette, and store.
When you are ready to serve avocado, combine it with the veggie dice and dressing.
Nutrition Facts
Calories:
129
kcal
Carbohydrates:
15
g
Protein:
4
g
Fat:
8
g
Saturated Fat:
1
g
Polyunsaturated Fat:
1
g
Monounsaturated Fat:
5
g
Sodium:
341
mg
Potassium:
657
mg
Fiber:
7
g
Sugar:
4
g
Vitamin A:
3335
IU
Vitamin C:
81
mg
Calcium:
66
mg
Iron:
1
mg
Nutrition Facts
Vegan Chickpea Avocado Salad
Amount per Serving
% Daily Value*
* Percent Daily Values are based on a 2000 calorie diet.
🌡️ Food safety
Cook to a minimum temperature of 165 °F (74 °C)
Do not use the same utensils on cooked food, that previously touched raw meat
Wash hands after touching raw meat
Don't leave food sitting out at room temperature for extended periods
Never leave cooking food unattended
Use oils with a high smoking point to avoid harmful compounds
Always have good ventilation when using a gas stove
See more guidelines at USDA.gov.
Nutritional Disclaimer
The information shown is an estimate provided by an online nutrition calculator. It should not be considered a substitute for a professional nutritionist's advice. See our full Nutritional Disclosure here.
Affiliate Disclaimer
Please note that some of the links here are affiliate links, and I will earn a commission if you purchase through those links. I recommend all of the products listed because they are companies I have found helpful and trustworthy.