Hello, dear friends! There's nothing quite as refreshing as a chilled smoothie, and today we are going to be blending up a vibrant concoction that will surely energize your day. Imagine the flavors of juicy peaches and tangy blueberries mingling together, all whirled up into a thick and luscious drink. That's right; we're introducing you to our Peach Blueberry Smoothie without yogurt!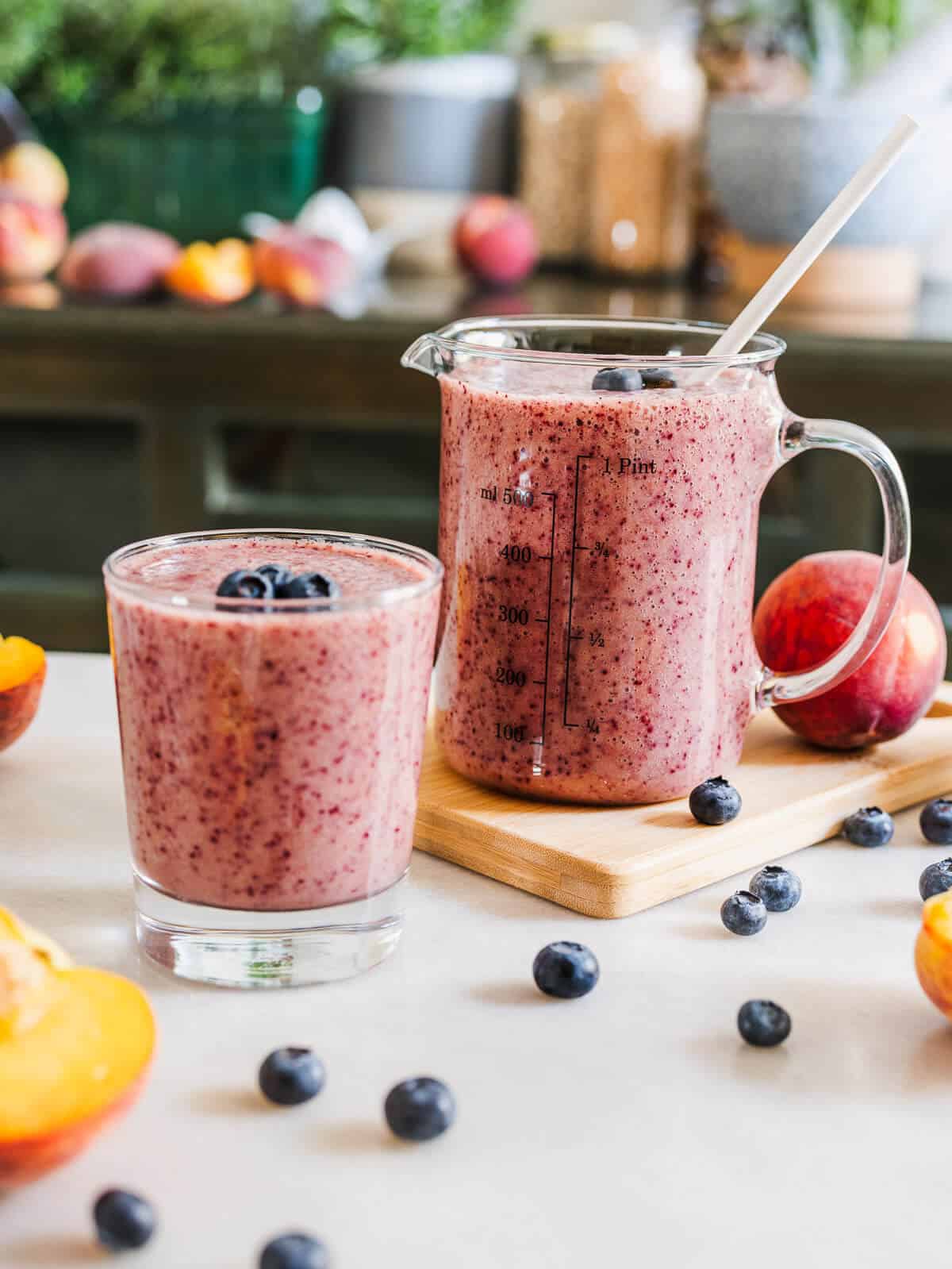 This simple yet scrumptious drink is packed with only the freshest ingredients, delivering a flavor that's as refreshing as a gentle summer breeze, but you can certainly use fresh or frozen fruit. Why without yogurt, you may wonder? Well, we wanted to keep this recipe plant-based and easily digestible for all of you who might be dairy-free. Plus, without the presence of banana, the true stars of this smoothie - our peaches and blueberries - shine even brighter, just as it does with the blueberry pineapple version.
So, tie on your aprons, wash your hands, and let's dive into this fruity escapade. Our Peach Blueberry Smoothie is about to redefine your smoothie experience, and we can't wait to guide you along this tasty journey.
Jump to:
🧾 Ingredients
This blueberry peach smoothie recipe is made with just a few delicious ingredients.
Fresh or frozen blueberries: Bursting with antioxidants and beneficial compounds, blueberries add a powerful nutrient punch to our smoothie. Their sweet-tart flavor profile complements the other ingredients beautifully, adding depth and character.
Fresh Peaches: A summer favorite, peaches add sweetness and provide a juicy base for our smoothie. In addition to their delightful flavor, they're a good source of vitamins A and C, promoting skin health and boosting your immune system. You can use frozen peaches for convenience.
Almond milk: As a plant-based alternative to dairy, almond milk lends creaminess to our smoothie without overpowering the fruit's natural flavors. It's low in calories yet high in vitamin E, contributing to a healthy, radiant complexion.
Maple syrup or agave nectar (optional): While peaches usually bring enough sweetness, if they happen to be less ripe or sweet, a touch of maple syrup or agave nectar can balance the flavors while ditching honey. These natural sweeteners also come with their own array of nutrients, including important minerals like calcium, potassium, and iron.
Ice cubes: The addition of ice cubes helps create that perfect, refreshing, chilled smoothie texture. It also ensures that our Peach Blueberry Smoothie stays cold and fresh right until the last sip.
See the recipe card for quantities.
🔪 Instructions
Washing and preparing your ingredients.
Chopping in sizable chunks.
Blending everything.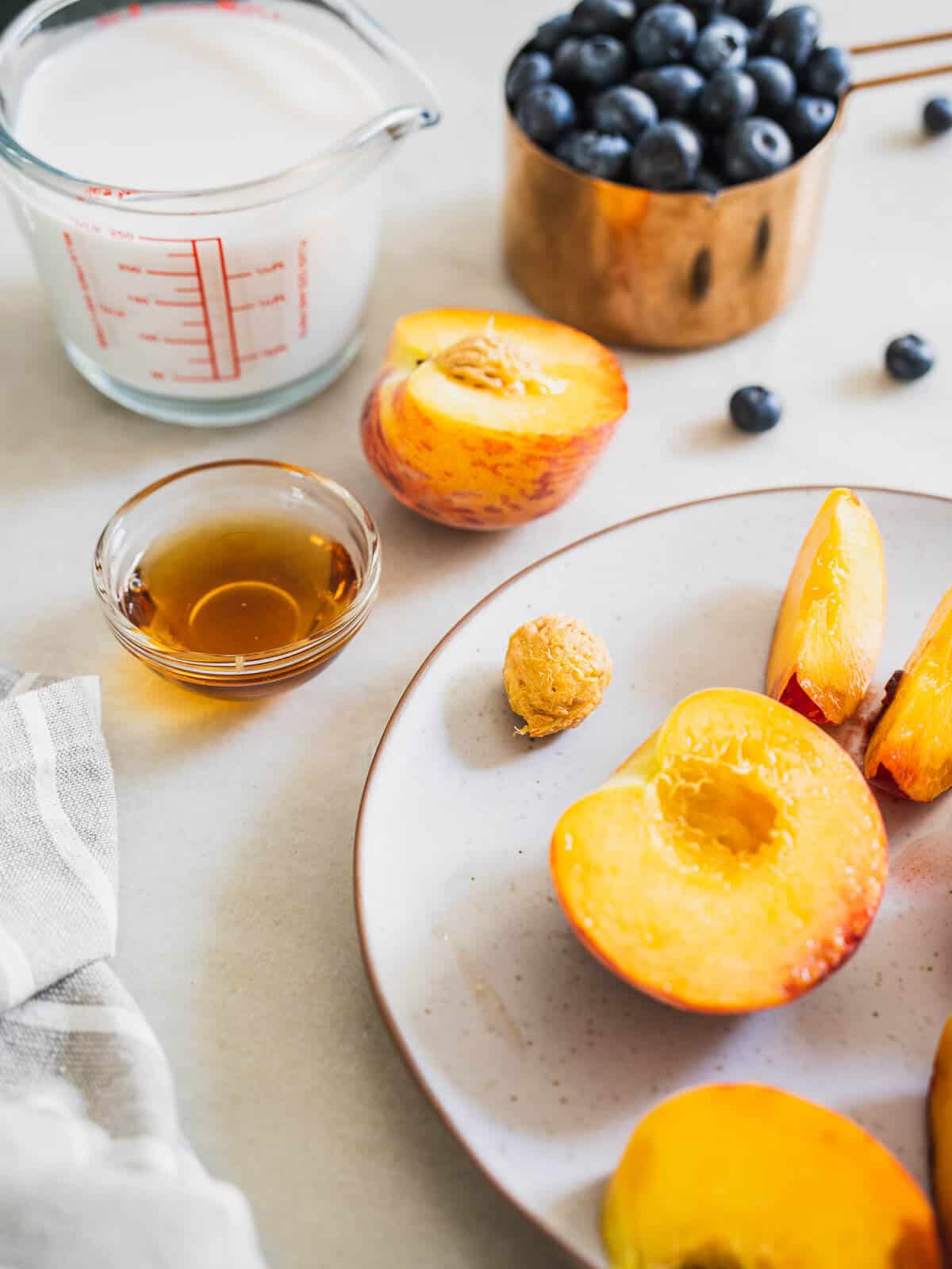 If using fresh peaches, core them, as they can break your blender.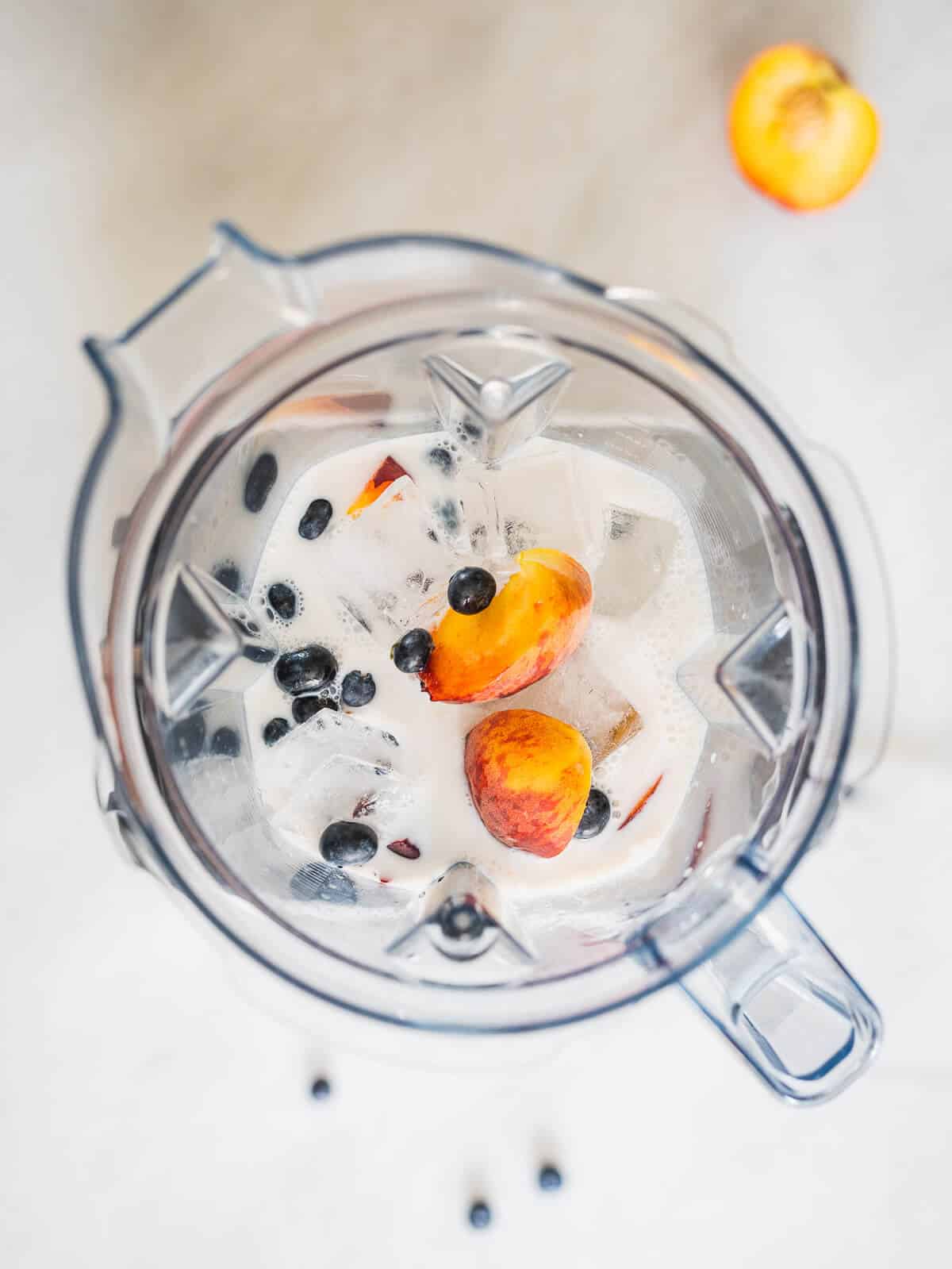 Place all the chopped ingredients on the juicer's vase.
Press blend on high for about a minute until you reach the desired consistency, and serve immediately!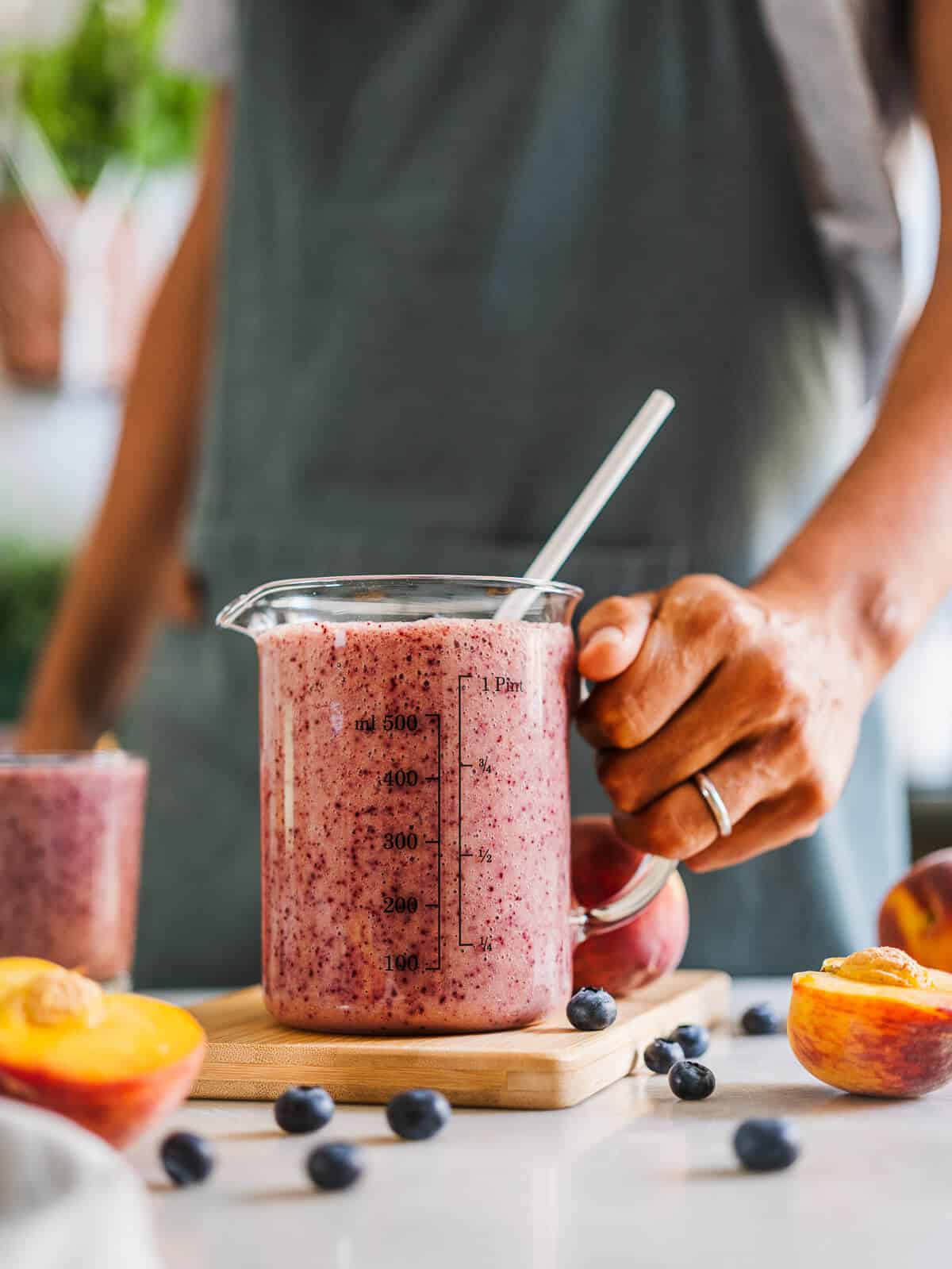 Hint: To ensure a smooth blending experience, particularly when using frozen ingredients, it's best to add the liquids first. This approach prevents the blender from jamming up and promotes a more even, creamy consistency.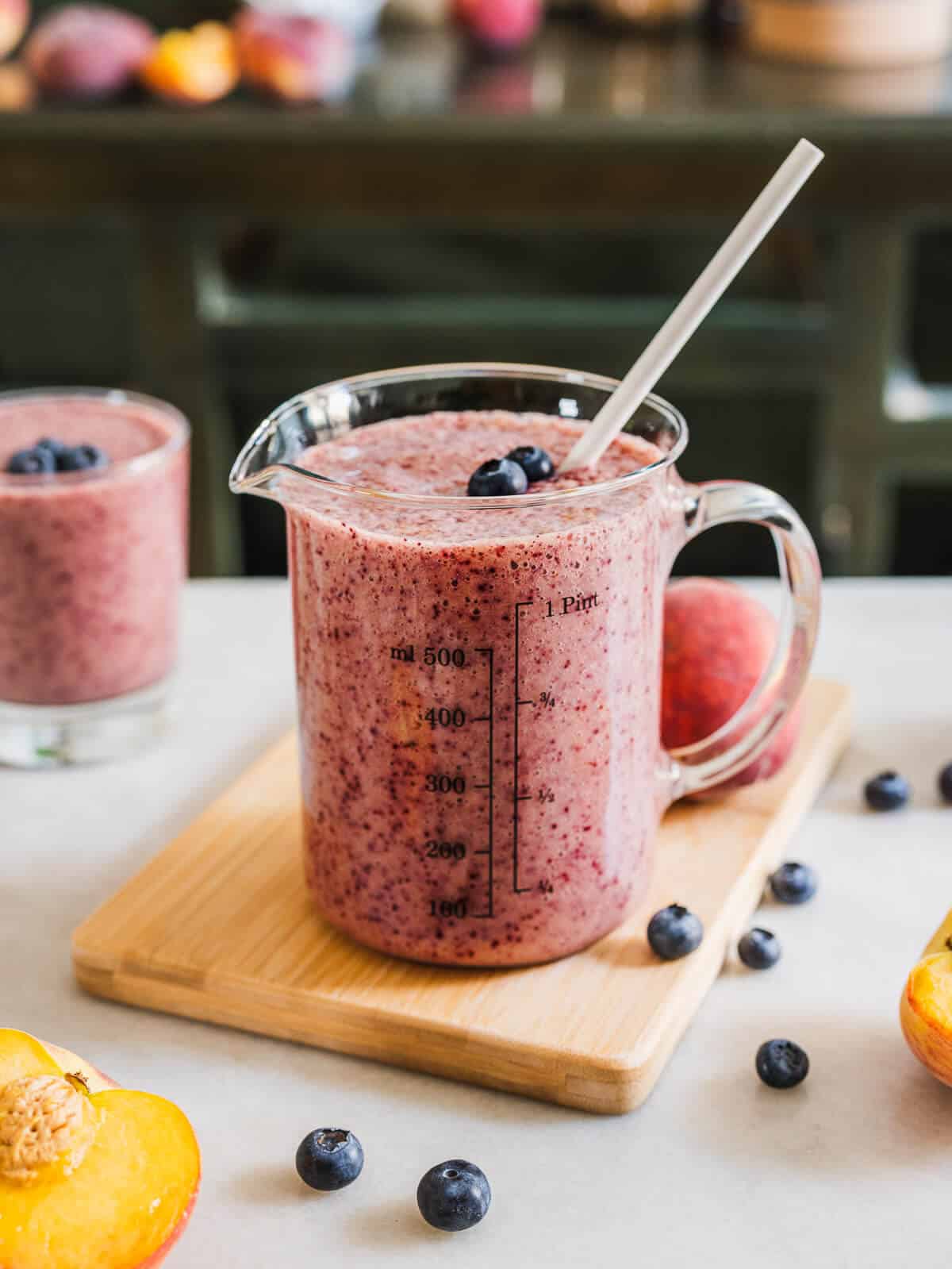 🍶 Substitutions
Our Blueberry peach Smoothie recipe is already vegan-friendly, but here are some options for substitutions if you'd like to change things up:
Almond milk: You could swap this for any other plant-based milk, such as oat, soy, or coconut milk. Each will lend a slightly different flavor and creaminess to your smoothie, so experiment to find your preference.
Maple syrup or agave nectar: Want a different kind of sweetness? Try using date syrup, coconut sugar, or even a few pitted dates. Remember that these sweeteners might slightly alter the flavor profile and the smoothie's overall sweetness.
Orange juice: If you're looking to add a little zing to your smoothie, orange juice can be an exciting substitute for part of the almond milk. Just remember, this substitution will give your smoothie a more citrusy flavor and potentially make it less creamy.
Keep in mind the best part about smoothies is their flexibility. Feel free to play around with these substitutions to discover your ideal Peach Blueberry Smoothie blend.
📖 Variations
Coconut Peach Blueberry Delight: Replace regular Greek yogurt in your recipe with coconut milk yogurt. This will not only add a tropical twist to your smoothie but will also make it suitable for those who are lactose intolerant or following a vegan diet.
Omega Power Smoothie: Add both a tablespoon of chia seeds and/or a tablespoon of ground flax seeds. This version is packed with omega-3s, healthy fats, and fiber, providing an extra health boost.
🍽 Equipment
Blender: A high-speed blender

(affiliate link)

is essential to combine all of your ingredients into a smooth and creamy beverage. It can effortlessly blend the fruits, yogurt, and any additional ingredients you choose to include, like chia seeds or flax seeds. Simply put all the ingredients into the blender, and blend until smooth.
Knife: A knife is necessary to cut and prepare your fresh ingredients. For this recipe, you'll need it to slice the peach. Remember to remove the pit before adding it to the blender.
🥡 Storage
Refrigerator:
Transfer leftover smoothie to an airtight container, filling it to the top to minimize air.
Store in the refrigerator for up to 24 hours.
Stir or shake before drinking.
Freezer:
Pour leftover smoothie into an airtight container or ice cube trays, allowing space for expansion.
Store in the freezer for up to 1 month.
To consume, thaw in the refrigerator for a few hours or overnight, or blend frozen smoothie cubes until smooth.
💡 Top tip
If you use frozen fruit, you can ditch the use of ice and make an even creamier smoothie.
✅ Peach and Blueberry smoothie health benefits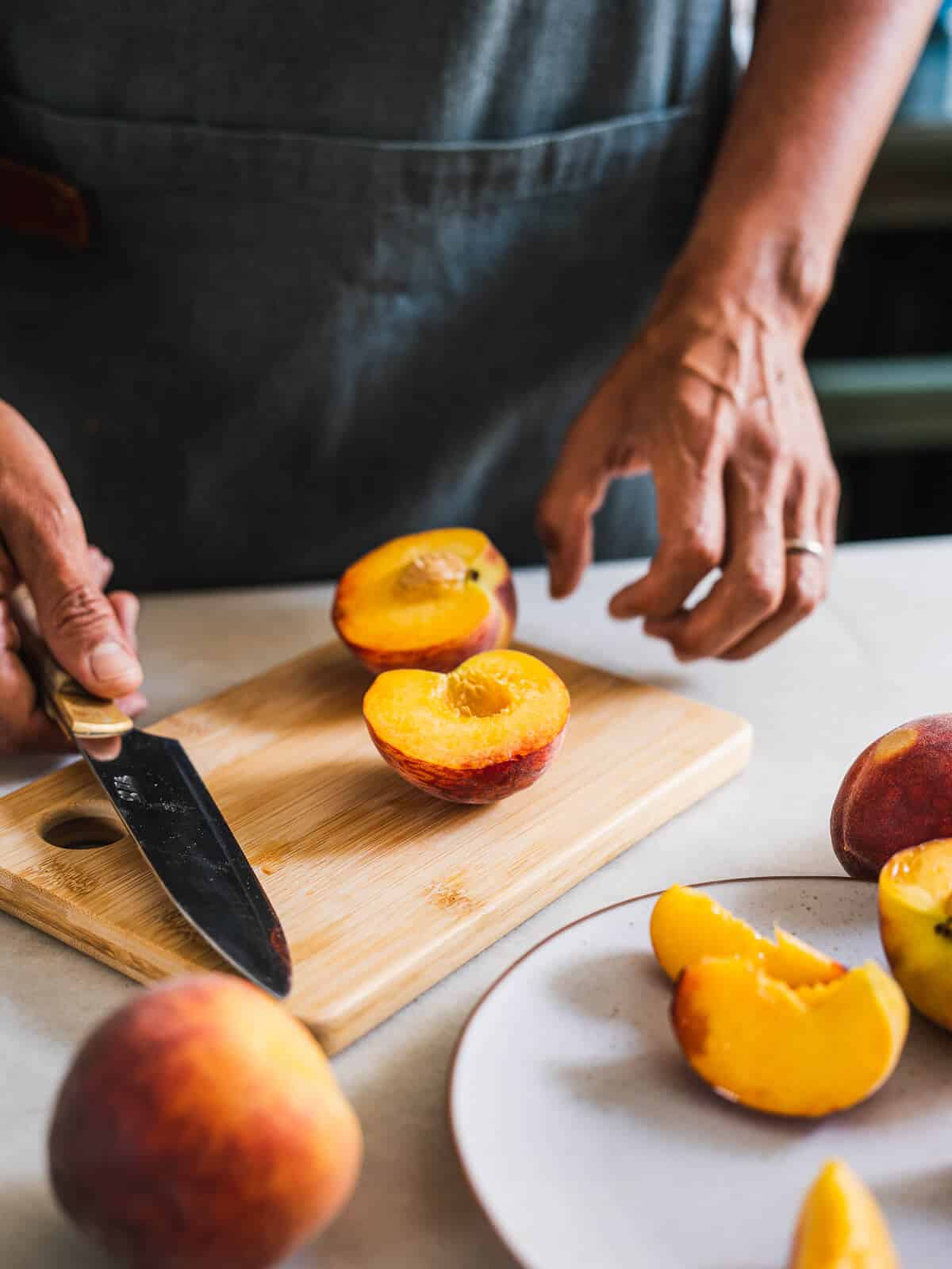 Rich in Antioxidants: Both peaches and blueberries are rich in antioxidants, which are known to protect your body against damage from harmful molecules called free radicals. Regular intake of antioxidants can reduce the risk of chronic diseases such as heart disease and cancer.
High in Fiber: Peaches and blueberries are high in dietary fiber, which can aid digestion and keep you feeling full, potentially aiding in weight management. Fiber can also help maintain stable blood sugar levels and lower cholesterol.
Good for the Skin: Peaches contain vitamins A and C, which are great for skin health. Vitamin A promotes cell production and turnover, while vitamin C assists in collagen production, a protein that keeps your skin firm and strong.
Boosts Immunity: Blueberries are loaded with vitamin C, which plays an important role in strengthening the immune system and may aid in fighting off common illnesses such as colds and flu.
Heart Health: Both blueberries and peaches have components that are beneficial for heart health. Blueberries are rich in anthocyanins, a type of antioxidant that's been linked to reduced risk of heart disease. Peaches have potassium and fiber, which can support heart health by maintaining healthy blood pressure levels and reducing LDL ("bad") cholesterol.
Read on: how to make a healthy peach cake that all the family will love!
❓ FAQ

Do you need to peel peaches for smoothies?
No, you do not need to peel peaches for smoothies. The skin of a peach is edible and contains valuable nutrients such as fiber and antioxidants. However, it's important to wash the peaches thoroughly before use to remove any residues. If you prefer a smoother texture, or don't like the taste of the skin, you can certainly peel the peaches before adding them to your smoothie.
🫐 More blueberry recipes
Ready to power up your day? This vibrant blend of leafy greens and sweet blueberries smoothie offers a delicious way to pack in your daily nutrients. Uncover the secret to a healthier morning routine!
Imagine waking up to a breakfast that's both nourishing and scrumptious. Our Blueberry Overnight Oats are a time-saving delight, infusing each bite with fruity flavors and whole-grain goodness. Your perfect start is just one sleep away!
Indulge in a tropical escape with each sip of our Pineapple Blueberry Smoothie. Its enticing mix of sweet pineapple and antioxidant-rich blueberries creates a lusciously refreshing experience. Transform your day with this tropical delight!
Embrace the pure, wholesome taste of blueberries with our Organic Blueberry Juice recipe. It's an instant boost of natural sweetness and vital nutrients that your body will thank you for. Taste the essence of nature in its purest form!
⭐ If you try this peach smoothie without yogurt, let us know! 💬 Leave a comment, rate it, and don't forget to tag us @ourplantbasedworld on Instagram. Cheers!
📋 Recipe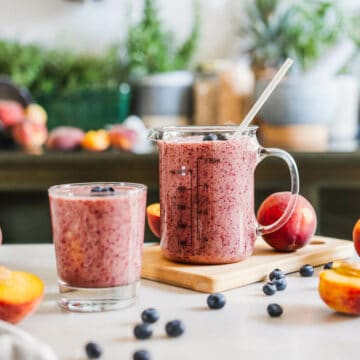 Peach Blueberry Smoothie without Yogurt or Banana (3 ingredients!)
Unleash the power of fruits with our Peach Blueberry Smoothie recipe! With diverse variations and health benefits, this smoothie is a treat for your taste buds and well-being. Plus, find helpful tips on equipment usage and smoothie storage. Get blending today!
Equipment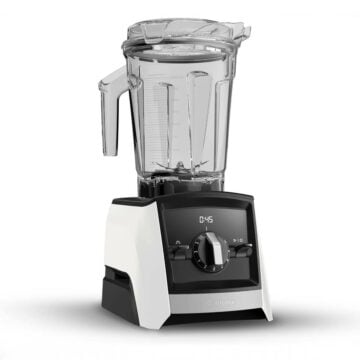 (affiliate link)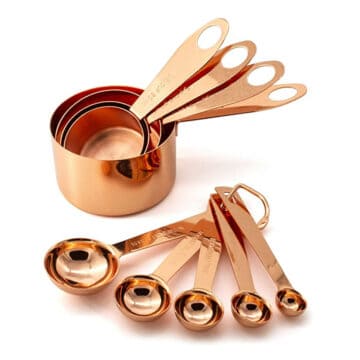 (affiliate link)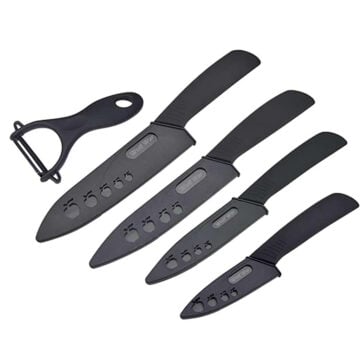 (affiliate link)
Ingredients
1

cup

blueberries

fresh or frozen

4

oz

peach

1 medium peach

1

cup

almond milk

1

tablespoon

maple syrup

agave nectar, optional if peaches are not sweet

4

ice cubes
Directions
Wash your ingredients and remove the peaches' pit.

Toss the blueberries, sliced peach chunks, and a splash of almond milk into your blender's party bowl.

Press blend and watch as they twirl together into a peachy smoothie dream. Blend for 40 seconds or until the smoothie reaches the desired consistency.

For a thicker smoothie, omit water and ice cubes. For a thinner smoothie, add more plant milk or water (it will affect sweetness).

Taste and adjust flavor as needed, adding more dates for sweetness and more plant milk for creaminess.

For a thicker smoothie, add more peach or blueberries.

Serve Cold.
Notes
Smoothie leftovers will keep in a covered mason jar in the refrigerator for up to 2 days, though best when fresh.
Add agave or maple syrup for extra sweetness or extra dates. We like using dates because they have a ton of beneficial post-workout benefits.
Vegan Clean Protein: if using the clean protein powder

(affiliate link)

, add our 10% discount code PBWORLD10 at check-out to enjoy the benefit. (affiliate)
Nutrition Facts
Serving:
20
oz
Calories:
114
kcal
Carbohydrates:
25
g
Protein:
1
g
Fat:
2
g
Saturated Fat:
0.04
g
Polyunsaturated Fat:
1
g
Monounsaturated Fat:
1
g
Sodium:
172
mg
Potassium:
96
mg
Fiber:
2
g
Sugar:
20
g
Vitamin A:
186
IU
Vitamin C:
7
mg
Calcium:
170
mg
Iron:
0.3
mg
Nutrition Facts
Peach Blueberry Smoothie without Yogurt or Banana (3 ingredients!)
Amount per Serving
% Daily Value*
* Percent Daily Values are based on a 2000 calorie diet.
Nutritional Disclaimer
The information shown is an estimate provided by an online nutrition calculator. It should not be considered a substitute for a professional nutritionist's advice. See our full Nutritional Disclosure here.
Affiliate Disclaimer
Please note that some of the links here are affiliate links, and I will earn a commission if you purchase through those links. I recommend all of the products listed because they are companies I have found helpful and trustworthy.